Understanding New York City Free Days: The Easy Way
Want to visit all of New York City's top museums and most famous institutions for free? If so then get this easy to read and easy to understand guide now! It breaks down every single free admission day and "pay what you wish" ticket day to all of NYC's top attractions. This way, you can quickly and easily pay less for the things you want to see the most!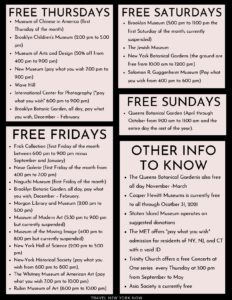 Want to look and feel like a real New Yorker? Then get your free, super comprehensive, New York Packing List now! It has everything you need to help you stay organized and take the stress out of packing for a trip to New York! There are even several customizable fields so that you can create an individualized packing list to fit your own personal needs.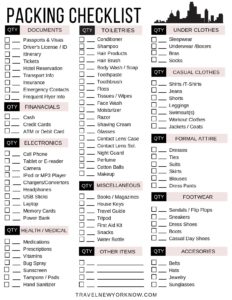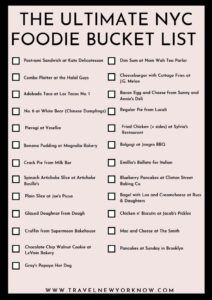 Ultimate NYC Foodie Bucket List

If you want to pay less for food and discover all of the insane, super drool-worthy eateries that REAL New Yorkers love, then this NYC foodie bucket list is for you! It's a comprehensive guide to all of my fave place to eat and comes with specific details on exactly what you should order once you get there. So, stop eating at over-priced tourist traps and start eating like a local.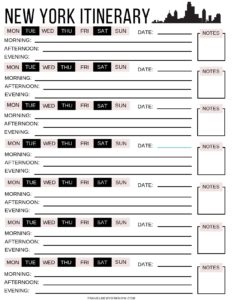 New York Itinerary Planner
Want to plan the perfect New York Itinerary but not exactly sure where to put all your most important travel information? If so then this is the perfect itinerary planner for you! Not only is it fully customizable, but it consolidates all your most essential travel information so that can access it any time you need it!
Use this fully customizable New York travel planner to quickly and easily plan your next trip to the Empire State! It has everything you need to help keep all of your most important travel information in one easy-to-access place.