As one of the most well-known attractions throughout New York and the United States, Niagara Falls is an iconic destination that should be enjoyed by everyone at least once in their lives. So, if you feel like I do, then this Niagara Falls Itinerary is totally for you.
Trust me, this one day in Niagara Falls trip itinerary is from a 30+ year local (aka me) who knows how to help you quickly and easily enjoy all that this natural wonder has to offer.
So, stop stressing about how to plan the perfect Niagara Falls trip and start enjoying the vacation of a lifetime with this perfect Niagara Falls itinerary.
After all, Niagra Falls is an amazing place to visit any time of the year since it is brimming over with unique heritage sites, stunning natural wonders, decadent cuisine, and more.
However, that's also why planning the perfect Niagara Falls vacation for more than a little daunting. After all, there is just so much to do and so little time!
Luckily for you though, I've visited Niagara Falls more times than I can count. And I want to share all my secret, insider tips with you so that you can quickly and easily spend one day in Niagara Falls like a super savvy local.
This post may contain affiliate links. Please see my disclosure for more information. As an Amazon Associate, I earn a small commission from qualifying purchases.
How Many Days are Needed in Niagara Falls?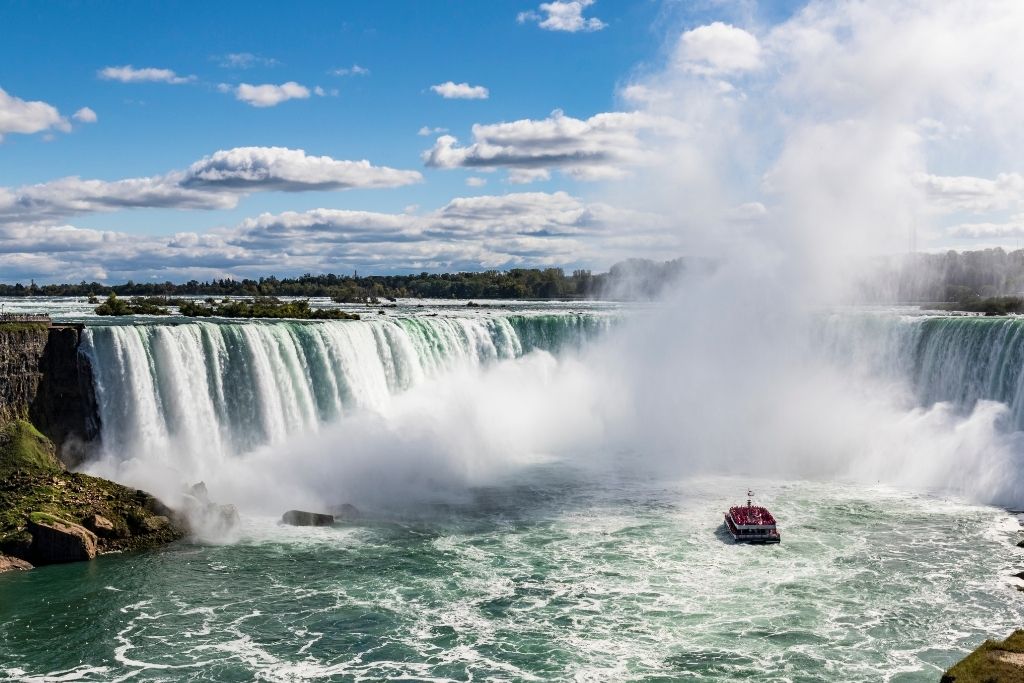 If you're visiting and really just want to see the falls themselves then one or two days is enough time to see the area's major highlights.
However, if you're looking to see other things besides one of the best waterfalls in New York, then you might want to plan a longer Niagara Falls itinerary.
Is 1 day Enough for Niagara Falls?
Yes, one day is enough if you want to see Niagara Falls and are planning an amazing day from Toronto, Canada. However, if you want to experience other area highlights like Niagara Ice House Winery then you made need to plan for an additional day.
Because, believe it or not, this incredible place is the only winery in Niagara on the Lake that specializes in making a sweet wine that is derived from grapes that were frozen on the vine.
What is the Best Month to visit Niagara Falls?
The best months to visit Niagara Falls are June, July, and August. Because even though summer is peak season – complete with high prices and hordes of selfie stick-wielding tourists – the weather is typically great, with long, sunny days where the highs are around 80 F.
As a result, you can comfortably walk around during your one day in Niagra Falls and enjoy the refreshing mist that this natural wonder generates.
Where to Stay in Niagara Falls
There are so many fabulous places to stay in Niagara Falls that it can be challenging to find the perfect hotel for you based on price, location, available on-site amenities, etc.
So, to make planning your very own Niagara Falls itinerary infinitely easier here is a list of my fave hotels in Niagra Falls. This way, you can find the best hotel for you regardless of your budget.
Best Western Summit Inn (budget) – This not-so-fancy, 2.5-star hotel is beloved by guests and is reasonably priced at well under $100 per night. So, even though you won't be super close to the falls, you will get to enjoy flat-screen TVs, cable TV, and in-room coffee makers. A complimentary Continental breakfast is also on offer and guests will love using the indoor heated pool.
Hyatt Place Niagara Falls (mid-range) – This 3-star hotel is a 7-minute walk from the Niagara Falls Observation Tower and offers guests low-key, modern rooms outfitted with WiFI, flat-screen TVs, and comfy, pull-out sofas. There are also laundry facilities available on-site, in addition to a 24-hour dining menu, an indoor heated saltwater pool, and a fitness room.
DoubleTree by Hilton Hotels Niagara Falls (mid-range) – I love me some DoubeTree by Hilton since the last one I stayed at offered guests complimentary, warm, freshly baked, chocolate chip cookies. And while I don't know if this branch serves these cookies of awesome, rooms at this beloved 4-star hotel come well-appointed with whirlpool tubs, river views, and private balconies. Guests can also use their indoor pool and fitness center to really elevate their stay to the next level.
Red Coach Inn (mid-range/luxury) – This well-reviewed, 3-star hotel oozes old-world charm around every turn since it is modeled after the historic Bell Inn in Finedon, England. Comfortable, well-outfitted rooms here are also well-priced at under $150 per night and include classic cuisine and stunning views of the falls.
One Day Niagara Falls Itinerary
Breakfast at Continental Pancake House
See Niagara Falls
Journey Behind the Falls
Browse for Souvenirs at Table Rock Center
Lunch at Table Rock House Restaurant
Skylon Tower
Hornblower Niagara Cruise
View the American Falls from Queen Victoria Park
Niagara-On-The-Lake
Dinner
Breakfast at Continental Pancake House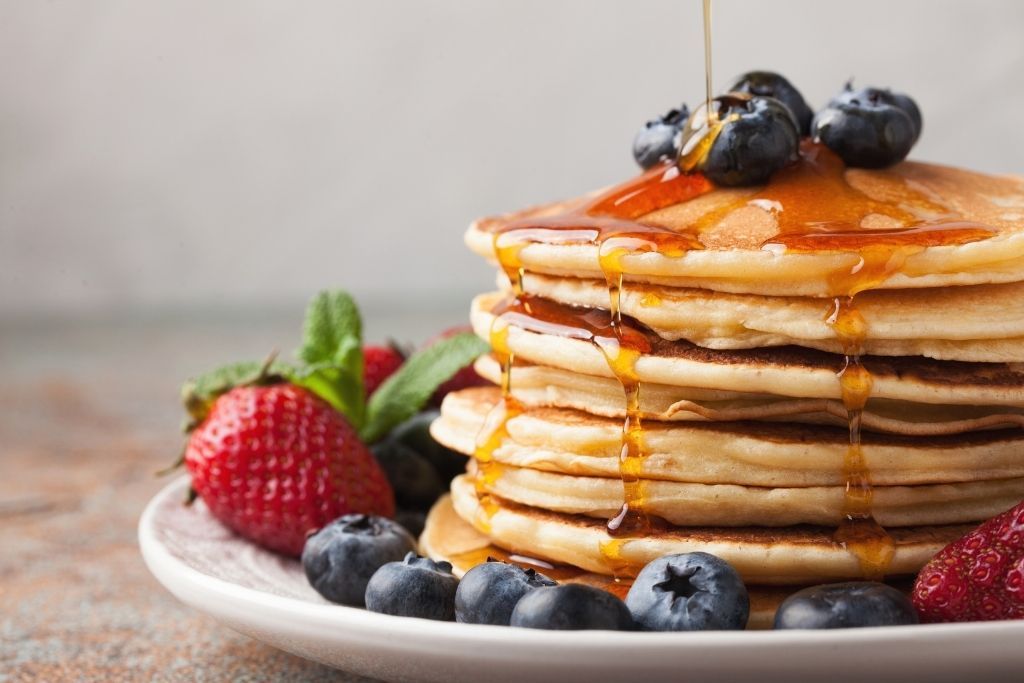 Before seeing Niagara falls, there is no better way to kick off this Niagara Falls itinerary than by fueling up at Continental Pancake House!
After all, Continental Pancake House is a popular, local breakfast spot that specializes in mouth-watering pancakes, along with other classic breakfast options.
In fact, this breakfast spot has been serving hungry locals for well over 30 years and has this cozy, welcoming feel to it that makes it the perfect place to start your day. Not to mention, it's within walking distance of Niagara Falls!
And although Continental Pancake House is quite popular, they open early. So, if you arrive at 8:00 am when they open, you'll be served quickly and have plenty of time to enjoy breakfast before your next stop on this one-day Niagara Falls itinerary!
Pro Tip: Get an order of three fully pancakes or try the veggie bennie instead,
Address: 5810 Stanley Ave, Niagara Falls, ON L2G 3X8, Canada
Hours: Open daily from 8:00 am until 2:00 pm.
Price: No more than $10.00 per person.
See Niagara Falls
The first stop of the day is one of the best- a bird's eye view of Niagara Falls, by standing right atop Horseshoe Falls.
See, Niagara Falls actually consists of three different waterfalls: Horseshoe Falls, American Falls, and Bridal Veil Falls. And the viewing platform at Horseshoe Falls is the closest you can get to the falls, which makes for an incredible sight.
Now, because the viewing point for Horseshoe Falls is located right at Table Rock Welcome Center – along an outdoor promenade that takes you right to the very edge of the majestic waterfall – the easiest way to get to the Table Rock Welcome Center from Continental Pancake House is to drive about 5 minutes and pay a $20 fee to park in their lot.
However, it's only a 25-minute walk along Fallsview blvd if you feel like walking during your Niagara Falls itinerary or don't have access to a car.
Address: 6650 Niagara Pkwy, Niagara Falls, ON L0S 1J0, Canada
Hours: The outdoor promenade viewing point is open to the public twenty-four hours per day.
Price: $20 for parking, and free to see the falls.
Journey Behind the Falls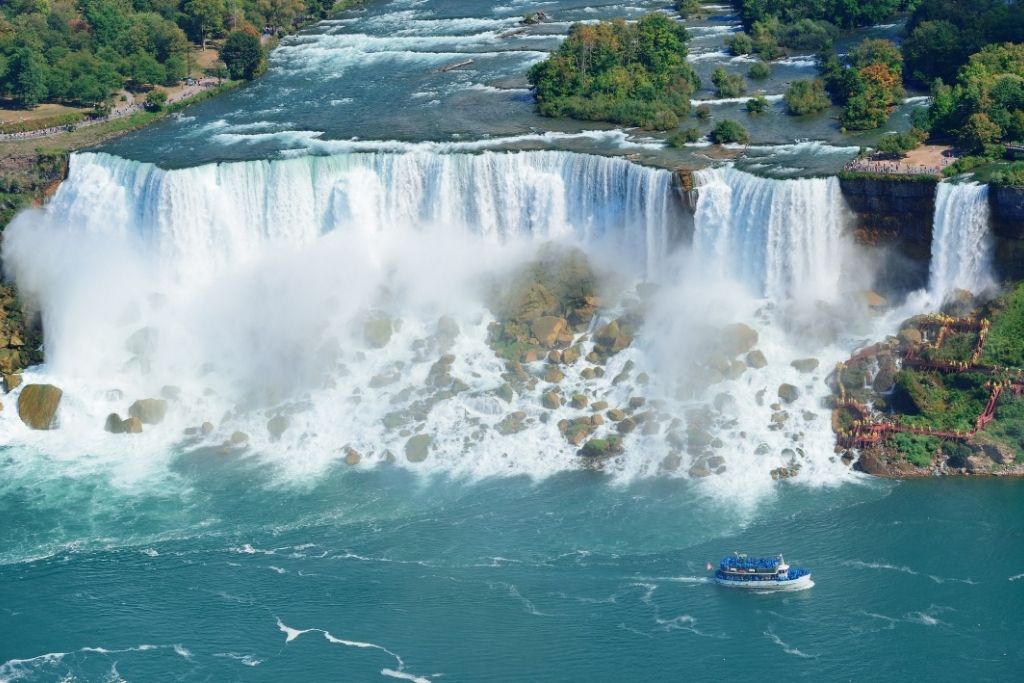 After taking in Horseshoe Falls from above, it's time to experience them in an entirely new way. So, this next stop on your Niagara Falls Itinerary will enable you to get up close and personal with the falls, as we go on the Journey Behind the Falls.
Now, the meeting point for this tour is right inside the Table Rock Welcome Center, so you're already here! Plus, if you've booked your tickets in advance (hint hint, you should definitely do this now to avoid queues), then you'll just meet your group inside the welcome center, and begin a 125-foot descent deep into the bedrock of Niagara Falls.
And the tunnels you'll walk through are almost as impressive as the waterfall itself. In fact, the very first ones were built in the 1800s, and were used to lead visitors behind the falls- not unlike today!
However, the current tunnels that take you behind the falls were actually built in the 1940s, are lined with concrete, and have full electricity to illuminate the path.
Now, as you descend into the tunnels, the roar of the waterfall will grow stronger- only building the anticipation. There are also two portals in the tunnel where you can see the water crashing down with its full power- a perfect photo op indeed!
Then, once you finally arrive at the observation deck, you'll see and feel the waterfall cascading around you. That's right, you'll probably even get a little wet during your Journey Behind the Falls.
Thankfully though, your ticket includes a complimentary poncho to help keep your clothes and camera dry. But, trust me, it's worth getting a little wet as you enjoy this unforgettable experience during your Niagara Falls Itinerary.
Address: Inside Table Rock Welcome Center building Lower Level at 6650 Niagara Pkwy, Niagara Falls, ON L2E 3E8
Hours: Opens daily at 10:00 am, closes at 5:00 pm Monday-Friday, and 6:00 pm Saturdays and Sundays.
Price: A ticket to Journey Behind the Falls is $21.
Browse for Souvenirs at Table Rock Center
If souvenir shopping is your jam, then you can't go wrong checking out the Table Rock Shop.
In fact, the Table Rock features everything from quintessential Canadian souvenirs, like real maple syrup, to beautiful photographs of Niagara Falls.
And as you're browsing around the shop, you'll be hard-pressed not to notice the incredible views that Table Rock Shop offers of the falls. I'm talking 360 degrees, sweeping panoramic views of Horseshoe Falls people.
So, soak up those sweet sweet views during your one day in Niagara Falls itinerary and get yourself something special.
Address: 6650 Niagara Pkwy, Niagara Falls, ON L0S 1J0, Canada
Hours: Opens daily at 10:00 am, closes at 5:00 pm Monday-Friday, and 6:00 pm Saturdays and Sundays.
Price: Free to browse!
Lunch at Table Rock House Restaurant
If you're starting to feel hungry after all that shopping and walking through the tunnels, then you'll love that next up on this Niagara Falls Itinerary is lunch at Table Rock Restaurant!
Situated right in the Table Rock Welcome Center, this upscale restaurant serves delicious Canadian fare, along with incredible views of Niagara Falls.
After all, Table Rock Restaurant's lunch menu features a variety of tasty starters, sandwiches, and locally sourced chicken and steak dishes.
Their desserts don't disappoint either, and they even feature a seasonal dessert of the day. Although, if you want to have lunch at the Table Rock Restaurant, it's a good idea to reserve a table in advance as this popular restaurant fills up quickly.
Pro Tip: Get the Havarti spinach and stuffed chicken. So good. Although, the menu here is seasonal so it may change when you visit.
Address: 6650 Niagara Pkwy, Niagara Falls, ON L0S 1J0, Canada
Hours: Opens at 11:30 am Friday-Sunday, Closes at 8:00 pm Friday and Saturday, Closes at 4:00 PM Sundays.
Price: Lunch entrees start at $25.00 each.
And If you feel like you've already spent enough time at the Table Rock Center, or are looking for a place open on the weekdays, some other great lunch options in the area include:
Turtle Jack's- Turtle Jack's serves sandwiches, steaks, ribs, and salads.
Zappi's Pizza and Pasta– This family-owned pizzeria serves up classic pizzas, pasta, and subs.
Skylon Tower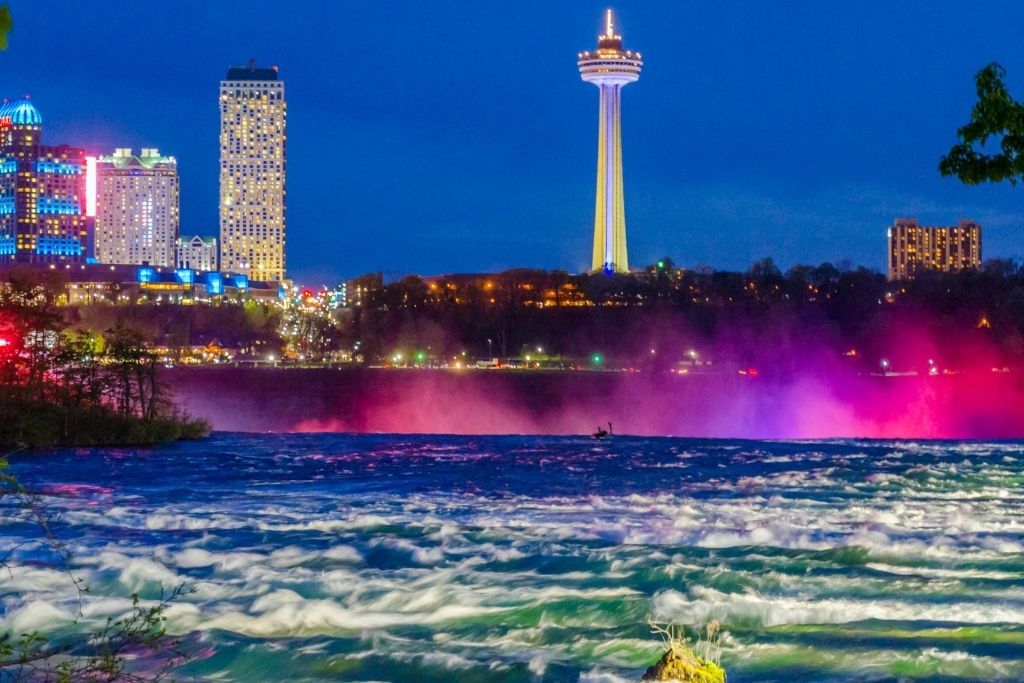 If you want to enjoy a bird's eye view of the falls, then you'll love this next stop on this Niagara Falls Itinerary. Because this place will give you stunning, unobstructed views from almost 800 feet in the air.
Yes, the view from the Skylon Tower is amazing since you can see all three waterfalls from the top. Plus, the tower's dining room actually rotates 360 degrees every hour too, meaning that your view is never the same.
So, once you get to the base of the tower, be sure to present your ticket (Hint, hint. Be sure to buy your ticket in advance now) so that you can wait in line for the glass-enclosed elevator to take you up to the top.
And although lines do move quickly, make your life a whole lot easier, and book your ticket in advance now!
Then, once at the top of the tower, you'll enjoy an indoor and outdoor observation deck where you can get sweeping views of all three waterfalls.
In fact, on a clear day, the visibility from Skylon Tower is a spectacular 80 miles! That's why the observation deck is a also great place to snap some photos, take in the view, and hang out for a while.
And if you're really digging the Skylon Tower, consider stopping by the Skylon Tower Restaurant to make a dinner reservation.
Now, to get from the Table Rock Welcome Center to Skylon Tower, it's a quick 5-minute drive along Niagara Pkwy. On foot, it's about a 15-minute walk along Niagara Pkwy.
Address: 5200 Robinson St, Niagara Falls, ON L2G 2A2, Canada
Hours: Open daily from 10:00 am to 10:00 pm.
Price: $13
Hornblower Niagara Cruise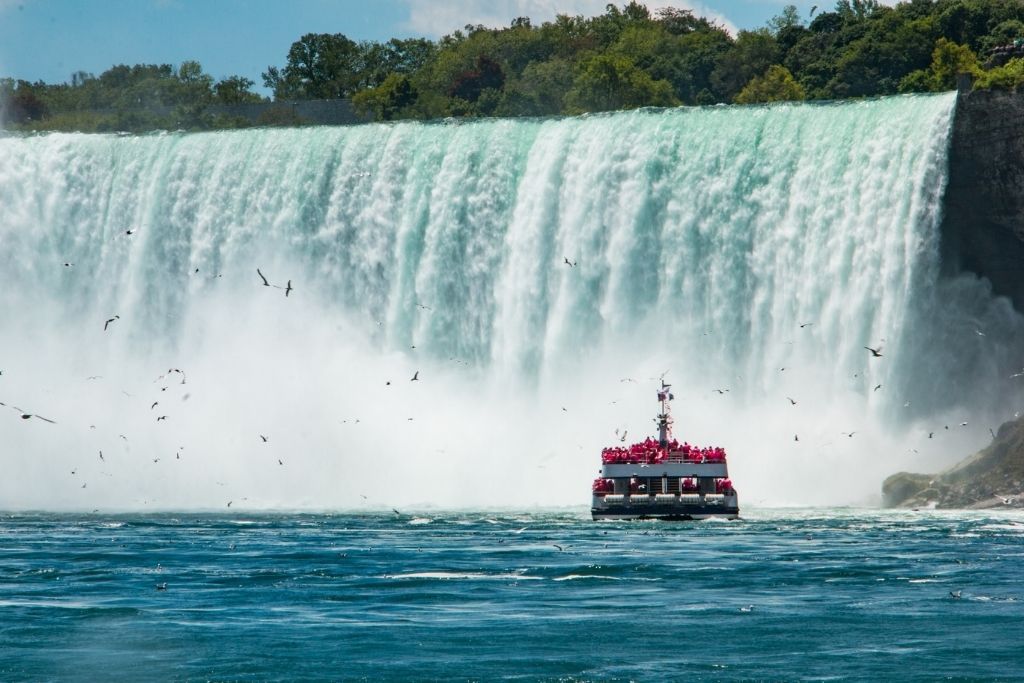 I'll be honest- you're not going to have time for every activity on this Niagara Falls Itinerary. However, by offering several different ideas for activities, you can pick and choose your favorites, based on what your interests are.
So, if you really want to get close to the falls then consider taking a scenic cruise abroad the Hornblower Niagara.
See, The Hornblower Niagara is a large tour boat that will take you about as close to the falls as you can possibly get. In fact, one of the many highlights of this experience is getting sprayed by the mist of the falls, and really feeling the power of the waterfall.
However, admiring the rainbows that pop up as the light reflects through the mist isn't an uncommon sight either!
But, if you don't feel like getting wet, not to worry because you receive a complimentary poncho that you can use to keep dry. There are also designated areas on the boat where you can sit to avoid the mist.
Boats also depart every 15-30 minutes, depending on the season. And if you've booked tickets in advance, you only need to arrive a few minutes before your departure time!
Just know that a ride aboard the Hornblower Niagara will last 15 -20 minutes, and is a truly breathtaking experience. Also, conveniently, it's only a 2-minute drive, or a 10-minute walk up Niagara Pkwy, to get to the meetup point for the Hornblower Cruise from the previous stop on our Niagra Falls itinerary.
Address: 5920 Niagara Pkwy, Niagara Falls, ON L2E 6X8, Canada
Hours: Open daily from 9:00 am to 5:00 pm in the spring and fall, with extended hours in the summer, and closed in the winter.
Price: $25
View the American Falls from Queen Victoria Park
Next up on this Niagara Falls itinerary is exploring Queen Victoria Park, and catching a glimpse of the falls from the American side.
However, you won't have to walk too far since Queen Victoria Park is just a hop, skip, and jump away from Niagara Cruises- about a quarter mile down Niagara Pkwy (aka a 10-minute walk) to be precise. And, boom, you're there.
You'll also love that Queen Victoria Park is completely free to visit, and a welcome break from the hustle and bustle of the more urban areas surrounding the falls.
In particular, the park is best known for its iconic green spaces, incredible flower beds, rock garden, and hybrid tea rose garden. It's also pretty historic since it first opened in 1888, and is now considered by many to be at the heart of Niagara Falls.
Plus, the view from Queen Victoria Park is pretty astounding and gives you stellar panoramas of the American Falls.
So, overall, Queen Victoria Park is well worth a visit as you enjoy your Niagara Falls itinerary, even if it's just for a brief walk or sit-down in between activities.
Address: 6345 Niagara Pkwy, Niagara Falls, ON L2E 6X8, Canada
Hours: 24 hours a day.
Price: Free
Niagara-On-The-Lake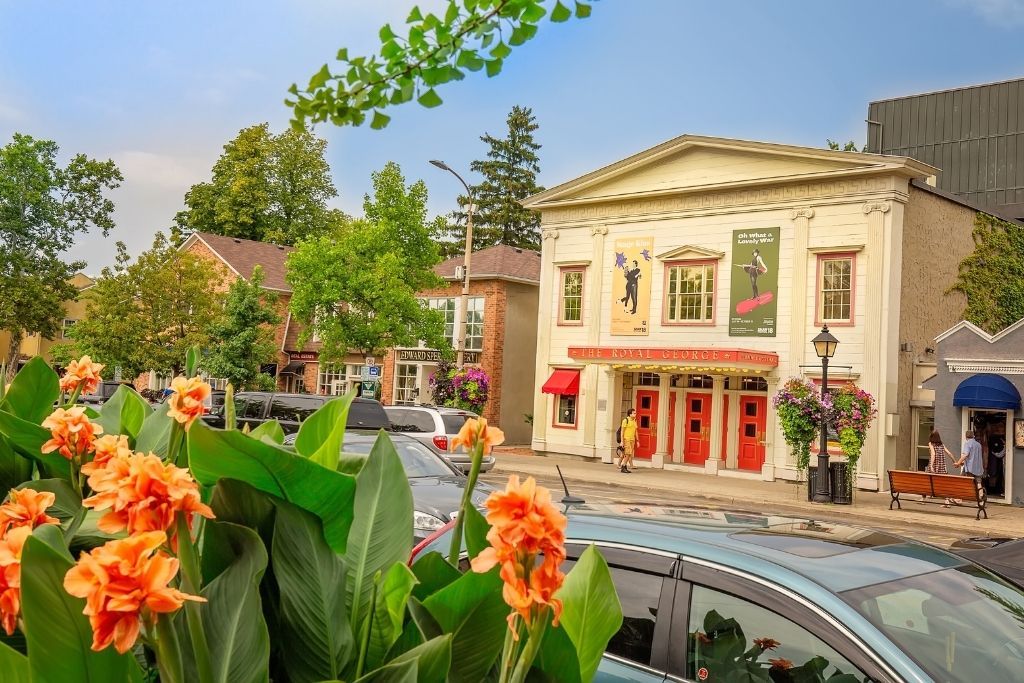 Niagara-on-the-Lake is a well-preserved, 19th-century town located right on the Niagara River (hence the name). This quaint, historic town simply oozes old-world charm and is a unique stop on this Niagara Falls itinerary.
And that's because one of the best things to do in Niagara-on-the-Lake is to take a stroll through the downtown and take in the interesting sights and stunning architecture that the area is known for.
In fact, the downtown area is littered with cool shops and delicious restaurants that are just waiting to be explored. Also, even though this town is small, it holds an important place in Canadian history since multiple battles were fought here after the American invasion of Upper Canada.
Plus, Niagara-on-the-Lake also happens to be home to the oldest Catholic church, and oldest surviving golf course, in all of North America!
Therefore, after perusing the streets of Niagara-on-the-Lake, be sure to check out some of the town's delicious crafter breweries, like Niagara Oast House Brewers, or the Exchange Brewery.
But, if you're more of a wine person than a beer person, then be sure to stop by some of the area's most incredible wineries, such as Konzelmann Estate and Two Sisters Vineyard.
Also, be aware that Niagara-on-the-Lake is about a 25-minute drive (or 15 miles) away from Queen Victoria Park. So, it's not quite within walking distance of the park.
However, you could easily take a taxi there, or hop on the WEGO bus, which services most of the other stops on this Niagara Falls itinerary too.
Address: Niagara-On-The-Lake
Hours: Shopping hours typically are from 10:00 am to 5:00 pm daily.
Price: Free
Dinner
After a jam-packed day of seeing the incredible sights around Niagara Falls, it's time to enjoy some dinner!
So, if you're still in Niagara-on-the-Lake, there are several delicious restaurants where you can enjoy dinner, including:
Treadwell Cuisine– This restaurant is located in the heart of town, right on Queen Street. They specialize in fresh, farm-to-table Canadian fare, including delicious seafood and grilled beef tenderloin. They also have vegan options upon request!
The Irish Harp Pub– For a more casual dinner, try the Irish Harp Pub with its upbeat atmosphere, live music, and classic Irish fare. They also serve a wide array of sandwiches, salads, seafood, and steak

.
But, if you're keen to head back to Niagara Falls proper then are some delicious restaurants you might want to check out include:
Carpaccio Restaurant and Wine Bar– This Italian restaurant serves up delicious Italian pasta dishes, entrees, and brick-oven pizzas.
The Flour Mill Scratch Kitchen– This rustic eatery creates delicious American food and artisanal cocktails. You can also find this place inside the beautiful Old Stone Inn
Map of this Niagara Falls One Day itinerary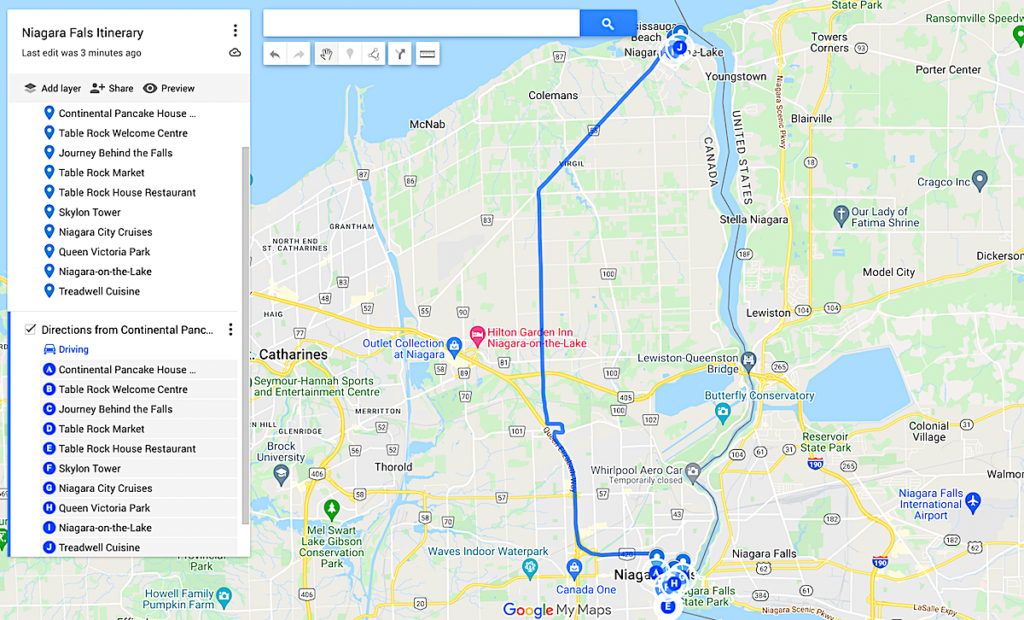 Additional New York Resources You'll Love
There you have it! That just about wraps up this one-day Niagara Falls itinerary!
Tell me, did all your favorite things to do in Niagara Falls make the list? If not then let me know in the comments below!
And if you found this post useful, be sure to join our email list before pinning this post now so that you can read it again later!