Just a short train ride away from New York City is one of the cutest and best small towns in New York– Sleepy Hollow. It sits a mere 30 miles away from NYC and makes for one of the most epic of NYC day trips since there are a ton of fun things to do in Sleepy Hollow NY.
So, if you're looking to experience the macabre and see the place that inspired Washington Irving to write the classic tale, "The Legend of Sleepy Hollow" then post all about the best things to do in Sleepy Hollow NY is totally for you!
After all, this magical place is hidden away in the idyllic Hudson Valley and sis right on the edge of the Hudson River. It's also located right next door to Tarrytown, so you can easily do all of the best things to do in Tarrytown NY while you're here too.
Plus, added bonus? I grew just down the road from this historic town. Therefore, I have a ton of insider tips and tricks that I want to share with you so that you can see as many Sleep Hollow attractions as possible.
And while you can enjoy this list of the best things to do in Sleepy Hollow NY at any time of year, I'd definitely recommend planning your Sleepy Hollow itinerary for some time in the fall.
This way, you can enjoy the area's stunning fall foliage while getting in on all of the fun fall activities that take place here in the months leading up to Halloween.
Because, not gonna lie, the Headless Horseman is a BIG deal around here. Especially since Sleepy Hollow – and Tarrytown too – is one of the most haunted towns in the entire United States.
So, if you're looking for something extra fun to do this fall season (and beyond) then give this list of the best things to do in Sleepy Hollow NY a quick look.
Especially since you'll get tons of local advice on where to stay in Sleepy Hollow, how to get to sleepy hollow from NYC, where to eat in Sleepy Hollow, and so much more!
So, gear up and channel your inner Ichabod Crane as we swan dive into the awesomeness of Sleepy Hollow and explore some of the best things to do in Tarrytown NY too!
This post may contain affiliate links. Please see my disclosure for more information. As an Amazon Associate, I earn a small commission from qualifying purchases.
? Haven't planned your trip in Sleepy Hollow yet? You can't go wrong with booking a room at Castle Hotel & Spa. Not only is the service excellent you can indulge your senses in a spa day! ?
How to Get To Sleepy Hollow from NYC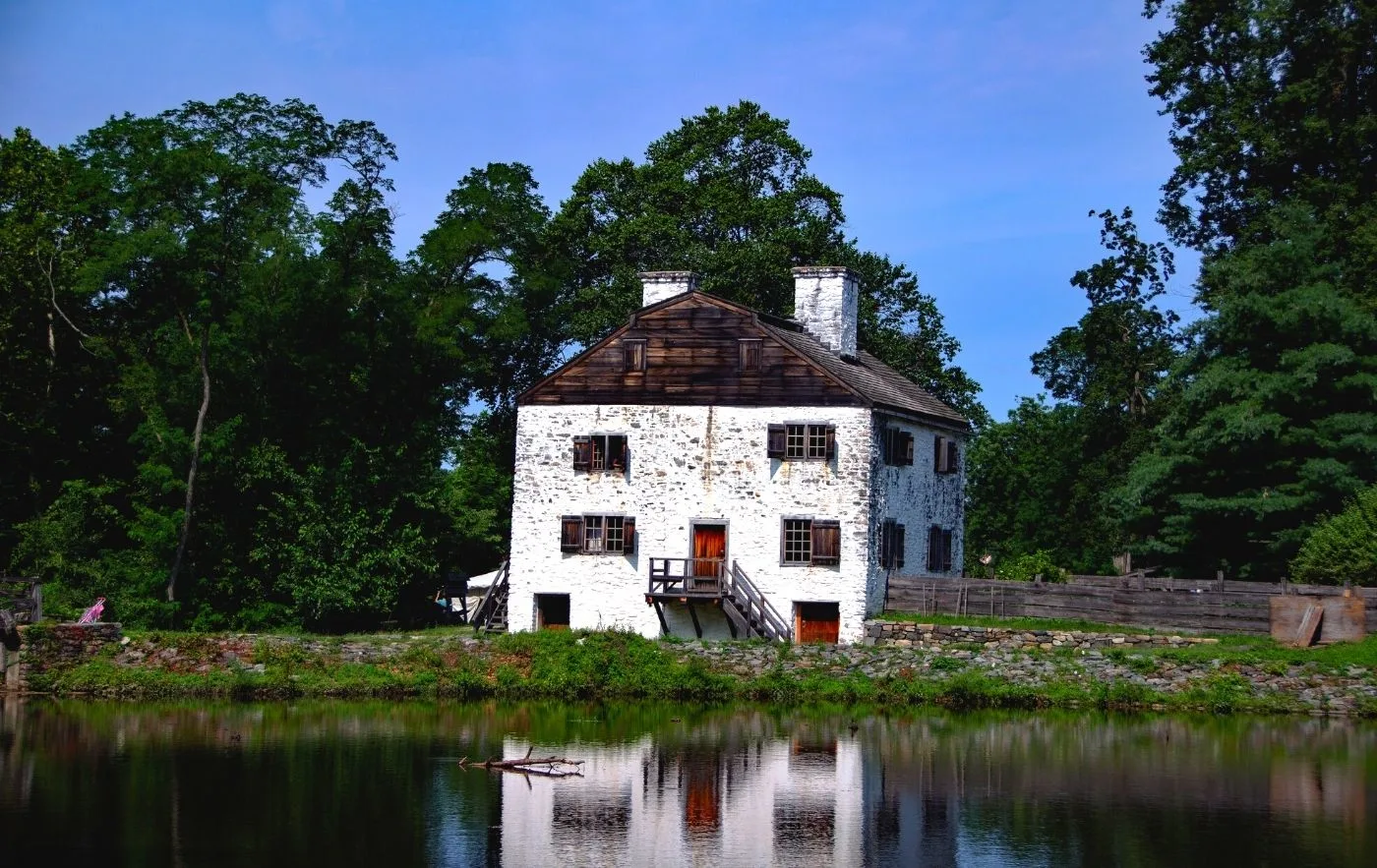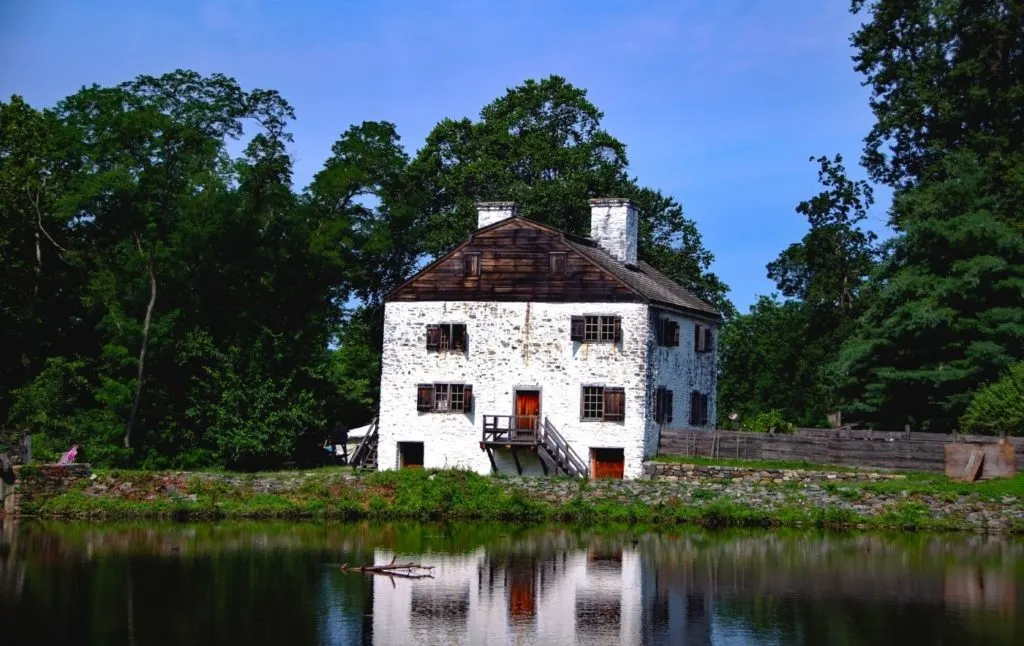 If you want to experience all the very best things to do in Sleepy Hollow NY then you'll probably want to understand exactly how to get there first.
Well, the good news is that it's pretty dang easy to get to Sleepy Hollow from NYC. Just head to Grand Central Terminal and catch a MetroNorth, Hudson Line train to Tarrytown station.
Yup, it really is that simple. Heck, there are even express trains that will get you to Tarrytown station in a mere 35-minutes (there are also lots of local trains that will probably take around an hour to get to Tarrytown from NYC).
And while you could probably walk/uber it to most of the best things to do in Tarrytown NY mentioned here, I would recommend renting a car since public transportation here sucks, and having a car just makes getting around about 10,000 times easier.
Alternatively, you could always drive-in since Tarrytown and Sleepy Hollow are both accessible to much of the Northeastern United States from either I-87, I-287, or I-95 if you cross the Tappan Zee Bridge.
The Legend Of Sleepy Hollow
Okay now I know that almost everyone from New York knows about the legend of Sleepy Hollow but if you are one of the people who are visiting and are wondering what all the fuss is about, let me give you the tale in a snapshot.
Washington Irving aka the founder of American literature lived in Sleepy Hollow. It was his hometown that inspired him to write the epic 'The Legend Of Sleepy Hollow'. You may also know him from another well known story named 'Rip Van Winkle'.
Anyways the story is centered around a main character Ichabod Crane who is a schoolmaster from Connecticut. There is obviously an antagonist in the story who in this case is Abraham "Brom Bones" Van Brunt who is the village hooligan. Both men are competing for the hand of the Katrina Van Tassel who is a beauty and is also the only daughter of a wealthy man. You can see where this is going? Probably not!
Because in comes the next player in the story who is a headless horseman or the ghost of ghost of a Hessian trooper who had his head blown off by a cannonball. The story is pretty fast paced and keeps you on the edge. I'm not going to ruin it for you by giving you the whole plot. If you aren't interested in reading the book, I would recommend catching the movie. It's a fun watch especially if you do it before you head down to Sleepy Hollow.
Best Hotels in Sleepy Hollow NY
Because people love coming here throughout the fall to experience some of the best things to do in Sleepy Hollow NY (thanks Washington Irving), there are a ton of great hotels scattered throughout the Sleepy Hollow area.
And some of my personal faves include the following:
⭐️ Rating: 8/10 (150 Reviews) Price: $230 per night ?Location: 670 White Plains Road, Tarrytown, NY Details: Read more on booking.com now!
This well-priced, upscale hotel has ample parking and is a mere five minute drive away from Sleepy Hollow.
Rooms here are also well-appointed with snazzy things like ergonomic chairs, WiFi, flat-screen TVs, and more.
"It was a great place to get rest in for the night, I did not use any of the amenities. The bed was comfortable and the check in experience was pleasant."

Jayne (read more reviews now!)
Complimentary continental breakfast and evening appetizers are also available to guests, as is access to a casual American restaurant (great food), a steak house, a spa, a hot tub, indoor and outdoor pools, and a fitness center.
Yeah, I've attended a bunch of conferences here and the facility is really lovely and the staff are super helpful too, making the Westchester Marriott an all-around great place to stay.
⭐️ Rating: 8.3/10 (274 Reviews) Price: $246 per night ?Location: 475 White Plains Road, Tarrytown, NY Details: Read more on booking.com now!
Just 2.5 miles down the road from the train station is this modern hotel. It features a wide array of chic guest rooms that include WiFi, coffeemakers, and flat-screen TVs.
Guests here also get to enjoy a cozy, living room style lobby and can even relax in a stunning, well-maintained outdoor courtyard.
"Service staff were very friendly and very helpful. Very professional in their interaction with us. We had housekeeping everyday which was very nice coming back from an outing to meet a clean room with well made beds. The neighborhood was very nice too with restaurants and bars just 7mins from the hotel"

Ivie (read more reviews now!)
Additionally, there's a lovely little on-site eatery that serves everything from breakfast to lunch to Starbucks brand coffee. So, book a room at the Courtyard by Marriott Tarrytown and behold the highly caffeinated power of Starbucks.
⭐️ Rating: 8.8/10 (331 Reviews) Price: $264 per night ?Location: 400 Benedict Avenue, Tarrytown, NY Details: Read more on booking.com now!
This place is swank with a capital "S". After all, rooms inside this lavish, 19th-century, Norman-style castle overlook the stunning, Hudson River and include original art, iPod docks, Keurig brand coffee makers and more.
"The castle has an amazing charm and history behind it. Even though a number of amenities are still closed or limited with covid, there were plenty of comfortable spots to relax in old world charm. The hotel was spotless and the staff was outstanding. Can't wait to visit again."

Vincent (read more reviews now!)
And if you get hungry, be sure to dine at the award-winning French restaurant here before making use of the spa, pool, outdoor hot tub, fitness center, various yoga classes, and multiple sport courts.
Yup, the Castle Hotel and Spa is just an ultra-fab place to stay if you have a little extra money at your disposal.
Best Things to do in Sleepy Hollow NY and Best Things to do in Tarrytown NY
1. Celebrate Halloween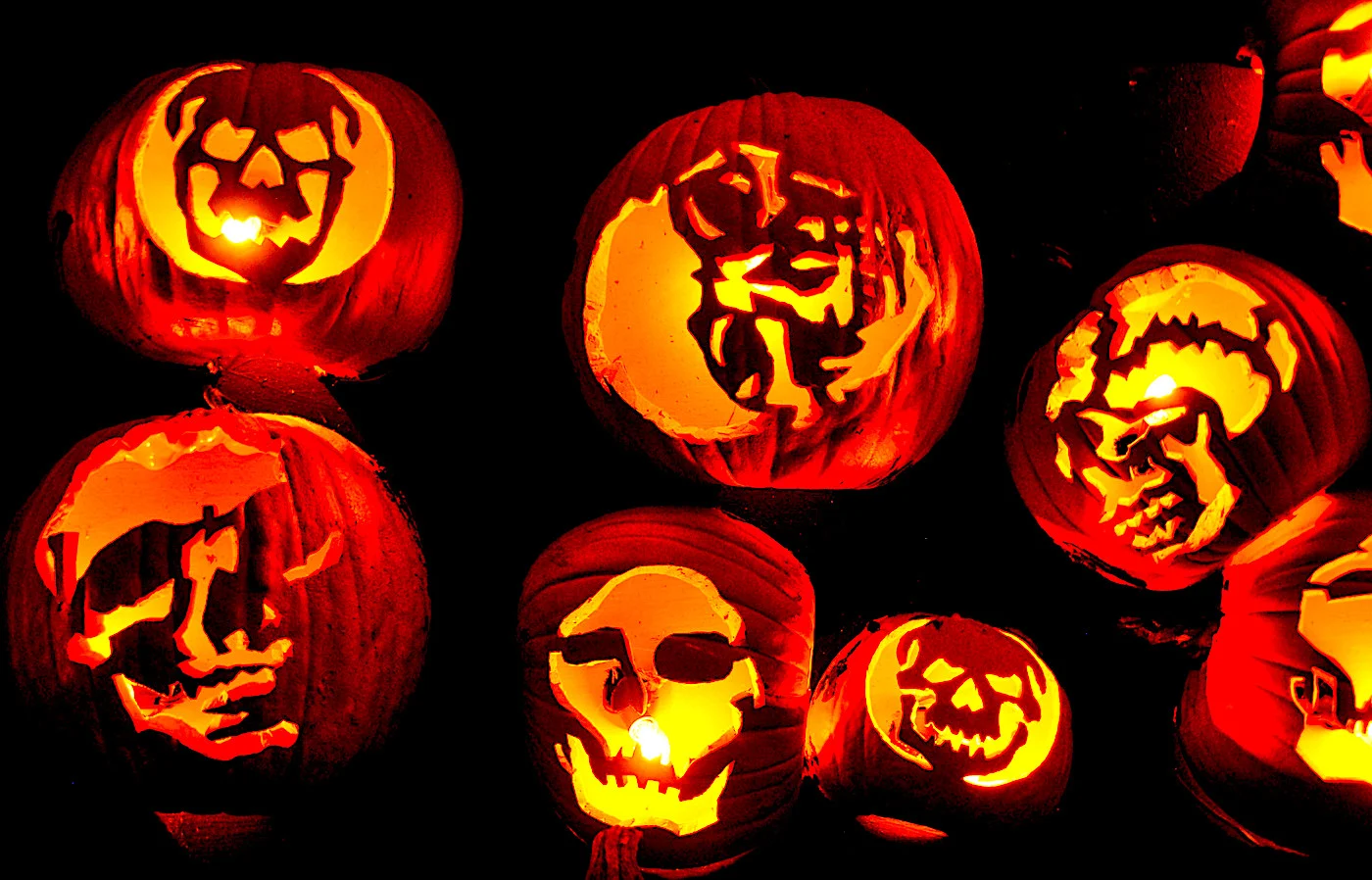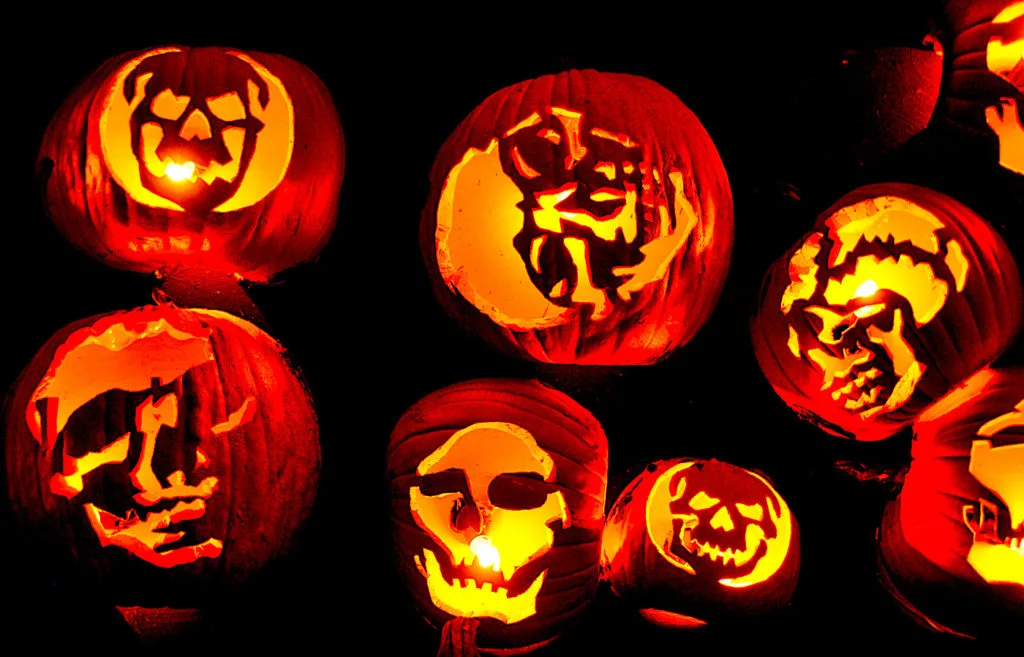 While this can't be done year-round, if you're able to visit in October, joining in on the town's Halloween festivities is definitely one of the best things to do in Sleepy Hollow NY.
Because the fun starts up in mid-to-late September and continues all the way through early November.
And OMG, do they go ALL OUT in Sleepy Hollow. Once you've celebrated Halloween here, you won't want to celebrate it anywhere else.
So, start off with the Great Jack O'Lantern Blaze. In fact, this is one of the largest Halloween events in the entire USA since over 7,000 hand-carved pumpkins are placed outside the Van Cortlandt Manor and lit up to make this beautiful 18th-century building look absolutely magical!
Think Halloween-inspired treats of every variety, giant dinosaurs made out of hand-carved jack'o lanterns, and more! Yeah, I've been many times and it's a great event that is also VERY popular. So, be sure to book your tickets well in advance.
That's not all there is to do, either. Take a haunted hayride, go for a spooky ghost tour, or visit the Headless Horseman's statue. They also have cemetery tours available for those who are REALLY brave.
The historic Tarrytown Music Hall also typically does a live showing of Rocky Horror Picture show that is A LOT of fun to attend. I went and had an AMAZING time.
Plus, each year this town holds an annual retelling of Irving's classic tale. It's delightful – but spooky – fun for the whole family. So, although you might think you know the legend, you can't leave without hearing it live and in Sleepy Hollow!
Lastly, in neighboring Tarrytown, there's an annual Halloween parade that runs all through the city and has some of the most spectacular and terrifying costumes on display. Luckily it's during the daytime, so anyone can stop by and enjoy some of the best things to do in Tarrytown NY.
2. Pay Your Respects at the Sleepy Hollow Cemetery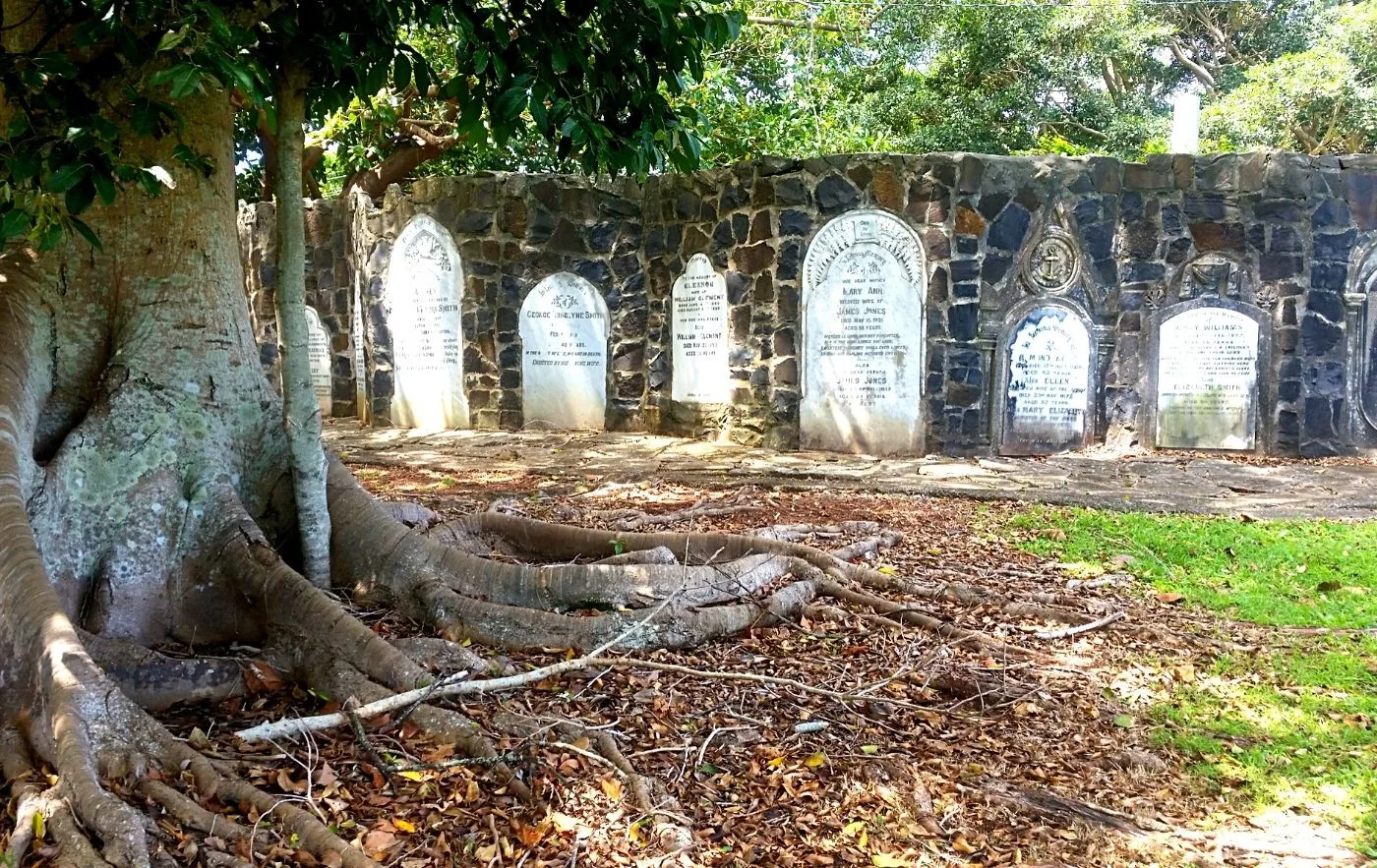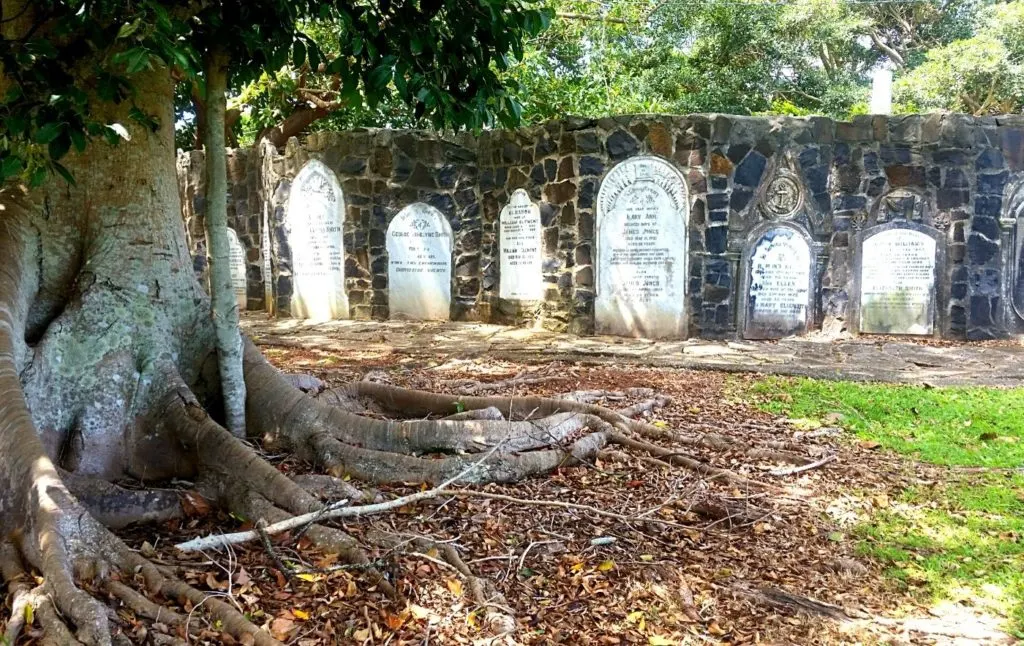 If you need even more spooky fun in your life, pay a visit to the Sleepy Hollow Cemetery. While it's a popular spot to visit during Halloween, this is one of the best things to do in Sleepy Hollow NY at any time of the year.
Plus, it's a great way to get a little Halloween spirit into your visit even if you can't visit in October.
Unfortunately, tours only run during the Halloween season, however, anyone can visit throughout the year on their own between 8:30 am to 4:30 pm daily. And the grounds are absolutely worth a wander.
FYI, many notable historical figures are also buried at the Sleepy Hollow Cemetery, though perhaps the most famous is Washington Irving himself, the author of "The Legend of Sleepy Hollow" – among others.
However, the story does not take place in this cemetery, but in a nearby one further down this list (the Old Dutch Reformed Church).
Not only is this Irving's final resting place, but he's kinda responsible for it existing in its current state. In fact, the cemetery was originally known as the Tarrytown Cemetery, but was renamed the Sleepy Hollow Cemetery by his request after he had died.
Pro Tip: If you can, DEFFO add a cemetery tour to your Sleepy Hollow itinerary. They are all about an hour long (or an hour and a half long) and tell the fascinating history of this impressive, 90-acre cemetery for around $30 per person.
There are also a ton of different tours to choose from, like (check the website for more info):
The Good The Bad and The Unusual – Saturday, September 25, Friday, October 1, Saturday Oct. 2 Friday Oct. 8, Saturday, Oct. 9, and Friday, Oct. 15 from 7:00 pm to 8:30 pm.
Evening Lantern Tour – Friday and Saturday nights in September. Friday, Saturday and Sunday nights in October and November at various times.
The Original Knickerbocker: Washington Irving & "The Legend of Sleepy Hollow" – Saturdays and Sundays from 11:30 am to 12:30 pm and from 2:00 pm to 3:00 pm through November and also on weekdays in October.
Address: 540 N Broadway, Sleepy Hollow, NY 10591
Hours: Open daily 8:00 am to 4:30 pm daily, except on Saturdays and Sundays when they open at 8:30 am.
Price: Free!
3. Take a tour of Kykuit, the Rockefeller Mansion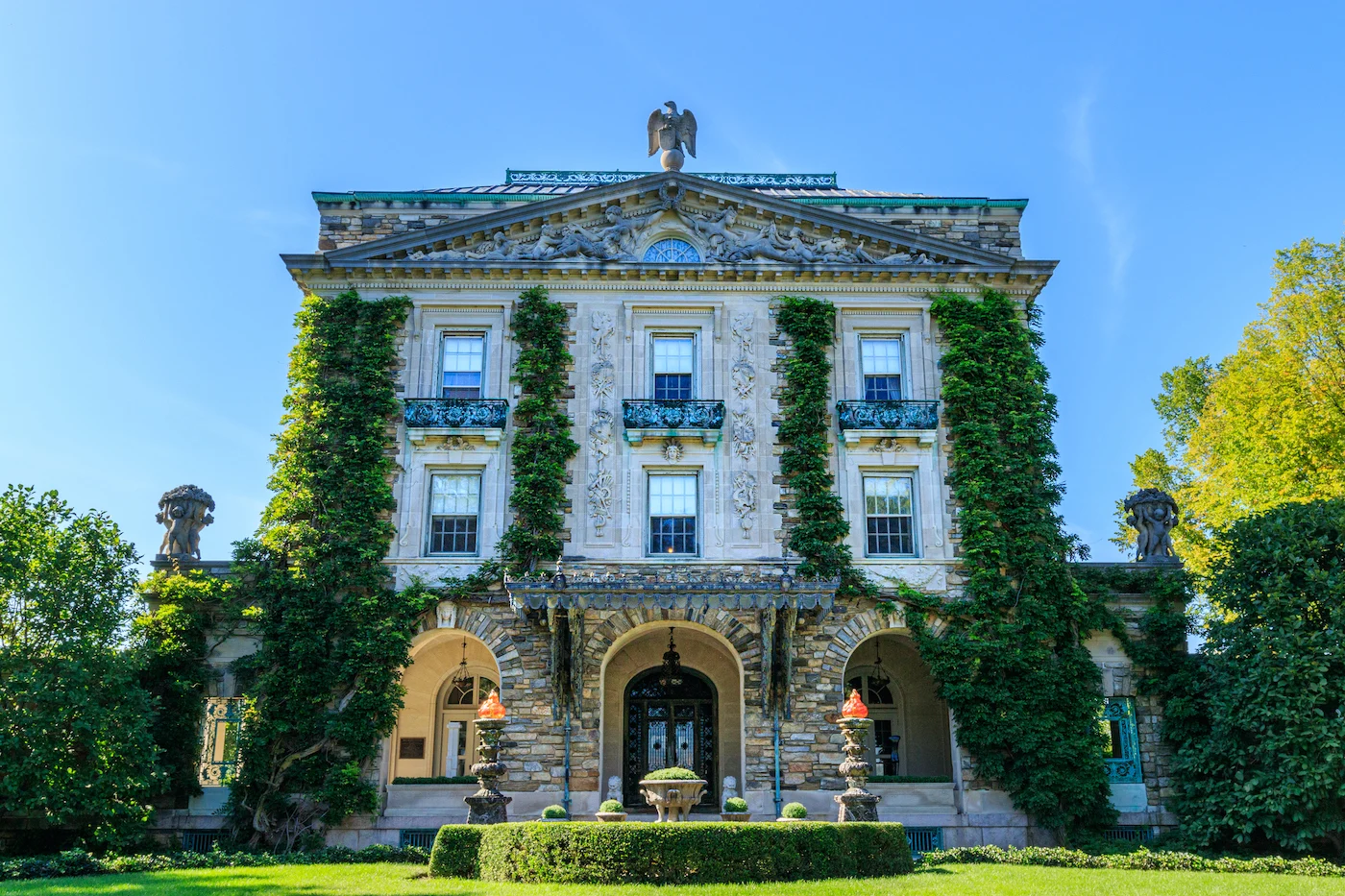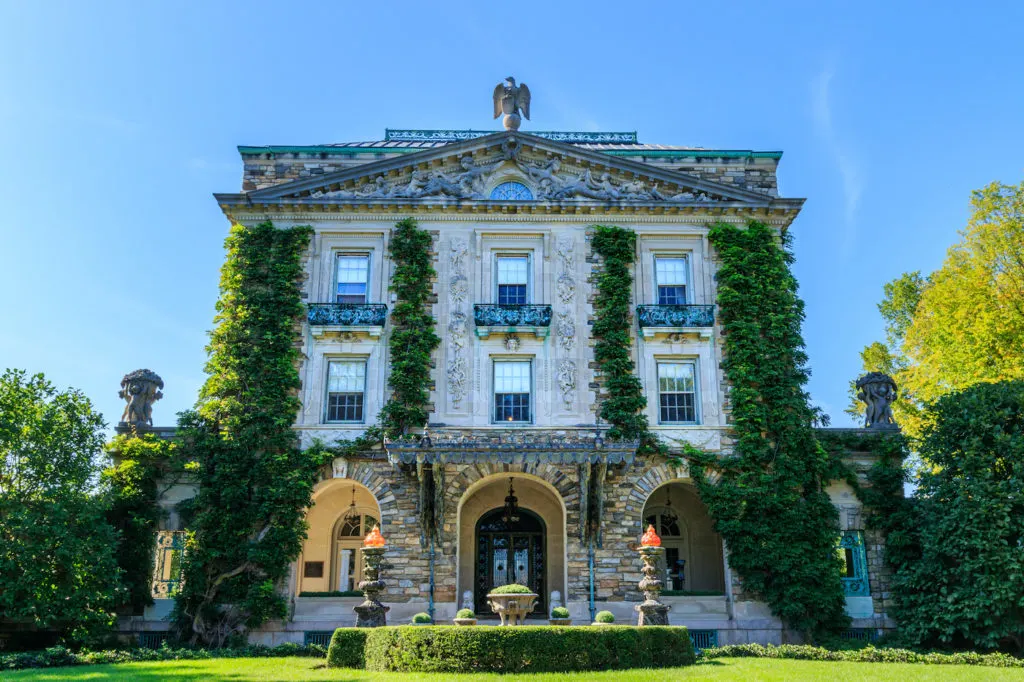 Since being built in 1913, Kykuit has been home to four generations of Rockefellers, starting with oil tycoon John D. Rockefeller for whom it was built.
But today Kykuit is listed as a historic site of the National Trust for Historic Preservation. And that means anyone can now visit/enjoy one of the best things to do in Sleepy Hollow NY.
Well, kind of. You have to visit via a guided tour. But honestly, I can't imagine seeing it any other way.
For starters, you'd get lost immediately because this place is ridiculously huge. And if you don't get lost in the house, you'd definitely get lost on the grounds.
So sign up for a tour and see how the 1% live for a day. Marvel at the outrageously large living room and the gorgeous gardens. There are also some great views over the Hudson from the estate.
While not technically located in Sleepy Hollow, the mansion is a mere 6 minute drive away. So, I think it's still safe to say it's one of the best things to do in Sleepy Hollow!
Address: 381 N Broadway, Sleepy Hollow, NY 10591
Hours: Currently closed.
Price: Tickets are $28 for adults and $26 for children, students, and seniors.
4. Marvel At The Gorgeous Stained Glass Work By Matisse And Chagall
Have you ever heard of Henri Matisse and Marc Chagall? If you haven't then you may want to check them out. They are creators of some world class art that Westchester county ha been lucky to be blessed with. I mean if you think about it, it should come as a surprise. It is after all the home of the Rockefellers! In fact, the church was built by John D. Rockefeller Jr!
If you are looking for the iconic stained glass work designed by the two artists then you need to head to the Union Church of Pocantico hills. In fact, it houses the last work that was designed by Matisse. Chagall designed the 9 windows of the Church but Matisse is famous for the rose window.
The view is absolutely spectacular especially with the sun streaming in through the windows. Unfortunately you can't click photographs indoors. You can however click pics of iconic glass from outside the church.
Pro tip: Check out the Union church just after visiting the Kykuit estate because it is located very close to each other.
Address: 555 Bedford Road, Pocantico Hills, NY 1059
5. See the picturesque Tarrytown Lighthouse (or Sleepy Hollow Lighthouse)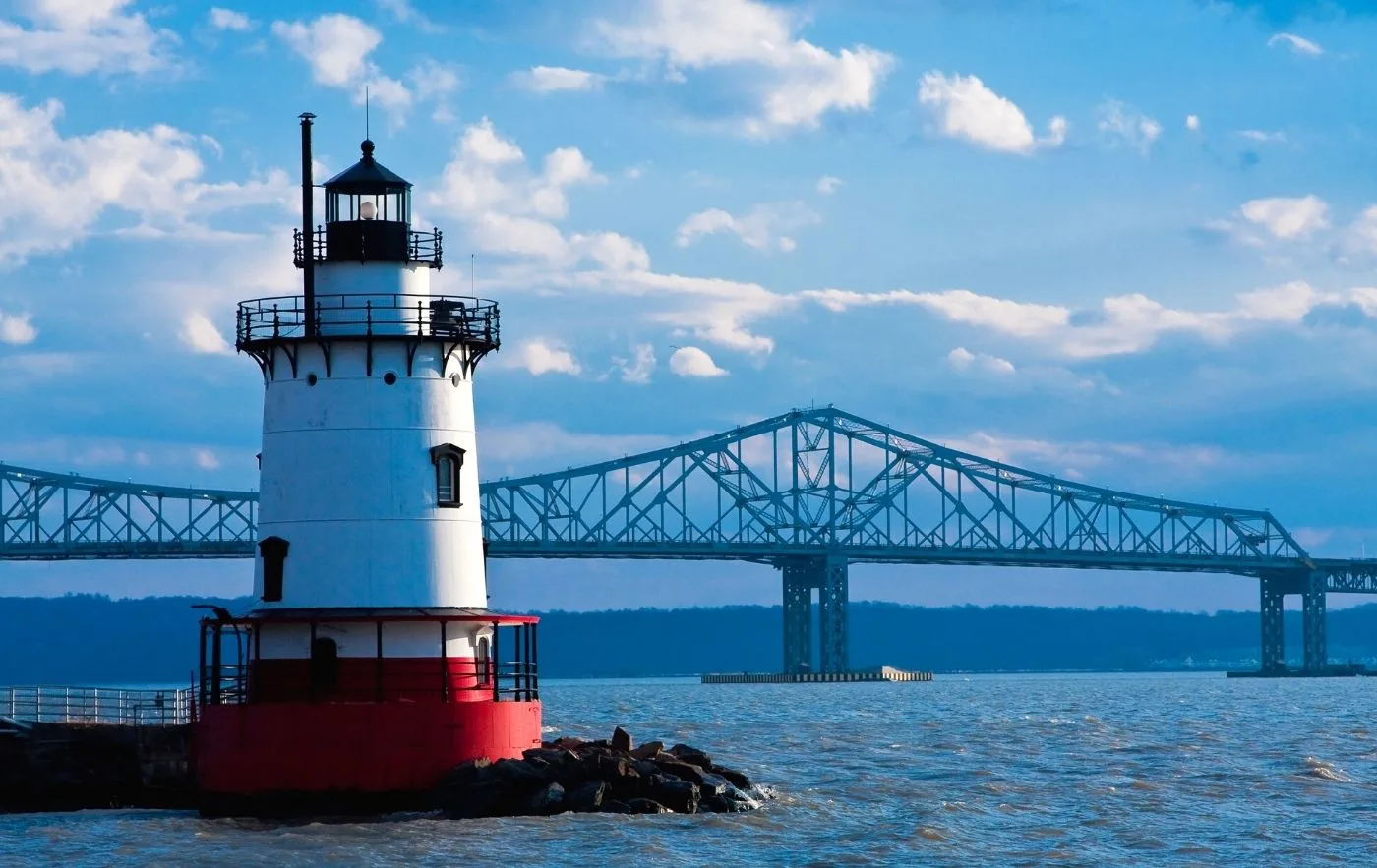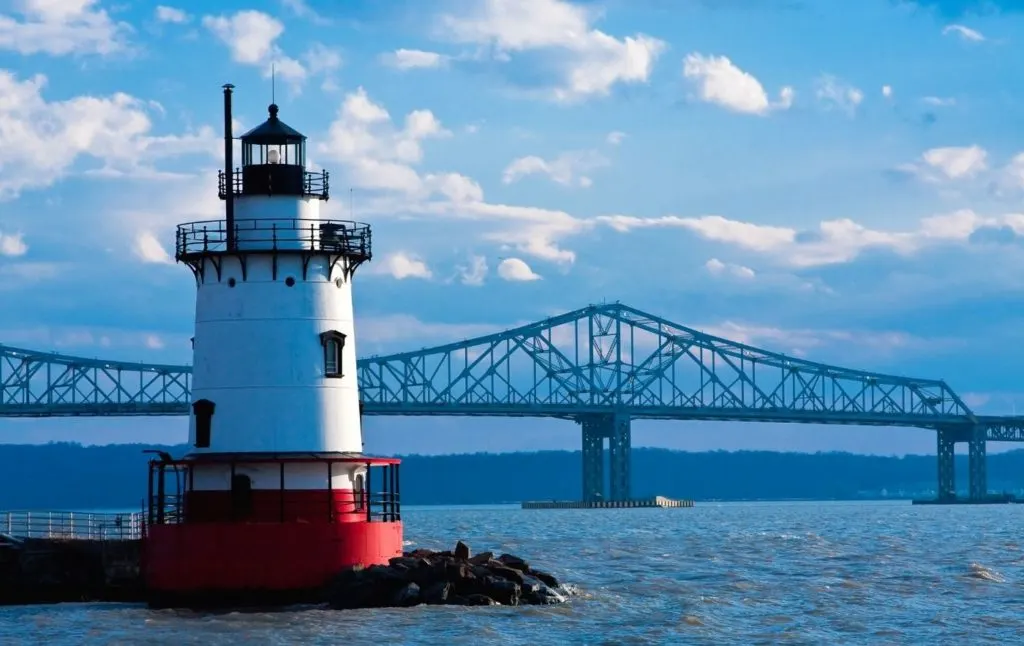 If you know me, you know I love lighthouses! I've written about them before, like when I gave my picks for the best lighthouses in Portland Maine!
So, if I'm out and about on the East Coast – experiencing all the best things to do in Tarrytown NY – you know your girl over here will be drawn to a lighthouse like a moth to a … well, a lighthouse!
And Sleepy Hollow/Tarrytown was not left out when it came to building cute yet functional lighthouses! I mean, the one that sits on the Tappan Zee – the wide part of the Hudson River that flows by town – is officially called the Tarrytown Light, but it's also known as Sleepy Hollow Light and Kingsland Point Light.
Built in the late 1800s and first formally lit in 1883, Sleepy Hollow's new aquatic safety feature was special because it had a place for the lighthouse keeper and his family to actually live inside.
It was later decommissioned in 1961, and then added to the National Register of Historic Places in 1979. As well as the lighthouse itself, there's a small museum attached for some extra learning material!
And if you're traveling to the lighthouse by car, parking is available nearby at Kingsland Point County Park, though it is $10 per non-resident. Alternatively you can park at the Tarrytown Waterfront public parking area for free and take in all the sweeping, waterside views.
Pro Tip: Have lunch in the aptly named Bridge View Tavern and you can admire lighthouse views off in the distance.
Address: Tarrytown Light-Kingsland Point Path, Sleepy Hollow, NY 10591
Hours: You walk through Kingsland Point Park to get here, which is open daily from 9:00 am to 7: 30 pm.
Price: Free (You can use the bridge to walk around the lighthouse and enjoy one of the best things to do in Sleepy Hollow NY).
6. Hike through the Rockefeller State Park Preserve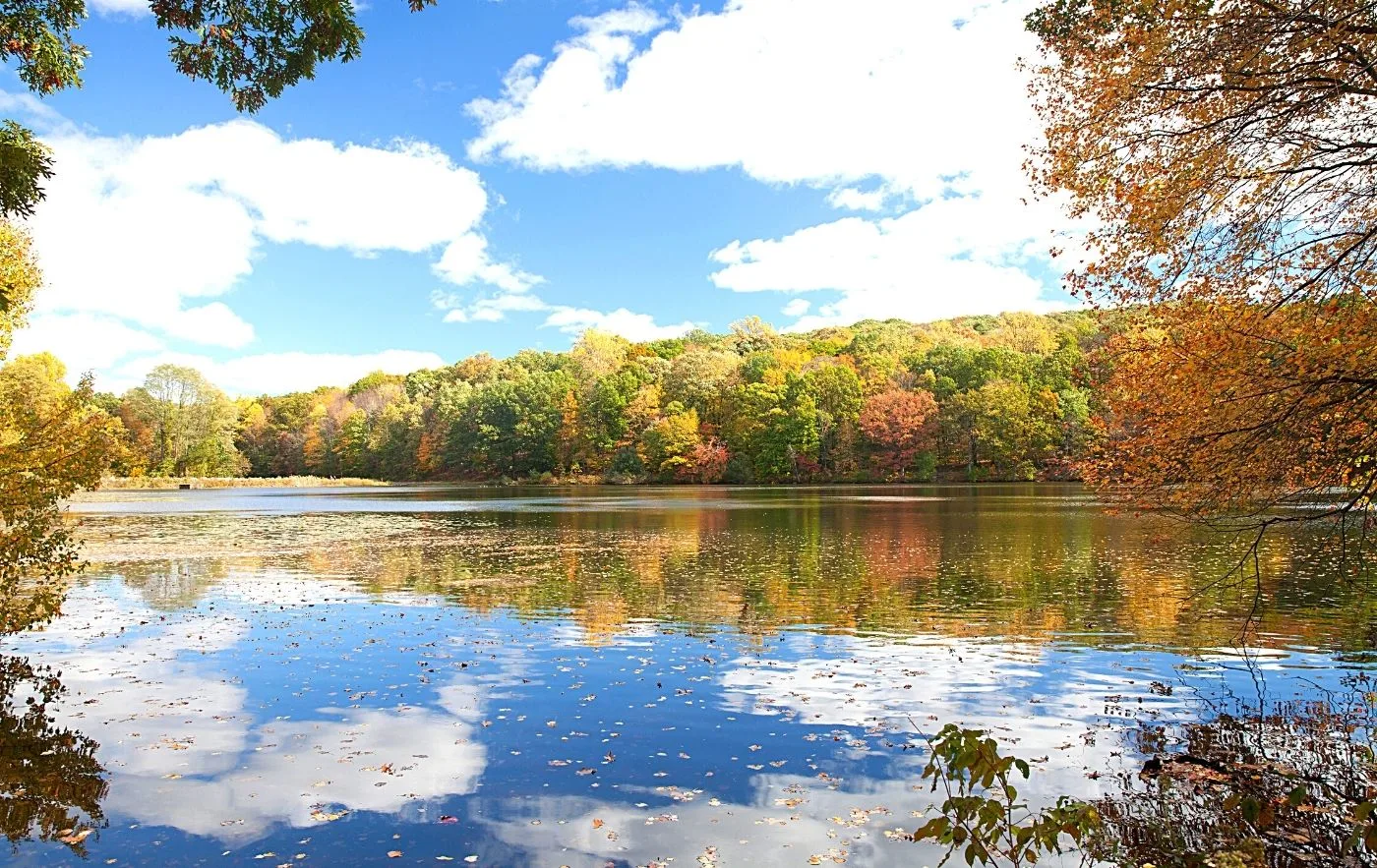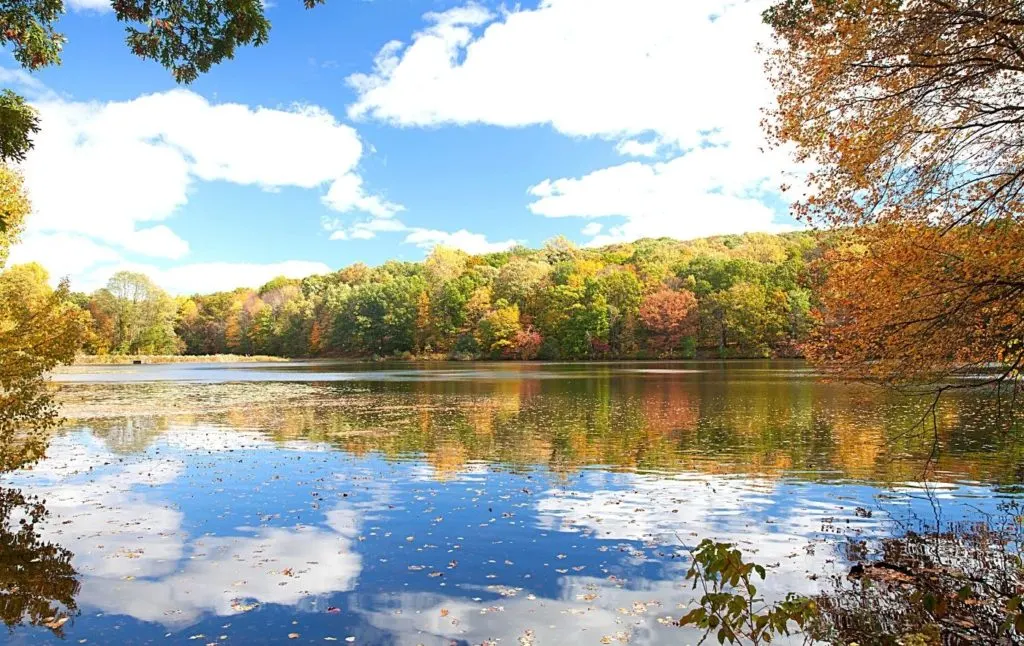 If you're looking to stretch your legs and enjoy the amazing natural landscapes that surround Sleepy Hollow then head slightly to the east of the town and you'll find yourself in Rockefeller State Park Preserve.
This 1,771-acre park was owned and then donated by the Rockefeller family to the state of New York so that it could be preserved for future generations.
That's why, you too can now enjoy over 55 miles of historic carriage roads, sprawling meadows, lush fields, and woodland trails. So it's time to get your hiking shoes on, y'all, and take advantage of one of the best things to do in Sleepy Hollow NY.
There's also lots of history mixed into this natural utopia since many of the trails in the park were planned and laid out by the Rockefeller family, including some crushed stone carriage roads put in place by John D. Rockefeller Sr. and Jr. in the early 1900s.
But the main thing on display at this State Park is pure, unadulterated, awe-inspiring nature.
So, stroll through beech, maple, poplar and oak tree lined pathways as you try to spot some of the more than 200 different species of birds have been recorded in the park.
And if you're lucky enough to visit in the fall, you may even see beautiful Monarch butterflies as they migrate south for the winter!
Address: 125 Phelps Way, Pleasantville, NY 10570
Hours: Open daily from 9:00 am to 4:30 pm.
Price: Vehicle day use fee of between $6 and $10.
7. Get your Insta fix at Philipsburg Manor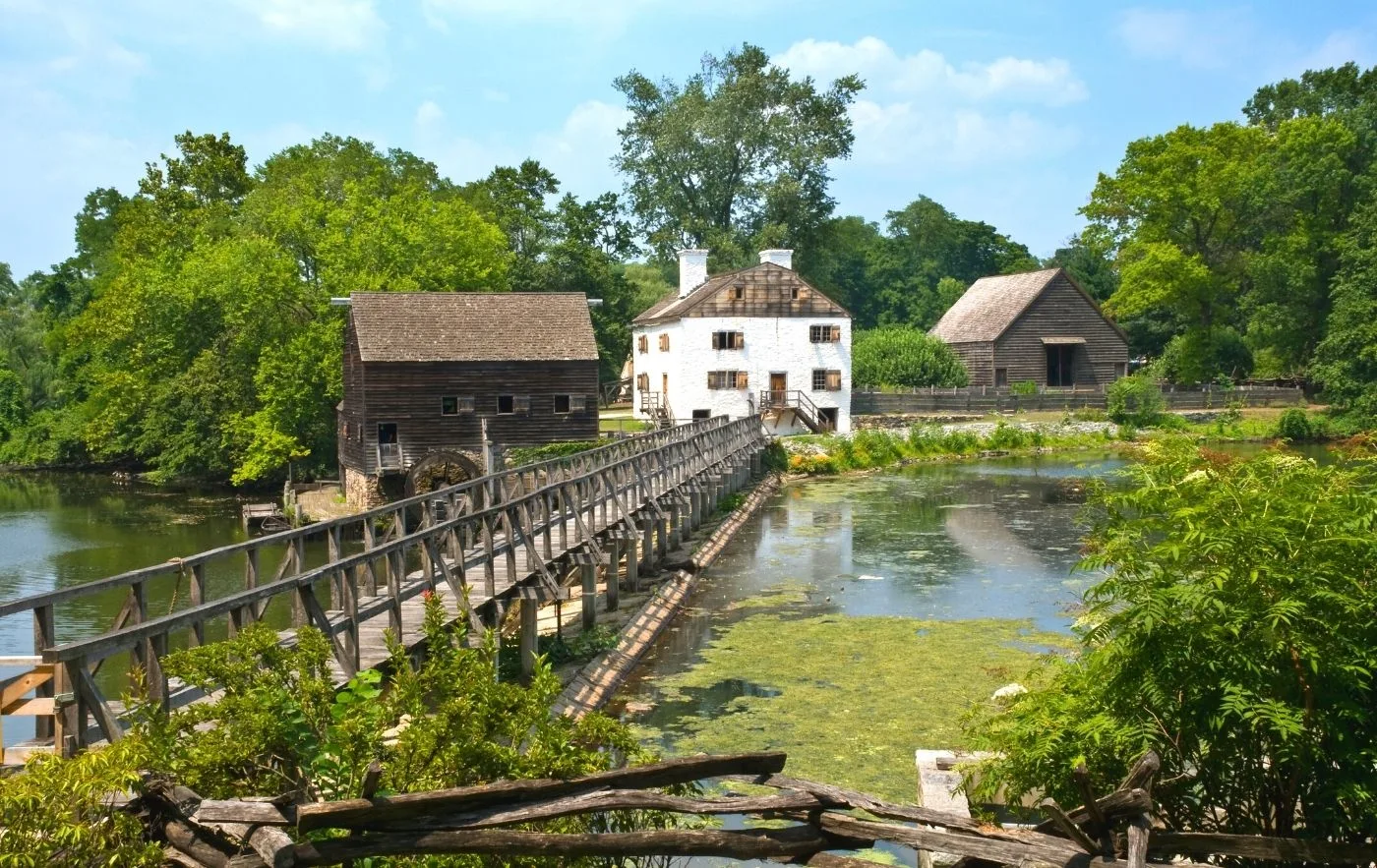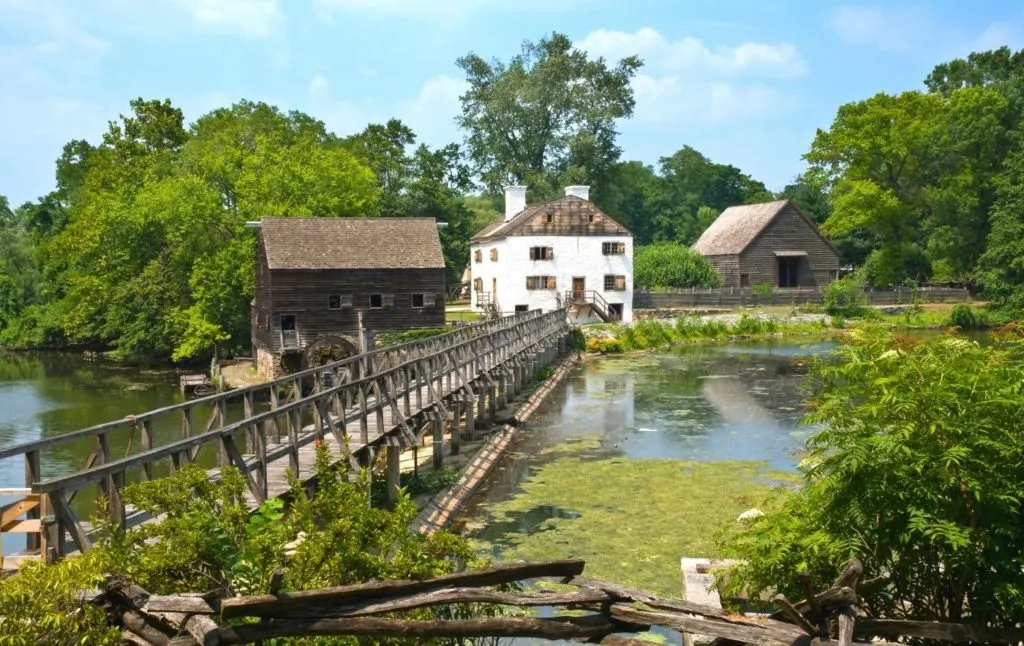 You'll feel like you've taken a time machine back to the 1700s as you walk along the bridge across Pocantico River towards Philipsburg Manor!
This former trading post – complete with its slow-turning water wheel – is 300 years old, and looks AMAZING at any time of day, but especially at sunset!
This cultural building serves as a living museum, so visitors can find the building filled to the brim with period pieces, furniture, and various historic reproductions.
Fully costumed staff members are also scattered throughout the place and can tell you all about the history of the area. Like, did you know that this manor is mentioned in Washington Irving's Sleepy Hollow short story? Yup, crazy but 100% true.
FYI, Philipsburg Manor is also named after Frederick Philipse, a Dutch merchant who managed to get hold of 52,000 acres of land along the Hudson River.
Unfortunately, he also managed to achieve his wealth by being very active in the African slave trade. So, perhaps its poetic justice that his family sided with the British in the American Civil War and lost everything. Karma's a bitch, I guess!
Anyway, the manor is now a part of the African American Heritage Trail of Westchester County and is easily one of the best things to do in Sleepy Hollow NY.
Address: 381 N Broadway, Sleepy Hollow, NY 10591
Hours: Open Wednesday through Sunday from 10:30 am to 3:00 pm.
Price: Tickets are $12 for adults, $10 for students/seniors (65+), $6 for kids (3-17), and free for children under 3.
8. Take In The Views At The Old Croton Aqueduct
The Old Croton Aqueduct is a pretty much overlooked attraction when it comes to Sleepy Hollow but it is definitely one that you should not miss! If you love history then bump this up your list because the Old Croton Aqueduct is an engineering marvel and was built in the 1800's!
The Aqueduct was New York's savior and was built in response to its need for water for fires and epidemics. The latter was caused by contaminated water in the wells of the city
Way back in the 1800's this aqueduct cut through hillsides and over the land carrying water for the city. It is impressive especially if you think about when it was built!
Today the aqueduct is a really cool 26 mile walking trail that passes through both Sleepy Hollow and Tarrytown. You don't have to walk the whole circuit but if you decide to take the route between both the towns you will get some really spectacular bird's eye views!
Pro Tip: It is also one of the best places to catch the fall foliage in the area. Imagine seeing the colors of fall just sweep out into the distance like one giant carpet! It is really really worth heading out of your way to see it!
9. Visit the Old Dutch Reformed Church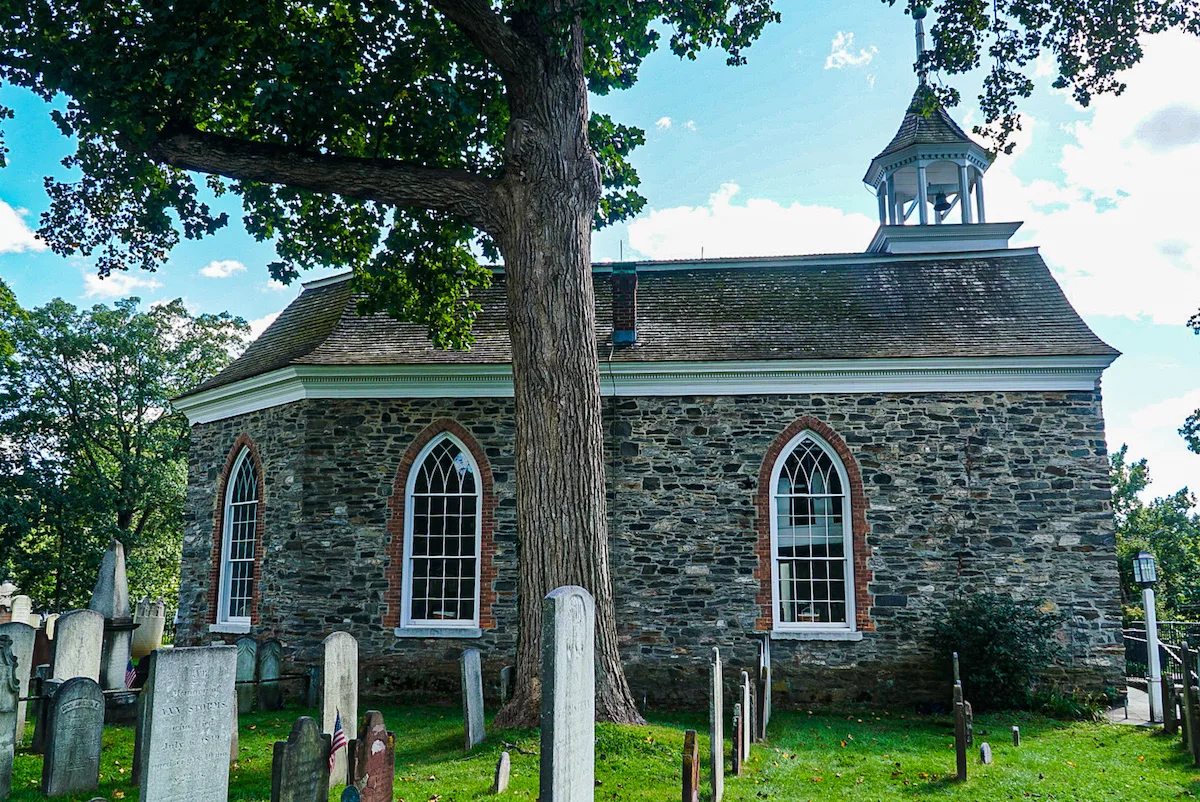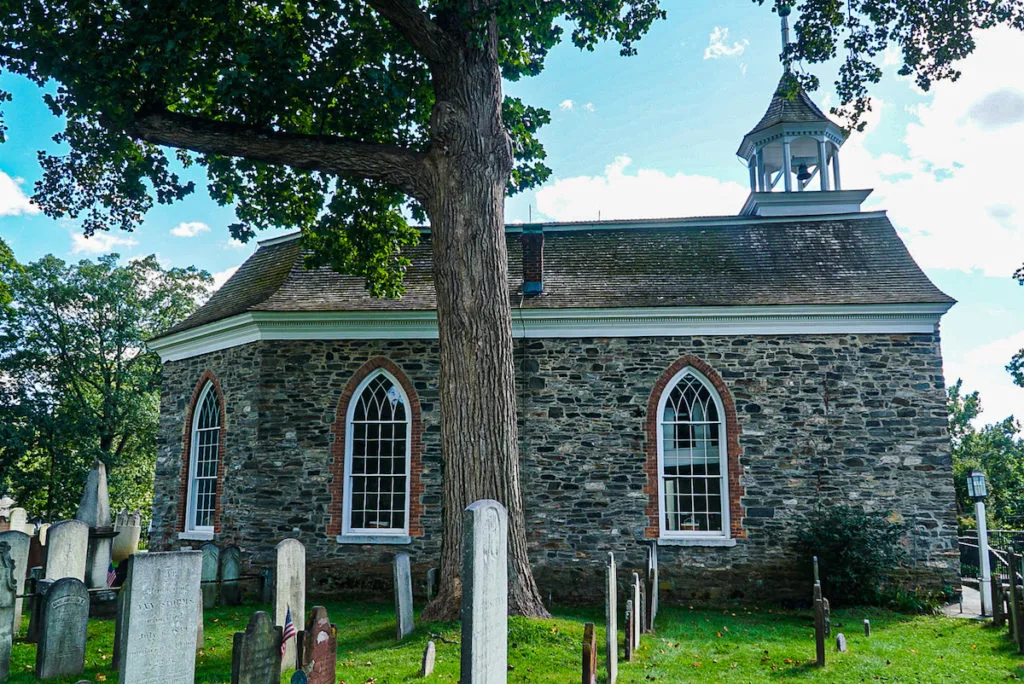 One of the best things to do in Sleepy Hollow is to make your way to the Old Dutch Reformed Church. This historic site is the actual inspiration for Irving's The Legend of Sleepy Hollow tale.
Therefore, walking around it is kind of like being a part of literature!
Anyway, the Old Dutch Church was founded sometime around 1685. This makes it the oldest existing church in New York! And if you take a look through the graveyard, you may just spot some familiar names – many of which were used as inspiration for Washington Irving's uber-famous short story!
So, if you appreciate older buildings, and are a bit of an architecture snob then you will adore the craftsmanship of this church. From the Gothic archways to the octagonal wooden belfry, everything here has been preserved and restored, despite there being a fire in 1837!
And when you finally take a look at the main church itself, do remember that this is a fully functioning religious building, with a congregation who regularly pray and practice there. So, please be respectful!
Pro Tip; To take make the most of your visit and fully enjoy one of the best things to do in Sleepy Hollow NY, try doing a historical society-led tour of the area. They start in September and run through November.
Address: 430 Broadway, Sleepy Hollow, NY 10591
Hours: Grounds are open daily until 4:30 pm while the church is open Saturdays and Sundays from 12:00 pm to 2:00 pm.
Price: Free
10. Ride up to the Headless Horseman Bridge
Okay, so technically speaking, this bridge doesn't really exist anymore. At least, not the bridge of legend that the Headless Horsemen rode across on his horse.
Yeah, that bridge is, sadly, long gone. Apparently, the original wooden bridge survived until 1912, when it was unceremoniously replaced with a more modern one by William Rockefeller.
And since then it was again replaced a few more times. You know, just for good measure.
So, yeah, the bridge that stands there today is strong enough to carry motorized vehicles and does so regularly. Which makes sense since Broadway is a main road through Sleepy Hollow and Tarrytown.
However, luckily for you there's a sign marking the bridge so you'll know for sure where it is once you get there.
Actually, come to think of it, there are a ton fo different bridges in Sleepy Hollow. Many of which are much older, so it's easy to get confused and excited about the wrong one.
But never fear (or do, cause you're in Sleepy Hollow!) because the official Headless Horsemen Bridge is located in between the Headless Horsemen statue and the Old Dutch Reformed Church.
But, it's definitely worth it to wander around town and visit some of the other Sleepy Hollow bridges since they are much older and a lot less trafficked – so you're infinitely more likely to feel transported back in time while walking across them.
11. Take a trip down to Tarrytown to see Washington Irving's former estate, Sunnyside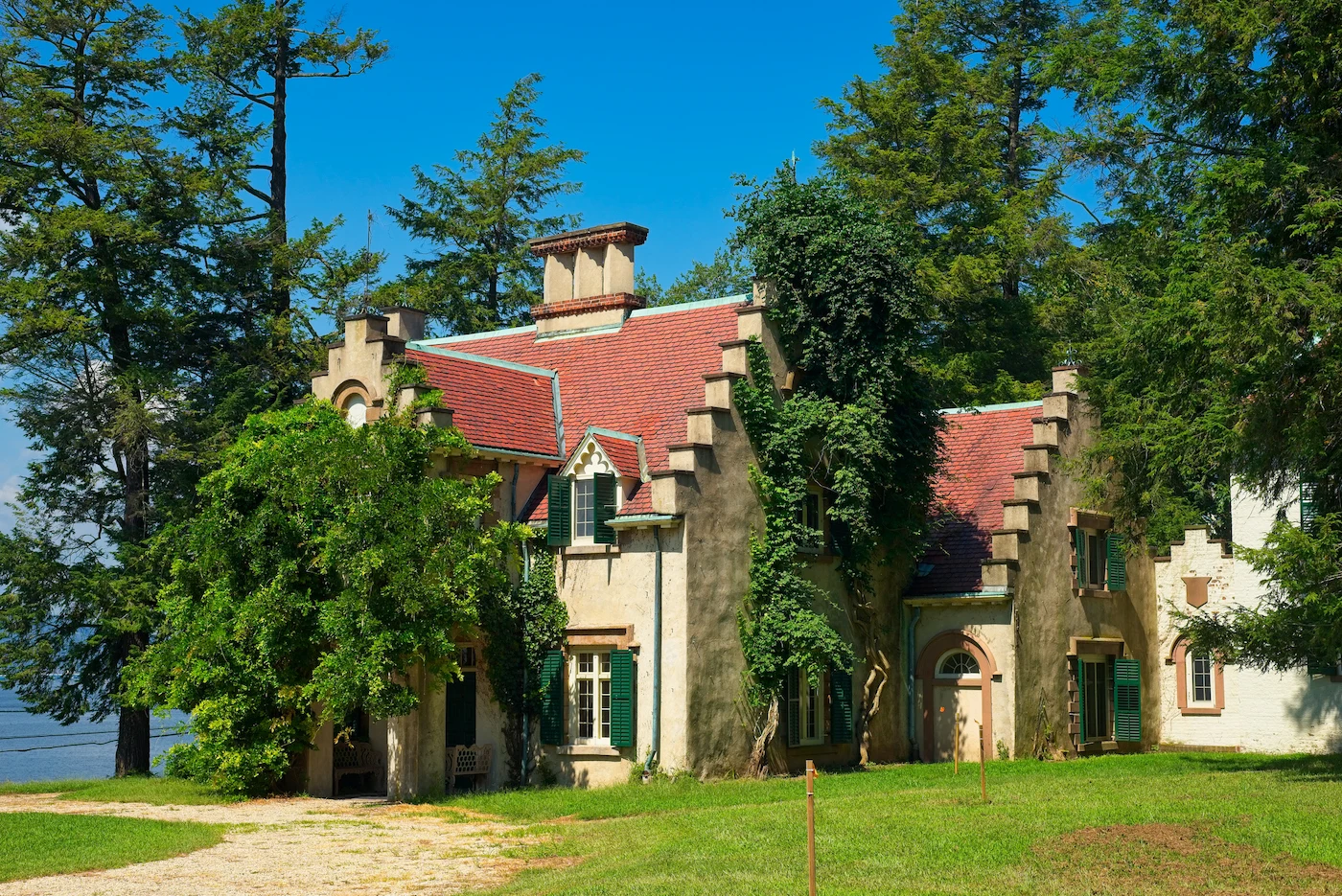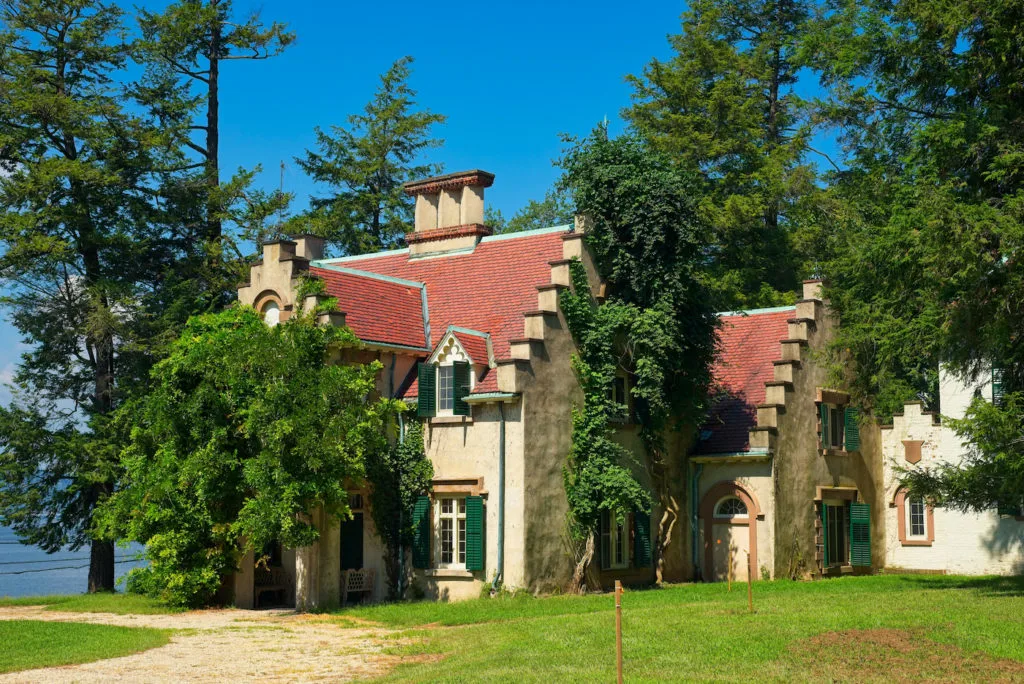 Irving may have written about Sleepy Hollow, but he lived in Tarrytown! In fact, you can still visit his home, Sunnyside, today and see where the genius wrote some of his most famous stories as you enjoy one of the best things to do in Tarrytown NY.
Located on the Hudson River, this beautiful historic 19th century home is quiet and isolated. So stepping inside, it isn't hard to imagine, for a moment, that you have traveled back in time.
Visitors are welcome to visit via tour, during which time they will not only see where and how Irving lived, but learn lots of fascinating facts about him.
So, if you're a fellow history and/or literature nerd, or just love spooky things, a visit to the 10-acre, Sunnyside estate is easily one of the best things to do in Sleepy Hollow – no matter what time of year you visit!
While you're here, you may as well wander around Tarrytown, which is itself a cool place, and one of my favorite small towns in New York.
Address: 3 W Sunnyside Ln, Irvington, NY 10533
Hours: Open Friday through Sunday with entry times at 10:00 am, 12:00 pm, and 2:00 pm throughout August and September.
Price: Tickets are $10 for adults, $8 for seniors (65+), $8 for students (18-25), $8 for children (3-17), and free for any 3 and under.
12. Enjoy fall foliage in Patriot's Park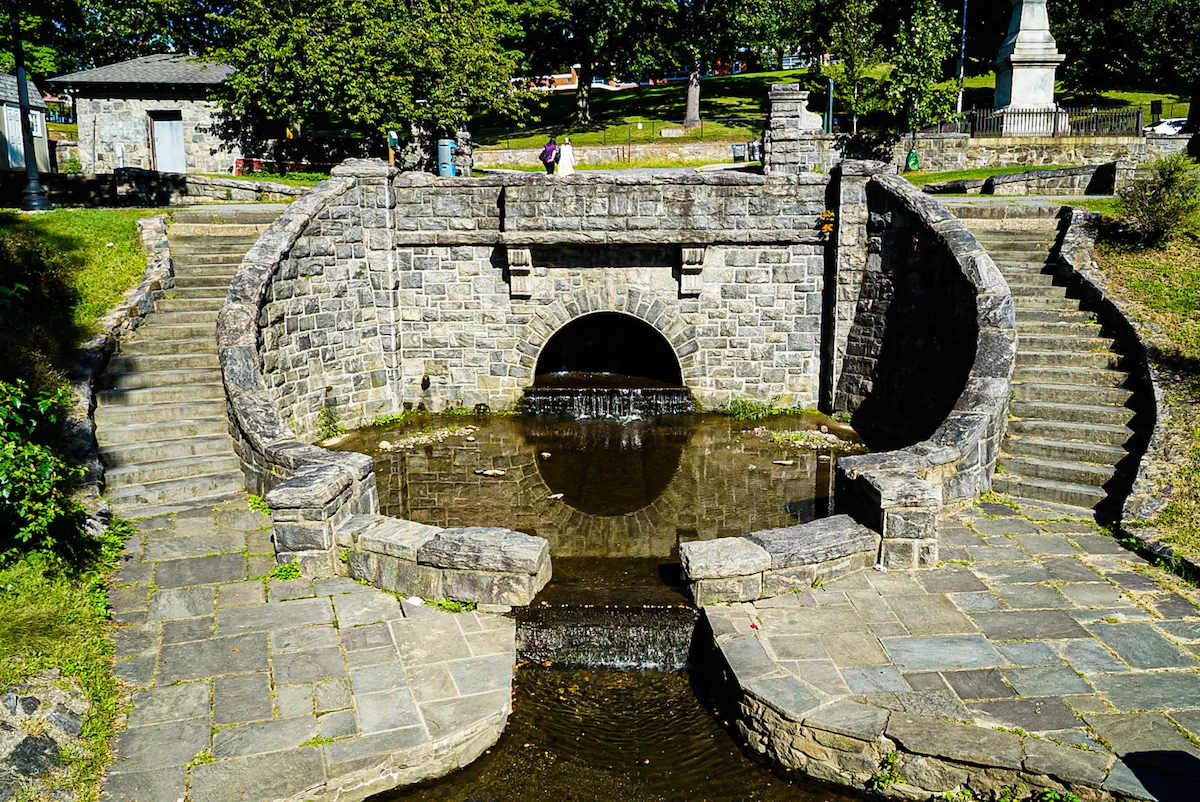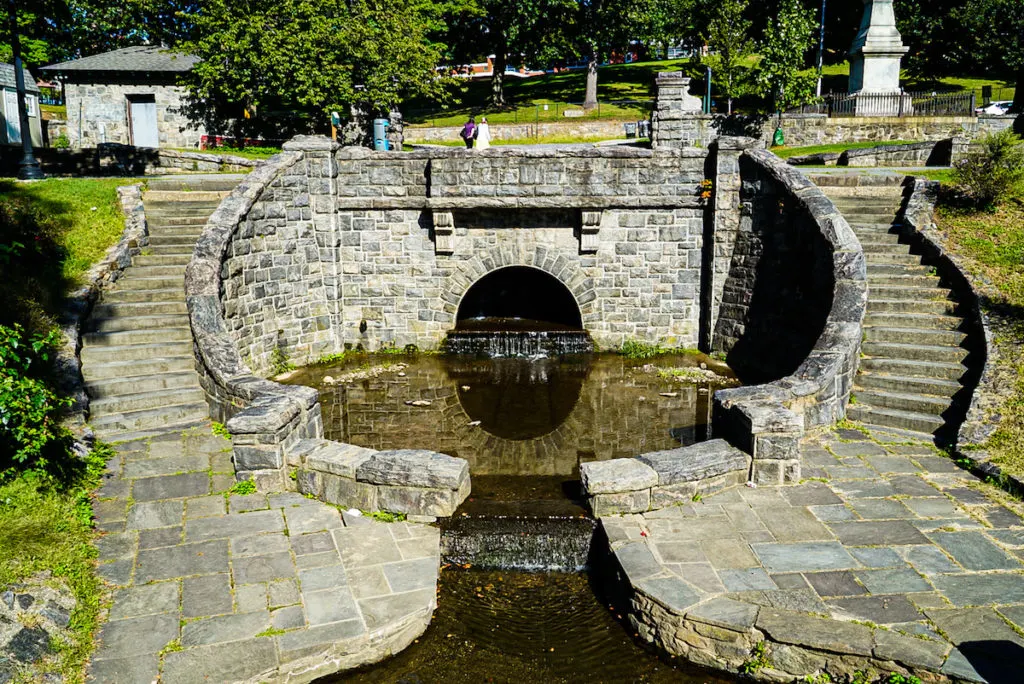 I know this is not something that people can do all year round, but New York in the fall is something that everyone should experience, and it's one of the best things to do in Sleepy Hollow NY as well. And Patriots Park is the place to do it, IMO!
Patriots Park sits in the southern part of Sleepy Hollow and is the perfect 4 acres of parkland to take a time-out and relax while you're visiting Sleepy Hollow.
As you walk among the trees with the small stream trickling under the quaint stone bridges, everything feels calm and serene.
There are also tons of events held here – like live musical performances and pop-up markets. So, once you're done admiring the tall, leafy trees, just find a spot to sit down and enjoy your surroundings!
If you're looking for other great places to see the leaves change, check out my list of the best places to see New York fall foliage!
Address: Sleepy Hollow, NY 10591
Hours: Open daily from 6:00 am to 10:00 pm.
Price: Free
13. Pick up some produce at the Farmer's Market – The TaSH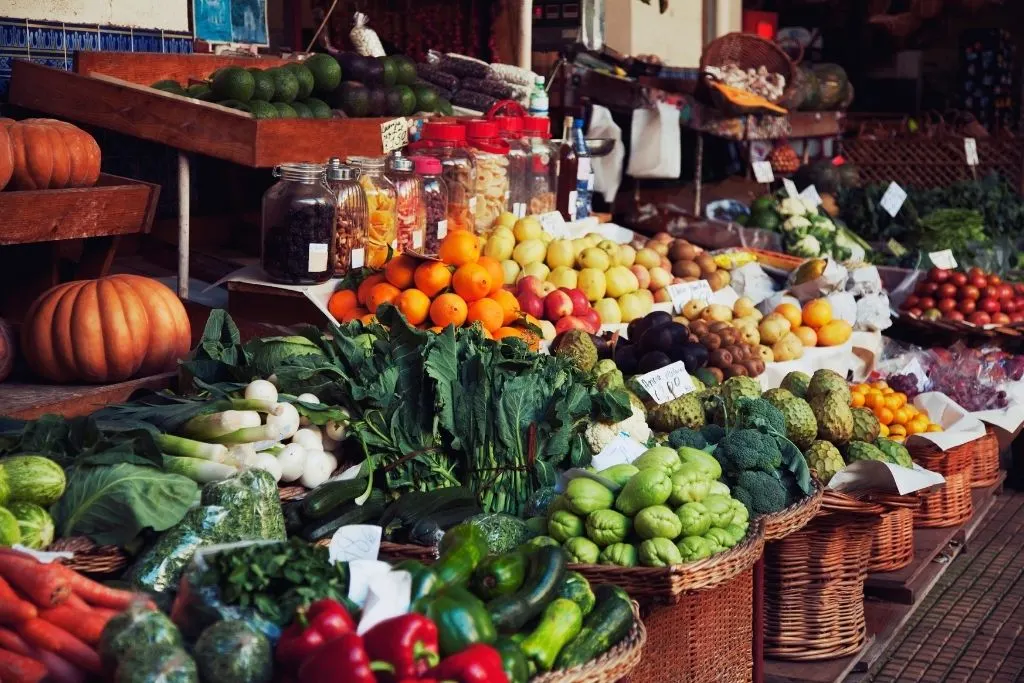 It wouldn't be a New York small town without a farmers market. And y'all know I'm all about that fresh, fresh produce!
For Sleepy Hollow, that means the TaSH – the Tarrytown and Sleepy Hollow Farmers Market! Every year, the market sets up in Patriots Park every Saturday from May through November.
On total, over 30 different vendors take part, each bringing their own homegrown and handmade products.
Along with fresh fruits and vegetables, shoppers can look forward to trying out everything from samosas, risotto balls and mushrooms to jars of honey, pickles and olives, artisanal bread, craft beers and freshly ground coffee.
If you're visiting with family, there are also children's activities, art projects and even chef demos for those looking to get hands-on in-between their purchasing.
And of course, all of the things being sold here are locally sourced and help support the local community. Yup, you really can't lose at a farmers market as you enjoy one of the best things to do in Sleepy Hollow NY.
Address: Patriots Park, U.S. 9, Tarrytown, NY
Hours: Saturday from 8:30 am to 1:30 pm.
Price: Free unless you buy something.
⭐️ Rating: 8.8/10 (331 Reviews) Price: $264 per night ?Location: 400 Benedict Avenue, Tarrytown, NY Details: Read more on booking.com now!
When I think of the best things to do in Sleepy Hollow Ny, one thing I would never have thought of as an option would be to visit a castle. Another thing I would not have thought of was to be able to stay in it either!
But that's what this luxury hotel (and spa – don't forget the spa, Kelly!) is all about. This historic structure was commissioned by a private owner at the beginning of the 20th century, and was modelled after the 19th century Norman style castles of Wales, Scotland and Ireland. Then in the mid-90s it was reworked into the hotel and spa that it is today.
"The staff were very friendly & the bartender was sooo entertaining and knowledgeable he made our stay. Breakfast was excellent!!!! We thought grab and go it was not. Many choices loved The croissant sandwiches!! Sat in the sunroom and enjoyed our breakfast and the view!!"

Jerilynn (read more reviews now!)
So, if you want to make your visit to Sleepy Hollow extra special, guests at the Castle can enjoy marble bathrooms, four-poster beds, wood-burning fireplaces and even turret alcoves. And it should be mentioned that the views from this place are gorgeous!
There's also a pool (of course), continental breakfasts in the Great Hall (with the stunning wood-paneled ceiling) and flat screen TVs in every room. You'll also be just 10 minutes drive from pretty much everything you might want to visit as you check out all of the best things to do in Tarrytown NY.
Address: 400 Benedict Ave, Tarrytown, NY 10591
Hours: Front desk is open 24-hours per day.
Price: A little over $300 per night.
15. Grab a Pumpkin Apple Spice Sangria at the Bridge View Tavern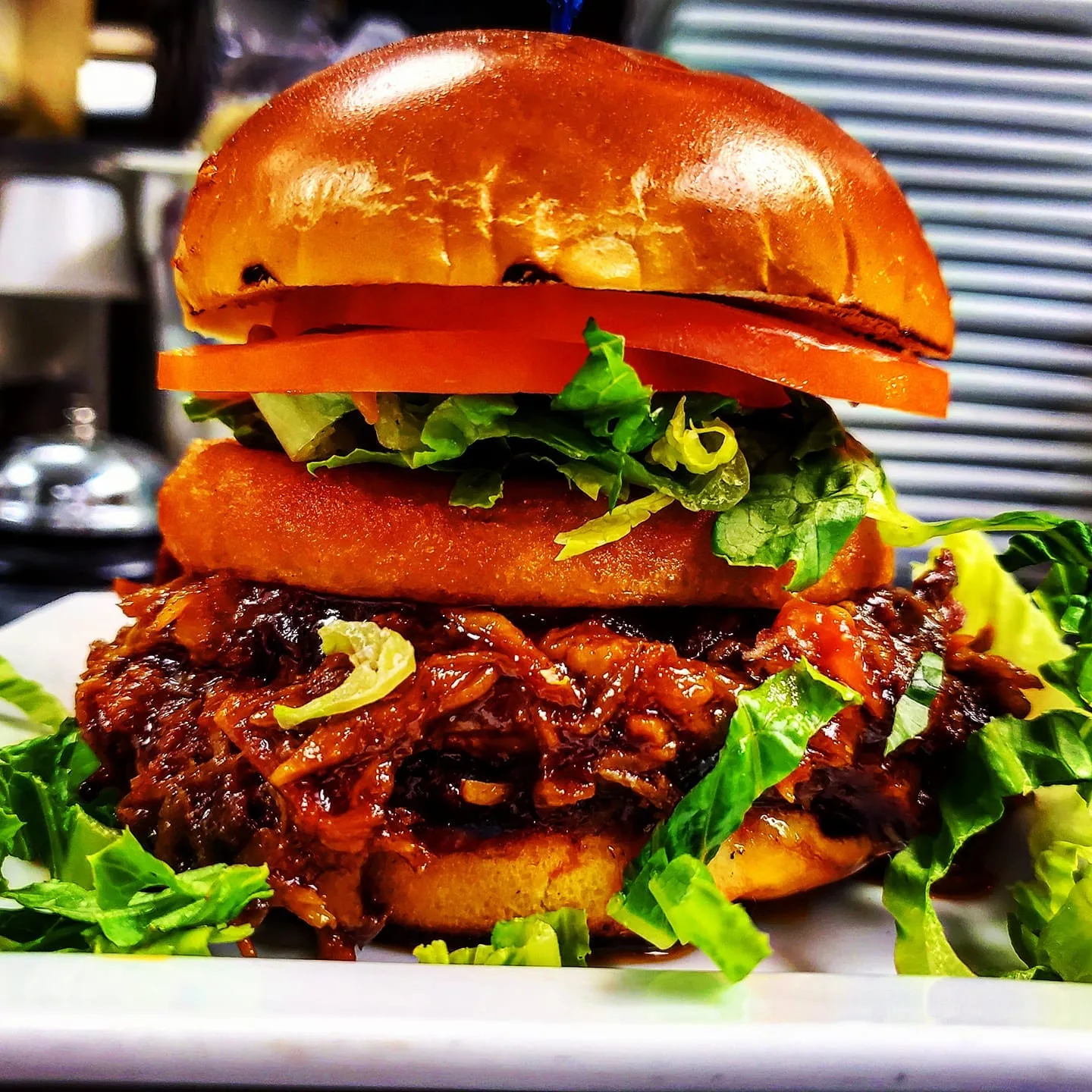 Ok, so this is another one that's specific to visiting in the fall. But, the Bridge View Tavern has drinks that will blow your mind all year long.
But that pumpkin apple spice sangria, tho. I mean, if you distilled walking through forests with orange-gold leaves on the trees, thick wool sweaters, and roasting smores by the campfire into a drink, it would taste as this does. No joke!
Don't worry – if you're after a quality beer, sangria is not all that's available at this bar! Because the Bridge View Tavern has over 20 beers on tap for you to choose from, including witbier, IPA, brown ale, milk and imperial stouts, lager, shandy, and pilsner.
Plus, more options are available by the can as well as some of the more familiar cocktails like Bloody Mary, Old Fashioned, and a very refreshing Grapefruit Martini.
The food menu here is also something worth mentioning. Umm, fig and goat's cheese flatbread anyone? How about some Belgian curry mussels? Perhaps a plate of panko chicken scampi? But hey, if those sound too unusual, you can always chow down a good old Philly pork sandwich, or build your own burger while enjoying one of the best things to do in Sleepy Hollow NY.
Pro Tip: Another great place to have a drink in Tarrytown is Coffee Labs Roasters Inc.. They serve some of the best coffee I've every had in my life and the funky fresh, hipster decor makes you feel super welcome. The cute AF latte art (think cute puppies) always makes me smile every damn time.
Address: 226 Beekman Ave, Sleepy Hollow, NY 10591
Hours: Open daily from 12:00 pm to 9:30 pm, except on Mondays when they're closed.
Price: Entrees are $15 and up while sangria starts at $10 per glass.
16. Eat the Horseman Burger at J.P. Doyles Restaurant & Public House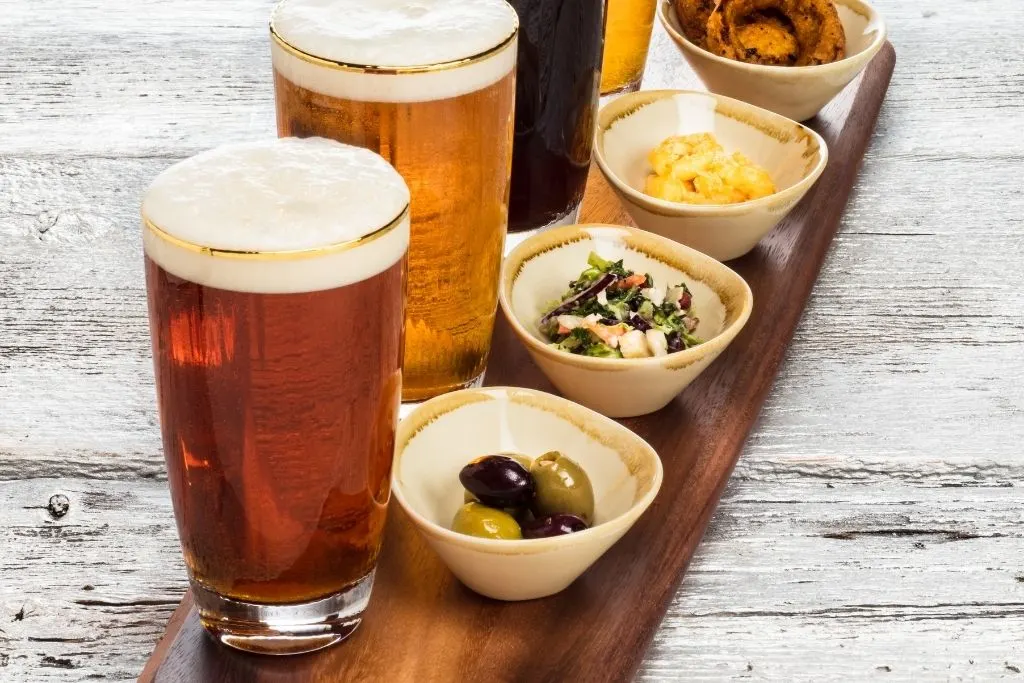 A girl's gotta eat sometime, amirite? I mean, after all that sightseeing and hiking, nothing feels better than sitting down to a delicious home-cooked dinner, especially if the portions are on the generous side!
And if you like your food to be on theme with your visit, make sure you head down to J.P. Doyles Restaurant & Public House on Beekman Avenue, right in the middle of town.
This friendly local pub serves all kinds of filling dishes, including steak, chicken and ribs, mac 'n' cheese, shrimp, salads, and sandwiches.
But for the most Sleepy Hollow of dishes, you need to order the Horseman Burger. Named after the ghoulish character from the Sleepy Hollow legend, the Headless Horseman is a 10-ounce delight that comes cooked to your liking with a whole host of extra fillings and shoestring fries on the side.
If you're looking for something to fill you up before a hike, or you want to finish off the perfect sightseeing day with a treat, this is the meal for you. It's just a shame the Headless Horseman won't ever get to eat one, seeing as he doesn't have a mouth!
Pro Tip: Grab a beer and relax in the beer garden here while you wait for your meal.
Address: 48 Beekman Ave, Sleepy Hollow, NY 10591
Hours: Open daily from 11:00 am to 11:00 pm, except they don't open until 5:00 pm on Mondays.
Price: Burger is $17.50 (it's big AF and was featured on Man vs. Food)
17. See Belly Dancing at Santorini Greek Restaurant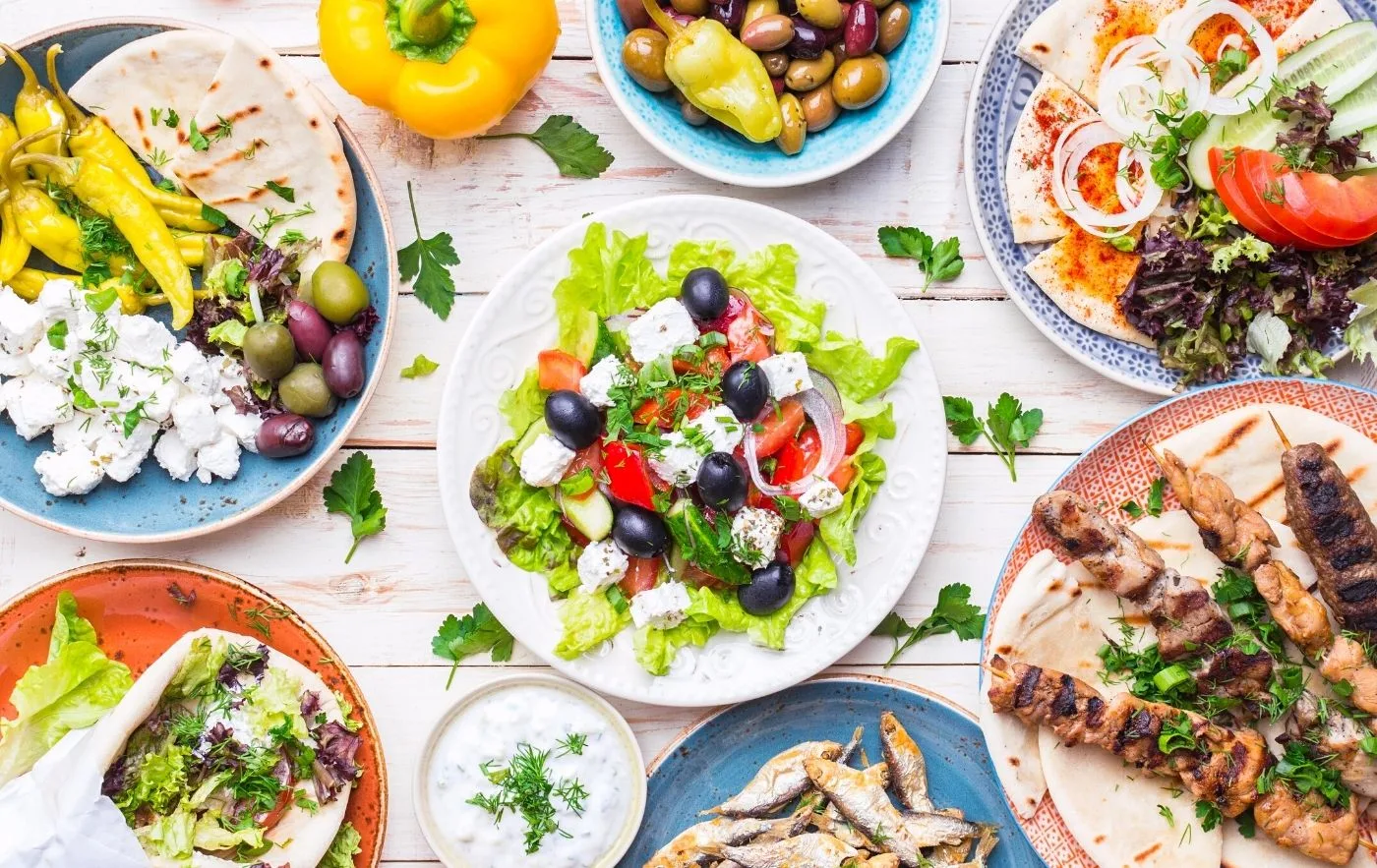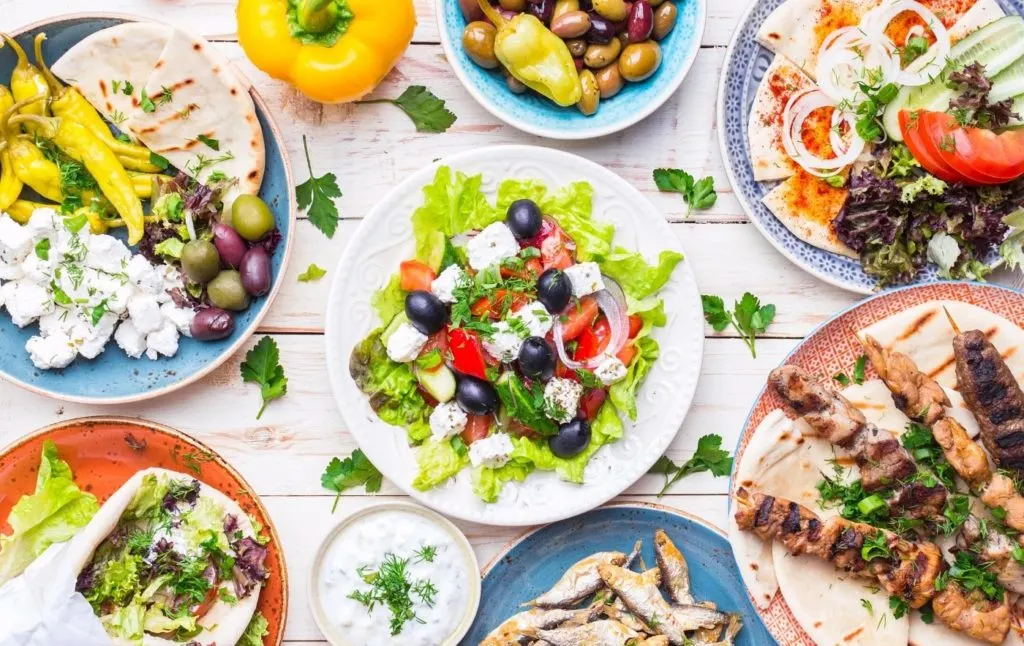 I know what you're thinking. When you picture Sleepy Hollow, you see everyone eating Greek food. No? Just me?
Well, maybe they should be because the food cooked up by the Samaras family at their family-owned-and-operated restaurant will make you want to come back again and again and experience even more of the best things to do in Sleepy Hollow NY.
In fact, their Greek and Mediterranean dishes are so good that they've been reviewed by the New York Times!
Before you even take a bite though, some of these dishes will blow you away with how impressive they look, especially the seafood ones.
So, to be the envy of every table in the joint, try ordering the Kalamarakia Platter, or the Broiled Bronzini.
Then, of course, there's the possibility of evening entertainment with your meal. So, if you happen to be dining there on a Saturday, there will be live music and belly dancing to accompany your Loukaniko, Moussaka, or Souvlaki – skewers of seasoned and grilled meat!
Dessert is no exception to deliciousness here. For a simple but tasty pleasure, try out some Greek yogurt with walnuts, sour cherries, and honey. However, if you're going for a bit more extravagance, order the homemade Kataifi or Ghalaktopouriko.
But whatever you order, make sure you also get some sweet, sweet Baklava. Trust me on this. After all, eating sweet, sweet Baklava is always and forever one of the best things to do in Tarrytown NY.
Address: 175 Valley St, Sleepy Hollow, NY 10591
Hours: Open Monday, Wednesday, and Thursday from 11:00 am to 9:00 pm, Friday and Saturday from 11:00 am to 9:30 pm, and Sunday from 11:00 am to 8:30 pm.
Price: Entrees start at around $15.00 each.
18. Admire the Headless Horseman Monument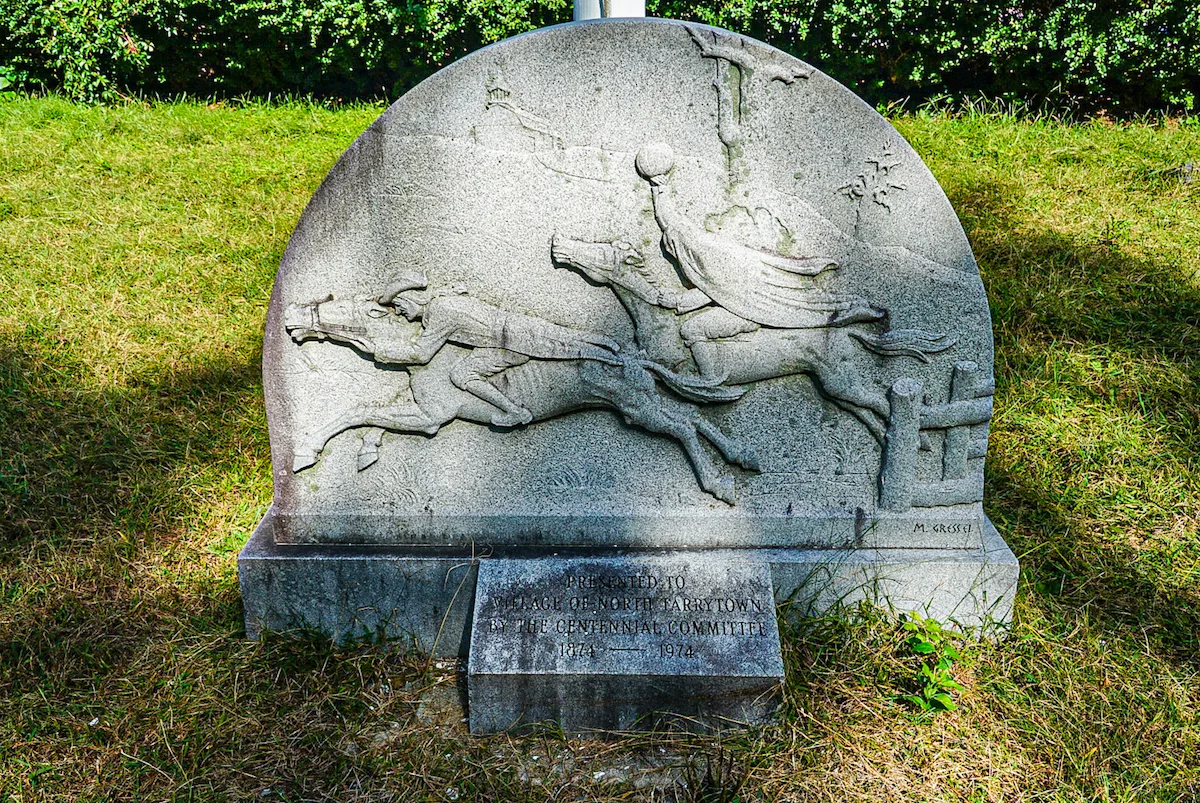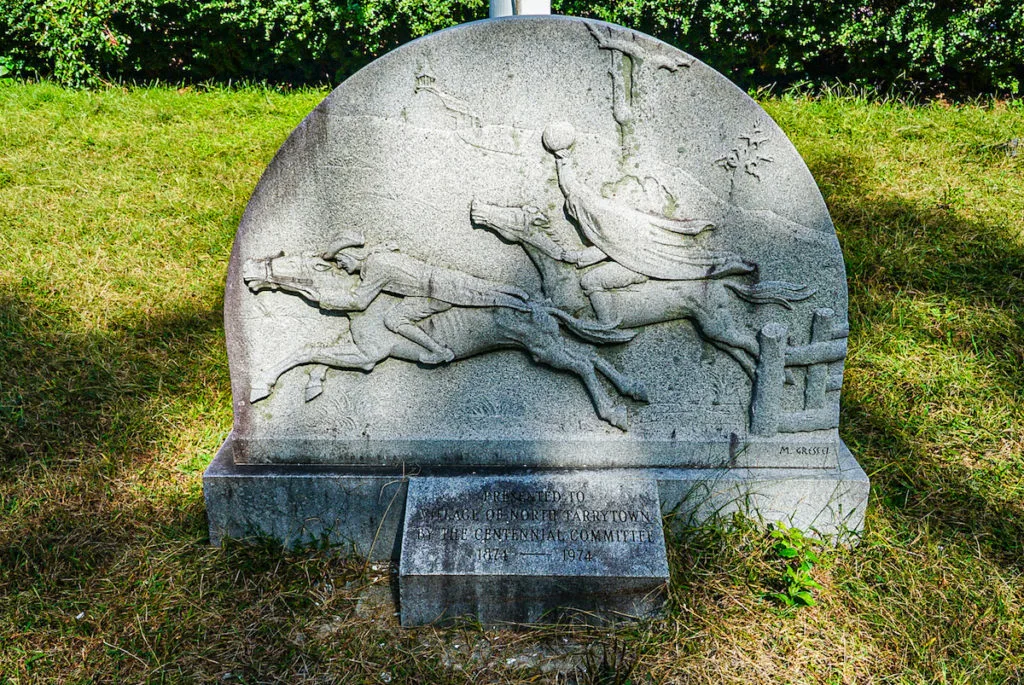 Visit Sleepy Hollow even once and you know that a lot of the best things to do in Sleepy Hollow revolve around Washington Iriving's immortal tale, "The Legend of Sleepy Hollow".
Therefore, it should come as exactly no surprise that one of the top Sleepy Hollow things to do is see the Headless Horseman monument.
It's nothing super fancy and is kind of small but it's a great way to pay homage to the area's most famous author since it's a headstone that depicts the scene where the headless horseman is chasing down the one and only, Ichabod Crane.
You can also find it just outside Philipsburg Manor. So, feel free to stop by any time and pair your visit with a stop at this historic place. Just park on a side street and enjoy a quick, 5-minute walk to the monument itself.
19. Visit the Armour-Stiner (Octagon) House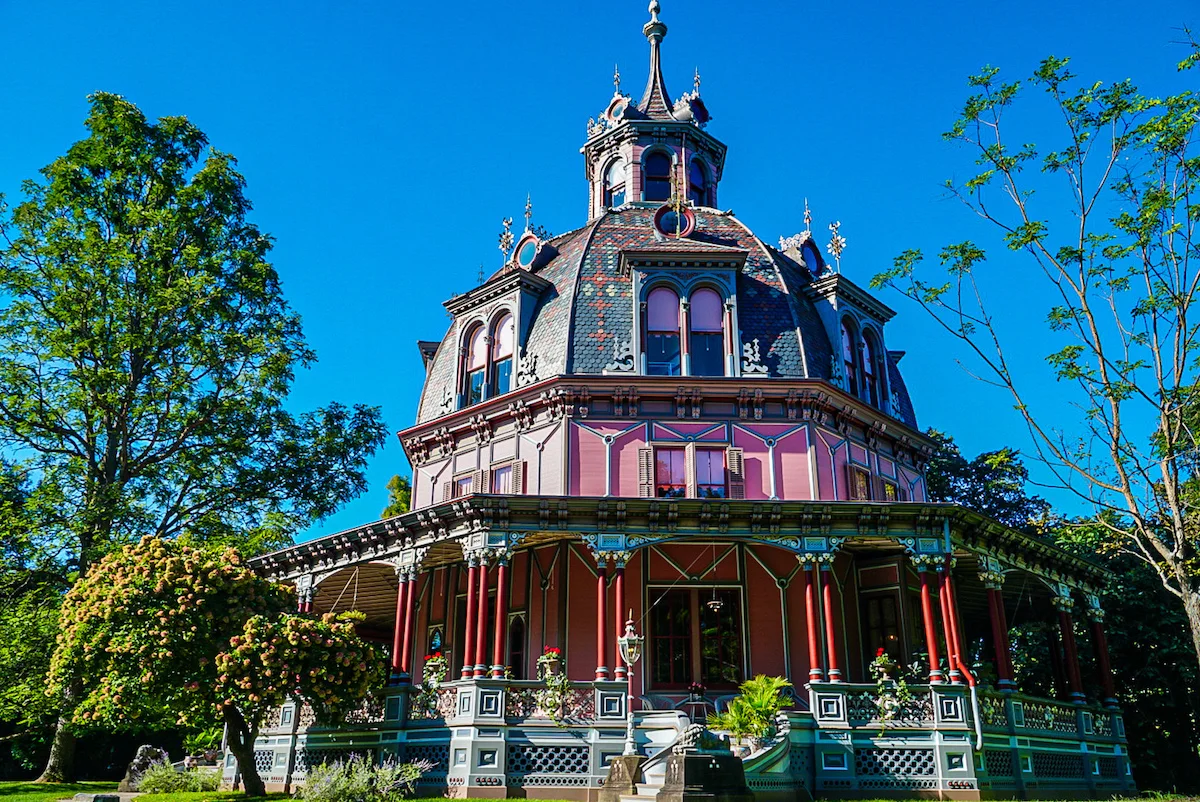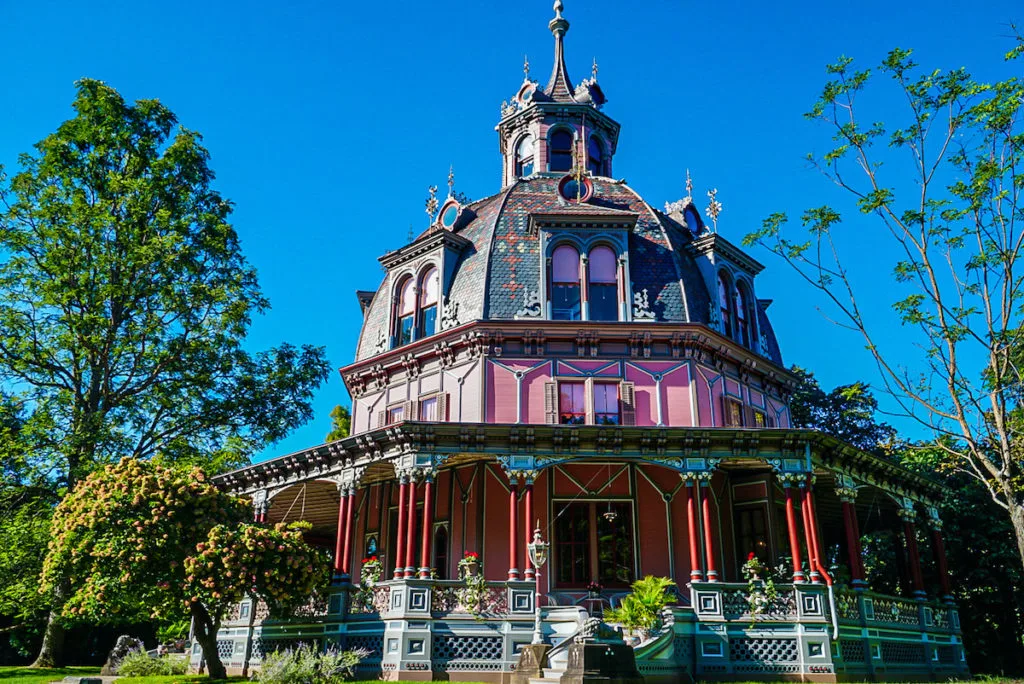 Okay, so technically speaking, this is one of the best things to do in Sleepy Hollow that is not actually in Sleepy Hollow itself.
Yeah, truth be told the Armour-Stiner House is actually in Irvington, not Sleepy Hollow. However, it's basically just a hoot and holler down the road from Sleepy Hollow and is this one-of-a-kind, fabulous, pink, octagon-shaped that is truly unlike anything you've seen before.
In fact, it was originally built in the 1860s by Paul J. Armour and has recently been fully restored to its former glory. However, because it doubles as a museum and private home, you can't really stop by any time you like.
So, be sure to book a tour of the home prior to your visit so that you can see the epic Egyptian room that sits on the second floor, among other things. The tour itself is also really informative and just an all-around great way to marvel at the unique architecture of this place.
And, added bonus? They also offer special haunted tours around Halloween, which is perfect if you plan to spend Halloween enjoying some of the best things to do in Sleepy Hollow.
Pro Tip: Plan at least an hour for the tour. Also, save time afterward to explore the on-site garden and the stunning, wrap-around porch too.
Address: 45 W Clinton Ave, Irvington, NY 10533
Hours: Five tours are offered between 10: 00 am and 4:00 pm Thursday through Sunday. Tours last an hour but be sure to save time before and after for photos. You also can ONLY visit as part of a designated tour.
Price: $29.00 for adults and $27.00 for kids (pricey but so worth it). Book tickets via their website.
20. Lyndhurst Mansion
How often do you get to tour a mansion? Well if you visit Sleepy Hollow, then you can do just that! Lyndhurst mansion sprawls over a whopping 63 acres of land! Huge right? The best part is that this gorgeous, well maintained estate is open to the public.
The grounds are open everyday from 9:30am to 4:30pm. You do need to bear in mind that the last entry is at 3:30pm. So plan your visit in advance. The grounds are huge so make sure you budget enough time to walk around because it is worth it.
The best part of Lyndhurst Mansion is that there are tours you can choose from BUT if you want a more budget option, you are allowed to wander around the grounds without a guide. There's lots to see. 3 viewing platforms, amazing views of the Hudson river, specialty gardens, fountains and much more make it one of the best things to do in Sleepy Hollow NY.
Note: Lyndhurst Mansion is only open from April to December. You do need a ground pass if you are heading in with a vehicle so make sure to purchase it before entering.
21. Tarrytown Lakes Park
If you are looking for things to do in Sleepy Hollow NY that are quiet and peaceful then think about heading to Tarrytown Lakes park. This is a really nice place to go kayaking or boating. You do need a prior permit though so plan ahead. Oh and did I mention that people head here for a quiet spot to fish too?
That however is not all that Tarrytown Lakes Park has to offer. There are numerous trails where you can head out on a hike. Alternatively you can even rent a bicycle and explore the area.
Unlike many of the other things to do in Sleepy Hollow NY, this one attracts considerably less tourists and is a great way to kickback and relax in peace!
Sleepy Hollow NY FAQ
What Is Special About Sleepy Hollow New York?
Sleepy Hollow was first featured in Washington Irving's literary classic and has gained popularity ever since.
In fact, it was one of the very first pieces of spooky American literature. Oh and if you are wondering what was the iconic piece written by the founding father of American literature, it was called 'The Legend Of Sleepy Hollow'.
If you aren't in a mood to read it, then you can also watch the movie!
Is It Worth Visiting Sleepy Hollow NY?
Did you know that Sleepy Hollow was once a Dutch settlement? Sleepy Hollow NY is a great year round destination. The peak tourist season is in fall because Sleepy Hollow is one of the best places to see fall foliage in NY.
You can't miss the Halloween festivities either. I mean, nothing can get more spooky than Sleepy Hollow right? You can literally ride up the Headless Horseman bridge, visit the cemetery or eat a horseman burger!
Yeah! I'm not kidding. There really is a thing called the horseman burger and it is available at J.P. Doyle's restaurant.
Is Sleepy Hollow Expensive?
Sleepy Hollow is very expensive. It is one of the most expensive cities in the US. This is particularly important if you want to live in Sleepy Hollow or if you want to stay for an extended period of time in the city.
Most tourists head to Sleepy Hollow during the fall season. This is the time that the accommodation prices rise through the roof. Activities also get costly and you have to elbow your way to most of the attractions.
Can You Do Sleepy Hollow As Part Of A Day Trip From NYC?
Sleepy Hollow can easily be done as part of a day trip. Mind you, this is irrespective if you drive to Sleepy Hollow or take the public transportation. Just make sure that you have a good pair of walking shoes because covering all the sights in a day will take a considerable amount of walking. I hope you notice that I've said it is completely possible to see everything. It just takes a little more effort.
Oh and if you visit during the spooky season aka Halloween, be prepared for crowds because this is when everyone wants to be in the spookiest part of New York.
Is Washington Irving Really Buried In Sleepy Hollow?
Yes! Washington Irving was inspired by his home town but he wrote 'The Legend Of Sleepy Hollow' when he was living in England. When he eventually died he was buried in the Sleepy Hollow cemetery. His fame was so great that even today, his grave is the most visited site in the Sleepy Hollow despite the fact that there are loads of other people who are also buried in the cemetry.
While you are there don't forget to check out the graves of Brom Bones and Katrina Van Tassel. These are actual people who inspired Irving's story.
? Haven't planned your trip in Sleepy Hollow yet? You can't go wrong with booking a room at Castle Hotel & Spa. Not only is the service excellent you can indulge your senses in a spa day! ?
Map of the Best Things to do in Sleepy Hollow NY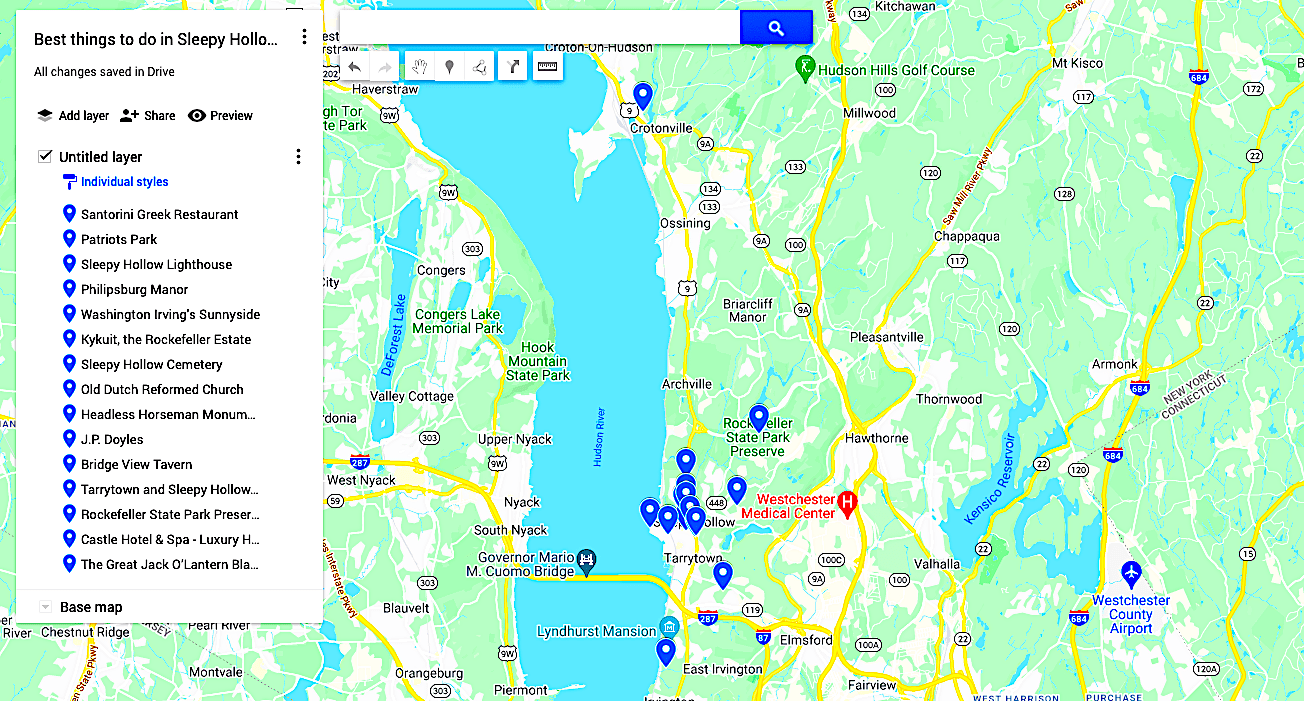 Additional New York Resources You'll Love
There you have have it! That just about wraps up this list of the best things to do in Sleepy Hollow NY.
Tell me, did all your picks for the best things to do in Tarrytown NY make the cut? If not then let me know in the comments below!
And if you found this post helpful, don't forget to join our email list before pinning this post now so that you can read it again later!