Ready to check out some of the most unique restaurants in NYC? Umm, heck yeah you are! After all, New York City is one of the greatest cities in the world and is home to some of the finest restaurants on the planet.
So, it should come as no surprise that the Big Apple plays host to some of the most weirdly wonderful eateries that you ever did see – unusual restaurants in NYC where you can munch on bugs, dine amidst Tim Burton-inspired decor, and eat in the dark (literally).
Therefore, step away from the guidebook and come with me as I introduce you to some supremely quirky restaurants in NYC. Trust me, I've lived in and around NYC for the past 30+ years. And I know a thing or two about where to eat in New York City.
As a result, I want to share all my super secret insider tips with you so that you can quickly and easily find all of the best and most wonderful unique restaurants in New York City.
That's why, if you're ready, let's blow this popsicle stand and swan dive into this list of supremely quirky restaurants in New York City.
This post may contain affiliate links. Please see my disclosure for more information. As an Amazon Associate, I earn a small commission from qualifying purchases.
⏰Looking for an amazing place to stay while in NYC but haven't had the time to book your accommodation yet? Try Pod 39. It is budget friendly and pretty luxurious for the price! ⏰
Where to Stay in NYC
Wondering where to stay as you enjoy some of the most unusual restaurants in NYC or plan 4 days in NYC? If so then you can't go wrong when booking a room at any one of the following places.
Not sure where to stay while living the high life in New York City? If so then check out my list of the best hotels in NYC, regardless of your budget. This way, you can quickly and easily visit all the best rooftop restaurants NYC has to offer ASAP.
Pod 39 (Budget) –Rooms at this budget-friendly hotel are small but come well outfitted with luxurious queen-size beds, bedside tables and flat-screen TVs. Rooms also sit inside a historic home from 1918 and the building itself is located in Murray Hill, a neighborhood that is home to some of the best Indian food in the city..
TBA Times Square (Mid Range) – Centrally located in Hell's Kitchen, this chic 3 star hotel features rooms that are well-priced and feature contemporary amenities. All the iconic tourist attractions are a short walk from here which is what makes this hotel so attractive. In fact, Times Square is just a 5 minutes walk away!
The James Hotel (Mid-Range)– Tucked away on East 29th Street in Nomad, this lovely, 4.5 star hotel has a beaux arts-style about it and features stunning rooms that include minibars, free WiFi, Flat-screen TVs, and lavish sitting areas.
Free warm drinks and light snacks are also available in the lobby and guests can enjoy a fabulous dinner at the swank, on-site Italian bistro.
The Pierre, A Taj Hotel, New York (Luxury) – If you're looking to live the luxe life then channel your inner Kardashian at this five-star hotel. In fact, it's a straight up local landmark that dates all the way back to 1930.
It's also well-located across the street from Central Park, so book a room now. This way, you can enjoy wonderfully luxurious things like marble bathrooms, Boise sound systems, designer toiletries and stunning views.
Unique Restaurants in NYC – Upper Manhattan
1. Barking Dog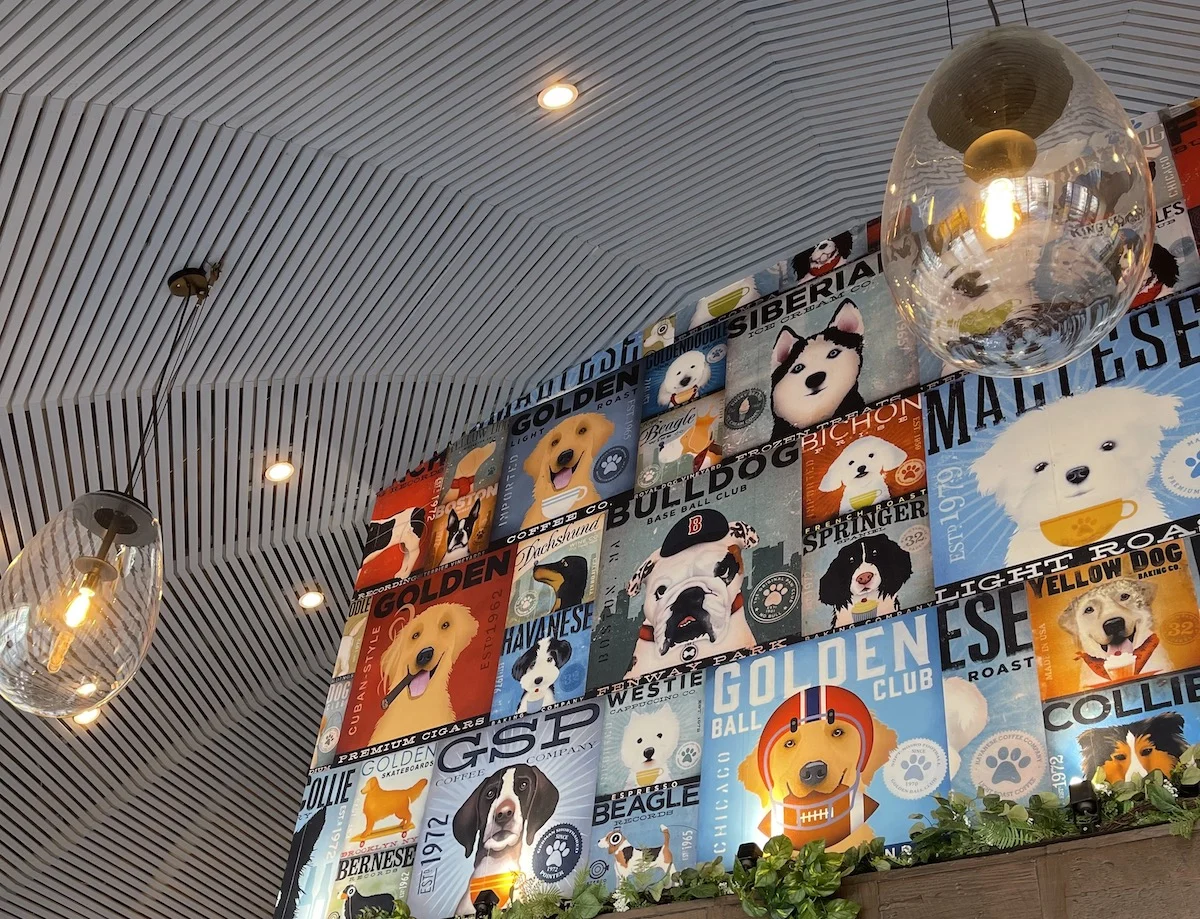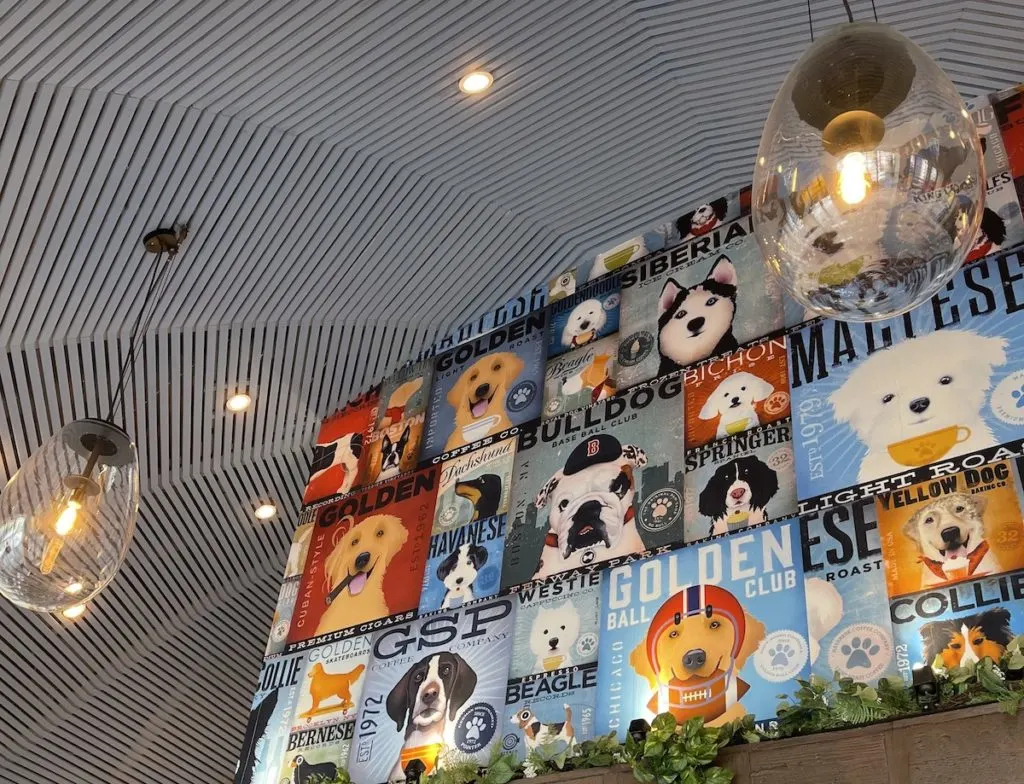 Are you an avid dog-lover? If so then this is one of the most unique restaurants in NYC for you! Because this low-key, dog-friendly eatery has locations in Hell's Kitchen and on the Upper East Side – both of which are bedazzled with dog-inspired decor and feature cute little water fountains for your favorite pooch.
There's also ample outdoor seating from which you can sip on pomegranate mimosas and devour giant stacks of whole wheat pancakes. However, if you want something more savory, go with the salmon burger with blue cheese and avocado.
2. Blume and Hütte
One of the coolest and most unique restaurants in NYC offers two different experiences depending on the time of year you visit.
During the winter, Hütte is a cozy European ski chalet with fondue and glühwein to warm you. In the warmer months, Blume transforms into a cherry-blossom dream. And with a delicious, Austrian-inspired menu, you'll want to try their fabulous charcuterie boards and schnitzel.
3. Tiki Chick
This Upper West Side restaurant and bar brings an island-inspired menu to NYC! They have a range of chicken sandwiches, like the amazing upside-down pineapple chicken, and cocktails, some of which are frozen.
Both the food and the atmosphere at Tiki Chick will win you over at one of the more unusual restaurants in NYC! And with its tiki bar meets enchanted Alice in Wonderland vibe, it's one of the most unique bars in NYC!
4. King's Carriage House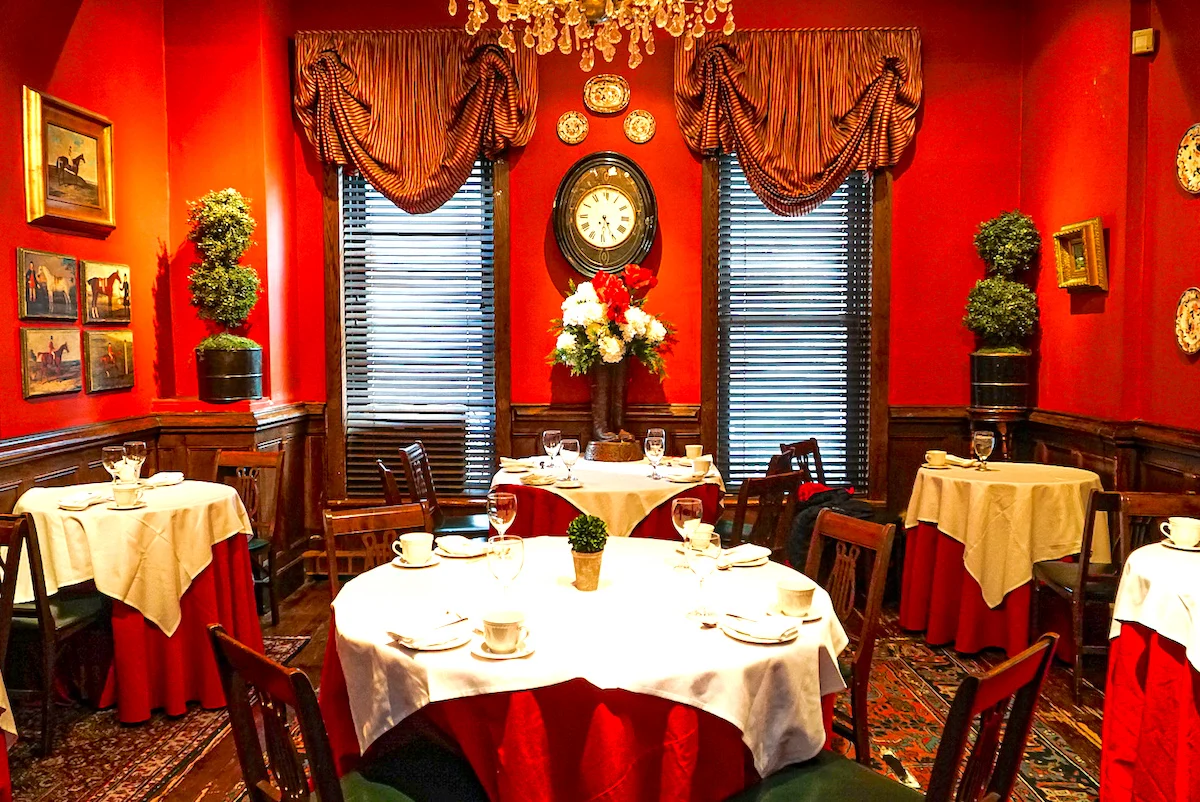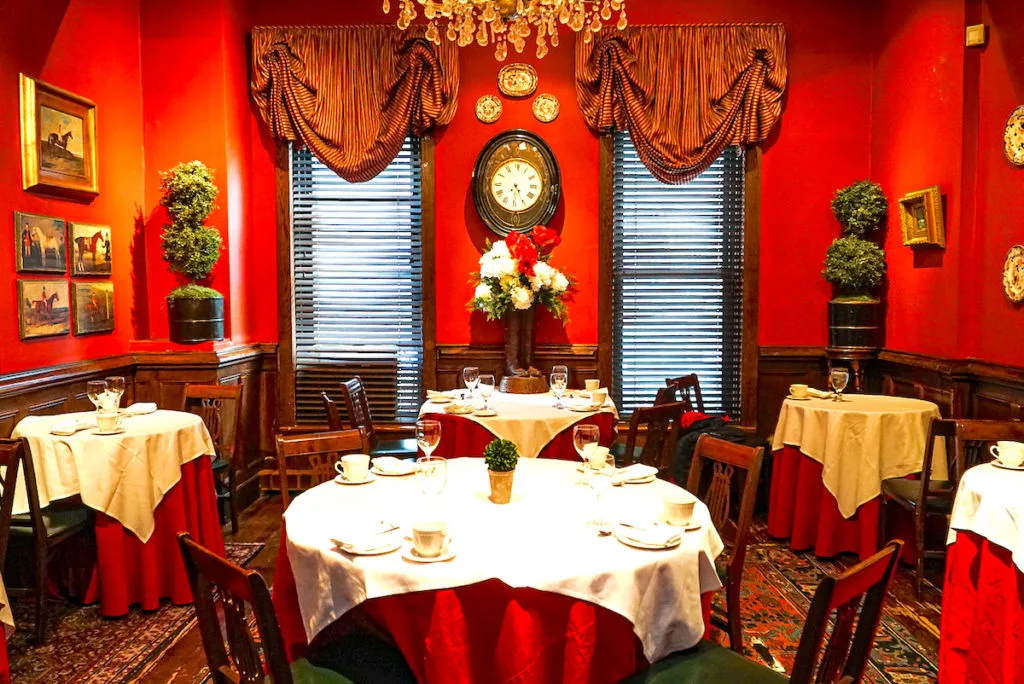 Want to party like its 1776 at one of the most unique restaurants in New York City? If so then channel your inner John Adams and head over to the King's Carriage House on the Upper East Side.
Not only is afternoon tea here WAY cheaper than the Plaza (like between $30 and $40 per person cheap) but the Colonial-inspired decor here is truly amazing, as are the fresh scones, chopped egg sandwiches, and the baked poppyseed tea cakes.
5. The Sugar Factory
For a one-of-a-kind New York City restaurant head to The Sugar Factory! Be prepared for a mashup of Willy Wonka and Paris chic at one of the more quirky restaurants in NYC. After all, there's both a candy shop and a modern restaurant with leather banquette seating.
But it's the food and drinks that are unique! You'll find a menu of American classics, some of which come in color, like their rainbow sliders. And to quench your thirst, you'll want to try the smoking candy goblet!
6. Moonrise Izakaya
Live out your pop culture fantasies in this traditional Japanese Izakaya restaurant. From the outside to the inside you'll find walls covered in stickers and street art. Ladies, there's even a Sailor Moon mural in the bathroom in this pick for one of the more unusual restaurants in NYC!
And then on the menu you'll find a variety of small dishes, including the popular Monkfish Kaarage!
7. Alice'a Tea Cup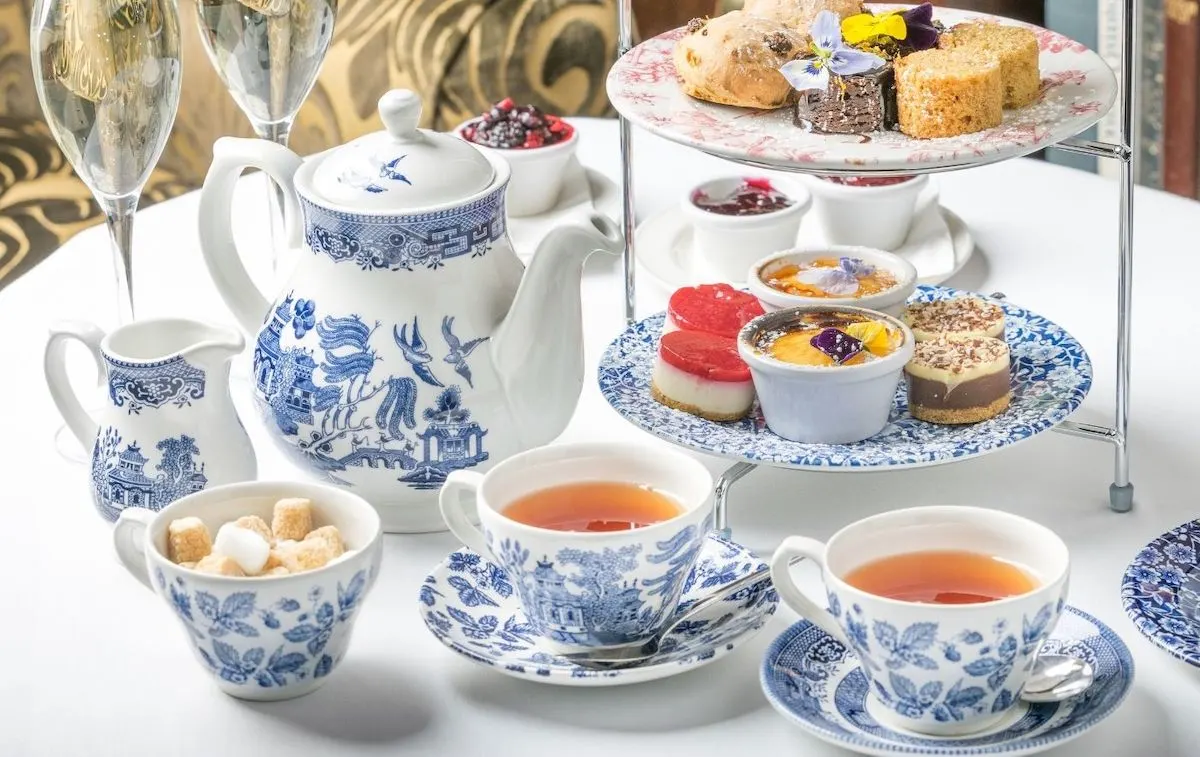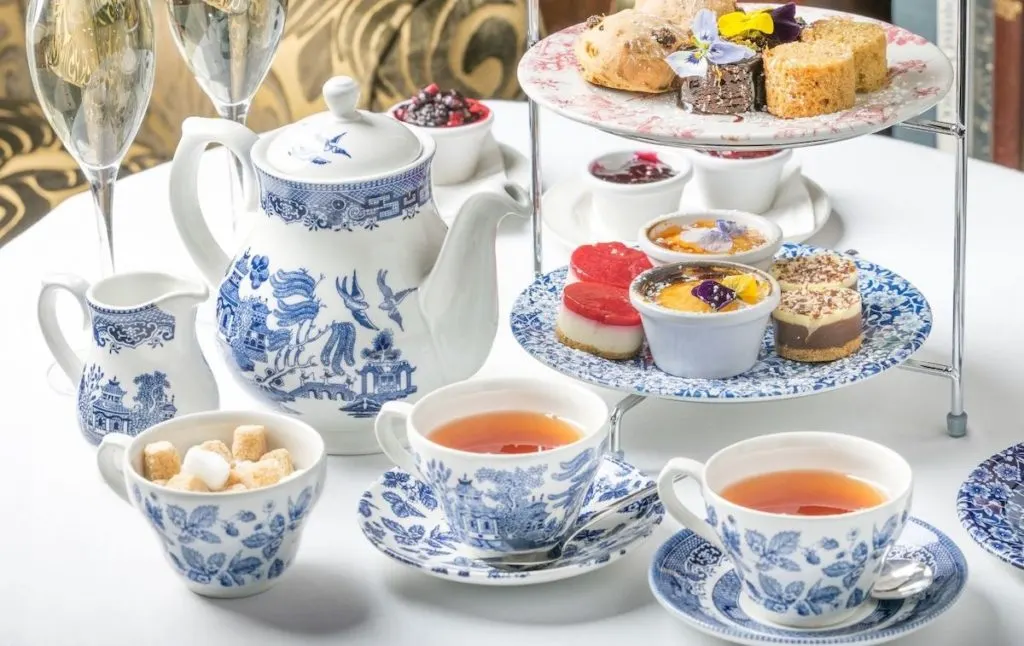 This Alice and Wonderland themed tea shop originally started on the Upper West Side and now has locations scattered all across the city. So, step into wonderland at one of many quirky NYC restaurants on this list and enjoy floral wall-peppered walls and quaint, mismatched tea sets.
Also, bring the kids so that everyone can swan dive into a delicious selection of desserts and a wide selection of warm scones with fresh clotted cream.
However, if that doesn't tickle your fancy, go for their Nibble (small), Madhatter (medium), or Jabberwocky (large) afternoon tea which all come with homemade chicken and egg salad finger sandwiches presented to you on a, three-tiered plate.
Pro Tip: Be sure to make reservation since this is one of the more unique restaurants in NYC that is REALLY popular.
Unique Restaurants in NYC – Midtown Manhattan
8. Sakagura
Hidden below a nondescript office building in Midtown you'll find a unique New York City restaurant. Because Sakagura is known for having over 200 different sakes for you to try!
So, come for the sakes but stay for the incredible tapas-style Japanese cuisine. And while there are a wide selection of menu items to choose from, popular go-to dishes include the braised pork belly and their Matcha mousse for dessert!
9. Keen's Steakhouse
A favorite spot for creatives for over one hundred years, this historic NYC steakhouse is full of intrigue. So, upon entering the dark interior you'll be met with wafts of meat grilling and a maze of wood-paneled rooms.
And one of these gorgeous rooms is home to 90,000 smoking pipes that dangle from the ceiling – relics from famous patrons like Mark Twain, Teddy Roosevelt, and others. And while Keen's is also known for its massive steaks, they're most famous for their epic mutton chops.
10. Grand Central Oyster Bar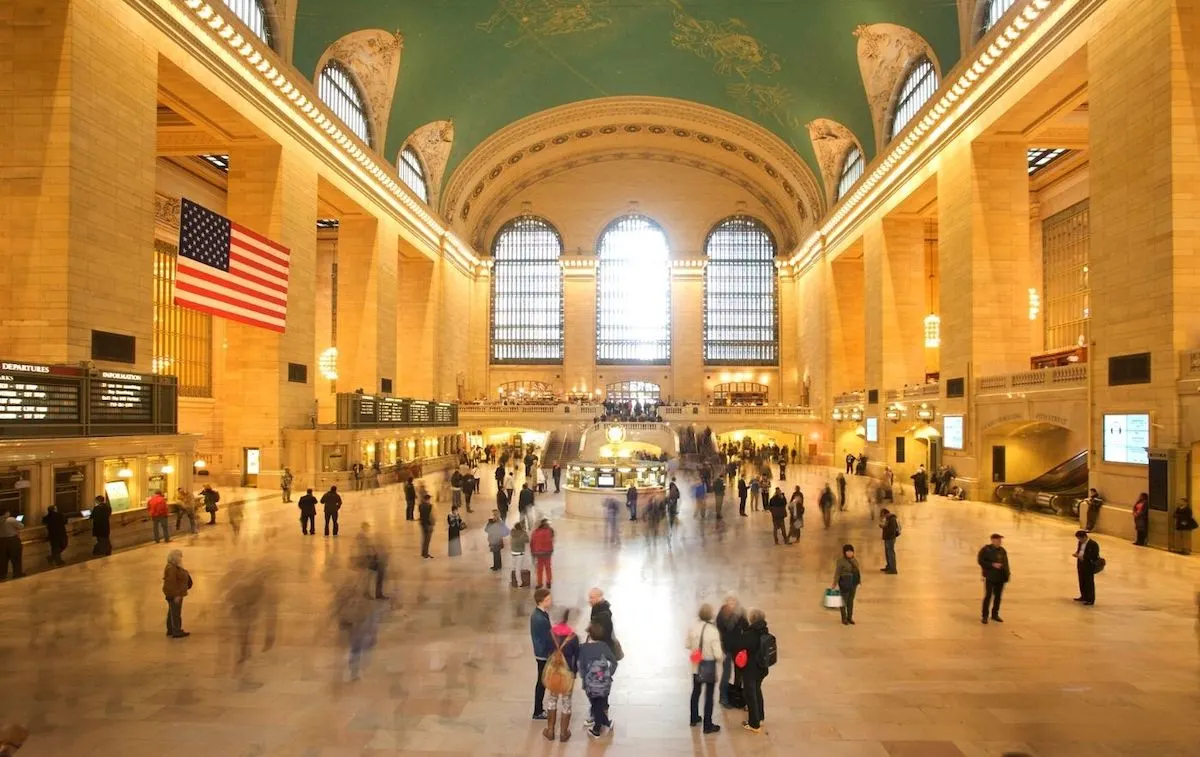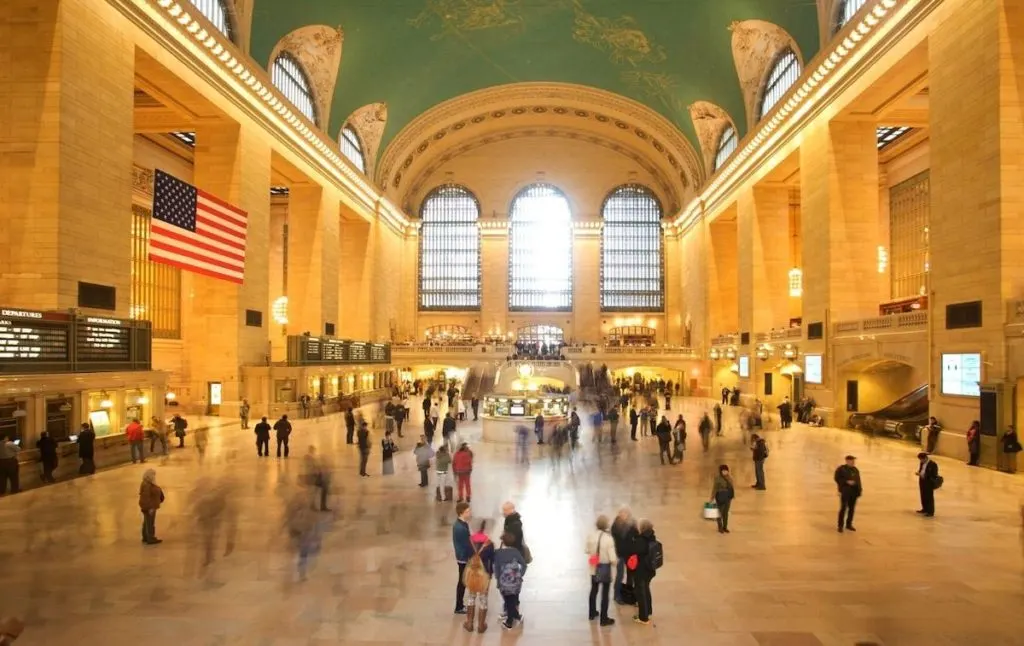 Below the buzz of Grand Central lies an over 100 year old oyster bar! And with elevated subway-style décor that includes vaulted arched ceilings and glistening tiles, this is one cool NYC eatery!
It's also not one of the super fancy unusual restaurants in NYC so don't feel like you have to wear a ball gown. And while they are renowned for their decadent raw oysters, consider ordering some of their Manhattan clam chowder if oysters aren't your jam.
11. La Noxe
Hidden below the subway in Chelsea is one of the coolest bars in New York City! So, find the buzzer and descend into a 600-square-foot cocktail bar.
Then, once inside, you'll find a darkened interior with plush seats, and a vibrant glow. On the menu are a list of delicious drinks, like the Uptown Local, and equally tasty tapas.
12. Kajitsu
Be prepared for a unique dining experience at Kajitsu! This vegetarian Japanese restaurant serves shojin cuisine which is based on the principles of Buddhism.
it's also a Michelin star restaurant with a seasonal menu that uses fresh ingredients. As a result, Kajitsu serves multi-course meals that are paired with sake and take between two to three hours to enjoy.
13. Lucky Cheng's Drag Queen Show Place
The original and most famous Drag Queen dinner show in NYC, Lucky Cheng's has entertained visitors for well over 30 years with their drag queen cabarets.
And on the menu here is classic American food with three course prix-fixe dinners. Along with dinner shows they also run brunch specials.
Pair that with drag comedians and other performers, and you're set for one hell of a dinner and a show at one of the most unique restaurants in NYC! You can also check out the best drag brunch in NYC too.
14. Zou Zou's
With Art Deco architecture that features large pops of color, and plenty of plant life too, Zou Zou's has a wow factor straight out of The Great Gatsby!
Plus, this Eastern Mediterranean restaurant brings the flavors of Israel, Egypt, and Jordan to New York City. So, be sure to try their Duck Borek and then their Kataifi Cheesecake for dessert.
15. Lillie's Victorian Establishment
Step back in time at one of the most unique restaurants in New York City! Because this Victorian era pub has towering ceilings and an exquisite attention to detail that is unmatched since every inch of this place is covered in antiques, paintings, stained glass, and more!
And if you get little hungry, try traditional pub fare like the favorite chicken pot pie and pair it with any of the drinks on their lengthy. full bar menu.
Pro Tip: Visit during the holidays for the most impressive decorations at one of the most unusual restaurants in NYC!
16. Ellen's Stardust Diner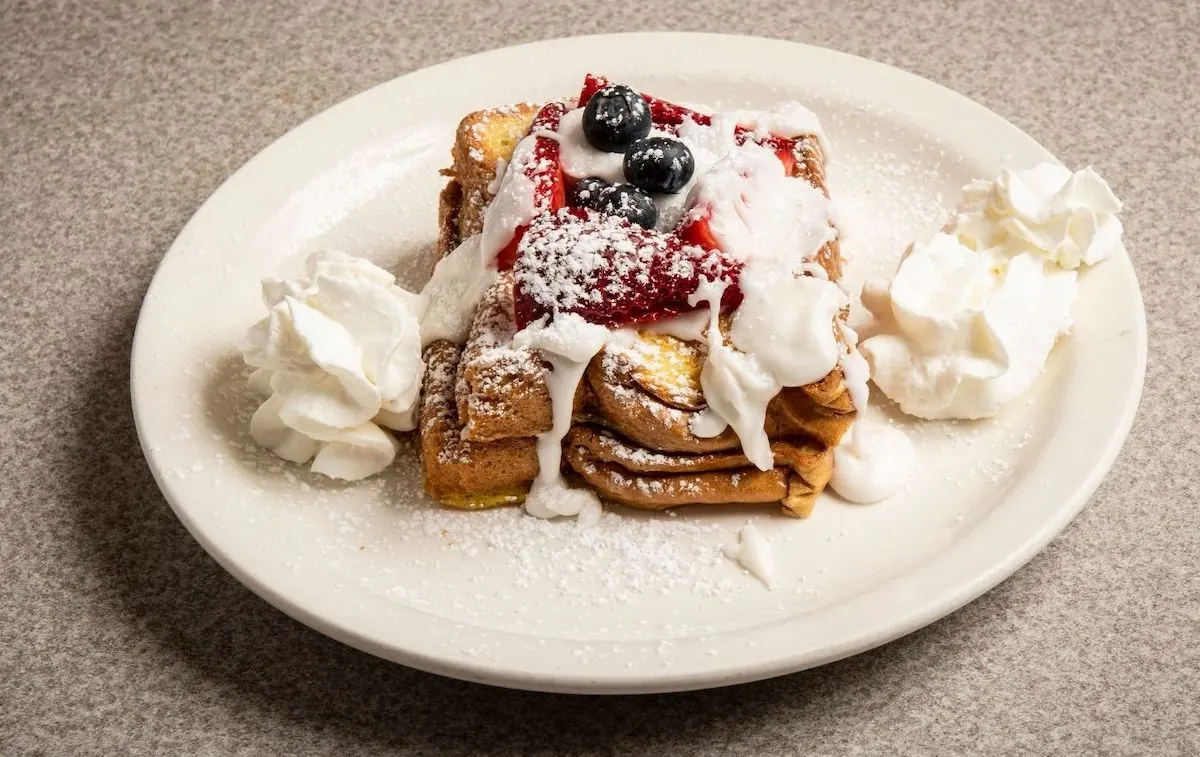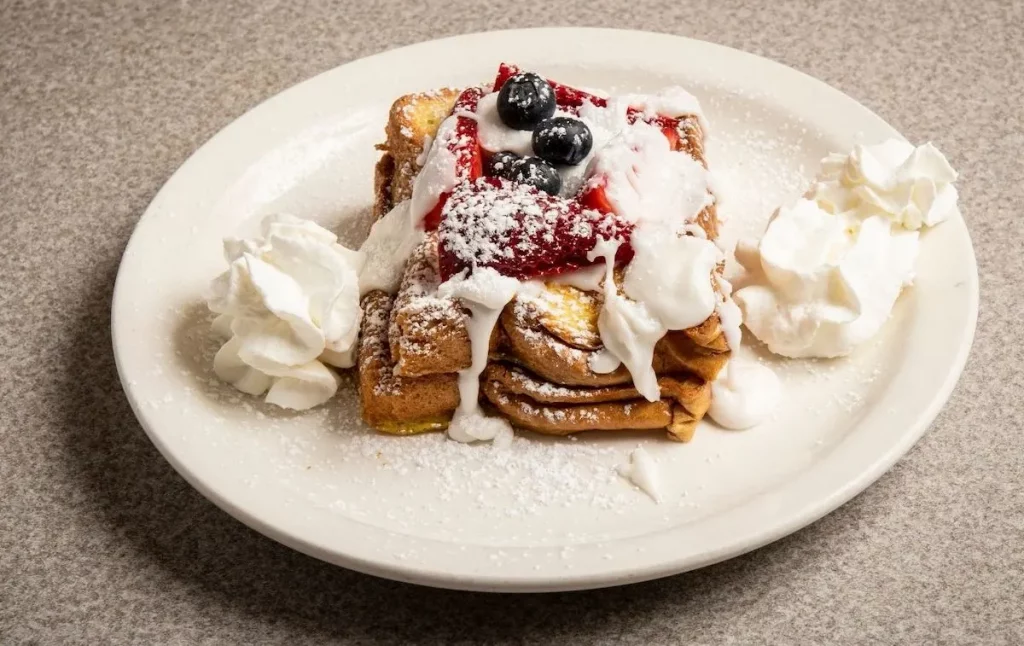 Want a little Broadway show to go with some epic and totally delicious classic American diner fare? If so then get ready for an unforgettable meal at Ellen's Stardust Diner.
It's one of the most unique restaurants in NYC where servers – most of whom are aspiring Broadway performers – will take musical requests and serve up your favorite show tunes along with classic milkshakes, hot dogs, and hamburgers.
It's nothing fancy but you'll love their pancakes and root beer floats. There's also a nightly performance of "Let It Go" and lines to get inside do regularly wrap around the block.
17. La Grande Boucherie
This restaurant's interior is a work of art! Created in an art nouveau style, there is both an outdoor heated plaza with towering skylight and a vast indoor space.
As a result, this elegant French restaurant effortlessly brings a slice of Parisian cuisine and style to NYC! Plus, along with an extensive list of fine wines and absinthe signature drinks, you'll find a classic French menu with decadent entrees like Steak Frites.
18. Felix Roasting Company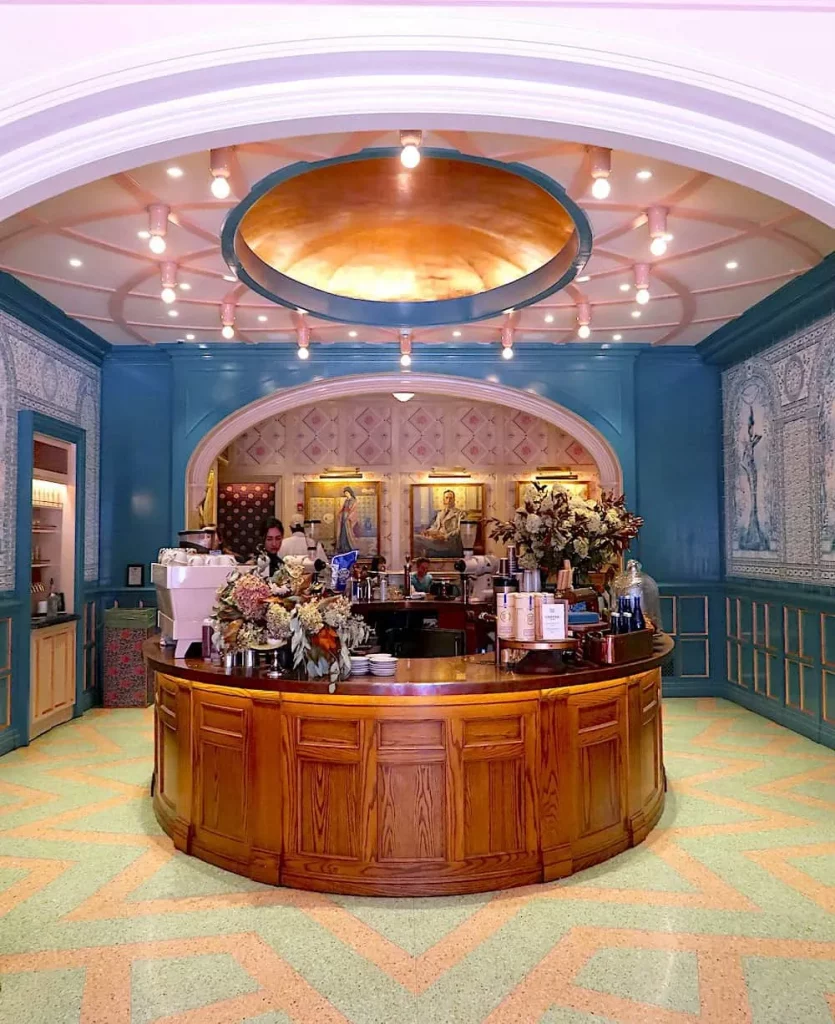 Head straight to their Park Avenue location and experience one of the most jaw droopingly beautiful coffee shops in all of New York. Because this cafe looks like something straight out of a Wes Anderson film and is brimming over with high ceilings, pastel pink hues, vintage wallpaper, and super cute bubble shaped seats.
Yup, definitely one of the most unique restaurants in NYC where you can order delicious coffee based drinks like a smoked s'mores latte. Heck, they even have MILK on take so be prepared to get extra fancy at this amazing place.
19. Cha Cha Matcha
Have your camera at the ready because this place has some of the best and most unique decor that you ever did see. Yup, just imagine pastel pink walls, neon glowing signs that read, "I love you so matcha", and vibrant green palm trees and you have a small idea of just how awesome this place is.
They also serve fantastic matcha lattes with napkins that also read, "I love you so matcha" in pink letters. And just in case you're not in the know, matcha is a type of Japanese green tea that has about as much caffeine as ten cups of coffee. So yeah, this stuff is potent with a capital "P".
This franchise also has multiple locations scattered across the city, with one conveniently located near Bryant Park.
Unique Restaurants in NYC – Lower Manhattan
20. Russian and Turkish Baths Café
Enjoy a meal with a side of steam therapy in one of the most unique restaurants in NYC! Because since 1892, the 10th Street Baths have been welcoming a quirky assortment of clientele. As a result, you'll now find a beautiful mix of traditional old timers and trendy new ago hipsters hitting the baths here.
And then after you steam it up, pop into their restaurant for some Russian comfort food like Dolma and Borscht.
21. Fraunces Tavern
Dine in one of the most historic restaurants in NYC! Because within New York City's oldest standing structure you'll find the Fraunces Tavern.
Yeah, it's known for being the location of a ton of revolutionary war era activity, including Washington's famous farewell speech. Therefore, it's a restaurant and museum all rolled into one.
So, step inside one of the most unique restaurants in NYC and find hints to the past, like a mural from the 1800s, along with traditional American fare, like their popular Slow Roasted Chicken Pot Pie.
22. Jekyll and Hyde Restaurant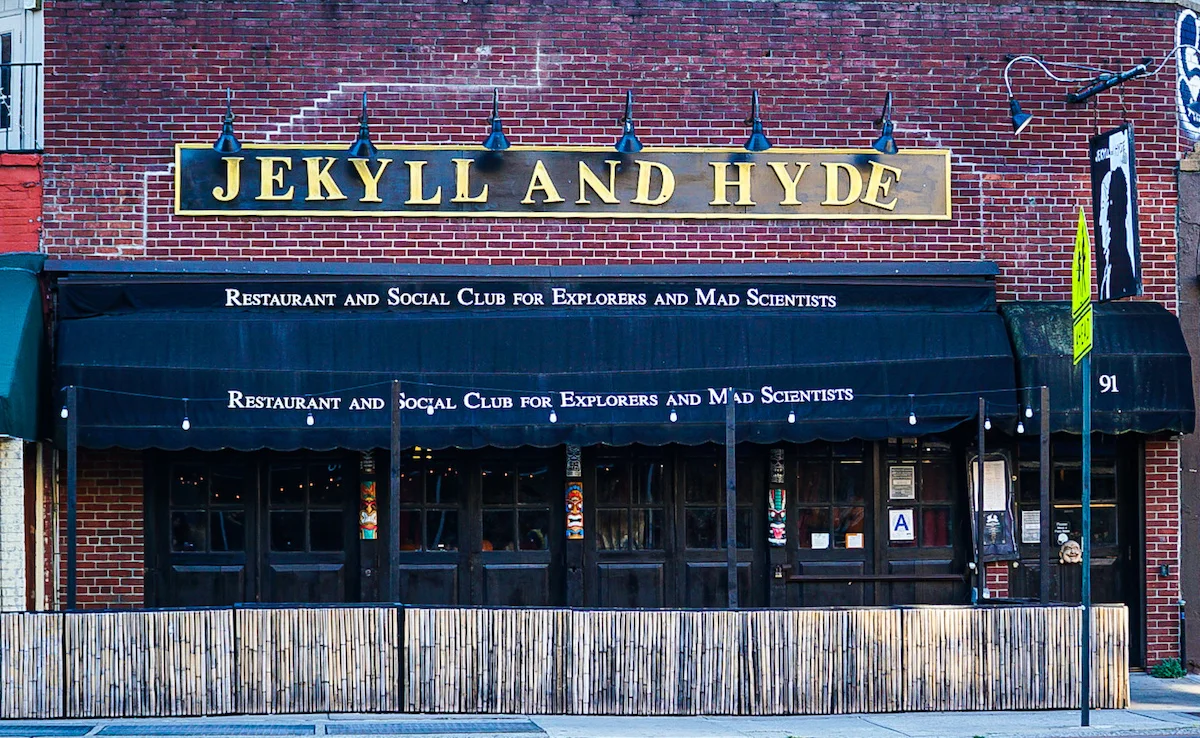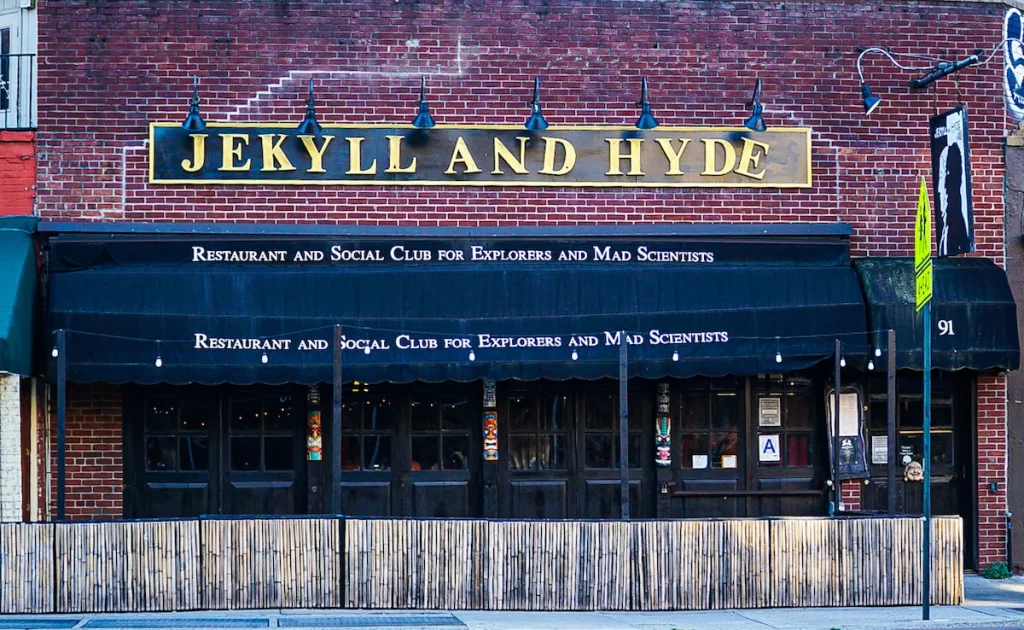 Located in the always trendy neighborhood of Greenwich Village, this iconic eatery resembles an early 19th century explorer's club and has been around for 15 years. It is also known for giving you Hard Rock Cafe style food (read expensive and not very good) that is served to you with a side of ghoulish glory.
See, this place was inspired by the famous tale of Dr. Jekyll and Mr. Hyde. Therefore, patrons will be equal parts shocked and amazed by animatronic ghosts literally popping out around every turn and by waiters who are dressed up as mummies, zombies, vampires, and more.
23. La Caverna
Embrace your inner Fred Flintstone and dine at one of the quirky restaurants in NYC that looks like a full-on cave. Because this Mexican restaurant has been around since 2002 to and serves eager patrons veggie tacos and nachos while they marvel at rock embed walls and stalactites dangling from the ceiling.
There's also a night club here where you can party like a rockstar on the weekends while listening to live DJ music. Just be sure to swing by on taco Tuesdays when tacos cost just $3.00 each.
24. Bohemian
This exclusive Japanese restaurant in the East Village is hidden behind a butcher shop. And if its exclusivity doesn't lure you in then maybe the fact that Andy Warhol once lived here will!
Bohemian also has an artsy and mid-century vibe inside and a rugged, graffiti lined exterior. But, their food is a cut above the rest since you can score some decadent Wagyu beef hand rolls here. Just be sure to make a reservation since this is one of the more popular unusual restaurants in NYC.
25. Boris & Horton
Move on over cat cafes because Boris & Horton is the first Department of Health approved NYC dog café! And even if you don't have a dog yourself, come for a coffee, stay for their amazing grilled cheese, and enjoy all the cute pups around you!
Heck, they even have a photo booth for you and your four-legged friend to celebrate your visit in as you enjoy one of the most unique restaurants in NYC!
26. Meow Parlour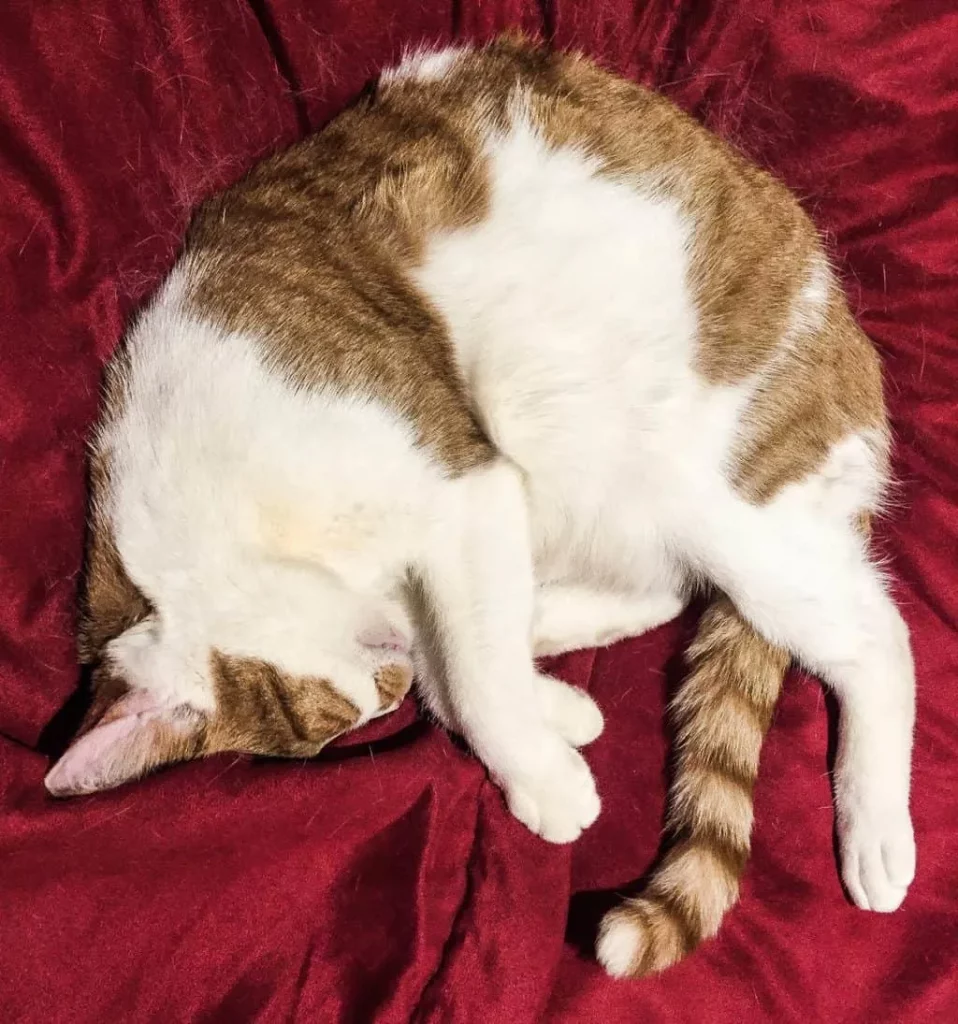 If you're not much of a dog person, then cuddle up with some of your favorite feline friends at Meow Parlor in Chinatown.
Because as you probably already gathered from the name, this is a super cute NYC cafe for cats is where you can sip on lattes while getting up close and personal with some uber-cute kitties.
Just be sure to go online and book a 30-minute time slot (for $15.00 per person) in advance since this place is popular. So, if you just show up you might not get in.
Then, upon arrival, you'll have to check-in, sign a waiver, take off your shoes/coat, and wash your hands before being allowed to chill with the kitties within.
27. Dominique Ansel Bakery
This is one of the best bakeries in NYC that is Brough to you by master pastry chef Dominique Ansel. This dreamy bakery is also filled with creative, fun French desserts.
And some of these unique treats include the Cronut, Blossoming Hot Chocolate, and Frozen S'mores. The coolest though is the Cookie Shot! It's basically this super innovative dessert where a chocolate chip cookie is smothered with chocolate and molded into the shape of a shot glass.
This edible container is then filled with homemade cold-infused Madagascan vanilla milk that you can sip on while enjoying one of the most unique desserts in NYC!
28. Abigail's Kitchen
Are you willing to enjoy a four course meal blindfolded? If you dare then try Abigail's Kitchen's Dinners in the Dark series.
See, this casual Franco-American restaurant offers New York City's only dinner in the dark experience. So, let your senses take over at one of the most unique restaurants in NYC and as you try to guess the food and wine you're being served.
29. McNally Jackson Books Café
With multiple locations across the city, McNally Jackson Books is one of the best independent bookshops in NYC. And at their Prince Street location you'll even find a cozy café with books hanging from the ceiling.
This cafe also offers a range of beverages and small meal options, like their delicious scones. But, come prepared to read or talk with friends as there is no WiFi in the café.
30. Rolf's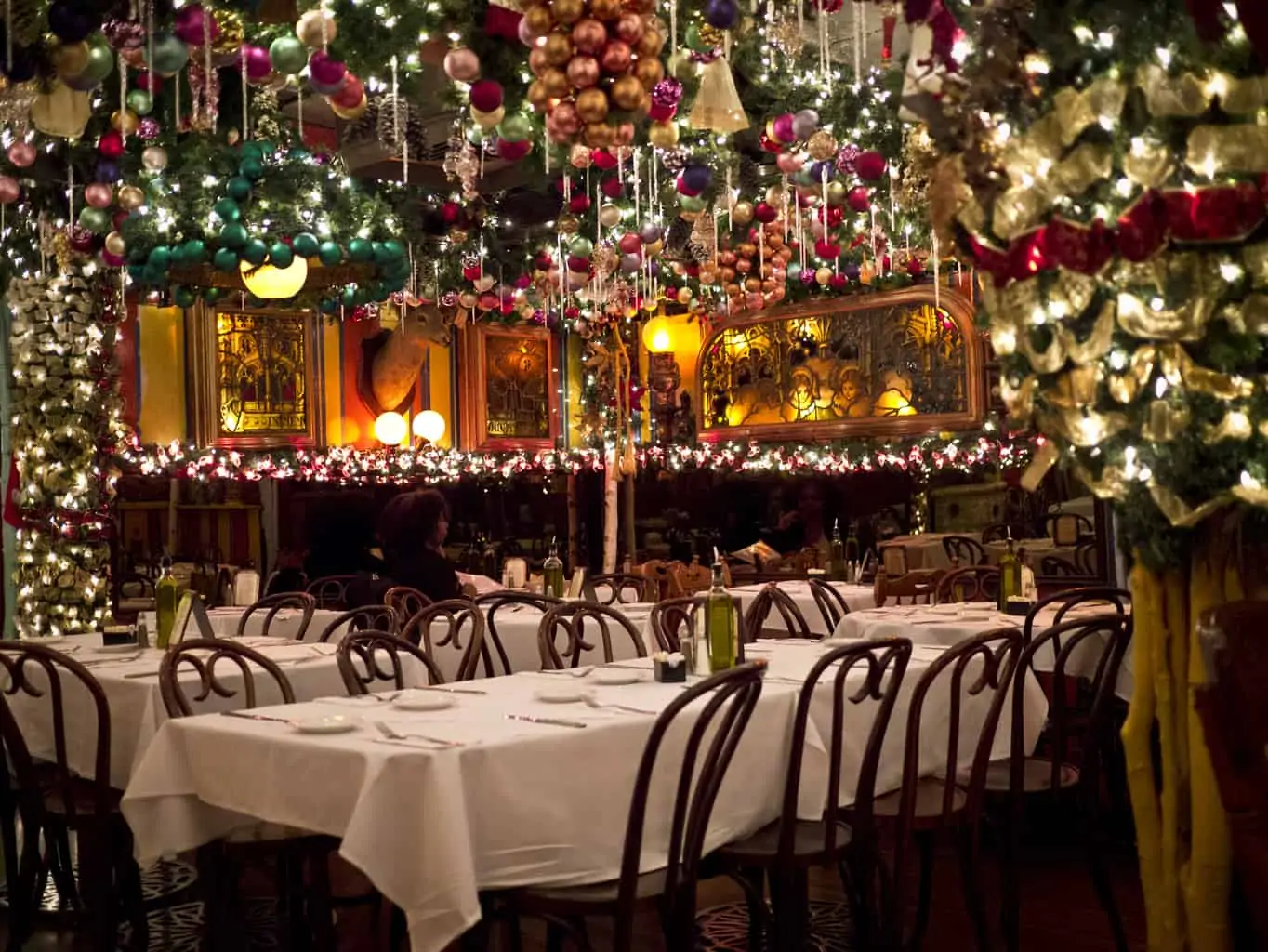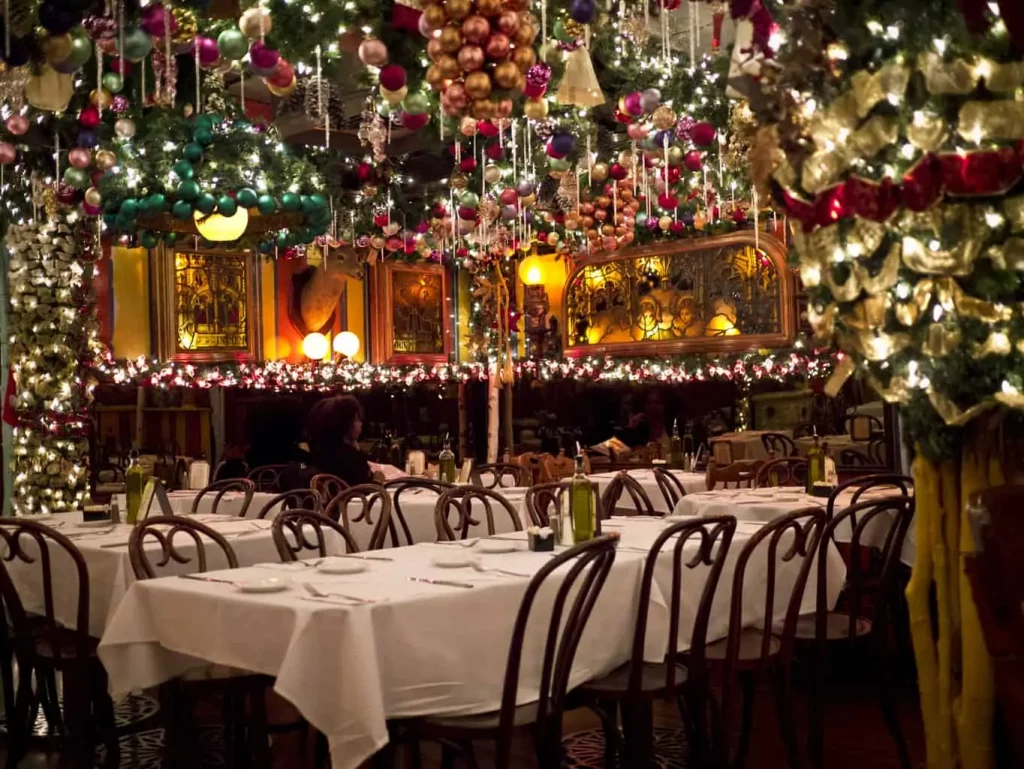 Stop by this iconic German restaurant in Gramercy Park any time between the end of November and May to enjoy some truly next-level awesome Christmas decor.
Because this place basically adorns every surface imaginable with vibrant Christmas balls, glowing lights, strands of garland, and giants bows that will make you feel like you're at the North Pole.
This is also one of the more unusual restaurants in NYC where you can skip the food and order holiday inspired cocktails like the vanilla spiced eggnog with bourbon, the warm apple cider, or the Christmas smoothie.
32. The Cabin NYC
If you're craving a getaway for the night head over to The Cabin NYC! This moody restaurant has a tree standing center stage, antlered chandeliers, and an overall enchanted cottage vibe.
Plus, with a menu of American farm to table dishes, like their tasty fried chicken, there's a comfort food for everyone at one of the more unique restaurants in NYC!
33. MarieBelle
This is the Tiffany of chocolate! Because for over 20 years, MarieBelle has welcomed visitors to their chocolate shops and Cacao Bar. The café beyond the store is also adorned with art deco-inspired mirrors and large chandeliers that make it a really cool place to visit.
So, whether you're craving something sweet or savory, you'll find everything from sandwiches to crepes at one of the most unusual restaurants in NYC. Plus, along with their iconic list of delightful desserts, they also serve afternoon tea too!
Before you leave though, don't forget to pick up one of their signature powder blue boxes of chocolates to take home with you!
34. Genesis House Restaurant by Onjium
Hidden away in NYC's famed Meatpacking District, Genesis House is a Michelin-starred fine dining restaurant that specializes in bringing Korean culture and cuisine to eager patrons.
So, in addition to their a la carte menu, you can also enjoy a special, seven-course tasting menu. And with each course served, you'll learn more about the story of the royal family that it was inspired by.
35. Cha-An Teahouse
This relaxed, modest tea room has anything but modest desserts! Because Cha-An is a Japanese teahouse that offers both traditional Japanese drinks and desserts as well as a fusion of east meets west creations.
And although they do offer savory options, most people come to try their elaborate and artful desserts. Fan favorites include their homemade mochi as well as the matcha parfait.
36. Beetle House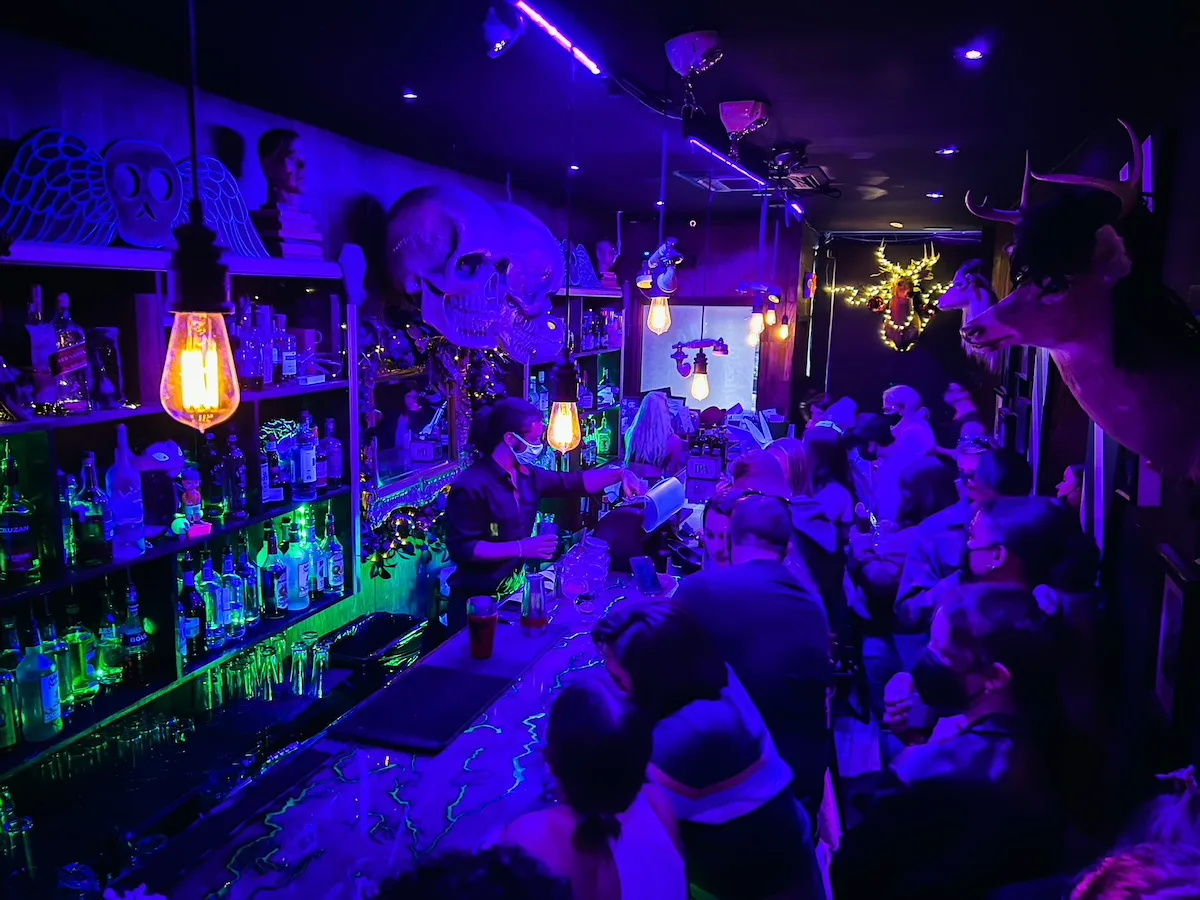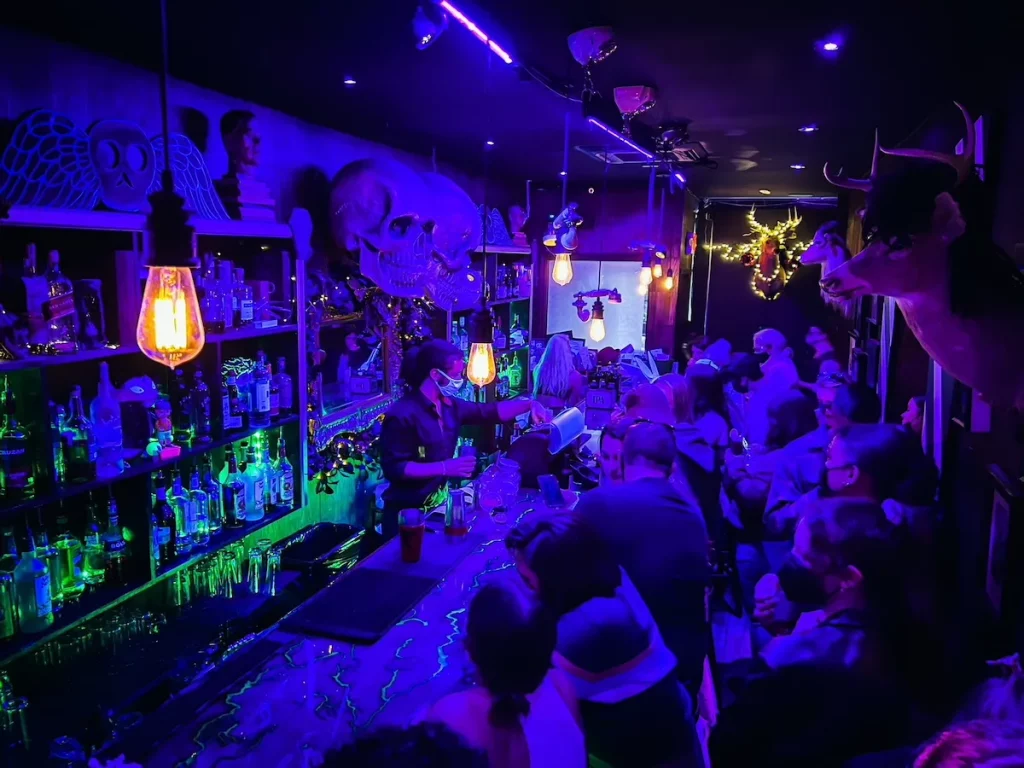 If you love dining at unusual restaurants in NYC then walk don't run to Beetle House. It's this super cool, East Village eatery with tons of Halloween-inspired decor that makes it look like a cross between Beetle Juice and the Nightmare Before Christmas.
You'll also be served fun themed cocktails like the Coco Skellington – with rum, gin, orange blossom, pineapple juice, and coconut – by costumed characters who function as a waitstaff.
Yes there's a Tim Burton-inspired food menu but it's expensive and mediocre at best so I'd definitely skip it and just order drinks at the bar instead.
37. Beauty & Essex
At one of New York City's unique restaurants everything is extra! So much so that the entrance is through a pawn shop. Then, it's up a winding staircase around a two-story chandelier if you want to step inside this wonderfully fancy place.
Because Beauty & Essex has an old world Hollywood glam vibe about it and is spread out across four different dining rooms, a lounge, and two bars.
The menu is also an eclectic mix of American food that comes in small sharable plates. So, stop by with friends and try a few different things like the kale & apple salad and braised short rib 'huevos Rancheros'.
38. The Happiest Hour
With a horseshoe bar that is bedazzled with bamboo and palm tree accents, this cocktail lounge is definitely channeling some major Key West vibes people!
It's also located in the always awesome West Village and has a menu full of seriously delicious, elevated diner fare. Therefore, you'll want to sink your teeth into their award-winning Happiest Burger and wash it down with their specialty Link Ray cocktail for good measure.
39. Tokyo Record Bar
Music lovers of the world rejoice because this unique restaurant in Greenwich Village is for you! In fact, it features a full Japanese menu, a flowering ceiling, and an eclectic soundtrack that makes you realize that Tokyo Record Bar is all about creating special experiences!
See, upon entering you'll select a song from their vinyl list. Once you're seated you'll then be treated to a seven course pre-fixe menu that ends with their famous pizza. So, while at one of the most unique restaurants in NYC, be sure to save room for that PIZZA! Nom, nom, nom.
40. Black Ant
If you're looking for places to eat in Manhattan with a unique menu then go to Black Ant! Because with an edgy and sleek design, this Mexican restaurant in the East Village has a few interesting dishes that easily put it on this list of quirky restaurants in NYC.
See, while most of the menu is bug free, Black Ant's signature dishes are crushed-ant guacamole and grasshopper tacos. However, if you're not daring enough to try the insects then consider devouring their enchiladas instead.
41. S'MAC
Take note, NYC is home to the world's first Mac & Cheese only restaurant! And Sarita's Macaroni & Cheese has been serving macaroni and cheese dishes for well over 15 years!
They also offer various mac and cheese combos, from the classics to their tasty Buffalo Chicken inspired creations! And, added bonus? They cater to a wide variety of dietary needs like vegan, dairy-free, keto, gluten-free, and more!
42. Pietro Nolita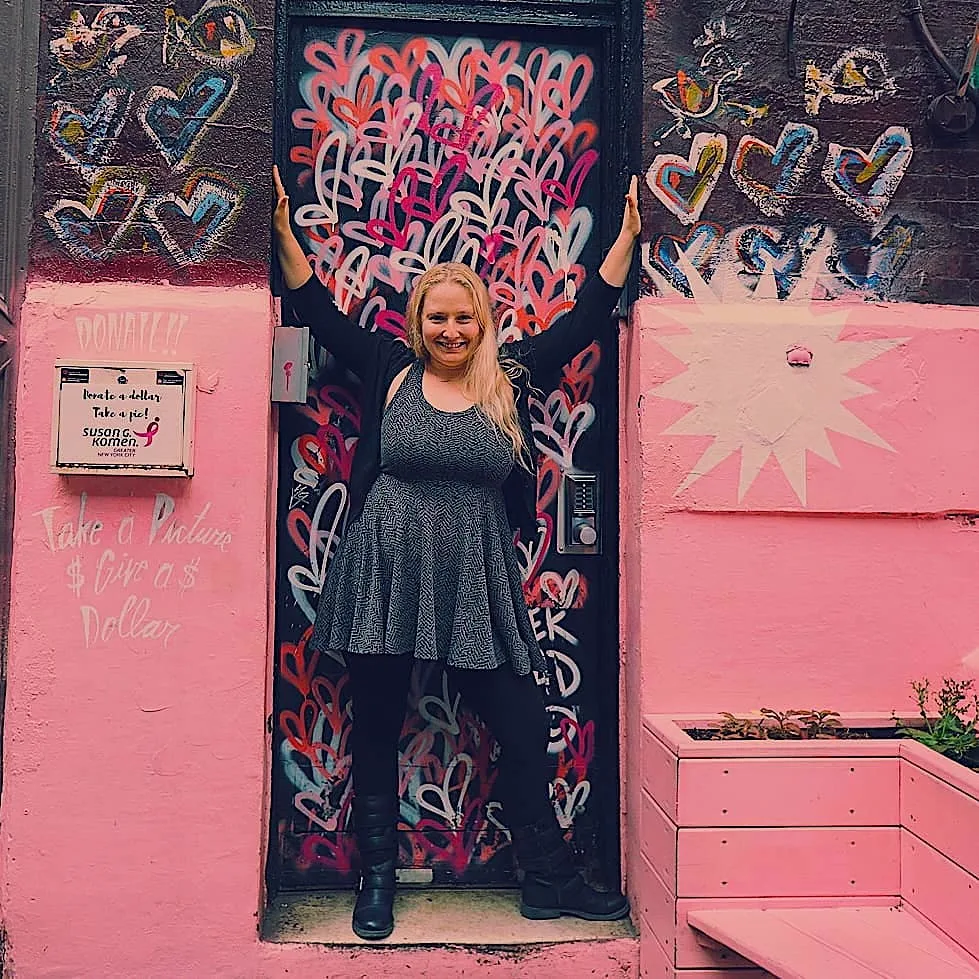 With a 1980's esthetic and a heavy pastel pink interior that is accented with plants, this is the perfect spot for a ladies night out! See, by day they serve fun breakfasts and brunches.
And then at night the menu showcases healthy, Italian-inspired fare. So, stop by one of the most unique restaurants in New York City for brunch to try a stack of their raspberry pancakes sprinkled with the saying, Pink AF! However, If you're visiting for dinner, try their fusilli al limone and the sneak pink cocktail!
Pro Tip: Don't want a full meal? Then swing by and grab a coffee in a to-go cup since it will come with the highly Instagrammable slogan, "Pink AF" on it.
43. Burp Castle
One of the most unique bars in NYC is Burp Castle! Because unlike other bars that are loud and boisterous, this one prides itself on its relaxed and hushed atmosphere.
This monastery-themed bar also features some seriously impressive murals covering the walls. You'll also find a list of exotic imported beers and might even spot the bartenders donning a monk's robe while you're here!
44. Trailer Park Lounge
Filled with over-the-top kitschy decor that includes vintage photo booths, a Christmas light adorned juke box, bowling alley seats, and old gas station signs, Trailer Park Lounge is a super cool, local dive bar that sits in stark contrast to the overall swank vibe of Chelsea.
However, even though this is one of those unique restaurants in New York City that has a dive bar/roadhouse feel to it, it makes up for its lake of refinement by serving some seriously delicious frozen margaritas and Paradise Hawaiian cocktails at their Tiki-inspired bar.
Pair your drink with a Grilled Fat Dog and some moon pies and you deffo won't leave this place hungry.
45. Max Brenner
If you love chocolate almost as much as you love life itself then beeline it on over to Max Brenner's restaurant in Union Square. After all, this is one of those quirky restaurants in NYC where literally everything on the menu is served with chocolate.
And that makes sense since Max Brenner is a world-renowned chocolatier. Also, although everything on the menu is good, personal faves include the classic European fondue, the bacon mac and cheese, and the Brenner Burger.
Pro Tip: Chase it all down with a decadent chocolate hazelnut milkshake that can and should be shared by two people.
46. Café Serai
Cafe Serai is another interesting place especially if you love Asian food. This themed restaurant is designed to put a New York twist to Tibetan food. You will see it within the Himalayan art focused Rubin museum. The ambiance is spot on and you will feel that you are dining right in Tibet.
Most people choose to stop by it after visiting the museum. If you have been planning on heading this way, I highly recommend heading there during their K2 Friday nights.
Not only does the museum have free admission on those days, the café turns into the K2 lounge. This means in addition to their standard fare of momos and dumplings, you can expect music, cocktails and entertainment.
The ambiance is really chill and it is a great way to spend your Friday evenings and nights.
47. The Cauldron NYC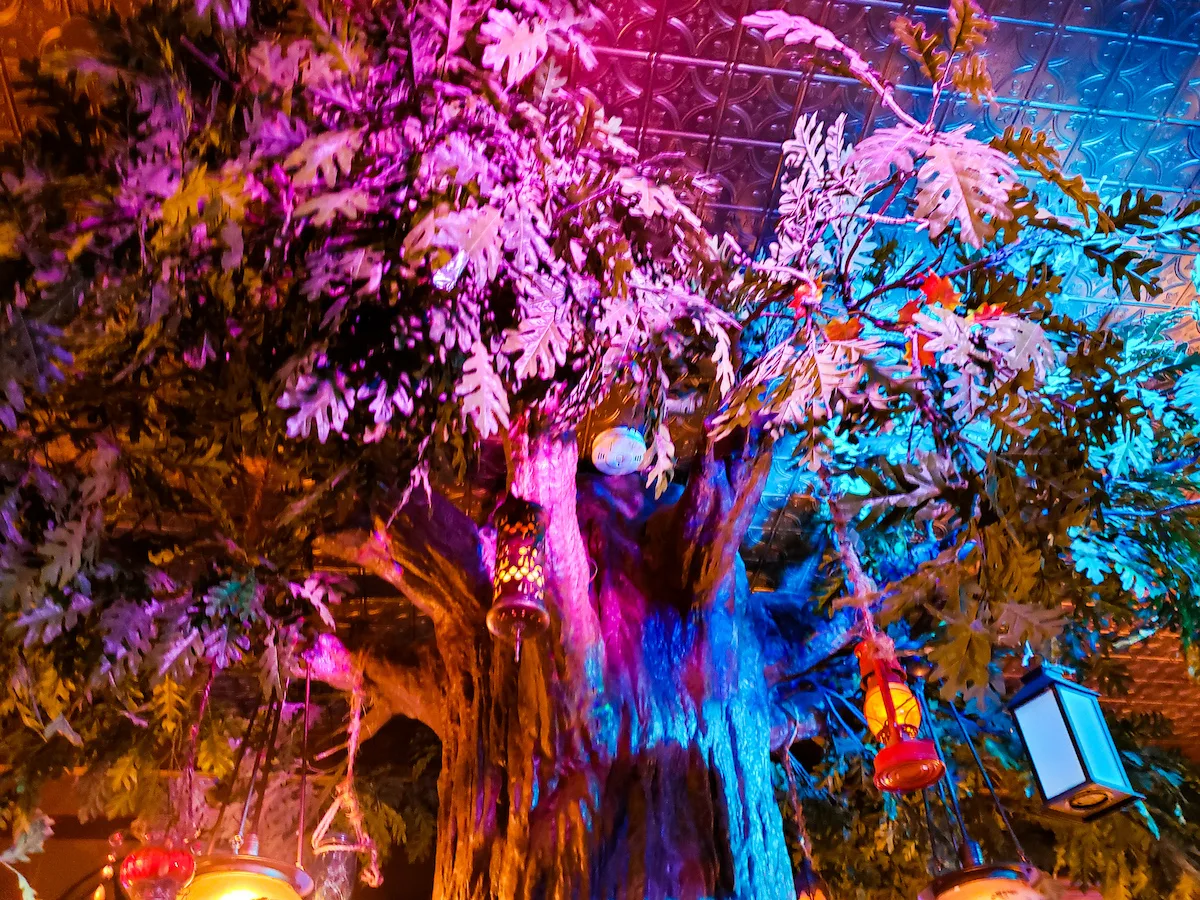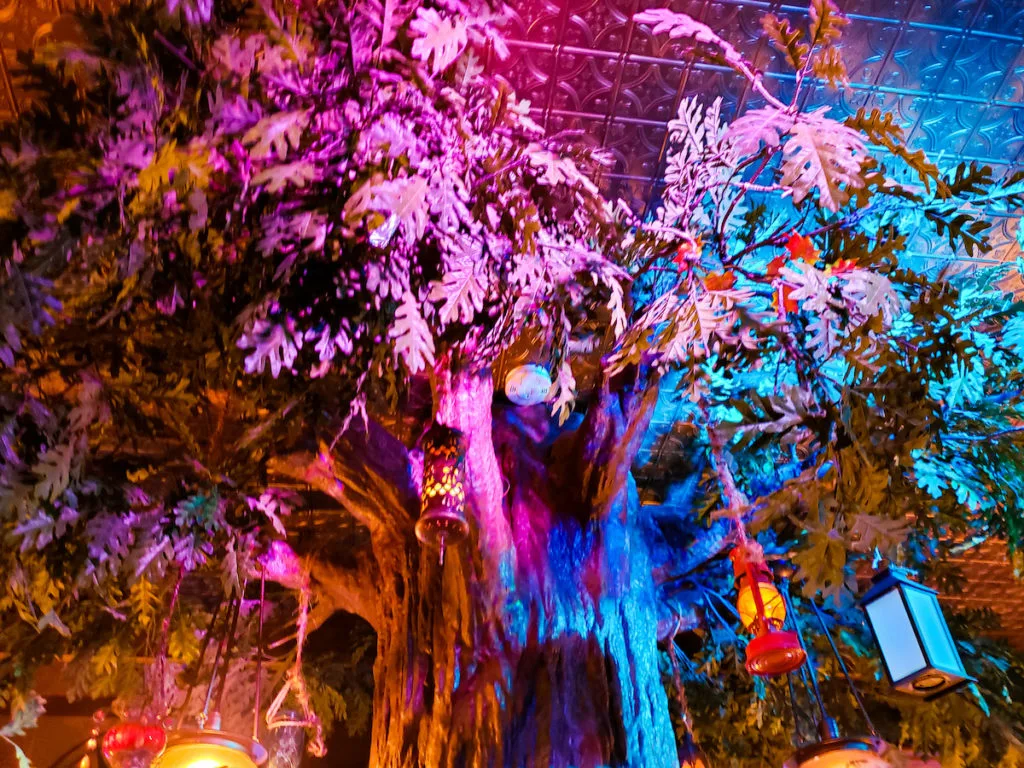 If you happen to find yourself at the historic Fraunces Tavern, then pop by this fantasy-inspired bar and enjoy an hour and 45 minute long potions making class that would make Harry Potter himself jealous.
Yup, it's super interactive, the drinks are pretty dang delicious and you will use both a cauldron and wand to prepare to prepare all of the most bewitching drinks (see what I did there?).
And if you're not a fan of classes, you can always stop by in the evening for Wednesday karaoke night, Thursday Drag Show/Drag Bingo, Friday/Saturday night live DJs, and Sunday ladies night ( 2 for 1 appetizers, $8 glasses of wine, and half-price bottles of wine).
48. Cowgirl
Rock a pair of cowboy boots and don your favorite cowboy hat so that you can feel right at home inside this Texas-style eatery.
See, this West Village hotspot was founded way back in ye olde 1989 and pays homage to the great state of Texas with Southwestern inspired decor that includes chandeliers made of antlers, red checkered table cloths, and wood-paneled walls.
Throw in a tex-mex menu that includes faves like French toast sticks, pork nachos, tater tots, and Frito Pie (it's the house speciality and a must order), and you have one of the most unique restaurants in New York City.
Pro Tip: Order the fresh strawberry lemonade to wash everything down with and add a little vodka to it while you're at it.
49. Dirt Candy
The emphasis here is on creating unique, innovative, plant-based dishes that taste absolutely amazing. And, by golly, that's exactly what you get at Dirt Candy, a refined, high-end, vegetarian eatery run by chef Amanda Cohen.
And while there is no a la carte menu to speak of, patrons can enjoy innovative, seasonal creations like homemade gummy bears and broccoli dogs – all of which are included in their signature, five-course tasting menu for $88.00 per person.
Yeah, just think of Amanda as Willy Wonka, but with vegetarian food.
50. The Late Late
I love the ambiance of this uber cute spot. The Late Late is designed to look and feel local. The intent is to make you feel comfortable and get you to kick back and relax. The main theme is Irish BUT it isn't a traditional Irish bar and restaurant.
This watering hole has a great menu but one that is designed to facilitate social interactions and conversation.
Plus it has some epic DJs manning the music and some notable music personalities who stop by on a regular basis. Still not convinced? With over 50 Irish whiskeys to choose from, it has carved a bit of a niche in the restaurant market of NYC.
You've probably guessed that the Late Late has a rather fixed clientele. This is because once you head there, the ambiance of the place hooks you.
You'll find both young professionals and old timers mingling together. I think this is because of the unique cross between vintage and cosmopolitan vibe that they managed to set up.
51. Le Coucou
Are you a lover of French cuisine? There are loads of restaurants in NYC that offer a taste of France on their menu but few can compare with Le Coucou. The renowned chef Daniel Rose is the heart and soul of this establishment. Not only do his creations taste divine, they also look like works of art when plated!
What should you eat here? Well, just about anything. The foie gras is light and flavorful, the rabbit and duck are succulent and the lobster is just perfect. In fact, one of the signature dishes is the rabbit which is served in three ways. It melts in your mouth. Each section is planned and executed brilliantly.
Now if you have a sweet tooth then try the hazelnut chocolate cake, madeleines and mini macaroons. Trust me, you will go back home a happy soul!
The one thing that you should note about Le Coucou is that it is pricey but I've always found that I get my money's worth whenever I head here. Plus, it's way cheaper to satisfy my longings for French food than a flight to Paris!
Pro Tip: Like all the Michelin star restaurants in the city, Le Coucou is always busy so make sure that you make a reservation in advance. I know that they have a seat reserved for walkins but that fills up quickly too.
52. Via Carota
If you have Italian food on your mind and are looking for some unique restaurants in NYC then I would suggest heading over to Via Carota where you will find a cozy, rustic and homely place filled with the delightful smells from Italy.
What I really like here is that they use seasonal ingredients in their cooking. That way not only does the menu change seasonally, you also always have the freshest ingredients being used. You really won't truly have experienced the whole vibe unless you try one of their classic pasta dishes. Not sure what to order, ask the staff for help!
If you want something a little different then try the carrots with pork loin. It's exceptional. They also have an impressive wine menu which the ever attentive staff help you pair with your food.
Pro Tip: Like all the other restaurants, this one is also always busy and hard to get into. Plus they have a no reservation policy which means that you have to get there early. People usually queue up here between 4:15 – 4:30 pm.
At 5 sharp the door will open and they will take down names and seat people. It is totally worth the wait and is by far one of the best places to eat Italian food in the city.
Unique Restaurants in NYC – Multiple Manhattan Locations
53. Chama Mama
If you're looking to try out a different type of cuisine then head to Chama Mama. Because with two locations, in Midtown and Upper Manhattan, it is now easier than ever to sample appetizing Georgian cuisine.
In fact, their most famous dish is the Adjaruli Khachapuri. Consider pairing it with one of their organic Qvevri wines, which are a rarity to find outside the country of Georgia, and you'll have a meal to remember at one of the most unique restaurants in NYC.
Plus, the Midtown location has a fabulous jungle oasis of a back patio that you'll deffo want to hang out in!
54. Black Tap Craft Burgers & Beer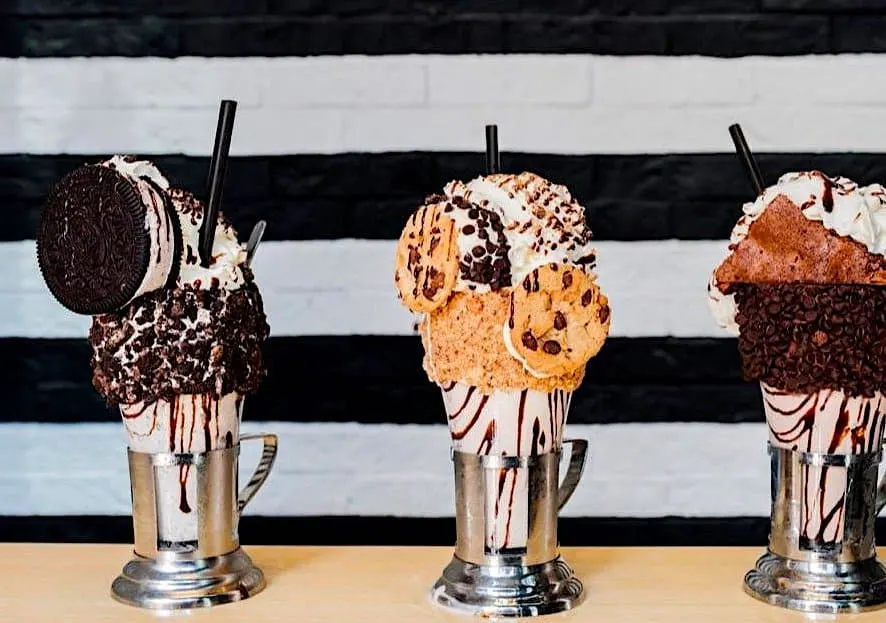 This burger joint, with multiple locations across Manhattan, is next level! So much so that people have called their notorious burgers and shakes three dimensional!
In fact, Black Tap's award-winning burgers, like the Greg Norman, are stacked with flavor and toppings! Plus, if you're hungry and in the mood for a shake, this modern diner serves up some of the best milkshakes in the city!
Yup, their trademarked Crazyshakes, like their Cakeshake, are stacked sky high with full pieces of cake and giant cookies that easily make this one of the most Instgrammable places in NYC.
Unique Restaurants in NYC – Brooklyn
55. Gage & Tollner
Step back in time for dinner in one of the most stunning and historic restaurants in New York City! Because after first opening in 1879, Gage & Toller has seen plenty of change.
However, its new revival has it looking like a masterpiece of old New York, complete with posh brass chandeliers, plush booths, and a sweeping bar that looks like something straight out of Mad Men! So, go for the ambiance and stay for the chef's signature clams Kimsino!
56. Turk's Inn
The Turk's Inn is one of the craziest and most unique restaurants in NYC! Specializing in Middle Eastern cuisine, this place is so much more than food, though the Moussaka is exceptional!
Yup, dining here is an experience since you'll feel like you've walked into a restaurant straight out of Aladdin! In fact, the vibrant colors and the attention to detail will assault your senses in the best possible way.
57. Syndicated
If you want to do dinner and a movie at one of the most unusual restaurants in New York City then you're in luck because you can do both at Syndicated.
See, this unique NYC restaurant is both a movie theater and restaurant. As a result, you'll find all of the best American classics served here alongside cocktails that you can sip on while you take in a show. Plus, during the warmer months they have a Sidewalk Cinema, so you can enjoy dinner and a show beneath the stars.
58. Tatiana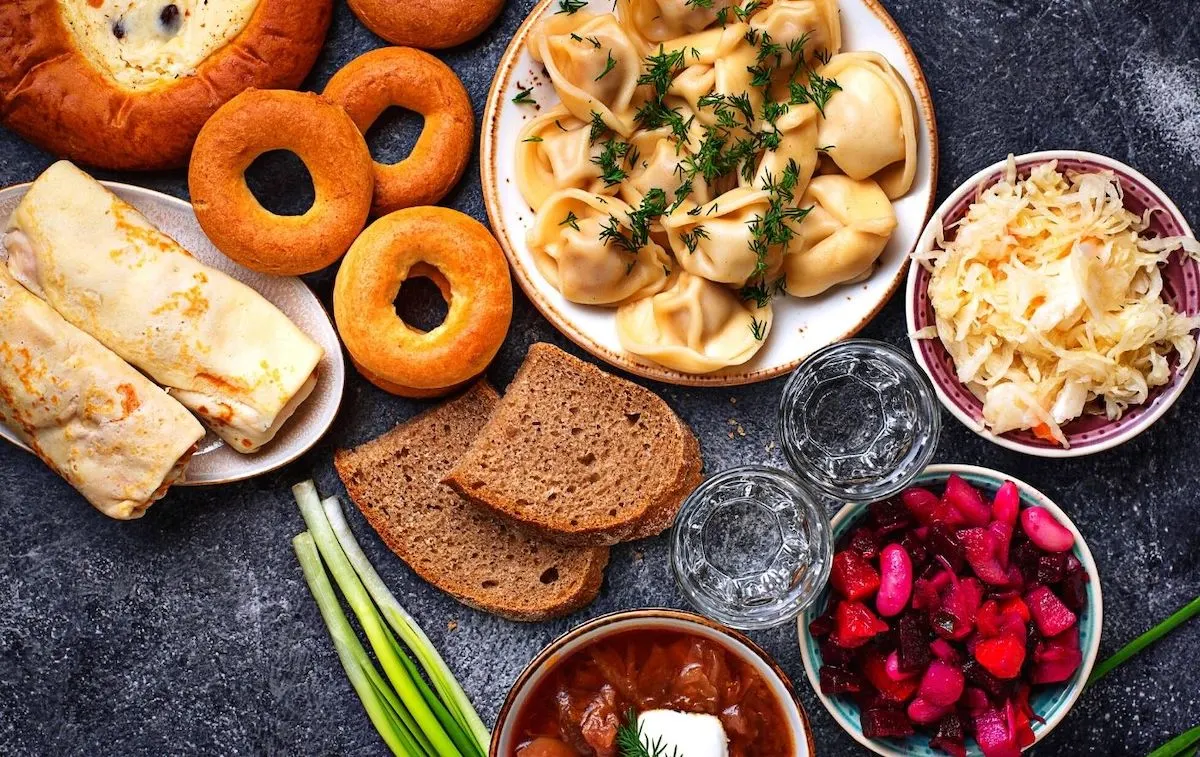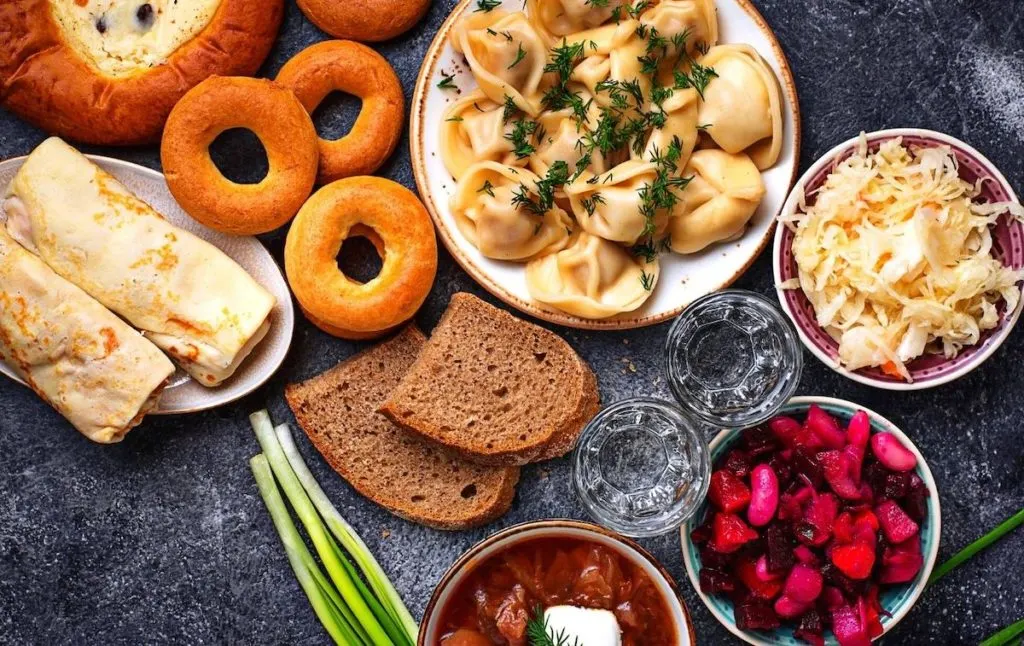 Tatiana's is where "From Russia with Love" meets a wild Vegas performance! That's because you can enjoy dinner and a show in this Russian restaurant and nightclub.
So, watch in awe as performers bring color, music, and trapeze acts to Brooklyn. Plus, with a varied menu filled with noteworthy dishes like their dumplings and beef stroganoff, you won't have to every worry about leaving hungry.
59. River Café
This Michelin star restaurant is ideal if you're looking for some truly unique fine dining in NYC! Perched next to the East River, below the Brooklyn Bridge, the River Café features sweeping views of the Manhattan skyline.
The restaurant itself is also filled with flowers, features live piano music, and has an air of romance that makes it an ideal place for a special date night. For the best meal though, order the lamb and the chocolate Brooklyn Bridge for dessert!
60. The Chocolate Room
Satisfy your saber tooth tiger size sweet tooth at Brooklyn's Chocolate Room Café. Here you'll find all the best chocolate treats, from hot chocolate to the finest chocolate layer cake in NYC!
Using only quality ingredients to craft their high-end chocolate, this is the sweet spot that all the cool kids love! Plus, in addition to a menu filled with chocolate goodies, you'll also find a wide selection of coffee, beer, and wine!
61. Brooklyn Crab
If you're looking for some quirky Montauk vibes but don't want to make the trip from NYC to the Hamptons, then head to Red Hook instead.
It's here that you'll find a multi-level restaurant with a seafood shack meets family fun house atmosphere about it! And with plenty of outdoor seating that includes stellar views of the Hudson River, you can pig out on buckets of oysters and the city's best crab rolls in style.
Plus, this is one of the unique restaurants in NYCV that is also home to plenty of fun games like mini-golf, corn hole, and more!
62. Dinosaur Bar-B-Que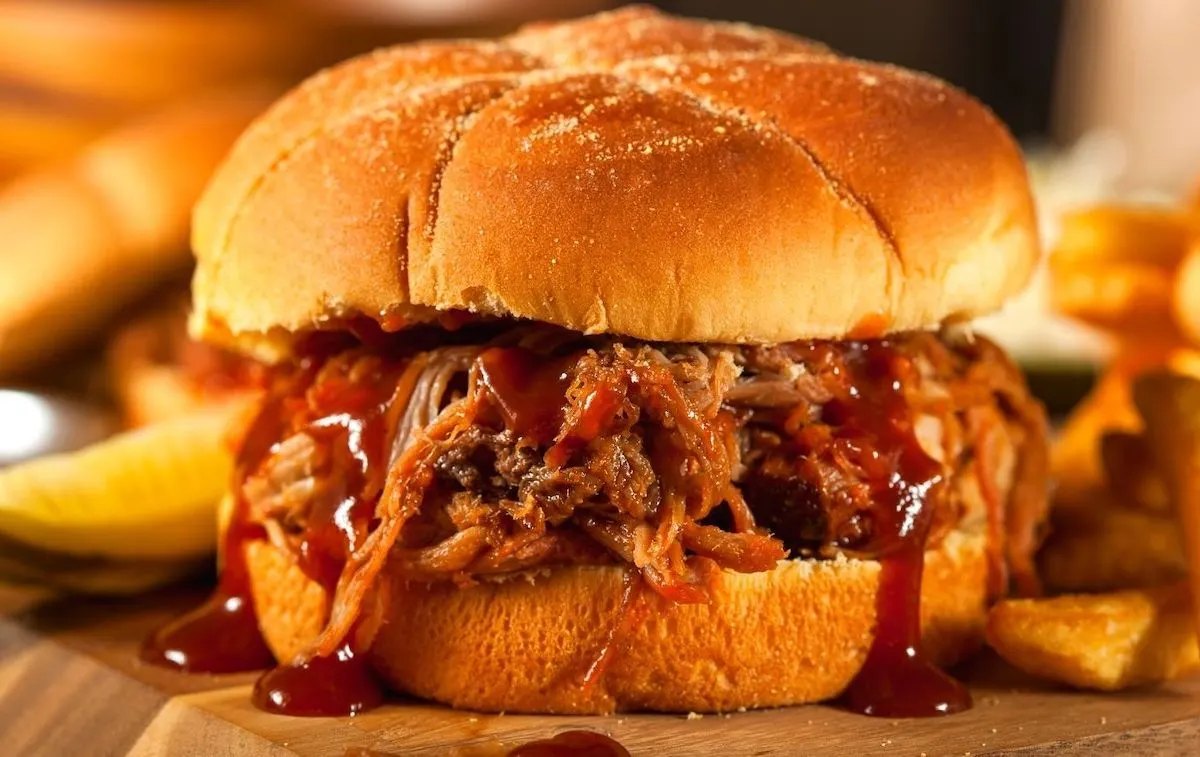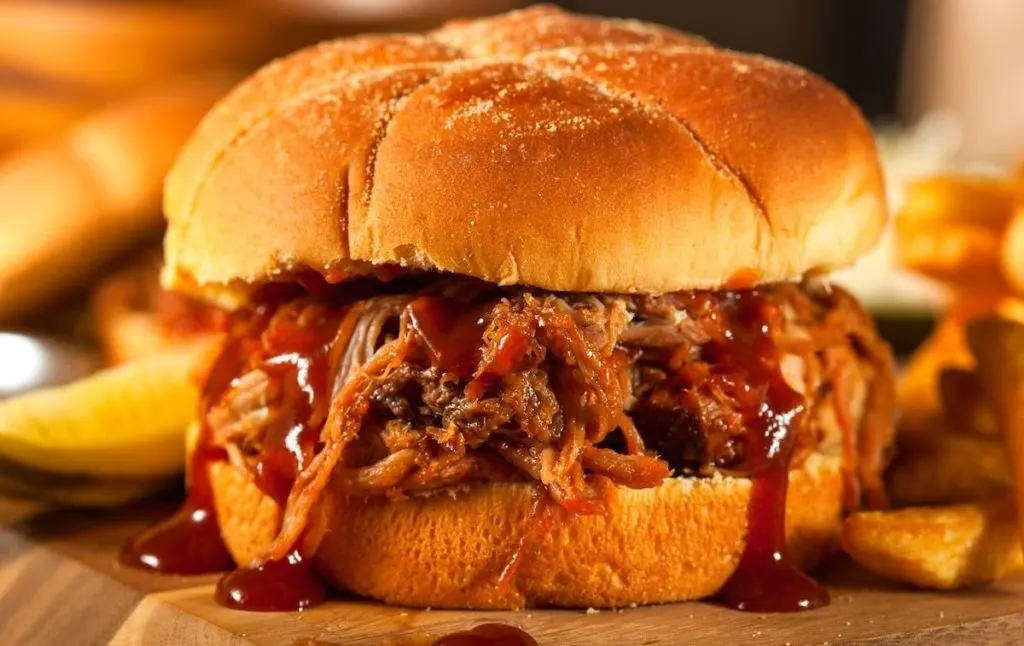 This is another fantastic restaurant in Brooklyn because when walking in, you'll be hit with the sweet smell of barbeque. And Dinosaur's aesthetic is pretty too since it is industrial chic meets unfinished Wild West movie scene.
Plus, this place was voted America's best barbecue by Good Morning America so you know you're in for a sticky good time! The menu is also dripping with Southern barbeque classics like their pulled pork!
63. Kick Axe Throwing
One of the most unique NYC restaurants on this list that will feed you and let you live out your fondest lumberjack dreams is Kick Axe Throwing!
So, don your Brawny man flannel and come prepared to chow down on some awesome thin-crust pizzas. You'll want to bring all your friends to compete as you hurl giant axe blades at a big AF chunk of wood. See, dreams really do come true.
64. The Bagel Store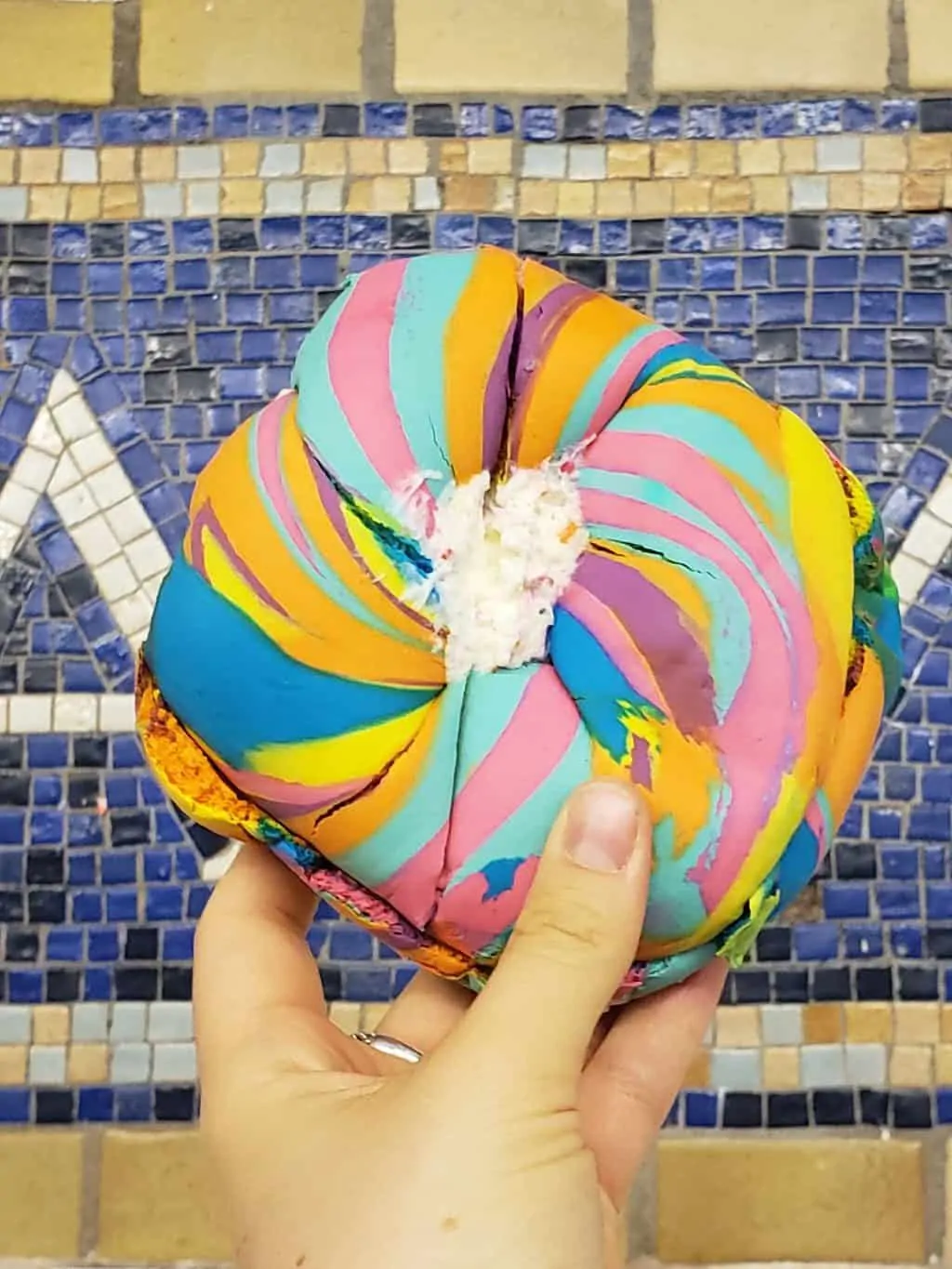 If you're looking for some of the most colorful food in New York City then head to The Bagel Store! In fact, this shop is home to "The World's Premier Bagel Artist" who dishes out both sweet and savory bagels, along with an array of cream cheeses and rainbow bagels too.
So, if you're in need of a solid morning meal then try their 'Cragel', a half bagel half croissant creation. However, if you need a little color in your life then you can't go wrong with their world famous Rainbow Bagel!
65. Kokomo
Channel Beach Boy vibes in Brooklyn at one of New York City's unique restaurants, Kokomo! Because with an array of color, velvet-upholstery, and all the flavor drama you'd expect from Caribbean cuisine, be prepared to enjoy a sensory overload at one of the most unique restaurants in New York City.
In fact, everything on the menu has a flavor profile that will wow you. However, I personally recommend the jackfruit tacos! Although, another popular dish is their braised oxtail. Consider pairing it with their Painkiller cocktail for a meal to remember.
Unique restaurants in NYC – The Bronx
66. Beatstro
One of the most hip and unique restaurants in New York City is Beatstro! Dishing out southern comfort food and Puerto Rican cuisine – in addition to standard brunch favorites, this Hip Hop restaurant is the place to be in the Bronx!
In fact, Beatstro will lure you in with their Latin-Southern fusion fare, like Crispy Creole Coconut Shrimp. However, you'll stay for the B-Boy Battles and Open Mic nights that have made this place legendary.
67. Zona De Cuba
No airfare required for this glorious trip to Cuba since Zona De Cuba brings the island life, complete with palm trees and a menu full of Cuban/Latin cuisine, to the Bronx.
The style here is also next level and an Instagrammer's dream! Plus, it's home to the largest New York City rooftop patio, with awesome views – making it one of the best rooftop restaurants in NYC!
So, ditch the suitcase and come enjoy the live music, incredible atmosphere, and epic food – like the Ropa Vieja!
68. Travesias
Enjoy a travel-themed restaurant that fuses Latin dishes with other cuisines from around the world. Because Travesias literally translates to "travels" in English and is a place that hopes to inspire you to try their incredible dishes, like the grilled Atlantic salmon box, as you're transported a world away through their incredible décor.
69. Hudson Garden Grill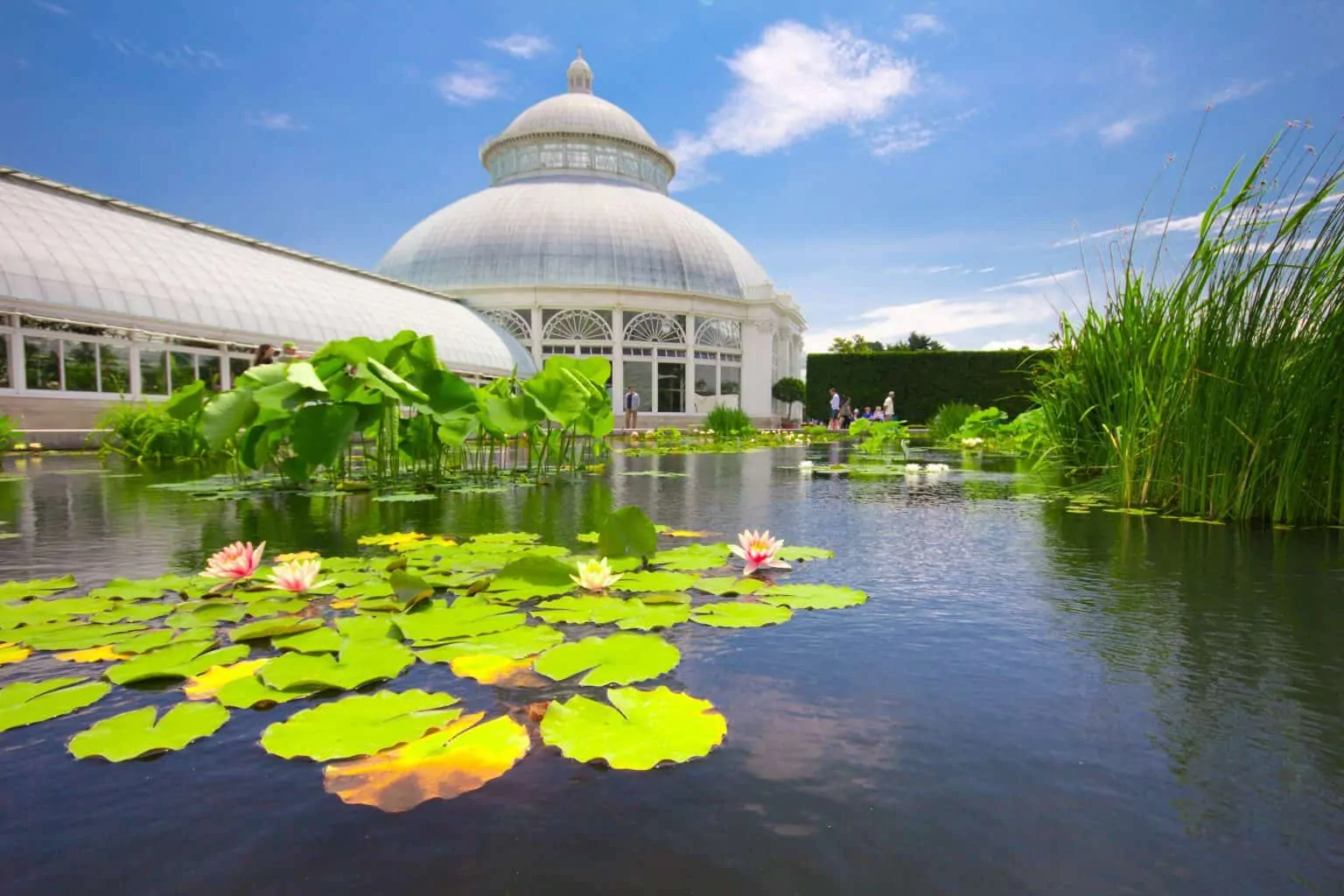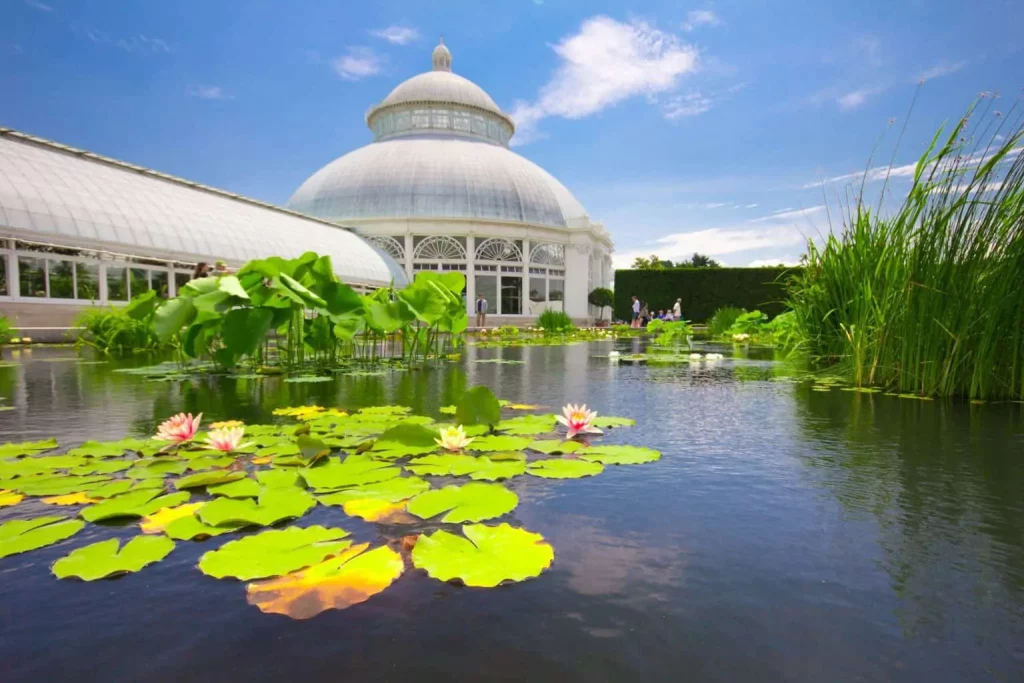 Set within the Botanical Gardens, the Hudson Garden Grill offers diners delicious farm-to-table American fare. Plus, the eatery's elevated country style and massive windows overlooking out the arboretum make you feel like you're anywhere but in the city.
So, this summer, try their refreshing gazpacho and in the cooler months opt for their notorious Hudson Burger instead.
70. The Bronx Public Bar & Kitchen
One of the coolest restaurants in NYC is The Bronx Public! Filled with fairy lights and graffiti within and walls of street art outside, it has a street vibe and features mouth-watering American food on the menu.
And dining outdoors in NYC just got cooler since they have outdoor cabins to dine in during the winter that are decked out like whimsical ski chalets. So, if you're coming hungry, indulge in the BX Burger and one of the most unique restaurants in NYC.
Unique Restaurants in NYC – Staten Island
71. Enoteca Maria – Nonnas of the World
A few short blocks from the St. George Ferry Terminal you'll find Enoteca Maria. And this is not your standard Italian restaurant. It's one of the most unique restaurants in NYC thanks to grandmothers from around the world!
See, this restaurant showcases international cuisine made by nonnas who come from everywhere from Japan to Kazakhstan. So, every night they have a different grandma cooking in the kitchen! One of their most beloved dishes though is the lasagna so definitely don't miss out.
72. Inca's Grill Peruvian Cuisine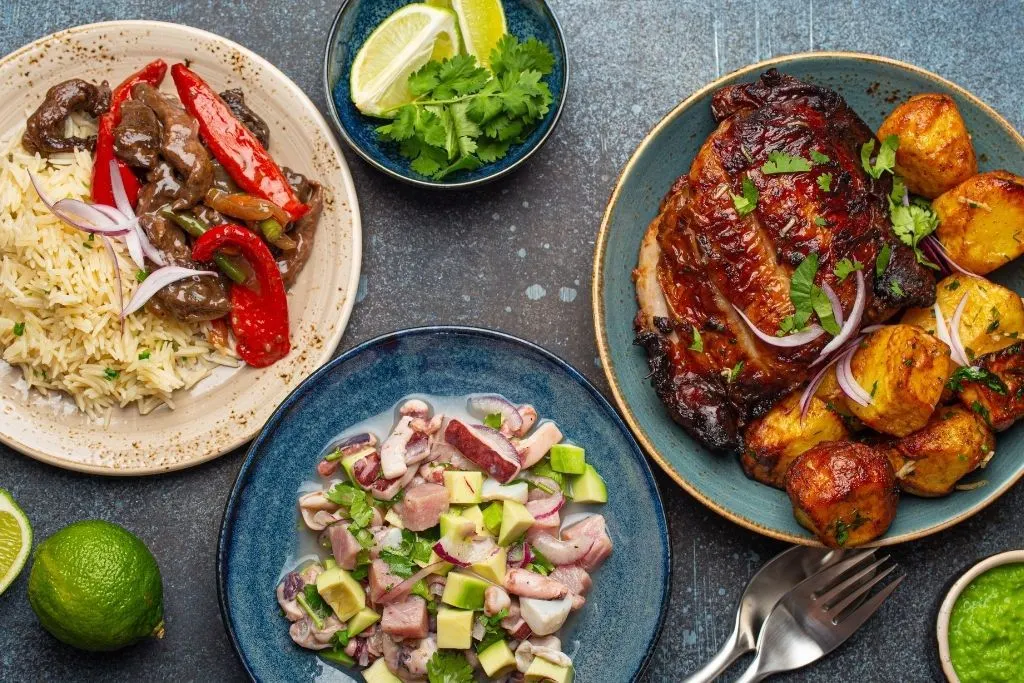 Taste incredible food that dates all the way back to the Inca Empire at one of the most unique restaurants in NYC . Because at Inca's Grill, Chef Cesar Gutierrez brings the flavors of Peru to New York!
Here you'll find traditional Peruvian cuisine presented with a modern and artistic flare. I also highly recommend their Pollas ala Brasa for your main, the Inca's famous Lucuma Cheese Cake for dessert, and a Pisco Sour to wash it all down with.
73. Lorenzo's Restaurant and Cabaret
Hidden away within the Hilton Garden Inn you'll find a fine dining restaurant that knows how to have fun! Because Lorenzo's Restaurant offers a blend of American and Italian fare that includes crowd favorites like the Lorenzo's Burger and the Parpadelle.
Plus, you can enjoy dinner with a show every Friday and Saturday. Or, jazz up your Sunday morning with their epic jazz brunch!
74. Bayou
Get transported to the bayous of Louisiana in this cozy Clifton neighborhood restaurant. Because you're looking for a unique New York City restaurant then slide into Bayou!
After all, Bayou serves up authentic New Orleans cuisine and atmosphere, right down to their decadent Alligator Bites! So, come for the food and fun vibe and stay for the live jazz music at one of the most unique restaurants in NYC.
Unique Restaurants in NYC – Queens
75. Sik Gaek
Below the elevated 7 train you'll find a cozy Korean BBQ and seafood restaurant. Inside, their quirky design that will make you feel like you're dining outdoors with metal roofing over booths and plenty of wood.
However, what really makes this one of New York City's unique restaurants is the live octopus they're serving up! Because Sik Gaek offers a guests a fusion of traditional and modern Korean cuisine. So, if you want to try their most popular dish, order the Empire Spicy Seafood Hot Pot.
76. Temple Canteen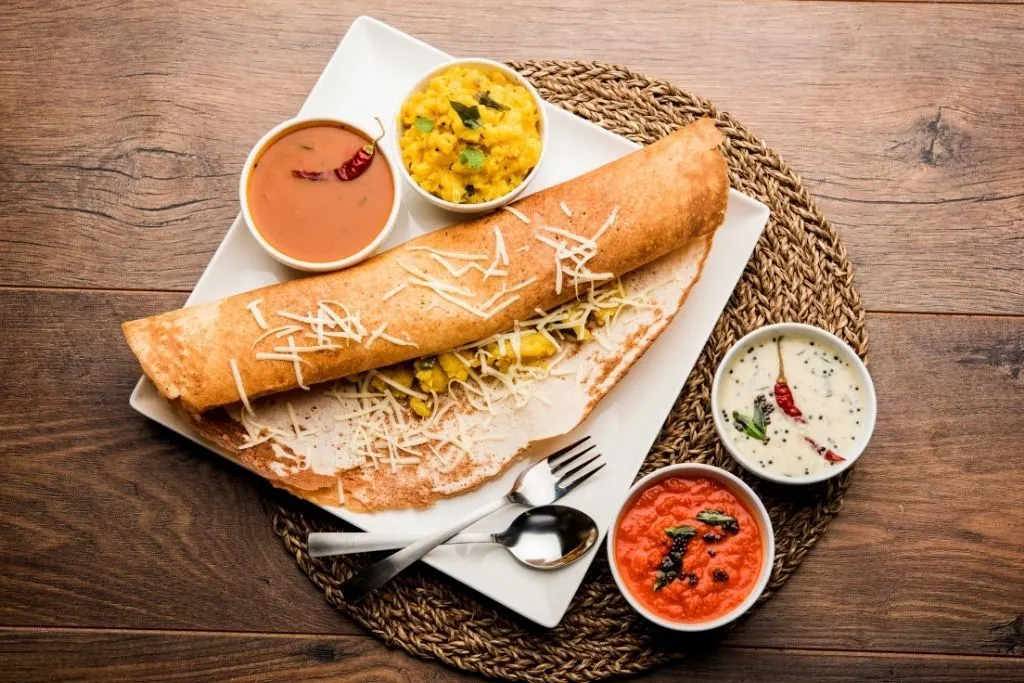 One of the most unique restaurants in NYC is hidden in the basement of a temple! Because below the Ganesh Hindu Temple is a large cafeteria-style restaurant serving up authentic South Indian food!
In fact, this Temple was one of the first of its kind in North America and welcomes everyone to visit! And two tasty options that are a must-try are the Dosas, which are a type of crepe, and Vadas, like a salty mini donut.
77. Julia's
One of the best restaurants in Queens for brunch is Julia's! Because this beer and wine bar in Ridgewood has chic, Tiffany-inspired décor and uses fresh local ingredients.
Plus, along with their fabulous Sunday brunch, this café offers organic wine, local beer, and epic charcuterie boards. However, two must try dishes are their arepas con huevos and vegan hash.
78. Sugarcube New York
A bright yellow awning welcomes you into this fun bubble tea shop in Jackson Heights! And although the interior is a sparkling white, you'll find a plethora of color in Sugarcube's teas and desserts!
In fact, many of these colors come from the fresh fruit used within their bubble teas, but I recommend trying their rainbow Mille crepe cake for the ultimate treat at one of the most unique restaurants in NYC!
79. Mombar
Did you know there's a hidden gem of an eatery in Astoria that has a bring-your-own-alcohol policy? Yup and that easily makes Mombar one of the most unique places to eat in NYC!
In fact, this restaurant is a piece of art in and of itself! So much so that you'll feel like you're dining inside a Pharaoh's tomb while feasting on some of the best Egyptian food in the city! And while the chef is constantly changing with the menu, his lamb shank is mouth-watering!
80. MoCA Asian Bistro
If you are looking for an Asian twist when it comes to amazing and unique restaurants in NYC, I suggest putting MoCA Asian Bistro on your list. The restaurant is on the pricier side but the food will leave you with no complaints whatsoever.
MoCA serves up some amazing Asian fusion dishes that have their clientele coming back for more. The California rolls are a definite show stopper here and you should definitely not leave without trying the Lychee martinis.
In addition to the great food, MoCA Asian Bistro also has a really cool ambiance. The live music gives the place a very romantic vibe which is why people head here on special occasions. Another perk is the attention to detail when it comes to everything from the food to the service!
81. Diner Bar
The Diner Bar is the perfect mix of stylish and retro décor. It has everything that you could think of in a diner themed restaurant. They specialize in big portions and good food. This is a place that people head to almost throughout the day.
From brunch (highly recommended!) to dinner and an active bar, it has a vibe that suits everybody's tastes. In fact, it is considered one of the best diners in town.
The menu here is pretty extensive which means it can be hard to narrow down on what you want. No matter what you choose, the portion is bound to be enough for you because they are usually large sized.
Try the baby lamb chops, shrimp fettuccine and their soups. Even the salads are amazing because all the ingredients are fresh and everything is made from scratch!
Unique Restaurants in NYC – Multiple Locations
82. Sticky's Finger Joint
With two locations, in Manhattan and Brooklyn, this is the place to hit if you're looking for a fun fast food joint. They serve up fresh, made to order, gourmet chicken fingers.
This unique NYC restaurant also works with local artists to create murals throughout their interiors. Their hip vibe extends into their peppy music and innovative culinary creations! Just pair their chicken and fries with one of 18 crazy dips to try! Just be sure to try their general sticky tso's chicken fingers before you leave since its next level.
83. 99 Favor Taste
With multiple locations across the city, 99 Favor Taste is one of the most unique restaurants in NYC that serves all-you-can-eat Chinese food. In fact, they have three all-you-can-eat options to choose from, including the Hotpot, BBQ, and a combination of Hotpot and BBQ.
Their innovative, modern interiors are also highlighted with red draped booths, hanging Chinese paper lanterns, and scrolls to create the ultimate dining experience.
Pro Tip: Visit with friends for your birthday week and you can eat for free! One of the many pros of living in NYC.
Amazing and Unique restaurants in NYC FAQ
What Celebrities Have Restaurants In NYC?
There are a fair number of restaurants in NYC that are owned by celebrities. I mean why wouldn't they? The city has a unique foodie culture and it is the perfect place to invest in if restaurants are your thing.
Some notable examples of celebrities that have restaurants in New York are Priyanka Chopra (SONA), Lady Gaga (Joanne Trattoria), Jay Z (40/40 Club), Robert De Niero (Locande Verde), etc.
How Many Michelin Starred Restaurants Are There In NYC?
The food scene in NYC makes it one of the most unique cities in the world. It houses some of the best restaurants and it should not come as a surprise that many of these are awarded Michelin stars.
All in all there are a whopping 442 restaurants that have Michelin stars in the city. You could pick one every day and not cover all of them in a year! The price range of these restaurants differs though with the 3 star Michelin restaurants being some of the most expensive in the city.
How Many 3 Star Michelin Restaurants Are There In NYC?
Despite the numerous Michelin star restaurants in NYC, there are only 5 restaurants that hold the prestigious 3 star title. Each of these are led by celebrity chefs. The 3 star Michelin restaurants in NYC are Masa by Chef Masayoshi Takayama, Eleven Madison Park led by Chef Daniel Humm, Le Bernardin by Chef Eric Ripert, Chef's Table At Brooklyn Fare by Chef Cesar Ramirez and Per Se by Chef Thomas Keller.
⏰Looking for an amazing place to stay while in NYC but haven't had the time to book your accommodation yet? Try Pod 39. It is budget friendly and pretty luxurious for the price! ⏰
Additional New York Resources You'll Love
There you have it! That just about wraps up this guide to the most unique restaurants in NYC!
Tell me, did your fave picks for the most unusual restaurants in NYC make the list? If not then let me know in the comments below!
And if you found this post useful, don't forget to join our email list before pinning this post now so that you can read it again later!