Ready to get outside and enjoy the next-level awesome beauty of the best hiking near Syracuse NY?
If so then grab a giant handful of trail mix and have your fave hiking boots at the ready because Syracuse is positively brimming over with fantastic hikes.
And while they may not be the most challenging trails I've ever done, they definitely offer up tons of scenic views that the entire family will love.
In fact, these hikes near Syracuse are so rad that they might just be some of the best hikes in the Finger Lakes. But, don't take my word for it.
Instead, try out some of these epic hiking trails near Syracuse NY, and decide for yourself. Just be sure to read this super-nifty guide first since it has some epic insider tips from a 30+ year local (aka me).
So, slowly back away from your latest Netflix obsession and start enjoying the great outdoors with this handy local guide.
This post may contain affiliate links. Please see my disclosure for more information. As an Amazon Associate, I earn a small commission from qualifying purchases.
Easy Hiking Neat Syracuse NY
1. West Shore Trail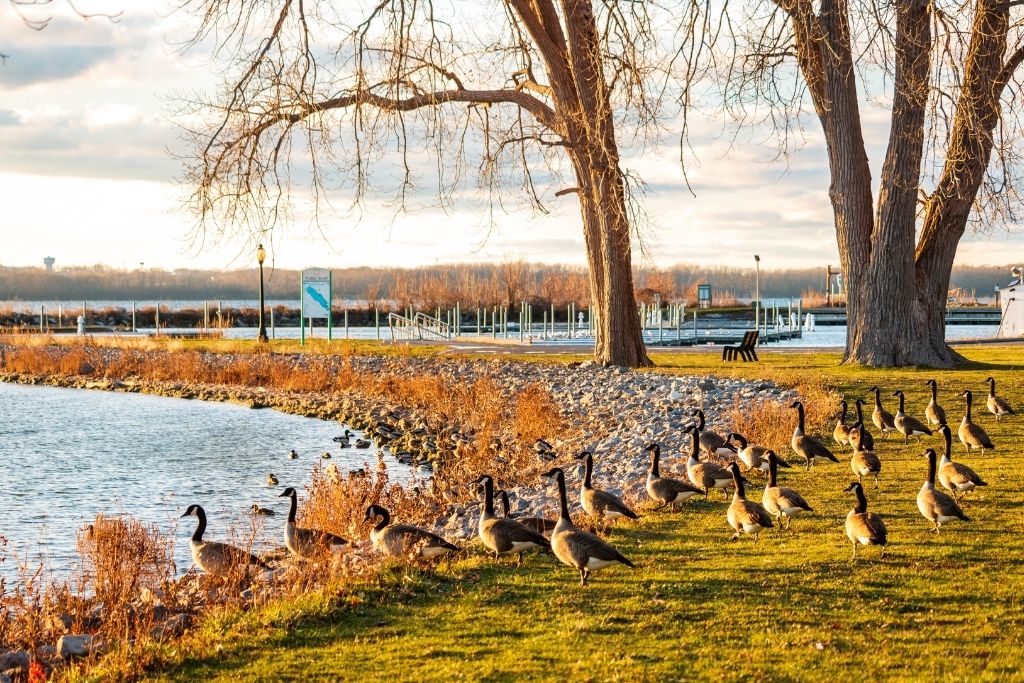 The West Shore Trail is an easy, out-and-back route that takes you down the western shore of Onondaga Lake.
Flat as a pancake and with no need to dig out your hiking boots, this is some of the best hiking near Syracuse NY for all abilities.
The vast majority of the route is paved and it's as popular with cyclists as it is with walkers.
What makes this hike special is that you'll get a completely different experience subject to the season or time of day at which you visit.
After all, fall brings vibrant amber, red, and golden-hued foliage. On the other hand, you'll spot tons of wildflowers in bloom as spring rolls around.
You can also plan for a brisk winter hike that you'll probably have all to yourself – bar a couple of snowmen if there's ample snow on the ground.
Typically, you would start the hike at Long Branch Park and journey southwards, turning left on your heels at Honeywell's Onondaga Lake Visitors Center. But you could always tackle one of the best hikes in Syracuse in reverse too.
Or, if energy is on your side, you can complete a full lap around Onondaga Lake.
Distance: 9.0 miles
Difficulty: Easy
Route: Out and Back
Elevation Gain: 127 feet
2. Onondaga Creekwalk to Onondaga Lake
Another walk to ease you into the hiking season is the Onondaga Creekwalk to Onondaga Lake. After all, this stunning, out-and-back route starts in downtown Syracuse.
Officially though, the trailhead starts at the intersection with I-690. However, you can always hop on further south and elongate the walk.
In total, the Onondaga Creekwalk covers a whopping length of 27 miles but that's a challenge for even the fittest hiker for one day.
Nice and easy, the track follows the curve of Onondaga Creek.
Much like its sister trail, the West Shore Trail, this track is perfect for wheels as well as feet.
Then, once at the Lakefront Park, you can take a stroll around the harbor before continuing along one of the best hiking trails in Syracuse NY.
And if you feel like breaking up some of the best hiking near Syracuse NY with a cold one, this hike takes you past not one but two breweries in Syracuse.
If the conditions are in your favor and you have the time, consider combining these first two hikes into one uber-long walk!
Distance: 5.2 miles
Difficulty: Easy
Route: Out and Back
Elevation Gain: 144 feet
3. Cliff Trail to Pulpit Rock Trail Loop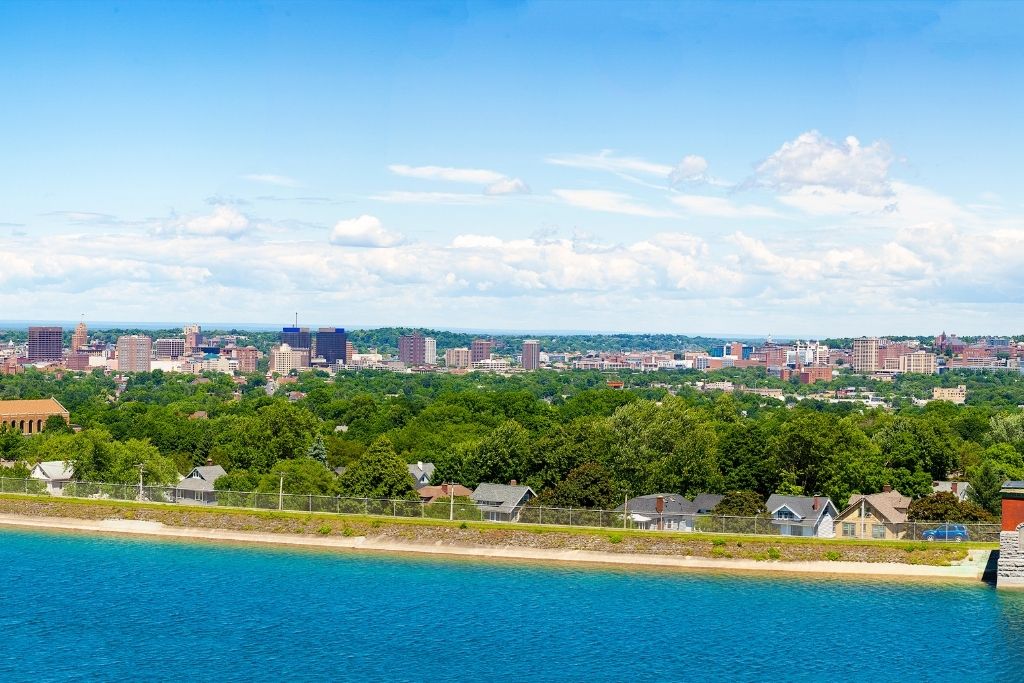 Situated within the Clark Reservation State Park, the Cliff Trail to Pulpit Rock Trail Loop provides a golden opportunity to ogle ice age vistas.
This is in fact one of several trails that traverse the state park in southeast Syracuse.
So, why pick this one? After a gentle ascent through vast woodlands, you'll enjoy an aerial view of the park's star feature: the Glacier Lake.
Sitting at the heart of the park, this lake is a bit of an enigma among researchers since its surface and lower-level waters do not mix. Not that you can tell by looking at it, but it's a visual treat nonetheless.
Although it summits the cliffs here and gains a noticeable elevation, this trail is not difficult. You can also hike it at any time of year but be mindful that winter may bring icy conditions. This is also one of the best hikes in Syracuse where the views from the top are best appreciated on a clear day.
Also be on the lookout for local bird species like cedar waxwings, kingfishers and woodpeckers as you puff your way up to the clifftop.
Distance: 1.1 miles
Difficulty: Easy
Route: Loop
Elevation Gain: 144 feet
4. Mildred Faust Trail
Also located within the Clark Reservation State Park, the Mildred Faust Trail is an alternative to the Cliff Trail to Pulpit Rock Trail Loop.
On the other hand – if you're planning a full day out you could manage both of these top Syracuse hikes in a single day.
This track in particular takes you through an old quarry and ancient forests throughout the western end of the park. It is also prone to mud so pack your rubber boots if you tackle this hike after a recent downpour.
Now, the Clark Reservation Nature Center is open seasonally from mid-May until early September (around Labor Day, as a rule of thumb). It's always worth sticking your head in to see their exhibits that glean insight into the geology and wildlife of the park.
The center also organizes guided walks on weekends, which provide visitors with awesome opportunities for birdwatching and learning a bit of extra trivia. But, you're equally welcome to roam the park solo as you enjoy hiking near Syracuse NY.
Distance: 1.0 miles
Difficulty: Easy
Route: Loop
Elevation Gain: 45 feet
5. Rand Tract Loop
Rand Tract Park is located just a short drive south of downtown Syracuse. In total, the park spans 97 acres, much of which contains densely wooded forest.
Therefore, this is some of the best hiking near Syracuse NY for adventurous souls who relish the prospect of leaping over logs and rogue branches. This is also a new track that was founded by a local community known as the Friends Of Wildlife at Webster Pond.
Word of warning: if you travel with snacks (and why wouldn't you?) expect the resident geese to hustle for a donation. However, instead of handing over your precious snacks, you should purchase corn from the bankside for a modest donation. Trust me, it's a lot better and safer for their stomachs.
You can opt to join the trail at the duck pond and then delve into the woodlands or culminate at the water. Either way, much of the trail follows the stream that eventually terminates at Webster Pond.
So, the Rand Tract Loop makes a fabulous day out at whatever time of year you visit. During the summer months, the trees offer protection from the blazing NY sunshine.
But, if you want to spot some super cute goslings and ducklings, hike this one during spring.
Distance: 1.9 miles
Difficulty: Easy
Route: Loop
Elevation Gain: 410 feet
6. Upper Tree Trail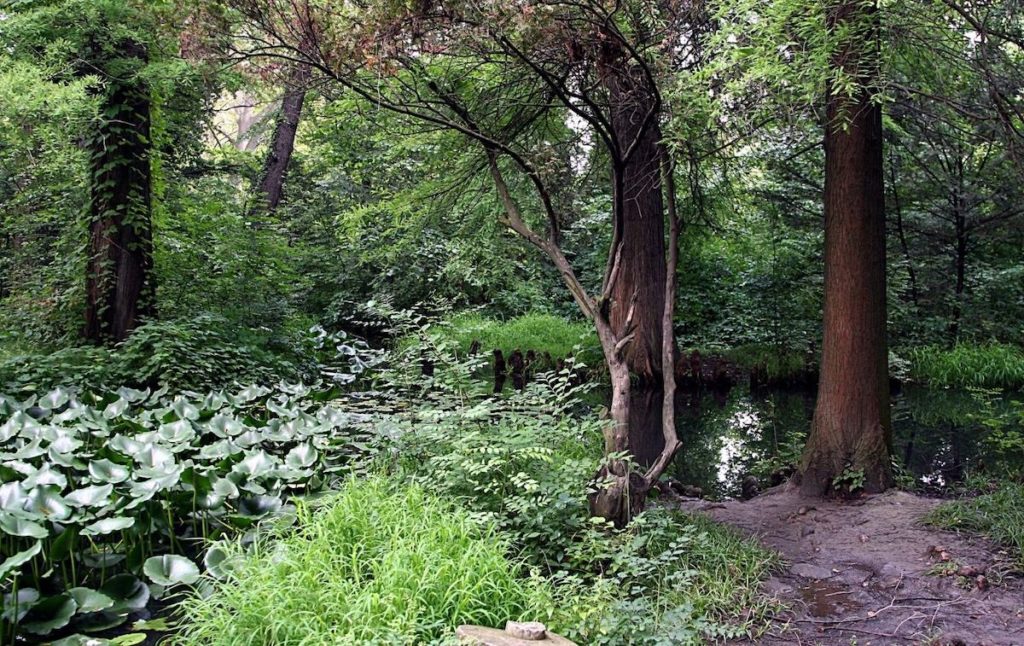 The Upper Tree Trail is situated in Elmwood Park, southwest of downtown Syracuse. Although it backs onto a high school and features sports courts, picnic areas, and a playground for children, this community park has an undeniably rugged vibe.
There are also several short trails crisscrossing the park, that make up some of the best hiking near Syracuse NY.
The Upper Tree Trail – the longest option available – starts at the west end of the park. Designated as a loop, this one follows the route of the Furnace Brook towards a wooden copse to the east. Parts of the trail are also punctuated by old stone staircases that add a fairytale charm to the place.
Elmwood Park also traverses a wide variety of different landscapes, with a babbling brook serving as the soundtrack to your hike, making the experience all the more special.
If you want, you can also pack a basket with goodies and make time for a picnic at the end of your hike. You'll need it after all those stone steps!
However, in order to get the best overall experience, you should visit Elmwood Park in the fall when the woodland puts on its annual show of vibrant foliage.
Distance: 1.3 miles
Difficulty: Easy
Route: Loop
Elevation Gain: 68 feet
7. Edgecliff Loop
The Edgecliff Loop is one of the best hikes near Syracuse NY for anyone with an interest in the paranormal. Intrigued?
See, this trail starts and ends at the parking area on Edgecliff Park, just off Kasson Road. Although truth be told, this isn't an official parking lot but more like a place where you try and nab a spare space at the side of the road. So, arrive early on weekends to avoid disappointment!
As an alternative, you can start from Split Rock town. The vast majority of this hike is flat and weaves through patches of woodland. Bear in mind that the trail runs in tandem with private property, so it's important to stay on the designated paths while enjoying some of the best hiking near Syracuse NY.
Plus, one of the coolest landmarks you'll spot along the way is the Split Rock Quarry. This limestone quarry was converted into a munitions factory around the time of the outbreak of WW I.
Despite stringent health and safety regulations and a fleet of fire officials remaining on-site, a fire broke out in 1918. As a result, fifty men were killed with hundreds of others injured.
Finally, the pinnacle of this walk is admiring what remains of the old quarry. Essentially, it's a tower of rock with an old piece of machinery known as the "Crusher."
So, because of the various disasters that occurred here, the quarry is considered to be haunted and ghostly sightings have been reported by innumerable visitors.
Therefore, definitely tackle this one with a buddy and avoid it after dusk!
Distance: 4.0 miles
Difficulty: Easy
Route: Loop
Elevation Gain: 183 feet
8. Hiawatha Lake Loop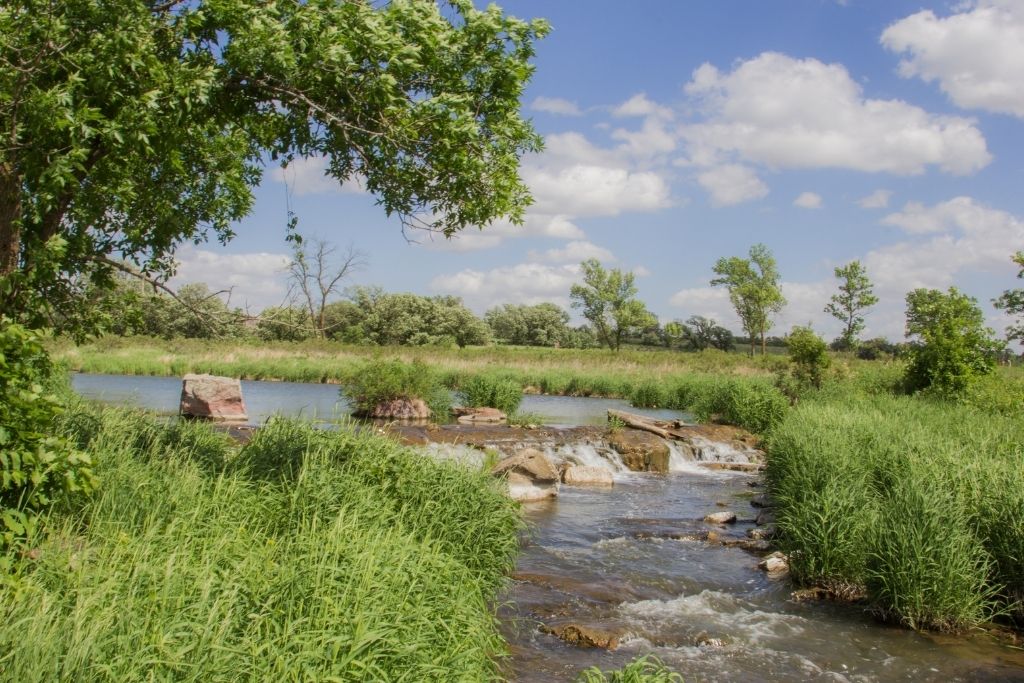 This super breezy is the one to start with if your hiking boots are looking a little cobwebby. Less than a mile in length, this loop takes you around Hiawatha Lake in southwest Syracuse.
You can start this short and sweet hike at any point but it makes the most sense to start and end near the gazebo. This is situated at the southern end of the water and there's no better place to pause, appreciate the scenery, and snap some photos.
The Hiawatha Lake Loop is also perfect for all ages and fitness abilities. In fact, it's even accessible for strollers and wheelchairs as well as bicycles.
Additionally, Onondaga Park is a popular hang-out during the summer season and it's busy year-round during the weekend. So, plan to visit early in the day if you want to catch it at a peaceful hour.
Distance: 0.9 miles
Difficulty: Easy
Route: Loop
Elevation Gain: 26 feet
9. Burnet Park Loop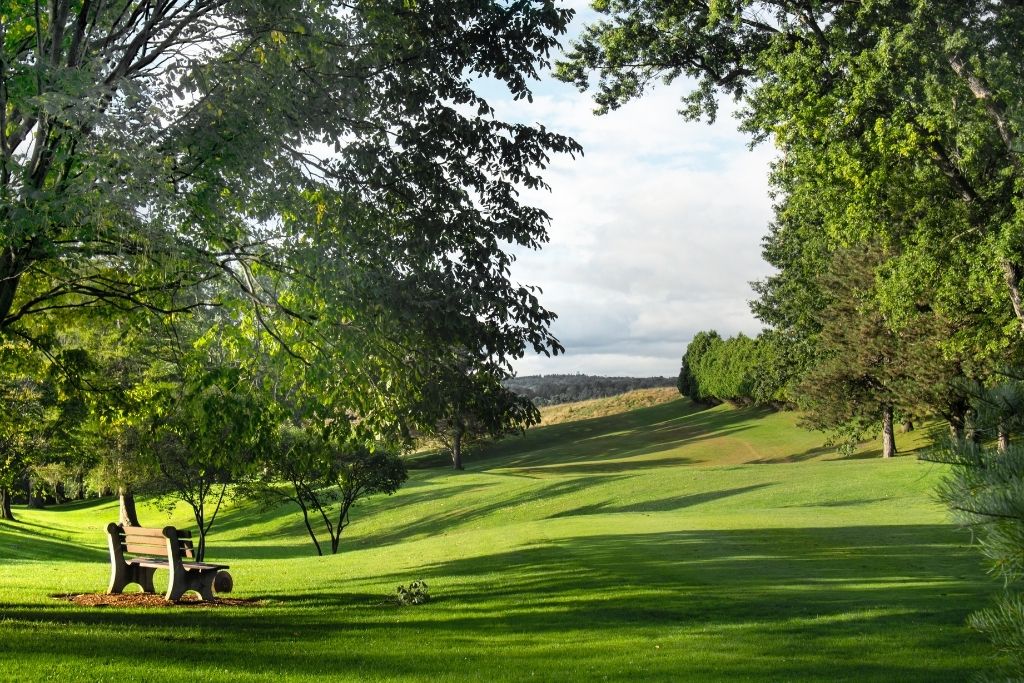 Burnet Park is a huge recreation area west of downtown Syracuse. As well as the trail, the park features a zoo, swimming pool, golf course, and various sports grounds.
The loop starts in the west near the golf course and follows the paved Burnet Park Drive around the zoo and back to the start of the hike.
This easy route is one of the best hiking near Syracuse NY for those seeking a full day out. You could easily make a day of it here during the warmer months – especially if you pack your swimsuit and hop in the lido for a post-hike dip.
Distance: 1.0 miles
Difficulty: Easy
Route: Loop
Elevation Gain: 62 feet
10. Pleasant Valley Preserve Loop
Sitting on the outskirts of Onondaga southwest of Syracuse, Pleasant Valley Preserve is a glorious place that consists of 297 acres of land.
With three official hiking trails available, the loop trail is an accumulation of the trio. A moderate elevation will inspire the blood to flow as you venture through incredible woodlands and meadows.
Add this one to your list for late spring or early summer when the wildflowers are in bloom and the trees are wonderfully green. However, if you visit during the winter months you can swap your sneakers for skis or snowshoes.
The trailheads for all Pleasant Valley Preserve hikes can also be found at Pleasant Valley Road.
Distance: 3.0 miles
Difficulty: Easy
Route: Loop
Elevation Gain: 272 feet
Map of the Best Hiking Near Syracuse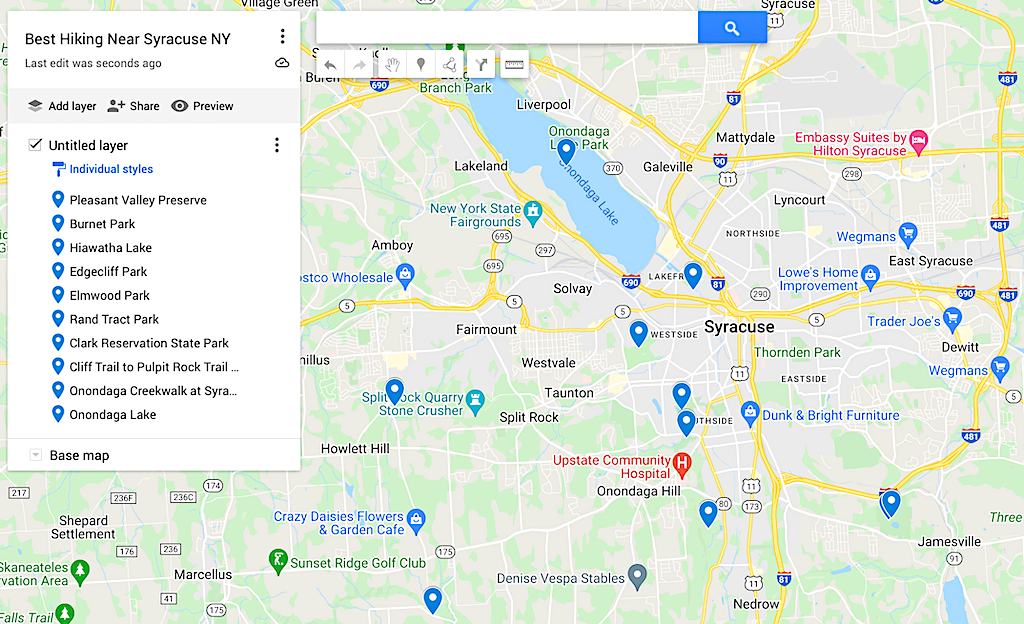 Additional New York Resources You'll Love
There you have it! That just about wraps up this guide to the best hiking near Syracuse NY.
Tell me, did your picks for the best hikes near Syracuse make the list? If not then let me know below!
And if you found this post helpful, be sure to join our email list before pinning this post now so that you can read it again later!