Do you love the great outdoors but hate it when cold and snowy winter weather keeps you inside for insanely long periods of time? If so then this insider's guide to 15 of the best winter hikes in New York state is 110% for you.
Because I'm about to reveal all of my top picks for the best winter hiking trails in New York – places where you can snowshoe, cross-country ski, and hike until your fingers throb from the excitement of it all (or the frigid cold).
This way, once the polar vortex of doom rolls into town, you'll know exactly where to go and what to do to get your nature fix.
Plus, you'll even get access to a free interactive map and can make use of all my super sweet, secret local tips.
You know, real expert advice from an actual local (aka me) who has lived in and traveled throughout this great state for 30+ years.
So, channel your inner snow bunny, grab a mug full of hot chocolate, and swan dive into this list of the best winter hikes in New York right now.
This post may contain affiliate links. Please see my disclosure for more information. As an Amazon Associate, I earn a small commission from qualifying purchases.
Easy Winter Hikes in New York
1. Walkway Over the Hudson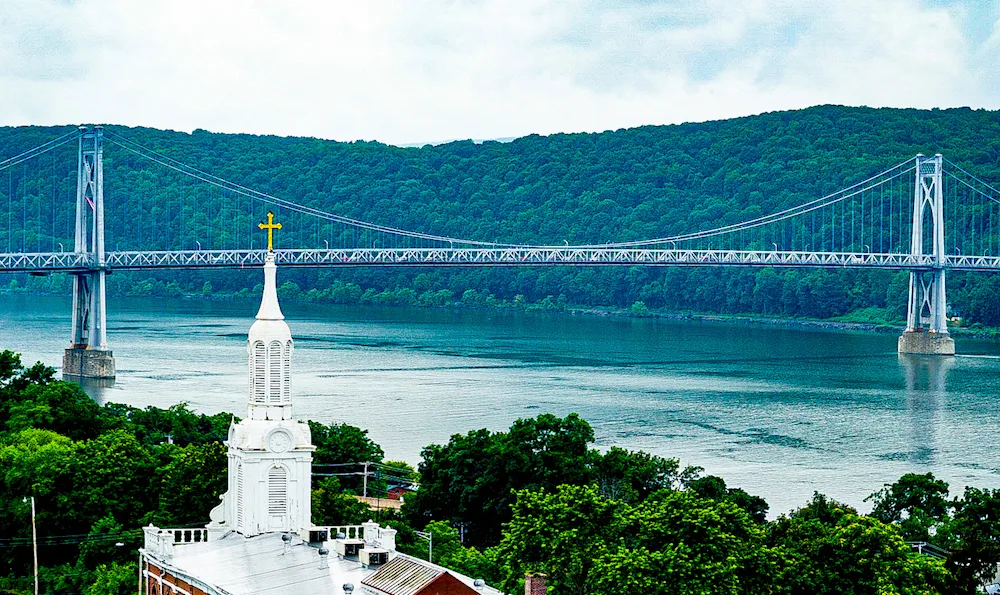 If you're looking for one of the best winter hikes in New New York that is also pretty dang easy, then give the Walkway Over the Hudson in Poughkeepsie a try!
Not only is this former railway bridge open all year long (and routinely cleared of snow), but it's a solid 1.28 miles long and is known for being the world's longest pedestrian bridge.
It also stands at 212 feet high and provides visitors with a leisurely stroll that features sweeping panoramas of the Hudson River and the Mid-Hudson Bridge right next door.
Plus, if you want to make one of the best winter hikes in New York a bit more challenging, you could even do the entire 3.6-mile loop trail, which will have you return via the Mid-Hudson Bridge.
Just be aware that the bridge does close for super inclement weather and routinely closes at dusk daily. And while there are many facilities available here (i.e. bathrooms and water fountains), they generally close throughout the long winter months.
Pro Tip: You can park for free in the awful, unpaved, mess of a parking lot here.
Location: Poughkeepsie
Distance: 1.28 miles each way.
Difficulty: Easy
Route: Loop or Out and Back
2. Central Park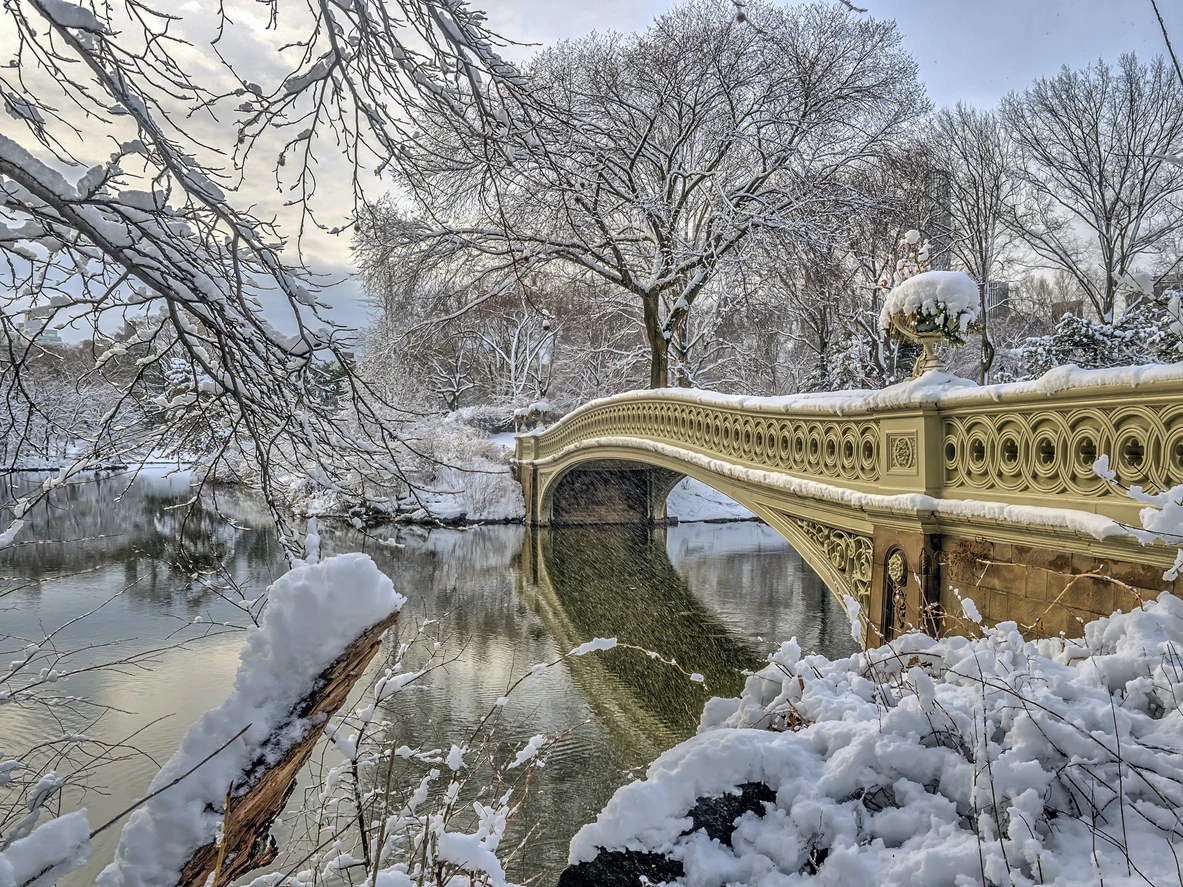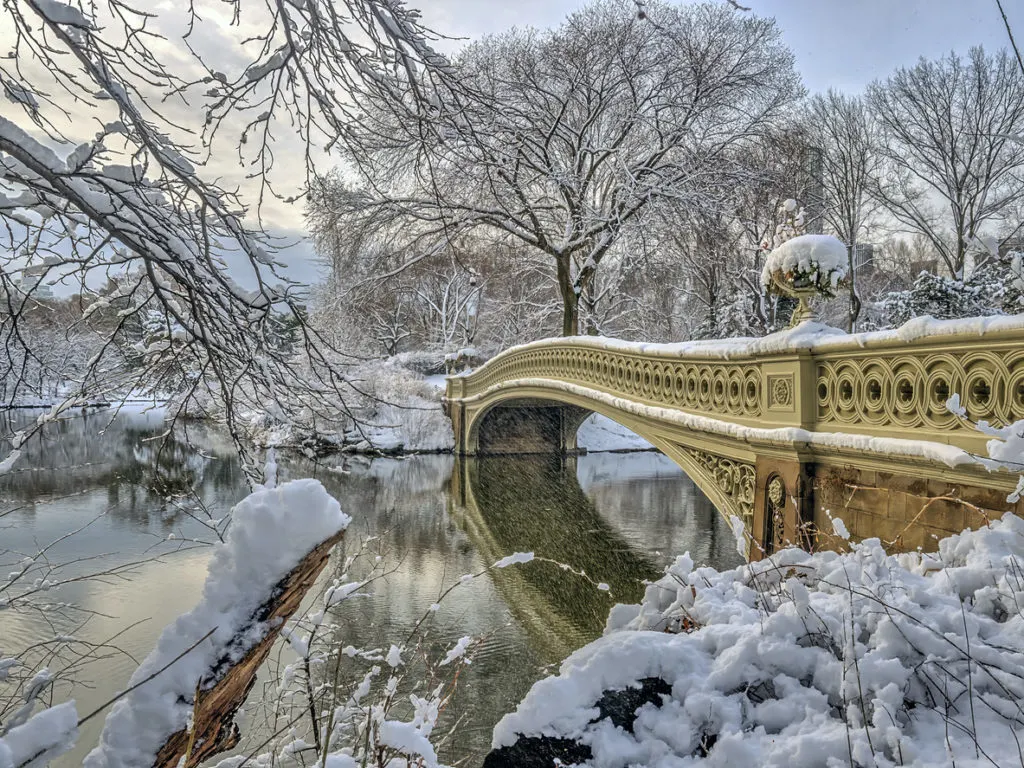 Truth be told, this is more of an easy stroll than a full-on hike, but you know what? Central Park is so gorgeous during the winter that it almost doesn't matter.
So, if you're looking for one of the best winter hikes in New York then be sure to visit NYC's famed Central Park – preferably when there's fresh snow on the ground since the park looks extra pretty.
After all, there are tons of fun things just waiting to be explored inside this 843-acre winter wonderland with its stunning lakes, picturesque walkways, ethereal castles, scenic overlooks, enchanting bridges, European gardens, and more!
So, feel free to start off with a nice skate on Wollman Rink or check out the much quieter and equally beautiful, Harlem Meer.
And if you start to get a bit cold along the way, you can always step inside either the MET or the Museum of Natural History to warm up.
Finally, don't forget to explore local landmarks like the Central Park Zoo, Belvedere Castle, Strawberry Fields (the memorial to John Lenon), Sheep Meadow, Bethesda Terrace, The Mall, the Alice and Wonderland statue, Ther Conservatory Garden, the North Meadow, The Ramble, the Shakespeare Garden ( west side between 79th and 80th Street), etc.
Plus, if you're at all worried about getting lost, then you'll be delighted to know that The Central Park Conservancy offers guests amazing themed tours of the park that examine art, wildlife, and a multitude of kid-centric topics (Most are either free or $15 per person).
Location: NYC
Distance: Varies
Difficulty: Easy
Route: Varies
3. Gorge Trail in Letchworth State Park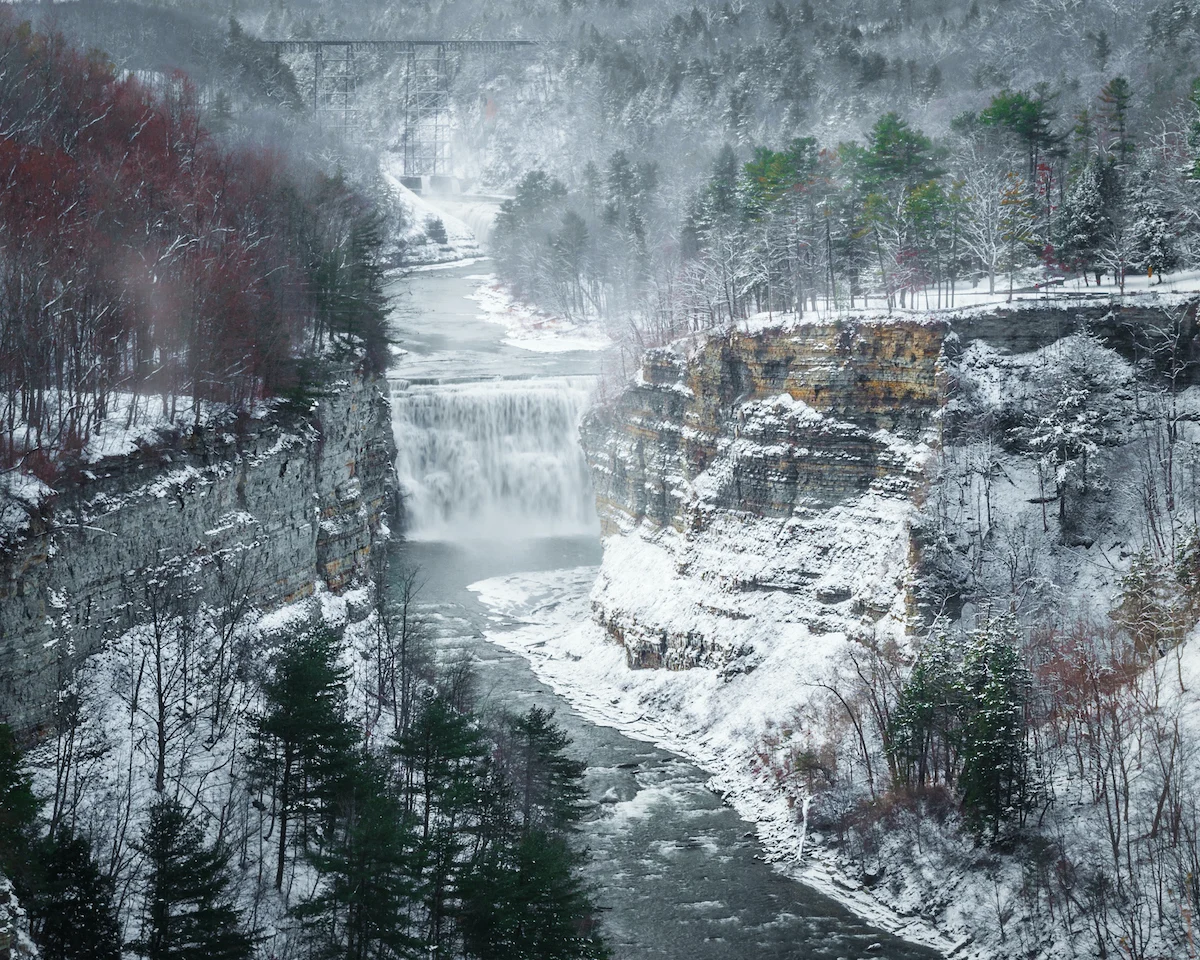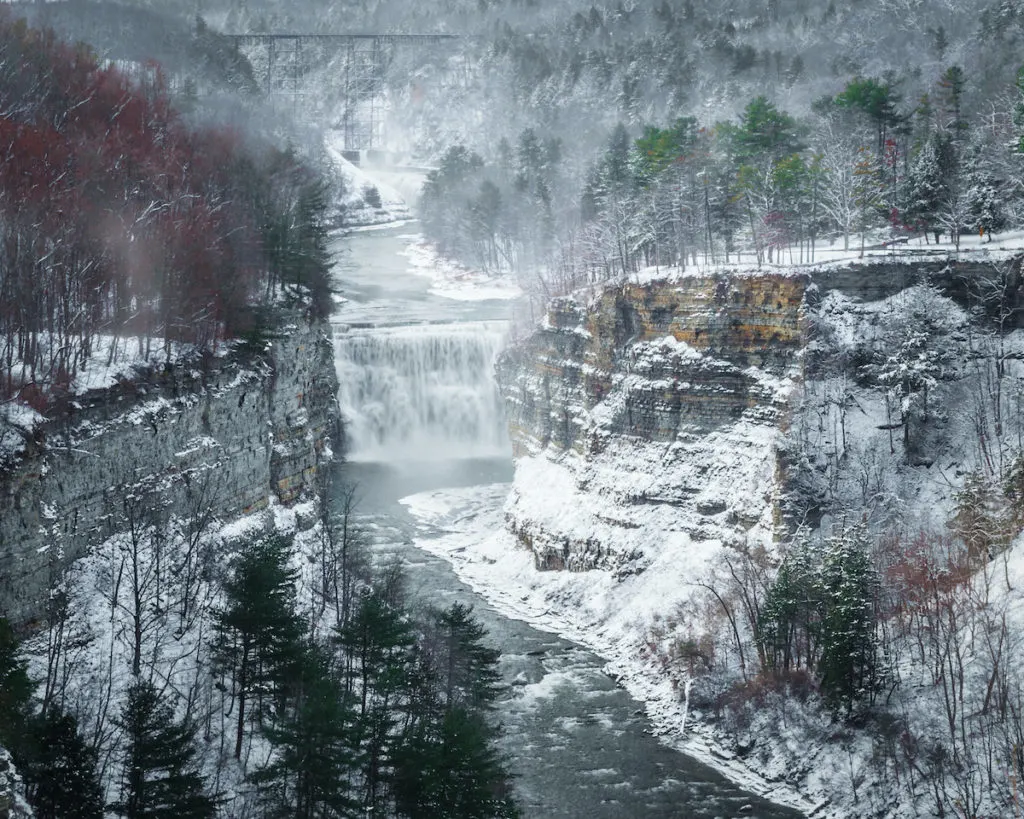 Easily one of the best hikes in upstate New York, the Gorge Trail through Letchworth State Park will take you past no less than three different waterfalls.
Yeah, they sit along the mighty Genessee River, are exceptionally beautiful when frozen, and are aptly named the Upper, Middle, and Lower Falls respectively.
Plus, while you're enjoying this arduous, 7.1-mile hike (one way), you can admire exceptional views of the Grand Canyon of the East too.
However, if you get cold or just don't feel like hiking 7 miles in the snow then you can always drive along part or all of the trail since it's not really all that far away from the park's main road (the road and trail also run parallel to one another).
Pro Tip: To enter this park, you'll need to pay a single-day-use fee of $8 per vehicle that is waived in the winter (hooray).
Location Silver Springs, NY (right near Ithaca)
Distance: 14 miles
Difficulty: Easy
Route: Out and Back
4. Putnam Trail in Van Cortlandt Park
The Van Cortlandt park is the third largest park in New York city and it spans across more than 1100 acres of land. It has almost everything you could want in a park. Ridges, valleys, wetlands and lakes, you name it and it is probably there.
One great thing about the park is that 640 acres of this park is dedicated to conserving wildlife in a plan called forever wild!
I digress! The Putnam trail is an extremely easy winter hike to embark on. The entire trail is paved so it makes it even easier during summer but in winter expect it to be covered in a layer of snow. This means that you better wear appropriate footwear.
The trail takes you through Croton woods and winds its way along Van Cortlandt lake till you reach the Parade grounds.
Pro Tip: The Putnam trail connects other hiking trails so if you find the trail is not challenging enough, you can turn off onto another trail.
Location: Van Cortlandt Park, Bronx
Distance: 1.4 miles
Difficulty: Easy
Route: Out and back
5. Five Rivers Environmental Education Center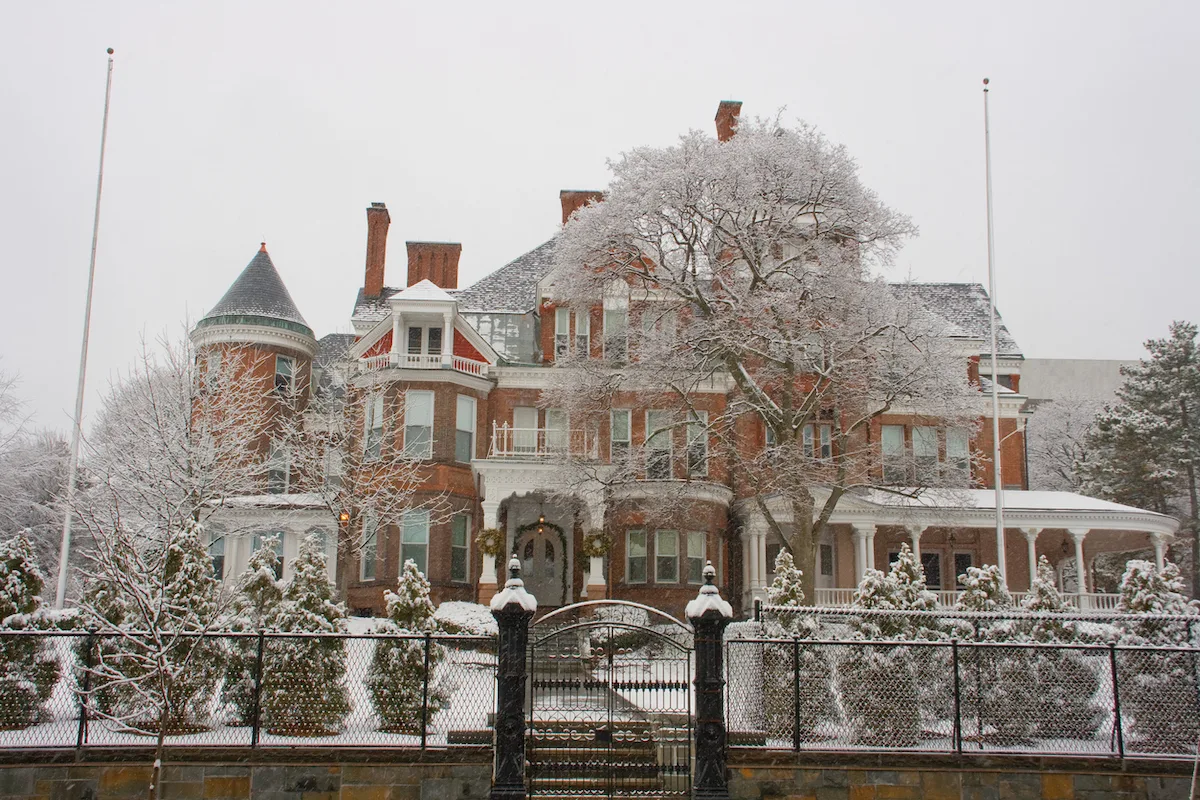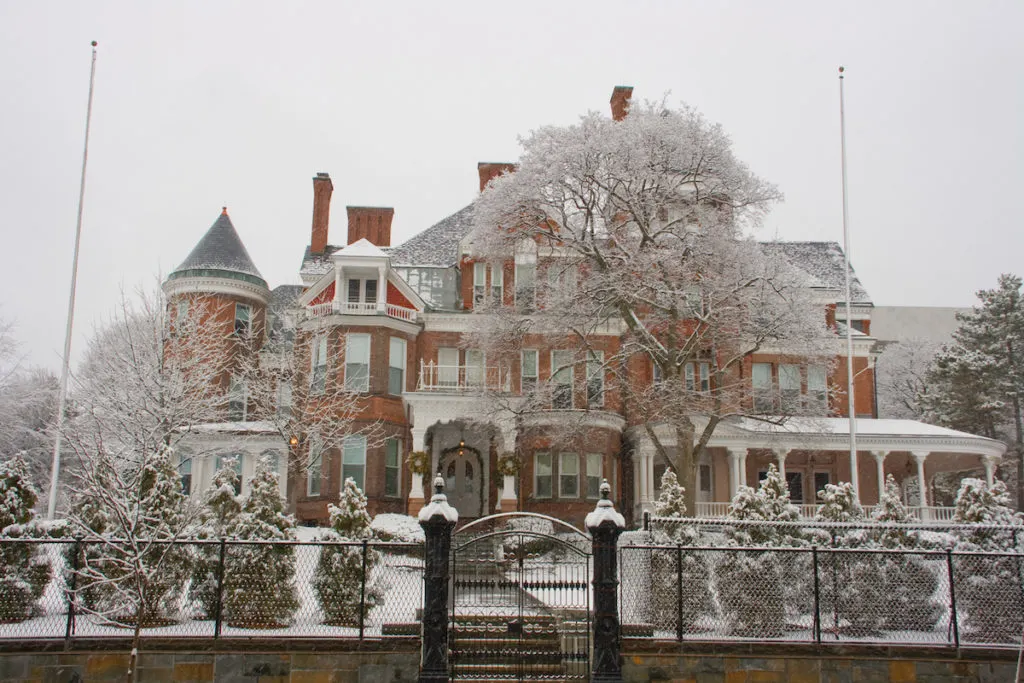 The Five Rivers Environmental Education Center is a gorgeous, 450-acre preserve that sits just outside Albany in New York's Capital Region.
It's here that you'll discover some of the best winter hikes in New York state that are perfect for all ages since the network of gravel, woodchip, and asphalt trails here is extremely accessible.
And that makes sense since thousands of people flock here annually to snowshoe, cross-country ski, and hike through this vast wilderness area.
So, be on the lookout for frozen ponds, amazing wildlife, and incredible snow-covered fields as you do either guided or self-guided tours through the 10+ miles of trails here.
Pro Tip: Kids can enroll in programs to learn how to snowshoe while adults can rent snowshoes to use from the welcome center. Also, please be aware that trails here are not cleared of snow throughout the winter.
Location: Albany County (in New Scotland)
Distance: Varies but there are 10+ miles of trails here.
Difficulty: Easy (can be moderate too since snow is not removed)
Route: Varies
6. Reinstein Woods Nature Preserve and Environmental Education Center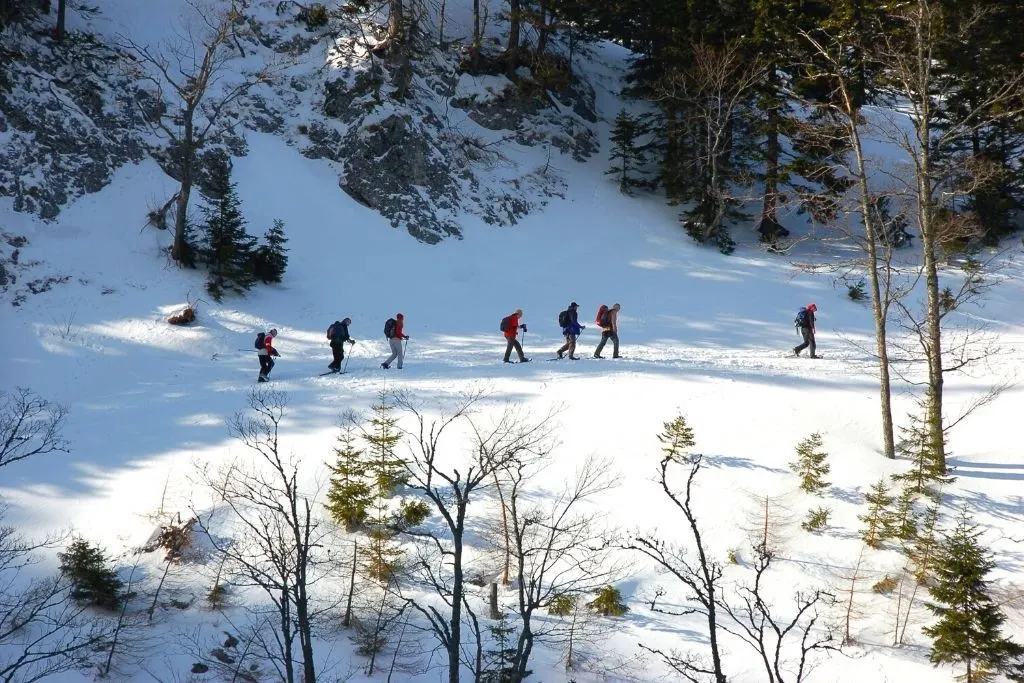 Just a hoot and a holler down the road from Buffalo, New York is this beloved, 300-acre nature center.
It's often fondly referred to as "Buffalo's Backyard Wilderness" and is an all-around great place to snowshoe and ski your way along through three miles of heavily forested trails – easy trails that will take you past snow-covered forests, vast marshlands, and frozen ponds that are all tucked away in the suburbs of Buffalo.
The trails at Reinstein Woods are also well-maintained, making this a great place for the entire family since you can rent equipment and/or sign up for various ski/snowshoe adventures at the on-site welcome center.
Pro Tip: This is a great place to rent equipment and sign up for programs since fees are pretty low.
Location: Just outside Buffalo
Distance: 3.0+ miles
Difficulty: Easy
Route: Varies
7. Duck Pond Via Glory Hill Trail
One of the best trails in the Mohonk Preserve is the Duck Pond via Glory hill trail. This is a great family friendly trail which is easy and almost anyone can trek it. In fact during summer you can even take a stroller along this path. It is also one of the best winter hikes in New York for people with young kids.
Unlike many of the other trails in Monhonk Preserve, this one allows you to take man's best friend along. So yes! You can bring Fido or whatever your dog's name is. The only clause is that the dog has to be on leash. Which to be honest is a pretty fair compromise.
This trail starts out at Pine road. You will follow the Lower Duck Pond road and head straight to the pond.
Pro Tip: If there is a blanket of snow, you really should don some snow shoes. It will make the hike so much more comfortable.
Location: Mohonk Preserve
Distance: 2.1 miles
Difficulty: Easy
Route: Out and back
8. Old Mine Road, Charcoal Burners And 3 Lakes Loop
There are many different trails in Fahnestock winter park. One of the best and easiest winter hikes in New York is the Old mine road, Charcoal burners and 3 lakes loop. Okay, the trail name is a tongue twister. I'll admit that. It is however one epic easy hike.
The trail is very well marked and it allows dogs on a leash. During summer it is wise to take mosquito repellent but in winter there are no such issues. It is a relatively quiet walk and should take you a little over an hour to finish.
The best part about the trail however are the various pond views. So make sure to keep your camera handy. Oh and the elevation change is so minimal that even young kids won't mind the hike.
Pro Tip: During peak season, there may be an entrance fee. So make sure you check before heading there.
Location: Putnam Valley
Distance: 2.6 miles
Difficulty: Easy
Route: Loop
Moderate Winter Hikes in New York
9. Willowemoc Wild Forest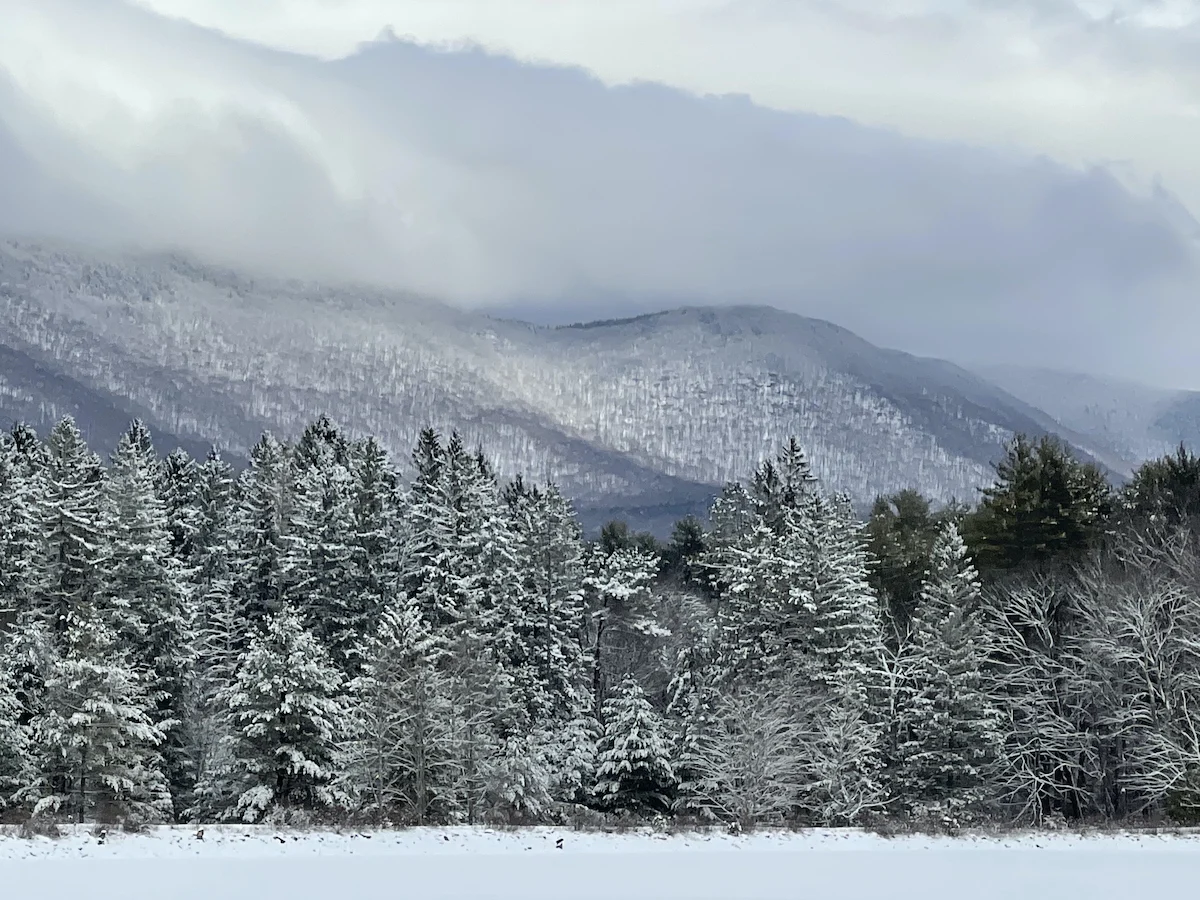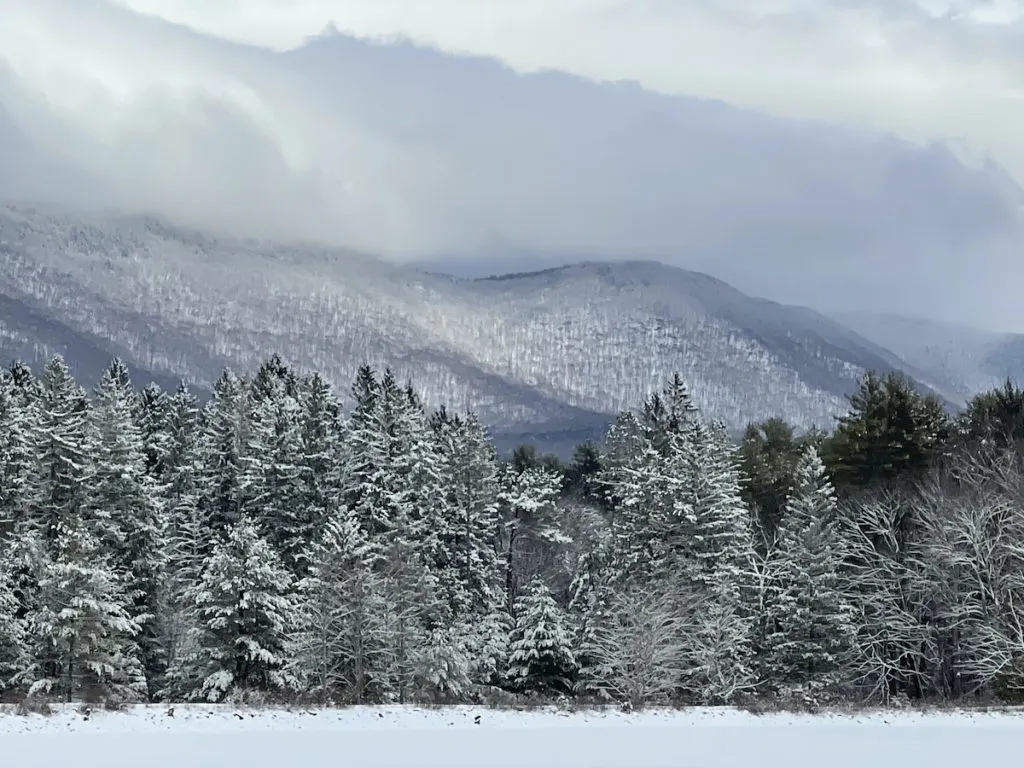 Welcome to the Catskills, home to the 40-acre, Willowemoc Wild Forest in the southeast corner of this iconic mountain range.
It's here that you'll discover an almost neverending series of trails (40 miles worth to be exact) where you can hike, cross-country ski, snowshoe, and spot wildlife (beaver, deer, coyotes, etc.) until your heart's content – or until your fingers freeze off, whichever comes first.
Also, be sure to stop and take in impressive views of Waneta Lake as you make your way along:
Long Pond Trail (1 mile one-way)– This is a really good trail for beginners and cross-country skiers, particuliarly if you start at the Frick Pond trailhead.
Quick Lake Trail (7.2 miles one-way) – Great for snowmobiles so be careful doing any other activities here.
Frick Pond Loop (2.1 mile loop) – Also good for snomobiles so be vigilant.
Truthfully, this network of trails is on the cusp of intermediate and easy when it comes to difficulty so just pay attention to things like snow depth and trail length before starting out on some of the best winter hikes in New York state.
Location: Catskills (near Livingston Manor)
Distance: Varies between 2.0 miles and 14.4 miles round trip.
Difficulty: Easy/Moderate (it's a hilly area so inclines can be an issue)
Route: Varies
10. Bear Mountain State Park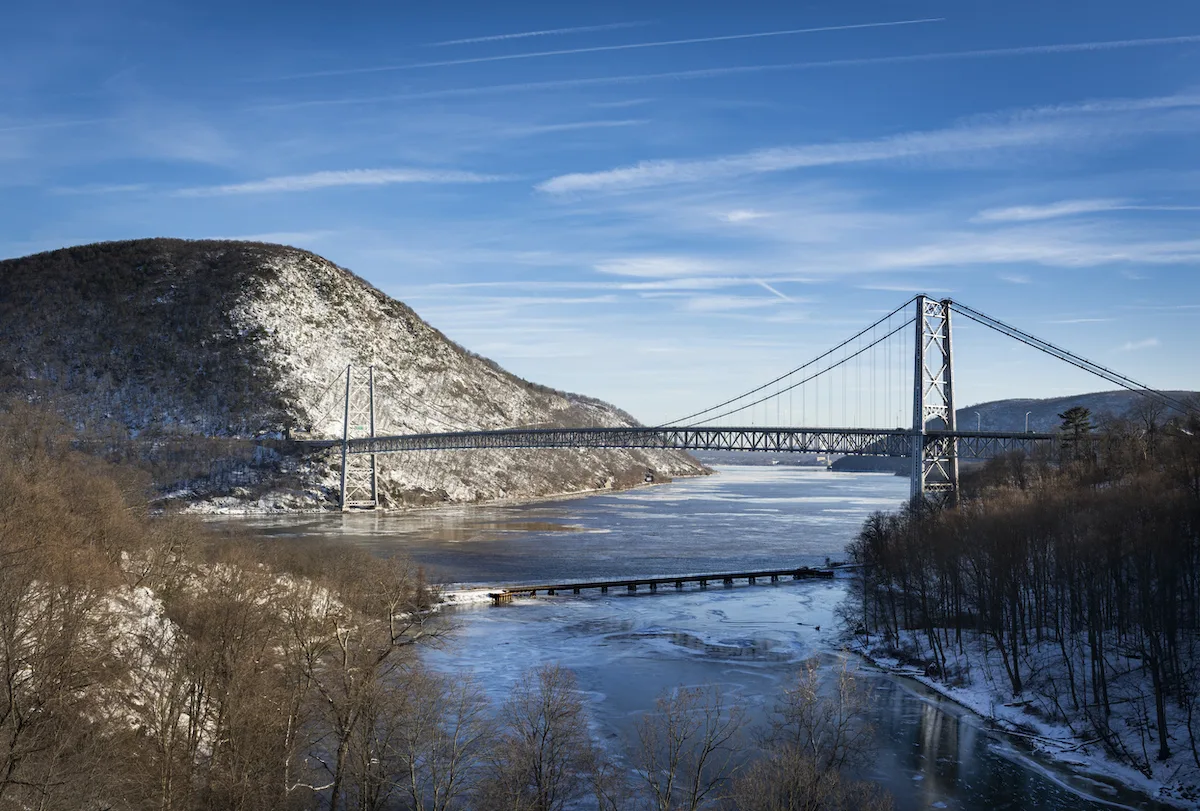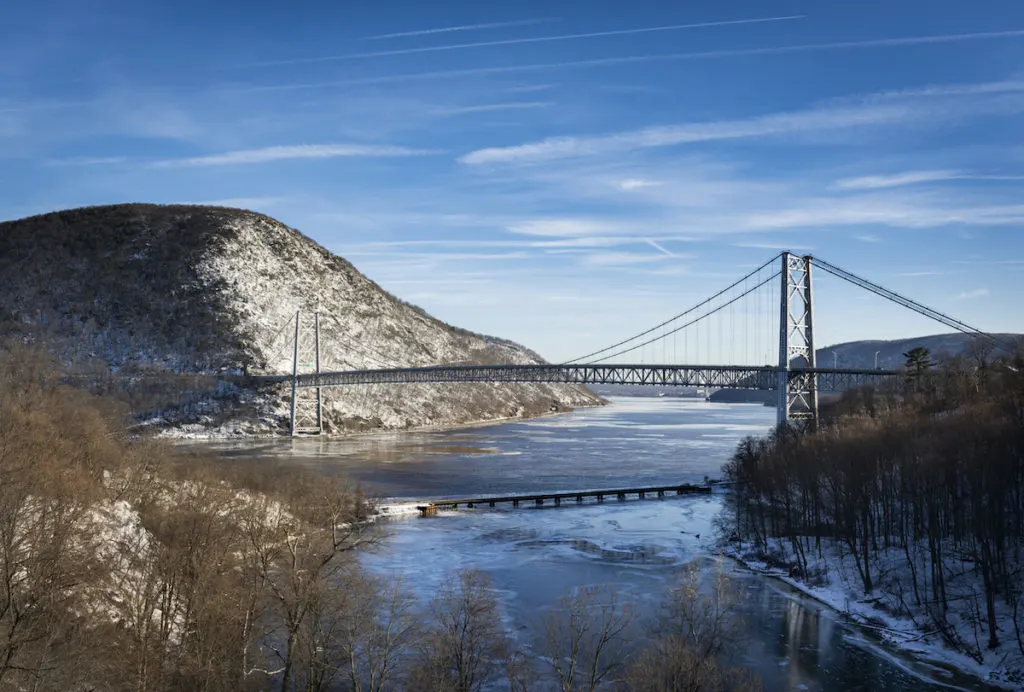 What I love about Bear Mountain State Park and one of the best winter hikes in New York is that because this place covers more than 5,000 acres of land, you can easily find a hike that is perfect for you, regardless of whether you're a novice hiker or a total expert.
Just be sure to do your research before you go since not every trail is open all winter long. Yeah, some hikes just get way too much snow and are closed throughout the winter.
But, if you're looking for a solid winter hike in New York while in the area, try the climb up to Perkins Tower. It's a more well-trodden part of the Appalachian Trail in New York and offers visitors stunning views of the nearby Hudson River.
Just head towards Hessian Lake and follow signs to the Appalachian Trail that will take you along a paved path on the west side of the lake (right near Anthony's Nose).
During the first 0.5 miles, you pass by a water tank and Bear Mountain Overlook Lodge before hitting a rocky and sometimes steep ascent up the mountain.
It can be difficult going but as you get close to the summit, you'll cross over the Perkins Memorial Drive and will then see the tower itself. Just be sure to rock some boot spikes to help you climb the many stairs here.
Also, keep an eye out for the remnants of some abandoned ski jumps before going skating on the Bear Mountain Ice Rink (outdoor), warming up in Bear Mountain Lodge, or trying a bit of sledding in one of the park's designated areas.
Pro Tip: Although you can drive up to the Perkins Tower, the Perking Memorial Drive is only open from April through late November every year.
Location: Bear Mountain State Park (Hudson Valley)
Distance: 3.8 miles
Difficulty: Moderate
Route: Out and Back (if you want to make it a loop hike, you can descend via the east side of the mountain)
11. Cascade Mountain
Cascade mountain is insanely popular during summer. During winter however there are however people who head out to conquer its peak. While the mountain is supposed to be one of the easier climbs in the Adirondacks, do not assume that it means that the trail will be easy.
Some parts of the trail are steep which makes it even more difficult with ice and snow in the mix. It is highly recommended that you try some of the smaller peaks in the area before tackling Cascade mountain.
Remember, this trail takes you up a whooping 1,940 feet. It also gives you an amazing view of the surroundings topped off with snow. Plus, since there are few tourists, the area is remarkably quiet.
One thing that you really need to keep an eye on is the weather. If you think a storm is on its way or at any point feel uneasy where the weather is concerned, turn back! This holds true for both amateur and experiences hikers.
Pro tip: Carry extra layers because the winds really whip around you at the peaks. It will help you keep warm.
Location: Essex County
Distance: 6.2 miles
Difficulty: Moderate
Route: Out and back
12. Black Mountain and Silver Mine Lake Loop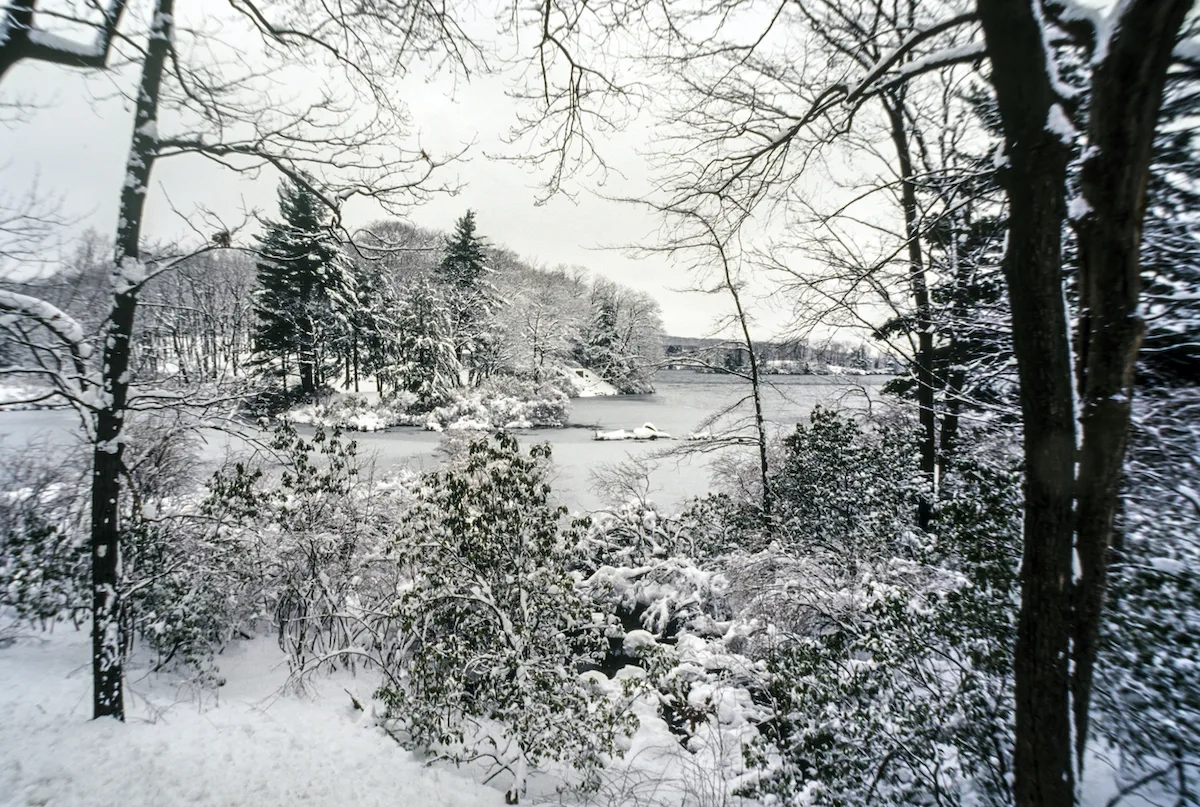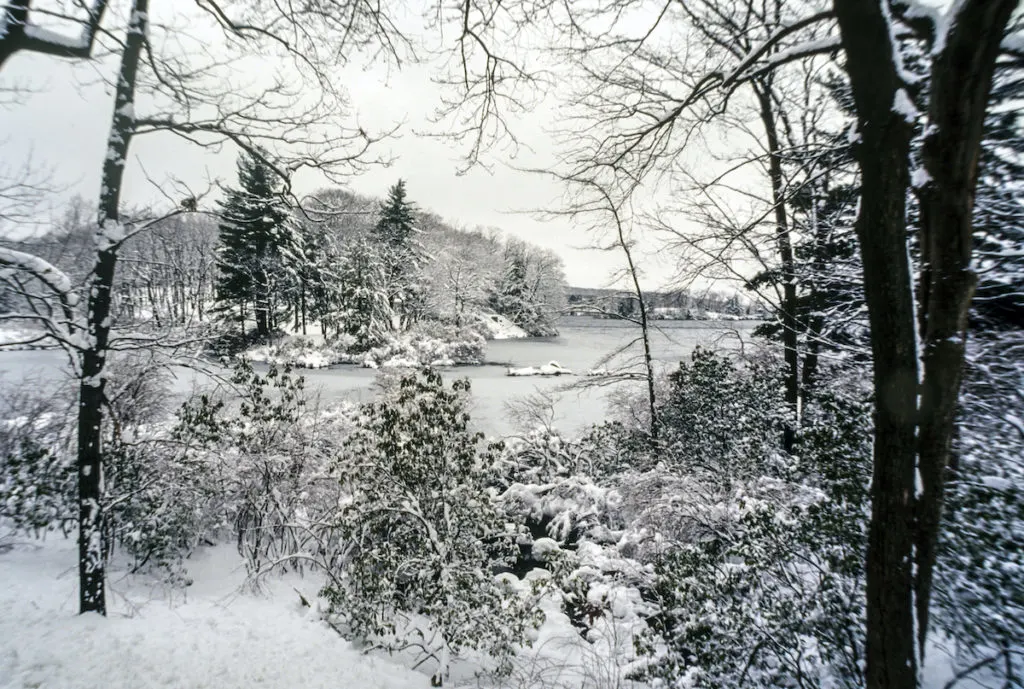 Located in the always awesome Harriman State Park, this is one of the best winter hikes in New York state that is just thirty miles away from NYC.
Therefore, you could easily do a day trip to this 46,613-acre park and explore the 3 beaches, 200 miles of trails, and 31 different lakes that proliferate throughout the area.
However, if you're looking for a specific hike to try, check out the Black Mountain and Silver Mine Lake Loop. The trailhead starts in an old ski area that you can get to by walking down Seven Lakes Drive for about 0.75 miles from the parking area.
After you pass a comfort station that is no longer in use, you'll see a forest road on the right and can take that (aka Silvermine Road) onto the trail.
You'll enjoy a steady climb that eventually crosses both a stream and the Appalachian Trail (about a mile after the stream). Once here, turn left onto the Appalachian Trail and head to the top of Black Mountain.
All in all, it can be a fairly rocky trail that gets extremely wet near Silvermine Lake. So, be sure to come with the right gear, especially if snow is melting or if it's just rained.
Location: Harriman State Park
Distance: 5.0 miles
Difficulty: Moderate
Route: Loop
13. Buck Mountain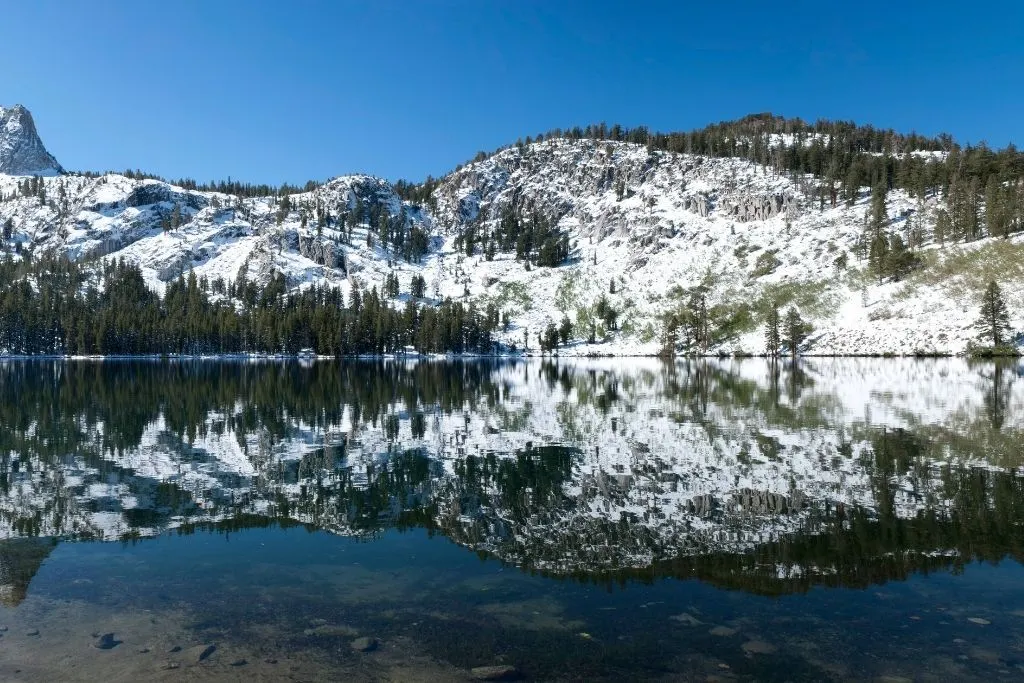 If you happen to be in the Lake George region this winter, then be sure to do one of the best winter hikes in New York State at Buck Mountain.
After all, this moderately difficult hike is 3.5 miles one way and features stunning views of the Adirondacks from the summit. Just be aware that there are also a few intense, rocky sections along the way.
However, if you're up for a fun, winter challenge then you can access the trailhead at 1750 Pilot Knob Road, which is right near Stewart's Ledge hike too (you know you've gone too far if you see the Pilot Knob Firehouse).
Just hop on the well-marked Buck Mountain trail and continue for about a mile along this wide, relatively flat trail. When you hit the junction, go left and follow the yellow DEC trail markers.
Once you approach the second mile of the trail, the trek will start to get steeper and rockier and consist of a few easy stream crossings.
You'll then walk through and into the final mile of the trail, where you'll hit some tough rock scrambles as the forest canopy fades and you discover stellar views of Lake George below and Ticonderoga in the distance (on a really clear day).
Location: Lake George
Distance: 7.0 miles
Difficulty: Moderate
Route: Out and Back
14. Camp Santanoni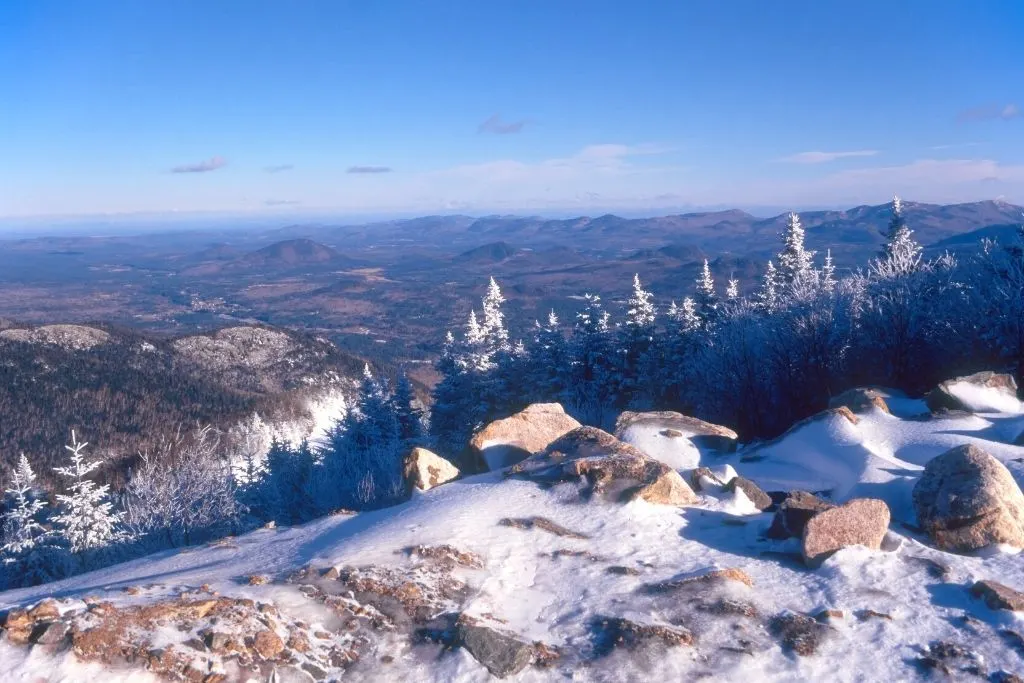 Another gem of the Adirondacks, Camp Santanoni in Newcomb, NY is one of the many historic Adirondack camps that the region was well-known for throughout the 19th century.
Each year, the facility holds three separate winter weekend open houses where guests are welcome to rent snowshoes on-site and check out some of the best hikes in winter in New York state.
On the whole, the trail is wide, smooth, easy to use. Plus, if you hop on the Carriage Road, you can pass by the magnificent stone Gate House here during your hike.
And although the trail itself isn't difficult, the snow can get very deep, making the trail moderately difficult to use.
But, when you're feeling a bit chilly, you can warm up next to a roaring fire inside the Main Lodge before grabbing a piping hot drink at the wonderfully unique Artist Studio.
Pro Tip: Special open house events are typically held in January, February, and March. But, the trails themselves are open all year long.
Location: Newcomb (Adirondacks)
Distance: 9.8 miles
Difficulty: Moderate
Route: Loop
Difficult Winter Hikes in New York
15. Whiteface Mountain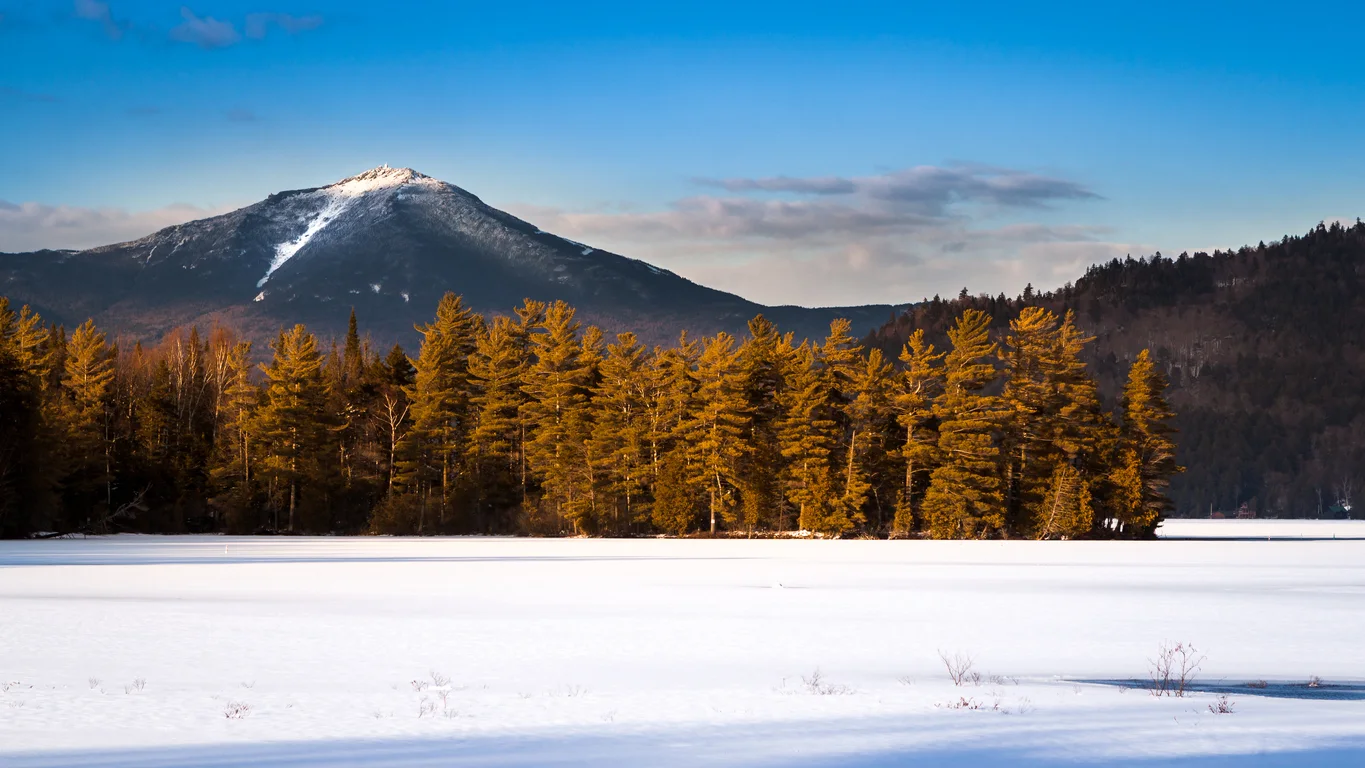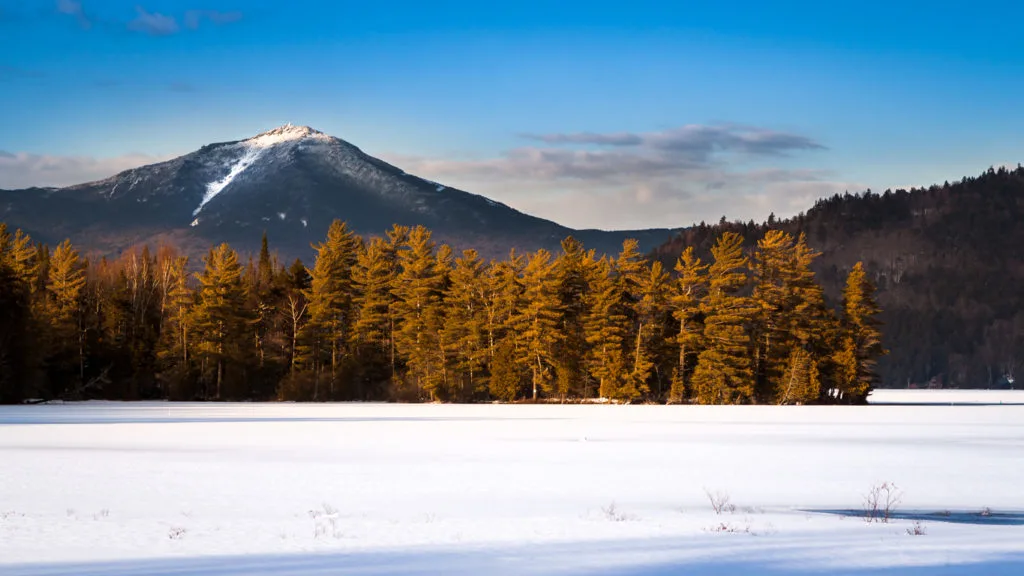 Not gonna lie, the hike up Whiteface Mountain is easily one of the best hikes in New York State and is not to be missed, even if you visit Lake Placid during winter when it's hella cold and there's tons of snow on the ground.
That's because not only are the trails here relatively quiet throughout the winter months (the cold and snow scare most people away, except the skiers) but they are still fairly accessible since the east side of the mountain isn't super exposed while the north side features sweet terrain for anyone who loves doing a bit of winter hiking.
So, if you decide to embark on one of the best winter hikes in New York state, expect an arduous climb up a 5,000+ foot tall mountain.
Yes, there are tons of stone steps but copious amounts of ice and snow make the hike more than a little difficult. However, once at the top, you'll be able to see all the way to Vermont and Canada on a clear day.
That's why, all my hiking pros out there should give this 10.1-mile loop hike a whirl as you start at the Wilmington Trailhead, take that to Marble Mountain, take that to Esther Trail, and then finally hit the summit of Whiteface itself.
Pro Tip: The road that takes you up Whiteface is closed throughout the winter, so you won't be able to drive up. Also, do NOT take this winter hike in New York lightly since this area gets tons of snow and routinely experiences temperatures that are below zero. So, always come prepared with the right gear and let someone know where you're going and when you should get back.
Location: Lake Placid
Distance: 10.1 miles
Difficulty: Difficult
Route: Loop
Winter Hikes In New York FAQ
Can You Hike Bear Mountain In Winter?
During summer, Bear mountain is a moderate hike. In winter however this very same hike is much more challenging. This is not just the terrain that you have to watch out for. It is also the ever changing weather. But if you do reach the top, you will find that the views are absolutely breathtaking.
Does New York Have Good Hikes?
Most people know New York because of NYC. I mean the city is great but did you know that New York State has some epic hiking trails? Many of these trails can be hiked in all seasons so it really doesn't matter when you visit. All you need to do is have the right gear.
What Is The Toughest Hike In New York In Winter?
The toughest and the most rewarding hike in New York in winter is Whiteface mountain. With steep cliffs and unpredictable weather, this hike isn't for the faint of heart. It is also said that it isn't for inexperienced or novice hikers. If you are going to embark on this hike make sure to check the weather forecast before you leave.
Map of the Best Winter Hikes in New York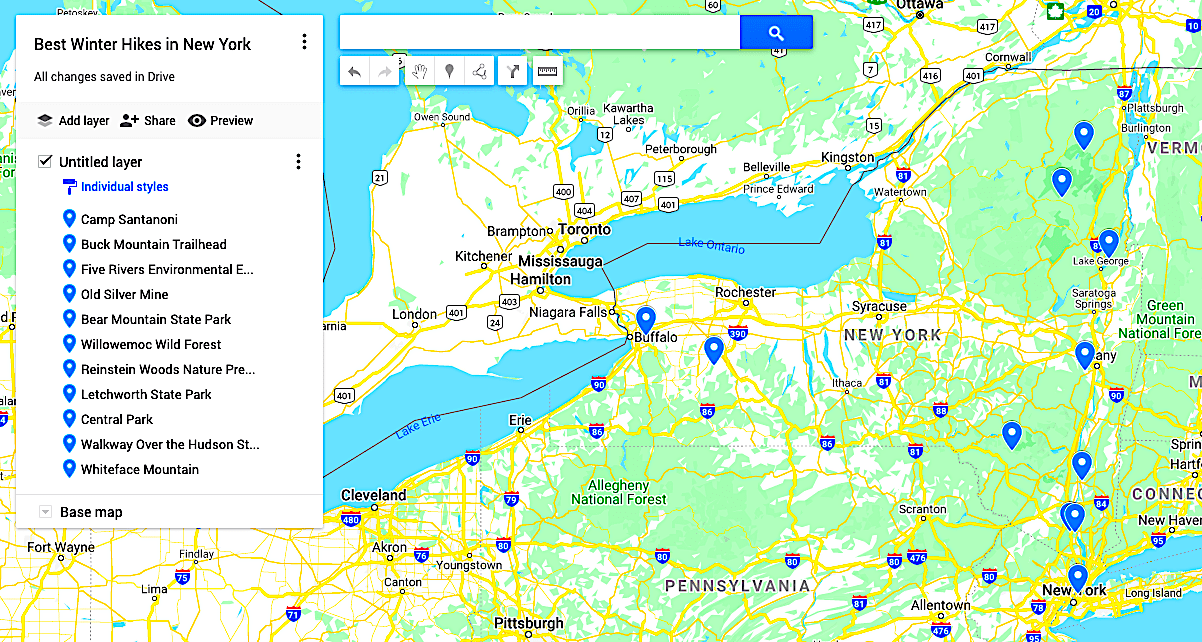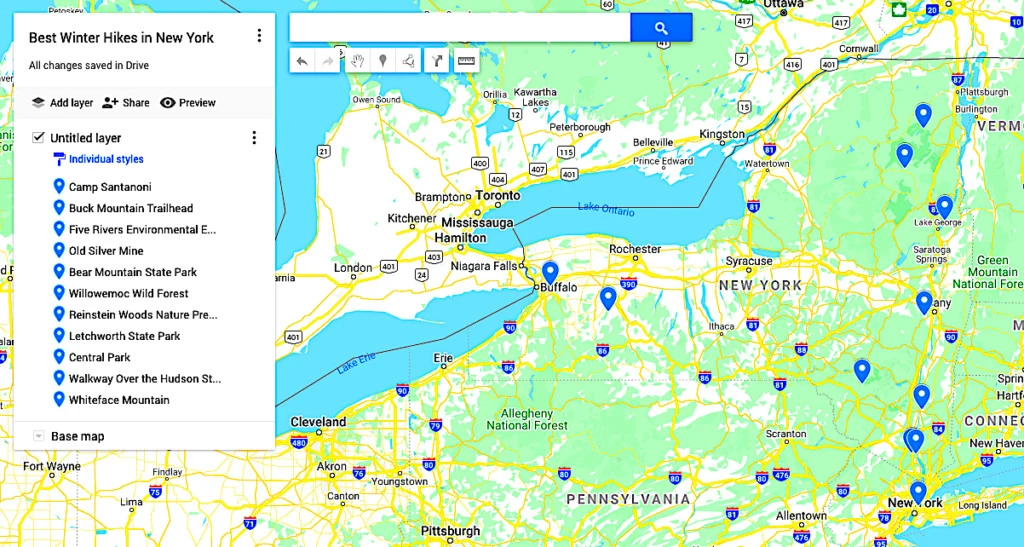 Additional New York Travel Resources You'll Love
Well, that just about wraps up this guide to the best winter hikes in New York! Tell me, did your fave hikes make the list?
If not then be sure to let me know in the comments below so that I can add them to this list.
And if you found this post useful, don't forget to join our email list before pinning this post now so that you can read it again later!