Wanna experience the city that never sleeps but only have enough time to see New York in 2 days?
If so then never fear because this 30+ year local is here to help you plan the perfect 2 days in NYC itinerary.
Because even though 2 days in New York City is not a lot of time to see everything the big apple has to offer, you can still enjoy some of the city's most iconic attractions – especially if you have the help of a super-savvy local like me.
So, step away from the overly generic guidebook and take the advice of a local New Yorker like me.
Because not only give will I give you a super detailed 2 days in New York City itinerary that tells you exactly what to do, where to eat, and how to navigate from one point to the next, but you'll get access to free maps and get additional information on where to stay, how to get around, and how to get to and from the airport.
Therefore, stop stressing and start using this super handy guide to quickly and easily plan the perfect 2 days in New York itinerary.
This post may contain affiliate links. Please see my disclosure for more information. As an Amazon Associate, I earn a small commission from qualifying purchases.
Where to Stay While Seeing New York in 2 Days
Not surprisingly, New York City is a VERY expensive place. Therefore, you'll have a hard time finding anywhere to stay that is under $100 per night.
And yes, that includes hostels. And no, Airbnb is not really a viable option since it's against the law to book an Airbnb stay for less than 30 days In NYC (please abide by this low to keep already insane rent prices slightly down).
So, if you're not sure where to stay or what you can actually afford, then here are some of my favorite hotels in NYC. They vary based on your budget and make a great home base from which to explore New York in 2 days.
Pod 39 (budget) – Because this is a pod hotel rooms are obviosuly small. But, this place sits in Murray Hill – which is great since you'll find some of the best Indian food in the city here. The hotel itself is also pretty stylish and has rooms (starting at $120 per night) that sit inside a former residential home from 1918. So, all you need to do is decide between queen-size beds and stainless-steel bunk beds that come TVs and bedside shelves.
The Duffy Times Square by Kasa (midrange)– Convenienantly located near Times Square in Hell's Kitchen, modern rooms inside this boutique hotel start at $140 per night and feature Belgian linens, iPod docks, flatscreen TVs, and WiFi. They also overlook an interior courtyard and are super affordable but still really comfortable.
The James New York (midrange) – This NOMAD area hotel is fly like a G-6 and features clean, comfy, well-appointed rooms that start at just over $170 per night. Rooms also come outfitted with high ceilings, glass enclosed bathrooms, floor-to-ceiling windows, and cozy all-natural linens. So, if you're looking for a nice stay that won't break the bank then this is the hotel for you.
Lotte New York Palace (luxury)– This next-level georgeous 4.5-star hotel is probably one of the nicest hotels in all of NYC. It's also well located in midtown east and sits right across the street from St. Patrick's Cathedral. And while it's very NOT cheap, rooms sit inside a historic 19th-century mansion and come outfitted with WiFi, flatscreen TVs, and deisgner toiletries. Room service is also available all day and guests can enjoy a French bakery, spa, and wood-paneled bar too.
How to Get To NYC from the Airport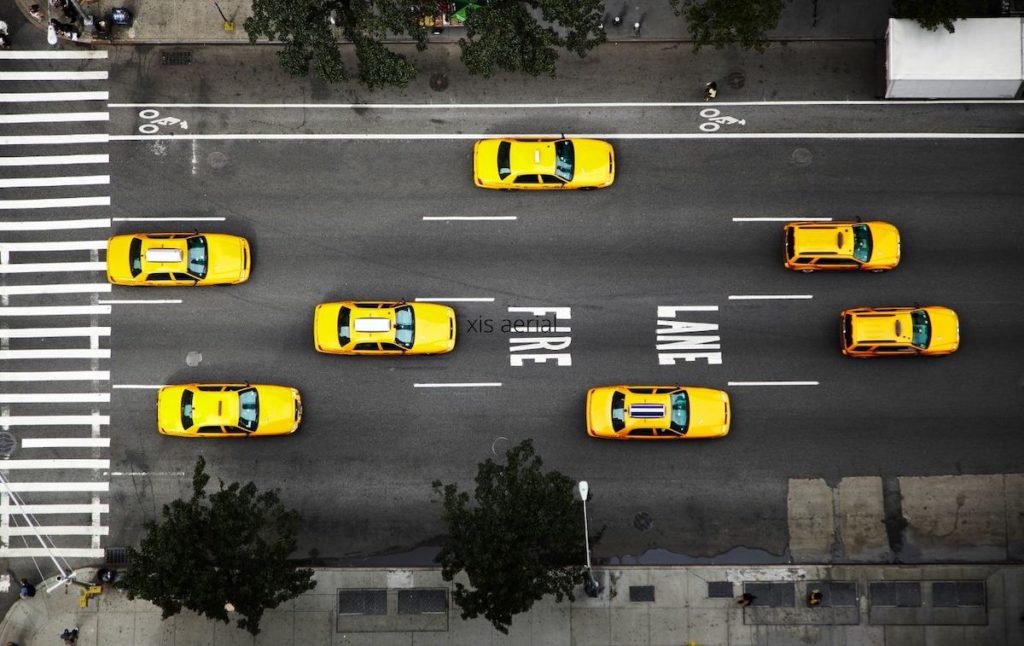 New York is next-level massive and is home to three different airports: LaGuardia (Queens), JFK (Queens), and Newark (New Jersey).
Of the three major airports in NYC, I would try to fly into JFK. Yes, LaGuardia is closer and you could basically take a bus there directly from Harlem, but the service is terrible and it typically only handles domestic flights.
Newark is also fine but it's all the way in New Jersey. Therefore, if you fly into Newark then be prepared for a bit of trek into NYC (like over 30 minutes on New Jersey transit).
Alternatively, if you fly into JFK, you can just take the Airtrain, the A Train, or the LIRR to get where you need to go. A taxi or group shuttle (about $19 to $25 per person but it takes a while due to traffic and picking up other passengers) is also a good option if you have a ton of stuff and don't want to take it on the train/subway. Just be aware that a taxi into and out of the city from JFK will cost around $60.
Also be aware that if you do use public transportation to get from JFK to Manhattan, there is no direct connection between these two places. So, you'll have to transfer from the Airtrain at JFK to the subway in Jamaica, Queens.
And once you're on the LIR (AKA Long Island Railroad) you'll probably have to transfer again to the subway line of your choice, at least if you're going into Manhattan. That's why this journey can take almost an hour and a half depending on where you need to go.
Pro Tip: If you're traveling to NYC from somewhere on the East Coast then you may want to opt for a Greyhound or Megabus since they are cheap and will usually drop you off at Port Authority in midtown.
How to Get Around NYC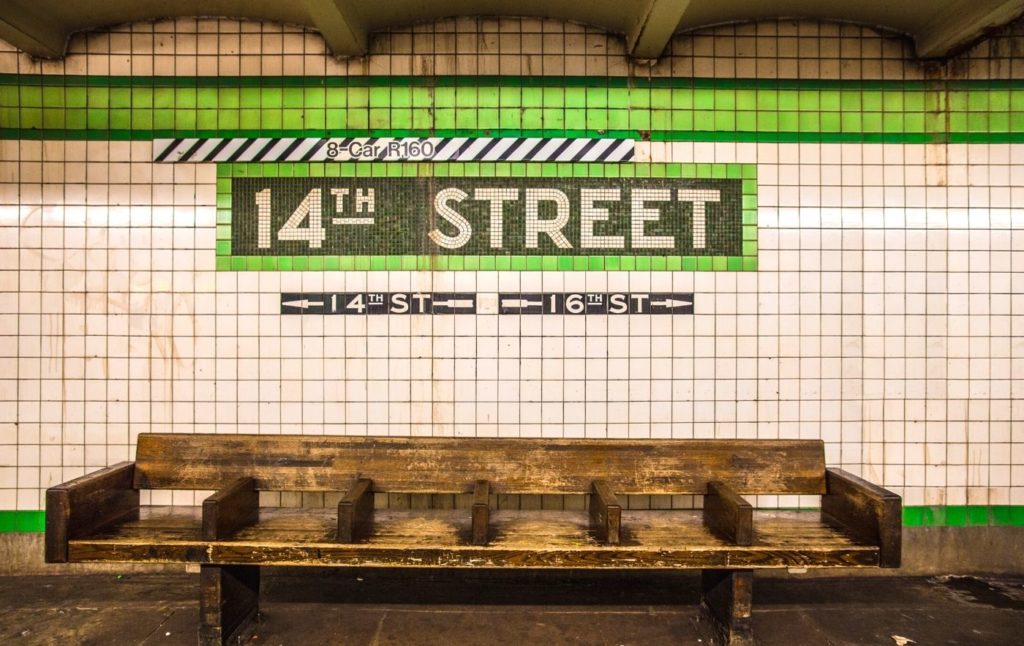 So, in this guide to seeing New York in 2 days, I've given you detailed instructions on how to get to every point on this list – whether it's by foot or by subway.
However, here's an outline of all the different ways you can get around the city since, well, it's WAY too big to walk everywhere.
Walking – This is the best way to get around since it's free and is a great way to get a feel for the subway. Therefore, wear comfy shoes and have a navigation app handy since you'll be doing a ton of walking during this 2 days in NYC itinerary.
Subway – The subway is the best and is a really easy way to get around. So, don't be scared to use it! It's pretty safe and easy(ish) to use. Just remember, Uptown trains go to streets with higher numbers and downtown trains go to streets with lower numbers. Also, don't forget to buy a Metrocard and top it off before you get on the subway.
Uber – Uber is a rideshare app that is very popular in NYC. And while it used to be a whole lot cheaper than a yellow cab, prices have gone up. However, it's still a good option if you're going home late at night and don't want to use the subway.
Taxis – NYC taxis are metered and primarily operate in Manhattan. You'll also know they're vacant if the light on top of the cab is lit up. To hail a cab, stand on the side of the road, facing oncoming traffic, and emphatically wave your hand up and out. They're pretty expensive though so I only use them if I'm desperate or if I'm with a bunch of people.
Rent a Citi Bike – Road traffic in NYC is bananas level crazy. But, if you think you can ride a bike through it then this is a great way to get around since it will cost you around $12 per day or $3 per 30-minute ride. It's also a really nice way to see Central Park.
Bus – Buses are not ideal for 2 days in New York City since there's tons of traffic and it takes forever to get around. However, they're useful outside of Manhattan and can be a good option if you're trying to get crosstown or if subway service has been disrupted.
Pedicabs – You'll find this around Central Park and I discourage you from using them since they are super expensive.
Rental Car – No. Just No. Avoid at all costs.
Ferries – You can hop on one of the many ferries that depart from Lower Manhattan and quickly go to Queens, Staten Island, and New Jersey. Plus, the trip is sometimes much shorter, and cheaper, than attempting to take the subway. I even suggest using the Staten Island Ferry in this 2 days in NYC itinerary.
Is 2 days Enough in NYC?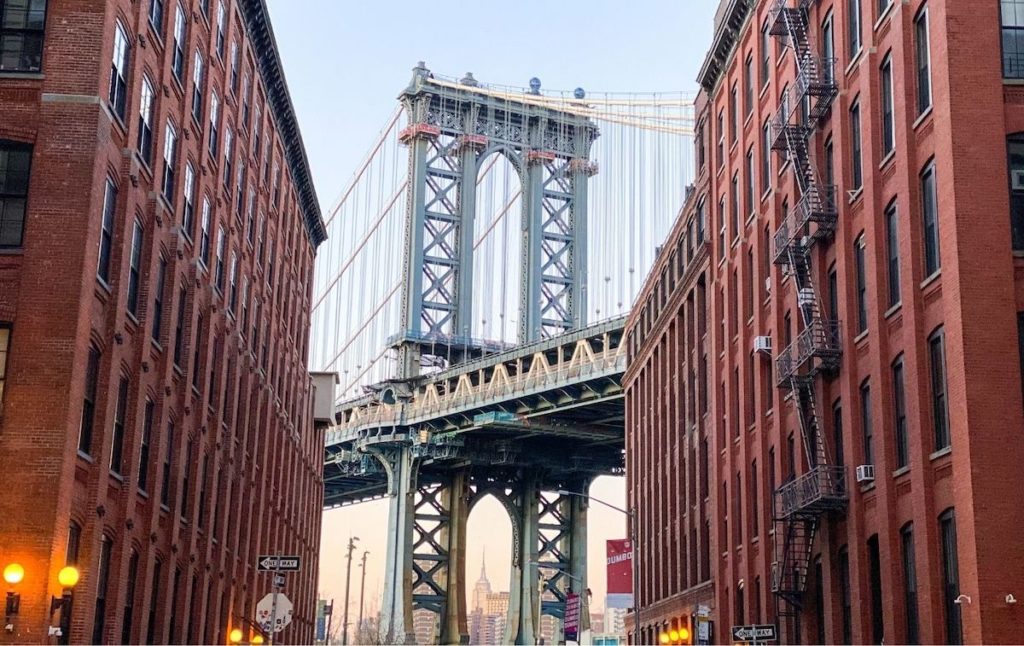 A 2 days in NYC itinerary is enough if you're planning a quick weekend getaway and what to get a taste of the city and some of the top attractions here.
That being said, NYC is massive. So, if you're planning to see New York in 2 days then just know that you will not be able to see all the city's major highlights during that time frame.
Therefore, before you visit, be sure to make a list of attractions you must-see and stick to it.
Alternatively, you could just follow this quick and easy guide to 2 days in New York City since it shows you exactly how to quickly and easily see most of the city's major sites.
How do I Plan New York in 2 Days? (Itinerary Outline)
For your convenience, here is a bulleted list of all the major sites you can see in New York in 2 days if you follow this itinerary.
Day 1
Grand Central
New York Public Library
Bryant Park
Times Square
Fifth Avenue
Rockfeller Center
St. Patrick's Cathedral
Central Park
The Metropolitan Museum of Art
Broadway Show
Day 2
DUMBO
Brooklyn Bridge
Staten Island Ferry/Battery/Statue of Liberty
9/11 Memorial and Museum/Oculus
The High Line
Chelsea Market
Empire State Building
How Many Days is Enough in NYC?
Between 5 and 7 days in NYC is enough time for most people to see all the city's top attractions. However, because the city is so large and always has new sites to see, you could spend as much time as you like here and still not see it all.
In fact, I've lived in the city for over 30 years and still have not seen it all since new attractions are constantly popping up all the time. But, if you have the time and can afford it then try to spend a minimum of 5 days in the city.
How Much Money do You Need Per Day in NYC?
You need around $200 to $250 per day in NYC. And don't worry, that includes a budget hotel room. But, it all really depends on where you stay and what kind of attractions you visit.
I mean, if you dine at Michelin star restaurants, stay at the Ritz, and book a helicopter tour then your daily budget could easily triple this figure.
But, on average, most people will spend between $200 and $250 per day if they watch what they're spending and plan a few strategic splurges.
Because in general, most visitors will spend around $40 per day on meals and around $35 per day on transportation.
New York in 2 Days Itinerary: Day 1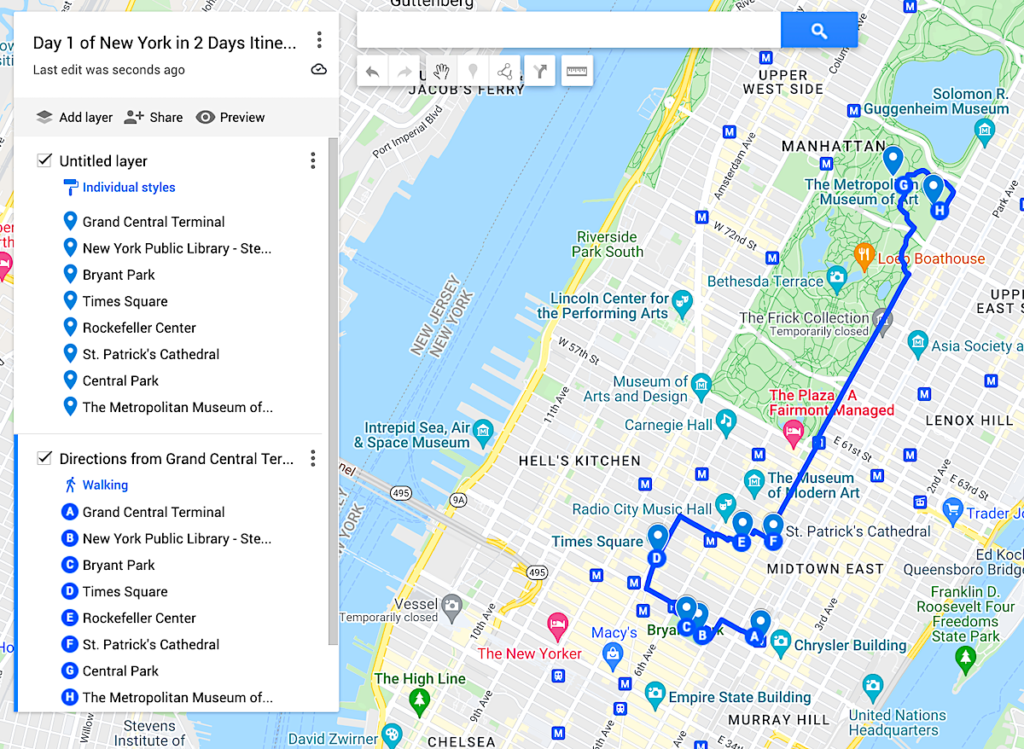 Up and at em' my fellow New York lovers! Because guess what? You only have 2 days in NYC and that's not a lot of time to see the greatest city in the world.
Yes, I may be biased but this place has been my home for over 30 years and I absolutely love it. Therefore, to make the most of your 2 days in NYC itinerary, I HIGHLY recommend getting up at or around dawn so that you can see as much as possible during your 2 days in New York City itinerary.
And our first stop? Why Grand Central Terminal of course! Not only does it open at the ungodly hour of 5;15 am, but it's also easy to get here via the 4,5,6, or 7 train.
Alternatively, you. could take basically any train to Times Square and catch the shuttle (aka the S train) from Times Square to Grand Central.
Grand Central Terminal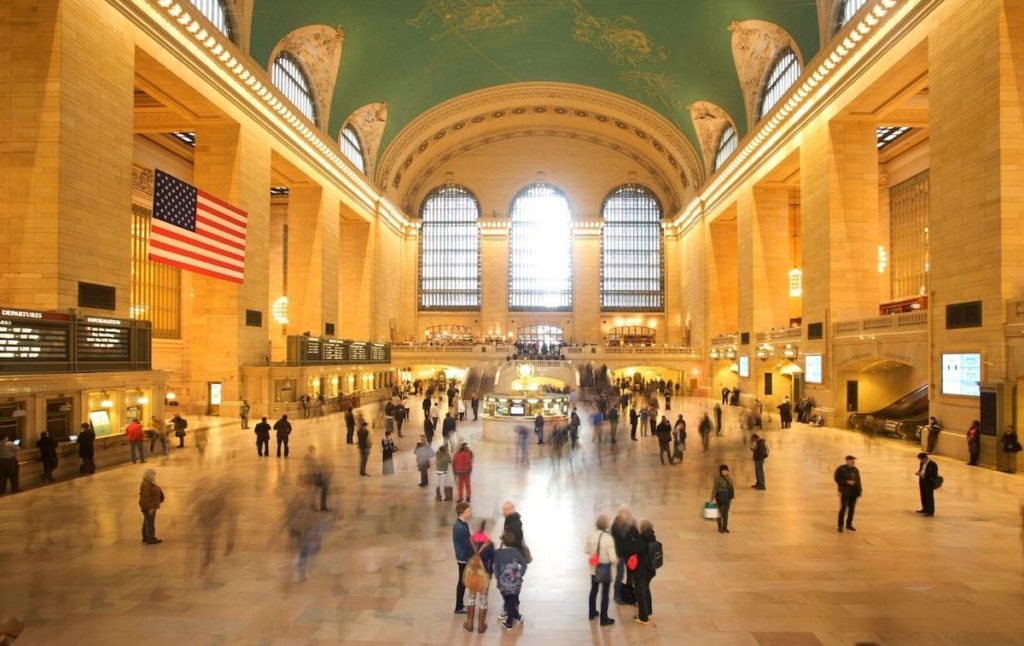 Just do yourself a favor and try and get here early (like before 7:00 am) so that you can grab photos without tons of people in them.
After all, upwards of 125,000 people commute into and out of this terminal daily from Connecticut, Westchester, and beyond. So, avoid peak commuter times during the week for the best pics possible.
Other than that, spend as much or as little time here as you want. I mean, it's a stunning, Beaux-Arts building from 1913 that features marble floors/countertop, and a gorgeous constellation studded turquoise ceiling in the main concourse.
However, after taking in all this stunning architecture, you could:
Visit the Whispering Gallery – It's near the basement Dining Concourse and sits just outside the Oyster Bar. Then, once you get here, stand diagonally away from the person you're with while you speak into the wall. Whoever is with you will then be able to hear what you're saying from across the room. It's alright but if you're short on time, feel free to skip it as you see New York in 2 days.
Visit the Dining Concourse (in the basement) –There's tons of great and affordable places to eat here like Shake Shack, Magnolia Bakery (order the banana pudding and not the cupcakes), etc. If you're short on time and want a quick breakfast, grab a bagel at Zaro's or a doughtnut from Doughnut Plant.
Shop at Grand Central Market – It's basically a giant supermarket where you can get some awesome produce, baked goods, and prepared foods. If you want, grab some prepared foods here now so that you can have an affordable and delicious picnic in Central Park later.
Transit Museum Store – Great place to shop for transportation-themed souvenirs but pretty small.
Have a drink at the Campbell – This is a secret prohibition-era bar in Grand Central that you should not miss. Just come back later in the evening since it's not open now.
Do a self-guided audio tour of the Building – If you're really into architecture, go to the Tours Office at the Main Concourse and grab an audio guide and do a 30-60 minute tour of the building. The office is open daily from 9:00 am to 6:00 pm and guides are $12 for adults, $11 for students, and $10 for seniors/children. You might want to skip this though since you're short on time during your 2 days in NYC.
Pro Tip: If you haven't eaten yet, visit Ess-A-Bagel and get an affordable (under $5.00) New York bagel for breakfast. If you want to order like a real New Yorker, get an un-toasted (this is VERY important) everything bagel with cream cheese.
Otherwise, you can be weird like me and get a raisin bagel with chocolate chip cream cheese. Whatever you order though, you'll love it since this place has some of the best bagels in the city.
It's also only about a 10-minute walk from Grand Central. So, go down East 45th street and then turn on to 3rd Avenue. Continue walking until just before you hit East 51st street.
New York Public Library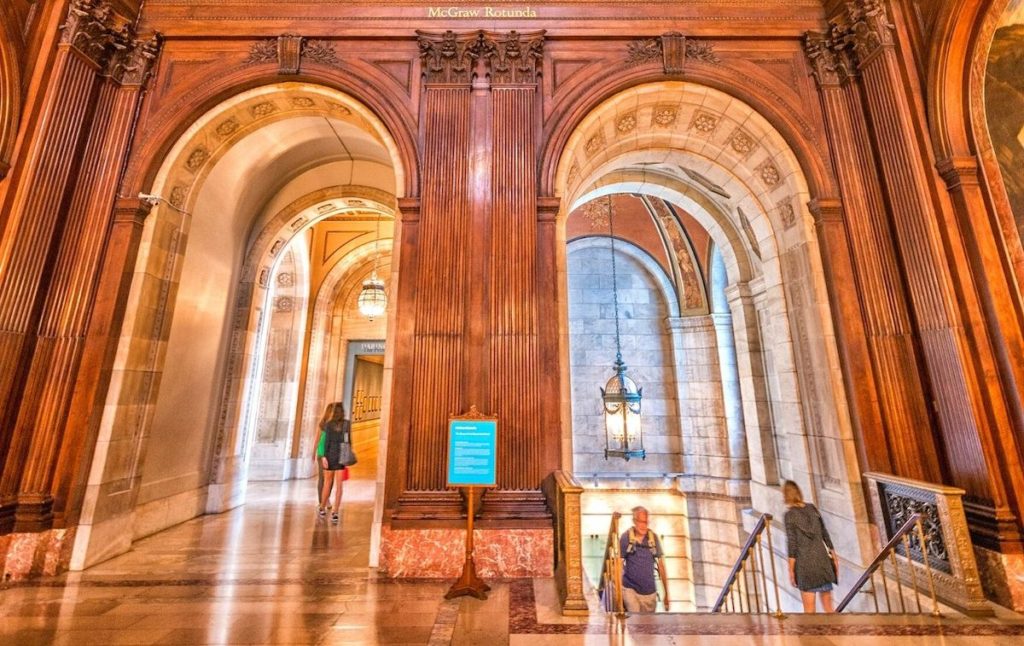 If you're coming from the bagel place, it'll be about a 20-minute walk to the Library. However, if you're visiting from Grand Central, it'll be a quick, 6-minute walk along 42nd Street.
Either way, don't miss out on this iconic New York landmark. So, after admiring the two proud marble lions out front – aptly named 'Patience' and 'Fortitude' – head inside to the second floor and enjoy a stunning reading room here that can accommodate up to 500 people.
Next, check out fascinating artifacts like a copy of the Gutenberg Bible, the ORIGINAL Winnie the Pooh animals, and the Declaration of Independence.
If you want, you can even do a free tour of the building at 11:00 am and 2:00 pm Monday through Saturday and at 2:00 pm on Sundays (just not in the summer).
Pro Tip: Do note that the library does not open until 10:00 am. Therefore, if you get here early, it definitely won't be open. Personally, I wouldn't stick around and would just snap some photos before checking out Bryant Park in the back since 2 days in NYC means you're short on time.
And if you REALLY love libraries and museums then 100% visit the Morgan Library instead. It's right down the street, is absolutely stunning (it looks like the library from the movie Beauty and the Beast), and has a ton of cool rotating exhibits for you to see.
Bryant Park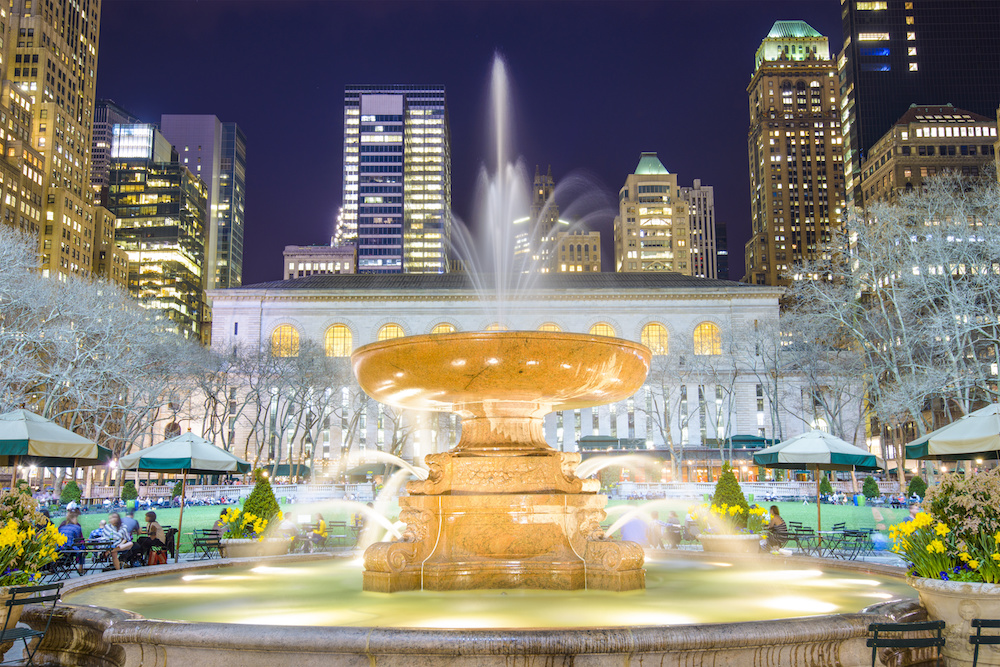 This is a great place to hang out if you want to kill a little time before the library opens or just need a break from walking.
After all, Bryant Park is a relatively small greenspace (only about 9.5 acres) that is home to a great lawn, ping pong tables, lending libraries, European food kiosks, a vintage french carousel, and more.
It also sits right behind the library and is super easy to get to from there. So, take a seat at one of the metal tables and chairs and just watch all the busy residents of New York walk by.
If you're hungry (I doubt you are) you can eat some waffles from Wafels and Dinges or grab a loaf of chocolate babka from Breads Bakery for later. Honestly, I cannot emphasize enough how delicious this chocolate babka is. It's also pre-wrapped so you can save it for later.
And if you happen to be here in the winter, you can also enjoy the winter village that pops up here annually, complete with an ice skating rink, igloos, alpine-inspired vendors, bars, and even a small curling area.
Pro Tip: Come back later to enjoy a drink at the Bryant Park Grill. In fact, it's so lovely that many people have their weddings here in the spring.
Times Square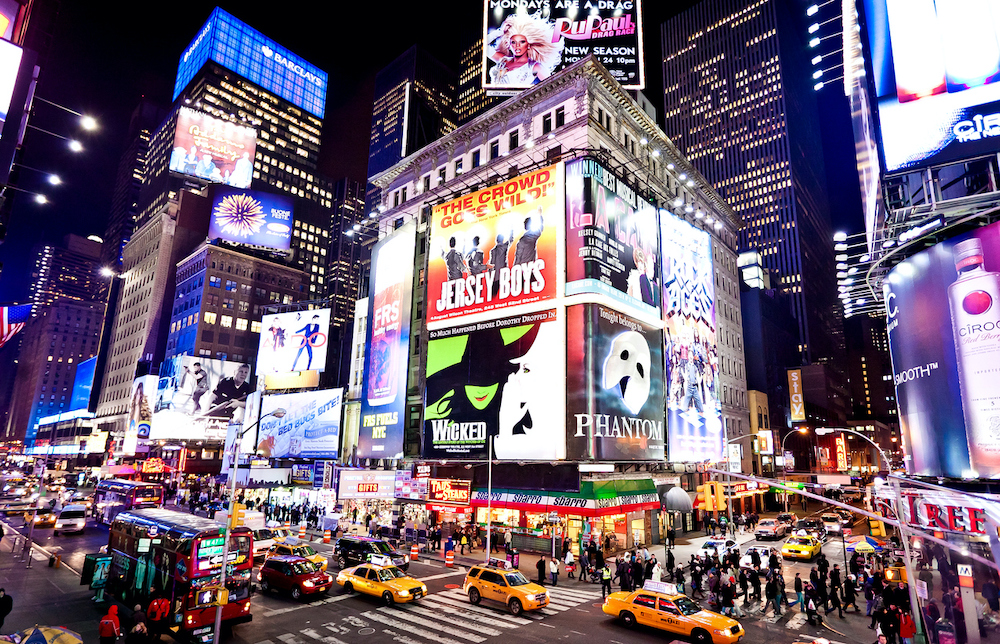 Like most locals, I hate Times Square with a passion and generally avoid it like the plague. However, if it's your first time in NYC and you're trying to see New York in 2 days then it's kind of a must-see.
And while the lights are much more mesmerizing in the evening, you can always come back either before or after you see a Broadway show since Times Square is right in the theater district.
However, I definitely recommend visiting now since it'll be less crowded (ish) and is only about a 4-minute walk from Bryant Park. Just do yourself a favor and watch out for pickpockets since they frequent this area.
Also, be aware of people walking around dressed as giant Elmos or Dora the Explorers or whatever other character they are. They won't bother you but they can be annoying and will expect some form of payment if you take a photo with them.
Other than that, just get in, admire all the bright colors and electronic advertisements, snap some photos, and get out since most things here are tourist traps.
You could also stop by the TKTS booth and grab some discounted (50+% off regular prices) Broadway tickets for later today before leaving and walking Uptown on Fifth Avenue (you'll know you're going the right way if the street numbers go up).
Pro Tip: I use the TodayTix app to quickly and easily get super cheap Broadway tickets and highly recommend you do the same since everyone should see a Broadway show as part of their 2 days in NYC itinerary.
You could also come back later, either before or after your show, and enjoy a cocktail at the R Lounge inside the Renaissance Times Square Hotel. The views are great and their Rose All Day Cocktail is delish and costs around $16.00.
Continue Uptown Along Fifth Avenue
Fifth Avenue is probably one of the most famous streets in NYC. And that makes sense since its home to the Atlas Statue, Tiffany's, Saks Fifth Avenue, the Plaza Hotel, St. Patrick's Cathedral, etc.
So, depending on time and what you're interested in, you can visit as many or as few of the attractions on Fifth Avenue as you try to see New York in 2 days.
However, some noteworthy highlights include:
St. Patrick's Cathedral – We've all at least heard of St. Patrick's Cathedral since it's probably the single most famous church in the entire city. It also conveniently sits right across the street from Rockefeller Center on Fifth Avenue and is free to visit. So, even if you're not super into churches, I highly recommend taking a quick look inside to enjoy the impressive neo-Gothic architecture. Then, head across the street to see the Atlas Statue and Rockefeller Center.
Rockefeller Center and The Top of the Rock – There are ton of different things to do in Rockefeller Center. So, be sure to visit the Lego store, FAO Schwartz, Radio City Music Hall (close by on W 50th), the ice rink that pops up here in the winter, and see where the Today Show is taped live. Then, be sure to photograph it up before continuing with your New York in 2 days itinerary.
Visit the Top of the Rock – Because you're doing a 2 days in NYC itinerary you'll be short on time. Therefore, I recommend picking out and enjoying one epic observation deck while you're in the city. So, if you're after epic photo ops and stellar views of the Empire State Building, then head up to the Top of the Rock now. Just be sure to purchase tickets well in advance so that you can enjoy unobstructed panoramas from the 67th, 69th, and 70th floors (the top floor is an open-air roof deck and great place for photo ops).
Pro Tip: Try to purchase flexible date tickets for the Top of the Rock. This way if the weather sucks you can come back when it clears up.
MOMA (The Museum of Modern Art) – Since you only have 2 days in NYC, I would only visit one epic art museum. And while I personally love the MET, MOMA is the place to be if you are a huge fan of modern art. And since it's on West 53rd Street (right near St. Patrick's Cathedral), I'd visit BEFORE you go to Central Park. Highlights include works from Jackson Pollock, Andy Warhol, and Van Gogh, and you should 100% purchase your tickets well in advance to avoid a queue. FYI, they also offer free admission on Friday evenings between 5:30 pm and 9:00 pm. The line will be long so be prepared to wait if you choose to do this.
The Plaza -If you're seeing New York in 2 days then I'd just admire the exterior of this iconic hotel along Fifth Avenue before entering Central Park. However, if you have a bit of extra time, you can always enjoy a luxurious afternoon tea in the Palm Court.
Explore Central Park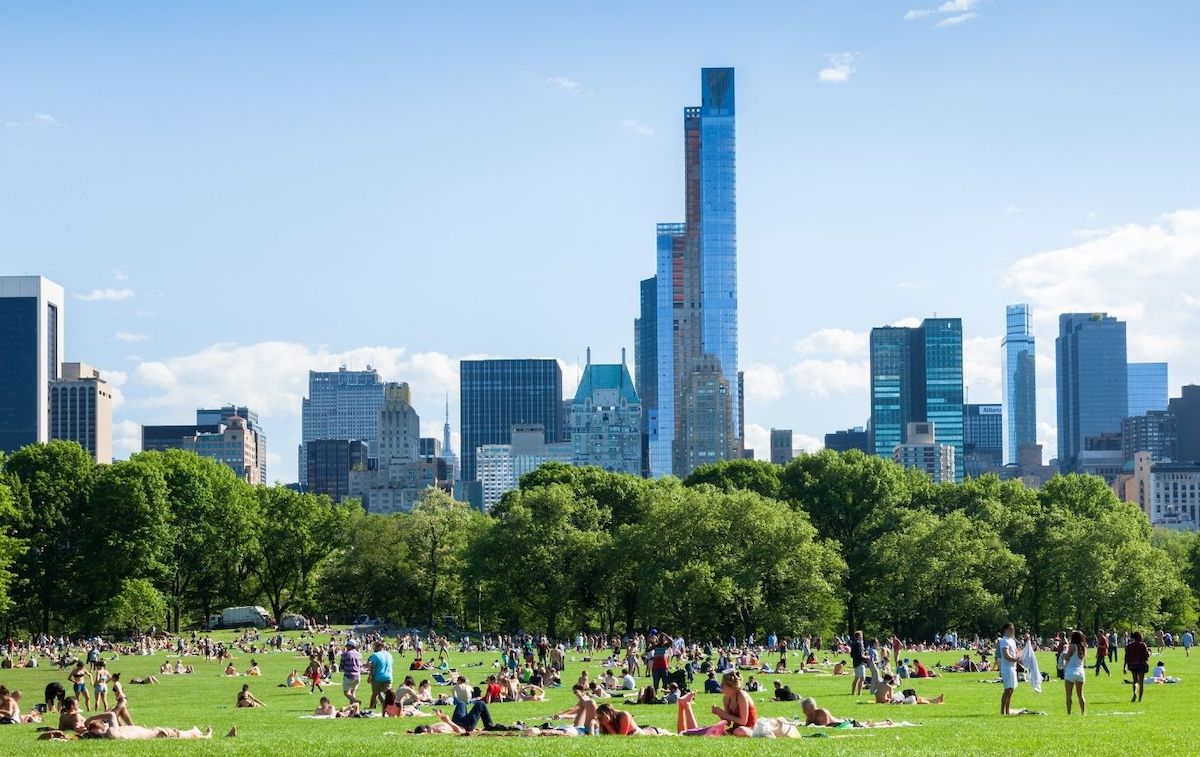 At 843 acres, Central Park is the fifth-largest park in the entire city.
Therefore, it's hella big and you could easily spend a couple of days here exploring Strawberry Fields, seeing Bethesda Terrace (great for photo ops), catching the view from Belvedere Castle, indulging in a decadent meal at Tavern on the Green, saying hi to the animals at the zoo, walking through the Ramble, experiencing the Mall, and more.
However, since we're in a bit of a time crunch and you're probably a bit hungry by now, I'd walk through the Southern end of the park, stop for a picnic at Sheep's Meadow (picnic), and see as much as you can see before visiting the MET.
Because of where you are, you'll probably run into Sheep Meadow, the Central Park Zoo, and the Alice in Wonderland statue before stumbling across the MET on East 82nd Street and Fifth Avenue.
Pro Tip: If you're short on time but want to explore Central Park a bit more then do this 2-hour guided scooter of Central Park. It's an awesome way to quickly and easily see all that Central Park has to offer.
Especially if you only have 2 days since an expert guide will provide you with fascinating commentary as you ride on an electric scooter to landmarks like Bethesda Fountain, Cleopatra's Needle, the Jackie Kennedy Reservoir, and the North Woods.
You also won't have to worry about wasting time while getting lost in this insanely large greenspace. Plus, this tour is pretty reasonably priced too at just $60.00 per person too.
Then, after enjoying Central Park, consider doing one of the following:
The Met (Metropolitan Museum of Art) – This would be my pick since this is my single favorite museum in the entire city. It also sits right on the Upper East Side (it's on Fifth so you'll literally be right here) and has a little bit everything. Therefore, regardless of whether you're into Modern art, Egyptian art, Asian art, African art, or Renaissance art, this museum WILL have something to interest you. Plus, they have extended hours until 9:00 pm on Fridays and Saturdays. Therefore, even if you don'y make it here until 5:00 pm, you still have plenty of time to see things like the Temple of Dendur. Just be sure to purchase tickets well in advance to avoid lines. Alternatively, if you're a resident of New York ( or a student in Connecticut and New Jersey) then you can pay what you wish upon arrival with a valid ID.
The Museum of Natural History – While you absolutely can visit this museum, it's actually on the Upper West Side. So you will have to walk/ride all the way across the park to get here (maybe 15/20 minutes). It's also better for kids since it's geared more towards natural science and features things like dinosaur fossils, a planetarium, and a giant blue whale. Per usual, book tickets in advance to avoid lines.
The Guggenheim – Designed by Frank Lloyd Wright, this museum is a true architectural wonder and a must-see for anyone who loves Impressionist, Post-Impressionist, early Modern, and contemporary art. There's also a great cafe on the third floor with sweeping views of Central Park. It'll also be pretty easy to get here since it's right on Fifth Avenue by East 88th. As always, book your tickets in advance to avoid long waits. Alternatively, you could stop by on Saturdays between 4:00 pm and 6:00 pm to enjoy "pay what you wish" tickets but there will be a line since everyone loves cheap tickets.
Since you're only doing a 2 days in NYC itinerary, I'd recommend grabbing some dinner on the Upper East Side before heading back downtown to Times Square and the theatre district.
Some great places to eat include the Lexington Candy Shop (the cafe has a cool vintage vibe, they serve breakfast all day, prices are reasonable, and the pancakes are epic), Cafe Sarbarsky for Viennese pastries, Shake Shack for a burger and fries, and Ellen's Stardust Diner if you want to enjoy some greasy diner food served to you by vivacious waitstaff who belt out show tunes.
Alternatively, you could always have dinner in Hell's Kitchen at The Meatball Shop instead. It's a pretty chill place that serves great Italian food. You also can't beat the classic pork and beef meatballs with marinara sauce so be sure to order that if you stop here.
Go Back to Times Square for a Broadway Show!
So, if you're still on the Upper East Side, head to the 77th street station and take the 4, 5, or 6 train back downtown to the station of your choice. Take the 6 though if you're not sure where to get off since this is a local and makes all the stops.
And if you're on the Upper West Side then you can always take the 1,2, 3 train back downtown to Times Square instead.
Then, end your first day in NYC with an amazing Broadway show. This is without a doubt one of my fave things to do in NYC and I cannot in good conscience let you leave the city without enjoying at least one theatrical performance.
You'll also be delighted to know that off-broadway shows are just as good as broadway shows. Yup, a show is referred to as "off-broadway" only because it's in a smaller theater.
So, a great way to save money on a performance while you enjoy New York in 2 days is to see an off-broadway show instead.
Or, as I mentioned earlier, you can always get cheap tickets using the TodayTix App. It's my favorite way to get cheap tickets since they can routinely cost as little as $30 per ticket (plus tax).
And while there are a ton of great shows on Broadway, some of my faves include Wicked, The Lion King, Moulin Rouge, Phantom of the Opera, Chicago, Book of Mormon, and more.
Then, after the show, be sure to swan dive into a giant piece of New York cheesecake from Juniors. Order their classic cheesecake (with whipped cream and strawberries) and split it with your partner in crime (the slices are huge) before heading home and ending the first part of your 2 days in NYC itinerary.
Pro Tip: Short on cash or not a fan of Broadway? Then have a drink at one of the bars I mentioned earlier or head to Hudson Yards (take the 7 train to Hudson Yards station) and admire the wonky beauty of the Vessel before walking the Highline and ending your day in NYC.
New York in 2 Days Itinerary: Day 2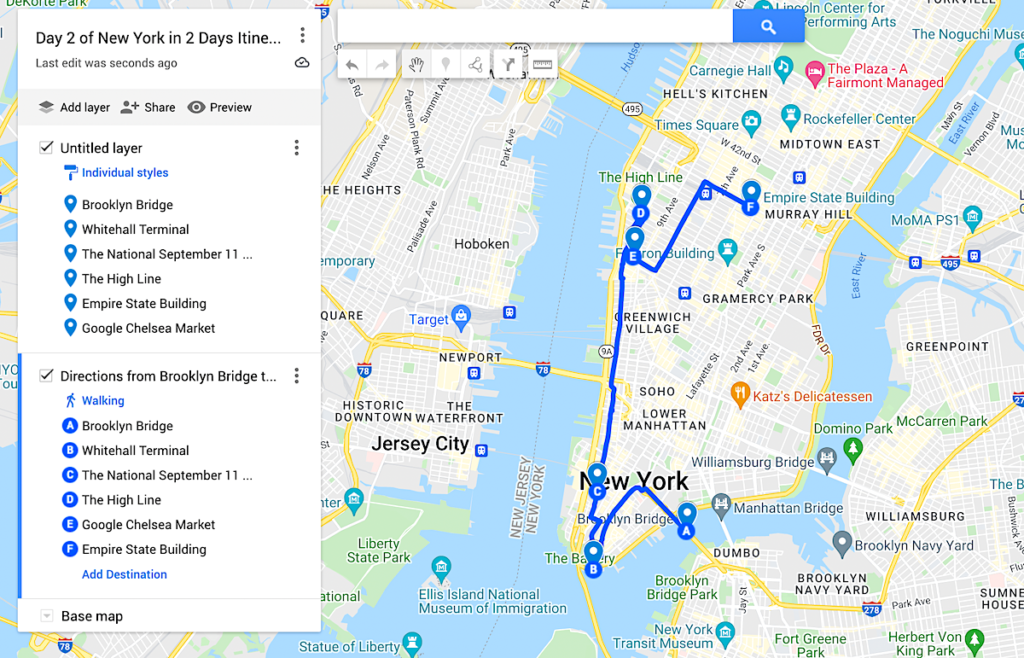 I hate to break it to you but it's gonna be another EARLY morning since we only have 2 days in NYC and we still have a ton of stuff to do.
So, that being said, hop on the A/C train and take it to High Street station. Once here, I would first head over to the corner of Washington Street and Water Street in DUMBO (aka Down Under the Manhattan Bridge) and take an ultra-rad picture of the Manhattan Bridge in between two buildings.
Try to get this shot as early in the morning as possible since this spot is always crowded. Then, if you're hungry, head over to Timeout Market and order a giant stack of blueberry pancakes from Clinton Street Baking Company.
They typically open around 8:00 am and serve probably the best pancakes in the city. However, if they're not open, you can explore nearby Brooklyn Bridge Park and grab a coffee from Butler.
Pro Tip: DUMBO is a great part of Brooklyn and you could easily spend the better part of the day here. So, if you have a bit of extra time, grab some pizza at Juliana's and explore the shops and charming cobblestone streets here. To can also head further into Brooklyn and visit the amazing Bushwick Collective too.
Walk the Brooklyn Bridge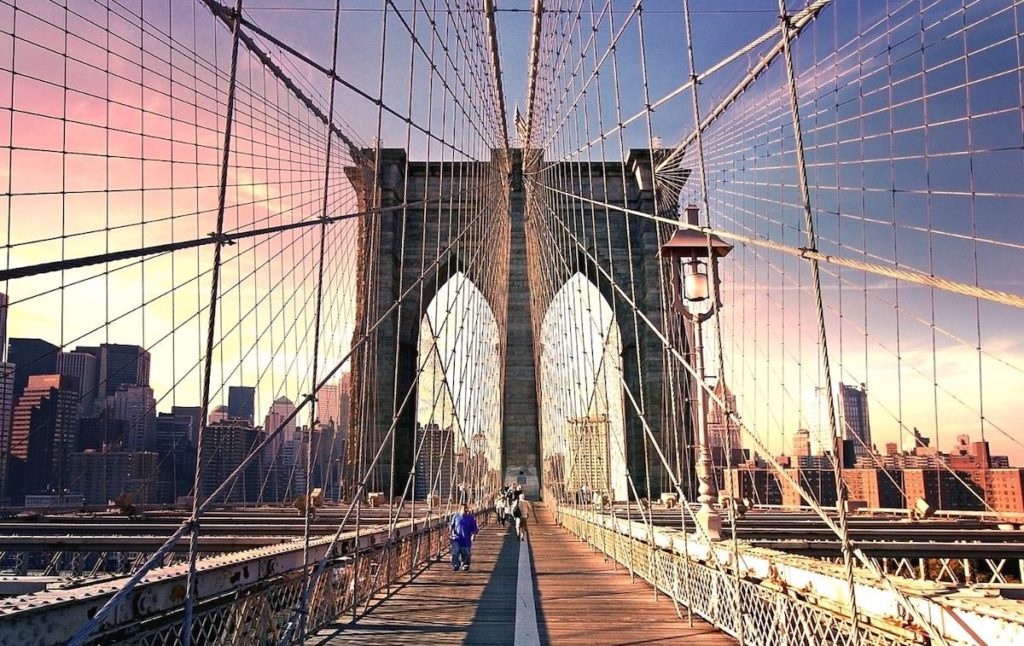 When you're ready, put your best pair of walking shoes to good use and take a leisurely stroll across the Brooklyn Bridge.
I always suggest walking from the Brooklyn side to the Manhattan side since the views of the NYC skyline are better. I'd also try and get an early start to avoid crowds.
However, if you go early on a weekday morning, the hordes of selfie-stick-wielding tourists shouldn't be too bad.
Now, generally speaking, the 1.1-mile walk along the length of the bridge will take about an hour. Although, that can vary based on how fast you walk and how many pictures you take.
Other than that, just make sure that you watch where you're going (i.e. stay in the Pedestrian lane), wear comfy shoes, and avoid visiting during icky weather.
Then, once you're in Manhattan, mosey on over to the Battery and get ready for our next stop as you attempt to enjoy New York in 2 Days.
Battery, the Staten island Ferry, and the Statue of Liberty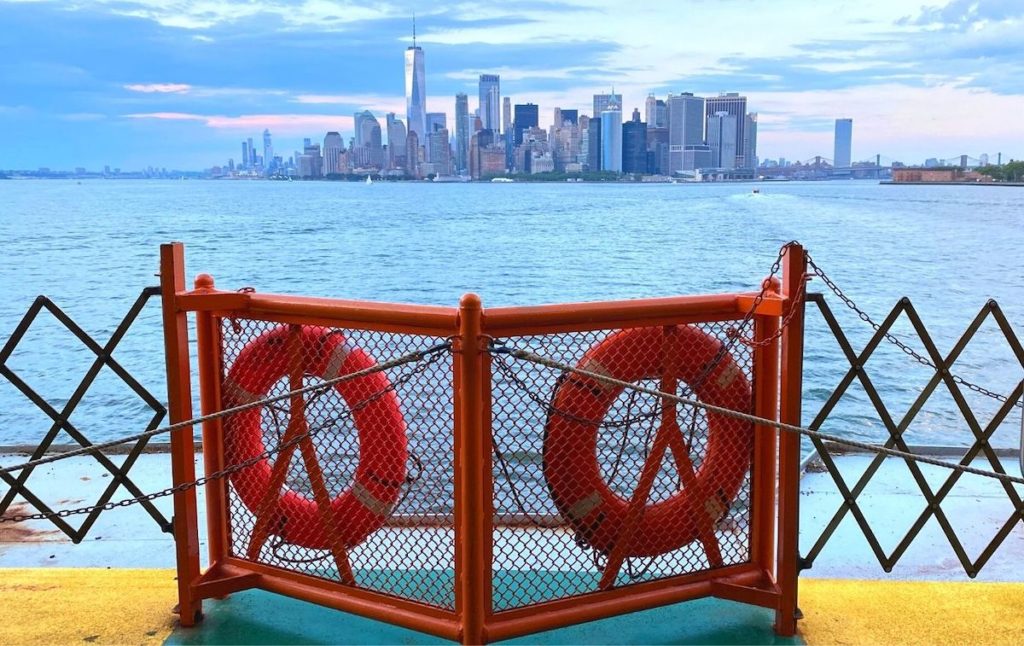 Walking from the Brooklyn Bridge to the Battery (aka Battery Park) will take around 20 minutes. However, I'd opt for the long way around and walk along the water, through the Southstreet Seaport area.
You won't have time to do a whole bunch here but it's just a really pretty walk that features a wealth of historic ships and some pretty great views of the Brooklyn Bridge too.
Then, when you finally make it to the Battery, take some photos of the Statue of Liberty before walking over to the Whitehall Terminal.
Pro Tip: Honestly, the views of the Statue of Liberty from the Battery aren't that great since she's pretty far away. And while you can do a Statue of Liberty/Ellis Island tour, I wouldn't recommend it for a 2 days in New York City itinerary.
And here's why. Yes, the tour is well-priced at $30.00 per person and includes access to both the Statue of Liberty and Ellis Island. And yes, you will get great shots of the Statue of Liberty (the on-site museum is pretty cool too) and will also get to visit Ellis Island (aka one of the coolest museums in NYC).
But, and it's a big but, the tour will take the majority of the day. So, while I do think the tour is worth it, I don't think you'll have enough time for it if you only have two days in NYC – unless you basically don't want to do anything else all day since you'll probably finish the tour around 3:00 pm.
So, plan accordingly and definitely grab your tickets for the Statue of Liberty and Ellis Island Tour now (to avoid those stupid long lines) if you have a bit more time in the city.
Otherwise, hop aboard the Staten Island Ferry. Not only is it free but it runs 24 hours per day and offers you some pretty great views of the Statue of Liberty.
Just sit on the right side of the ferry (as you travel from Manhattan to Staten Island) and be sure to sit by a window that opens so that can take photos through the open window.
Then, just relax and enjoy the 25-minute ride aboard the ferry. Just be aware that you WILL need to disembark in Staten Island and then reboard the ferry back to Manhattan.
9/11 Museum and Memorial and the Oculus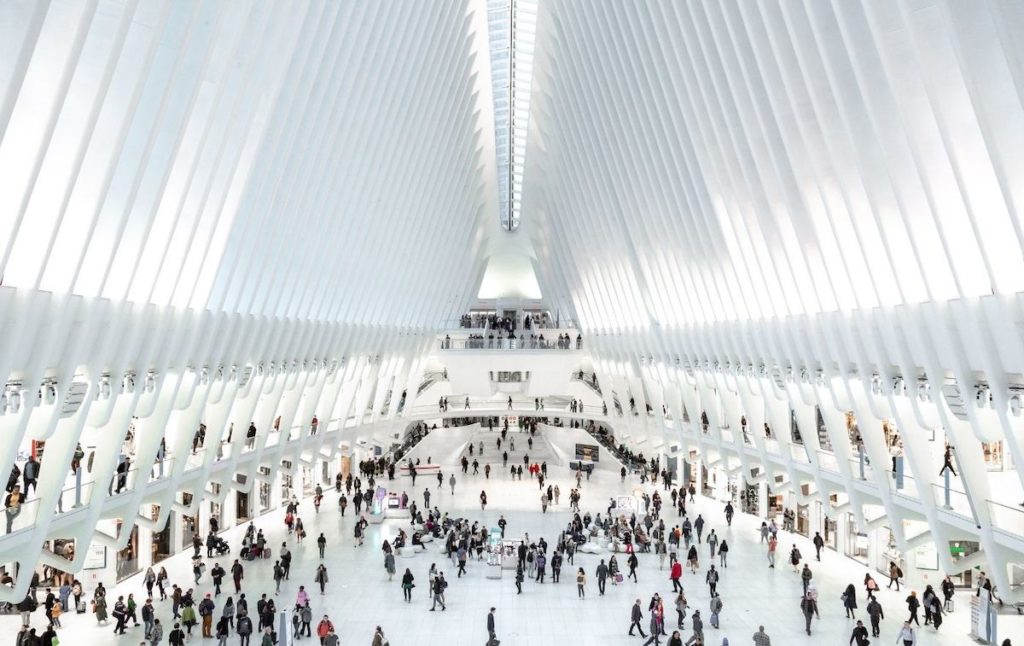 When you're back on dry land, make the 20-minute walk from here to the World Trade Center. Personally, I'm not a huge fan of the Financial District, but some stops you can easily make along the way include:
Wall Street
The Charging Bull Statue
The Fearless Girl Statue
Trinity Church – Where Alexander Hamilton is buried
Federal Hall
Stone Street – one of the prettiest streets in NYC and home to a ton of great bars like the historic Fraunces Tavern
Once at the World Trade Center, you have a couple of options available to you depending on time and your budget. If you're short on time and money then skip the museum and just visit the memorial instead.
They are free to visit and feature two giant black reflection pools that sit on the same spot where the Twin Towers once stood. Take some time to walk along the perimeter and read the bronze panels that have the names of the 3,000 victims of those terrorist attacks etched into them.
Watch as the water cascades 30 feet down into a seeming black hole before either heading into the museum or continuing on to the Occulus (pictured above), where you can take some photos of this gorgeous, uber-modern Transportation hub.
Now, depending on how hungry you are, you can either grab lunch before or after you visit the museum at Eataly Downtown NYC. It sits on the third floor of a nearby shopping complex, is only about 2 minutes away, and is a great place to enjoy some authentic Italian food from Mario Batali.
So, opt for either a full sit-down meal (the gnocchi and pizza are exceptional) or just grab something to go from their incredible Italian market.
Pro Tip: I HIGHLY recommend getting your tickets for the 9/11 Museum now to avoid the queue and to get a better understanding of the events of that tragic day and to commemorate all those who died here.
Yes, the museum can be difficult to walk through (this is coming from someone who lived in NYC at that time and who was there that day and who knows people who died and who has a police officer brother who had to sift through the rubble) but I personally feel it is extremely well-done and 100% worth it.
Plus, it should only take you around 2 hours to visit and will introduce you to a wealth of videos, photos, and artifacts that include the Survivor's Staircase, a retaining wall with messages of hope, remnants of the Engine Company 21 Fire Truck, and more.
So, be sure to get your tickets now and get a better understanding of one of the most important sites in NYC.
When you're ready, make your way to the Oculus. It's basically a giant transportation hub in the World Trade Center. Therefore, even though there isn't a ton to do here, definitely admire the stunning modern architectural designs of Santiago Calatrava
For the best photo ops, visit during the day and enter the building at street levels. The steps here will then bring you to an expansive overlook where you can get a great aerial shot of people walking through the complex.
From here, take the 2/3 train to 14th Street station and walk around half a mile to the Highline.
The Highline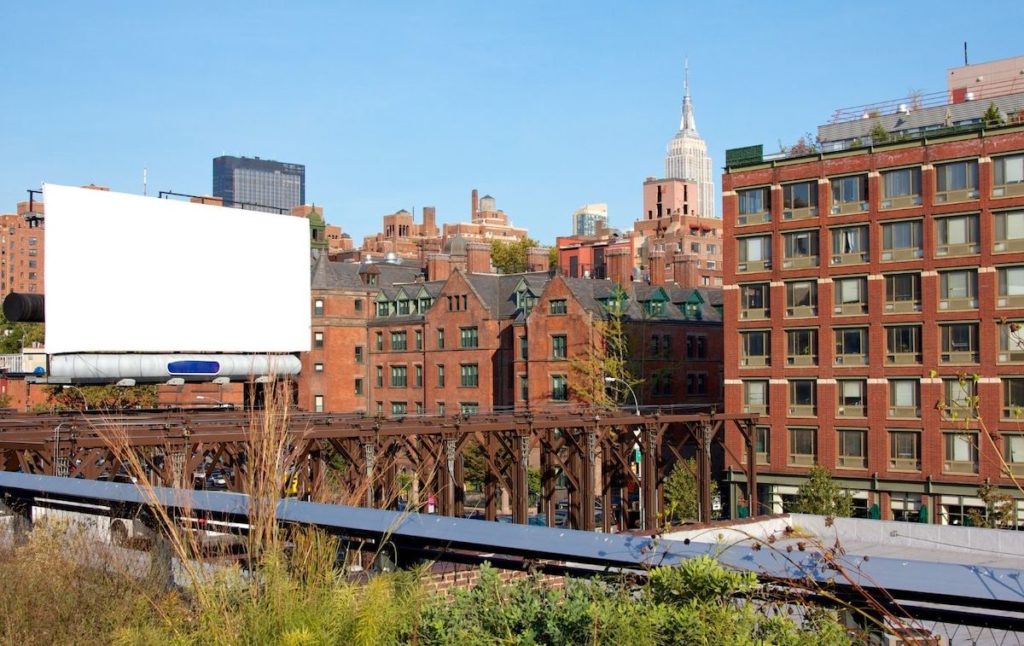 Just in case you're not in the know, The Highline is a truly unique, elevated pedestrian walkway/park that sits atop an old railway track that was initially constructed in 2009.
It runs along the west side of Manhattan and extends for 1.5 miles from the Whitney Museum in the south all the way to the Javits Center and Hudson Yards in the North.
So, depending on the time you have and how tired you are, you can walk the entire length of the Highline or just a portion of it.
If you want, you can also check out the Whitney Museum of American Art while you're here since it's home to an exquisite collection of contemporary American art from Edward Hopper, Alexander Calder, Georgia O'Keefe, and more.
Not gonna lie, the views of the Hudson River from the rooftop are pretty dang impressive. Plus, they offer special "pay what you wish" tickets after 7:00 pm on Friday evenings when the museum closes at 10:00 pm. Or, you can just get your tickets now.
Otherwise, continue along the Highline and get off around West 15th Street to grab something to eat. it's a short walk, only about 5 minutes, so you can always come back if you're not quite hungry yet.
Chelsea Market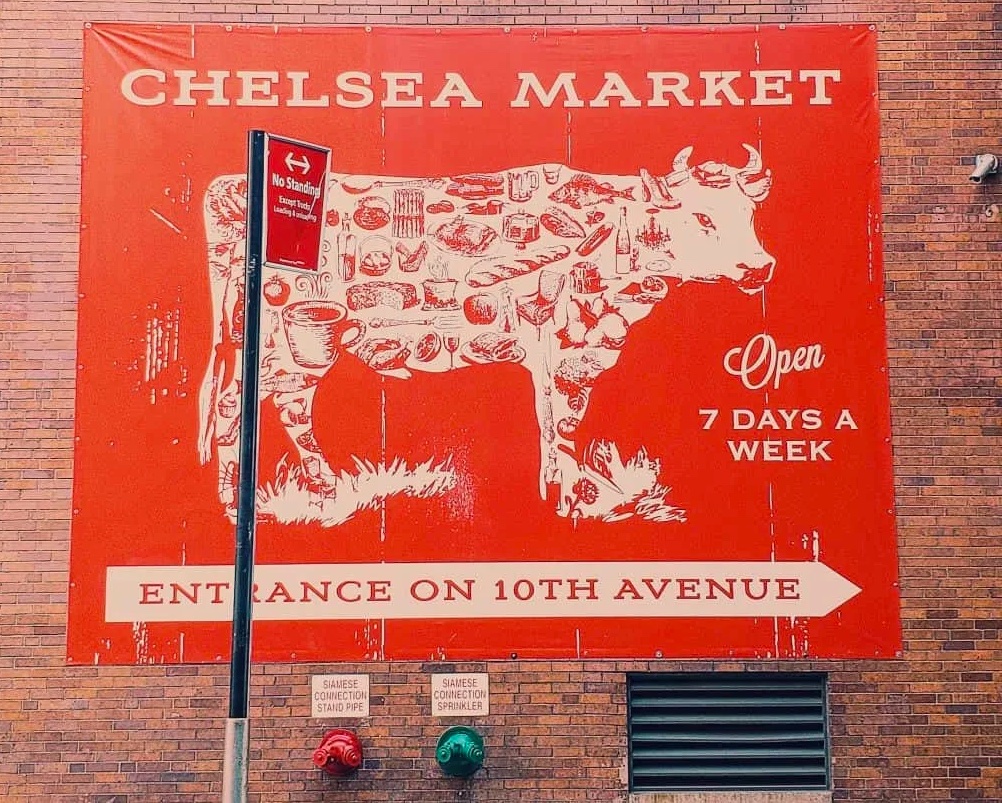 Housed inside a former industrial factory, Chelsea Market is a great place to go shopping for souvenirs or to grab some dinner before you head to our next stop.
After all, this place is positively brimming over with cool boutiques and unique eateries that you'll only find in New York City.
And some of my favorite shops include:
Artists and Fleas – Kind of like an upscale flea market/boutique with shop with a collection of local artisans who sell cool stuuf.
Bar Suzette Creperie
Doughnuttery – Delicious mini-doughnuts.
Takumi – A Japanese/Mexican fusion restaurant that is really good. If only eat at one place, let this be it.
Fat Witch Bakery – Their brownies are delicious.
Posman Books – Super fun bookstore.
Pro Tip: If you're not feeling any of the restaurants here or it's too damn crowded, visit Artichoke Bassile's pizza nearby and get a giant slice of their artichoke pizza. It basically tastes like the best spinach artichoke dip of your life has been smothered on top of an amazing slice of New York-style pizza.
Then, after you've shopped til you dropped, hop on the A/C/E train and take it to Penn Station. From the station, it's a short 5-minute walk up West 34th to the man, the myth, the legend, the Empire State Building.
Empire State Building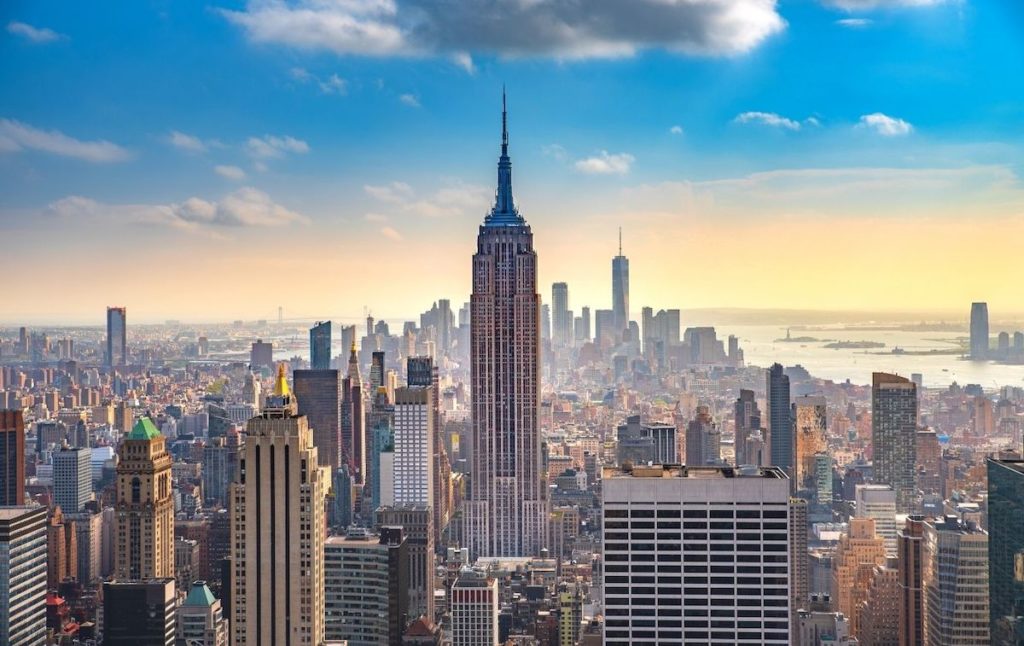 Depending on how you're doing on time and the time of year at which you're visiting, try to plan your visit to the Empire State Building around sunset.
Trust me, it's well worth it since the views from the top at this time of day are utterly incredible. Other than that, be sure to purchase your tickets well in advance since lines can be seriously long.
I also prefer the Empire State Building observation deck to the Top of the Rock since the experience at the Empire State Building is way more than just a view,
So, when you purchase your tickets, you'll be able to marvel at the stunning Art Deco interior before learning all about the history of the building in the Story of an Icon Museum.
You'll then marvel at interactive exhibits that demonstrate how the Empire State Building was constructed and see a full-scale replica f the original elevator before enjoying some of the best views in the city from the 86th-floor outdoor deck (this is the best place for photos) and the 102nd-floor indoor observatory. with floor-to-ceiling windows.
And for an extra special experience, stop by on Thursday evenings when you can enjoy live saxophone music from the 86th floor. Also, try and visit on a clear day since clouds can easily obstruct the gorgeous view at the top.
Pro Tip: If you already went to the Top of the Rock yesterday then I would skip the Empire State Building and walk the full length of The Highline until you reach Hudson Yards. Once here, I'd check out the Vessel (you need to reserve tickets to climb to the top but they're totally free) and then inside the Hudson Yards mall to experience some of the shops here.
Alternatively, if you're not totally exhausted after your trip to the Empire State Building, you could always take the 7 train to Hudson Yards and experience the Vessel before heading back to your hotel and calling it a night.
Additional New York Resources You'll Love
There you have it! That just about wraps up this mega epic guide to seeing New York in 2 days!
Tell me, did your fave activities make it on this 2 days in NYC itinerary? If not then let me know in the comments below.
And if you found this post useful, don't forget to join our email list before pinning this post now so that you can read it again later!