Not sure about the best places to visit in upstate New York? If so then you've come to the right place.
After all, I grew up in and around NYC for 30+ years and spent every summer of my life exploring the best places to visit in upstate NY with my family.
Yeah, I wanted to ride elephants in Thailand. But, we were broke. So, we spent most of our summers enjoying some of the best things to do in upstate New York instead.
Therefore, I am the beyond perfect person to introduce you to all of the best spots in upstate New York – places locals go and visitors don't really know about.
So, step away from the generic AF guidebook and use this handy local guide to the best towns in Upstate NY to plan your next vacation in Upstate NY.
This post may contain affiliate links. Please see my disclosure for more information. As an Amazon Associate, I earn a small commission from qualifying purchases.
Best Places to Visit in Upstate New York – Central New York
1. Cooperstown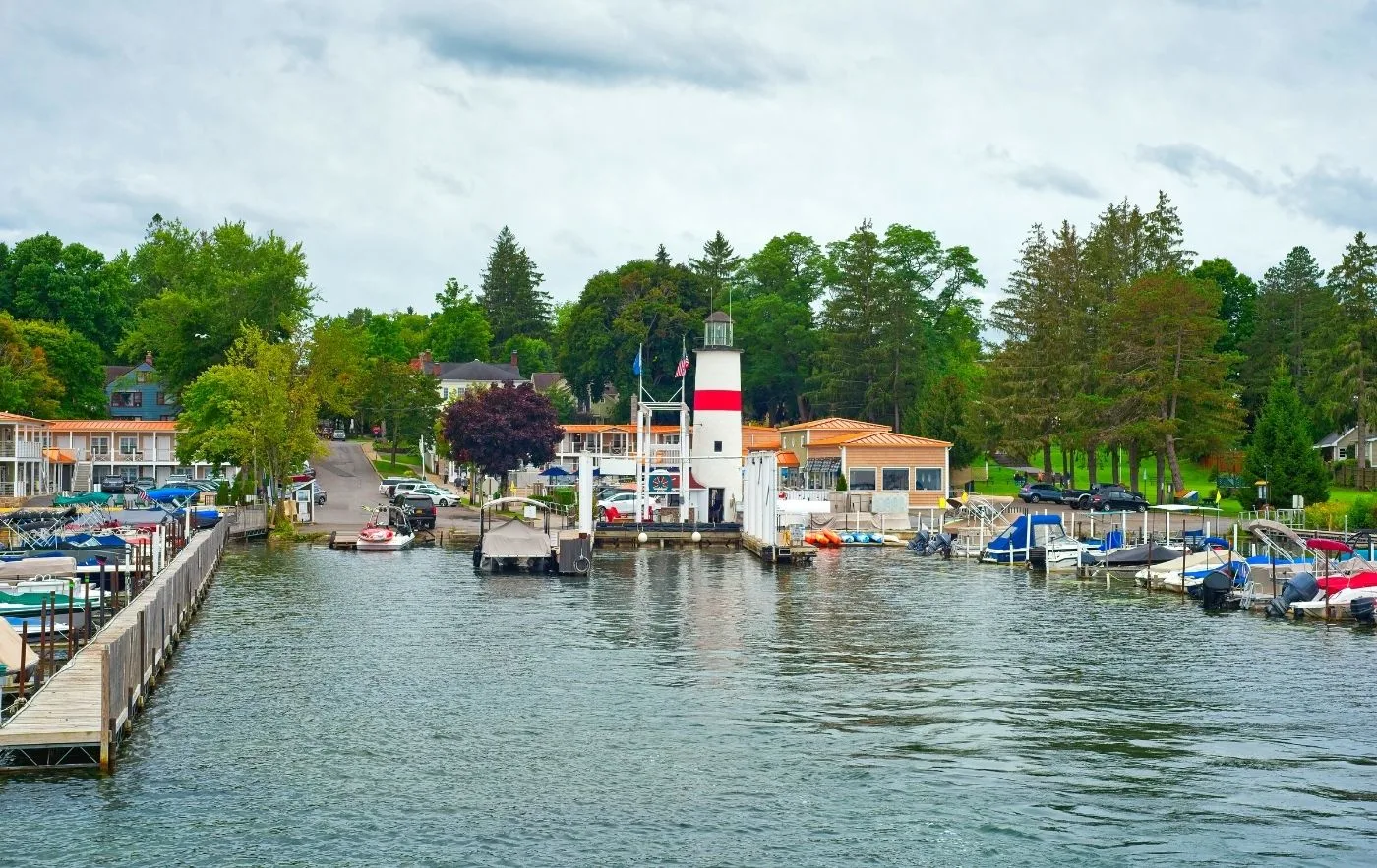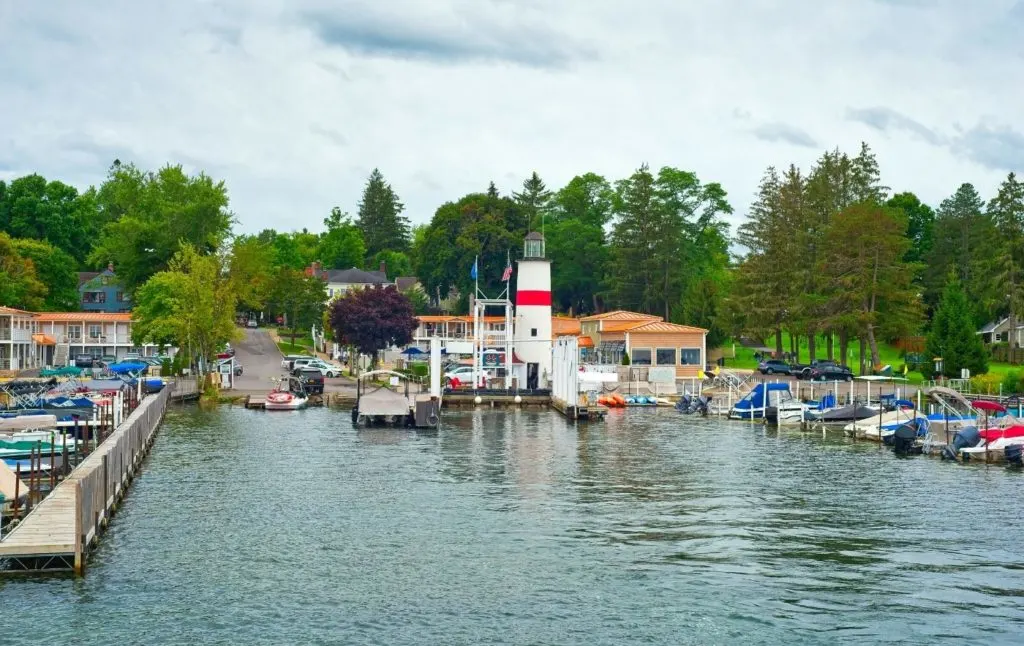 Cooperstown is a pretty tree-filled village with a vintage Americana feel. The downtown area has a cozy vibe, and there are plenty of independent boutiques and restaurants to explore.
It's also one of the must-see Upstate NY attractions for sports fans, many of whom will love to visit the National Baseball Hall of Fame.
The museum was opened in 1939 to celebrate 100 years of American baseball history and attracts 300,000 visitors every year.
Inside, you'll find baseball memorabilia and photographs, as well as a display of bronze plaques honoring the sport's top players.
2. Green Lakes State Park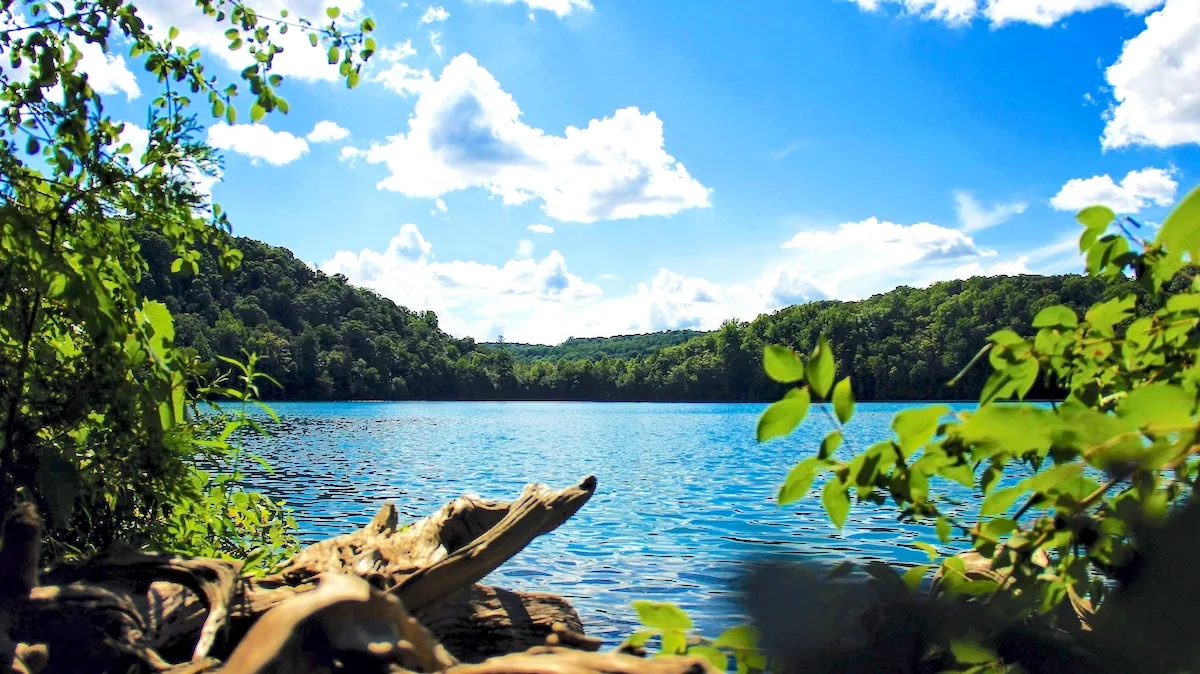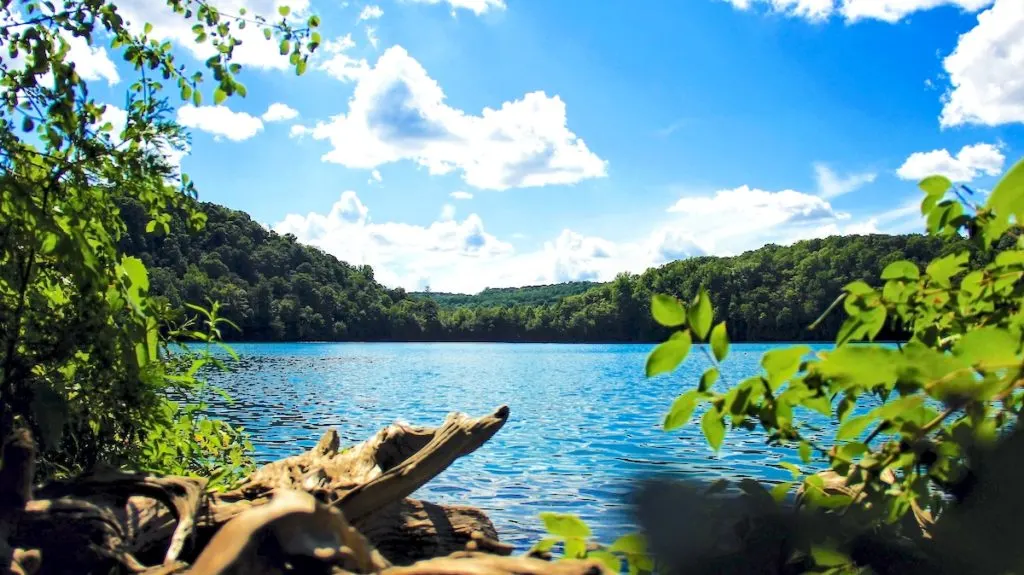 One of the best hidden gems in Upstate New York is Green Lakes State Park. It is a paradise for anyone who loves hiking and is easily one of the best state parks in New York.
There are miles of trails and woodland areas to explore by walking or snowshoeing in winter.
Green Lakes State Park has some of the best hikes in Upstate NY with something to suit every fitness level.
The trail around the park's glacial lakes provides a gentle walk, but there are also some challenging hikes for more experienced hikers
You can also enjoy a round of golf at the local golf course, take a dip at one of the park's designated swimming areas, or just relax on the beach.
Best Places to Visit in Upstate New York – The Catskills
3. Woodstock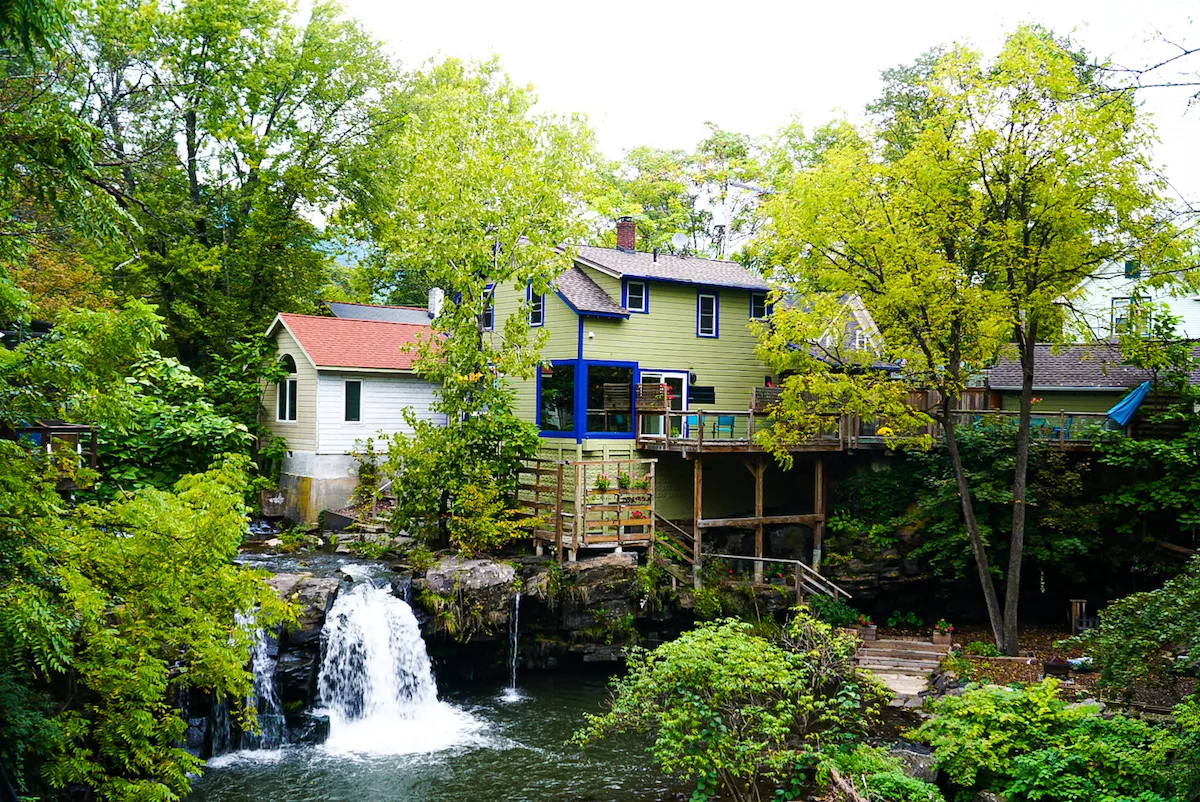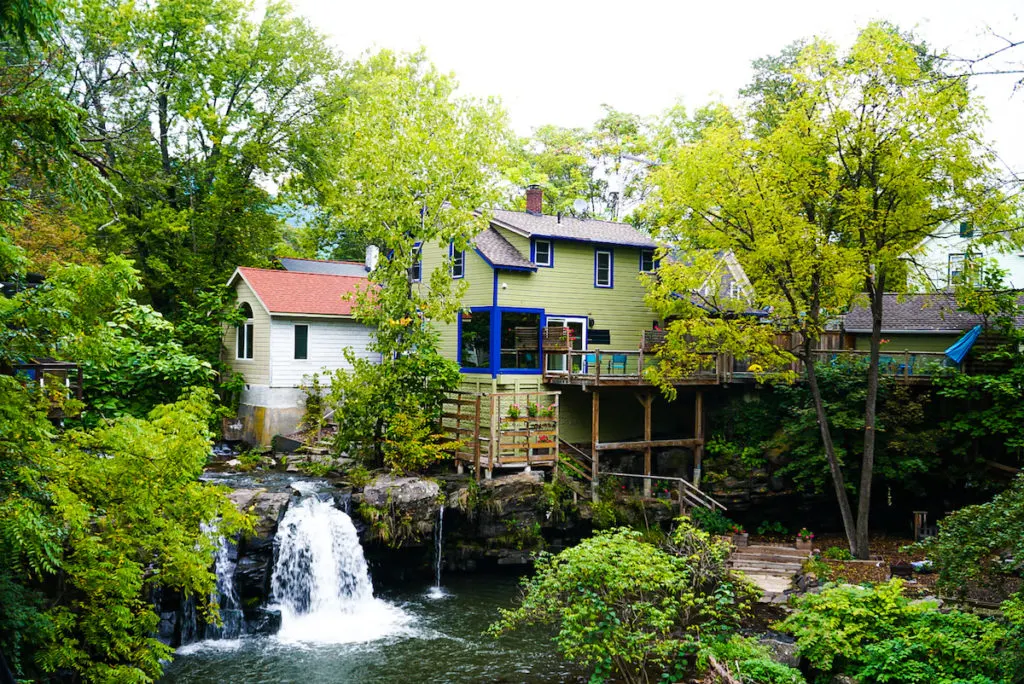 Although the famous festival actually took place in nearby Bethel, the town of Woodstock is still one of the cool places to visit in Upstate New York.
You can listen to live music, visit exhibitions, or take an art class at the Woodstock Byrdcliffe Guild.
Woodstock Main Street also has a great choice of artisanal boutiques, restaurants, and cafes.
Woodstock also has some great outdoor spots including Overlook Mountain, with an exciting museum display inside its fire tower, and one of the best waterfalls in Upstate NY: the Kaaterskill Falls.
This is the highest cascading waterfall in New York and it gets pretty busy at the bottom of the falls.
So, it's best to arrive early to avoid the crowds or head to the beach area at the top of the falls.
4. Phoenicia
The tiny hamlet of Phoenicia is hidden away in the High Peaks region of the Catskills. Its secluded location makes it the perfect spot for a relaxing spa break.
So, you'll find some of the best luxury resorts in Upstate NY here.
If you're looking for something more adventurous, the Phoenicia area is great for hiking and rafting on the Esopus Creek River.
You could also visit the Empire State Railway Museum, which opened in Middletown in 1960 and moved to Phoenicia in 1983.
It tells the history of the Catskill Mountain Railroads through photographs, dioramas, antique telegraph equipment, and other artifacts.
5. Windham
The town of Windham lies in the Catskill Mountains of New York State and is known as 'the Gem of the Catskills.'
Catskill Park is considered one of the best state parks in New York, and if you visit in the fall, Route 23 offers some beautiful leaf-peeping drives between Windham and Greenville.
Keen hikers can follow the multi-use Windham Path or the Escarpment Trail up to the summit of Windham High Peak.
The area is also home to Windham Mountain Resort. This is one of the best ski resorts in New York where you can explore ski trails to suit all skill levels or try your hand at snowboarding or snow tubing.
The resort is just as great to visit in summer, with a climbing wall, golf course, and mountain bike park.
And if you prefer something a little more relaxing, you can visit the spa or take a restorative yoga class on the mountaintop.
Best Places to Visit in Upstate New York – Adirondacks Region
6. Lake George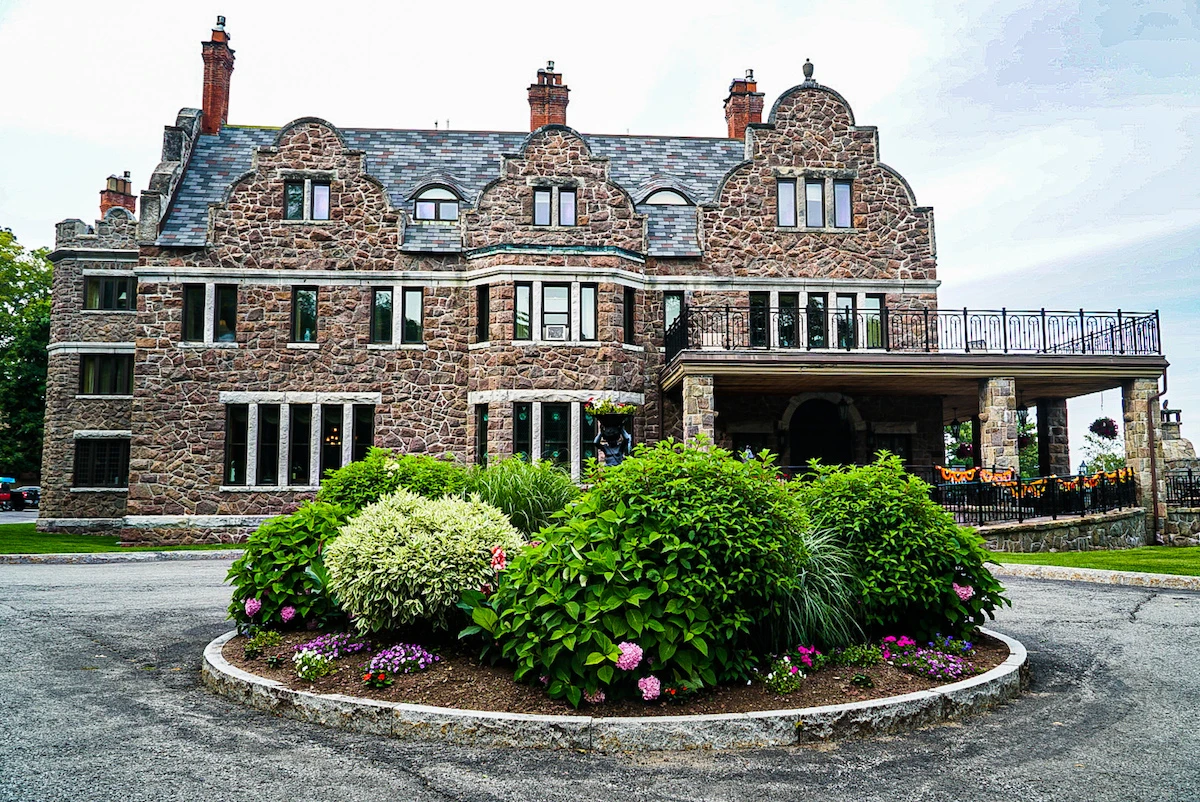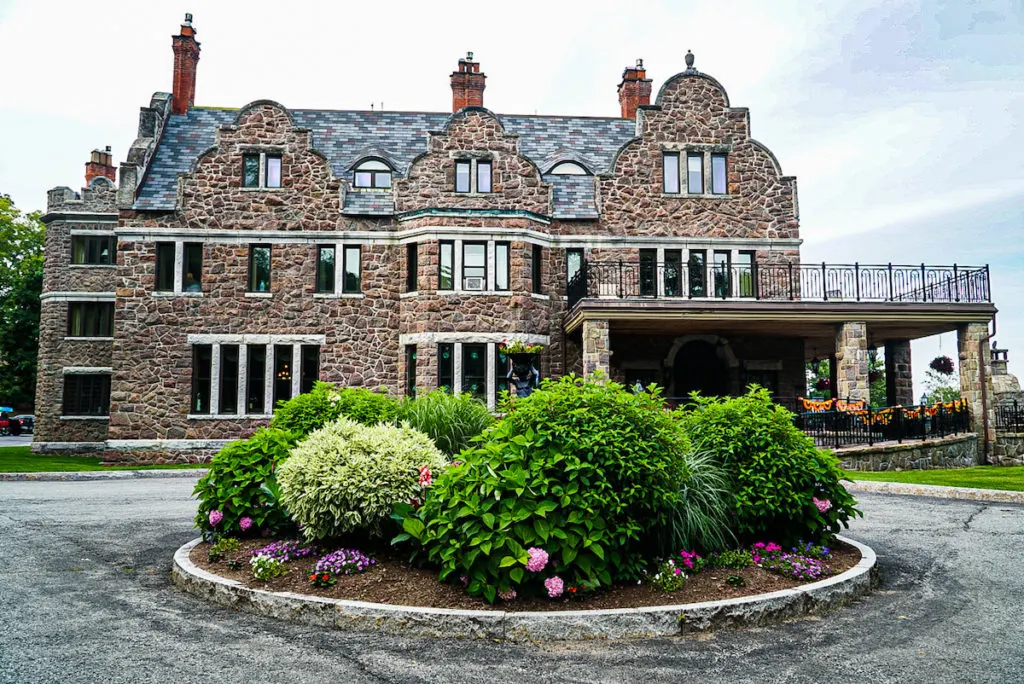 Lake George is known as 'the birthplace of the American vacation' and is one of the best places to visit in Upstate New York at any time of year.
In spring and summer, you could go on a boat tour or dinner cruise on Lake George, hike to Prospect Point, dive down to three submerged shipwrecks, or just relax on the beach.
In the fall, the Lake George attracts leaf peepers in search of autumn foliage, and a white water rafting tour makes an exhilarating way to experience the colorful display.
Finally, winter in Lake George is a magical time when you can go ice fishing on the lake or enjoy winter sports at the Gore Mountain Ski Center, New York's largest ski resort.
You can also warm up with an epic brew at one of the best breweries in Lake George, NY.
7. Lake Placid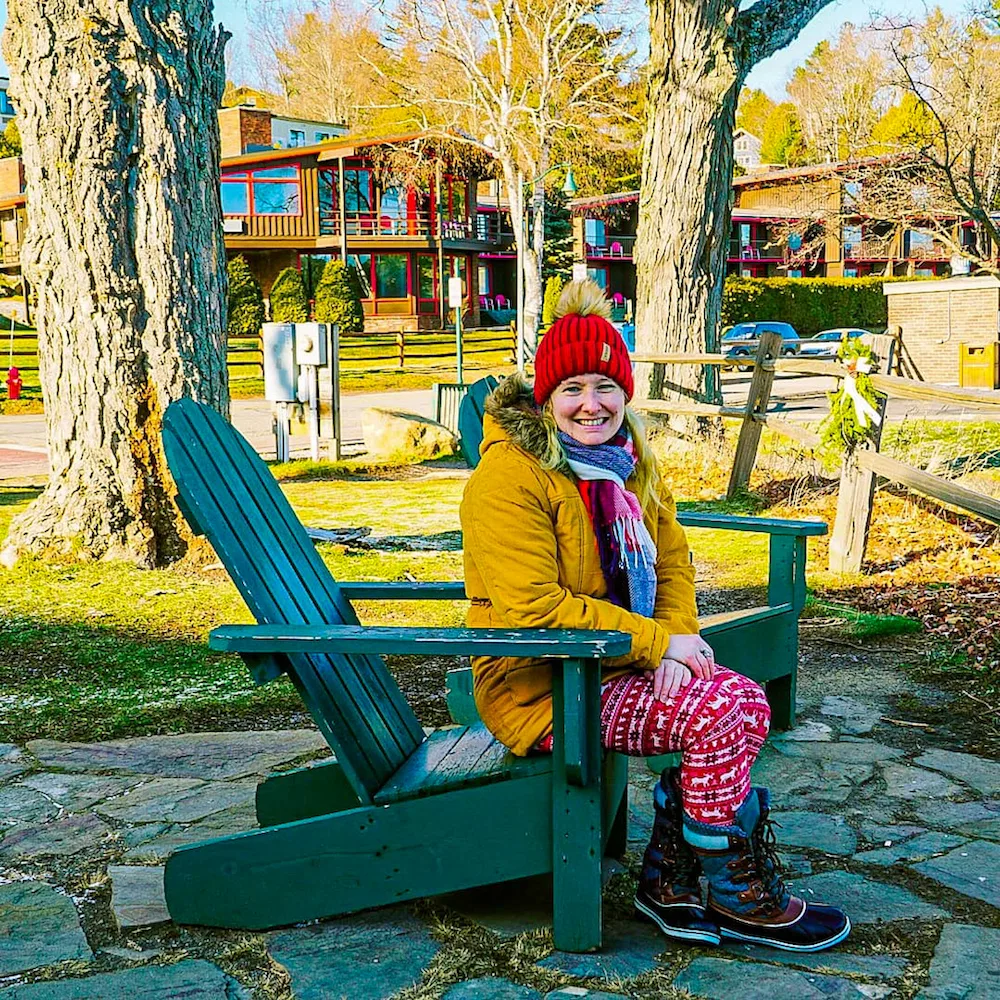 If you love crisp mountain air, dramatic scenic views, and great skiing, you must visit Lake Placid in winter.
The High Peaks in the Lake Placid Region is one of the best locations for alpine skiing in the Eastern United States.
In fact, the skiing here is so good that it has twice hosted the Winter Olympic Games!
Some of the best ski resorts in New York State can be found in the Lake Placid area, including Whiteface Mountain.
This is one of New York's best skiing spots, with 87 downhill runs and a vertical drop of 3400 feet. The area is also home to some of the best hikes in the Adirondacks like the hike up Whiteface.
Afterward, warm up with a beer at one of the best breweries in Lake Placid.
8. Saranac Lake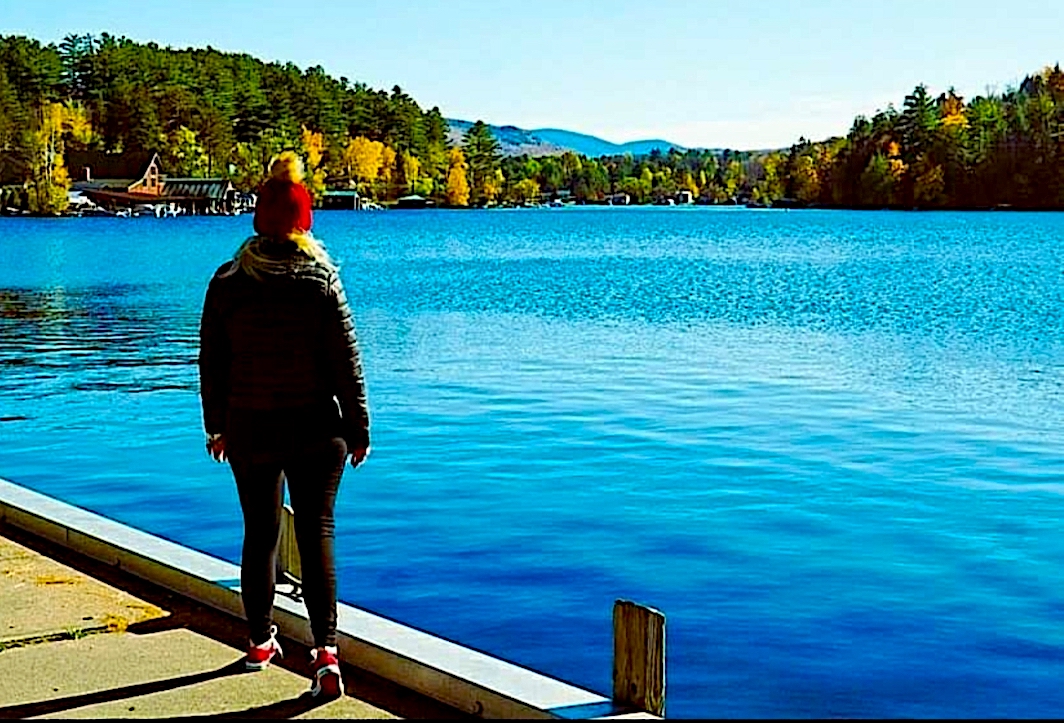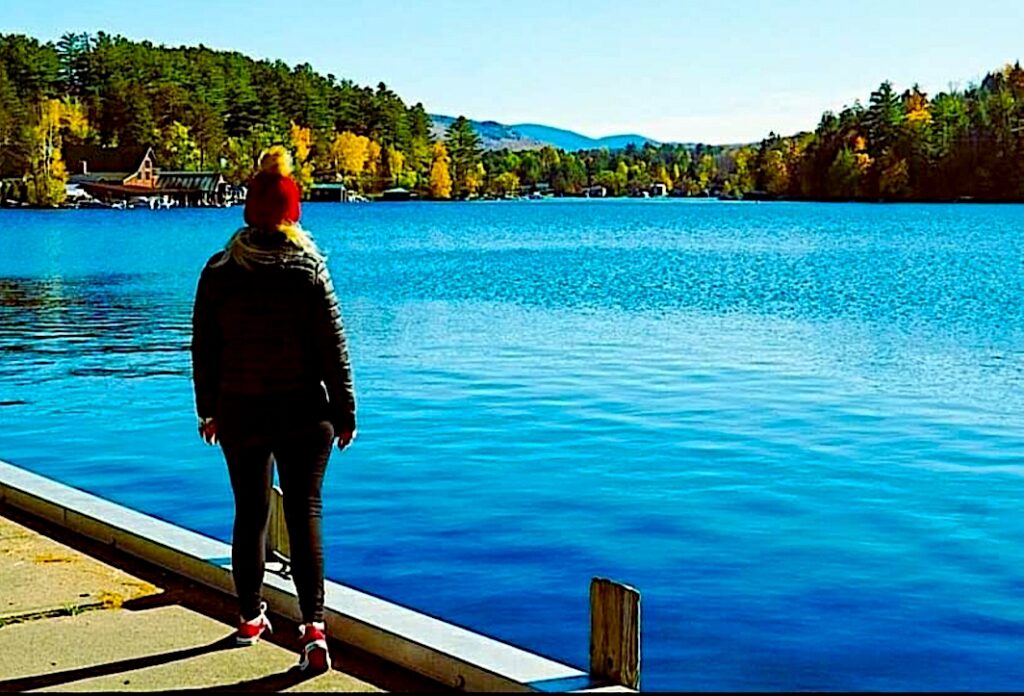 Saranac Lake isn't as well known as some other spots on this list, but its natural beauty makes it one of the best places to visit in Upstate New York.
Plenty of outdoor activities are available any time of year, from hiking, fishing, and boating in the summer to snowmobiling, snowshoeing, and sleigh rides in the winter months.
Saranac Lake also has some of the best breweries in the Adirondacks, which are great to visit all year round.
9. Ausable Chasm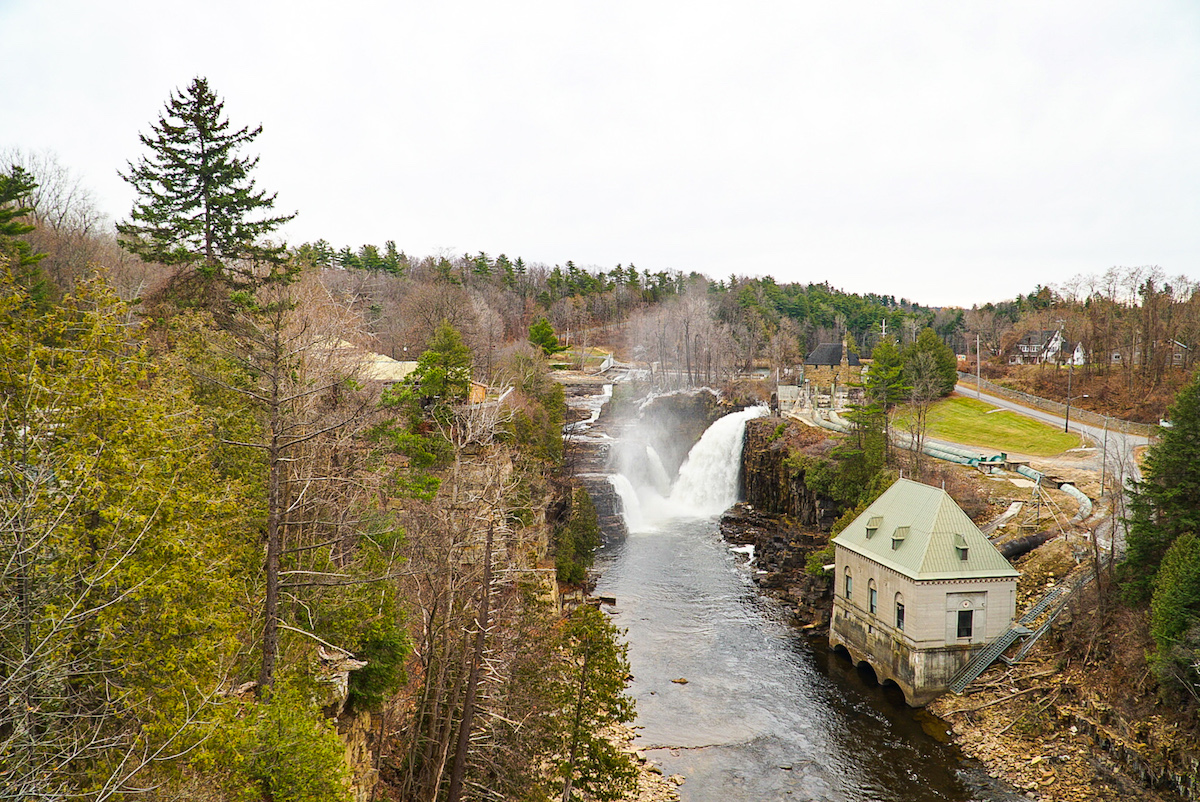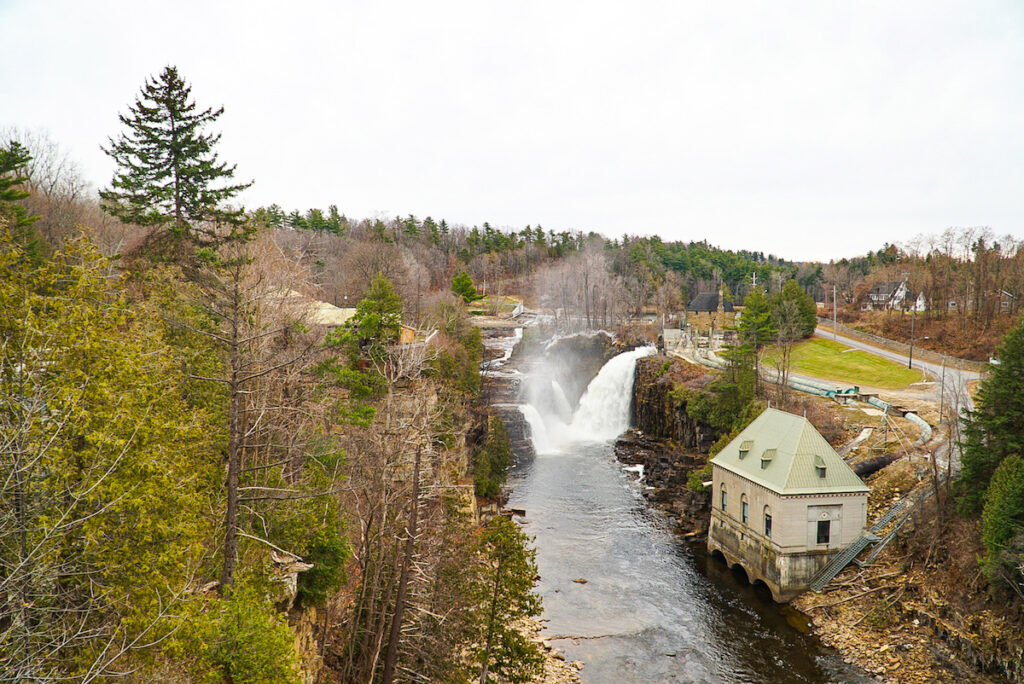 Ausable Chasm is a scenic canyon known as the 'Grand Canyon of the Adirondacks.' So, if you love stunning nature and scenery, this is one of the best places to visit in Upstate New York.
There's a vast array of things to do at Ausable Chasm, including rock climbing, rappelling, and thrilling river raft tours.
You can explore the canyon on one of the self-guided walking/hiking trails or join a guided tour to learn more about the area from your expert guide.
As dusk falls, you can take a lantern tour in the darkness of the canyon, and in winter, you can see massive icicles towering 150 feet above the river.
Best Places to Visit in Upstate New York – Capital Region/Hudson Valley
10. Saratoga Springs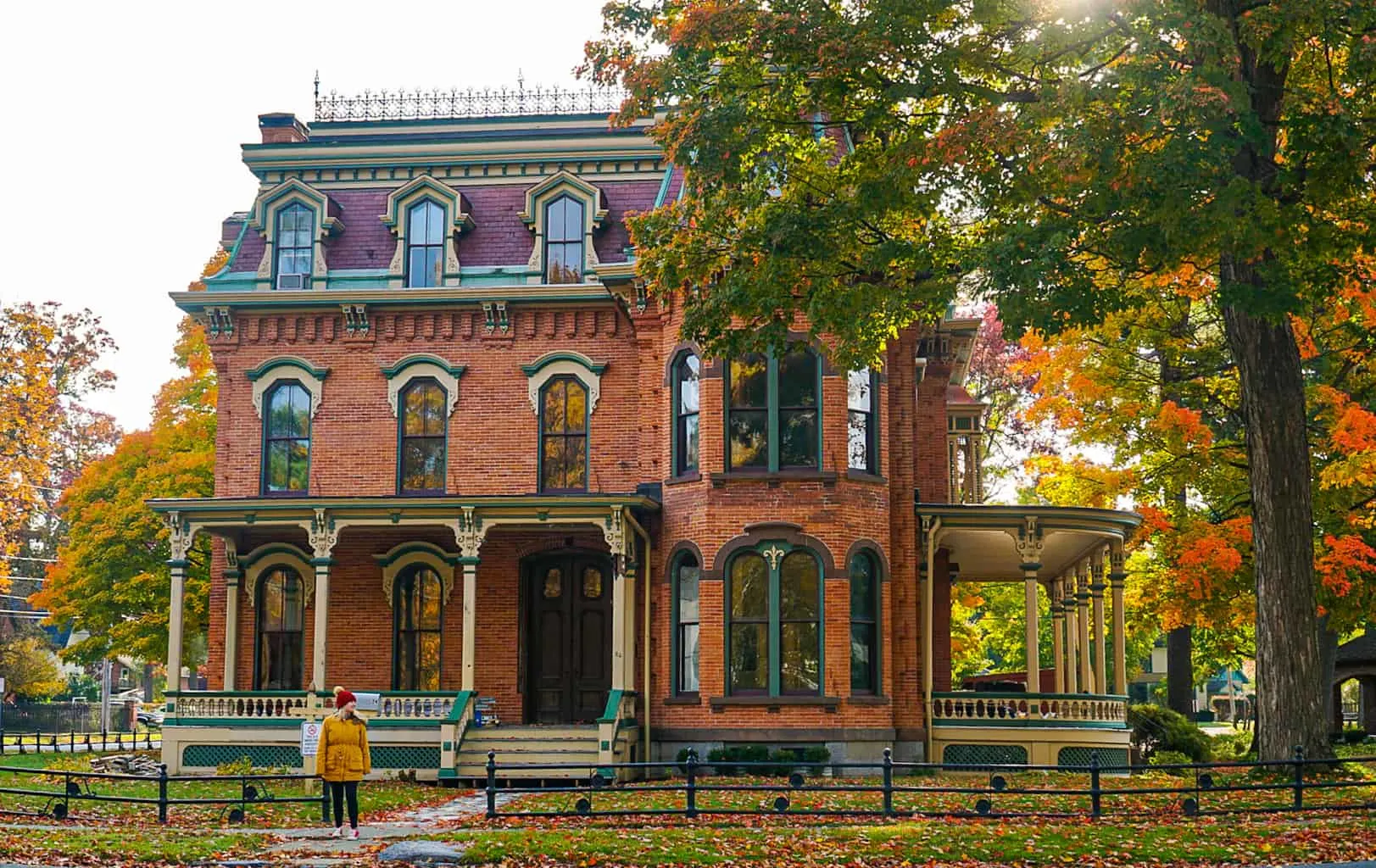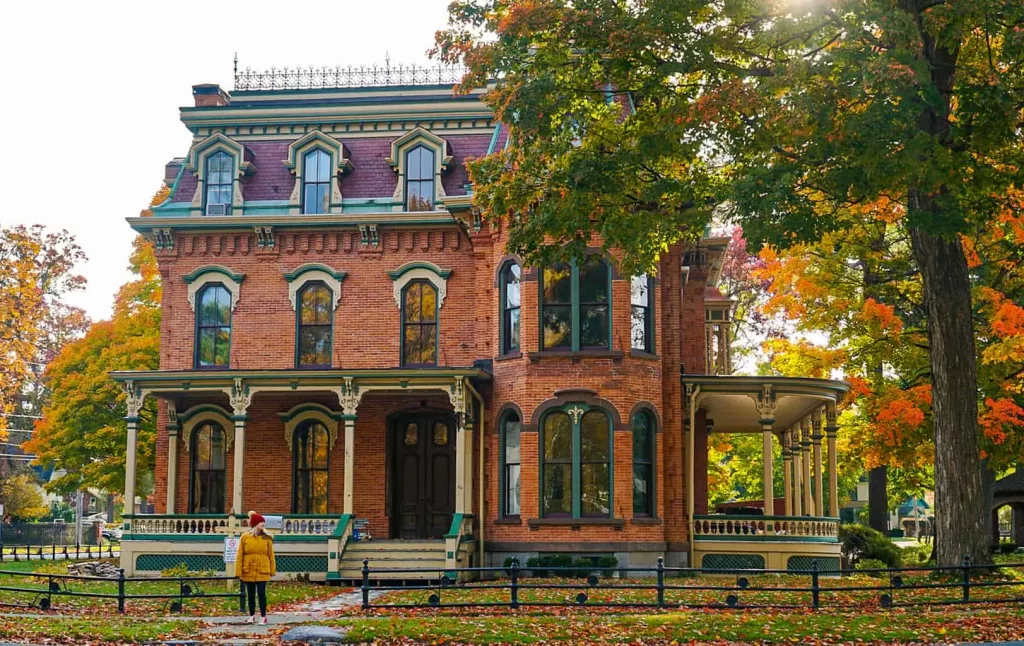 Saratoga Springs has been a popular spot for Upstate New York vacations since the 1800s, thanks to its mineral springs and racetrack.
Because if you're a horse racing fan, you'll already know about the prestigious heritage of the Saratoga horse races.
They take place at the Saratoga Race Track every summer from mid-July through Labor Day, and the vintage glamor attracts crowds of enthusiasts wearing stylish and flamboyant outfits.
Saratoga Spring is also home to the National Museum of Racing and Hall of Fame, which honors the achievements of American jockeys, trainers, and thoroughbred racehorses.
And for those who need extra relaxation, Saratoga Springs is the ideal destination for luxurious pampering.
Resorts in the area use waters from the natural underground spring in a variety of treatments, making this place a great place to enjoy some of the best hot springs in New York.
11. Beacon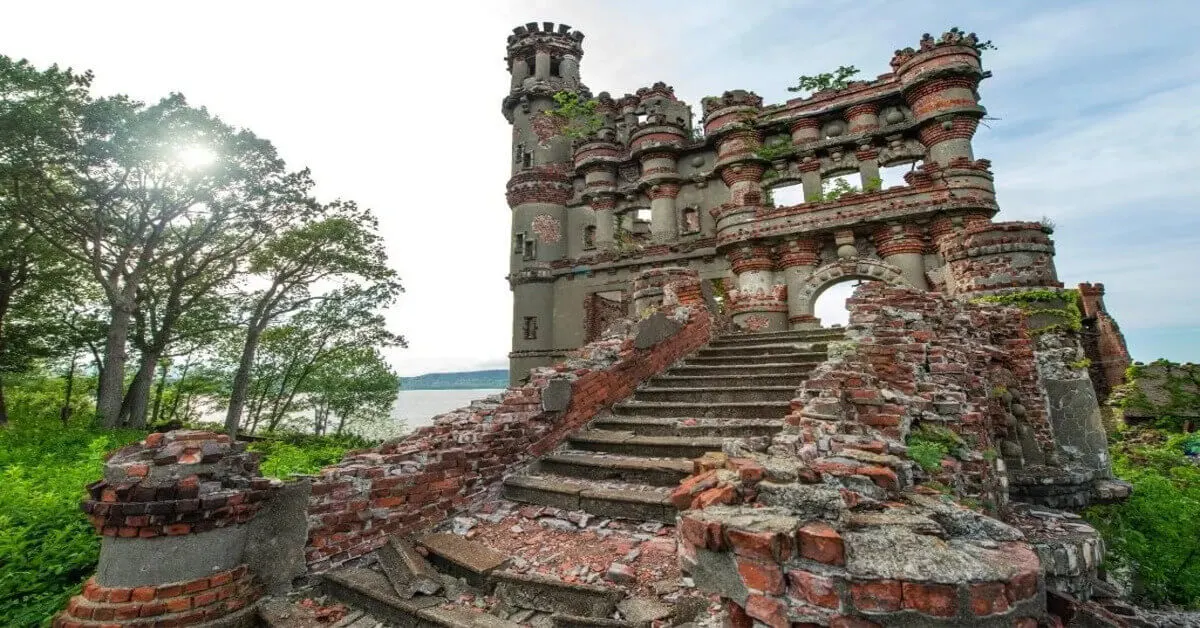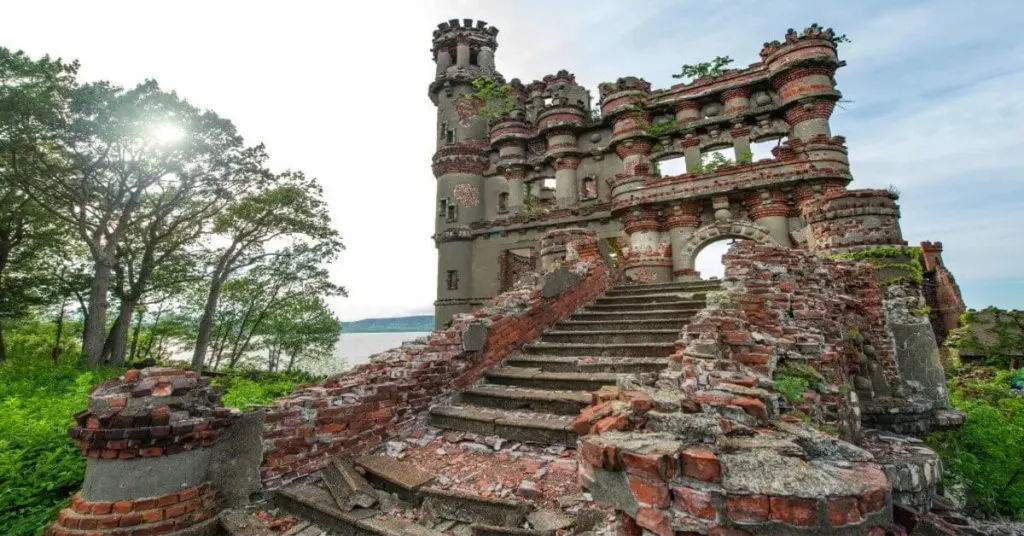 The charming Hudson Valley town of Beacon is home to the Dia Beacon Museum.
This bold contemporary art museum is housed in a former Nabisco cookie factory and showcases modern art from the 1960s to the present day.
Beacon is also very close to the Hudson Highlands State Park, which is home to some of the best hikes in the Hudson Valley.
The park also has plenty of breathtaking scenery and you can follow a hiking trail to enjoy the stunning views from the peak of Beacon Mountain, the highest point in the Hudson Highlands.
Other highlights include Bannerman Castle, an abandoned military warehouse that hosts special events within its grounds and that is one of the best castles in New York.
12. Kingston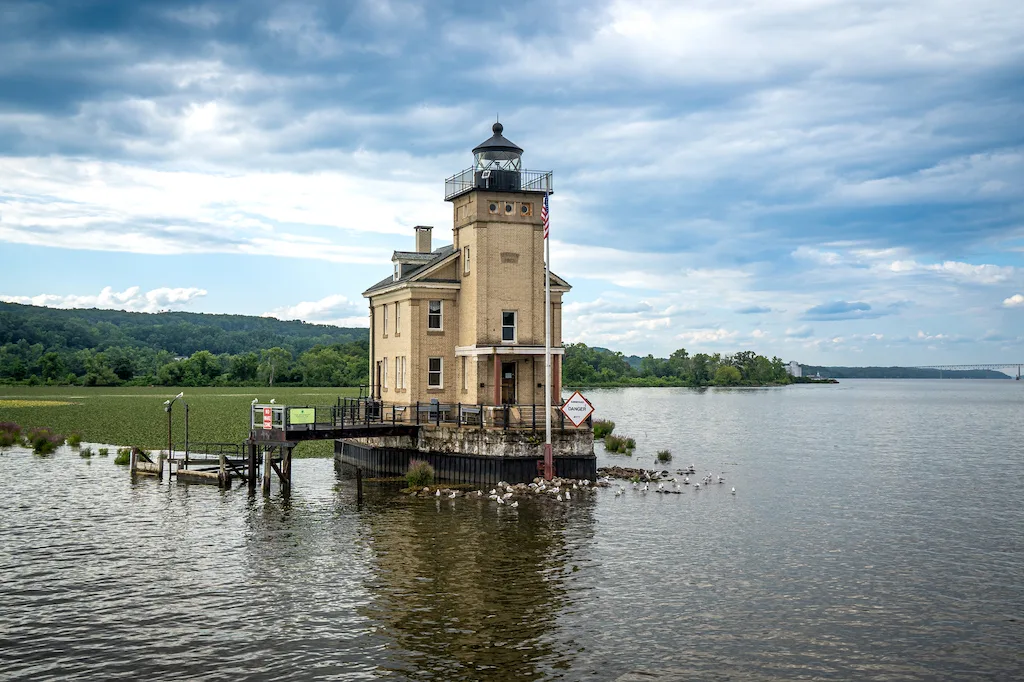 The small city of Kingston makes the perfect location for an Upstate New York vacation.
It was New York's original capital and was an important site during the American Revolution. So, history is waiting for you around every corner.
You can even take a boat trip on the Hudson River, explore the Hudson Maritime Museum, or visit Four Corners, the only intersection in the country where all four buildings date from before the Revolutionary War.
The town also regularly hosts farmer's markets, that you can enjoy after exploring several cute independent stores.
Kingston is also within easy reach of the Hudson Valley and the Catskills, making it the ideal base for exploring the region's natural beauty.
13. Hudson
With history, art, and great places to eat, Hudson is another one of the best places to visit in Upstate NY.
In fact, this historic port town is often considered the Brooklyn of Upstate New York, thanks to its fashionable downtown area filled with beautiful 100+ year-old buildings.
Must-see spots in Hudson include the Basilica Hudson, a reclaimed industrial factory where you can attend art, music, and film events, and the Carrie Haddad Gallery, which exhibits fantastic contemporary art.
And if you love picturesque sunsets, it's hard to beat a boat tour of the Hudson-Athens Lighthouse as the sun sinks over the horizon.
14. Poughkeepsie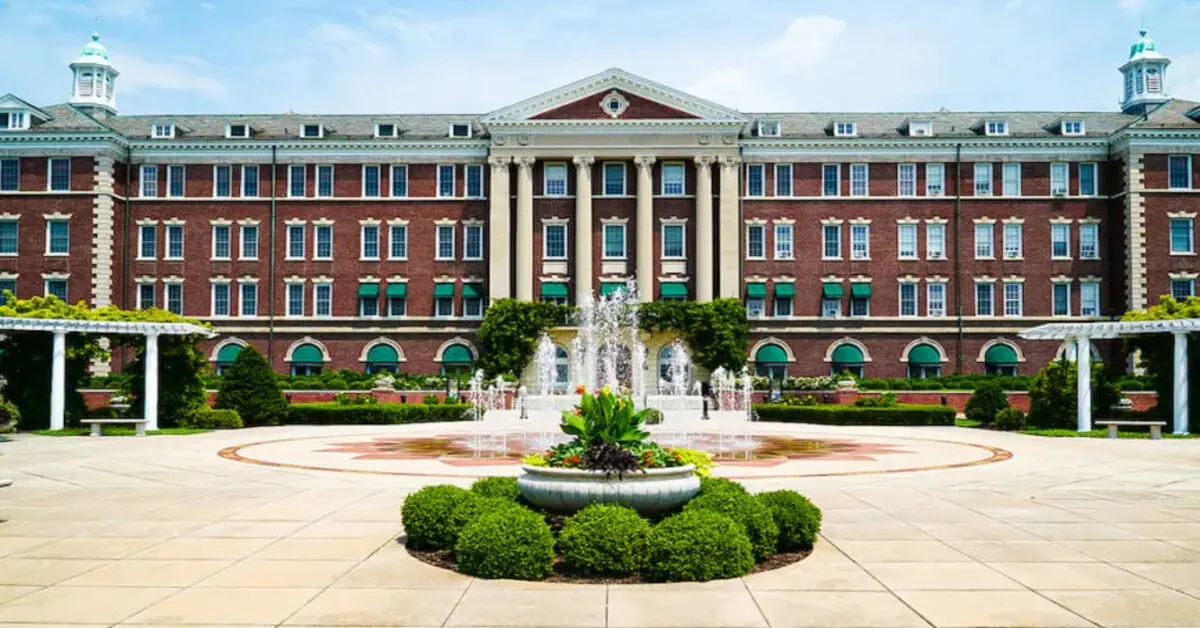 The City of Poughkeepsie is known as 'the Queen City of the Hudson' and was settled by the Dutch in the 1600s.
It became New York State's second capital shortly after the American Revolution and has many cultural attractions such as the Bardavon 1869 Opera House and the Frances Lehman Loeb Art Center.
Poughkeepsie is also an excellent base for exploring Hudson Valley wineries or going leaf-peeping in the fall.
While you're in the city, be sure to take a stroll across the world's highest elevated pedestrian bridge, the Walkway over the Hudson.
15. New Paltz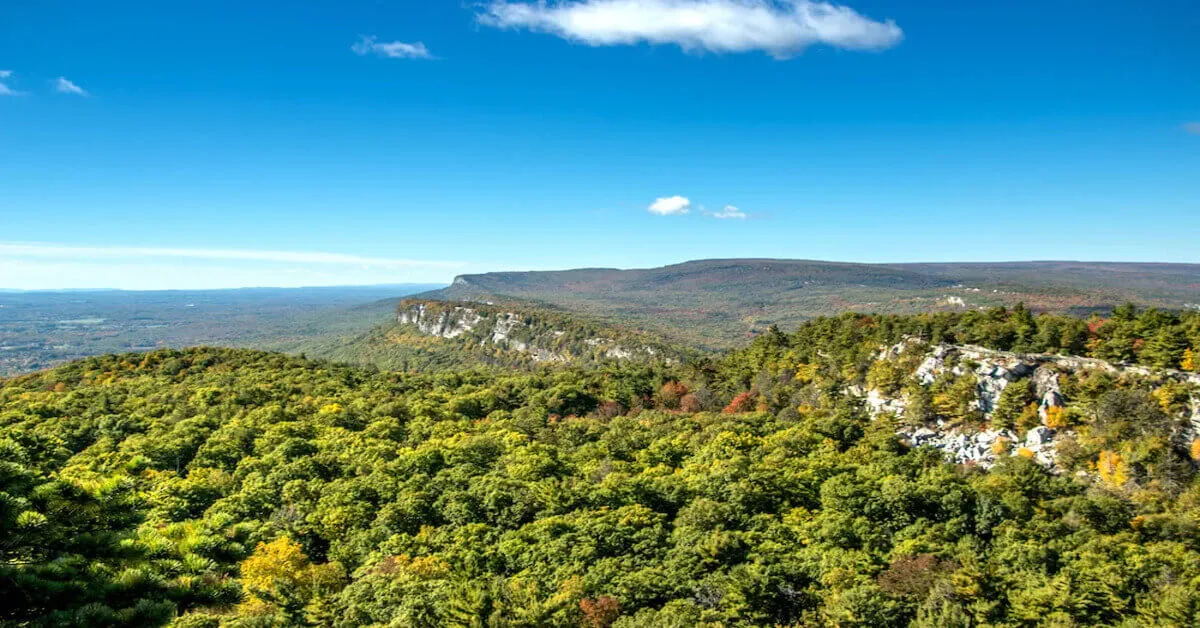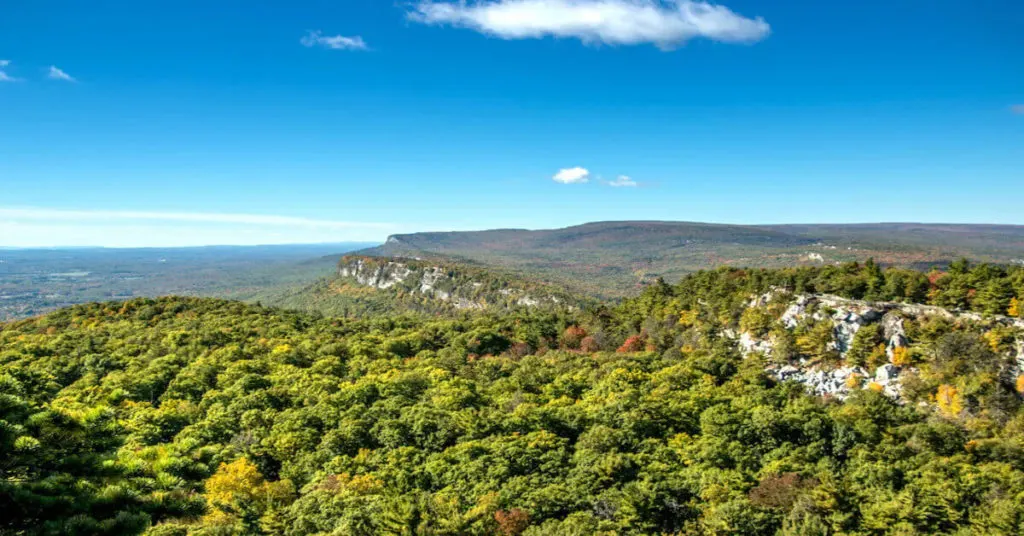 Founded by French Huguenots in 1678, New Paltz is one of the best places to visit in Upstate New York for history lovers.
Walking down Historic Huguenot Street is a fascinating step back in time, with houses, period rooms, and displays that give you a glimpse into American history.
New Paltz is also fantastic for nature lovers, who can walk, jog, or cycle down the Wallkill Valley Rail Trail, and the Dorsky Museum is worth a visit for contemporary art experiences that make you think.
16. Mohonk Preserve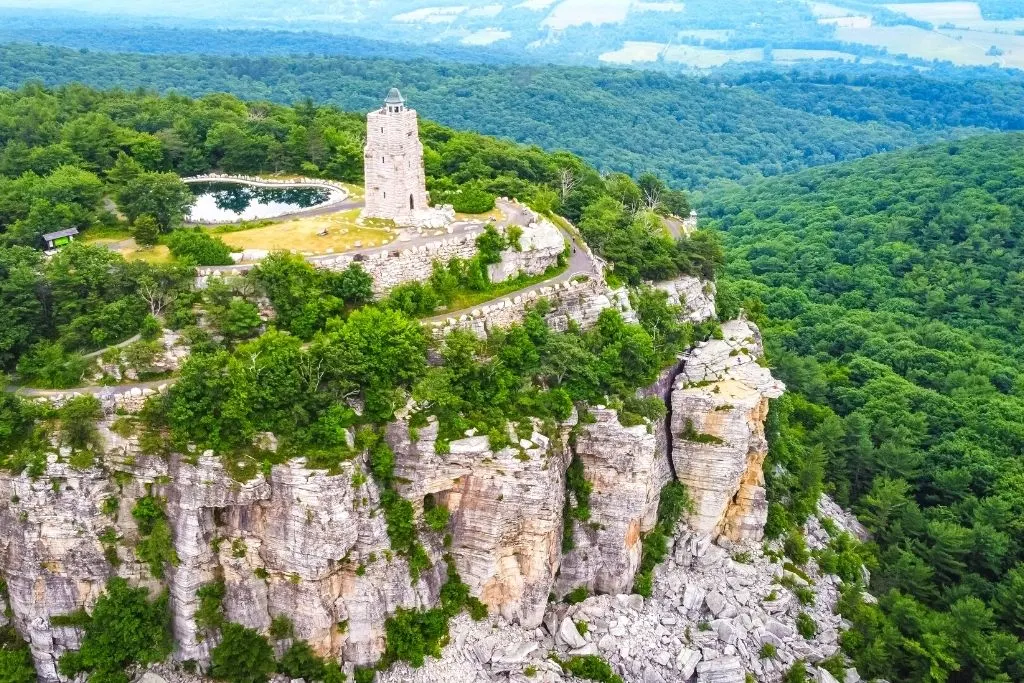 You'll find the Mohonk Preserve just a few miles away from the town of Hudson and it's one of the best places to visit in Upstate NY if you love the great outdoors.
The Preserve protects the northern Shawangunk Ridge and aims to inspire people to both explore nature and take care of it.
You can make your visit to the Mohonk Preserve as challenging as you like. There are historic carriage roads ideal for hiking and the cycling trails are also perfect for a horseback ride.
The world-famous Gunks cliffs offer a challenging climb with a fantastic view as your reward, and in the winter months, the Preserve's terrain is excellent for skiing and snowshoeing.
Best Places to Visit in Upstate NY – Finger Lakes Region
17. Pittsford
The small village of Pittsford was incorporated in 1827, making it the oldest village in New York.
It's a charming and walkable village known for its historic preservation district with several restored buildings.
These include the Phoenix Building, a former tavern built around 1820, and Thomas Young's House, a historic home built in 1818.
The historic Erie Canal also runs through Pittsford, and the canal waterfront has been redeveloped for recreational use.
The canal is also open to some boats from May through November each year.
18. Conesus Lake
Conesus Lake is the most westerly of the 11 lakes in the Finger Lakes region.
Like the other lakes, Conesus Lake offers some of the best hiking in Upstate NY, while its shallow waters are ideal for swimming and fishing.
Then, when the lake freezes over in winter, pastimes like snowmobiling and ice fishing are popular.
Additionally, each year, on July 3, local residents participate in a festival known as the 'Ring of Fire.'
The event starts at dusk and sees a ring of flares lit around the Lake's entire shoreline while firework displays illuminate the sky along the full length of the lake.
19. Jamestown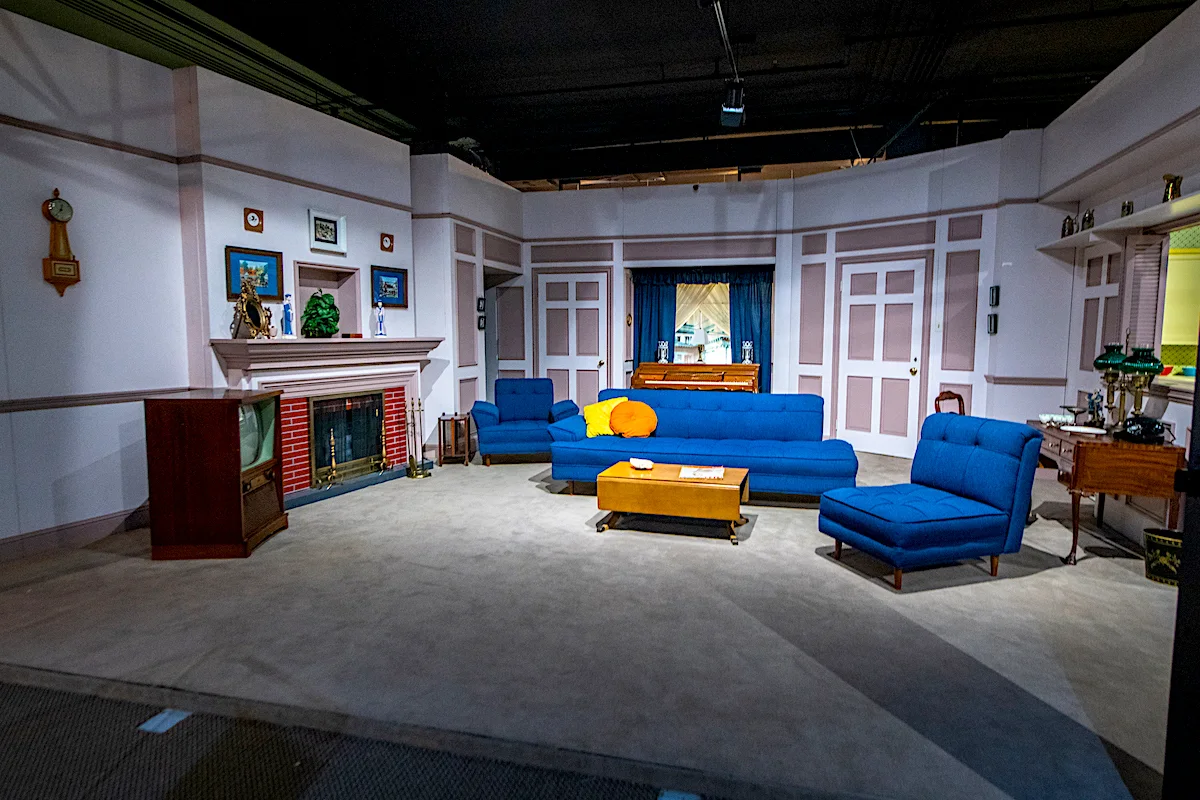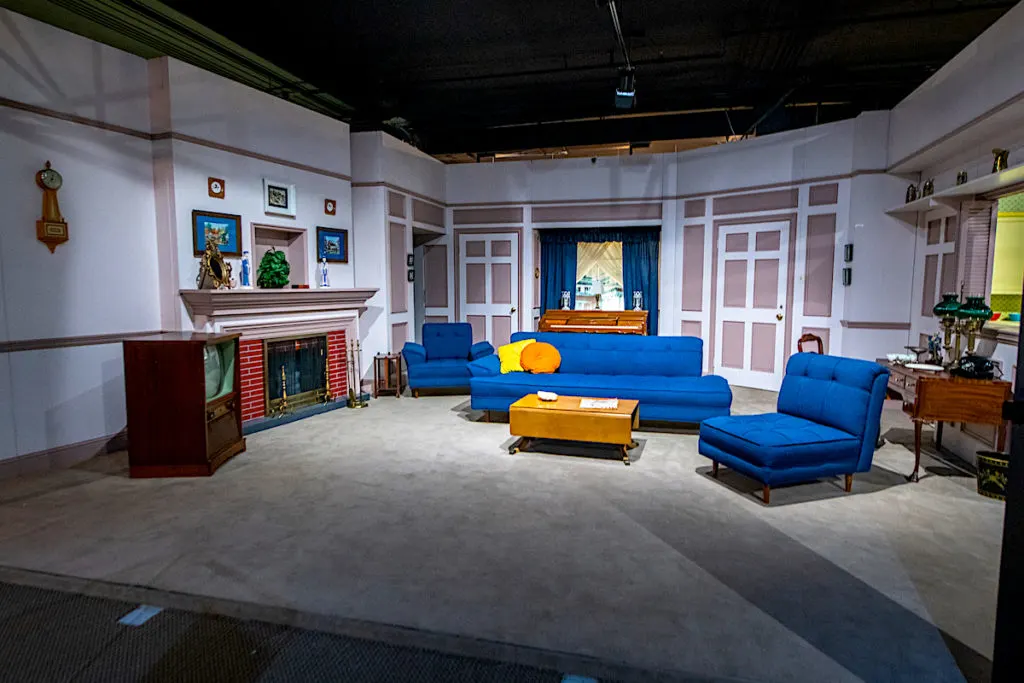 The city of Jamestown was Lucille Ball's hometown, and it's now the home of one of the best Upstate New York attractions: The National Comedy Center.
This fascinating museum showcases the history of comedy in the US through over 50 immersive experiences, ranging from early vaudeville acts to today's viral memes.
And if you're inspired by your visit to the National Comedy Center, you can visit the Lucille Ball Desi Arnaz Museum to learn more about Lucille and Desi's lives and careers.
20. Geneva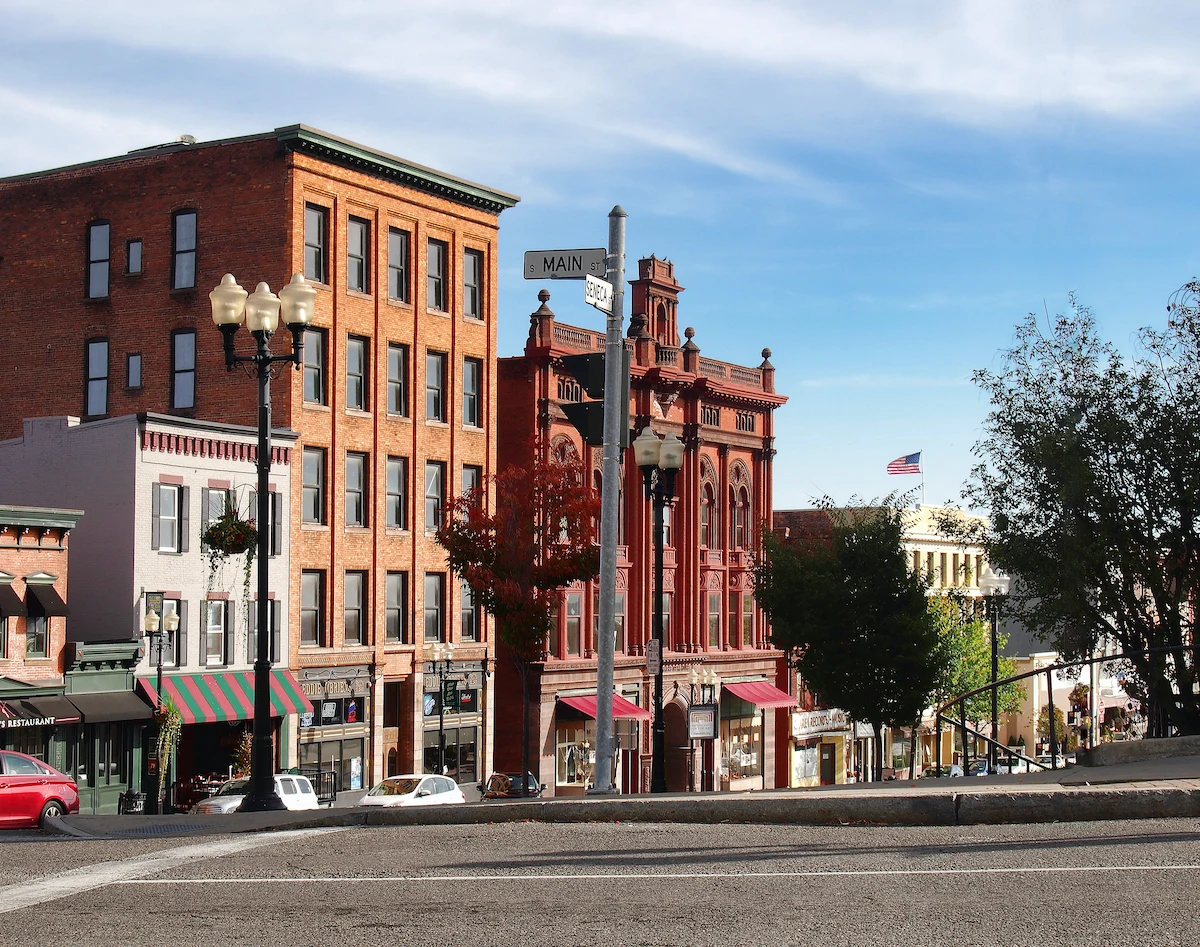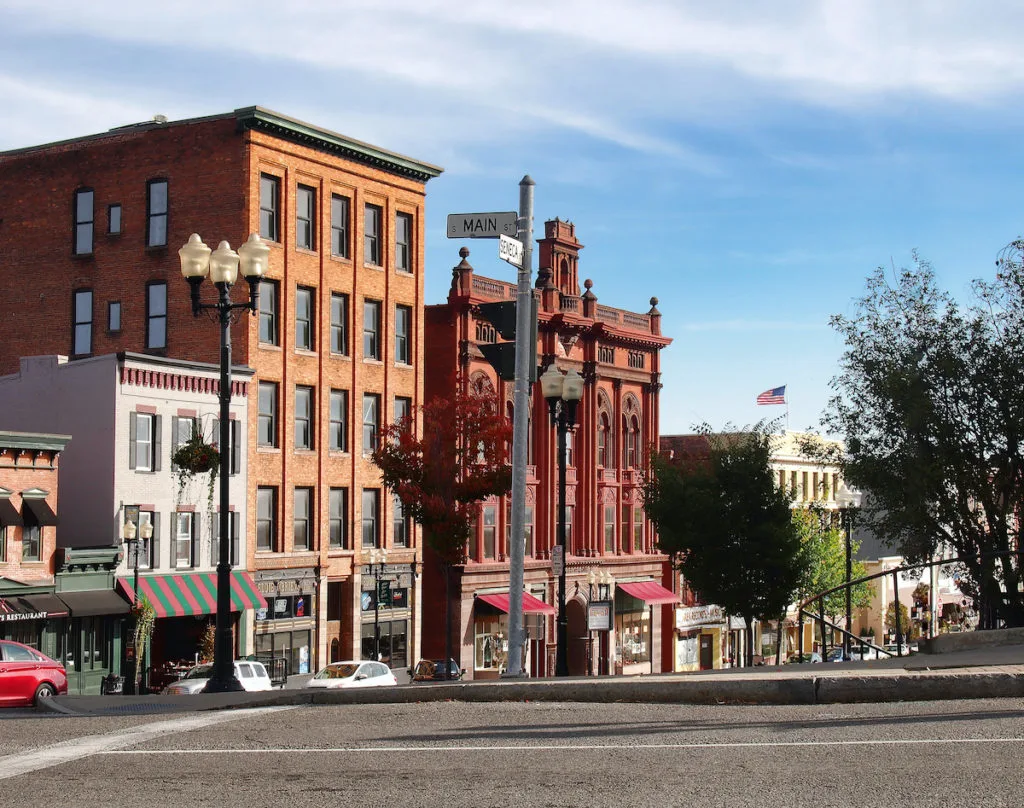 Geneva lies on the shores of the beautiful Seneca Lake, and it's the perfect spot for a picturesque drive.
After all, Seneca Lake is the largest lake in the Finger Lakes region, with sparkling blue waters that turn a shimmering shade of cobalt when the sun shines on them.
Route 14 follows the curves of Seneca Lake from Geneva to Watkins Glen, passing some excellent lunch spots as you pass by one of the best lakes in New York.
Geneva is also a must-visit for craft beer enthusiasts, as it's home to two of the Seneca Lake breweries on the Finger Lakes Beer Trail and some of the best Seneca Lake wineries.
21. Corning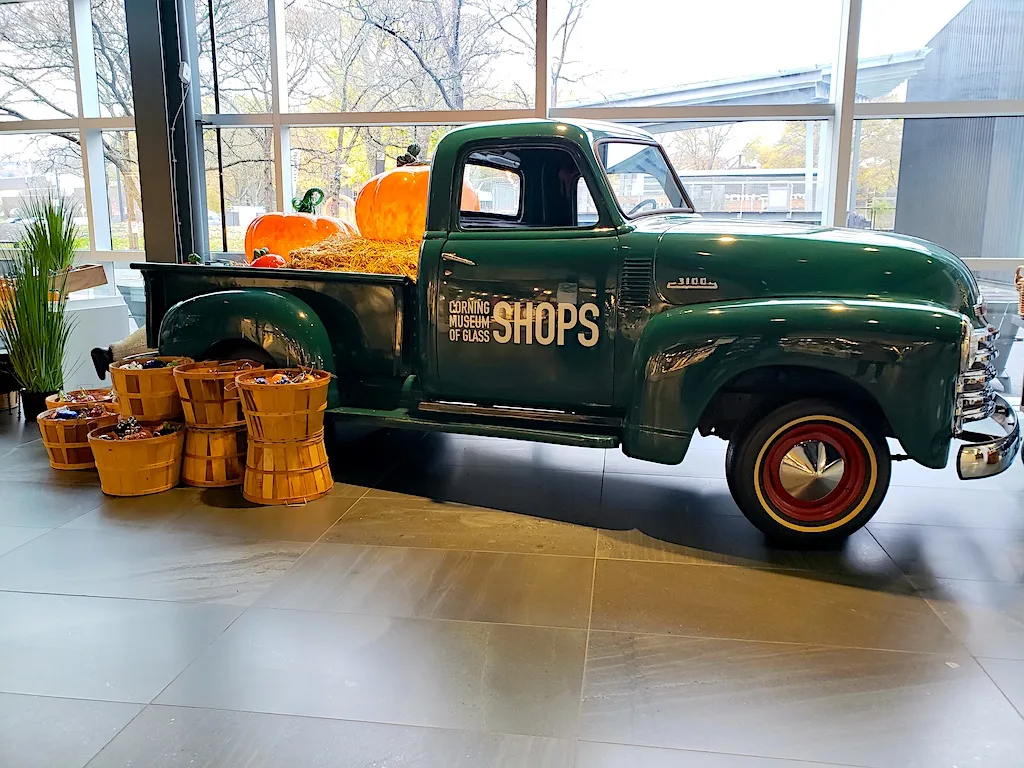 Sitting on the picturesque Chemung River, Corning is a classic Upstate New York destination with a range of boutiques, restaurants, galleries, and museums to choose from.
This tiny city, with a population of just over 10,000, is home to the world's biggest glass museum.
The Museum of Glass is filled with fascinating exhibits and workshops dedicated to the art, science, and history of glass.
You can learn how glass is made, watch experts blow glass, and then have a go at making glass yourself!
The Rockwell Museum is also worth a visit to see its diverse collection of multicultural American art.
22. Watkins Glen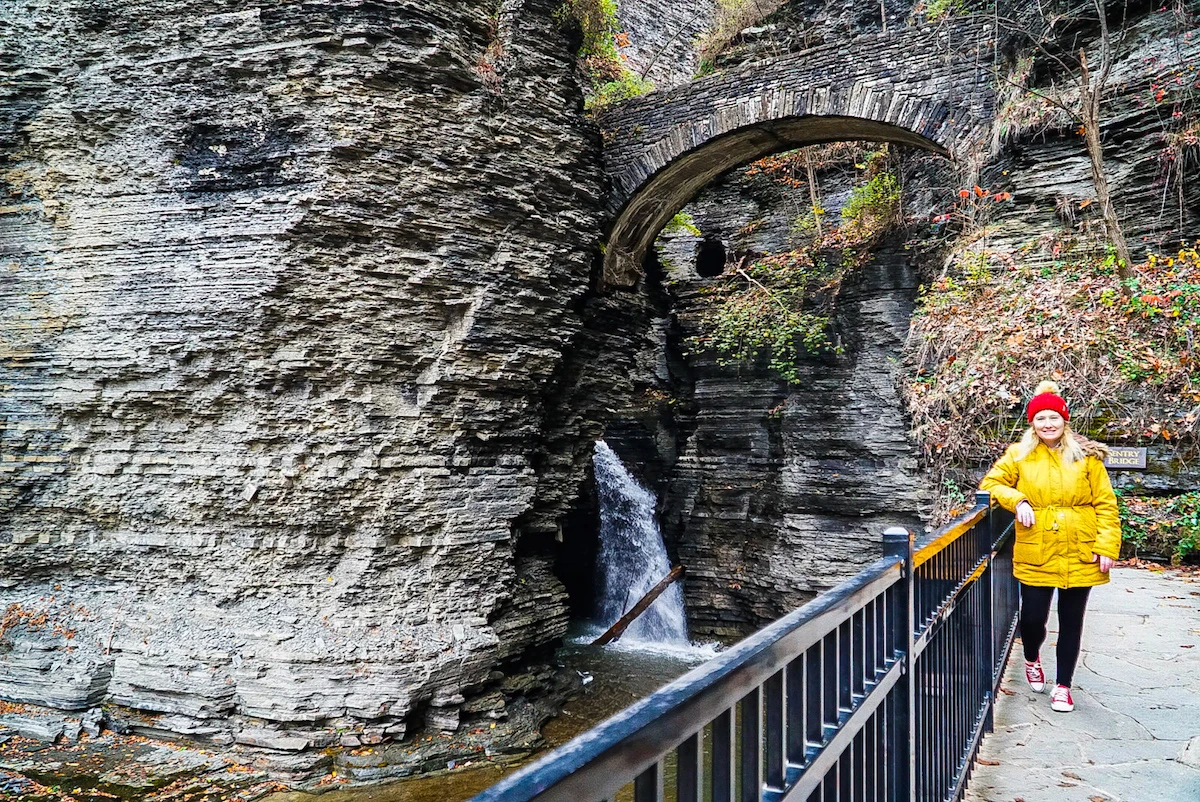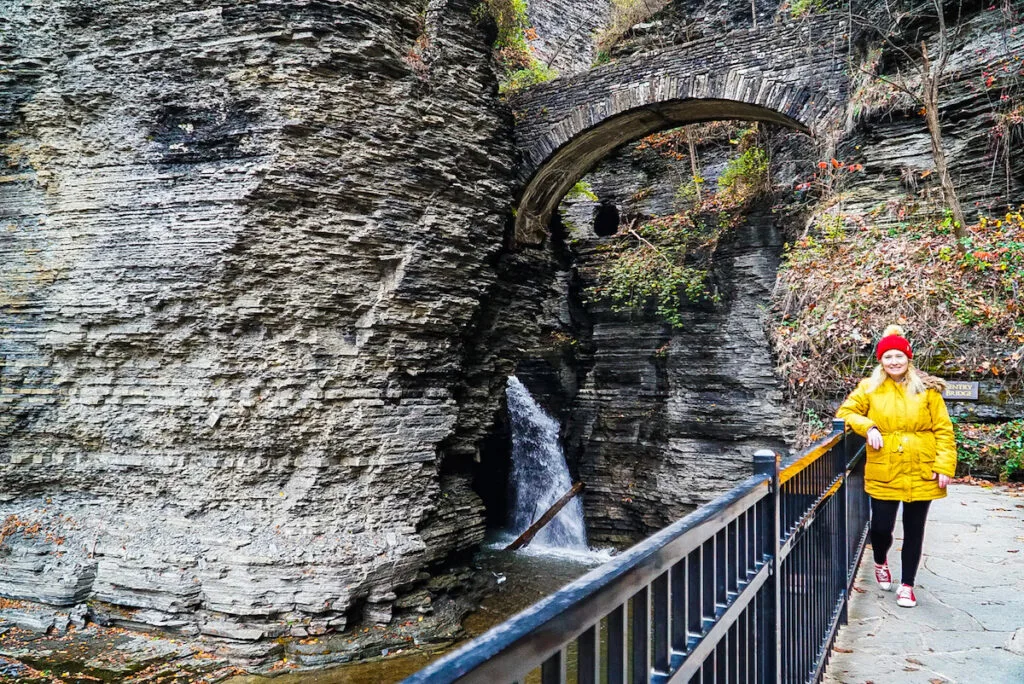 If you're planning your first visit to the Finger Lakes region, Watkins Glen is a great base for your Upstate New York vacation as it's close to many Finger Lakes attractions.
The town has a fantastic selection of restaurants, wineries, craft breweries, and distilleries, making it the perfect spot for a foodie break.
History lovers will enjoy exploring the downtown area and nearby historic sites like the Lee School Museum.
If you prefer to get out into nature, Watkins Glen State Park is just a short walk away and offers some of the best hiking in Upstate NY featuring waterfalls and gorges.
You could also take a boat tour or a kayaking tour of Seneca Lake to see the stunning waterfalls and cliffs around the water's edge.
23. Ithaca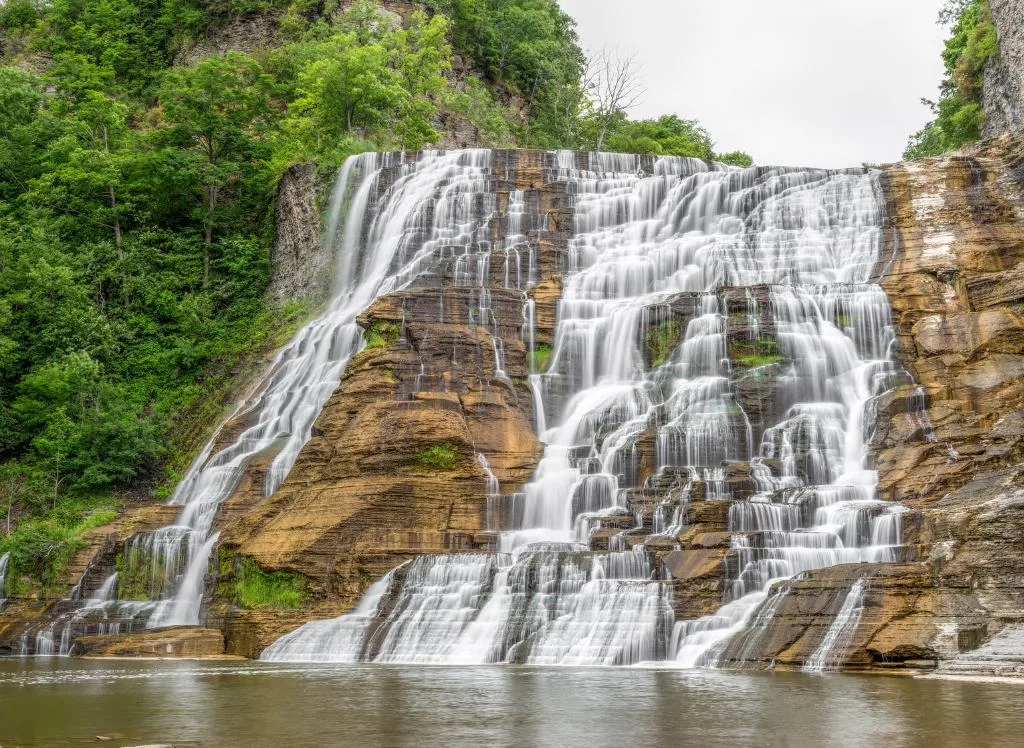 Ithaca is a colorful and progressive college town on the shores of Lake Cayuga.
It's well-known for the Ithaca Farmers Market, which features over 130 vendors who grow or produce their wares within 30 miles of Ithaca.
As well as shopping for a wide range of delicious local produce, you can also buy art, jewelry, ceramics, and more created by local artists at Handwork, Ithaca's Artisan Cooperative.
The Cayuga Waterfront Trail is a wide, flat trail ideal for hiking or cycling along the southern shore of Lake Cayuga, while wine lovers will surely enjoy visiting the wineries along the Cayuga Lake Wine Trail.
24. Buttermilk Falls State Park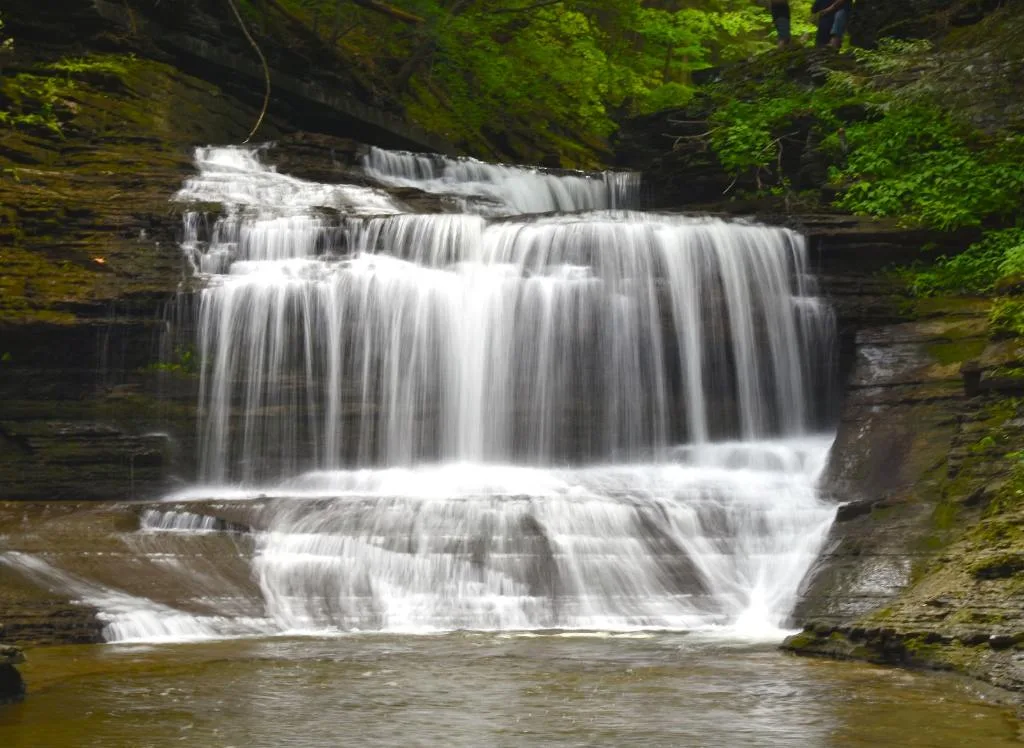 Buttermilk Falls State Park is one of the best places for hiking in Upstate New York.
Several fairly short hiking trails provide stunning views of the rock formations, waterfalls, and the gorge. You can even swim at the foot of the Buttermilk Falls when a lifeguard is on duty!
If you want to stay longer, Buttermilk Falls State Park also offers camping spots and both historic and modern cabins to rent.
25. Letchworth State Park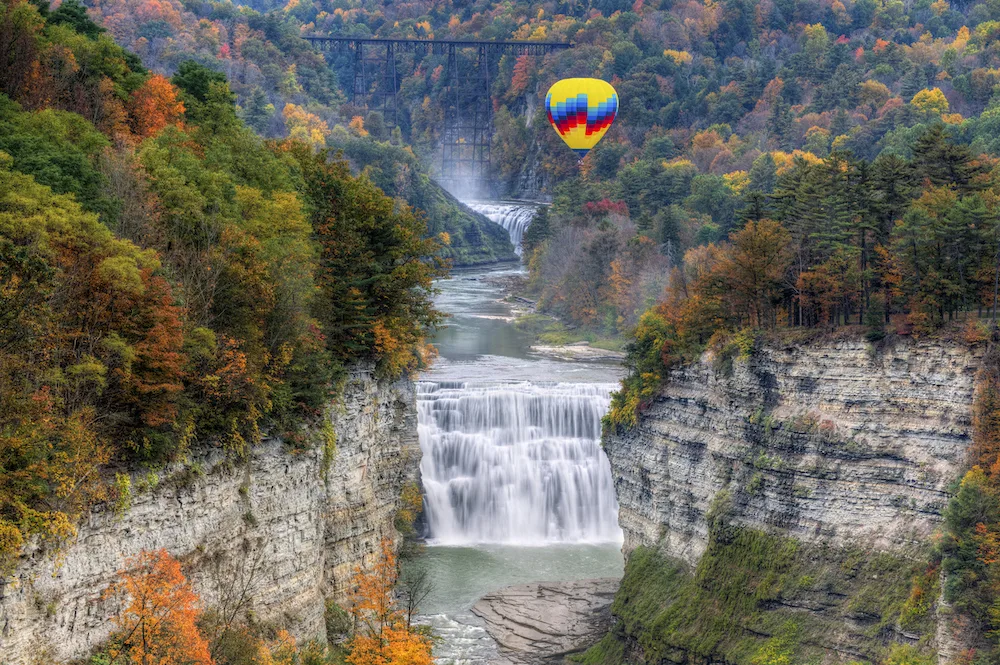 Letchworth State Park is known as 'the Grand Canyon of the East,' and you'll find some of the most beautiful waterfalls in Upstate New York here.
In fact, the Genesee River flows through three sets of waterfalls that reach heights of up to 600 feet.
As well as the falls, there are 66 miles of trails ideal for hiking, cycling, and horseback riding, while the river offers kayaking and white water rafting experiences.
You can even join a guided tour of the park or even float overhead in a hot air balloon, while skiing and snowmobiling are popular winter activities.
26. Skaneateles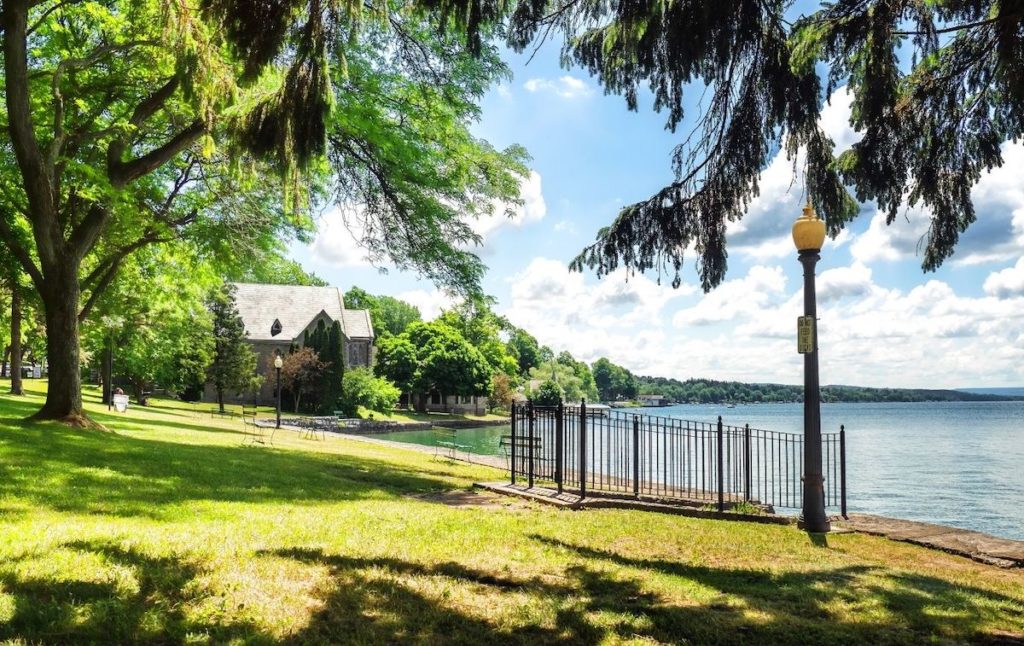 The quaint town of Skaneateles lies on Skaneateles Lake, which has become known as a popular place for Upstate New York vacations, especially for actors, politicians, and sports stars.
The beautiful surroundings make Skaneateles an ideal base for hiking, and the Finger Lakes Trail covers 1,000 miles of footpaths suitable for short hikes and overnight trips.
Downtown Skaneateles lies at the foot of Skaneateles Lake and is ideal for exploring on foot, with historic spots, artisan boutiques, and cozy restaurants.
In particular, rhe Barrow Gallery displays historical paintings of the local area and even loans artworks to art enthusiasts living within 25 miles of the town.
27. Auburn
With charming streets, excellent wineries, and great places to eat, there are plenty of reasons to visit Auburn, NY.
But the town is also historically significant, as it is where Harriet Tubman opened her home to offer safe haven to friends, family, and others in search of refuge along the Underground Railroad.
In fact, the Harriet Tubman National Historical Park now cares for Harriet Tubman's home, along with the Harriet Tubman Home for the Aged.
The Zion Church that she attended also here and is where her funeral was held in 1913.
You can join a guided tour led by a National Park Ranger to learn more about the life and legacy of Harriet Tubman.
28. Seneca Falls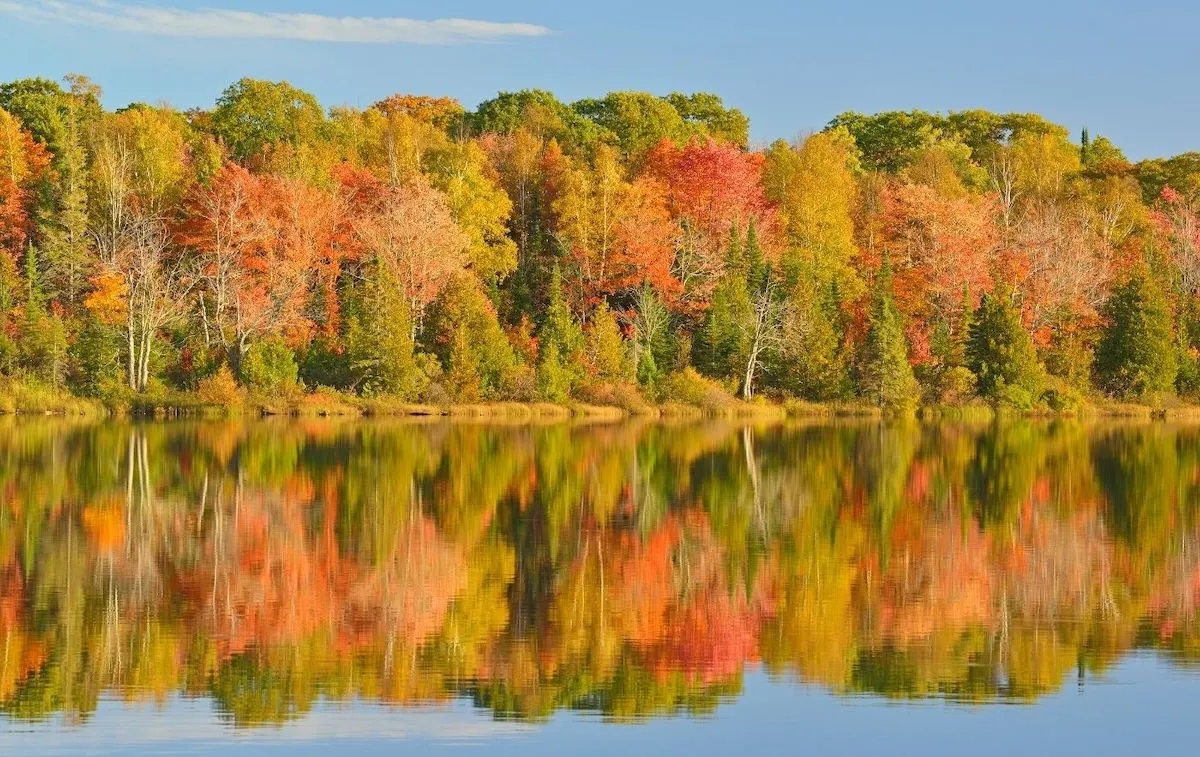 Despite the name, there are no waterfalls to see in Seneca Falls.
However, it is one of the best places to visit in Upstate NY for anyone interested in the Women's Rights Movement and is known as the birthplace of American feminism.
In fact, the country's first Women's Rights Convention took place in Seneca Falls on July 19th and 20th of 1848.
Nowadays, you can visit the Women's Rights National Historical Park to learn about the 19th-century women's rights movement for equality.
The National Women's Hall of Fame is also located in Seneca Falls and highlights the stories of over 300 women who have made significant contributions to American history.
29. Sylvan Beach
Sylvan Beach is a village at the southeastern end of the Town of Vienna in New York Upstate. It's a popular resort community with fun activities to suit everyone.
The lake offers fantastic opportunities for boating and fishing, and it has one of the best beaches in Upstate NY for walking, sunbathing, and relaxing. You can also swim in the lake in the warmer months.
Additionally, there's a fun amusement park, fabulous shops, and restaurants. In the evening, the vibrant village offers a fantastic choice of entertainment and nightlife.
Best Places to Visit in Upstate NY – Niagara Region
30. Niagara Falls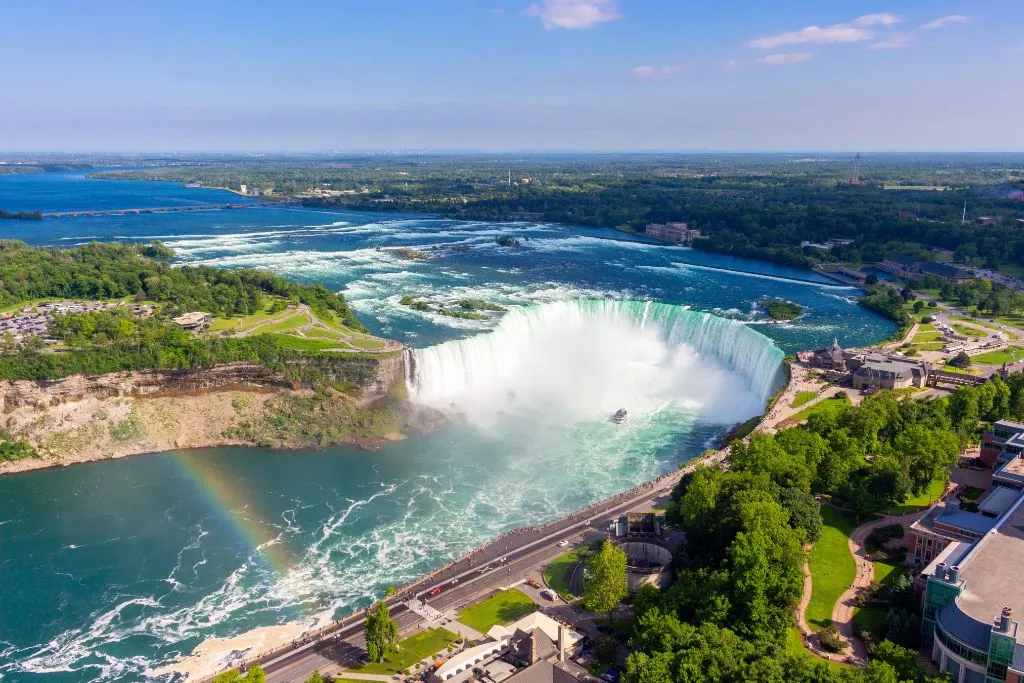 You can't talk about Upstate New York without mentioning Niagara Falls. This gigantic series of waterfalls is one of the most popular tourist attractions in the United States and is famous all around the world.
There are so many amazing things to do in Niagara Falls. You can take a boat ride to the edge of the falls, fly over Niagara Falls in helicopter, or go deep into the Cave of the Winds to stand within a few feet of the thundering water.
And that's just a few of the Niagara Falls attractions on offer, which is one of the reasons why you need to visit Niagara Falls.
Niagara Falls State Park also offers plenty of hiking trails to explore, and the Niagara Wine Trail features 11 Niagara wineries where you can taste delicious local wines.
31. Buffalo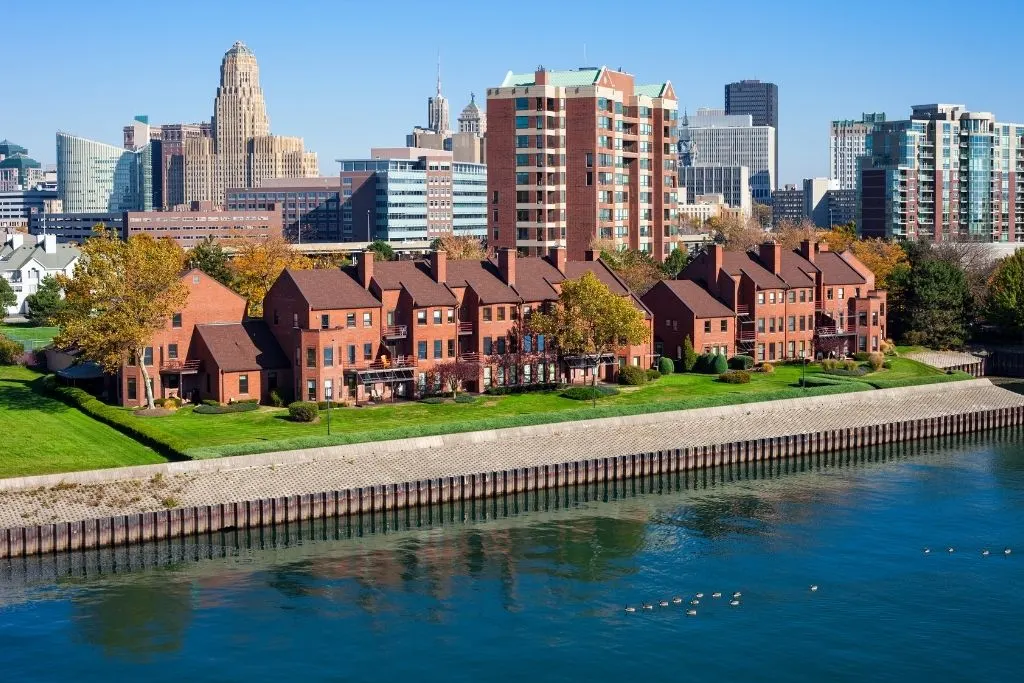 If you are looking for accommodation near Niagara Falls, Buffalo has a lot to offer.
New York's second-largest city is full of cultural attractions, including art museums, a beautiful botanical garden, and Shea's Performing Arts Center, a National Historic Landmark theater.
You can stay in awe of dinosaur fossils at the Buffalo Museum of Science and explore the Western New York frontier at the Buffalo History Museum.
Art lovers will enjoy browsing around the collections of contemporary art at the Albright-Knox Art Gallery, and there's a thriving craft beer scene in Buffalo with several excellent microbreweries to check out.
Best Places to Visit in Upstate NY – Thousand Islands Region
32. Alexandria Bay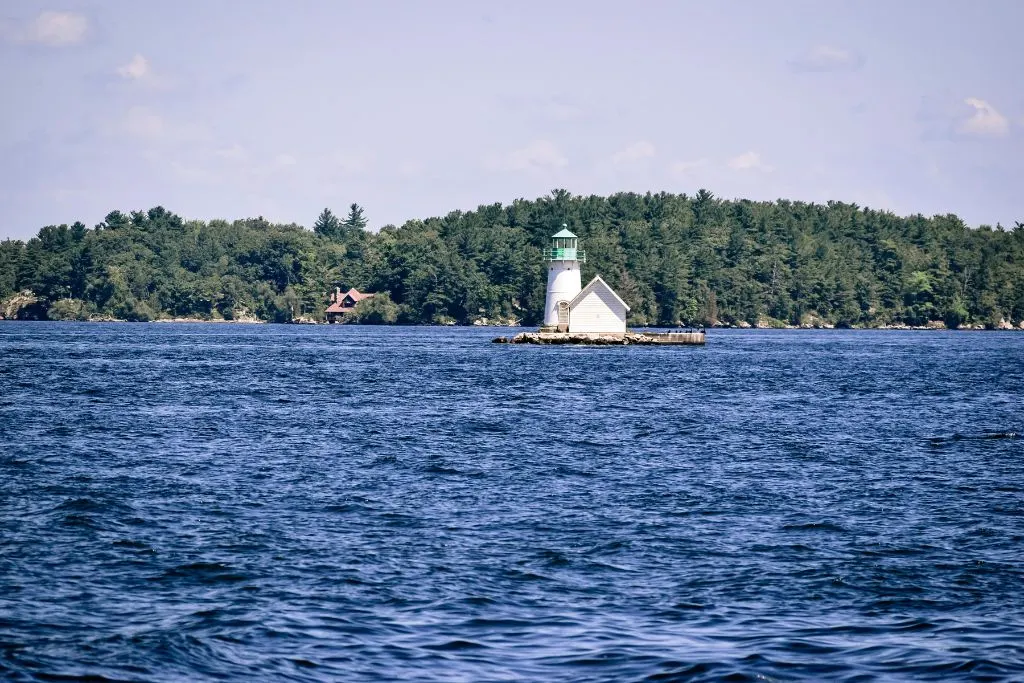 The Thousand Islands Archipelago in New York Upstate is a group of 1,864 islands in the St. Lawrence River on the US-Canada border.
The village of Alexandria and Alexandria Bay sits on the mainland opposite these islands and has a rich tradition of maritime history.
You can join a boat tour to learn more about the history of the homes and shipwrecks along the St. Lawrence River.
The river's crystal clear waters allow you to see up to 80 feet down, or you can see the wrecks even better by participating in a diving excursion.
Or perhaps you might like to take a boat trip to Boldt Castle, a stunning replica of a Rhineland castle in Upstate NY that has a tragic history.
Best Places to Visit in Upstate NY – Chautauqua-Allegheny Region
33. Chautauqua Lake
Although it's often referred to as the 'thumb of the Finger Lakes,' Chautauqua Lake was formed separately and isn't actually part of the Finger Lakes region at all.
However, it's a stunning location where you can go kayaking, sailing, or paddleboarding. You can also take a tour on board the historic Chautauqua Belle steamboat.
Chautauqua Lake is also an excellent base for exploring the local region, as you are close to other NY Upstate attractions like the National Comedy Center in Jamestown and the Panama Rocks Scenic Park, where you can hike through huge rock formations, caves, and tunnels.
34. Ellicottville
Ellicottville is a village in western New York with an eclectic range of shops and restaurants.
The village hosts regular events throughout the year, and in the fall, it is transformed into a colorful location that's one of the best places in Upstate NY for leaf-peeping.
Ski fans can take advantage of Ellicottville's two ski resorts, including the popular Holiday Valley resort, and there are two state forests nearby for keen hikers.
If you prefer to explore nature at a slower pace, the pathways and gardens of Nannen Arboretum are perfect for a relaxing stroll as you enjoy one of the best places to visit in upstate NY.
Map of the Best Places to Visit in Upstate New York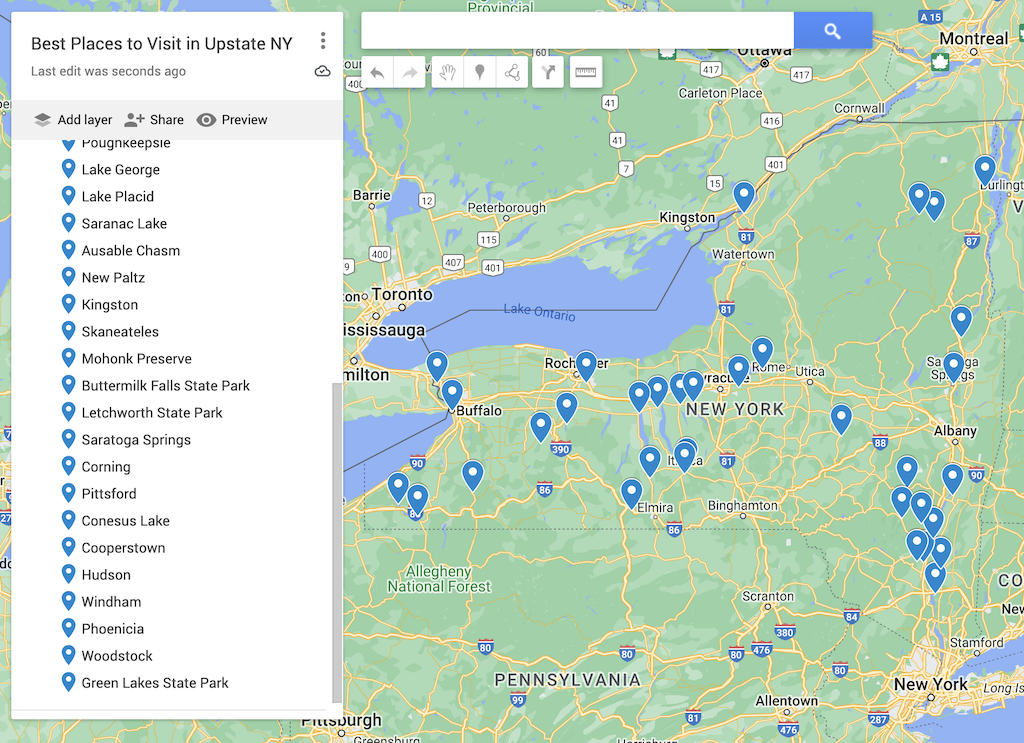 Best Places to Visit in Upstate NY FAQs
What is the Most Beautiful Part of Upstate New York?
The most beautiful parts of upstate New York are Fishkill Creek (Beacon), The Corning Museum of Glass (Corning), Falling Waters Preserve (Saugerties), Frank Lloyd Wright's Graycliff (Derby), The Secret Sidewalk (Rochester), Troutbeck (Amenia), Ruth Reynolds Glunt Nature Preserve (Saugerties) and Griffis Sculpture Park (East Otto).
What is Upstate New York Best Known For?
Upstate New York is best known for iconic destinations like Niagara Falls, the Catskills, the Baseball Hall fo Fame, the Thousand Islands, and the Finger Lakes.
Is Upstate NY Beautiful?
Yes, upstate New York is very beautiful since it includes Niagara Falls, the High Peaks in the Adirondacks, the Shawgunks of the Hudson Valley, and Taughannock Falls near Ithaca.
Is Upstate NY Expensive?
Upstate NY can be as expensive or as inexpensive as you like. It just depends on what you want to do and where you want to stay as you enjoy the best places to visit in upstate New York.
That being said, visiting upstate New York is a lot cheaper than visiting New York City.
There you have it! That just about concludes this guide to the best places to visit in upstate NY.
Tell me, did your picks of the best places to visit in upstate New York make the list? If not then let me know in the comments below.
And if you found this post useful then be sure to join our email list before pinning this post for later.