Thinking of traveling to Central Park in winter?
If so then you need this super snazzy local's guide to all of the very best things to do in Central Park in winter.
I mean, I grew up in NYC and basically spent every winter sledding and skating in Central Park until my fingers almost fell off. Yeah, my mom would literally have to drag me back inside.
Therefore, if you wanna know where all the locals go (plus the places they avoid) and get insider tips on the best things to do in winter in Central Park then this local's guide is for you.
So, stay away from the generic AF guidebook and try my handy dandy guide instead.
This post may contain affiliate links. Please see my disclosure for more information. As an Amazon Associate, I earn a small commission from qualifying purchases.
Best Things to Do in Central Park in Winter
1. Go Ice Skating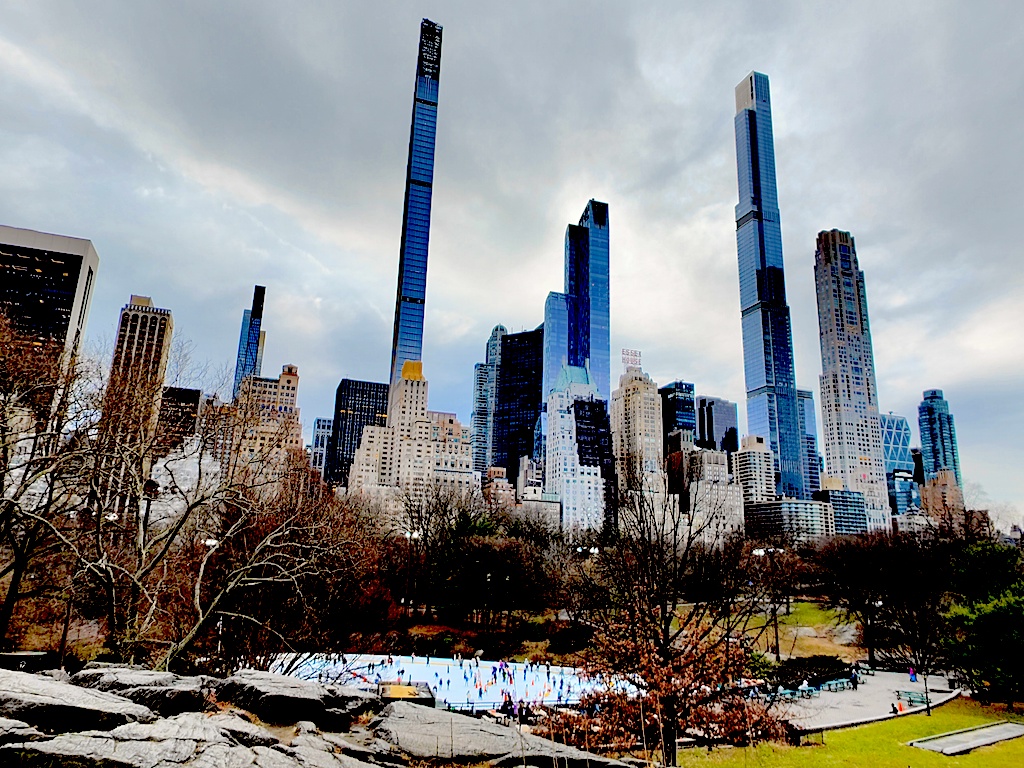 Ice skating is certainly one of the most popular Central Park winter activities.
In fact, there are two ice rinks in the park: Lasker Rink between 106th and 108th Streets, and Wollman Rink on the East Side between 62nd and 63rd Streets.
Both rinks are great, but Wollman has a fabulous skyline view as its backdrop that just gives it the edge over Lasker Rink.
Now, each Central Park skating rink charges a small fee and offers both locker and skate rentals.
But, if you have your own skates, Conservatory Water is also open to skaters when the ice is at least six inches thick.
2. Go Snowshoeing or Cross-Country Skiing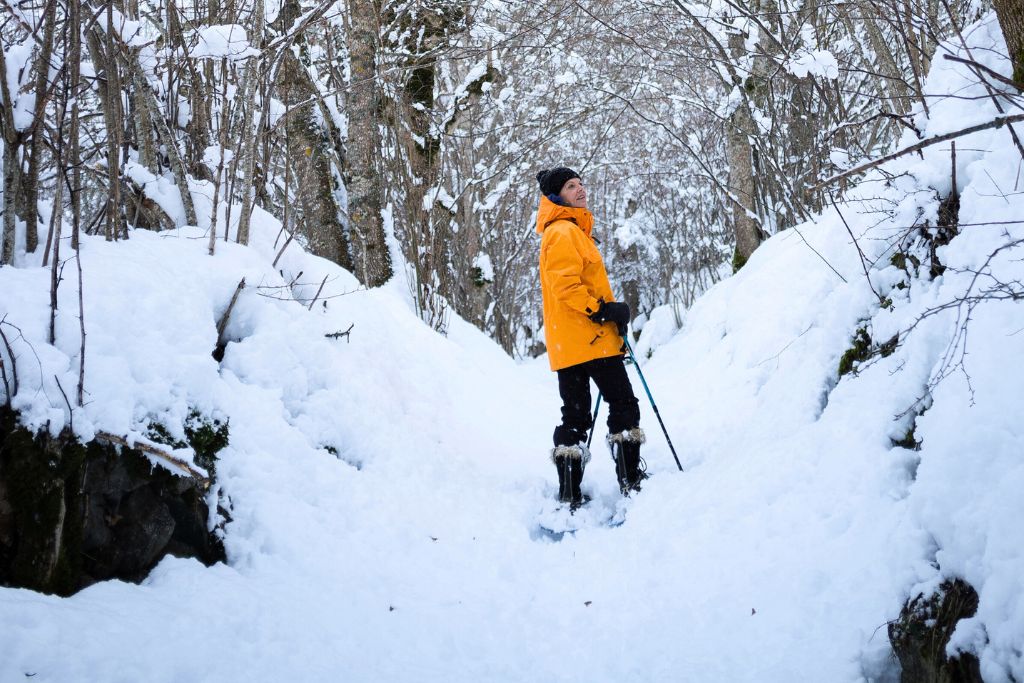 Of course, ice skating is great, but you might also enjoy other winter activities like exploring Central Park in the snow on snowshoes or on cross-country skis.
And the best locations for these activities are the Great Lawn and Sheep Meadow, but the Bridle Path is also excellent.
See, this 2.5-mile loop is left snow-covered through winter to protect the soft dirt track and gives you a great view of the Jacqueline Kennedy Onassis Reservoir.
But remember to keep your eyes open for any horse riders who might be out for a ride along the path!
3. Embrace Your Inner Child and Go Sledding
Grab your sled and enjoy the hills of Central Park in the snow. And if you don't have your own sled then you can easily pick one up at local stores like Target or ACE Hardware.
Now, Cedar Hill and Pilgrim Hill are two of the most popular areas for sledding since both open for sledding when there are at least six inches of snow on the ground.
In fact, the slopes here are ideal for both beginners and experienced/adventurous sledders alike, making sledding a really fun thing to do in Central Park in winter.
4. Build a Central Park Snowman
Do you want to build a snowman? Well, if you're traveling with a Frozen fanatic or just want to enjoy this classic Central Park winter activity then head to some of the large lawns like Sheep Meadow.
Sure, the park's grassy lawns are usually closed in the winter to allow the grass to rest. But, many of them open up for snowy fun when there are at least six inches of snow on the ground.
5. Explore the Arthur Ross Pinetum
Visit a Central Park winter wonderland at the Arthur Ross Pinetum, a four-acre arboretum that contains 17 different species of pine trees.
See, the original design of Central Park featured a Winter Drive filled with pine trees. But, over time, these evergreens were gradually replaced by deciduous trees.
Then, in the 1970s, New York philanthropist Arthur Ross set out to return part of the park to the designers' original vision.
Today, the area now features native white pine trees, species from Japan and Macedonia, and beautiful blue-green Himalayan pines that grow up to 50 feet tall.
You'll also find a playground and picnic tables at the Arthur Ross Pinetum, so it's an ideal place to take a break after exploring the park.
6. Visit Central Park Zoo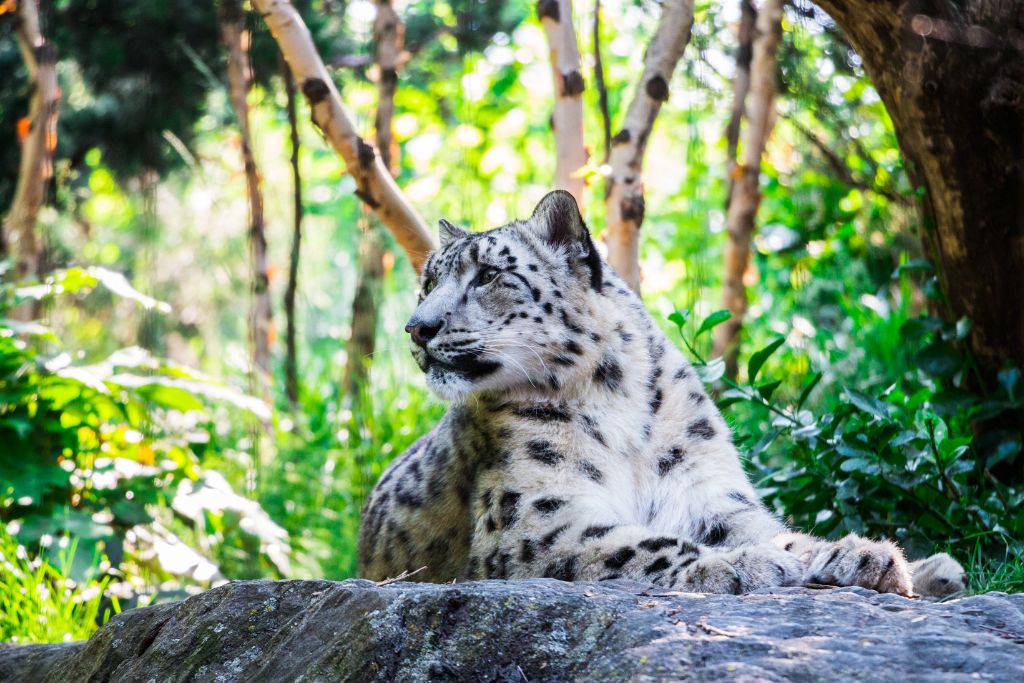 Central Park Zoo is managed by the Wildlife Conservation Society and covers over five acres of the park.
As a result, there are now over 130 different species in the zoo, all housed in carefully designed habitats that recreate the animals' natural environments.
And while the zoo is open all year round, if you visit Central Park Zoo in winter, some of the animals will be in hibernation.
However, you can still expect to see snow leopards, snow monkeys, penguins, seals, and more.
Plus, children will love exploring Tisch Children's Zoo, which is home to sheep and potbellied pigs, among others.
Just be aware that all visitors must have a date-specific ticket. So, be sure to buy your Central Park Zoo tickets before you visit.
7. Enjoy the Delacorte Musical Clock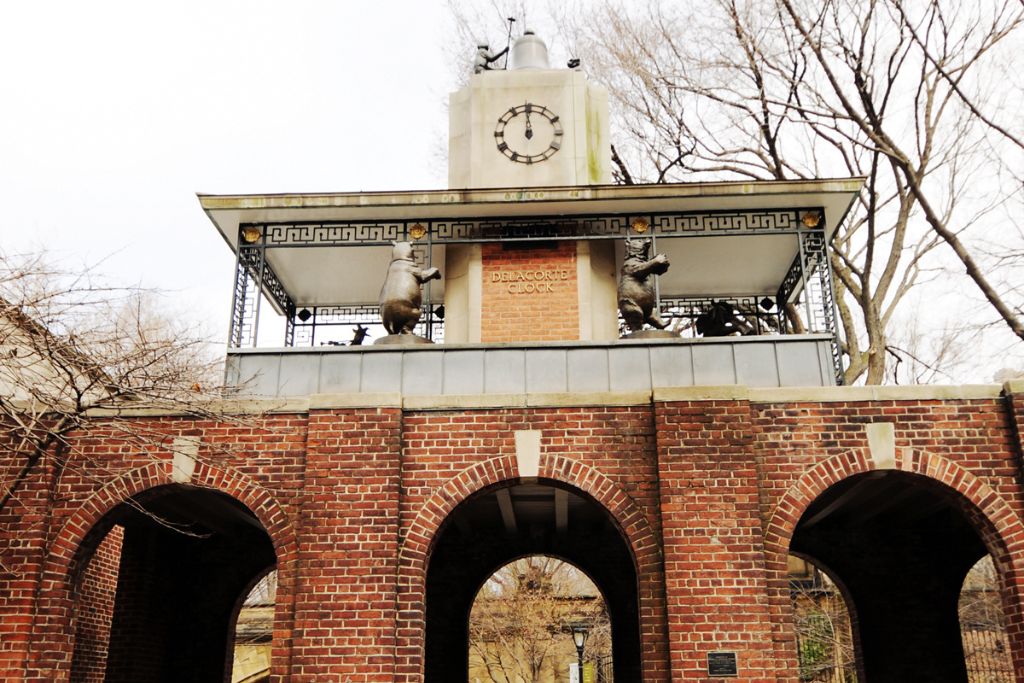 Just outside of Central Park Zoo, you'll find the George Delacorte Musical Clock.
Better known as the Delacorte Clock, this popular musical clock and art installation sits on top of a three-tier tower and is decorated with a collection of animals, including a hippo, a penguin, and a band of monkeys.
Now, every half hour, the clock chimes and plays a seasonal selection of nursery rhymes while the animals circle the tower.
Therefore, it's a must-see when spending winter in Central Park.
8. Explore Central Park on a Self-Guided Walk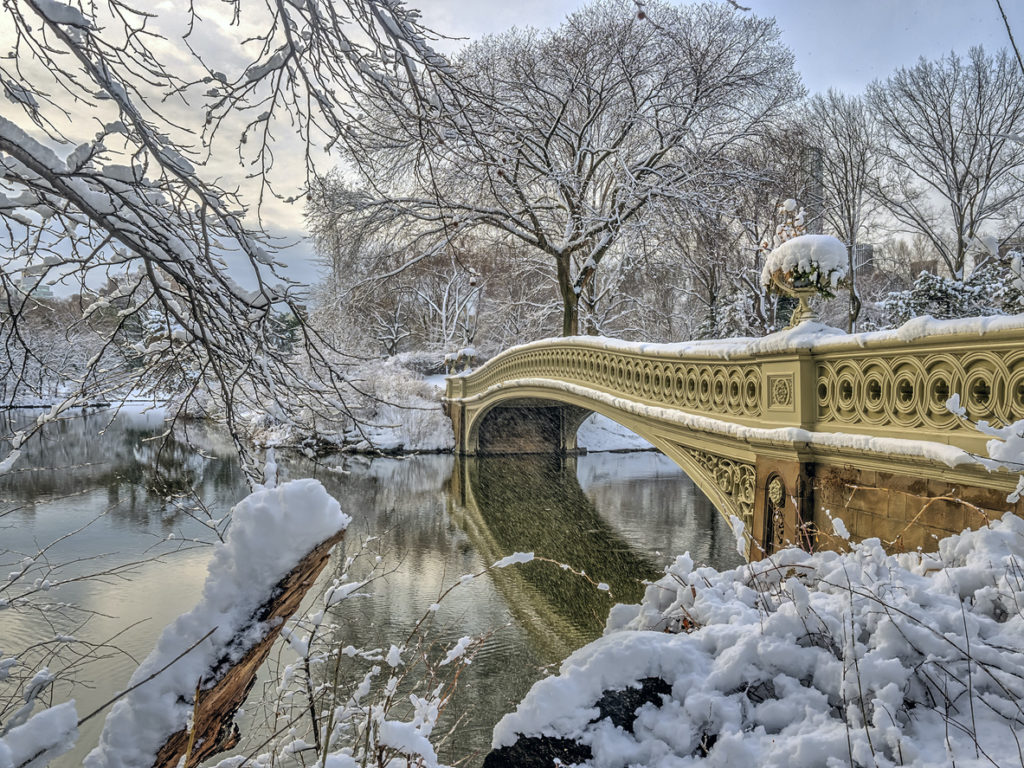 The scenic landscape of Central Park's 840 acres invites tons of exploration from visitors.
So, there are plenty of scenic routes that will take you through the park. As a result, a self-guided walking tour is the perfect Central Park winter activity if you prefer to wander the park at your own pace.
In fact, you can download free self-guided walk maps from the Central Park website.
Alternatively, an app-led audio tour of Central Park will give you a full itinerary that you can follow at your own pace, together with tips, photos, and stories about the Park.
9. Take a Guided Walking Tour of Central Park
Central Park has an exciting history, and there are many fascinating parts of the park that are wating to be explored.
Now, of course, you're free to explore the park independently, but the best way to learn about the Park is to take a guided tour.
In particular, a small group guided walking tour of Central Park will give you the best possible experience.
This way you can explore the park with a knowledgeable guide, who'll share exciting stories from the park's history and give you insights into local culture.
However, fun-themed guided tours are also available, like a TV and Movie Central Park Tour or one that explores some of Central Park's hidden gems.
10. Hop on a Pedicab
A Pedicab is a bike rickshaw that is big enough to carry two adults and one child. So, a Pedicab tour of Central Park is a fun alternative to exploring the park on foot.
See, traveling by pedicab allows you to see more of the park and is ideal for visitors who may struggle to walk long distances.
Plus, your expert guide will take you to some of the park's most iconic landmarks, like Bethesda Fountain, Bow Bridge, and Strawberry Fields.
You can also see filming locations featured in Christmas movies like Elf and Home Alone 2, making this one of the top things to do in Central Park in winter.
And with plenty of opportunities for photo stops, this is definitely one of the best things to do in Central Park in winter.
Local Tip: Please only book a pedicab tour with a reputable company. I've personally had very bad experiences when spontaneously doing a pedicab tour while walking down the street.
Yeah, got totally overcharged and it was a major rip-off.
11. Enjoy a Classic Horse Drawn Carriage Ride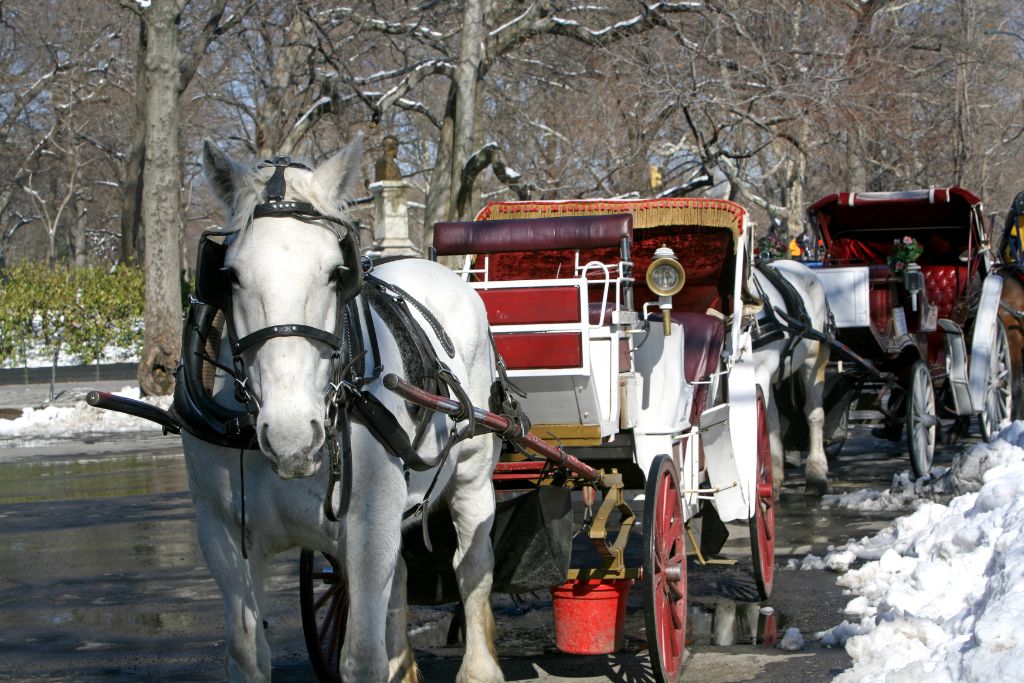 A Central Park horse and carriage ride is a classic Central Park activity.
It's an ideal way to experience the park's beauty because traveling by horse and carriage allows you to see the park as it was originally meant to be explored.
So, you'll travel by horse-drawn carriage to iconic Central Park landmarks like Belvedere Castle and Sheep Meadow, as your expert guide regales you with entertaining stories about the park's history.
Also, don't worry if snowy weather has created a Central Park winter wonderland. Because you can just snuggle up underneath a blanket to keep warm.
Plus, during the festive season, the Christmas lights in NYC and in Central Park will make your ride even more special.
12. Take a Ride on the Carousel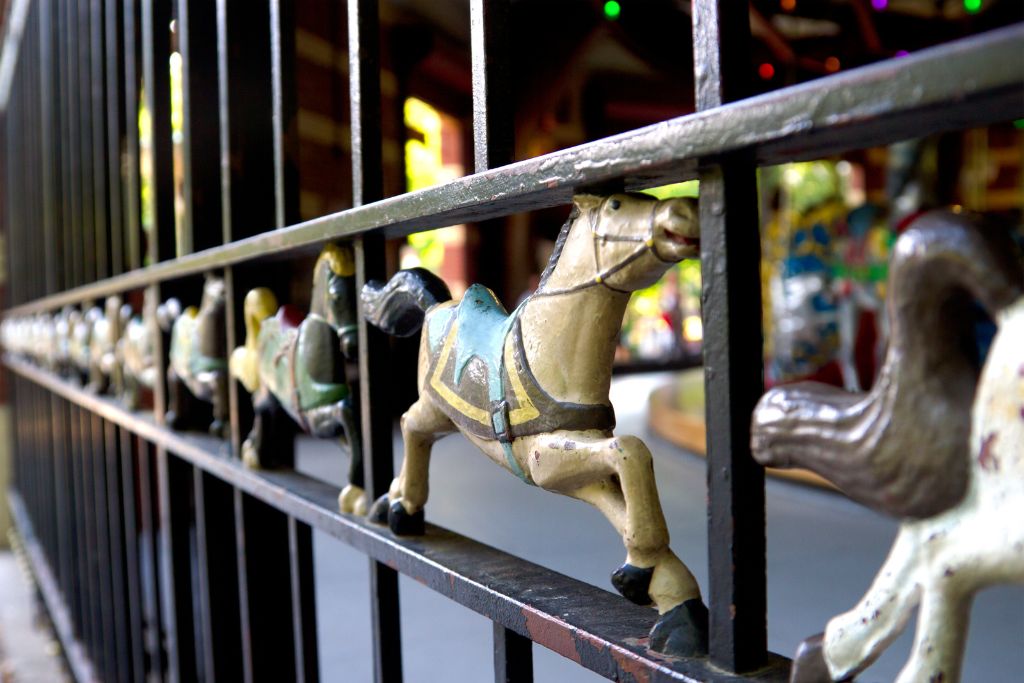 Central Park's colorful vintage carousel is an iconic NYC landmark. So, a carousel ride is a must-do for your NYC winter vacation.
Now, the current carousel is the fourth since the park opened in 1871 and dates all the way back to 1908.
In fact, it was discovered in an old Coney Park trolley terminal before being fully restored and installed in Manhattan.
The carousel also plays traditional calliope organ music and has 57 horses and two chariots, making it one of the largest carousels in the US.
13. Shop for Souvenirs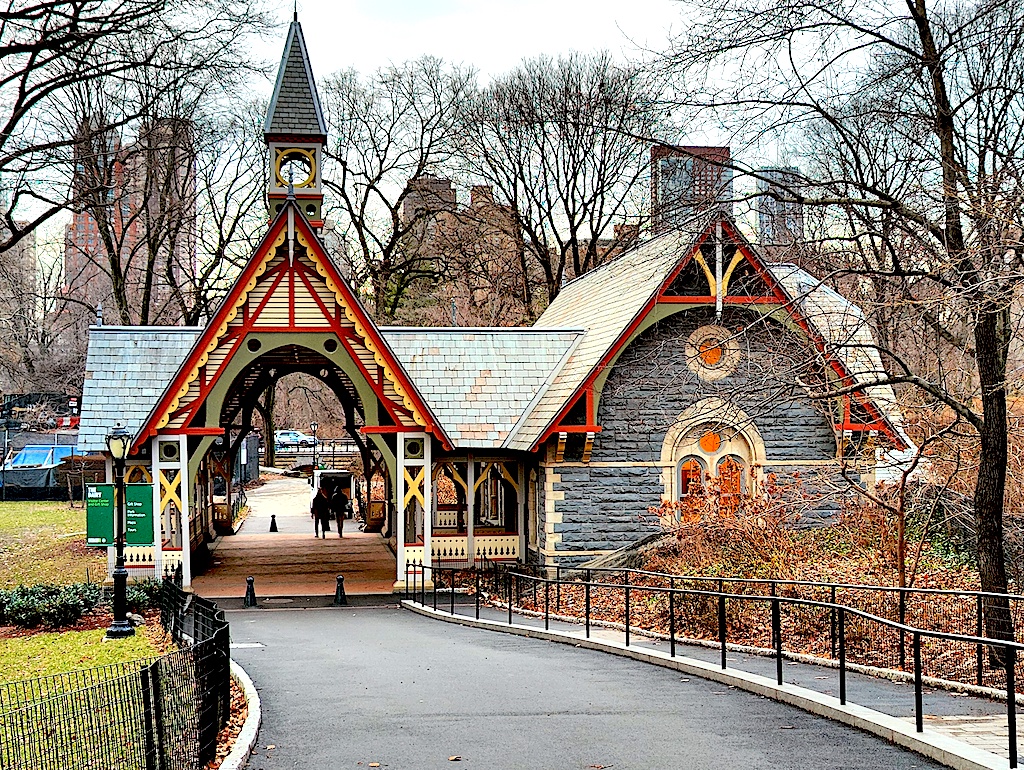 Of course, you'll want to take home a memento of your visit to Central Park. So make time to stop by the Dairy Visitor Center and Gift Shop in the heart of the park's Children's District.
After all, this cute building was designed to look like a Victorian-era country cottage. And when it opened in 1871, it was originally used as a place where urban kids could enjoy fresh milk.
Nowadays, the gift shop sells a wide range of NYC souvenirs, including books, apparel, and accessories.
You can even pick up a warm blanket or sweatshirt if the weather is chillier than you expected or if you forget something on your NYC winter packing list.
14. Enjoy the Columbus Circle Holiday Market
During the festive season, you can also shop for gifts at the Columbus Circle Holiday Market.
See, this enchanting market is inspired by the traditional Christmas markets found in many cities across Europe.
It's also the ideal place to do some holiday shopping or enjoy delicious food and drinks.
15. Play Some Board Games
If the weather turns to rain or snow, why not pass the time by playing an epic board game like Checkers or Jenga?
After all, Chess and Checkers House was first opened in 1952 to provide visitors with a space to play fun, family-friendly games.
Then, in 2023, the house was fully restored as part of improvement and restoration work in the Children's District.
So, you can use your own game pieces or borrow some from the House. Heck, you can even borrow other games like Jenga and Scrabble too.
In fact, games and tables are available free of charge on a first-come, first-served basis and are a great way to pass the time during winter in Central Park.
16. Relax in a Boat Landing on the Lake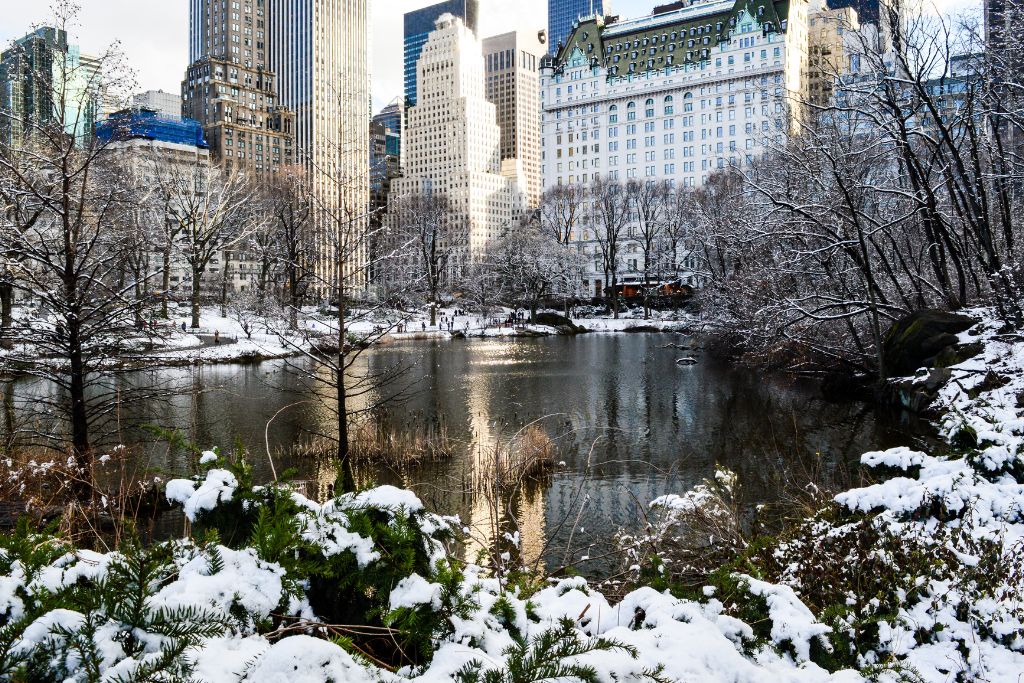 Central Park in winter might be too chilly for boating. But, the boat landings are a lovely place to relax for a while and enjoy your picturesque surroundings.
See, the Lake's six original boat landings were built in the 1860s and were used as docks for recreational boaters.
However, all six landings were then removed in the 20th century due to their poor condition.
Then, in 2016, five new boat landings were reinstalled and designed to mimic the original 19th-century landings.
17. Enjoy a Puppet Show at the Swedish Cottage
The Swedish Cottage Marionette Theater has been delighting audiences with puppet shows since 1947. After all, this epic spot is home to one of the last public marionette companies in the USA.
Now, The Swedish Cottage was originally located in Philadelphia but was later dismantled and transported to Central Park in 1877.
Today, inside this quaint cottage, master puppeteers bring beloved stories like Sleeping Beauty and Gulliver's Travels to life with their expertly-made marionettes.
So, you'll find the Swedish Cottage Marionette Theater inside Central Park at West 79th Street and West Drive.
But, tickets must be purchased in advance. So, book your Swedish Cottage show tickets online before your trip.
18. Admire the stunning Bethesda Terrace Arcade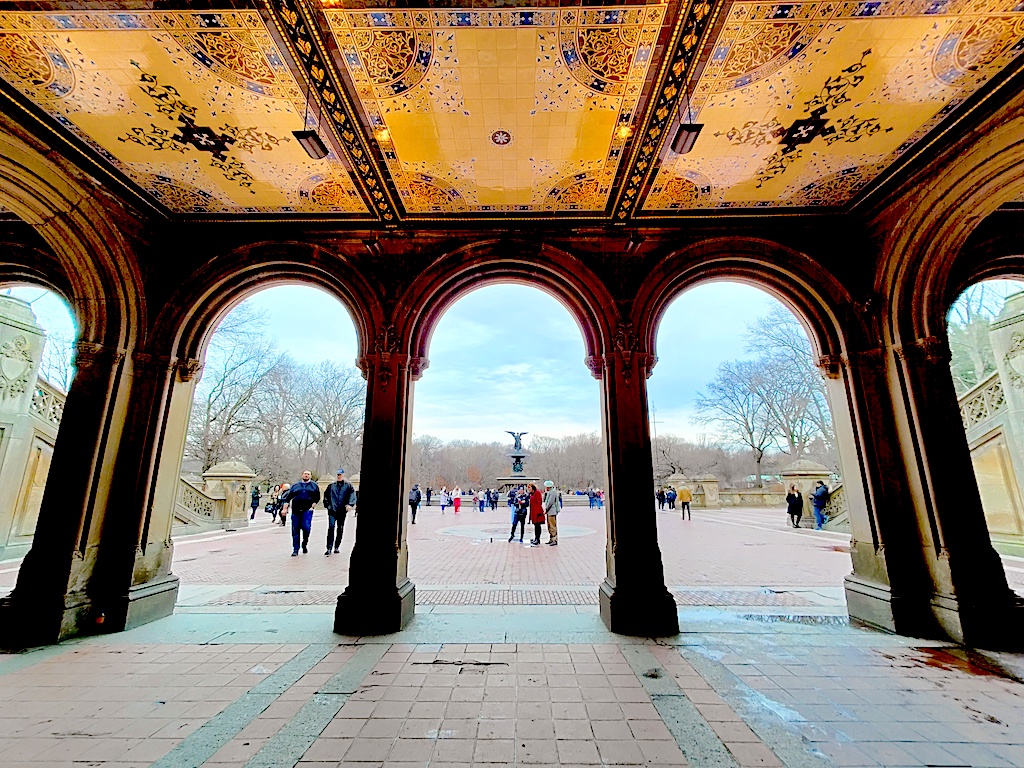 Lovers of beautiful architecture should definitely visit the Bethesda Terrace Arcade.
This exquisite arched walkway links Central Park Lake and the Bethesda Fountain to the Mall and was re-opened in 2007 after a complete restoration.
So, if you visit you'll see that the arcade has a breathtaking tiled ceiling covered with over 15,000 encaustic tiles from England's famous Minton Tile Company.
These colorful tiles were more frequently used to decorate the floors of cathedrals in Europe, and the Bethesda Terrace Arcade is the only place in the world where you can see the tiles used on a ceiling!
19. Visit the Charles A. Dana Discovery Center
Take a break from a cold winter in Central Park and visit the Charles A. Dana Discovery Center on Harlem Meer's north shore.
Because this environmental education center contains fascinating exhibits and workshops about wildlife, the environment, and the park's past as a fort.
See, believe it or not, this area in Central Park was once of strategic military importance during the Revolutionary War and the War of 1812.
Today, though, it offers a wide variety of educational and environmental programs.
Plus, the Discovery Center also hosts community events and seasonal celebrations like the Halloween Pumpkin Sail and the annual holiday lighting.
20. Go on a Winter Hike
The North Woods is the largest of Central Park's three woodland areas.
In fact, it covers 40 acres in the northwest section of the park and is particularly peaceful during the winter months.
Now, like the rest of the park, the North Woods is an artificial landscape inspired by the natural woodlands that can be found when hiking the Catskills and hiking in the Adirondacks.
So, the park's creators actually designed these woods as an escape from urban life for those who couldn't afford to go on vacations.
Therefore, this is an ideal spot to go birdwatching, sit amidst nature, or enjoy a hike through Central Park in winter.
21. Enjoy Some Delicious Food and Drinks
You'll find various options for food and drinks in Central Park, whether you're looking for a full meal or a light snack.
In particular, The Loeb Boathouse Restaurant features a warm (literally) and welcoming fireplace that's perfect for cold winter days.
In contrast, the Migrant Kitchen offers an exciting fusion of Arab and Latin cusine. with classic ballpark treats on the menu too.
Or you could check out the iconic Tavern on the Green, which was built in 1870 to house the sheep of Sheep Meadow and re-opened as a landmark eatery in 1934.
Alternatively, there are always various food and drink vendors with outdoor seating scattered throughout the park.
Yeah, this would be a great place to grab a quick snack or warm your hands with a hot chocolate after walking around Central Park in winter.
22. Explore the Museum of Natural History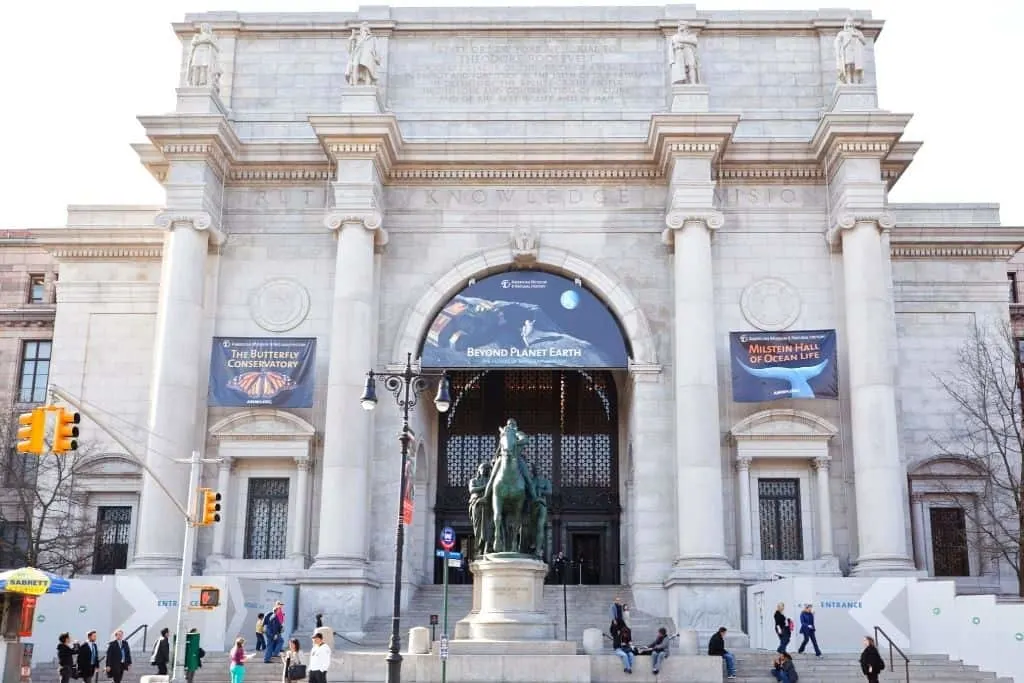 The Museum of Natural History is one of the best spots in Central Park to escape the winter weather and warm up.
After all, 45+ museum halls feature millions of fascinating specimens and interactive exhibits about cultures from around the globe.
Plus, this incredible museum is home to one of the world's only remaining preserved dodo skeletons, as well as the world's largest collection of dinosaur fossils.
Now, when you purchase your ticket to the American Museum of Natural History you can also explore the mysteries of the universe in the Hayden Planetarium.
Or, learn more about science in the new Gilder Center for Science, Education, and Innovation.
It's also worth noting that the Butterfly Conservancy is open every winter and comes fully outfitted with an indoor rainforest filled with exotic butterflies.
So, look for the museum on Central Park West between 77th and 81st Streets. Admission is by timed entry, so be sure to buy your tickets online in advance
Winter in Central Park FAQs
Is Central Park Good in Winter?
Central Park is very good in the winter since you can do fun things like look for local wildlife, visit the zoo, ride the carousel, and shop for souvenirs at the visitor center.
Additionally, fun outdoor winter activities you can enjoy include sledding, ice skating, cross-country skiing, hiking, and more.
Can you Walk in NYC in the Winter?
Yes, you can walk in NYC in the winter. Just be sure to wear tall, waterproof boots since the slush puddles from the melting snow can get quite deep.
And some great places to walk during winter in NYC include the High Line, Brooklyn Bridge, and, of course, Central Park.
What is NYC Like in the Winter?
During January and February, daily highs are around 36°F while daily lows get down to 32°F. Factor in additional humidity and rain and traveling to NYC in winter can definitely be tricky.
How Cold Do NYC Winters Get?
When winter comes to NYC temperatures start to drop. In fact, temperatures can sometimes get as low as 0°F but are more typically around 2.0°F
Additional NYC Resources You'll Love
There you have it! That just about wraps up this guide to the best things to do in winter in Central Park.
Tell me, did your favorite winter activities in Central Park make the list? If not then let me know in the comments below.
And if you found this post useful be sure to join our email list before pinning this post now so that you can read it again later.