Looking for a tiny house in New York? If so then this list of 14 amazing tiny house New York getaways is perfect for you!
After all, I'm a super savvy, 30+ year local who has searched far and wide for some of the best tiny house New York getaways on the market today.
So, what are you waiting for? Escape the confines of your itty bitty, 200-square-foot apartment in New York City and enjoy the fresh air of places like the Catskills, the Adirondacks, the Finger Lakes, and more!
Because while these tiny houses may be small, they sit amidst incredible natural areas that are just waiting to be explored.
And, you never know, your one-time rental of a tiny house in New York may become more permanent as you reexamine your life and the way you live.
This post may contain affiliate links. Please see my disclosure for more information. As an Amazon Associate, I earn a small commission from qualifying purchases.
Tiny House New York Getaways – The Hudson Valley
1. Orchard Views from a Light-Filled Tiny Home with a Fire Pit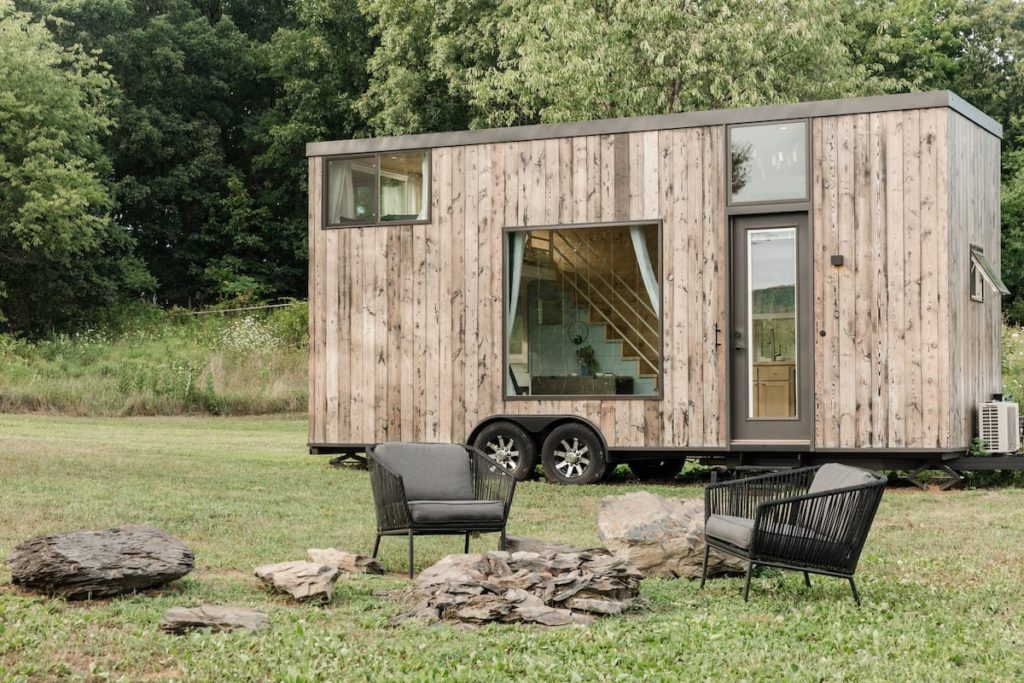 Just a short drive away from the city is this exquisite tiny house in Marlboro, NY. it's located in New York's always awesome Hudson Valley.
Believe it or not, this is actually a rather spacious tiny house since it features two separate bedrooms – one with a king-sized bed and one with a full bed – that can fit three people comfortably.
This supremely quiet, private escape also includes a full bathroom with a walk-in shower and a lofted bedroom that is surrounded by windows that let in tons of natural light.
So, descend a charming, knotty wood staircase and enjoy the open layout of this home, which includes a small kitchen (with a mini-fridge). a living room with a day bed and AC, and a common area with a breakfast table.
Afterward, head outside to sit by the slate fire pit before taking advantage of the home's excellent location near 15 different wineries on the Shawangunk wine trail.
Price: $254 per night.
2. The Glass House: A Hudson Valley Tiny Home Escape
Brought to you by expert super host Seth, this tiny house in New York is conveniently located on a 30-acre farm in the Hudson Valley and has three glass walls that give visitors stunning panoramic views of nearby apple orchards and vineyards.
Sleeping two people comfortably, this is a tiny house New York getaway that comes with large windows, a queen bed with a memory foam mattress, a kitchen with stainless steel appliances, a small square table, a full standing shower a laveo dry-flush toilet, and so much more!
Next. step outside and you'll discover luxurious lounge furniture, a picnic table, and a gorgeous fire pit that are only outshone by the area's wealth of stellar views.
Yup, just an all-around great tiny house where you can forget about some of the pros and cons of living in New York City.
Pro Tip: Be sure to stop and check out some of the best things to do in Sleepy Hollow before visiting this amazing tiny house in New York.
Price: $285 per night.
3. The Step – A Quaint Cozy A frame tiny house
The Step is one fantastic location for a getaway and is managed by a superhost (we know how great those are!). This little silver of paradise is a great escape from the noise of the city.
Built on 78 acres of farmland which is operational, you can well expect some of the farm animals to stroll by!
For the lovers of all things fishing, make sure to pack your gear because there is a lake where you can test your skills in. Oh and if you don't want to wander out to the nearest town which is just 3 miles away, you can spend your time exploring the huge farm!
What I love about this place is the versatility. You can choose to use it as a base to explore the surrounding areas or you could just be content staying in the farm. It is perfect for families with young kids but as a solo traveler, I would love to escape here too!
Price: $150/night
Tiny House New York Getaways – The Catskills
4. Introducing The Mocha- Our Newest Tiny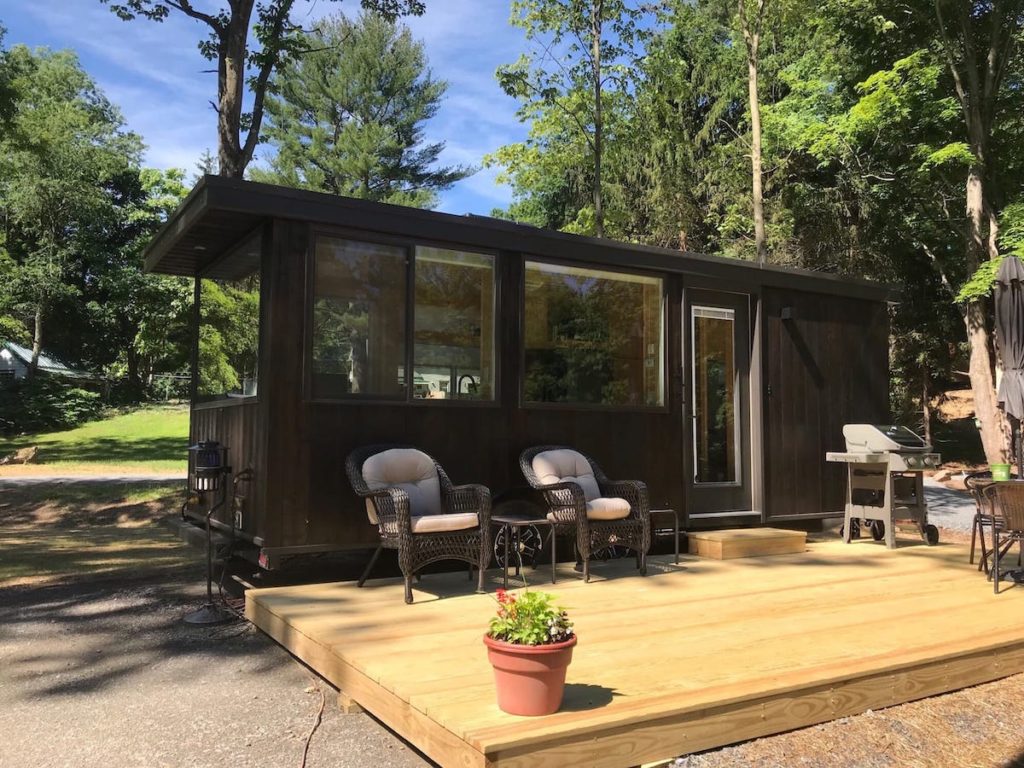 Located just down the road from Woodstock, NY, this tiny house in South Cairo is brought to you by Marjorie and Melissa, amazing hosts who take great pride in their glass-walled, oasis of tranquility.
After all, this mocha-colored, modern tiny home sits inside a designated tiny house resort and features a queen-sized bed in the common area that can accommodate two guests.
There's also a private deck with a dining set, a kitchen with a microwave, a living room with a TV, WiFi, and a full bathroom with a hairdryer.
Next, lounge by the fire pit and create a delicious meal on the Weber grill here before exploring the larger property.
After all, this home sits within a resort and provides guests with access to kayaking, an on-site heated pool, a waterfall, a pick-your-own garden, games, a store, and a large pen where you can meet some resident hens and ducks.
Price: $321 per night.
5. Container Cabin in the Catskills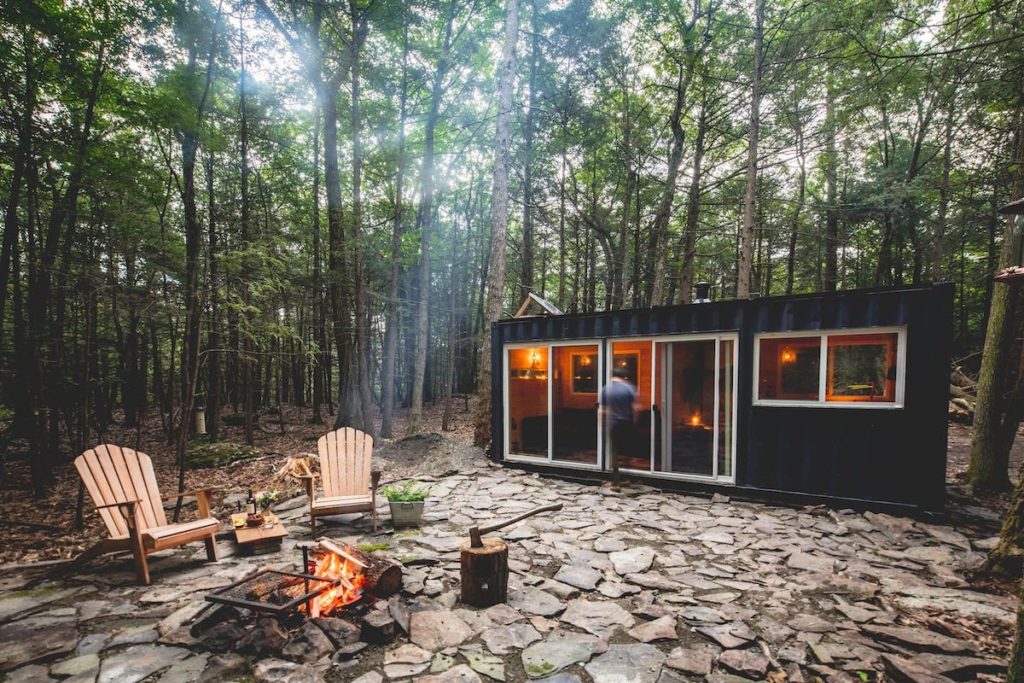 Just a hoot and holler down the road from some of the best small towns in New York – like Woodstock and Saugerties – is this adorable container cabin in the Catskills.
It's easily one of the best tiny homes in NY since it's an antique, black 20-foot shipping container that has been converted into an exquisite tiny house in New York.
Sitting on 20-acres of land. this tiny house New York getaway is hidden away on the eastern side of the Catskills and can accommodate up to two people with a queen-sized bed in the living room – a small, well-appointed area that features a writing desk, a well-stocked bookshelf, and a record player.
Also, be sure to admire the slate floor, pine wall paneling, a translucent roof (and walls) that lets in tons of natural light, a Swedish wood-burning stove (perfect for cold winter nights), and a lovely little kitchenette with a modern green two-burner stove, basic cookware, and a small cooler (be sure to bring your own ice).
Additionally, chic glass doors brighten up the space and open out onto a slab patio where you can sit next to a fire pit that is surrounded by enchanting Adirondack chairs.
Afterward, check out the on-site yoga platform before relaxing in a hammock and venturing over to a 30-foot waterfall that is a mere 300-feet away!
Other added bonuses of a stay at the tiny house Airbnb in New York include the use of a private bathroom with a camping shower and a composting toilet that are all in a separate building.
Price: $242 per night.
6. Outlier Inn Tiny House on Farm in Upstate Catskills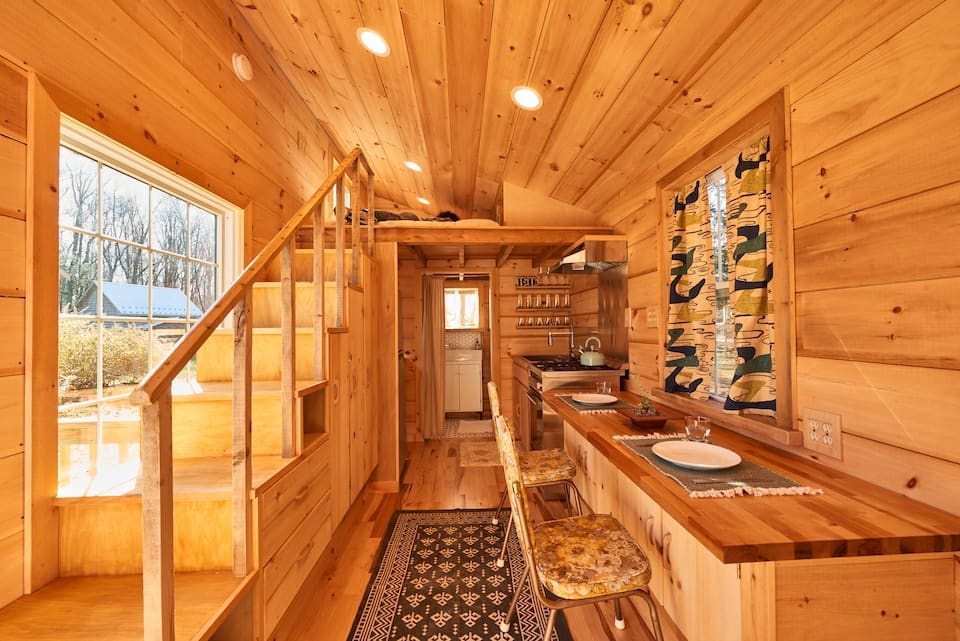 Located on a 12-acre farm owned by the Outlier Inn, this tiny house in New York is nestled along the southern region of the Catskill Mountains.
It also sits inside a former wooden trailer that has been lovingly transformed into a tiny house New York getaway that can comfortably fit up to three people.
Pets are also allowed, making it a great place to kick back, relax, and disconnect amidst a sea of fairy lights as the home is totally WIFI-free.
Add in posh amenities like a comfy mezzanine bed, a sofa bed on the ground floor, and large windows letting in ample amounts of light, and you have the perfect place for a weekend getaway in New York.
Continue outside and you'll uncover a beautiful glass table that is surrounded by tree stumps, in addition to various hammocks, alpacas, koi ponds, a fire pit, a vegetable garden, and goats that are all scattered throughout the farm property.
Additionally, guests can enjoy access to a spacious communal outdoor kitchen, an outdoor dining area with showers, composting toilets, and a full recording studio inside The Inn.
Pro Tip: This tiny house is a mere 30-minute drive away from Minnewaska State Park, which is why it is a great place to stay if you're planning to visit New Paltz, New York.
Price: $170 per night.
7. Outlier Inn Tiny House 3 on Farm Upstate Catskills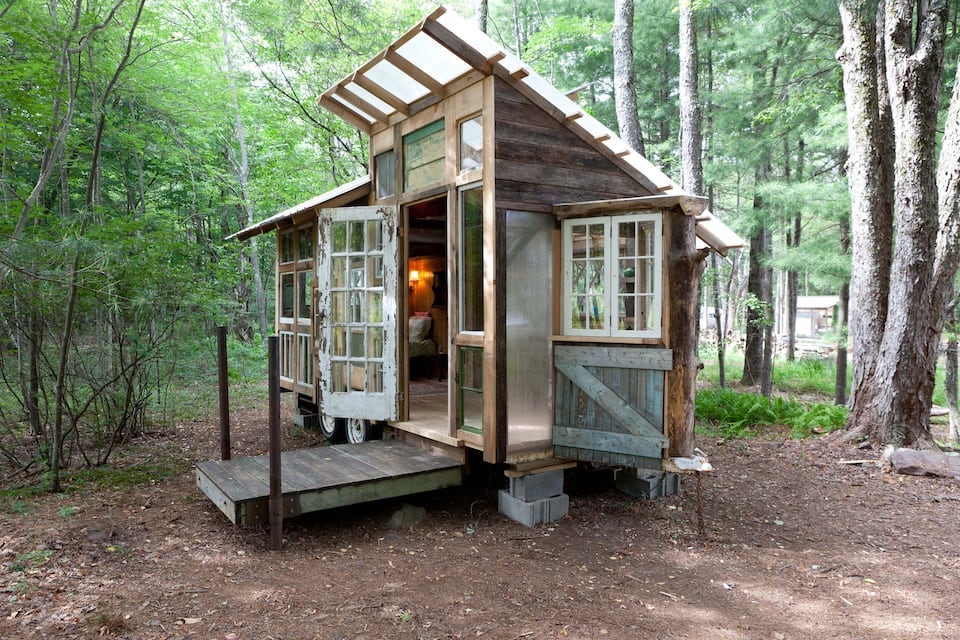 Another great property that is associated with the Outlier Inn, this tiny house in New York is designed with lots of windows, giving the interior space a wonderful, natural warmth.
Add in some quaint AF white French doors and an opaque wall panel and you have a truly wonderful place to stay during any tiny house New York getaways that you might be planning.
Step inside and you'll find a cozy space with dark wood furniture, an area rug, a cute writing book, and a table with chairs.
The space is also designed to accommodate three people, with a single bed on the bottom floor and then a double bunk resting just above it.
Price: $170 per night.
8. Off-Grid Artisan Tiny House in The Catskills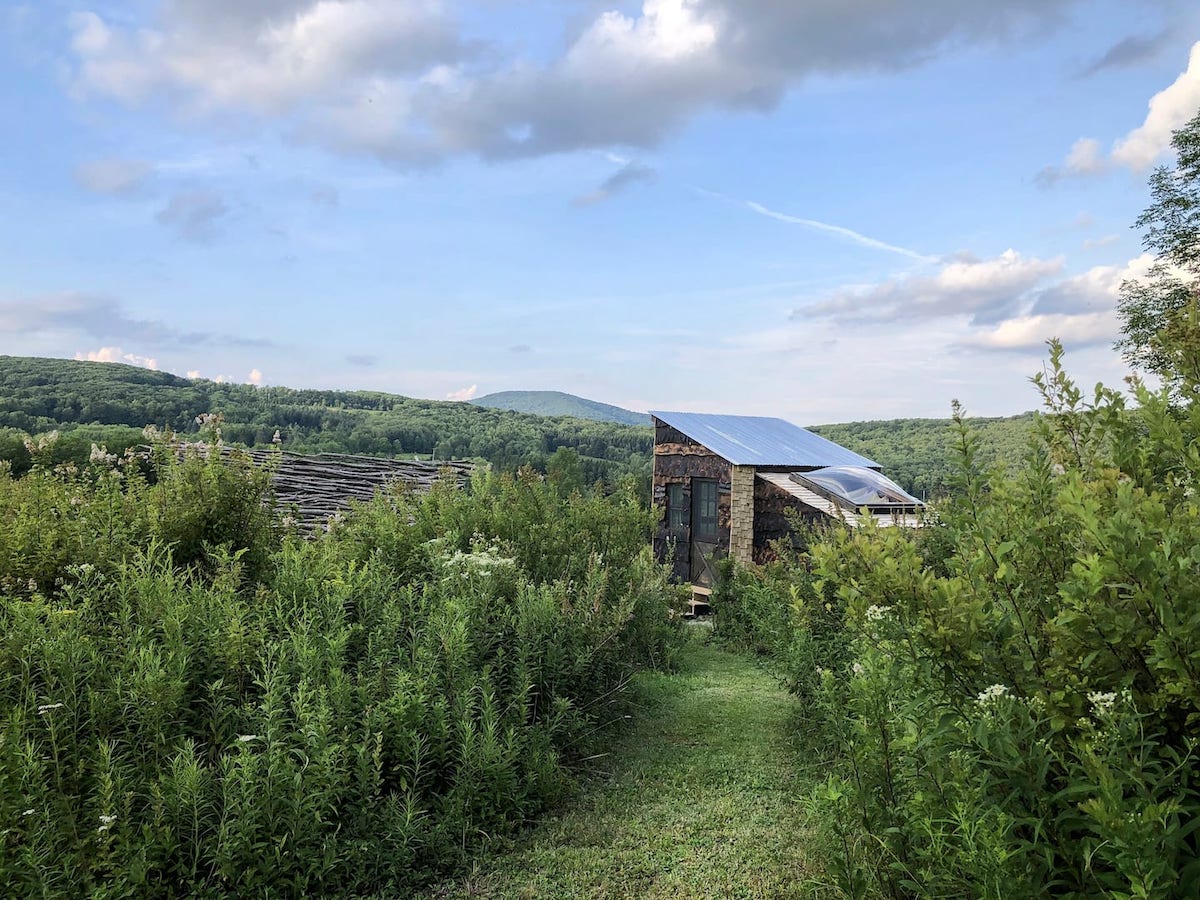 Hidden away on 10-acres of farmland, this tiny house Airbnb in New York has a wonderful, Bohemian vibe about it that is seen through a wall of stained glass and regular windows.
As a result, ample natural light perfectly illuminates a quaint bedroom nook with a Queen bed that has a large skylight above it. There's also a dual living room/dining room area with a small set of tables and chairs that can easily be stowed away.
Next, head outside to a small shaded area with Adirondack chairs that are perfectly placed next to a stone fire pit and a rustic building that is outfitted with a one-burner stove and various other cooking essentials.
It's near here that you'll also find a composting toilet and a lovely, outdoor shower. Just be aware of the fact that there are only solar lights and battery-operated lanterns for guests to use.
And while there is no WIFI in the house itself, guests can access the internet from the backyard of the property's main residence.
Price: $189 per night.
9. A Tiny bit of The Catskills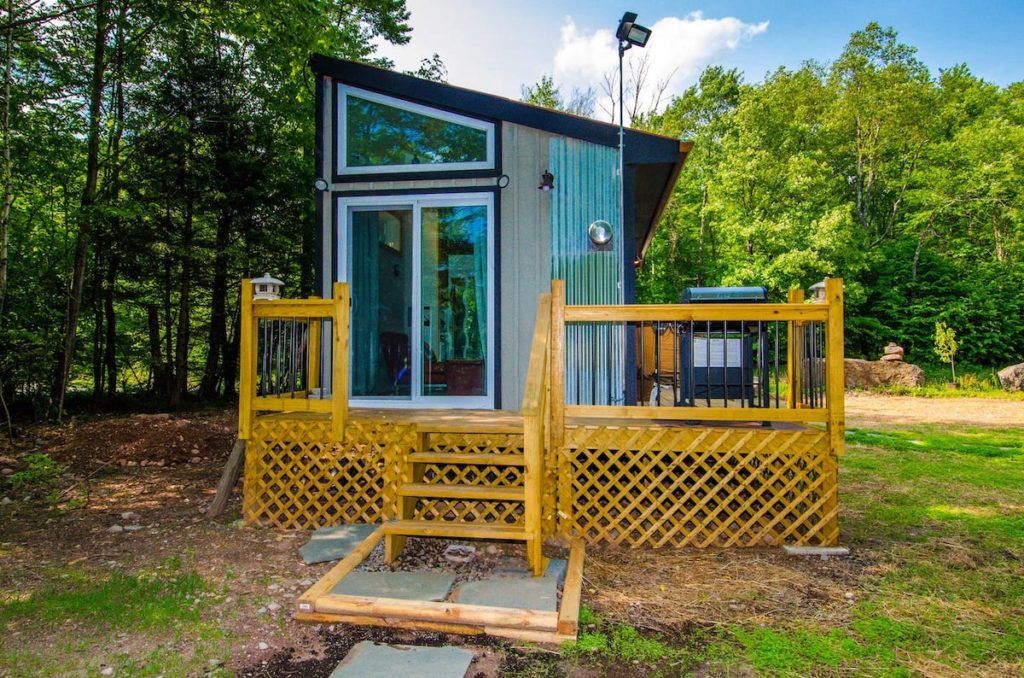 Another tiny house New York getaway in the Catskills, this enchanting home shares the land with a larger "main house".
It also features a unique, exterior design that includes half corruugated metal and half wood, with a bright, geometric mural at its center and a large wicker chair on the deck out front.
Continue inside and you'll find a small kitchen, complete with a breakfast bar, a living room, a wood-burning stove, and a bright red sofa for you to relax on.
There's also a cozy loft bedroom that two people can sleep comfortably in, in addition to a small shower with a composting toilet.
Finally, head outside and walk along a stone path that leads to a small patio with a fire pit and log furniture, before checking out a communal gazebo dining area, an on-site garden, and a small greenhouse.
Price: $91 per night.
10. The Black A Frame sustainable cabin
Named the coolest A-frame in New York, the Black A Frame sustainable cabin is certainly a hot topic in the area. Located right in the heart of Catskills, this is the perfect getaway if you can catch a vacant day since it is almost always booked out.
With two bedrooms, attached baths and an open floor plan, the house has everything you need for your weekend getaway. Did I mention that it also features a barbeque grill, picnic table and a gazebo alongside a pond? This cabin really has it all and the silence is so so welcome!
Pro tip: Pack all your groceries and cook at the spot so you don't have to get into the city for every meal.
Oh and try and get another family to share the cabin with you so it reduces the cost. The two bedroom model really works for this!
Price: $325/night
11. Tiny House Cabin at Gather Greene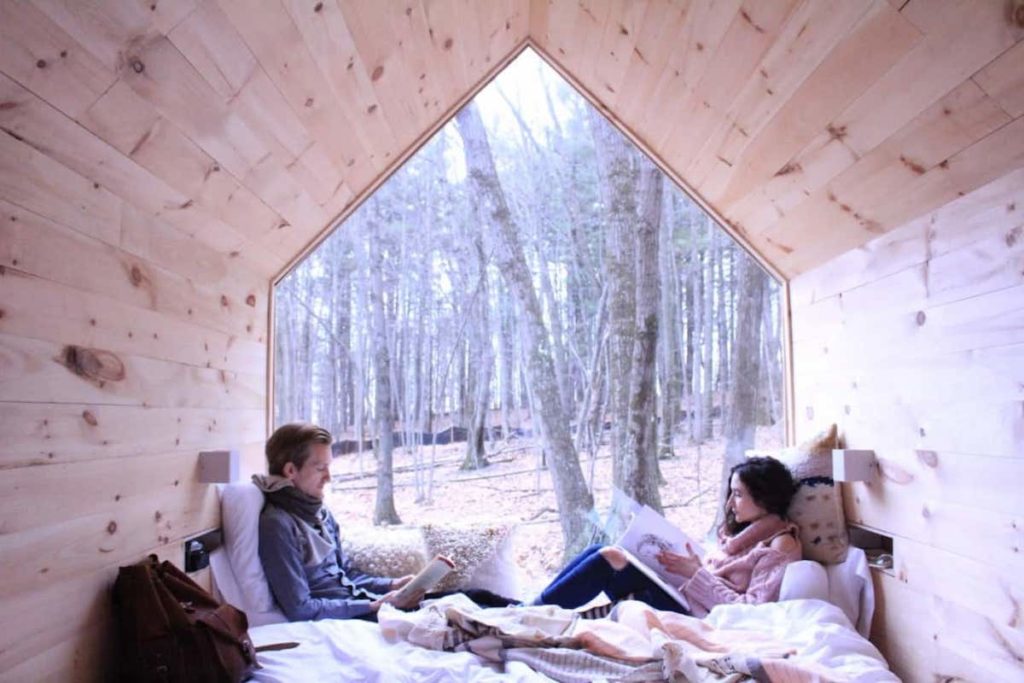 Tucked away in the rustic Gather Greene (near the Catskills) area, this tiny house in New York features light wood interiors with white accents that are perfectly complemented by large mirrors and spacious windows.
Perfect for a romantic tiny house New York getaway, each building comes outfitted with a king bed that can sleep two people – with an expansive window, just above the head of the bed, that offers sweeping views of the area.
There's also fantastic AC in the summer and great heating in the winter, making this an ideal vacation spot no matter the season.
.Add in complementary organic toiletries that sit inside a full bathroom with a walk-in shower and you may never want to leave!
And while there is no kitchen on-site, coffee, tea, and oatmeal are provided to guests so that you can make a quick breakfast.
Plus, a bonfire is held on-site every Friday evening so that guests can hang out and roast marshmallows over an open fire.
Price: $298 per night.
Gather Greene mainly functions as a place for private events and retreats, however, on specific days and times of the year the tiny cabins are available to book. Book this tiny house Airbnb in New York.
Price: $298 per night.
Tiny House New York Getaways – The Adirondacks
12. Tiny House in the Adirondacks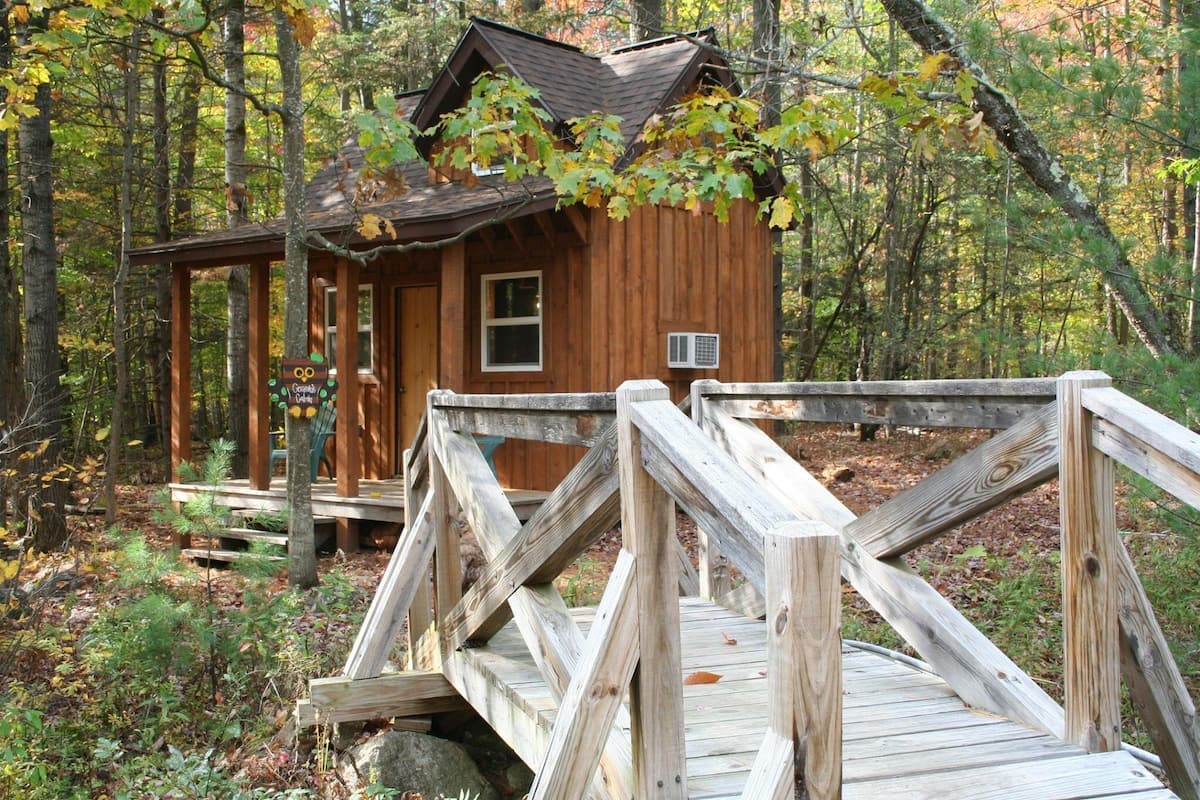 Brought to you by expert host Colleen, this well-priced, tiny house in New York is located right near Wilmington in the Adirondacks – making it a short drive away from some of the best things to do in Lake Placid (it's just 10 miles away).
Accommodating up to three adults, this cozy tiny house New York getaway has a futon on the ground floor and a double bed in the loft for guests to sleep on.
Plus, in addition to quaint, Adirondack-inspired decor, this tiny house also features a kitchen with a microwave, hot plate, griddle, and crockpot – all of which can be used to prepare delicious meals.
Afterward, step through a screened-in porch, with Adirondack chairs, and head outside to a picnic table to enjoy your meal before watching TV and getting warm next to a wood-burner-like stove that quickly warms up the space.
And when you need to heed the "call of nature", just use the new outhouse, with a composting toilet and a standing shower, just twenty feet from the main house.
But, when you find yourself getting a wicked awful case of cabin fever, feel free to enjoy a wide array of outdoor activities in the area, including hiking, kayaking, skiing, swimming, and fishing.
Price: $92 per night.
Tiny House New York Getaways – Western New York and the Finger Lakes Region
13. Vineyard Villa C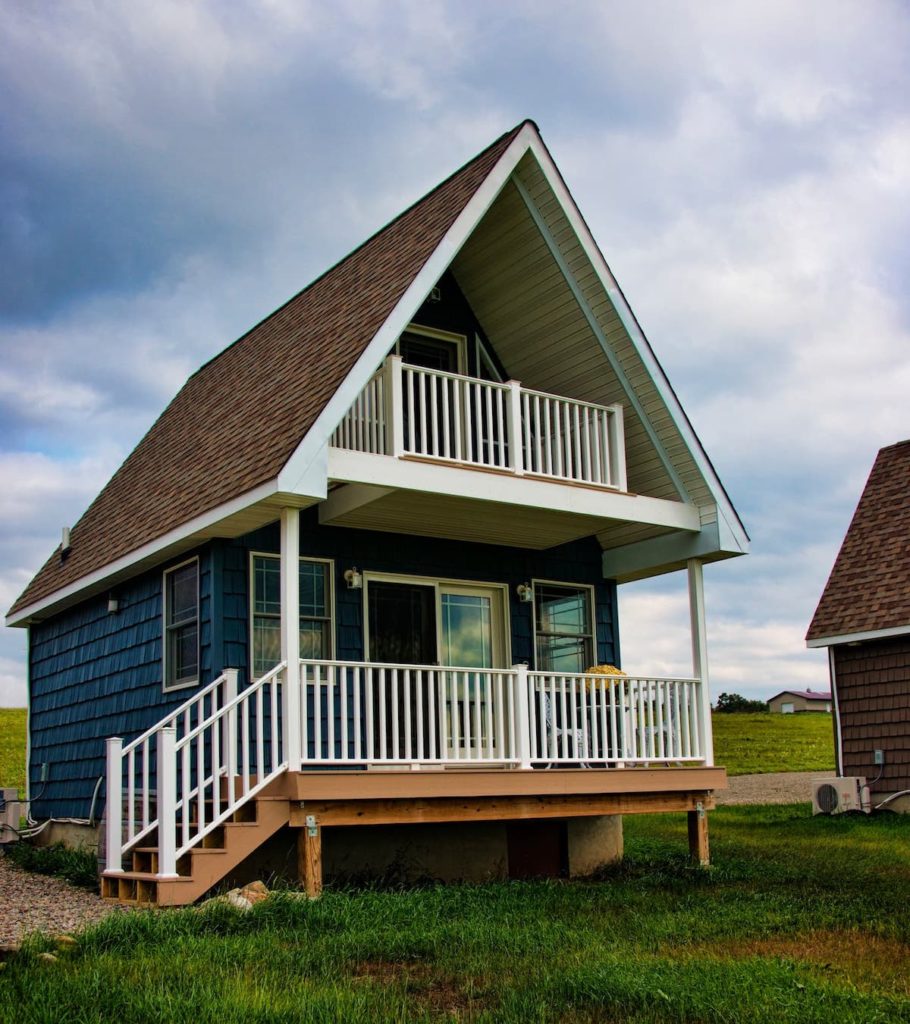 Overlooking Seneca Lake, this tiny house in New York provides guests with easy access to the region's many vineyards and beer trails.
Each house on the property also features two distinct floors, with the first floor serving as a spacious deck area while the second floor becomes a balcony with stunning panoramas of the vineyards below.
Step inside though and uncover a spacious queen bed in the bedroom and a pull-out sofa bed in the living room, allowing four people to spend the night as they share one full, modern bathroom with a shower.
Other interior highlights include French doors with windows, a private deck, a small fully equipped kitchen, and an outdoor fire pit surrounded by Adirondack chairs.
Afterward, walk down the road to enjoy lake access at Smith Park before embarking on one of the best hikes in upstate New York, in nearby Watkins Glen.
Price: $286 per night.
14. A Tiny "Hotel" in Karenville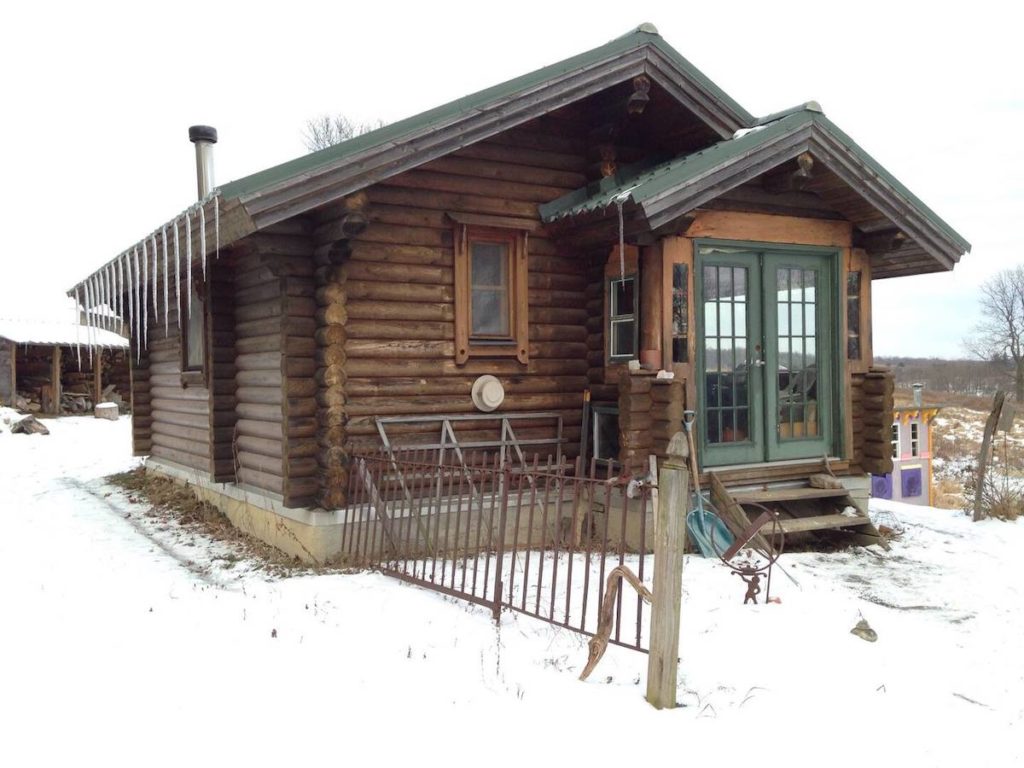 This quirky tiny house in New York is located near Ithaca (less than 10 miles away) and features hand-made, pastel-colored, Victorian-inspired decor that gives this place an almost whimsical vibe.
Easily one of the best tiny homes in NY, three people can spend the night inside this vibrant green, pink, and purple-hued home while sleeping in a comfortable, double bed that overlooks a nearby goat pasture.
There's also a make-shift, beige, and purple loft with a full bed that sits right near a glassed-in porch with a camping chair that you can read in.
Because there are many different accommodations on this property, guests here are given access to a communal dining area and a "cafe" where you can prepare meals.
Afterward, say hi to some of the amazing animals that also call this place home, including horses, goats, guinea pigs (in the aptly named guinea pig garden), and chickens that provide the "cafe" with farm-fresh eggs daily.
Finally, make use of a shared composting toilet and outdoor shower, before calling it a night in a simple home with no electricity or WIFI.
Price: $88 per night.
Additional New YorkTravel Resources You'll Love
There you have it! That just about concludes this guide to some of the very best tiny houses in New York!
Tell me, did your favorite tiny house in New York make the list? If not then let me know in the comments below so that I can take a look!
And if you loved this post, be sure to join our email list and pin this now so that you can read it again later!