When most people think of New York, they dream of the bright lights and the lightning fast-pace of life in New York City. However, there is so much more to New York than just the big apple! So, if you want to check out 22 of the best small towns in New York, then THIS is the post for you!
After all, I've lived in New York for well over thirty years. Therefore, I've traveled extensively throughout this great state of ours and I want to share all of my insider tips with you to help you explore all of the very best small towns in upstate New York.
This way, you can get the most out of your New York itinerary by enjoying all that the best small cities in New York have to offer.
So, what are you waiting for? Get out of the guidebook and start experiencing New York like a REAL local with this epic guide to 20 of the best small towns in New York – especially if you visit New York in May.
Trust me, by the end of this post, you'll have uncovered tons of charming small towns in New York that you didn't even know existed!
This post may contain affiliate links. Please see my disclosure for more information. As an Amazon Associate, I earn a small commission from qualifying purchases.
? Want the BEST SMALL TOWN IN NEW YORK to stay in? Then book a room at the Skaneateles Boutique Hotel. It has gorgeous large rooms and plenty of place for guests to chill at.?
What is the Most Beautiful Small Town in New York?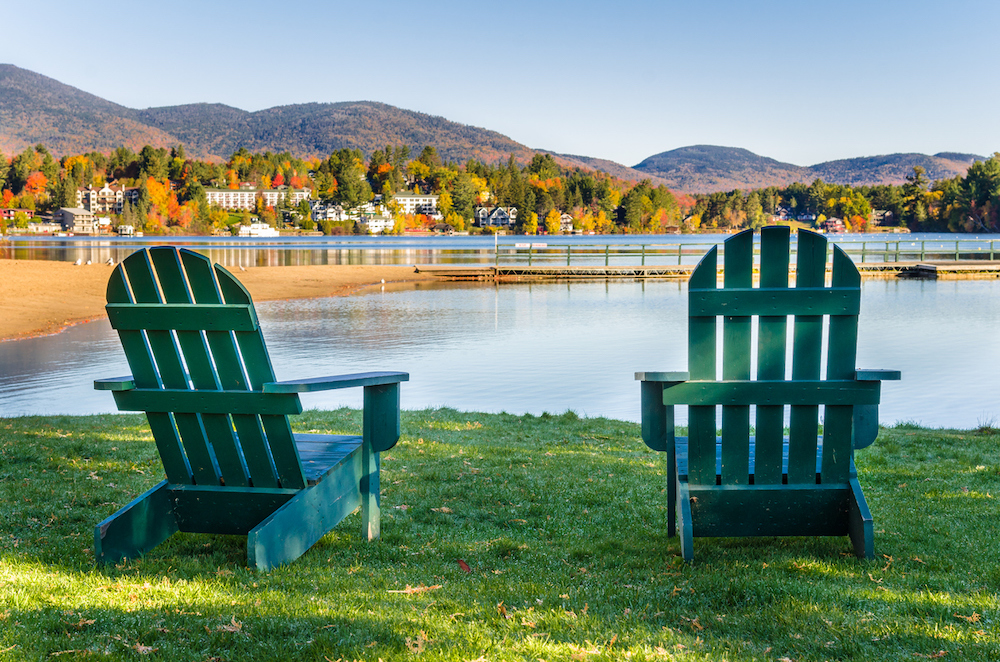 This is such a tough question to answer since all of the places on this list of the best small towns in New York have their own unique charm.
However, Lake Placid is probably one of the most beautiful small towns in New York since it sits on Mirror Lake and offers visitors sweeping views of the Adirondacks and the mesmerizing High Peaks region.
What is the Friendliest Small Town?
The friendliest small town in New York has to be Woodstock, NY. The people are just super warm and welcoming and every time I've been there I've never wanted to leave.
However, Murray, Washington actually holds the title for being the friendliest small town in the entire United States.
What are the Best Towns to Live in New York?
While there are a lot of amazing places to live in New York, here are some of the best towns to live in New York based on quality of life, affordability, amenities, and more!
Bay Ridge, Brooklyn
Harlem, NYC
Massapequa Park, Long Island
Jackson Heights, Queens
Kenmore, Buffalo
Endwell
Murray Hill, Manhattan
Windsor Terrace, Brooklyn
Lancaster, Buffalo
Astoria, Queens
Where can I live 2 hours from NYC?
If you're looking for some of the best small towns in New York that are around 2 hours away from the city, then try:
Tarrytown, NY
Port Washington, NY
Dobbs Ferry, NY
Maplewood, NJ (not in NY but still an easy commute from the city)
Larchmont, NY
Greenwich, CT
Huntington, NY
Cranford, NJ
All of these towns are fairly close to the city and you can easily commute into and out of these small towns via the train to either Grand Central or Penn Station.
What is the best town in Upstate New York?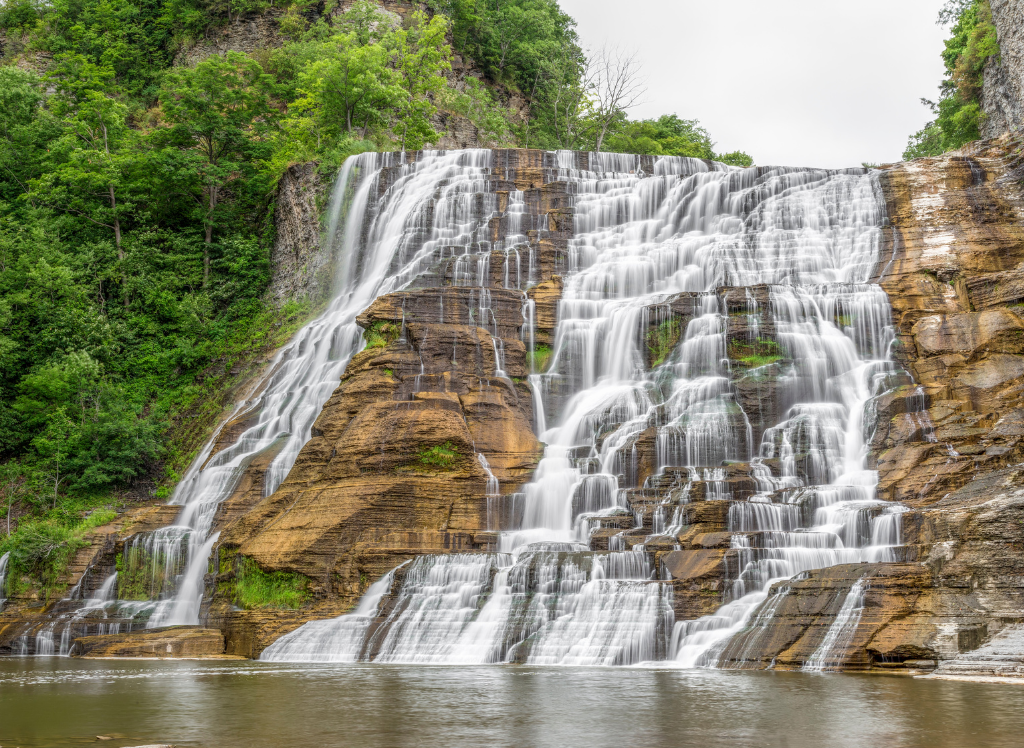 Again, such a challenging question since they are all so diverse and charming in their own way. However, Ithaca is one of the best towns in Upstate New York.
Sure, it's more of a city than a town but it overlooks Cayuga Lake and is within 15-minutes of some of the best state parks in New York – including Taughannock State Park, Buttermilk falls State Park, and Robert Treman State Park.
In fact, there are over 150 different waterfalls within close proximity to Ithaca. Therefore, it is a great home base from which to explore some of the best waterfalls in New York.
Best Small Towns in New York – Finger Lakes Region
1. Tonawanda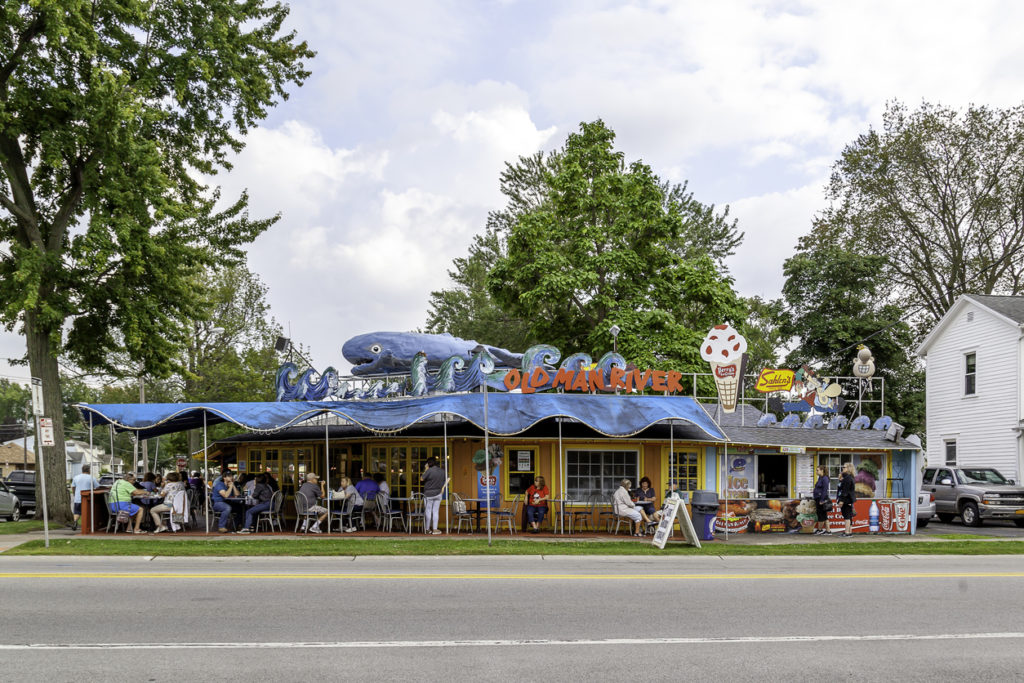 One of the best small towns in New York is Tonawanda. And of the best things about Tonawanda is that it's almost equidistant from Buffalo and Niagara Falls.
So, you might just want to swing by during your next New York road trip.
And, added bonus? Both of these exciting small cities in New York are less than 30 minutes from this quaint small town in New York. Therefore, you're never far from exciting things to do.
Luckily though, you don't need to leave Tonawanda to find fun activities. Especially if you are traveling with kids, or, you know, you're just a kid at heart like me.
Because two great things to do in Tonawanda are conquering the mini-golf course at Adventure Landing, and walking around Ellicott Creek Park/the Shoreline Trail.
But, my all-time fave place to visit in Tonawanda is the Herschell Carrousel Factory Museum. Here you will be hit with a blast of nostalgia as you admire their impressive collection of carrousels.
This isn't your typical museum, though, because not only can you learn about the carousels, but you can also hop on and ride them too!
Now for delicious food, I highly recommend Fletcher's Kitchen where you'll find delicious pizzas and yummy sides like deep-fried mushrooms and mozzarella sticks.
However, If you aren't in the mood for pizza (it's okay, we all have off days), Old Man River has great views and serves up some great, all-American staples.
Where to stay: Unfortunately the accommodation options in Tonawanda aren't great. Your best bet is the Holiday Inn Express & Suites Tonawanda. The rooms are comfy, and all come with a free (and tasty) buffet breakfast and access to a 24-hour fitness center.
2. Geneva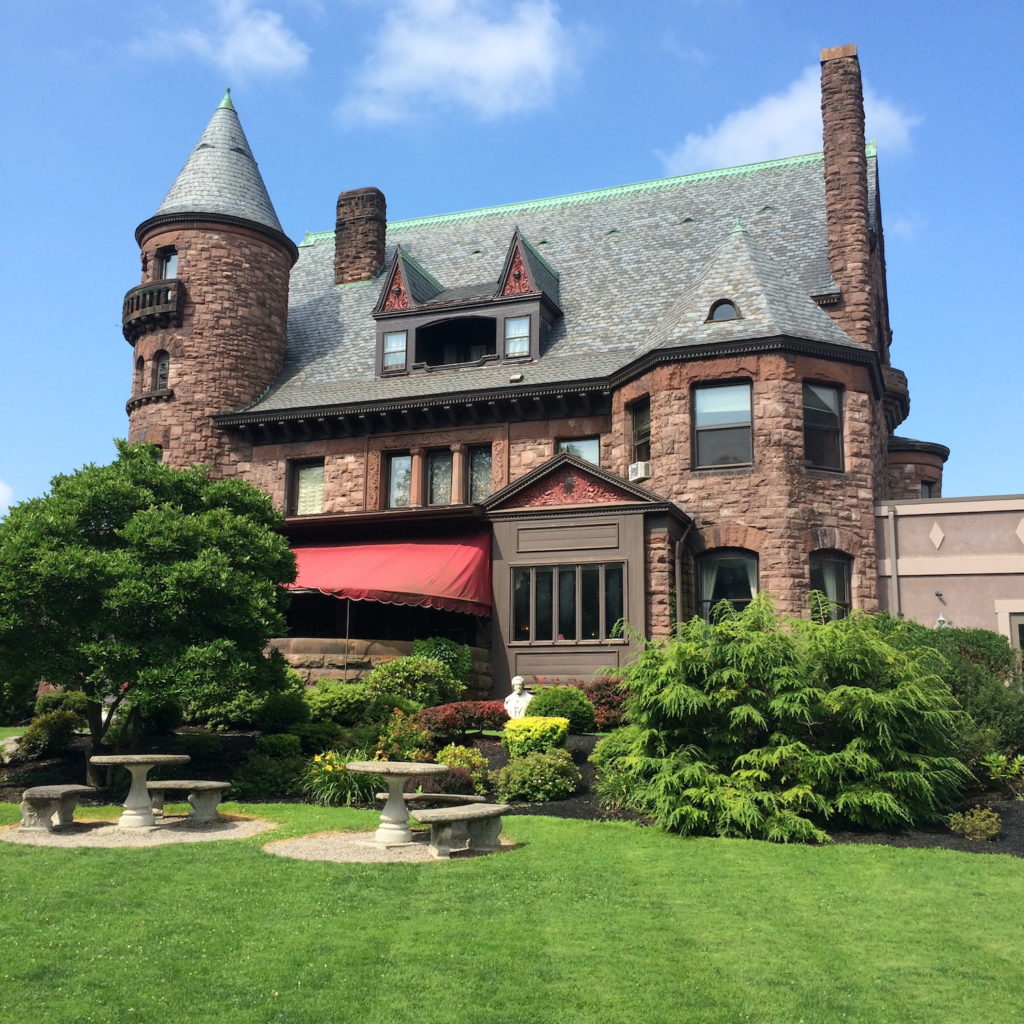 Geneva is a great destination for anyone looking for road trips from NYC. It's also one of the best small towns in New York located on the Finger Lakes.
So, it's no surprise that one of the best things to do here is to hang out, go swimming, and take a boat ride on the Finger Lakes – specifically Seneca Lake, which Geneva sits along the shores of.
In addition to relaxing on the lake, one of the most popular things to do in Geneva is to visit the many, many vineyards in Geneva and the surrounding area.
In fact, I can personally recommend Ravines Wine Cellars. The tour I had was truly enlightening and the setup is just on point.
The Geneva History Museum is also well worth a visit if you are remotely interested in the history of the town and the Finger Lakes area as a whole.
For the perfect start to your day or an afternoon pick me up, I also LOVE Monaco's Coffee. Their breakfast burritos and sandwiches are the stuff that foodie dreams are made of and the coffee is great too.
Also, If you love Thai food as much as I do, then check out The Elephant Geneva. I could eat their Pad Thai all day, every day!
Where to stay: There's only one place for me in Geneva and that is Belhurst Castle. It's considered one of the most haunted hotels in New York, but don't let that deter you because this place is comfy and fancy AF and you won't be sorry you stayed. Plus, if you love vineyard experiences, they actually have their own onsite winery.
3. Aurora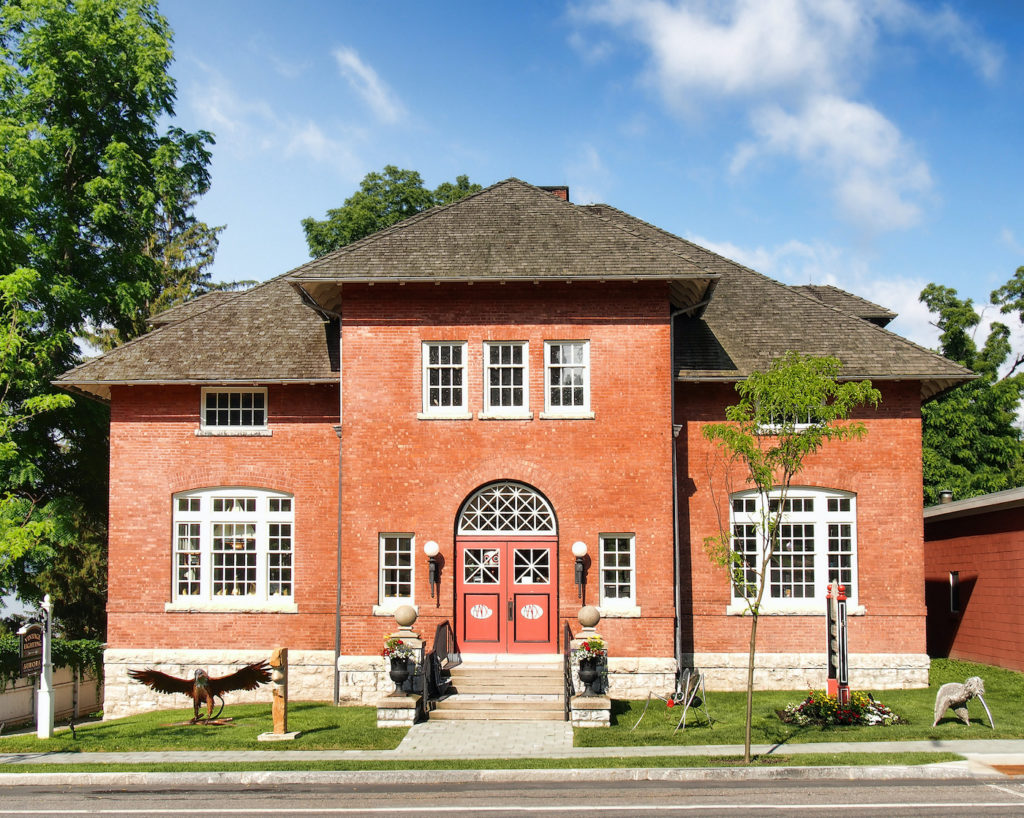 Pleasant Rowland, an American Dolls creator, attended school here at Wells College and loved it so much that she partnered with her alma mater to restore many of the buildings in the area
As a result, many of Aurora's buildings are now listed on the National Register of Historic Places thanks to her efforts, easily making this one of the best small towns in New York
So if you want quaint small towns in New York that are full of historical vibes, Aurora should be top on your list. Plus, with a population of less than 700 citizens, it's also one of the smallest towns in New York on this list!
It's also another Finger Lakes destination that sits one Cayuga Lake. So, one of the best things to do here is to check out a vineyard.
Additionally, pottery is huge in Aurora and MacKenzie-Childs, one of the top pottery artisans in the USA, is based here.
This region is also one of my favorites for seeing the fall foliage in New York, so if you can, plan your visit for either September or October!
And for delicious, home-cooked food, try out Fargo Bar & Grill. I can't get enough of their tater tots!
Where to stay: My stay at Walcourt Hall was fantastic. Located in a beautiful 17-room guesthouse, I felt so at home I never wanted to leave! I particularly loved the history as this building was once an all-girls preparatory, which fit in perfectly with the American Girl aesthetic I was going for.
4. Skaneateles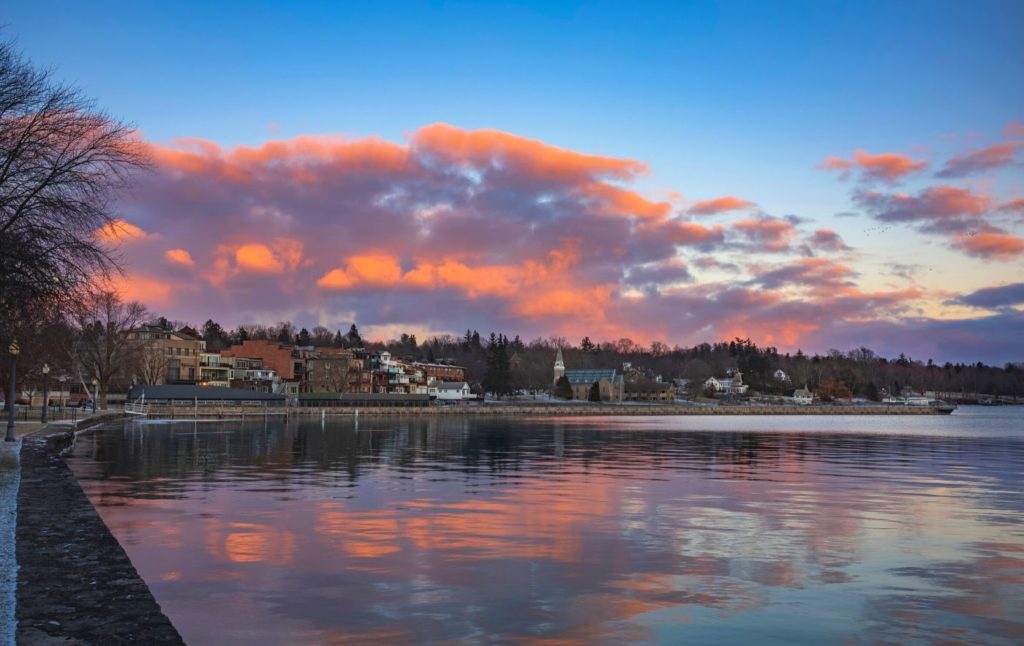 Skaneateles is another one of the best small towns in upstate New York that is located along the Finger Lakes.
Because as the town's name might suggest, Skaneateles can be found at the tip of Skaneateles Lake, which is, of course, one of my favorite places to hang out whenever I visit.
That's also why the best time to visit Skaneateles is in July so you can make the most of the insta-perfect Lockwood Lavender Farm. The farm is only accessible to the public in July, so make sure to arrive early!
If you're up for a mini hike, I highly recommend Carpenter Falls. There's a mile-long loop trail here that takes you past three stunning waterfalls in the area.
Feeling hungry? Well, you can't visit Skaneateles without stopping by Johnny Angel's Heavenly Burgers. It looks a little grim from the outside, but as the name suggests, the burgers here are heavenly. There are also veggie options that can be made vegan.
Where to Stay: Whenever I visit, I stay at the Skaneateles Boutique Hotel. This beautiful property has spacious rooms and a terrace where guests can relax. It's also centrally located within walking distance of everything. But with only five rooms, it books up fast in peak season!
5. Trumansburg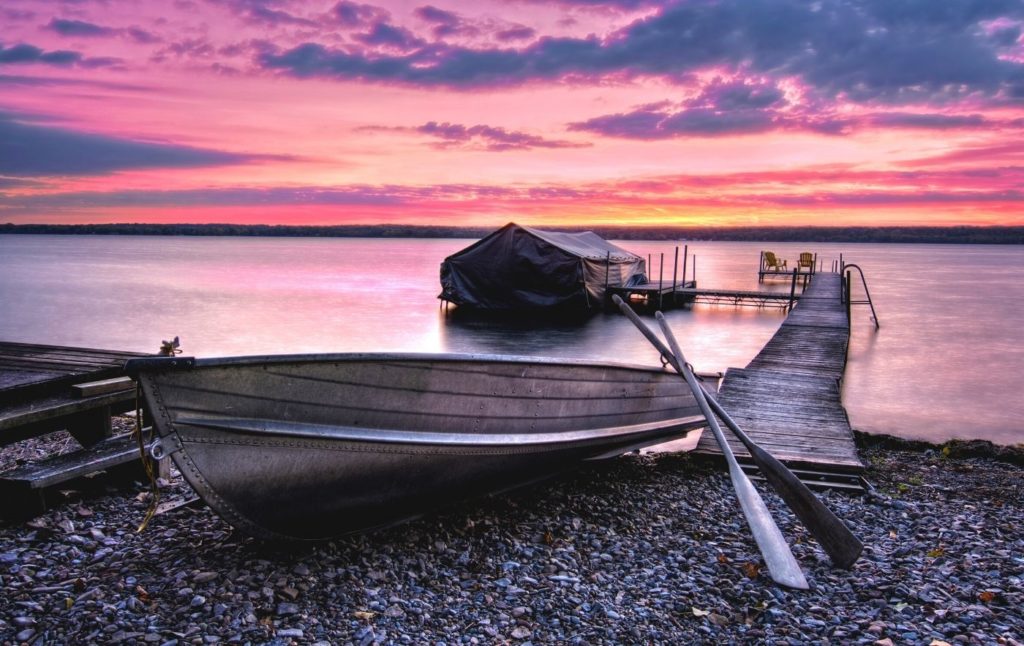 This is one of the most unexpected and best small towns in upstate New York. I stopped by on a whim while visiting the Finger Lakes and fell in love.
This little hidden gem is less than 2 miles from Taughannock Falls State Park, with Lake Cayuga just a bit further. So while there isn't too much to do in the town itself, there are tons of great outdoor activities nearby.
So, while in Trumansburg, you can visit the Ulysses Historical Society to learn more about the local area. And if you happen to visit in the summer, they usually host the Finger Lakes Grass Roots Festival sometime in July. It's one of the best grassroots festivals in the country!
Little Venice Trumansburg is also one the best palces to eat in town and for good reason. Their Italian food is the real deal!
Where to Stay: With less than 2000 residents, it's no surprise there aren't many accommodation options. However, the Gothic Eves Inn and Spa is one of the best places I've ever stayed, so I'm not complaining. This enchanting B&B offers large and unique decorated rooms, a terrace and amazing spa treatments!
6. Ithaca
Yes, Ithaca is technically a city, not a town. However, it really is one of the best small towns in New York.
I mean, only is it home to both Ithaca and Cornell University, but this amazing city of 30,000+ residents overlooks the southern tip of Cayuga Lake and is just a short drive away from amazing parks like Buttermilk Falls State Park, Robert Treman State Park, Taughannock Falls State Park, and more.
Therefore, it is an ideal destination for anyone who loves the great outdoors since you can hike and bike your way past more than 150 different waterfalls in the area.
And when you're not exploring the great outdoors, you can relax in Ithaca Commons and enjoy some of the best restaurants, boutiques, and museums that the Finger Lakes region has to offer.
Area highlights include the History Center in Tompkins County, American Crafts by Robbie Dean, Liquid State Brewing Company and, my personal fave, Gimme! Coffee.
Where to Stay: There are ton of great hotels in the Ithaca area but La Tourelle Hotel and Spa is one of my all-time faves.
It's basically this fabulous 3.5 star hotel where you can book a traditional room with a four-poster bed and private whirlpool tub for just under $120 per night.
Plus, their on-site farm-to-table serves and incredible breakfast so, yeah, what's not to love?
Best Small Towns in New York – Adirondacks/Upstate New York
7. Plattsburgh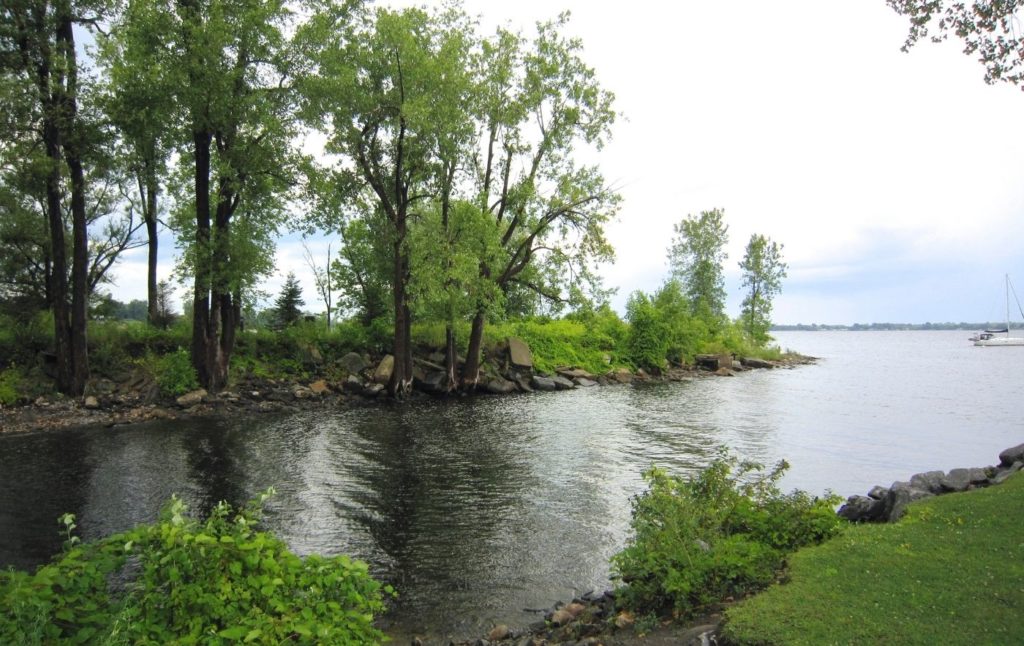 You'll find the charming small city of Plattsburgh along Lake Champlain on the New York-Vermont border. Perfect for art and history lovers, Plattsburgh is easy to fall head over heels for.
For art lovers, The Strand Center for the Arts and the Plattsburgh State Art Museum is obvi a must. For something a bit more unique try to catch a show at the The Depot Theater. It's a former train station converted into a performance art theater!
Pro Tip: The Depot Theater isn't actually in Plattsburgh but in Westport, which is about 45-minutes south of one of the best small cities in New York. So, you could easily do a day trip here and drive to exit 31 off of the Northway.
Now, my fellow history nerds will love the War of 1812 Museum. But, make sure to give yourself plenty of time to learn all about the fascinating vehicular history that you didn't know you needed in your life at the Champlain Valley Transportation Museum.
Also, whenever I visit, I have to stop by Naked Turtle and stuff my face with their delicious nachos. I'm also a big fan of the goat cheese and roasted vegetable ravioli at Arnie's. My mouth is watering just thinking about it!
Where to Stay: The Microtel Inn & Suites by Wyndham is the best place to stay. It's comfy, affordable and near the Hungry Bear, one of the best breakfast places in Plattsburgh!
8. Saranac Lake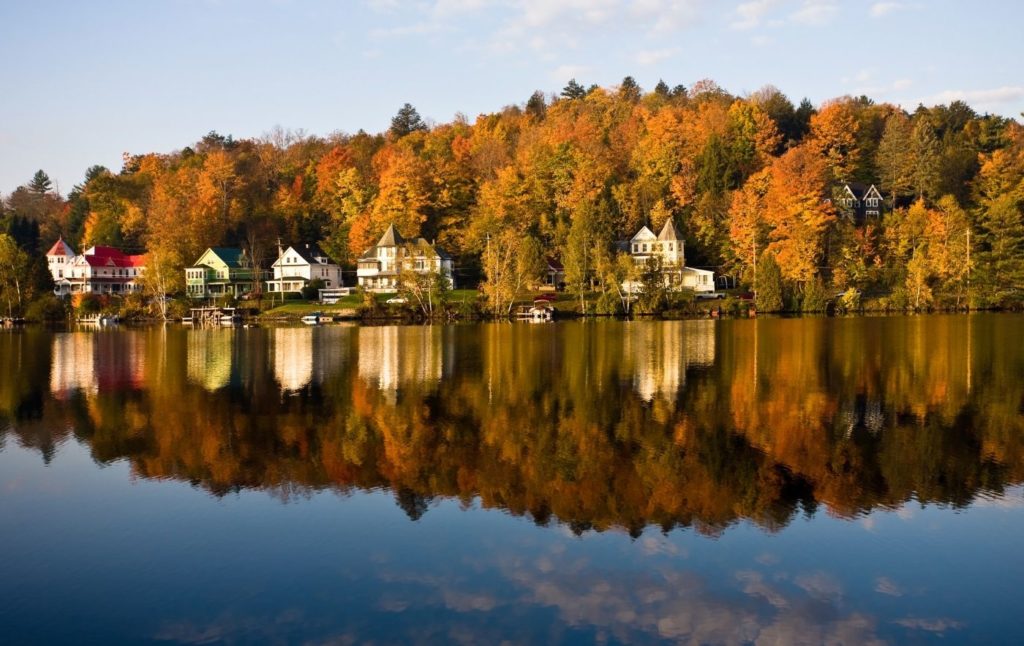 Nestled between two stunning lakes, Saranac Lake is one of the best spots for a romantic getaway in upstate New York. It's also one of the best small towns in upstate New York for outdoor adventures.
So, get your hike on at the Dewey Mountain Recreation Center, or spend an afternoon learning about loons (yes you read that right) at the Adirondack Center for Loon Conservation!
You'll also find some of the best hikes in the Adirondacks nearby.
Also, don't miss the chance to have a spin on the Adirondack Carousel and feel like a kid again (or enjoy with the whole family)! Another unique place to visit is the Saranac Laboratory Museum where you can read about medical history in the USA.
And when your stomach finally starts rumbling, head to Bitters & Bones. My fave is their Chipotle Grain Bowl or the Tofu Wrap! Yum!
Pro Tip: Also be sure to take a day trip to the Wild Center in nearby Tupper Lake (about 30 minutes away), where you can do their Treetop Walk and learn all about the natural eco-system of the Adirondack region. You can also enjoy one of the best lakes in New York while you're here. .
Where to Stay: Treat yourself to a luxurious stay at Saranac Waterfront Lodge, and enjoy fairy tale-esque views of Lake Flower.
9. Lake Placid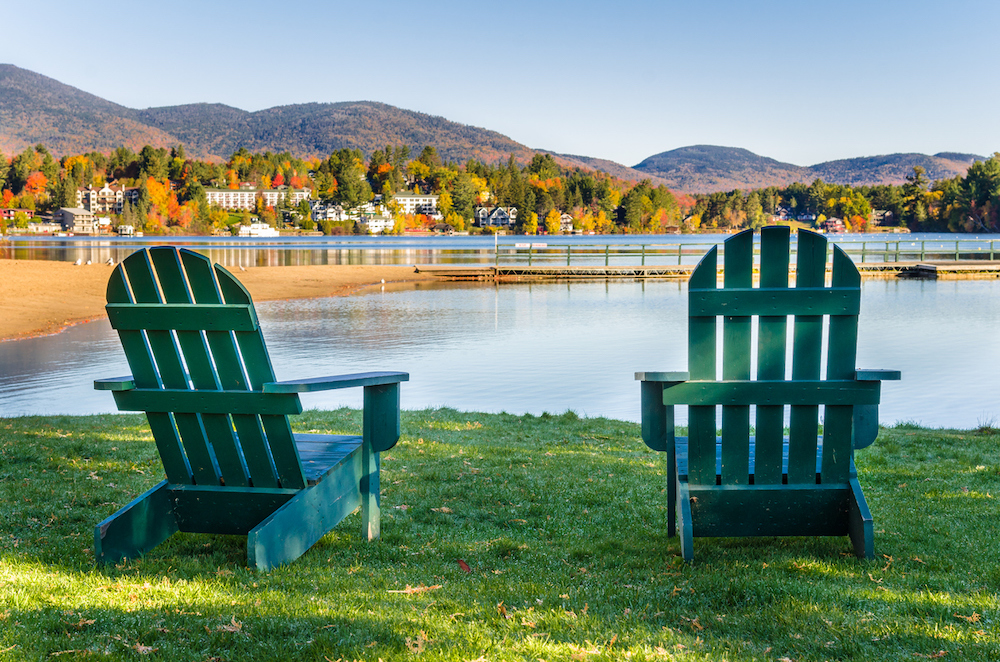 Lake Placid is probably one of the most well-known and best small towns in New York, and for good reason. I try to visit regularly because there is something magical about Lake Placid – and it's a great destination for nature lovers.
For things to do, go hiking at Mount Marcy or Whiteface Mountain, two of my favorite hikes in upstate New York! I also recommend a day trip to the Rainbow Falls at Ausable Chasm, one of the most beautiful waterfalls in New York.
One of the most unique activities in Lake Place is the Lake Placid Olympic Bobsled Experience where you can ride an actual bobsled!
You also can't visit Lake Placid without a stop in Emma's Lake Placid Creamery, one of the best things to do in Lake Placid in the winter AND summer.
They claim to have the best milkshakes in town and I can confirm! They also make amazing ice cream too, of course. However, for something more filling, try Smoke Signals just up the road!
Where to stay: High Peaks Resort is the perfect mid-range option. With rooms overlooking Mirror lake and Adirondack-themed decor, you'll fall in love with this amazing resort.
10. Lake George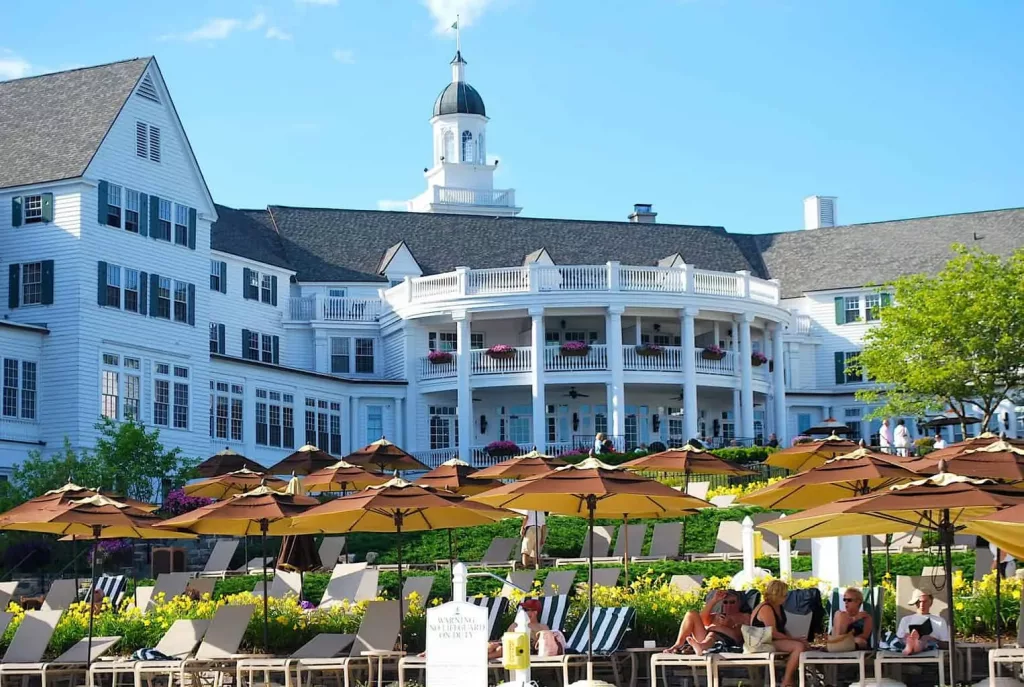 Lake George is undeniably one of the most beautiful and best small towns in New York. Surrounded by beautiful mountains and located next to a gorgeous lake? Umm, yes, please! Sign me up!
Plus, there's even an aerial course where visitors can spend the day ziplining through the forest or indulge in other adventure activities.
Of course, shocker, there's also the titular Lake George which is always the first place you'll find me. And one of the most popular beaches here is Million Dollar Beach where everyone but me goes to tan (Is it possible to be too white to tan?).
And I'd be remiss if it didn't mention other awesome things to do in Lake George, like an old-school drive-in movie theater (Glens Falls Drive-In) and a giant amusement park called the Great Escape.
Now, when you need a break from all this excitement, grab a meal at the rustic Log Jam Inn. The Garrison is another Lake George fave.
Where to Stay: Unplug (there are no TVs) at The Inn at Erlowest, a luxury hotel with GIGANTIC rooms and outstanding service. Rooms come with different amenities like a built-in fireplace or jacuzzi! Worth every penny, I promise!
Best Small Towns in New York – Capitol Region/Hudson Valley/Catskills
11. Saratoga Springs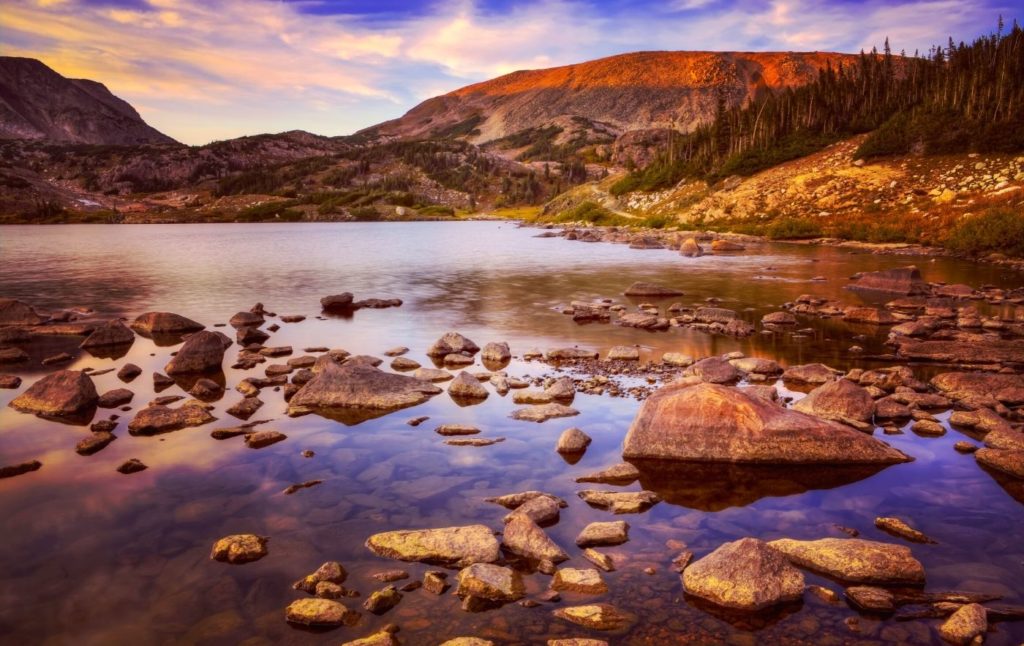 Love horses and horse racing? Great, Saratoga Springs will be the best vacation you've ever had and one of your best all-time favorite, charming small towns in New York.
All that having been said, Saratoga is SO MUCH MORE than just horses. In fact, it's one of the most unique and best small towns in upstate New York!
I mean, there are so many amazing things to do in Saratoga Springs that you could easily spend weeks here without getting bored. But don't worry, I'll just stick to a few highlights.
One MUST is the Saratoga Spa State Park where you'll find springs, spas, and hiking galore! Plus, golfing and museums!
Did I mention there's also a real, functional drive-in movie theater? Yes, this is not a drill!
And yes, there is of course the racetrack and racing Hall of Fame for you horse lovers out there (I get it, we used to go every year just to place a bet and watch the races).
Stuff your face (I know I do) at The Falafel Den and Sushi Thai Garden. Seriously, I could happily eat all my meals in Saratoga Springs for the rest of my life.
Where to Stay: The Historic Hotel Broadalbin is one of my all-time top hotels in New York! In fact, I wrote an entire post about the Historic Hotel Broadalbin in case you want to read me gush in excruciating detail about this fine establishment. Just trust me and book a stay, you won't regret it!
12. Cooperstown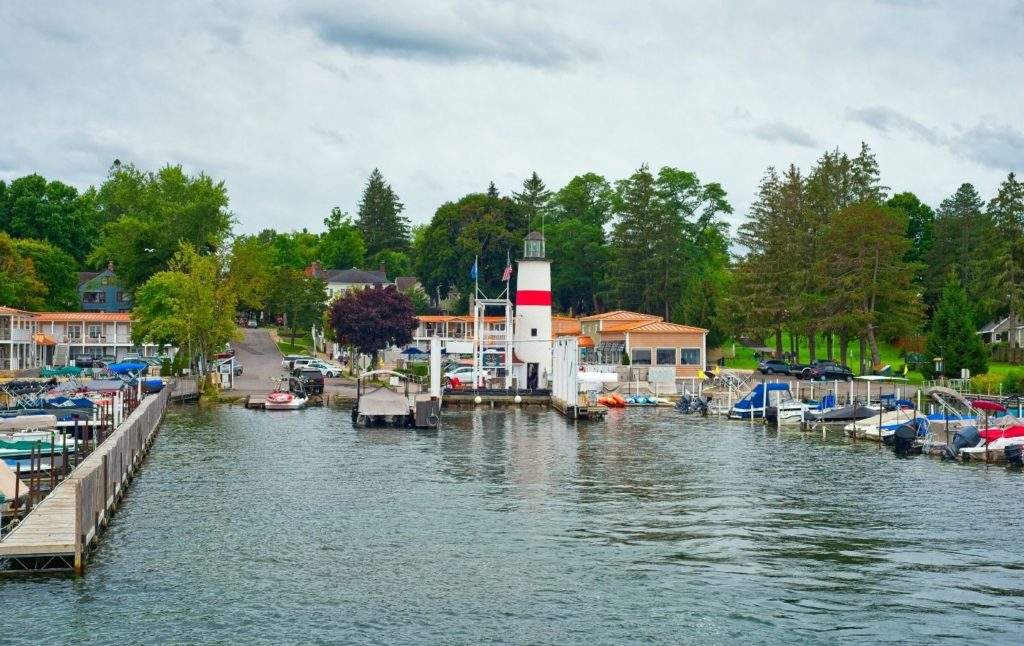 Cooperstown is pretty much one of the best small towns in New York that is known state-wide for being home to the National Baseball Hall of Fame. Which is cool, don't get me wrong. I love our pastime as much as the next person, but there is so much more to this town!
However, if you're a bit more of a beach bum like me (just not a tanning one), then you're in luck because Cooperstown sits at the foot of Otsego Lake. And this lake just does not get enough love with its clear blue water and views of the surrounding hills.
In fact, just outside of Cooperstown you'll find the enchanting Fairy Springs Park, Glimmerglass State Park, and a cave hike! Yup, this is one of the coolest small towns in upstate New York!
For food, I recommend a meal at the Hawkeye Bar and Grille inside Otesaga Resort. It's particularly perfect for a romantic night out, but I've scarfed down a meal for one with no shame after enjoying some of the best things to do in Cooperstown.
Where to Stay: Looking for a cozy but chic hotel? Well, this beautiful combo can be found at The Railroad Inn. You'll get free continental breakfast, great service, and access to tea and coffee in the common areas. Plus, you get to enjoy GIANT rooms and bathrooms you could live in.
13. Saugerties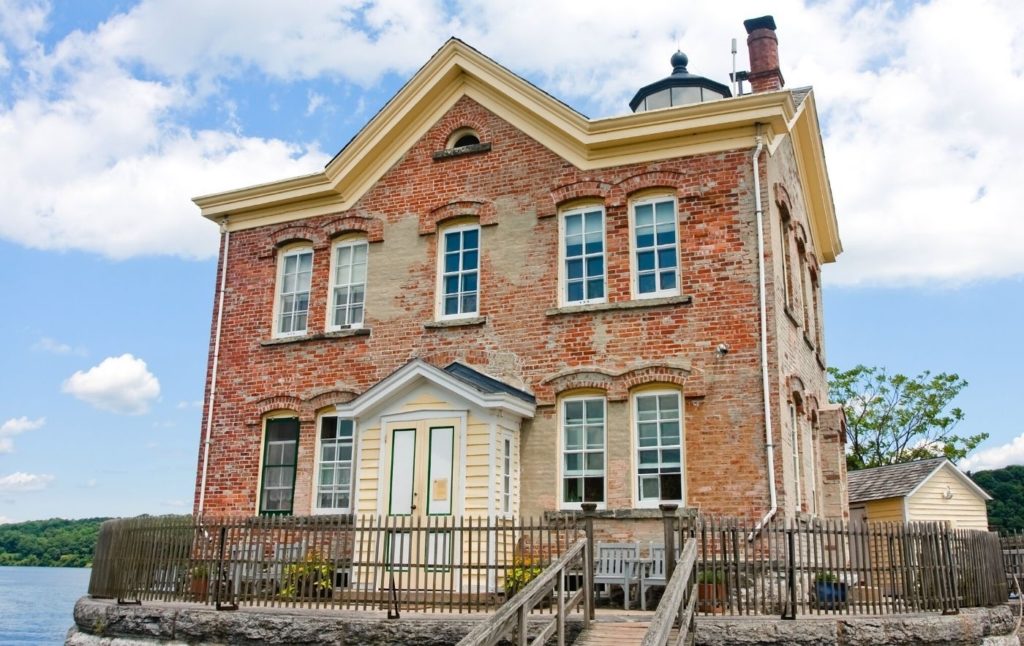 The number one thing to do in Saugerties is visit the beautiful Saugerties Lighthouse. And while that isn't the ONLY thing to do here, you honestly don't need another reason. It's that pretty!
Additionally, I can't shut up about the MAGICAL Esopus Bend Nature Preserve. This place is 160 acres of a gorgeous forest full of animals and foliage.
And if that isn't enough to convince you to visit one of the best towns in New York, maybe seeing adorable animals at the Catskill Animal Sanctuary will warm your heart. This non-profit organization does what it can to rescue animals in the local area and provide a better life for them.
Afterward, grab a delicious fusion meal at Black-Eyed Suzie's Upstate. The Gado-Gado is divine. Of course, no visit is complete without a sneaky cupcake at The Meltaway Bakery.
Where to Stay: Unfortunately Saugerties isn't exactly known for its affordable accommodations. But, deffo treat yourself to a night at the Diamond Mills Hotel & Tavern since it will change your life (okay probably not literally). With stunning views over the Esopus Falls and the softest sheets imaginable, you'll be sad to say goodbye.
14. Rhinebeck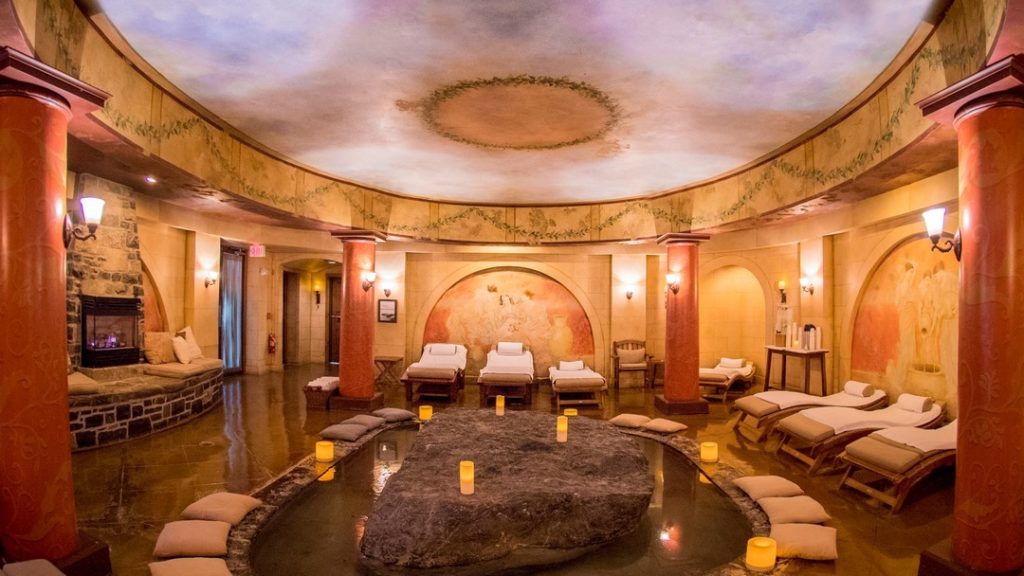 Love hiking and the great outdoors? Awesome, you're going to love Rhinebeck, one of the best small towns in New York for outdoorsy folks of every variety.
Because no joke? The hiking in Rhinebeck is some of the best in New York! And the number one place you need to check out for hiking is the Ferncliff Forest Preserve.
There are miles and miles of trails within and nearby. Plus, the observation tower within lets you get stunning views out over the preserve and the Hudson River. Visit at sunset if you can!
Another must-see attraction is the Old Rhinebeck Aerodrome on the town's outskirts. This "living" museum as they call it has regular airshows and offers biplane rides. There is, of course, also the museum with antique aircraft from throughout history. A must for history nerds!
You can also take a day trip across the Hudson to Kingston, another one of the many quaint small towns in New York.
When you get hungry head to Terrapin for some tapas and more! It's definitely on the pricier side, though, so if that's not your bag, try out the cute and charming, Matchbox Cafe. Their veggie burgers are amazing!
Where to Stay: The stunning Mirbeau Inn & Spa, Rhinebeck offers spacious rooms with access to a fitness center, hot tubs, sauna, and spa right in the heart of Rhinebeck.
15. Amenia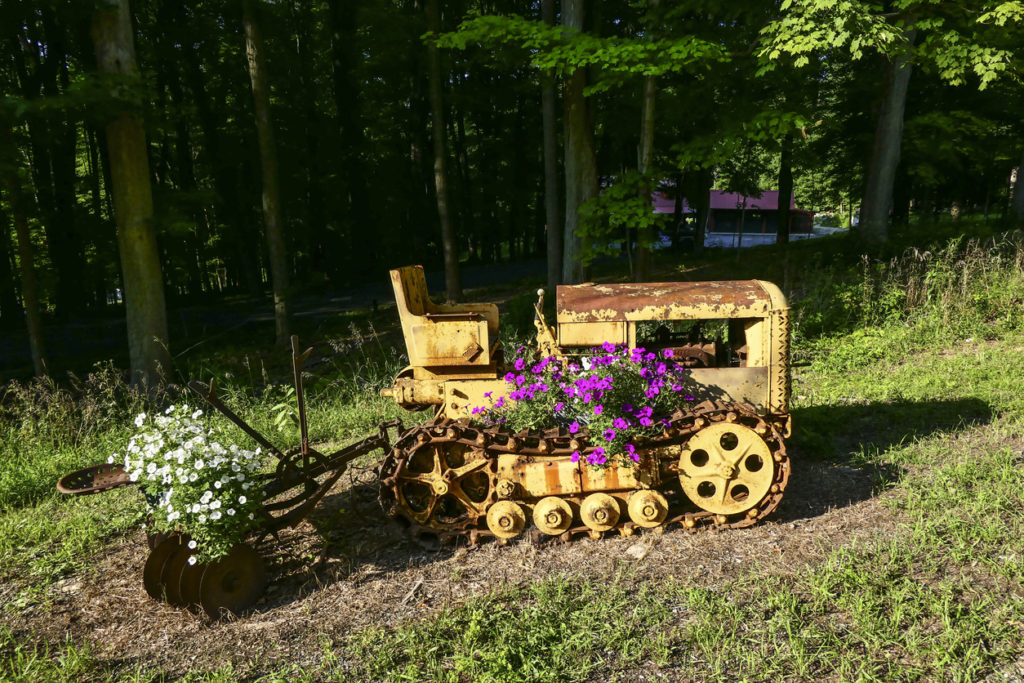 If you want to visit one of the most unique and best small towns in New York, then Amenia is the town for you!
I recommend visiting on the weekend so you can make the most of the Amenia Farmers Market, which is open year-round (however it alternates between Fridays and Saturdays, so double-check days before going).
The Wethersfield Garden is also a 1,200-acre estate open to the public where visitors can walk through and admire the beautifully manicured gardens.
For something really unique, go on a tour of the Elk Ravine Farm, an eco-friendly organic farm. The tours are more like an experience since visitors get to see what it's like to live and work on a farm for an afternoon. I had a blast (but I couldn't do it full-time, for sure)!
Oh, and did I mention the Four Brothers Drive-in? Yup, another fully functional drive-in theater experience you can't miss out on!
Conveniently, right next door at the Four Brothers Pizza Inn, you'll find some of the best cuisine in town. Alternatively, try out Serevan for delicious Mediterranean fare.
Where to Stay: There aren't many options in this small town, but the Best Western Plus is an affordable and comfortable option. The hotel offers an on-site restaurant and bar, as well as a fitness center, pool, and even table tennis!
16. Tarrytown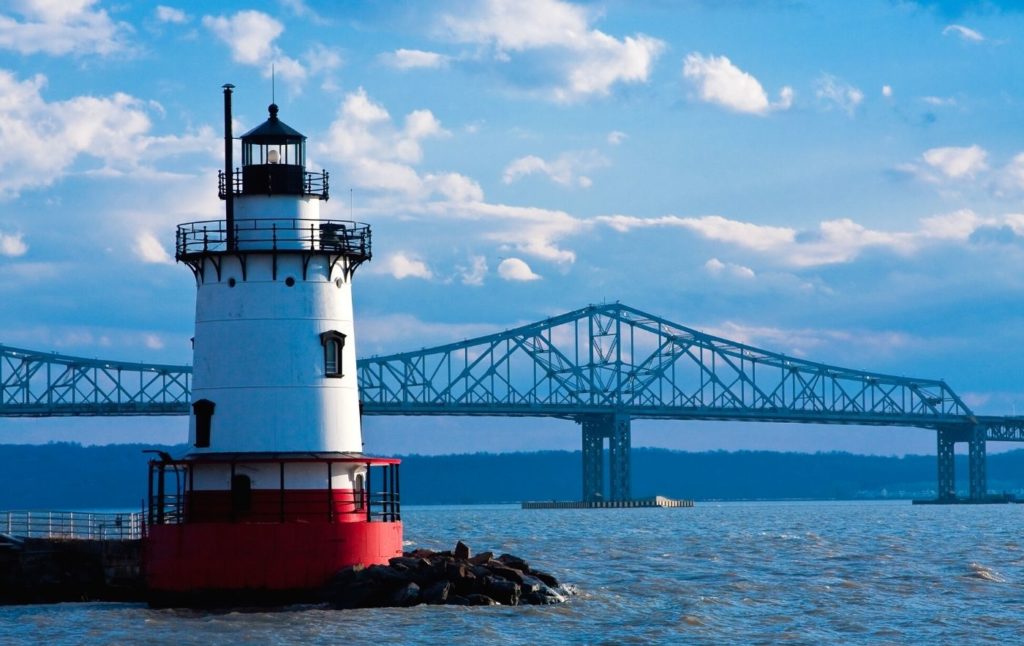 Looking for fun and spooky small towns in New York? Well, you're in luck because Tarrytown is within spitting distance of THE Sleepy Hollow (but, you know, don't actually spit at them, please).
Yup, the legend itself. Technically though, Washington Irving based the Sleepy Hollow tale on Tarrytown itself. But, over time, the village of Sleepy Hollow has emerged as its own place (cool, right?).
So, while you're here you might as well visit them both since they're definitely two of the best small towns in New York. Also, definitely come in October if you can as the towns always go all out for Halloween (The Pumpkin Blaze is particularly awesome).
Visitors should also check out Irving's estate, Sunnyside, in Tarrytown and marvel at the Tarrytown lighthouse before catching a show at the Tarrytown Music Hall.
You know ya girl was ALL OVER The Bagel Emporium of Tarrytown. Are they as good as the ones in NYC? No, but they're still pretty darn tasty! For something more substantial the Grass Roots Kitchen is my go-to in the area!
Where to Stay: Centrally located, the Sleepy Hollow Hotel and Conference Center is a fantastic option while in Tarrytown. Rooms come equipped with satellite and on-demand movies, coffee-making facilities, and access to an on-site restaurant.
17. Woodstock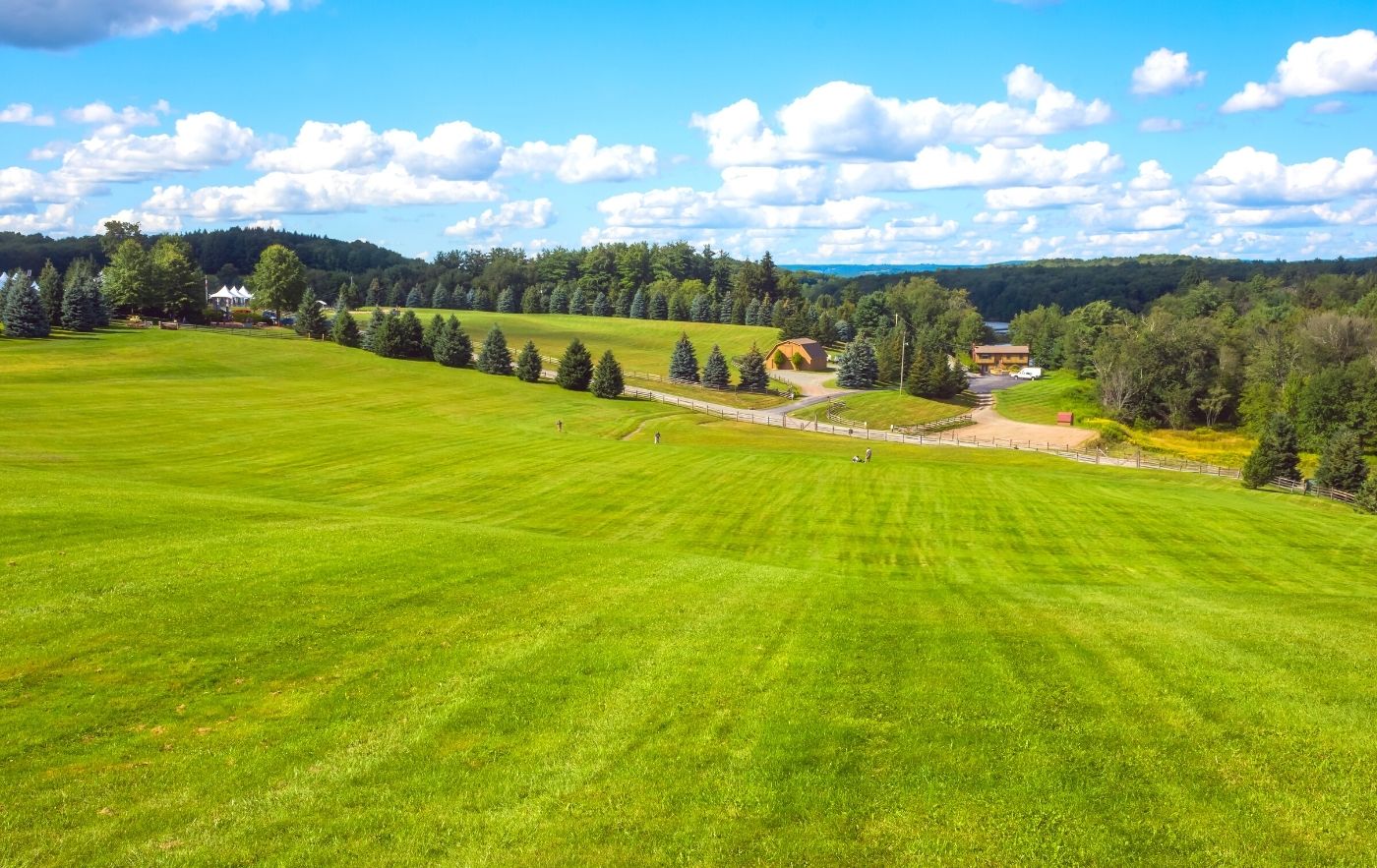 You would be forgiven for thinking this was the site of the famous Woodstock festival. But actually, that was in White Lake, over 55 miles away! Although, today it does host a fairly popular annual film festival!
However, the name alone has made Woodstock one of the best small towns in upstate New York. And people from all over the world now visit this town in the Catskills for a bit of peace and quiet and hiking – which Woodstock offers in spades.
But, for something totally unique (and calming), you have to visit the Karma Triyana Dharmachakra Tibetan Buddhist Monastery. Yes, there is a Tibetan monastery in New York! And you can take a class if one is free and available.
When you start to feel peckish, Garden Cafe is extremely good. They are totally vegan and I can't get enough of their red bean sweet potato rice burger with chipotle aioli. If vegan isn't for you, Sharkie's is a local favorite.
Where to Stay: Wake up to the calming sounds of nature every at the Morning Glory B&B before feasting on a filling breakfast (Full English/Irish or Asian breakfast). Just make sure to book a room with a private bathroom if this is an issue for you!
18. Goshen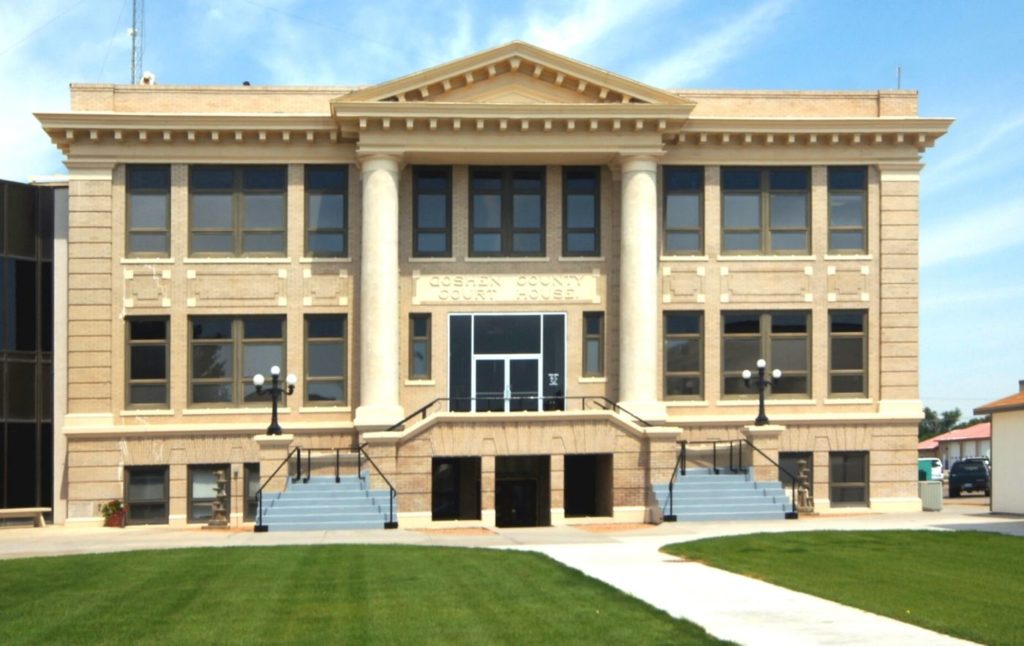 Want to feel like a kid again? Well, at the LEGOLAND New York Resort in Goshen, you can! And yes, yes I HAVE visited and had the time of my life.
Of course, there's more to do in Goshen than LEGOLAND (although you could easily spend your whole trip there). After all, Goshen is home to the Harness Racing Museum and Hall of Fame, and the historic harness racing track.
What is harness racing? I guess you'll just have to visit one of th best small towns in New York to find out!
There is also Noah's Park Retreat, a former veterinary facility that was later converted into a non-profit charity where kids can learn about exotic and farm animals.
For foodage, Thank Goodness It's Vegan has amazing options with meat options so good you won't miss the real thing! But, for something meaty, you can try out El Rancho Mexican Restaurant just down the road!
Where to Stay: Of course you can stay at the LEGOLAND Resort.
But if you need a bit of a break from all the excitement (read: screaming), the Fairfield Inn & Suites by Marriott is a comfy and quiet option.
This is also a great option if you want to see more of one of the best small towns in upstate New York than just the resort as it is close to other Goshen sites.
19. Beacon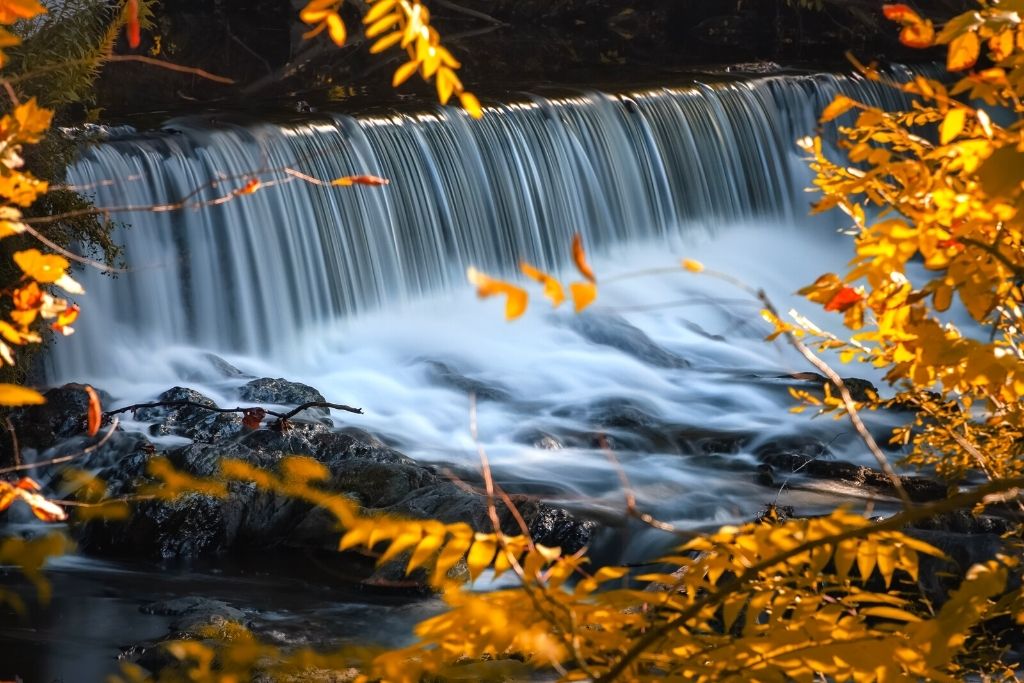 This trendy up-and-coming small town in upstate New York can actually be reached from NYC via the Hudson Line… assuming you're willing to endure sitting on a MetroNorth train for over an hour.
However, it's one of the best small towns in New York for art and vintage clothing lovers, so I think it's well worth the effort.
And the number one best thing to do in Beacon is Dia Beacon, a gigantic modern art museum that used to be a factory. This place has works from some of the biggest names in modern art, including Louise Bourgeois (think giant spiders), Richard Serra, and even the iconic Andy Warhol.
Next, head downtown and check out all my fave local hidden gems like Binnacle books, Jake's Main Street Music Shop, the Hudson Valley Vinyl Record Shop, and the AfterEden Gallery.
Foodies will love Beacon! ISAMU has some of the best Japanese food in New York (fight me). And to satisfy your sweet tooth, head to Glazed Over Doughnuts for a 100% customizable sugar rush!
Where to Stay: Run by a local couple, Jim and Joe, the Beacon Hermitage is a rural sanctuary that will quickly become a home away from home.
Surrounded by wooded countryside with a peaceful on-site garden, this is the perfect place to go to get back to nature. Don't worry, you don't have to disconnect completely, all rooms here come with Netflix and Wi-Fi!
20. New Paltz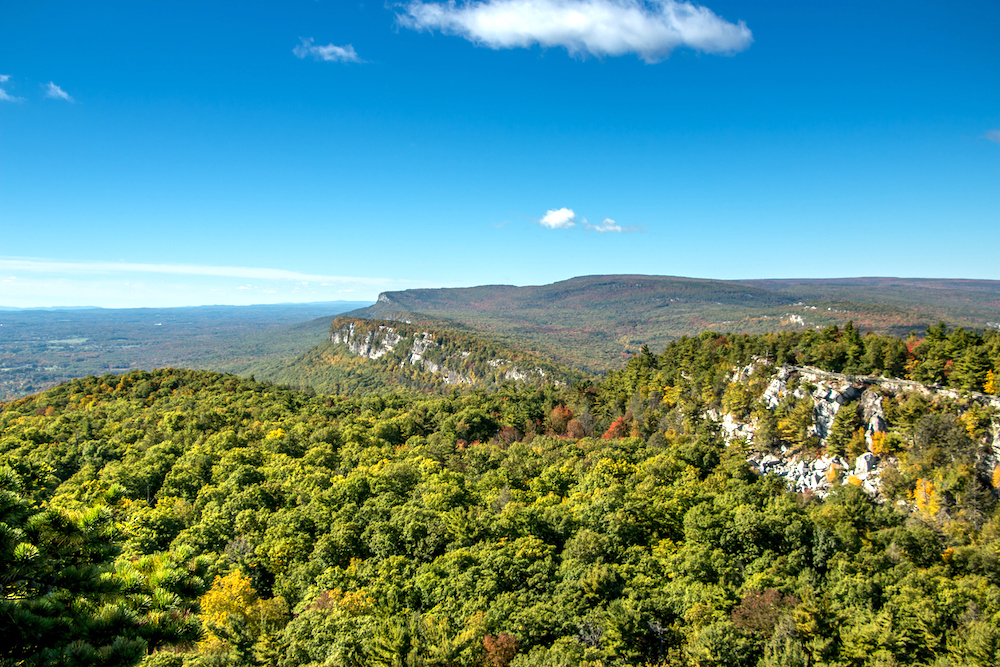 New Platz is a remarkable little town that definitely doesn't get enough love. This is one of my favorite and one of the best small towns in New York because of the diversity of sites it offers.
For history lovers you have the Historic Huguenot Street, a series of seven stone homes built in the 1700s by Huguenot settlers. You can visit parts of the homes, see original fixtures, and buy gifts at the souvenir shop.
Craving the outdoors? Great because the Mohonk Nature Preserve is absolutely stunning. With dozens of hiking trails and breathtaking views over the Wallkill River, it's easy to spend an entire day (or several) exploring the preserve.
Don't fancy either? Why not visit the Samuel Dorsky Museum of Art and admire pieces from local and international artists in every medium and style.
When you get hungry, Karma Cafe is my go-to for yummy veggie and vegan wraps. My other fave is the vegan curries at New Paltz Indian Restaurant (many meaty options are also available).
Where to Stay: I always have a great night's sleep at Hampton by Hilton New Paltz. Enjoy a large complimentary breakfast in the spacious dining area before heading out for the day. There is an on-site fitness center, restaurant, shop, and pool. Plus, it's just located in a cool building.
21. Cold Spring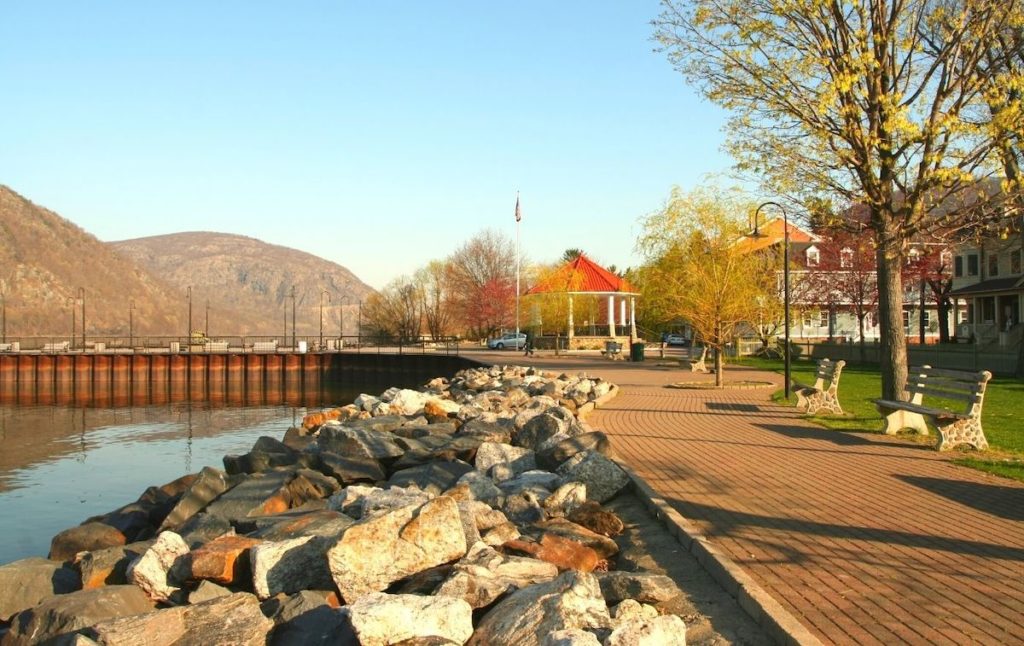 Cold Spring is easily one of the best mall towns in New York. Not only it is well-connected to the city (it takes you about an hour to get to Grand Central via train) but it overlooks the Hudson River and is filled with a ton of super cute buildings from the 19th century.
So, after hiking and biking your way through Hudson Highlands Park and West Point Foundry and Preserve, enjoy a scenic kayak trip along the Hudson River before experiencing the old world charm and history of nearby Boscobel House and Gardens.
Next, check out the crumbling ruins of Bannerman Castle and take in the picturesque Stonecrop Gardens before grabbing a fresh ice cream cone from Moo Moo's Creamery.
Where to Stay: Cold Spring Hotel and Cafe is a quaint, well-reviewed bed and breakfast that is an ideal place to stay in the area. Not only are old-world rooms here outfitted with flat-screen TVs, WiFi, and traditional wooden furniture, but guests can enjoy a delicious breakfast spread at the on-site cafe.
Best Small Towns in New York – Long Island
22. Greenport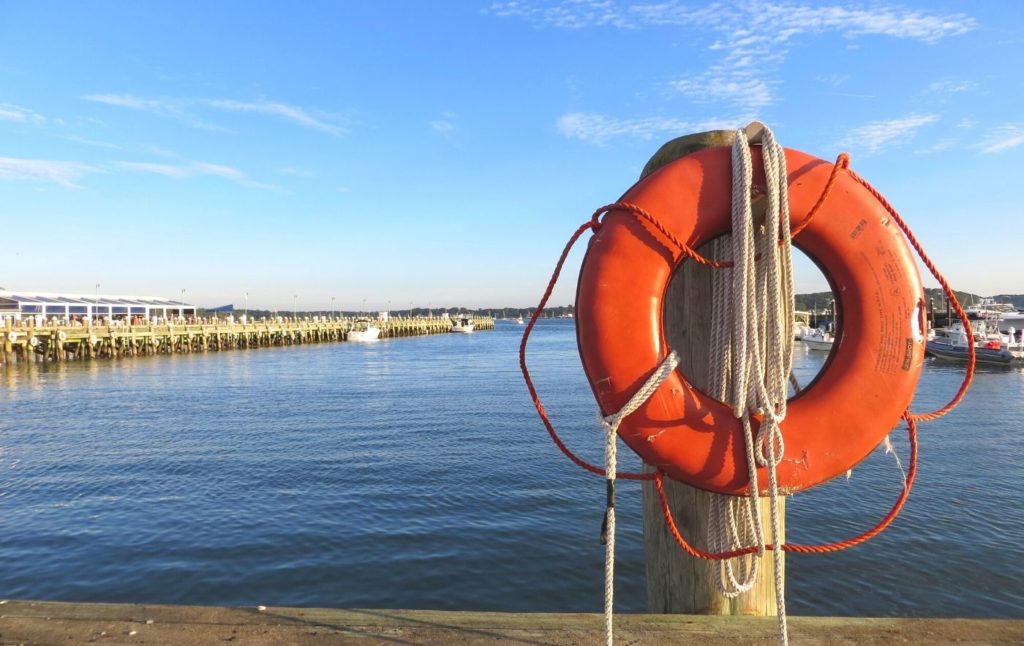 Most of the towns on Long Island would probably qualify for this list of the best small towns in New York. But, I think Greenport is one of the coolest and most unusual small towns in New York, let alone Long Island.
And the number one thing to do here is to take a ride on the Antique Carousel (can you tell us New Yorkers like carousels?), which dates back to 1920! Make sure to check out the camera obscura nearby in Mitchell Park too.
There are also multiple fascinating museums in Greenport, including the Railroad Museum of Long Island, The Fireboat Firefighter Museum, and the East End Seaport Museum. So, make sure to channel your inner history nerd before you visit!
For breakfast and lunch, check out Crazy Beans, a 50s-style diner with generous AF portions. Otherwise, I'm partial to Brick Oven La Capricciosa Pizza (hint: they don't just do pizza)! Also, don't forget to check out some of the best hikes on Long Island while you're here.
Where to Stay: Enjoy a relaxing stay at The Harborfront Inn. Each room comes with a flat-screen cable TV and refrigerator, while many of them overlook the harbor and on-site pool.
Map of the Best Small Towns in New York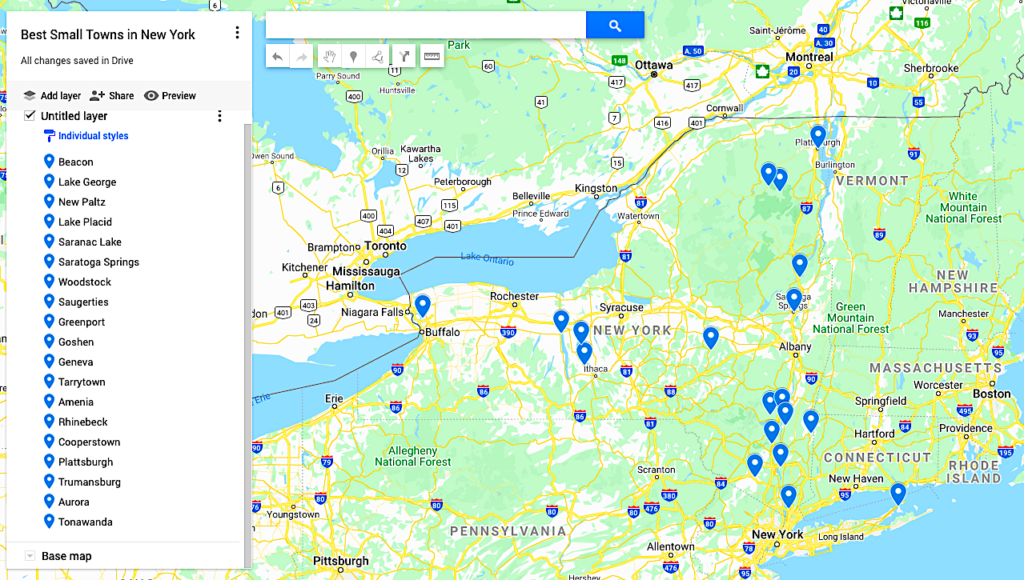 Best Small Town In New York FAQ
Are There Small Towns In New York?
You would be surprised by the number of quaint small towns that there are in New York. Think of uber cute outdoor areas with rolling fields and gorgeous farms. Yes! New York state isn't all about NYC. I mean it is and it isn't!
Most of the residents of NYC, use the beautiful countryside in the state as an excuse to escape the city life. Obviously, all the small towns in New York are their top picks!
What Is The Most Rural Town In New York?
The most rural town in New York is Hamilton county. Intriguingly enough this county of the state has no urban town or area. It is located just a short distance away from Saratoga Springs and is pretty accessible if you are in the area.
What Is The Safest Part To Live In New York State?
One of the safest places to live in New York state is East Hampton town. This area of New York State actually logs a safety score of 1.29 on the safety Index. It is however one of the most affluent areas to stay in.
Other parts of New York that rank every high on the safety index include Port Washington, Floral park and Southold.
Are The Small Towns In New York Worth Visiting?
I think it really depends on what you want out of your trip. If you are looking for a chance to kick back, relax and enjoy the countryside then yes! The small towns in New York are definitely worth the visit. Plus, you can also explore some of the National parks from here.
If you want something ore exciting and love the buzz of the big city, then you are probably better off staying in NYC.
? Want the BEST SMALL TOWN IN NEW YORK to stay in? Then book a room at the Skaneateles Boutique Hotel. It has gorgeous large rooms and plenty of place for guests to chill at.?
Additional Resources for the Best Small Towns in New York that You'll Love
There you have it! That just about concludes this epic guide to the best small towns in New York!
Tell me, did your picks for the best small towns in upstate New York make the list? If not then let me know in the comments below!
And if you found this post useful, please join our email list now before pinning this post so that you can read it again later!