Looking to conquer New York state's tallest peak and enjoy some next-level awesome views after doing the Mount Marcy hike?
If so then you've come to the right place, my friend. Because I'm an Adirondack area resident/local who wants to share all my super-secret insider tips with you
This way, you can use this awesome, comprehensive guide to answer all of your most pressing questions about the Mount Marcy trail.
So, slowly back away from the guidebook and use this mega-thorough post to help you rock (get the lame pun?) one of the most famous peaks in the entire Adirondacks.
Because after reading these hella glorious tips, you'll know when to hike Mount Marcy, how long it will take to hike Mount Marcy, how difficult it is to hike Mount Marcy, and so much more.
Therefore, grab a giant fist full of delicious trail mix and get ready for an incredible trek to the summit of Mount Marcy.
This post may contain affiliate links. Please see my disclosure for more information. As an Amazon Associate, I earn a small commission from qualifying purchases.
How to get to the Mount Marcy hike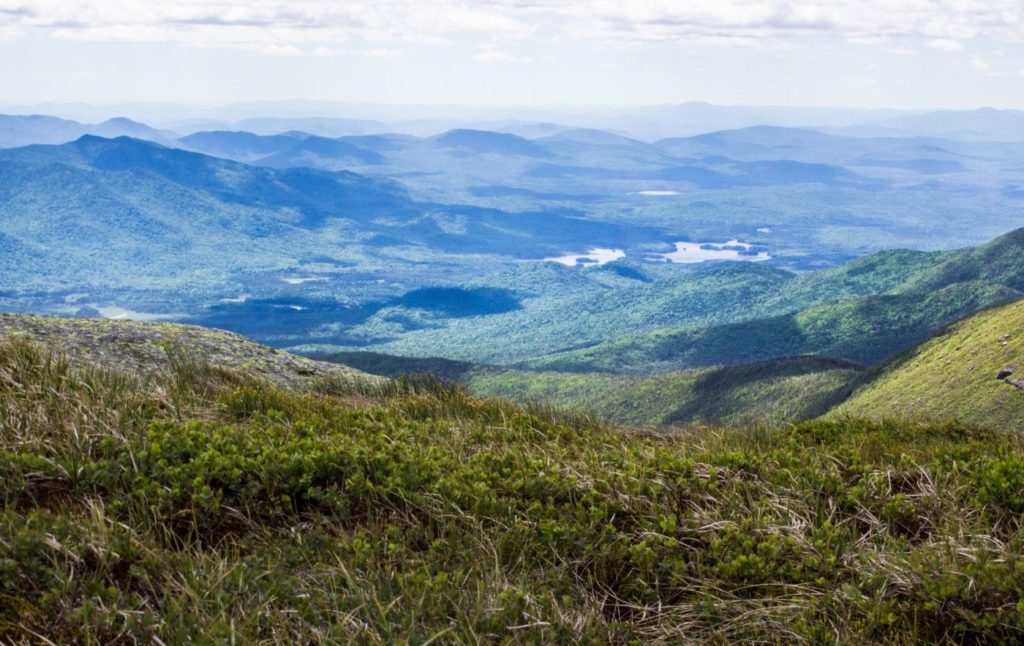 The top of the Mount Marcy hike is the highest point in New York state at 5343 feet and is located in the town of Keene in Essex County. Therefore, it's just a hoot and holler away from everyone's favorite town of Lake Placid.
Now Mount Marcy and the Mount Marcy trail as a whole is part of the Adirondack High Peaks range, which consists of 46 different peaks in total.
Initially, all of these peaks were believed to be over 4000 feet tall, classifying them as "high peaks." However, once they were officially surveyed it was discovered that three of the peaks here are just under 4,000 feet tall, with nearby MacNaughton Mountain being incorrectly excluded.
So, basically, once you see a lot of tall AF mountains, you've reached Mount Marcy! Now, the most popular and quickest Mount Marcy trail starts at the Adirondack Mountain Club's High Peaks Information Center parking lot.
Keep in mind that you need to pay a fee to park here and there isn't always an attendant in. If this is the case. Still, leave the required amount in the booth. I normally leave a quick note to give my plate and say hi too!
Pro Tip: At the time of writing, the parking fee is $15.00 for non-member full-day parking, $7.00 for non-member half-day parking, $7.00 for member full-day parking, and $3.00 for member half-day parking.
But how to get to this parking lot in the first place to do this Mount Marcy Hike?
If you are coming from Lake Placid, take Sentinel Road/Route 73 until you get to Adirondack Loj Road/Route 34, then follow it to the end where you'll find the parking lot.
Alternatively, if coming from further upstate or from the South, you can take either Route 9 or I-89 until you reach Route 9N. Turn onto 9N in the same direction you were already headed until you get to Keene.
From Keene, take Sentinel Road/Route 73 until you get to Adirondack Loj Road/Route 34, follow until the parking lot.
When is the best time for a Mount Marcy hike?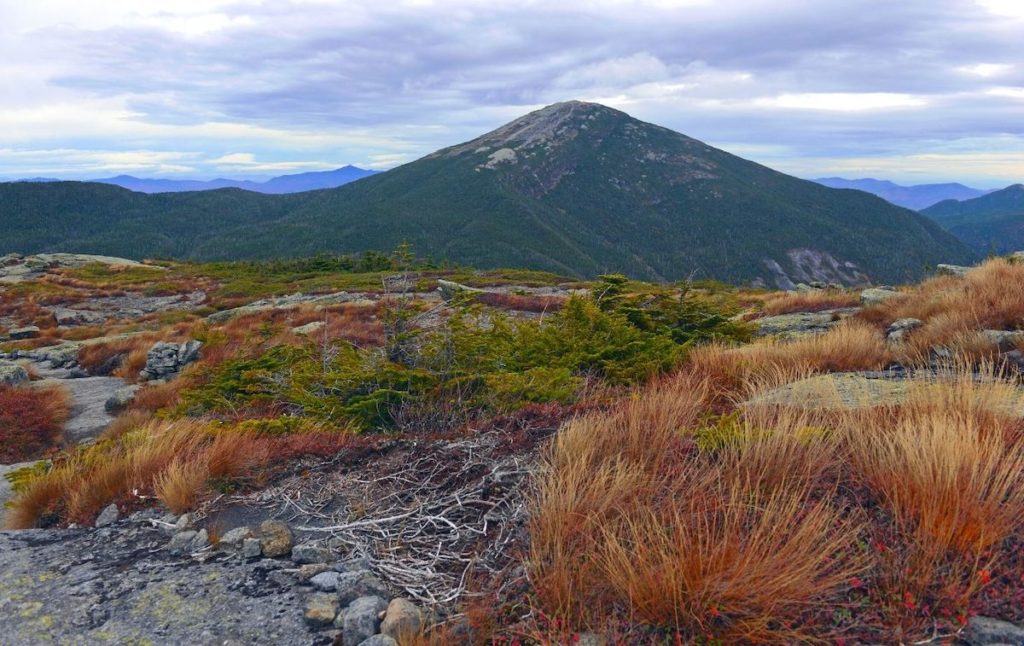 Hands down, summer is the best time to do the Mount Marcy hike. More specifically, aim for any time between May and October, which actually gives you a little extra time to fit it into your busy schedule.
These months are high season, but for good reason!
While many hikes can easily be done year-round, doing a Mount Marcy hike outside of summer is really only enjoyable for experienced hikers.
Due to the elevation and occasional steep inclines, the significant increase of wetness on the paths from the rain in spring and fall can make the hike much more difficult and less fun. Additionally, the autumn leaves can get slippery and become a hazard when doing the Mount Marcy trail.
Winter is even more dangerous due to inclement weather. Hikers can expect high and vicious winds, snow, ice, more rain, and less hiking time due to shorter days.
If you decide to do the Mount Marcy hike during winter please remember to bring suitable hiking equipment and have ample experience hiking in sub-zero temperatures.
What is the best route for a Mount Marcy hike?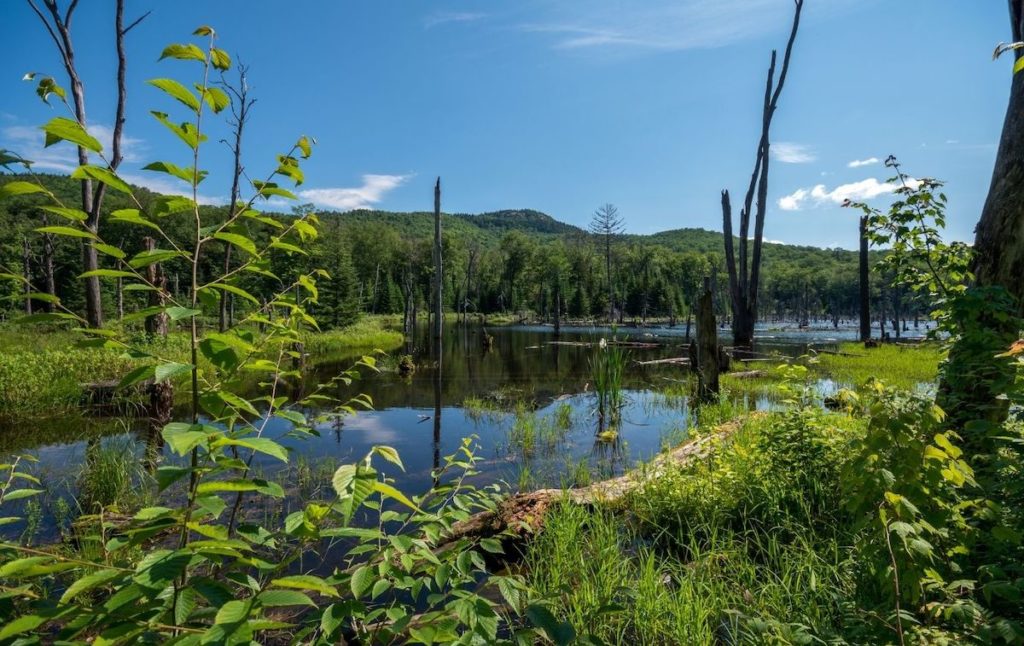 There are four trails up the mountain, but the best route for a Mount Marcy hike is the Van Hoevenberg Trail. Just don't confuse it with Mount Van Hoevenberg in the same range, which is about half the length.
Not surprisingly, it also happens to be the shortest and most popular trail, so be prepared to run into other hikers!
The Van Hoevenberg Trail is 14.8 miles, with an elevation gain of 3,166 feet. It starts off feeling deceptively easy – but don't fall for it! This hike isn't easy.
Okay, to be fair, it's not that difficult, especially if you're in good shape and not hiking in bad weather. But, it definitely isn't a piece of cake! Did I mention it's nearly 15 miles!
Additionally, an elevation of 4000 feet won't adversely affect most people, but the air is noticeably thinner every 1000 feet you climb. Therefore, don't despair if you feel more tired than you usually would on an equally strenuous, but less elevated hike.
Plus, as you hike the Van Hoevenberg Trail, you'll definitely want to take time to enjoy the breathtaking views and see some of the sites along the way. Two absolute musts before you summit are the Marcy Dam and the Indian Falls.
Marcy Dam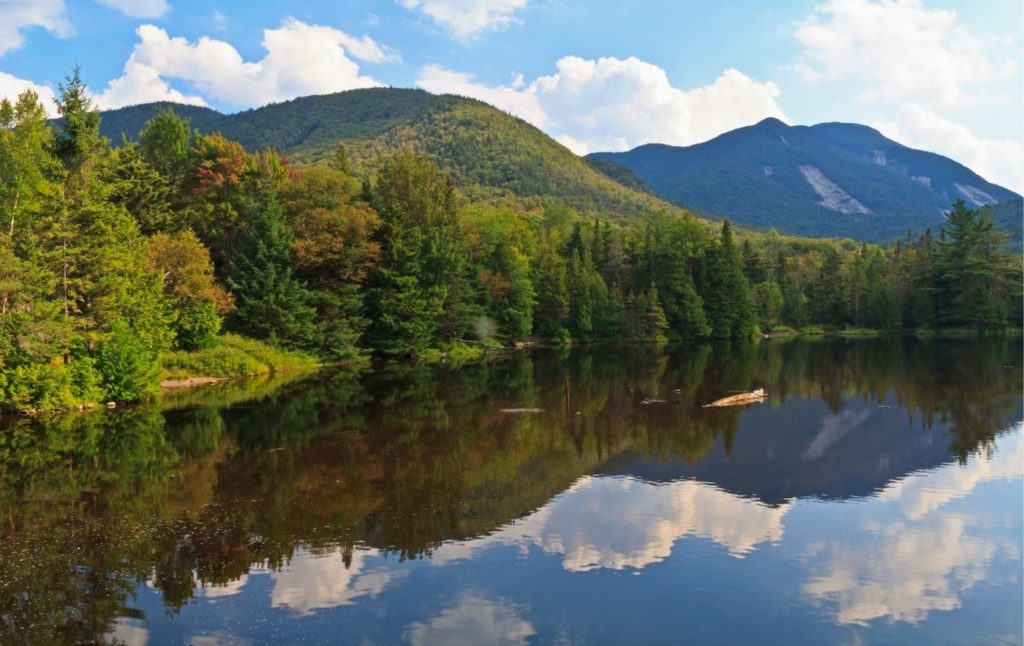 You'll hit Marcy Dam about 2.2 miles (about 90 minutes) into your hike, and this is the perfect spot to have your first mini rest stop and admire the view.
Because From here you'll enjoy an awesome view of some of the other, surrounding Adirondack High Peak mountains. And while the dam itself was destroyed by a hurricane and isn't as impressive as it once was, the views more than makeup for it.
Then, beyond this point, the trail gets a bit more difficult! Look out for signs just past the dam which will instruct you on which path to take depending on what time of year you visit and how high the water is.
Depending on which route you find yourself on, there are a lot of uneven rocks and plank bridges, so make sure you're wearing supportive and waterproof hiking boots.
Indian Falls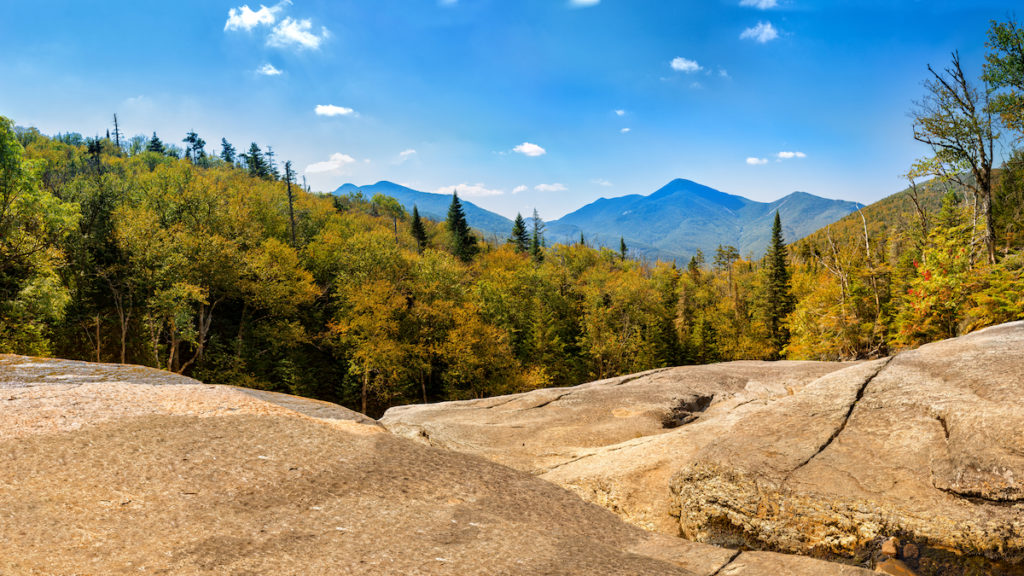 After traversing just under 2 more miles of somewhat difficult terrain, you'll come across the next main site. Indian Falls is about 50 yards off the main trail and can be found by following the flow of water.
If you thought the views from Marcy Dam were impressive, this place is going to blow your socks off! The falls offer stunning views of several surrounding mountains, including the Algonquin and Wright peaks.
Therefore, Indian Falls is the ideal place for your first break and to refuel with a view.
After the waterfall, the hike does get noticeably more difficult – with more boulders to navigate! So make sure you're definitely well-rested before continuing on.
How difficult is Mount Marcy?
As just discussed, the Mount Marcy hike can be exceptionally difficult depending on what time of year you visit. But is it always difficult?
The short answer is yes.
This really isn't an easy afternoon hike, and families with younger kids or those with mild mobility issues will certainly struggle if they're not accustomed to hiking.
While the hike itself is not technically challenging, visitors can become tired out by the variety of different terrains that you'll have to deal with.
Because during the Mount Marcy hike you'll encounter rocky trails, brook crossings, forested areas, plains, and grassland. Therefore, the Mount Marcy trail is really more a test of endurance than skill.
How long does it take to hike Mount Marcy?
On average, hikers can expect to spend a minimum of 7 hours doing the Mount Marcy hike – and that's just for the short route!
However, this doesn't account for water breaks, snacks, or taking photographs and enjoying the view. And oh man, what a view!
Therefore, my hike took closer to 11 hours, but if you're fitter than me (and not as dedicated to the 'gram) you could easily shave off an hour or two and still have a great time without feeling like you're sprinting to the top.
It all just really depends on how fit you are and how many breaks you take along the way.
Can you hike Mount Marcy in a day?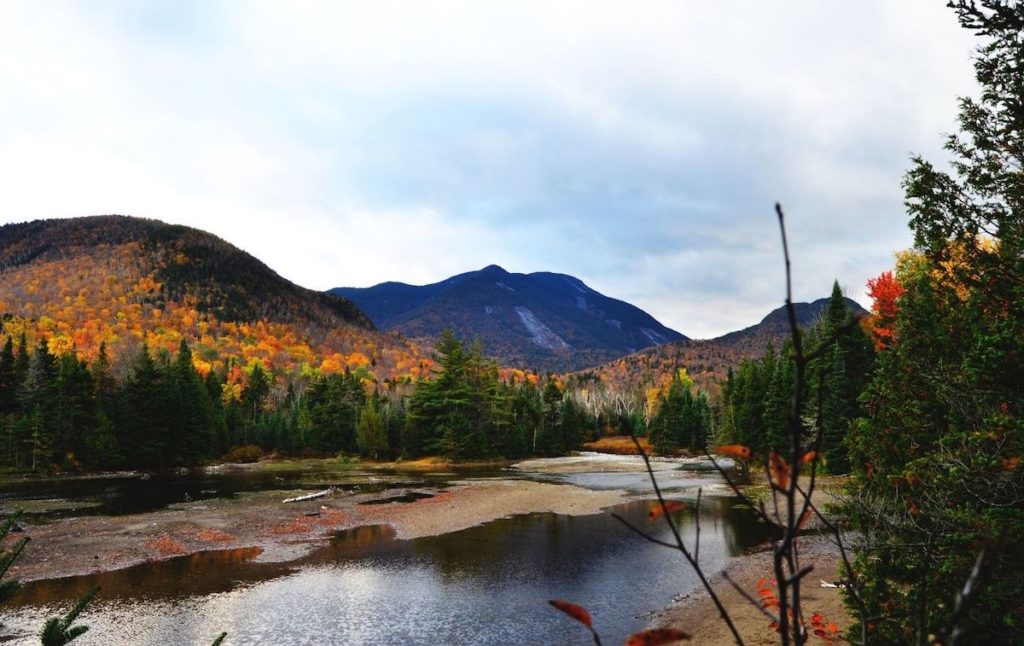 Absolutely! But it is a LONG day of hiking!
As I said above, you're looking at doing at least 7 hours of hiking, so if that isn't your jam it is possible to camp and spread a Mount Marcy hike out over 2 days.
Hiking Mount Marcy in a day will take a little more discipline and determination than a casual hiker might be used to.
Not everyone wants to be up before dawn in order to be at the summit in time for lunch. On the other hand, you don't want to get to the top and have only a little light left in the day to enjoy the view!
Splitting up your Mount Marcy hike can help you enjoy the experience a whole lot more. But conquering the mountain and getting back down before nightfall is totally possible.
Are there Mount Marcy camping facilities?
Yes, there are! The fine folks in charge of maintaining Mount Marcy made sure to remember that people who like to hike are capable folks that enjoy the outdoors, and they made it so that camping was possible.
But you can't just pitch a tent wherever you like – there are some rules!
For starters, you're not allowed to camp at the summit, so unfortunately you won't be able to wake up to dawn creeping over that amazing view! In fact, no camping is allowed above 3,500 feet.
And although camping on Mount Marcy is free, you'll need to bring your own camping equipment and extra water and food and supplies. It is also worth noting that the best camping spots are closer to the beginning of the trail than the end.
Therefore, the main area with camping amenities is at Marcy Dam. Here you'll find various designated camping sites which operate on a first-come-first-served basis.
There are also some camping sites along the Van Hoevenberg trail, about 4 miles in between Marcy Dam and Indian Falls if you'd rather go there.
And if you have one of the Adirondack Mountain Club's High Peaks topographic maps handy, they come with all the camping areas marked out on them,, as well as all the trails and other information you might need, including a detailed natural history for the area!
You are, however, allowed to camp anywhere that's at least 150 feet from a road, trail, or body of water. Although, there are some "Camping Prohibited" signs in some places, so make sure to keep your eye out for them!
Also, be sure to use bear-resistant canisters if you plan on camping near Mount Marcy – they're a requirement in the eastern Adirondacks region since bears definitely can be seen in the area.
Are there larger Mount Marcy hiking trails?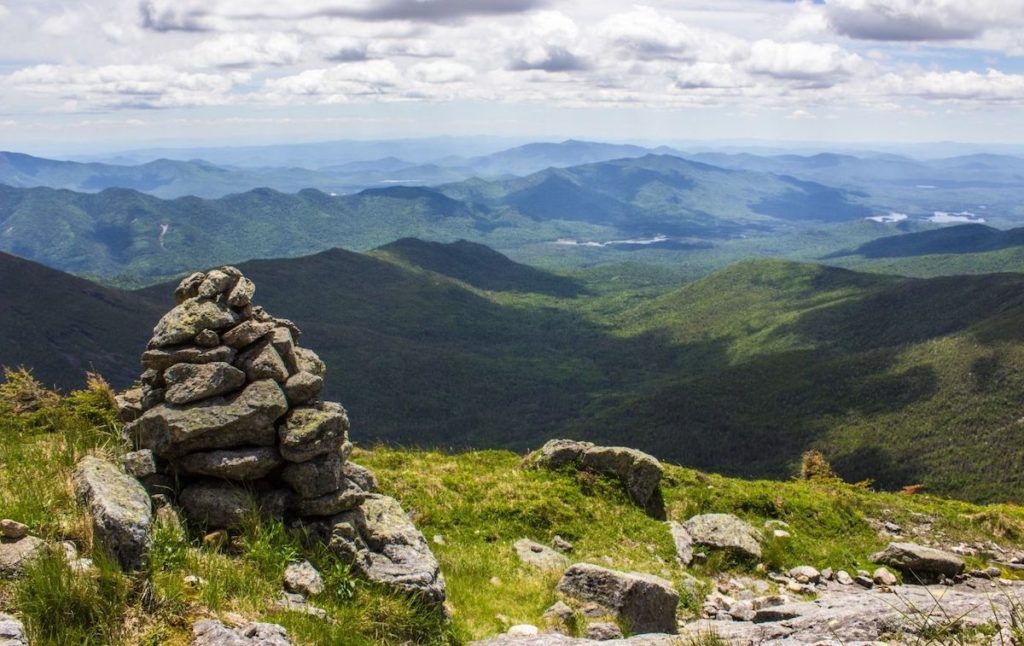 What, is hiking the tallest mountain in New York not enough of a challenge for you? Well then, I like your style!
And I have good news for you! Because, yes, there are longer trails available than the Van Hoevenberg Trail.
If you want a super intense hike, try out the Johns Brook Trail. This 18-mile round trip hike will take you to the summit of Mount Marcy via Johns Brook Lodge, which lies to the northeast of the mountain.
Because of the length of this hike, many hikers choose to do this as part of a 2-3 day backpacking trip where they spend the night at Johns Brook Lodge.
I know for a fact that stopping over in a cozy cabin where I can enjoy home-cooked food and a warm bed takes my hiking experience next-level awesome.
For an even longer hike (I know, is that even possible?!) you can also combine Mount Marcy with Gray Peak to the west and/or Mount Skylight to the south. Plus, conquering three of the High Peaks in one go will make you feel like a total champion!
Do I need a reservation to hike Mount Marcy?
Ok, so this all changed very recently, and it can get a little confusing.
Because these amazing peaks started to get hella busy, in April of 2021 the Adirondack Mountain Reserve (AMR) tried out a new scheme to reduce congestion on the High Peaks.
For the summer period of May 1st through to October 31st, visitors to Mount Marcy using the AMR parking lots must have a reservation in order to try the Mount Marcy hike. That includes visitors arriving by car, bicycle, or on foot.
Fortunately, reservations are free, but you can only book 2 weeks in advance at the most. Reservations can be made on the AMR website.
Now, this is a new system, designed to help make the Mount Marcy trail safer by reducing roadside stops, illegal parking and general foot traffic. So they're still trying it out to see if it needs to be permanent or not.
They may continue doing this scheme, but they may not if the problem clears up. Either way, make sure to check out the rules and regulations in place before you start your trip. Trust me, you don't want to be turned away at the foot of the mountain!
Plus, it's just for the summer period. So, if you're a winter warrior or a spring sprinter (that's a thing, right? It is now!) you'll be absolutely fine!
Things to remember when hiking Mount Marcy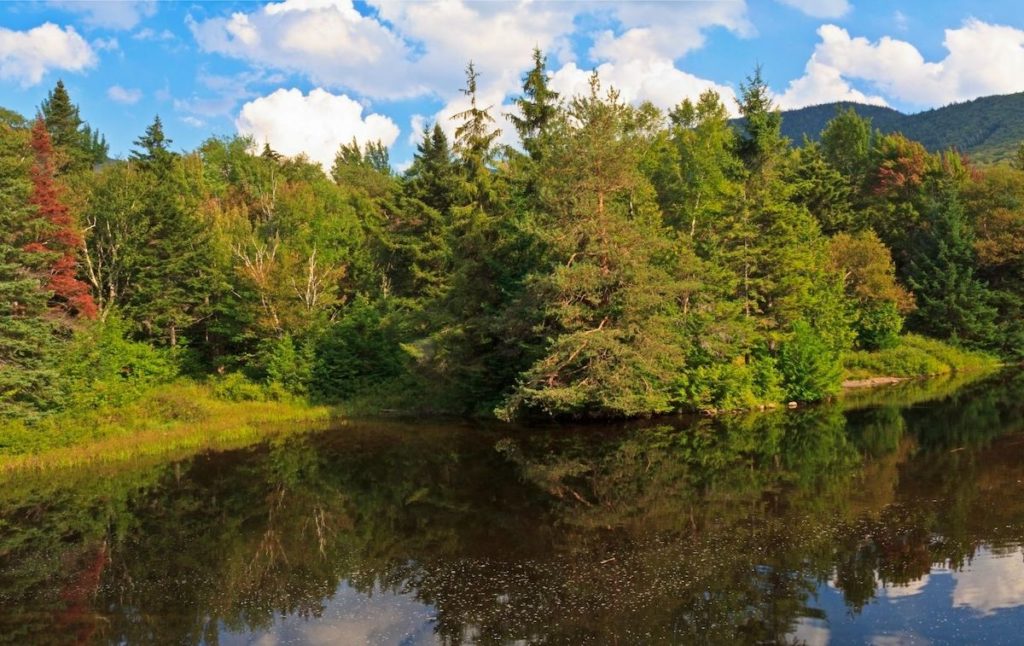 Now that you know almost all there is to know about your next Mount Marcy hike, let's have a rundown of extra pro tips. Because you can never be too good at hiking!
First of all, remember that clothing is key. On top of wearing comfortable, sturdy hiking boots, make sure to bring an extra layer for when you make that summit since it can be extra chilly up there.
As you get higher up, the temperature is going to drop and you'll start to feel the chill, especially when you're exposed to the wind. Bringing a jacket of some kind will help you keep warm while taking those amazing selfies at the peak!
If you're an early bird, arriving for the hiking trails around 5:30am will pretty much guarantee you a parking space. Everything might appear normal in the summer, but in the fall and winter months you may find it hard to see, because the sun won't be up!
Bringing a headlamp will help you to be able to get those all-important first steps done without causing yourself an unexpected injury in the dark.
One thing that can really catch you out is that the AMR parking lots cost $15 and they ONLY TAKE CASH. And there aren't any ATMs out here in the wilderness!
Remember to bring cash or you could lose your parking space and sabotage your entire Mount Marcy hike experience.
It sounds obvious, but make sure to check the weather conditions before you travel. The last place I want to be is on top of a mountain in the pouring rain or in the middle of a rogue snowstorm.
Mount Marcy Hike FAQ
What Is The Easiest Trail Up Mount Marcy?
I get it. The hike up Mount Marcy can be difficult. If you aren't a pro hiker then you are probably on the look out for the least challenging route up. If this is you, then you would want to take the Van Hoevenberg trail up.
This is the easiest and most popular trail up the mountain. The best part is that the trail starts off right at the Adirondack Loj parking lot. So its an easy start to the trail!
You can also combine this trek with a trek up other peaks in the area. It all depends on your level of activity and how much you want to pack into a day!
Is Mount Marcy The Tallest Hike In NY?
Yes! Mount Marcy is the the tallest hike in NY. At 5344 feet, this is one of the most popular hikes in the area.
In fact, there are many trails up the mountain. You can choose one depending on your hiking skills.
What Is The Hardest Hike In NY?
The Devil's path up Catskills mountain is considered one of the hardest hikes in NY. The route is over 24 miles long. It isn't just the distance that makes this hike difficult though. The terrain is pretty challenging so make sure you do not embark on the trail if you are not an experienced hiker.
It is interesting to note that the Devil's path takes you across 6 different mountains and the entire elevation is 7,800 feet! So make sure that you wear good hiking shoes!
Additional Hiking Resources You'll Love
There you have it! That just about wraps up this epic guide to the Mount Marcy Hike!
And if you found this guide to the Mount Marcy Trail useful, don't forget to join our email list before pinning this post now so that you can read it again later!