Ready to experience the full-on awesomeness that is Lake Placid, NY? If so then you NEED this hella awesome list of the very best things to do in Lake Placid, NY.
Trust me on this. I know all about some of the top things to do in Lake Placid, NY since my family has had a house in nearby Westport, NY (about an hour away) for the past 30+ years.
As a result, we would routinely visit this epic Adirondack town multiple times per year since hi, it's awesome and there are a ton of super fun things to do in Lake Placid, NY.
It's also one of those rare towns in upstate New York that are perfect at basically any time of year since you can easily go hiking/ swimming/boating in the summer (hiking here is epic since Lake Placid is at the very center of the High Peaks region) and sleigh riding/tabogganing/skiing/dog sledding in the winter – at least if you don't mind seriously cold temperatures.
Because yes, temperatures routinely dip below zero throughout the cold winter months.
And that makes sense since Lake Placid is a veritable winter wonderland that actually hosted the winter Olympics in 1932 and then again in 1980 (If you've seen the 2004 movie Miracle then that famous hockey game actually took place here).
Yeah, the lake (weirdly known as Mirror Lake, not Lake Placid) actually freezes through completely and people will routinely toboggan, skate, and dogsled across the top.
So, regardless of whether you want to visit throughout the winter or the summer, this is the list of the best things to do in Lake Placid, NY for you!
Especially since I'm about to use my super savvy, local knowledge to answer all of your most pressing questions about:
How to get to Lake Placid, NY
Best Hotels in Lake Placid, NY
Best Things to do in Lake Placid, NY
Best Restaurants in Lake Placid, NY
And more!
So, if you're ready, let's swan dive into this post and use this Lake Placid itinerary to help you see this iconic town like a real New Yorker!
This post may contain affiliate links. Please see my disclosure for more information. As an Amazon Associate, I earn a small commission from qualifying purchases.
How to Get to Lake Placid, NY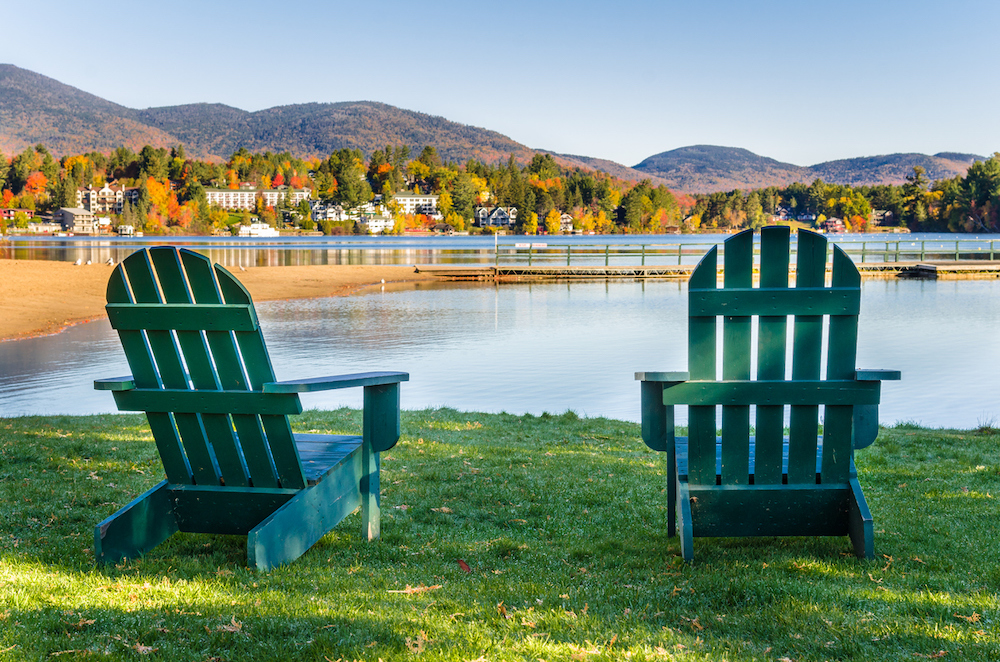 Luckily for you, Lake Placid is REALLY easy to get to from NYC. It basically sits at the center of the state's High Peaks Region and is about a 5-hour drive from NYC.
To drive here, just take the New York State Thruway (aka I-87 or the Northway) all the way to exit 30. Get off the exit and turn left onto Route 9 North. You'll then follow this road to the intersection with Route 73 and then take this road all the way into Lake Placid (about 28 miles).
Conversely, you could always take an Amtrak Train from Penn Station to Westport Station. Fares start at around $28 one-way and the trip will take around eight hours.
That being said Westport is a super small town and there are really no great options when it comes to public transportation (no buses, local trains, taxis, or car rental services) once you get here.
Which is an issue since Westport is still about an hour's drive away from Lake Placid proper.
Therefore, if you're looking to use public transportation, I'd probably catch a train to Albany (or a bus to Lake George) and then rent a car once you get there since you'll need a car to enjoy all of the best things to do in Lake Placid, NY anyway.
Best Hotels in Lake Placid, NY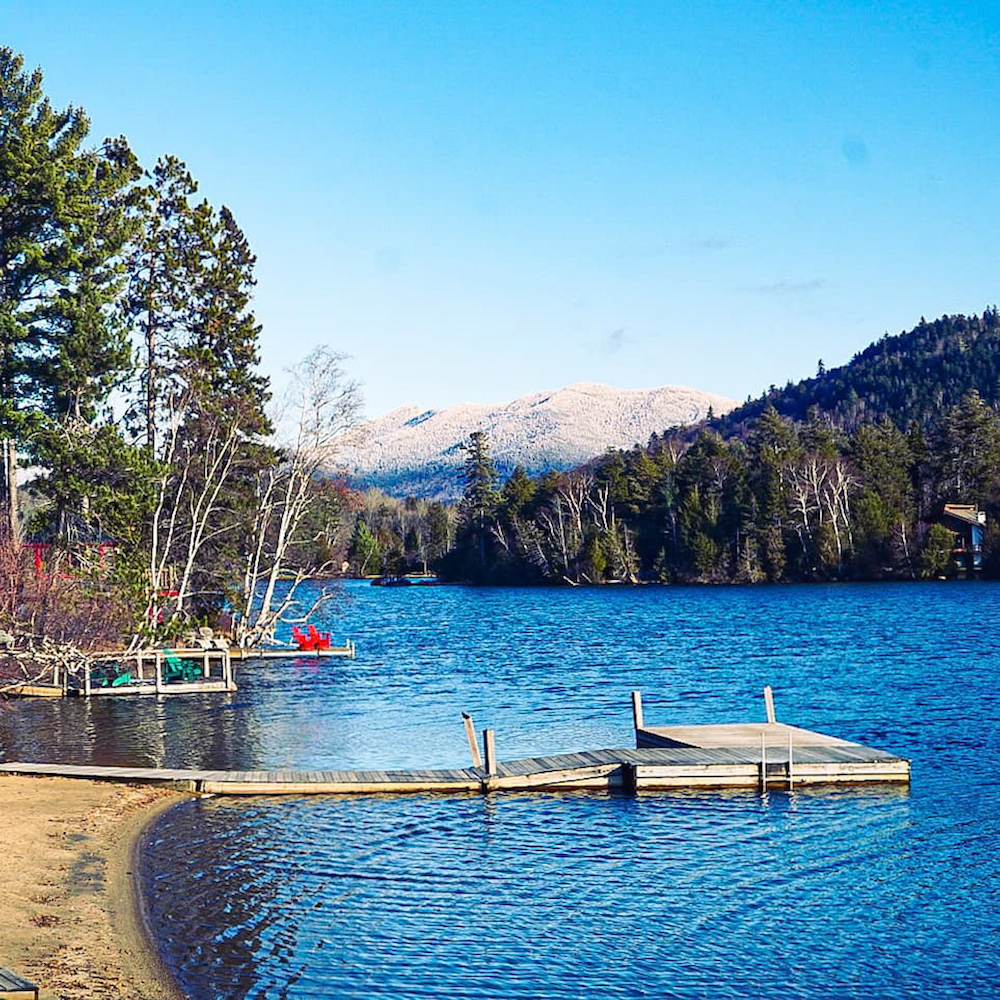 If you're looking for a place to stay while enjoying some of the best things to do in Lake Placid, NY then this is the section for you!
Because while there are a ton of great places to stay in Lake Placid, some can be SUPER expensive and others can be, well, lame beyond belief would be the nice way of putting it.
So, to help you pick out the perfect hotel for your Lake Placid itinerary, here are my picks for the best accommodations in Lake Placid, NY! And if you want, you could even book a stay at one of the best treehouses in New York too.
Wildwood on the Lake (budget, Lake Placid) – Honestly, decent budget hotels are pretty hard to find in the Lake Placid area. But, Wildwood on the Lake does an excellent job of offering well-priced accommodations that still feature all the amenities you'd need for a relaxing stay. So, at this family-owned motel, expect casual rooms with WIFI, coffeemakers, flat-screen TVS, decks/patios, and more. Guests can also enjoy complimentary muffins and coffee in the morning, as well as use of a free shuttle to Main Street, an indoor heated pool, a hot tub, a sauna, ice skating, and kayak/boat rentals.
Golden Arrow Lakeside Resort (mid-range, Lake Placid) – This is a casual, family-owned, centrally located hotel that offers charming rooms with WIFI, flat-screen TVs, and in-room coffeemakers. There's also an on-site restaurant/cocktail lounge for guests to use as well as a gym, indoor pool, hot tub, and sauna. Just a really fab option if you're looking to live the supremely luxe life while checking out all the best things to do in Lake Placid NY.
High Peaks Resort (Lucury, Lake Placid) – This upscale, modern resort sits along the stunning shores of Mirror Lake and features airy rooms with swank, Adirondack-style decor that pays homage to the area. In-room highlights include stone-tile walk-in showers, WIFI, flat-screen TVs, direct shore access, and fireplaces/whirlpool tubs in suites. Complimentary kayak/paddleboard rentals are also available and guests can dine at a casual, American restaurant before taking a dip in one indoor and two outdoor pools.
Mirror Lake Inn Resort and Spa (Luxury, Lake Placid) – This four-star, beach front resort in Lake Placid, NY overlooks beautiful Mirror Lake and is easily one of the best all-inclusive resorts in New York. It also comes fully outfitted with a selection of stunning suites that come complete with WIFI, four-poster beds, private balconies/terraces, and marble bathrooms. Guests will also love the hotel's complimentary afternoon tea, as well as access to a 60-foot indoor pool, a heated outdoor pool, a fitness center, spa, and upscale/more low-key onsite eateries.
Best Things to do in Lake Placid, NY
1. Olympic Sites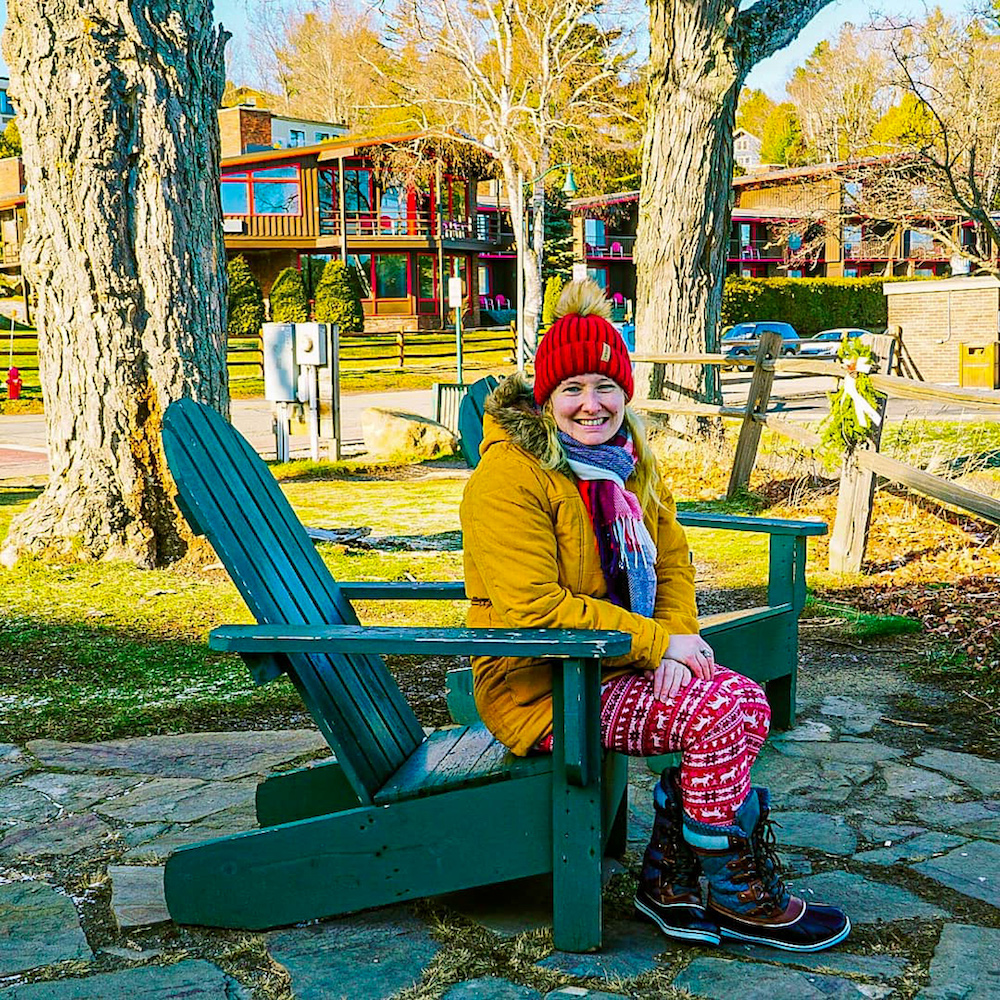 This is one of the best things to do in Lake Placid, NY that should come as exactly no surprise to you since the town's immortal claim to fame is that it hosted not one, but two different Olympic winter games – one in 1932 and one in 1980.
So, why not take some time to explore the town's multitude of Olympic Sites and see where the proverbial magic happened as it were?
Because in total, Lake Placid is home to four different Olympic sites that include the following:
Lake Placid Olympic Center – Currently under construction, this facility is home to the actual ice rink (aka Herb Brooks Arena) where the Miracle on Ice game was played, as well as countless gold medals won in figure skating and speed skating. So, step inside, admire the banner and plaque adorned hallways, and explore the Olympic Museum with its wealth of interactive exhibits on Olympic history.
Lake Placid Olympic Jumping Complex – Soar to new heights (literally) at the enormous ski jump complex in Lake Placid! Highlights include watching real ski jumpers fly through the air or going on a zipline ride at 30 miles per hour to help simulate what ski jumping actually feels like. While you're here, you can also try the brand spankin' new Skyride, an 8-pasenger gondola that offers visitors sweeping views of the Adirondacks as you climb up to the base of the ski jump towers. From here, take a glass elevator t the sky deck of the ski jump tower and admire the killer views.
Whiteface Mountain – Easily one of the most famous (and tallest) mountains in the region, Whiteface is known for having some of the best snow board and ski trails in the region. However, if you're not big into winter sports, you can always hike to the top (or drive using the Whiteface Veterans Memorial Highway) or climb aboard the Cloudsplitter Gondola for panoramic views of Whiteface as you climb to the to the summit of Little Whiteface. You could also check out the Whiteface Adventure Zone and disc golf, zipline, or mountain bike your way through the mountain.
Mt. Van Hoevenberg – Bobsled like a boss on the continent's longest mountain coaster, The Cliffside Coaster. Or, use one of the areas world-renowned cross country ski trails to uncover the awe-inspiring natural beauty of the Adirondacks. Afterwards, relax with a drink inside The Mountain Pass Lodge as you enjoy all that Mt. Van Hoevenberg has to offer.
Pro Tip: If you really want to experience all of the best things to do in Lake Placid, NY, and are a huge fan of the Olympics, then consider getting the Lake Placid Olympic Sites Passport.
It's an area-wide pass that will give you access to most of the Lake Placid Olympic Sites listed above. It'll definitely save you some money and can be picked up at any of the Olympic Sites ticket offices.
It's also free for kids 6 and under ($35 for everyone else) and gives you complimentary access to (as well as a 20% discount at many activities like the bobsled ride) all of the following:
Whiteface Cloudsplitter Gondola Ride (open all year long)
Whiteface Veteran's Memorial Highway (open throughout the summer and fall)
Lake Placid Olympic Museum (open all year long)
A game of Disc Golf at Whiteface Resort (summer only)
Ice-Skating on the Olympic Speed Skating Oval (winter only)
Tour of the Olympic Sports Complex Tour (open all year long)
Olympic Jumping Complex Tour (open all year long)
Special event and festival admission
2. Whiteface Mountain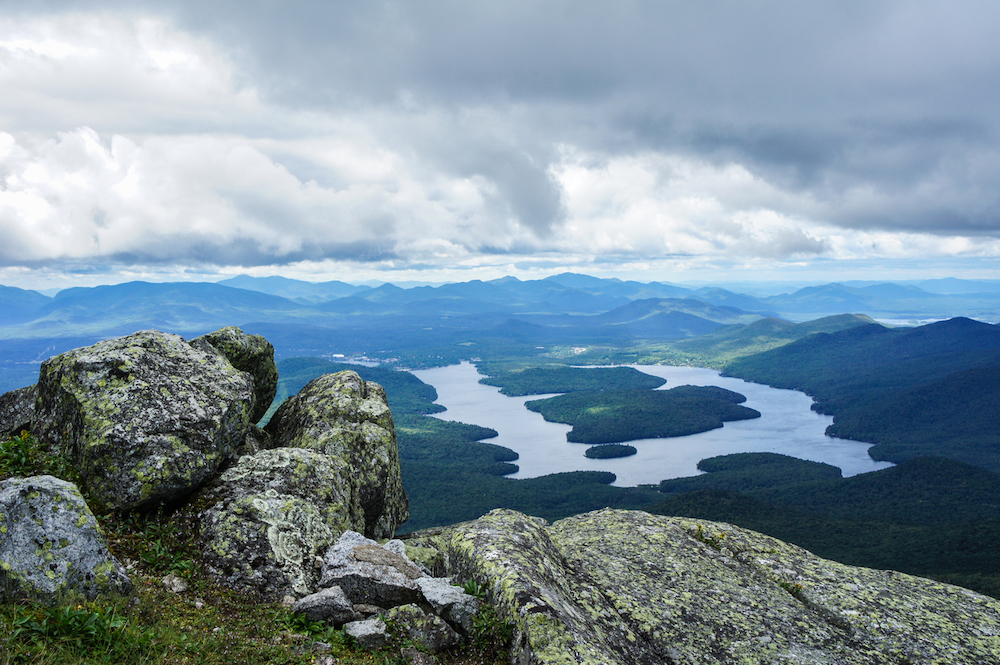 One of the many best things to do in Lake Placid, NY that is so nice, I actually listed it here twice since, hi, Whiteface Mountain is flipping awesome.
I mean not only is it a premier ski destination with – count em' – 90 different skiing and snowboarding trails that cover a grand total of 22 miles (FYI the Wilmington Trail is the longest at 2 miles), but Whiteface is also a fantastic place to go hiking or downhill biking throughout the warm summer months too!
So, if you want to climb to the top of this iconic mountain, you could:
Hike to the Top – The climb to the top of Whiteface is along a moderately difficult, 10.1 mile loop trail that takes you 5,000 feet up to the summit of one of the tallest peaks in the Adirondacks. That's why, on a clear day, you can see well into Canada and Vermont. You'll basically start at the Wilmington Trailhead, take that to Marble Mountain, take that to Esther Trail, and then ascend Whiteface and enjoy one of the best hikes in upstate New York.
Drive Up Via the Veterans Memorial Highway -Open daily – between June 1 and October 8th – from 8:45 am to 5:30 pm., the 5-mile long road up Whiteface starts at the tollhouse and climbs to the top of the fifth tallest mountain in New York, with stunning views and a multitude of scenic overlooks that you can pull off at along the way. Once at the top, you'll find a full-on stone castle (great for photo-ops) and can even stop for a bite at the aptly named Castle Cafe, From here, it's about a twenty minute hike to the top where you'll enjoy next level awesome views and find a cute little science museum about the atmosphere. Also, driving up Whiteface is very much NOT free, so expect to pay $20 for one vehicle and driver, $20 for each additional passenger, $10 each for between 3 and 8 additional passengers, and $20 for one motorcycle and driver.
Cloudsplitter Gondola to Little Whiteface – To partake in this epic Gondola ride (which is open year-round), head to the Whiteface Mountain Ski Resort and enjoy a glorious, 15-minute ride from the base of Whiteface all the way to the top of Little Whiteface. Once here, you can admire the views and do a bit of hiking before heading back down. Tickets are $20 for adults, $16 for children, and free for kids under 6 or anyone with the Olympic Pass.
3. High Falls Gorge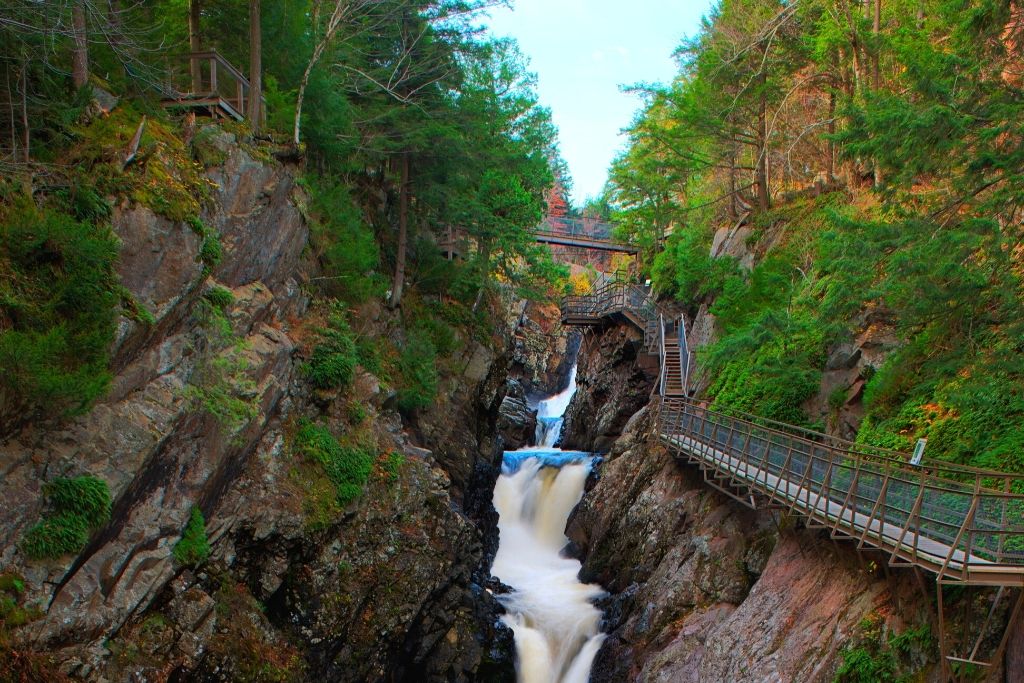 Easily one of the best things to do in Lake Placid, NY in the summer, High Falls Gorge is a stunning, 22-acre, privately owned (Translation? You'll need to pay to get in), a natural oasis that is brimming over with scenic, elevated pathways that you and your family will enjoy.
So, head over to the base of Whiteface Mountain, savor an easy walk through the woods and marvel at one of four different waterfalls that you'll discover along the way.
Although truth be told, the real highlight of any visit to this picturesque place is a gorgeous, half-mile walk along the center of the Gorge, which continues along the mighty Ausable River and takes you past Climax Falls, Rainbow Falls, Main Falls, and Mini Falls.
You'll also love the park's signature, glass-bottom walkways, which give you an aerial view of the amazing gorge below.
Pro Tip: If you can, try and visit in the spring when snowmelt helps to create a really powerful waterfall.
Address: 4761 NY-86, Wilmington, New York
Hours: Open daily, between May 1 and October 31, from 9:00 am to 4:30 pm.
Price: $13.10 for adults and $10.10 for children between the ages of 4 and 10.
4. Mirror Lake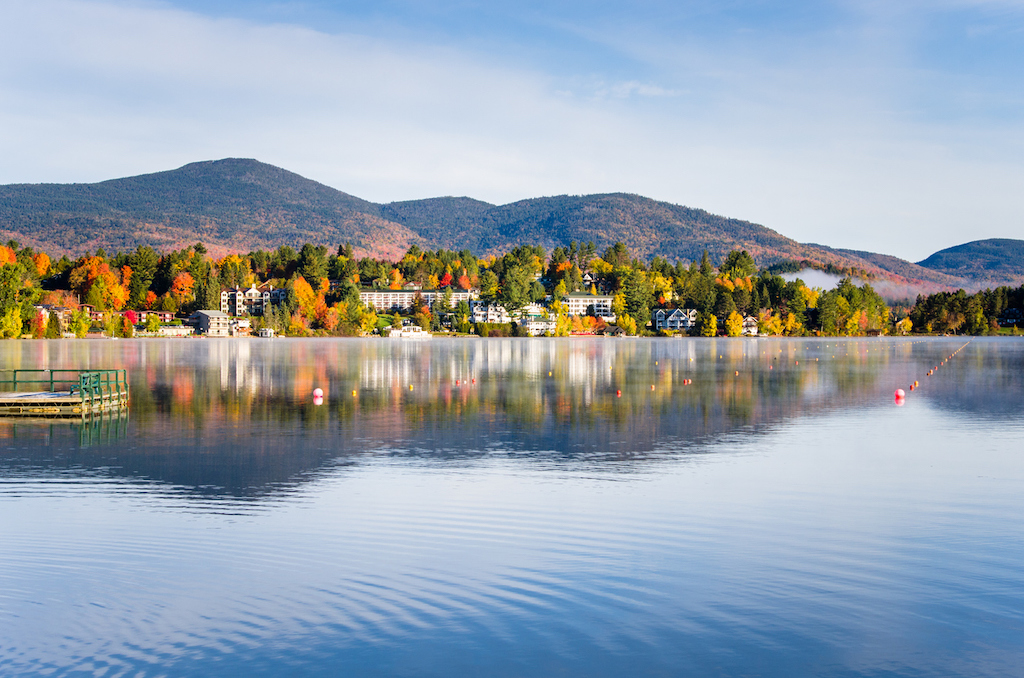 In spite of what many people initially think, the central lake in Lake Placid is Mirror Lake, not Lake Placid.
So, take some time to appreciate this 124-acre natural wonder while walking along the lake's 2.7-mile perimeter or while doing a fun kayak/canoe trip out onto the lake itself.
Trust me, it's a quiet and calm lake that is perfect for boating and swimming since no motorized water vehicles are actually allowed onto the lake.
And in the winter? Well, the lake routinely freezes over with ice that is upwards of a foot thick. Therefore, Mirror Lake becomes a great spot for ice skating, hockey, dog sledding, and sledding since you can use a giant toboggan chute to sled down onto the lake itself.
Pro Tip: Looking for some of the best things to do in Lake Placid, NY in the winter? Then do a bit of dog sledding with Thunder Mountain Dog Sled Tours as they whisk you across the almost totally frozen lake.
5. Brewster Peninsula Nature Trail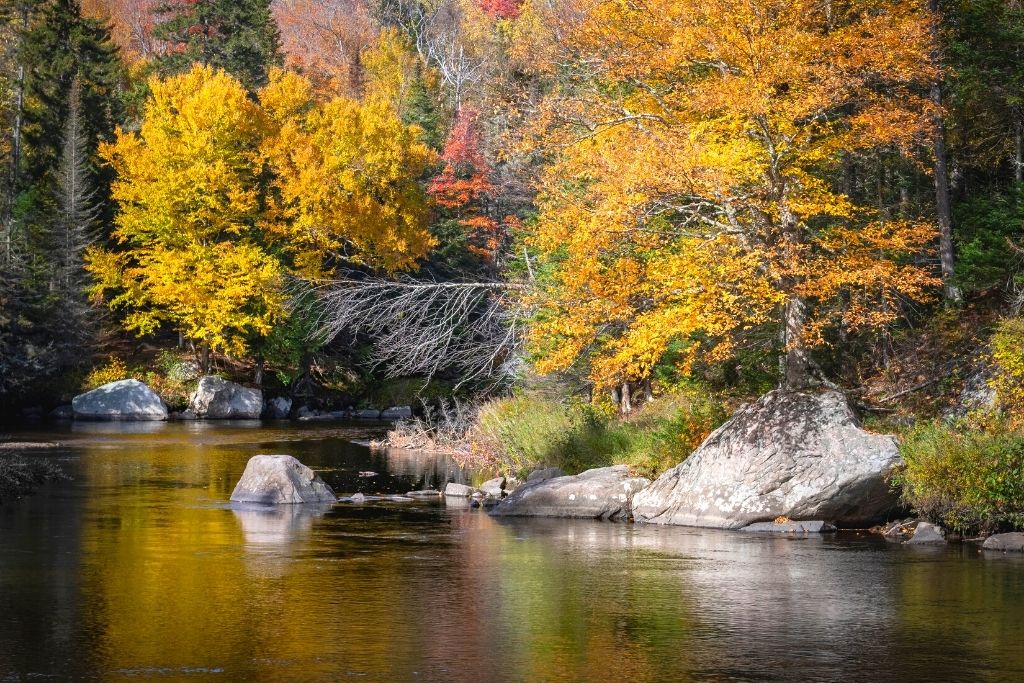 With hiking trails aplenty, your biggest problem will be deciding which hikes to add to your Lake Placid itinerary. After all, you probably have a limited amount of time here and there are only so many hikes that you can do.
So, if you're trying to figure out which hikes to add to your list of the best things to do in Lake Placid, NY, then consider tackling the Brewster Peninsula Nature Trail network.
After all, this collection of access roads and well-packed trails are open all year long and take you for a scenic stroll around the lake – with some of the area's most popular trails being Corridor Trail, Lake Shore Trail, Boundary Trail, and the Ridge Trail.
They're also pretty dang easy to traverse since most are short (less than a mile long) and have little elevation gains – except for the Ridge Trail which takes you up a local ridge (hence the name).
And if you can't make it here in the summer, then visit in the winter when these natural pathways become the perfect spot for skiing and snowshoeing.
Pro Tip: You'll know you've found the trailhead when you see a wealth of cars that belong to locals who have already ventured out into the great outdoors.
6. Mount Jo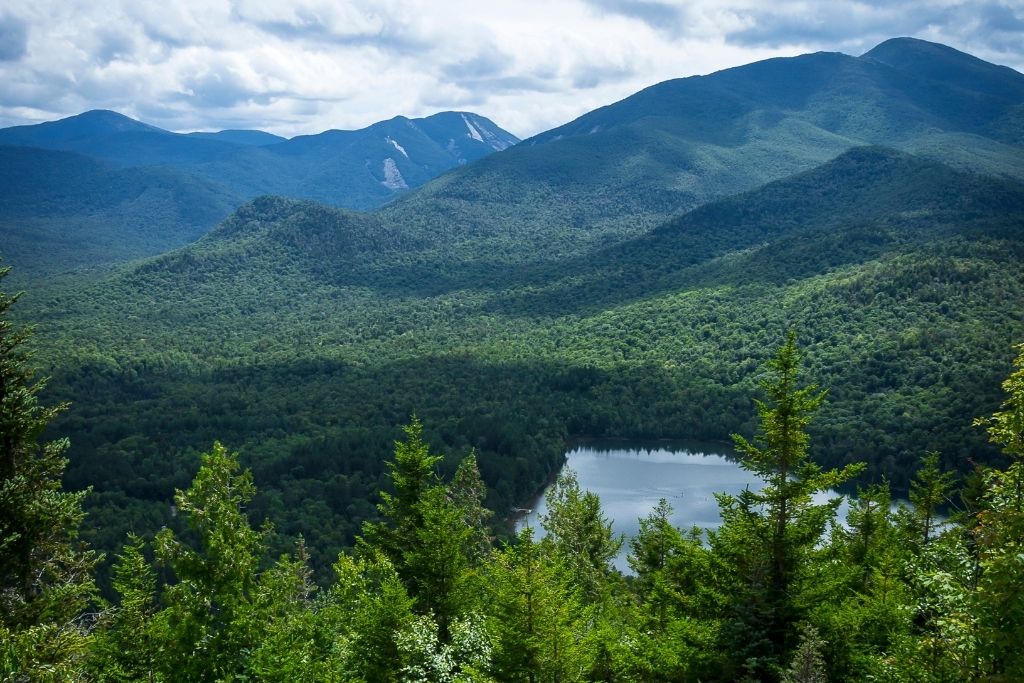 If you're looking for a great hike in Lake Placid that won't leave you coughing up a lung by the end of the day, then consider a nice, moderately challenging trek up Mount Jo.
It's one of the smaller peaks in the Adirondacks at 2,876 feet tall and is perfect for families and beginner hikers who want to get back into nature.
However, the mountain's minimal height doesn't mean that you won't be treated to stellar panoramas of Heart Lake from the summit.
So, to enjoy one of th best things to do in Lake Placid, NY, just choose between one of the two trails: the Long Trail at 1.3 miles long and the Short Trail at 1.1 miles long – trails that are exceptionally beautiful throughout the fall season and perfect for snowshoeing in the winter (fyi, the Long Trail is better for this in the winter).
Pro Tip: If you really want to challenge yourself, you can do Mount Jo as part of the Lake Placid 9er challenge, which includes hikes up nine of the smaller mountains in the area.
7. John Brown Farm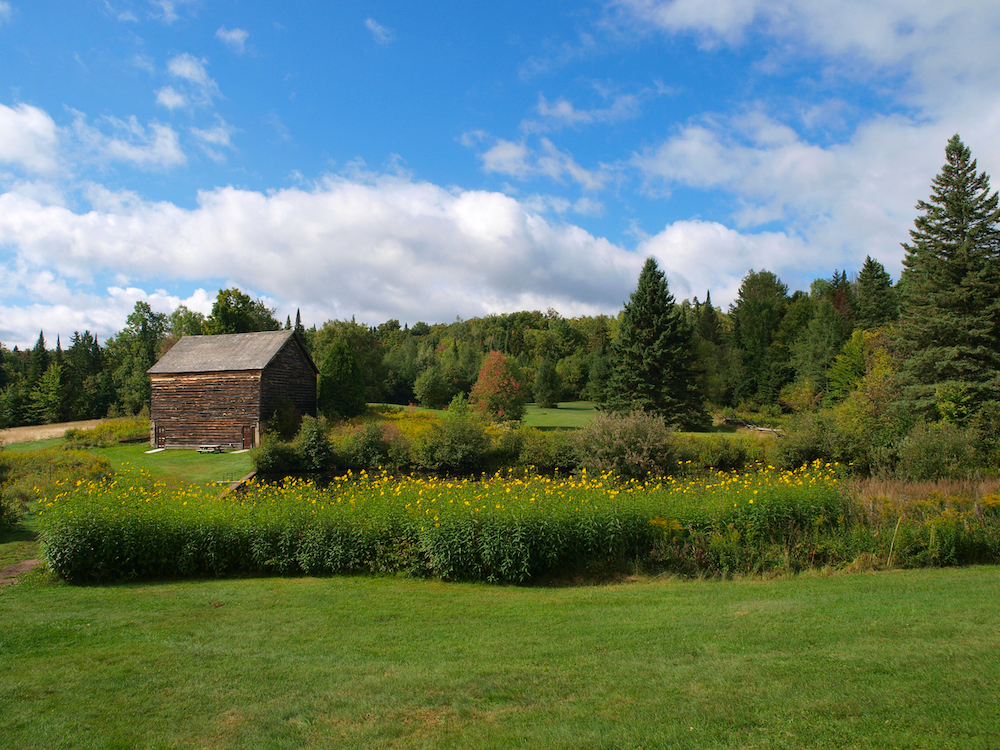 Love history almost as much as I do? Then mosey on over to the John Brown Farm, which is easily one of the best things to do in Lake Placid, NY.
After all, it was the former residence of the famous abolitionist John Brown, who led an ill-fated raid, in 1859, on the US Arsenal in Harper's Ferry.
Yeah, he basically wanted to procure enough weapons to help the slaves of the South become liberated. But, not surprisingly, he was eventually captured, imprisoned, and executed in Virginia.
However, upon his death, his body was returned and then later buried at his home in North Elba, where you can now find the John Brown Farm.
So, step inside this quaint museum, which is filled with authentic, historic furniture that shows you exactly how the Brown family lived way back when.
While here, also learn about this famous man's life, pay your respects at this living memorial, and explore one the area's picturesque trails.
Also be on the look out for periodic historic reenactments that help tell the story of this fascinating man's life.
Address: 115 John Brown Rd, Lake Placid, NY 12946
Hours: Open daily from 10:00 am to 5:00 pm, except Tuesdays.
Price: Free
8. Cascade X-C Ski Center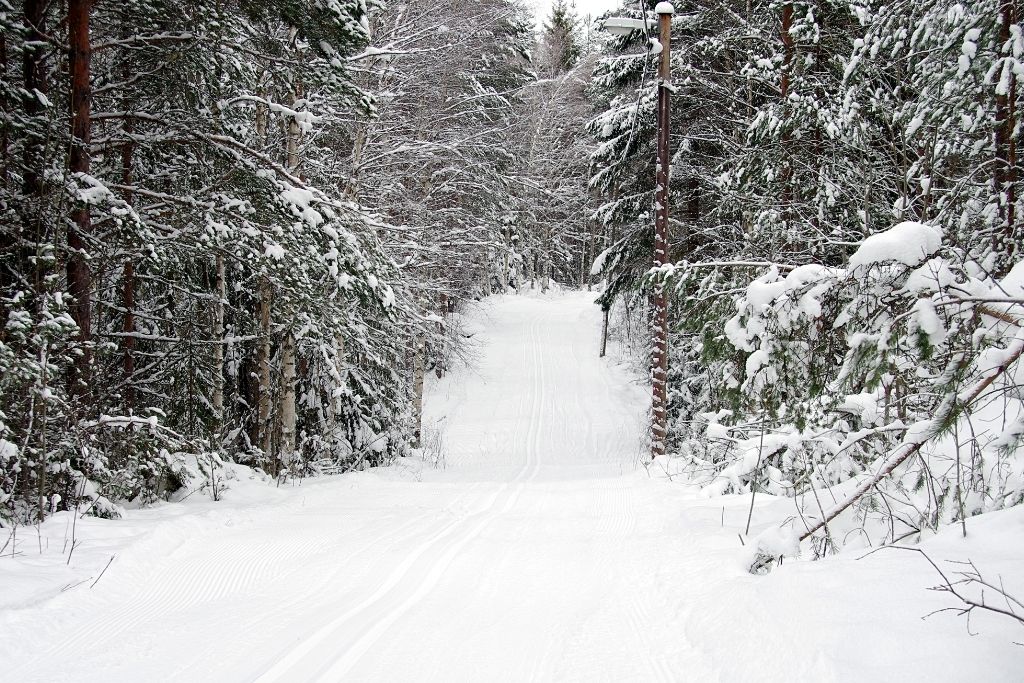 If you visit Lake Placid in the winter and don't go skiing, did you really visit Lake Placid at all? And, just in case you were wondering, the correct answer to that question is of course, a hearty "no".
Therefore, if you plan to visit the great white north (aka Lake Placid) during the deep freeze (aka winter), then be sure to stop by Cascade Country Center.
Because as the name suggests, this place offers visitors excellent cross-country skiing opportunities within it's more than 20 kilometers of well-groomed trails.
However, the fun doesn't stop there since this Nordic ski center also operates as a full-on restaurant, store, and budget accommodation center that can house up to 30 people.
So, stop by today and rent some skis, check out the epic trails of Mt. Van Hoevenberg, grab some Nordic-inspired fare at the Knicker's Bar and Restaurant, and spend the night in one of five bunk rooms that sleep anywhere between two and eight people – with WIFI, microwaves, toasters, and TVs all available for guest use.
Pro Tip: Eat on the sundeck that overlooks the MacIntyre Range and try the satisfying, Backcountry Bowl.
Address: 4833 Cascade Rd, Lake Placid, NY 12946
Hours: Open daily from 9:00 am to 5:00 pm.
Price: Most entrees start at around $9 each.
9. Horse-Drawn Sleigh Rides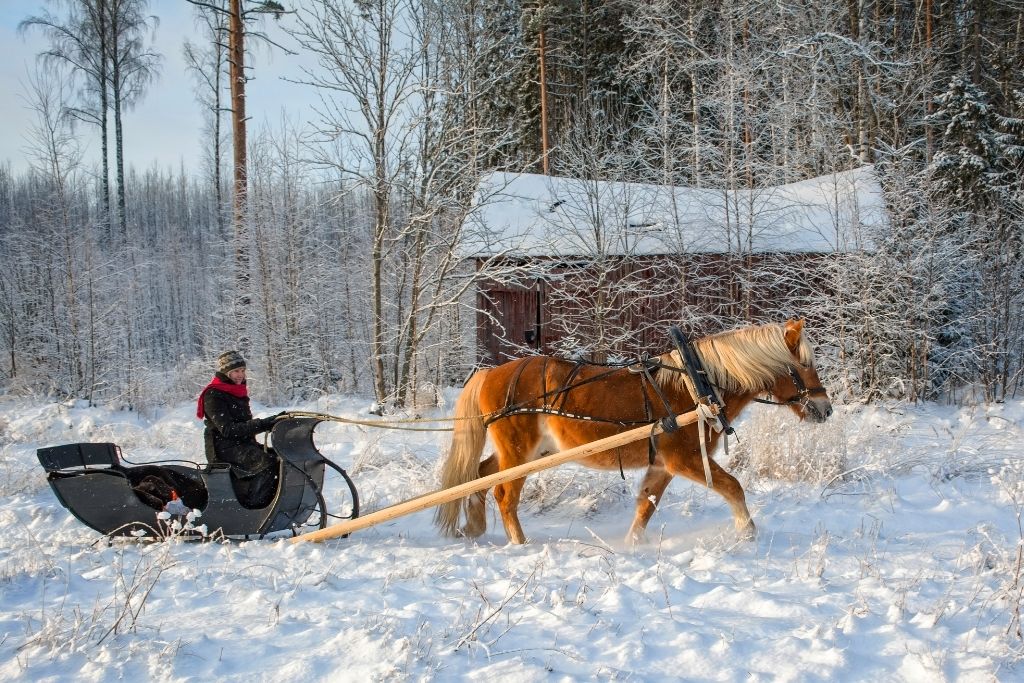 Ready to go on a horse-drawn sleigh ride through a veritable winter wonderland of awesome? If so then this is easily one of the best things to do in Lake Placid, NY for you!
Especially since come wintertime, this is easily one of the most fun/romantic activities in the region. So, stop by Country Dream Farms and embark on the trip of a lifetime as well cared for, Belgian draft horses bring you through a magical, snow-capped, winter wonderland.
After all, not only will you get warm blankets to snuggle up under, but you'll also be able to stop by the historic John Brown Farm while sipping on a fresh mug of hot cocoa.
Seriously, would more could you ask for from a trip to Lake Placid?
Address: 200 John Brown Road Lake Placid, NY 12946 (they're based in Plattsburgh but have an outpost in Lake Placid)
Hours: Open Monday through Friday 10:00 am to 5:00 pm, Saturday from 10:00 am to 6:00 pm, and Sunday from 11:00 am to 4:00 pm.
Price: Starts at $40 per adult and $15 per child (age 4 to 10) per 15-minute ride.
10. ADK Aquatics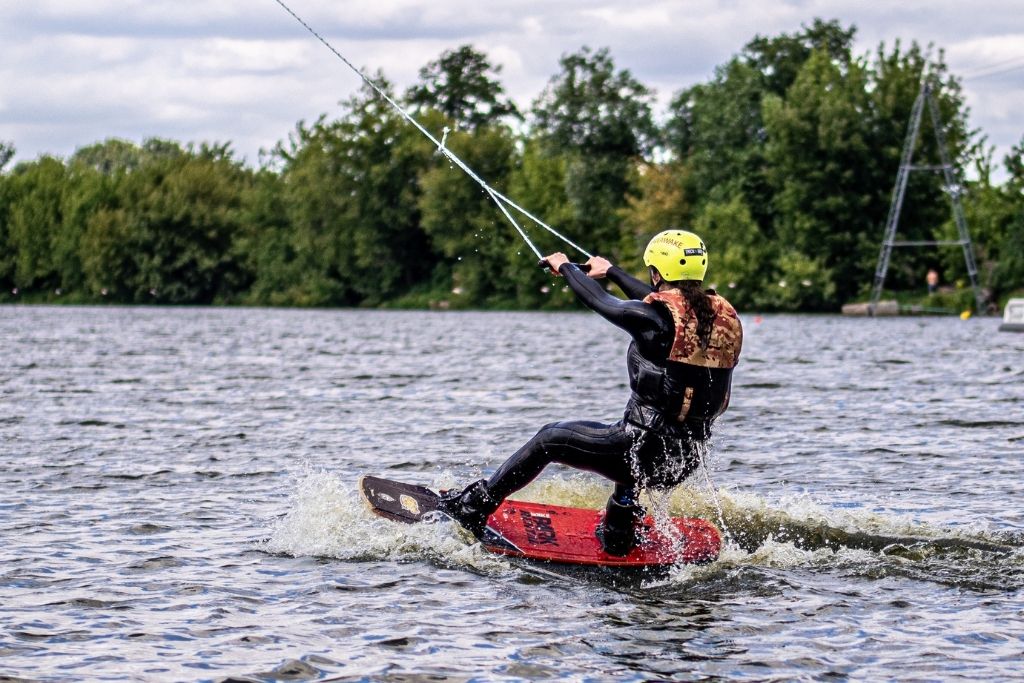 Whether you're looking to do a bit of water skiing this summer or want to enjoy a scenic fall boat tour, the friendly staff over at ADK Aquatics have got you covered with a wide selection of tours and boat trips to choose from.
Now in operation for well over ten years, the experts over at ADK Aquatics have a wide variety of services for you to choose from including:
Wakeboard Lessons
Waterski Lessons
Wakesurf Lessons
Tubing Excursions
Scenic Boat Tours
Because whether you're a total beginner or a full-on expert, they have the perfect instructor and services for you aboard the Super Air Nautique.
So, what are you waiting for? Enjoy one of the best things to do in Lake Placid, NY by getting out onto the water and embracing a one of a kind experience, filled with stellar views of the surrounding, Adirondack Mountains.
After all, their epic private boat tours will take you past some of the great Adirondack camps of the past and introduce you to the region's unique history, with expert commentary from a local guide.
Pro Tip: Definitely call in advance and make s reservation since ADK Aquatics is popular and often totally booked during the peak season.
Address: 35 Victor Herbert Rd, Lake Placid, NY 12946
Hours: Open daily from 8:00 am to 7:00 pm.
Price: Private boat tours of Lake Placid start at $220 per hour and are booked for a minimum of 1.5 hour.
11. The Wild Center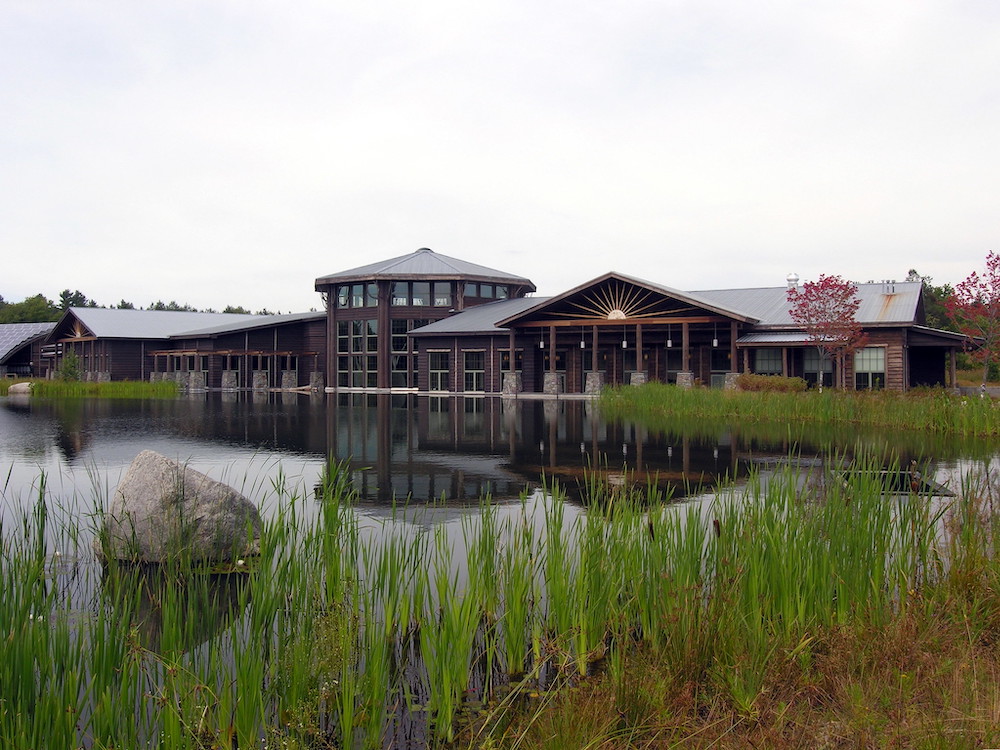 Just a short, 40-minute drive away from Lake Placid is the Wild Center in Tupper Lake. it was once the Natural History Museum of the Adirondacks and is now an incredible, highly interactive museum that educates visitors about the region's many unique, local ecosystems.
So, step inside this amazing center or learn and see over 900 different animals that are native to the area, including river otters, porcupines, owls, snakes, frogs, and freshwater fish.
You can also embark on a naturalist-led guided canoe trip or experience Forest Music as you walk along the area's many forest trails and listen to an expertly curated collection of music that is broadcast through one of twenty-four different speakers.
However, the real highlight of any visit here is the Walk, a series of connected, elevated platforms that allow you to walk among the treetops and savor awe-inspiring views of the surrounding landscape.
Along the way, you can also sit inside a giant bird's nest, bounce around in the Spider's Web, walk into a giant tree, or just admire beautiful Tupper Lake.
Address: 45 Museum Dr, Tupper Lake, NY 12986
Hours: Open daily from 10:00 am to 5:00 pm.
Price: $20 for adults, $18 for military/seniors (65+), $12 for kids (5-17), and free for kids under 5/members.
12. Enjoy a Meal at Smoke Signals
Known for its chill decor (imagine brick walls with elegant wood tables) and expansive outdoor patio overlooking the lake, this restaurant is a great place to go for delicious barbeque and a large selection of craft beers on tap.
The service is also great and you can choose from a variety of barbeque classics like beef brisket, baby back ribs, and pulled pork.
And, yeah, don't even get me started on the signature rib nachos, which are basically the best thing on the menu, with the Habanero Hog Sauce and cornbread coming in at a close second since they are full-on food crack.
Add in some live music and you have the perfect place from which to eat your way through Lake Placid.
Pro Tip: This is not the place to go if you're vegan/vegetarian because aside from a few salads, they really don't have a ton of options.
And if you need other foodie hotspots then try:
Tail of the Pup – This is a super chill, outdoor bbq spot that has been around for well over 80 years, It's definitely a local institution and has a bit of a vintage feel about it. Super informal and just a great place to go with the family that is about mid-way between Saranac Lake and Lake Placid. Try any of their smokehouse items or the Brisket and Beans appetizer.
Big Slide Brewery – Just a popular local brewery with great pub grub and even better craft beers. Try the award winning IPA and pair it with some pretzel nuggets (served with homemade ale cheese and maple mustard) and their brick oven pizza, The Pizza of Pizza.
The Cottage – This upscale eatery sits on the edge of Mirror Lake and is known for innovative, refined, American-style dishes. Try the mushroom stew which is made with a mushroom and brie broth that is served to you in a bread bowl and drizzled with truffle oil.
Whiteface Lodge – Not only is this just an all-around great hotel, but the restaurant is pretty dang awesome too. So, make a reservation in the Kanu Restaurant and watch as the chef prepares your food right in front of you. They also have a great wine list that is perfectly paired with their seared sole – made with fennel, leeks, asparagus, wild rice, and a garlic lemon vinaigrette. Also save room for their tiramisu for dessert.
Black Bear – Just a chill place to come with the family and order classic American food. They're most well-known for their steaks though so try the Montreal Steak, which is a16 oz. grilled ribeye with sautéed mushrooms, onions, and topped with Montreal Steak seasoning.
Address: 2489 Main St, Lake Placid, NY 12946
Hours: Open daily from 4:00 pm to 9:00 pm.
Price: Entrees start at around $15 each.
13. Adirondack Scenic Railroad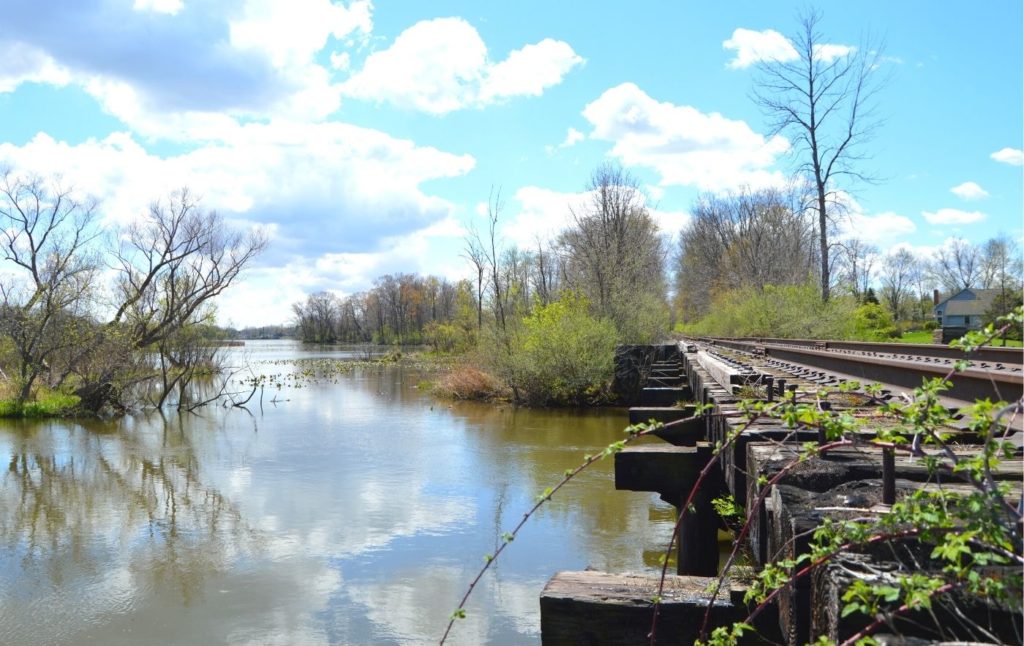 Love trains and looking for another one of the best things to do in Lake Placid NY? If so then hop aboard the Adirondack Scenic Railroad and prepare for the ride of a lifetime.
Yes, Thendara station is a long, 2.5-hour drive away from Lake Placid, but the trip is more than worth it since you'll enjoy a scenic, 57-mile journey through the Adirondack Park and along Moose River – a trip that eventually ends in the South at the station in Utica.
In total, the journey should take around 3 hours and will take you along the historic tracks that were once operated by the New York Central Railroad Company.
You'll also love how passionate staff members are since most are volunteers who are only too happy to answer all of your most pressing questions and share their love of trains with you as you make the most of your Lake Placid itinerary.
Pro Tip: Because of rough winters, trains only run seasonally, starting in May and running through October. However, do be on the lookout for fun special events abroad the train, like fun, themed dinners and special beer and wine trains.
Address: 2568 NY-28, Thendara, NY 13472
Hours: The train ride takes around 3 hours and trains typically depart once in the morning and once in the afternoon.
Price: Tickets start at $35.00 per person but vary by excursion.
14. Go Bobsledding at the Mt. Van Hoevenberg Olympic Bobsled Run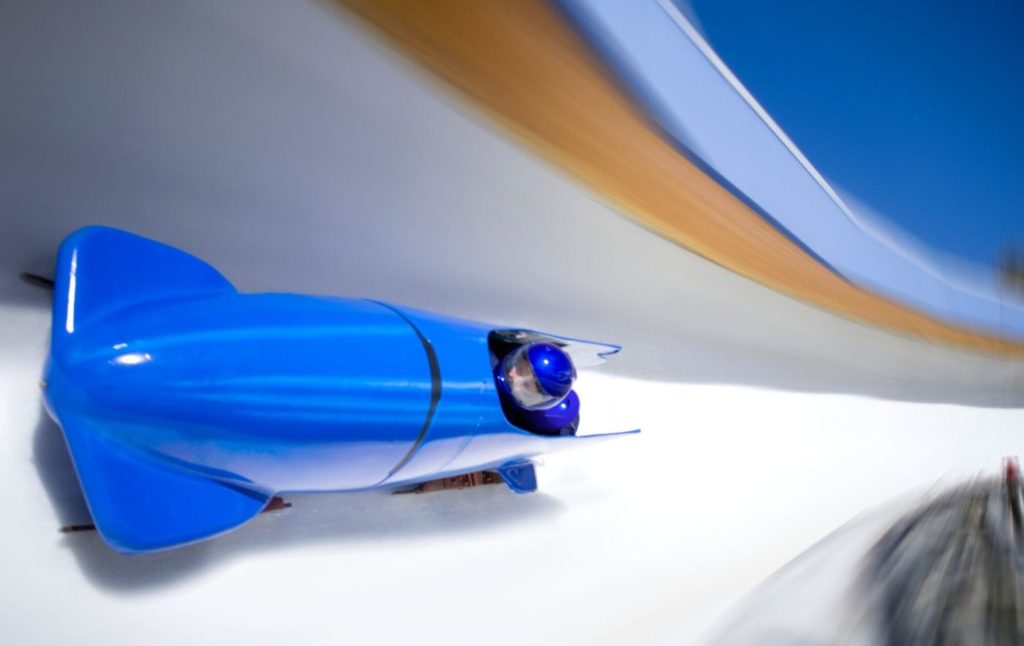 If you want the ultimate adrenaline rush while enjoying some of the top things to do in Lake Placid NY then give the Lake Placid Bobsled Experience a try.
Not only will you be guided through the trip by a pro brakeman and driver, but you'll actually get to cruise along the Mt. Van Hoevenberg Olympic Bobsled Run – a track that was used for various pro bobsled, luge, and skeleton events in the 1932 and 1980 Olympic Games – at speed of over 55 miles per hour.
Plus, in addition to the actual ride itself, you also get a free Bobsled pin, a team t-shirt, a complimentary team photo, and coupon for 20% off your next bobsled ride.
Just know that this is one of the best things to do in Lake Placid NY that is weather dependent. So, if the weather does not cooperate, staff will be happy to reschedule your ride.
Pro Tip: This activity is SUPER popular so be sure to make reservations at least 3 days in advance.
Address: 220 Bobsled Run Ln Rd, Lake Placid, NY 12946
Hours: Open Friday through Tuesday from 11:00 am to 4:00 pm to book tickets. The bobsled rides themselves vary by season and currently run 10:00 am to 1:00 pm on Saturdays only.
Price: Rides start at $350 for three people.
15. Jack Rabbit Trail
if you love the great outdoors and want to spend as much time outside as humanly possible, then be sure to hop (get the lame pun?) on the Jack Rabbit Trail and enjoy the raw, all-natural beauty of this magical area.
And while you probably won't be able to tackle the entire trail since it's a solid, 50-km long, you will enjoy doing a bit of cross-country skiing on a historic trail that was first founded in 1986.
You'll also love the scenic views since you can start in Keene, pass through Lake Placid, and then end up in Saranac Lake/Paul Smiths. Plus, if you stay on the well-marked/well-maintained path, you won't need to pay any fees while passing through places like the Whiteface Club.
Also, snowshoeing is 100% allowed on this trail and is best enjoyed on the section on Old Mountain Road, between Whiteface Inn Lane and the lean-to.
Address: North Elba, NY 12946
Hours: Open twenty-four hours per day.
Price: Free
16. Ice Fishing
Ice fishing is a fantastic activity to take advantage of the Adirondack Park's quiet winter splendor. Connery Pond, about 5 miles from the center of town, is one of the greatest spots for ice fishing close to Lake Placid.
This is a great location away from the crowded tourist areas to wait for a bite to eat while taking in all the natural beauty of the region because it is surrounded by Whiteface Mountain.
A steep half-mile hike is needed to reach the shore at Copperas Pond, some 6.5 miles from downtown, for anglers seeking an even more tranquil location. It is renowned for making late-season northern pike and yellow perch accessible.
Connery Pond, which is only 15 minutes' drive from Whiteface Lodge, is a fantastic spot for some ice fishing. With trees all around it and Whiteface Mountain in the distance, Connery Pond is a breathtaking spot. To catch brown trout, pumpkinseed, splake, sunfish, and yellow perch, you'll cast your line here.
Lake Clear is one of the best ice fishing locations in Upstate New York if you don't mind sharing the ice with others. Lake Clear, which can be reached in 25 minutes, is home to brown trout, northern pike, salmon, smelt, and yellow perch.
If you're hunting for a monster, Lake Clear could be the perfect area for you to find one because it's a wonderful site to capture some big fish.
Are you seeking for quick access to the lake? To Lake Colby, go. Although Lake Colby is one of the most well-known spots in Upstate New York for ice fishing due to its accessibility, the activity itself remains unaffected.
The waters of Lake Colby are home to a wide variety of fish. Brown trout, brown bullhead, landlocked salmon, largemouth pumpkinseed, rainbow trout, rock bass, smallmouth bass, and yellow perch are all present in Lake Colby.
Hours: Open twenty-four hours per day.
Price: Free
17. Adirondack Wildlife Refuge Center
Love animals and looking for one of the best things to do in Lake Placid, NY? If so then be sure to visit Adirondack Wildlife Refuge Center.
After all, this epic spot opens up starting in May and is a great place to visit if you want to get to know the local creatures that call the Adirondack Mountains of New York home.
Plus, you'll feel good supporting this organization since it was started by Steven Hall, who began the effort to rescue, rehabilitate, and then release animals back into the wild.
So, epic animals you'll see during your Lake Placid itinerary include red fox, black bears, gray wolves, and more.
Address: 977 Springfield Rd, Wilmington, NY 12997, United States
Hours: Open Thursday through Monday from 10:00 am to 4:00 pm.
Price: No fee but please donate.
18. Six Nations Iroquois Cultural Center
If you want to learn more about the indigenous people who were the first inhabitants of the area then add a visit to the Six Nations Iroquois Cultural Center to your list of the best things to do in Lake Placid NY.
Sadly, this spot is only open in July and August. But, if you happen to visit Lake Placid in the summer (or at other times of the year if you make an appointment) then you can explore upwards of 3,000 artifacts that relate to the right history and culture of the Haudenosaunee.
Translated to "people of the long house" in English, the values and traditions of these amazing people are reflected within a fun gift shop and through an educational center.
Highlights include lectures, photographic stories that are read aloud, and the retelling of the story of the creation of the Haudenosaunee participatory government.
Address: 1466 County Hwy 60, Onchiota, NY 12989, United States
Hours: Open Tuesday through Sunday from 10:00 am to 5:00 pm in July and August.
19. Go White Water Rafting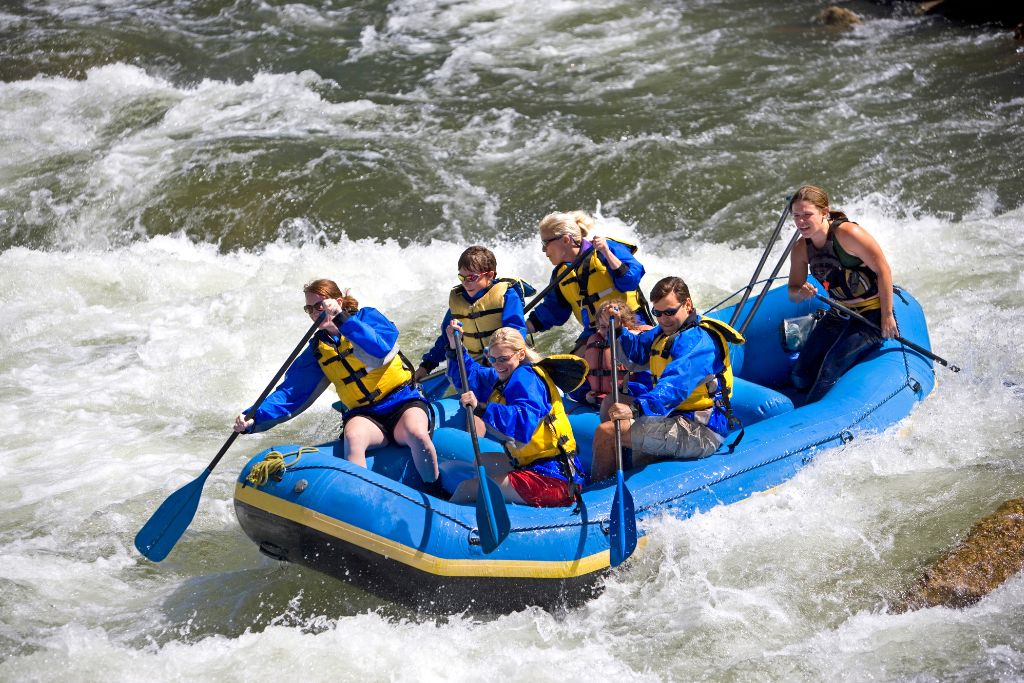 Full disclosure? I went "white water rafting" on the AuSable River and it is really not white water rafting. It's more floating along the river.
So, if you are looking for Class III or Class IV rapids then this is not the place for you.
PLEASE, go elsewhere in the Adirondacks since there are much better rapids in places like Indian Lake.
Yeah, this place is only about 60 minutes from Lake Placid and is home to the Indian River, which plummets around 150 feet into the Hudson River over the course of 3 miles.
However, if you are visiting AuSable Chasm anyway and want to hang out on the river then feel free to give it a try.
The experience is just 10-30 minutes long and is suitable for families who want to basically just get out onto the river.
Address: 2144 US-9, Ausable Chasm, NY 12911
Hours: Varies by season by open seven days a week in summer from 9:00 am to 5:00 pm
Price: $15.00 per person for additional tours, no reservation required.
20. Enjoy a Boat Tour of Lake Placid
Let's be real. There are about 10,000 different boat tours for you to enjoy if you are looking for the best things to do in Lake Placid NY.
But, most of us don't have a small trust fund that we can use to pay for a tour. So, that's where this $20 boat tour of Lake Placid comes in mighty handy.
Now, what you might not know is that the lake in the downtown area is Mirror Lake, not Lake Placid.
Yeah, Lake Placid is actually super posh since most of the land along the lake is privately owned by some of the wealthiest people on the planet.
However, the Lake Placid Marina Boat Tour will take you out onto this VIP lake as you enjoy stunning views and get up close and personal with the gorgeous homes here.
You'll also learn about the history of this incredible place and get away from the hordes of tourists at Mirror Lake.
Address: 30 George& Bliss Ln, Lake Placid, NY 12946
Hours: 9:00 am to 5:00 pm.
Price: $20.00 per person.
Best Things to do in Lake Placid NY FAQs
Is Lake Placid NY Worth Visiting?
Yes, Lake Placid, NY is absolutely worth visiting. After all, this incredible town in the Adirondacks has everything you could want for a weekend getaway.
Highlights include amazing skiing, epic boating, stunning fall foliage, and historic facilities from its past as a host of the Winter Olympics.
What is Lake Placid Best Known For?
Lake Placid is best known for hosting the 1932 and 1980 Winter Olympics. So, be sure to visit a wide variety of Olympic facilities as you enjoy the best things to do in Lake Placid NY.
Is Lake Placid Worth Visiting in Summer?
Yes!!! Lake Placid is definitely worth visiting in the summer. Sure, it will be crowded. But, you can do fun things like climb to the top of Whiteface, ride the bobsled, go rail biking, and more.
Why Visit Lake Placid?
You can visit Lake Placid to visit former Olympic sites, climb incredible mountains, take amazing boat tours, and so much more.
What Netflix Movie was Filmed in Lake Placid?
The Netflix movie that was filmed in Lake Placid was Love Hard.
What is the Best Time to Visit Lake Placid?
If you are looking to save money and avoid crowds then spring is the best time to visit Lake Placid.
However, winter is a great time to visit if you're into skiing, fall is a great time to visit if you want to see vibrant foliage, and summer is a great time to visit for hiking and water sports.
Additional New York Travel Resources You'll Love
And there you have it! That just about wraps up this comprehensive local's guide to all of the best things to do in Lake Placid, NY!
Tell me, did all for your favorite activities make the list? If not then let me know so that I can add them to my very own Lake Placid itinerary.
And if you found this post helpful, be sure to join our email list before pinning this post now so that you can read it again later!