If you want to spend an incredible weekend glamping upstate NY then this mega epic insider's guide to 20 of the best spots for glamping in New York will be perfect for you.
After all, New York state is an incredible wonderland of natural beauty that is filled with stunning lakes, gorgeous hikes, and incredible state parks that you do NOT want to miss.
However, if you don't feel like roughing it to the extreme at a traditional campsite then why not try glamping instead?
It's basically a luxe life version of camping that allows you to enjoy all the swank AF comforts of a hotel room while savoring the glorious natural beauty of some of the best waterfalls in New York.
So, get away from the overwhelming hustle and bustle of the city and use this guide to glamping upstate NY to start planning the romantic weekend getaway in Upstate New York of your dreams.
This post may contain affiliate links. Please see my disclosure for more information. As an Amazon Associate, I earn a small commission from qualifying purchases.
Best Glamping Upstate NY – Hudson Valley
1. Gatherwild Ranch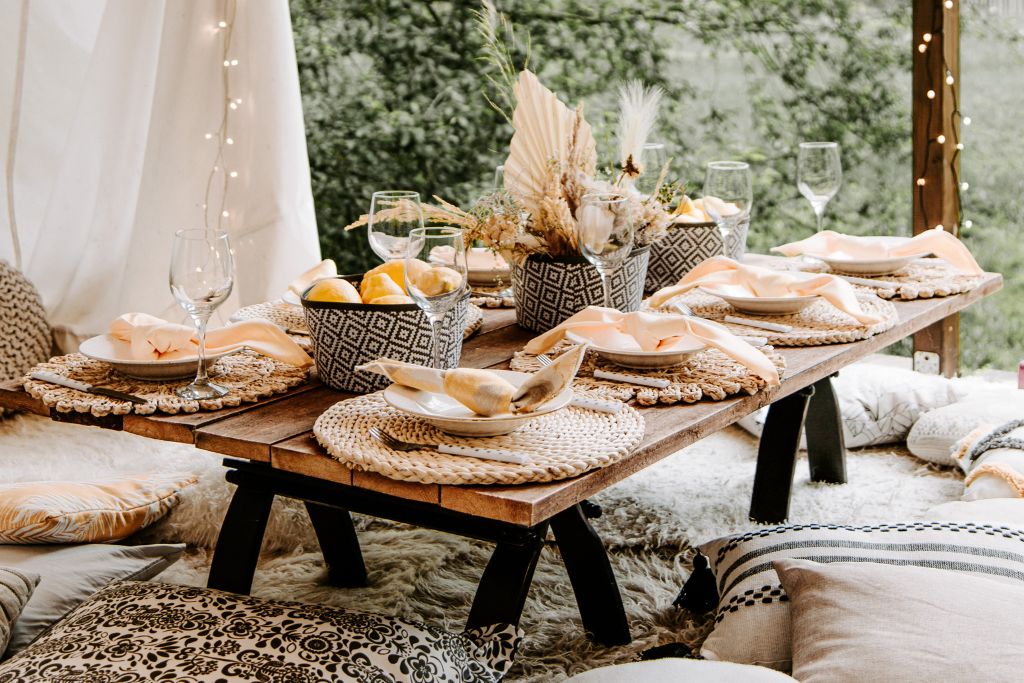 Slow your pace at Gatherwild Ranch – a boutique glamping destination spread out across 15 acres of former apple orchards just outside of Germantown.
Seven individually stylized units consist of bell tents and bespoke shelters including A-frame cabins and a gypsy caravan. All are curated with a fusion of the simple life and a touch of luxury.
In particular, the "Guest House" is a renovated 1800s cabin with a private bathroom and electricity.
You know what the problem here is though, right? You're going to need to book multiple visits to experience all the fabulous glamping in upstate NY accommodations here!
And, added bonus? The host can even source local produce for you to cook in the large communal kitchen.
Guests are also free to roam the property which is overflowing with beautiful walking trails. Also, be on the out for friendly farm animals and dogs who roam freely here.
Oh, and dogs are welcome at Gatherwild Ranch for a small surcharge.
So, when twilight descends upon this idyllic glamping ground, sit back with a glass of wine and star gaze the night away.
Address: Germantown, NY
Price: $189.00 per night.
2. Gather Greene
Originally crafted as a venue for weddings and retreats, Gather Greene is as wonderfully photogenic as it is sublimely homey.
Located a 15-minute drive west of Coxsackie, Gather Green consists of 17 bespoke cabins – a selection of cozy huts that are about as wide as a double bed.
One wall consists purely of a giant picture window that provides visitors with a direct view of the area's vast woodlands. On the other hangs a mirror that creates the sense of being truly in the crux of the forest.
In total, 12 cabins have been erected on a ledge towards the Berkshire Mountains while the other five are hidden away among local greenery.
Each is fitted with a private bathroom, hot drink-making facilities, and a private deck. Heating and air conditioning also add a luxurious touch that makes this one of the best glamping upstate NY picks for winter.
Therefore, once you settle in, stretch your legs with a ramble around the woodlands, orchards, and ponds.
Pro Tip: To book a cabin here there is a two-night minimum and stays are only offered Thursday through Monday.
Address: 176 Levett Road, Coxsackie, NY 12051
Hours: Open Seasonally from March through November.
3. The Stay of Liberty Farms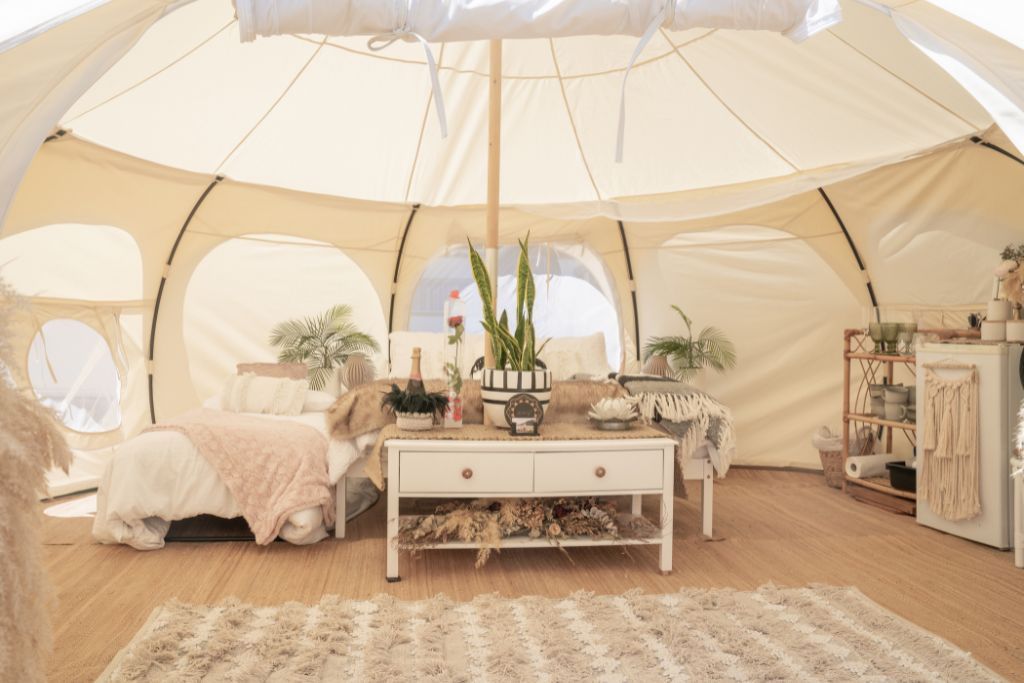 The Stay at Liberty Farms is a super-luxe, super-Instagrammable glamping getaway situated upon a large stretch of organic farmland.
In fact, Canvas Cabins create the perfect cocktail of nature, comfort, and practicality for the ultimate glamping upstate NY experience.
Each of the 10 safari tents is fashioned atop a wooden deck and outfitted with an en suite bathroom with a glass roof. The main interior is a boho wonderland with chandelier lighting, king-size oak beds, and high-thread-count sheets.
Board games, trail maps, and cooking gear are also available at "The Nest", or the on-site communal hang-out area.
Additionally, Liberty Farms is a popular wedding venue. So, in addition to being a working organic farm, this plot of land also features an equestrian center and a farm shop. Therefore, you're encouraged to wander around at leisure or join a guided farm tour.
And for all my fellow dog lovers out there, canine companions are welcome at the Stay at Liberty Farm for a modest surcharge. Plus, complimentary breakfast is provided at weekends.
However, do note before booking that Wi-Fi is not available and cell reception is patchy at best. So, seize the opportunity to unplug and recharge at one of the best spots for glamping in New York.
Address: 129 Ostrander Road, New York, NY 12075
Hours: Available seasonally from May through October.
Price: $325.00 per night.
Best Glamping Upstate NY – Catskills
4. Getaway Eastern Catskills
Try your hand at the tiny home lifestyle in one of the minimalist wooden cabins at Getaway Eastern Catskills.
One-bedroom cabins sleep solo wanderers and couples while bunk bed-style two-bed huts can accommodate up to four people.
All dwellings are also engineered to make excellent use of the surrounding greenery with ample windows. Each comes with a private bathroom, kitchenette, and a backyard with a fire pit. However, they're also suitably equipped for longer-term glamping stays.
Additionally, dogs will receive as warm a reception as their two-legged companions since all pet bookings include two food bowls, a leash, and an arrival treat!
You'll also love that Getaway Eastern Catskills is located on the cusp of the park – a 15-minute drive from Catskill village. Therefore, this is a fabulous base from which to explore the surrounding sights and experience some of the best hikes in the Catskills.
Address: Eastern Catskills in Catskills, NY.
Hours: Open all year long.
Price: Starts at $199.00 per night.
5. Harmony Hill Retreat Center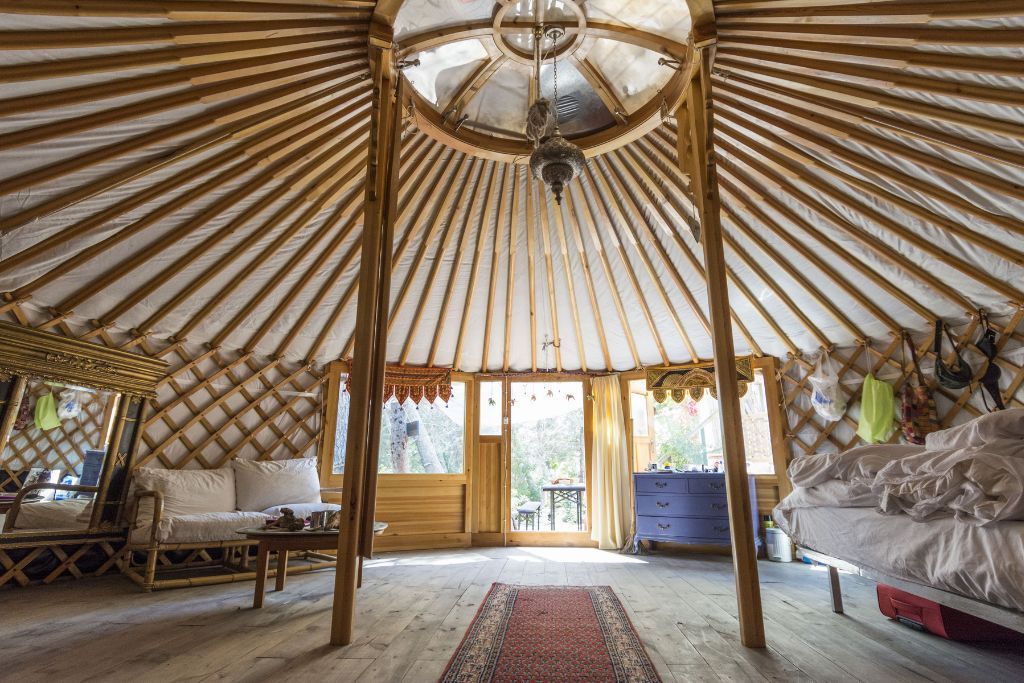 Two yurts buried in the woods form the accommodations on offer at the Harmony Hill Retreat Center.
Each yurt is elevated above the forest floor and even features a balcony. Both spaces are also outfitted with a full kitchen complete with an oven, stovetop, fridge, and microwave. These twin yurts also have the luxury of a modern bathroom.
Plus, with the addition of Wi-Fi and a campfire, these cabins are perfect for a spot of long-term glamping upstate NY or as a base for a bit of a workation.
The owners of the yurts are also available to arrange massages, reiki treatments, guided nature walks, and readings. Heck, they're even willing to share the contact details for local chefs who can rustle up some decadent, campsite feasts for carnivores, vegetarians, and vegans alike.
Meanwhile, the setting is excellently placed for hiking, biking, and surfing the frequent farmer's markets that grace the area.
Address: 694 McKee Hill Rd, East Meredith, NY 13757
6. Blue Hills Farm Glamping Tent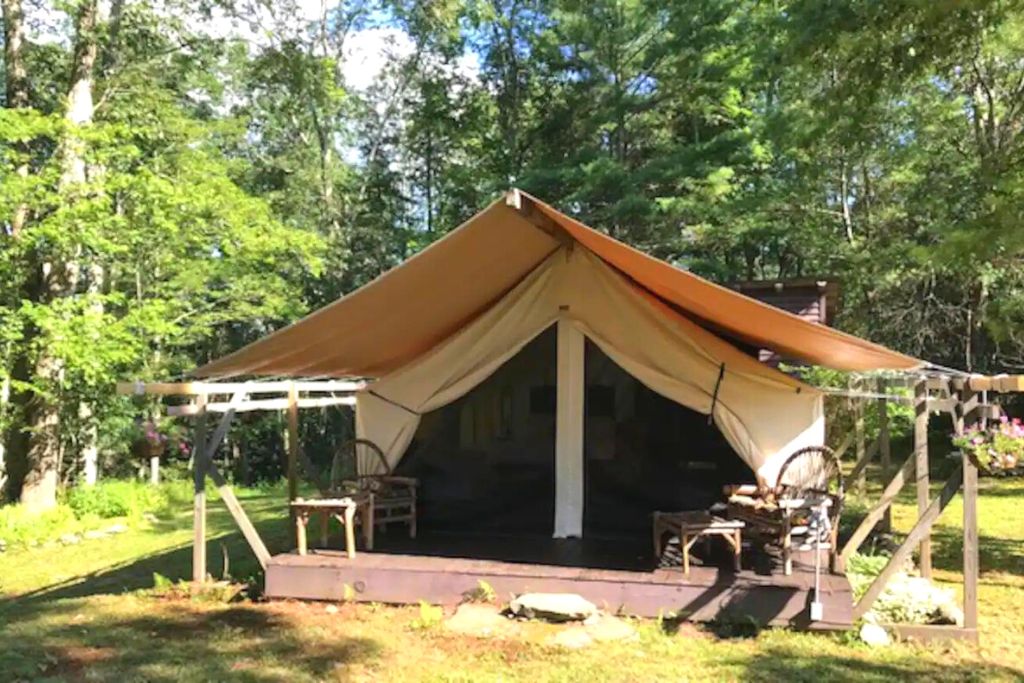 First time glamping upstate NY – or glamping, in general? If so then this beautifully located Narrowsburg patch will ease you in gently.
Constructed as a tent-cabin hybrid, the Blue Hills Farm Glamping Tent consists of a billowy canvas-topped bedroom with an attached lounge.
However, the en suite washroom occupies a deluxe wooden cabin and comes complete with a power shower, flushing toilet, and even a couple of mirrors – the utmost luxury for glampers!
Step outdoors and you'll find a fire pit poised to keep you warm and toasty.
You'll also uncover a tea house a couple of yards away from your pad where you can eat without the risk of friendly critters hopping inside the yurt.
Additionally, Blue Hills Farm lets out this sole property. So, you'll enjoy the benefit of sublime solitude with the Catskills and Narrowsburg being just a short drive away.
This luxurious tent is also just three miles from the riverside, Narrowsburg main street, and the Bethel Woods Performing Arts Center and Museum near Woodstock, NY.
Address: Near Narrowsburg, the heart of the Upper Delaware River Valley
Hours: Open seasonally on select dates throughout the summer.
Price: $239.00 per night.
7. Bellefire Farm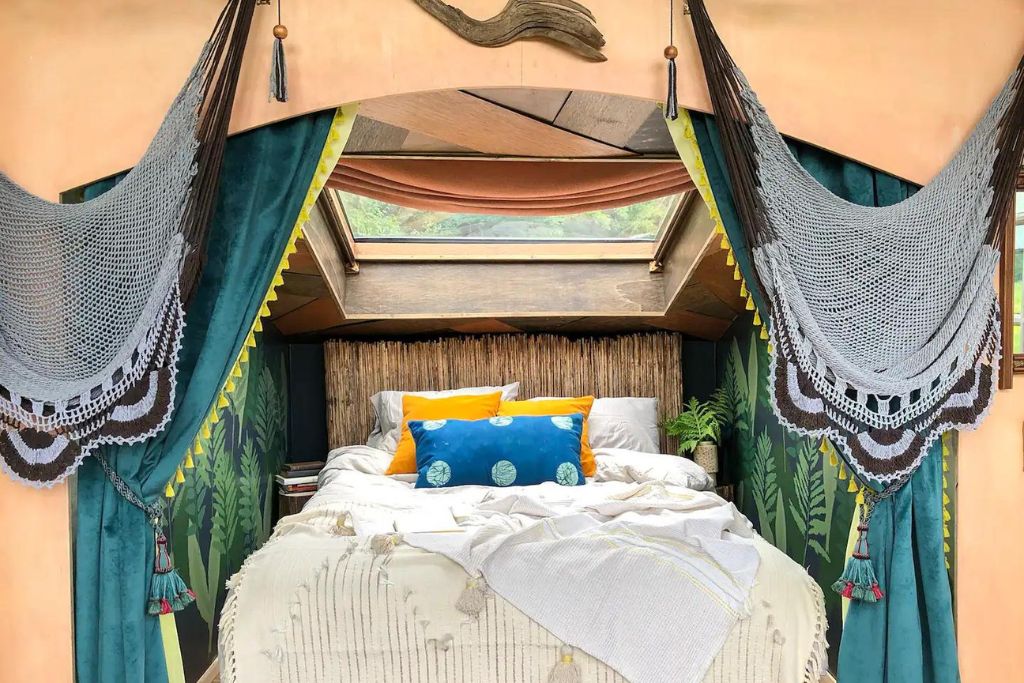 Constructed by an artist in an off-grid location within the Catskills, Bellefire Farm is a sanctuary of serenity and a pioneer of sustainable glamping in upstate NY.
As a result, dwellings here include tipi glamping tents as well as two tiny house options.
So, the Birdhouse is a cozy nook that rises over the meadows and benefits from tons of natural light. In addition to an interior hammock, the home has a private backyard with a fire pit where you can toast marshmallows in solitude.
On the other hand, Cosmic Nomad is a handcrafted wagon with a bunkbed, wood stove, and boho decor for that ultimate hygge experience.
Deluxe tipi tents are also spruced up with wool blankets, cedar floors, handmade upholstery, and an indoor chiminea. It's seriously romantic but you'd be forgiven for wanting to claim this space all for yourself!
All spaces are also sustainability conceived with the use of solar energy, compostable toilets, and reclaimed materials.
Address: Catskills (available upon booking).
Hours: Seasonally available between May and October.
Price: Between $163 and $193 per night.
8. Outlier Inn's Geo-Dome Glamping & Farm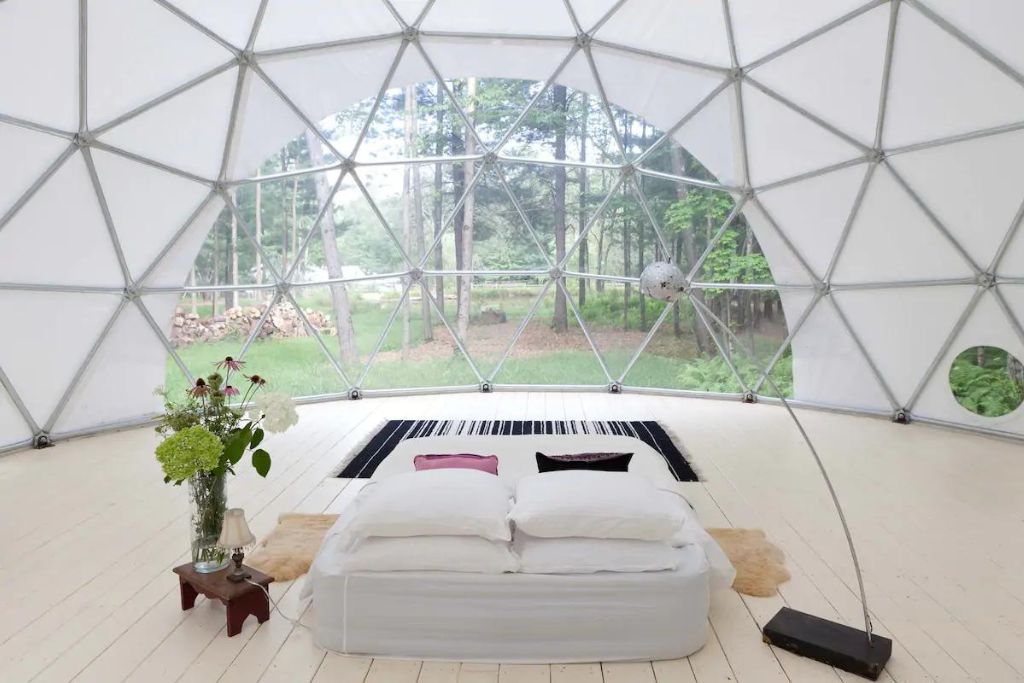 The Outlier Inn is a dreamy glamping retreat set across 12 acres in the southern Catskill mountains. As a sustainable fiber and organic vegetable farm, the first thing on the agenda is to bag a basket of veggies and eggs.
Then, book one of the many properties for hire at the Outlier Inn, which include a couple of tiny houses, a vintage trailer, and two geo domes.
The domes are the star of the show though. Channeling the best of minimalism – with a bed in the center of the space and a couple of rugs – the emphasis is purely on surveying the greenery that surrounds you at one of the best places for glamping in New York.
Equipped with a full kitchen and cute mezzanine bedroom, the tiny houses are ideal for guests seeking creature comforts. Meanwhile, the 1953 Spartenette trailer is perfect for family-friendly glamping upstate NY.
If you fancy doing a little bit more than breathing in the fresh air, Outlier Inn hosts donation-based yoga sessions. You can also spend your time hanging out with the resident alpacas, befriending the goats, or hiking the surrounding area.
Address: Monticello, NY (exact location given upon booking)
Hours: Varies by rental.
Price: Varies from $170 to $529 per night.
9. Country and Farm
Get back to nature and get a flavor for bucolic living at Country and Farm. Sited near Accord, just south of the Catskills, the location is a stellar base for seasonal hiking or cross country skiing during winter.
Rental plots consist of yurts and vacation cabins. Glamping tents are old-style Pioneers tents that have been revamped to satisfy modern tastes without compromising the rustic feel.
For something totally off the wall – the converted sailboat provides lodging for two and comes with a separate cabin and personal yoga deck.
Country and Farm is also a family-friendly and pet-friendly destination for glamping upstate NY. Plus, as a working horse farm, this is a fabulous choice for equestrians.
Besides the horses, the farmstead is home to various chickens, goats, and pigs. If you're lucky – you might cross paths with kittens and puppies too.
You'll also love that a hearty farm breakfast is available on site for a reasonable fee. Plus, you'll get access to a wood-fired pizza oven and a fire pit. These facilities are all shared with other guests so you'll need to come primed with your best campfire tales.
Address: 71 Stony Kill Rd, Accord, NY 12404
Hours: Seasonally available through October.
Price: Starts at $145.00 per night.
10. Eastwind Hotel & Bar
Eastwind Hotel & Bar inhabits a prime spot in Windham with sweeping views of the namesake mountain.
Founded by a collective of professionals from across the hospitality, fashion, and food and beverage industries, Eastwind wows with its attention to detail and thoughtful touches, creating a stunning spot where you can find some of the best glamping in New York.
In particular, Lushna and the Lushna Suite are the signature accommodation at Eastwind. These free-standing wooden cabins nod toward the Scandinavian concept of experiencing the Great Outdoors without sacrificing the comforts of home.
Both of these are fitted with a private bathroom, Faribault woolen blankets, and hooded Pendelton robes.
A tad roomier, the Lushna Suite comes with a private deck, fire pit, and hammock too. And if you've been putting off penning that novel – hole up inside this Hobbit-inspired home, complete with a snazzy writing nook that will inspire the words to tumble out.
The on-site bar and restaurant also dish up charcuterie and cheese boards alongside seasonal craft cocktails. Plus, there are a tempting array of activities that include live music nights, alfresco yoga, foraging walks, and candle-making workshops too.
Address: 5088 NY-23, Windham, NY 12496
Hours: Available year-round for bookings.
Price: $279.00 per night.
11. Mariaville Goat Farm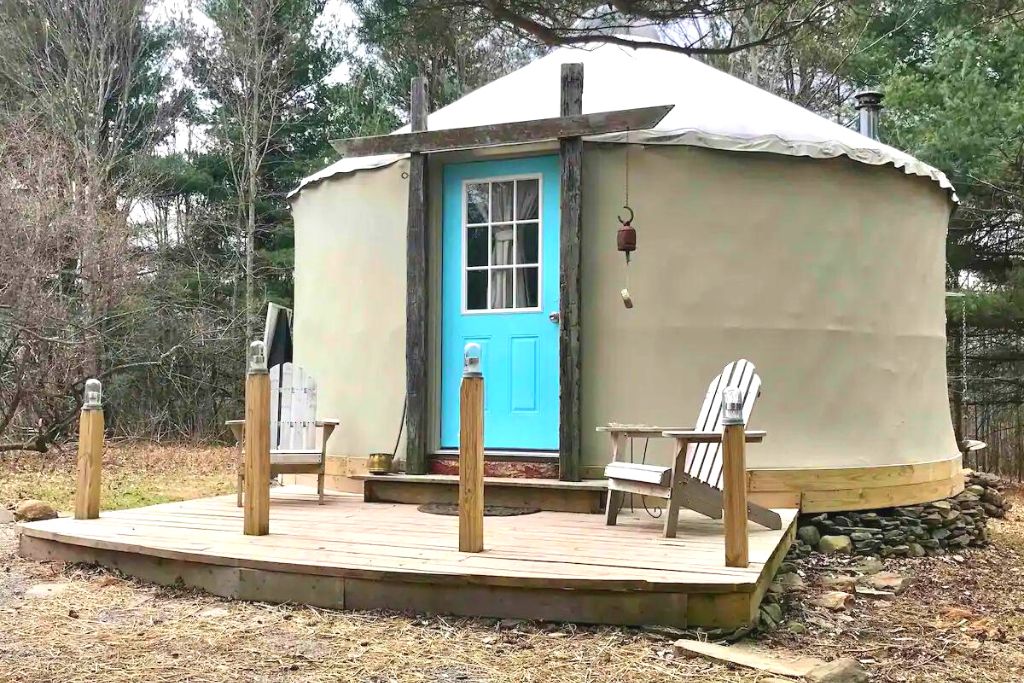 Pause those goat videos and book a night at Mariaville Goat Farm where goat yoga and goat cuddles are at the very top of your agenda.
Now, lodgings at Mariaville Goat Farm consist of either a yurt or a treehouse.
The yurt brings all your hippy desires to fruition with its wooden stove, thriving house plant, and boogie interiors. A patio with a hammock is also in a premium position for goat watching.
On the other hand, the Mariaville Goat Farm Tree House is situated in a secluded plot within the farm and creates the ultimate goat safari experience. Especially considering the likelihood of the little bleaters wandering in while you prep your morning oats is pretty high at this upstate NY glamping mecca.
They also strive to combine the holistic practice of yoga with a generous dose of animal therapy, creating a goat yoga experience that is suitable for all ages and abilities.
Dare I say, Mariaville might be the G.O.A.T choice for glamping in New York?
Address: 233 North Rd, Pattersonville, NY 12137
Hours: Available from May through October.
Price: Between $99 and $100 per night.
Best Glamping Upstate NY – NYC
⭐️ Rating: 8.8/10 (29 Reviews) Price: $339 per night ?Location: Craig Rd N, Governors Island, New York, NY Details: Read more on booking.com now!
What's truly wild about Collective Governors Island is that this glamping experience takes place right in the heart of New York City!
Therefore, this is an ideal glamping in New York destination for busy urbanites. Now, accommodations at Collective Governors Island are a mix of bell tents and shelters.
Tents are strategically positioned for the best sunset views of the city – panoramas that you can ogle from a private patio. Interiors reflect a top-tier hotel, with sleek bed frames, end tables, and ambient lighting. Summit tents crank things up a notch with en suite bathrooms too.
"Our stay at the Collective on Governors Island was one of the most unique, peaceful, and enjoyable experiences I have ever had in New York City. The retreat is absolutely bucolic. The accommodations and views are spectacular, and the service is impeccable."

Theresa (read more reviews now!)
Now, shelters are framed by two private terraces that grant uninterrupted views of the Statue of Liberty. Private bathrooms push luxury to the max with soaking tubs and fancy bathing products.
And no need to concern yourself with cooking since the retreat restaurant has you covered with exquisite menus that fuse flavors of NYC with farm fresh produce and a global influence.
There are also plenty of activities on offer at one of the best spots for glamping in New York since yoga, massage therapy, cocktail workshops, wine tastings, and environmental courses are all available.
Yup, all this awesomeness and it's only a mere 8-minute ferry ride from Manhattan.
Address: Governors Island, NY
Hours: Open seasonally throughout the summer.
Price: Starts at $339.00 per night.
Best Glamping Upstate NY – Adirondacks
13. Adirondack Safari
Adirondack Safari delivers upscale glamping in upstate NY along the banks of the Schroon River – right by Lake George in the Adirondacks region.
So, spacious, luxe canvas tents here can hold up to six guests. And all of them are outfitted with up to three double beds, plush carpeting, seating, and an electric fan.
Therefore, Adirondack Safari is perfect for those seeking an adventurous and sociable glamping experience – especially since the campground play host to live entertainment, bingo, outdoor movie screenings, and kayaking excursions.
Just be aware that while many of these glamping upstate NY activities are free, others – such as painting classes – come with a modest surcharge.
The site is also designed to be inclusive of couples, families, and groups of friends alike. However, quiet hours do apply between 11:00 pm and 8:00 am daily.
So, regardless of the weekend you choose to enjoy the best glamping in New York, you can expect the experience to resemble a mini-festival!
Address: Fairgrounds, 346 Schroon River Rd, Warrensburg, NY 12885
Hours: Open June through September.
Price: Starts at $149.00 per night.
14. The Lookout At Chill Hill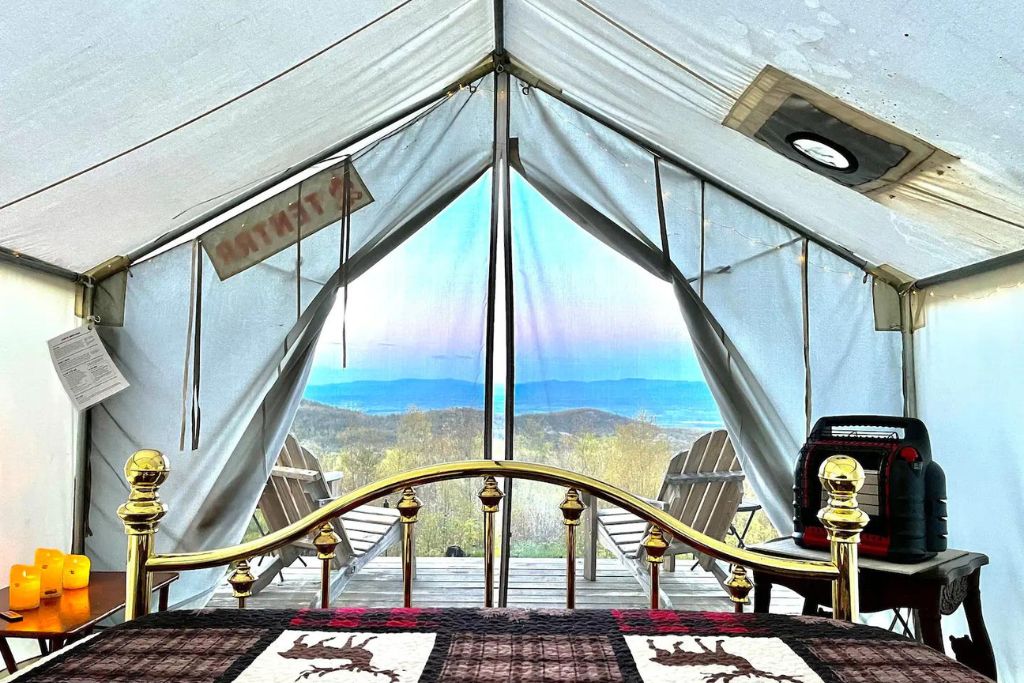 Completely secluded, this hilltop hideaway is elevated and grants guests panoramic views of the vast Adirondack Mountains and valleys.
The Lookout At Chill Hill also sits upon 230 acres of wilderness. Plus, dozens of the best hiking trails in the Adirondacks weave their way through the terrain, granting views of the High Peaks and the Green Mountains beyond.
The tent is also pitched on a wooden deck with a patio space where you can savor the scenery and prepare meals over a fire pit.
You'll also be as snug as a bug thanks to the thick bedding and the space heater that your host provides. Plus, dogs are welcome to share in the adventure at this pet-friendly glamping ground in upstate NY.
Now, when booking this unique spot, you can also order a basket full of local farm produce and preserves or a stocked cooler.
The hosts of Lookout At Chill Hill are also on hand if you need anything during your stay. Otherwise, sit back and soak up the isolation at one of the best upstate NY glamping spots of them all.
Address: Near Lake George
Hours: Available year-round.
Price: Starts at $200.00 per night.
15. Glamp Bernice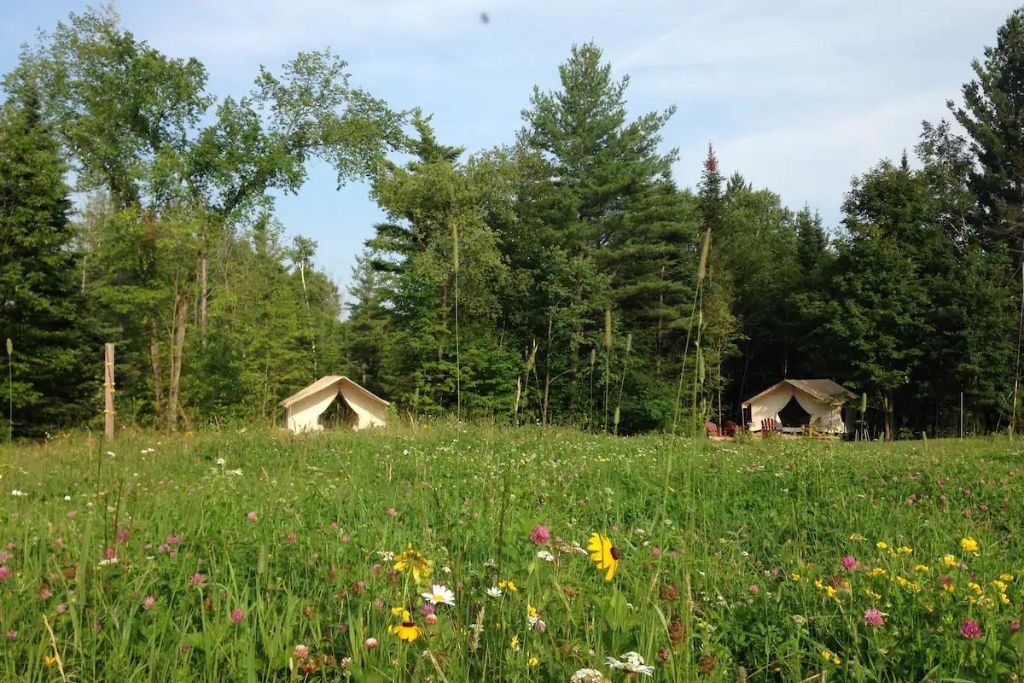 Glamp Bernice is one of four twin glamping sites set among 40 acres of lush meadowland that comes complete with mountain vistas. Other sites include Glamp Richard, Glamp Suzanne, and Glamp Thomas.
Now, tents here are furnished with the essentials to provide a cushy home away from home kind of stay. You'll also find everything that you need in the Lodge – a fully renovated barn on-site.
This communal space features a swanky bathhouse with a claw foot tub as well as a kitchen with a pizza oven and all the utensils you'd need to whip up a gourmet glamping dinner. A couple of charcoal and gas grills are also on-hand should you feel like channeling your inner Bobby Flay.
An all-natural cedar hot tub is also available for private hire.
Plus, the setting at one of the best spots for glamping in New York is utterly glorious. So, imagine wildflower-filled meadows, apple orchards, streams, and incredible woodlands that will keep you entertained for days.
That's why Glamp Bernice (or one of her comrades) is an unbeatable base for couples and families seeking a retreat from the Big Apple at one of the best places for glamping upstate NY.
Address: North River, New York
Hours: Available year-round.
Price: Starts at $145 per night.
16. Camp Orenda
Located in the heart of Adirondack State Park, Camp Orenda consists of six uniquely appointed canvas cabins.
Each one can accommodate up to four guests and benefits from having its very own little patch of privacy across the campground.
For example, the Canvas Cabin Birch is set atop a knoll in the woodlands while the Canvas Cabin Mill Creek is nestled alongside a quiet brook.
All units are fitted with an electric heating stove as well as swathes of blankets. They're also fully waterproof in case of inclement weather.
Common areas at Camp Orenda include a backcountry restaurant and bar, pavilion, bathhouse, and outdoor shower. All meals are also provided, making Camp Orenda an all-inclusive upstate NY glamping ground.
Facility staff is also there to help you curate the ideal itinerary since hiking, mountain biking, kayaking, canoeing, archery, and even cliff diving are on offer in the area.
Address: 90 Armstrong Rd, Johnsburg, NY 12843
Hours: Open seasonally from the start of June through the start of October.
Price: All-inclusive rate is $265 per night.
Best Glamping Upstate NY – Finger Lakes
17. Magical Treehouse Rental in the Woods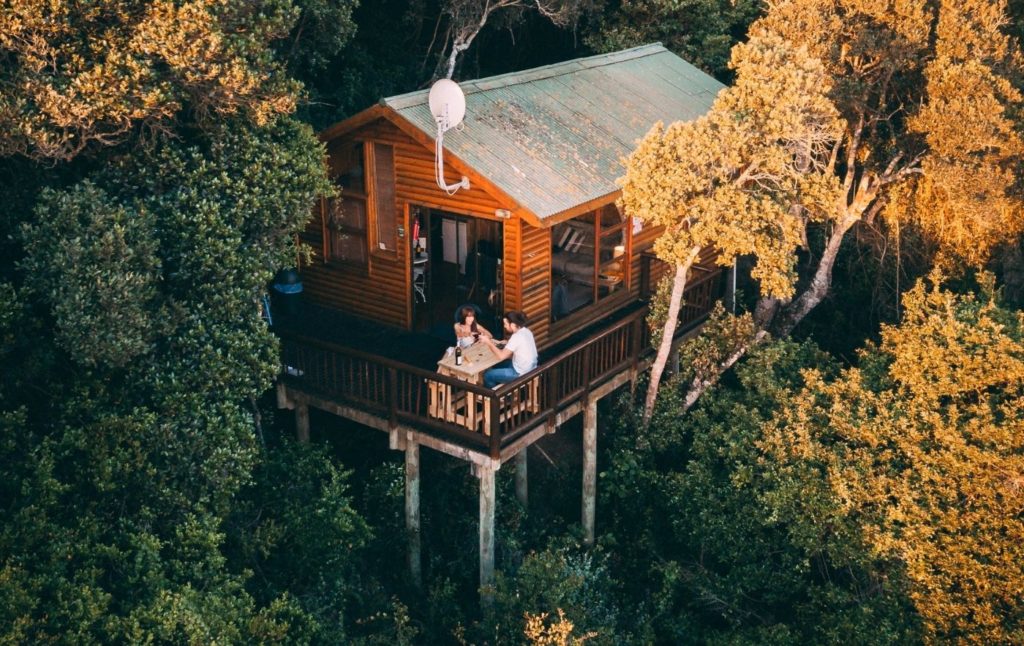 Delight your inner child with a night or two at this Magical Tree House Rental in the Woods. After all, it sits 35 feet above the forest floor and is easily one of the best treehouses in New York.
The interiors are immaculately pulled together with hardwood flooring, timber walls, and plush linens and fabrics. A spiral staircase also connects the lounge with a restful loft bedroom. The glamping cabin itself is fitted with a kitchenette, composting toilet, and outdoor shower.
Outside, the deck is rigged with an elevated viewing platform, seating aplenty, and a grill. You'll also have access to your own fire pit for a night of s'mores and campfire tales.
This treehouse in the canopy is the perfect retreat into nature for adventurous souls and outdoorsy couples.
Plus, this upstate NY glamping mecca is located in the woodlands just south of Syracuse. Therefore this treehouse is well-placed for exploring the eastern Finger Lakes – that is if you can bring yourself to leave the best spot for glamping in New York.
Address: Lafayette, New York
Hours: Seasonally available between May and October.
Price: $296 per night.
18. Firelight Camps
Firelight Camps are just a 10-minute drive from downtown Ithaca.
And the luxury safari tents here are furnished with hardwood floors and handcrafted linens that'll keep you warm all night long. Yurts are also available on-site and affixed to a private porch with rocking chairs where you can immerse yourself in the sound of birdsong.
In total, four units are rigged with heating, and dogs are permitted to stay in non-heated tents.
A complimentary breakfast is also available every morning using locally-sourced ingredients while artisanal coffees and tea flow freely around the clock.
An on-site bar serves wines, beers, cider, and spirits from micro-producers in the Finger Lakes region. Champagne may also be delivered to your yurt if you need some for a special celebration – or simply because you fancy it!
Propane and charcoal grills are also available in the lobby area and the hosts are poised to arrange extracurricular activities such as spa trips and foraging hikes as you enjoy one of the best upstate NY glamping spots of them all.
Address: 1150 Danby Rd, Ithaca, NY 14850
Hours: Open seasonally from May through October.
Price: Around $200 per night.
19. Seneca Sol Glamping
Located just a short drive from some of the top breweries, wineries, and waterfalls near Seneca Lake, lush eco-tents at Seneca Sol Glamping offer the best of both worlds.
Glamping Safari Pitches at Seneca Sol come with private decks that sit within a secluded forest setting. These seasonal yurts are also kitted out with high thread count linens and warm blankets with ample seating areas for you to spread out in.
Meanwhile, studio suites are available for the off-season and are self-contained units that feature a private bathroom and a kitchenette.
A campfire is also lit every night where guests can enjoy complimentary s'mores You'll also have the joy of indulging in a continental breakfast each morning – prepared to suit all dietary requirements and included with the price of your stay.
Plus, the owners of Seneca Sol Glamping live on-premises and can help you arrange various wine tours, horseback riding trips, kayak hires, and waterfall trips.
And since this Upstate NY glamping spot is set among 25 acres of woodland, there are tons of the best hikes in the Finger Lakes here for you to enjoy.
Address: 4625 Satterly Hill Road, Burdett, NY 14818
Hours: Open May through October with the Fox Den open all year long.
Price: Starts at $198.00 per person.
20. Scottland Yard Farm
Scottland Yard Farm is a working property and family-owned destination for glamping upstate NY.
All rental properties are bespoke and one-of-a-kind. Plus, large swaths of Wisteria and Honey Suckle are your good-old, classic glamping experience. These canvas tents cal also accommodate between 3 and 4 guests and provide basic kitchenware.
Meanwhile, the Hobbit Home and Suite Roost are ideal for guests who prefer wooden walls and added creature comforts. There's also the renovated vintage trailer for retro-minded explorers!
Plus, all glamping tents and cottages revolve around a beautiful natural pool that features several waterfalls and diving platforms. So, be sure to pack your swimsuit!
Additionally, Scottland Yard Farm is home to several horses, sheep, chickens, and peacocks that you can say hi to. Friendly dogs are also welcome for a small additional fee.
You'll also love that the pastures adjoin Hammond Hill State Forest, where you'll find hiking trails that grant dreamy views of the area. A communal kitchen is also available while dozens of eateries await you right down the road.
And if you're looking to make new friends, the resident family organizes a wide variety of weekend barbecues, swimming sessions, and family suppers for guests to enjoy.
Address: 262 Harford Rd, Brooktondale, NY 14817
Hours: Available year-round.
Price: Rooms start at $115 per night.
Map of the Best Glamping in New York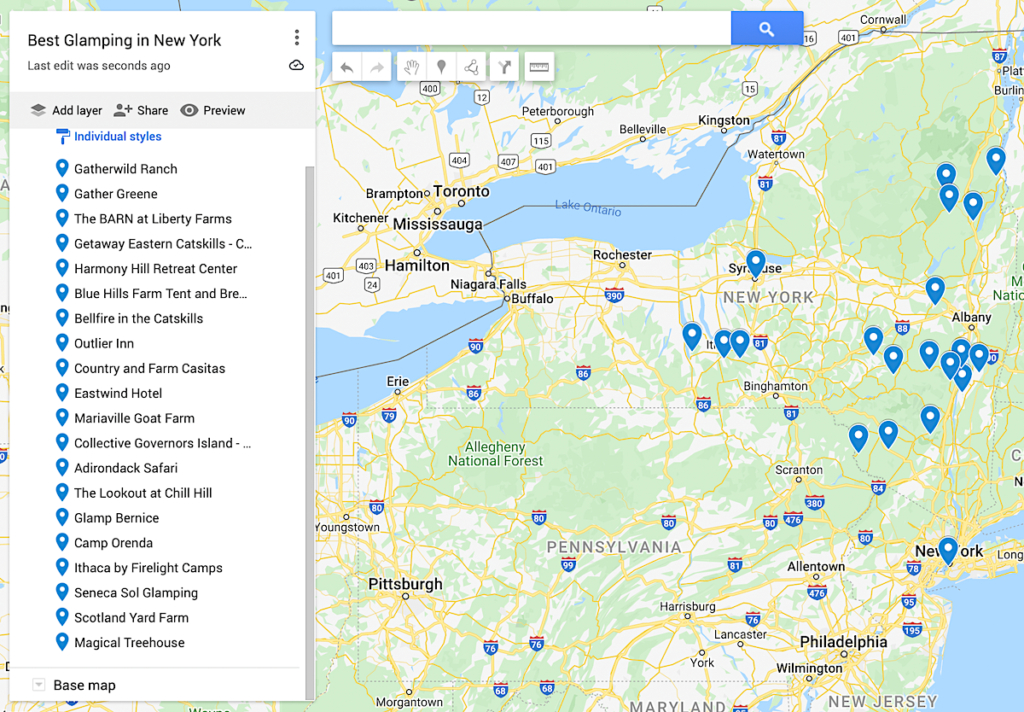 Best Glamping Upstate NY FAQ
Is Glamping Better Than Camping?
Oh, this is such a controversial question since everyone has their own opinions when it comes to camping and glamping. Camping is the more traditional way to explore the great outdoors. It is more cost effective and it is definitely harder than glamping.
Glamping on the other hand adds a lot more luxury to traditional camping and may be the ideal solution for people who want to camp but aren't too keen on the hardships that it entails. It is definitely more expensive than camping but it is definitely worth the experience!
Do Glamping Sites Have Toilets?
Most glamping sites have toilets which are fully equipped with running and hot water! This is one of the reasons why people have fallen in love with glamping in NY. I mean camping is great and all that but if you can have a functional bathroom to use, it is even better!
You can always counter check the facilities before you book the spot.
How Much Is Glamping In NY?
Glamping costs differ markedly based on the amount of luxury provided. For example, Gatherwild Ranch in Hudson valley charges $189 per night while The Stay of Liberty Farms charges $325 per night.
There are loads of other places with varied costs. It all depends on the location, the amenities and the popularity!
Additional New York Resources You'll Love
There you have it! That just about wraps up this guide to the best glamping upstate NY has to offer.
Tell me, did your picks for the best glamping in New York make the list? If not then let me know in the comments below.
And if you found this post useful, don't forget to join our email list before pinning this post now so that you can read it again later.