Camping season is right around the corner. And that means that you'll need to start planning NOW if you want to enjoy all the very best camping upstate NY has to offer.
And trust me, you 100% do not want to miss out on the best camping in upstate New York since this part of the state is positively brimming over with awe-inspiring campsites where you can roast marshmallows, watch the sunset over idyllic lakes, and gaze out at the stars beneath a pitch-black sky.
So, what are you waiting for? Unroll your sleeping bag and have a box of trail mix handy because we're about to check out some of the best state parks in New York with mega epic campsites.
Trust me on this. I actually live in the Adirondacks and have spent basically every summer here since birth. Therefore, I really do know all about some of the best camping upstate NY has to offer since we did a TON of camping here when I was a kid.
Therefore, stop guessing when it comes to camping in Upstate New York and start planning the outdoor getaway of your dreams!
This post may contain affiliate links. Please see my disclosure for more information. As an Amazon Associate, I earn a small commission from qualifying purchases.
Best Camping Upstate NY – Adirondacks
1. Cranberry Lake Campgrounds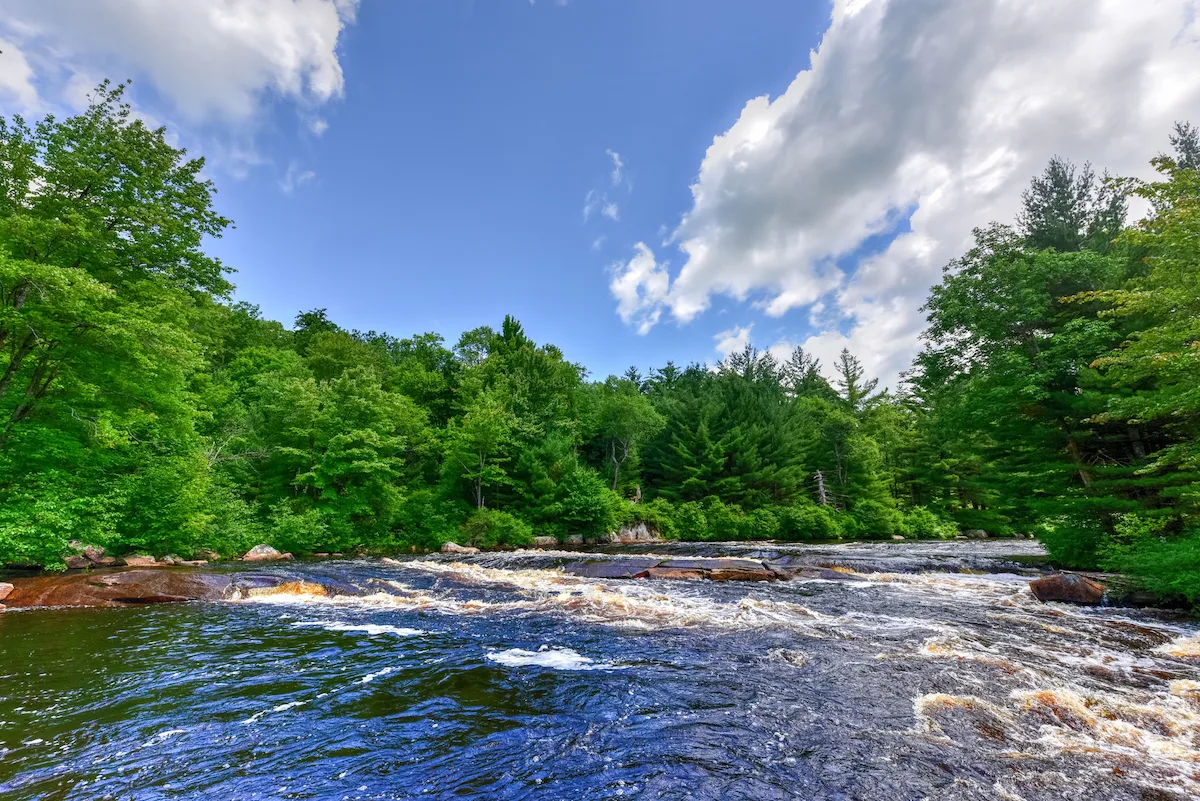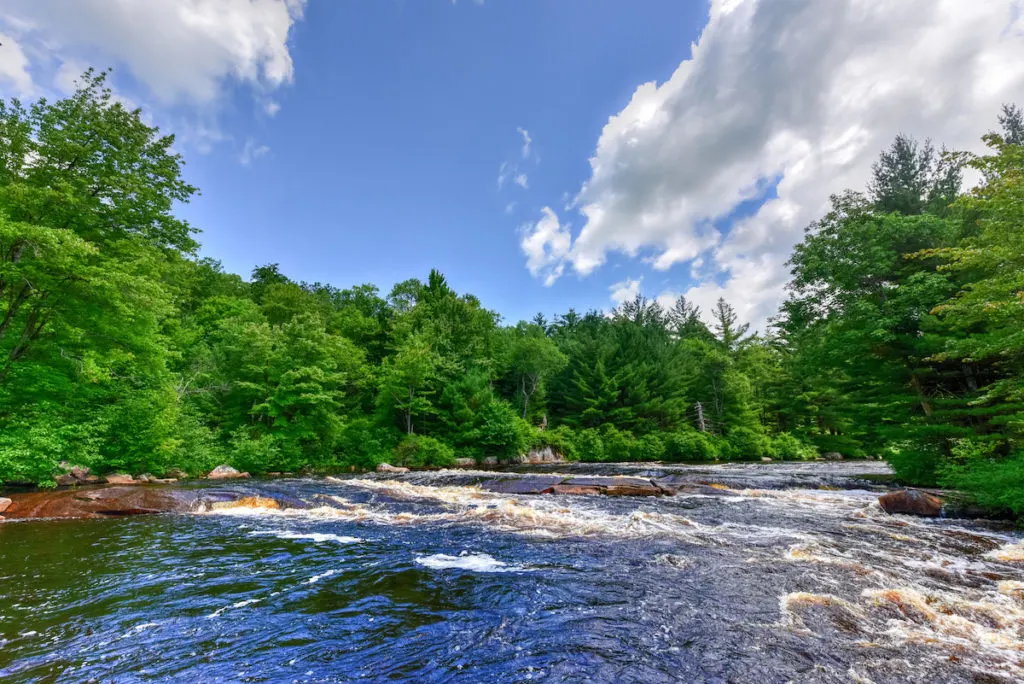 Sitting just west of Saranac Lake, Cranberry Lake Campgrounds is well-located within the Adirondack Mountains. In fact, it's not all that far from the Canadian border and is nestled along the north end of Cranberry Lake.
As a result, it's remained hidden away in a remote, uncivilized area of New York state that is home to some of the best hikes in upstate New York and plenty of bass and trout fishing in its associated lake.
Now, the campground itself is run by New York State and features 170 different campsites, some of which offer waterfront camping, but none of which offer electricity.
Every site also comes fully outfitted with a picnic table, a fire ring, and a grill. You can also make advance reservations at most of the sites and will love that many of the sites are ADA compliant.
As a result, large motorhomes over 30 feet long may have problems fitting in and eager campers won't find higher-end facilities associated with private campgrounds here!
However, on the plus side, there are flush toilets and shower facilities with hot water. Pets are also allowed and firewood is for sale at the camp entrance.
Address: 230 Lone Pine Rd, Cranberry Lake, NY 12927
Hours: Open May 20th through October 10th annually.
Price: $20 per night with an additional fee of $5 per night for out-of-state visitors.
2. Saranac Lake Islands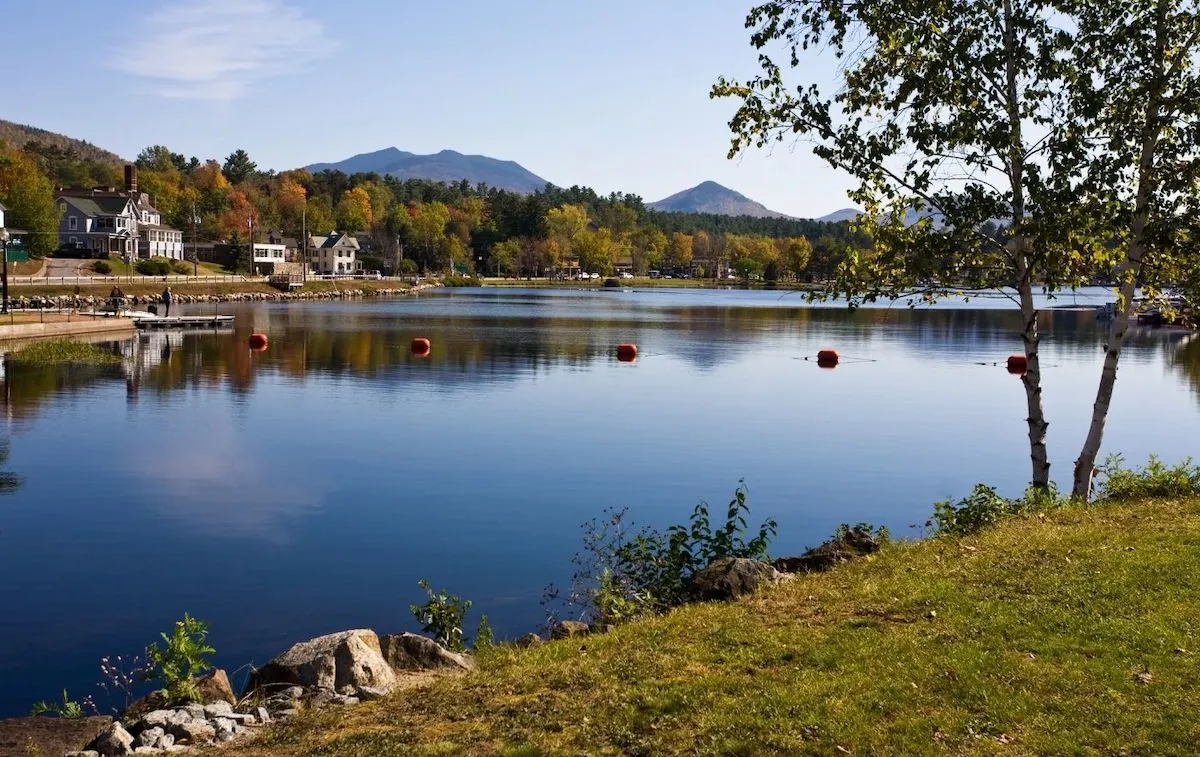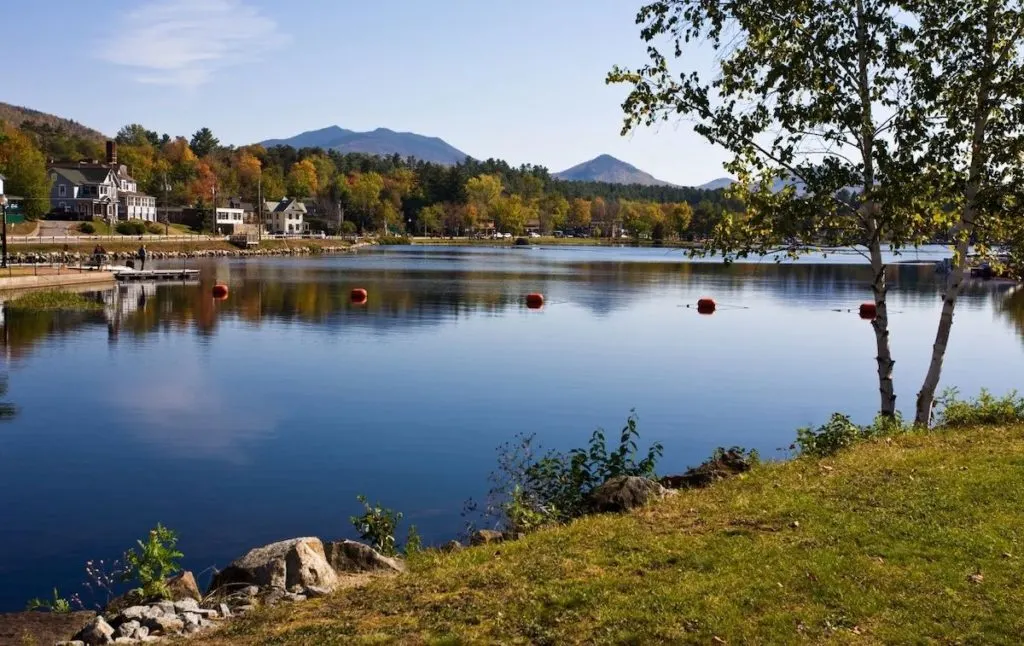 In eastern New York, not far west from Lake Placid, Saranac Lake Islands Campground sits on the southeastern shore of Saranac Lake.
However, some of these spots for camping upstate NY are actually so cool that they are situated out on their very own islands!.
Therefore, this place provides visitors with the perfect starting point from which water enthusiasts can boat – the grounds also have a boat launch – for miles through Saranac Lake and enjoy a bit of fishing with a proper license.
However, fewer than 90 campsites can be found here. So, particularly in high season, be sure to reserve your spot very early!
Also, do note that there is limited parking at the campground. As a result, you may need to leave your car in another lot nearby lot and then walk from there.
And if that doesn't sound like your jam, you can always embrace your inner Bear Grylls and access your campsite via boat!
Additionally, do be aware of the fact that toilets are basically a step above outhouses. So, they are nothing fancy, are non-flushing, and use chemicals to deal with the waste,
Guests are also allowed to bring their pets on-site as they make use of various picnic tables, fire pits, and firewood that is available for purchase.
Then, feel free to check out some of the best Lake Placid breweries after you've set up camp.
Address: 4468 State Rte 3, Saranac Lake, NY 12983
Hours: Open from May 20th to October 10th annually.
Price: $22 per night.
3. North Pole KOA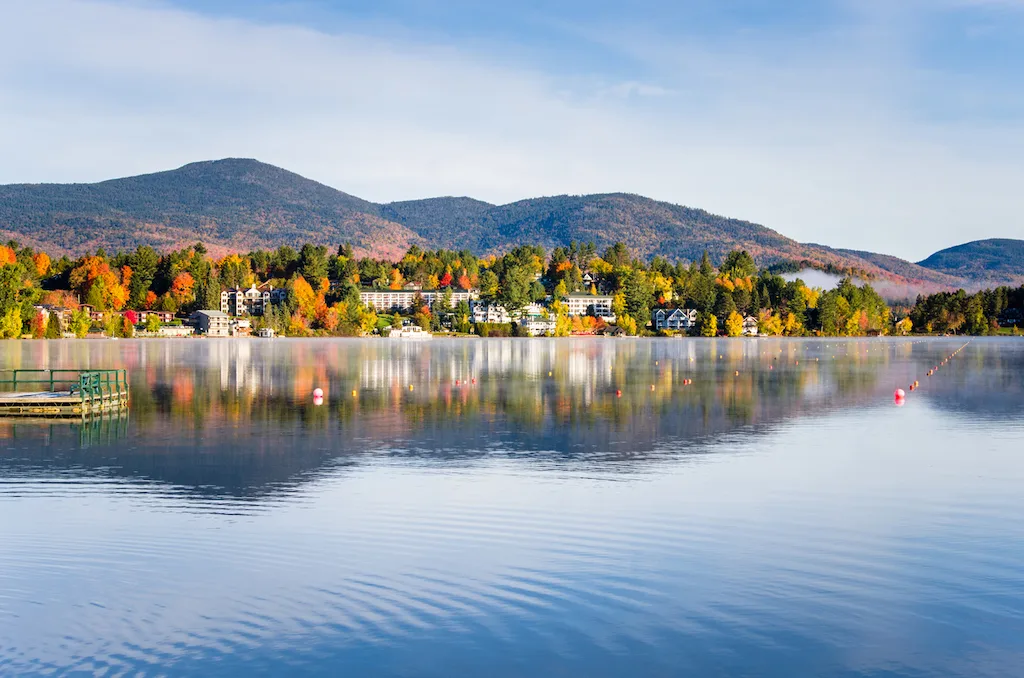 Just north of Lake Placid, on the Ausable River, in the Adirondack Mountains is North Pole KOA – which was previously known as North Pole Resorts in a former life.
It's an excellent option for camping upstate NY and has an RV (including space for big rigs) and tent sites as well as cabins. In particular, though, RV sites offer guests pull-through and back-in options – in addition to water and electric hookups.
In contrast, tent sites feature grass patches for more comfortable sleeping with plenty of tree coverage to protect against inclement weather.
And then if you really want to live the "luxe life" opt for a cozy cabin that is outfitted with cable TV and mini-fridges.
Plus, there are loads of facilities on the property available to guests, including a laundromat, a general store (with supplies including firewood), two pools, arcade games, and minigolf.
Oh, and just in case you were wondering, basics like showers and restrooms are also available, as are electrical hookups and dog-friendly sites for an additional fee.
Therefore, this campground makes a great jumping-off point for anyone who wants to explore the region and hike/bike on some of the best trails in the Adirondacks.
Address: 77 Fox Farm Rd, Wilmington, NY 12997
Hours: Starts at around $40 per night.
4. Crown Point Campground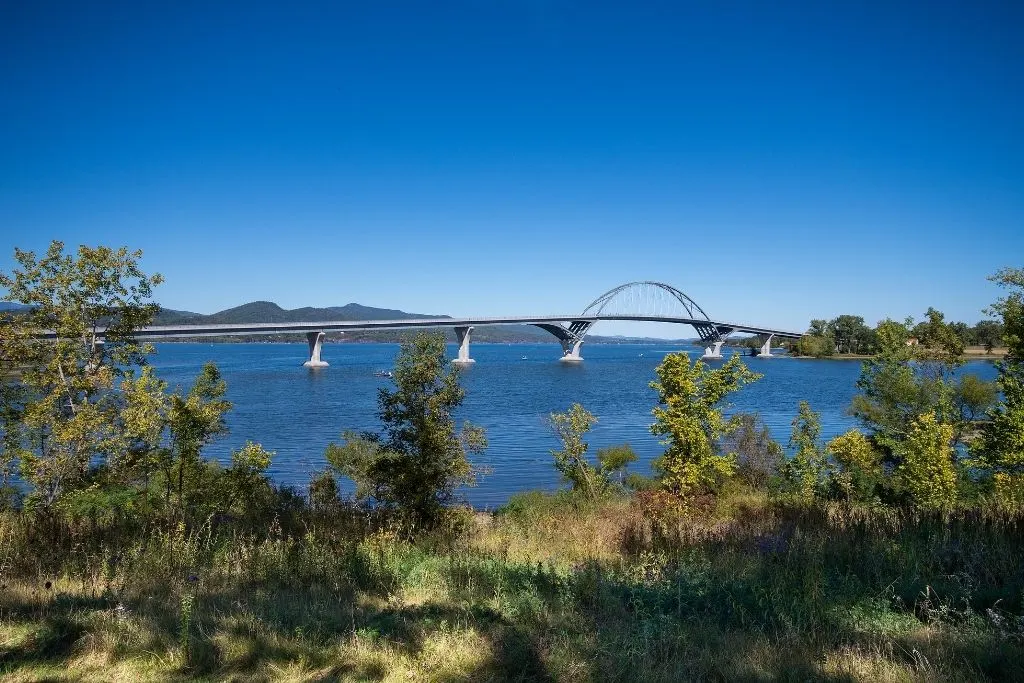 Crown Point Campground is tucked away on a small stretch of land, in the Adirondacks, that overlooks the shores of Lake Champlain.
It's also just minutes away from Vermont since you can easily use the bridge here to visit and enjoy all that the Green Mountain state has to offer.
So, stop by and choose from among 66 different campsites that feature access to an on-site playground, a picnic area, and a boat launch.
RVs are also welcome and big rigs up to 40 feet long will have no issues parking here. Sites are also coated in a fine layer of grass, making for a comfy mattress for campers using tent sites.
Additionally, many of the campsites here offer visitors stunning views of the lake, the bridge to Vermont, and a local lighthouse. So, be sure to request those super scenic spots asap.
However, do know that none of the sites here provide you with direct access to the lake, nor do they offer water hookups. But, you do get to enjoy shared bathrooms and hot showers so that's pretty cool.
Pets are also welcome and you are ideally situated to boat, fish, and hike your way along awe-inspiring Lake Champlain.
Address: 784 Bridge Rd, Crown Point, NY 12928
Hours: Open daily from May 20th to October 10th.
Price: $18 per night.
Best Camping Upstate NY – Capital Region
5. Cherry Plain State Park
Cherry Plain State Park sits just east of Albany and is an excellent, centrally located spot to go camping in upstate NY.
After all, this small park boasts 175 acres with over thirty different campsites situated around a small pond – making an ideal for beachfront camping.
As one of the best camping upstate NY spots, there is a combination of tent and trailer sites to choose from.
Additionally, all campsites give guests access to bathrooms and showers – both of which are well maintained. And while the water in the lake is pleasant and absolutely swimmable, note that there may not be a lifeguard on duty.
So it may be better, especially with younger kids, to remain on the sandy beach and enjoy one of the best lakes in New York.
And, added bonus? There is also a boat launch near the campsites and the option of rentals if you don't have your own. Hikers will also love that there are trails of varying lengths scattered throughout the park allowing for various hiking,. cycling and horseback riding opportunities.
Plus, Campgrounds here feature picnic tables and a playground. And while pets are allowed on the grounds, they must be leashed and are not permitted into certain restricted areas.
Pro Tip: There are 10 trailer sites, 10 lakeside tent sites, and 10 "hike-in" tent sites available for overnight camping.
Address: 10 State Park Rd, Petersburg, NY 12138
Hours: The camping season is weekends only from the end of May through late June and Wednesday through Monday from July through early September.
Price: Between $12 and $19 per night, with an additional $5 per night fee for non-residents of New York.
Best Camping Upstate NY – Finger Lakes
6. Glimmerglass State Park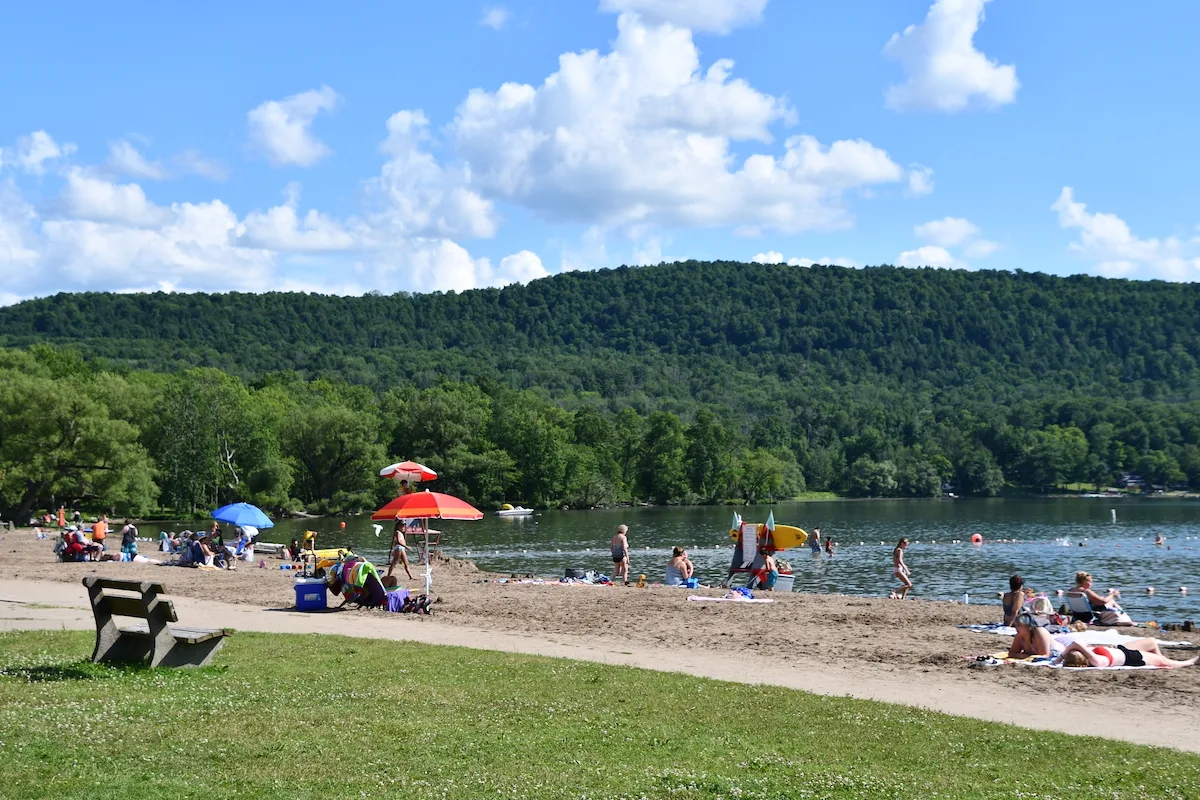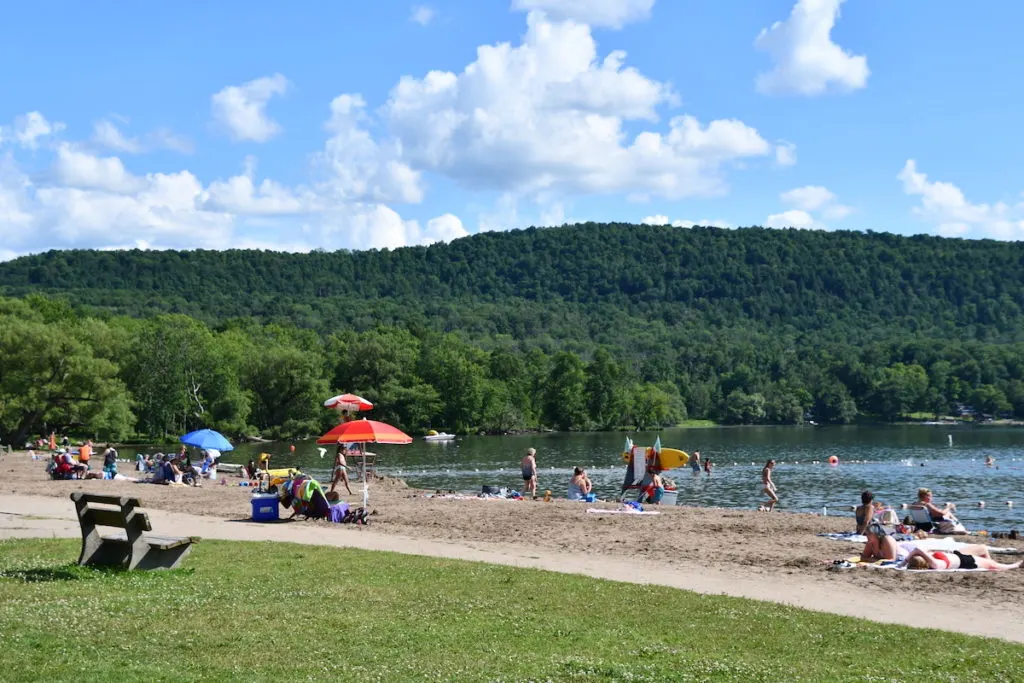 A great spot to go camping in upstate NY, Glimmerglass State Park is about halfway in between Albany and Syracuse, just outside of Cooperstown.
Each of the 50 campsites here includes a picnic table, a grill, and a fire ring. And while there is water (Otsego Lake) access within the park itself – including a beach where you can go swimming – the campsites themselves are not on the water and do not offer waterside views.
However, there are a handful of spaces for rigs up to 50-feet long to set up in, with even more options available to vehicles 40-feet long and under. Thirty-eight of the sites here also have electrical hookups and permit pets too.
Additionally, basic facilities like flush toilets and hot showers are on offer, in addition to fun amenities like a playground and a basketball court.
Several trails here also take you through a local park and around the perimeter of the lake, where you can go fishing and boating if you feel so inclined.
Address: 1527 Co Rd 31, Cooperstown, NY 13326
Hours: Open daily from mid-May through Columbus Day.
Price: Between $12 and $25 per night depending on the site.
7. Alger Island
This tiny island quietly sits in the middle of Fourth Lake, just north of Utica. It is here that you'll find boat-only access to the Alger Island campsite and one of the best places for camping upstate NY.
In total, there are only 17 sites, 15 of which are lean-tos and 2 of which are for tents – all of which provide guests with sweeping views of the surrounding lake.
All of the sites here also feature a firepit, a grill, a picnic table, a pit toilet and are pet-friendly (if they are on a leash). And while there is drinking water available, there are no showers of any kind on the island.
Plus, while the island may feel remote, local shops are really only a short drive away once you're back on the mainland.
So, book your site today and use a canoe, rowboat, or motorboat to get to the campground. Because all of these are permitted on the lake, as is fishing. Or, simply hike around the island from a well-maintained loop.
Also, be sure to ask a local about some of the things that go bump in the night since ghosts are said to haunt the island and may just join you around the campfire.
Address: 1885 S Shore Rd, Old Forge, NY 13420
Hours: Open daily from May 20th through September 5th.
Price: $18 per night.
8. Watkins Glen State Park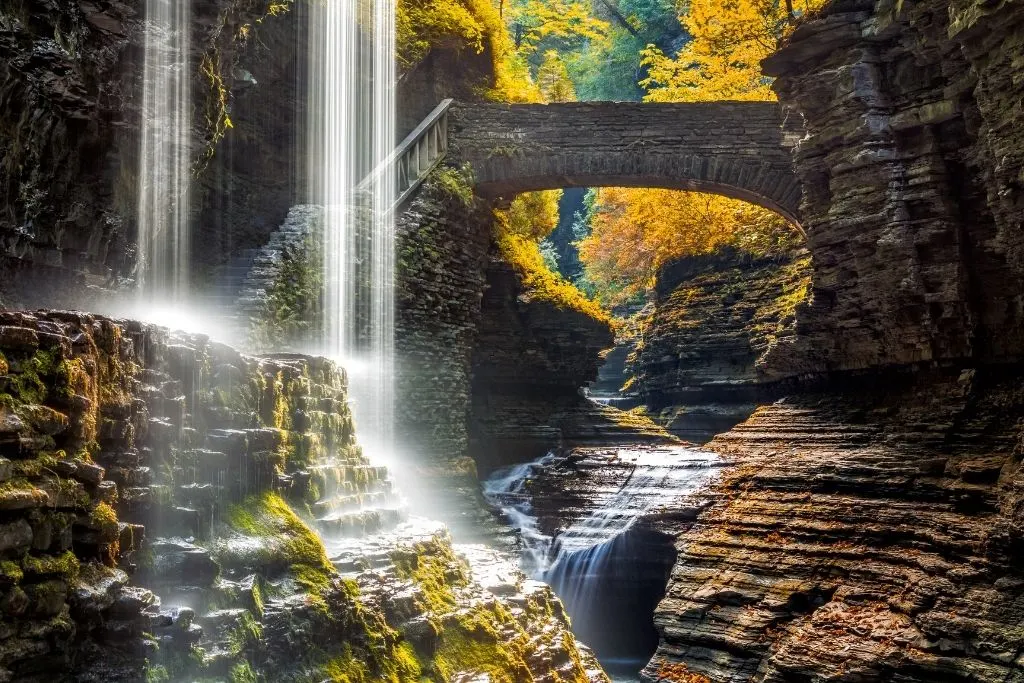 In the Finger Lakes Region of upstate NY, Watkins Glen State Park is at the bottom of Seneca Lake just west of Ithaca.
As a result, the campgrounds here can be found on the far side of the Village of Watkins Glen. Therefore, you will not enjoy beachfront Upstate NY camping here.
Rather, Glen Creek is well-located nearby, as are several gorgeous waterfalls of varying heights, like nearby Rainbow Falls, that make up some of the best waterfalls in New York.
Plus, there are plenty of trails that run alongside the water very near the campsite, making this a great place from which to enjoy some of the best hikes in the Finger Lakes.
In total, these grounds have over 300 sites for camping, many of which are situated among extremely tall trees. Of these sites, 54 have electrical hookups and all include access to on-site facilities like toilets, hot showers, picnic tables, and grills.
On-site pavilions are also available for rent, with higher-end facilities like swimming pools also available to guests. Unfortunately, though, the campgrounds don't do well in the rain since there is no gravel on the ground here.
Additionally, RVs can access many of the sites here, while there are 10 camping cabins for anyone who does not want to sleep outside.
Pro Tip: Please note that you are unable to do walk-up camping here and MUST make a reservation in advance.
Address: 1009 N Franklin St, Watkins Glen, NY 14891
Hours: Camping season starts near the end of May.
Price: Camping is between $18 and $30 per night while cabins start at $58 per night.
9. Letchworth State Park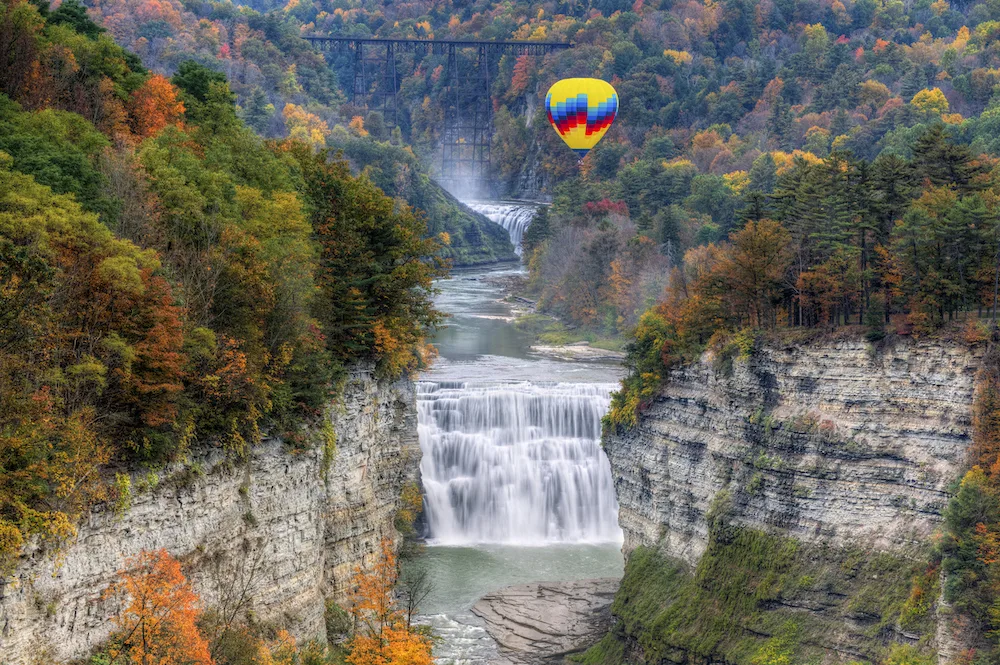 If you're looking for the best camping Upstate NY has to offer, look no further than Letchworth State Park. In fact, it's a very rural, off-the-beaten-path type place is is home to the Letchworth State Park Campground.
It's also located in the far western part of the state since it lies 50 miles south of Rochester and 60 miles east of Buffalo. This incredible natural area also overlooks the Genesee River – complete with two stunning waterfalls – and is home to the well-named, "Grand Canyon of the East".
In total, there are over 250 campsites in the park that are available to rent, including sites that can accommodate trailers up to 50 feet long.
All sites also have electric hookups but sadly lack direct access to water. And if you're not a fan of sleeping on the ground, there are 80+ cabins for rent in the park too.
As a result, staying at the campground gives you easy access to miles of trails for hiking, cycling, and horseback riding. Pets are also allowed if leashed in certain campsite areas (double-check to make sure the site you book permits pets).
Pro Tip: The Glen Iris Inn is also on-site is you want a truly plush stay.
Address: 1 Letchworth State Park, Castile, NY 14427
Hours: Open daily from May 20th through October 9th.
Price: Sites are between $27 and $30 per night while cabins rent for between $132 and $568 per week.
10. Niagara Falls/Grand Island KOA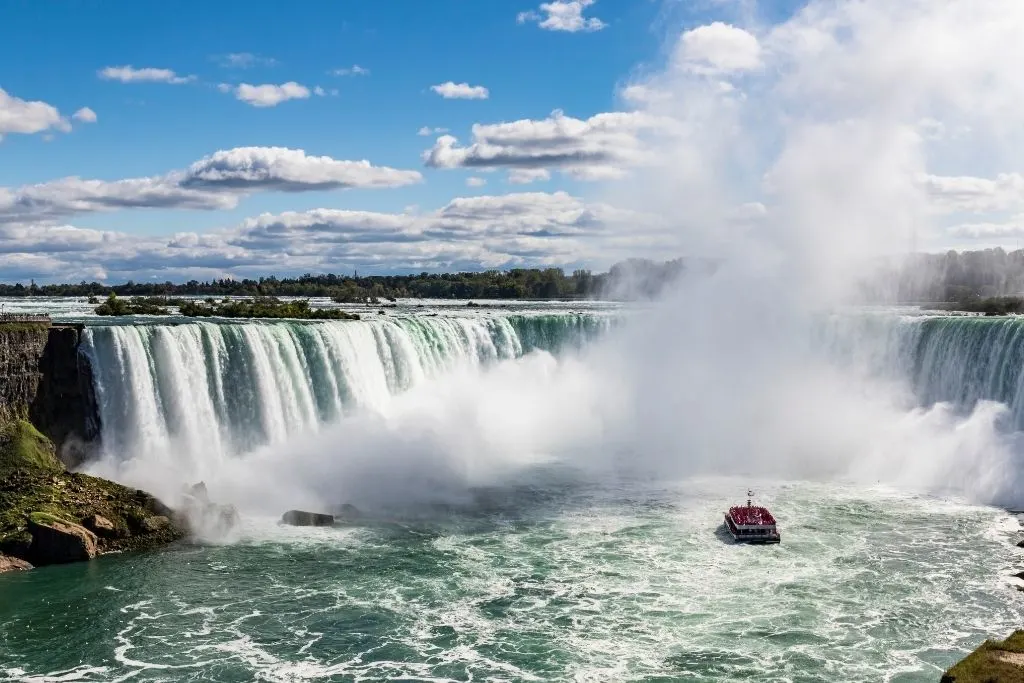 Tucked just up against the Canadian border, just north of Buffalo, and only about a 20-minute drive from Niagara Falls, Niagara Falls/Grand Island KOA is a great option if you want to camp out as part of your very own Niagara Falls itinerary.
You'll also love that this site is on an island that is still accessible by car, RV, and big RV. However, that also means that this is an extremely busy place, with some sites that sit up against the highway.
So, if you're looking for a ton of peace and solitude then this may not be the place for you. Also, be sure to request a spot farther away from the busy road if at all possible.
Other on-site amenities include electric and cable hookups. Pets are also allowed and there is tons of gravel on the ground for easy pull through.
Other than that, use a patio to set up your chair and relax as you look out at the local pond before deciding between various RV spots, tent sites, and cabins (with private toilets and shows) that can accommodate up to eight people.
Address: 2570 Grand Island Blvd, Grand Island, NY 14072
Hours: Available from the end of April through the end of October.
Price: Rates start at around $90 per night.
11. Robert H Treman State Park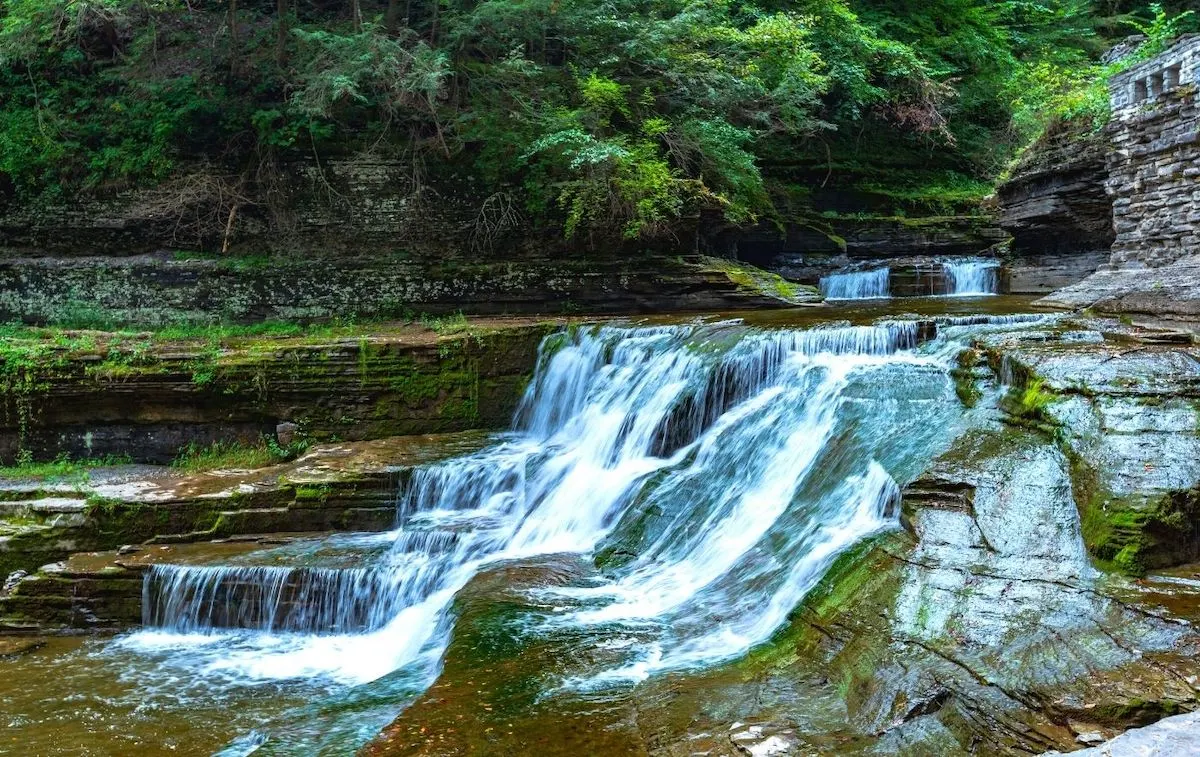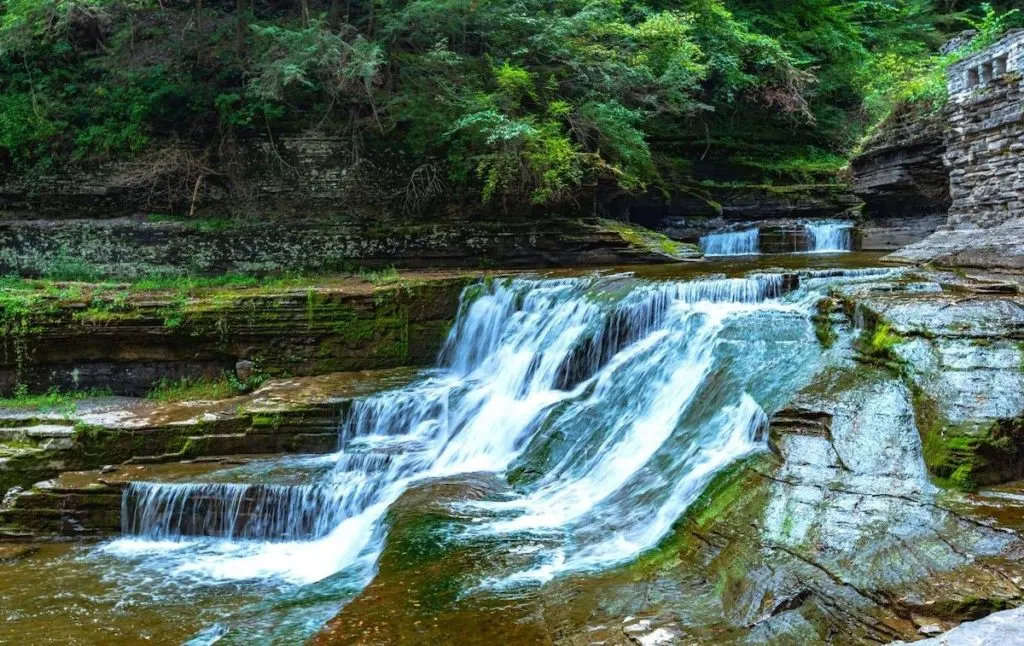 Just south of vibrant Ithaca, Robert H Treman State Park is spread across 1,000 acres of land that sits along Enfield Creek. So, while you're here, be sure to explore nearby Enfield Gorge and the 12 waterfalls you can spot there – including the impressive Lucifer Falls with a 115-foot drop.
Then, when you're ready to unwind for the night, relax at one of 72 campsites that can accommodate both tents and RVs. Truth be told though, only 11 of them come with electrical hookups.
Additionally, cabins and pavilions are also available for rent. Just know that the roads here can get quite rough and muddy when it rains. Therefore, bringing a four-wheel-drive vehicle may be wise.
Sites are also pretty open so don't expect a whole lot of privacy. But, there is a creek with a beach where you can go for a dip by the waterfall.
Other highlights include a playground, tons of picnic areas, and access to loads of gorgeous trails for hiking, bird watching, and hunting.
Pro Tip: Advanced reservations are required if you want to spend the night here. Also, a maximum of two pets are allowed on any of the campsites.
Address: 105 Enfield Falls Rd, Ithaca, NY 14850
Hours: Open daily from May 20th through November 12th.
Price: Campsites are between $18 and $28 per night while cabins are between $238 and $400 per week.
Best camping Upstate NY – Catskills
12. Willowemoc Wild Forest Yurt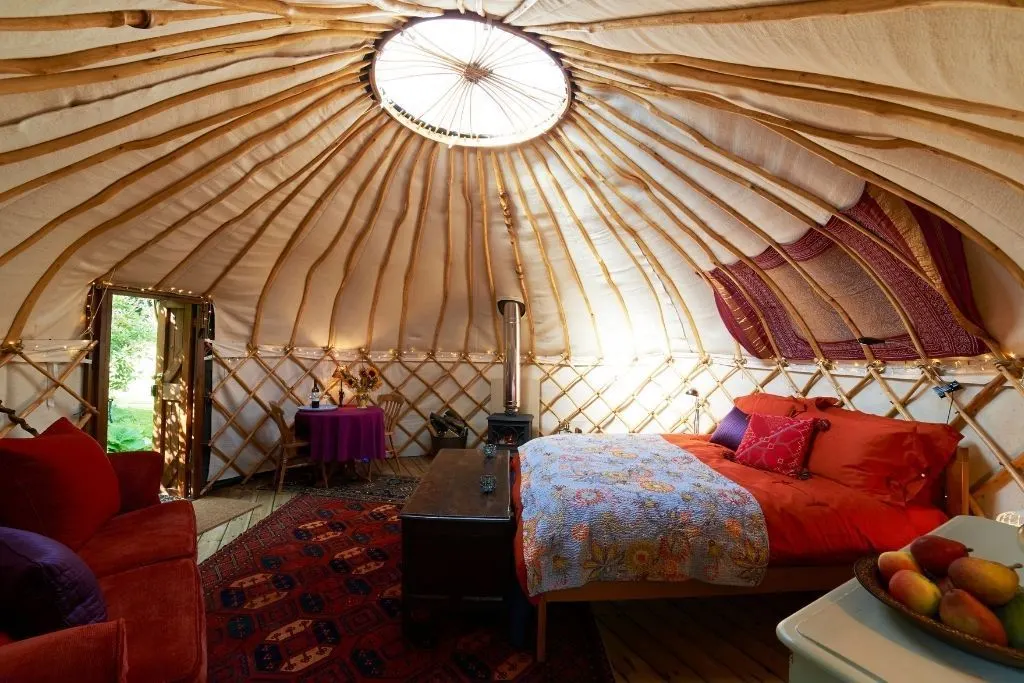 If you're looking to go camping in upstate NY but don't really feel like roughing it then Willowemoc Wild Forest Yurt is the perfect spot for you.
It is a great glamping experience in the Catskills and is only about a two-hour drive from NYC. That's one of the best things about living in New York City. The property itself also stretches out across 50 acres of land and gives visitors primo access to Forever Wild Willowemoc Wild Forest – a 15,000-acre wooded wonderland.
Sadly, though, there's only one yurt here (plus a second tent), but it can be accessed via a short hike through the woods. Although, if you have mobility issues, the owners are happy to arrange transportation on your behalf.
Then, once you get here, you'll have everything you need for a comfortable stay, like solar-powered lighting, a composting toilet, a fire pit, and a grill.
Heck, there's even a full bed inside so no need to sleep on the hard ground. That being said, it's not quite a hotel so you'll need to pack towels to take with you.
Address: 60 Browns Rd, Livingston Manor, NY 12758
Hours: Open daily from June through the end of November.
Price: Starts at $175 per night.
13. Catskill Adventure Resort
The Catskill Adventure resort is pretty perfect for almost everyone. For one thing, it has both camping and glamping spots. So if you want to pitch a tent, you are good. But if you want a bit of luxury camping, then you can have it too!
The glamp sites are actually part of a historical farm estate. The glamping sites were actually set up for friends and family but guests at the farm were also intrigued. Suffice to say that over the years it turned out to be one of the best glamping spots in the area.
Not only does the spot have multiple campsites. With 105 acres of private estate, you will find that the experience is very tranquil.
The allure lies in the beautiful and peaceful site that they are located at. Not only are there multiple trails within the property but you also have access to so many of the state parks that are nearby.
Did I mention that it is also one of the best places to catch the fall foliage in New York?
Address: 538 Mt. Vernon Road, Wurtsboro, NY 12790
Hours: Open between May 1st and November 3rd.
Price: Glamping tents start at $100 a night
14. Butternut Grove Campsite
Located in Roscoe, New York, the Butternut Grove campsite is perfect for anyone who wants a spot to getaway and enjoy nature. Oh and the best part? It is just a short drive from NYC. I'm not kidding. Totally worth the trip for a weekend of R&R.
Butternut Grove campsite is well known for its family centric atmosphere. This means that there is always something for everybody. Where the campsite really shines however is when it comes to fishing. If this is something that you enjoy then Butternut Grove is really one of the best campsites in Upstate NY for you.
If fishing is not your thing, don't worry. You can head out on hikes, go kayaking, horseback riding or just watch the wildlife. The campsite has all the facilities that you could hope for including hot showers and laundry services!
Address: 18420 County highway 17, Roscoe, New York
Hours: Open all year round
Price: $50 per night per site for 4 people
Camping Upstate NY Frequently Asked Questions
Can I Camp Anywhere In A NY State Park?
No. There are certain rules in place when it comes to camping in a NY State Park. One very important rule is that it is illegal to camp within 150 feet of any trail, road or body of water. If you are headed out to camp as a group of 10 or more, then you need a permit. This can be obtained for the New York forest ranger that is responsible for the area that you intend to camp.
You also require a permit if you intend on staying for more than 3 days. This is independent of how many people you camp with.
What Does Boondocking Mean When Camping?
Boondocking is a term that you will come across if you are camping with an RV. Here the RV is not connected to anything. This includes electricity, water and sewage hookups. This is a popular way to camp when you visit national forests. People also do this when they are in parking lots.
Boondocking allows you to take your RV off the beaten path and is great for people who would prefer to camp on their own in the wild.
Are All New York State Parks Free For Camping?
No. Not all state parks are free for camping. The charges however are often nominal. Usually the vehicular fee ranges anywhere between $6 – 10 a day. Parks that have additional amenities like swimming pools and outdoor recreation areas normally charge an additional fee. This is usually on a per person basis and varies depending on the amenities offered.
Map of Best Camping Upstate NY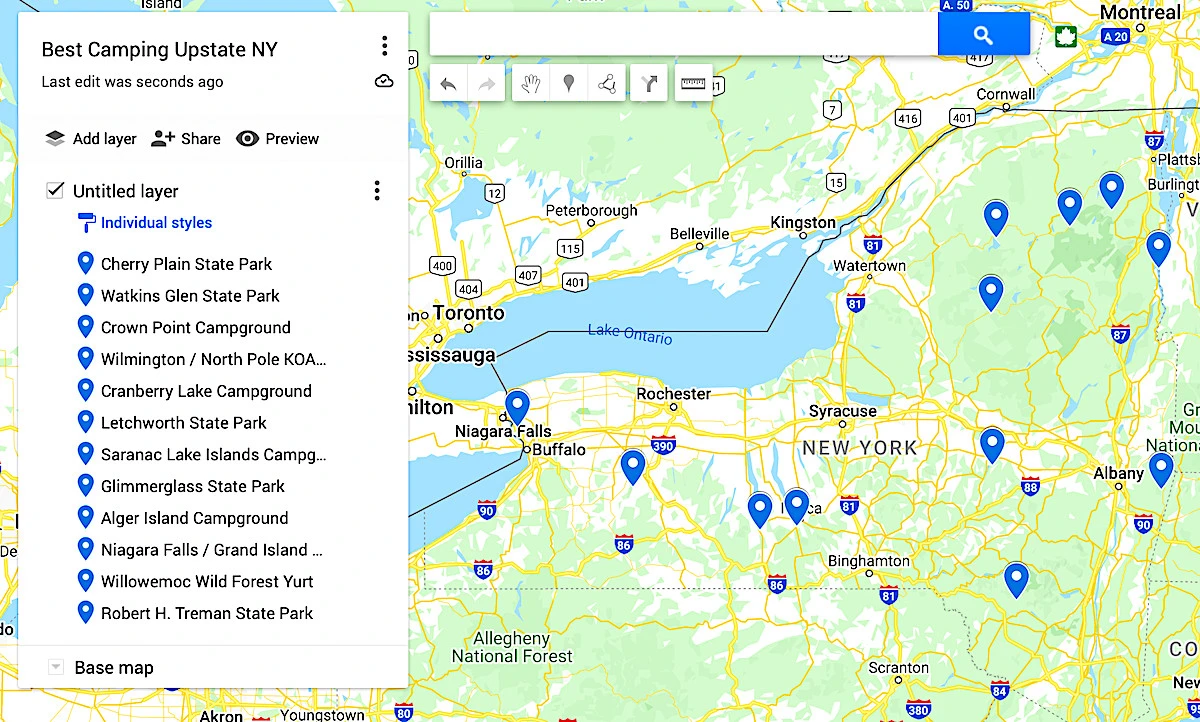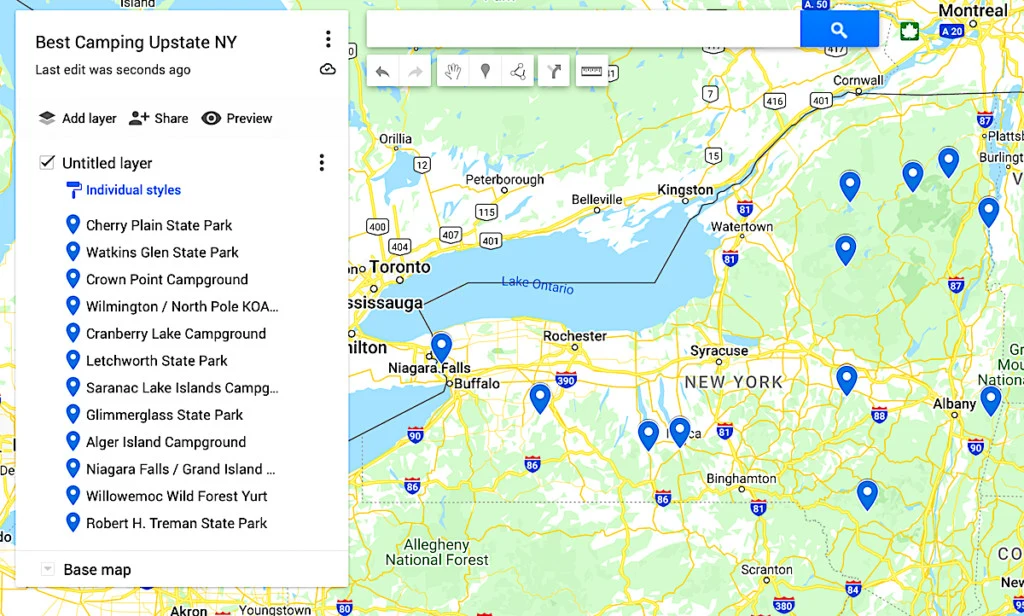 Additional New York Resources You'll Love
There you have it! That just about wraps up this guide to camping upstate NY like a pro!
Tell me, did your favorite spots for camping upstate New York make the list? If not then let me know in the comments below!
And if you found this post useful, don't forget to join our email list before pinning this post now so that you can read it again later.