Do you know what I love about New York City? The fact that there is always something new to see and something amazing to do. So, visit often enough and your NYC bucket list will swell to epic proportions.
And while the idea of never running out of things to add to your New York City bucket list is awesome, it can also be a bit overwhelming – especially if you've never been to the city before and have no idea where to start when it comes to creating a New York bucket list.
Never fear though because this 30+ year local is here to help you get away from the guidebook so that you can start planning the NYC bucket list of your dreams.
In fact, it even features well over 150 totally unique and super cool activities that you will 110% love, even if you've visited NYC numerous times.
So, stick around because this guide to the perfect New York City bucket list is positively brimming over with insider tips and secret tricks to help you plan the trip of your dreams.
This post may contain affiliate links. Please see my disclosure for more information. As an Amazon Associate, I earn a small commission from qualifying purchases.
Where to Stay for Your NYC Bucket List
Not gonna lie, finding a safe, well-located, and reasonably priced hotel in NYC can be more than a little difficult.
Luckily for you, I'm a well-informed local who knows exactly where you should stay – whether you want to live the luxe life in a five-star hotel or want to save mad dollars on a dorm room at a local hostel.
So, stop wondering where to stay and take a look at some of the best hotels in NYC listed below.
The Leo House (Budget) – Operated by the Catholic Sisters of St. Agnes, this Chelsea area spot is ideal if you want to save some money since rooms start at around $105 per night.
This place is very no-frills though and only features in-room safes, a 24-hour front desk, cable TV, an on-site garden, and a well-priced breakfast spread with delicious fresh baked goods.
HI NYC (Budget) – A snazzy hostel that is just a 10-minute walk from Central Park on the Upper West Side.
Dorm rooms are also tucked away inside a stunning, Victorian-style home and feature Wifi, bathrooms, and access to a lovely patio. Nightly activities are also organized daily so that you can hang out with other travelers here.
The Duffy Times Square by Kasa (midrange)–This affordable, contemporary hotel in Hell's Kitchen has stylish suites with Belgian linens, iPod docks, flatscreen TVs, and WiFi.
Also, be sure to savor the views since rooms here overlook a lovely central courtyard.
Lotte New York Palace (Luxury)– If you have lots of disposable income to burn then why not stay at the single best hotel in the city?
After all, Lotte New York Palace is a gorgeous 4.5-star hotel that is situated inside a historic 19th-century mansion that is just across the street from St. Patrick's Cathedral.
Opulent accommodations here also include WiFi, flatscreen TVs, and designer toiletries. Plus, guests also enjoy access to an on-site spa, a French bakery, and a chic bar.
NYC Bucket List – Uptown Manhattan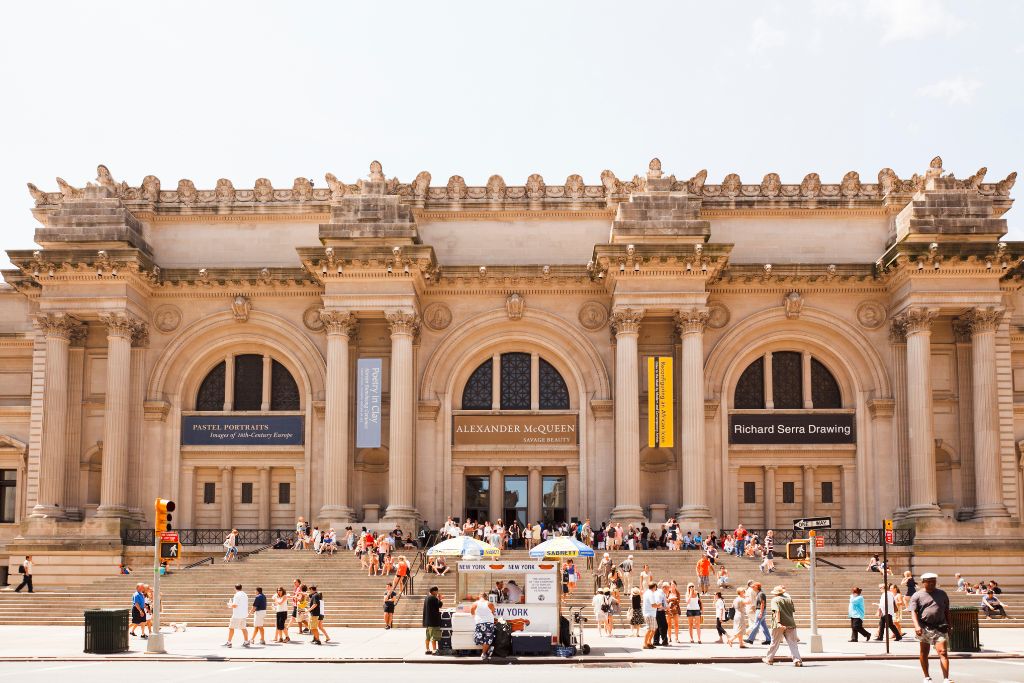 ⭐️ Rating: 4.1/5 (40 Reviews) Price: $69.99 per person Duration: 1.5 – 2 hours?Meeting Point: Museum main entrance on 82nd Street Details: Read more on Get Your Guide Now!
With over 30,000 historic artifacts and stunning pieces of art on display here, the MET is easily one of the best museums in NYC. So, pre-book your tickets now and check out the Temple of Dendur before enjoying stunning panoramas from the sleek rooftop bar.
2. Get SOUL Food at Sylvia's
This is a straight-up Harlem institution that dishes up classic, Southern-inspired delights like smothered chicken, waffles, candied yams, cornbread, and peach cobbler. YUM!
3. The Frick Collection
After checking out the MET, stop by and stand in awe of Henry Clay's former home, which is now a museum packed with stunning art and gorgeous French ceramic ware. You can even relax around a central courtyard filled with well-manicured shrubbery and a beautiful fountain.
Pro Tip: This museum on your NYC bucket list offers "pay what you wish hours on Thursday nights between 4:00 pm and 6:00 pm. The Frick is also currently at a temporary location at the Breuer Building at 945 Madison Avenue.
4. Grab Some Grub at Red Rooster
This Harlem foodie hot spot is run by celebrity chef Marcus Samuelson runs and is known for serving up classic Southern comfort foods like collard greens, mac and cheese, and chicken with waffles.
5. The Cloisters
A less well-known outpost of the Metropolitan Museum of Art, the Cloisters resembles a stunning, Medieval monastery that offers visitors epic views of the Hudson River from Fort Tyron Park. Just don't leave without seeing "The Hunt of the Unicorn" tapestry.
6. Cooper Hewitt Museum
A criminally underrated SMITHSONIAN affiliated design museum that is brimming over with fun, interactive exhibits that include things like scratch and sniff wallpaper.
Pro Tip: The museum shop sells great souvenirs and you can enjoy "pay what you wish" ticket prices from 5:00 pm to 6:00 pm, Thursday through Monday.
7. Grab a Meal at Amy Ruth's
As you probably already guessed, Harlem is a mecca of sorts for Southern comfort food. And another great place to try some is here, where you can order the BEST chicken and waffles in the city. It's also a really chill, down-to-earth place you'll love eating at.
8. Have Tea at Alice's Tea Cup
This Alice and Wonderland-themed restaurant has multiple locations throughout the city and is a great place to bring your kids for a fun afternoon tea. Prices are reasonable too but you will need reservations since this eatery is mega-popular.
9. Have a Refined Dinner at Clay
If you want to enjoy a fancy night out on the town the beeline it on over to Clay in Harlem. After all, this NYC bucket list worthy restaurant is renowned for high-end delights like duck confit, ragu, and chocolate budino.
10. Marvel at Albertine
Located inside a former embassy just across the street from the MET, this French American bookstore has a stunning marble atrium and a wide variety of books for sale. However, you can't leave without ascending the stairs to the second floor and taking in the blue, constellation-studded sky.
11. Try Some "Rugelach by a brother"
Rugelach is an iconic pastry in NYC that is best enjoyed at Lee Lee's Baked Goods in Harlem. So, enjoy the red and white-themed decor before digging into their rugelach. Yeah, it's so good that even the New York Times gave it rave reviews.
12. Grab a Cookie from LeVain Bakery
If you only eat one cookie while diving into your New York City bucket list, let it be this fresh-baked, gooey, chocolate chip cookie. Yes, there will be a line out the door but it's worth it. Plus, this place has multiple locations scattered across the city, making it easier than ever to get your sugar fix.
13. Enjoy the Neue Galerie
Also just down the block from the MET on the Upper East Side is the Neue Galerie. It's a small museum with a lovely cafe that houses incredible works from 20th Century German and Austrian artists, like Gustav Klimt.
Just don't leave without seeing the iconic Adele Bloch-Bauer portrait (the lady in gold) by Gustav Klimt. Pictures are also not allowed inside.
⭐️ Rating: 4.3/5 (1877 Reviews) Price: $28 per person Duration: Valid for 1 day ?Meeting Point:Will Call desk on the lower level of the Rose Center for Earth and Space Details: Read more on Get Your Guide Now!
If you want to see giant dinosaur skeletons, watch the night sky unfold before you at the Hayden Planetarium, and marvel at priceless gemstones then hit up this Upper West Side Museum.
"This Museum is awesome. I went as a family of six including a 23 month old. My baby didn't really like the loud theater but it was over all a great experience as a family. Some things I recommend is coming hours earlier to view the whole entire museum.

It is four floors with a LOT to view. Their not strict if your super early or late which is awesome if you running late! Definitely come here to learn and explore!"

Grace (read more reviews now!)
Yeah, it's home to an astonishing 33 million specimens that are spread out across 45 different exhibition halls. Heck, this NYC bucket list activity is so rad that it even got its very own movie.
15. Afternoon Tea at the King's Carriage House
Skip the high price of the Plaza and enjoy a decadent afternoon tea at the King's Carriage House instead. After all, afternoon tea starts at around $30.00 per person, includes all your faves, and is set inside a stunning dining room that is adorned with resplendent Colonial-style decor.
16. Visit the New York Historical Society
Just down the street from the Natural History Museum on the Upper West Side, this building is a lovely pre-war mansion that is home to exhibits that detail the history of the city of New York.
Highlights include George Washington's inauguration chair, a leg brace used by FDR, a Keith Haring mural, and more.
Pro Tip: Plan to visit this item on your NYC bucket list on Friday, between 6:00 pm and 8:00 pm, for "pay what you wish" tickets.
17. Explore the Apollo Theatre
Go on a backstage tour and learn all about the history behind the famous Harlem theater where jazz legends like Sarah Vaughan, Billie Holiday, and Ella Fitzgerald all played.
18. See a Jazz Show at Bill's Place
Harlem is basically where jazz as we know it was born and raised. So, pay homage to this incredible history by visiting Bill's Place to see an incredible live jazz performance.
19. Stand in Awe of St. John the Divine Church
Probably one of the most unique churches in all of NYC, St. John the Divine Church is an amazing place to visit in Morningside Heights if you love unique art and architecture. It's also an 11-acre, oasis of botanical bliss that is home to three gardens, two beehives, and three peacocks.
⭐️ Rating: 4.4/5 (366 Reviews) Price: $25 per person Duration: Valid for 1 day ?Meeting Point: The main entrance is located between 88th and 89th Street Details: Read more on Get Your Guide Now!
Easily one of the most famous museums in the city, no NYC bucket list would be complete without mentioning The Guggenheim.
In fact, it not only features an amazing collection of modern art from masters like Degas, Picasso, Van Gogh, and Monet, but the building itself is a modern art masterpiece designed by Frank Lloyd Wright.
Pro Tip: Don't forget to get your free audio guide and take advantage of "pay what you wish prices" on Saturdays between 4:00 pm and 6:00 pm.
21. Gracie Mansion
See the Federal-inspired mansion that has been the mayor of NYC's official home since 1942. Tours of the interior are pretty infrequent though so your best bet is to take a scenic stroll through the 11-acre, Carl Schurz Park. Take in the sweet views of the East River and the Triborough Bridge and you won't regret adding this spot to your NYC bucket list.
22. Papaya King
Looking for delicious hot dogs in NYC? Then beeline it on over to Papaya King, which has actually been around since 1932 – long before Gray's Papaya. And if you're not sure what to order, get a Homerun (sauerkraut and NY-style onion relish on a hot dog) and wash ti down with a fresh papaya juice.
23. Riverside Park
This place is pretty idyllic since it is brought to you by the same legends who designed Central Park. It also sits along the Hudson River, on the Upper West Side between west 59th and 155th streets, and is known for incredible views of the Boat Basin and surrounding area.
24. Hop on the Roosevelt Island Tramway
For just the price of a single ride on the subway (aka $2.75) you can soar through the air high above the Upper East Side and enjoy stunning views of the East River and the Queensboro Bridge for a solid four minutes before disembarking at Roosevelt Island.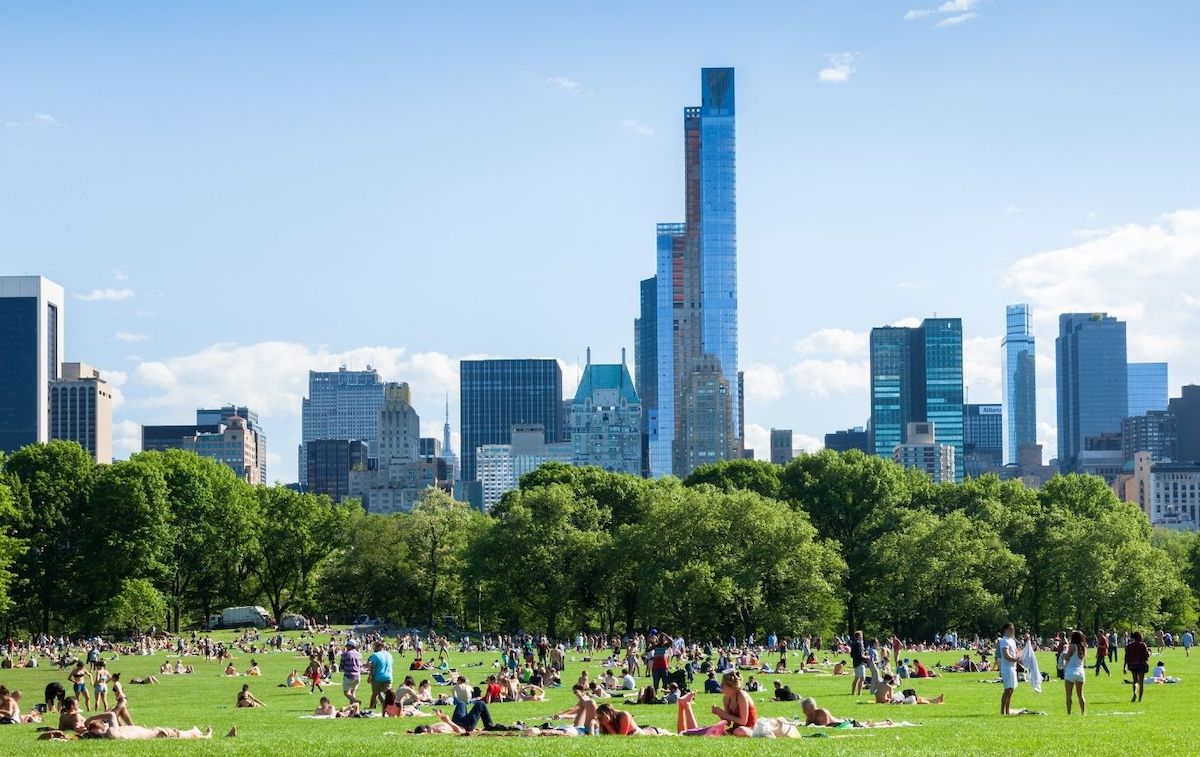 25. Central Park – Easily the single most famous park in the city, Central Park is an essential part of any New York City bucket list. And while it would take you days to see the entire place, highlights include:
The Ramble
The Mall
Sheep Meadow
The Central Park Zoo
The Alice and Wonderland Statue
The Ramble
Belvedere Castle
Strawberry Fields
Bethesda Terrace
The Shakespeare Garden (79th/80th street)
The Boathouse (at Tavern on the Green)
Etc.
26. Sarabeth's
Known for being one of the best brunch spots in NYC, this place serves wicked awesome lemon ricotta pancakes with blackberries. They also have tons of locations across the city, including one in Chelsea Market.
27. Get Dessert at William Greenberg Desserts
This historic Kosher bakery sits right across the street from the MET and is known for baking the best black and white cookies in the city. So, after inhaling several of these cakey, half-chocolate, half-vanilla glazed delights, sip on an old-school egg-cream soda – and a brownie if you can manage it.
28. Laduree
This NYC bucket list item is more Parisian than New York. However, the refined, high-end decor here is amazing and is only outdone by the world-famous macarons on offer here. And if you're feeling extra fancy, be sure to pop in for a bit of afternoon tea. Just don't leave without a pistachio macaron since they are my personal fave.
29. Jewish Museum
Also located on the Upper East Side, stop by if you want to learn more about Jewish culture through the display of various artifacts, Then, afterward, head to the basement and refuel with some bagels that are perfectly paired with fresh lox and cream cheese at Ross and Daughters cafe.
30. Learn About the Art of Bookmaking at the Grolier Club
Hidden away on the Upper East Side, this society for bibliophiles was first started in 1882 and features well over 100,000 books in their rare book collection. They also play host to various temporary exhibitions that the public is welcome to attend.
31. Stroll through Carl Schurz Park
This charming, 15-acre park on the Upper East Side is a quiet place to walk after saying hi to the mayor at Gracie Mansion.
32. Order a Short Stack at Lexington Candy Shop
This old-school restaurant on the Upper East Side has awesome vintage vibes and has been around since 1925. But, if you're not sure what to order, you can't go wrong with strawberry pancakes and a homemade egg cream. SOO GOOD.
33. Watch a Show at Lincoln Center
This place is mythic and home to the New York Philharmonic, The Julliard School of Music. the New York City Ballet, and the Metropolitan Opera. Broadway performances are also held in the theater here, which is small and offers great views of the stage.
However, if you're short on cash, just walk through the outdoor plaza here and relax by the fountain.
Pro Tip: After the show, get some epic grub from the Smith, Lincoln Ristorante, or P.J. Clarke's.
34. Park Avenue Armoury
Try a guided tour of this amazing, Greek-Revival structure on the Upper East Side. You could also catch a performance here as part of your New York City bucket list.
35. Enjoy the Views from the Panorama Room
After you arrive on Roosevelt Island, climb to the 18th floor of the Graduate Roosevelt Island hotel and enjoy sweeping views from the terrace here. Also enjoy great artisanal cocktails that include the apple martini, the lychee martini, and the draft expresso martini.
36. Visit the American Folk Art Museum
Started in 1962, this quirky museum in NYC has 7,000+ pieces of folk art on display that date back to the 18th century. So, enjoy a wide array of quilts, statues, wood carvings, pottery, and carousel animals created by artists with no professional training.
37. Have a Drink at Bemelmans Bar
Hidden away in the swank Carlyle Hotel in Lenox Hill, this bar is known for whimsical murals that were done by Ludwig Bemelman. The decor is then perfectly paired with expensive (aka $21 each) martinis like an Earl Grey-infused Grey Goose with lemon and honey.
You can also enjoy live music and will need to shell out $15 for a cover charge to enjoy the privilege of dining here.
38. Check Out 67 Orange Street
Head up to Harlem and have swank AF, shaken, not stirred cocktails at this stylish, brick, two-floor bar. And while everything on the menu here is delish, standouts include the Ol' Fashionista which is made with Grand Marnier and bourbon,
NYC Bucket List – Midtown Manhattan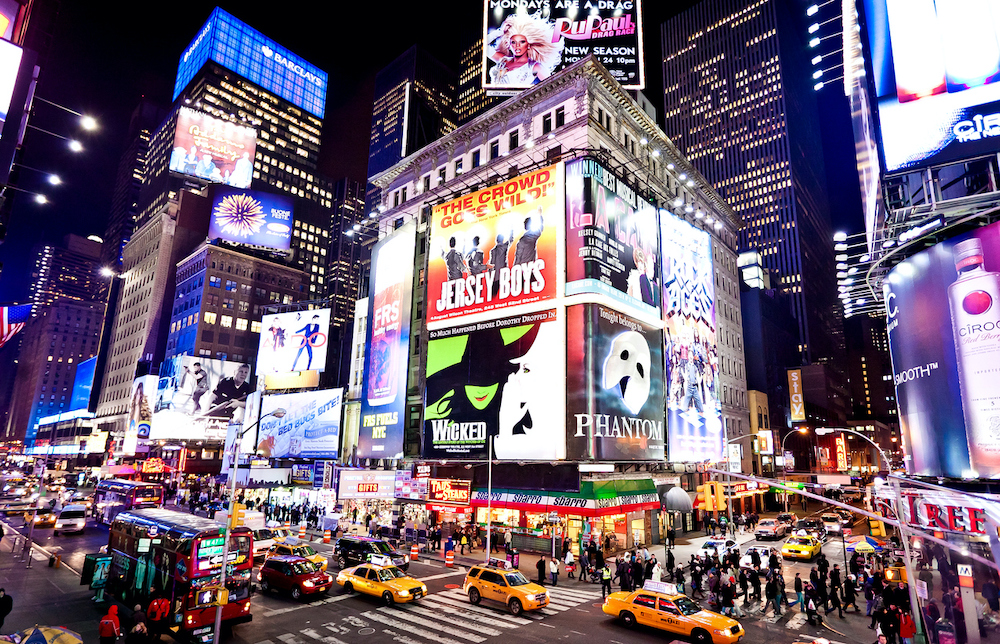 ⭐️ Rating: 4.8/5 (77 Reviews) Price: $35 per person Duration: 1.5 hours ?Meeting Point: In front of track 29 inside Grand Central's main atrium Details: Read more on Get Your Guide Now!
This iconic transportation hub in Midtown is known for its stunning, constellation-studded, turquoise ceiling. You can also take photos with the clock in the main concourse before grabbing souvenirs from the Transportation Museum and ordering some banana pudding from Magnolia bakery in the basement.
40. Bread Bakery
Head to the kiosk in Bryant Park and order a giant loaf of their chocolate babka. It is honestly one of the best things I've ever eaten and should be on your New York City itinerary.
41. New York Public Library
Say hi to the marble lions "patience" and "fortitude" out front before heading inside and marveling at the 53 million items housed inside the second-largest public library in the country.
Highlights include the Rose Main Reading Room, as well as artifacts like the Declaration of Independence, the Gutenberg Bible, and the Winnie the Pooh stuffed animals.
Pro Tip: Free tours are offered at11:00 am and 2:00 pm Monday through Saturday and at 2:00 pm on Sundays (just not in the summer).
42. Bryant Park
This cute little 10-acre park has the New York Public Library on its perimeter and is known for an ice skating rink and winter village that pop up here in the winter.
However, when it's not frigid out, feel free to take a ride on the French carousel, look through the lending library, play a round of ping-pong, or relax at a table while inhaling a waffle from Wafels and Dinges.
43. Ess-A-Bagel
Located just around the corner from Grand Central, this place is notorious for making some of the best bagels in the city since it first opened in 1976. And if you want to order like a real New Yorker, grab an untoasted, everything bagel with cream cheese. And yes, there will be a line. But, it moves quickly.
Pro Tip: Other great bagel places include Bagel Talk (upper west side), Tal Bagels (upper east side), Brooklyn Bagel, Tompkins Square Bagels, etc
44. Have a Drink at Nothing Really Matters
Mosey on over to Midtown West and sip on a cocktail (or ten) at this speakeasy-inspired watering hole. In fact, it's hidden away in the 50th Street subway station for the 1 train and serves up a great "Fearless Girl" cocktail with pear/apple gin, pear brandy, lemon, and spiced pear.
45. Get Banana Pudding from Magnolia Bakery
Featured on Sex and the City and known for their epic cupcakes, skip the cake altogether and add a giant cup of their banana pudding (with bananas, vanilla pudding, and vanilla wafers) to your New York City bucket list.
In fact, they also offer a chocolate variation and a pumpkin flavor throughout the fall.
⭐️ Rating: 4.6/5 (7693 Reviews) Price: $47.91 per person Duration: 45 min – 1 hour ?Meeting Point: Meeting point may vary depending on the option booked. Details: Read more on Get Your Guide Now!
Time your visit for around 2 hours before sunset so that you can enjoy this building's art deco architecture and various interactive exhibits before taking in the views from the 102nd floor and the 86th-floor observatories.
"It was a great experience. We didn't really need the priority as there were no lines, thursday 1 pm. The museum on the 2nd floor is really nice and I would certainly not skip it, even though you have priority via the red express lane.

The 360° view on the 80th floor (inside) was already beautiful, but on the 86th floor, outside, just below the big tower mast, was really crazy! We were there at the end of January, so quite chilly and a lot of wind, but clear weather, so beautiful. The info emails were very useful!"

Leo (read more reviews now!)
Dress warmly since it's windy AF up there and keep your eye on the weather since clouds = no views. The best photo-ops are also found on the 86th floor. Also, save time and pre-book your tickets now.
Pro Tip: For the best photos of the Empire State Building visit the Top of the Rock at Rockefeller Center.
47. The Chrysler Building
This art deco masterpiece is instantly recognizable from the "crown" of triangular windows at the top of this 77-story structure.
If you want, you can also check out the lobby with its dark wood, marble floors, and art deco steel before riding the elevators with their Egyptian lotus motifs and inlaid wood panels. Yup, an all-around perfect addition to any NYC bucket list.
48. Shop til' You Drop on Fifth Avenue
Fifth Avenue is one of the most famous streets in NYC and is brimming over with high-end retail stores like Tiffany's, Lord and Taylor's, Macy's Sak Fifth Avenue. and more. Just don't come here looking for budget shopping spots in NYC.
49. Head Over to Grace Street Desserts and Coffee
Located in Korea town, this is a great place to stop after visiting the Empire State Building for generous portions of shaved snow, mochi ice cream, milk tea boba toast, matcha beignets (my fave), and a rose/lavender flavored lattes.
50. Dear Irving on the Hudson
Walk over to Hell's Kitchen and sip on a drink from the 40th or 41st level of this bar in the Aliz Hotel. Obviously, the views are exceptional, as are the drinks which include things like "The Wildest Redhead" cocktail. There are also epic vintage vibes here since this place looks like something out of a Bond film.
51. Grab some Italian Fare at the Meatball Shop
This low-key Italian restaurant is situated in Hell's Kitchen and serves up some of the best meatballs and sauce in the city. Keep it traditional and opt for their classic meatballs, followed up by an ice cream sandwich for dessert.
52. Ellen's Stardust Diner
Easily one of the most unique restaurants in NYC, this is a great place to bring the family if you want to indulge in some classic diner fare while your servers take song requested and belt out iconic Broadway songs.
It's not fancy but it is still a fun place to enjoy classic milkshakes, hot dogs, and hamburgers during your NYC bucket list.
53. Gagopa Karaoke
Speaking of singing, why not try it for yourself in Korea town at Gagopa Karaoke?
Not only do they have a rad selection of songs, but you can rent out a private room so that you don't embarrass yourself in front of countless strangers as you belt out "I Will Survive" like a BOSS.
54. St. Patrick's Cathedral
This neo-gothic marvel sits on Fifth Avenue and is located just across the street from Rockefeller Center. It's also the country's biggest Catholic Church and has a stunning Louis Tiffany–designed altar, and a Rose stained glass window that you can admire from the inside.
⭐️ Rating: 4.5/5 (3693 Reviews) Price: $43.55 per person Duration: Valid for 1 day ?Meeting Point: Details: The main entrance to Top of the Rock is at 30 Rockefeller Plaza Details: Read more on Get Your Guide Now!
For the best views of the Empire State building, head to the Top of the Rock observatory on the 67th, 69th, and 70th floors of Rockefeller Center. If you can, add a visit at sunset to your NYC bucket list for the best photo ops possible. Also, be sure to avoid long queues by pre-booking your tickets in advance.
56. Rockefeller Center
Easily one of the best free things to do in NYC, Rockefeller Center is an iconic outdoor plaza that is known for the famous Christmas Tree and ice skating rink that regularly pop up here in the winter.
It's also a fairly large, 22-acre complex that consists of ten buildings where you can see Good Morning America and The Today Show being filmed live before grabbing some souvenirs at the LEGO store.
57. FAO Schwartz
This famous toy store recently reopened in Rockefeller Center and is a proverbial wonderland for adults and children alike since it is brimming over with giant, life-size stuffed animals and a shop stocked with basically any and every candy you could possibly imagine.
58. Times Square
Blech, I hate this place with its insane crowds, overpriced tourist traps, and costumed characters walking around. However, if it's your first time in the city then you must add Times Square to your NYC bucket list.
So, take some photos, get some discount Broadway tickets at the TKTS booth, admire the neon hues of the signs all around you, and then exit stage right.
⭐️ Rating: 4.6/5 (2511 Reviews) Price: $25 per person Duration: Valid for 1 day ?Meeting Point: Museum of Modern Art at 11 West 53rd Street Details: Read more on Get Your Guide Now!
Easily one of the best art museums in the city, MOMA (or the Museum of Modern Art) is famous for its exquisite modern art collection that is filled with the works – from the 19th century through to modern-day – of masters like Van Gogh, Matisse, Picasso, Warhol, Lichtenstein, Rothko, and Pollock.
"The Museum of Modern Arts it absolutely amazing! It has 5 floors which all have many amazing arts to see. Make sure to come early because if you want to take your time a view everything it could take a good 2-5 hours.

The 5th floor has the most arts to see and it's kinda like a maze because of all the rooms. Over all it's amazing and if your early or late it does not matter because you still can get it!"

Grace (read more reviews now!)
So, explore the eight floors of art here before relaxing in the Abby Aldrich Sculpture Garden. As usual, pre-book your tickets now to avoid queues.
Pro Tip: Shop for souvenirs at the MOMA Design Store or visit MOMA PS1 in Queens for contemporary videos, DJ parties, and modern art installations.
NYC residents can also enjoy free admission to the museum on the first Friday of the month between 4:00 pm and 8:00 pm.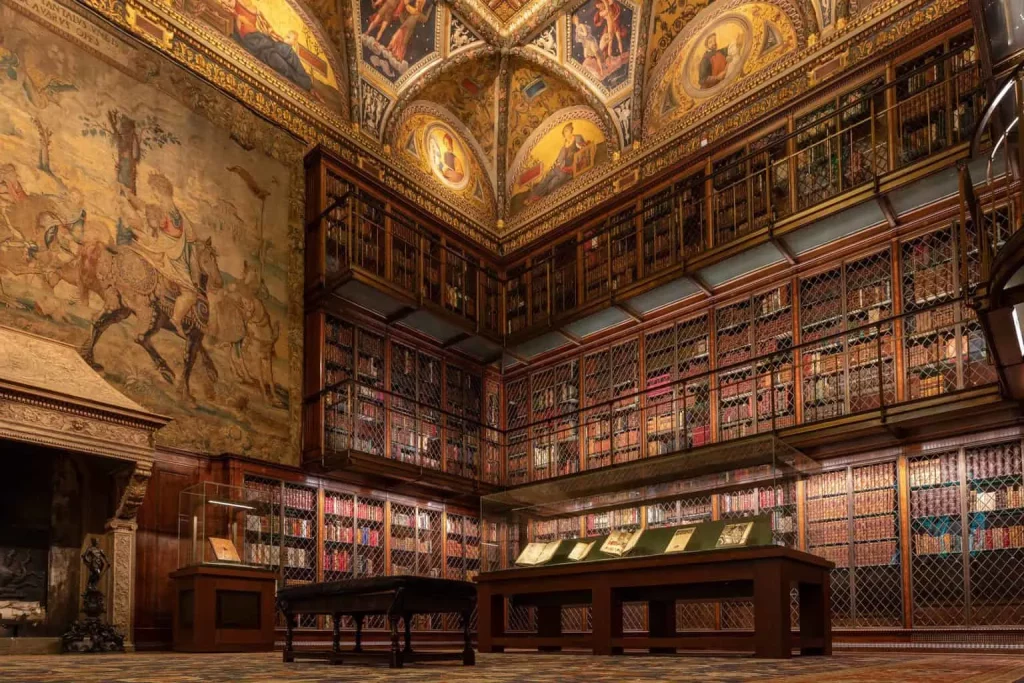 60. Morgan Public Library
Located just a hoot and holler down the road from the New York Public Library, this place resembles the library from Beauty and the Beast.
It was also once owned by no less than J.P. Morgan himself and is now a museum where you can marvel at vintage art, old manuscripts, Mozart compositions, a copy of the Guttenberg Bible, and original compositions from Mozart.
Pro Tip: Enjoy free admission (and sometimes live music) between 2:00 pm and 5:00 pm on Fridays.
61. Catch a Broadway Show
I could not in good conscience create this New York City bucket list without imploring you to purchase tickets for any of the amazing Broadway performances that are routinely held here.
Just don't pay full price (EVER) since you can easily purchase tickets at a 50% discount using the TodayTix app. You can also learn more about getting cheap Broadway Tickets now.
62. Check Out the Vessel
This wonky bee-hive-like structure is basically like a giant optical illusion that is tucked away in Hudson Yards.
In total, it features 154 flights of stairs with 2,500 steps that lead you to awesome views of the Hudson River at the summit. And while the structure is currently closed, you can take great photos from the back, left-hand side of the structure if you're facing the river.
⭐️ Rating: 4.4/5 (7 Reviews) Price: $99.99 per person Duration:3 hours ?Meeting Point: Meeting point may vary depending on the option booked. Details: Read more on Get Your Guide Now!
This recently revitalized shopping center/neighborhood is home to the Vessel and the Edge Observatory. You can also access the High Line from here or attend a concert/art show at The Shed. You can also go shopping at the mall here before ordering some fried chicken with waffle fries at Fuku.
⭐️ Rating: 4.6/5 (1931 Reviews) Price: $43.55 per person Duration: Valid for 1 day ?Meeting Point: The entrance to Edge Details: Read more on Get Your Guide Now!
While The Edge does offer visitors sweeping panoramas from Hudson Yards, it's not my fave observatory since you're really just here for the views.
"The Edge was a great experience, but worth booking an early morning reservation to avoid crowds on the deck! The ticketing and security lines moved quickly, and they shuttle you through to a photo line and then the elevators zip you up to the 100th floor.

You can spend as much time as you'd like on the observation deck (no time limits), and the views are amazing. We came on a sunny day, and I'd love to come back to see the city lit up at night!"

Jake (read more reviews now!)
However, this is the highest outdoor observation deck in the Western Hemisphere – you'll stand on the 101st floor – and there is a see-through glass panel that allows you to look down thousands of feet below. There's also an on-site bar/restaurant for you to hang out in too.
65. Enjoy the Dueling Pianos at Bar Nine
This NYC bucket list experience is amazing and should not be missed. So, go visit the only dueling piano bar in all of NYC and enjoy a bit of impromptu karaoke to live songs from every decade for $25 per person. Shows start at 7:30 pm (try to arrive by 7:00 pm) and are held weekly from Wednesday through Saturday.
66. Grab Some Italian Food at Italy Flatiron
With multiple locations in Manhattan, Eataly is an amazing Italian restaurant/grocery store where you can shop for everything from gelato to espresso to mozzarella.
And you KNOW the quality is excellent since this place is owned and operated by Iron Chef, Mario Batali. So, grab something to go for a picnic in the park or sit down for a swank meal at their on-site restaurant.
Pro Tip: Head to SERRA by Birreria rooftop bar here and enjoy stunning, seasonal decor while sipping on cocktails. Be sure to make a reservation though since this place is popular. You'll also want to skip the food since it's mediocre at best.
67. Grab a Photo with the Flatiron Building
One of the most instantly recognizable buildings in all of NYC, the Flatiron Building has a unique triangle shape that makes it a great spot for a photo.
Try to stand to the right of the building,, at the pedestrian crossing, and snap photos from here. If you photograph this building from straight on, you'll lose its signature shape.
68. Grab Some Ramen at Tonchin New York
If you love real ramen almost as much as I do then hit up the New York branch of this legendary Tokyo area restaurant.
Just arrive early since this place is mega-popular and try their iconic, Tonchin Classic Tokyo Tonkotsu Ramen.
69. Become 007 at the Spyscape Spy Museum
Easily one of my favorite museums in the entire city, this amazing place features a ton of interactive exhibits that you engage with to figure out exactly what type of spy you should be.
There are also tons of artifacts on display that detail the incredible history of spy networks throughout the US and beyond.
70. Party Hard at the Frying Pan
This unique bar sits atop a coast guard lightship that is permanently moored at Pier 66. It's open seasonally from May through October and is a grab place to party with friends.
It's loud though and the food is not great so be prepared for a lively scene and not a quiet, intimate bar if you add this place to your NYC bucket list.
⭐️ Rating: 4.6/5 (128 Reviews) Price: $33 per person Duration: 1 hour ?Meeting Point: Radio City Music Hall Details: Read more on Get Your Guide Now!
Watch the Rockettes high kick it across the stage or go on a backstage tour of this historic concert venue with a gorgeous interior.
You could also visit by grabbing tickets to a performance since they are held here on an almost monthly basis.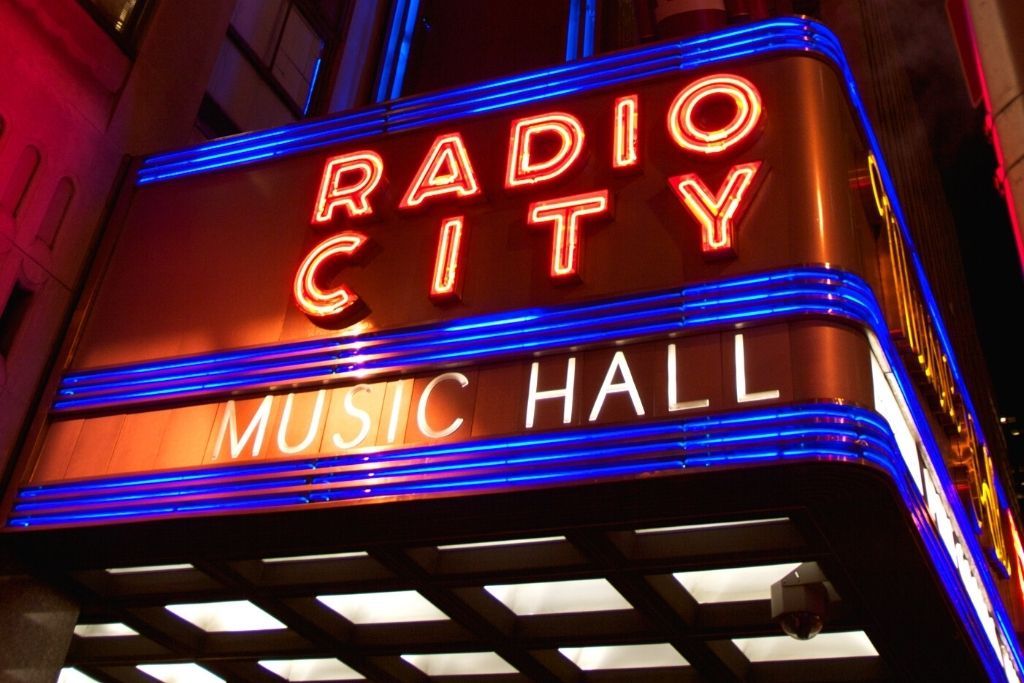 72. Grab a Burger at P.J. Clarke's
This place is nothing fancy but they do serve up one of the best cheeseburgers in the city, if not the world. The burgers and fries are also super delicious and have received rave reviews from no less than Nat King Cole himself (around 1950).
73. Hit Up Urbanspace
With multiple locations throughout midtown, this chill food hall is a great place to go if you want to save money and indulge in some of the best street food in the city.
If you can, hit up the 570 Lex location so that you can order some bao from Bao by Kaya, an Italian hero from Cappone', and a coffee from Little Collins.
74. Grab a Coffee at Felix Roasting Co.
Not only does this place serve up some of the best coffee in the city, but it is probably the single most stunning coffee shop that I have ever been to.
So, have your camera at the ready, order a smores latte, and get ready to be transported to Vienna with the stunning pastel-hued and wood-paneled decor here. And while there are multiple locations in the city, the Park Avenue location is the prettiest IMHO.
75. Get Something to Go from the Halal Guys
This awesome, midtown food cart has been around forever and serves up some of the best gyros/chicken and rice in the city. You'll find them at the corner of 6th Avenue and West 53rd Street but they now have outposts throughout the city.
76. Attend a Live Taping of a TV Show
NYC is a front runner for the entertainment capital of the world. Therefore, it should come as no surprise that many TV shows hold live tapings in studios here.
So, see if you can, add a taping of the Rachel Ray Show, The Tonight Show, or The View to your NYC bucket list.
77. Indulge in Some Cheesecake at Junior's
Known for serving up giant slices of classic New York cheesecake, this dessert shop, and restaurant is a great place to go after a Broadway show.
So, order a slice of their classic cheesecake and see if you can split it with a friend since slices here are super-rich and hella big.
NYC Bucket List – Lower Manhattan
78. Visit an Art Gallery in Chelsea
The Chelsea neighborhood is home to a ton of super swank art galleries that are open to the public.
The nice thing about the galleries here, like Pace Gallery, is that they don't really pressure you into buying anything. So, stop by on a Thursday evening when many of the places here hold lavish openings that include free wine and cheese.
⭐️ Rating: 4.6/5 (7909 Reviews) Price: $30.50 per person Duration:6 hours ?Meeting Point: Meeting point may vary depending on the option booked. Details: Read more on Get Your Guide Now!
Hop aboard the Liberty Island Ferry and take it to see the Statue of Liberty.
While on the island, you can take lots of photos, climb to the top of Lady Liberty's crown, and explore an on-site museum that details the construction of this local landmark.
"This activity is really to do if you go to NY! You take the ferry to go to the foot of the statue and visit the museum of its creation then when you want you take a ferry back to visit the immigration museum and that's great! I highly recommend this activity."

Oceane (read more reviews now)
As always, book tickets well in advance and enjoy complimentary access to Ellis Island with your purchase.
Pro Tip: If you decide to purchase tickets to see the Statue of Liberty on-site, you can only get them at Castle Clinton. Anyone else trying to sell you tickets is 100% a scammer.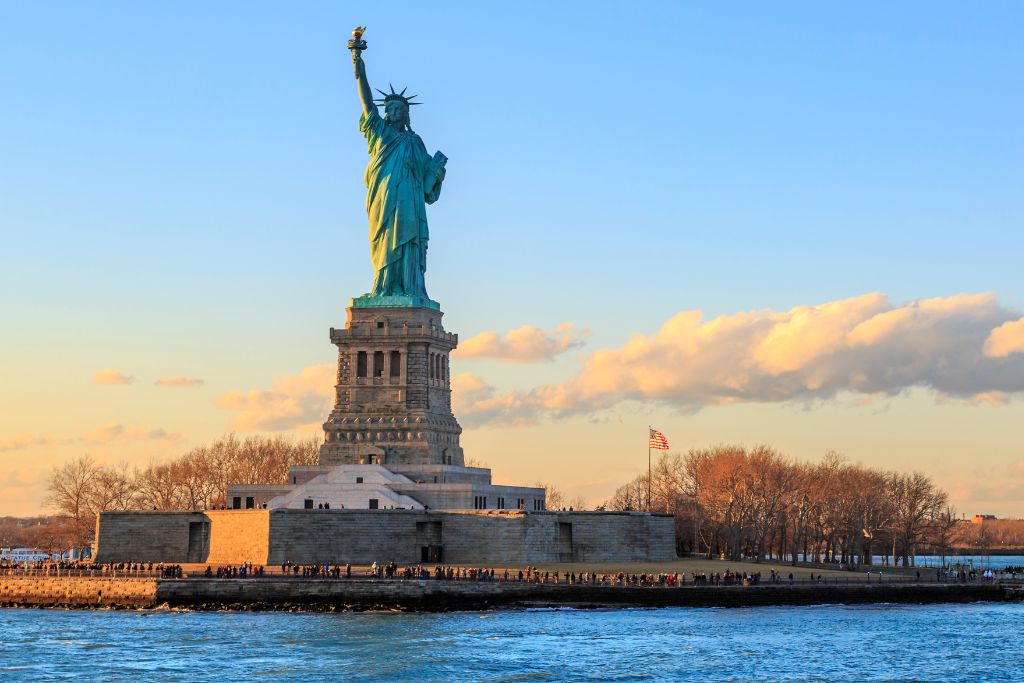 78. Visit Ellis Island
Another fantastic museum in NYC, Ellis Island is a great place to go to learn about the immigrant experience and to understand how foreigners were processed before entering the US as permanent residents.
It's a fabulous museum with a wealth of artifacts and historic buildings that explain the inspection process and what life was like for new immigrants upon arrival.
79. Have Dessert at Eileen's Special Cheesecake
Personally, I think this place is better than Junior's and should be on every NYC bucket list.
This eatery has also been around since 1975 and sells upwards of 20 different flavors of cheesecake at their Nolita store. I'm partial to the dulce de leche and think you should order that while you're here.
80. Hop Aboard the Staten Island Ferry
For the best free views of the Statue of Liberty, take a twenty-minute ride aboard the Staten Island Ferry. Rides last around 20 minutes, are totally free, and run 24/7. Just catch the boat from the terminal at the Battery and enjoy the views from the right side of the boat.
Pro Tip: The Staten Island Ferry is an NYC bucket list activity that should be avoided at rush hours since the boat becomes packed with commuters.
81. Order a Cronut from Dominique Ansel Bakery
Part donut and part croissant, this flakey pastry took NYC by storm when it was first released by this legendary bakery. So, stop by and order the cronut of the month since flavors change monthly and are never repeated.
You could also pair it with some delicious cookie and milk shots that include special vanilla-infused milk.
⭐️ Rating: 4.4/5 (130 Reviews) Price: $25 per person Duration: Valid for 1 day ?Meeting Point: Admissions Counter of The Whitney Details: Read more on Get Your Guide Now!
Located at the southernmost end of the Highline, this amazing museum features an astonishing array of American art from giants like Edward Hopper, Jasper Johns, Georgia O'Keeffe, and Mark Rothko.
Be sure to purchase tickets in advance and visit the rooftop terrace for stellar views of the river.
Pro Tip: Enjoy "pay-what-you-wish" admission on Fridays between 7:00 pm and 10:00 pm. And you must book tickets in advance if you want to add this to your New York City bucket list.
83. The Battery
This spacious, 25-acre park sits on the Southern end of Manhattan and overlooks the gorgeous Statue of Liberty in New York Harbor. Feel free to walk around and check out Castle Clinton or ride the super unique Seaglass Carousel before visiting the nearby Museum of the American Indian.
84. Visit the Fraunces Tavern
Part bar and part museum, learn all about the history of the oldest building in NYC while enjoying a pint and hearing stories about how George Washington gave a farewell speech to his troops here in 1783, upon the conclusion of the Revolutionary War.
85. The Highline
Built atop an old railway platform, this local park and public art space offer visitors sweeping views of the city as it extends for 1.45 miles along the west side of Manhattan, It also starts at the Javits Center near Hudson Yards and ends at the Whitney Museum in lower Manhattan.
86. Explore the Tenement Museum
Another one of the great museums in NYC, the Tenement Museum is an incredible place that features well-preserved tenement rooms that are used to help visitors understand the terrible living conditions that immigrants faced in the late 1800s and early 1900s.
You also must visit as part of a tour but they do have a ton of cool-themed tours for you to enjoy as part of your NYC bucket list.
87. Grab a Sandwich at Katz's Deli
This Jewish deli on Houston Street has been in business since 1888 and is known for serving giant sandwiches like their signature, pastrami on rye. Be prepared for a wait though since this place is quite popular and don't lose your ticket once you're inside since that will result in a $50 fine.
88. See the New Museum
Hidden away on the Bowery, this is the place to go if you're looking for awesome contemporary art exhibits in NYC. You can also head to the top floor and soak up great panoramas of the city. Be sure to stop by Thursday evenings when tickets are "pay-what-you-wish" between 7:00 pm and 9:00 pm.
89. Have a Scoop at Morgenstern's Finest Ice Cream
Located just down the street from the New Museum, this place serves delicious, artisanal ice cream in creative flavors like salted chocolate and cardamom lemon jam. The raspberry chocolate is divine and you WILL need to wait at least 30 minutes, even if you stop by at 11:00 am.
90. Eat Your Face Off at Chelsea Market
This expansive indoor market was built inside a former factory and now houses a wide variety of restaurants and boutiques where you can shop for some of the best souvenirs in the city.
Personal faves include Artists and Fleas for unique gifts, Fat Witch Bakery for brownies, Posman Books for souvenirs, and Sarabeth's for pancakes.
91. Marvel at Manhattanhenge
This unique phenomenon happens annually (usually between May and June) and occurs when either the rising or setting sun fully aligns with the eastern and western running streets in Manhattan.
So, have your camera at the ready and snap a photo of the sun perfectly rising/setting in between Manhattan's many skyscrapers.
92. Explore Washington Square Park
Located just near NYU, Washington Square Park is a lively green space filled with musicians, chess players, and skateboarders who hang out against the backdrop of the neighborhood's stunning, Greek-Revival brownstones.
Don't leave without taking photos of the marble arch here because if you photograph it while looking down Fifth Avenue, you'll be able to catch the Empire State Building in the background.
Pro Tip: Don't leave without getting some amazing dosas from the NY Dosas food cart that regularly sits here. So, flipping, good. Also, check out some of the best happy hours in Greenwich Village while you're here.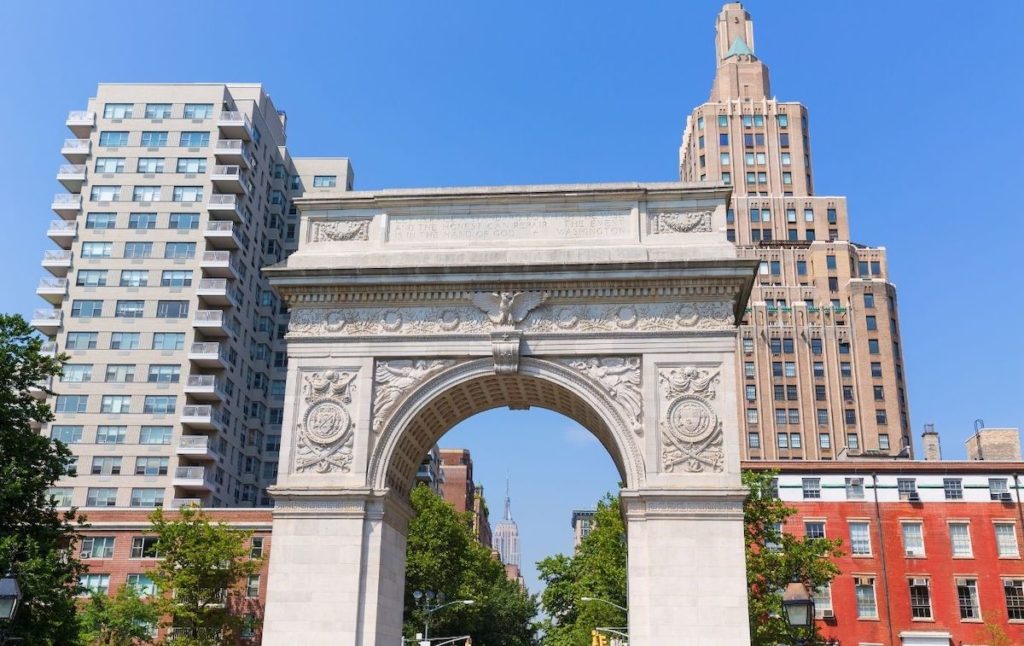 93. See a Show at The Comedy Cellar
This Greenwich Village hot spot is known for hosting shows featuring some of the best and most talented up-and-coming comics in the country.
In fact, icons like Dave Chapelle, Sarah Silverman, and Amy Schumer have all performed here. So, it's worth it to be packed into this tiny little basement. And yes, there is a two beer minimum, three beer maximum.
94. Grab a Slice at Artichoke Basille's Pizza
Not gonna lie, their signature artichoke slice is one of the best pieces of pizza I've ever eaten. It basically tastes like delicious spinach artichoke dip has been plopped right on top of a thin and crispy slice of New York pizza.
It's super-rich though so only order one slice and see if you can share it with someone during your NYC bucket list.
95. Eat at Mamoun's Falafel
After partying like a rockstar in Greenwich Village, head to Mamoun's Falafel and inhale some of the best falafel in the city. After all, this place has been around since 1971 and is known for its "West Village" and "MacDougal" falafel sammies.
96. Visit Fabrique Bakery
This charming Swedish bakery is a great place to hang out on a cold winter day and order some coffee along with their always perfect, cardamom and cinnamon buns.
97. 9/11 Memorial
Totally free to visit, the two black reflecting pools with water endless cascading down the center sit on the spot where the towers once stood and serve to commemorate all the victims of that tragic day.
So, walk along the perimeter of these pools, and read the names of all the people who died that day – names that are now permanently etched into the plaques here.
98. Visit Wall Street
Not my fave but Wall Street sits at the heart of New York's Financial District and is where you'll find the one and only New York Stock Exchange. So, stop by and see where the proverbial magic happens before enjoying other activities on your NYC bucket list.
99. Grab a Book at the Strand
Located right near Union Square, the Strand is a beloved used bookstore that is known for selling over 18 miles worth of books. They also have great souvenirs for sale and a cool rare book collection that can be found on the third floor.
⭐️ Rating: 4.7/5 (8232 Reviews) Price: $19.40 per person Duration: Valid for 1 day ?Meeting Point: World Trade Center Details: Read more on Get Your Guide Now!
If you want to learn more about the events leading up to 9/11 and see artifacts related to the destruction of the two towers – and the associated aftermath – then definitely visit the 9/11 Museum.
Yes, tickets are pricey at $25 each but this museum is really well-done, beautifully honors the victims, and provides great historical context for the event. Therefore, it's an essential part of any NYC bucket list.
101. Grab a Shot with the Fearless Girl/Charging Bull Statues
These two famous statues are located just steps away from one another in the Financial District. Just be sure to get up early to grab your photos since there is always a line here.
102. Stand in Awe of The Oculus
This bright, white, modern architectural marvel serves as the transportation hub for the World Trade Center.
The design is meant to represent the outstretched wings of the dove and can be beautifully photographed from the ground floor. Arrive early to avoid crowds and also take photos from the viewing platforms on either side of the building.
103. Get Tickets to Sleep No More
This unique show at the McKittrick Hotel is a fully interactive experience that serves as a modern retelling of the Shakespearean classic, Macbeth. Add it to your NYC bucket list if you've done Broadway and want to try something different.
104. Have a Meal at Wohop
This place is a straight-up mythic, hole-in-the-wall restaurant on Mott Street in Chinatown. It's also been around since 1938 and is an awesome place to add to your NYC bucket list if you're looking for a low-key meal that includes fan faves like Lo Mein, dumplings, and various Szechuan-inspired entrees.
105. Check Out Soft Swerve Ice Cream
For a mega- Instagrammable scoop of purple yam-flavored ice cream with fruity pebbles on top, head to Soft Swerve Ice Cream near Little Italy. After all, this unique ice cream shop specializes in distinctly Asian flavors like matcha, ube, black sesame, and more.
⭐️ Rating: 4.7/5 (7751 Reviews) Price: $47.91 per person Duration: Valid for 1 day ?Meeting Point: Freedom Tower at the Observatory Entrance on West Street Details: Read more on Get Your Guide Now!
For awe-inspiring views of the Empire State Building and lower Manhattan, head to the One World Observatory – on the 100th and 102nd floors- at the World Trade Center.
As always, book tickets way in advance to avoid lines and try to visit on a nice, clear day.
107. Enjoy the Tribeca Film Festival
Every April, film lovers of the world unite in Tribeca to enjoy a quirky collection of panel discussions, games, art, movies, and immersive programming that is all related to cinema. So, if you love films even a little bit, add this event to your NYC bucket list.
108. Have Afternoon Tea at Tea and Sympathy
This classic British restaurant is small and cozy, with decor that embodies the quaint country charm of your granny's living room. It's also an epic spot to enjoy a well-priced, absolutely delicious, totally authentic British afternoon tea.
Trust me, it's one of the best in the city and the Victoria Sponge is to die for.
109. Admire Trinity Church
This Episcopal church sits at the intersection of Wall Street and Broadway. It's also pretty dang historic since it was first constructed in 1846 and was the tallest building in NYC for a while.
Alexander Hamilton is also buried in the cemetery here and the interior features beautiful stained glass windows that are a must-see.
110. Order a Slice at Prince Street Pizza
Every New Yorker has their own favorite pizza place. And one of mine is Prince Street Pizza. Not only are the slices affordable but the Sicilian pizza here is next-level awesome.
111. Grab a Drink at Please Don't Tell
Known for being NYC's original secret speakeasy, this snazzy bar can only be accessed by entering a secret code into a random telephone booth that sits by Crif Dogs hot dog joint (their hot dogs are actually really good).
Once inside though, you'll love the sleek decor and craft cocktails on offer.
112. Grab Dessert at Original Chinatown Ice Cream Factory
This epic ice cream shop should be on your NYC bucket list since they feature unique, distinctly Asian flavors of ice cream like lychee, Durien, and black sesame. The black sesame is a personal fave though and this business is immortal since they've been around for 40+ years.
113. Make em' an Offer They Can't Refuse at the Museum of the American Gangster
This lesser-known museum sits inside a former speakeasy and educates visitors about the sorted history of organized crime in the USA.
And while tickets are a bit pricey at $20 each, tour guides do a fab job, making this place is a fun addition to your NYC bucket list if you want to see something new.
114. Find Something Sweet at the Museum of Ice Cream
Add this to your New York City bucket list if you have kids and don't know what to do with them on a rainy day.
Because admission to this place includes five samples of ice cream and access to colorful, interactive exhibits that make the perfect backdrop for some fun family photos.
115. Enjoy the San Gennaro Festival in Little Italy
Normally I refer to Little Italy as a giant tourist trap (Arthur Avenue in the Bronx is way better and cheaper).
However, when San Gennaro comes into town for eleven days in September, I change my tune since this neighborhood comes alive with street vendors selling delicious food and people partying on the street well into the morning.
116. Grab a Bagel at Russ and Daughters on the Lower East Side
This immortal deli is the perfect place to go for a bagel with lox and cream cheese. And that makes sense since they've been around for 100+ years and now have locations all over the city. But, if you're not sure what to order, get the Bagel Sandwich.
117. Dig into Edible Cookie Dough at DO
Channel your inner child and head on over to DO near Washington Square Park. Once here, order a wide variety of egg-free, edilble cookie doughs that are served to you in a delectable ice cream cone (for added yumminess).
And while all their flavors are delish, my personal fave is the dunkadoo (aka sugar cookie, vanilla icing, graham crackers, and sprinkle dust).
118. Marvel at Rolf's Amazing Christmas Baubles
This German restaurant is known its over-the-top Christmas decorations, which regularly emerge around May every year.
So, stop by, take in all the lights, gawk at the Christmas ornaments everywhere, and get a vanilla spiced egg nog for me. Just be aware that the drinks are strong and the food is just OKAY..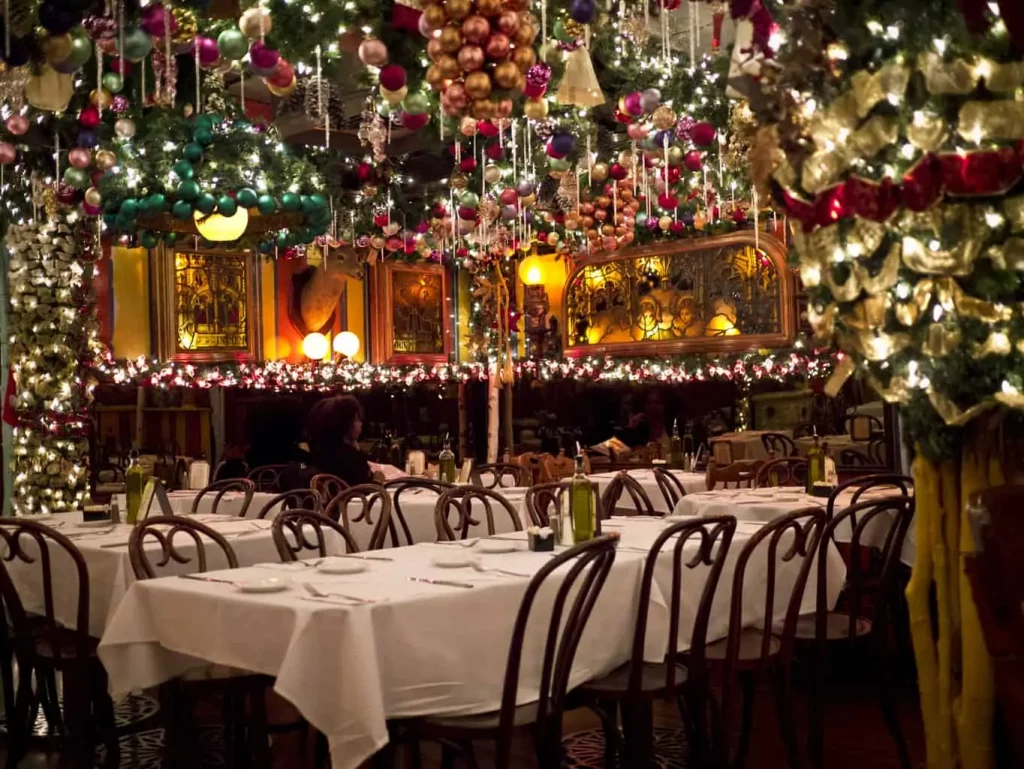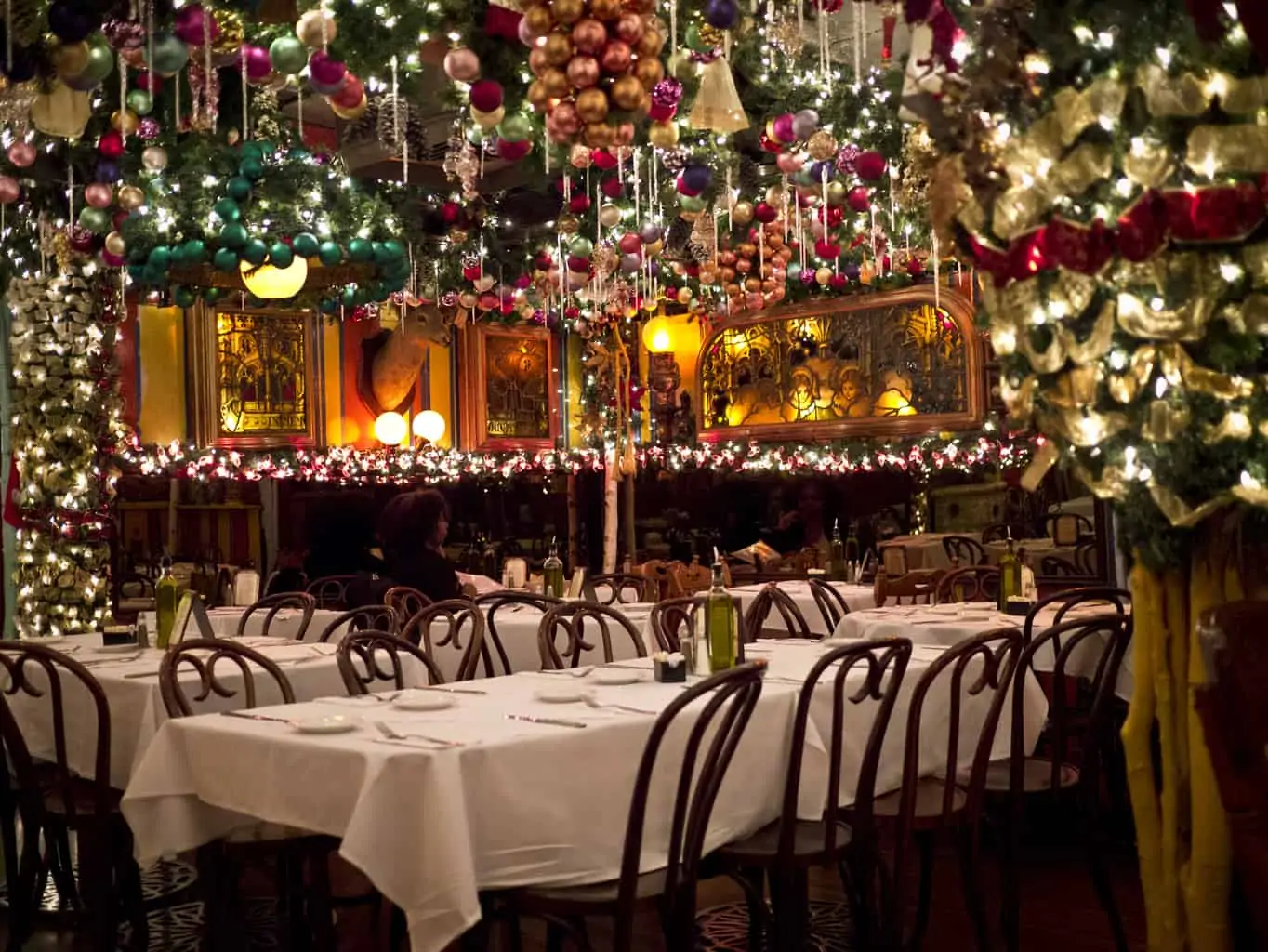 119. Visit Economy Candy
This fine purveyor of all things candy has been around since 1937 and is packed to maximum capacity with varieties of candy that are sure to satisfy even the pickiest of eaters. So, add this place to your NYC bucket list and take something sweet home with you.
120. Brunch Like a Boss at Jack's Wife Freda
This restaurant is epic with a capital "E" and is known for its delicious Mediterranean fare. And while they have locations all over the city, I usually head to SOHO and get either the rosewater waffles or the green shakshuka.
Just prepare for a wait since, DUH, this place is popular.
121. Get Some Dessert at Stuffed Ice Cream
Not only are the desserts here super Instagrammable, but they are insanely delicious since this Ukrainian Village hot spot is known for serving up delectable donut ice cream sandwiches that are referred to as "cruffs".
Try the Thai Kwon Dough (Thai tea and Vietnamese coffee with almonds and condensed milk) and then me later.
122. Pick Something Up From Milk and Cream Cereal Bar
This eclectic ice cream shop is known for cereal-infused milkshakes and soft-serve ice cream. So, stop by and head back to your misspent youth by ordering their Cookie Crisp Carnival (Cookie Crisp cereal, cookie dough, and oreo),
NYC Bucket List – Brooklyn
123. Check out the Transit Museum
This ultra-rad museum is housed inside a historic subway station from 1936 and educates visitors about the history of public transportation in NYC.
In total, there are 20+ historic subway cars and train cars to discover – making this an essential NYC bucket list item for anyone with kids.
124. Explore Brooklyn Bridge Park
This lovely oasis of greenery overlooks the East River and is an ideal place to relax while taking in delightful views of the Brooklyn Bridge and the greater Manhattan skyline. If you have time, go for a spin on the historic Jane's Carousel, which dates back to the 1920s.
125. Check Out Prospect Park
This place is basically Brooklyn's version of Central Park and has been enchanting residents since ye olde 1867. It also occupies a massive, 585 acres and is home to a winter ice rink, a zoo, a lake with boats for hire, free concerts, and a Farmer's Market on Saturdays at the Grand Army Plaza Entrance.
126. Grab a scoop at Ample Hills Creamery
Yup, this company does ice cream really well and you can't leave Brooklyn without getting a scoop of their decadent ooey gooey butter cake, which is made with vanilla ice cream and St. Louis-style butter cake. In fact, it's the stuff that NYC bucket list dreams are made of.
127. Visit the Brooklyn Museum
This place puts the ass back in massive since it features upwards of 1.5 million artifacts that include Egyptian sarcophagi and modern art exhibits. If you can stop by the first Saturday of the month since they host regular free live music events that are a ton of fun.
128. Check out Great Street Art at the Bushwick Collective
Catch a train to Bushwick and marvel at a giant collection of some of the best murals in the city. The fun starts at Wyckoff Ave and features a wide array of work from some of the best street artists in the world.
129. Head to Coney Island
This seaside amusement park sits at the southern end of Brooklyn and is known for its enchanting beach, its expansive boardwalk, and its historic amusement park.
So, after catching a ride on the Cyclone (roller coaster) and the Wonder Wheel (Ferris wheel), check out the New York Aquarium and enjoy a minor league baseball game at MCU Park.
130. Grab some pizza from Totonno's Pizzeria
This place has been in business since 1924 and sells some of the best pizza I've ever had. It's also located right near Coney island so do NOT leave the area without stopping here first.
131. Go Thrift Store Shopping in Williamsburg
This vibrant Brooklyn neighborhood is home to some of the best budget shopping spots in NYC. So, if you're short on cash and looking for some great deals, then add stores like Monk Vintage, Buffalo Exchange, and Mother of Junk to your NYC bucket list.
132. Stroll through the Brooklyn Botanic Garden
This idyllic place is known for hosting a stellar Cherry Blossom Festival and for housing an amazing Japanese garden, complete with a Shinto Shrine.
The Discovery Garden is also fun for kids and visitors will love "pay what you wish" admission during the week from December through February.
133. Walk the Brooklyn Bridge
Start in Brooklyn and walk to Manhattan as you enjoy some of the best views in the city. Also, be sure to wear comfortable shoes and to arrive first thing in the morning if you want to beat the crowds.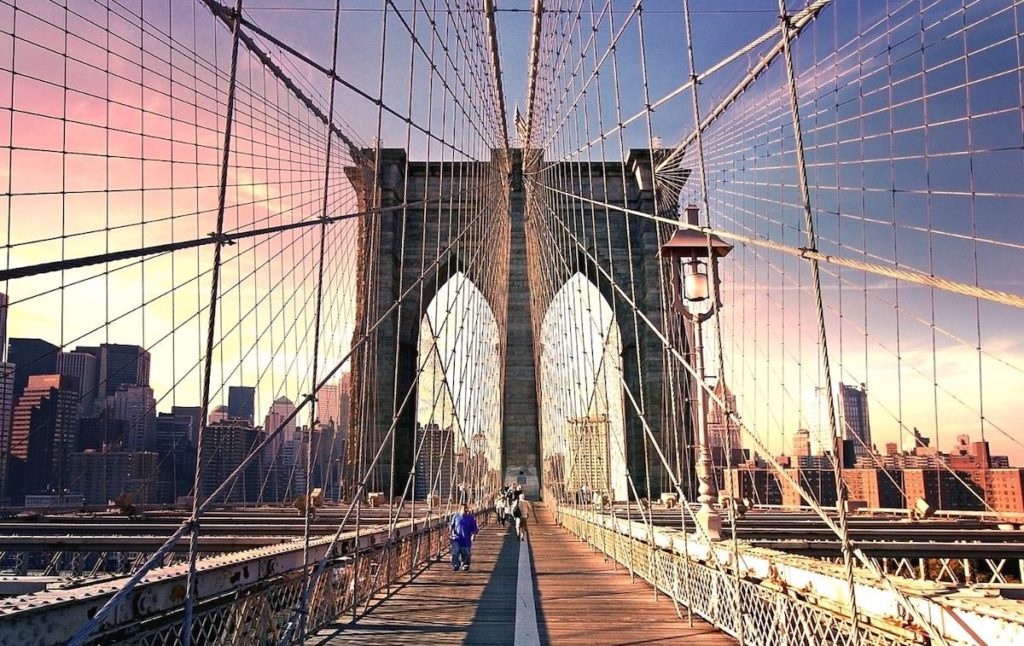 134. Watch the Mermaid Parade
Don your best Mermaid-inspired attire and head on over to Coney Island for the annual Mermaid Parade. It usually takes place between June 20th and June 22nd and is the largest parade in the country. It's a super fun, incredibly unique event that should be on everyone's NYC bucket list.
135. Enjoy Lucali's Famous Pizza
If you don't feel like schlepping all the way out to Coney Island then head over to Carroll Gardens and sample some of the best pizza in Brooklyn. In fact, Lucali's makes some of the finest Margherita pizza in the city and serves it with an incredibly thin crust and some fresh basil for added awesomeness.
136. See What Smorgasburg is All About
This giant open-air market is held on the weekends between April and October and is known for hosting 60+ vendors that serve patrons creative culinary delights like pizza cupcakes, Reina pepiada arepas, and german dumpling sandwiches.
137. Get creeped out at Green-Wood Cemetery
I know it seems weird to have a cemetery on this NYC bucket list but this is where you'll find Battle Hill, aka the tallest point in Brooklyn. So, soak up the panoramas of Manhattan, visit some famous graves, and say hello to the resident green-monk parakeets. for me. Just don't get pooped on.
138. Explore DUMBO
Short for "down under the Manhattan Bridge Overpass", DUMBO is an amazing waterfront neighborhood in Brooklyn that is filled with cobblestone streets, hipster chic boutiques, delicious restaurants, amazing photo ops, and awesome street art.
So, add this neighborhood to your NYC bucket list, and be sure to grab some pizza from Juliana's while you're here.
139. Hunt for Bargains at Brooklyn Flea
This is easily the most famous flea market in the city and is beloved by eager bargain hunters who are looking for well-buried treasure during the weekend. Plus, after fervently seeking out authentic antiques, hit up one of the amazing food vendors here too.
140. Take THAT Iconic Shot of the Manhattan Bridge
While you're in DUMBO, head to the intersection of Washington and Wall Street and snap a photo of the Manhattan Bridge framed by two brick buildings that sit along a cobblestone road. Also, try to line your shot so that the Empire State Building sits in between the legs of the bridge.
141. Listen to the Tabernacle Choir
This famous Mormon Choir has over 280 members and has been performing for music lovers for over one hundred years. So, see them live at the Loew's Metropolitan Theatre, and understand for yourself why they won no less than six different Grammies.
142. Check Out the Brownstones
To see the best brownstones in Brooklyn, head to local neighborhoods like Fort Greene, Carroll Gardens, and Park Slope (near 5th and 7th Street at Garfield Place).
143. Have a drink at the Long Island Bar
Add this Cobble Hill cocktail lounge to your NYC bucket list and enjoy the vintage vibes of this warm and welcoming place. The bartenders are also on-point and serve exceptional gimlets and a high-octane Boulevardier to chill crowd.
144. Grab a Beer at Grimm Artisinal Ales
This local brewery can be found in East Williamsburg and is known for creating unique flavors of beer that are made using things like gummy bear hops.
You'll also love that delicious Middle Eastern fare is available on-site and created with love by fan faves Samesa as guests sit inside a Scandinavian-inspired dining room. So, add this place to your NYC bucket list and start off with the Living Daylights (mild,dry-hopped sour ale) on tap.
NYC Bucket List – Queens
145. Experience the Museum of the Moving Image
Another epic museum in NYC, this institution celebrates the beauty of the moving image and introduces visitors to the historic start of "Hollywood" in little old Queens, New York.
In total, over 130,000 artifacts are featured here – like the Muppets – and visitors will love free admission on Fridays between 4:00 pm and 8:00 pm.
146. Grab a Meal in the BEST Chinatown
Head to Flushing and inhale some food from NYC's REAL Chinatown. And while you're here, check out Hunan House Spicy and Tasty in the New World Mall and get their Mapo Tofu. Or, if you're more of a seafood person, add the Dungeness Crab with sticky from New Imperial Palace to your NYC bucket list.
147. Relax on Rockaway Beach
Whether you want to surf or sunbathe on the soft white sand, Rockaway Beach is a great place to add to your NYC bucket list if you're visiting during the summer.
148. Walk through the Socrates Sculpture Park
Once an icky landfill, this place was transformed into an outdoor sculpture park in 1985 and offers visitors sweeping views of Manhattan from Long Island City. Plus, while you're here, you can even enjoy some complimentary kayaking at the LIC Community Boathouse.
149. Feel the Serenity at the Noguchi Museum
Add this place to your NYC bucket list if you're stressed out and need a whole lot of calm in your life. After all, this lovely art museum sits inside the former residence of sculptor Isamu Noguchi and is now a collection of minimalistic sculptures and drawings that you can enjoy – complete with a beautiful Japanese garden too.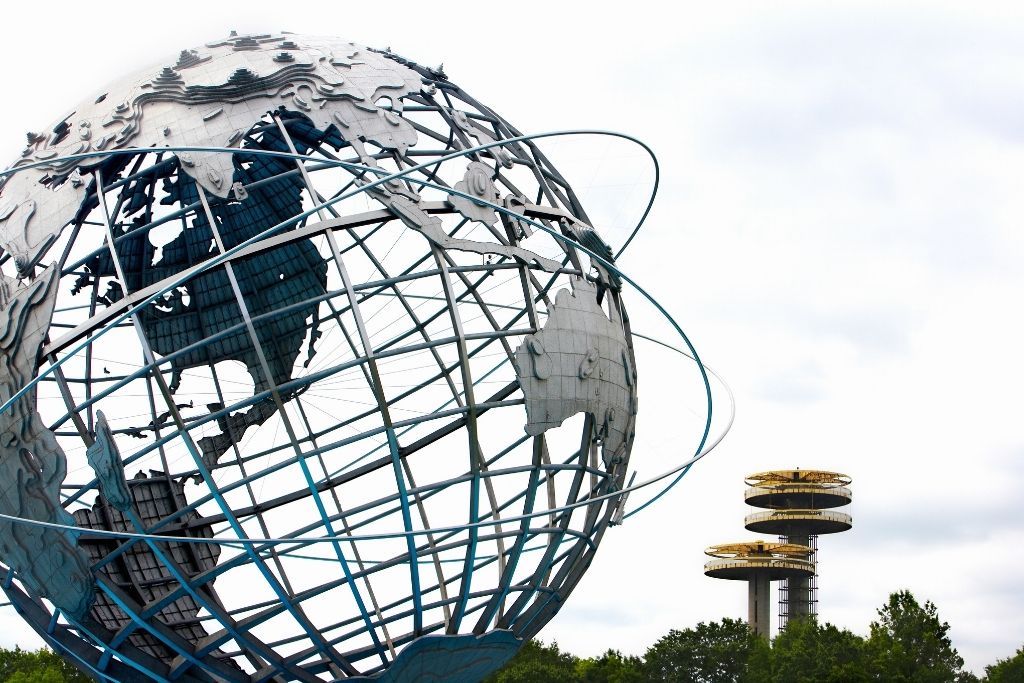 150. Check Out Flushing Meadows Corona Park
Home to the US Open and built to accommodate the 1964 World's Fair, a visit to this 900-acre park is a must add to your NYC bucket list. Especially since you can visit the Queen's Zoo, see where the METS play baseball at Citifield, and experience the New York Hall of Science.
151. Walk through Fort Totten
Head to Bayside and visit the remnants of a historic fort that was first constructed in 1862 to defend the city during the Civil War. There's also a rad neo-gothis castle in the heart of the park that used to house local officer's living on the military base here.
152. Check Out the Louis Armstrong House
If you love jazz even a little bit then swing (get it?) by the Louis Armstrong House and see where the jazz legend lived for the majority of his life with his wife Lucille. You'll even enjoy a 40-minute tour of the small brick home and see tons of artifacts from this iconic trumpeter's life.
153. Inhale Some Dumplings at White Bear
Yeah, these NYC bucket list worthy dumplings will change the way you feel about Chinese food. So, get the number 6 and savor delicious pork dumplings with chili oil on top. Yup, these are the nuggets of delight that all the big kids crave.
NYC Bucket List – Staten Island
154. Grab Some Dessert at Haltermann's Bakery
This institution of confectionary delight has been in business for over 150 years and is known for baking old-school desserts like Pullman Bread and Charlotte Russe – the latter of which is a sponge cake filled with jam and topped with whipped cream.
155. Step Back in Time at Richmond Town
This 100-acre park includes over thirty residences that look like something straight out of 1958. This NYC bucket list place is also home to the oldest continually running farm in the city and is an area that hasn't been reconstructed in any way.
156. Visit the Alice Austen House
Step inside this Dutch-Colonial home from the 17th century and marvel at the incredible work of Elizabeth Alice Austen – an amazing photographer who once lived here. In fact, you'll find 8,000 photos that chronicle the realities of life in the late 1800s and early 1900s on display.
157. Check Out the Chinese Scholar's Garden
Featuring a full-scale garden that was actually created in China and then moved here, the Chinese Scholar's Garden is a serene NYC bucket list activity filled with waterfalls, koi ponds, Chinese pavilions, paintings, calligraphy, and more.
158. Grab a Drink at the Coupe
Easily one of the best bars in Staten Island, The Coupe is a great little cocktail bar where you can sip on a supremely strong Negroni and expertly pair it was a delicious cheese platter from Murray's. Plus, food is available until 4:00 am, so you now really can party all night long.
159. See the Conference House
Add this stunning stone mansion from 1680 to your New York City bucket list if you want to learn all bout life in Colonial America while touring a house where 3-hour failed peace talks were facilitated between the American and Brits in 1776. Just don't forget to go outside and admire the impressive views of the water.
160. Grab Some Italian Food at Giuliana's Ristorante
This posh Italian restaurant serves up some of the best food in Staten Island and is an essential part of any NYC bucket list. They also have a fab outdoor patio where you can savor homemade cheesecake and pistachio gelatto. Plus, their entrees are really good too, with the Rigatoni Bolognese being a must-try.
Pro Tip: Giuliana's has a great pre-fixe menu available Tueday through Thursday, from 3:00 pm to 8:00 pm, for just $23.95 per person.
NYC Bucket List – Bronx
161. Visit the Bronx Zoo
Easily one of the premier wildlife conservation institutions in the world, this is a zoo that cares about their animal's and that creates amazing habitats for them. So, take a ride on the Wild Asia Monorail, say hi to the gorillas at the Congo Gorilla Forest, ride the bug carousel, and meet rainforest animals at Jungle World.
Pro Tip: Try to visit on a Wednesday when tickets are "pay what you wish" for this New York City bucket list activity.
162. Check Out Wave Hill
This stunning, 28-acre park can be found in Riverdale and is brimming over with contemporary art, well-manicured gardens, gorgeous greenhouses, and stunning views of the Hudson River.
163. Attend a Yankees Game
You know how the Cowboys are kind of like America's football team? Well, the Yankees are kind of like America's baseball game.
Therefore, one of the best best NYC bucket list activities is to catch a game at Yankee Stadium. Just grab cheap tickets the same day at Stubhub and take the train here from Harlem 125th (you could also catch the 4/5/6 subway lines to the stadium too).
Pro Tip: Don't leave the stadium without getting some garlic cheese fries from the food vendor on the lower level.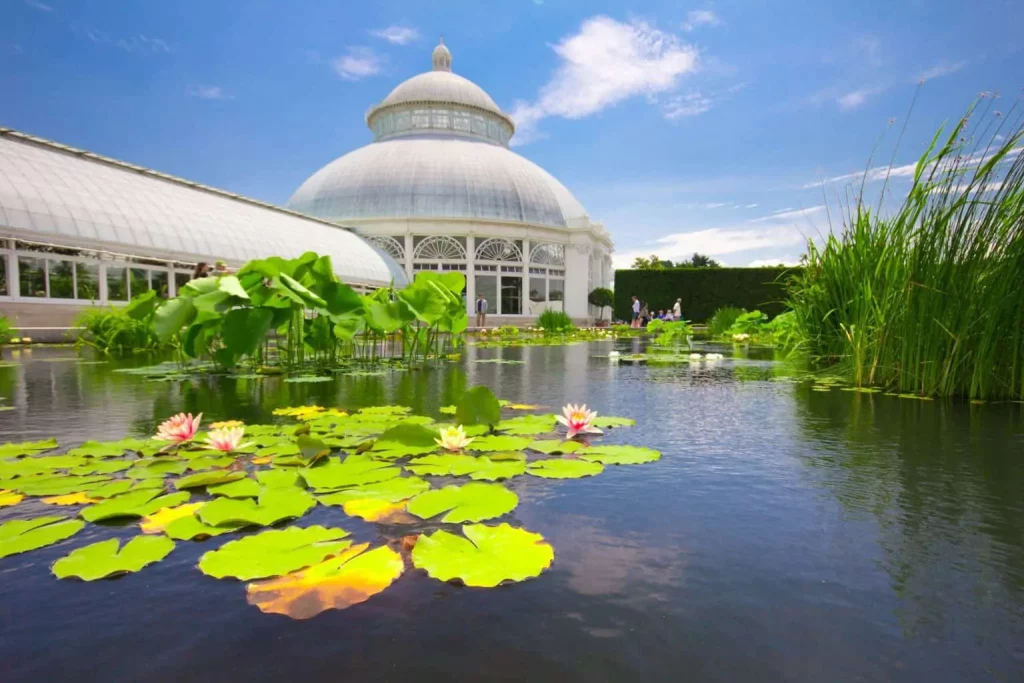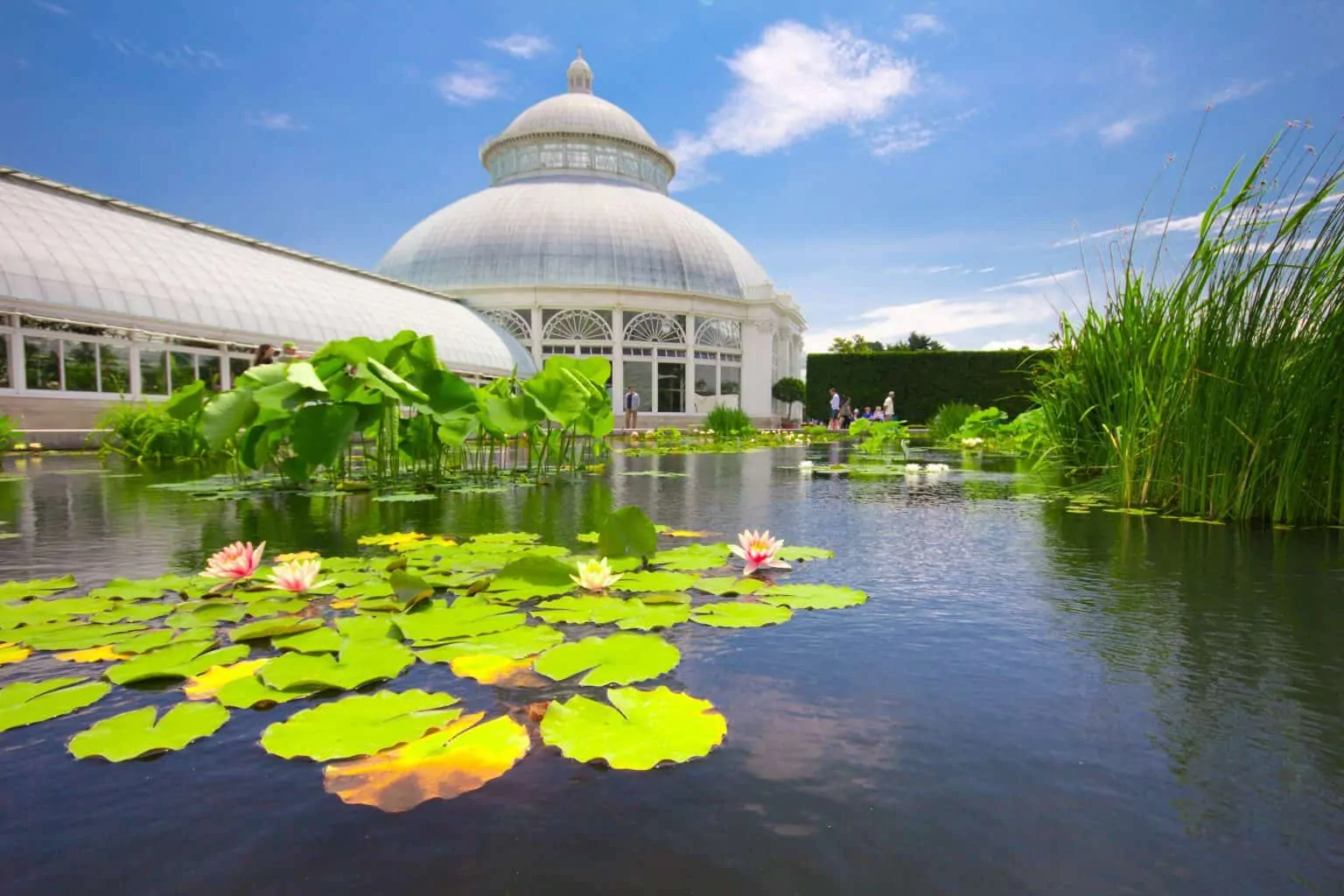 164. Explore the New York Botanical Gardens
This garden is so awesome that it officially has its own train stop along the MetroNorth train line. Therefore, spend the day exploring this 250-acre park and enjoy local highlights like the Azalea Garden, the Children's Adventure Garden, the Lilac Collection, and more.
Just don't leave without taking a photo of the stunning, Victorian-inspired greenhouse here that is now an NYC landmark.
165. Check Out Arthur Avenue
Skip Little Italy and grab some of the best (and cheapest) Italian food in the city along the Bronx's famed Arthur Avenue. Just catch a train to Fordham station and walk from there to local eateries like Enzo's (for the parmigiana), Randazzo's (for fresh seafood), Calandra's Cheese Shop Casa Della Mozzarella, Borgatti's Ravioli, and Egg Noodle (eat all the ravioli).
166. Take a Stroll through Van Cortlandt Park
This insane, 1146-acre park is home to a wide variety of fabulous nature trails that are just waiting to be explored by anyone who wants to check out some of the best hikes near NYC.
However, no trip here would be complete without a stop at the 18th-century Georgian-inspired home here that is famously known as the oldest house in the Bronx.
Map Of NYC Bucket List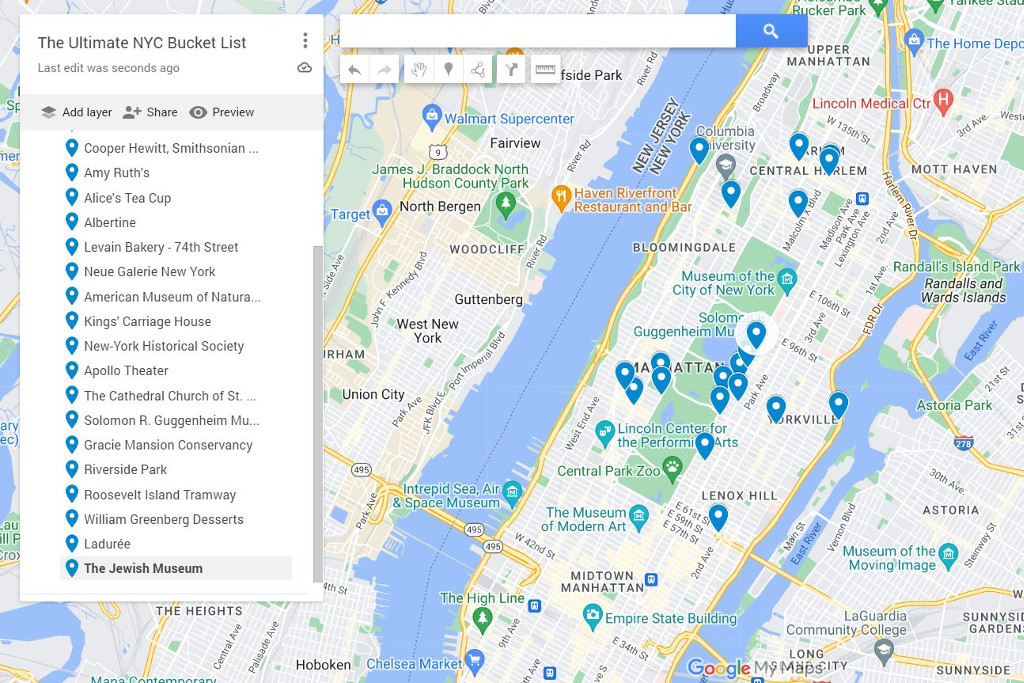 Click here to see the full map
Ultimate NYC Bucket List FAQ
What Is The Most Popular Thing In NYC?
The Empire State Building and the Statue of Liberty are two things that top the list when you ask New Yorkers what the most popular thing in NYC is.
Times Square is also very popular. It is very touristy and definitely not one of my fave venues in the city.
BUT if you are a first time visitor in the city, I suggest braving the crowds to visit at least once. It is an experience in itself. Just don't shop here because the prices are exorbitant! There are so many better places to shop in the city.
What Can You Only Get In NYC?
Honestly, in today's world you probably get everything everywhere BUT there are some things that are amazing in NYC. Bagels for example! Yes! Once you try the bagels in New York, bagels elsewhere will lose their appeal. They are that good!
Other things to put on your list include New York cheesecake, Olde Brooklyn coffee, New York pizza and Timberland boots!
What Is The Best Time To Travel In NYC?
There are however two peak tourist seasons. The first one is in summer. It should not come as a surprise. Fall and spring are without doubt the best times to travel in NYC. This is because the weather is great and you can explore the city without running indoors to warm yourself every hour or so.
The second season is winter. People head to the city to enjoy Thanksgiving and Christmas. The city is lit up with festivities at this time of the year.
Additional New York Resources You'll Love
There you have it! That just about wraps up this epic NYC bucket list!
Tell me, did your favorite New York City bucket list activities make the cut? If not then let me know in the comments below!
And if you found this post useful, be sure to join our email list before pinning this post now so that you can read it again later.