Traveling to New York but not sure what to wear in NYC in summer? If so then this my friend is the guide for you.
After all, I'm a 30+ year local who knows all about the hot and humid weather that regularly inundates the area all summer long.
Therefore, I understand what to wear in New York in summer to help you stay cool while still looking fly like a G-6.
So, if you want to survive the summer heat but still look and feel like a real New Yorker, then this is the post for you.
Because I'm about to share all of my insider tips about what to wear in NYC in summer so that you don't overpack, can stay comfortable, and feel stylish AF.
This post may contain affiliate links. Please see my disclosure for more information. As an Amazon Associate, I earn a small commission from qualifying purchases.
Where to Stay in NYC in Summer
Yes, NYC really is expensive AF. However, regardless of your budget you can still find a decent place to stay as you figure out what to wear in NYC in summer.
So, if you're not sure what hotel to rock out at while enjoying the sweet sweet summer rays in NYC, then this section is for your.
Pod 39 is perfect for anyone on a budget since rooms here are small but private and affordable.
You'll also love that this place is in Murray Hill and close to some of the best Indian food in the city. Plus. modern rooms feature queen-sized beds, TVs, night tables, and even sit inside a historic residence from 1918.
Well located in Hell's Kitchen, sleek rooms at this establishment include Belgian linens, iPod docks, flatscreen TVs, and stunning views of a central courtyard.
Probably the single nicest hotel in the city, Lotte New York Palace occupies a former 19th-century mansion and sits just across the street from St. Patrick's Cathedral.
Everything here is also super upscale since rooms feature flatscreen TVs, designer toiletries, and more. Plus, guests can make use of an on-site spa, a French bakery, and a modern bar too.
The Weather in NYC in Summer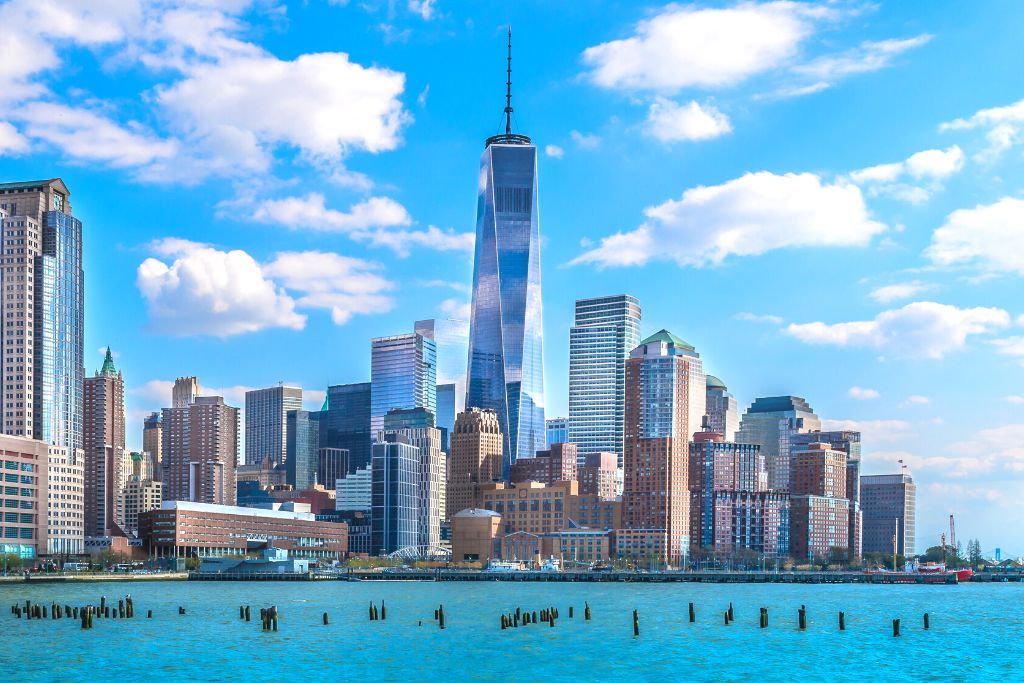 As a native New Yorker, people often ask me about the weather in my home city. Is it hot? Is it windy? We know how cold it gets in NYC in winter, but please tell us about summer!
Well, here it is: what's the deal with summer weather in NYC? Summer time is hot – that's the story, y'all. It's not exactly breaking news, I know.
But New York City has its hottest months in July and August. Temperatures average in the mid-seventies day to day, with occasional highs getting up into the eighties and sometimes even topping 90°F.
It also rains a lot in NYC during the summer! What can I say? East Coast temperatures plus East Coast location equals a lot of water falling from the sky (thank you for coming to my TedTalk on what to wear in NYC in summer).
And while spring is when it rains the most in NYC, the summer months still throw down a significant amount of showers and storms.
But don't worry! My list of what to wear in New York in summer will prepare you for pretty much any eventuality. Come rain or shine (or both) we can't wait to welcome you to the greatest city in the world!
What to Wear in NYC in Summer – 15 Essentials
⭐️ Rating: 4.2/5 (148 Reviews) Price: $23.99 Details: Read more on Amazon!
When I think of my summer look, I often start with an iconic summer hat! Because if people see you in one of those, they know you're on your way to a fun, sun-drenched vacay!
Remember: summer in NYC is not just a season, it's a state of mind!
So, if you're wondering what to wear in NYC in summer, this cute little straw Panama sun hat is the perfect mix of fashionable and functional.
I mean, we all need to stay protected from the sun's harsh rays. But, you don't want to show up to the city looking like some kind of heavily covered vampire, amirite?
"We love these hats! The idea that this was a Unisex item really made our day! We received several compliments!"

Millie (read more reviews now!)
Fortunately, the brim of this sun hat is wide enough to keep the bright New York sun out of your eyes. However, it's not so wide that it'll be flopping all over your shoulders!
Therefore, it'll deffo keep your face, neck, and shoulders protected from sunburn. Plus, the sweatband will stop you from looking like you just ran a mile to the beach!
It's also hella flexible. Therefore, you can wear it to the beach or roll it up and put it in your suitcase.
This way, you can quickly throw it on when you decide what to wear in New York in summer on arrival.
That's why, any time you're looking to spend summer in New York City, a hat like this will go a long way towards helping you have a good time and allowing you to look great while doing so!
⭐️ Rating: 4.1/5 (48 Reviews) Price: $198 Details: Read more on Amazon!
Summer means heading to the beach. Right?
Yeah, it's basically the first thing I think of when daydreaming about my next summer vacay: how can I get myself onto a beach towel on an amazing beach with a cocktail in my hand?
And yes, this cocktail will preferably with a tiny umbrella in it.
Anyway, if you're looking to enjoy all of the very best beaches near NYC, you're going to need a top-quality bathing suit.
"This suit is very flattering. Very snug to get on, but fits beautifully if you are patient pulling it on."

Jinks (read more reviews now!)
Something comfortable and stylish that also looks super Insta-friendly.
Well, for all of the above, opt for the Miraclesuit Swimwear bathing suit!
When I first saw this bathing suit, I thought, "er, that's not a bathing suit, it's a dress." But it legit is an authentic piece of swimwear, that just happens to look like a fun party dress too.
On top of looking great just on its own, it will also make you feel great, thanks to the slimming properties of the fabric it's made of, which are even more powerful than lycra.
Yup, works for me when deciding what to wear in New York in summer.
This way, you'll look amazing, you'll feel amazing, and you'll be ready to enjoy the beach now that you've sorted out what to wear in NYC in summer!
⭐️ Rating: 4.6/5 (897 Reviews) Price: $79.95 Details: Read more on Amazon!
One thing that's great about summer weather in NYC is that you can let your feet breathe.
As a local, I can tell you that when you're thinking about what to wear in New York in winter, you'll want to wrap yourself up as much as possible. And that 100% includes your feet!
On the other hand, planning what to wear in NYC in summer is a breeze!
And when it comes to your feet, that means you're going to want some footwear that will let your feet see the light of day (finally).
"Just what my aching feet needed. Great arch support and comfort. Took a few days of wearing them to get use to them, but now they are my favorite."

Javier (read more reviews now!)
So, packing a pair of these sassy summer sandals is a no-brainer.
Not only are they good for strolling down the beach, but they can carry you around the whole of New York City without giving you any discomfort or making you feel out of place.
They're also super stable, almost unbelievably comfortable, and literally built for making your feet feel as relaxed as possible. Not bad for a humble sandal!
And if that wasn't enough, these sandals even have orthopedic properties too!
Therefore, wearing these will help ease any joint pain in your ankle or your knees since these sandals are designed to put less strain on the muscles in your feet. Heck, they even feature high arch support too.
So, wherever you go on your next NYC summer vacation, you'll be getting there comfortably by rocking these sandals when deciding what to wear in NYC in summer.
⭐️ Rating: 4.6/5 (66,956 Reviews) Price: $53 Details: Read more on Amazon!
Summer is the time to get out and about. After all, It's not all about lying on the beach just soaking up the sun.
I mean, there are tons of amazing outdoor activities in NYC you'll want to take advantage of.
And you're going to need some high-performance footwear to help you eat up those miles!
Therefore, wearing a shoe that's comfortable and lightweight will help active visitors to the Big Apple stay comfortable on their feet all day long.
"These shoes are so comfortable. Great cushion. Perfect for spring and summer. Got them for trip where we will do a lot of walking. Very breathable so perfect for warmer weather, not so much colder weather."

Leigh (read more reviews now!)
Especially if you plan on checking out things like the best parks in NYC, and we have a lot of those, y'all!
That's why picking up a pair of these Adidas Cloudfoam running shoes will be one of the best decisions you can make when deciding what to wear in NYC in summer.
Comfort is the aim of the game with these sporty shoes, especially if you're planning on being active.
I mean, you can walk around all five boroughs in these and you'll think you're walking on a cloud!
In fact, that's kinda the point: the Cloudfoam lining makes these sneakers some of the most comfortable you can buy.
But, despite the modern tech in these shoes, they're completely vegan – no animal products used at all, making them a super ethical choice when deciding what to wear in New York in summer.
⭐️ Rating: 4.7/5 (1,119 Reviews) Price: $18 Details: Read more on Amazon!
Obvs you don't want your bare feet working away inside your summer shoes. Therefore, you're gonna need some sweet socks to go with your new fave pair of kicks.
And while we're "on brand," what better sock to go with an Adidas shoe than an Adidas sock? It's almost like they planned this!
These low-cut athletic sports socks work great with a running shoe, giving you the most exposure to the sun while still keeping the main part of your foot covered and comfortable.
"These are my favorite socks. I bought them once, loved them enough to buy them again. Buying them for the third time! They're great for working out, walking, or just daily wear on sneaker days."

Jennifer (read more reviews now!)
Plus, the arch features some stretchy compression fabric which secures the sock to your foot and provides you with some much-needed support.
It's also made of moisture-wicking yarn, which means that even after a long day exploring New York City in the summer your feet will be nice and dry!
Plus – and this might be the Number One Most Important Part of these socks – you can mix and match the colors with your shoes. Hey, it's the little things in life when deciding what to wear in NYC in summer, right?
⭐️ Rating: 4.3/5 (1,981 Reviews) Price: $21.99 Details: Read more on Amazon!
Sometimes you just want to throw on a shirt and head out into the sun!
Fortunately, you don't have to agonize over what band t-shirt or sports jersey to wear. Instead, just pop in on a bright-colored loose-fitting shirt and you'll be good to go.
Yup, it's about time to feel that sweet summer breeze!
And Ownow's v-neck pleated shirts are perfect for reflecting your fun-in-the-sun energy. They come with long sleeves or in a t-shirt style. And, duh, they're super cute too!
"I love this shirt. So nice and cool for the summer."

Michelle (read more reviews now!)
Choose from dozens of different colors and patterns to best suit your sweet style as you figure out what to wear in NYC in summer.
Added bonus? They're extremely breathable, and they work well with shorts, pants, jeans, and leggings – or anything really TBH!
Yeah, your casual summer shirt will complete and complement any look you create perfectly.
And while the sleek pleated sides are not super obvious, they give these shirts that extra little something extra to set them apart from a regular t-shirt.
For me, this piece is a perfect addition to your "what to wear in New York in summer" packing list. After all, in summer you always include at least a couple of shirts like this.
⭐️ Rating: 4.2/5 (39,647 Reviews) Price: $32.99 Details: Read more on Amazon!
Ah, the humble summer dress. It's a classic look, and for good reason.
For some people, there's no need to wonder what to wear in NYC in summer, because these vibrant, flowing outfits are what the season is all about!
Whether it's spots, stripes, bright colors, or floral patterns, DB Moon summer dresses have got you covered, literally!
These long, knee-length dresses are perfect for spending a summer vacay in NYC. They're cute and comfortable, and they have … wait for it … pockets.
"I'm 5'2 and wears a US size 14. I got the XL sunflower dress and it was true to size. Material is stretchy/comfortable and fits perfectly! Definitely recommend this dress!"

Mai (read more reviews now!)
POCKETS, ladies. Discreet, deep pockets that can actually be used to put things in! It's a miracle, I swear.
Honestly, the total lack of pockets in female clothing is a crime IMO. Fortunately, no such trouble here!
Plus, you won't look out of place anywhere in one of these summer dresses. After all, they've got a beach vibe, they're street chic, and you'll even blend in at a sophisticated artistic function.
Trust me, you can't lose!
Plus, each dress has its own unique look. So, once you decide on a pattern, the print design is applied in a random way.
Basically, no two dresses look exactly the same. And I for one think that's pretty dang cool.
⭐️ Rating: 4.2/5 (633 Reviews) Price: $75.95 Details: Read more on Amazon!
As I mentioned before, it rains a whole lot in New York City. Even in summer!
Believe me, nothing can take you out of that vacation mood quicker than an unexpected cloudburst, even if you actually like getting caught in the rain!
But, if you prefer to stay warm and dry, you don't have to let NYC's temperamental weather spoil your fun!
Because this Cole Haan packable hooded rain jacket will help keep you in that summertime spirit!
"Has a bag attached to one sleeve. I tuck it in but may cut off. Perfect fit in petite XS with room for jacket or sweater underneath."

Lois (read more reviews now!)
It's light and breezy, so you won't overheat in the hot summer sun while you're wearing it.
Plus, the longer length of the coat is great! It will keep you more protected from sudden showers while remaining stylish AF, especially with the cute little bow in the back!
This jacket is also super travel-friendly since it's compact and takes up minimal space in your carry-on. Therefore, you don't have to get soaking wet while you're exploring NYC this summer.
Hey, It's even machine washable! Need I say more?
Honestly, I love this jacket so much that I've discussed this amazing piece of practical urban clothing before in my article on what to wear in NYC, and it's just as good as it was then!
⭐️ Rating: 4.4/5 (5,4 Reviews) Price: $29.99 Details: Read more on Amazon!
Want to show off those legs all summer long? Or, are you just looking to get a tan line higher than your ankle (we've all been there)?
If so then it might be time for some stylish summer shorts when considering what to wear in NYC in summer.
In fact, if you want to avoid the stress of having to pick out the perfect summer outfit then a simple light top with a set of bright pastel shorts will work for almost anyone.
"Great pair of Bermuda shorts. Perfect length. Not too short. Comfortable fabric. Light weight. Love these."

L. Richards (read more reviews now!)
It's actually a great outfit for those of us backpacking across the globe in addition to being simple, practical, and straight-up fun!
And the simple style of these Lee Chino Bermuda Shorts is exactly what I'm talking about here.
Just pack a couple of pairs of these shorts into your suitcase and you'll solve half your what-to-wear stress problems right there.
They're modern and elegant, and of course, they have pockets. I believe I mentioned the joys of pockets earlier? Pockets in the front AND in the back. It's a multi-pocket extravaganza!
The addition of belt loops also means you can accessorize these stunning shorts with all manner of belts and belt buckles as well, making these shorts highly customizable!
10. Summer Pants
⭐️ Rating: 3.9/5 (8,613 Reviews) Price: $41.55 Details: Read more on Amazon!
Of course, sometimes you just want to avoid the sun.
After all, sunburn sucks. Yeah, I think we can all agree, and being able to move around without having to worry about burning your legs can take some stress out of your life and help you enjoy New York City in the summer.
So, you want to stay covered up, but don't want to overheat and be uncomfortable either. What a dilemma!
Fortunately, there's no need to think too hard about what to wear in New York in summer without feeling the burn later. You just need some of these Roxy Oceanside Pants!
"Bought these for vacation. After reading reviews, i sized up. And they fit. Very low on hips. But they fit and are cute and comfy!"

FitPosh (read more reviews now!)
These long, soft, linen pants are perfect for long walks along the beach, and for generally chilling out. They also feel super comfortable against your skin and have a casual feel while remaining hella sophisticated and chic.
Plus, the simple string drawcord around the elasticated waistband adds to the carefree summery vibe of these pants. Yup, they're simple, lightweight, and easy to pack and take care of.
So, regardless of whether you've got long legs or shorter legs, these summer pants will be the perfect accompaniment to your summer stay in NYC!
⭐️ Rating: 3.9/5 (8,613 Reviews) Price: $41.55 Details: Read more on Amazon!
A good scarf can become a staple of your "what to wear in NYC in summer" packing list – I know it has on mine!
Whereas a thick woolen scarf will protect you from the cold in winter, the right light scarf can keep the sea breeze from chilling your shoulders while also preventing the sun from burning your neck.
But, there are some scarves that do even more than this. I'm talking about the Coolibar Sanibel Everyday Beach Shawl.
Seriously, this thing is so multi-purpose that you might feel like it's helping you out in the most unexpected places!
"Absolutely love love these pants. What I have been looking for – low waist, pockets, not see through. Hoping they don't shrink in wash but as is, will buy in more colors!"

Amber (read more reviews)
After all, this scarf is made of special ZnO fabric that is derived from a cotton/bamboo mix, which means it's super lightweight and very soft to the touch.
Also, by wearing this, you'll be protected from the sun as the scarf stops 98% of UV rays.
And because of its unique design, it works not just as a scarf but as a beach blanket too.
Therefore, you could easily use it as a cozy blanket to fight the AC on your flight to NYC. It even does a good job keeping you dry in the rain! #justsayin'
⭐️ Rating: 4.2/5 (6,408 Reviews) Price: $39.89 Details: Read more on Amazon!
If you want to be effortlessly stylish then you really can't go wrong with a day to night jumpsuit. I usually advocate picking a self coloured one. That way you can really flaunt your style during the day. Maybe accessorize it with a scarf.
Swap the shoes with heels at night and you are ready to hit the town! Odds are you won't even need to do that.
"I just received my jumpsuit and tried it on. It fits quite well. I ordered the one that is sleeveless, not the spaghetti straps. The material is really soft and it hangs perfectly on me. I'm 5'7" and 143 lbs and ordered the medium.

The length is perfect as well. This can be dressed up or down depending on shoes and accessories. I had previously ordered a similar jumpsuit from Victoria Secret and it doesn't fit well at all. I would definitely recommend."

A Warren (read more reviews now!)
I mean, take me for example. I get carried away when I'm exploring NYC. Before I know it, I'm at the other end of town! This way I don't have to worry about a change of clothes to hop into a bar at night.
Pro Tip: Keep some cool jewelry in your bag if you want to blend in further!
⭐️ Rating: 4.6/5 (18,616 Reviews) Price: $24.29 Details: Read more on Amazon!
Gotta carry that baggage, y'all.
Because between chargers, cameras, smartphones, books, sunscreen, and water bottles, we've all got things we need to keep with us, and we can't just hold them in our hands as we figure out what to wear in NYC in summer.
So, a good travel bag is essential for anyone working out what to wear in New York in summer. You just wear it on your back, is all!
"I purchased this because the zipper is against my back. We were in Spain in October and a pickpocket was trying to open a backpack by being close behind the person…..I decided to get this to help prevent something like that happening to me as we are going back next month."

Pam (read more reviews now!)
And while I've talked before about the PINCNEL Women's Backpack, I'm going to recommend it again. I'm nothing if not consistent!
It's simple, it's elegant, it comes in black (the best color for slimming) and it has a huge amount of practical storage space and anti-theft protected pockets.
Plus, this amazing backpack can accommodate all your daily essentials plus a 10" laptop – and still looks sleek and stylish. That's why it totally gets a seal of approval in my book.
Plus, it's water-resistant in case you get caught out by the unpredictable New York weather!
⭐️ Rating: 4.6/5 (3,704 Reviews) Price: $155 Details: Read more on Amazon!
Sunglasses are a staple of any summer look. So anyone who wants to look cool will be wearing sunglasses – it's one of the unwritten rules.
It's also kind of a necessity when the sun is shining so brightly in the sky that it feels like it could sear your retinas!
Therefore, if you want to go full NYC and embrace your inner Audrey Hepburn, you're gonna need a pair of dark, fashionable sunglasses.
As for high-class designer eyewear, lots of people look no further than Ray-Ban. Their Erika Round Sunglasses come with lightweight lenses and durable nylon frames.
"Got a deal and so happy I did. These are extremely light weight and a perfect fit."

L Jones (read more reviews now!)
Not gonna lie, these will make anyone look like a Hollywood movie star.
These sunglasses also come in a huge variety of colors, including some I'd never heard of before. Did you know that Turtle is a color according to Ray-Ban? I sure didn't!
One other good thing to know about these sunglasses is that while they are a designer brand they're also comfortable and pretty sturdy.
Additionally, the glass is scratch-resistant, and unlike some knock-off brands, these sunglasses don't fall to pieces the instant you put them on while deciding what to wear in NYC in summer.
And that my friends is what we call a win-win!
⭐️ Rating: 4.3/5 (4,645 Reviews) Price: $34.95 Details: Read more on Amazon!
Okay, I admit that you probably won't exactly be "wearing" a water bottle during your next NYC summer vacation.
But, you'll definitely want one with you at all times in the heat, so I'm making it count when figuring out what to wear in NYC in summer.
After all, staying hydrated is one of the most important aspects of health and wellness. Besides, you can't really enjoy the greatest city in the world if your brain is fried from dehydration!
"Having a wide mouth lid, that's easy to remove allows a bottle brush to clean the bottle thoroughly. It also allows you to refill it easily. I especially like being able to add ice when needed. Having the tip with its own lid, that can screw on and off with one hand.

Makes it easy to hydrate when you only have one hand free. I like being able to secure it at my bedside so even if I accidentally knock it off, there is no spillage easy to pack because the bottle collapses into a much smaller space."

Silvia (read more reviews now!)
So, by bringing a Nomader Collapsible Water Bottle with you to New York you'll be able to keep yourself refreshed and active even on the hottest days that New York City can throw at you.
Plus, these water bottles are highly durable, are completely leak-proof, and can be rolled up to fit into a small space when they're empty, making them an easy fit into your luggage!
So, choose your favorite color water bottle, fill it with ice-cold water, and you'll be good to go.
Plus, here's another reason to make sure a reusable water bottle is on your NYC packing list: a bottle of water in New York City can cost upwards of $3. And that's just for one bottle!
So, your bank account will be truly grateful if you bring one of these with you to the city that never sleeps.
⭐️ Rating: 4.5/5 (374 Reviews) Price: $44.95 Details: Read more on Amazon!
Even though it's one of the most important items on your summer packing list, so many people forget to add sunscreen when thinking about what to wear in NYC in summer.
But, really, it should be on top of everyone's list; you don't get seriously sick by leaving your socks at home, but you might if you forget to bring sunscreen!
It's also important to get the right sunscreen. And a lot of brands don't take into account the harm they can do to the ocean and all the creatures that live in it.
"Perfect for travel to Hawaii. Pleasant scent."

Donna (read more reviews now!)
However, if you use Safe Sea Eco-Friendly Sunscreen, you can be sure that you won't be having a negative impact on the ocean ecosystem.
In fact, it's gentle on sensitive skin, and completely biodegradable. So, you don't have to worry about it polluting the ocean.
So, in addition to protecting you from the sun, this reef-safe sunscreen is actually the world's first jellyfish and sea lice protective spray with SPF40+, which isn't such a bad thing either!
Because no one wants to go to all the trouble of protecting against sunburn only to be stung by a jellyfish!
What to Wear in NYC in Summer FAQ
How Should I Dress In NYC In July?
July in NYC is hot and humid. You will need light cotton clothes. Most people choose tank tops, shorts, summer dresses etc as their go to wardrobe for the season. Pair these with a hat and a comfy pair of sneakers and you are good to go.
Sunscreen is very important at this time of the year. Most people assume that summer in NYC is mild and leave their sunscreen at home. DO NOT make this mistake!
Also, make sure to carry drinking water with you wherever you go. Not only will you feel thirsty walking the streets of NYC, it will help you prevent dehydration.
How Do People Dress In New York City?
New Yorkers are very conscious of their fashion statement. It is after all one of the fashion capitals of the world.
The truth however is that people don't really go out of their way to be stylish. They will always choose comfort over style and they modify their wardrobe based on the weather.
In general, people tend to avoid bright colors. Light pastels are the go to in summer. Blacks are always a favorite because they are so versatile and they do not show dirt.
One of the best kept secrets is that of the summer dress. Wear it with sneakers and hat in the day for the ultimate casual look. Ditch the sneakers for heels at night and don some jewelry. You are now ready to hit the town at night!
What Is The Most Fashionable Place In New York?
If you want inspiration about what to wear in the city, head to 5th avenue. This is without doubt the most fashionable place in the city. It is also one of the most expensive.
So if you have extra cash by all means go ahead and shop here. If not then get your inspiration here and bargain hunt at some of the best shopping districts in NYC.
Do You Need A Jacket In NYC In Summer?
If you are wondering what to wear in NYC in summer and are worried about the cold, don't be. Summers in NYC are generally hot and humid. You don't really need a jacket. The evenings however can bring in a bit of a chill. That's probably the only time you will need one. Then too, just a jacket will suffice.
Do New Yorkers Wear Jeans In Summer?
New Yorkers are usually effortlessly stylish. Would you fit in if you wore jeans? Sure. People don't pay too much attention to what others wear. I do have to add that denim becomes hot and bothersome at this time of the year so people don't really find it comfortable. Opt for cotton clothes instead.
Do People Wear Sandals In NYC?
Yes! Yes! Yes! During the hot summer months people love to break out their sandals. You will find that these are some of the most comfortable footwear during the season.
Additional New York City Resources You'll Love
There you have it! That just about wraps up this guide on what to wear in NYC in summer!
Tell me, did your fave items make it on this list about what to wear in New York in summer? If not then let me know!
And if you found this post useful, be sure to join our email list before pinning this post now so that you can read it again later.