Ready to escape the big city and explore the awe-inspiring beauty of New York State? If so then this list of 20 of the best state parks in New York is perfect for you.
Because contrary to popular belief, there is way more to New York than just New York City. In fact, New York State is positively brimming over with vibrant landscapes that feature amazing gorges, mind blowing waterfalls, pristine lakes, and soaring mountains that are just waiting to be explored.
So, step away from the sometimes overly touristy guidebook and listen to the sage advice of a 30+ year local who knows all about the top state parks in NY – places where you can hike, bike, and raft until your muscles beg for mercy.
Just be sure to have your camera at the ready because between Niagara Falls the revitalizing mineral springs of Saratoga, the only thing you'll be thinking is, "Please, sir, I want some more film."
This post may contain affiliate links. Please see my disclosure for more information. As an Amazon Associate, I earn a small commission from qualifying purchases.
Best State Parks in the New York – Finger Lakes
1. Allegany State Park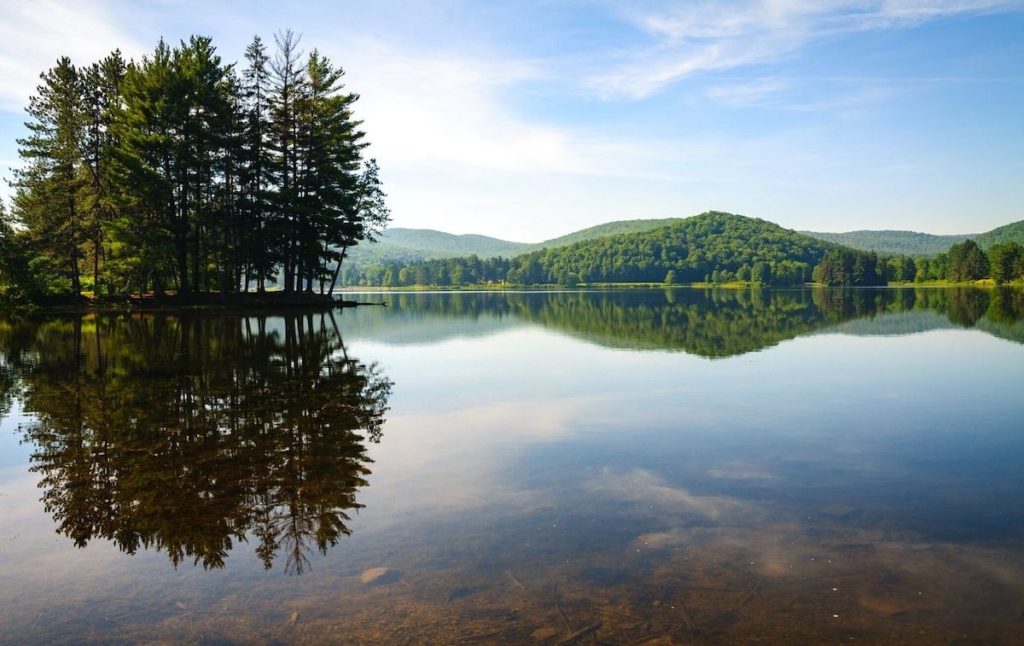 Allegany State Park is the largest state park in New York State. Nestled in the far west corner of the state, right on the border with Pennsylvania, it was founded in 1921, so it just celebrated its one hundredth anniversary. Happy Birthday Allegany!
This woodland paradise has almost 65,000 acres of land under its belt. That's a lot of space! As you might expect, with such a large area covered, there are all kinds of activities for all ages to enjoy. Yup, pretty much everything and anything outdoors can be done here.
There are two main areas to this park: the Red House Area and the Quaker Run Area. Both areas have designated bird conservation areas, plenty of hiking trails and bicycling routes – easily making this one of the best state parks in New York.
Plus, there are playgrounds for the kids, hunting areas for the adults, and lakeside beaches with access to swimming, boating and fishing. Not to mention the 90 miles of groomed snowmobile trails during the winter season. Need I say more?
Ok then!
If you like to eat, breathe and sleep outdoors, Allegany State Park is also an excellent destination for camping. No matter how many people you bring to this nature wonderland, both areas have more than enough amenities to keep you happy!
In fact, there are over 400 campsites, 375 cabins and 3 group camps available to rent, so feel free to bring the whole family – and their families too!
Address: 2373 ASP, US-1, Salamanca, NY 14779
Hours: Open daily twenty-four hours a day.
Price: Vehicle day-use fees start at $7.00 per car.
2. Letchworth State Park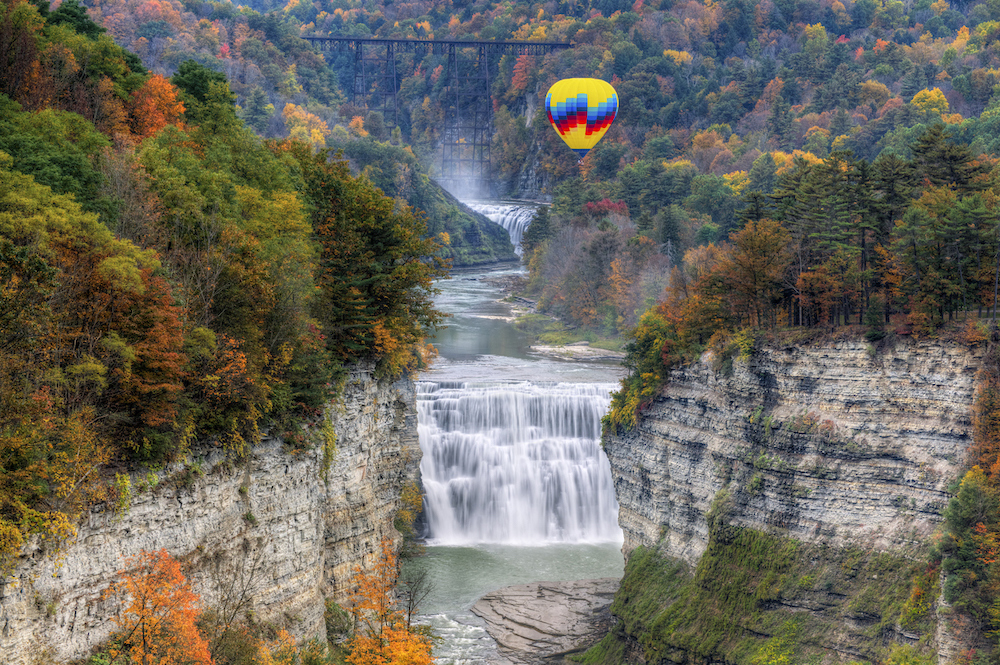 Widely known as the "Grand Canyon of the East", Letchworth State Park sits halfway between Pennsylvania and the shores of Lake Ontario, and contains almost 14,500 acres of land that follows the course of the Genesee River as it flows down through 17 miles of gorge.
During that time, the Genesee River passes over three separate waterfalls, which are some of the best waterfalls in New York State.
Some of the cliffs are as high as 600 feet tall, making it truly one of the most photogenic places in New York State. Make sure to spend some time at the Middle Falls especially.
Also, with a river that powerful and majestic, white water rafting and kayaking are both a mainstay activities here. So, if you're feeling up to the challenge, grab a helmet and a lifejacket and get out on that water at one of the top state parks in New York!
For anyone who would rather keep themselves dry, there are 28 trails on a wide spectrum of difficulty – ranging from half a mile to 21 miles – though none of them feature anything more than moderate difficulty.
Plus, there's a nature center for anyone interested in learning more about the park's ecosystems, in addition to plenty of playgrounds and playing fields, and even equestrian trails for horseback riders.
But what might make this one of the best state parks in New York is the fact that you can experience it from a hot air balloon! In fact, The Liberty Balloon Company operates air tours here Monday through Saturday year round – DO NOT miss out!
Address: 1 Letchworth State Park, Castile, NY 14427
Hours: Open daily from 6:00 am to 11:00 pm.
Price: $10 day-use fee per car and cash only
3. Watkins Glen State Park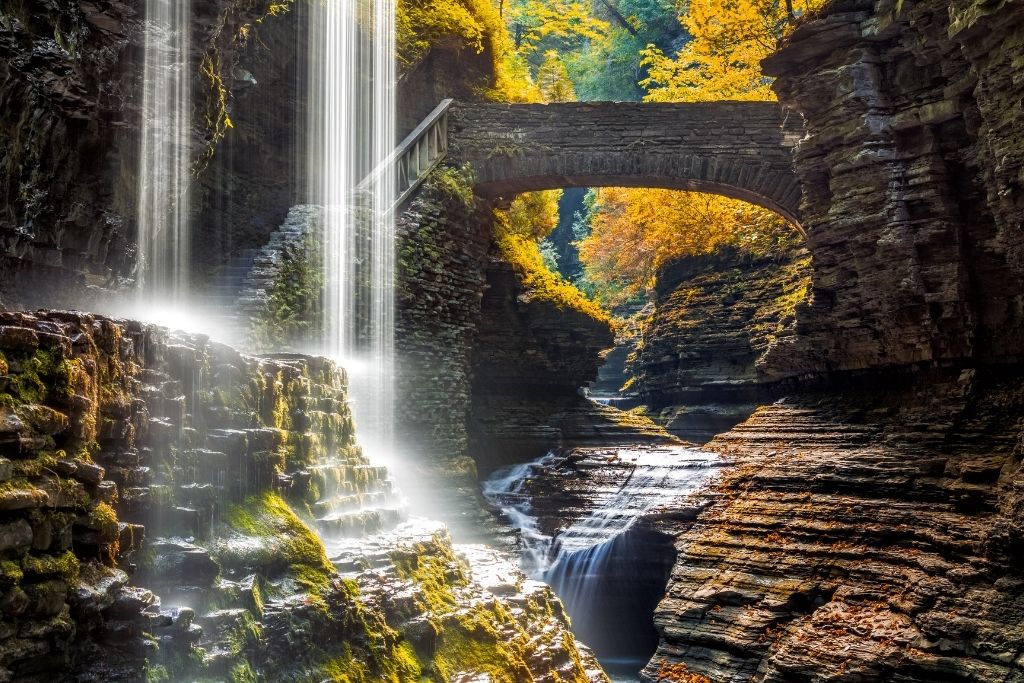 This is definitely one of my personal favorites on this list of the best state parks in New York!
See, Watkins Glen State Park is an historic area of natural beauty, with gorges and waterfalls that will make your Insta explode! Just set up your camera by the water, or on any of the 800 stone steps that wind through the park, and you're good to go.
Now, one of the most important decisions you'll make when visiting is whether or not to head up or down the river. Over the length of two miles, the stream descends 400 feet over a series of cliffs and waterfalls, so if you decide to walk uphill, you'll be getting a serious workout!
When visiting Watkins Glen State Park, if you're looking to do some hiking, I absolutely advise you to check out the Gorge Trail. It is one of my absolute favorite hikes, one of the best hikes in the Finger Lakes and possibly even one of the best hikes in New York State.
It's also connected to the Finger Lakes Trail – an 800-mile series of trails across New York State for the truly dedicated! But, truth be told, the Gorge Trail alone makes this one of the best state parks in New York IMO since it takes you past 19 different waterfalls and along various stone bridges that look like something straight out of Lord of the Rings.
Address: 009 N Franklin St, Watkins Glen, NY 14891
Hours: Open year round from dawn until dusk.
Price: $10 vehicle day-use fee that includes access to the pool.
4. Niagara Falls State Park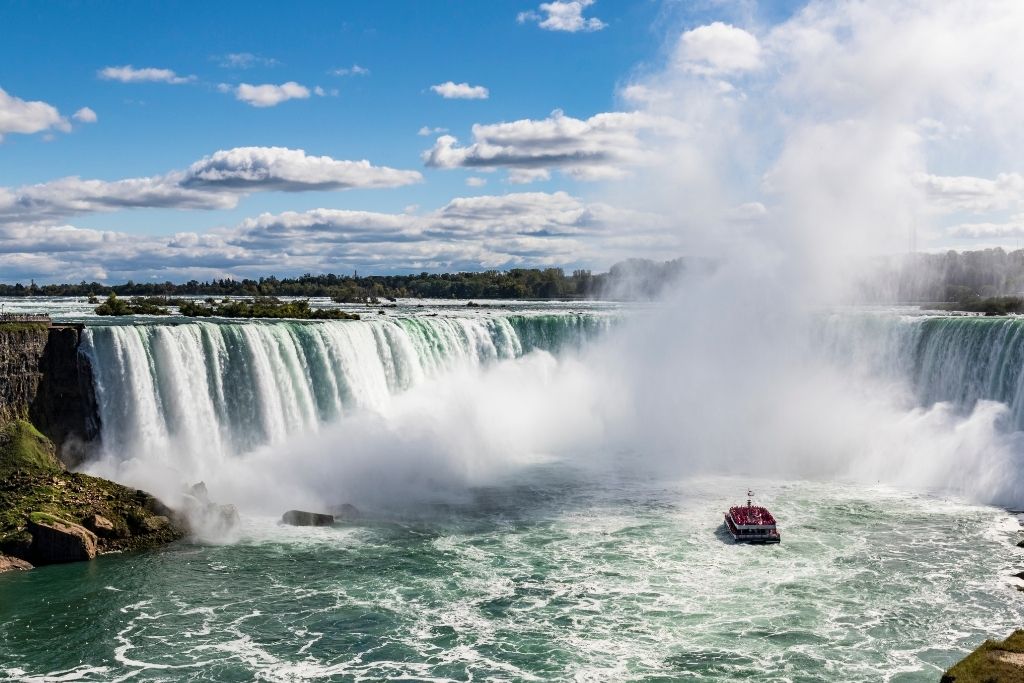 When checking out the best state parks in New York, you just can't miss out on one of the most famous landmarks in the world. Right?
In fact, Niagara Falls State Park is actually the oldest state park in the United States, so that fame has been building for a very long time. So much so that people have been visiting this breathtaking collection of waterfalls since well before the 20th century.
Fortunately, due to advances in technology, visitors today can enjoy the falls in ways the Victorians never could!
One of those ways is by taking the Maid of the Mist boat tour. This vessel has been taking passengers through the whitewater of the waterfall for over 150 years. It's a good thing they provide you with ponchos these days!
Along with hiking the trails and heading down into the Cave of the Winds behind the falls, this is the best way to "explore the roar" as you'll be taken as close as you can get without going over the falls themselves – which I do not advise!
If you happen to be staying until after dark, don't miss out on seeing Niagara Falls all lit up – an activity that should be on the itinerary of anyone who plans on enjoying some romantic getaways in Upstate New York.
Address: 332 Prospect St, Niagara Falls, NY 14303
Hours: Park is open year round with some attractions only open seasonally.
Price: Varies by location and season.
5. Chimney Bluffs State Park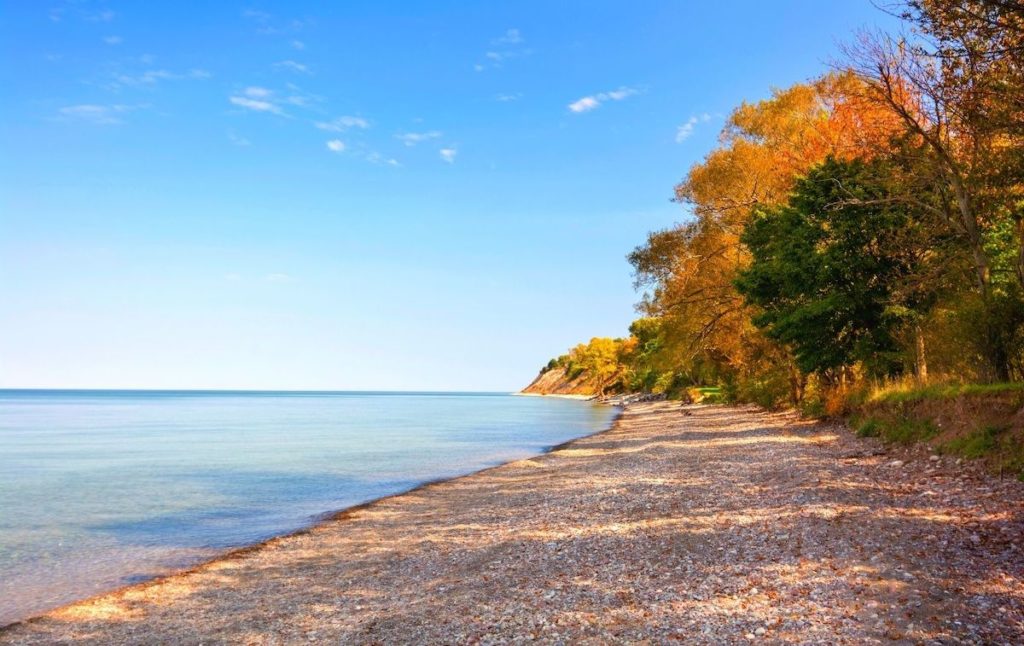 Even though it's on the smaller side, Chimney Bluffs State Park is still one of the top state parks in NY because it has something that no other state park has: the Chimney Bluffs themselves!
And while might not sound like much, trust me, y'all, the Chimney Bluffs are a sight to see. Seriously, they almost look like something from an alien planet!
These imposing yet majestic clay formations lie on the shores of Lake Ontario, directly north of the Finger Lakes, with some of them stretching 150 feet high or more!
Apparently, these "drumlins" were deposited here by glaciers during the last ice age, and they've been sculpted by the elements over the years into the shapes we know snf love today.
And one of the best places to view the bluffs is by standing in the water along the shore. So, remember to bring some water-friendly footwear with you when you visit in order to get the best views.
But, even if you want to keep your feet dry (and I can relate to that), there are still four miles of scenic beach and woodland trails along the shores that should provide an enjoyable hike for visitors of all capabilities.
Address: 7700 Garner Rd, Wolcott, NY 14590
Hours: Open daily from 6:00 am to 9:00 pm.
Price: A $5.00 vehicle entrance fee is collected between April 1 and October 31.
6. Robert H Treman State Park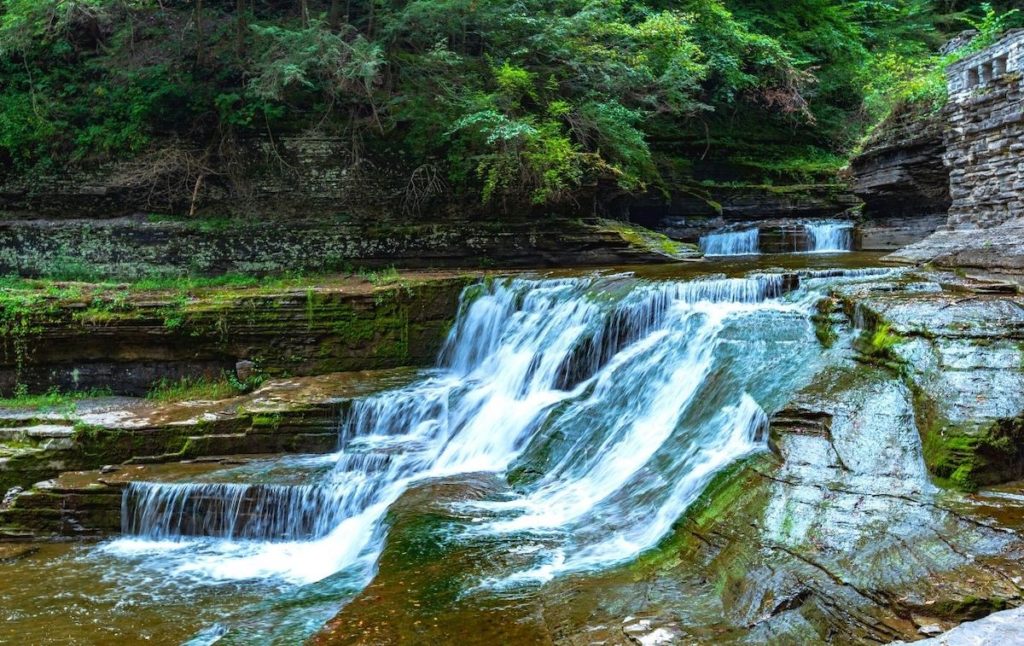 Less than 5 miles south of the town of Ithaca, Robert H Treman State Park is a pocket of wild beauty. Following a gorge wrapped around the flow of Enfield Creek, you'll find winding trails, scenic waterfalls, and one of the best swimming holes in New York: Enfield Falls!
Yes, Enfield Falls (aka Lower Falls) is the star of this state park IMO, and when I started making a list of the best state parks in New York, I knew I had to include Robert H Treman State Park for Enfield Falls alone.
After all, this stream-fed swimming hole is the perfect place for hikers to cool off after trekking through the 1,200 acres of rustic wonder this park has to offer.
In fact, there are six different hiking trails on offer in Robert H Treman State Park that range in difficulty from moderate to strenuous. So, it's no surprise that many visitors take a lengthy swim here!
Also, in addition to the 12 smaller waterfalls scattered throughout the park – including the 115-foot devilishly-named Lucifer Falls – you'll be able to explore a wide variety of trees in the area's vast wooded areas.
So, be on the lookout for a mix of red oak, yellow and black birch, maple, and white pine – all of which look absolutely stunning in the fall, especially the tulip poplars and the hemlocks.
Address: 105 Enfield Falls Rd, Ithaca, NY 14850
Hours: Open daily from dawn until dusk.
Price: $9.00 vehicle day-use free that is collected from April 1 through November 30 from 6:00 am to 6:30 pm daily.
7. Chittenango Falls State Park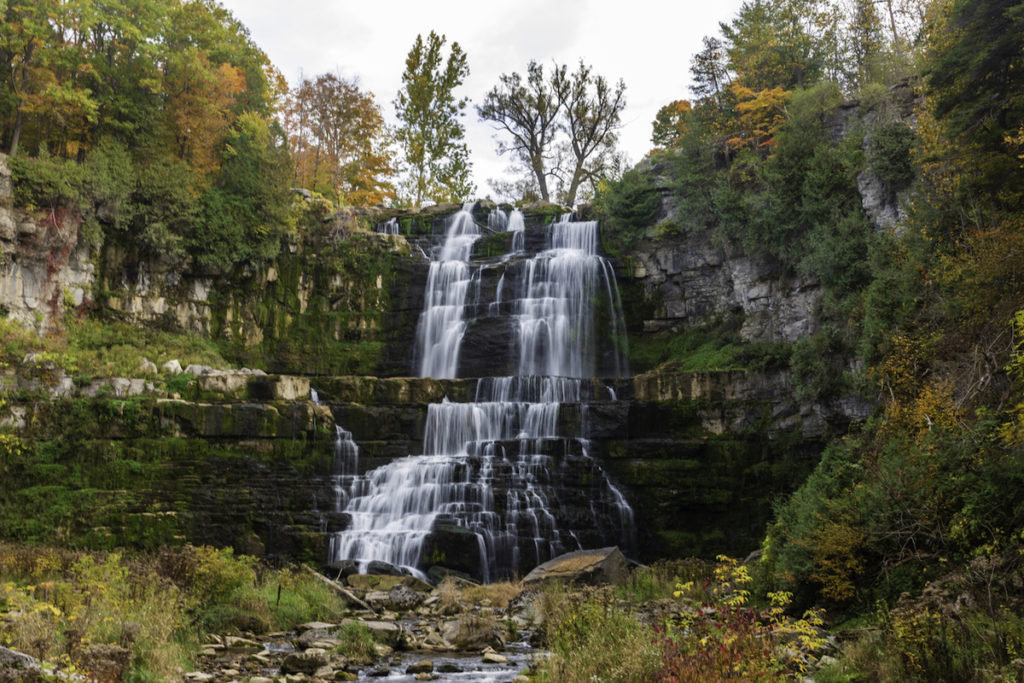 Truth be told, Chittenango Falls State Park really isn't that big. But what it lacks in size it more than makes up for with natural beauty!
It also sits just 5 miles to the south of the town that shares its name and is home to gorge trails, rare trees, and one of the most gorgeous waterfalls in New York.
Standing on the wooden footbridge constructed at the base of the falls, you'll instantly fall in love with this 167-foot tall cascading waterfall, and your Insta account will thank you for it too!
Plus, a number of other things work to help make Chittenango State Park extra special . Firstly, the waterfall flows over bedrock that isapproximately 400 million years old. That's older than the dinosaurs, yo!
Secondly,. believe it or not, an incredibly endangered species of animal lives here: the ovate amber snail!
Ok, so a snail isn't on the same level as something like a leopard or an eagle, but this is the only place in the world that these guys exist, so in my eyes that makes Chittenango Falls extra special and unique, and worthy of being one of the best state parks in New York!
Address: 2300 Rathbun Rd, Cazenovia, NY 13035
Hours: Open daily from 7:00 am to 8:00 pm.
Price: $5.00 per car collected from an automated pay station.
8. Green Lakes State Park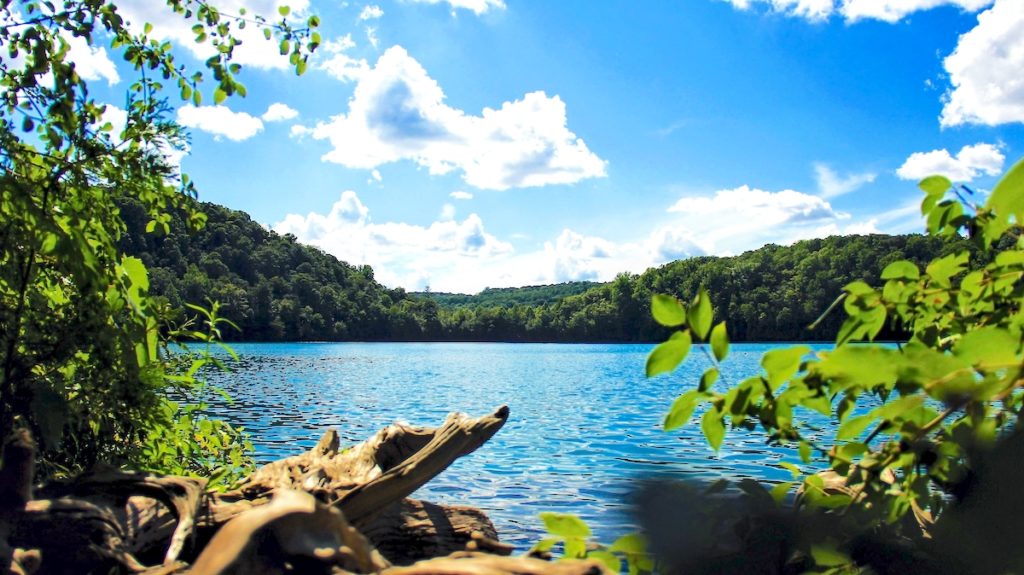 If you find yourself in Upstate New York, before you spend the evening checking out the best Syracuse breweries of all time, try driving 10 miles to the east. This way, you'll be able to enjoy the next level awesome beauty of Green Lakes State Park!
It might seem obvious, but one of the main features of this state park are the lakes. And there are two very special lakes here: Green Lake and Round Lake that are easily some of the best lakes in New York.
Both of them are almost 200 feet deep, but they are also both meromictic – a rare geological trait which means the different layers of water don't mix together.
So, every year around May and June, the lakes each form white calcium reefs, which is something you won't see in any other park in the USA!
However, in addition to the lakes, you'll also experience some excellent hiking trails. In fact, 13 miles of trails wind their way around the lakes and through the 150-foot deep gorge that surrounds some of the old-growth forests here – woodlands that are super picturesque in fall!
Throw in the fact that this place is also the home of the Green Lakes State Park Golf Course – renowned as one of the best golf courses ever designed – and you've got yourself one of the best state parks in NY.
Address: 7900 Green Lakes Rd, Fayetteville, NY 13066
Hours: Open daily from dawn until dusk.
Price: $10 per car.
9. Buttermilk Falls State Park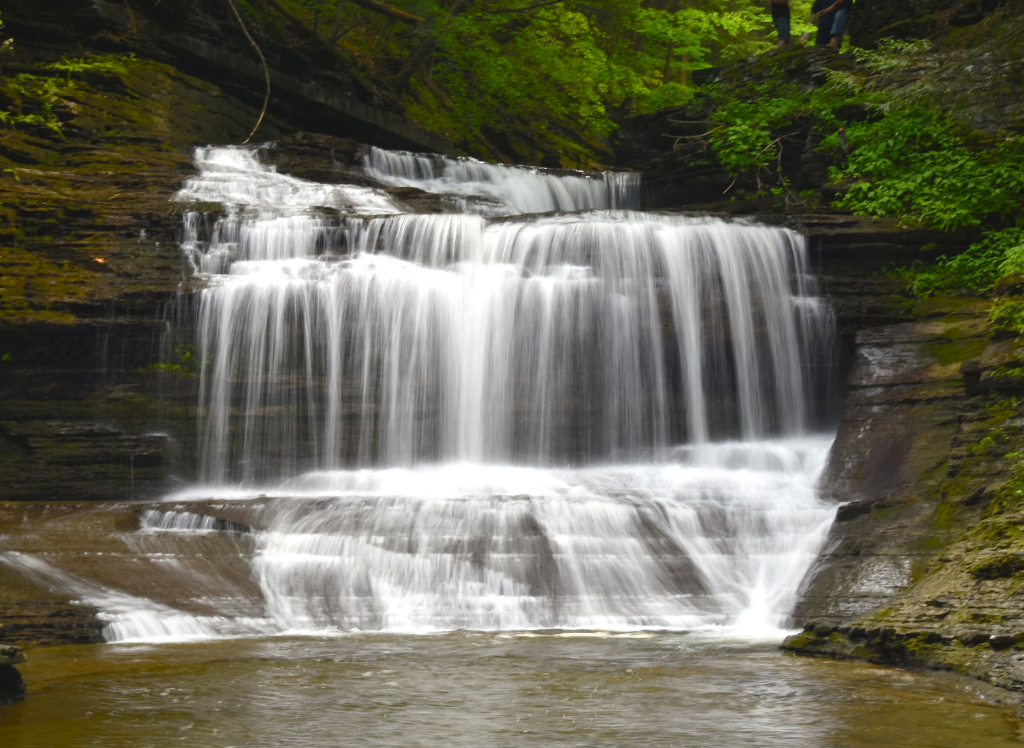 If you've been reading my definitive New York road trip itinerary, you'll know that I recommend you stay in the town of Ithaca when you get to the Finger Lakes.
As a suggested activity, I also mentioned visiting this delightful state park, and I'd like to take this opportunity to promote it even more. Because I think it's one of the best state parks in New York!
This quaintly titled state park gets its name from Buttermilk Creek, which flows down the falls after trickling down from Lake Treman on its way towards Cayuga Lake further north.
Then, at Buttermilk Falls, the creek cascades down into a natural pool which is perfect for swimming in. There is also a campground and playing fields by this pool, which connect you to some of the hiking trails in the park.
So, even though there are only a small number of hiking trails in Buttermilk Falls State Park, each one will take you through a wide variety of environments. As a result, you'll discover an incredible array of woodland areas, deep gorge paths, pretty water features, and vast wetlands.
In jprtiucliar, the Gorge Trail and Rim Trail will take hikers past the falls before heading south through the park towards the Bear Trail and the Lake Treman Trail at the other end of the park.
And at just over 800 acres, it's not as big as some other state parks on this list. But, the gorge does drop over 600 feet here, so be prepared for some occasionally steep climbing!
Address: 106 E Buttermilk Falls Rd, Ithaca, NY 14850
Hours: Open daily from dawn to dusk.
Price: $9.00 per vehicle collected from April through November.
10. Chenango Valley State Park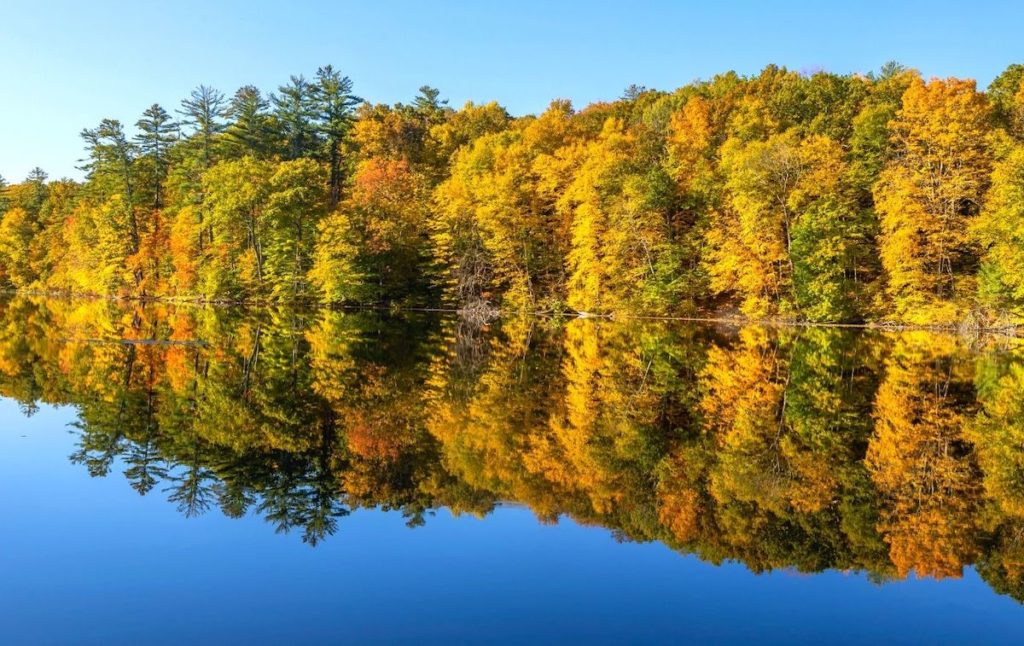 Just 11 miles north of Binghamton is Chenango Valley State Park, one of the best state parks in New York that features over 1000 acres of land that sits along the banks of the Chenango River.
As a result, there's a large amount of wildlife that can be found throughout the park. So, eager birdwatchers can look forward to exciting sightings both on the waterfront and in the woodland areas, where species like herons, kingfishers, thrushes, warblers and woodpeckers can all be spotted.
And for anyone heading out onto the water on Lily Lake or Chenango Lake, you might find bass, trout, perch and more swimming around here. Also, don't worry if you haven't brought your own boat because rentals are definitely available here!
Now, once you've seen or caught the animal of choice, spend the night at one of over 200 campsites and 24 cabins. You could also practice your swing on the 18-hole Chenango Valley State Park Golf Course, which has been in the park since the 1930s!
And while there are seeveral hiking trails here, they're mostly easy/moderate in difficulty. So, for e relaxing stroll through the woods, check out the River Confluence Loop, which will take you to where the Chenango and Tioughnioga Rivers converge at the northernmost point of the park.
Yeah, It's about 6 miles round trip, and not too taxing for anyone who isn't a total couch potato.
Address: 153 State Park Rd, Chenango Forks, NY 13746
Hours: Open daily from sunrise to sunset.
Price: $7.00 day-use fee.
11. Taughannock Falls State Park
Situated next to Cayuga Lake in the heart of the Finger Lakes, you can find one of the Wonders of the Northeast.
Named after the park's main attraction, Taughannock Falls State Park (pronounced locally as "Tuh-GAH-nick") features 750 acres of picturesque gorge and woodland trails that eventually lead you out into a marina on the shores of Cayuga Lake.
Naturally, that makes it one of the best state parks in NY for boat trips, as you'll get to spend time on the longest Finger Lake of them all.
Plus, Taughannock Falls in and of itself is a sight to behold since the main waterfall comes pouring down into a pool that sits inside a bowl-shaped section of the gorge.
Honestly, it looks like something straight out of a painting and is easily one of the best state parks in New York!
Plus, at 215 feet tall, Taughannock Falls is actually 3 storeys taller than Niagara Falls. So, for the best views, hike to the top along the Gorge Trail or stand on the viewing platform at the base of the falls and take in the majesty of nature from there!
Address: 1740 Taughannock Blvd, Trumansburg, NY 14886
Hours: Daily from dawn until dusk.
Price: $9.00 vehicle fee collected daily between May 27 and September 2 from 6:00 am to 6;00 pm. At any other time of year, this fee is only collected on weekends and holidays.
Best State Parks in New York – The Capital Region
12. Saratoga Spa State Park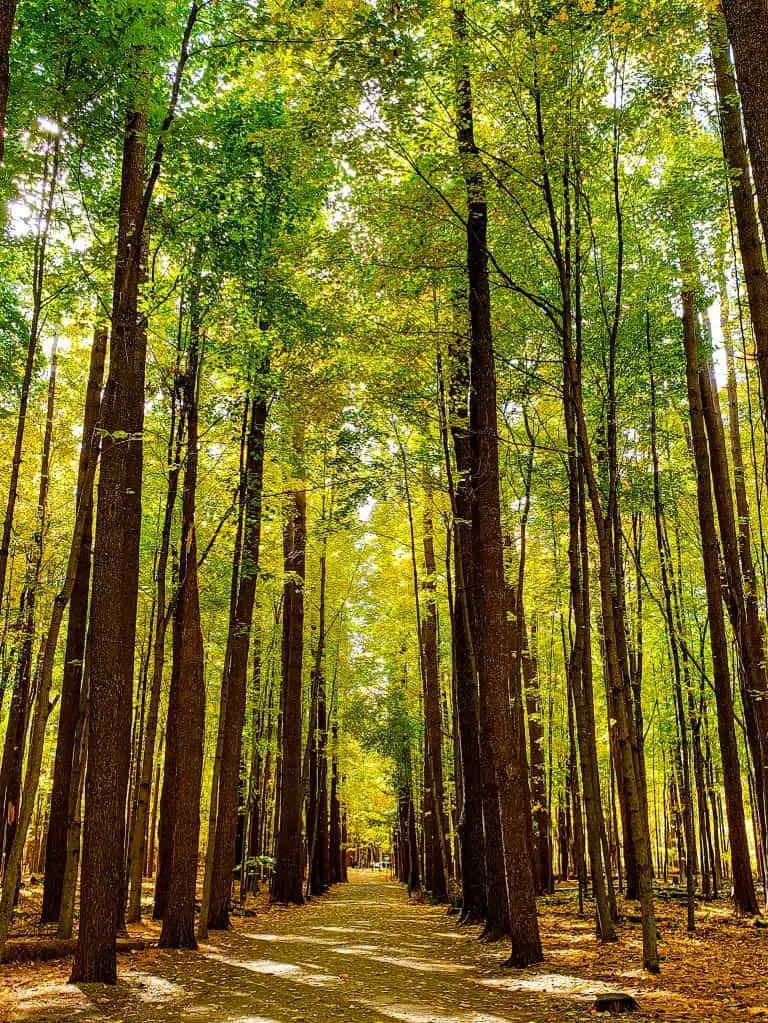 Looking for one of the best things to do in Saratoga, NY? If so then mosey on over to Saratoga Spa State Park.
After all, it's one of the best state parks in New York that spans an impressive, 2,379-acres of land that is home to a wide variety of mineral springs, gold courses, museums, farmer's markets, golf course, a full-on day spa (hence the name of this place), and so much more.
So, if you can dream it up then it's probably something that you can to do here. However, some of the park's biggest highlights include:
Geyser Creek Trail – Orenda Spring and Island Spouter are also nice too
Mineral Springs – 21 are scattered throughout the park
Historic Roosevelt Spa – You can take a dip in the mineral springs here and book a luxurious spa treatment
National Museum of Dance and Hall of Fame
Saratoga Automobile Museum
Saratoga Spa Golf Course
Saratoga Performing Arts Center
Address: 19 Roosevelt Dr, Saratoga Springs, NY 12866
Hours: Open Monday through Friday from 8:00 am to 5:00 pm, and Saturday and Sunday from 8:00 am to 4:30 pm (different places inside the park might have different opening times).
Price: It's free to just wander around, however additional fees vary based on attractions.
13. Saratoga National Historical Park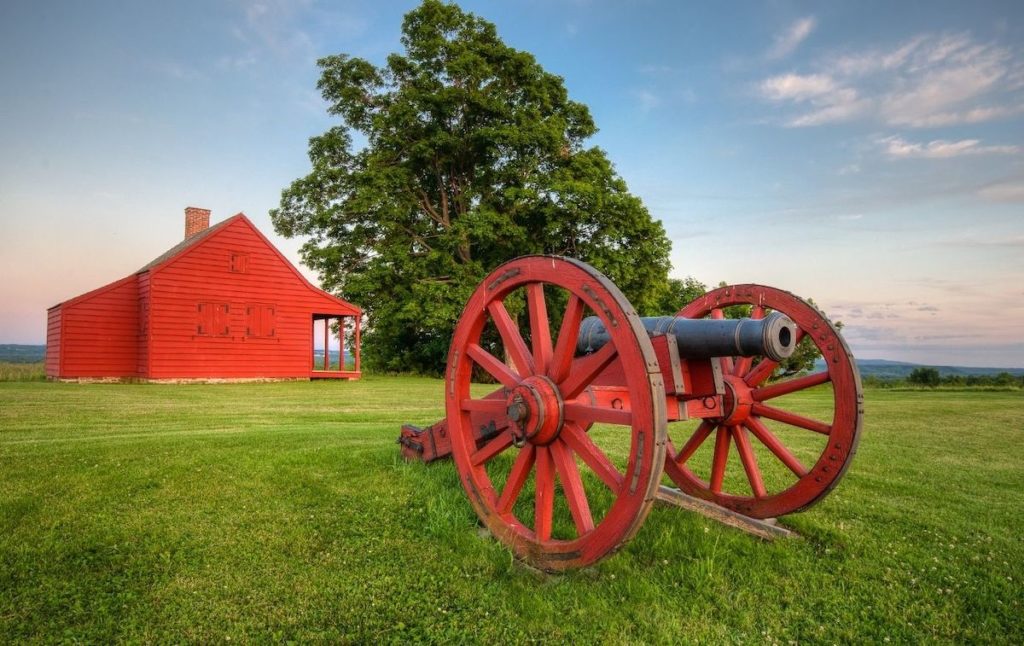 Easily one of the best state parks in New York, you'll love coming here to enjoy 5 miles of wide open spaces and to learn all about the area's incredible history.
So, after you hike and birdwatch up a storm. see where the Americans defeated the British in 1777 at the aptly named Battle of Saratoga.
In fact, this battle may or may not have altered the entire course of the Revolutionary War. However, for the full details, hit up the on-site visitor's center and get lots of info on the battle before checking out various artifacts, illuminated maps, and a full timeline of events.
Whatever you do though, don't leave one of the top state parks in New York without visiting the Saratoga Monument, which was built to honor this super snazzy American military victory.
Trust me, it's pretty dang impressive since it's a solid, 154-foot tall stone tower that was built on the very spot where British forces camped out during the battle.
Pro Tip: Don't forget to climb to the top of the monument for sweeping views of the area.
Address: 648 NY-32, Stillwater, NY 12170
Hours: Open daily from 9:00 am to 5:00 pm.
Price: Free
Best State Parks in New York – In and Around the Hudson Valley
14. Harriman State Park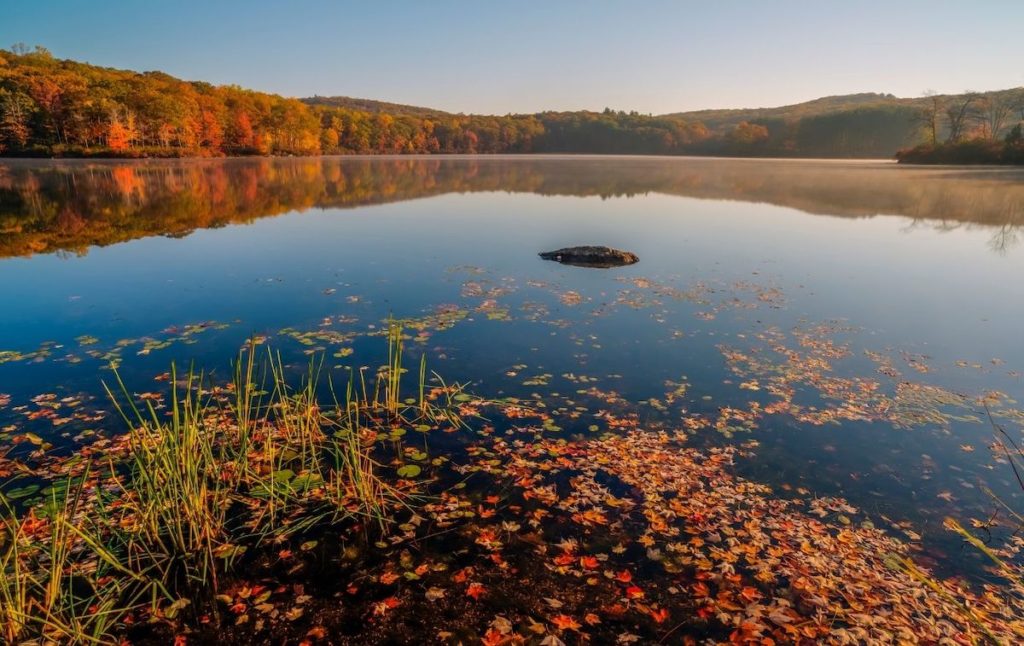 This vast oasis is located just over 30 miles north of New York city, making it one of the best day trips from NYC. And at over 47,500 acres, it is the second largest state park in New York State.
Add in over 200 miles of hiking and bicycling trails and Harriman State Park is easily one of the best state parks in New York that is a haven for hikers and ramblers alike.
I can also personally recommend the Reeves Brook Loop Trail for anyone up for a moderate yet enjoyable challenge during their visit, and the Elk Pen Loop Trail for those seeking some serious adventure! After all, these two trails are easily some of the best hikes near NYC.
But no matter what your hiking skill level is, Harriman State Park is one of the best state parks in NY for anyone wanting to get back to nature and spend some time wandering amongst the trees, rivers and lakes.
Speaking of y'all, there are some great lakes here too! In fact, there are over 30 lakes in Harriman State Park, so you'll have more than enough space for boating and kayaking during your visit, especially if you head out onto Lake Sebago – the park's largest lake at over 300 acres.
With all that water, you'll also have plenty to do here in the winter. Because anyone visiting once the lakes have frozen over will be able to take part in ice fishing and ice skating on Lake Tiorati and Lake Silvermine, so don't forget your skates!
Address: Seven Lakes Dr / Bear Mountain Circle, Ramapo, NY 10974
Hours: Open daily, year round, from dawn until dusk.
Price: None, only Memorial Day and Labor Day weekends.
15. Clarence Fahnestock State Park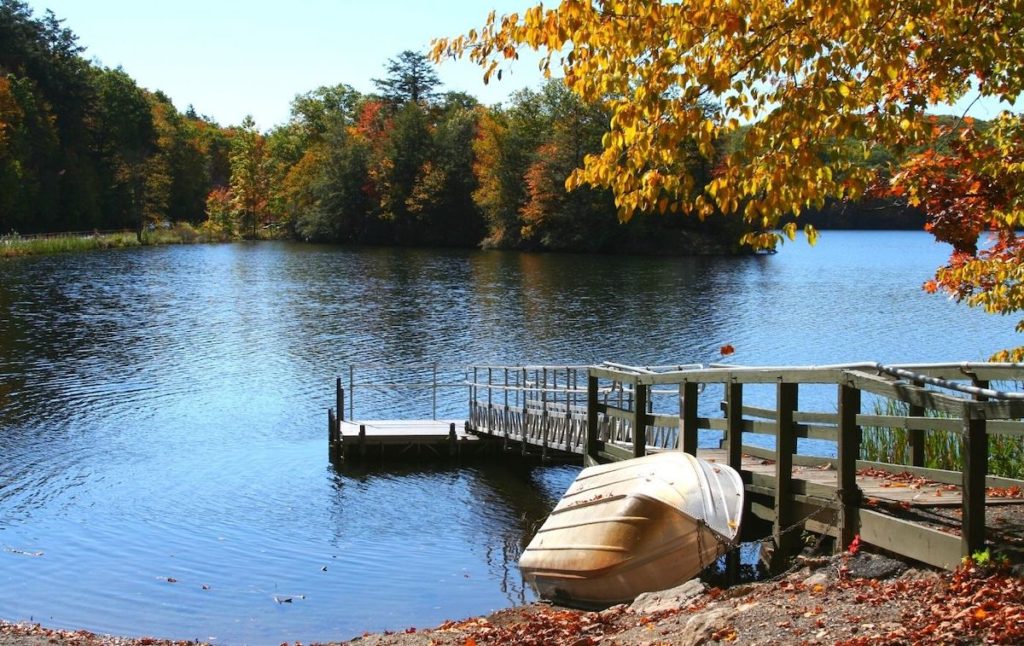 Almost on the doorstep of NYC, this is one of the largest of the best state parks in New York on this list. Plus, Clarence Fahnestock State Park is just over an hour's drive from New York City, and is the perfect destination for any New Yorker looking to reconnect with the great outdoors.
Here you'll find over 14,000 acres of space dedicated to almost every outdoor activity imaginable including hiking, swimming, fishing, hunting, boating, and bird watching. So, take your pick!
Whatever your hobby of choice is though, heading to Canopus Lake should be high on your priority list. First of all, the lake is stunning. But it's also the best place in the park for fishing. Plus, all the way at the northern end there's a sandy little beach and nearby picnic area that is ideal for families.
However, if you want to get out on the water but want more serious workout, kayaks and rowboats are available to rent. And after a full day spent out on the lake, you can get your barbecue on at one of the 80 campsites in the park; each of which comes fully equipped with a charcoal grill and a fire ring for storytelling!
Looking to get outdoors during the winter? Well, this park has got you covered! See, Clarence Fahnestock State Park also contains the Fahnestock Winter Park (open from December through to March every year), which comes with roughly 10 miles of groomed trails for cross-country skiing and snowshoeing, in addition to various areas for tubing too.
Address: 1498 NY-301, Carmel Hamlet, NY 10512
Hours: Open daily from dawn until dusk.
Price: $9.00 vehicle da-use fee (Collected daily between June 21 and September 6 and only on weekends/holidays between May 29 and June 20th)
16. Rockefeller State Park Preserve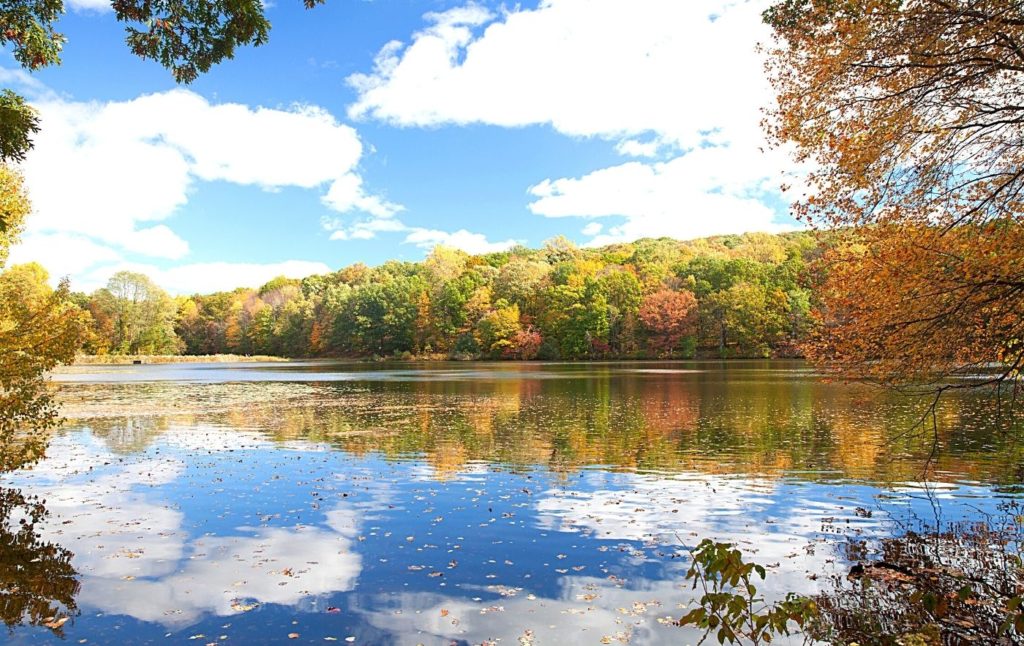 One of the closest state parks to New York City (it's less than an hour away), the iconic Rockefeller State Park Preserve is also just 2 miles from the historic town of Sleepy Hollow.
In fact, the land that the Rockefeller State Park Preserve now lies on is even mentioned in Washington Irving's famous book!
But, even though it's so close to the Big Apple, the landscape you'll find here is almost the complete opposite to NYC. Because here there are forests, fields, wetlands, streams and a very photogenic lake.
And all of this awesomeness also used to be the site of Rockwood Hall, home to William Rockefeller, brother of John D. Rockefeller himself! Yup, I wasn't kidding when I said that this place was iconic!
Now, like the Rockefeller name might suggest, the trails in this state park are on another level. And that mostly because each one was designed to complement the landscape. Plus, they're all made from crushed stone that was originally intended for carriages, so they're extra spacious too!
As a result, it's possible for people to go walking, jogging, running and even horse riding on the same trail. Additionally, the preserve is also a haven for 200 different species of birds and 100 species of wild bees.
It's also a common stop for Monarch butterflies as they migrate south every year, making this an ideal place to view a diverse array of wildlife just outside New York City.
Address: 125 Phelps Way, Pleasantville, NY 10570
Hours: Open daily from dawn until dusk.
Price: $6.00 collected by a pay station daily from April through October and on weekends/holidays only from November through March.
17. Bear Mountain State Park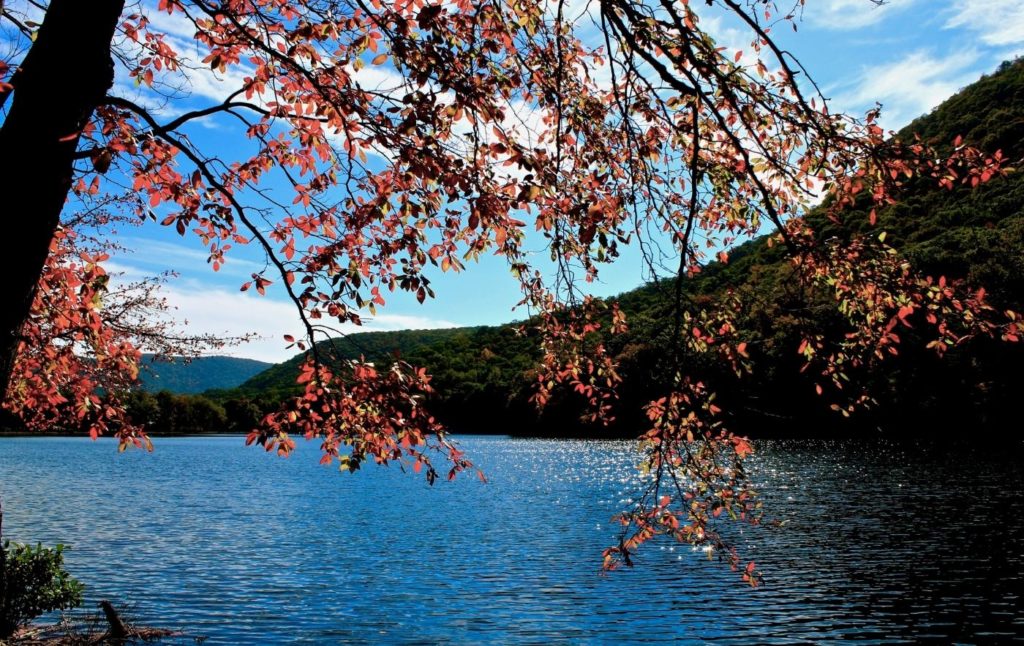 Bear Mountain State Park holds a special place in American hiking history. Yup, believe it or not, the very first section of the Appalachian Trail – supposedly the longest hiking-only trail in the world – was created here in 1923.
As such, the folks at Bear Mountain State Park know a thing or two about hiking! Which is great, because there are 50 different hiking trails for visitors to choose from, covering 235 miles of nature, from Silver Mine Lake to the banks of the Hudson River.
All in all, Bear Mountain State Park covers 5,000 acres of land. So, in addition to the wealth of trails here, there's also an ice rink, a large outdoor swimming pool, trailside museums, and a zoo – in addition to picnic areas and playgrounds throughout.
There are also not one, but two mountains in this state park: Bear Mountain (from which the park gets its name) and Dunderberg Mountain. Both are super popular hiking spots in the area, making this an easy pick for one of the best state parks in New York.
That being said, Bear Mountain is actually the taller of the two, reaching a height of almost 1,300 feet. That's why, from the summit, you can see all the way to Manhattan!
However, although Bear Mountain might be taller, Dunderberg is way more historical: In fact, it was used as a landmark by the British during the War of Independence, and was laster used as an iron mine by famous inventor Thomas Edison.
Address: Route 9W North, Bear Mountain, NY 10911
Hours: Open dawn to dusk daily.
Price: $10 per vehicle collected on weekends and holidays.
18. Minnewaska State Park Preserve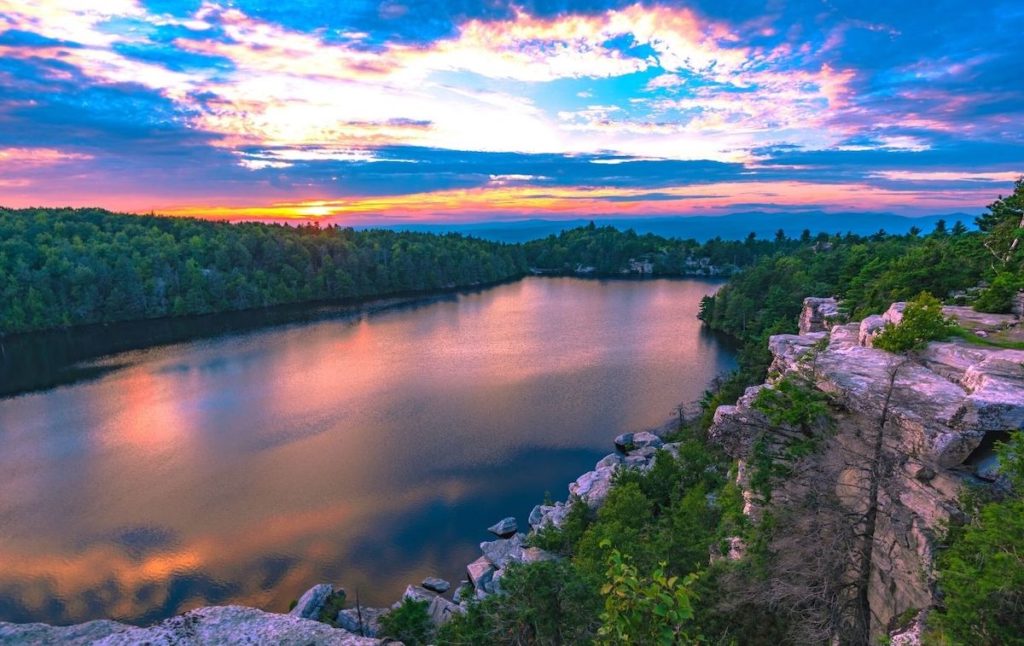 Sitting proudly atop the Shawangunk Mountain Ridge, the Minnewaska State Park Preserve is the third largest of New York's state parks, covering a massive, 22,000 acres of sprawling forest, rocky cliffs, cascading waterfalls, and crystalline lakes near New Paltz.
And since its conveniently located just 20 miles west of Poughkeepsie, you'll have no problem getting here either.
Then, once you're in the park itself, enjoy over 35 miles of carriage roads and 50 miles of footpaths as you hike and bike your way through one of the best state parks in New York.
If you can, make sure to try out the Lake Minnewaska Loop Trail and Gertrude's Nose Trail for some epic views pf the area's many gorgeous natural landmarks.
Waterfalls, sky lakes, sheer cliffs, colorful trees … it's got everything you might want from one of the best state parks in New York!
Because between the incredible waterfalls, the clear blue skies, the pristine lakes, the sheer cliffs, and the colorful trees, this place really does have everything you could want from one of the best state parks in New York!
And if you're in the mood for some slightly more challenging activities, you can always try your hand at rock climbing and bouldering, before horseback riding, boating and scuba diving out on the water.
Or, if you'd prefer to kick back and relax, take a picnic basket down to the small beach near Lake Minnewaska and have a relaxing picnic here.
Just remember to bring trash bags with you since there are no trash cans at this preserve!
Address: 5281 Route 44-55, Kerhonkson, NY 12446
Hours: Open daily from 9:00 am to 5:00 pm but the gates close promptly at 5:00 pm so you need to be out before then.
Price: $10 per vehicle.
19. Hudson Highlands State Park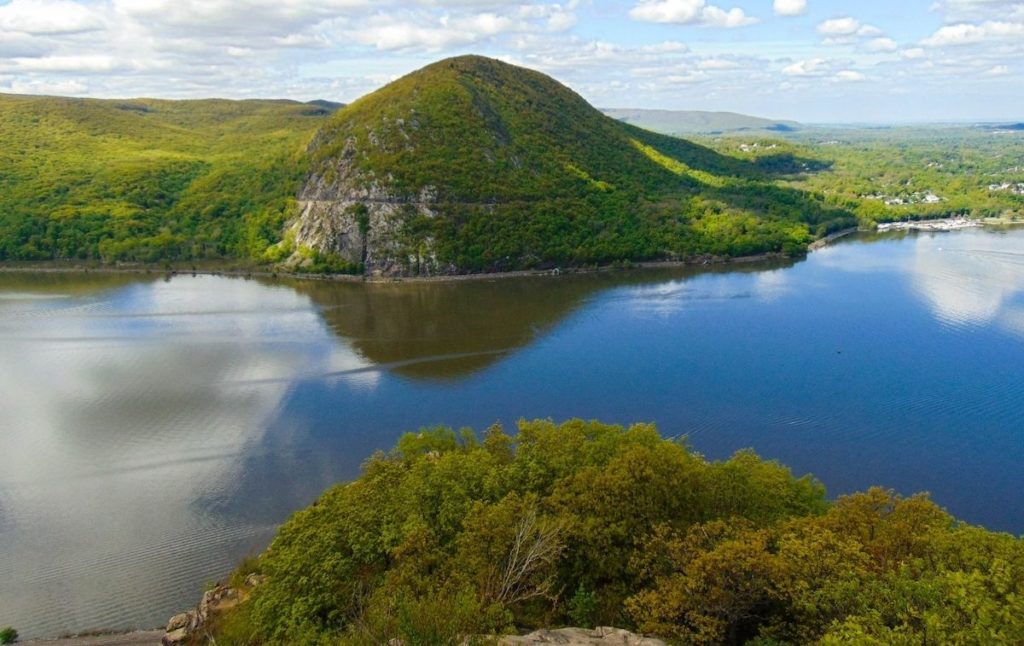 Hudson Highlands State Park might just be one of the best state parks in NY where you can test your hiking skills.
Just follow the Hudson River 50 miles north from NYC, near Cold Spring, and you'll find yourself amidst roughly 7,400 acres of land that is mostly undeveloped preserve.
Once here, traverse your way across 70 miles of trails that range in difficulty from easy to super challenging.
And as you walk, jog or cycle your way through one of the top state parks in NY, you'll pass by salt marshes, mudflats, forested hills, clear lakes, and maybe even trek over the highest peak of the Hudson Highlands, Beacon Mountain.
In particular, many visitors like to tackle Breakneck Ridge Trail – don't worry, it's not as dangerous as it sounds! It's a 4.6 mile rugged trek that starts with a steep climb but then levels off as it winds its way to Beacon Mountain.
Address: 3260 NY-9D, Cold Spring, NY 10516
Hours: Open daily sunrise to sunset.
Price: Free
20. Sterling Forest State Park
Don't get lost in the woods in this New York state park. First of all, it's huge – like 20,000 acres to be precise! But, if you wander too far off the well-beaten path, you might find yourself in New Jersey!
However, that's really only because Sterling Forest State Park is a mere 5 miles away from the state border – no shade New Jersey!
Sterling Forest also doesn't just cater to humans since this is one of the best state parks in New York for migrating animals to! Therefore, birdwatchers can marvel at various songbirds, raptors and hawks that reside within the park's many bird conservation areas.
Additionally, the park also serves as a stopping off point for some other, more skittish animals like foxes, black bears and timber rattlesnakes!
For us humans though, there are 30 marked trails in Sterling Forest to choose from, including the mighty Appalachian Trail, which runs for eight and a half miles throughout the northern section of the park.
However, If you're looking for a slightly shorter hike, the Sapphire Trail, Townsend Trail, and Wildcat Mountain Trail are all just 2-3 miles long.
But, anyone looking for a full days hike should try the Sterling Ridge Trail (8.6 miles), the Sterling Forest section of the Appalachian Trail , or the Highlands Trail (14.6 miles) to burn some serious calories!
If you choose the Sterling Ridge Trail though, it will take you past the Sterling Forest Fire Tower, a historic one-hundred-year-old structure that stands at 60 feet tall!
Although, if you want to make things a little easier, the Lone Star/Split Rock/Nelsonville Trail is just under 4 miles long and isn't nearly as taxing on your knees!
Pro Tip: Really want to test the limits? Then try the Wilkinson Memorial Trail. It's almost a 10 mile long walk along the park's many ridges and features spectacular views!
Address: 116 Old Forge Rd, Tuxedo Park, NY 10987
Hours: Dawn to dusk daily.
Price: Free (unless you want to hunt for $5.00)
21. Evangola State Park
An excellently situated state park with undeveloped beaches on Lake Erie's side.
One of New York State's most gorgeous beaches is found in Evangola State Park, which is conveniently situated directly on the shore of Lake Erie. There are three distinct campsite loops that can accommodate a large number of people, and it is situated in a very attractive environment.
Even yurts and cottages for rent are offered. You may check the availability of one of their yurts at Reserve America if you wish to reserve one. The park also has areas for baseball, tennis, basketball, and swimming. in addition to a nature center.
Pro Tip: You must be well-prepared if you intend to camp overnight at a state park. The nights in New York may be cool, even in the summer. That is why I advise purchasing a premium camping blanket, such as the Get Out Gear Down Camping Blanket. Although quite toasty, it is yet small enough to be useful.
Address: 10191 Old Lake Shore Road Irving, NY 14081
Hours: 8:00 am- 6:30 pm – Weekdays, 8:00 am-7:30 pm – Weekends
Price: Campsites varies from $17-$27/night
Additional New York Resources You'll Love
There you have it! That just about wraps up this guide to the best state parks in New York!
Tell me, did your picks for the top state parks in NY make the list? If not then let me know in the comments below!
And if you found this post useful, be sure to join our email list before pinning this post now so that you can read it again later!