Looking for one of the best hikes in the Hudson Valley? If so then give the iconic Anthony's Nose hike a try! After all, this stunning trail sits along the iconic Appalachian Trail and is conveniently located right off of Route 9D near Bear Mountain State Park.
And while it's not a technically difficult hike, it'll still give you a solid workout since the Anthony's Nose Trail makes you feel as though you're climbing a giant set of vertical steps.
That being said though, the most challenging part of the Anthonys Nose hike is the initial half-mile. After that, the hike mellows out and elevation gains level out too.
It's also incredibly well-maintained and features sweeping views of the Hudson Valley and the Bear Mountain Bridge below. For this reason, you probably won't have this trail all to yourself.
And you know what? That's totally fine since the overlook at the top is pretty dang big. However, if you want the Anthony Nose hike all to yourself then stop by on a quiet weekday morning.
You can also escape the crowds by sneaking around the corner, once at the top, to a smaller overlook that is a bit hidden away.
Therefore, if you're looking for killer views that are perfectly complimented by a decent workout, then give the Anthony's Nose hike a try!
Trust me on this. I've lived in and hiked in the Hudson Valley for 20+ years and consistently rank this as one of the top trails in the region.
This post may contain affiliate links. Please see my disclosure for more information. As an Amazon Associate, I earn a small commission from qualifying purchases.
How to get to the Anthony's Nose Hike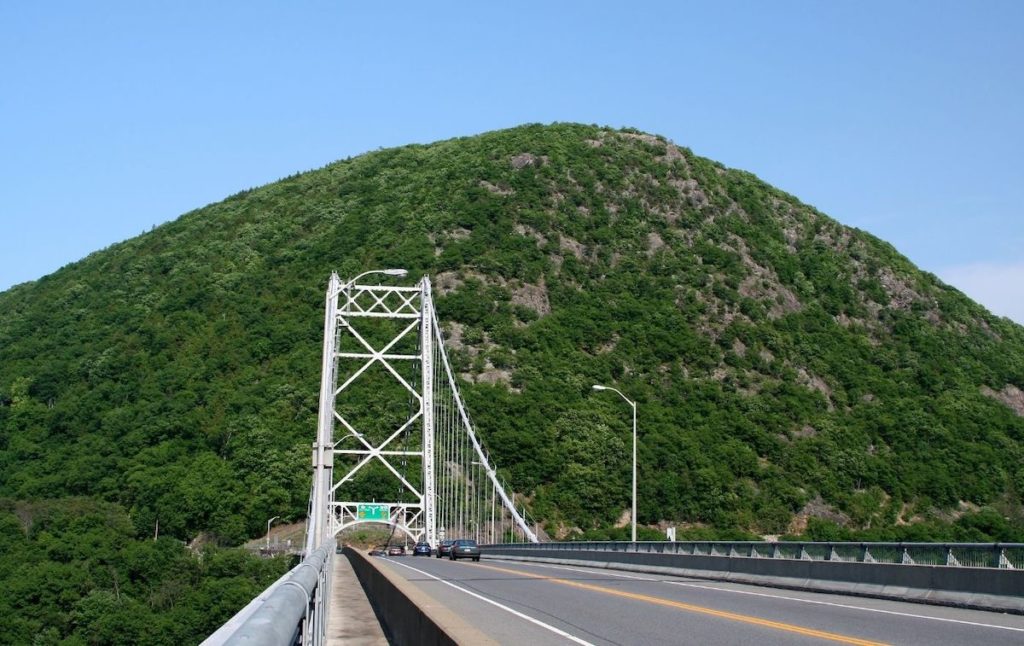 Like I always say, the first step to a successful hike is to know how to get there. Fortunately, Anthony's Nose is not far from New York City, making it one of the best hikes near NYC!
The Anthony's Nose trail also sits on the eastern bank of the River Hudson, about 50 miles north of New York City. It's right where Bear Mountain Bridge crosses the river, and you can drive there from the city in less than 90 minutes.
This majestic mound rises over 900 feet above the ground, and is part of the group of mountains that include the one and only Appalachian Trail. That's right. If you do this hike you'll be walking along one of America's most famous trails!
And you'll be rewarded for it too. Or at least, your Insta will be! Because the scenery you can admire from Anthony's Nose summit is iconic, with panoramic views of both Bear Mountain and the Hudson River.
So, once you're in the area, make your way to Route 9D – that's where the main trailhead starts. In fact, you can find it at 41.322571, -73.975949 (not to get too specific).
Outside of the winter season, you can find Anthony's Nose parking on the side of the road on Route 9D and can then just walk up to the trailhead from there. Just make sure to watch out for traffic, especially if you have children or pets with you!
Alternatively, you can also start your Anthony's Nose hike from S Mountain Pass Road, which is an extra couple of miles down the road to the north of Bear Mountain Bridge.
Pro Tip: If you want you can also take the train here from New York City. Just head to Grand Central and take a Hudson Line train to Manitou station. From here, catch an Uber to the trailhead since the Anthonys Nose hike is only about 2 miles away from the station.
When is the best time for an Anthonys Nose hike?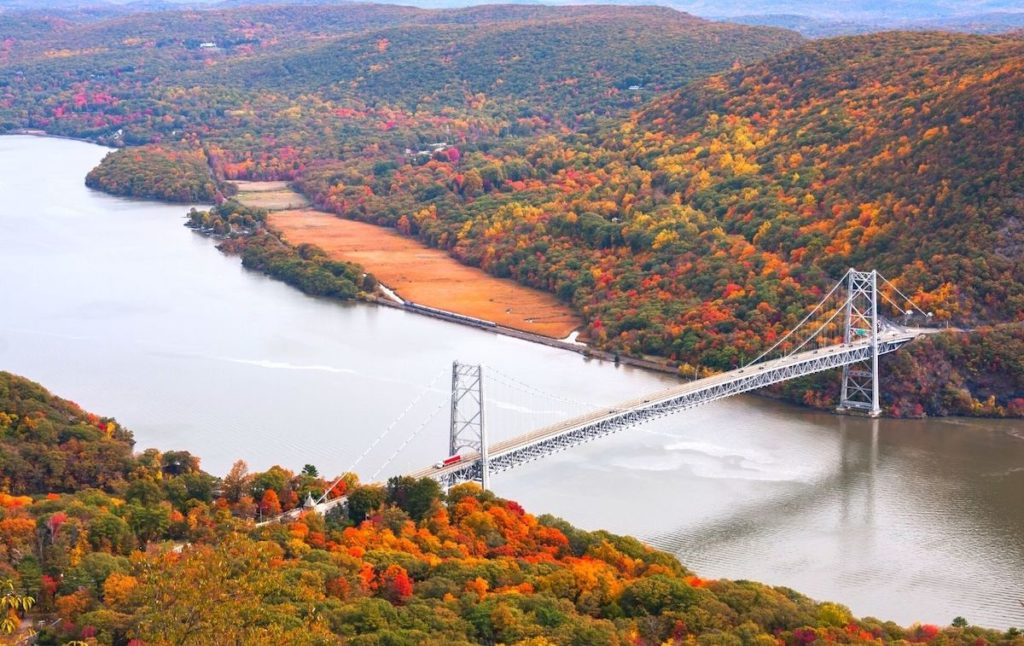 Anytime is the best time for hiking Anthony's Nose! The only question is, would you like warm sunshine or snow with your hike?
Because hiking Anthony's Nose is possible all year long. After all, you'll be able to enjoy a wide array of stunning panoramas of the Hudson Valley from the summit.
Therefore, revisiting Anthonys Nose trail during different seasons is a total must. I mean, the entire landscape will look completely different depending on the season!
So, if you choose to visit in the spring or summer, you'll be treated to a sea of green trees and will encounter tons of active wildlife along the way.
Plus, you'll see a ton of fellow hikers along the trail. After all, there's nothing quite like summer weather to get people out on those trails!
Although, embarking on an Anthonys Nose hike in the fall will mean plenty of leaves on the ground – something that can make the trail slippery.
However, you'll also get to admire some of the vibrant fall foliage that the area is known for. So, yeah, it's 100% worth it IMHO.
And then there's hiking the Anthony's Nose trail in winter, which will give you hella awesome Christmas card vibes a la a Norman Rockwell painting.
Sure, all the leaves will be gone from the trees but they might just be covered in a beautiful blanket of snow. Although, it also means the ground could be icy, so watch out!
Pro Tip: If you are planning on beginning your hike at the trailhead on Route 9D, do keep in mind that parking near Bear Mountain Bridge is prohibited between November 15th and March 15th.
What is the best route for hiking Anthony's Nose?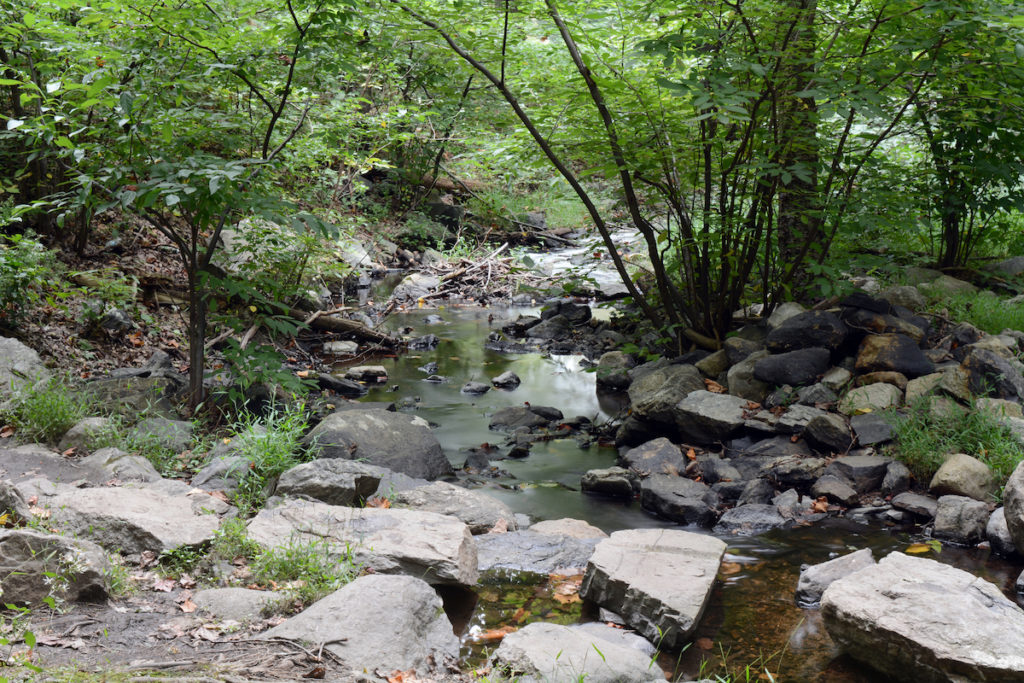 As I said before, there are two main places where you can start hiking Anthony's Nose: on Route 9D near Bear Mountain Bridge and on S Mountain Pass Road further up the road.
But, if you want to add a little spice to your hike, you could also try adding in a few more steps if you use other routes and start from further field locations.
So, further south along the Hudson River on Route 202, you can find the Camp Smith trail. This hiking route can be added to your Anthony's Nose hike for a more substantial outdoor experience.
There's also a Camp Smith trailhead on Route 202, right where the road crosses Broccy Creek (it's labeled on Google Maps). Starting here will give you a longer hike but not so much longer that it becomes super hard.
And if you want to make the most out of the area's rough terrain so that you can enjoy a bit of outdoor fun (and who doesn't?), begin your hike at the Bear Mountain Bridge Toll House and Information Center.
The address is 28 Mountain Bridge Road, but you'll see it as you drive up Route 202 out of NYC.
This route is the longest one you can take when hiking Anthony's Nose – at least without adding other sections of the Appalachian Trail to you hike. So, if you opt for this route, your hike will be around 7.5 miles long.
How difficult is the Anthonys Nose Hike?
For the most part, the Anthony's Nose hike can be considered pretty easy. The total elevation you'll climb is 675 feet, so you won't need those oxygen tanks!
And most of the difficulty comes from the steeper parts of the trail, where you'll be climbing up some rocky areas.
You'll be covering most of the trail's vertical distance at these parts of the trail (just over 400 feet), but as long as you watch where you're stepping and can deal with hiking/climbing uphill, you should be good to go.
Once you've got past the rocky steps at the start of the trail, the second section of the hike is much easier, with a smooth, mildly uphill path towards the top that adds about 100 feet more elevation gain to the climb. In fact, this section is just over half a mile long and takes you right to the summit.
Also, be aware that the main route for hiking Anthony's Nose (from the trailhead on Route 9D) is about 1.9 miles in total.
And if you choose to brave the elements and make your journey in the winter season, the trail will become a bit more difficult.
Yeah, accumulations of ice and snow will make some of the steeper steps on the route slippery. Therefore, wearing some winter footwear or crampons is a good idea.
How long does it take to hike Anthony's Nose?
If you start the Anthonys Nose hike from the point where you leave the road and start climbing uphill, Anthony's Nose trailhead route will take the casual hiker about 1 hour to complete (one-way)- maybe a half hour longer if you stop to take pictures and enjoy the area a little (and I recommend you do).
If hardcore hiking is your jam and you want to absolutely destroy the Anthony's Nose trail, you could probably power through from the road to the peak in 45 minutes. But, you must be on a really tight schedule if that's the case!
Overall though, if you walk at a leisurely but consistent pace, hiking Anthony's Nose will take between 2 and 3 hours round trip. Although, you may want to spend some time taking in the view at the top!
Now, if you start from the secondary trailhead on S Mountain Pass Road, it will add about half a mile to your route, and take you an additional 20-30 minutes to complete the hike.
And if you're starting at the Camp Smith trailhead point it's a similar deal, although it will add more like 45 minutes to the original time until the completion of your hike.
Finally, if you're taking on the longest route from the Bear Mountain Bridge Toll House, walking for 7.5 miles, combined with the change in elevation, will take most casual hikers around 2-3 hours each way. Although, coming back should take less time since you'll be heading downhill!
Can you hike Anthony's Nose in a day?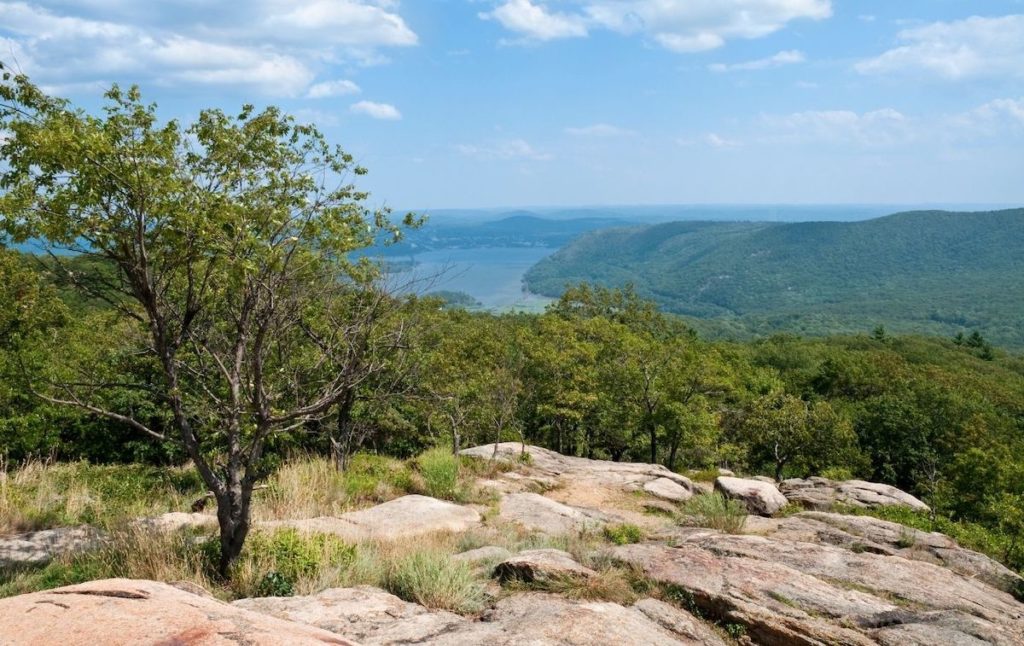 The short answer is yes!
Even for the casual outdoorsman, getting to the summit of Anthony's Nose and back down again is easily doable within the space of a day. In fact, hiking Anthony's Nose is so quick and easy that you could definitely combine the Anthonys Nose hike with other hikes in the area.
In fact, Manitou Mountain and Mine Mountain are both within a few miles of Anthony's Nose. So, if you choose to tackle those three peaks at the same time, it would make a great challenge for any hiker looking to test their stamina!
But if you're looking to focus on Anthony's Nose, you can hike to the top, take pictures, enjoy a picnic, take more pictures, and walk down to the road again all within one day. That;'s why, as I said before, it's easily one of the best NYC day trips for hikers!
Do I need a reservation to hike Anthony's Nose?
Good news! You do not need a reservation to hike Anthony's Nose.
Anthony's Nose is freely accessible all year round, and there is no booking required to enjoy this piece of the New York State landscape. Just come on down and enjoy the Anthonys Nose hike for yourself!
Things to Remember when doing the Anthony's Nose Hike
As a native New Yorker, I have a few extra tips and tidbits that will help you make the most out of your Anthony's Nose hiking experience and your climb along one of the best hikes in Upstate New York!
So, just like many of the other hills and mountains in the great State of New York, it can get chilly at the summit. Therefore, bringing a heavier coat or jacket with you can be a lifesaver, and can help you get the most out of your panoramic experience.
After all, It's hard to enjoy the view when you're freezing cold!
Also, because there is no real parking lot space allocated for this hike, make sure to get there early in the busier warmer months. So, arrive by no later than 11:00 am since parking space by the roadside from the main trailheads can be at a premium!
Getting here early will also save you from delays, logistical problems, and unnecessary stress.
You also may notice some blue and white markings on the trail from the main trailhead up to the top of Anthony's Nose. These are markings for the Camp Smith Trail (blue markings) and the Appalachian Trail (white markings).
The markings are easier to spot on the way up but harder to see on the way down. At times, hikers can get a little lost on this route as they try to get back to the road.
So, on the way up one of the best hikes in New York, you'll see white markings first, then more blue markings as you get higher up. Coming back down again, follow the blue markings and then the white ones. Do this and you'll get back to your car with no problem.
Where can you stay near the Anthonys Nose Hike?
So, although there aren't many places to stay in Cortland Manor, NY area where the Anthonys Nose hike is located, there are a few great options for every budget!
Additional New York Resources
There you have it! That just about wraps up this epic guide to the Anthonys Nose hike in the Hudson Valley/Northern Westchester County!
And if you found this guide to the Anthonys Nose trail useful, don't forget to sign up for our email list before pinning this post now so that you can read it again later!