Have a sweet tooth and want to enjoy the best bakeries in Long Island? If so then check out this mega epic guide to 15 of the best bakeries Long Island locals love.
Because as someone who grew up in the city and who practically grew up on Long Island, I know exactly where you should go if you want to find the best bakery Long Island has to offer.
So, stop wasting time and calories on mediocre at best baked goods. Instead, use this handy guide to find a Long Island bakery that you and your family will truly adore – a place you'll keep wanting to go back to over and over again.
This post may contain affiliate links. Please see my disclosure for more information. As an Amazon Associate, I earn a small commission from qualifying purchases.
Best Bakeries in Long island
1. Front Street Bakery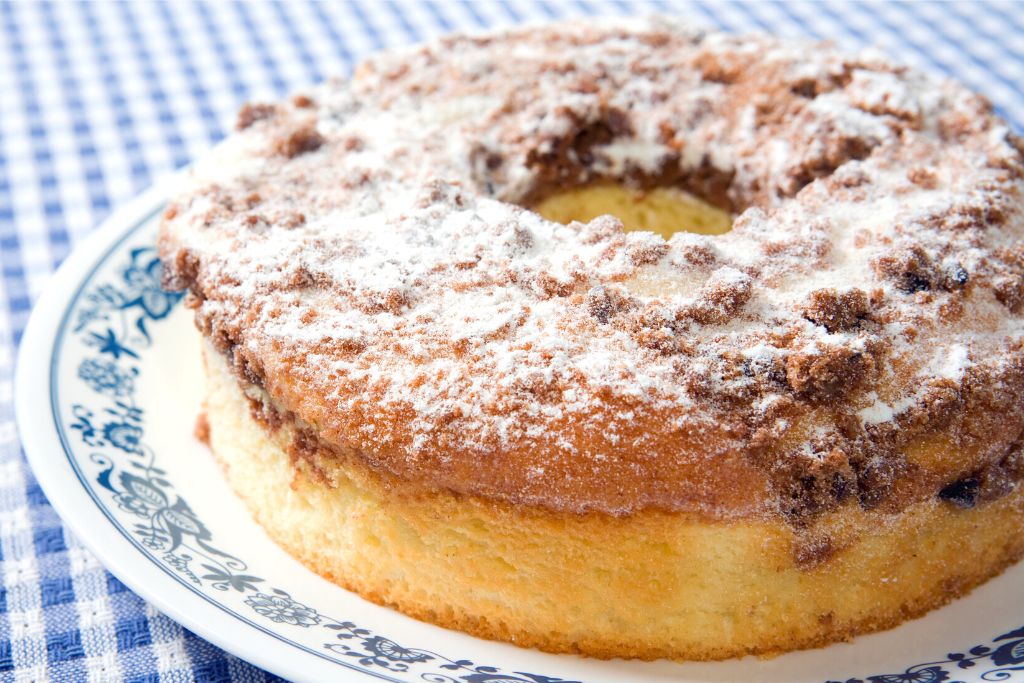 Front Street Bakery has been owned and operated by three generations from the same family for well over 60 years. And you can taste every morsel of the love, tradition, and experience that's baked into each one of their creations.
As a result, people travel from all over Long Island to sample Front Street Bakery cakes, pastries, and cookies.
In fact, they are known for making some of the best cakes in Long Island, including cheesecakes, Angel Food cake, and Tiramisu cake.
But, their crumb cakes are what they are really known for. And when you taste them for yourself, you'll understand why the line outside this Long Island bakery is always so long. Also, don't miss their famous melt-in-the-mouth Dot Cookies, which are free if you're a kid!
Address: 51 Front St, Rockville Centre, NY 11570
Hours: Open Tuesday through Saturday from 7:00 am to 5:00 pm.
Price: Varies
2. Spiga Bakery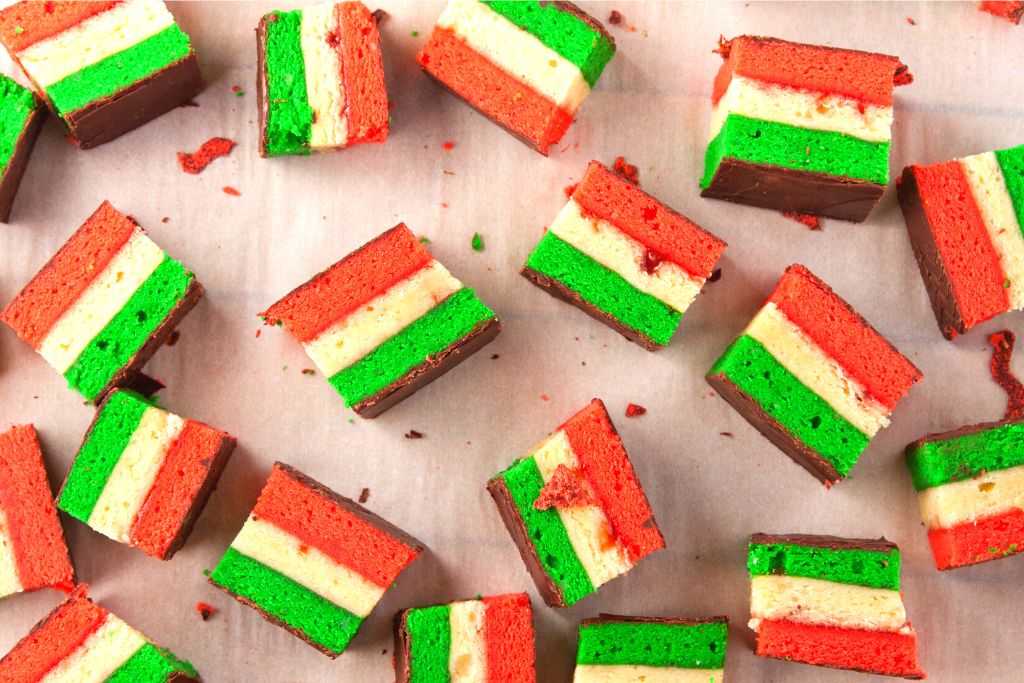 Spiga Bakery is owned by two brothers, Robert and Luca Caravello, who pride themselves on producing some fo the freshest baked goods on Long Island.
So, their award-winning range of Italian butter cookies, European tortes, and artisan bread is baked fresh daily at one of the best bakeries on Long Island.
Alongside these, you can also choose from a wide selection of Italian confectioneries, fresh donuts, danish pastries, and muffins, plus a choice of hot and iced coffees.
However, if you don't have much of a sweet tooth then you might be tempted by their delicious Focaccia or Stromboli. And you should definitely stop by Spiga Bakery in the summer when they serve a tempting range of gelato too.
Address: 2680 Merrick Rd, Bellmore, NY 11710
Hours: Open Monday through Thursday from 7:00 am to 7:00 pm, Friday/Saturday from 7:00 am to 9:00 pm, and Sunday from 7:00 am to 5:00 pm.
Price: Assorted cookies start at $17.00 each.
3. Dortoni
Dortoni has been one of the best bakeries in Long Island, NY, for more than 45 years, serving a wide array of baked treats made on-site and with the highest quality ingredients.
Currently, they run four unique Long Island bakeries, having recently taken over La Bonne Boulangerie, now known as Dortoni Port Jeff.
However, the Dortoni bakery in Levittown was their original site, and it's still serving delicious baked goods to customers today.
In fact, this welcoming places is one of the best bakeries on Long Island that was styled after the traditional pastry shops found in Naples, Italy.
Their tempting range of items on offer soon grew from simple cookies and biscotti to include European tortes, American layer cakes, and some of the best cupcakes Long Island has to offer.
So, when you visit Dortoni, be sure to indulge in one (or more!) of Dortoni's delicious bite-size cream puffs and their amazing cannoli rainbow cake.
Address: 3264 Hempstead Tpke, Levittown, NY 11756
Hours: Open daily from 7:00 am to 8:00 pm.
Price: Cakes start at around $40.00 each.
4. Briermere Farms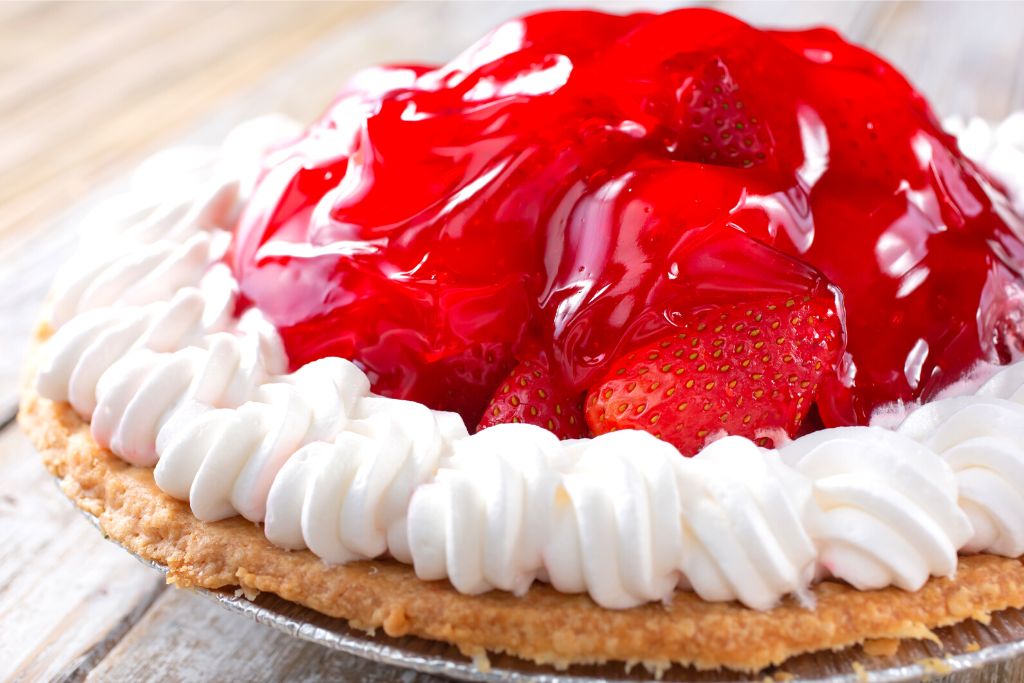 If you have a craving for farm-fresh Long Island food then you must visit Briermere Farms.
They are renowned for their fantastic fresh food, in addition to delicious freshly-baked pies, cookies, and more.
See, all of their pies, cakes, and cookies are baked on the farm, and most of the fruit they use is grown there as well roo.
Therefore, you'll find plenty of parking, even though people do travel quite a distance to enjoy Briermere Farm pies.
So, plan to get to one of the best bakeries in Long island as early as possible just so that you can be sure to grab a spot.
And if you stop by during the summer, you'll definitely want to try their Fresh Fruit Strawberry Cream pie, while chocoholics will love their Chocolate Cream Pie all year round!
Address: 4414 Sound Ave, Riverhead, NY 11901
Hours: Open seasonally, from April through Christmas Eve, from 9:00 am to 5:00 pm daily.
Price: Cookies start at $8.00 per bag.
5. Alpine Bakery
Tony Cuccia is a Long Island baker with more than 45 years of experience. And the Alpine Pastry Shop is the fulfillment of a long-time dream to open a Long Island bakery serving up the best Italian desserts.
After all, this is one of the best bakeries on Long Island that has been serving the community for over 30 years, using nothing but the finest ingredients to create delicious, high-quality baked goods.
And the range of delicacies on offer here includes old-school favorites like lobster tails, Napoleons, and chocolate eclairs, as well as jelly donuts, cake pops, and themed cupcakes.
Just be aware that the line outside the Alpine Pastry Shoppe can get pretty long. But, with delicious food and friendly service, it's worth the wait.
Also, make sure you order their Rainbow Cookies since the bakery is famous for them!
Address: 59 NY-111, Smithtown, NY 11787
Hours: Open Monday through Thursday from 7:00 am to 8:00 pm, Friday/Saturday from 7:00 am to 9:00 pm, and Sunday from 6:00 am to 8:00 pm.
Price: Rainbow cookies start at $15.95 for half a pound.
6. Tate's Bake Shop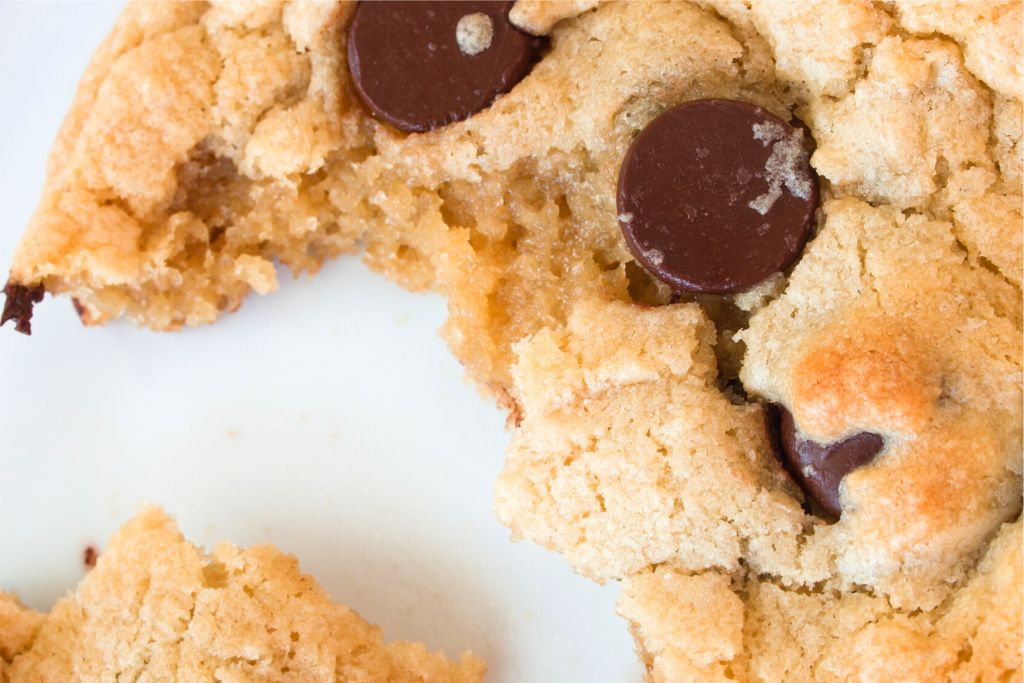 Tate's Bake Shop is undoubtedly one of the best bakeries on Long Island, NY, winning 'Best Bakery in Long Island' awards year after year.
See, Kathleen King started selling cookies from her father's farmstand when she was just a pre-teen. Now, Tate's is a charming shop that attracts visitors to the Hamptons from miles around.
In fact, Tate's cookies are so popular that they are now available in stores all across the country.
But, this cozy Long Island bakery, with its wooden tables and floral decorations, is their only bricks-and-mortar location.
Plus, in addition to their signature chocolate chip cookies, they also have a wide range of delicious desserts, pies, and cakes, including vegan and gluten-free varieties too.
Address: 43 N Sea Rd, Southampton, NY 11968
Hours: Open daily from 7:00 am to 4:00 pm.
Price: Around $6.00 per pack.
7. Beach Bakery and Grand Cafe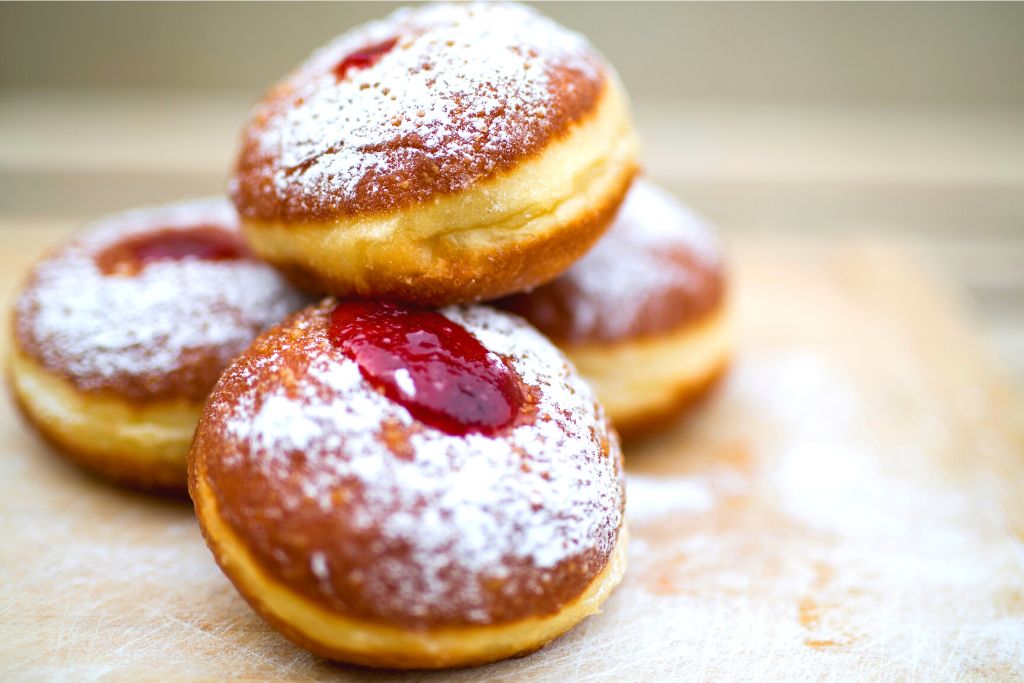 For over 30 years, Beach Bakery has been selling delicious, freshly-baked bread, cakes, and pastries.
Additionally, this European-style bakery in Long Island has become known as the heart of Westhampton Beach.
So, it's definitely a must-visit spot for a relaxing coffee and snack.
Now, Beach Bakery and Grand Cafe have built up a loyal legion of followers who regularly stop by for their laid-back atmosphere, incredible coffee, delicious croissants, and seasonal pies.
As a result, they've expanded their dine-in menu to include a range of vegetarian and fish dishes that are served at lunchtime.
Therefore, Beach Bakery is without a doubt one of the best bakeries on Long Island, renowned for amazing jelly-filled doughnuts and their famous Black and White Cookies.
Address: 112 Main St, Westhampton Beach, NY 11978
Hours: Open Monday through Thursday from 6:00 am to 10:00 pm and Friday through Sunday from 6:00 am to 12:00 pm.
Price: Varies
8. Blacksmith's Breads
One of Long Beach's best bakeries, Blacksmith's Bread creates some of the best bread in Long Island from their tiny bakery and delightful little coffee house.
As a result, they are well-known for baking excellent sourdough loaves, baguettes, and croissants – all of which are made using regional grains sourced from all across Maine, Vermont, and New York.
So, call today to purchase one of their fantastic rustic-style loaves of bread. Or, linger for a while over coffee and a sandwich in their cozy coffee house.
Plus, they often have tempting specials on offer, like their rich chocolate babka, with the friendly service from the staff being a true delight.
Address: 870 W Beech St, Long Beach, NY 11561
Hours: Open daily from 7:30 am to 2:00 pm.
Price: Bread loaves start at $7.50 each.
9. Blue Duck Bakery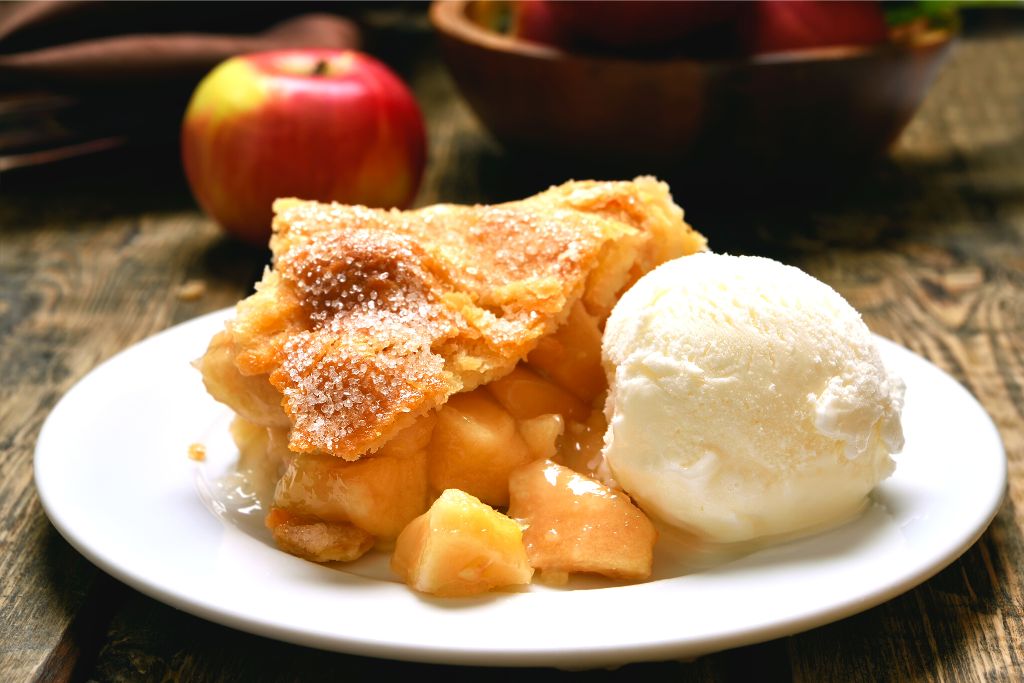 Blue Duck is a family business that is owned and operated by Keith and Nancy Kouris, with the assistance of their three grown children.
All in all, they have been baking some of Long Island's best breads, cakes, and pastries since their first cafe opened in 1999.
Today, there are now three Blue Duck Bakery locations, each selling a traditional selection of cakes, cookies, pies, and pastries, along with their signature range of artisanal loaves.
You'll also love that Blue Duck is a traditional-style bakery where everything is baked with love and care.
And their picture-perfect pies are some of the best on Long Island, with their individual, flaky apple pastry being a thin slice of apple pie heaven.
Local Tip: If you want to try Blue Duck's amazing croissants, get there as early as you can since they sell out really quickly.
Address: 56275 NY-25, Southold, NY 11971
Hours: Open Wednesday through Sunday from 8:00 am to 4:00 pm, Monday from 8:00 am to 5:00 pm, and Tuesday from 9:00 am to 4:00 pm.
Price: Varies
10. Carissa's The Bakery
Carissa Waechter started her bakery with the simple aim of baking bread. But, luckily for you, it has evolved into so much more.
As a result, this Long Island bakery is now a community hub that supports local organic and fair-trade production and prioritizes a more sustainable and transparent way of life.
So, it's no small wonder that visitors keep going back to Carissa's three Long Island bakeries time and time again.
And that makes sense since they sell a range of European-style breads, cakes, and viennoiserie while still offering a delicious seasonal menu of soups, sandwiches, and whole grain bowls.
So, while you're enjoying their excellent coffee and one of their heavenly pistachio croissants, you're also helping to support small growers and producers in the local area.
Address: 221 Pantigo Rd, East Hampton, NY 11937
Hours: Open Thursday through Monday from 8:30 am to 3:00 pm.
Price: Bread starts at $7.00 per loaf.
11. Copenhagen Bakery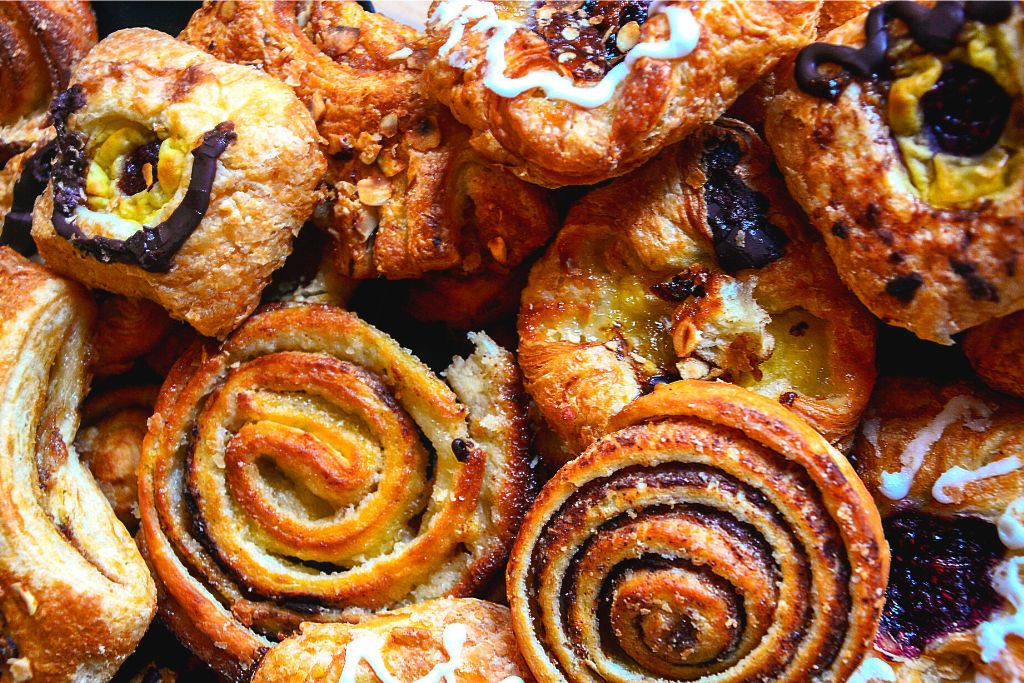 The doors of Copenhagen Bakery first opened in Northport, NY, over 25 years ago.
Since then, the Scandinavian bakery on Long Island has grown into a thriving bakery and cafe that serves breakfast and lunch 7 days a week.
After all, Flemming Hansen's bakery has remained true to its roots, preparing everything daily and even using butter imported from Denmark in the pastries for an authentic Danish flavor.
Additionally, the cafe offers a tempting range of homemade soups, quiches, and sandwiches using the bakery's own fresh-baked bread.
So, when you visit you must try the Danish pastries. But, the cookies and strawberry shortcakes are also exceptional too.
Address: 75 Woodbine Ave A, Northport, NY 11768
Hours: Open daily from 6:00 am to 6:00 pm and on Sunday from 6:00 am to 4:00 pm.
Price: Croissants start at $4.50 each.
12. North Fork Doughnut Company
The founders of North Fork Doughnut Company feel that "Doughnuts = Life."
And since they opened in 2018, NoFoDoCo has been supplying Long Island locals with a range of delectable doughnuts baked and decorated daily on-site.
Now, their core range of signature flavors is supported by a rotating assortment of imaginative specials like Pistachio, Irish Cream, and Maple Caramel Pecan.
Luckily, their website has a Flavor Forecaster to help you keep track of when your favorites will be back in the store.
So, whether you want a classic glazed or cinnamon sugar or one of their more adventurous donuts, you're sure to find something to tempt your tastebuds at one of the best bakeries in Long Island.
Just do know that they only stay open until their doughnuts sell out. So, get there early to avoid disappointment!
Address: 100 Love Ln, Mattituck, NY 11952
Hours: Monday through Friday from 7:30 am to 3:30 pm and weekends from 6:00 am to 3:00 pm.
Price: Donuts are $4.50 each.
13. Nettie's Country Bakery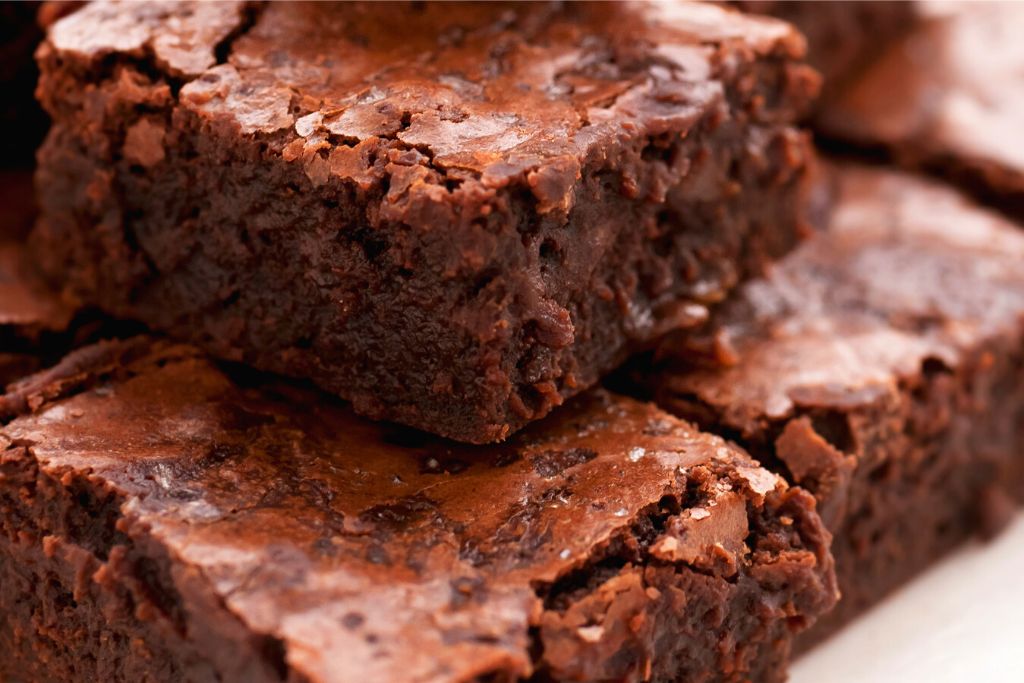 Joe and Jeanette "Nettie" McHeffey opened their cozy Long Island bakery in 2014.
Since then, they've earned the support of loyal fans who travel from miles around to enjoy their delicious cakes, cookies, and pastries at one of the best bakeries on Long Island.
And that's because Nettie's Country Bakery is all about community, relationships, and coming together to share some delicious baked goods.
Therefore, this traditional American-style bakery is beloved by locals and visitors alike. So, stop by for open-style strawberry shortcakes, crumb cakes, Boston cream pies, and a delicious range of breads and quiches.
However, you absolutely have to try their signature Nettie's Craft Brownies, which are now available nationwide.
Address: 366 Railroad Ave, Center Moriches, NY 11934
Hours: Open Friday through Sunday from 7:00 am to 4:00 pm.
Price: Brownies start at $10.00 each.
14. Saint Honoré Pastry Shop
The owner of the Saint Honoré Pastry Shop, Jacques Le Guelaff, was born in Brittany and raised in Queens, NY.
Therefore, his boutique French bakery now offers a range of gorgeous cakes and pastries that will have you swooning with delight.
In fact, customers routinely come back to Saint Honoré Pastry Shop over and over again for the impeccable service and the exceptional quality of Jacques' creations.
And some of the sweet treats dreamt up in the kitchen of this Long Island bakery include their melt-in-the-mouth buttery cookies, delicate petit-fours that are boxed and ready to go as gifts, and a range of exquisite cakes.
Although, if you're struggling to choose, why not treat yourself to the indulgent Saint Honoré cake after which the bakery is named?
Address: 993 Port Washington Blvd, Port Washington, NY 11050
Hours: Open Tuesday through Saturday from 7:00 am to 6:00 pm and on Sunday from 7:00 am to 1:00 pm.
Price: Croissants start at $3.50 each.
15. Cieslaks Modern Bakery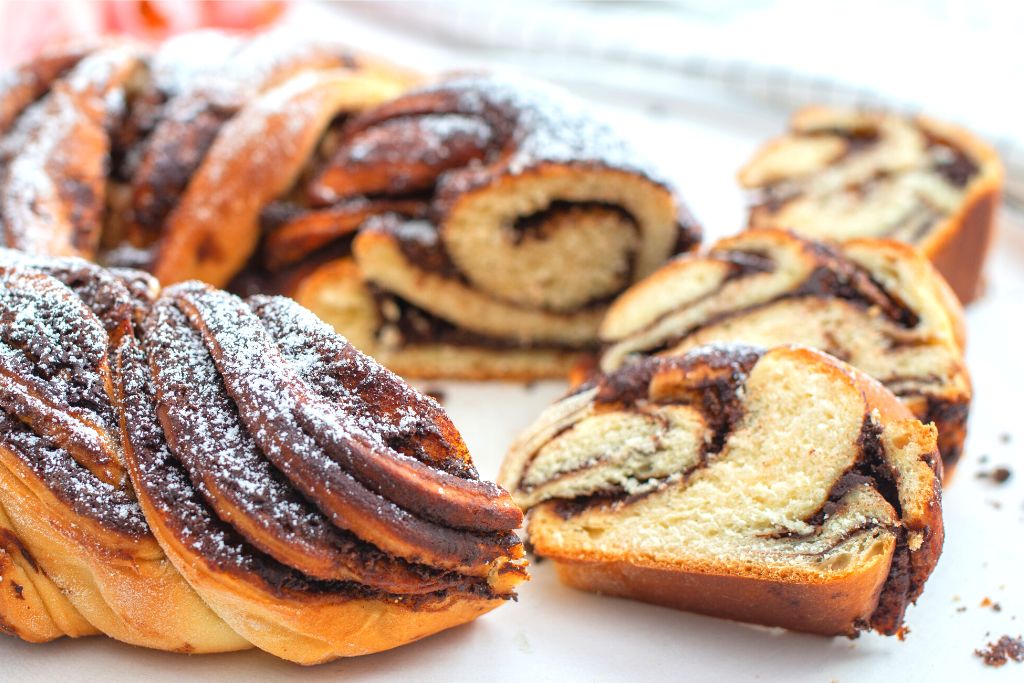 Step through the doors of Cieslaks Modern Bakery, and you'll instantly be reminded of the great bakeries of years gone by.
After all, this is one of the bakeries Long Island locals head to when they want generously-filled jelly doughnuts or top-quality artisan loaves.
However, Cieslaks also sells a wide range of cookies, cakes, and pastries, and loyal patrons routinely rave about their fantastic chocolate mousse cakes.
But, if you can only choose one item from Cieslaks Modern Bakery, make it their Babka, which is moist, delicious, and flavorful.
Address: 235 S Wellwood Ave, Lindenhurst, NY 1175
Hours: Open Wednesday through Sunday from 8:00 am to 6:30 pm.
Price: Varies
16. Buttercooky Bakery & Cafe
Buttercooky Bakery & Café is an Italian café that has been part of the Long Island landscape for over 50 years. There are 3 different outlets in NYC but the Floral park one is the flagship store. In fact, till date the bakery in Floral park is both family owned and operated which is pretty amazing.
The moment you enter the Buttercooky café, you will be overwhelmed by the sheer number of items that you can choose from. Breakfast pastries, cheesecake, French pastries, cakes, pies and an overwhelming number of types of bread. It is pretty hard to choose from the menu but I highly recommend starting off with the croissants.
It is without doubt one of the best bakeries in Long Island. One that will keep you coming back for more!
Address: 217 Jericho Turnpike, Floral Park, NY 11001, United States
Hours: Open everyday from 7am – 8pm
Price: Varies
17. Francesco's Bakery
Francesco's Bakery is another great Italian-American flagship store that is frequently mentioned when everyone talks about the best bakeries in Long Island. Not only do they make great Italian pastries, Francesco's also has some of the best cookies and cakes in the area.
For many, Francesco's is a big part of living in the area. They'll pop in for some of the amazing bread or a sweet treat on their way to the office or home. Plus, over the past three decades that the store has been open, they have consistently delivered as far as quality is concerned.
Oh did I mention that they even make custom bakes? So you can order a cake for a party and have it made to exact specifications! Super cool, right?
Address: 640 S Broadway, Hicksville, NY 11801, United States
Hours: Tue – Sat: 7am – 9pm, Sun-Mon: 7am – 8pm
Price: Cookies start out at $23 a box of 10
Best Bakeries In Long Island FAQ
What Is The Most Famous Bakery In NYC?
Dominique Ansel Bakery is considered the most famous bakery in NYC. This is because of the sheer innovativeness that they use when baking. If you want to try something here, I highly recommend trying the cronuts. They are the best in the whole city!
What Is The Largest Private Bakery In The USA?
Bimbo Bakeries USA is the largest private bakery in the country. It supplies baked goods to 34 different countries! Yup! That's how big it is.
What Is The Baking Capital Of The USA?
I would be tempted to say NYC but it is actually Phoenix Arizona.
Who Is The Most Famous Cake Maker In New York?
Buddy Valastro aka 'Cake Boss' has become synonymous as the best cake maker in New York. His rise to fame really took off after the TLC show on Carlos Bakery.
Map of the Best Bakeries in Long Island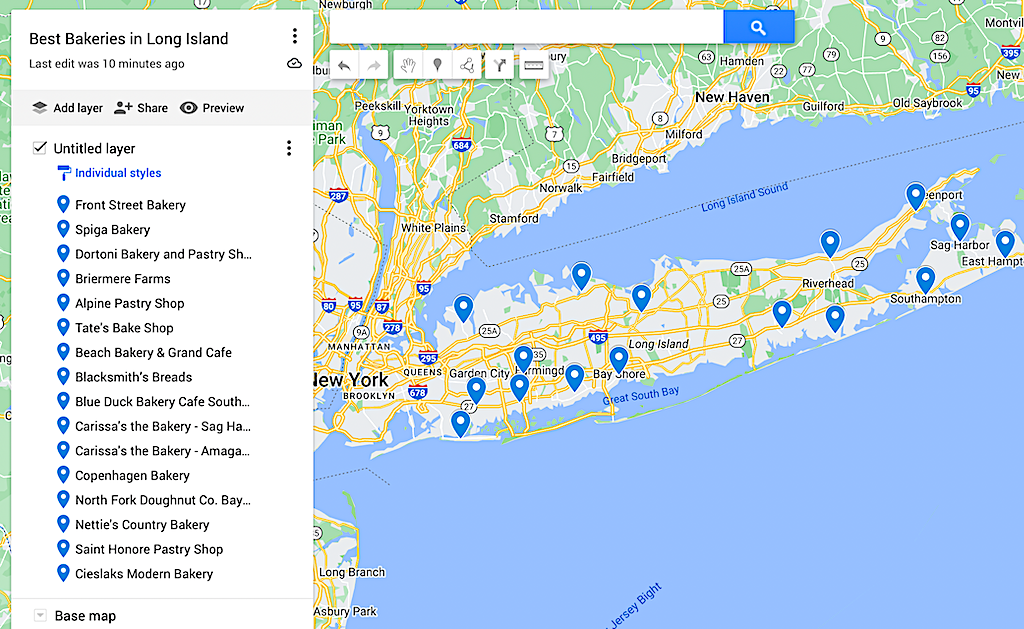 Additional Long Island Resources You'll Love
There you have it! That just about wraps up this guide to the best bakeries in Long Island.
Tell me, did your picks of the best bakeries Long Island has to offer make the list? If not then let me know in the comments below.
And if you found this post helpful, be sure to join our email list before pinning this post now so that you can read it again later.