Planning a trip to Ithaca? If so then this guide to the best Ithaca hiking trails of all time is 110% for you. Because while there are many amazing things to do in Ithaca, there's really nothing better than strapping on your fave pair of hiking boots and exploring the great outdoors.
Because as you probably already know, Ithaca is positively brimming over with epic treks that are quite possibly some of the best hikes in the Finger Lakes…period.
However, if you're not from the area, it can be difficult to find some of the best hikes near Ithaca NY. Luckily for you though, I'm a savvy 30+ year local who knows exactly where to find all the top Ithaca hiking trails.
So, stop wasting your time on less than stellar Ithaca hikes and start experiencing the awe-inspiring natural wonder of this area like a real local.
This post may contain affiliate links. Please see my disclosure for more information. As an Amazon Associate, I earn a small commission from qualifying purchases.
Easy Ithaca Hiking Trails
1. Gorge Trail and Rim Trail Loop (Buttermilk Falls State Park)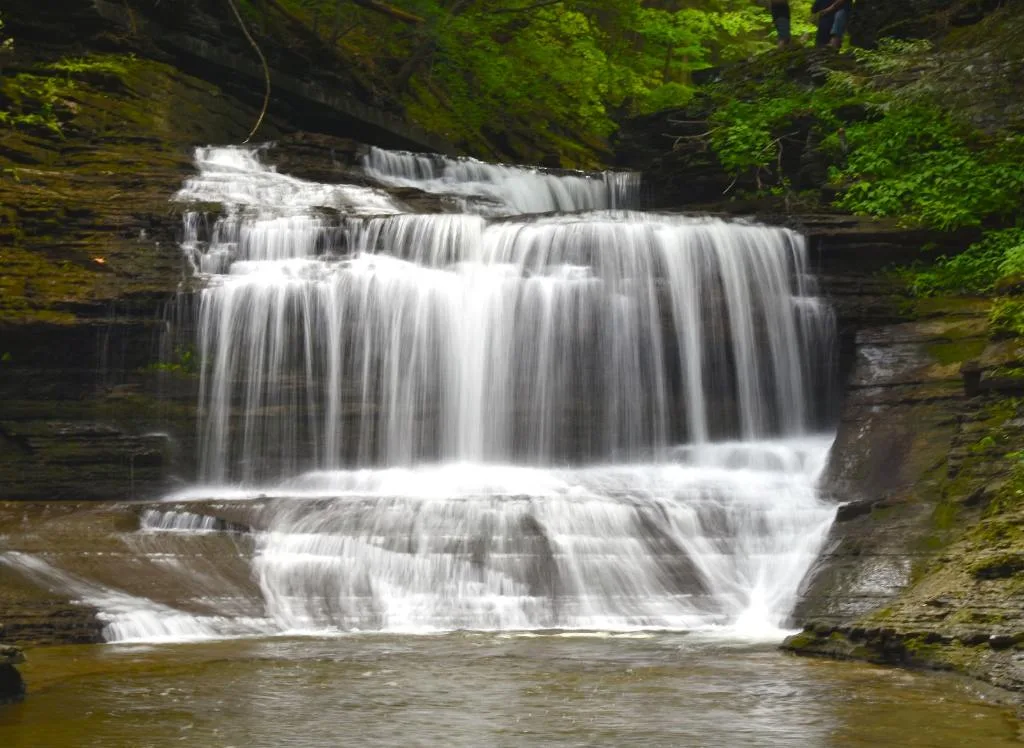 Buttermilk Falls State Park is one of the most epic destinations in the Finger Lakes. Plus, this is one of the best state parks in New York that is conveniently located just two miles south of downtown Ithaca.
It also spans a little over 800 acres and features soaring views of its namesake waterfall. Therefore, it should come as no surprise to anyone that the park is home to some of the best hikes near Ithaca.
And while you can see the principal waterfall without breaking a sweat, it's worth making a day of it and exploring the rest of the park. This way, you'll get to see a sequence of other falls that stud Buttermilk Creek.
Besides, all trails in the state park are pretty short – like around a mile in length each, short.
So, if it's your first time checking out the park then my recommendation is to tackle the Gorge Trail and Rim Trail in one fell swoop. Because when hiked together, these two hikes give you a fantastic overview of the park.
Just leave your vehicle at the parking lot near the park office where you'll also find a playground and several restrooms.
Then, hop on the Gorge Trail (0.65 miles), which starts near the base of Buttermilk Falls. Following Buttermilk Creek you'll ascend into the woods with some mild to moderate elevation in places.
You'll conclude this leg of the hike with a superb view before crossing over the bridge to join the Rim Trail (0.82 miles). There are fewer waterfall views on this trail but the chance to wander through the forest alone makes it one of the best hikes near Ithaca NY that is a true delight!
FYI, the trails are open here from April through November. However, you are welcome to visit the Buttermilk Falls viewpoint year-round.
Distance: 1.6 miles
Difficulty: Easy
Route: Loop
Elevation Gain: 462 feet
2. Lake Treman Loop
Lake Treman is another hike within Buttermilk State Park. Actually, this pretty lake forms along the course of Buttermilk Creek as it heads south from the park.
So, technically, you could start this hike from the Buttermilk State Park when combined with the Bear Trail. However, that would require a superior level of stamina.
You'll also love that the Lake Treman Loop trailhead is less than 4 miles south of Ithaca. Plus, you'll find a parking lot with restrooms on Upper Buttermilk Falls Park Road.
As a loop trail, you can start this one either on the western or eastern shore. The full hike is also just 1.3 miles long so this is one of the easier Ithaca hiking trails on this list.
Just know that after heavy rainfall, parts of the trail can become flooded. If that's the case, you might want to dig out your rubber boots before tackling one of the best hikes near Ithaca NY.
Nonetheless, the trail provides photogenic scenery, the chance to spot local wildlife, and tranquil conditions.
Distance: 1.5 miles
Difficulty: Easy
Route: Loop
Elevation Gain: 206 feet
3. Cascadilla Gorge Trail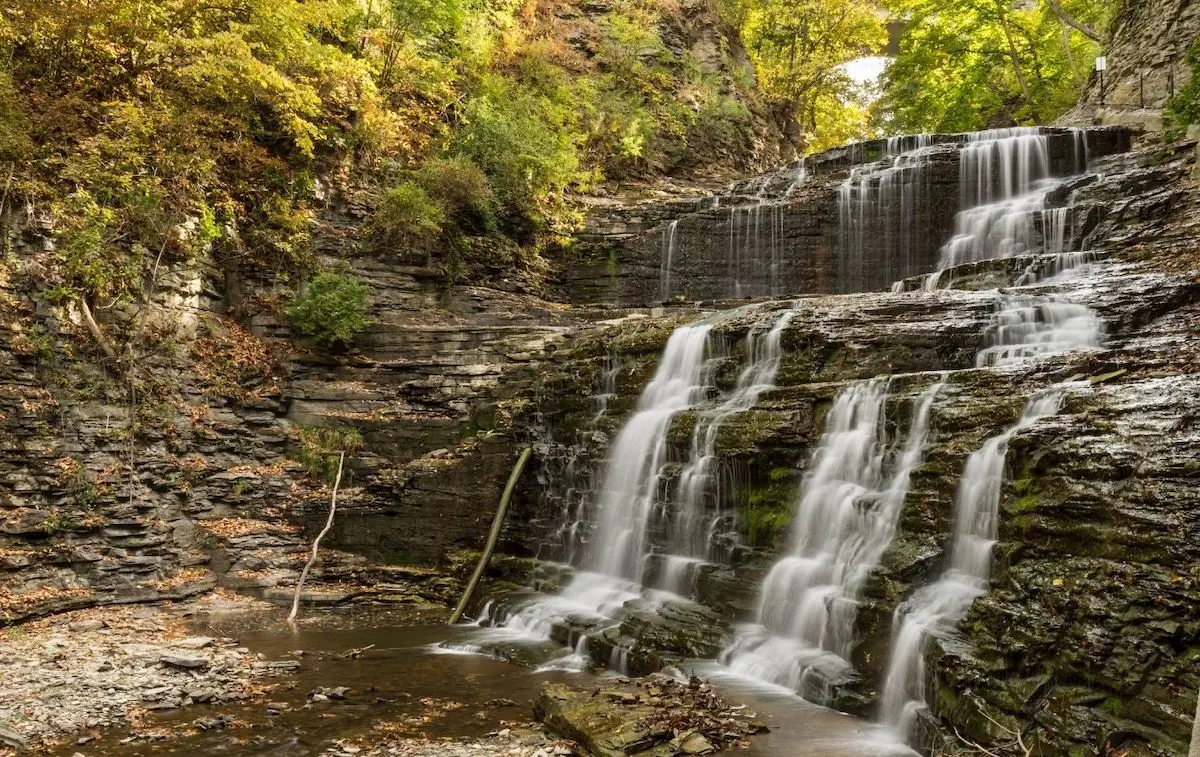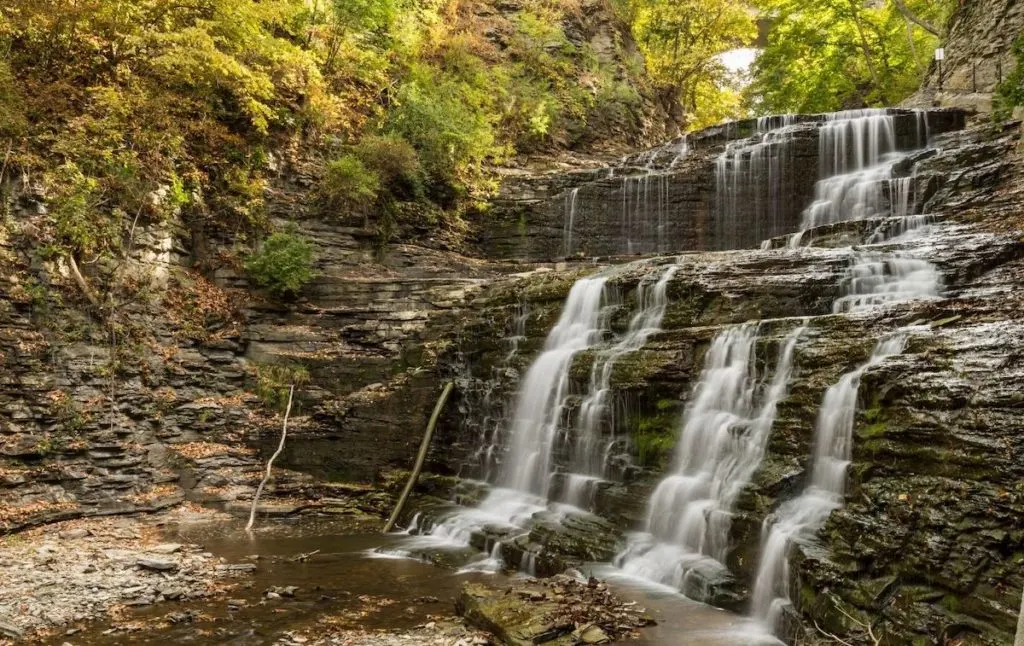 Never mind the best hikes near Ithaca NY because the Cascadilla Gorge Trail actually starts right in the downtown area. Therefore, this means that minimal effort is required for this epic walk.
Now, Cascadilla Falls itself is a magical series of nine waterfalls that tumble their way through this scenic gorge.
To get here, you can find the trailhead in Treman Triangle Park off Linn Street. You'll cross over onto the north bank of Cascadilla Creek and follow the course of the river eastwards. Eventually, you'll wind up at Cornell University.
Now, there are a fair few steps along this route that prove troublesome for strollers. But, overall, it's an incredibly easy hike. The lower gorge section is overall the most dramatic part of the trail but it's worth completing the entire 1.3-mile-long path.
It's also fair to say that this landscape is at its best following some heavy rain. But, when the creek is bursting over you'll need to exercise extra caution, especially if you're hiking with children.
And while this hike is lovely all year round, it's busier in the summer months and weekends. Plus, when winter ice is present, this trail may be closed.
Distance: 1.1 miles
Difficulty: Easy
Route: Out and Back
Elevation Gain: 298 feet
4. Ithaca Falls Trail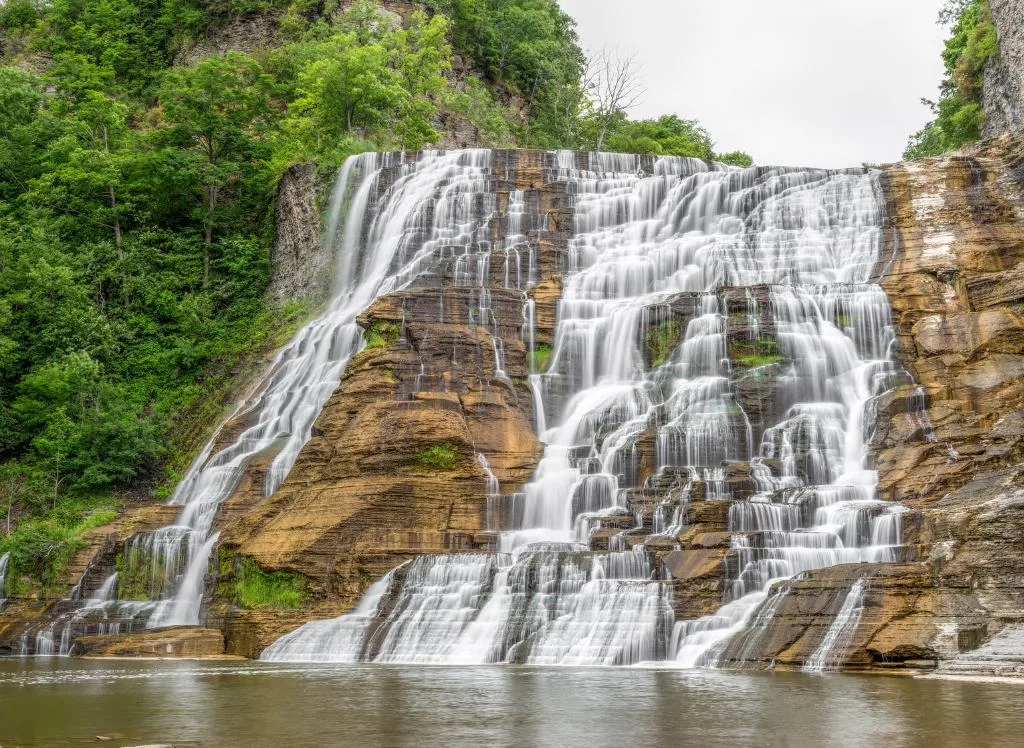 The Ithaca Falls Trail begins at the Ithaca Falls Natural Area in Fall Creek. This is also the final waterfall on Fall Creek before it meets Cayuga Lake.
Plus, Ithaca Falls features a mighty drop of 150 feet and has an impressive width of 175 feet – which is incredible when you consider how centrally located it is.
See, Ithaca Falls is actually located less than a mile north of the town center and the walk to the viewpoint is a simple 0.2-mile stroll. Therefore, this is one of the best hikes near Ithaca NY for hiking novices, kids, and families with strollers. Essentially, it's for anyone!
As it's so accessible, you can visit Ithaca Falls at any time of year. It looks particularly stunning in the fall when the area's vibrant foliage puts on quite the annual show. During extreme winter conditions though, the falls have been known to freeze over which is a wonder to see.
During the summer months, pack a picnic and linger on the grass while listening to the water thundering in the background as you enjoy one of the best Ithaca hiking trails.
You can also check out a different perspective from the bridge that connects you with Lake Street as you walk over Fall Creek.
Distance: 0.2 miles
Difficulty: Easy
Route: Out and Back
Elevation Gain: 3 feet
5. Potter's Falls
The Potter's Fall Hike picks up not far from where the Six Mile Creek Trail left you, in East Ithaca.
Potter's Falls itself though features 25-feet of cascading waters along Six Mile Creek. You'll see a gorgeous representation of wildflowers on this hike as it's the same region as the Mulholland Wildflower Preserve and Wells Falls.
However, obtaining access to Potter's Falls requires a decent amount of effort since this is an easy/moderate 2.2-mile out and back hike. There are also some noticeably steep/muddy sections that will cause you to huff and puff along the way.
You also have the option to extend this hike by another mile, depending on how energetic you feel after tackling one of the best Ithaca hiking trails on this list.
And while there are blue blazes marking the way, the track beyond Potter's Falls tends to puzzle walkers new to the area.
So, you'll make it to Potter's Falls with ease but if you want to continue along the water to the second dam and reservoir, take care as it may feel confusing.
And on a hot summer's day, you can expect to see local residents sunning themselves on the rocks near Potter's Falls.
For an entirely different experience, visit these falls during winter. The falls are known to freeze over and turn into a genuine winter wonderland. But take care since the icy conditions here can be dangerous if you don't have proper footwear.
You can also park near the Mulholland Wildflower Preserve just off Giles Street and walk from there.
Distance: 3.3 miles
Difficulty: Easy
Route: Out and Back
Elevation Gain: 393 feet
6. Cayuga Waterfront Trail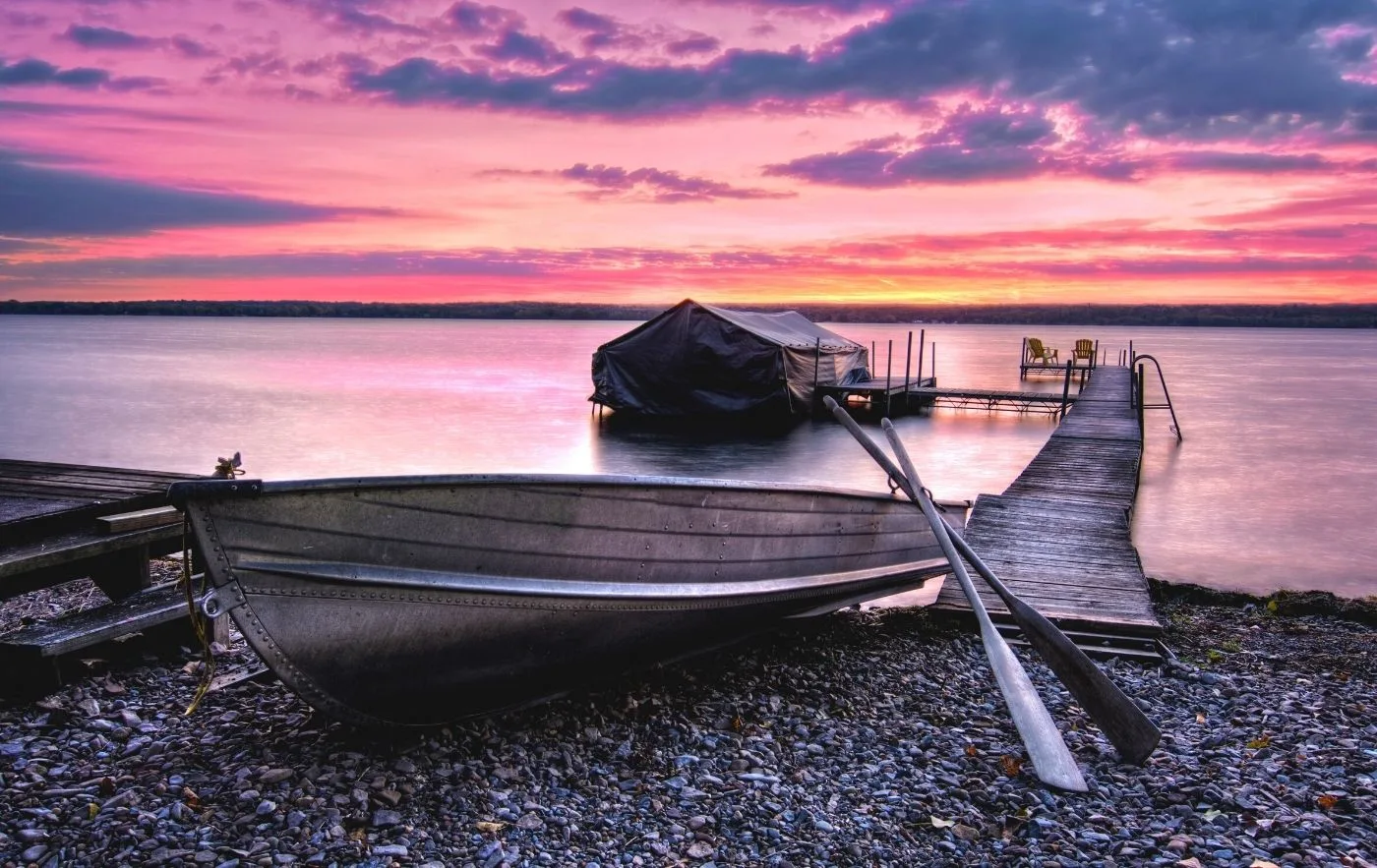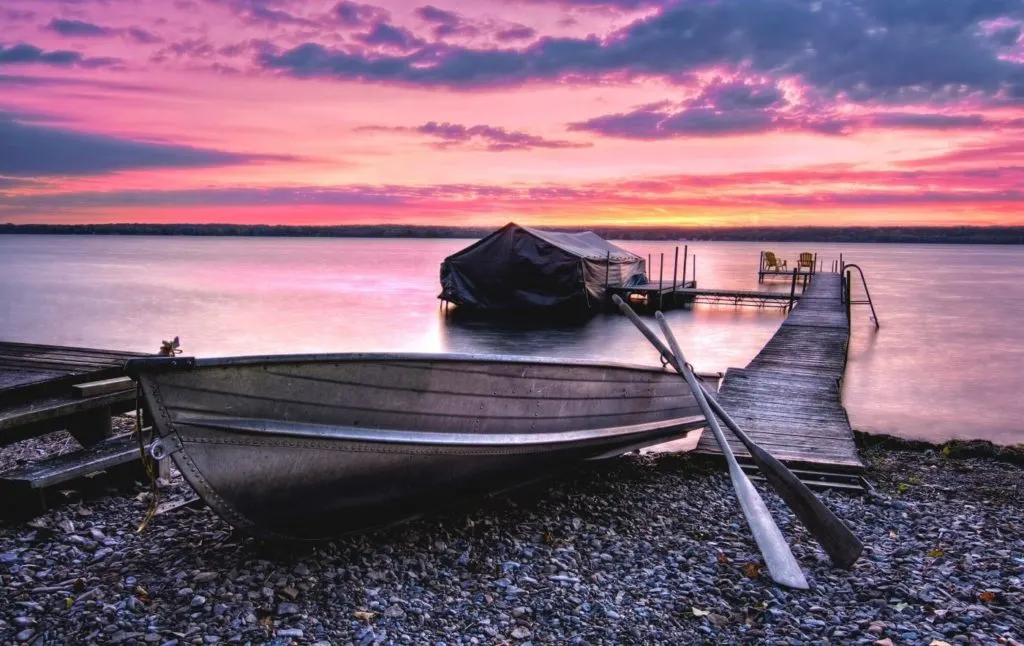 The Cayuga Waterfront Trail skirts its way around the southern shore of Cayuga Lake and connects a string of popular attractions in Ithaca.
It's also an 8-mile track that is as popular with cyclists as it with hikers looking for some of the best hikes near Ithaca NY.
Commencing near the Allan Treman State Marine Park and Cass Park, the route officially ends in Stewart Park at the mouth of Fall Creek and Cayuga Lake.
Along the way, you'll also pass through the Ithaca Children's Garden (even adults will be enthralled with the giant stone turtle) as well as a handful of picturesque viewpoints.
It's an area that is also well-served by restrooms, picnic areas, and various places to grab food. You'll then pass right through the Ithaca Farmers Market on the Cayuga Inlet. This market is open on Saturday and Sunday, so this is one of the best Ithaca hiking trails that you'll want to complete on the weekend.
There's also a designated dog park at the trailhead where your four-legged friends can stretch their legs before starting your trek.
Additionally, you can walk the Cayuga Waterfront Trail at any time of year. In fact, it's popular among Ithaca residents throughout the seasons and even when it's busier over the peak summer season, the trail has a friendly buzz about it.
Distance: 2.3 miles
Difficulty: Easy
Route: Loop
Elevation Gain: 6 feet
Moderate Ithaca Hiking Trails
7. Lick Brook Falls Hike (Sweedler Nature Preserve)
Lick Brook Falls is situated in the Sweedler Nature Preserve which merges into the Thayer Preserve. These two neighboring parks are 4.5 miles southwest of Ithaca and make up the next patch of green space that you'll encounter after Buttermilk Falls State Park.
There's also a small parking lot on Townline Road right next to the trailhead.
This is a pleasant, 1.2-mile loop hike that lets you explore the deep gorge of the glacier-carved Lick Brook. Along the way, you'll see not one but three beautiful waterfalls that shape the landscape of this bedrock stream.
The surrounding forestry is dense and varied, consisting of white pine, oak, and maple trees. So, you'll see a wealth of wild turkeys, red foxes, deer, and a diversity of birds dwelling in these woodlands. Therefore, keep your eyes peeled as you enjoy one of the best Ithaca hiking trails.
There is a reasonable degree of elevation on the Lick Brook Falls Hike and one steep ascent that makes this trail somewhat moderate.
The Lick Brook Falls Hike is also one of the best hikes near Ithaca for all seasons, even winter. However, if you visit during spring you'll be greeted by a blanket of wildflowers. And of course, fall brings a delicious tapestry of autumnal hues to the forest.
Distance: 1.2 miles
Difficulty: Moderate
Route: Loop
Elevation Gain: 500 feet
8. North and South Rim Trail Loop (Taughannock Falls State Park)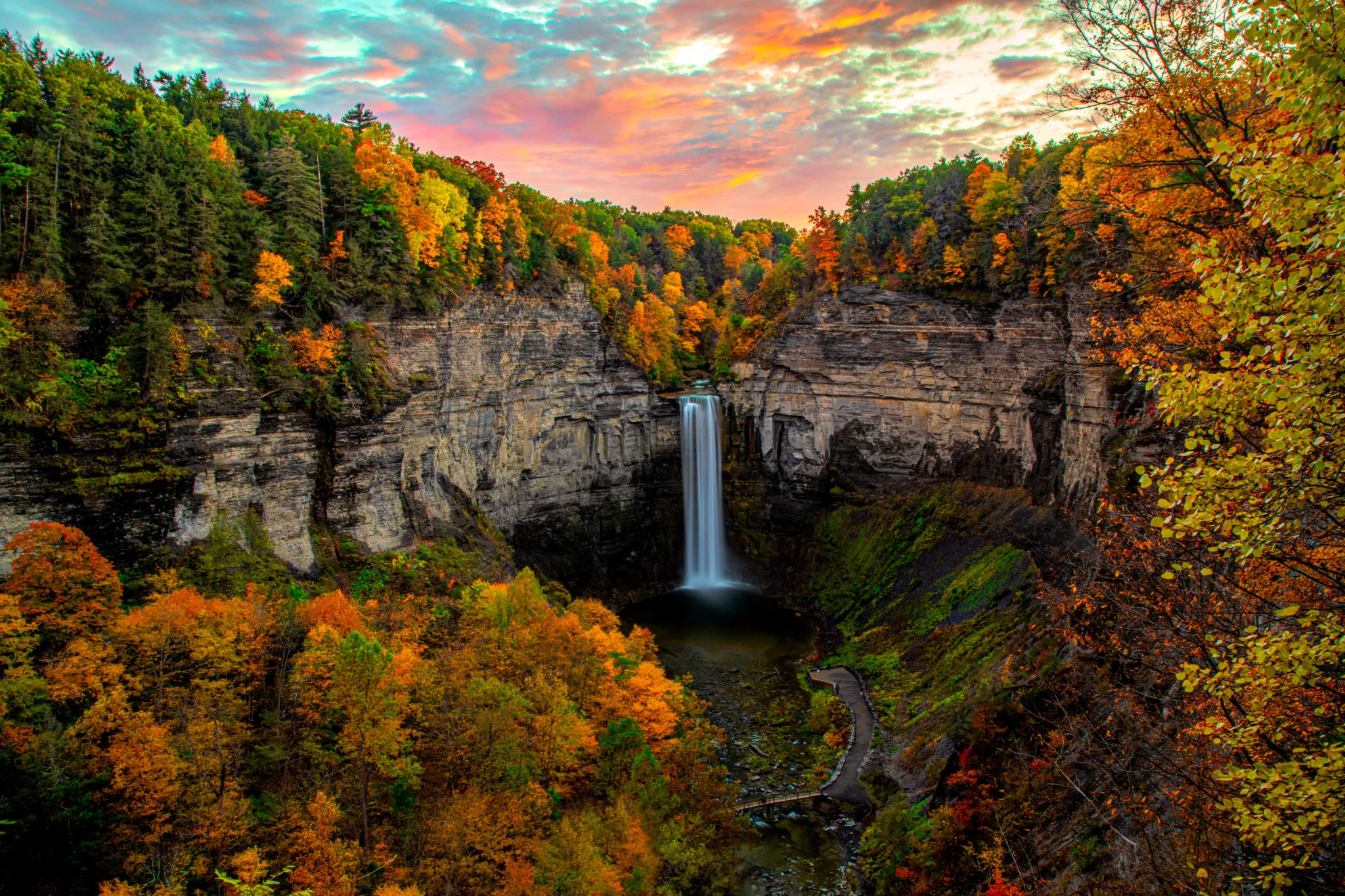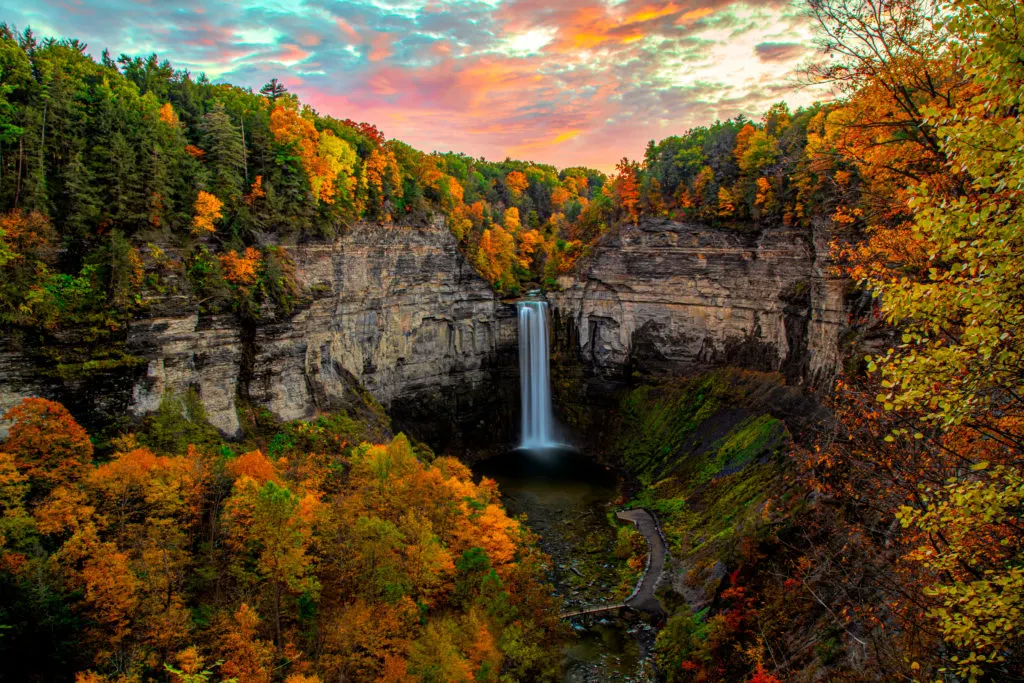 Taughannock Falls State Park is another top-notch destination for outdoorsy visitors in Ithaca.
In fact, this 750-acre preserve is located on the southwest bank of Cayuga Lake and can be accessed via a scenic 9-mile drive along the lake, just north of Ithaca.
As with Buttermilk Falls, the highlight of the park is the waterfall of the same name. Taughannock Falls – one of the most magnificent waterfalls in New York. It plunges down rocky cliffs looming 400 feet above the gorge and is truly an awesome sight to behold.
As Taughannock Falls is located slap-bang in the middle of the gorge, you'll need to trek along one of the best Ithaca hiking trails to see it!
And my pick for hiking in Taughannock Falls is the North Rim (1.4 miles) paired with the South Rim Trail (1.6 miles). You can hike this loop in either direction and you have a choice of two starting points.
Your first option is to leave your car at the Taughannock Falls parking lot on Jacksonville Road. You'll see the South Rim Trail immediately or you can cross the bridge to locate the North Rim Trail.
Then your second option is to park up at the lot near the park office and boat launch just off Route 89. From here you can choose between starting with the North or South Rim.
Both hiking trails are popular and clearly marked. As they totter above the Gorge Trail (an easier option overall) you'll appreciate views of the gorge and Taughannock Falls from this vantage point.
Overall, the North Rim Trail features the most impressive views. Although, there are a fair number of loose branches and stray boulders along the way. So, you'll need to wear good shoes and keep an eye on younger hikers.
As the elevation goes up and down (with stone staircases in some sections) all over the place, you should expect this loop to be moderately challenging.
So, yeah, this is one of the best hikes near Ithaca NY that makes for a full workout! Also, be prepared for a steep segment when you cross onto the second trial in the eastern end of the park. But that's the worst of it.
Distance: 2.92 miles
Difficulty: Moderate
Route: Loop
Elevation Gain: 495 feet
9. Six Mile Creek Trail
Centrally located on the southeast perimeter of downtown, the Six Mile Creek Trail follows its namesake gorge.
Now, this is one of the Ithaca hiking trails that officially begins behind Ithaca Commons. So, it's yet another super easy hike to embark on without needing to drive out of town.
You'll then head southeast toward East Ithaca along the northern bank of the creek.
In its entirety, the Six Mile Creek Trail is a 4.1-mile out and back hike. However, it's up to you whether you walk the entire route or just cover a couple of miles and then turn back.
In terms of the hike itself, the Six Mile Creek Gorge takes you past the likes of waterfalls, marshland, forest, and meadow. A highlight by far is the Mulholland Wildflower Preserve where you can hop in for a refreshing dip.
After all, this incredible natural area is bursting at the seams with wildflowers and is believed to hold the greatest wildflower diversity in New York state. Obviously, you'll see the best blooms in the spring season but it's charming at any time of year.
Distance: 4.1 miles
Difficulty: Moderate
Route: Out and Back
Elevation Gain: 492 feet
10. The Monkey Run Loop
The Monkey Run Loop is one of the best hikes near Ithaca for getting a perspective on the drama of the local landscape.
See, the Monkey Run Natural Area – officially part of the Cornell Botanic Gardens – spans 550 acres of floodplain forestry and wet meadowland. It forms a corridor that protects Fall Creek on its journey toward Cayuga Lake and is home to many amazing Ithaca hiking trails.
So, psych yourself up for some truly breathtaking views from the 100-foot high bluffs that emerge above the creek.
Also be prepared for a 2.9-mile-long hike that is of moderate difficulty, complete with a couple of inclines that you'll need to tackle. Besides that though, you can expect rogue muddy patches as well as loose branches and rocks. It's a lot of fun and kids will relish the adventure!
The parking lot for the trailhead is also situated on Monkey Run Road off Route 366 (Dryden Road). You'll then veer through the forest toward the water and journey west along the bluff pathway.
Distance: 2.9 miles
Difficulty: Moderate
Route: Loop
Elevation Gain: 259 feet
Map of the Best Ithaca Hiking Trails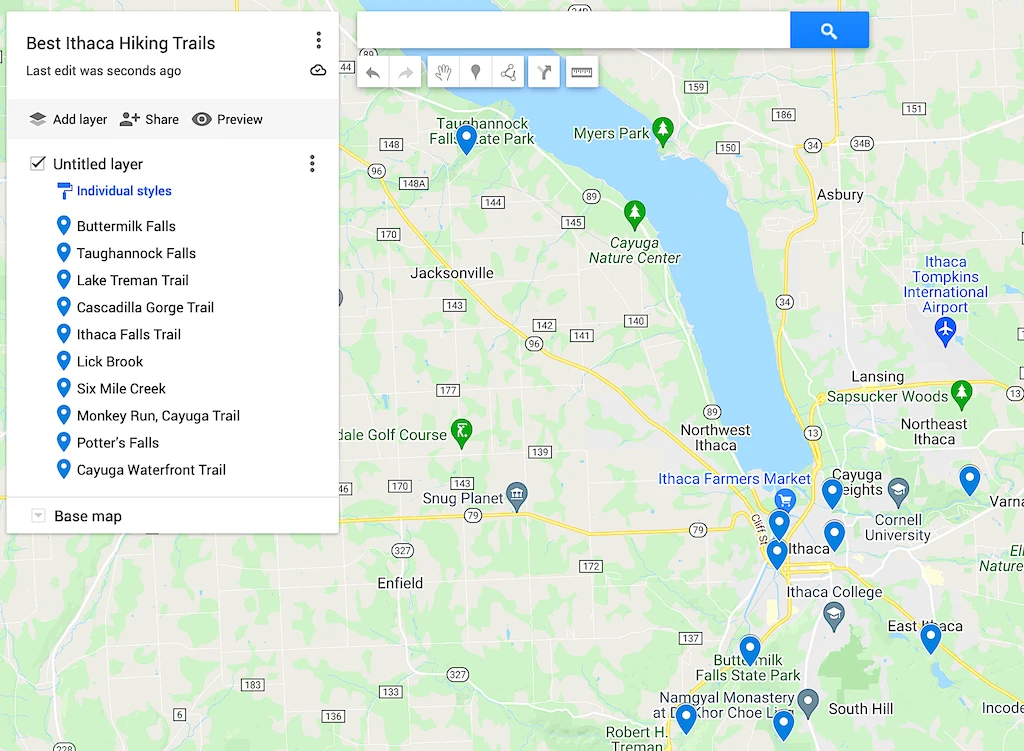 Additional New York Resources You'll Love
There you have it! That just about wraps up this guide to the best Ithaca hiking trails.
Tell me, did your favorite hikes near Ithaca NY make the list? If not then let me know in the comments below.
And if you found this post useful, don't forget to join our email list before pinning this post now so that you can read it again later.