Ready to explore Long Island and see what this magical part of the state has to offer visitors? If so then head all the way to the easternmost end of Long Island and enjoy some of the best things to do in Montauk, NY.
Because this charming town is overflowing with fun and exciting things to do that include fishing, hiking, shark diving, and more.
So, get away from the grit and grime of the city and go for an ethereal wine tour through the Hamptons while you're here.
Or, enjoy some of the best seafood in the state at iconic local eateries like The Lobster Roll.
Whatever you do though, step away from the generic AF guidebook. Instead, use this post to plan an epic Montauk itinerary.
Trust me, I'm a 30+ year local who knows all about some of the very best things to do in Montauk…and some things that you might just want to avoid.
Therefore, use all of my super-secret local tips to plan a very merry vacay to one of my fave places in the world, Montauk!
This post may contain affiliate links. Please see my disclosure for more information. As an Amazon Associate, I earn a small commission from qualifying purchases.
Where to Stay in Montauk
Not sure where to stay in Montauk? If so then check out my personal recs for where to stay regardless of your budget.
Because no matter how much cash you have, there really is a perfect hotel in Montauk for you.
Sunset Beach Motel (budget/mid-range) – This place is well-priced and super close to the Block Island Ferry. And while nothing here is lavish, a stay here means you'll enjoy a cozy room with modern amenities to enhance your stay.
Daunt's Albatross Motel (budget/mid-range) – Operated by a local family, this budget option is well located and offers chill rooms with balconies, WiFi, coffeemakers, etc. Guests can also make use of BBQ grills and an outdoor pool too.
Hero Beach Club (luxury) – Swank with a capital "S", this sleek hotel near Kirk Park Beach has a vintage, 1950s feel to it with rooms that feature flat-screen TVs, WiFi, and comfy furnishings. There's also a fantastic heated pool outside that the whole family will love.
Gurney's Montauk Resort & Seawater Spa (luxury) – A magnificent 4-star hotel that sits right on the beach. Rooms are also well outfitted with flat-screen TVs and Nespresso machines, and even private verandas. Guests here will also love things like on-site beachside restaurants, a spa, and an indoor heated pool.
Best Things to do in Montauk NY – State Parks
1. Montauk Point State Park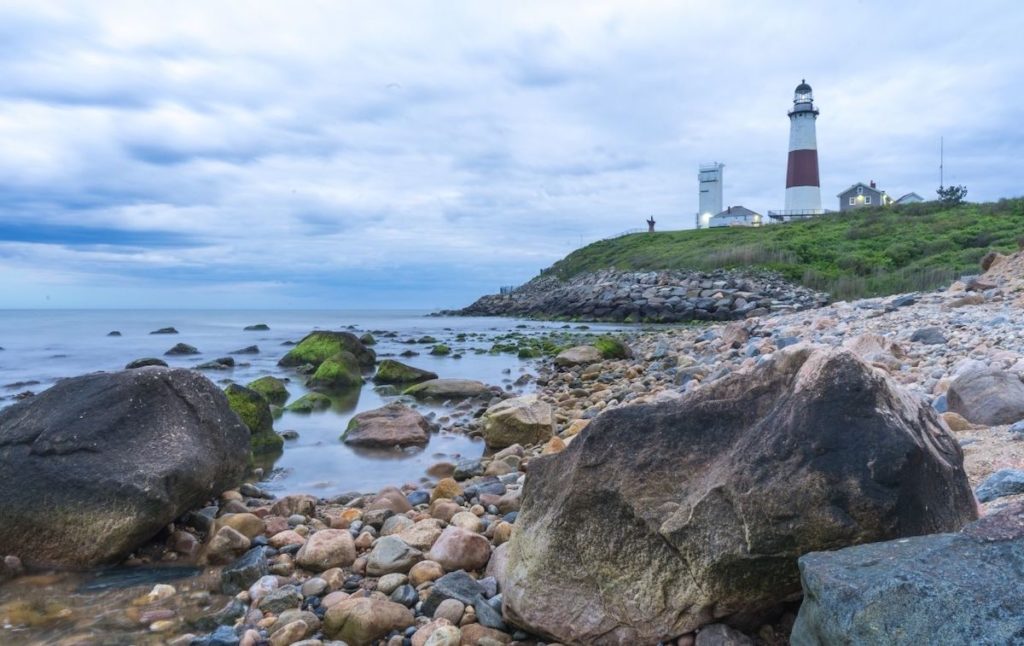 Travel right to the eastern edge of Montauk NY and you'll find yourself in Montauk Point State Park.
In fact, this gorgeous state park is as far east as you can go in New York State before you start swimming!
Here you'll find over 860 acres of green spaces, sandy beaches that make up the best beaches in Montauk, rocky coastline, hiking trails, and playgrounds.
Therefore, it goes without saying that the sunsets here are absolutely stunning and VERY Insta-friendly, with views out across the Atlantic Ocean and the Block Island Sound.
Montauk Point State Park is also home to Montauk Point Light, a historic lighthouse complete with a gift shop and a museum run by the Montauk Historical Society – people who also run the Montauk Indian Museum (which I'll talk about more below).
It also looks amazing during the holiday season when it gets lit up with bright Christmas lights!
However, one of the all-time best things to do in Montauk Point State Park is to try your hand at surf fishing when the striped bass are in the area.
Address: 2000 Old Montauk Hwy, Montauk, NY 11954, United
Hours: Open daily from 7:00 am to 9:00 pm.
Price: $8.00 per car.
2. Camp Hero State Park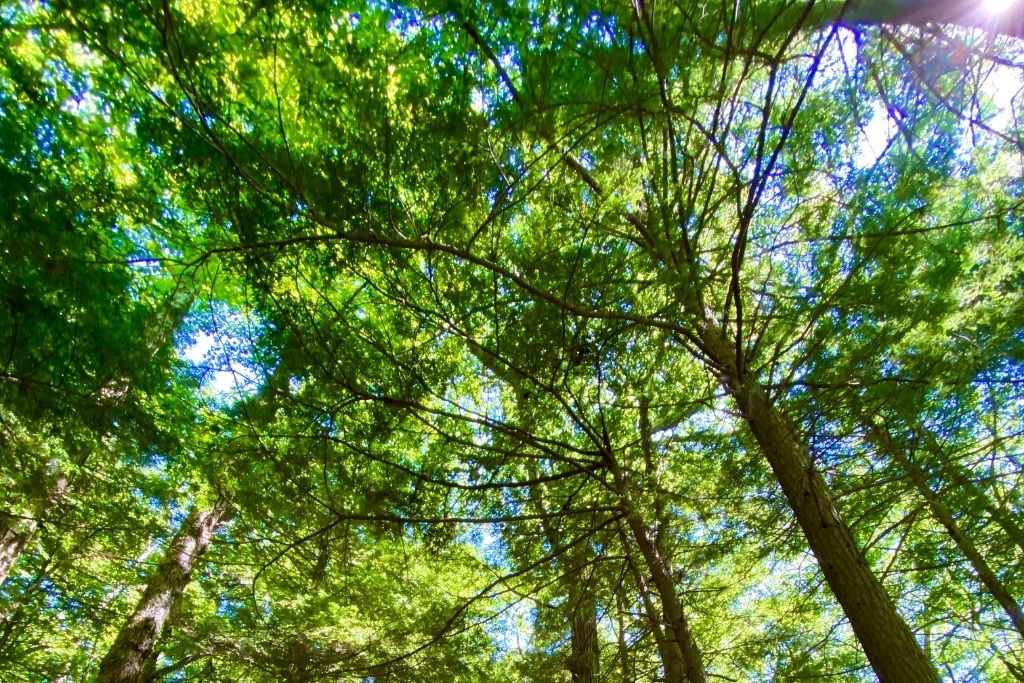 Sitting on the southern end of the eastern tip of Montauk is the patriotically-named Camp Hero State Park.
This park was originally a US Air Force defense station commissioned in the 1940s. Today, though, it's a peaceful area with lots of different kinds of open-air terrain.
So, amidst Camp Hero's 415 acres of land visitors can enjoy large areas of forest and wetlands, lots of beachfront property along the coastline, and plenty of lush space for picnicking.
And weaving in and out of all of these pockets of nature is an extensive system of trails, good for hiking on foot, riding your bike, and even horseback riding along some of the best hikes on Long Island.
Now, I mentioned the former Air Force base; well, some parts of it are still standing to this day.
In fact, just to the north of the Bluff lookout area, you can find the Camp Hero Radar Tower standing tall against the skyline.
As a result, visiting Camp Hero State Park is easily one of the best things to do in Montauk for conspiracy theory lovers!
See, there are rumors that the park's military base was used for something called the Montauk Project, where participants were allegedly involved in developing psychological warfare techniques, and research into time travel!
Address: 1898 Montauk Hwy, Montauk, NY 11954, United States
Hours: Open daily from sunrise to sunset.
Price: $8.00 per car.
3. Hither Hills State Park
Before Hither Hills became a state park, it was destined to be a complex with hotels, casinos, and even a polo field.
Fortunately for us, nature lovers, the Long Island State Park Commission was able to block the development, and over 1,700 acres of land were turned over to New York State to become the park we know and love today!
Situated next to Napeague Bay, visiting Hither Hills State Park is one of the best things to do in Montauk for camping fans, with its large campground site right along the ocean.
Then, crisscrossing the entirety of the park are miles of well-maintained hiking trails, which pass through sandy and grassy areas.
Although, there are many woodland areas here too with lots of different types of trees, including shady oaks and pines.
Pro Tip: According to many hikers, the best trail in the park is the Hither Hills Coastal Trail and the Old North Road Loop. It's just over 3 miles long and takes around an hour and fifteen minutes to complete.
Address: 164 Old Montauk Highway, Montauk, NY 11954
Hours: Open daily from sunrise to sunset.
Price: $10.00 per day for a car.
4. Shadmoor State Park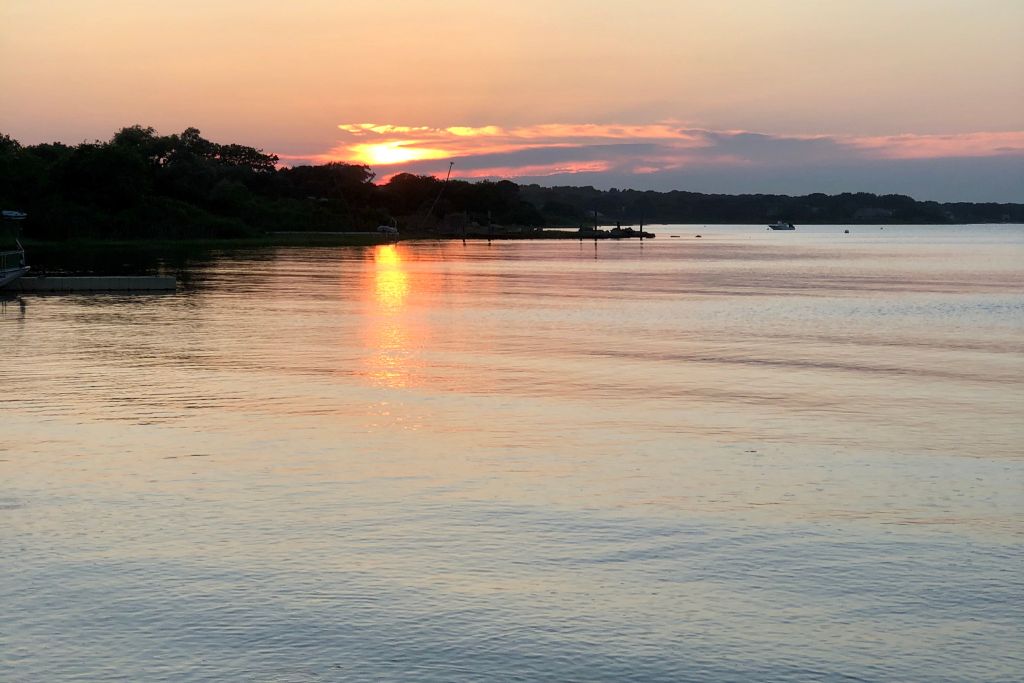 Looking to get back to nature? If so then check out Shadmoor State Park. After all, this collection of 99 acres of largely undeveloped land is a rambler's paradise!
See, Shadmoor park is named after the thick pockets of shadbush that grow there, and the area is also home to black cherry trees and their delicious fruit!
Plus, visitors to Shadmoor State Park have 2,400 feet of ocean beach to explore, as well as trails of boardwalks running through the park's freshwater wetlands and along the area's many bluffs.
Also dotted among these trails are some elevated platforms for birdwatching. So, make sure to bring your binoculars if you want to see some beautiful avian wildlife!
Keeping in line with the Montauk region's military past, you might also spot some old stone structures here and there while you wander through the park.
After all, there are former observation bunkers from World War II that are still standing here today.
Address: 900 Montauk Highway, Montauk, NY 11954
Hours: Open all day, every day.
Price: Free
5. Montauk Downs State Park Golf Course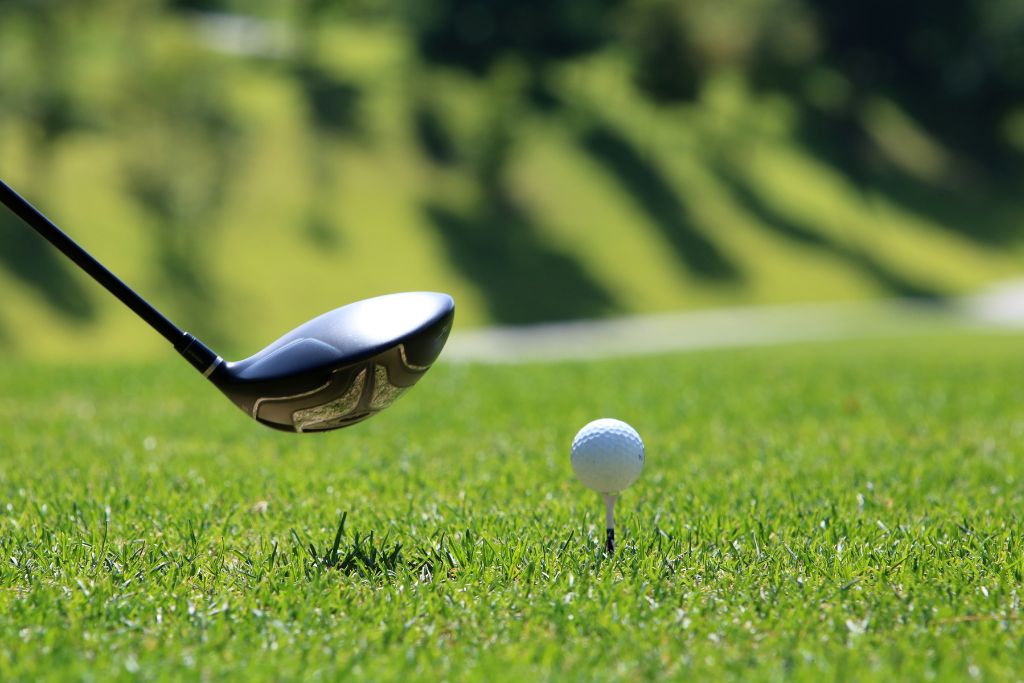 For many people looking for the best things to do in Montauk, there are 18 reasons why the Montauk Downs State Park Golf Course is on this list.
And they've got nothing to do with beaches unless you count the bunkers!
Tucked between Lake Montauk and Fort Pond, this 18-hole championship golf course is one of the many American golf courses designed by Robert Trent Jones Sr. – a legend when it comes to golf course planning.
Although he didn't get to it straight away – the original course had been there for forty years before he and his son began to redevelop it in the late 1960s.
As you might expect, this park contains large areas of open grassland with the occasional sandy pocket and at least 18 flags.
But, what you might not know is that there are also tennis courts and a large swimming pool available for anyone who feels like taking a break from trying to improve their handicap!
Address: 50 S Fairview Ave, Montauk, NY 11954, United States
Hours: Open daily from 8:30 am to 6:30 pm, except on Saturdays when they are open until 8:00 pm.
Price: Rates vary from $26 to $96 depending on the time of day and whether you're a New York resident.
6. Montauk Point Lighthouse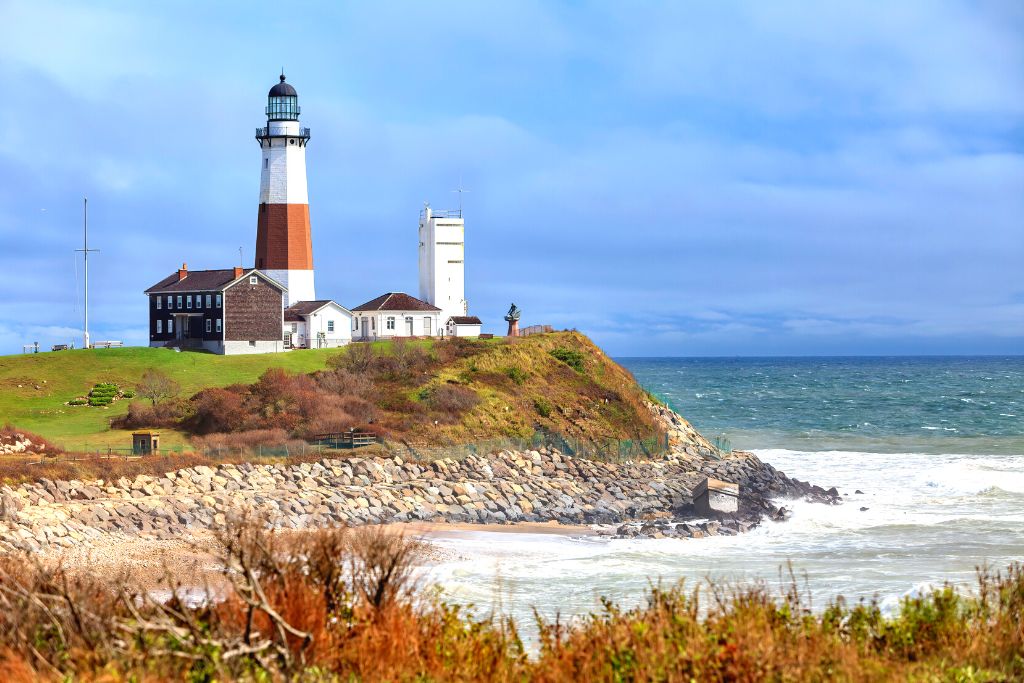 Standing tall and proud on the Montauk skyline (that's a thing, trust me), the Montauk Point Lighthouse is a picturesque site of historic importance.
Because this, ladies and gentlemen, is New York State's very first lighthouse. In fact, it was commissioned in 1792 by none other than George Washington himself!
That's right: this lighthouse is over 200 years old and there's even a plaque attached to a rock outside the building that commemorates this achievement.
It was even made a National Historic Landmark in 2012, and the lighthouse is actually in excellent condition given its age.
Thanks to the Montauk Historical Society, there is an extensive museum attached to the lighthouse, with a ton of information and memorabilia for visitors to enjoy.
There's also a snazzy little gift shop so you can learn about this historic site and then bring home a fun souvenir to commemorate your trip.
Address: 2000 Montauk Hwy, Montauk, NY 11954, United States
Hours: Open daily from 10:30 am to 5:30 pm.
Price: Tickets are $13.00 for adults, $8.00 for seniors, and $5.00 for kids under 12.
Best Things to do in Montauk NY – Activities
7. Biking
Cycling across the many trails and landscapes of eastern Long Island is one of the best things to do in Montauk.
Not only is it great exercise but you get the wind in your hair as you take in the gorgeous scenery that surrounds you!
There are also a ton of state parks here, and each one has unique trails designed to be experienced both on foot and from behind the handlebars of a bicycle.
And one of the best ways to get the most out of your bike in Montauk Point is by taking an electric bike tour.
Beginning just outside Montauk railway station next to Fort Pond, you'll be introduced to your electric bike and taken up to Fort Hill Overlook.
From there, you'll journey past surfers and stables as you head into Camp Hero State Park and then on to the Montauk Point Lighthouse.
On the way back you'll get refreshments in downtown Montauk and can then return to where you started – fitter, happier, and having had a lot of fun!
Pro Tip: This tour is offered on weekends at 8:30 am and 9:00 am and costs around $220 per person.
8. Surfing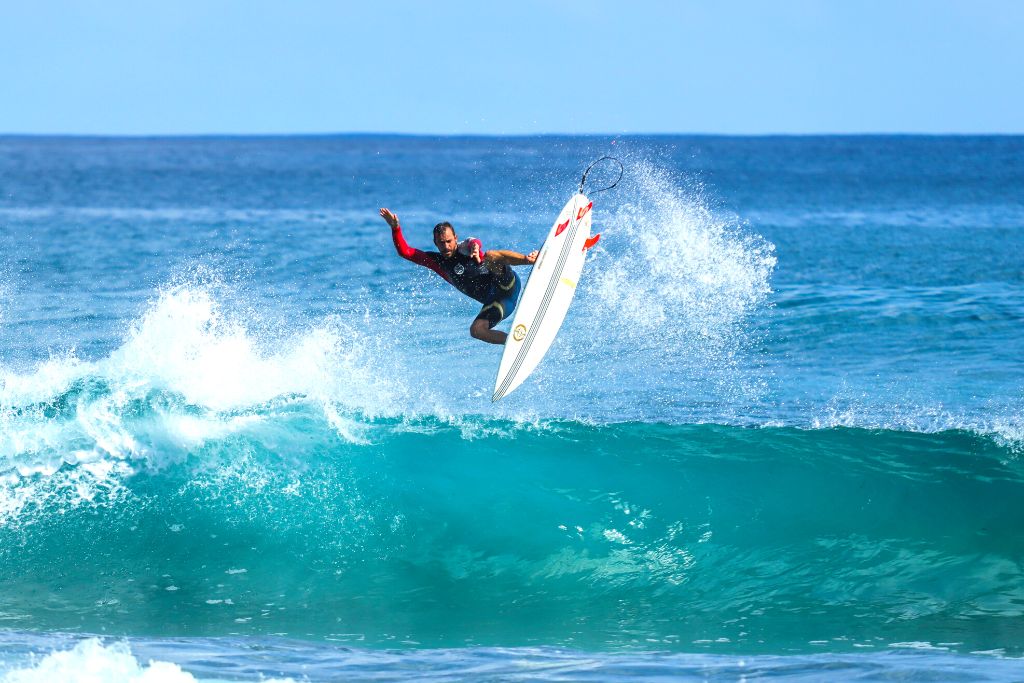 With so much coast to explore around the eastern end of Long Island, it's no wonder that surfing is one of the best things to do in Montauk!
In fact, many of the state parks and beaches in the area have the perfect facilities and conditions for surfing.
That's why Montauk Point State Park is a great place to head to for both surfing and windsurfing.
In contrast, Camp Hero is a bit quieter when it comes to surfing. But, if you can get yourself up a cliff to find this secluded spot, you'll be rewarded handsomely.
Truth be told though, many surfers in Montauk head to Ditch Plains beach, which has a strong surfing reputation.
Here you can find the East End Surf Club, which has surf instruction for people of varying abilities, as well as a kid's surf camp.
So, if you want to learn to pop up and ride a wave during your first lesson, this is the place for you!
Address: Ditch Plains Beach
Hours: Daily from 7:00 am to 5:00 pm.
Price: Private lessons are $150.00 per hour.
9. Shark Diving
Are you feeling insanely adventurous? Do you enjoy that adrenaline rush that comes from meeting the potentially dangerous head-on?
Would you like to combine that feeling with being underwater?
If the answer to all of the above is yes, then it's time to dive in (literally) to a new hobby: shark diving!
You'll be able to get up close and personal with some of the most dramatic and majestic creatures in the ocean in Montauk, NY!
Just head to Lake Montauk and hit up the Sea Turtle Dive Charters company.
In their expert hands, you'll be taken out to the warm waters of the gulf stream to meet these aquatic animals for the experience of a lifetime.
You'll also learn a great deal from the captain and divers in your crew, who have been exploring these waters for decades.
So, if you're after a life-changing and exhilarating new experience, shark diving is one of the best things to do in Montauk!
Address: 352 W Lake Dr, Montauk, NY 11954, United States
Hours: Trips run on Monday, Tuesday, Friday, Saturday, and Sunday.
Price: Starts at $320 per trip.
10. Kayaking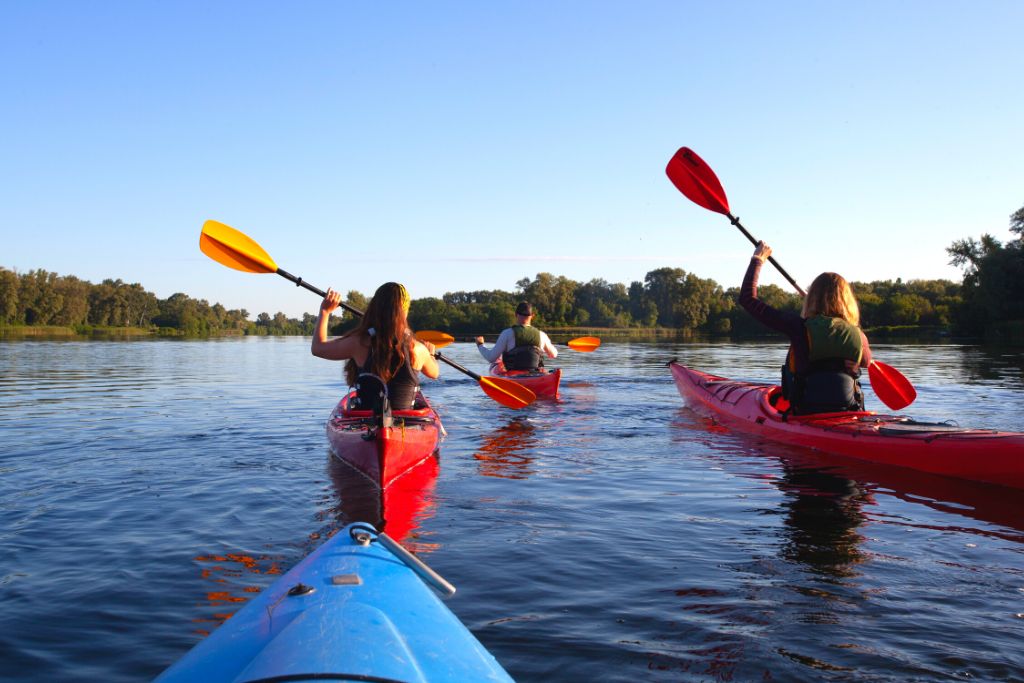 Montauk is a great place for kayaking. After all, there are so many bodies of water – not to mention the beaches and other coastal areas – that it'll be hard for you to decide where to put your kayak in the water first!
But, if you don't have your own kayak, one of the best places to rent one is the family-owned business Puff & Putt.
This combination mini golf and aquatic vehicle rental center operates on Fort Pond, and has been providing families with waterside entertainment for over forty years.
Plus, in addition to kayaks, they also have canoes, paddleboards, pedal boats, and sailboats available.
I have to say, it's not a combination I would have put together before, but now that I know I can kayak AND play some mini-golf in one place? Sign me up for one of the best things to do in Montauk, NY.
Pro Tip: Please be aware that Puff and Putt are cash only.
Address: 659 Montauk Hwy, Montauk, NY 11954, United States
Hours: Open daily from 10:00 am to 10:00 pm.
11. Sailing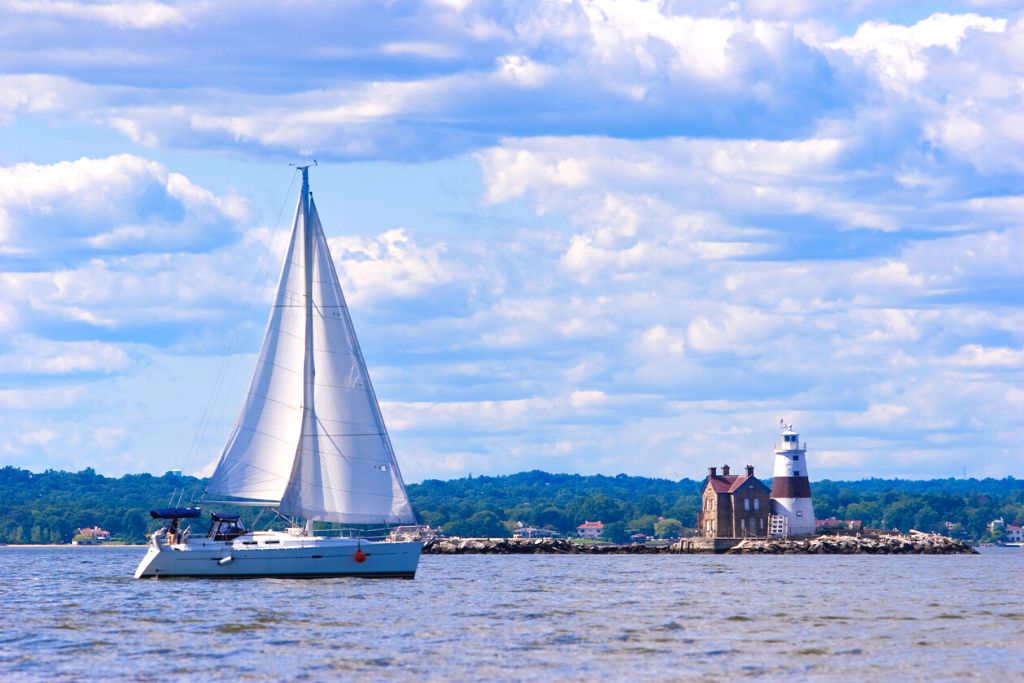 Easily one of the best things to do in Montauk is to rent a boat and go out sailing on Lake Montauk.
No idea how to sail?
Don't worry, I was totally clueless too! But then I took a class with Sail Montauk and they taught me everything I needed to know to feel confident on the water.
So, for three glorious hours, you'll head out with an instructor and learn the ropes – literally – of sailing. And it is truly a once-in-a-lifetime experience.
Plus, the instructors are really patient and always made sure I 100% understood how to do something before moving on.
Then once I felt totally comfortable, they let me do some of the, you know, actual sailing.
Of course, if you have previous sailing experience you can just rent a boat and take it out yourself without taking a lesson.
Sail Montauk even offers options for private sails where you can sail around with an employee at the helm while you and your friends sit back and enjoy the view.
Alternatively, another one of the best things to do in Montauk is to rent a charter boat to go fishing, which leads me to…
Pro Tip: Sail Montauk operates seasonally from May to September out of Montauk Harbor.
Address: 478 W Lake Dr, Montauk, NY 11954, United States
Hours: Open daily from 9:00 am to 8:00 pm.
Price: Private sailing lessons are 3 hours long and cost $375.00.
12. Fishing
It's one of the oldest sports, and you can even end up with a meal when all is said and done.
Plus. fishing is basically life for plenty of people, and Montauk has some great spots for you to get out onto the water!
So, try your hand at surf fishing along the coast in Montauk Point State Park. Or, head to Lake Montauk and Fort Pond if you're in search of other sweet spots where you can land the catch of the day.
In particular, The Westlake Marina sits on the shores of Lake Montauk, and that's where you can find the Susie E II!
This hardy 48-foot vessel and its experienced crew will be able to take you out on the water in search of all manner of sea creatures for you to catch.
In fact, back in 2014, the Susie E II actually made NYS history by catching a 398lb Porbeagle shark – the third-largest ever taken in the world.
Think you can beat that record? Well, now's your chance as you enjoy some of the top things to do in Montauk, NY.
Address: Westlake Fishing Lodge and Marina, 352 West Lake Drive, Montauk, New York 11954
Hours: Varies
Price: A half-day out for six people starts at $800.00.
13. Horseback Riding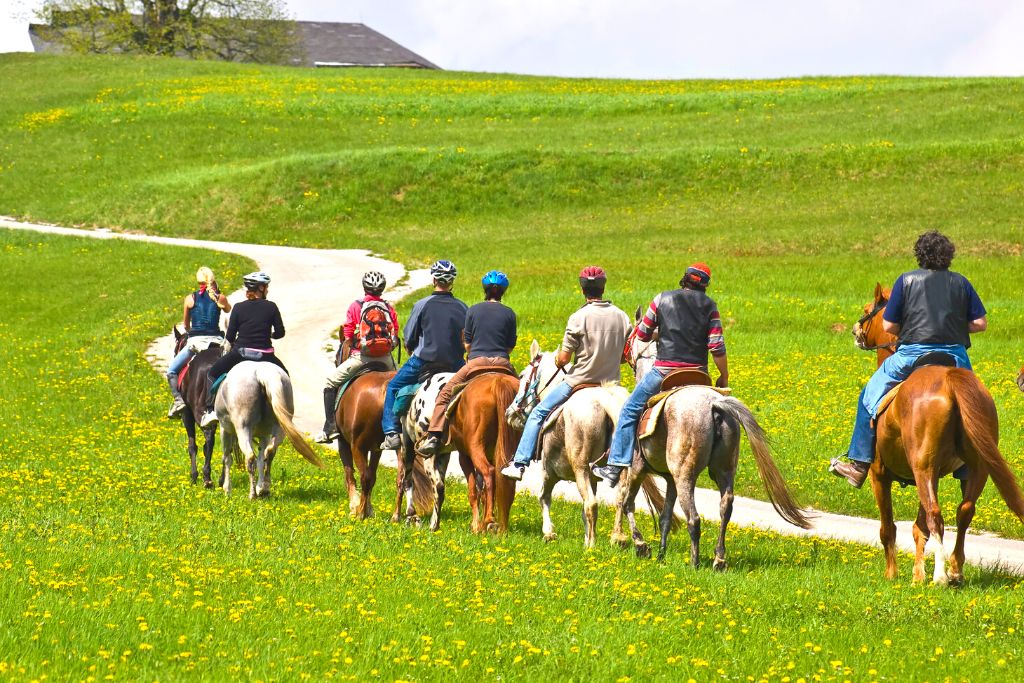 Another one of the best things to do in Montauk is horseback riding. In fact, Montauk is home to the oldest working cattle ranch in the country, Deep Hollow Ranch.
According to the ranch they are not only the oldest in the country, but they are also the birthplace of the American Cowboy. How cool is that?!
So, at Deep Hollow Ranch you can learn to ride horses regardless of your skill level (even if it's an absolute beginner), and you'll even get to learn about the different breeds and how to take care of the horses.
Yup, the owners and employees here are incredibly knowledgeable and willing to answer any and all of the questions you might have.
Prices also start at $45 and vary depending on the length of the ride. Also, to protect the horses, the weight limit is capped at 240 lbs per person.
Address: 8 Old Montauk Hwy, Montauk, NY 11954, United States
Hours: Varies
Price: Starts at $45.00 per person.
14. Wine Tasting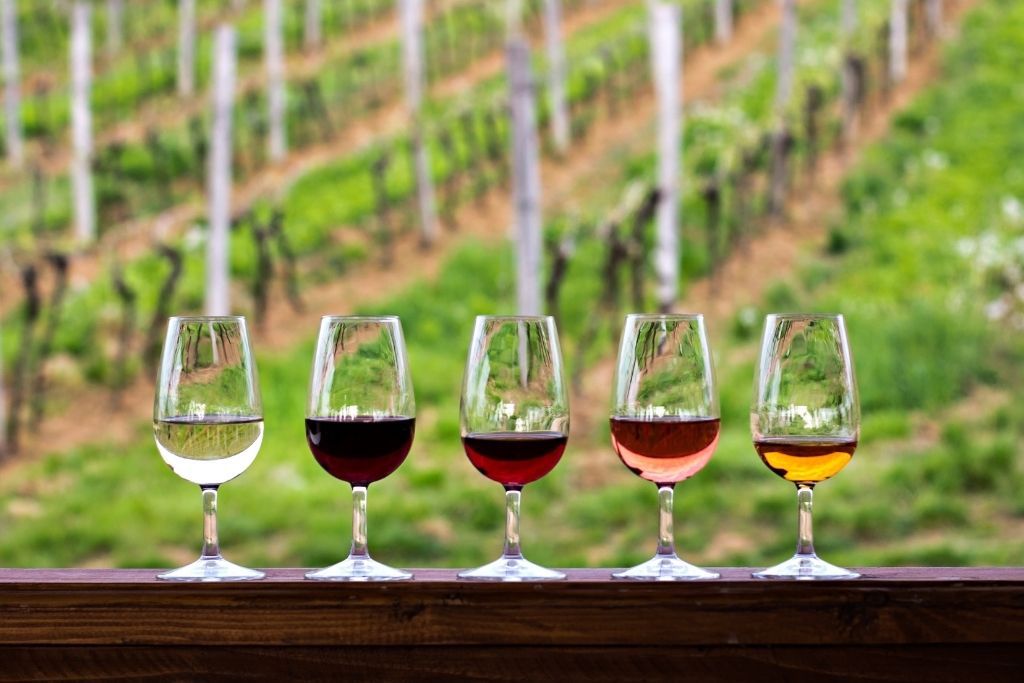 While there are no vineyards IN Montauk, one of the best things to do near Montauk is to take a day trip to one of the best vineyards on Long Island.
I also highly recommend this private Long Island winery tour which goes to two of the region's top wineries: Osprey's Dominion Vineyards and Duck Walk Vineyards.
Although I just went to those two during this tour, I was informed by a friend that because it is a private tour there is some wiggle room around which vineyards you actually visit.
So, some guides might even try to fit in three stops if you don't stay long at each winery.
However, just in case you have your heart set on visiting a particular winery, it's worth checking beforehand.
Just be aware that the tastings and tips are NOT included in the price, and it's typically around another $10-$20 for a tasting.
However, from Montauk, you can be picked up at the Terrace Hotel for the tour. Tours can also last anywhere from 5-12 hours depending on you and your personal needs.
Best Things to do in Montauk – Other Activities
15. Montauk Brewing Co.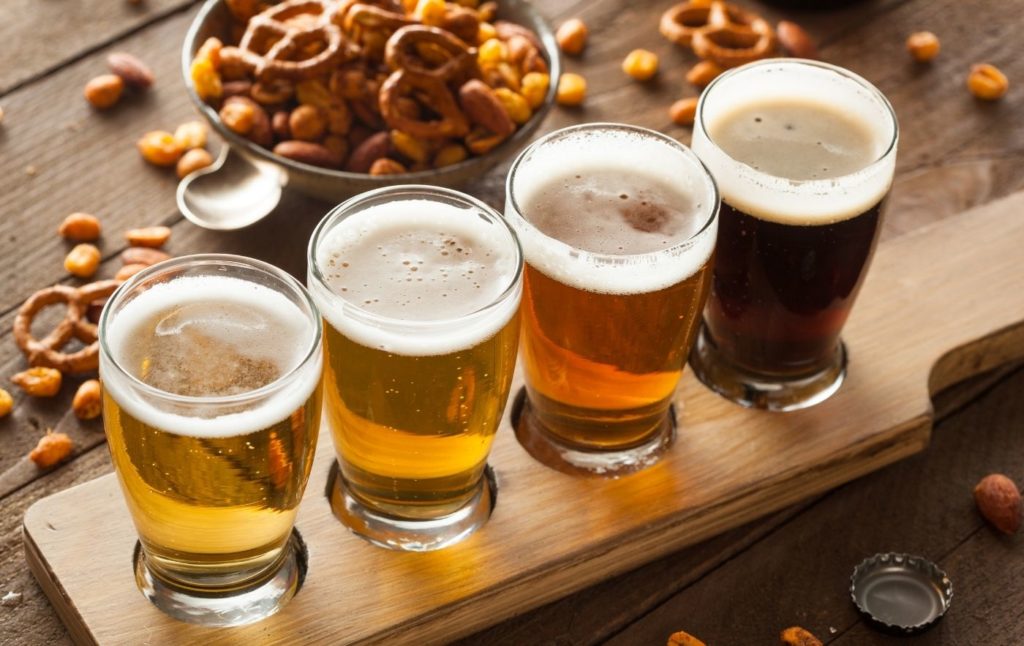 The Montauk Brewing Co. is one of the most popular independent beer companies on Long Island. Therefore, you'll find their products all over the island at various bars and stores.
And it should come as absolutely no surprise that the company itself is based in Montauk.
So, of course, a visit to their tasting room is one of the best things to do in Montauk. This way you can get a peek behind the curtain and meet the amazing team behind the beers.
Plus, you'll love that this amazing brewery welcomes both dogs and kids alike. However, be aware that dogs must be on a leash at all times and that only people over 21 can drink.
And, yes, you might have to provide proof of age. So, be sure to bring an ID.
Also, no food is served on the premises (save some bags of pretzels), so please drink responsibly. And while all of their beers are vegan, they, unfortunately, are NOT gluten-free.
Address: 62 S Erie Ave, Montauk, NY 11954, United States
Hours: Open daily from 12:00 pm to 8:00 pm.
Price: Start at $6.00 each.
16. Lake Montauk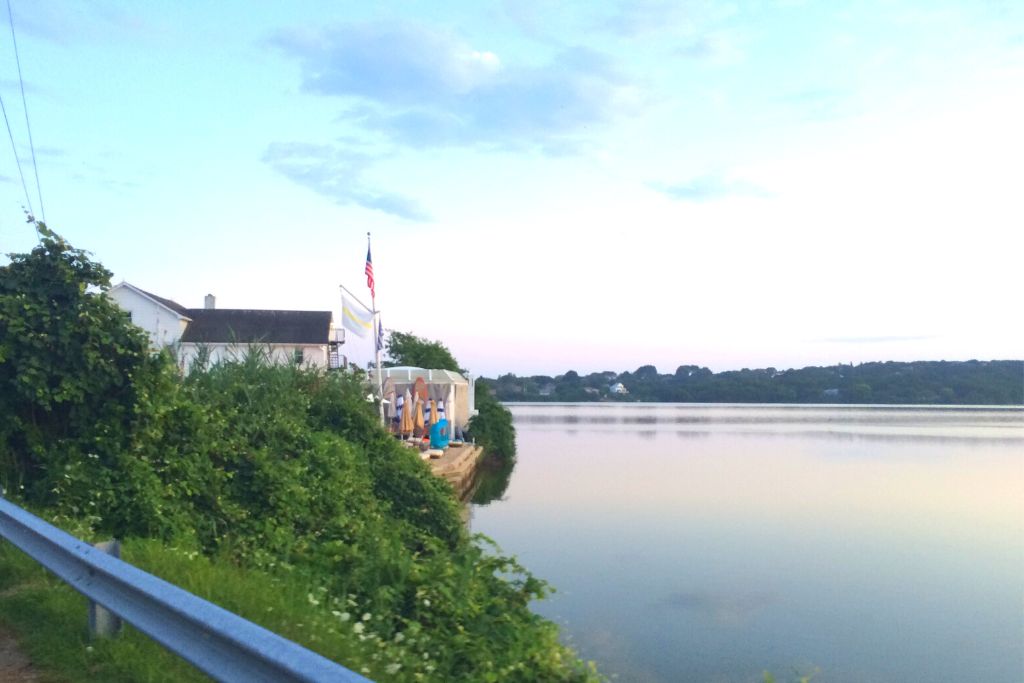 Lake Montauk – formerly Lake Wyandanch – has an interesting history as a lake. Seem it was actually once the largest freshwater body of water on Long Island. That's right… once.
In fact, it was more than double the size of the current largest freshwater lake, Lake Ronkonkoma.
So what changed?
Well, in 1927 a real estate developer decided to connect the Block Island Sound and the Atlantic Ocean by blowing a hole in the shoreline.
Therefore, while still called a lake, Lake Montauk remains connected to the Atlantic Ocean to this day.
However, even if you're a bit disappointed by it's technical not-a-lake status, a visit here is still one of the best things to do in Montauk for a fun day out as either a couple or family.
Because While you're here you can swim, rent a boat for the day, or even take a hike out to Montauk Point Lighthouse for great views.
17. Navy Beach Restaurant
Hungry after a day of visiting all the best things to do in Montauk? Well then head to the Navy Beach restaurant!
Although it only opened in 2010, the Navy Beach restaurant soon became Montauk's go-to beachfront restaurant and is now a local fave.
As you might have guessed from the name, the restaurant supports the Navy SEAL Foundation. Since 2013 they have raised over $175,000 for the organization.
The restaurant's philanthropic efforts center around its support of the Navy SEAL Foundation, for which Navy Beach has raised over $175,000 since 2013.
Situated right on the beach, you'll be treated to stunning views while you scarf down delicious food at this family-friendly eatery.
In addition to the water, you're likely to spot a boat or two sailing by as this is a popular spot for local sailors and yachters.
For food, try the seared scallops or the navy burger. Sadly, there aren't really any vegan options, but for the veggies, their truffle mac and cheese is heaven on a plate.
Of course, you don't REALLY come here for the food since this place is the PERFECT spot to grab a drink and admire the stunning sunsets.
In fact, this is a very popular wedding venue for that very reason.
Plus, their cocktail menu is great, and most can easily be made virgin if you prefer, like my personal faves the Painkillah and the Ginger Thomas.
Address: 16 Navy Rd, Montauk, NY 11954, United States
Hours: Open daily from 12:00 pm to 11:00 pm.
Price: Between $30 and $60 per person on average.
18. Montauk Library
Ah, the library. A place of peace and quiet and knowledge and definitely one of the best things to do in Montauk.
And if that makes Montauk sound boring to you, then you have yet to discover the true wonder of a library, my friend.
This unassuming building houses whole other worlds! It also has an impressive collection of books considering it only opened in the early 1980s.
In fact, the interior itself is worth a look as the wood finishing is warm and inviting – as are all the incredibly helpful and friendly librarians that work here.
Plus, after you select a book, you can sit outside on the surrounding benches and read in the sunshine. Yes, I'm assuming it's sunny in this glorious scenario.
Address: 871 Montauk Hwy, Montauk, NY 11954, United States
Hours: Open Tuesday through Saturday from 9:00 am to 8:00 pm and on Sunday from 1:00 pm to 8:00 pm.
Price: Free
19. The Lobster Roll
As you know, a girl's gotta eat, and where better than a beloved local establishment like the Lobster Roll?
Although if you want to fit in with the locals, know that it's called "Lunch" – even though, yes, they serve lunch AND dinner.
It's also designed as a retro seafood shack since this place has been a local institution for DECADES.
And throughout that time, the food has only gotten better.
Now, as you can probably already guess from the name, the Lobster Roll is pretty famous for its seafood. But, that isn't all they make.
In addition to seafood of all kinds, you'll also find salads, chicken, delicious desserts, and even vegan burgers on the menu. They even have a separate and extensive gluten-free menu too!
Yeah, I was surprised – but elated – to discover they had Impossible burgers. And yes, they were delicious AF.
Obviously, I recommend the Impossible Burger, but if you're a meat-eater, then definitely give their seafood dishes a try.
I've heard nothing but good things about their hot lobster rolls and popcorn shrimp. For drinks, you'll definitely want to relive your childhood with a root beer float!
If somehow you're still hungry afterward, you also have to try their mouthwatering desserts!
Yeah, it's not hyperbole to say having dessert here is one of the best things to do in Montauk for foodies!
Address: 1980 Montauk Hwy, Amagansett, NY 11930, United States
Hours: Open daily from 11:45 am to 9:00 pm.
Price: Entrees start at $15.00 each but most dishes are around $25.00 each.
20. Montauk Indian Museum
One of the best things to do in Montauk – especially for those who love history – is to visit the Montauk Indian Museum and learn about the area's rich history.
Like everywhere in the United States, this land was once home to Native American tribes. And their history in the area dates back centuries.
Plus, the Montauk Indian Museum is part of the Montauk Historical Society, which is responsible for a few other important history-based sites – including the Montauk Point Lighthouse listed above.
So, at this museum, you'll see tools used by ancient peoples and learn how they once lived.
As a proud history nerd, I absolutely loved visiting the Montauk Indian Museum and learning about the Montauk Native Americans.
It was both eye-opening and fascinating and is definitely one of the most important Montauk attractions.
That's why this is an experience I recommend to everyone visiting Montauk.
21. Visit the Beaches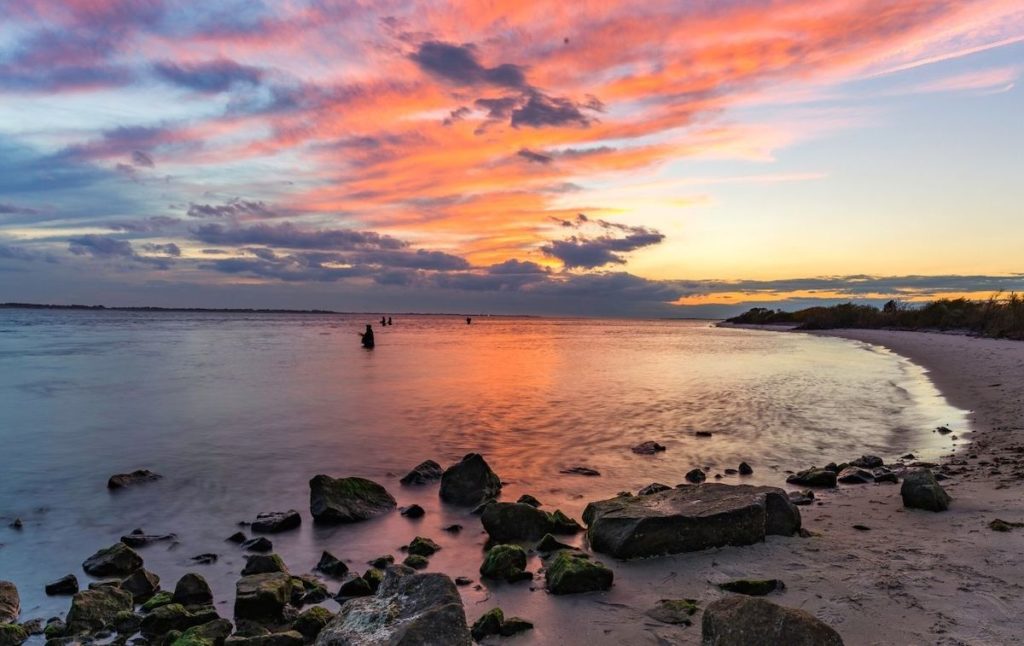 As you probably already know, Montauk is positively brimming over with stunning beaches that routinely draw in residents from all across the city.
So, be sure to give some of these sandy beaches a try this summer as you sunbathe, swim, and surf your way through this Montauk bucket list and enjoy all of the best things to do in Montauk.
Personal faves include:
Ditch Plains Beach – This is a great place to surf and lifeguards are routinely on duty here all summer long. There's also tons of parking, lots of concession stands, and beach-related items available for rent.
Kirk Park Beach – This is another epic beach with stunning views of the ocean and lots of soft, white sand. It's also a wonderfully spacious beach where you can spread out and watch the sunset. Plus, it features all the usual amenities like lifeguards, restrooms, etc.
Gin Beach – With very little wave action, this is a great place to go if you want to hang out with the kids and just enjoy a bit of low-key fun in the sun. And yes, lifeguards are regularly on duty.
Map of the Best Things to do in Montauk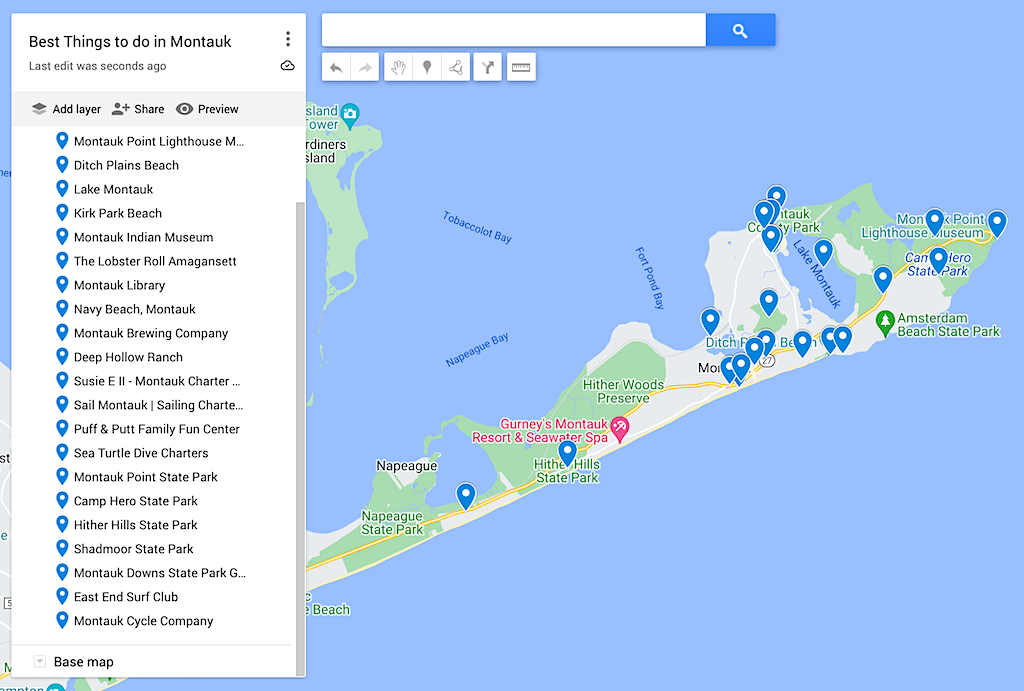 Additional New York Resources You'll Love
There you have it! That just about wraps up this guide to the best things to do in Montauk!
Tell me, did your picks for the top things to do in Montauk make the list? If not then let me know in the comments below.
And if you found this post helpful, be sure to join our email list before pinning this post now so that you can read it again later.