Planning a next-level awesome weekend getaway to the Hamptons? If so then you're gonna need this comprehensive local's guide to all of the very best hotels in the Hamptons.
After all, I've been living in New York for 30+ years and have been to the Hamptons more times than I can count. Therefore, I 100% know all about some of the best accomodations in the Hamptons.
And while the best hotels in the Hamptons are very much NOT cheap, there are definitely some reasonable(ish) places to stay on this list that people on a budget can totally get behind.
But, if you're looking for a slightly more luxurious experience, then rest easy in knowing that all of the high-end Hamptons hotels listed here are well worth the admittedly steep price tag.
So, what are you waiting for? Pack your bags and take a trip out to some of the top hotels in the Hamptons today!
This post may contain affiliate links. Please see my disclosure for more information. As an Amazon Associate, I earn a small commission from qualifying purchases.
Best Hotels in the Hamptons – Under $1000 per night
1. Haven Montauk (Montauk)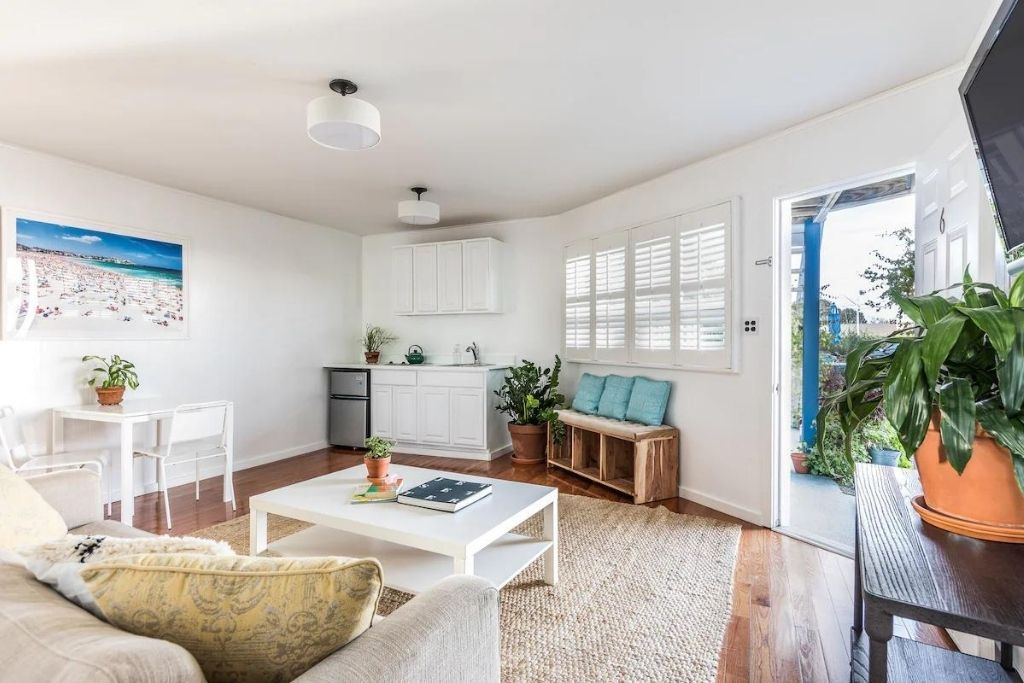 Haven Montauk is a boutique motel on Montauk Harbor (not in town, but it's only a 6-minute drive, or about a 15-20 minute bike ride to downtown) with friendly staff and clean, comfortable accommodations that include a lovely, spacious, outdoor pool that is surrounded by pool loungers.
In fact, you'll enjoy it so much that you might forget all about the pristine beach that is just at your doorstep. And since you're not in town, you'll find the vibe at one of the best hotels in the Hamptons to be less of a party and more of a laid-back, family-friendly atmosphere.
Plus, while the town does have great food options, there are also plenty of excellent dining choices nearby, like Gosman's seafood restaurant. However, if you want to go a bit further afield, you can always use one of the bikes that are free for guests to use.
Additionally, there are 27 different rooms to choose from at Haven Montauk, many of which are either studios or apartments that come in one and two-bedroom options.
Regardless of the room, you choose though, you'll get to use mini-fridges and have a small setup for coffee, with apartments offering an extensive kitchenette.
The property is also dog friendly and has a BBQ space with picnic tables on-site that guests are welcome to use at one of the best hotels in the Hamptons that is also one of the most romantic hotels on Long Island.
Address: 533 W Lake Dr, Montauk, NY 11954, United States
Price: $200+ per night
2. Montauk Manor (Montauk)
Montauk Manor consists of 140 apartments in a recovered and restored historic Tudor home that was first built in 1927.
The property also sits on a hilltop at the eastern end of Long Island and provides guests with exceptional Atlantic views from the comfrot of their stunning, 12-acre grounds.
All in all, it's a quiet, peaceful place to stay just outside of Montauk village. And if you want to get into town there is a free shuttle bus provided by the hotel, or you can make the five minute drive yourself and park for free in the hotel's parking lot.
The apartments themselves vary from studios up to three bedrooms that come outfitted with big beds, well stocked living spaces, and a kitchen.
Montauk Manor is also one of the best hotels in the Hamptons that has an indoor and outdoor pool, a spa and a sauna, tennis courts, a fitness center, putting greens and a driving range.
Add in an onsite Italian restaurant and private space for you to light up your own bbq and you may never want to leave.
Address: 236 Edgemere St, Montauk, NY 11954, United States
Price: Just under $300 per night.
3. Southampton Inn (Southampton)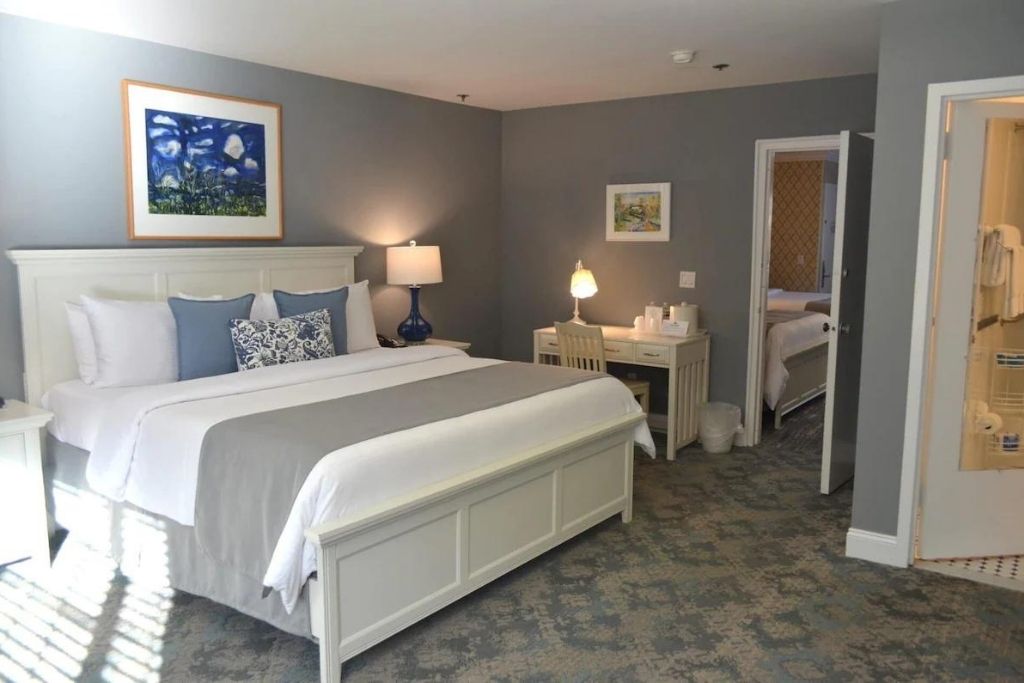 Southampton Inn is set upon five gorgeous acres of land but sits right in Southampton Village. Therefore, shops, restaurants, and bars aplenty are all within easy walking distance of your room– as is the Southampton LIRR station and a Jitney stop.
That being said, the beach is a bit further away. Although, you can always take a leisurely stroll around Agawam Lake to get to Gin Beach or hop on a bike for a quick eight-minute, cycle to the sand.
Back on the property, there's an outdoor pool, a tennis court, a variety of games including croquet and volleyball, and an onsite restaurant offering daily breakfast and weekend brunch.
Plus, in the common area, guests can enjoy unlimited, complimentary tea and coffee.
In total, the Southampton Inn has 90 rooms with distinct yet classic decor. The rooms are all spacious and come outfitted with big, comfortable beds, refrigerators, and all the basics you might expect like wi-fi and flat-screen TVs.
Plus, if you'd like to bring your pup with you then you'll be delighted to know that this property is dog-friendly too.
Address: 91 Hill St, Southampton, NY 11968, United States
Price: $300+ per night.
4. Journey East Hampton (East Hampton)
Journey East Hampton is one of the best hotels in the Hamptons that is located between East Hampton and Amagansett. Therefore, it's about a 30-minute walk to Two Mile Hollow Beach from here.
However, you could always borrow one of the hotel's free bikes (which come with locks so you can leave them safely behind once you hit the sand) and get there in just under 10 minutes.
And then there's the property itself, which has 22 rooms as part of its main hotel and three individual cottages set apart from the main building.
The rooms are beautiful and well decorated with cute, contemporary finishings – and are always kept cool regardless of what the weather outside is like.
And if you choose to stroll through the grounds, you'll find a spacious heated saltwater pool, surrounded by lounge chairs and umbrellas to keep you well protected from the sun!
There's also an expansive lawn dotted with fire pits and garden furniture – making this a perfect spot for a drink, a picnic, and toasting marshmallows in the dark. Plus, there are free lawn games provided by the hotel to keep you entertained.
Address: 490 Pantigo Rd, East Hampton, NY 11937, United States
Price: $300+ per night.
5. Hero Beach Club (Montauk)
Hero Beach Club offers a stylish stay inches from the beach and is one of the best hotels in the Hamptons that is easily accessible from the highway.
There are also a variety of different-sized rooms available, including some which are specifically designated as accessible rooms, all of which are stylishly decorated with a modern array of well-thought-out furniture pieces.
Some rooms feature balconies or decks with terrific ocean views. However, do note though that while the proximity to the highway is convenient, some rooms can be noisy as a result of passing traffic.
So, be mindful of this and be sure to request a room closer to the sea when booking!
Additionally, the property features a sauna and an outdoor pool that is surrounded by fun, unique, authentic Balinese furniture. There's also an impressive outdoor garden surrounding the hotel, complete with private firepits that you are welcome to use.
In fact, omplimentary s'mores kits are available so that you can roast marshmallows over an open fire after dark.
Beyond the garden and the pool, you'll quickly find yourself on Umbrella beach where Hero Beach Club has beach boys who can help you with whatever you might need throughout the day.
Pro Tip: Montauk Brewing, is within walking distance of one of the top Montauk hotels and offers a wide variety of delicious drinks for you to enjoy.
Address: 626 Montauk Hwy, Montauk, NY 11954, United States
Price: $390+ per night
6. The Shoals Suites & Slips (Southold)
The Shoals Suites & Slips has recently undergone a complete renovation and has reopened under a new name.
However, don't let the newness fool you because this property has been around for a while and knows how to treat its guests. So, all that's really changed is that it's fresher and the rooms are brand-spanking new with a cool, retro vibe.
The twenty suites at one of the best hotels in the Hamptons also provide apartment-like stays with kitchenettes that feature tea and coffee facilities, lounge spaces, and large beds.
Plus, if you come by boat, The Shoals offers slips for rent since the entire property sits directly on the marina.
And if you arrive by car then you can park privately at the hotel. But you will have to pay a fee to do so. However, given that the amazing towns of Greenport and Southold – with their exciting varieties of shops and restaurants – are just a five-minute drive away, it's worth it to have wheels on which to explore.
Though you could also get to them in about 20 minutes by bike – which The Shoals offers to its guests to use free of charge.
Address: 61600 Main Rd, Southold, NY 11971, United States
Price: $400+ per night
7. American Beech Hotel (Greenport)
American Beech Hotel is a boutique hotel situated directly in Greenport. This makes it a wonderful place from which to explore the town without having to get behind the wheel.
In fact, you can easily walk to all the shops, restaurants, bars, and harbor beofre going on a five minute drive or quick ferry ride to the beach.
And If you do drive to the beach, just park on the street at the hotel, which can be difficult, but the wonderful staff will do their best to assist you in finding a spot!
The property itself has 13 suites which include king suites of varying sizes and various two bedroom apartments. All of the rooms are clean and comfortable with trendy, modern decor and design.
Plus, your stay in any room includes a continental breakfast which is delivered right to your door each morning in a picnic basket. There is also a restaurant and a bar at the property, easily making this one of the best hotels in the Hamptons.
Address: 300 Main St, Greenport, NY 11944, United States
Price: $450+ per night
8. The Montauk Beach House (Montauk)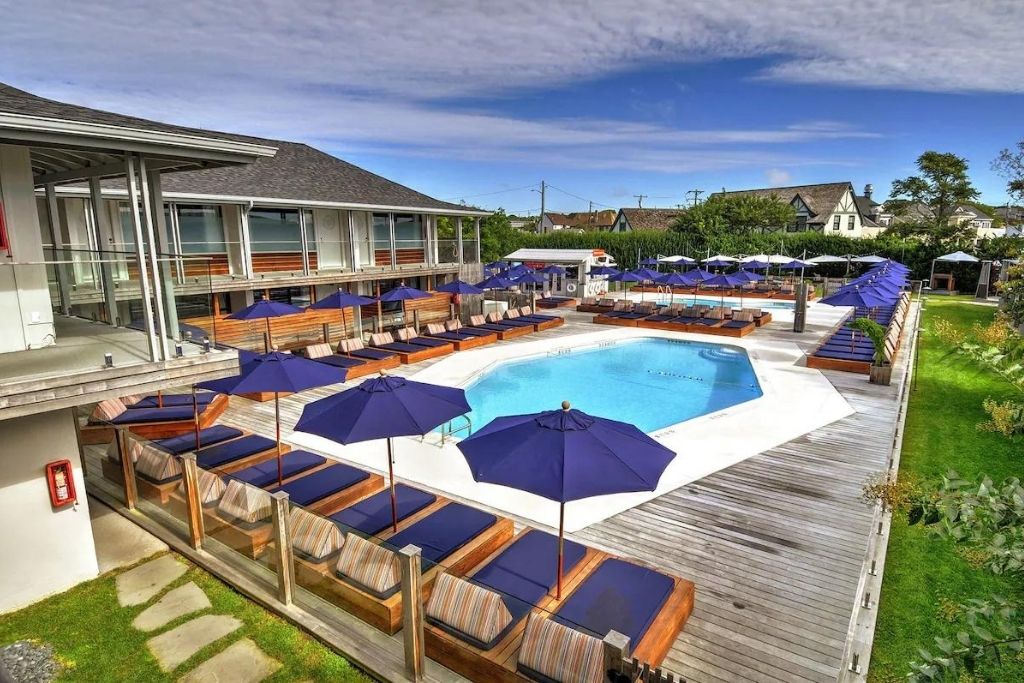 The Montauk Beach House exudes youthful, energetic summertime vibes with vintage, yet updated decor that is finished off with lots of Restoration Hardware.
However, once the evening rolls around, the laid-back, cool kid party vibes emerge at this boutique hotel where millennials (or anyone who wants to hang with them) can come to the Hamptons from NYC for a fun weekend getaway with friends or loved ones.
Now, the beach house itself is located in downtown Montauk and is just a block from South Edison Beach. However, bikes are available for free if you want to cruise around the neighborhood,
However, property highlights include an onsite restaurant with a bar, two pools surrounded by an abundance of loungers and umbrellas, fire pits to keep warm in the evenings, and of course – the rooms at one of the best hotels in the Hamptons.
Now, there are actually five different types of suites on offer at The Montauk Beach House. And they vary in size and offer a variety of different views – some of which include private outdoor spaces.
All bookings also come with a continental breakfast in the morning that allows you to enjoy the lovely and thoughtful design of the entire place.
Address: 55 S Elmwood Ave, Montauk, NY 11954, United States
Price: $430+ per ngiht.
9. The Menhaden Hotel (Greenport)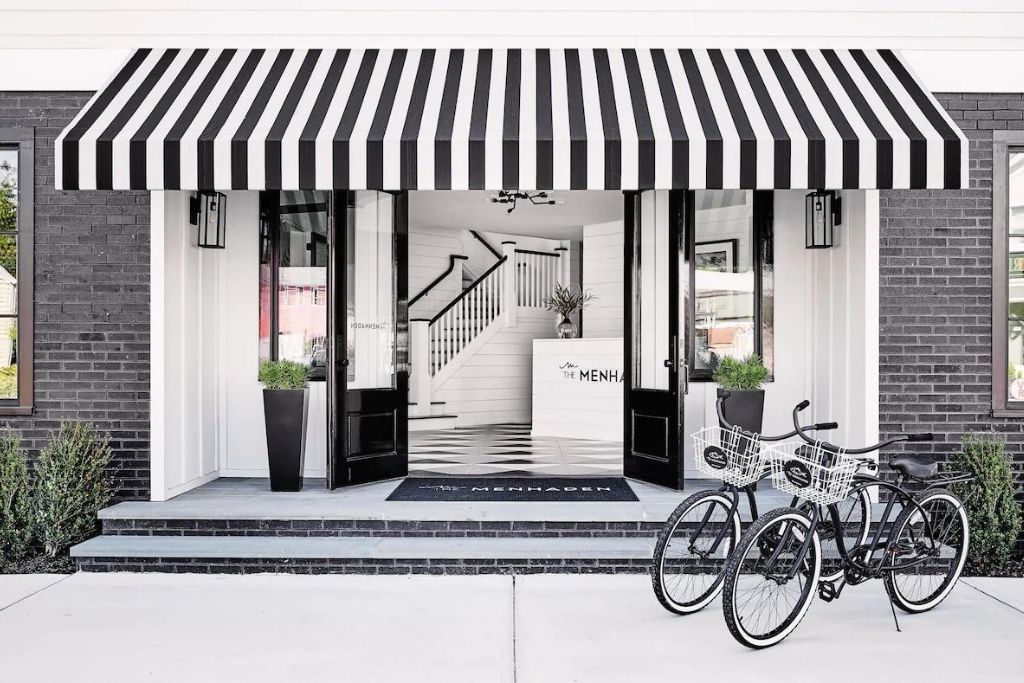 The Menhaden Hotel in Greenport village is just a stone's throw from the harbor and is a beautiful, boutique hotel offering exceptional facilities and services in an intimate setting.
In fact, with only 16 rooms to choose from – only one of which offers two beds – this is a great place for a mature getaway. And anything you'd like to do during that getaway, from a complimentary tour in the hotel's electric jeep to a local wine tasting at one of the best vineyards in Long Island, can be booked by the extraordinarily and super attentive staff here.
The hotel also has a roofdeck for you to hang out on – a surprisingly rare amenity even in the Hamptons – and umbrellas, chairs, and towels for you to borrow for free for your next trip to the beach. Just make sure you snag them early as possible since they are not always available.
The rooms themselves are bright, clean, new, modern, and feature some views of Greenport Harbor. Plus, there are a few pet friendly options for anyone with a dog under 25 pounds.
Address: 207 Front St, Greenport, NY 11944, United States
Price: $500+ per night.
10. Baron's Cove (Sag Harbor)
Baron's Cove in Sag Harbor delivers a nautifally themed (think whites, grays, and blues) hotel with67 clean, comfortable, spacious rooms with a combination of harbor views and panoramas of private gardens.
The property is also dog friendly and has ample parking, including parking passes for Sag Main Beach. But, if you'd prefer not to drive, you can always use the free shuttle bus (though it needs to be reserved in advance) to access nearby Long Beach for a bit of seaside sunshine.
You also won't need to worry about packing all the necessary beach gear since Baron's Cove provides guests with free beach towels, chairs, and umbrellas to rent.
There is of course also a saltwater pool on the property if that's more your style and you don't have to worry about getting up easrly since servers will come to you to make sure you have all the food and drinks you could possibly need.
But if you'd like to get up there's a restaurant and a cocktail bar on the property, in addtion to tennis courts and a fitness center too.
Address: 31 W Water St, Sag Harbor, NY 11963, United States
Price: $600+ per night
11. The Quogue Club (Quogue)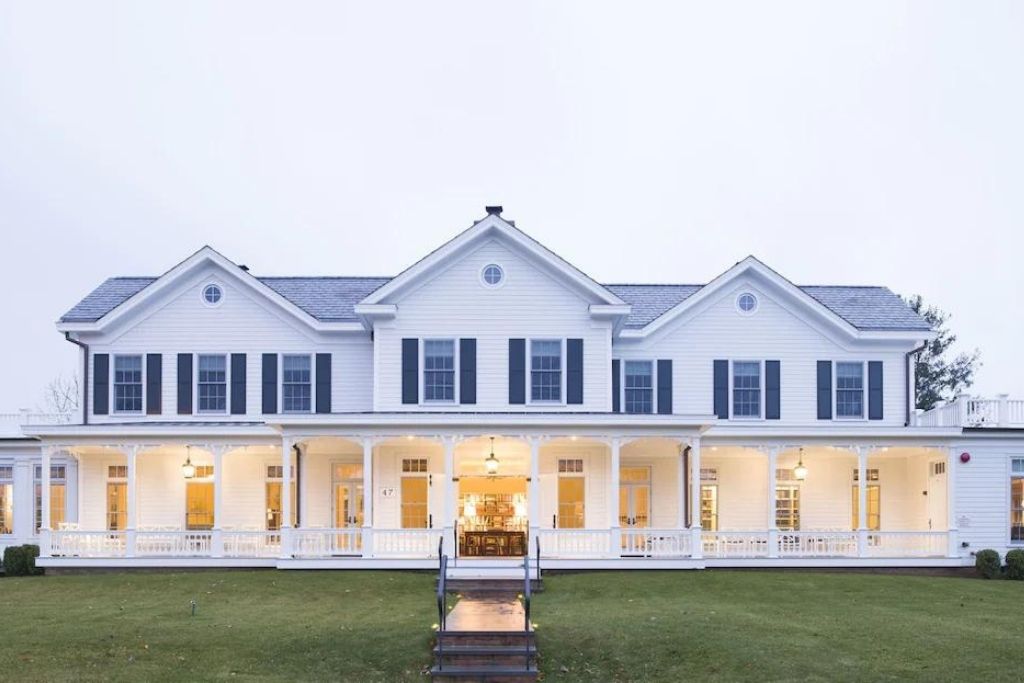 The Quogue Club at Hallock House in the small eastern fork village of Quogue is an unpretentious boutique hotel which offers a quietly luxurious stay just minutes from the local beaches.
It's also tucked away a relaxed village where you can borrow a bicycle for free and get to Quogue Beach Club in less than 10 minutes, or in 25 minutes by foot.
Altertnatively, you could drive to the beach in under five minutes since the hotel offers free private parking on your return – one less thing to worry about!
The elegant property includes a members-only club dining experience which is open to guests regardless of membership. You'll also have breakfast included in your stay.
In total though, The Quogue Club only has about ten hotel rooms to choose from, which are a mix of king, queen, and doubles.
There are also two standalone cottages, one of which has three bedrooms, while the other has one bedroom plus a pull-out sofa in the large living space.
The rooms here are also extremely clean, comfortable, and well furnished, with helpful, friendly staff on-hand to make sure that all your needs are taken care of.
Address: 47 Quogue St, Quogue, NY 11959, United States
Price: Just under $700 per night.
12. Bridgehampton Inn (Bridgehampton)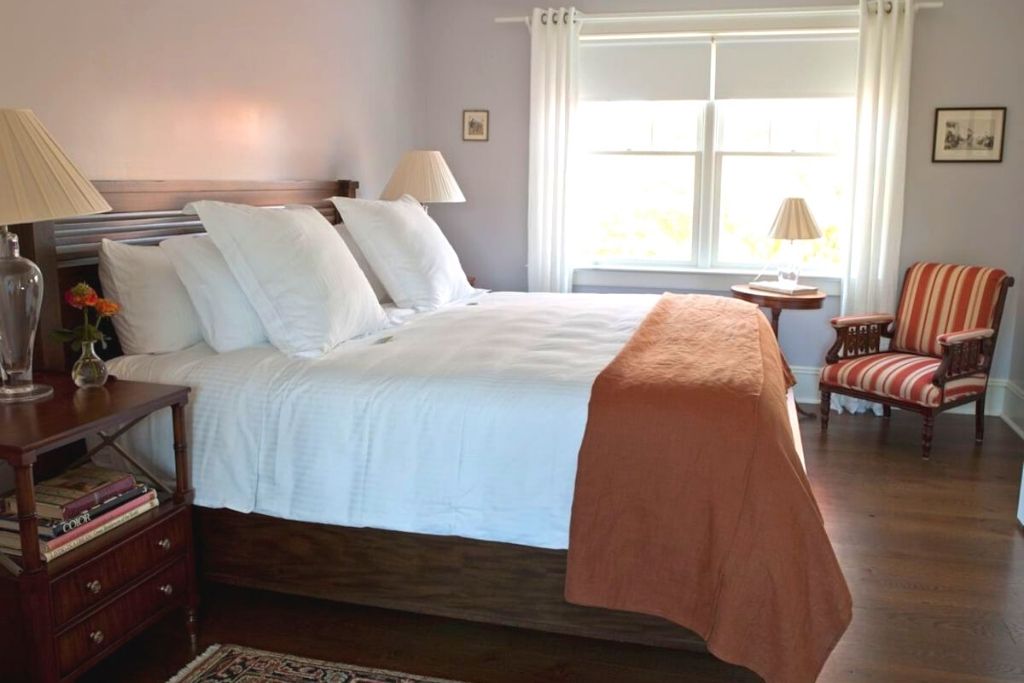 Bridgehampton Inn in Bridgehampton is one of the oldest properties in the area and has rooms that were first constructed in 1795.
But, don't worry because everything is up to date and fully renovated for modern comfort. Thankfully though, the new inn has not lost any of its old world charm and a stay at one of the best hotles in the Hamptons is very homey and comfortable.
And, a really cool features of this place is that the beds featured in each room are not just different, but actually come from different countries and cultures all around the world.
There is even a restaurant on the property where you can have all of your meals including your complimentary breakfast (note that even for breakfast the restaurant is open to non-guests).
Plus, the property is open year round and is in a great location. So, you'll be a quick walk from local Bridghampton shops and restaurants and only a short drive of about ten minutes, or a 15 minute bike ride, to Sag Main Beach.
And if you're driving, it's quite easy to find parking at the inn. Small dogs (under 30 pounds) are also welcome to stay but must be on a leash when outside and carried whenever they are indoors.
Address: 2266 Montauk Hwy, Bridgehampton, NY 11932, United States
Price: Just under $800 per night
13. The Roundtree (Amagansett)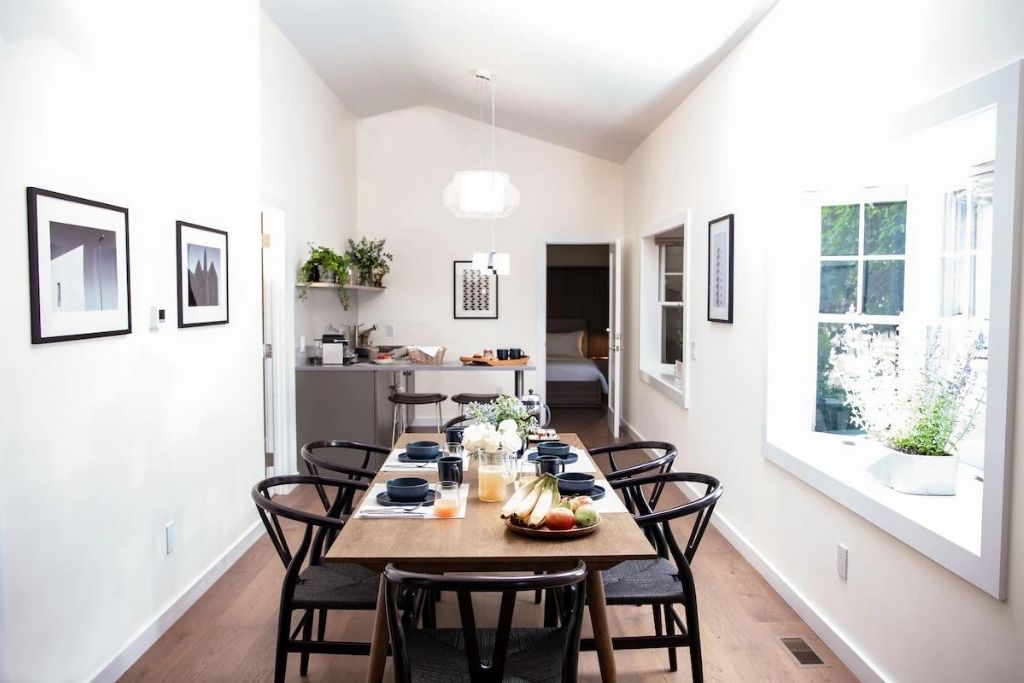 The Roundtree is located in the village of Amagansett inside the town of Easthampton. It's in a great location from which you can easily walk to many local restaurants.
It's a bit of a longer walk though to some of the best beaches in the Hamptons. However, luckily for you, the hotel provides free bikes which make the trek much more manageable.
Plus, if you do drive there is free, private parking on the hotel premises. Plus, the hotel provides you with beach umbrellas and chairs to borrow so that you don't have to worry about packing your own gear for some fun in the sun.
Additionally, the hotel itself provides all the conveniences you could ever need, easily making this one of the best hotels in the Hamptons.
Because from comfy robes and in-room Nespresso machines to staff who can help you with booking a babysitter or finding a dinner table, this top Hampton hotel has it all,
In fact, the rooms are gorgeous, bright, clean, and newly decorated with refined, high-end furniture.
Outside there is an expansive and well-maintained garden which is an ideal place for kids to run around during your visit. Or your pets since The Roundtree is completely pet friendly.
You'll also find a BBQ area in the garden and can each a complimentary continental breakfast every morning of your stay.
Address: 273 Main St, Amagansett, NY 11930, United States
Price: $1,000+ per night
14. Gurney's Montauk Resort & Seawater Spa (Montauk)
Gurney's Montauk Resort & Sweater Spa sits directly on a long stretch of private beach in Montauk.
In fact, the property has 158 rooms that include a combination of rooms, suites, and cottages, some of which include amazing perks like private balconies and terraces, all with huge beds, stunning sea views, and the sweet sounds of waves crashing up against the shore (directly from the source, no white noise machines involved!).
Plus, summer is an ideal time to visit since you can enjoy great weather and snag a cabana before partying on the beach, However. Gurney's is open year-round, with each season giving you a fabulous reason to visit Montauk – like sitting around the outdoor fire pits while you snuggle up in a cozy blanket with the cool autumn breeze in the background.
Now, The Spa at Gurney's provides guests with an extensive range of skin and body treatments. In fact, it even has unique elements like a Roman bath, a sauna, and a fun indoor/outdoor heated saltwater pool.
Then, in addition to the spa, the property also features five restaurants and bars, including one where you can actually eat and drink directly on the sand – making this one of the best things to do in the Hamptons.
The staff at Gurney's are also exceptional. And while they will gladly assist you with anything you need, they will also help you execute any special occasion with glamor and ease.
So, if you're planning to visit for a birthday or an engagement, just let the staff know and you'll be surrounded by rose petals or champagne bottles aplenty!
Address: 290 Old Montauk Hwy, Montauk, NY 11954, United States
Price: $1100+ per night.
15. Topping Rose House (Bridgehampton)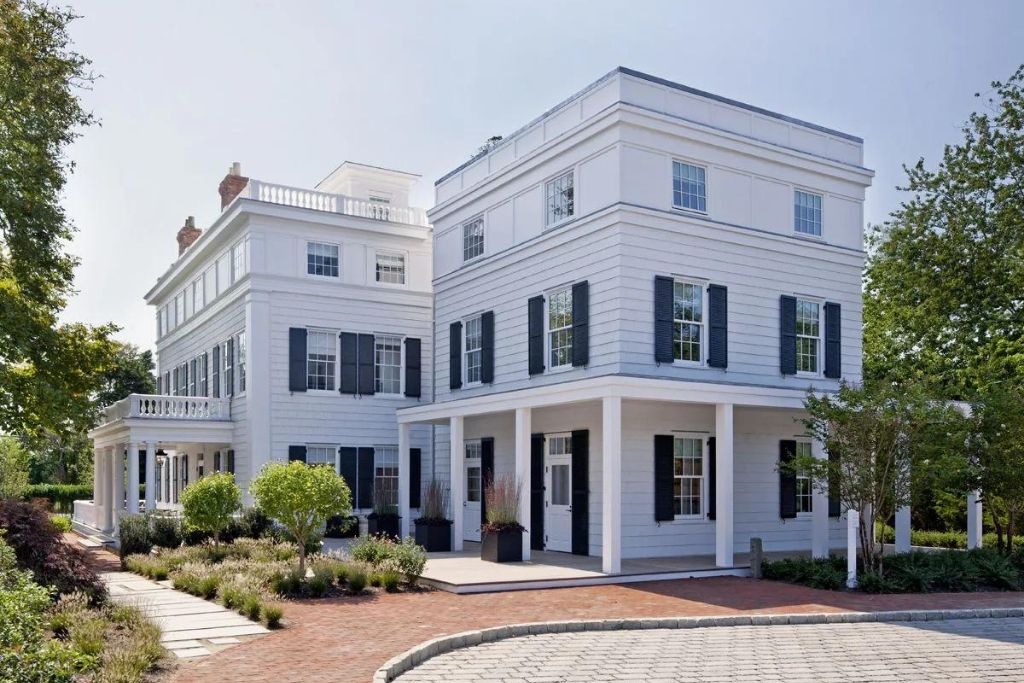 Topping Rose House offers a variety of stay options – from (not so) basic twin rooms in the main house, to standalone cottages which are sprinkled across the green grounds and feature private patios with loads of natural light.
Each room also includes a complimentary breakfast daily which you'll enjoy along with any other meals that you may want to book during your stay at one of the best hotels in the Hamptons.
In fact, the fabulous on-site restraunt Jean-Georges creates stunning farm to table meals that everyone will love since the farm that the ingredients are sourced from is none other than the Topping Rose House's own one acre farm.
Alternatively, you can head to the restaurant's bar for a drink – or take their own rosé outside into the sunshine.
And when you're done dining, there are plenty of other things for you to do next. You can stay on the property and enjoy the spa, relaxi in the outdoor heated pool, or work off some of that grub at the fitness center.
Or, you could head into town and use a complimentary shuttle seervice to get to the beach as well as around town to various local points of interest. Just be sure to make arrangements ahead of time to avoid disappointment!
Address: 1 Bridgehampton-Sag Harbor Turnpike, Bridgehampton, NY 11932, United States
Price: $1200+ per night
Map of the Best Hotels in the Hamptons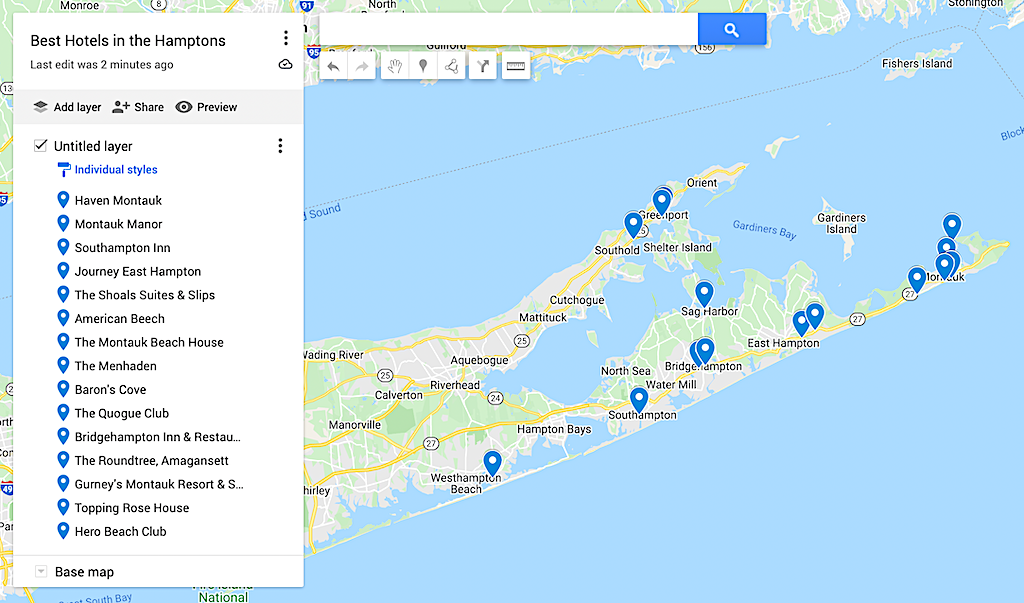 Additional New York Resources You'll Love
There you have it! That just about wraps up this guide to the best hotels in the Hamptons!
Tell me, did your picks for all the top Hampton hotels make the list? If not then let me know in the comments below.
And if you found this post useful, don't forget to join our email list before pinning this post now so that you can read it again later.