Planning a trip to the Hamptons from NYC this summer? If so then walk, don't run to some of the best beaches in Montauk.
After all, Montauk is an awesome, oceanside community that sits all the way out at the far end of Long Island. As a result, it is positively brimming over with pristine, white-sand beaches that are only out-shone by the area's many exquisite sunsets.
In fact, Montauk is so idyllic that is home to some of the best beaches in the Hamptons…period. So, if you want to get away from the grit and grime of the city that never sleeps this summer, then consider making your out to the sand and surf that awaits you on all of the top beaches in Montauk.
Trust me on this, I've lived in the city for well over thirty years and have traveled to Montauk more times than I can count.
Therefore, I know exactly which beaches you should and should NOT add to your ever-growing list of things to do in the Hamptons this summer.
So, step away from the super touristy guidebook and use this savvy local guide instead. After all, it is packed with insider tips that will help you make the most of your time at all of the best beaches in Montauk.
This post may contain affiliate links. Please see my disclosure for more information. As an Amazon Associate, I earn a small commission from qualifying purchases.
How to Get To and From Montauk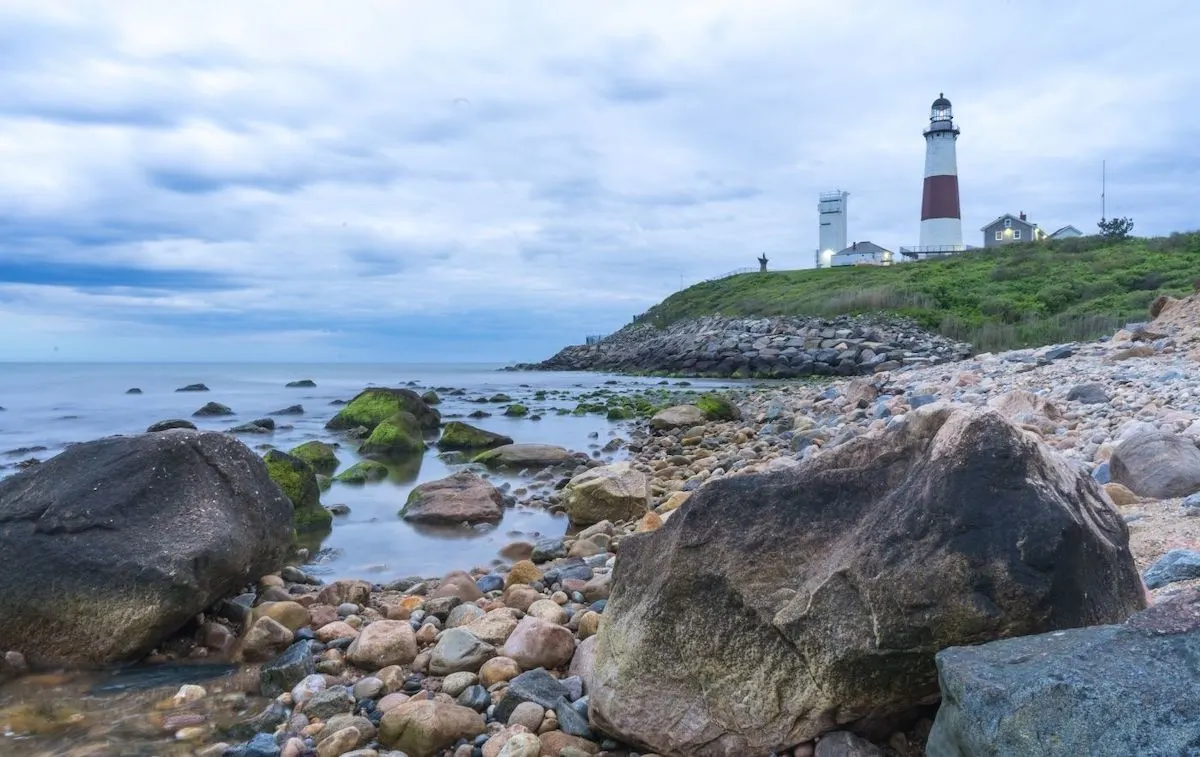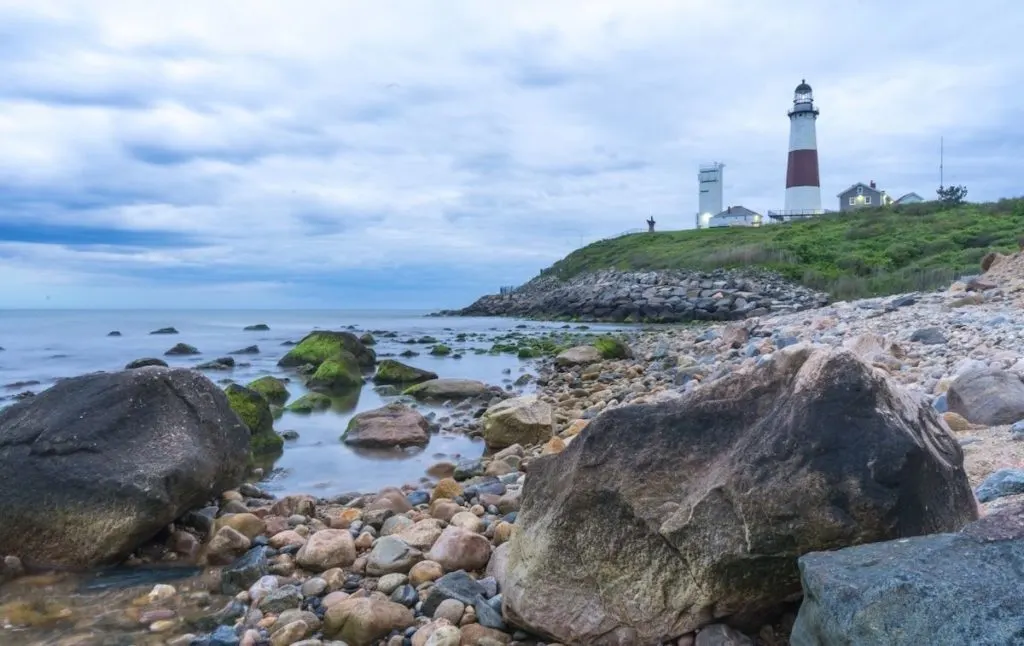 If you want to visit some of the best beaches in Montauk this summer, there are a couple of different ways that you get into and out of this part of Long Island.
You could:
Take the Hampton Jitney – This is basically a local bus service that will run you out to Long Island and Montauk specifically. In general, a trip on the Jitney will take around three hours (depending on traffic) and tickets will start at around $37.00 per person (off-season, pre-book online). It's a great way to get to Montauk and is used by many New Yorkers who flock out to Long Island seasonally.
The LIRR (The Long Island Railroad) – Personally, I prefer the LIRR. Not only will you avoid traffic, but you can easily catch a train from Penn Station to Montauk. Tickets are also pretty cheap and start at $22.25 (off-peak) and you will need to transfer at Jamaica station. But, once you hop on the Babylon-bound train, it will only take between three to four hours to get to your final destination.
Drive Yourself – Honestly, this is not my fave way to get to Montauk since the LIE (Long Island Expressway) can often have bumper-to-bumper traffic. However, if you are dead set on driving to Montauk yourself, try to leave any time before 6:00 am or after 9:00 pm to avoid traffic.
Where to Stay in Montauk
Looking for amazing hotels where you can basically swan dive into the ocean or listen to the waves from your hotel room as they quietly lap up against the shore of some of the best beaches in Montauk?
If so, then this section is for you. Because regardless of your budget, there is an amazing Montauk accommodation here that will be perfect for you.
Sunset Beach Motel (budget/mid-range) – This budget-friendly motel is steps away from Sunset Beach and the ferry to Block Island. And while this place is nothing fancy, it's probably the cheapest hotel (think $200 per night) you'll find in Montauk and comes with rooms that are outfitted with everything you need for a comfy stay. Rooms are also small but have tons of modern updates.
Daunt's Albatross Motel (budget/mid-range) – Another great budget(ish) option, this family-run hotel is a short walk from Kirk Park Beach and has low-key rooms with balconies, TV, WiFi, coffeemakers, and more. There are also BBQ grills and an outdoor pool on-site that guests are welcome to enjoy.
Hero Beach Club (luxury) – This well-reviewed, high-end property is situated near Kirk Park Beach and Montauk Lighthouse and has a 1950s-era vintage flair about it. All rooms also include flat-screen TVs, WiFi, and lavish furnishings. Plus, guests are welcome to relax on plush lounge chairs that sit around a fantastic, heated, outdoor pool.
Gurney's Montauk Resort & Seawater Spa (luxury) – This posh, 4-star, oceanfront hotel sits just 2 miles from Hither Hills Park and features bright hotel rooms that include flat-screen TVs, iPod docks, Nespresso machines, and more. Many accommodations even come outfitted with personal verandas and all guests can access to the beach as well as beachside restaurants, a spa, and a heated indoor saltwater pool.
Best Beaches in Montauk
1. Gurney's Beach
Gurney's Beach actually belongs to Gurney's Resort and runs 2,00 feet along the length of the Long Island coast. Because this beach is privately owned by the resort, it is only accessible to guests of the hotel – which has 158 rooms, with rates starting around $700/night for a king room with an ocean view.
Along with the stunning rooms, the resort also offers various dining and drinking options. Most importantly, The Beach Club is the only place in Montauk where you can dine directly on the beach (this resort is also the only one in Montauk with direct, private beach access).
In terms of the beach itself, this is one of the best beaches in Montauk that is well-maintained, has daybeds with umbrellas to provide shade from the sun, and loads of waves for you to swim or surf in.
Plus, you'll get great sunset views if you stay up late enough to see them. And while so much of this beach is private, you can still book a daybed on Gurney's Beach even if you're not staying at the resort.
But, do note that rates can start as high as $1,000 per day (though half of that is a minimum at the bar that can be spent on food and drink), making this one of the less accessible Montauk beaches on this list.
2. Gin Beach
Gin Beach is a stretch of white sand that is quite unique since it sits on the coast but along the shores of Montauk Lake, an artificial body of freshwater that is super clean and is very safe to swim in.
This setup means that this is one of the best beaches in Montauk for younger kids or for anyone who is a less confident swimmer since the waves aren't quite as fierce here.
Plus, there is a lifeguard on duty during the swim season (Memorial Day to Labor Day) and this beach rarely gets as crowded as some of the other places on this list.
Additionally, this beach offers some public facilities for you to enjoy, in addition to on-site parking. Although, it's generally limited and requires a town pass. Therefore, definitely, get dropped off if you can.
And while you might think this beach is full of gin slingers, it's actually named after the cattle pens (called gins) that called this stretch of land home before Montauk became the vacation oasis that it is today.
3. Hither Hills State Park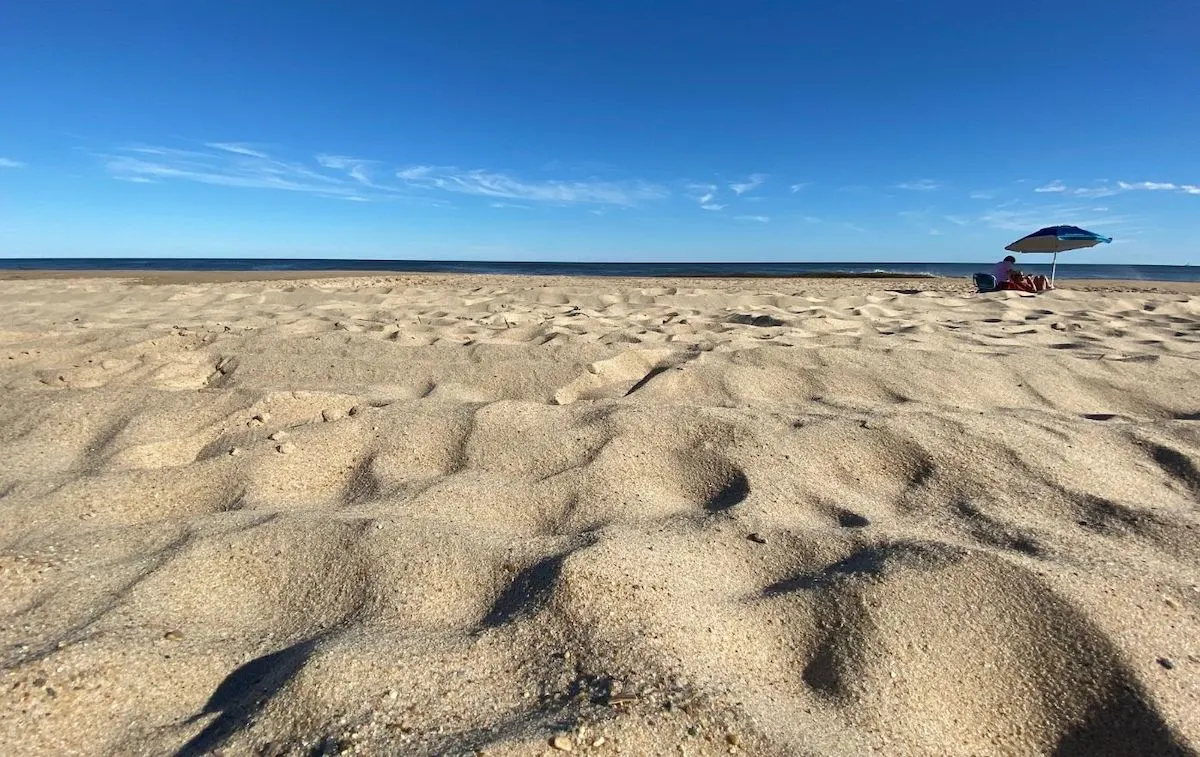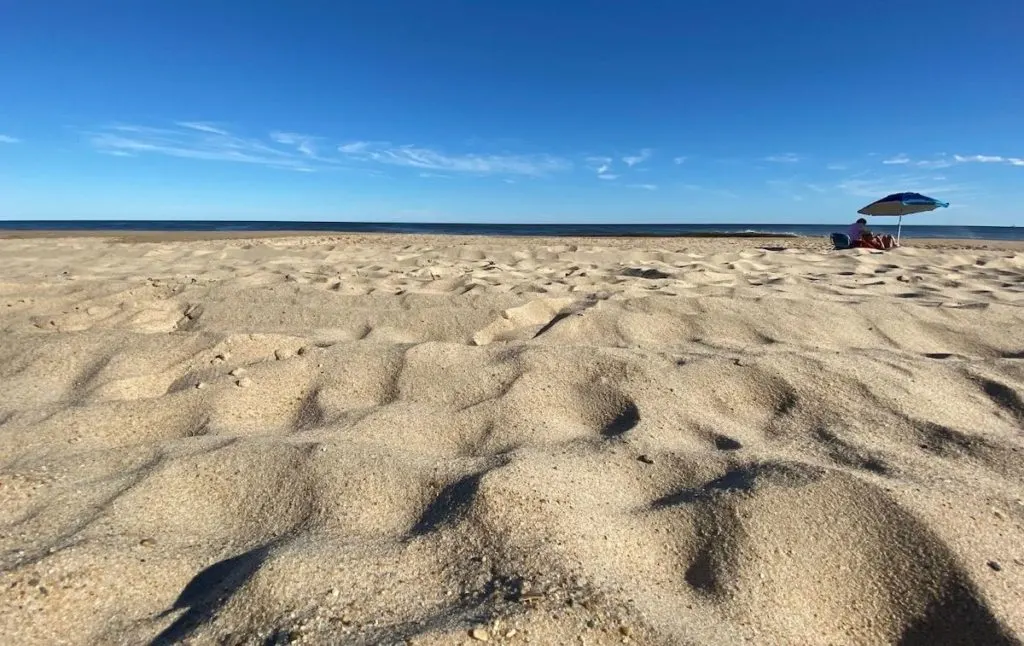 Hither Hills State Park is much more than just a beach. In fact, it's one of the best beaches in Montauk that comes outfitted with fire pits, a large camping area, spots for family picnics, and, of course, a wonderful, two-mile-long, sand beach.
So, if you're looking to frolic through the waves all day long, want to wander over to the "walking dunes" of Napeague Harbor (located just on the edge of the park – about a 30-minute walk away), and would love to sleep under the stars with the sound of waves crashing in the background, then this is the place for you.
After all, there are upwards of 190 campsites here that can accommodate tents, cars, and RVs alike. Then, once you've set up your home base, you'll have no shortage of things to do – including surfing, fishing, and swimming in the water, of course.
Or if you're ready to dry off and leave the sand for a bit, you can always hike, cycle, or horseback ride on one of the paths that weave their way through the area.
4. South Edison Beach (Nick's Beach)
If you're looking for one of the best beaches in Montauk that is a bit livelier, busy, and super central, then South Edison Beach is the spot for you.
After all, there's a lifeguard on duty throughout the summer and there are plenty of places for you to eat and drink nearby – many of which offer everything from fresh seafood or simple American fare.
There are also public facilities at this beach but parking nearby can be extremely difficult. Therefore, it's best not to bring your own car.
You are also welcome to bring dogs to this stretch of beach and they can happily run with you on the sand or go for a dip in the ocean. However, they are expected to stay on leash at all times (and of course clean up after them so no one else gets a surprise later).
Also do note that especially for weaker swimmers, the rip tides here can be quite strong. So, it's extremely important to only swim when a lifeguard is on duty.
5. Kirk Park Beach
If you're looking for one of the best beaches in Montauk that is perfect at sunset then give Kirk Park Beach a try.
In fact, this beach is often referred to as "umbrella beach" or "IGA beach" and sits at the eastern end of Montauk. Therefore, you can easily walk here from Montauk Village with all of its quaint shops and delicious restaurants.
So, grab some food for a picnic in one of the designated areas in the park across from this clean, family-friendly beach. Yes, it's a bit narrower than some of the other top Montauk beaches on this list But, it still has plenty of sand to be enjoyed!
Kirk Park Beach is also a great option if you're only visiting Montauk for a quick day trip and aren't spending the night in the area. Just be aware that while there is plenty of public parking available, it'll cost you $35 (or free if you have an East Hampton town parking permit).
Other beachy highlights include public restrooms and a summer lifeguard that is on duty daily.
6. Amsterdam Beach State Park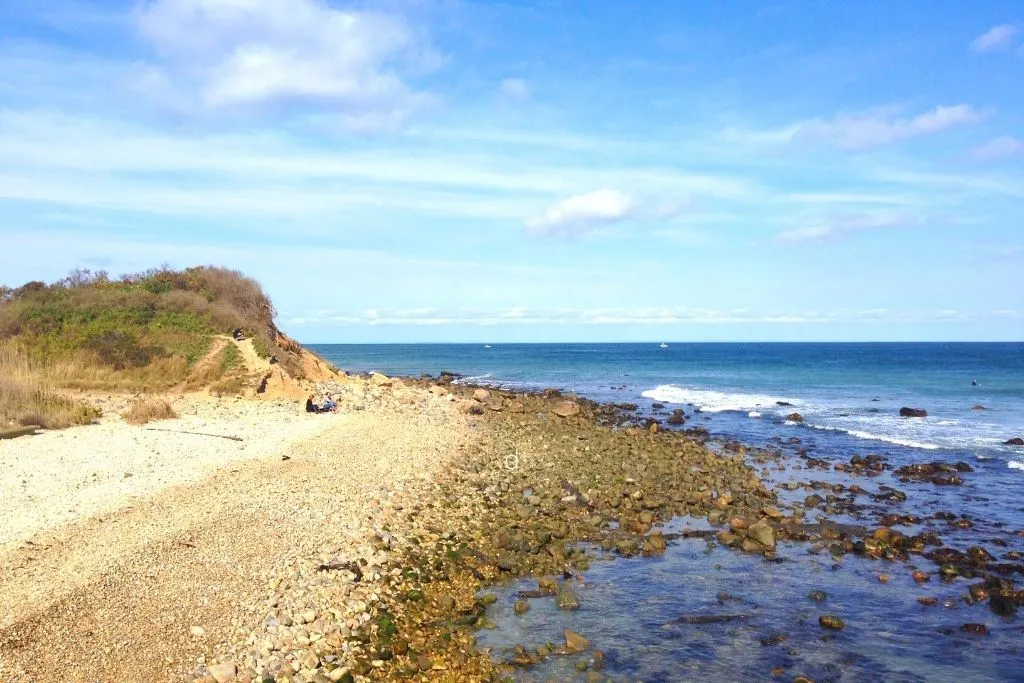 Amsterdam Beach State Park is a great choice if you want an easy, sandy beach hike with spectacular views.
The beach itself though is rather rocky so it's not one to lie down on and work on your tan. However, the hiking loop that runs through the park is 4.2 km (or about 2.5 miles) and is almost totally flat – but high enough to still give you some killer views.
Therefore, it'ss considered to be easy trek that will take you about an hour to complete, without stopping. Just be careful as the high, beachside grass provides a perfect environment for ticks to live in.
Therefore, cover up and do a tick check after your walk. And while the entirety of the state park occupies around 200 acres of land, remember not to wander off the trail and further errode the land in the area.
After all, this place was only recently bought by the town and was previously privately owned. It's also known locally as Amsterdam Beach Preserve and Montauk Moorlands.
7. Montauk Point State Park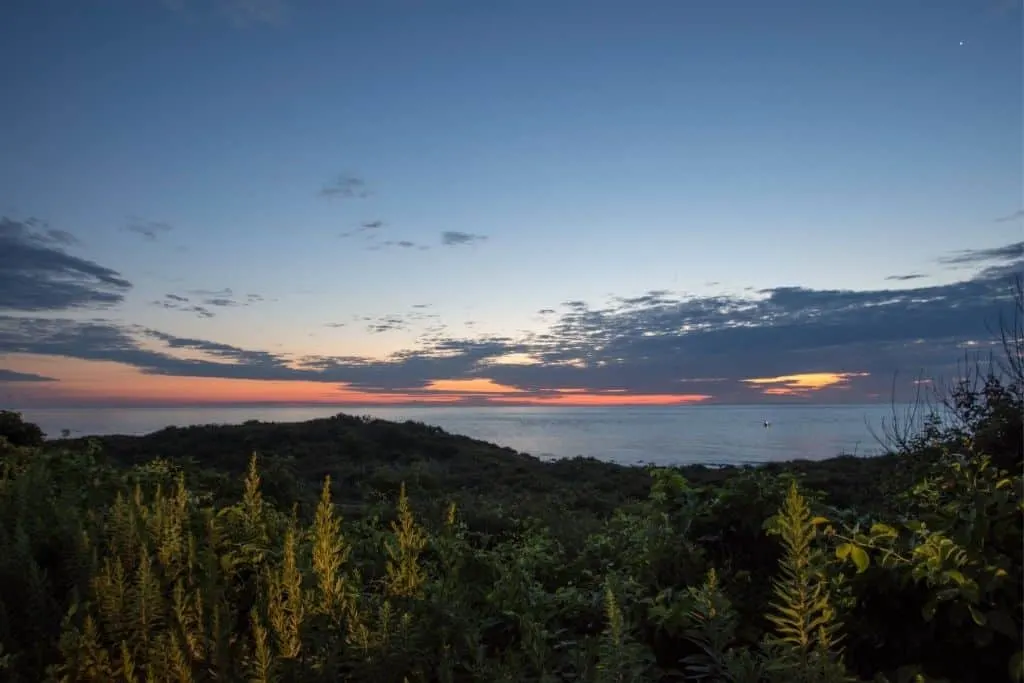 The beach at Montauk Point State Park sits at the very tip of Long Island and looks out over two bodies of water, right where they meet.
As a result, the Atlantic Ocean and Block Island Sound can be seen physically intersecting with one another in the water.
And while this is one of the best beaches in Montauk that is wonderful to visit in the warm summer months, it's also a treat during Christmas since the park is home to the Montauk Point Lighthouse (which has an amazing history as it was authorized by Goerge Washington and fortified during World Wars I and II) which is all lit up during the holidays.
This is also not a beach you'll want to lay out on, as it is rocky and the water is rough ,with no lifeguard on duty. But that just makes it all the more gorgeous and perfect for a walk or a leisurely stroll along the coast.
8. Navy Road State Park
The beaches of Navy Road State Park sit on the northern end of the Long Island Sounds and offer visitors quiet waters that make for a nice area to push off and go paddle boarding or kayaking.
In fact, the park and its associated beaches sit just on the edge of Fort Pond Bay and feature a long fishing pier where leashed dogs are welcome to raom (though they are also allowed off leash in certain areas of the park).
The beach itself is rocky so isn't great for sunbathing. However, the park provides visitors with access to hiking trails like Hither Hills Coastal Trail and Old North Road Loop – which feature just over three miles of fairly easy treking.
And if you're looking to do something a bit more laid back than hiking, grab a meal or a cocktail at Navy Beach Restaurant. While you're here you can even sit by the ocean and enjoy amazing sunset views.
9. Gosman's
Gosman's in Montauk is a dock area that is filled with all sorts of restaurants and shops. Therefore, while this area sits right near the water, you definitely won't be on a sandy beach.
But, this place really does have everything else, including ice cream shops, cocktails bars, clothing stores, crab shacks and seafood restaurants aplenty – including Gosman's Restaurant which has been in operation here for over 60 years.
So, stop by their open-air patio or their rooftop dining room for a meal to remember. Then afterward, head out onto the deck and take in stellar views of Montauk Harbor as you watch the fishing boats heading out onto the ocean.
10. Ditch Plains Beach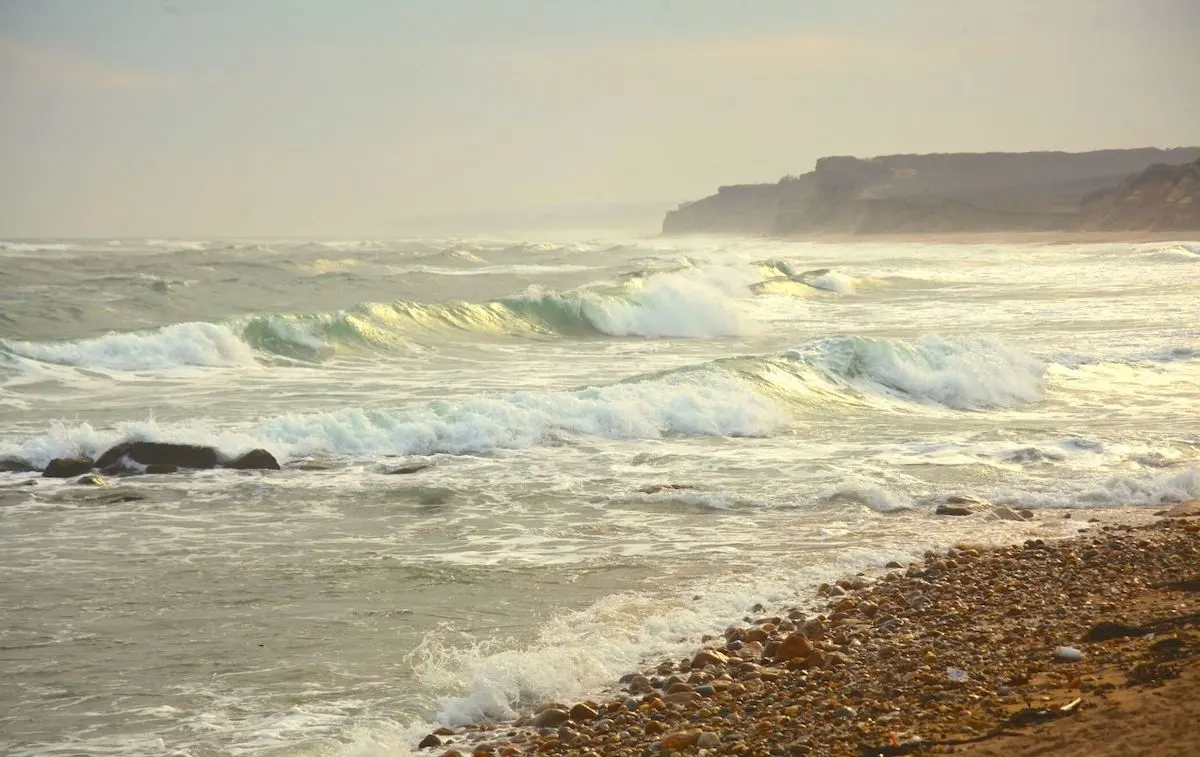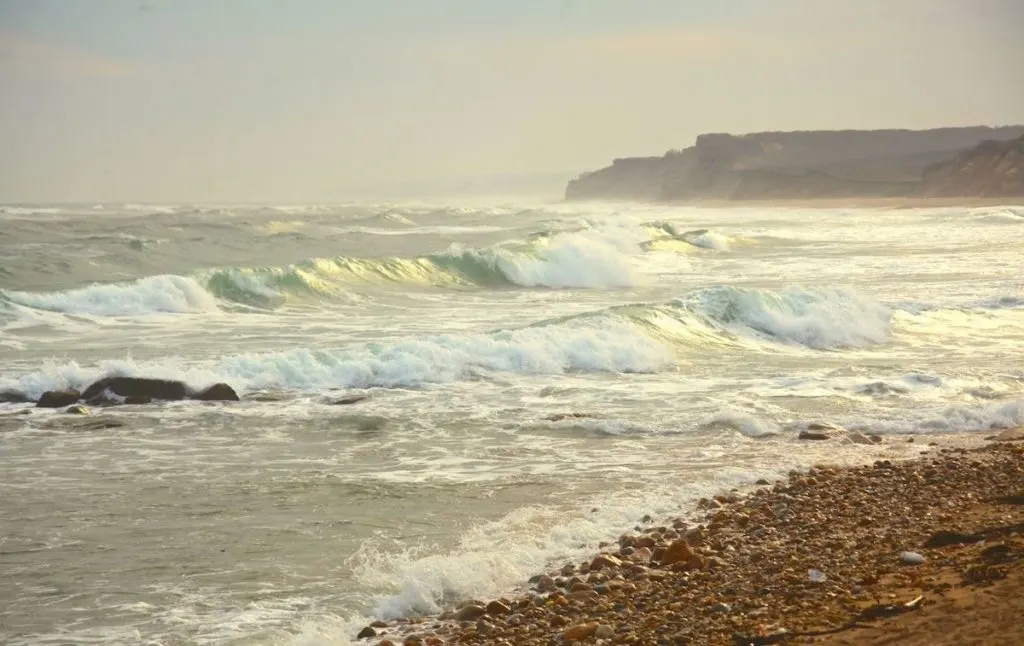 Looking for one of the best beaches in Montauk where you can get your surfy surf on? If so then mosey on over to Ditch Plains Beach.
It's the ideal place for experienced surfers who want to catch some epic waves and enjoy the laid back feel of this incredible place.
And if you're more of an aspiring surfer than an actual pro, then feel free to enjoy a lesson with one of the experts instructures at Speed Surf Shop. You could also just swing by rent an assortment of items like beach cruisers, surfboards, wetsuits, and more.
Just do yourself a favor and be sure to take advantage of several free parking spots nearby. Yes it's a bit of a walk but it's worth it to avoid the insane parking fees here.
Other than that, just enjoy the wealth of public amenities on offer at this pet-friendly beach, including restrooms, lifeguards (only duty until 5:00 pm), and more.
Pro Tip: Be sure to visit the Ditch Witch Food Truck while you're here for some delicious burritos, bagels, cinnamon buns, cubanos, and wraps.
Additional Long Island Resources You'll Love
Map of the Best Beaches in Montauk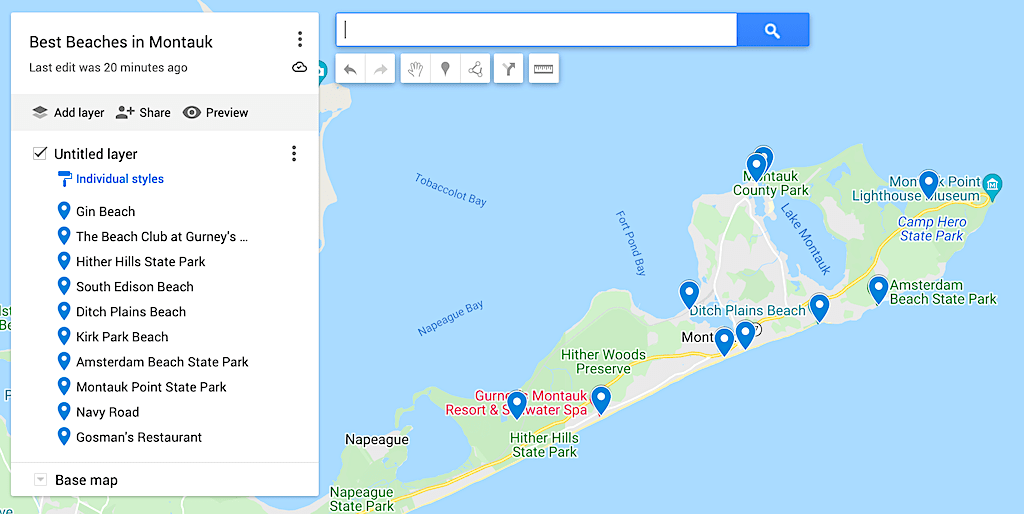 There you have it! That just about wraps up this guide to the best beaches in Montauk!
Tell me, did your picks for the top Montauk beaches make the list? If not then let me know in the comments below.
And if you found this post useful, don't forget to join our email list before pinning this now so that you can read it again later.