Ready to enjoy a very Hamptons vacay but not exactly sure how to get from NYC to the Hamptons?
If so then you are NOT alone. Because even as a 30+ year NYC local, it can still be a challenge to get all the way out to Long Island – especially when you don't have a car to call your own (one of the cons of living in NYC).
Because this glorious summer I think we all want to relax and enjoy some of the very best beaches in the Hamptons while hanging out at some of the greatest wineries on Long Island too.
However, luckily for you, I'm gonna share all my insider tips and tricks with you on how to get from the Hamptons to NYC by plane, train, car, and even using the good old Jitney.
So, regardless of your budget, there's a perfect transportation method on this list for you!
After all, the Hamptons are one of the best romantic getaways in New York and should be accessible to everyone since we all deserve a little fun in the sun.
So, if you're ready to plan the perfect day trip from NYC, then let's swan dive into this hella epic guide about how to get from NYC to the Hamptons right now!
This post may contain affiliate links. Please see my disclosure for more information. As an Amazon Associate, I earn a small commission from qualifying purchases.
Where are the Hamptons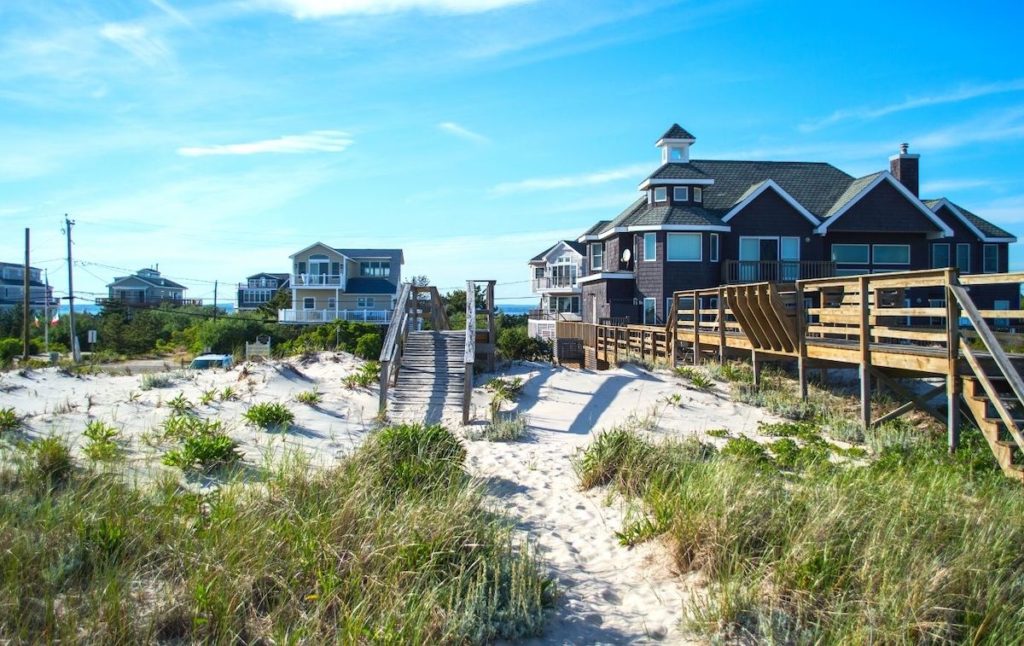 The ever fabulous and always luxurious Hamptons are right at the east end of Long Island, sticking as far out into the Atlantic ocean as New York State can go.
This affluent community features sandy beaches, golf clubs, vineyards and expansive houses that include the towns of Southampton and East Hampton, which form the southern part of the island's two forks, in Suffolk County NY.
All in all, there are around 20 seaside villages and hamlets for visitors to enjoy, right on New York City's doorstep.
And at just under 100 miles from New York City, the Hamptons is one of the most famous and popular vacation getaways in the USA.
But, not just for the general public either! In fact, there are a large number of celebrities who regularly visit (aka party like a rockstar) the Hamptons in order to enjoy the glamour and glitz of this amazing place.
But, if you're still not sure of where the Hamptons are or how to get from NYC to the Hamptons, check out the map below.
Map of How to Get From NYC to the Hamptons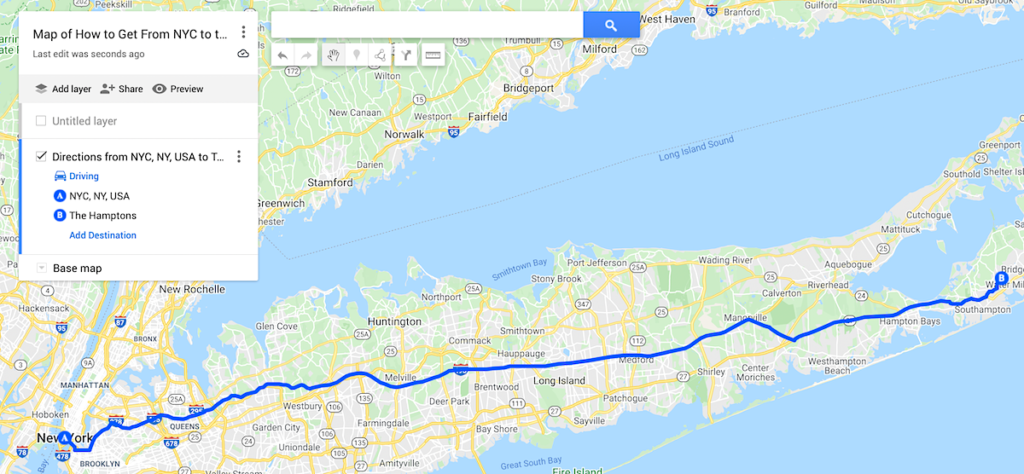 How to take the Jitney to the Hamptons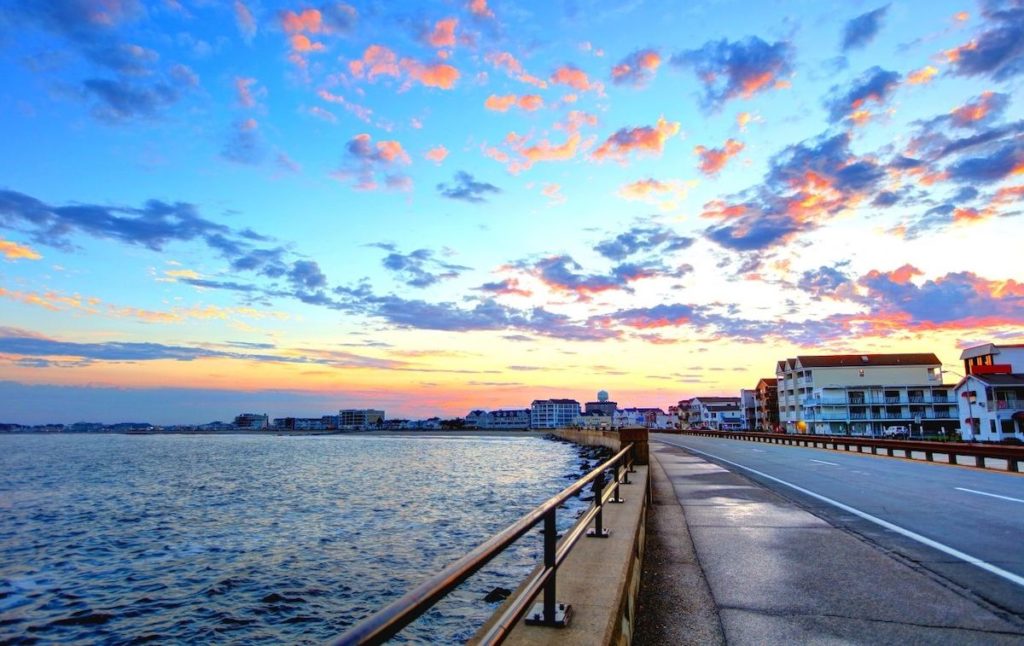 One of the best answers for how to get from NYC to the Hamptons is to take the Hampton Jitney. Now just called the Jitney, this bus service started as a single small van that shuttled people around the Hamptons!
Then, fast forward a couple of decades and it's quickly become one of the most popular ways to get from New York to the Hamptons.
There are also three main lines on the Jitney, depending on where you want to end up: the Montauk Line, the Westhampton Line, and the North fork Line.
Each line also departs from multiple places across NYC, with all of them departing at 96th Street between 3rd and Lexington.
In particular, the Westhampton and North Fork Lines each depart from 83rd and Lex., 59th and Lex. and 41st and Lex respectively. In contrast, the Montauk Line leaves from a few more places, including 85th and Lex., 77th and Lex., 69th and Lex., 59th and Lex. and 40th Street.
Most one-way tickets from New York City to the Hamptons via the Montauk Line are also pretty well-priced and will cost between $37-$44 per person.
And then upon arrival, you can disembark at stops at Manorville, Southampton, Water Mill, Bridgehampton, Sag Harbor, Wainscott, East hampton, Amagansett, Napeague and Montauk.
On the other hand, one-way tickets for the Westhampton Line from NYC to the Hamptons are slightly cheaper at $32-$39 per person, with stops at West Hampton, Quogue, East Quogue, Hampton Bays, and even an airport connection (for good measure).
And finally, there's the North Fork Line, where tickets are even cheaper at $29-$36 per person. North Fork Line buses also make stops at Calverton, Tanger Outlet, Riverhead, Aquebogue, Jamesport, Laurel, Mattituck, Cutchogue, Peconic, Southold, Greenport, East Marion, Orient Village and Orient Point.
Plus, after you leave NYC, there are some additional buses that stop at Farmingville, depending on the time of departure. You know, just in case all the mentioned stops are not enough for you as you make your way from NYC to the Hamptons.
It's also worth noting that tickets are cheaper if you prepay. Therefore, the higher price listed above applies if you buy a same day ticket while onboard the Jitney.
Also, remember that buying on the day comes with some risk, as there are only so many seats. So not only is it more expensive, but you might be disappointed!
In terms of timing, the trip in each direction should take somewhere between 2-3 hours, depending on where in NYC you're starting from and how far along the Hamptons you want to go.
And if you want to splurge on a bit of luxury, the Hampton Ambassador also goes from NYC to the Hamptons! You'll get more space, access to snacks, alcohol and movies, and even have more time slots to choose from for your journey.
Speaking of alcohol, here's a fun fact: the Jitney also does wine tours! So, you can be riding in style as you try wines from some of the best vineyards in Long Island!
How to Drive from NYC to the Hamptons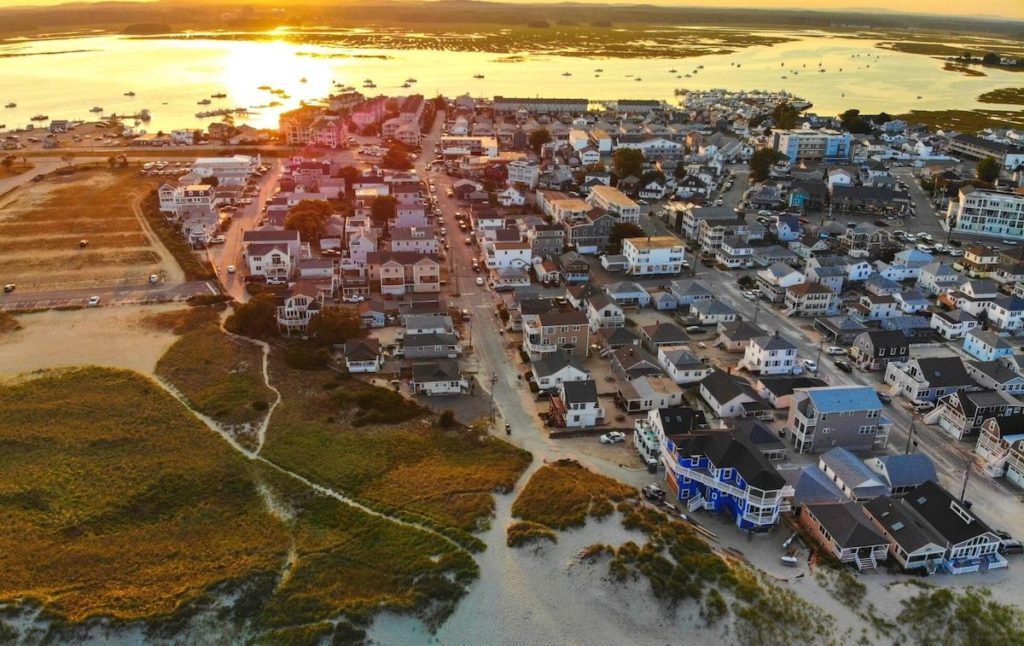 If you choose to drive to the Hamptons, you have a variety of different routes to choose from as you make your from New York City to the Hamptons.
So, you can spend as much or as little time as you like along the coast, and you'll get to see plenty of New York scenery and local village life too!
Now, when working out your route, you'll find that there are three main roads that run the length of Long Island: Route 25/25a, Route 27 and the I-495. These roads start as far west as Brooklyn and go right to the tips of the Forks.
The I-495 is the most major motorway into the Hamptons from New York City. It runs right through the middle of Long Island and has the fastest moving traffic of the three roads.
In contrast, Route 27 will take you from the heart of NYC all the way to the end of South Fork! In fact, this scenic road will carry you through Connetquot River State Park, Southaven County Park and past the Westhampton Dwarf Pine Plains Preserve – areas which have some of the best hiking trails on Long Island!
Now, Routes 25 and 25a both run along the top of Long Island and make for a more leisurely route to the Hamptons, with some great views of the Connecticut coast out across the Long Island Sound.
Whichever route you take though, it's about 70 miles to the Westhampton Beach area and 90 miles to East Hampton on South Fork. So, you'll be looking at a 1.5 or 2 hour long journey on the road.
Driving during the summer season, and driving to the Hamptons on weekends, will probably take you a little longer. After all, the Hamptons are super popular and there will definitely be lots of traffic.
How to take the Train from New York City to the Hamptons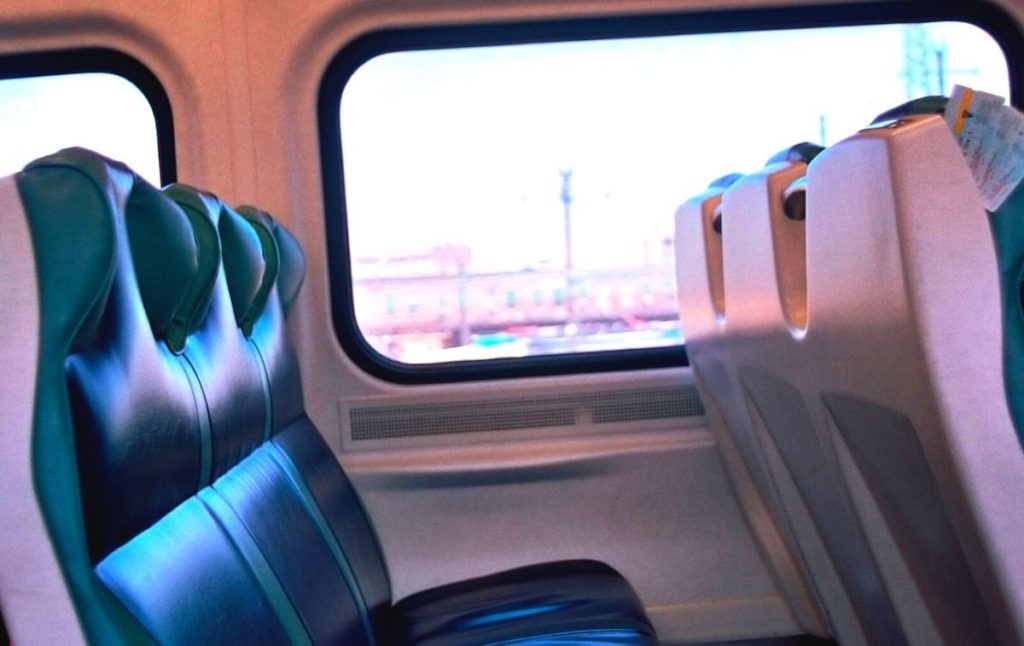 Ah, riding the iron horse across the great USA. It's what our ancestors did, and it's still one of the best ways to get from NYC to the Hamptons!
Ah, riding the iron horse across the great USA. It's what our ancestors did, and it's still one of the best ways to get from New York City to the Hamptons!
This is because it is both the cheapest and one of the fastest options for this route. So, you'll be able to save some money and have more time for sightseeing? It's win win!
There's only one line you need to remember for trains to the Hamptons: The Long Island Railroad (LIRR). Trains depart from Penn Station once per day to Montauk and the South Fork region at 4:06pm sharp, and twice (or sometimes three times) per day to Greenport and the North Fork Region.
Tickets can be purchased either at the station or onboard the train. Prices vary depending on your destination, but from Penn Station they should be in the region of between $9-$30.
And if you're riding to Montauk on the South Fork, your train will stop at Westhampton, Southampton, Bridgehampton, East Hampton and finally Montauk. Tickets should be $18-$24 for off-peak and $20-$30 at peak times.
If you're only going as far as somewhere like Southampton, you'll pay something more like $15-$21 for off-peak and $16-$26 at peak times. Also be aware that the full journey from Penn Station to Montauk takes about 2.5 hours.
On the other hand, getting to the North Fork takes a bit longer, because you'll have to change trains at Ronkonkoma. Again, starting at Penn Station, you'll pass through stops at Woodside, Jamaica, Mineola, Hicksville, Bethpage, Farmingdale, Pinelawn, Wyandanch, Deer Park, Brentwood, Central Islip and then Ronkonkoma.
After changing trains, your next stops are Medford, Yaphank, Riverhead, Mattituck, Southold and finally Greenport.
Tickets as far as Ronkonkoma are between $11-$15 at off-peak and $10-$19 for peak times. Tickets to Greenport are between $10-$14 at off-peak and $9-$18 for peak times.
Each part of this journey takes about 80 minutes, so adding in the time to change trains it's a 3 hour trip one-way. Make sure to bring a good book, or a tablet with some good TV!
Pro Tip: When purchasing train tickets, remember that round trip tickets are cheaper than two one-way tickets and that tickets purchased on the train are way more expensive than ones purchases in the station.
How to Take a Helicopter from New York City to the Hamptons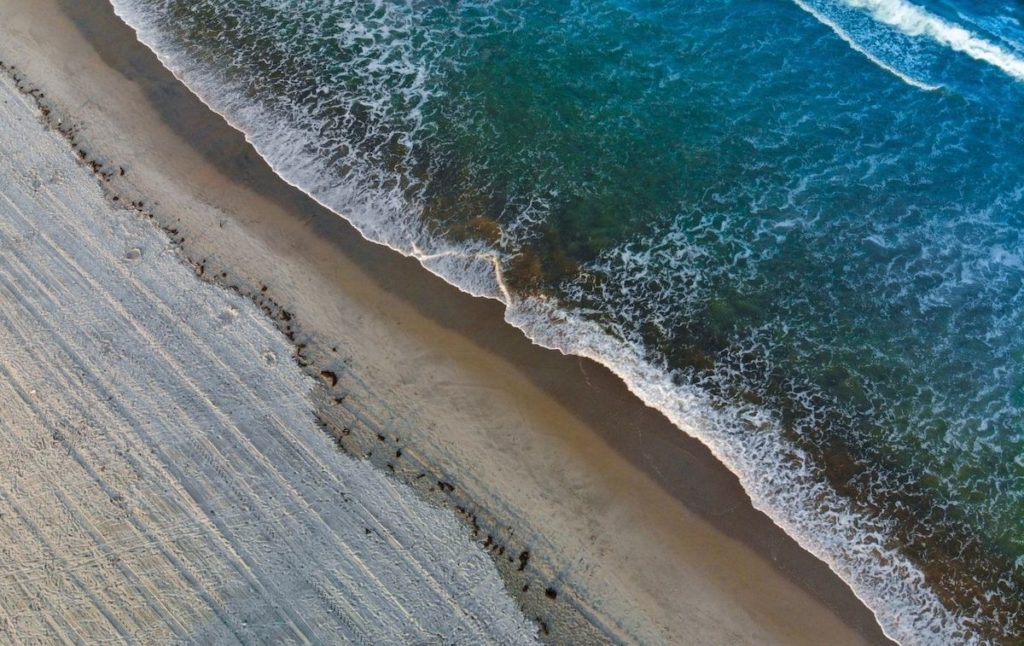 So you want to travel in style – I can respect that! Fortunately, New York City has one of the most exciting and speedy methods for getting to the Hamptons: BLADE.
BLADE is a company that specializes in transport by helicopter in and out of cities, and they have a regular service that flies between NYC and the Hamptons.
With BLADE, you'll take off from the Hudson River outside BLADE's NYC headquarters at West 30th Street and arrive in the Hamptons in just 40 minutes!
Needless to say, you'll also be treated to some VERY Insta-friendly views of New York City as you soar over the skyscrapers before setting down in East Hampton airport.
However, all this luxury does come with a price. It will cost you upwards of $795 or more per seat for this experience, but who says you should put a price on luxury?
There are also regular flights twice a week that take off at Fridays at 5:00 pm and on Sundays at 2:30 pm. If you want, you can even arrange extra flights if you work together with other BLADE patrons, or even charter your own personal flight. But, yeah, that will definitely cost you significantly more!
How to Take a Seaplane from the Hamptons to NYC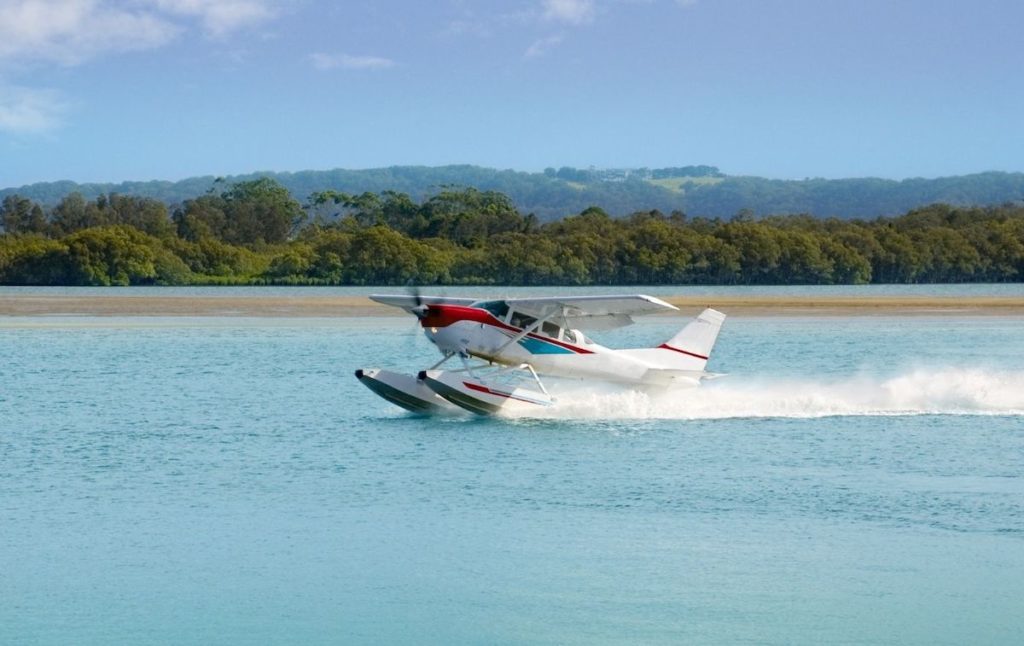 BLADE to the rescue again!
Helicopter ride too blasé? How about a seaplane? I'll admit, there's something about taking off and landing on water that's unlike anything else. And when you're thinking about how to get from New York City to the Hamptons, a seaplane is the connoisseur's choice!
It's also a great way to experience the best beaches in the Hamptons!
Launching out of their base on the East River at the end of East 23rd Street, BLADE's seaplanes are available to take you to the Hamptons in style.
And unlike with their helicopters, there's no regular service in operation. So, you'll have to charter your own personal flight, with similar rates to their private helicopter rides.
Other ways to get from the Hamptons to New York City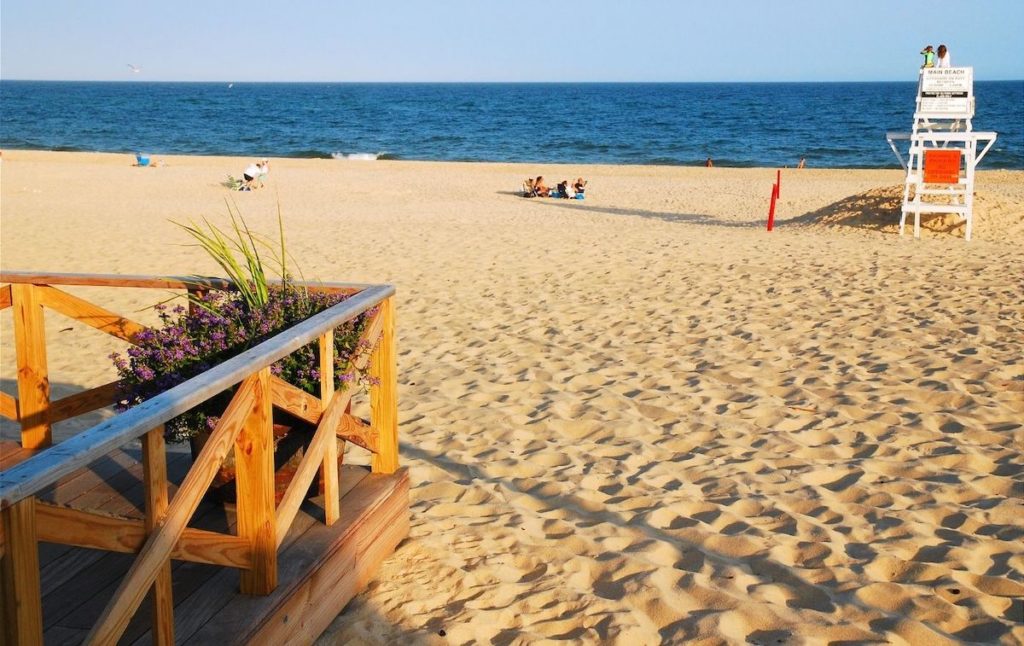 If none of the above methods appeals to you, or if you're feeling a little alternative, here are a few more ways to get from NYC to the Hamptons.
Taxi – Grabbing a taxi from the Upper East Side to Hampton Bays would cost you about $217-286. However, because of traffic (and there WILL be traffic, it's New York City!) you're more likely to pay anywhere up to $300+ or more. The journey time is also 2-3 hours on average, so choose this option with caution.
Limo – Renting a limousine is definitely one of the best ways to make a statement as you cruise from NYC into the Hamptons. They'll also pick you up and drop you off wherever you want! They will definitely be at least as expensive as a cab though, if not more.
Ferry – Unfortunately, there is no ferry service that runs from NYC to the Hamptons. The residents of the Hamptons are generally against the idea of ferries coming into their harbors, so if you want to sail there it will have to be by private means.
Yacht – If it's within your budget, you can charter your own luxury yacht! It'll have beautiful interiors, it's own pool, plenty of decking, and it could all be yours for between $25,000 and $700,000 per week! Ok, that's a little unrealistic, but I'm covering all the bases here! But if you do take my advice on this, can I come too?
So, What is the Best Way to get from New York City to the Hamptons?
So those are my answers for how to get from NYC to the Hamptons!
If you're looking for flexibility, driving is the way to go, either in your own car, in a good ol' New York yellow cab, or a luxurious limousine.
If you want to get there fast and/or save some money, then the Long Island Railroad and the Hampton Jitney are your friends.
However, if you want to get there fast and SPEND some money, then it's time to take to the skies in a helicopter or a seaplane.
And of course, you can always walk! LOL. I mean, it'll only take you 32 hours and then you can collapse at one of the most romantic hotels on Long Island.
Additional Resources You'll Love
There you have it because that just about wraps up my guide on how to get from NYC to the Hamptons!
Tell me, did I leave any transportation methods out of this guide on how to get from New York City to the Hamptons? If so then let me know in the comments below!
And if you found this post useful, be sure to join our email list now before pinning this post now so that you can read it again later!