Just a hoot and a holler down the road from Lake Placid (aka a 15-minute drive away) is Saranac Lake.
It's a quaint little Adirondacks village with all the beauty and charm of its nearby neighbors but without the insane crowds.
So, if you're looking to get away from it all while still being within close proximity to some of the top things to do in the Adirondacks, then give this post about the best things to do in Saranac Lake NY a gander!
After all, I have a whole host of insider tips and tricks that I want to share with you since I've e been visiting this region my entire life and now live in the Adirondacks myself!
Therefore, if you're ready to put the guidebooks down and experience this ethereal town like a real New Yorker, then give this post on the best things to do in Saranac Lake NY a read!
Pro Tip: Saranac Lake is a great place to stay if you want to get away from the crowds of Lake Placid but still want easy access to some of the best things to do in the High Peaks Region.
This post may contain affiliate links. Please see my disclosure for more information. As an Amazon Associate, I earn a small commission from qualifying purchases.
How to Get to Saranac Lake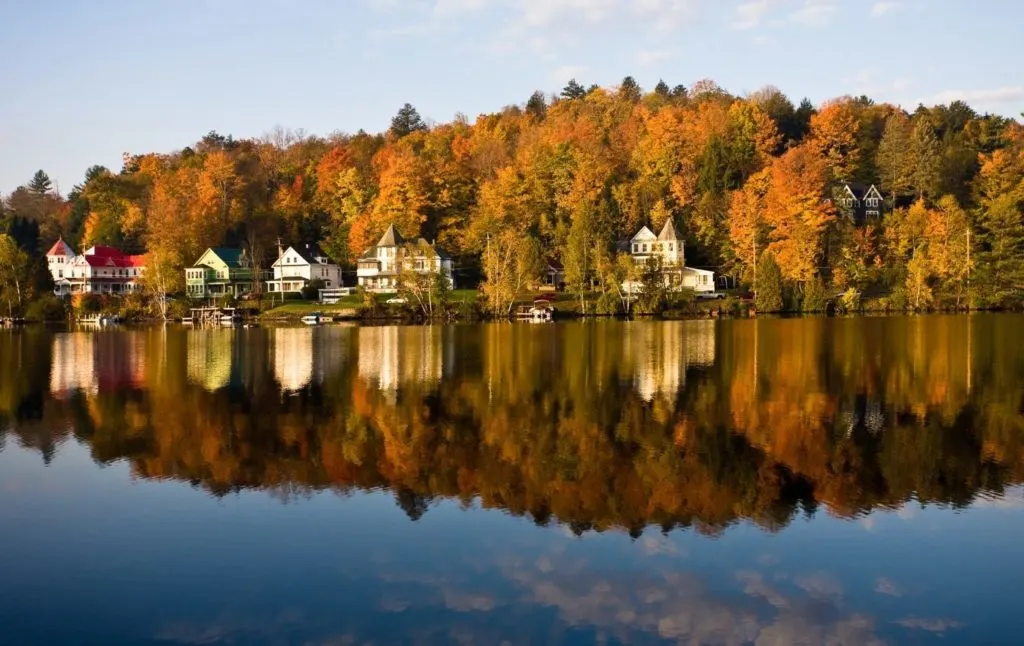 Because Saranac Lake is so dang close to Lake Placid, if you can get there then you can easily get to this amazing little village.
Therefore, it's about a 5+ hour drive from NYC and sits at the center of the state's famed Nigh Peaks Region.
However, if you need more detailed instructions than just "drive to Lake Placid" then take the New York State Thruway (also known as I-87 and the Northway) to exit 30.
Once off the highway, take 9 south toward Keene and Keene Valley and then get on NY-73 W and NY-86 W to Saranac Lake
Alternatively, you could take an Amtrak Train from Penn Station to Westport Station. Fares begin at $28 one-way and the trip will last about eight hours.
However, do bear in mind that Westport is a super small town with very little public transportation – something that is more than a little problematic since Westport is about an hour away from Saranac Lake.
That's why, if you're visiting from NYC and don't have a car, I'd personally take a train to Albany, or a bus to Lake George, and then rent a car once you get there.
Trust me, you'll need a car to travel throughout the region and experience some of the best things to do in Saranac Lake NY.
Where to Stay in Saranac Lake NY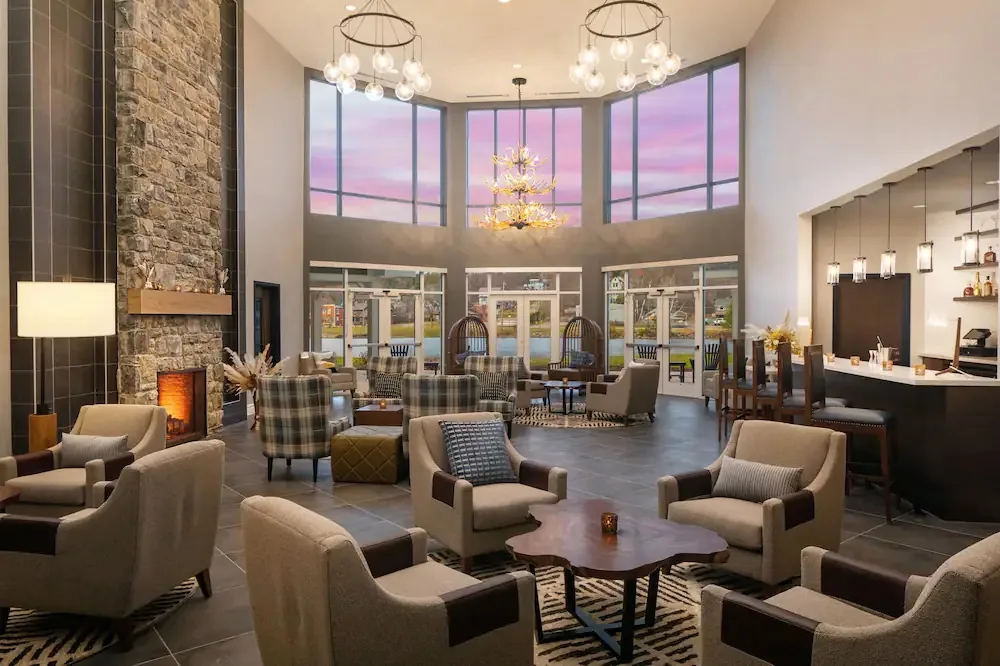 With a population of just over 5,000 people, it should come as no surprise that there aren't a ton of hotels for you to choose from during your stay.
However, there are a few top-notch establishments for you to relax in as you experience all of the best things to do in Saranac Lake NY.
And some of my favorite places to stay include:
But, if you still can't find what you're looking for, Lake Placid is so close by that you could easily stay there and then just drive to Saranac Lake whenever you like.
Best Things to do in Saranac Lake NY
1. Ride the Adirondack Carousel
Embrace your inner child and take a spin on the Adirondack Carousel with its 24 hand-carved sculptures of animals that are native to the region.
Because at any given time, 18 of these enchanting creatures are on display and ready to be enjoyed by children of all ages.
This structure also sits inside a fantastic, 3,600-square foot pavilion that was designed to protect the large-moth bass, beavers, bobcats, salamanders, and turtles that help make this ride of the best things to do in Saranac Lake NY – an icon that was first started by local woodcarver, Karen Loffler.
Plus, after taking a ride on this historic carousel, you could easily visit some of the area's many galleries and explore a vast network of scenic walkways and playgrounds too.
Address: 2 Depot St, Saranac Lake, NY 12983
Hours: Open Friday and Saturday from 10:00 am to 5:00 pm and Sunday from 10:00 am to 3:00 pm.
Price: Rides are $2.50 each, $6 for three rides, or $10 for seven rides.
2. Enjoy a Meal at The Red Fox Restaurant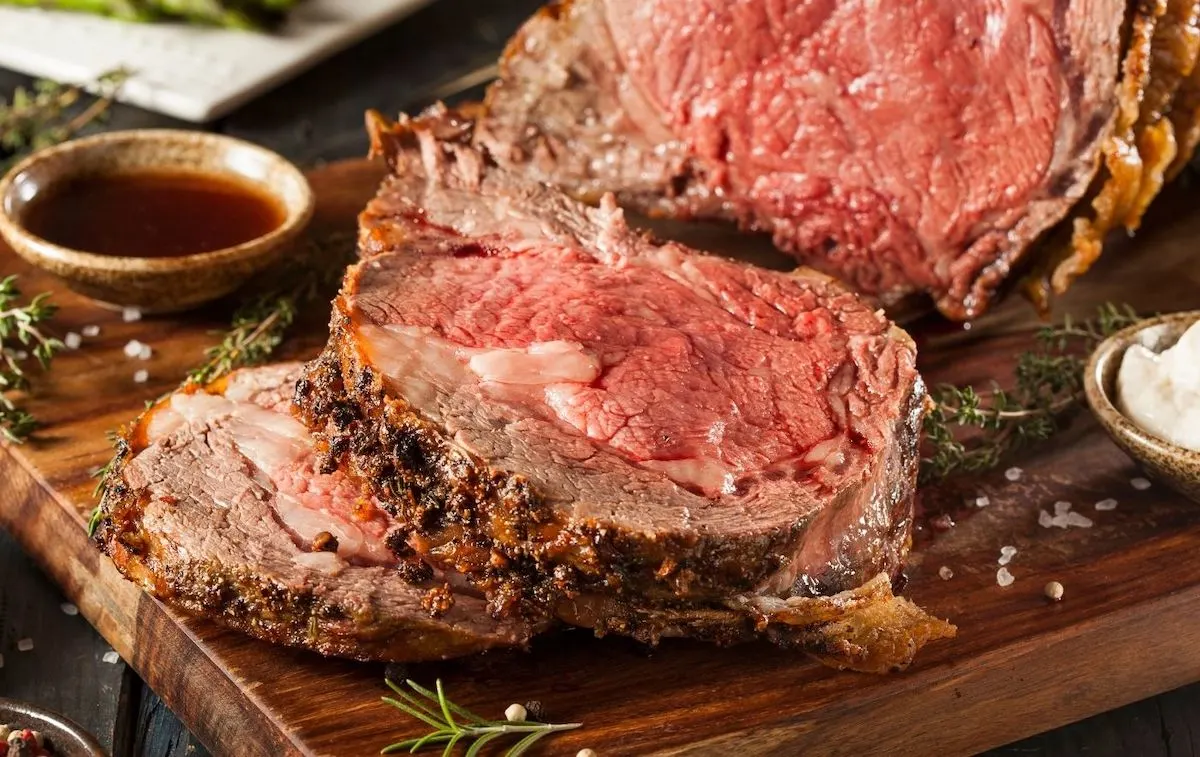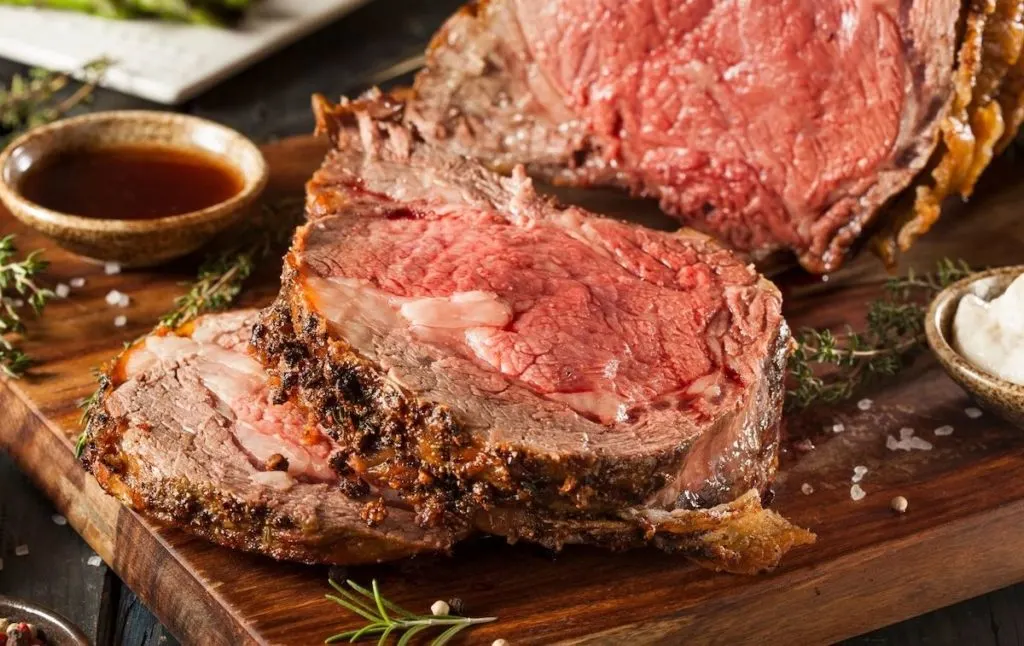 Serving up some of the best food in the entire tri-lakes area, this seafood, steak house, and Italian restaurant (all in one) is known for exquisite decor, exceptional service, and even better food.
So, book a table in their Adirondack-inspired dining room overlooking the dahlia garden and enjoy a wide array of dishes that include exceptional things like Chicken/Veal Parmesan with homemade marinara sauce., prime rib, and perfectly cooked lobster tails.
You can also snuggle up next to the supremely cozy fireplace and enjoy the warm ambiance of the red fox chandeliers and lamps that are scattered throughout the restaurant.
Additionally, staff is extremely friendly, making this a refined, not-too-stuffy restaurant the perfect place for a family get-together.
Pro Tip: Other great restaurants that should be on your list of the best things to do in Saranac Lake NY include Left Bank Cafe (French bistro that is great for brunch and French crepes) and Fiddlehead Bistro (a great American restaurant with delicious seared Haddock and red curry mussels).
Address: 5034 NY-3, Saranac Lake, NY 12983 (it's just off of Route 3 and easy to find but a little removed from the more touristy areas)
Hours: Open Wednesday through Sunday from 4:00 pm to 9:00 pm.
Price: Most entrees are $20+ each.
3. Saranac Laboratory Museum
Originally built in 1894 as a research center for tuberculosis, this historic red brick building was fully restored and re-opened in 2009 as a museum.
Since then, it has become one of the best things to do in Saranac Lake NY since you can explore a variety of permanent exhibits that relate to scientific research and the historical treatment of TB (aka tuberculosis) patients.
A multitude of temporary exhibits are also on display, that regularly rotate in and out of the museum, with a focus on the history of Saranac Lake.
So, be sure to stop by and do a self-guided tour of a laboratory that was once at the forefront of worldwide TB research. You can also listen to audio tours and watch films about the history of this devastating disease.
And while no official tours are scheduled, staff are always on hand to guide you and answer any questions you might have.
Additionally, don't forget to check out the stunning, John Black Room with the temporary, Art of the Cure exhibit (focused on the area's role as a leader in TB research worldwide) and the Trudeau Building too – the former office of Dr. E. L. Trudeau who spearheaded the campaign to do cutting edge TB research back in the day.
Pro Tip: Stop by the gift shop and peruse through some pretty cool souvenirs. Also, throughout the summer, weekly tours are offered of various historic sites related to the museum.
Address: 89 Church St UNIT 2, Saranac Lake, NY 12983
Hours: Open Tuesday through Saturday from 10:00 am to 5:00 pm.
Price: $7 for adults, $5 for students with a valid ID, and free for children 12 and under.
4. Adirondack Artists Guild
Established in ye olde 1997 (random aside, how is that 20+ years ago?), this awesome regional art gallery displays works from 15+ local artists.
You will however sweat it out if you paddle extensively. The lake is calm so you don't really have to put your back into it unless you want to. Plus, if you are a seasoned kayaker, you will know that it is all about technique!
If you love to test your balance, check out paddle boating in the area. It is a fun place to experiment and there are a couple of places where you can rent equipment from that are close by. In fact, you would probably get it from the same place that you rent the kayak from.
Not confident on the water but still don't want to miss the fun? Check out the boating trips. You don't have to break a sweat and you get to meet cool like minded people.
Me, I personally oscillate between all the different activities whenever I visit. I love them all. Plus it is highly dependent on the company I head to Saranac lake with.
Pro Tip: Adirondacks Lakes and Trail Outfitters is a great place to get all your rentals done. It is perfect if you want to explore the area on your own.
Location: Saranac Lake
6. Robert Louis Stevenson Cottage and Museum
Located just 30-minutes away in Tupper Lake is the always awesome, Wild Center. It was once the area's Natural History Museum and has since been transformed into a stunning, incredibly interactive museum where you can learn all about the region's unique ecosystems.
Because throughout your visit, you'll get to see no less than 900 different animals, including river otters, frogs, snakes, owls, fish, and porcupines in their natural habitat.
You'll also get to visit their amazing on-site learning center and can do a naturalist-guided canoe trip or take a stroll through the Forest Music experience, where many of the area's trails are lined with speakers that play an expertly curated collection of music.
Although, no trip to the Wild center would ever be complete without experiencing the Walk, a series of interconnected elevated platforms that allow you to frolic through a canopy of trees and take in stellar views of Tupper Lake.
Along the way, you'll also stumble across an enormous "bird's nest", uncover a fun bouncy spider web, and can even step inside a giant tree, making this one of the best things to do in Saranac Lake NY for anyone with kids.
Address: 45 Museum Dr, Tupper Lake, NY 12986
Hours: Open daily from 10:00 am to 5:00 pm.
Price: $20 for adults, $18 for military/seniors (65+), $12 for kids (5-17), and free for kids under 5/members.
8. Adirondack Loon Center
You can't visit Adirondack and not see the Loons!
The Loons are birds before you wonder what I'm getting at. These birds are found in the area of Saranac and are highly popular among bird watchers.
It is their call however that bears mention. You know that the birds are around by the way their calls echo through the mountains.
Unfortunately the species is under threat. The changing climate, pollution and human disturbance are all contributing to the decline of the species. That is why you need to be on your watch when paddling and kayaking in the area as this disturbs the nests.
In addition to this, the nests are also vulnerable to water level fluctuation which means that climate change plays a big role!
The Adirondack Loon center works towards preserving the nesting grounds and protecting the species. It is an interesting place to visit to learn about what you can do to help!
Pro tip: The center conducts various events for children and adults alike. They take place weekly. Check out their website before heading over so you can plan your trip accordingly.
Location: 15 Broadway Street, Saranac Lake, NY, 12983
Hours: 10am – 5pm, 7 days a week
9. Stay in the Haunted, Hotel Saranac
Warning! The Saranac Lake 6er is one of the best things to do in Saranac Lake NY that is not to be undertaken by novice hikers.
Because this insane trek includes a grueling climb up six different peaks that surround the Saranac Lake area. And, just in case you were wondering, those peaks of awesome are:
Baker Mountain – 2,452 feet
St. Regis – 2,874 feet
Scarface – 3,054 feet
Haystack – 2,878 feet
Ampersand – 3,353 feet
McKenzie – 3,822 feet
But, if hiking up these six different mountains isn't challenging enough for you then you can always opt to do all of these hikes in a single day and earn yourself a super neat 6er patch in the process.
You'll also get the honor of ringing the designated 6er bell in the center of town, in addition to unlimited bragging rights among all of your closest friends.
Fair warning though. If you happen to ring this bell without completing the Saranac Lake 6er, then the dreaded Kiwassa Curse may befall you and make your life supremely unpleasant.
Pro Tip: If you're more of a beginner hiker, then try Baker Mountain. It's not super challenging and offers stunning views from the top.
Location: Saranac Lake
Distance: 31 miles
Difficulty: Extremely Hard
Route: Varies
11. Hike up Ampersand Mountain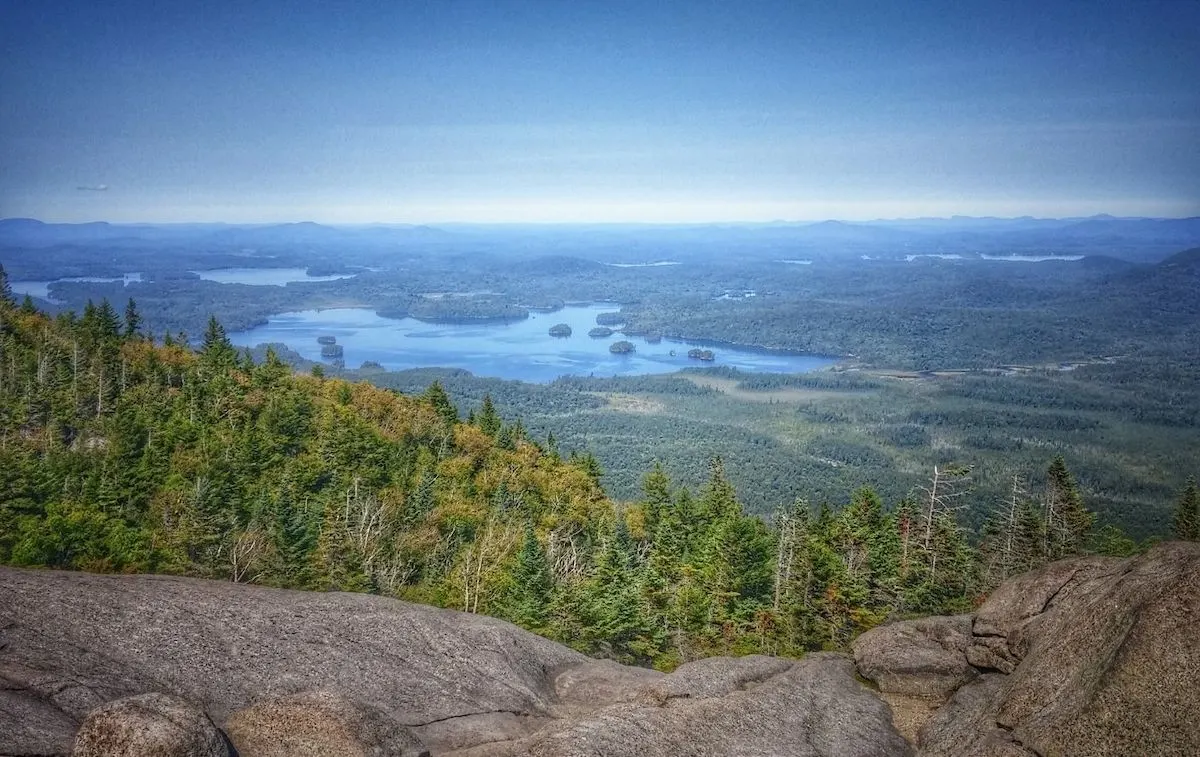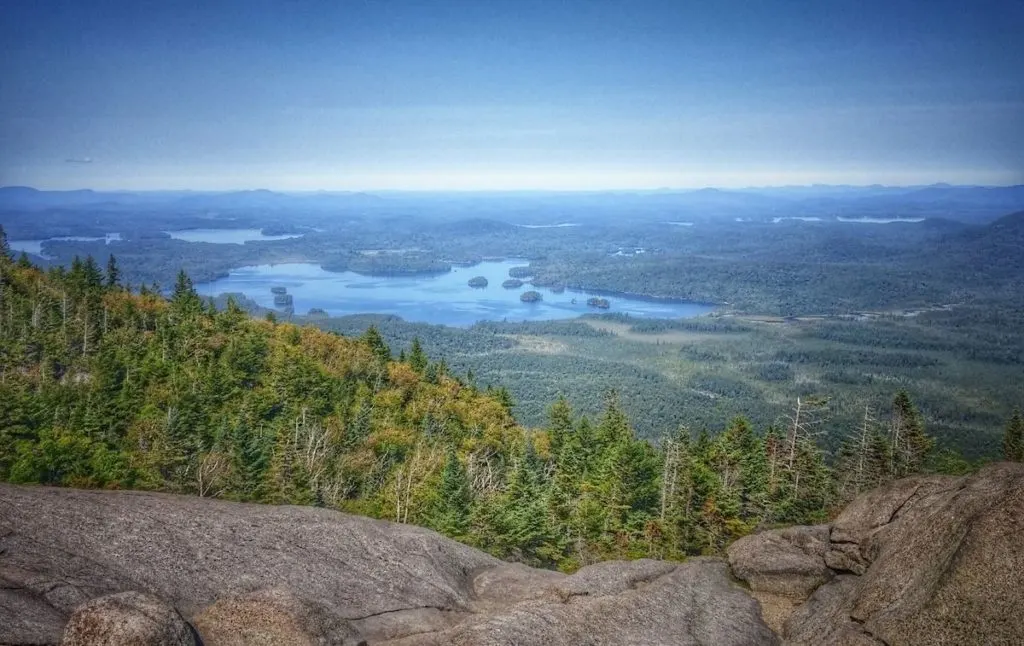 Easily one of the best hikes in the Adirondacks, a climb up Ampersand is perfect if you're an experienced hiker looking for one of the best things to do in Saranac Lake NY.
After all, this 2.7-mile hike may seem short, but it's definitely challenging since you'll be doing an intense climb up a 3,353-foot mountain – a trek that rapidly transitions into a grueling slog up the mountain at about 1.5-miles in.
Once here, elevation gains only intensify as you reach a set of stone steps that take you to an insanely rocky path that culminates in next-level rad panoramas from the summit.
So, although this hike may not be an official 46er, it's still equal parts fun and intense as you boulder your way to the top.
Pro Tip: You can park your car in the lot across the street from the trailhead, which sits in between Tupper Lake and Saranac Lake on Route 3.
Distance: 5.4 miles
Difficulty: Difficult
Route: Out and Back
Elevation Gain: 1,765 feet
12. Do the Saranac Lake Riverwalk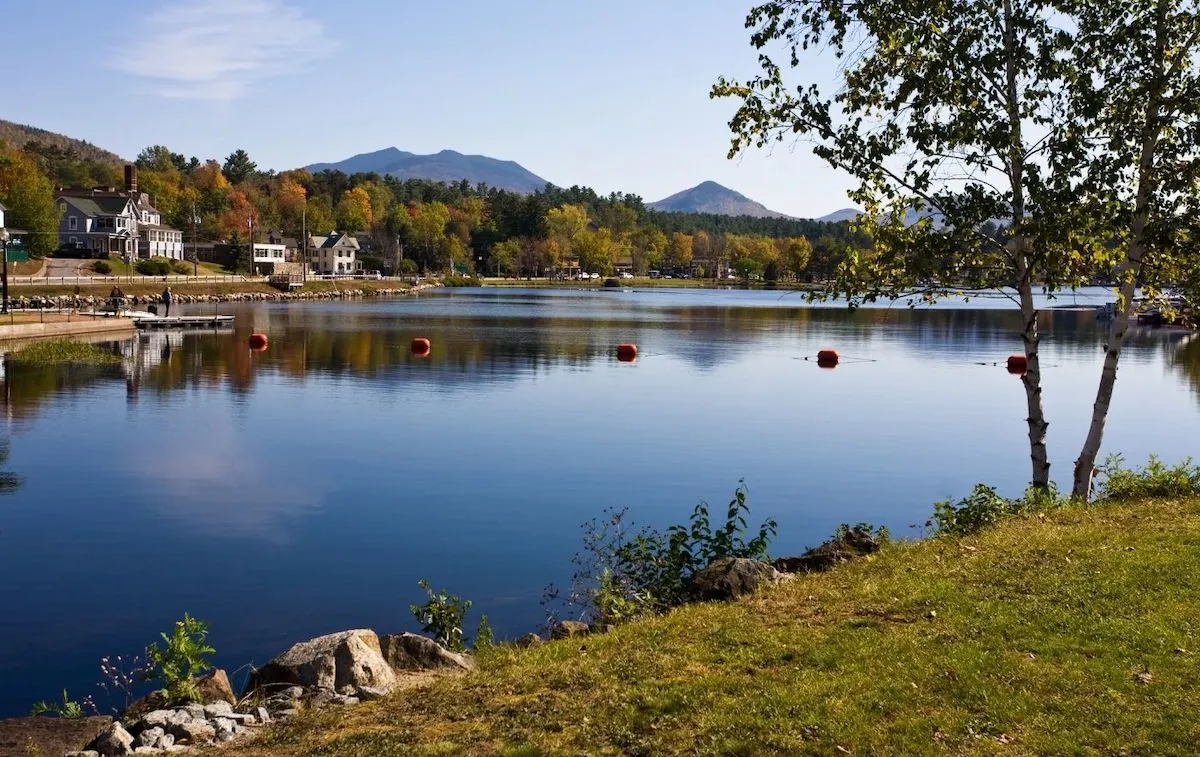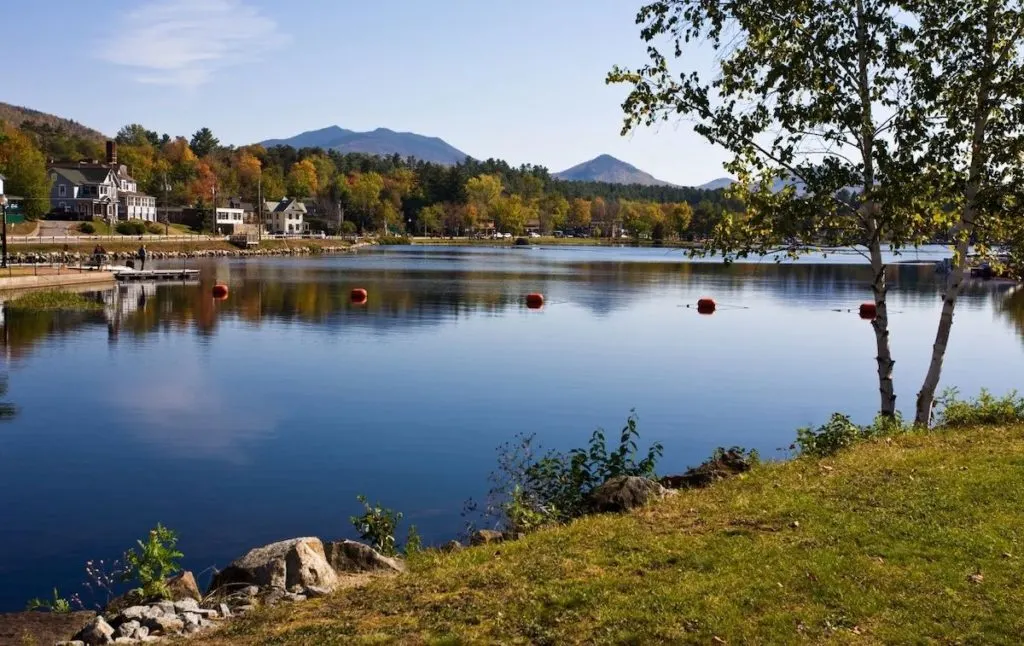 Savor the awesome beauty of your natural surroundings with a quiet walk along the Saranac Lake Riverwalk.
After all, this enchanting brick-paved path along the Saranac River takes you over bridges, through parks, and into the historic downtown area during a mile-long, round trip walk.
So, just park at the Dorsey Street parking lot and use this well-maintained, paved path to visit various coffee shops, boutiques, and eateries in the area.
Pro Tip: This path is handicapped accessible from a ramp that sits behind several local town buildings. Just make a left at the light on Main Street and turn right into the parking lot.
Address: 151 Church St, Saranac Lake, NY 12983
Hours: Open all day, every day.
Price: Free
13. Saranac Lake Winter Carnival
If you only do one of the best things to do in Saranac Lake NY on this list, let the Winter Carnival be it.
Because this annual event is routinely held throughout the second week of February and is home to a whole host of events that visiting snow bunnies will love.
See, it was first started by the Pontiac Club in 1896 to break up the monotony of winter and to promote outdoor activity among patients convalescing in the area.
And since then, well, it's become the longest-running festival of its kind on the east coast of the US. it also promotes a sense of community and now stretches out over the course of ten days, with a unique theme that varies from year to year (this year it's the '80's).
Therefore, it's truly a must-see extravaganza that even features a full-on hand-carved, ice palace in the center of town.
No, really people, this is not a drill – especially when you add in several races, obstacle courses, bake sales, arts and crafts sales, a chocolate festival, curling, frying pan tossing, special dinners, arctic golf, ski races, arctic bbq's, ice skating, scavenger hunts, parades, live performances, and fireworks displays that make this one of the true highlights of the winter season in the Adirondacks.
You can also check out one of the best breweries in Lake Placid afterward since they are very close by.
Address: Varies by the event.
Hours: This year the festival will be from February 4th through February 13th, with events scheduled throughout the day between 10:00 am 7:00 pm. But, check the festival website for this most up-to-date information.
Price: Varies by the event.
Map of the Best Things to do in Saranac Lake NY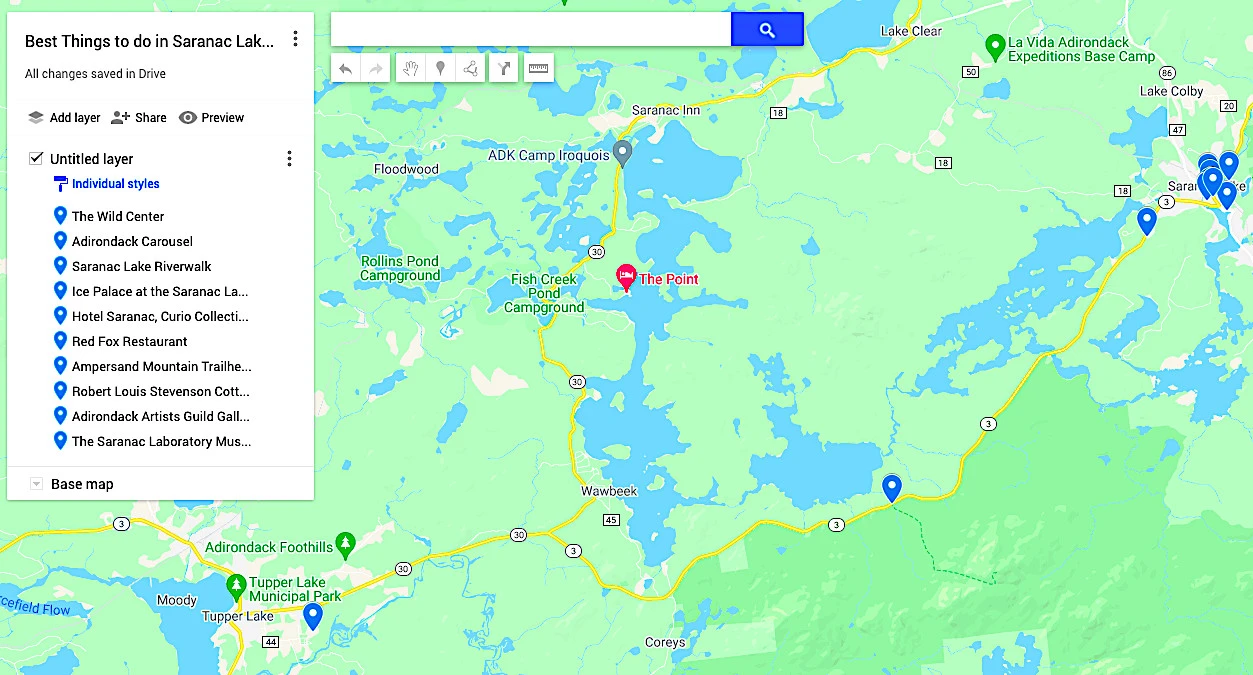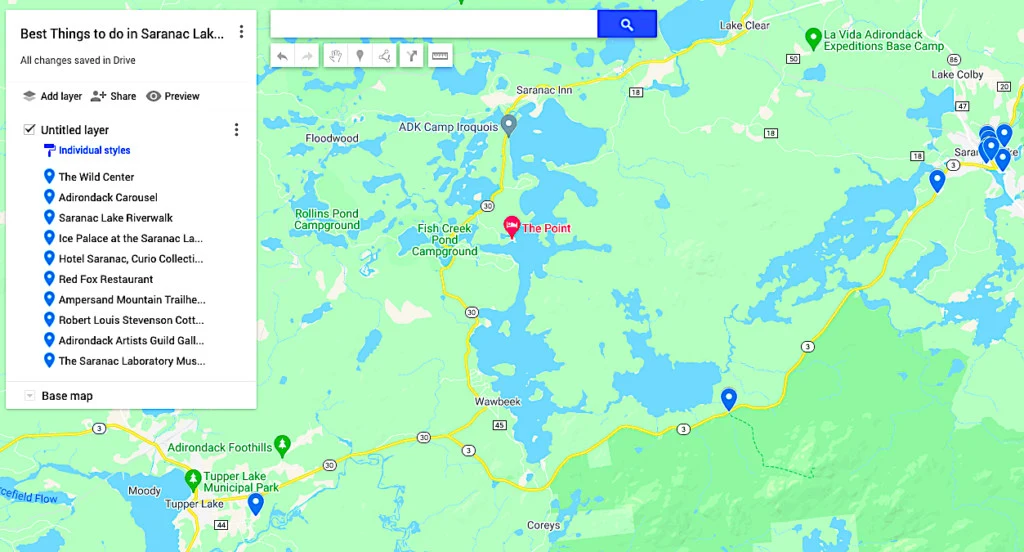 Additional New York Resources You'll Love
There you have it! That just about wraps up this epic guide to all of the best things to do in Saranac Lake NY!
Tell me, did your fave Saranac Lake activities make the list? If not then let me know in the comments below!
And if you found this post useful, be sure to join our email list before pinning this post now so that you can read it again later!