When the temperature drops and the polar vortex of doom rolls into town, it can be difficult to know where to go and what to do during winter in New York.
And that's where this insanely awesome, local's guide to winter in Lake George comes in mighty handy!
I mean, not only have I basically spent every winter of my life in the Lake George region (aka 30+ years) – checking out all the mega-awesome Lake George winter activities in the area – but this tiny Adirondack town is essentially a postcard-perfect winter wonderland.
So, if you're imagining a Norman Rockwell painting right about now then that's pretty much exactly how a Lake George winter getaway looks and feels.
Therefore, if you want to stop dreaming and start enjoying one of the best winter getaways from NYC, then step away from the guidebook and read my uber-comprehensive local guide to Lake George in winter right now!
This post may contain affiliate links. Please see my disclosure for more information. As an Amazon Associate, I earn a small commission from qualifying purchases.
⏰ In a hurry and haven't booked your accommodation yet? I recommend the Lodges at Cresthaven. These are fully loaded cabins equipped with a dishwasher and washers/dryers! ⏰
How to Get to Lake George in Winter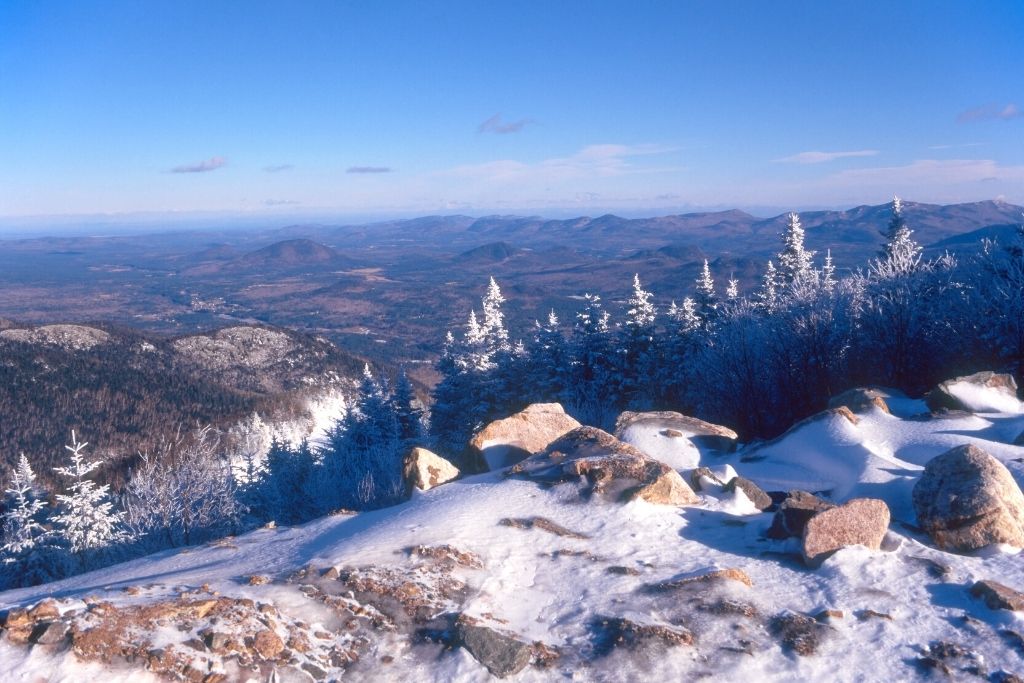 Tucked away along the Southern edge of the Adirondack Park, Lake George is a giant, 32-mile lake that begins at Lake George Village and ends at Ticonderoga.
It's also pretty well developed throughout the Lake George Village, although, it gets infinitely less populated as you move north to the middle and upper sections of the lake.
Therefore, if you want to experience the full-on awesomeness of Lake George in winter for yourself, hop on the New York Thruway (I-87 N) and get off at exit 22.
From here, take Route 9 into Lake George Village proper, which is about an hour north of Albany and 1.5 hours south of Lake Placid.
It's a really easy drive and there is only heavy traffic on holiday weekends and throughout the busy summer months. Besides, you'll definitely need a car while you're here so you can either drive yourself or rent one upon arrival this winter in Lake George.
Alternatively, you could take an Amtrak train from Penn Station/Albany to Fort Edward station. Once here, it's about a 20-minute drive to Lake George.
Otherwise, the bus is always a super easy option since Greyhound/Adirondack Trailways buses travel here directly from Port Authority.
Both are great options. It all just depends on what is more important to you, time or money. Because the bus is usually cheaper but takes longer, while the train is usually faster but more expensive.
Pro Tip: If you use public transportation to get here, be sure to rent a car upon arrival since there is really no other way to get around. And, FYI, Hertz and Enterprise car rental agencies are both in the area.
Where to Stay in Lake George in Winter
Good news travel fans! There are about 10,000 awesome hotels for you to choose from in Lake George in Winter.
And with so many choices this winter in Lake George, it can feel daunting to find the perfect one for you and your family.
So, to make your life infinitely easier, here are my picks for the top hotels in the area – places that will make a great home base from which to explore the best Lake George winter activities.
Clarion Inn and Suites at the Outlets of Lake George (budget, Queensbury) – This isn't the swankiest hotel on this list but at under $100 per night, do you really care.?
It's also family-owned, centrally located, and has well-appointed rooms with WIFI, flat-screen TVs, and coffeemakers. A decent Continental breakfast is also included with your booking, as is use of a gym and a heated indoor pool/hot tub. .
Lodges at Cresthaven (mid-range, Lake George) – The Lodges at Cresthaven are epic, lakeside, Adirondack-style cabins that come with full kitchens )with dishwashers), washers/dryers, flat-screen TVs, and private porches with lsweeping views of the area.
There's also a delicous seafood/steak house restaurant with an outdoor bar, as well as a heated indoor/outdoor pool, a private beach, a gym, and a boat dock. Not that you'll need it this winter in Lake George.
Inn at Erlowest (luxury, Lake George) – The always luxurious Inn at Erlowest is a lakefront hotel that sits upon a 15-acre estate. Step inside the historic Queen Anne mansion here and you'll discover 10 stunning, antique rooms that feature hardwood floors, whirlpool tubs, flat-screen TVs, fireplaces, and mahogany beds.
A complimentary, made to order breakfast is also included with your stay, which is reason enough to book a room here now.
Boathouse B & B (luxury, Bolton's Landing) -Chic to the extrene, this stunning bed and breakfast sits right near The Sagamore Resort and has oppulent, carriage house-like rooms that come with frieplaces private hot tubs, and balconies.
A whopping 3-course breakfast is also offered daily in the dining room and guests are welcome to do a tour of the lake from the in-house mahogany motorboat, for an additional fee.
Best Lake George Winter Activities for this Winter in Lake George
1. Pop by the Lake George Winter Carnival
I highly recommend attending the Lake George Winter Carnival. It's definitely one of the best things to do in winter in Lake George.
After all, the Lake George Winter Carnival was originally started in 1961 and has become one of the biggest events in the entire Lake George region.
Because this lovely festival is held during each weekend in February and features a wide variety of things to do.
Therefore, you could easily spend the entire day here and not run out of Lake George winter activities to experience!
After all, you can watch the ice diving competition, participate in car races on the ice, watch stunning fireworks displays, and drink a fantastic, topping-laden hot chocolate from the hot chocolate bar.
But one of the main draws of the winter carnival here is the food! Especially since many of Lake George's top restaurants come together to compete for food-related awards at the Lake George Winter Carnival.
Essentially, each restaurant prepares a "best dish" that visitors get to sample before voting for their faves! Yup, now that's what I call my kind of festival and one of the best things to do in Lake George in winter.
Address: Varies
Hours: Varies but most events are held between 9:00 am and 6:00 pm every Saturday and Sunday in February.
Price: Varies
2. Grab a Drink an Ice Bar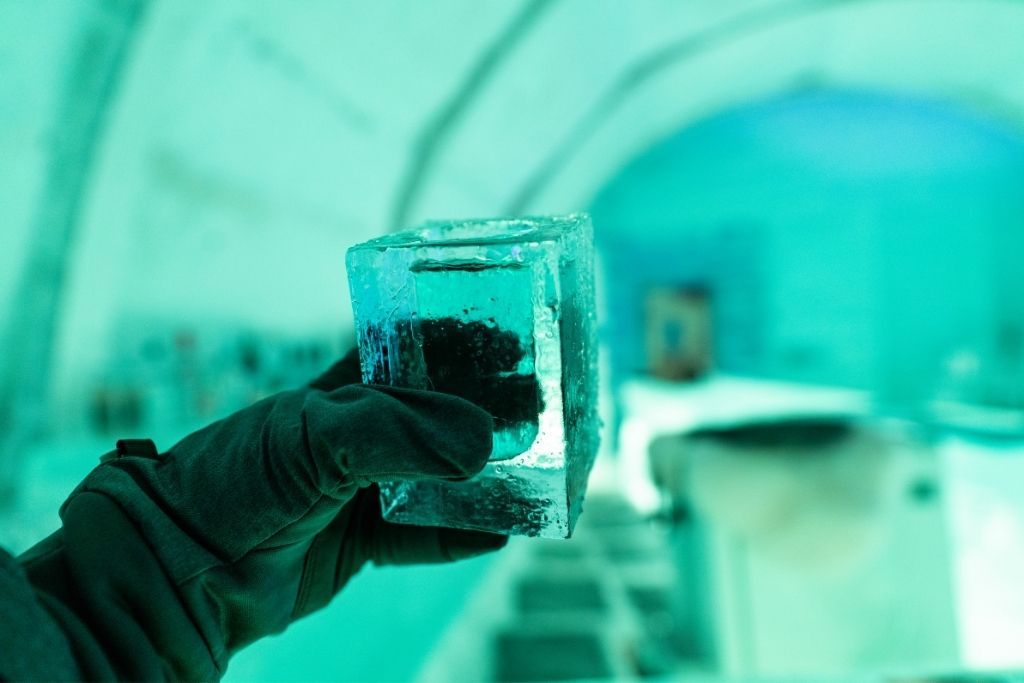 I don't know about you, but I think it's super cool when people carve functional spaces out of ice. Ice castles? Amazing. Ice hotels? Fantastic. Ice palaces? Mind-blowing.
And when you visit Lake George in winter, you can check out quite a few ice bars. You know, with their super snazzy ice countertops, sculptures, tables, and more, it's definitely magical. And there's no need to order your drink on the rocks!
A few of the most noteworthy ice bars in the area include Fort William Henry's Ice Bar, Glacier Ice Bar & Lounge at the Sagamore Hotel, Ice Bar at Gaslight, Funky Ice Fest at Adirondack Pub & Brewery, Ice Bar at Lake George Beach Club, and The Garrison.
Plus, each of these unique ice bars has its own appeal – from ice shot glasses to ice board games to ice beer pong.
And, as an added bonus, most of these bars are within walking distance of each other. So it's no surprise that it's quite popular to bar hop or do a winter-inspired pub crawl from one ice watering hole to another.
So, the only question that remains is, are you going to hop on this trend and participate in one of the best Lake George winter activities of them all?
3. Visit the Six Flags Great Escape Lodge & Indoor Waterpark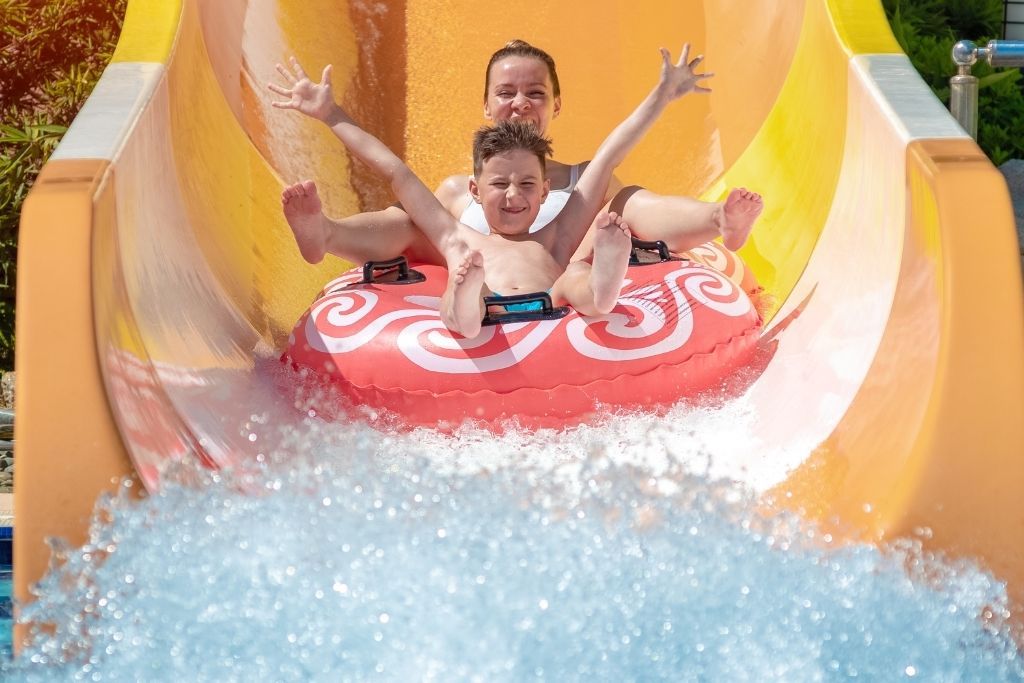 Just because it's winter, doesn't mean you can't enjoy a waterpark – if it's indoors, of course. Luckily for you, Lake George is home to one of the coolest indoor waterparks in the country: Six Flags Great Escape Lodge & Indoor Waterpark.
Throughout the year, Six Flags Great Escape Lodge & Indoor Waterpark maintains a warm 82-degree Fahrenheit temperature. So, even if it's below freezing outside, you'll still enjoy this climate-controlled indoor waterpark.
Plus, there are so many exciting slides and incredible attractions for you to choose from. I mean, you can get your blood pumping on the Avalanche ride, take things slow on the Tak-It-Eesi Creek, do a little surfing on Boogie Bear Surf, or relax at Soakum Spring this winter in Lake George.
And as an added bonus, if you happen to visit this wonderful indoor waterpark around the holidays, it'll be all decked out in some of the coolest holiday decor you ever did see!
It's also important to note that you do NOT have to be a guest at the Six Flags Great Escape Lodge to use the indoor waterpark here since you can easily buy a day pass.
Address: 89 Six Flags Drive, Queensbury, NY 12804
Hours: Varies by day but typically open 9:00 am to 9:00 pm. Check their website for more info.
Price: Day passes start at $35.00 per person.
4. Watch a Hockey Game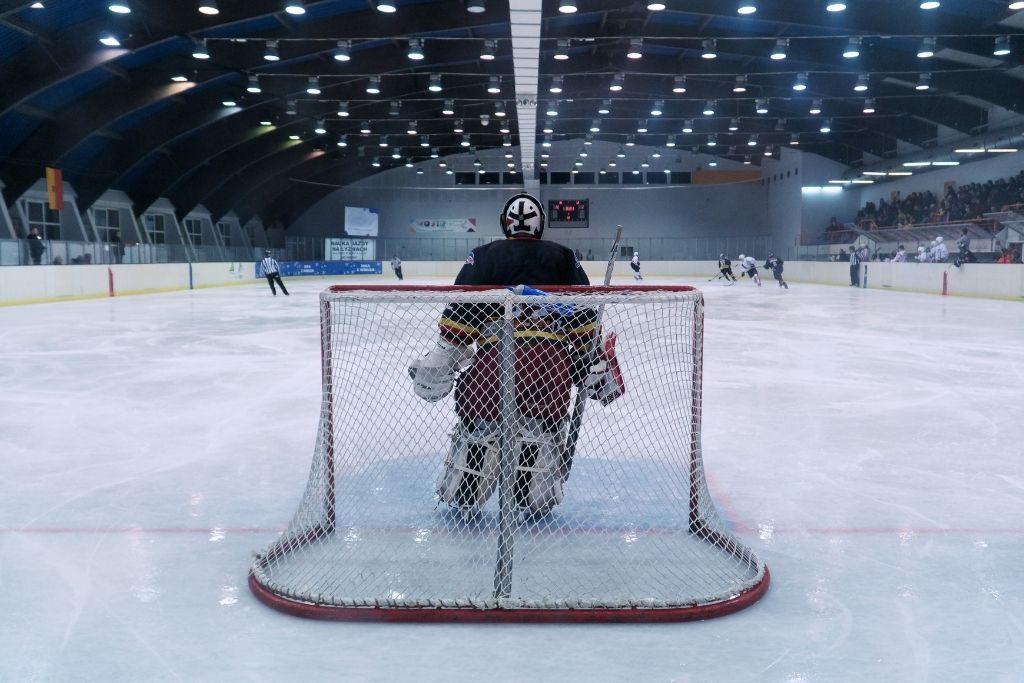 Thanks to indoor arenas, hockey can be played all year long. But, there's something special about watching a game of hockey when the temperature is freezing outside.
Somehow, It's like the outdoors and indoors match, so it's the perfect time to bundle up, sip on a warm drink, and watch these talented players do their thing.
Now, you have a few different options when it comes to watching a hockey game this winter in Lake George. First, you can see a professional hockey game since the NHL team Adirondack Thunder is based in Glens Falls (just 15 minutes down the road).
And in Lake George in winter, they tend to play several different games each week. So, odds are, there will be a home game at the nearby Cool Insuring Arena at some point during your Lake George winter getaway.
However, if there aren't any professional hockey games that catch your eye, you can always watch a local pick-up hockey game instead. These take place at just about any frozen lake in town. The lake in Crandall Park is usually a popular spot though.
And last but certainly not least, you can participate in one of these pick-up hockey games yourself since hockey is easily one of the best Lake George winter activities of them all!
You'll get to feel the thrill of the competition while putting your ice hockey skills to good use. So, what are you waiting for? Lace up those skates, grab a hockey stick, and make your way onto the ice!
5. Test Your Skiing Skills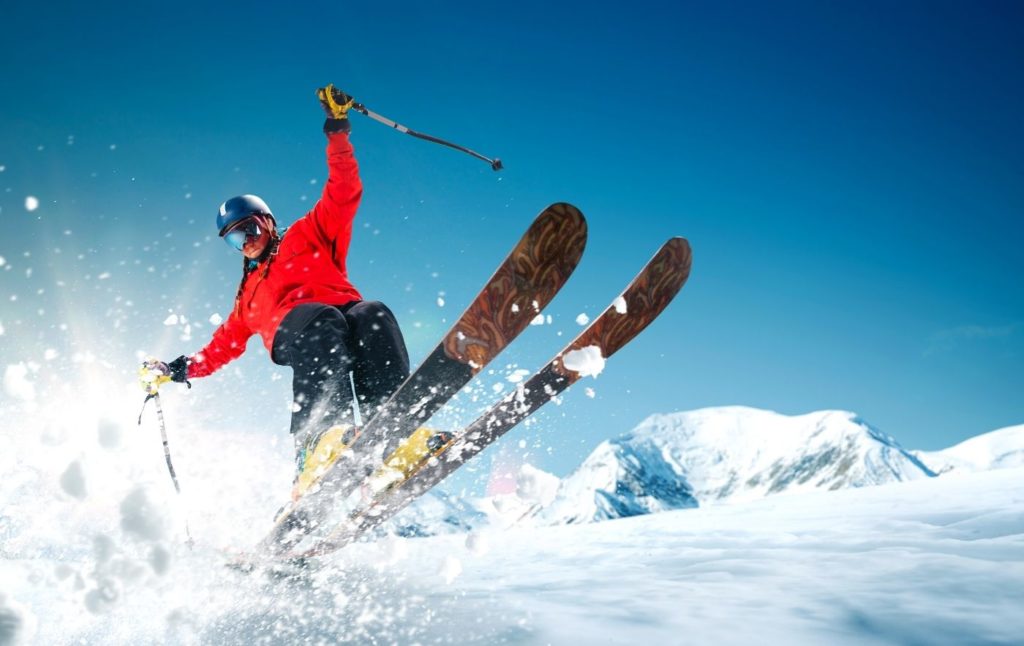 No list of the best things to do in winter in Lake George would be complete without skiing! So, are you ready to strap on your skis, hit the slopes, and experience some of the best ski resorts in New York?
Because regardless of whether you prefer alpine or cross-country skiing, the list of prime skiing spots in Lake George goes on and on.
I mean, just off the top of my head you have Crandall Park, Gurney Lane Recreation Area, Lake George Land Conservancy, and the Warren Cross Country Skiing Trails. And that's only the beginning.
That said, one of the best ski spots in town is definitely Gore Mountain, which is also the largest ski resort in New York.
So, check it out because Gore Mountain boasts four beautiful peaks, 110 awesome ski slopes, and 14 lifts. Simply put, it's a skier's dream!
Pro Tip: Many of the best ski spots in Lake George, one of the top lakes in New York, are also fantastic for snowboarding. Why not enjoy both of these amazing Lake George winter activities?
6. Go Snow Tubing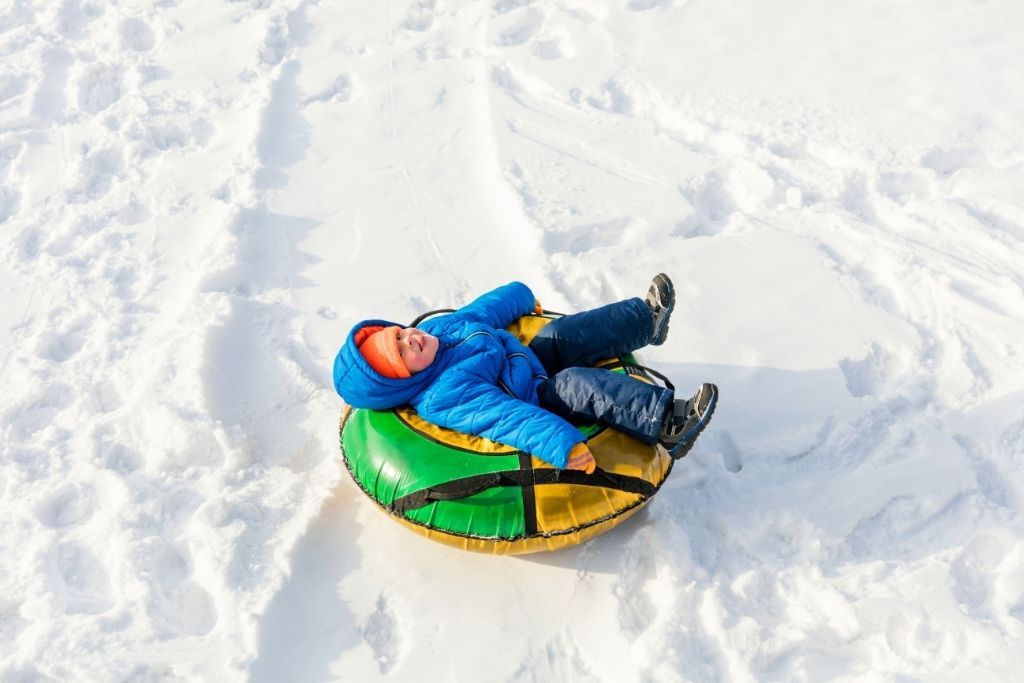 If you're not much of a skier, you can always go snow tubing instead! And as you glide down the snowy slopes in your inflatable tube, you'll enjoy all the thrills of skiing without needing to balance. It's a win-win!
Now, there are quite a few places to go snow tubing in winter in Lake George, including the very popular Tubby Tubes Slide Park.
In fact, Tubby Tubes Slide Park offers snow tubing experiences that are perfect for everyone since their many slopes and slides feature a wide variety of speeds, inclines, and lengths.
So, whether you want to race down the 1,000-foot-snow slide or take your little ones on the kid-friendly "Tiny Tubes", there's a snow tubing option here that's perfect for you.
And if you'd like to check out some other fun tubing spots in town, the West Mountain Ski Resort, the Lake George Rec Center Tubing Hill, and Crandall Park are all worth a visit.
7. Heated Outdoor Dining
I don't know about you but I'm always looking for places to eat which offer a bit of novelty alongside good food. A great opportunity to try something different presents itself in the form of heated outdoor dining.
There are a couple of cool options. The Inn at Erlowest for example gives you stunning views of the lake. Plus you get to dine under the stars. Trust me, it is a magical experience and depending on the day of the week you reserve a spot on, it can set you back any way between $200-250.
The Queensbury hotel in Glen falls and the Barrel in Bolton landing also offer similar experiences for a less premium rate. Think between $20-25. These function at a first come first serve basis and you need to dress warmly even though the igloos are heated.
8. Try Snowmobiling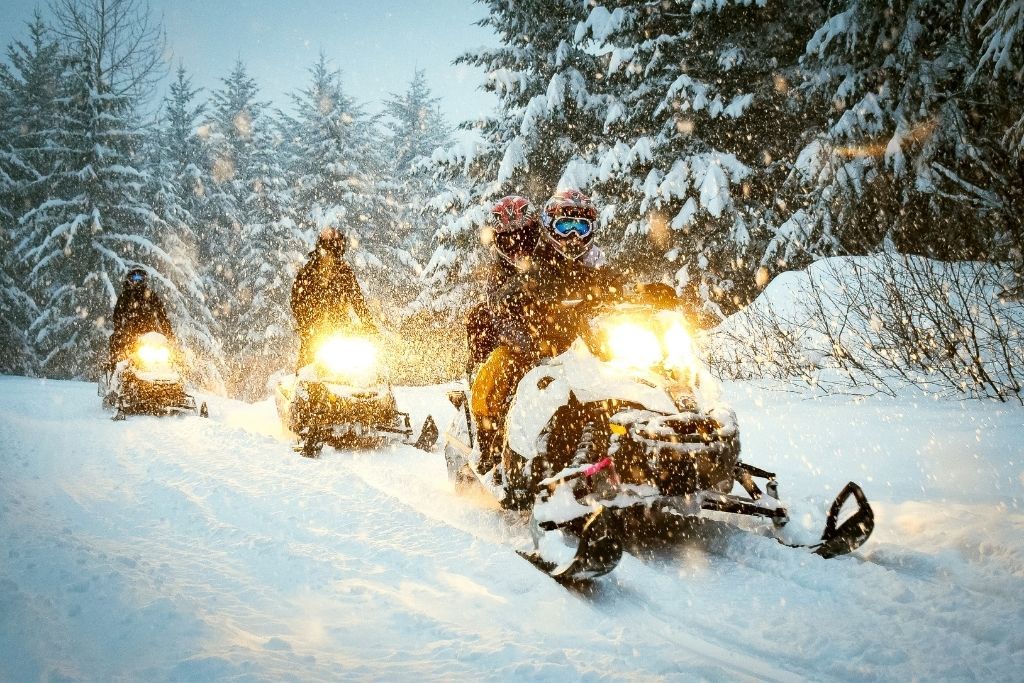 Another fantastic sport to experience during winter in Lake George is snowmobiling! Sure, winter sports like skiing, snowboarding, and snow tubing all give you quite a thrill.
But, the full-on excitement of snowmobiling is a little bit different. I mean, are you ready to race through Lake George's exceptionally snowy landscape at speeds of up to 100 miles per hour?
Yup, me too since this is easily one of the most adrenaline-fueled winter activities in Lake George.
And one of the coolest parts of snowmobiling here is that the town has miles and miles of snowmobiling trails for you to explore.
So, be sure to hit-up Prospect Mountain Veterans Memorial Highway and the Thurman Trail System since they are both crowd faves.
And to make things even better, these Lake George snowmobiling trails actually connect you with other trail systems in the area, making these snowmobiling trails almost endless!
Also, while many experienced snowmobilers tackle these trails on their own, I'd highly recommend booking a guided tour if you're new to the sport.
A couple of the best snowmobile tour companies in the area include C+C Adirondack Snowmobile Tours and Rush Snowmobile Tours of Lake George.
9. Do a Little Ice Fishing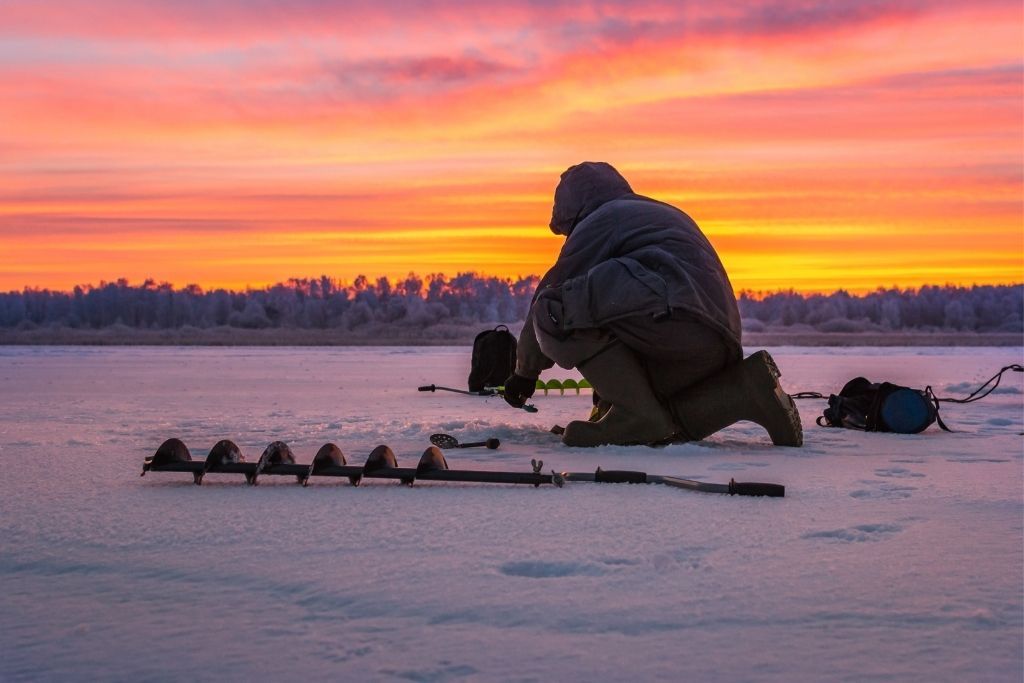 Ice fishing is one of the most popular winter sports in Lake George, and there are a few good reasons for that.
In fact, Lake George is known to be one of the best ice fishing spots in all of New York, if not all of New England.
Because in addition to having a large variety of lakes and ponds to choose from, Lake George also has loads of fish, particularly trout.
As for where to go ice fishing in Lake George, there are a ton of different options, including Glen Lake, Brant Lake, and Lake Luzerne.
But, Lake George happens to be the most popular ice fishing location in town because of its large population of perch, trout, and pike.
Although, Schroon Lake is a fierce competitor with a greater diversity of fish species that include panfish and salmon, in addition to perch, trout, and pike.
10. Ice Skating
Winter brings a horde of different outdoor activities to your doorstep at Lake George. One of my all time favorites is ice skating. At Lake George, as the weather turns colder, everyone starts gearing up for the season. That means that even if the outdoor skating rinks aren't ready yet, the indoor ones are!
The frozen surface of Lake George is definitely the preferred spot when it comes to ice skating Don't forget to try out tGurney Lane recreation area, Crandall park, Dynamite Hill Rec center and Warrensburg recreation field
Pro tip: Bring your own skates and ice skating in these areas is free. Otherwise you will have to find a rental.
The indoor skating rings come with a fee and that is no surprise. Cool Insuring arena, Glens falls recreation center and Saratoga Springs Ice Rink are the go to places for ice skating.
11. Get Into the Holiday Spirit at the Adirondack Christkindlmarkt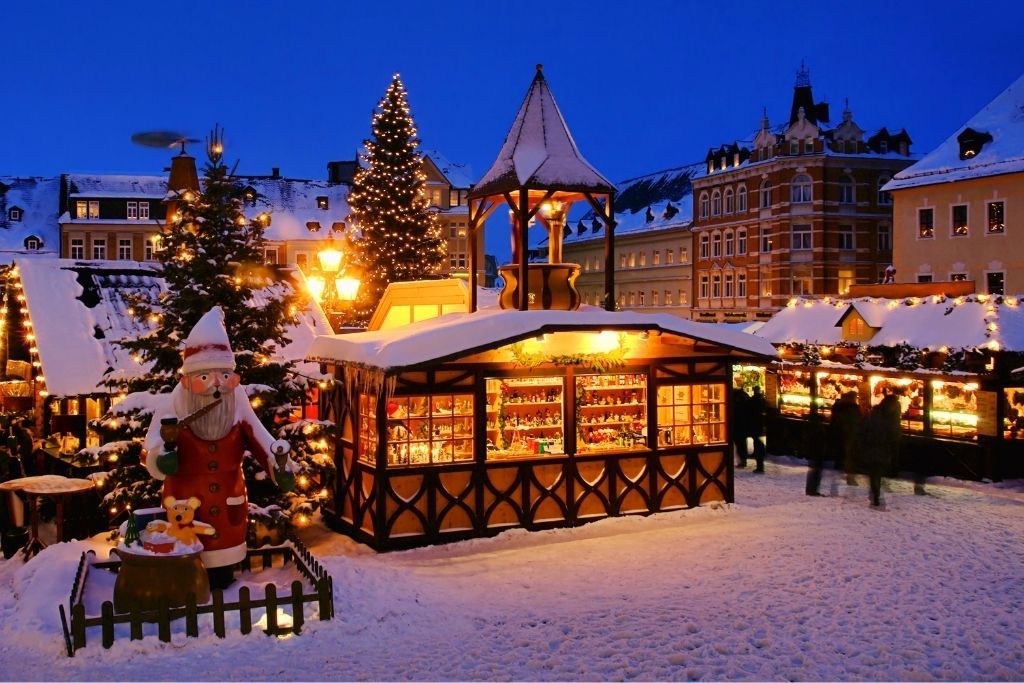 Christmas markets are very popular throughout Europe – hence, the German-based spelling of this "Christkindlmarkt."
That's also why many European-inspired Christmas markets have popped up all across the East Coast of the U.S., including the Adirondack Christkindlmarkt.
See, the Adirondack Christkindlmarkt is located in the town of Glens Falls, which is just fifteen minutes outside of Lake George.
And thousands of people flock to this incredible festival every year since it's easily one of the best things to do in Lake George in winter.
So, the moment you step into the Adirondack Christkindlmarkt, you'll understand why there are so many people here.
You'll hear the sound of Christmas tunes in the background, see twinkling lights all around you, and can smell a hint of fresh mulled wine in the air.
Yup, you'll feel as though you've been transported to the North Pole in no time! After all, it's a Christmas market so amazing that only Santa's elves could've pulled it off.
Therefore, you could easily spend hours at the Adirondack Christkindlmarkt while you shop for jewelry, ornaments, spices, soaps, bow ties, and model trains.
Also, feel free to munch on fried churros and delicious maple candies as you listen to live music from talented local performers.
Heck, you can even take a one-of-a-kind boat ride on the lake with Santa as you enjoy a variety of different winter activities in Lake George.
Address: Maple Street, Glens Falls, NY 12801
Hours: From 9:00 pm on Friday, December 3rd to 1:00 am on Saturday, December 4th.
Price: Free…unless you buy something.
12. Strap on Your Snowshoes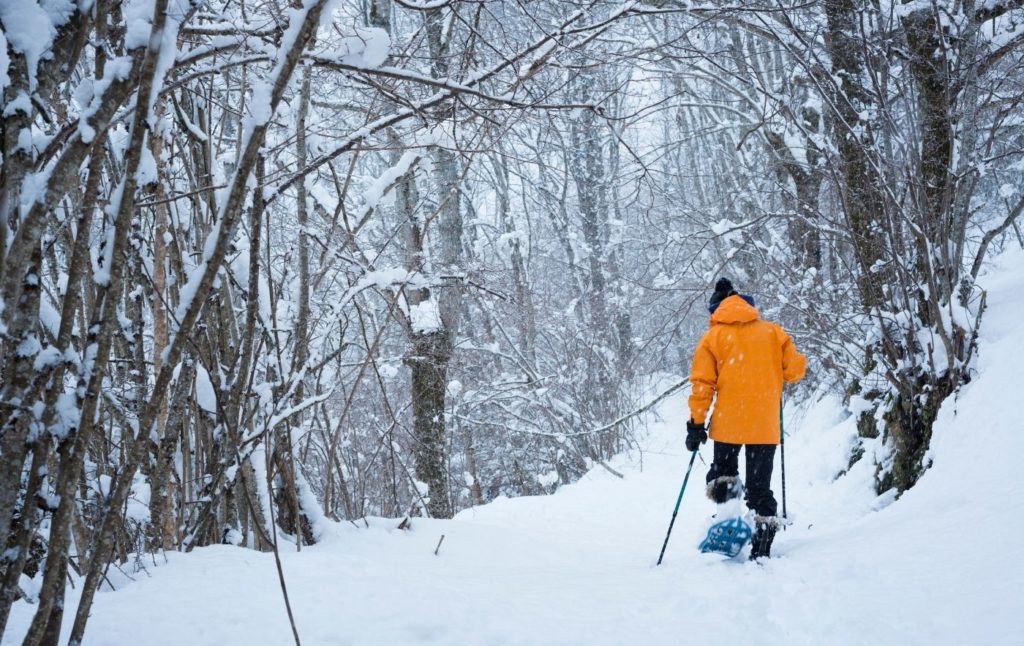 During the warmer months, Lake George and the surrounding Adirondack Mountains for being home to some of the best hikes in New York.
And in the winter, these hikes don't have to stop! You'll just need to do a bit of adjusting to enjoy some of the best winter hikes in New York in the snow.
So, instead of hiking in your usual hiking shoes, you'll want to strap on some snowshoes. These will make it much easier for you to march your way through the snow – especially if it starts to fall during your hike and hasn't been packed down by other people yet.
As for where to go snowshoeing in winter in Lake George, there are loads of options! The Garnet Hill Outdoor Center, Shelving Rock Mountain Summit, and Cat Mountain are all great spots. But my favorite might be Buck Mountain.
So, after your 3.3-mile trek to the top of Buck Mountain, you'll be rewarded with amazing views. Take in the glistening North Basin of Lake George, the quaint network of islands on the lake, and the snow-capped mountains in the distance. It's picture-perfect – and definitely worth the effort.
13. Enjoy a Wine Tasting at Adirondack Winery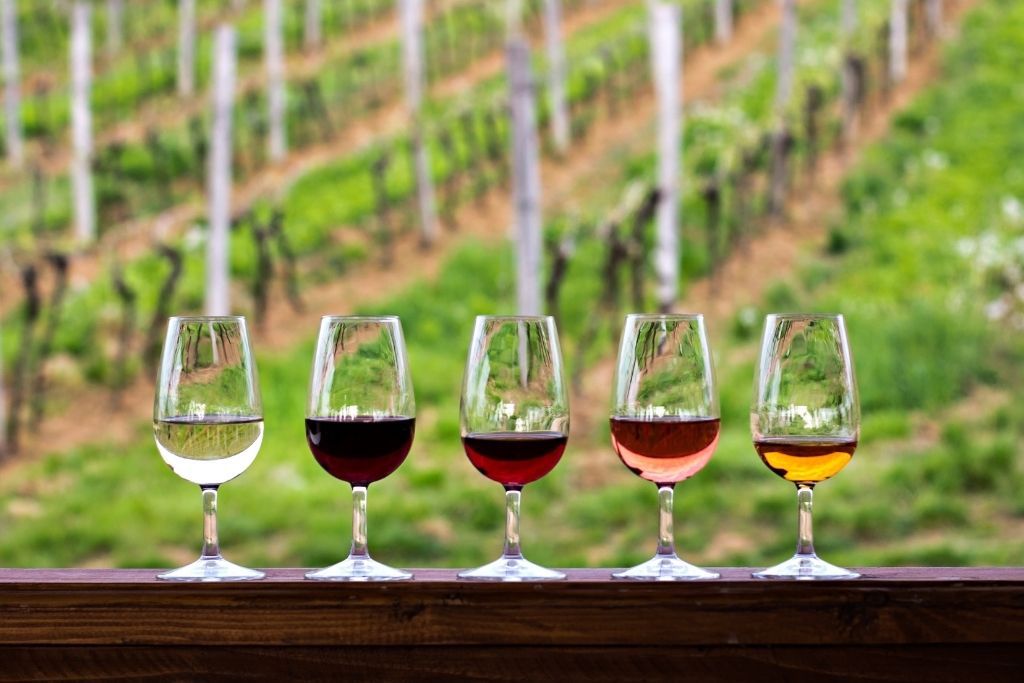 Not all of the best things to do in winter in Lake George are outside (although, as you can tell by the rest of this list, most of them are).
So, If you'd like to take a break from the bitter cold, head indoors to Adirondack Winery. After all, it's an adorable, family-owned establishment that produces some of the best wines in the region.
Opened in 2008, it has since won quite a few awards for its high-quality products. And when you visit Adirondack Winery, you can taste some of these award-winning wines.
If you can, try the apple pie-infused Home Sweet Home, the cranberry-infused Red Carriage, and the barrel-aged Meritage Winemaker's Preserve. Plus, to top it all off, you'll even get a sweet, souvenir wine glass to take home with you.
Also, if I'm being truly honest, that glass isn't the only thing you'll be bringing home. Because after trying all of the fantastic wines here, you're bound to purchase a bottle or two. (or ten) You can even buy some foods that pair well with your wine, including chocolate and cheese!
Plus, to guarantee yourself a spot, you can always book your wine tasting at Adirondack Winery up to one month in advance.
Pro Tip; When enjoying the best winter activities in Lake George, you make a reservation at either their Lake George or Queensberry location.
Address: 285 Canada St, Lake George, NY 12845
Hours: Open Sunday through Thursday from 11:00 am to 6:00 pm and Friday and Saturday from 11:00 am to 7:00 pm.
Price: $10 per person for a tasting.
14. Visit the New Ice Castles in Lake George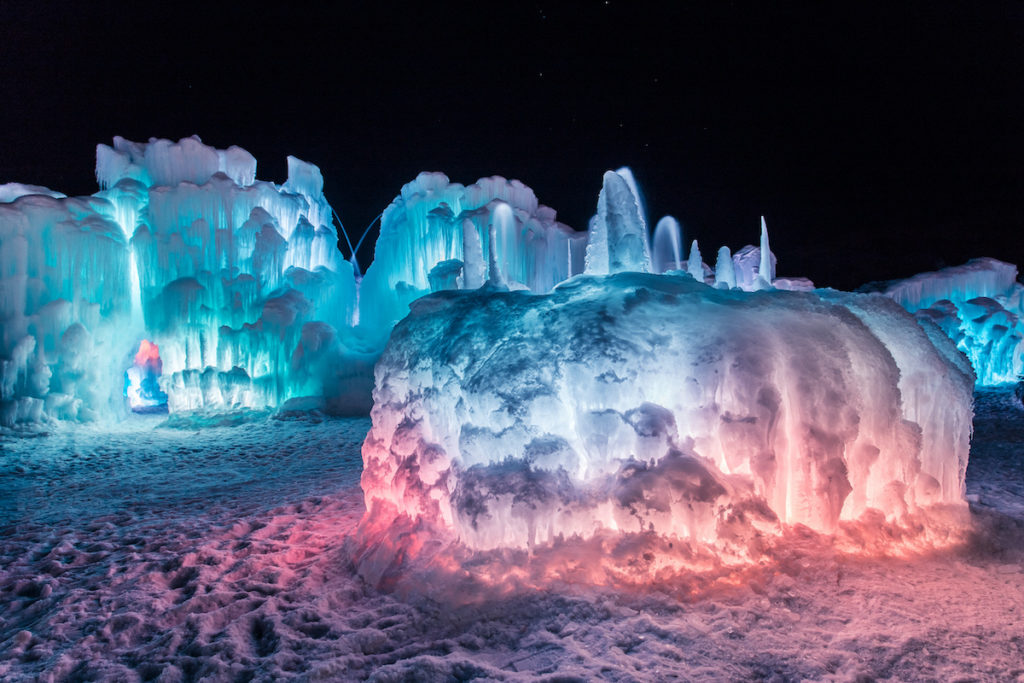 Unless you've been living under a rock of pop-culture isolation then you know all about the Ice Castles.
You know, that awesome, frozen wonderland that is basically a glorified amusement park made entirely out of ice.
And while there are currently locations in Utah, New Hampshire, Minnesota, and, Wisconsin, a brand-spankin' new outpost is opening up right here in Lake George THIS year!
So, if you're looking for all of the best things to do in winter in Lake George, then do not miss out on this one-of-a-kind experience.
I mean, you can get lost in ice mazes, cruise down exhilarating ice slides for children of all ages (i.e. adults), stroll beneath a massive ice chandelier, squeeze through tiny ice tubes, and even book a private sesh in the VIP Arctic Alcove.
Add in some stunning LED-lit ice sculptures and giant royal thrones made of ice and you have one of the best things to do in winter in Lake George.
Pro Tip: You MUST pre-book your tickets. Otherwise, they'll probably be sold out. You'll also have to pay more for tickets when purchasing them at the door.
Address: Charles R. Wood Park, 19 W Brook Rd, Lake George, NY 12845
Hours: Open daily starting in January of 2022.
Price: Tickets are $20-$27 for adults and $15-$22 for children (age 4-11).
15. Lake George Polar Plunge
The Polar Plunge is one of the coolest things to do in Lake George in winter. Pun intended! This is not a daily event though. You need to be in the area on New Year's day. It is super fun but it is definitely not meant for the faint of heart or for those who are sensitive to the cold.
The best part is that you will be joined by hundreds of people who all plunge into the icy frigid waters of Lake George. If you want to do this you will have to go to Shepards Park beach because that is where all the excitement is.
Pro Tip: Make sure to pack well. You will need a dry set of clothes, plenty of towels and a hit drink to warm yourself up from the inside!
Address: Shepards Park Beach, Lake George
16. Breweries And Taprooms
One of the best things in winter in Lake George is to indulge at the breweries. I mean some of the best of the best breweries in New York are located right next to Lake George. People drive here just for the experience, so if you are staying in the area, make sure to pick some of the local favorites. Not sure where to go? Some great ones are:
Adirondack Pub and Brewery
163 Tap Room
Common Roots Brewing Company
Northway Brewing Co.
Mean Max Brew Works
Pro Tip: Sometimes these breweries will also have a lot of seasonal events. A great way to find out what is going on when you are there is by asking your hotel receptionist. They usually have all the information that you need.
Things To Do In Winter In Lake George FAQ
Is Lake George Fun In Winter?
Lake George is one of the best places to be in Upstate New York during the winter. There are loads of fun winter activities like skiing, snowmobiling, skating etc that you can take part in. You will find lots of cozy places to stay in and around the area. This is especially great if you want a romantic getaway in Upstate New York.
Does Lake George Freeze?
Lake George doesn't always freeze. In fact, the occurrence is very rare. In over 100+ years, the lake has frozen over only 5 times. Since it does not freeze, it is one of those places where you can indulge in Polar jumping on New Year's day.
FYI. I said it doesn't freeze but it is still very cold!
Does Lake George Have Snow?
Lake George may not freeze but it does get plenty of snow which is why winter sports are really popular. Skiing, snowboarding, snow tubing etc. are all the rage! It does make Christmas here pretty magical too!
⏰ In a hurry and haven't booked your accommodation yet? I recommend the Lodges at Cresthaven. These are fully loaded cabins equipped with a dishwasher and washers/dryers! ⏰
Map of the Best Lake George Winter Activities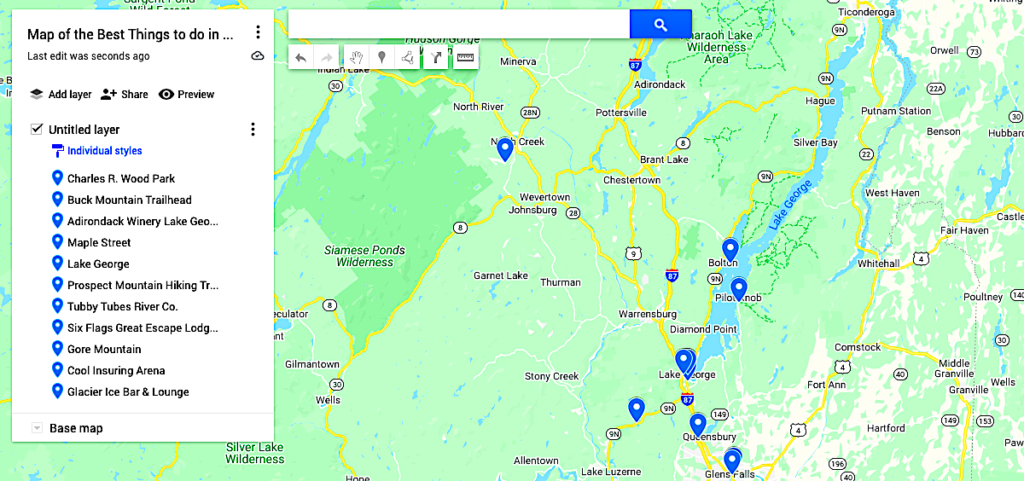 Additional New York Resources You'll Love
And there you have it! That just about wraps up this guide to the best things to do in winter in Lake George.
Tell me, did your fave Lake George winter activities make the list? If not then let me know in the comments below so that I can add them to this Lake George in winter guide!
And if you found this post useful, don't forget to join our email list before pinning this now so that you can read it again later!