Looking for all of the best things to do in Lake Placid in winter? If so then this post is totally for you!
Because as a local who has been not-so-low-key visiting Lake Placid for the past 30+ years (yes, my parents still have a wand that I got at the North Pole here after my visit to Lake Placid at the ripe old age of three) I know where to go and what to do once the fall ends and the winter begins.
Something that is particularly important since Lake Placid is one of those beyond charming Adirondack towns that gets even better once Mirror Lake freezes over, the snow begins to fall, and you get to cozy up next to a roaring fire beneath a nice warm blanket.
So, if you can handle the polar vortex of doom and embrace the deep freeze that helped make this town a two-time host of the Winter Olympics (once in 1932 and then again in 1980), then you're ready for the inside scoop on all of the best things to do in Lake Placid in the winter.
This post may contain affiliate links. Please see my disclosure for more information. As an Amazon Associate, I earn a small commission from qualifying purchases.
⏰ Looking for a great place to stay in Lake Placid? I recommend Wildwood on the Lake. It has budget rooms which are extremely comfortable! ⏰
How to get to Lake Placid in Winter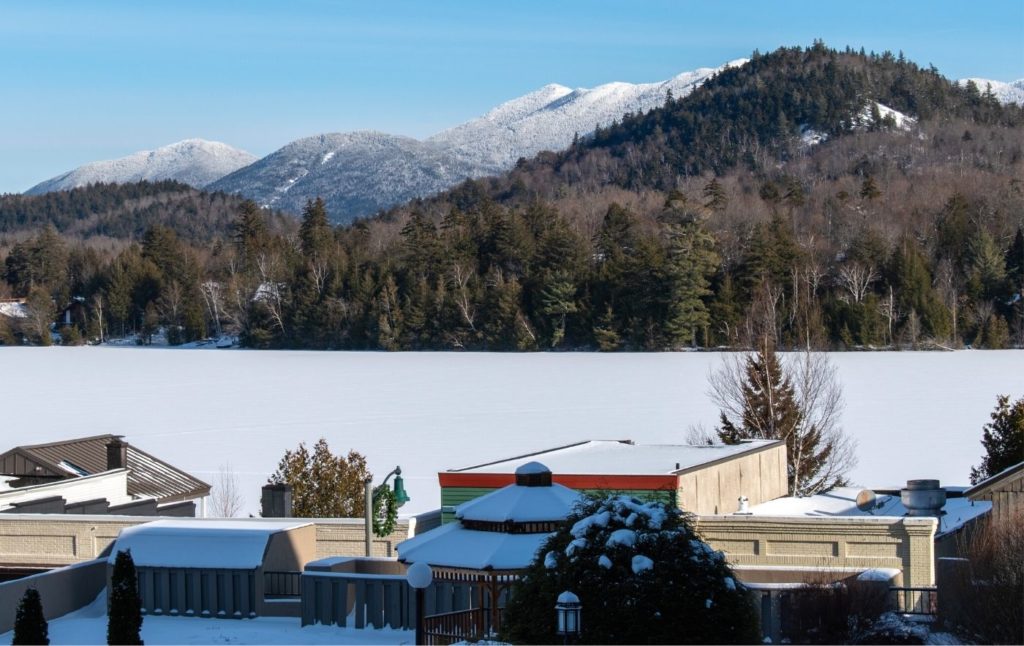 One of the many things I love about Lake Placid in winter is that it's exceptionally easy to get to from NYC (and beyond).
It's located smack dab in the middle of the High Peaks Region and is typically a 5-hour drive away from the big city (aka NYC).
So, if you want to drive here yourself, just hop on I-87 North (aka the Northway aka the New York State Thruway) and take it ALL the way to exit 30.
After you get off the highway, turn left onto Route 9N and continue straight until you hit an intersection. Take Route 73 for the rest of the way, or about 28 miles, until you reach good old Lake Placid.
Alternatively, you could take an Amtrak Train from Penn Station all the way to Westport Station. After all, tickets are pretty reasonable and are priced at around $28 (one-way) for an eight-hour trip.
However, once you get to Westport, you're still about an hour's drive away from Lake Placid. And yes, Westport is a super small town with basically no public transportation.
So, if you don't have a car and want to use public transit to get here, I'd take either a train to Albany or a bus to Lake George and then rent a car upon arrival since you'll need one to get around town.
Pro Tip: Winter in Lake Placid is NO JOKE. There is typically a lot of snow on the ground and temperatures regularly fall below zero throughout December, January, and February.
Therefore, dress warmly and make sure you are comfortable driving in snow and have a 4-wheel-drive vehicle. Also, be sure to pack warm clothes and blankets in your car since cell service is spotty at best and you don't want to freeze to death if your car happens to break down.
Best Hotels in Lake Placid in Winter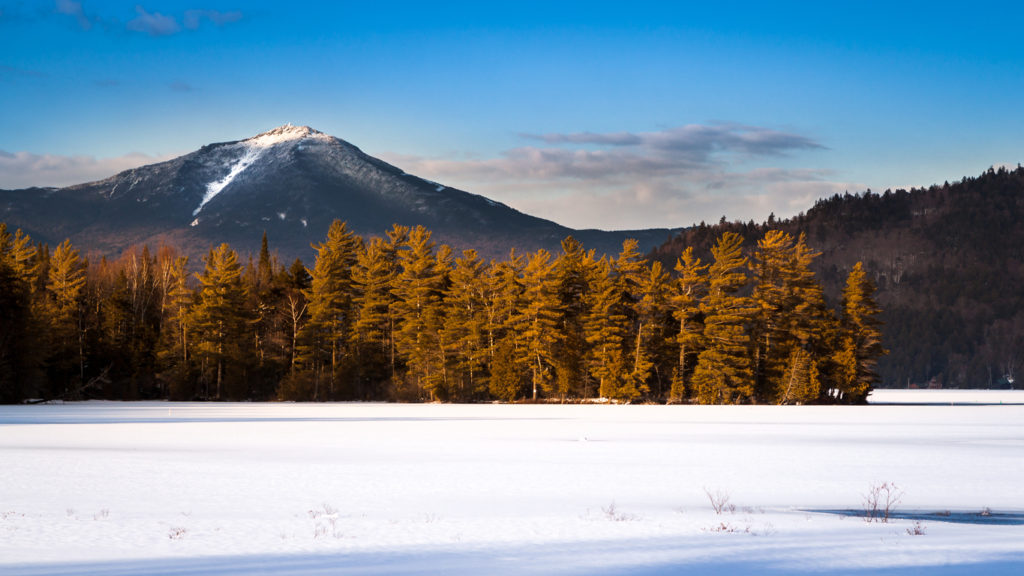 Good news Lake Placid fans! There are some uber-adorable, exceptionally great hotels that you'll love staying in this winter in Lake Placid, NY.
However, do be aware of the fact that Lake Placid accommodations don't exactly come cheap. So, budget accordingly when planning your Lake Placid itinerary and doing all of the best things to do in Lake Placid in winter.
Wildwood on the Lake (budget, Lake Placid) – Wildwood on the Lake has affordable rooms that come fully outfitted with everything you need for a comfortable stay. It's also a family-owned motel that offers guests low-key rooms that include WIFI, decks, coffeemakers, and TVS.
Throughout your stay, you'll also enjoy complimentary muffins and coffee and can use a free, area shuttle to Main Street. There's also an indoor heated pool, a hot tub, a sauna, and ice skating.
Golden Arrow Lakeside Resort (mid-range, Lake Placid) – This is a chill, centrally located, family-run hotel with lovely rooms that come outfitted with WIFI, flat-screen TVs, and coffeemakers. A restaurant/cocktail lounge are also on-site, as is a hot tub, indoor pool, gym, hot tub, and sauna – making this the perfect place to warm up on those exceptionally cold nights during winter in Lake Placid, NY.
High Peaks Resort (Lucury, Lake Placid) – Are you a high-falooting son of a gun? If so then this modern, swank AF resort is for you.
It's located right on Mirror Lake and offers guests airy, Adirondack-inspired rooms that come with stone walk-in showers, WIFI, flat-screen TVs, fireplaces, and whirlpool tubs (in suites). Guests can also have a meal at a casual, American restaurant before going for a swim in the indoor pool.
Mirror Lake Inn Resort and Spa (Luxury, Lake Placid) – A four-star resort right on Mirror Lake with lavish suites that include WIFI, four-poster beds, private balconies/terraces, and upscale bathrooms.
Guests will also love their complimentary afternoon tea service and can swim inside a 60-foot indoor pool before checking out the fitness center, spa, and various onsite eateries (one's super casual and one is more upscale).
Best Things to do in Lake Placid in Winter
Looking to spend this winter in Lake Placid? If so then here is a list of the 20 best things to do in Lake Placid in winter. A series of activities that are great for the whole family and that everyone will want to add to their very own Lake Placid itinerary.
1. Feel Like an Olympian at the Lake Placid Olympic Center Museum
Lake Placid's main claim to fame is that it hosted the Winter Olympics twice, in 1932 and 1980. Today, you can still see some of the buildings and facilities that were constructed for the Olympics, including the Lake Placid Olympic Center Museum.
While at this amazing museum, you'll be able to learn about the talented athletes that competed in the 1932 and 1980 Olympic Games.
You can also admire memorabilia, take a peek at historic photos, and watch captivating videos from those two international sporting events.
Added bonus? It's one of the few Lake Placid winter events during which you'll actually stay warm.
2. Hop Aboard the Olympic Bobsled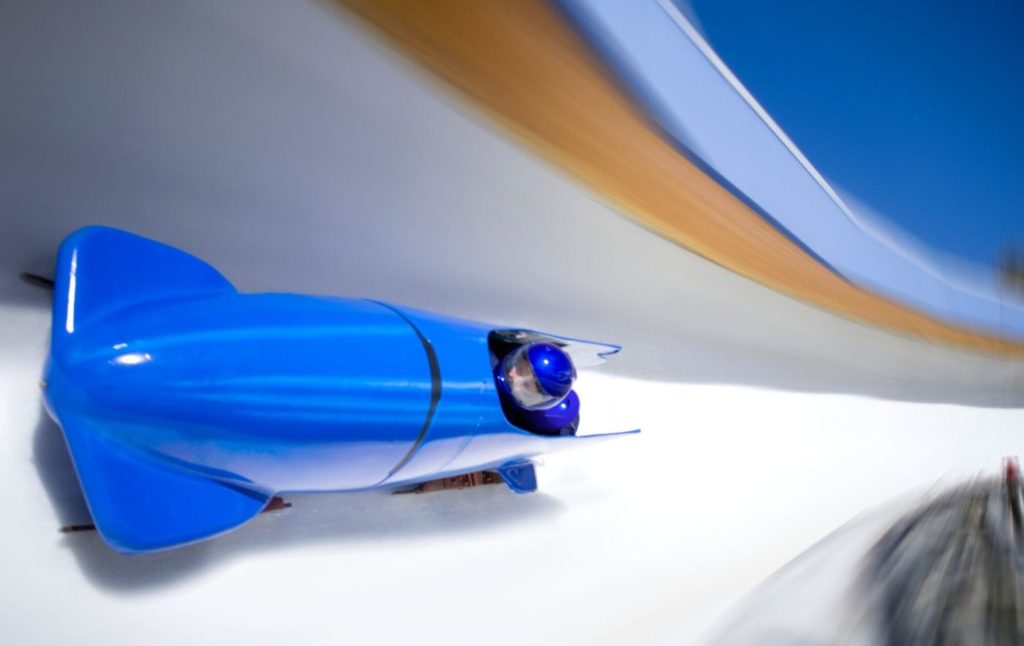 There's more than just one Olympic-themed attraction in Lake Placid< NY. Because another one of the best things to do in Lake Placid in winter is hop aboard an Olympic bobsled!
After all, bobsledding is one of the most thrilling winter sports. As a matter of fact, Olympic bobsleds can reach up to 93 miles per hour!
You can get a taste of these addicting speeds with a ride on the Olympic bobsled in Lake Placid. (But, just as a note, your bobsled will max out at 55 miles per hour.)
I also highly recommend making reservations for the Olympic bobsled several days in advance, as spots fill up very quickly!
Please Note: The Bobsled experience is only open in the summer. So, you can really only admire the track throughout the winter in Lake Placid.
3. Skate Around the Olympic Speed Skating Oval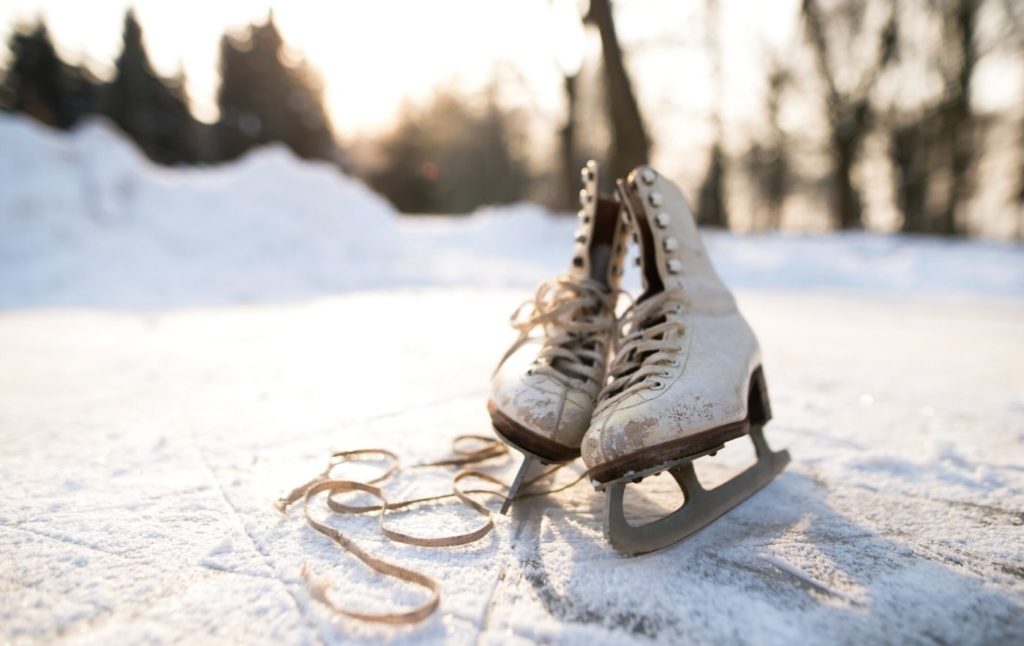 Your Lake Placid tour of all things Olympics-related isn't done quite yet! There's another spot that you'll want to visit: the Olympic Speed Skating Oval.
The Jeff Sheffield Speed Skating Oval hosted many talented Olympians in 1980. Now, you too can skate in the same place that these talented athletes once did. It's definitely a once-in-a-lifetime experience!
4. Test Your Skiing Skills on Whiteface Mountain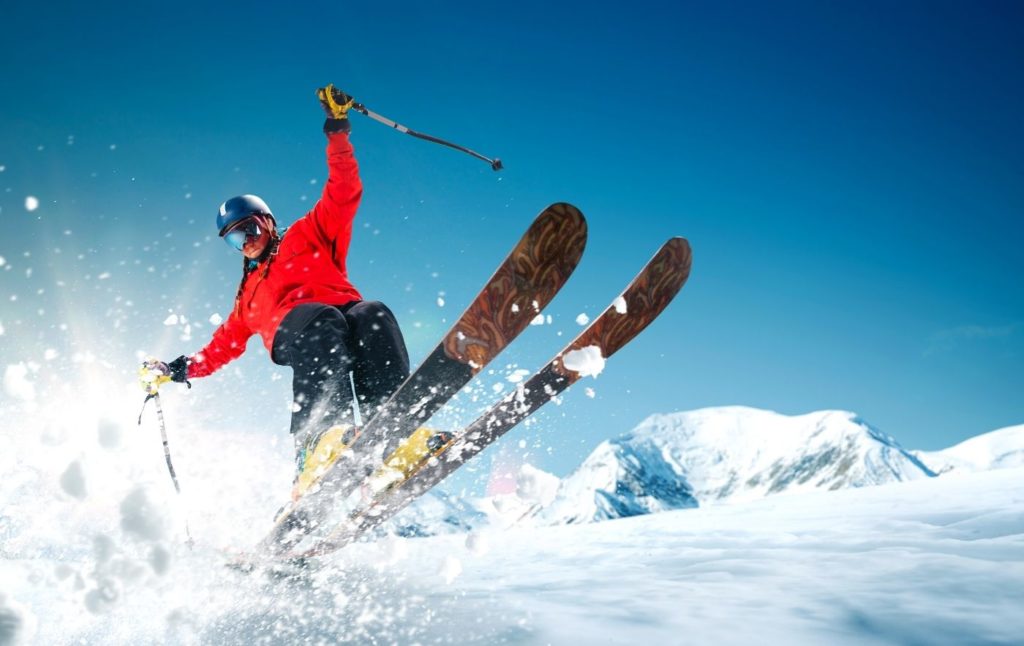 Technically, Whiteface Mountain played an important role in the 1932 and 1980 Olympic Games, as it hosted the alpine skiing events.
But most people don't visit Whiteface Mountain for the Olympic prestige. Rather, they come for the prime skiing conditions.
That's because Whiteface Mountain is known as one of the best skiing spots in all of New York! As a matter of fact, there are courses here that are great for everyone – from beginners to experts.
Therefore, the entire family can stop by and enjoy one of the best things to do in Lake Placid in the winter at Whiteface Mountain.
And if skiing isn't your winter sport of choice, Whiteface Mountain is also a great spot for snowboarding.
5. Embark On A Cross Country Skiing Adventure
I love cross country skiing more than hurtling down the slopes so this is one of the things to do in Lake Placid in winter that really appeals to me. There are a number of groomed cross country trails in Lake Placid which are perfect for this outdoor adventure and it is fun for the whole family!
If you are not sure where to start out, then I highly recommend visiting the Olympic center and/or the Cascade X-C Ski Center. Both locations will have the details that you require. Plus you can always ask if there are others who are heading out that way. It is a great way to meet like minded people.
Pro Tip: Make sure that you carry a map or download the map of the trail. Cell reception is not always the best and relying on GPS is not advocated.
6. Take a Dog Sled Ride Across Mirror Lake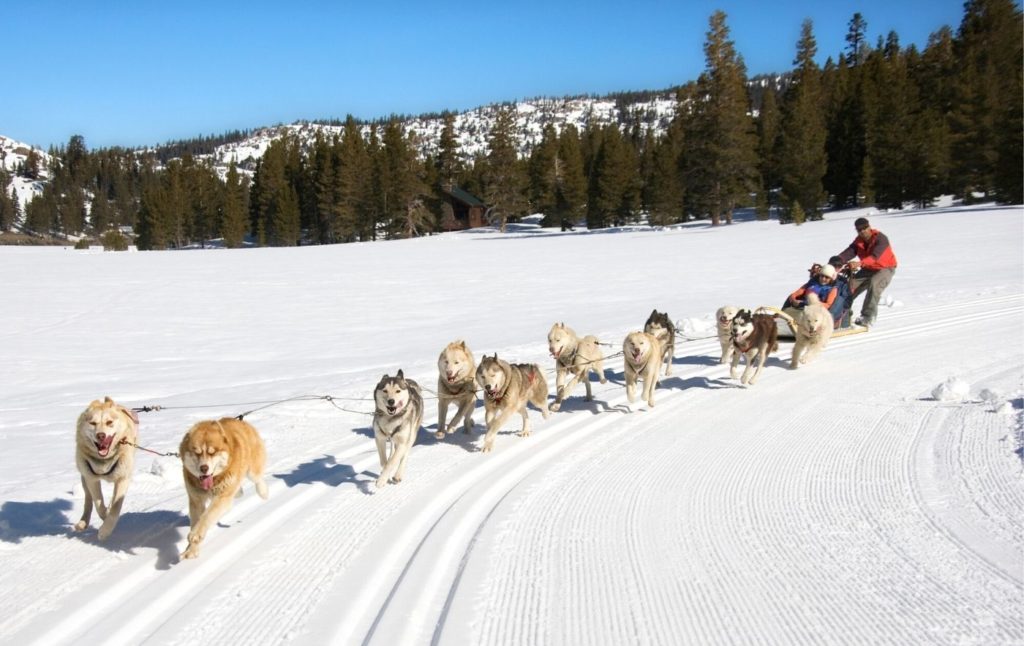 Another one of the best things to do in Lake Placid in winter is pay a visit to Mirror Lake. This single-site boasts loads of activities to keep you entertained, the first of which is dog sledding.
After all, dog sledding is one of the most exciting Mirror Lake activities this winter. Your furry friends will race you across the frozen surface of the lake at thrilling speeds! You're pretty much guaranteed to have a smile on your face the entire time as you enjoy one of the many Lake Placid things to do in winter.
7. Go Ice Skating on Mirror Lake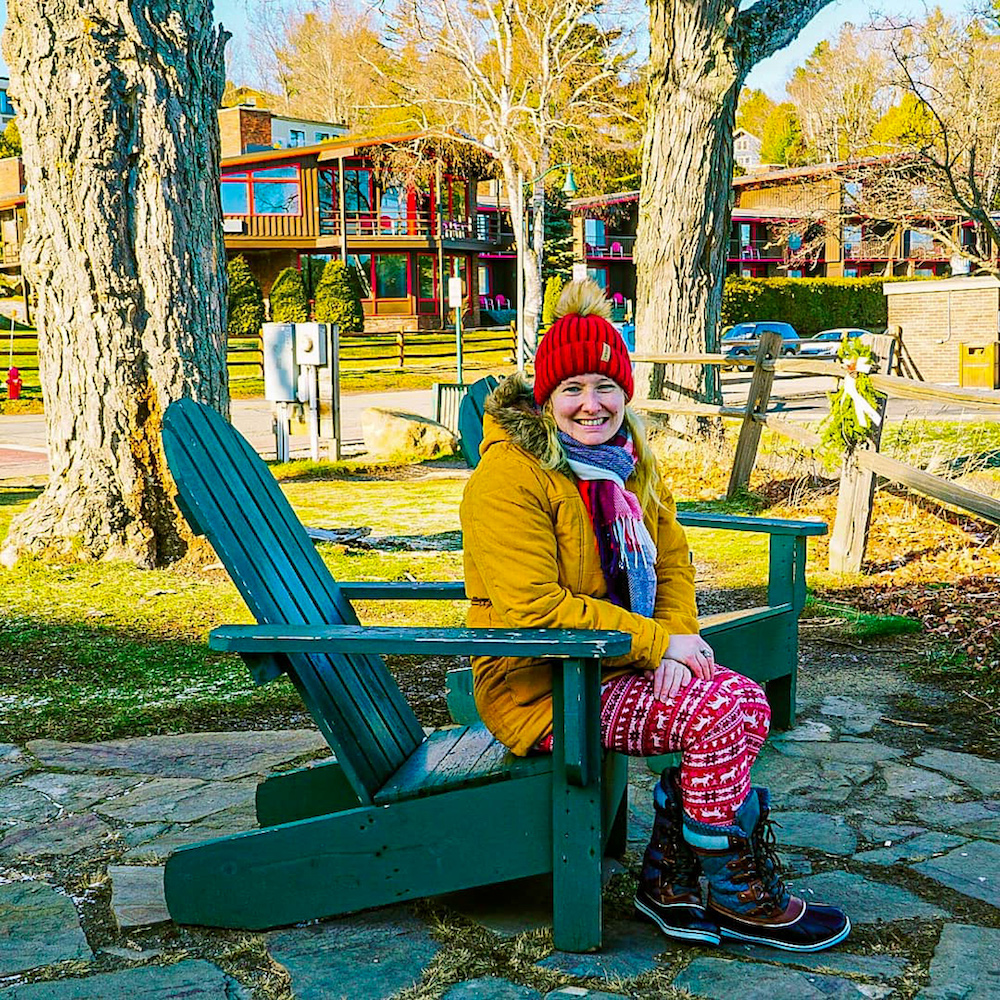 After your dog sledding experience, you can go ice skating on Mirror Lake too! As anyone who has skated on a natural lake will tell you, it's certainly different from skating indoors – in a good way. So what are you waiting for? Lace-up your skates and go for it!
8. Ride a Toboggan on Mirror Lake
Calling all adrenaline junkies! Riding a toboggan on Mirror Lake is one of the best things to do in Lake Placid in winter!
To start your adventure, you'll head up to the 30-foot high tower on Mirror Lake. Then, you'll hop onto your toboggan and slide your way down.
Many riders glide down a whopping 1,000 feet on this frozen lake!
9. Play a Pick Up Hockey Game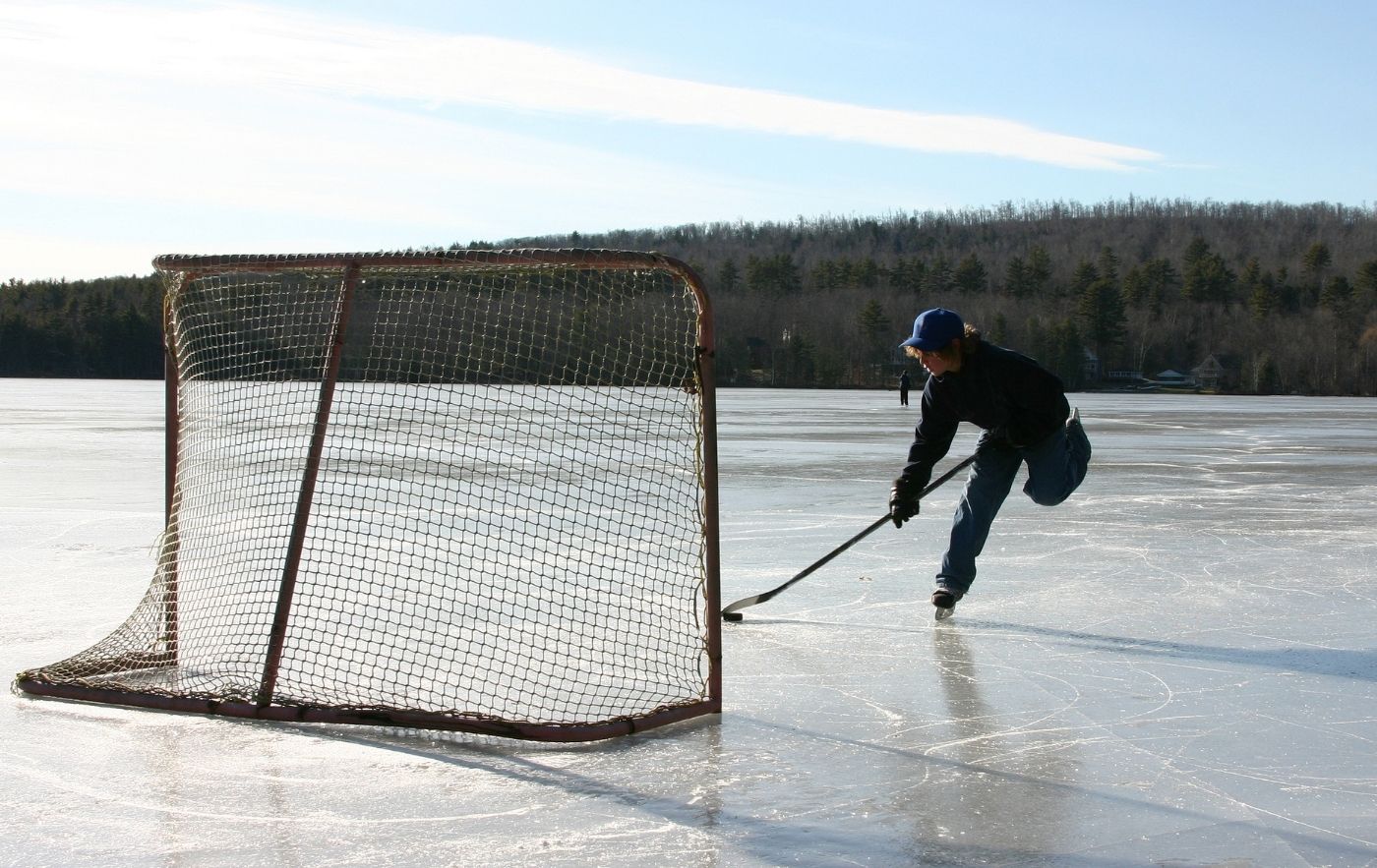 So far on this list of the best things to do in Lake Placid in winter, Mirror Lake has already shown up three times! In other words, Mirror Lake is a total hotspot this winter in Lake Placid, so you can find loads of people enjoying the chilly weather there.
Since there are so many people enjoying the ice at Mirror Lake, there are often pick-up hockey games taking place as well. So why not join in on the fun?
If you don't find a pickup hockey game at Mirror Lake, then your next best bet is the Olympic Ice Arena.
10. Try Your Hand at Ice Climbing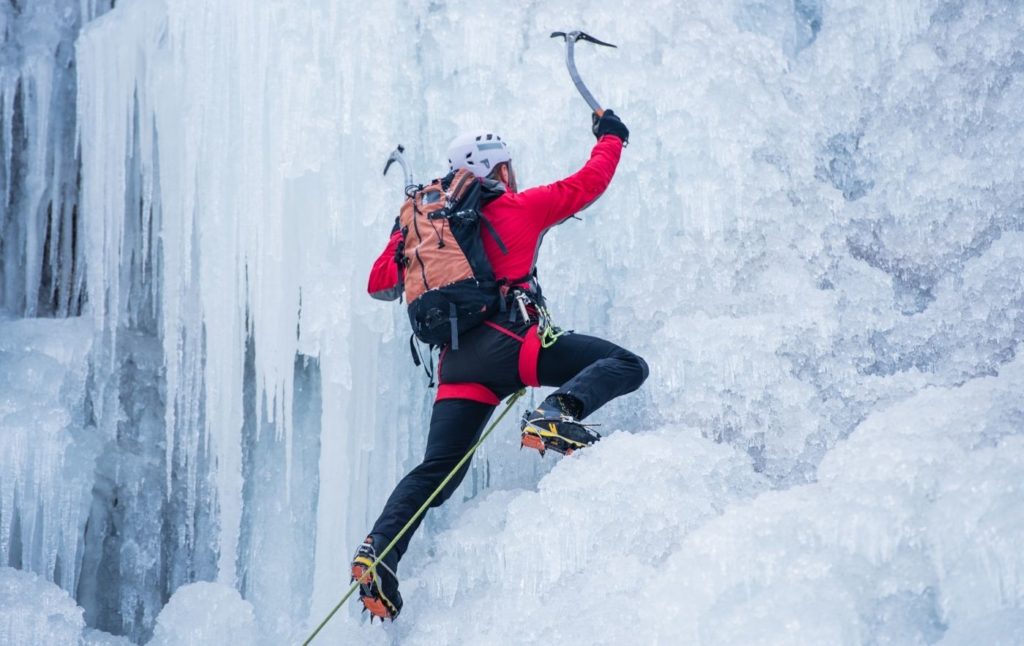 Ice climbing is one of the most difficult sports in the world. It's sort of like the winter version of rock climbing – except on a frozen waterfall.
And Lake Placid is an ideal place to try ice climbing. The conditions are very reliable and consistent, which is great when you're not too familiar with the sport. A few of the best ice climbing routes for beginners include Buster, The Cascade, and Chounaird's Gully.
To get the full ice climbing experience though, I recommend taking a tour. Luckily for you, High Peaks Mountain Guides offers fantastic ice climbing tours every winter in Lake Placid.
11. Pop Into the Shops on Main Street
So far on this list of the best things to do in Lake Placid in winter, I've included lots of sporty activities – from bobsledding to hockey to ice climbing.
And while all of those options are fun, sometimes you just need a little bit of downtime to recuperate. When that time comes, shopping on Main Street is a great activity to consider.
There are loads of adorable shops on Main Street for you to visit. You can find everything from chocolates to bath bombs to clothes on this road.
And if your visit lines up with the holidays, you'll get to see Main Street decked out in Christmas cheer!
12. Experience the Thrill of Sledding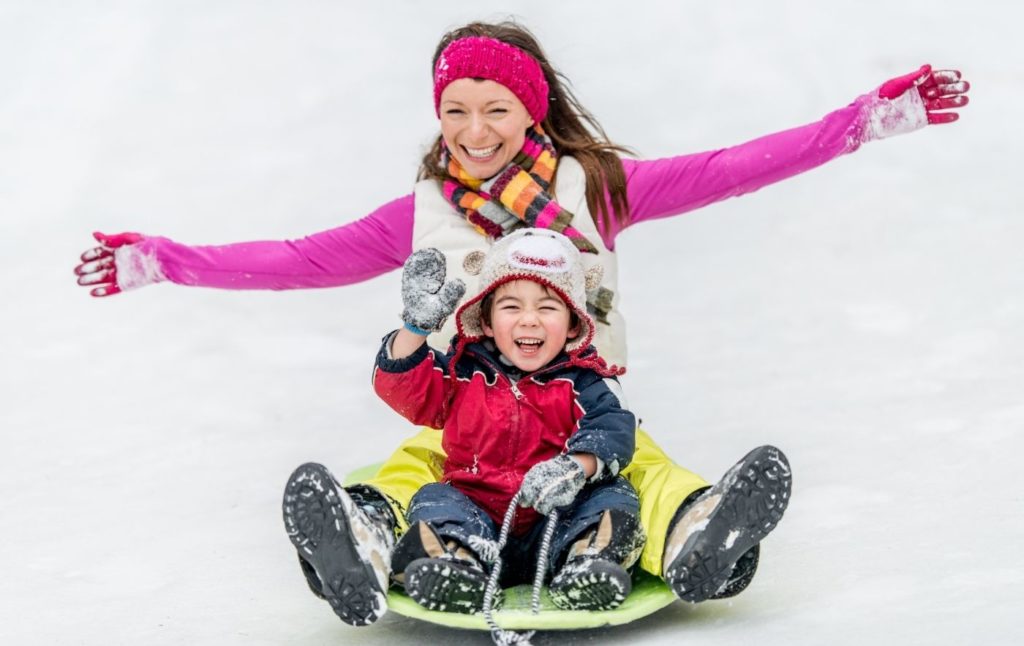 Sledding is the perfect winter sport for people of all ages – from young children to adults. And Lake Placid has quite a few places that are perfect for sledding.
In particular, Kiwanis Teddy Bear Park is the most popular sledding spot in town, and it's not your average backyard hill. Rather this tall, steep slope will give you the sledding experience of a lifetime.
13. Sleigh Rides In The Night
Sleigh rides are a great way to get into the Christmas spirit. These rides are extremely cute and themed. If you can, catch a ride after dusk. The lit lanterns give the sleigh ride a different vibe. Plus most of these rides also give you some lip smacking hot chocolate to warm you up after the cold weather outside.
If you are looking for a budget friendly ride, check out Adirondacks sleigh rides in the downtown area. They come highly recommended.
14. Take in the Views from the Cloudsplitter Gondola Ride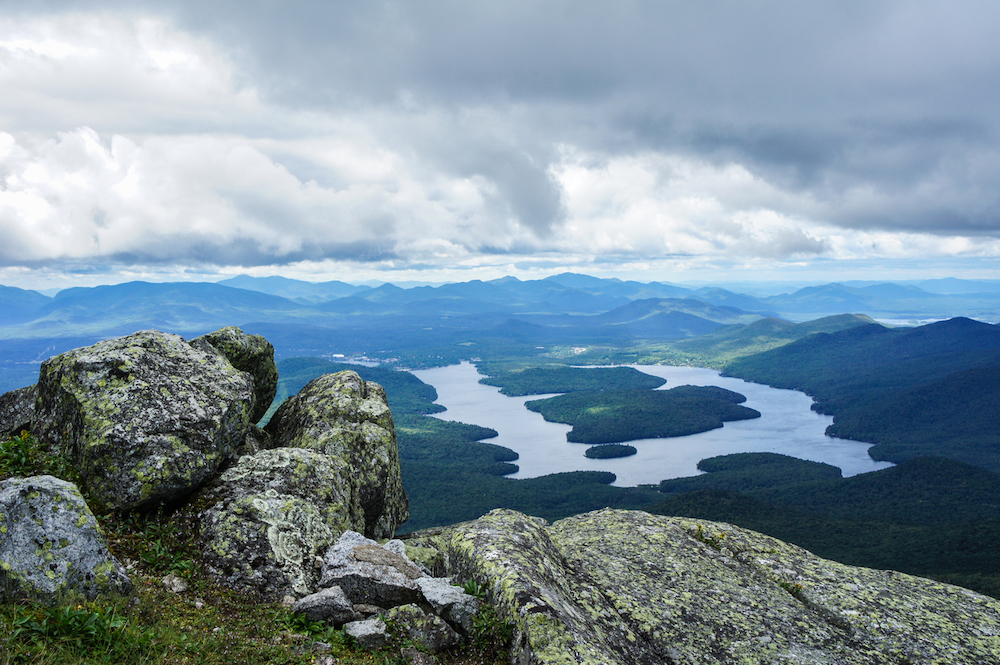 Located at Whiteface Mountain Ski Resort, the Cloudsplitter Gondola is one of the best ways to catch amazing views of Lake Placid in winter.
As you make the fifteen-minute journey up Whiteface Mountain, you'll be able to see stunning views of the town of Lake Placid, the skiers on the Adirondack Mountains, and even the frozen beauty of Mirror Lake!
15. Catch a Ride on the Cliffside Coaster
The Cliffside Coaster is one of the newest additions to Lake Placid. Opened at the end of 2020, this one-person roller coaster is perfect for thrill-seekers.
But the Cliffside Coaster has a cool feature that makes it different from most of the other rollercoasters in the world: YOU can control the speed! That's right, you can go as slow or as fast as you would like on this Mount Van Hoevenberg-based ride.
As you might expect, the Cliffside Coaster is one of the most popular things to do in Lake Placid throughout the year. For that reason, I highly recommend purchasing your tickets for this fun activity in advance.
16. Keep an Eye Out for Animals at the Adirondack Wildlife Refuge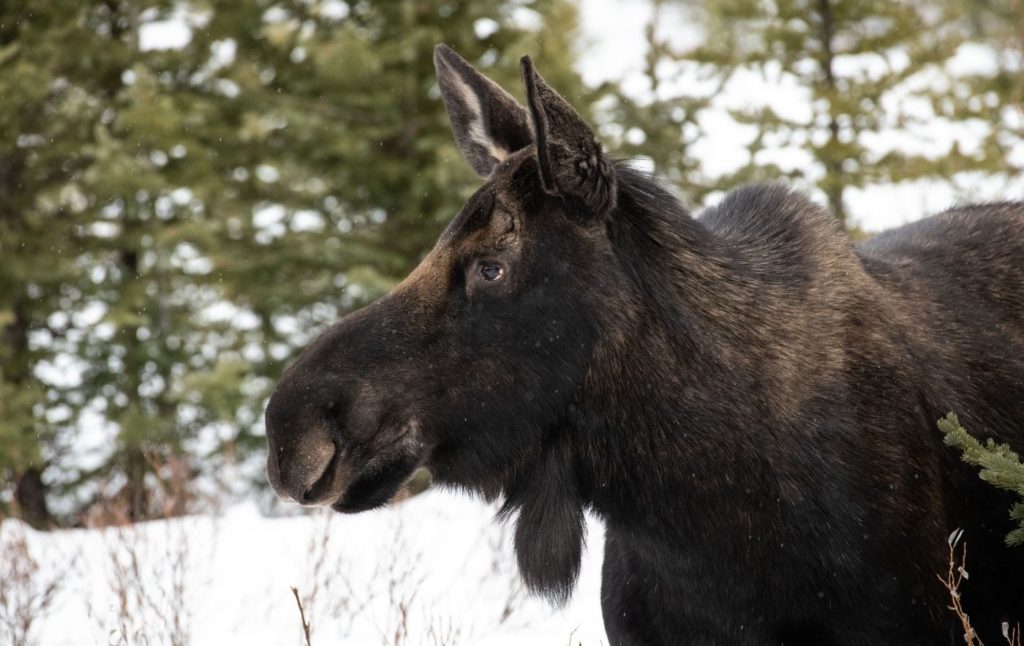 Calling all animal lovers! If there's one thing that you need to do in Lake Placid, it's visit the Adirondack Wildlife Refuge. This wonderful refuge is open throughout the year, making it one of the best Lake Placid winter activities on this list.
Especially since it's a place that is dedicated to the rescue, rehabilitation, and release of the injured and sick local animals.
During your visit to the Adirondack Wildlife Refuge, you can see many beautiful animals that need a little bit of help to get back on their feet (or paws or wings).
Black bears, moose, and wolves are just a few of the animals that get the help they need at this refuge.
17. Admire the Views from Whiteface Castle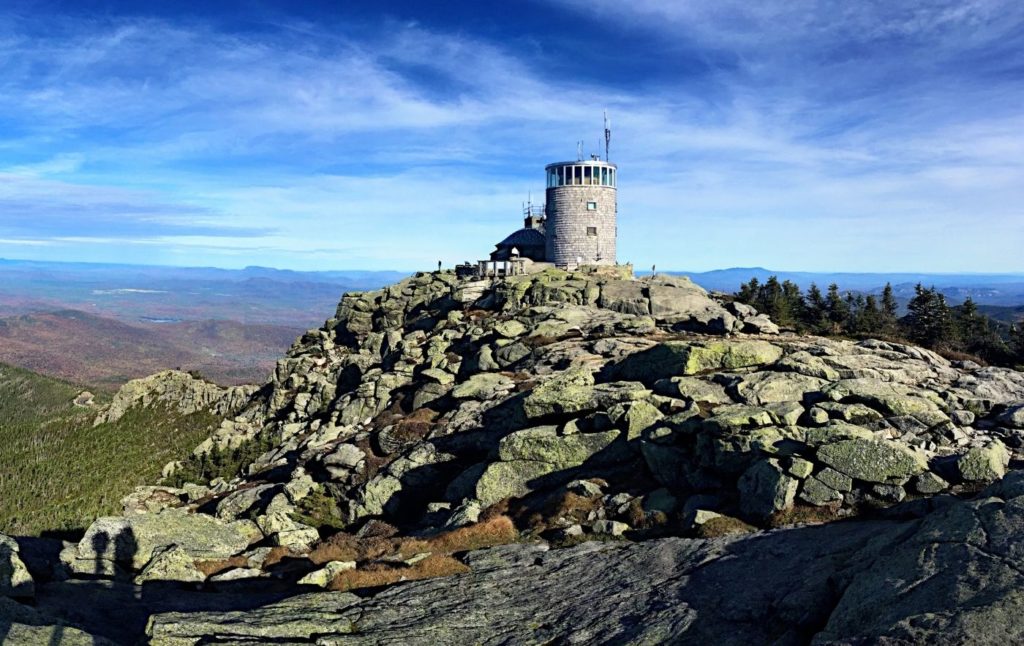 Yes, that's right! There's a hidden castle in town, and it's one of the best things to do in Lake Placid in winter! With the stone walls, arched windows, and breathtaking views, you'll be transported to a different time period.
If you'd like to stick around Whiteface Castle a little longer, you can grab a bite to eat at the Castle Cafe. This little eatery is located on the top floor of the castle.
Please Note: Whiteface Memorial Highway (and the cafe/castle) typically close on Columbus Day every year. So, you cannot use the highway to get to the top in the winter in Lake Placid. Instead, you can hike or snowshoe to the top if you really want to enjoy the summit of Whiteface.
18. Hike through High Falls Gorge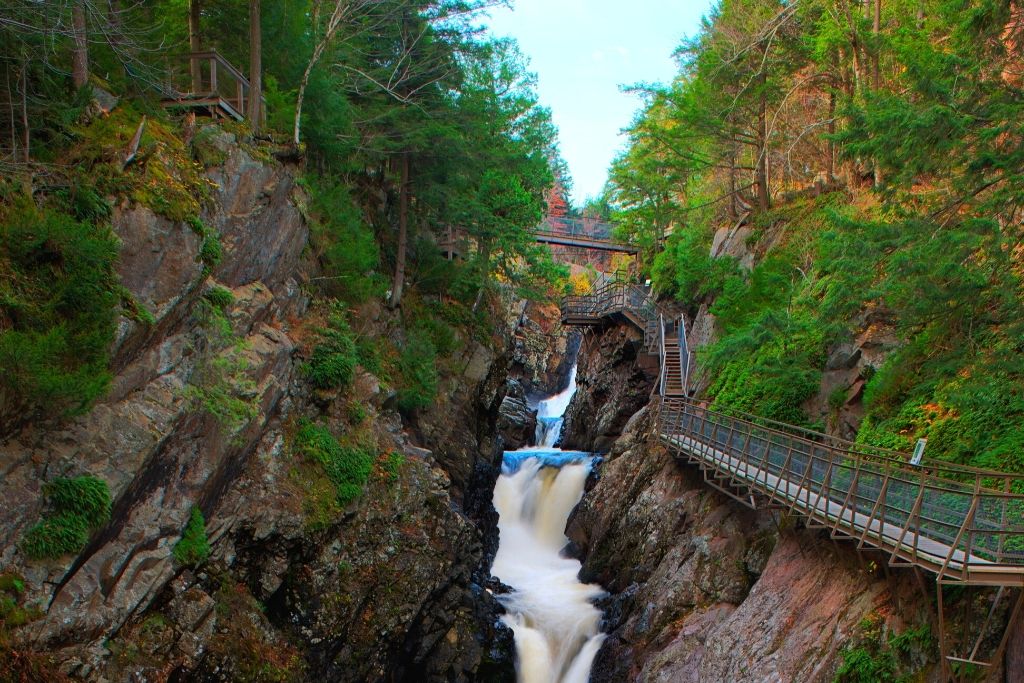 While hiking isn't usually a winter activity, it's still doable at High Falls Gorge. As a matter of fact, it's encouraged!
High Falls Gorge is a gorgeous area between Whiteface Mountain and the town of Lake Placid. The area is filled with some of the best hiking trails in upstate New York and tons of cascading waterfalls.
The main path takes just half an hour to complete, but there's so much to see along the way – from snow-covered cliffs to icicle-laden trees!
If you happen to hike High Falls Gorge on a winter weekend, there's an extra surprise in store for you! When you complete your hiking adventure, you get to take a seat at a crackling campfire and roast some marshmallows.
I don't know about you, but s'mores sound like the perfect post-hike snack to me after exploring Lake Placid in December!
19. Snowshoe at the Wild Center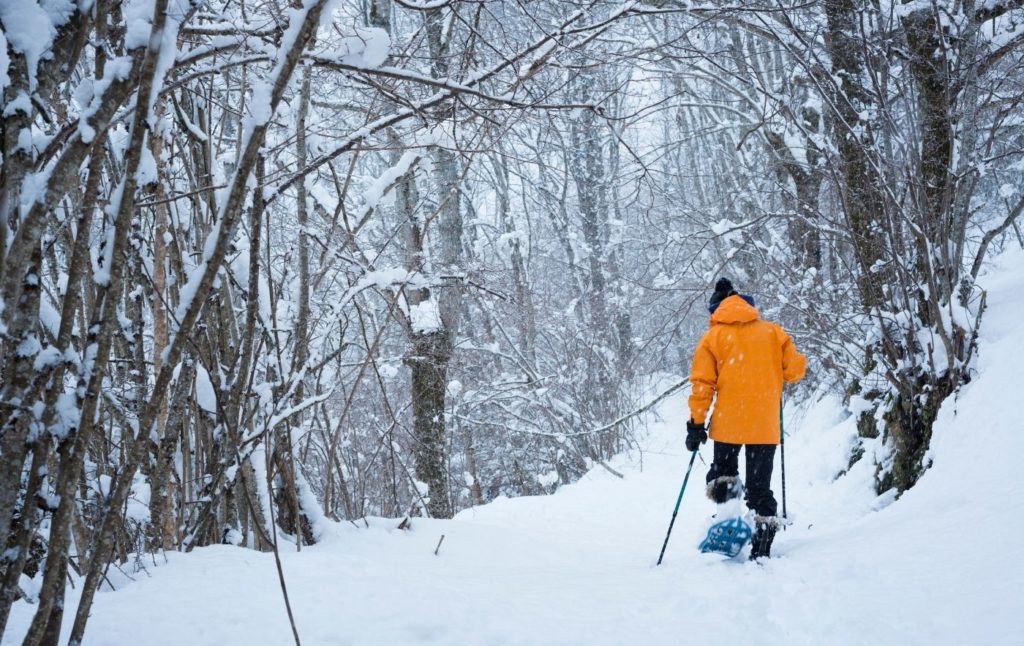 The Wild Center is a lovely nature center, where you can learn all about the plants, animals, and rocks in the Adirondack Mountains.
The most popular attraction at the Wild Center, the Wild Walk treetop experience, is unfortunately closed in the winter.
But, that doesn't mean this attraction isn't worth a stop! Rather than testing your fear of heights, you can snowshoe your way through the incredible, towering trees at the Wild Center instead!
20. Go Tubing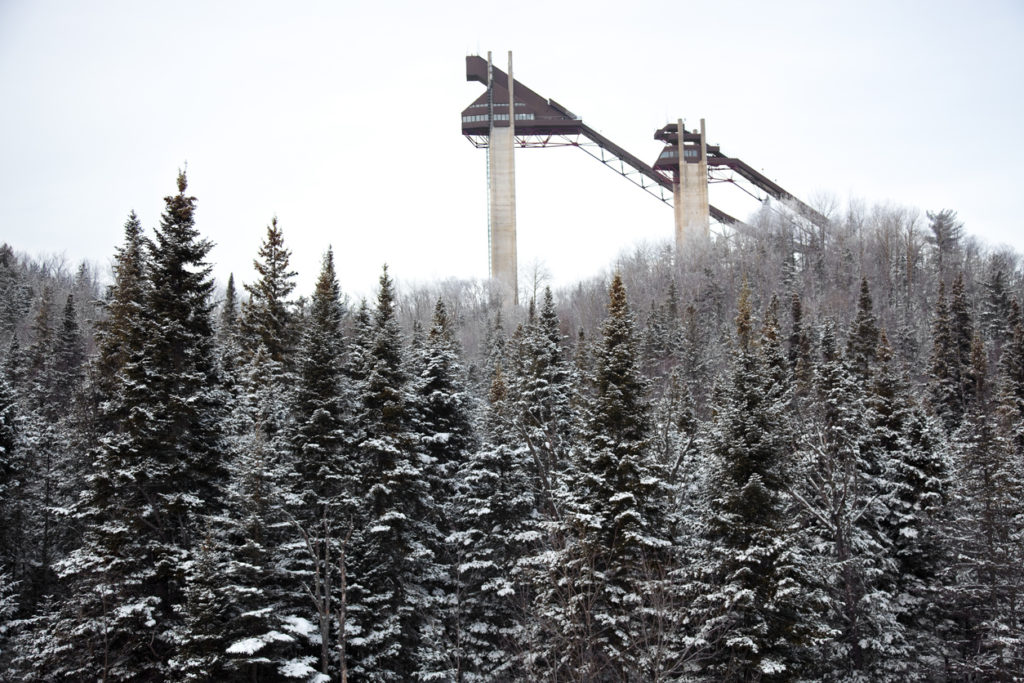 Lake Placid snow tubing is a fun twist on sledding. Rather than sliding down a hill on a sled, you can sip down in an inner tube.
There are actually a couple of places in or near Lake Placid where you can go tubing. The first is at the Lake Placid Olympic ski jump complex. So while you're exploring all of the other Olympics-themed sites in town, you can add Lake Placid snow tubing to your bucket list.
If you'd like to head to a spot that's dedicated to just tubing, you can head to Mt. Pigsah in Saranac Lake instead. While there, you can spend hours on end tubing to your heart's content.
21. Visit One of the Many Breweries in Town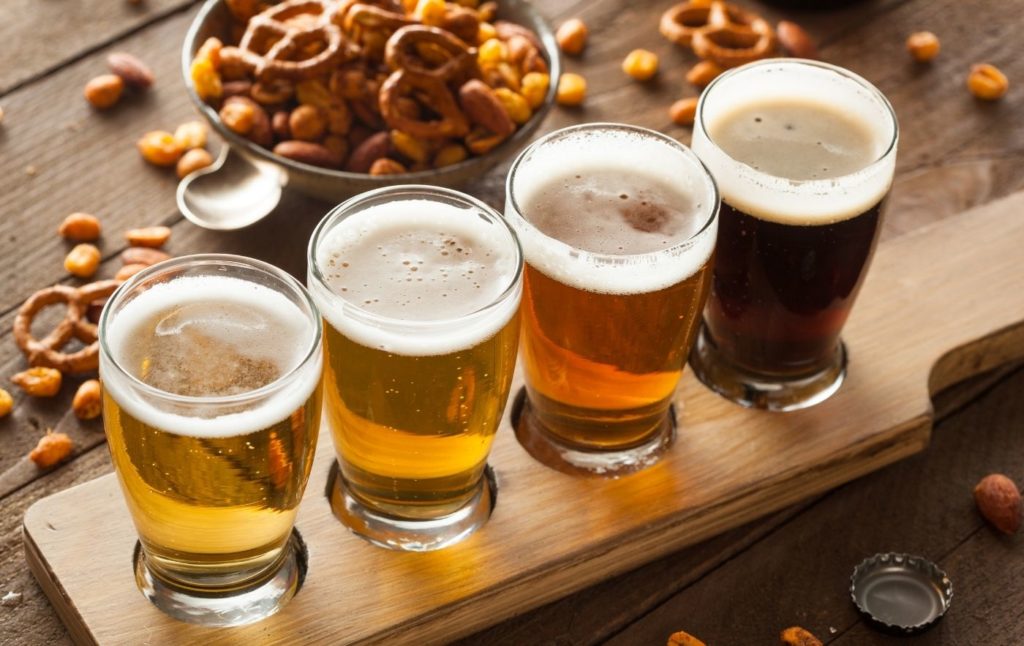 While Lake Placid is known primarily for its winter sports, it also has a couple of surprisingly great breweries. These Lake Placid hidden gems are the perfect place to grab a pint after a day of skiing, snowboarding, or ice hockey.
The first noteworthy Lake Placid brewery is Big Slide Brewery & Public House. This establishment opened in 2016, so it's one of the newest additions to the town.
The reason Big Slide Brewery was able to compete with the long-lasting breweries in Lake Placid is that the owners put thought into each and every aspect of their business.
First, there's the location, which allows diners to take in views of the Olympic Ski Jump. Then, there's the fabulous farm-to-table food, which includes delicious dishes like the fried chicken and grits, the fritter me timbers, and the hot wheels pizza.
And last but certainly not least, there are the awesome beers, which are rotated out on a monthly basis.
However, If you're looking for a brewery with deep roots, historical relevance, and award-winning beers, Lake Placid Pub and Brewery and Great Adirondack Brewing are both incredible options and make for a perfect addition to any Lake Placid itinerary.
22. Get a Sweet Treat at Emma's Lake Placid Creamery
Now, I know what you're thinking. Ice cream in the winter? Yes, and you just have to trust me on this. Emma's Lake Placid Creamery serves up some of the best scoops of ice cream in town. They're so worth it, you'll want to make a stop, even if the weather is below freezing.
There are also four soft serve flavors and sixteen hard ice cream flavors to choose from at Emma's Lake Placid Creamery. You can opt for chocolate moose tracks, strawberry & brown butter bourbon truffle, or their signature maple creme.
You can simply enjoy these delicious creations in a cup or a cone, or you can whip them up into another sweet treat, like a milkshake, a sundae, or an ice cream sandwich.
23. Go Ice Fishing
Are you a big fan of fishing? Then I have news for you! Lake Placid is one of the best places to go ice fishing. So make sure that you pack your gear. Oh and if you haven't been ice fishing before know this… It gets cold. Real cold! So make sure you layer up and pay good attention to the shoes you wear. Since you are standing on ice, the cold sneaks up on you from below.
If you are a total novice at ice fishing, I would recommend booking one of the numerous ice fishing trips that are conducted by companies in the area. That way, you can learn the ropes. Plus you don't have to carry the equipment. Most of the tour companies provide everything that you need. Pretty sweet right?
Oh did I mention that they also know the best fishing spots in the area? That's the best part of having a local on your fishing team!
24. Catch The Winter Carnival At Saranac Lake
Have you heard about the Winter Carnival that is held at Saranac Lake every year? It is one of the most popular events at this time of the year. There is so much to do here. Think of all kinds of performances, sporting events and yes fireworks, parades and food! All things that make a carnival epic!
Every year the carnival has a different theme. In 2023, the theme was 'Roman around Carnival' so everyone was dressed up in Roman costumes which was pretty cool. Everything is set up in the Ice Palace so it really has this whole winter theme going.
The whole event is fun for the full family which is why it is so popular among the locals and people visiting in the area. So grab your cup of hot cocoa and find out which events you want to see! I promise, you will have the time of your life!
Things To Do In Lake Placid In Winter FAQ
Is Lake Placid Worth Visiting In Winter?
Lake Placid is very popular during all the seasons because there are loads of things to do. It also turns into a winter paradise. From ice skating and ice fishing to the famous winter carnival, Lake Placid is the perfect wine getaway.
What Is There To Do In Lake Placid In Winter With Kids?
Lake Placid in winter is fun for the whole family. Generally people with kids try to pack skiing, snowboarding, ice skating and the winter carnival into their itinerary. Ice hockey and toboggan riding are also activities that kids enjoy.
Does Lake Placid Freeze Over In Winter?
Yes! Lake Placid freezes over in the winter. This makes it the perfect place for so many winter sports. If you are headed this way during winter make sure you pack your ice skates because ice skating is one of the top activities to do in the area.
⏰ Looking for a great place to stay in Lake Placid? I recommend Wildwood on the Lake. It has budget rooms which are extremely comfortable! ⏰
Additional New York Travel Resources You'll Love
And there you have it! That just about wraps up this guide to 22 of the best things to do in Lake Placid in winter!
Tell me, did your favorite winter activities make the list? If not then let me know in the comments below!
Also, if you found this post useful, be sure to sign up for your email list and pin this post now so that you can read it again later!