Tucked away in the Southern Adirondacks is this gem of upstate New York – a place where you can relax with family and friends while you enjoy just some of the very best things to do in Lake George, NY.
Although, if you decide to stop by any time between July and August, don't expect to have this place all to yourself since around 3 million summer tourists typically flood into this tiny town of just 3,500 residents.
So yeah, the main roads will be packed with cars, and all the very best things to do in Lake George, NY will be overflowing with people, people, and – oh yeah – more people.
That's why, if you can, try to visit in the off-season, either for the stunning fall foliage in October or sometime in May right before all the summer visitors seem to flood the area.
Trust me on this. I live in the Adirondacks and have been to Lake George more times than I can count. Like, I've been there at least every year for the past thirty-plus years.
And honestly? People come to the Adirondacks to escape the crowds of the city and to enjoy the quiet serenity of a weekend spent hiking through the woods and camping by the lake.
So, if you're emphatically nodding your head "yes" right now, be sure to heed my advice and visit at basically any other time of year.
Because let me tell you, there are some truly amazing things to do in Lake George, NY and I want to share all of my favorites with you.
This way, you can get off the beaten path and explore amazing places that you won't find in any guidebook – places that only the locals know about and that took me years to find.
But, if you dare to be different, your efforts will be rewarded handsomely since Lake George is easily one of my favorite places in the Adirondacks.
And that's saying a lot since I live here and used to come up here every summer for the past 30+ years. So, to say I know Lake George and the Adirondacks well is basically the understatement of the century.
So, without further adieu, let's explore this tiny town that is located at the very tip of the 32-mile long Lake George.
After all, this majestic body of water is known as the Queen of the American Lakes, is easily one of the most stunning lakes in all of New York, and is surrounded by the awe-inspiring peaks of the Adirondack mountains.
Therefore, whether you're after a luxurious getaway in upstate New York or are looking for a rustic outdoorsy weekend spent by the lake, I have some of the best things to do in Lake George, NY for you!
Pro Tip: This is a great place to go swimming since there are strict regulations about the types of boats that can go in the water here. As a result, the water is SUPER clean and perfect for swimming or boating or exploring some of the best swimming holes in New York too.
This post may contain affiliate links. Please see my disclosure for more information. As an Amazon Associate, I earn a small commission from qualifying purchases.
Where is Lake George and How Can I Get There?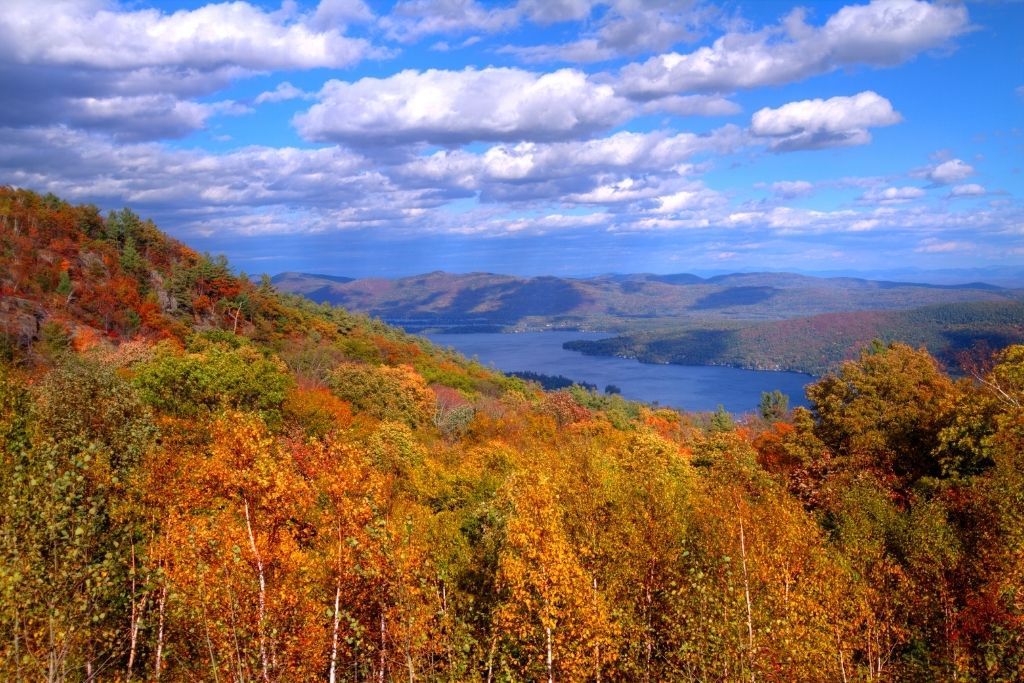 Lake George is located at the Southern end of the Adirondack Mountain region. It's basically a 32-mile long lake that starts at the town of Lake George Village in the South and that extends all the way to Ticonderoga in the north.
And while the Southen part of the lake is extremely well-developed, many areas in the middle and to the north are largely undeveloped or are made of protected land that is part of the Adirondack Park.
So, if you're traveling here by car, you'll be about an hour north of Albany and an hour and a half south of Lake Placid. Or, more precisely, just take the New York Thruway (aka I-87 N) to exit 22 and then take Route 9 to Lake George Village.
Trust me, it's a super easy to drive here (I do it ALL the time) and is well worth your time since you'll definitely need a car while you're here.
However, if you don't want to drive, you could always take an Amtrak Train from Penn Station (or Albany) to Fort Edward, which is about twenty minutes away from the town.
Conversely, you could also take either an Adirondack Trailways or Greyhound bus to any one of the towns in the area from Port Authority bus terminal in NYC.
The only real difference between the two is that the train is faster but more expensive while buses are usually slower but cheaper. So, your method of transportation will really depend on what is more important to you – time or money.
Pro Tip: If you decide to use either the train or bus to get here, definitely rent a car upon arrival since public transportation is basically non-existent in the Adirondacks. Local rental car agencies include Hertz and Enterprise.
Where to Stay in Lake George, NY
Honestly, there are SO many different places to stay in Lake George that it can be difficult to know exactly where to start. However, to make the entire trip planning process infinitely easier, I've created this list of the best hotels in Lake George, NY.
This way, regardless of your budget, you'll have a great place to stay while enjoying some of the best things to do in Lake George, NY.
Where to Eat in Lake George, NY
Well, you'll be delighted to know that you definitely won't go hungry while enjoying some of the best things to do in Lake George, NY.
Because in spite of what many people might think, there are a TON of great places to eat in the area. I mean, they're not NYC-level awesome but there are definitely a few diamonds in the rough that you'll enjoy while you're in the area.
The Restaurant at the Inn at Erlowest – If you want to plan a luxurious night out or just want to live the luxe life for a hot minute while on vacay then consider dining at this upscale restaurant. It overlooks the lake and offers a whole host of contemporary, American-style dishes that include things like lobster bisque, wild mushroom risotto, smoked pork chops, and beef short ribs. The artisanal cocktails are also quite good and the prices aren't too steep since entrees start at are $34 each.
The Log Jam (more on this later) – I've been coming to the place for YEARS and they know how to do semi-casual but delicious steak and seafood that appeals to everyone. The decor here is also super fun and very Adirondack so you'll definitely feel like you're dining inside a rustic log cabin. And while everything here is awesome, the steaks are pretty exceptional, as is the awesome all-you-can-eat salad bar.
Capri Pizzeria – I'm a pizza snob through and through since I grew up in NYC and am more than a little picky about the pizza I ingest. However, this place is pretty good and is about as close as you're gonna get to authentic, NYC-style pizza in the Adirondacks. It's also super casual, reasonably priced, and just an all-around chill place to go for a meal that the whole family will love. And although I typically stick with their pizza, they serve other things too like calzones, stromboli, garlic knots, pasta, sub, heroes, and even burgers too.
Lake George Beach Club – This vibrant, two-story restaurant overlooks the lake and features live music for guests to enjoy. However, the real highlight of any trip here is the food, which is pretty dang delicious American fare that will appeal to the whole family. My personal faves include the burgers, dry rub wings, and Korean beef tacos. The service is also really good and another added benefit of dining here.
Martha's Dandee Cream – There will be a line but it's totally worth it since this is the only place in the area that serves real, homemade, soft-serve ice cream (or creamies if you're from the area). Portions are also huge so get a kid-sized cone and be prepared to choose between, count em', thirty-seven different flavors. And while I haven't tried them all, I love the pistachio ice cream, brownie sundaes, and the Boston Shake.
163 Taproom – This cozy. wood-paneled taproom is an awesome place to go for a beer since the service is great and there is a large selection of delicious craft beers on tap. You can also enjoy a fun game of shuffleboard before diving into a pulled chicken barbeque sandwich with some homemade pickles and fries.
10 McGillis Public House – This is just a great down-to-earth tavern where you can go for fantastic service and epic dishes that include scallops, mussels, short rib poutine, and strip steak that is cooked to perfection. Just a gem of a farm-to-table restaurant that I dare you not to like. Also, the menu changes regularly since they use locally sourced, seasonally available ingredients. Therefore, some of the menu items I suggested may not be available.
17 Best Things to do in Lake George, NY
1. Six Flags Great Escape
One of the best things to do in Lake George, NY is a visit to The Great Escape amusement park. After all, who wouldn't want to spend a day riding the rides, watching captivating shows, and eating tasty theme park food?
And luckily for you, there are so many rides that are worth your time at Six Flags Great Escape. Therefore, if you get the chance, I highly recommend riding them all!
I mean, you can cool off on the Big Kahuna water ride, fly in the sky on Screamin' Eagles, take your whole family on the Storytown Train, and try out the thrilling Adirondack Outlaw.
But, no trip to a theme park would be complete without a bite to eat. Luckily, Six Flags Great Escape is home to a few noteworthy restaurants.
So, you can devour a burger at Tidal Wave Cafe, enjoy some delicious pizza at Paradise Pizza, gorge on fried foods from Dutch Funnel Cakes, and cool off with a sweet treat from one of the many Dippin' Dots locations.
And although a full day at Six Flags Great Escape can easily wear you out – you know between walking from attraction to attraction and spiked adrenaline from all the rides and standing out in the hot sun – watching one of the Great Escape's many live shows doesn't take a whole lot of energy on your part.
That's why seeing one is the perfect opportunity to take a much-needed break. Simply take a seat, munch on some snacks, and enjoy the amazing performances.
Yup, your entire group will have an amazing time at Six Flags Great Escape. Who knows? Maybe if you have enough energy, you can come back again for another day of fun-filled excitement.
Pro Tip: Martha's Dandee Cream is right across the street so be sure to stop for a cone after a run day at the park.
Address: 1172 U.S. 9, Queensbury, NY 12804
Hours: Open daily, except Tuesdays and Wednesdays, from 11:00 am to 7:00 pm at the park and 12:00 pm to 6:00 pm for the water park. The park is also only open seasonally, typically from Memorial Day through Labor Day, but check their website for the most up-to-date info.
Price: Daily tickets start at $24.99 per person. Definitely book online in advance to save time and please note that only electronic payment is accepted onsite (so no cash).
2. Six Flags Great Escape Lodge & Indoor Waterpark
It's always fantastic when you find out that your accommodation is packed with cool amenities. And you'd be hard-pressed to find a cooler amenity than the Six Flags Great Escape Lodge's indoor waterpark.
There are dozens of thrilling slides and cool attractions at the indoor waterpark at Six Flags Great Escape Lodge.
You can get your adrenaline pumping on the Avalanche ride, relax on the Tak-It-Eesi Creek, test your skills on Boogie Bear Surf, and take a break at Soakum Spring.
While you can easily spend your entire stay at the lodge's waterpark, there are other perks that you can enjoy at the Six Flags Great Escape Lodgeas well.
You can spend hours at the arcade, dine at one of the handfuls of restaurants on the property, and shop for an amazing souvenir at one of the gift shops.
It is important to note that you do NOT have to be a guest at the Six Flags Great Escape Lodgeto use the indoor waterpark. Instead, you can simply buy a day pass.
Pro Tip: Keep an eye out for special packages at the Six Flags Great Escape Lodge & Indoor Waterpark. These packages often include discounted rates for the Six Flags Great Escape amusement park.
Address: 89 Six Flags Drive, Queensbury, NY 12804
Hours: The water park is open daily, except Tuesday and Wednesday, from 9:00 am to 6:00 pm. The hotel itself has a twenty-four house front desk.
Price: Rooms start at $200 per night.
3. Lake George Premium Outlets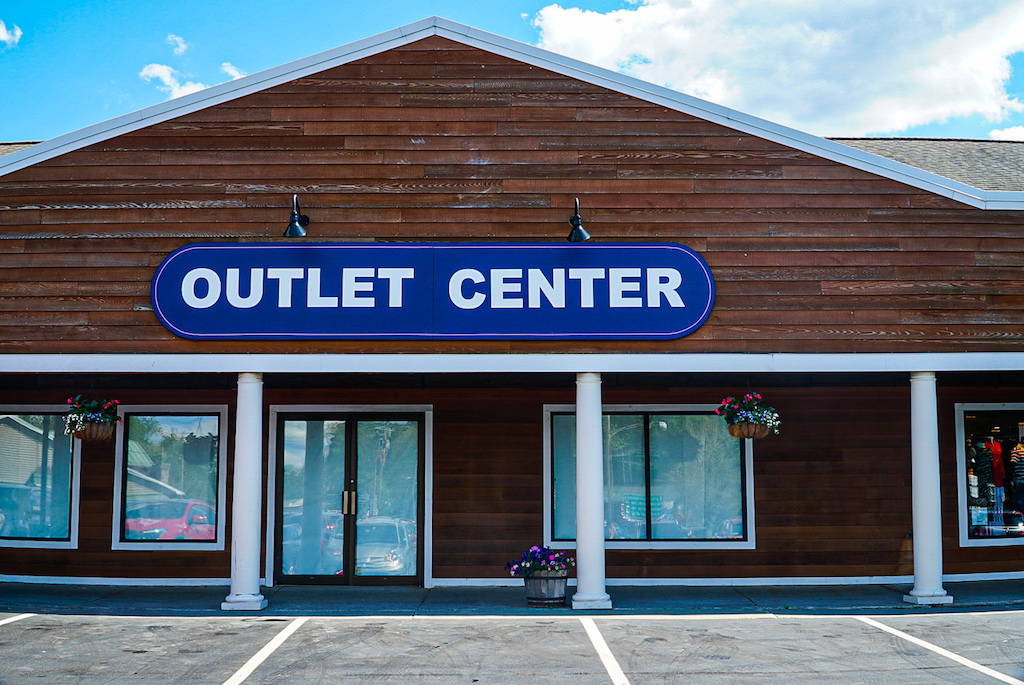 If you're looking for a break from amusement parks and waterparks then one of the best things to do in Lake George, NY is go shopping! Because there are loads of outlet malls dotted throughout the town for you to enjoy.
The most popular outlet mall in Lake George is The Outlets at Lake George. This chic shopping area boasts all of your favorite stores, including American Eagle, Levi's, and Vera Bradley.
Also, just across the street from The Outlets at Lake George lies the French Mountain Commons. Many typically people treat this as an extension of The Outlets at Lake George.
And while at the French Mountain Commons, you'll find shops like J. Crew, Banana Republic, and Sunglass Hut. So, between these two outlet malls, you could easily spend your entire day shopping until you drop!
Address: 1424 U.S. 9, Lake George, NY 12845
Hours: Open daily from 10:00 am to 8:00 pm, except Sundays when they close at 7:00 ppm.
Price: Varies by store.
4. Buck Mountain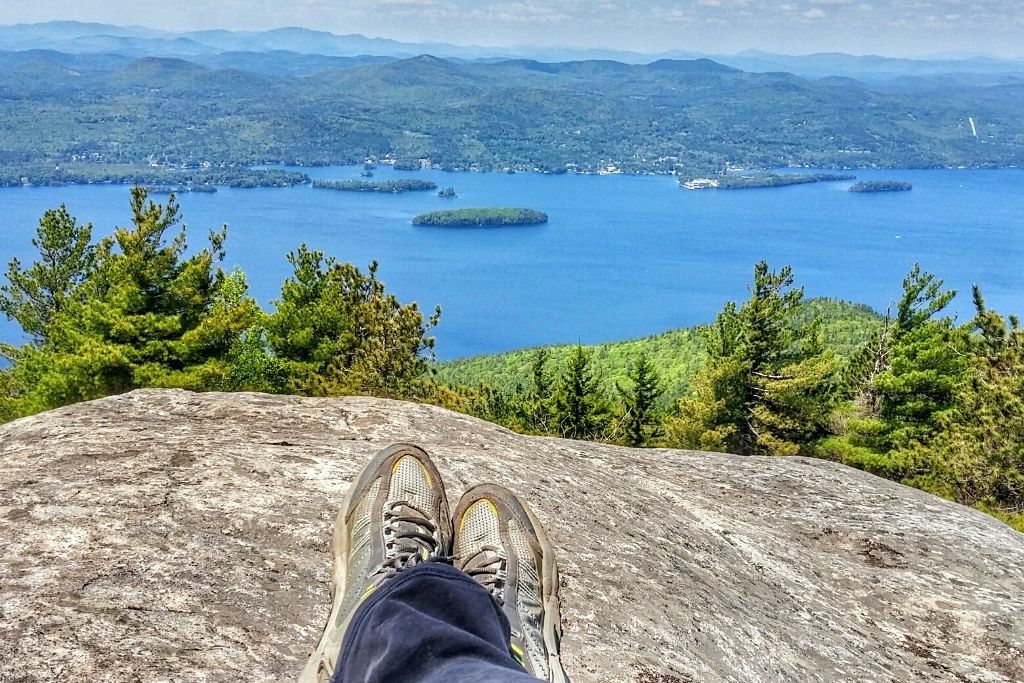 Calling all nature lovers! Because if you love bright green trees and beautiful views, look no further than one of the best hikes in upstate New York! After all, hiking Buck Mountain is definitely one of the best things to do in Lake George, NY for you!
Nestled in the Adirondack Mountains, this 6.6-mile round-trip trail is moderately difficult, but it's definitely worth the effort.
Plus, once you reach the top, you'll be rewarded with breathtaking views of the North Basin of Lake George and the handful of islands that can be found within it.
Past the lake, you'll be able to see stunning rolling mountains, making the view absolutely picture-perfect.
However, depending on when you hike Buck Mountain, it could look completely different.
In the summer, the path is filled with blue skies and thriving greenery. In the fall, you'll be rewarded with fiery fall foliage. And in the winter, many people snowshoe up to the peak to see the picturesque snow-capped mountains below.
5. Fort William Henry Museum
If you're looking for an educational stop on your trip, you'll want to add the Fort William Henry Museum to your list of the best things to do in Lake George, NY.
The Fort William Henry Museum revolves around Fort William Henry. This fort was originally built in 1755 by the British during the French and Indian War.
It was constructed with 30-foot-thick walls and even a moat! In total, this single fort could hold up to 500 British soldiers.
It also didn't take long for Fort William Henry to see some action. In July 1757, the French started on their journey to attack the fort, and by August Fort William Henry was under siege.
After just six days, the British surrendered to the French at Fort William Henry.
Today, you can get a glimpse of what this historic event was like at the Fort William Henry Museum.
You can take an interactive virtual tour, explore the exhibits on the French and Indian War, and learn about the ghosts who haunt Fort William Henry. You'll even get to watch a cool cannon firing demonstration!
Pro Tip: When you visit, you can choose between a 45-minute ghost tour (at 6:30 pm, 7:30 pm, and 8:30 pm Friday/Saturday nights) and a 1-hour tour of the museum every hour, on the hour, from 10:00 am to 4:00 pm daily. I'd opt for the latter but I also love the macabre.
Address: 48 Canada St, Lake George, NY 12845
Hours: Open daily from 9:30 am to 5:00 pm between May 1 and October 31.
Price: Tours of the fort start at $19.95 for adults, $15.95 for seniors 62 and over, $16.95 for students, and $9 for children between 5 and 14.
6. Lake George Steamboat Company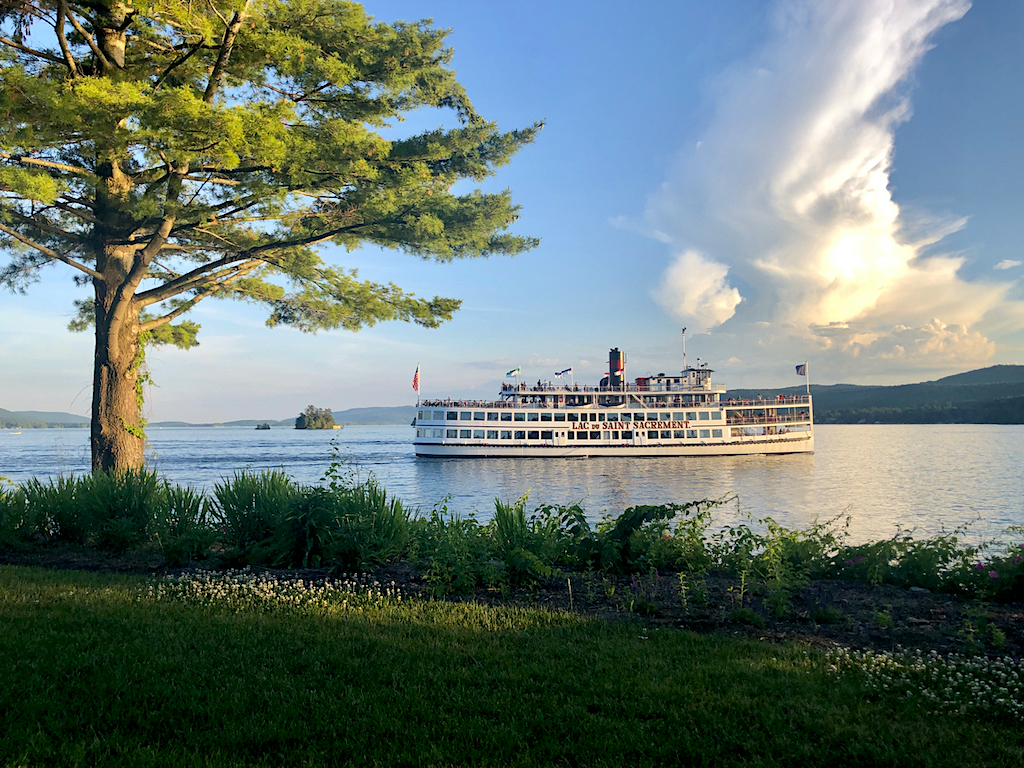 As the name of Lake George implies, this lovely New York town boasts a gorgeous lake – also called Lake George. So during your visit, you'll definitely want to enjoy this beautiful body of water, especially if you're visiting in the summer.
Therefore, one of the best things to do on Lake George is enjoying a lovely cruise with the Lake George Steamboat Company.
This particular company has a bunch of different cruise options, and all of them are held on eye-catching, historic steamboats! That definitely adds a fun flair to this Lake George cruise experience.
The most popular Lake George Steamboat Company options are sightseeing cruises. You can sail your way past the Southern Basin, around Mohican Bay, or through the lake's many islands. It's one of the best ways to enjoy the natural beauty of the lake.
If you're into food more than views, you're in luck! The Lake George Steamboat Company also offers a couple of cruises that revolve around food.
My personal fave is the Lac du Saint Sacrement Sunday Champagne Brunch Cruise, which offers a menu that includes French toast, bacon, pastries, made-to-order omelets, and, of course, champagne. Seriously, what more could you ask for?
But undoubtedly, the most noteworthy cruises provided by Lake George Steamboat Company are the Minnie Ha Ha Night Pirate Cruises!
Once you're aboard the ship, you'll learn how to speak like a pirate, sip on some good 'ole pirate grog, and even search for hidden treasure! Yup, just one of the many best things to do in Lake George, NY with your family.
Pro Tip: This is a very seasonal activity so boats depart daily at 10:00 am, 11:45 am, 1:45 pm, 3:30 pm, 5:15 pm, and 7:00 pm from June 19th through September 6th. After that, between September 7th and October 11th, boats only depart on the weekends.
Address: 57 Beach Rd, Lake George, NY 12845
Hours: Open daily from 9:00 am to 4:00 pm.
Price: Tickets for one-hour long sightseeing cruises start at $19.00 for adults, $17.25 for seniors 65 and over, $8.50 for children 4 to 11, and free for anyone under 4.
7. Million Dollar Beach on the Lake
You don't have to hop on a boat to enjoy the lovely waters of Lake George. You can also spend a day on Million Dollar Beach instead.
Million Dollar Beach is the most popular beach on Lake George – and for good reason!
Open all summer long, Million Dollar Beach is a fantastic place to swim, suntan, and sandcastle build until your heart's content.
You can also take a boat out on the water, try your hand at fishing, or play a few games of beach volleyball.
You can easily spend an entire day at Million Dollar Beach. As a matter of fact, you don't even have to leave for food!
Instead, you can pack your meals and make use of the convenient grills and picnic tables. It sounds like the perfect day at the beach to me!
If you're looking for some less popular beaches in the area to add to your list of the best things to do in Lake George, NY, you can check out Shepard Park Beach, Rogers Memorial Park Beach, and Hague Town Beach Park too.
Address: Million Dollar Beach, Lake George, NY 12845
Hours: Open daily from May 29th through September 6th from 10:00 am to 6:00 pm.
Price: The beach is free to use but parking is $10.00 per car, $5.00 per motorcycle, and $50 per bus.
8. Parasailing on the Lake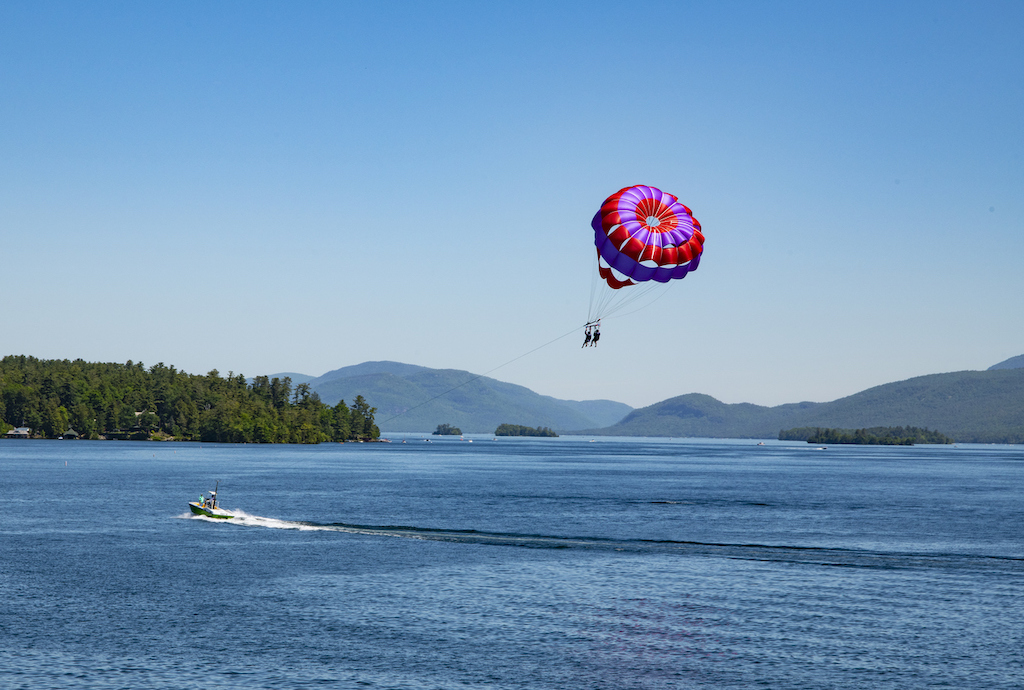 Lake George is also an awesome place for watersports like jet skiing, kayaking, and wakeboarding. But, the most popular watersport in town is definitely parasailing.
With the calm waters, sunny skies, and breezy air, Lake George is the perfect place for parasailing. And you won't have to do anything to enjoy it!
Just strap in, and then get ready to soar through the air with the greatest of ease! It's certainly a unique way to take in the stunning views of Lake George and the surrounding Adirondack Mountains.
Now, there are two primary parasailing companies in Lake George to choose from: Parasailing Adventures and Parasail Joe's. Both of these companies offer parasailing experiences all summer long, and they both have their perks.
And while most parasailing companies make you wait around on a stagnant boat until it's time for your parasailing experience, that's not the case with Parasailing Adventures.
Instead of being bored, Parasailing Adventures will keep you entertained on a thrilling speedboat ride until your parasailing boat is ready.
Then, there's Parasail Joe's. I don't know about you, but every time I go on a blood-pumping, adrenaline-inducing adventure, it's always over too quickly!
Luckily, you can attempt to solve this problem with Parasail Joe's since they offer the longest parasail rides in Lake George, so you can fly for quite a while.
Pro Tip: Typically flights last between 8 and 10 minutes while you'll spend anywhere between 30 and 60 minutes riding on the boat.
Address: 2 Kurosaka Ln, Lake George, NY 12845
Hours: Open daily from 8:00 am to 6:00 pm but departures are every half hour between 8:00 am and 5:00 pm, so your trip will take
Price: Around $83.74 per person. Advance reservations are also required since this is a really popular activity.
9. Prospect Mountain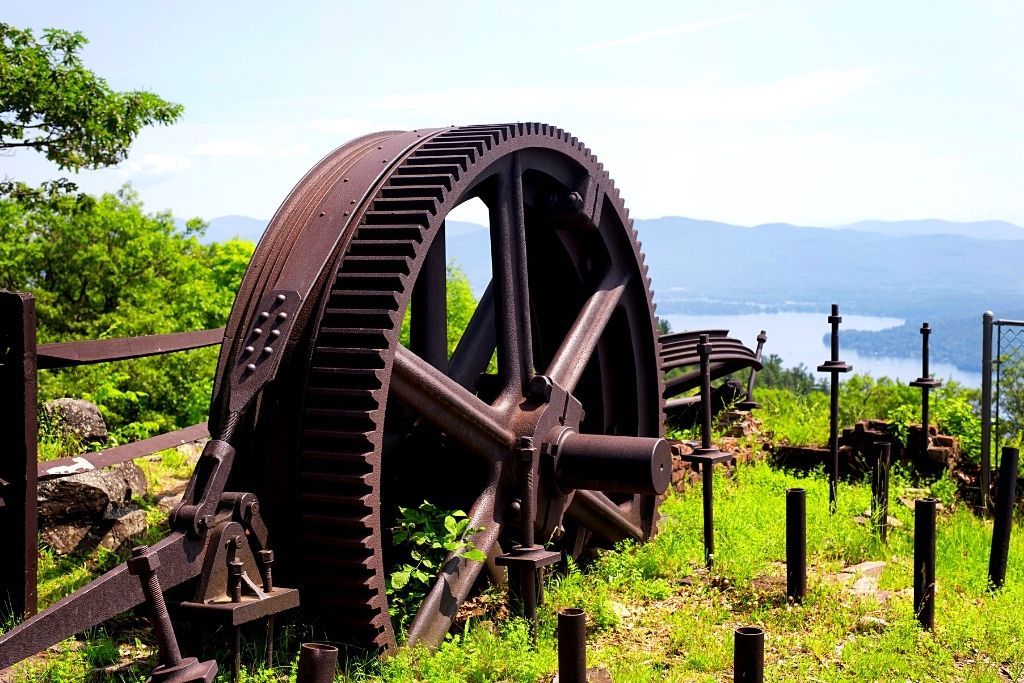 Since Lake George is in the Adirondack Mountains, it should be no surprise to find out that there's more than one hike on this list of the best things to do in Lake George, NY.
So, besides Buck Mountain, Prospect Mountain is another popular hiking area.
This 2.8-mile hike is surprisingly difficult despite its short length. And that's because this steep hike actually follows along the path of the old Prospect Mountain Cable Incline Railway that used to run in the area.
And fun fact, this tramway was actually the largest cable railroad in the world at one point in time!
Anyway, once you reach the top of Prospect Mountain, you'll feel like a true warrior!
You'll also be able to see some stunning sights, including the remnants of the Prospect Mountain Cable Incline Railway, Lake George, and the Adirondack Mountains.
If hiking isn't for you though, you can also reach the top of Prospect Mountain by car.
For a small fee, you can drive along the Veterans Memorial Highway and reach the top of the mountain without using up a ton of energy – perfect for lazy AF people like me.
Address: 989 State Route 9, Lake George, NY 12845
Hours: The 5.5-mile long highway is open daily – from late May through Labor Day – from 10:00 am to 6:00 pm, with reduced hours until 5:00 pm until November 11th.
Price: $10 per car, $5 per motorcycle, and $50 per bus.
10. Shelving Rock Falls
There are a few different waterfalls hidden within the crevices of the Adirondack Mountains, but Shelving Rock Falls is the most well-known one.
That's why, this 50-foot-tall cascade of water is definitely one of the best things to do in Lake George, NY.
Getting to Shelving Rock Falls is quite easy too. If you start at and follow the Dam Access Road trail, you'll get to Shelving Rock Falls in about half a mile.
And when you reach your destination, you'll be rewarded with an amazing cascade that's both tall and wide.
If you'd like to extend your hiking adventure, you can combine it with the Shelving Rock Bay Trail or the Shelving Rock Mountain Trail (or both!).
And If you choose to hike the Shelving Rock Bay Trail, you'll follow a breathtaking path along the waters of Lake George.
This path is approximately 1.5 miles, which means it's about 2 miles one-way when combined with the original Shelving Rock Falls Trail.
Then, there's the Shelving Rock Mountain Trail. This hike is a bit more difficult than the previous two options, due to the elevation gain.
This 3.5-mile round-trip hike rewards hikers with fantastic views of Lake George and the Adirondack Mountains.
Last but certainly not least, if you'd like to combine all three hikes – the Shelving Rock Falls Trail, the Shelving Rock Bay Trail, and the Shelving Rock Mountain Trail – you'll get in quite the workout! All in all, this lengthy hike is about 3.3 miles one-way, making for a fantastic day out in beautiful Lake George.
11. Glen Drive-In Theatre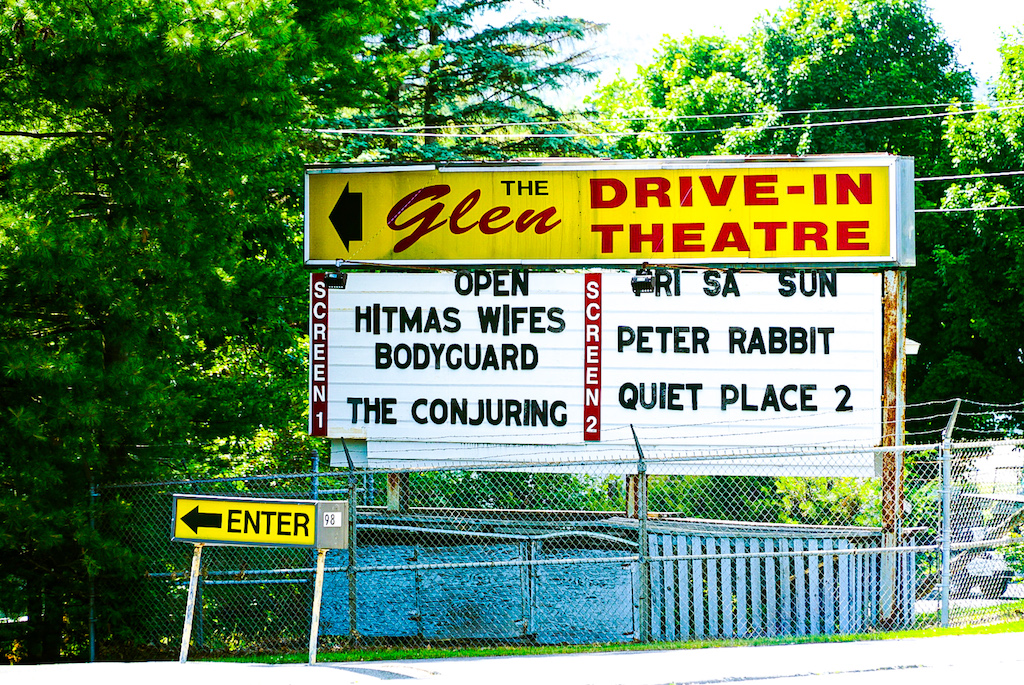 Okay, so technically speaking, this is one of the best things to do in Lake George, NY that isn't 100% in Lake George.
But, it's super easy to get to since it's right past the Great Escape on Route 9 and is basically a part of Lake George anyway. Which is why I'm adding it to the list.
It's also been around FOREVER since I've been coming here for almost twenty years and is just an all-around great place to step back in time and take a brief trip back to yesteryear with your family.
Plus, you can't really beat the price since you pay just $10 for adults and $5 for children for TWO movies.
Yup, it's a double feature, and there are two different screens to choose from – one which has more family-friendly films and the other which shows movies that are geared towards adults.
But, if you're unsure about what's playing, just check out their website prior to your visit for the latest movies and showtimes.
You also won't need a speaker since you'll use your radio to listen to the movie – 103.3 FM for Screen 1 and 104.3 FM for Screen 2.
Pro Tip: Bring cash since they don't accept credit cards. And while the theater opens at 7:00 pm, the show won't start until it gets dark, usually between 8:30 pm and 9:00 pm.
And prepare for a late-night since you'll be seeing TWO movies and won't get out until 1:00 am. So yes, caffeine will be your next best friend.
Address: 983 U.S. 9, Queensbury, NY 12804
Hours: Open daily, throughout the summer, from 7:00 pm until the end of the second movie.
Price: $10 for adults and $5 for children.
12. Log Jam Restaurant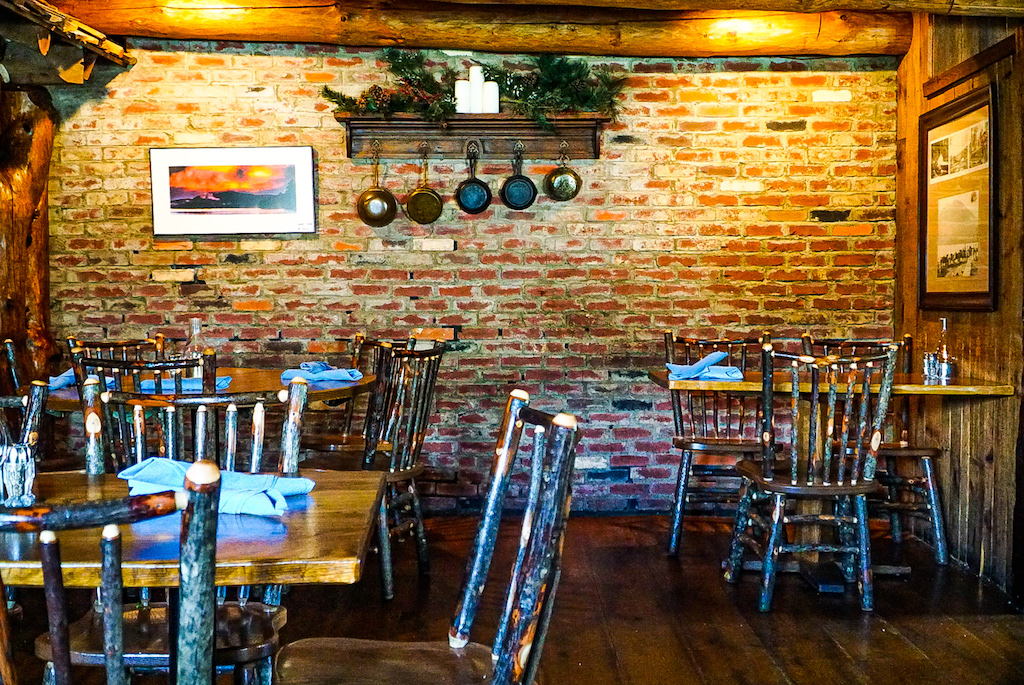 If you only visit one restaurant while in Lake George, let this one be it. After all, the Log Jam is an unofficial institution in the region that is known for delicious food, amazing service, and exquisite decor that reflects the Adirondack vibe of the area.
So yes, expect to dine inside a rustic, Adirondack-style log cabin that comes complete with wooden furniture, stone fireplaces, canoe paddles hanging above mantels, and deer antler chandeliers.
It's also nice, but not over-the-top nice. So yeah, you definitely don't have to wear a ball gown to dine here. Although, I wouldn't exactly show up in a bikini top and flip-flops either.
And then there's the food, which is classic American fare (think mostly steaks and seafood) that includes generous portions of fan faves like french onion soup (so good), chicken pistachio, swordfish pico de gallo, Pork Porterhouse, Sirloin Orloff, and Chicken Picatta.
Plus, with every entree you order, you'll be able to visit their all-you-can-eat salad bar. It features all the fix-ins you need – in addition to freshly baked bread and homemade butter – to create the perfect salad atop a lightly chilled, pewter plate.
Yup, just a great place to go for a hearty meal amidst authentic Adirondack-style decor.
FYI, I've also had the Impossible Burger with Mago Chutney which is a great option for vegans/vegetarians.
Pro Tip: Definitely make a reservation on the weekends since this place is VERY popular. Also, save room for dessert when enjoying one of the best things to do in Lake George, NY since the creme caramel, apple crisp, toll house cookie pie, and bread pudding are all really good. See, told you I come here a lot!
Address: 1484 U.S. 9, Lake George, NY 12845
Hours: Open daily from 11:30 am to 9:00 pm.
Price: Entrees here start at around $25 but portions are generous so you could definitely order a lite portion and walk away full.
13. Rail Bike Tour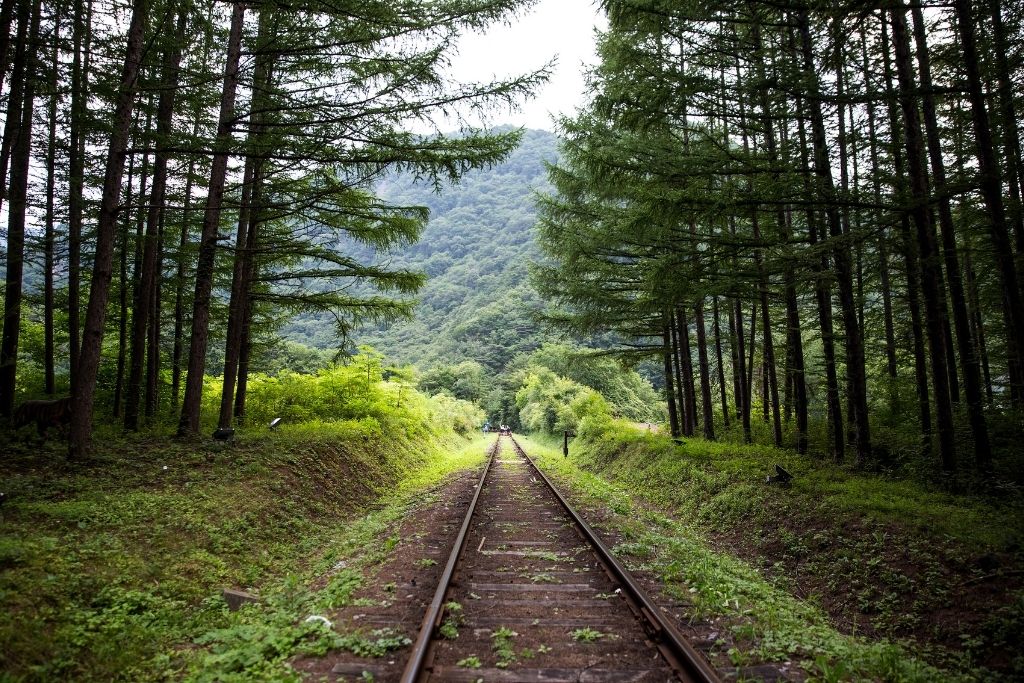 Want to enjoy an experience unlike any other? Then try taking an awesome Rail Bike Tour with Revolution Rail Co.
It's easily one of the best things to do in Lake George, NY since you get to cruise along the Adirondack railways in a unique, four-person, open-air bike that allows you to take in sweeping views of the surrounding mountains.
Yes, the experience itself is actually located in North Creek, which is about a 35-minute drive away from Lake George. But, you know what?
This tour is totally worth the drive since it's unlike anything else I've ever done and culminates in awe-inspiring panoramas of the Hudson River.
Plus, I mean, you know it's good since they now have locations all across the country. Just choose between one of the following tours.
North Ridge Run – This is the one I did and it will take around 2 hours, covers 6 miles, and takes you past the Hudson River and over a lovely trestle bridge.
South River Run – This one is a bit longer and covers 7.5 miles but will still take you around 2 hours to complete. It will also take you past the Hudson River and offers views of a super cool beaver lodge along the way.
Hadley Run – This one is the closest to Lake George (20 minutes way) and will take you 6 miles out across a two-hundred-foot wide and ninety-foot tall bridge over the Hudson and Sacandaga Rivers. You'll also get to see a historic parabolic bridge and some picturesque rapids too. Just don't do this trip if you're not a fan of heights. Like the other tours, this one will take around two hours to complete.
Address: 3 Railroad Place, North Creek, NY 12853
Hours: Tours depart daily at 10:00 am, 12:00 pm, 2:00 pm, and 4:00 pm.
Price: $80 for a two-person bike and $140 for a four-person bike.
14. Check Out the Hyde Collection Art Museum
This seriously impressive museum in Glens Falls was started by Charlotte Pryun Hyde, a local newspaper tycoon who renovated an expansive, Florentine renaissance mansion and transformed it into a stunning collection of works from some of the greatest artists in history.
Now, is it as big and as impressive as the MET? No, but the architecture of this museum is pretty dang awesome, as are the predominantly American and European works showcased here, with pieces on display from Sandro Botticelli, El Greco, Rembrandt, Peter Paul Rubens, Edgar Degas, Georges Seurat, Pablo Picasso, Pierre-Auguste Renoir, Thomas Eakins, Childe Hassam, Winslow Homer, and more.
There are also a wealth of seasonal events and temporary exhibits that are regularly held here, meaning that you can always find new and exciting to see while checking out one of the best things to do in Lake George, NY.
Address: 161 Warren Street, Glens Falls, NY 12801
Hours: Open Thursday through Sunday from 10:00 am to 5:00 pm.
Price: Tickets are $12 for adults 18 and over and $10 for seniors 60 and older.
15. Explore the Area's Natural Stone Bridge and Caves
A short(ish) 25-minute drive away from Lake George is the gorgeous network of Natural Stone Bridges and Caves.
It's a unique place that is home to the largest marble cave entrance on the east coast and allows visitors to choose from a variety of different activities, including adventure tours, snowshoe trails, Chester Challenge hikes, and the self-guided cave trail.
Personally, though, I'd opt for the self-guided cave trail. It's a relatively easy, 3/4-mile long trail that will take you across 500 steps, along uneven rocks, and past vast forests that usher you into the mouth of the cave.
In total, the trail should take between 45 and 60 minutes to complete and provides visitors with ample opportunities to stop and relax at one of the trail's scenic benches along the way.
You can rest for a moment and savor the majestic views of the enormous natural Stone Bridge, Trout Brook, the Sawmill Site Waterfalls, Artists' Gorge, and various caves/grottos.
And while the trail is relatively natural and gives visitors stunning views of the caves and the surrounding area, you will have to traverse across bridges, boardwalks, steel/concrete stairs, and railings to help keep you safe.
Also, as you probably already surmised, you should be sure to wear sturdy walking/hiking shoes to avoid slipping. The trail is also partially outside try to wear weather-appropriate clothing so that you don't get drenched in the rain!
Address: 535 Stone Bridge Road, Pottersville, NY 12860
Hours: Open daily – in late May through Mid-October – from 9:00 am to 6:00 pm, with the last ticket being sold at 4:30 pm.
Price: Tickets are $16.95 for adults and $8.95 for children.
16. Adirondack Extreme Adventure Course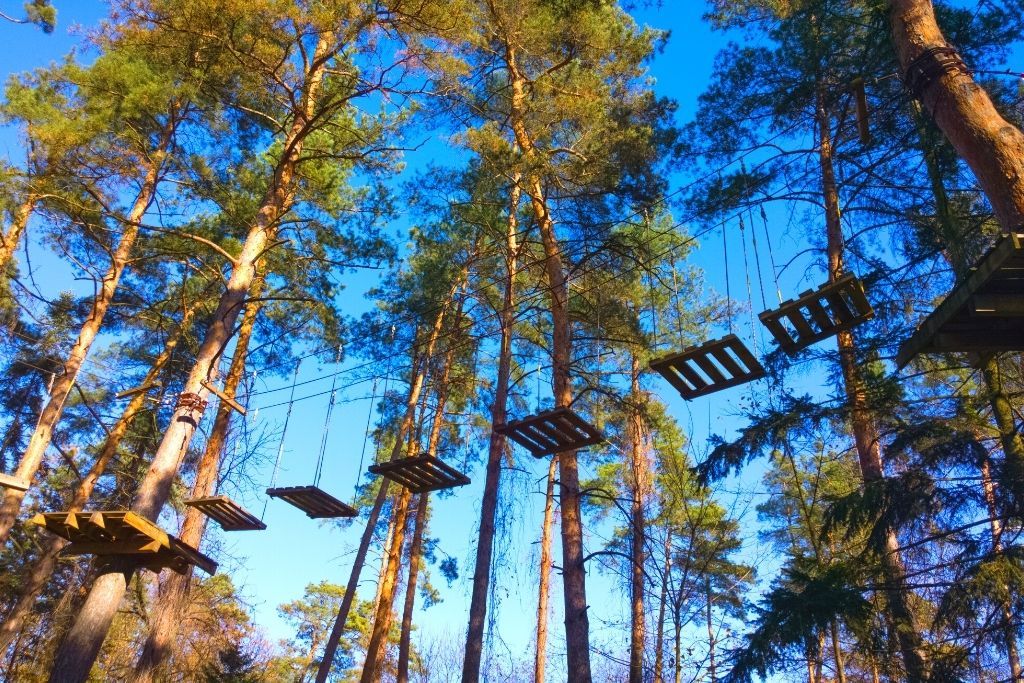 Ready for a rugged, outdoor adventure that will, quite literally, take you to new heights? If so then check out the Adirondack Extreme Adventure Course since you can climb your way to eternal glory as you take in the awe-inspiring beauty of the Great Adirondack Forest around you.
In fact, this is one of the first aerial obstacle courses/high ropes courses that was ever built in the country and is an ideal Lake George activity for anyone in desperate need of a hardcore adrenaline rush.
So, get ready to cruise along zip lines, relax in giant rope swings, and fall into enormous nets while enjoying one of the best things to do in Lake George.
Added bonus? If ropes courses aren't your thing, you and your younger kids can always do a low-key treetop tour or go tubing instead.
Pro Tip: This is one of the best things to do in Lake George with kids since this ropes course is geared towards kids more than adults.
Address: 35 Westwood Forest Lane, Bolton Landing, NY 12814
Hours: Open weekends from 8:00 am to 5:00 pm.
Price: Treetop tour is 3-hours long and starts at $45 per person.
17. Cruise down the Warren County Bikeway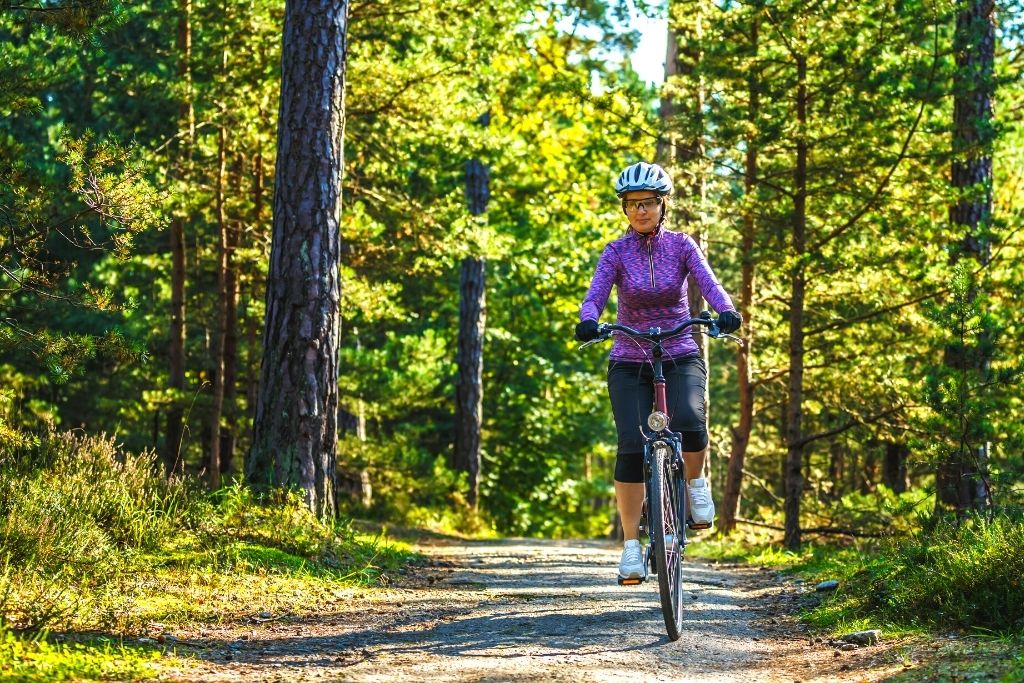 This super snazzy, fully paved, 10-mile path through the greater Lake George area is an ideal place for joggers, bikers, inline skaters, and hikers of every variety to come and get their exercise swerve on.
After all, it's super well-maintained, begins in good old Glens Falls (ends in Lake George Village), offers visitors stunning views of the area, and is extremely accessible since is is served by two different parking lots.
And as you enjoy one of the best things to do in Lake George NY, you'll be delighted by a series of nifty info kiosks along the way that provide you with free maps that will help you plan out the rest of your Lake George itinerary.
Also be on the lookout for a plethora of informational signage that details various historic events and landmarks that can be found all along the trail.
Pro Tip: Planning on spending winter in Lake George? Then you can use the snowy trails here to go snowmobiling with the South Warren Snowmobile Club. You can also stop by one of the best all-inclusive resorts in New York and enjoy a luxurious stay.
Address: Goes from W. Brook Road and Beach Road in Lake George to Platt St. between Katherine St. and NY 32/Warren St. in Glens Falls
Hours: Open all day everyday.
Price: FREE
Additional New York Travel Resources You'll Love
So there you have it! That is my full list of some of the best things to do in Lake George, NY!
Tell me, did your favorite things to do in Lake George make the list? If not then let me know in the comments below and I'll be sure to check them out.
And if you found this post helpful, be sure to join my email list before pinning this post now so that you can read it again later!