Ready for 22 of the best romantic winter getaways from NYC? Umm, heck yeah you are!
I mean, hello? What could possibly be more romantic than curling up beneath a nice cozy blanket, with your boo, as you both sit next to a roaring fire and watch the logs slowly turn to embers?
Nothing, that's what! And that's why I'm here to share my picks with you for the 19 all-time best romantic winter getaways from NYC.
Trust me. I've lived in the great state of New York for WELL over thirty years and have explored every region imaginable. Therefore, I know all about some of the very best winter weekend getaways from NYC.
And I want to share all of my super savvy insider tips and tricks with you so that you can have one of the best winter day trips from NYC ever.
So, if you're ready to channel your inner snow bunny and explore all of the romantic winter getaways near NYC, then rock a supremely cozy pair of UGGs and grab a giant mug of hot chocolate because we're about to swan dive into this post about all of the best upstate New York winter getaways right now.
And, added bonus? All of these hella epic destinations are just a mere hop, skip, and jump away from NYC – or a few hours drive away from the city. Whichever scenario sounds slightly more reasonable to you.
This post may contain affiliate links. Please see my disclosure for more information. As an Amazon Associate, I earn a small commission from qualifying purchases.
Romantic Weekend Getaways from NYC – Long Island
1. Oheka Castle Hotel & Estate, Huntington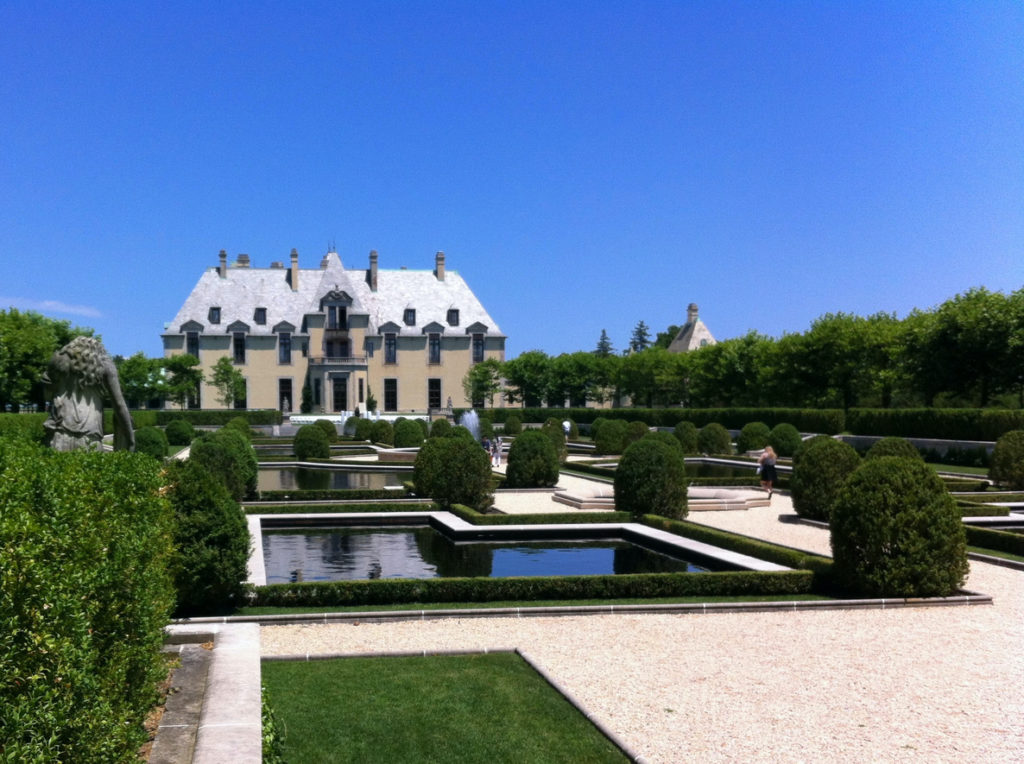 Just a hoot and holler down the road from the city is one of the most romantic weekend getaways from NYC.
Okay, technically speaking the drive here takes around an hour and ten minutes but is SOO worth it since this luxurious estate is home to a full-on castle that comes complete with crystal chandeliers, turrets, towers, and stained glass windows.
Sadly there's no crocodile-filled moat to speak of – although there are a wealth of elegantly appointed, individually decorated rooms that sit on Long Island's Gold Coast and that are hidden away on an estate that closely resembles a French chateau.
Plus, even though the castle was originally built in 1919, all the rooms here have been fully updated with modern touches like Italian linens, WIFI, antiques, snack baskets, and a complimentary continental breakfast.
Add in a fitness center, a series of well-manicured gardens, and in-room massages (additional fee applies) and you have the perfect place for one of many winter day trips from NYC.
So, book your room today at the Oheka Castle Hotel and Estate and prepare for the trip of a lifetime.
Address: 135 W Gate Dr, Huntington, NY 11743
Distance from NYC: 1 hour and ten minutes
Romantic Winter Getaways from NYC – The Hudson Valley
2. Hotel Kinsley, Kingston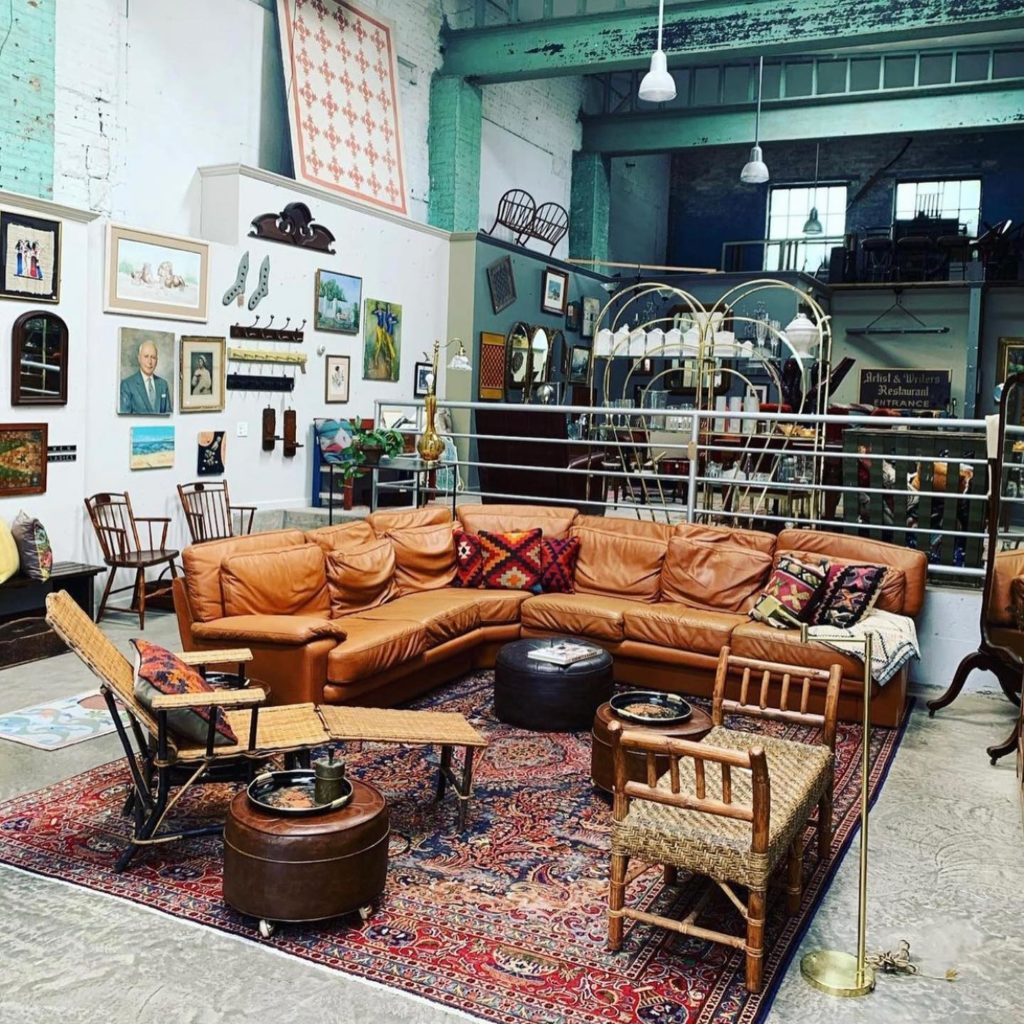 This chic, 3.5-star hotel in Kingston, New York is tucked away inside a gorgeous building that once served as the Federal Bank of New York in the 1860s.
Since then, this stately-looking structure has been converted into Hotel Kinsley, a lovely hotel that comes fully outfitted with velvet sofas and a lavish wood-paneled bar.
Suave and sophisticated rooms here feature mid-century modern decor and include snazzy things like smart TVs, Bluetooth speakers, and spacious sitting areas.
There's even a posh infrared sauna that you can use and massages are available for an additional fee, making this one of the best winter spa getaways from NYC.
Pro Tip: Be sure to have dinner here at least one night since the Restaurant Kinsley is run by a James Beard-award-winning chef. Sample American classics like the roasted organic chicken to take your romantic winter getaways from NYC to the next level. FYI, you can also have brunch here too if you're more of a brunch person like me.
Address: 301 Wall Street, Kingston, New York
Distance from NYC: Just under 2 hours.
3. Hasbrouck House, Kingston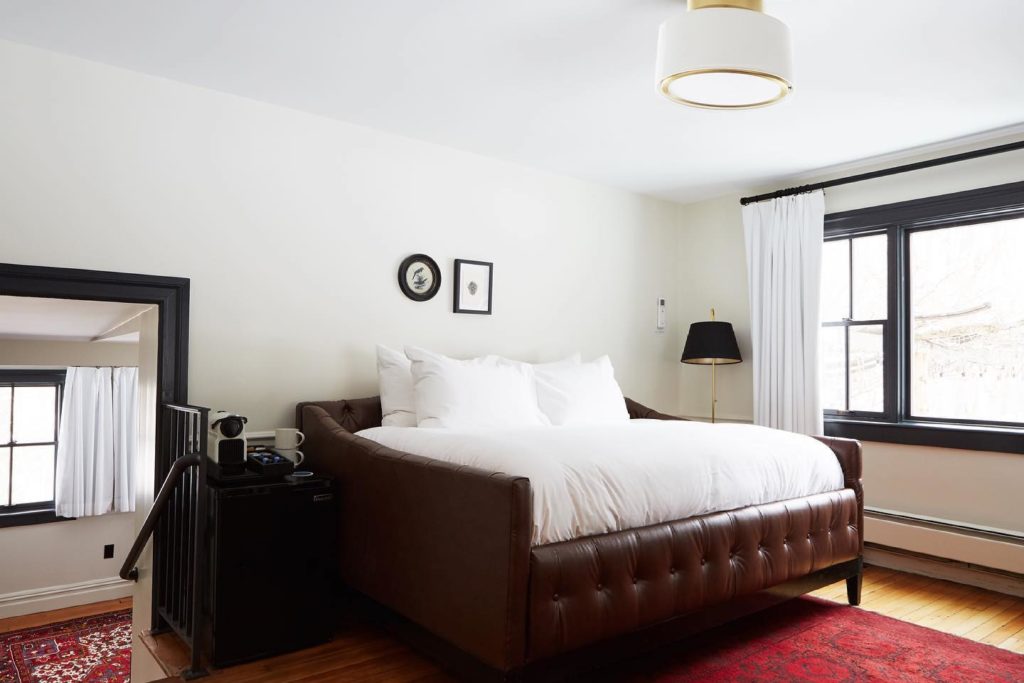 Embrace the luxe life at this gorgeous, 3-star hotel that sits inside a fully restored, Dutch Colonial mansion from the 18th century – which comes complete with its very own carriage house and stable.
The Hasbrouck House is also well-located – just 12 miles away from Kingston and 19 miles away from Woodstock – and features a selection of airy, well-decorated rooms that come with hardwood floors (hot air balloon wallpaper for the win).
Other in-room, high-end amenities include antique furniture, iPod docks, WIFI, HDTV, Italian linens, designer toiletries, private terraces, fireplaces, and spacious tubs.
Room service is also available (for one of the more quiet romantic winter getaways from NYC) upon request, as is access to a seasonal, outdoor pool.
And if you can manage to tear yourself away from your room for a hot minute, you can dine at the farm-to-table eatery here or make use of a spa with complimentary private yoga classes at Whole Sky Yoga Studio.
Address: 3805 Main St, Stone Ridge, NY 12484
Distance from NYC: 2 hours
4. The Amelia, Hudson Valley
This is probably my favorite place because it is super cozy and there are so many great places to cuddle up with a blanket and a book. If you are wondering what The Amelia looks like, think Queen Anne style deco. It has dark wood, a brick fireplace with a roaring fire and walls lined with bookshelves.
The property is very luxurious and perfect for those couples who would like a quiet place to stay indoors. Plus, The Amelia has great bathrooms. All designed with feng shui in mind!
One thing that I love about the rooms is that they are very airy. Plus you get your own porch to sit on and enjoy your coffee. If the porch isn't your cup of tea, then you can choose to immerse yourself in the library or in the English garden.
As I mentioned before, there are loads of little nooks and highly romantic. I love the fact that you hardly get disturbed irrespective of how many guests are around.
Pro Tip: The Amelia promotes all kinds of arts and cultural events. You'll find them hosting musical concerts, wellness retreats and book readings. Check out their events before you go so that you can make an informed choice if you want to join the activities.
Address: 339 Allen St. Hudson, NY 12534
Distance from NYC: A little over 2 hours
5. Mohonk Mountain House, New Paltz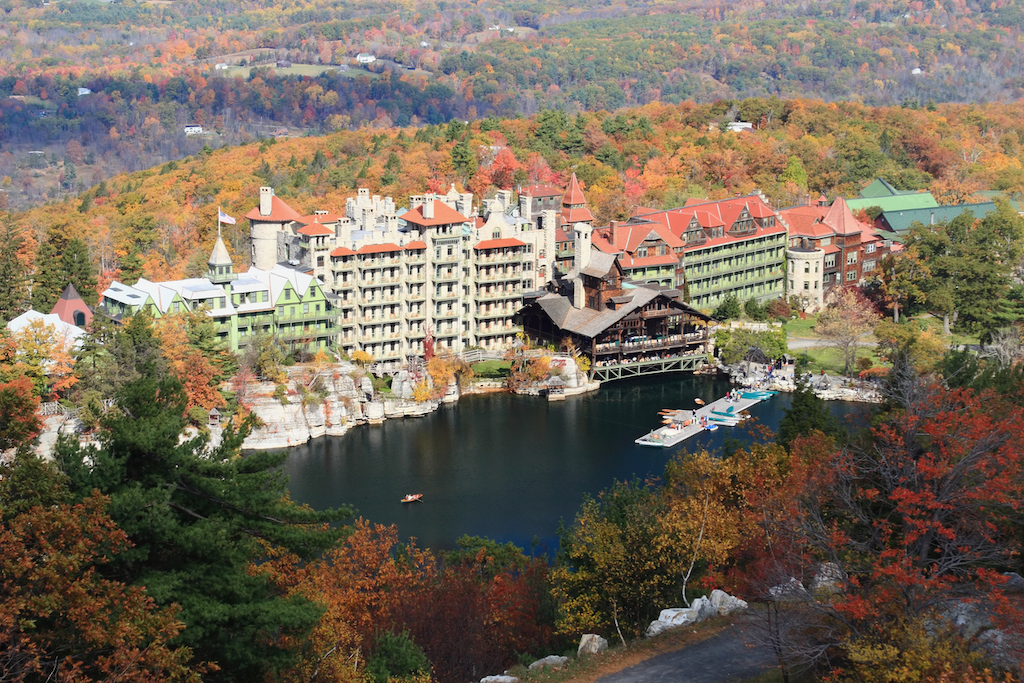 Easily one of the most romantic winter getaways from NYC, no trip to New Paltz would be complete without a stay at the awe-inspiring, Mohonk Mountain house.
After all, this plush AF Victorian-style castle sits on the shores of picturesque Lake Mohonk and is home to a vast collection of rooms, suites, and cottages that include luxurious amenities like:
Period piece furniture
WIFI
Balconies
TVs
Fireplaces
And when you're not relaxing in your rooms, you can treat yourself to a round of golf on their 18-hole golf course or go for a swim in either their indoor or outdoor pool.
Other perks of staying here include access to a spa (added fee), six tennis courts, a kids club, an ice rink, and local hiking trails.
Plus, if you love food almost as much as I do then you'll adore the hotel restaurant's buffet and afternoon tea/cookies that can both be enjoyed in the fireside lounge.
Pro Tip: The easiest way to get here from NYC is to take the train to Poughkeepsie and then catch an uber or rent a car to take you the final 18 miles to New Paltz.
Address: 1000 Mountain Rest Rd, New Paltz, NY 12561
Distance from NYC: Smidge over 2 hours.
Romantic Winter Getaways from NYC – Catskills
6. Urban Cowboy Lodge, Catskills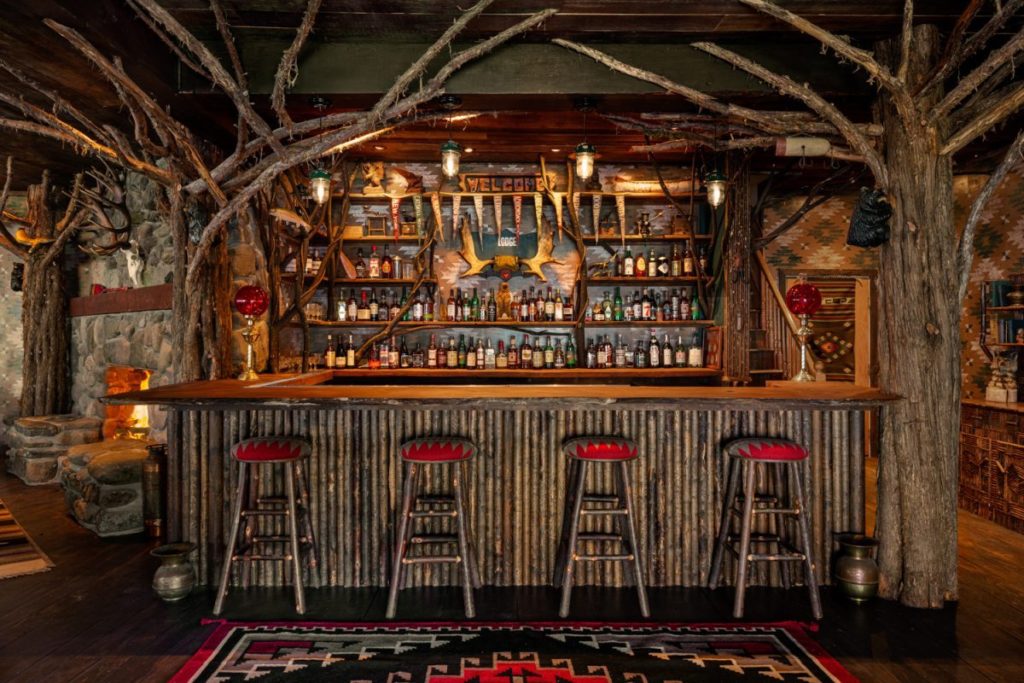 Looking for supremely romantic winter getaways from NYC? If so then the adult-only, Urban Cowboy Lodge is the answer to all of your winter-related travel problems.
Not only is this one of those winter weekend trips from NYC that is about 2.5 hours away from the city, but this chic AF resort has everything you need for a supremely comfortable/ romantic stay.
So, expect to find stunning and innovative log cabin/outdoor-inspired decor throughout the hotel and in suites that are individually decorated with hand-selected antiques and hand-printed wallpaper.
In total, there are 28 different guest rooms here – plus an individual cabin and chalet – that are fully outfitted with in-room amenities like:
Pot belly stoves
Clawfoot tubs (for two)
Stunning views
Private decks
Fully stocked minibar
Pendleton robes (plush beyod belief)
Wright mattresses
WIFI
And in a fantastic on-site restaurant, known as the Public House, that serves delicious, vegetarian-inspired fare like beer-battered shitakes and you have one of the best winter weekend getaways from NYC.
Pro Tip: Be sure to book an Alpine Bathing Suite with a black, rose gold gilded tub for the ultimate in romantic experiences.
Address: 37 Alpine Road, Big Indian, NY, 12410
Distance from NYC: 2.5 hours
7. Scribner's Catskill Lodge in Hunter Mountain
Love the mountains and want a place that gives you a spectacular view while retaining a romantic vibe? Scribner's Catskills lodge is located close to Hunter mountain and is so cool that you may just forget about heading out to the slopes. And that is perfectly okay because some people love to have a romantic weekend indoors.
The thing about the lodge is that in addition to a great setup, it also has loads of good food. Think hot pretzels and crab dip! Anyways, this place is known for its cozy common areas. You will find that most people congregate in front of the fireplace chatting, reading their books or just having a quiet moment.
If the fireplace isn't what you want, then head outdoors. The garden is gorgeous and there is even an outdoor fire pit in case the cold starts to get to you.
Pro Tip: When you are booking your room, take the price that includes a free breakfast. You won't regret it! The food is amazing and is one of the reasons why most of their frequent guests keep returning.
Address: 13 Scribner Hollow Road, Hunter, NY 12442
Distance from NYC: 2.5 hours
8. The Roxbury, Catskills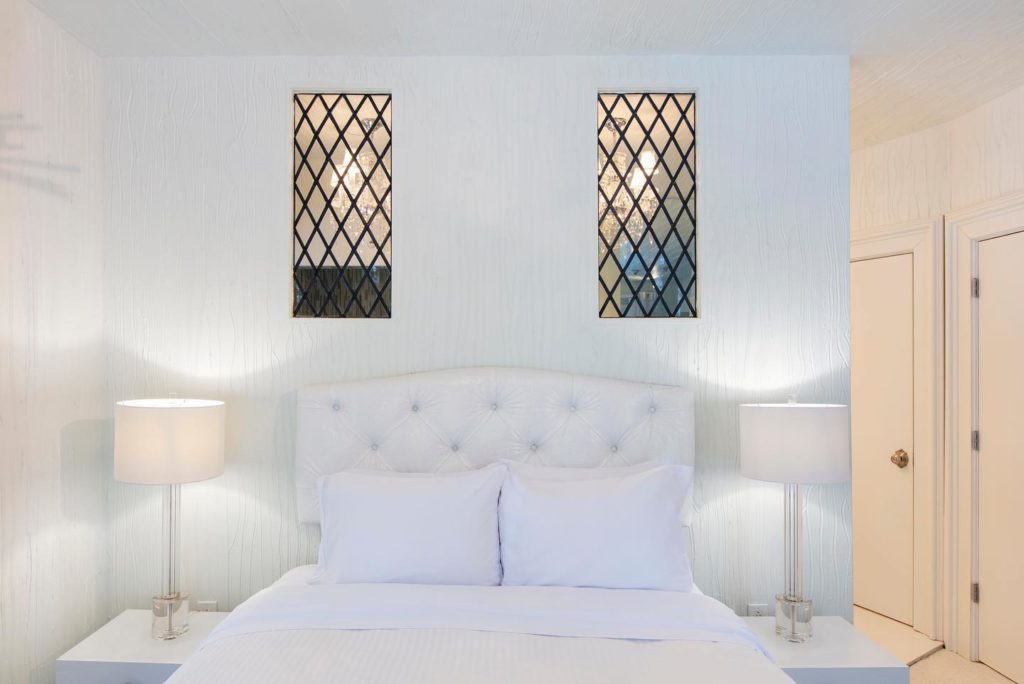 Okay, I know this place may not sound like one of the most romantic winter getaways from NYC since it's technically a motel, but hear me out.
Because this three-star "motel" in the Catskills is unlike anything you've ever seen before since The Roxbury is basically this fly beyond belief boutique motel resort with quirky and totally unique rooms that have a distinct pop-culture vibe about them.
So, if you're looking for a truly one-of-a-kind stay in a well-outfitted, themed room that includes a kitchenette, mini-fridges, pillow-top mattresses, flat-screen TVs, and more, then this is the hotel of your dreams.
After all, these rooms put the FUN back in funky since they're all decorated around crazy themes like TV shows, cartoons, and old-school movies from the 1960s and 1970s.
Other on-site amenities include an extensive DVD library, a spa with a hot tub/sauna/two treatment rooms. and a delicious, complimentary, continental breakfast with fresh baked goods (blueberry muffins for the win). #YUM
You'll also adore the convenient location of this place since it's located just 14 miles from the Catskill Mountains. So, what are you waiting for? Book your room now and enjoy one of the most romantic winter getaways from NYC.
Address: 2258 Co Rd 41, Roxbury, NY 12474
Distance from NYC: 3 hours
9. Hotel Dylan, Catskills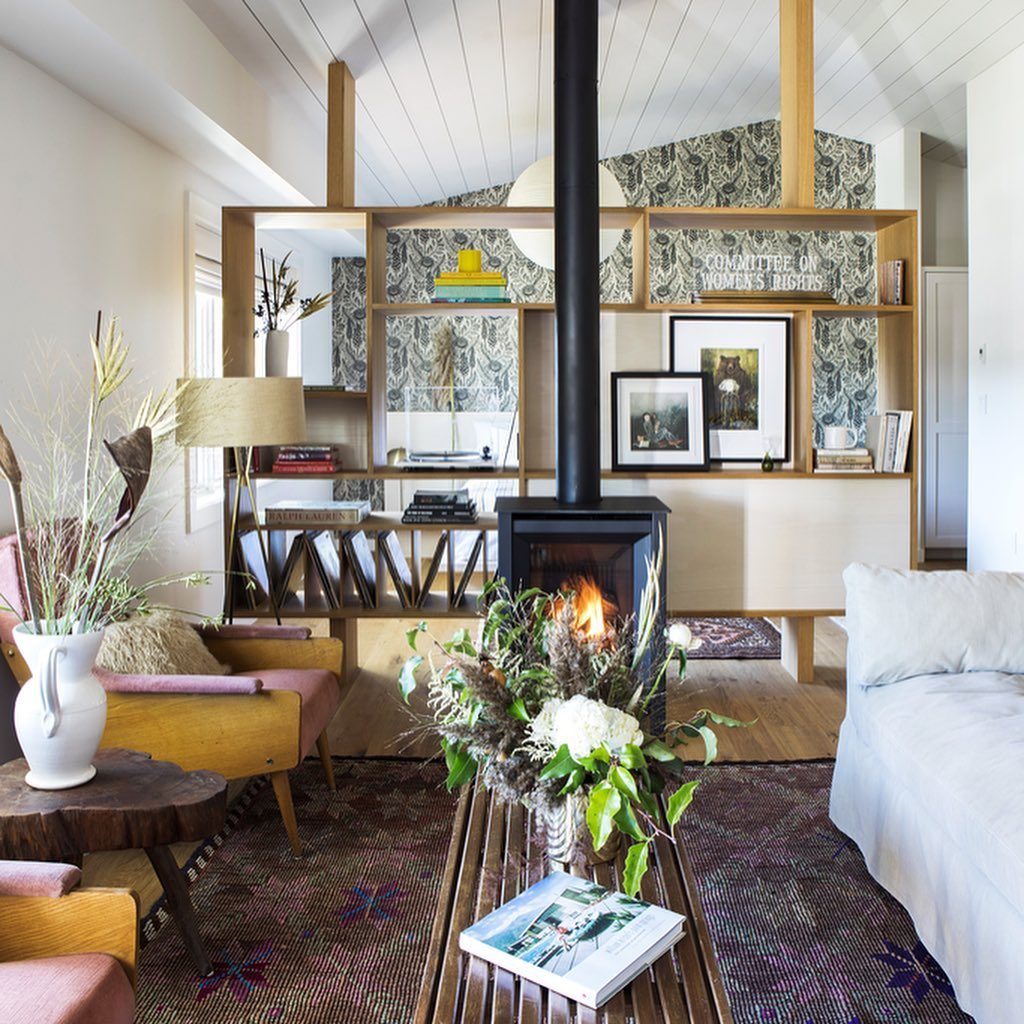 Another one of the many great romantic winter getaways from NYC is the Hotel Dylan in the Catskills.
It's hidden away in the iconic town of Woodstock, NY (You know, the place where they had that ultra-famous music festival) and is a fabulous, modern, 3-star boutique hotel that has a distinctly bohemian vibe about it.
The facility has also been recently renovated so all of the rooms here would easily make one of the best romantic winter getaways near NYC since they come well-appointed with:
Mini-fridges
Coffee makers
Wifi
Flat-screen TVs
Writing desks/Sitting Areas
Colorful accents
Images from amazing artists
Record players
Other fantastic on-site amenities include a Mexican restaurant, a seasonal outdoor pool, a lawn area with table tennis, a hammock and two fire pits.
Plus, breakfast is also served here on the weekends and you can easily visit both the Woodstock Artists Association & Museum and the Karma Triyana Dharmachakra monastery while you're here.
So book your room now and prepare for one of the best winter day trips from NYC ever.
Address: 320 Maverick Rd, Woodstock, NY 12498
Distance from NYC: 2 hours
10. Eastwind Hotel, Catskills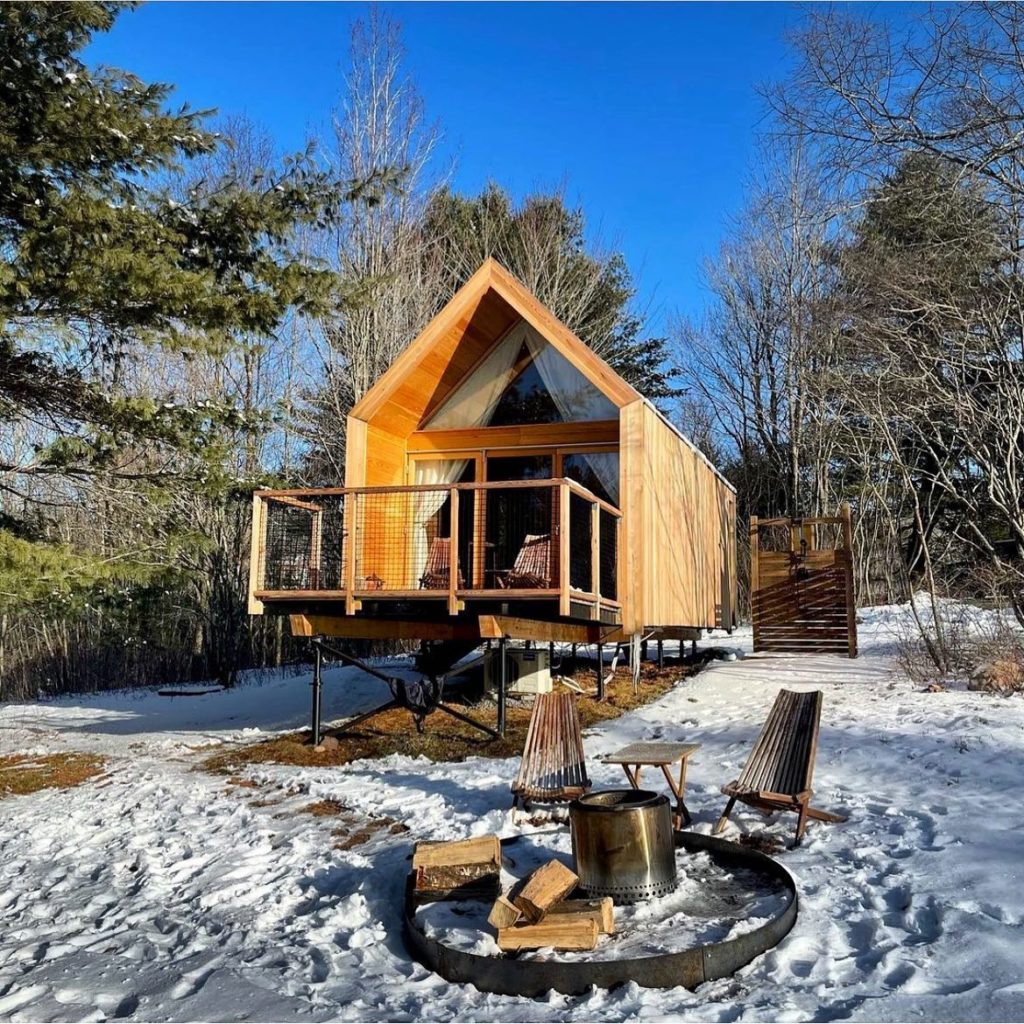 Honestly, if you can only do one of these romantic winter getaways near NYC then let it be at the Eastwind Hotel.
Because this Catskills-based property is picture-perfect (with a capital "P") since there is a slew of insanely photogenic, Scandinavian-style, A-frame cabins that all the Instagram cool kids will go crazy for.
However, you can always opt for a private hotel room instead or go for the Instagram glory and book one of their super cool, totally new loft-style Lushna Suites.
Because all of the ultra-snazzy, Scandinavian-inspired accommodations here come with things like:
Turkish throw rugs
En-suite bathrooms
WIFI
Rainfall showers
Fireplaces
NO TVs so be aware of that
Regardless of the room you choose though, you'll still be able to use a wood-barrel sauna, communal fire pits, and a chic hygge inspired bar with a fireplace (and wood-paneled ceilings with retro furniture).
And after admiring the stellar views of nearby Windham Mountain, be sure to fuel up with some delicious German pancakes before hitting the slopes for the day.
Pro Tip: Visit earlier in the year and you can use their free rental bikes!
Address: 5088 NY-23, Windham, NY 12496
Distance from NYC: 2 hours and 45 minutes
11. Shandaken Inn, Catskills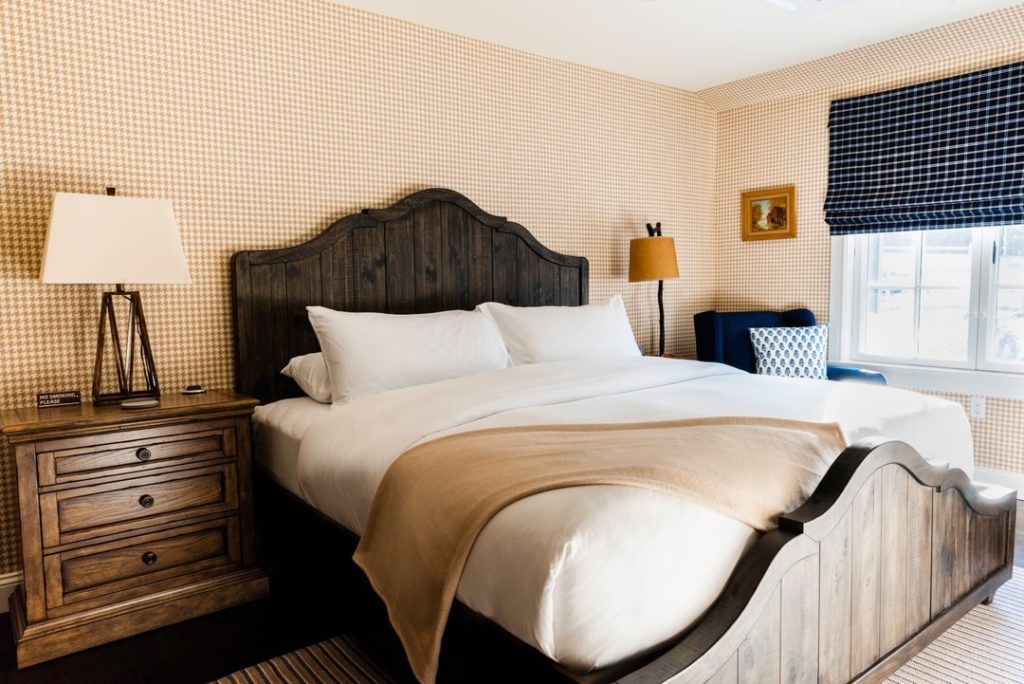 Hidden away on a 12-acre property in the Catskills, the Shandaken Inn is a modern bed and breakfast that is home to fifteen, individually decorated rooms – all of which feature modern rustic decor that includes ultra-chic textured wallpaper.
Originally though, this property was developed in the 1920s as a clubhouse for the local Rip Van Winkle Golf Course. A property that was later completely renovated and opened as a full-scale hotel in 2019.
As a result, you'll now find an array of stunning guest rooms that pay homage to the region's historic past as a premier destination for anyone vacationing in an idyllic Adirondack summer camp.
Therefore, awesome in-room features include:
WIFI
Frette bathrobes and linens
Vegan friendly faux "down" pillows
Basett matresses
Malin and Goetz toiletries
A delicious complimentary breakfast is also included with the price of your stay and can be enjoyed from 8:00 am to 10:00 am daily at The Clubhouse Restaurant.
And if this bed and breakfast still doesn't sound like one of the best romantic winter getaways near NYC, you'll love that this place has a 24-hour fitness center, a communal fire pit (perfect for roasting marshmallows), and an outdoor heated pool/tennis court (only open seasonally).
Address: 1 Golf Course Rd E, Shandaken, NY 12480
Distance from NYC: About 2.5 hours
Romantic Winter Getaways from NYC – Massachusetts
12. The Williams Inn, Massachusetts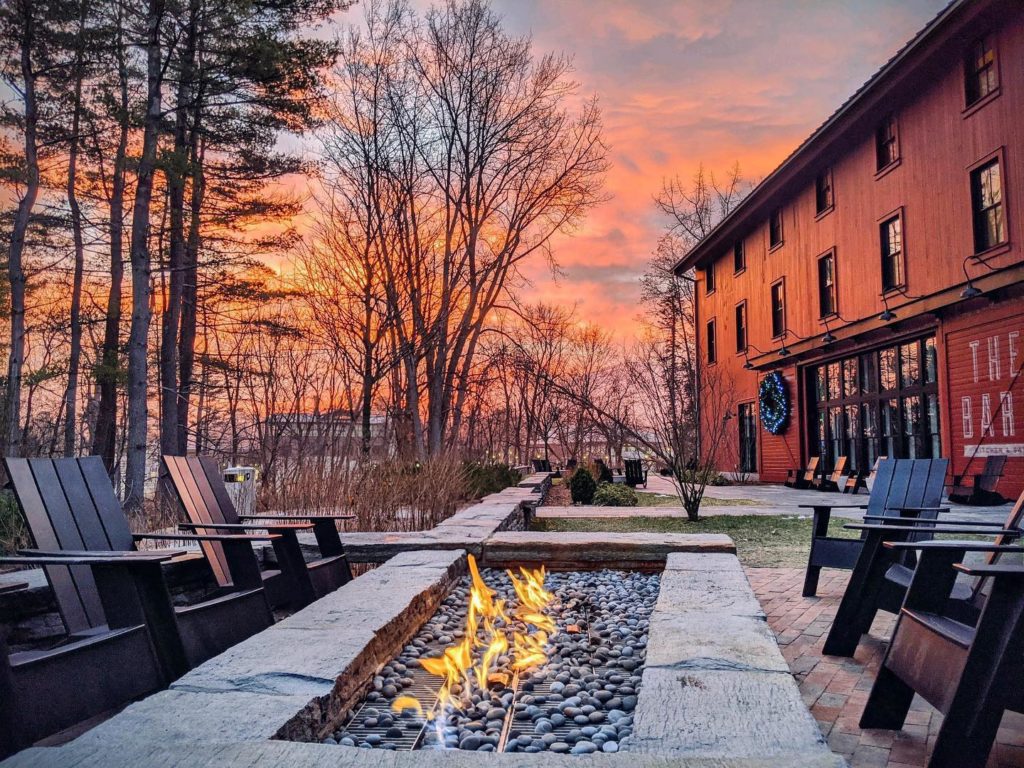 Hidden away in Williamstown, Massachusetts, the well-named Williams Inn is a fabulous 3-star hotel with traditionally decorated rooms that make for one of the many great romantic weekend getaways from NYC on this list.
Designed to resemble a chic, American farmhouse, The Williams Inn features a light and bright lobby that is perfectly complemented by a selection of Adirondack chairs that quietly sit outside a giant red barn (home of the on-site restaurant called The Barn).
Step inside though and you'll discover a selection of premium rooms that feature:
Contemporary art (think paintings, pottery, sculpture, etc.)
WIFI
Cable TV
Private Bathrooms
Free stays for anyone 14 and under
So, book your room now and dig into their complimentary continental breakfast before making use of their heated indoor pool, hot tub, sauna, and an on-site restaurant serving iconic American fare.
Because this is a perfect little spot in the Berkshires for a winter spa getaway from NYC.
Address: 101 Spring St, Williamstown, MA 01267
Distance from NYC: 3.5 hours
13. The Red Lion Inn, Massachusetts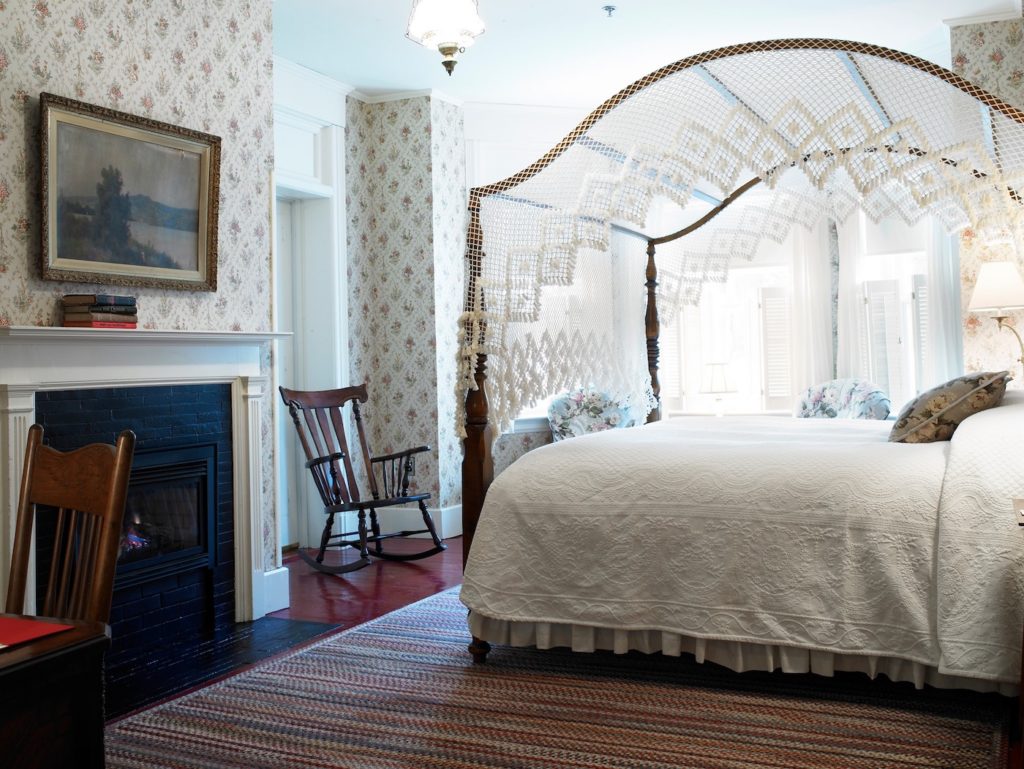 If you want to get out of New York but still want to experience one of the many easy weekend trips from NYC in winter, then book a room at The Red Lion Inn.
After all, this historic hotel from 1773 is positively brimming over with New England charm and is home to uniquely decorated, antique rooms that include cable TV, WIFI, DVD players, and turndown service.
Plus, if you go for the glory and book a luxurious suite, you'll also enjoy a room with a private whirlpool tub and a full kitchen too!
Next, relax on the expansive front porch in a rocking chair and say hi to Norman – the resident feline – before making use of the fitness room, heated pool, hot tub, impressive library, and farm-to-table restaurant with live nightly entertainment.
Fun Fact: If this winter spa getaway from NYC looks strangely familiar that's because it was featured on the Real Housewives of New York.
Address: 71 Main Street, Cohasset, 02025, MA,
Distance from NYC: 5 hours
Romantic Winter Getaways from NYC – Adirondacks
14. The Sagamore, Lake George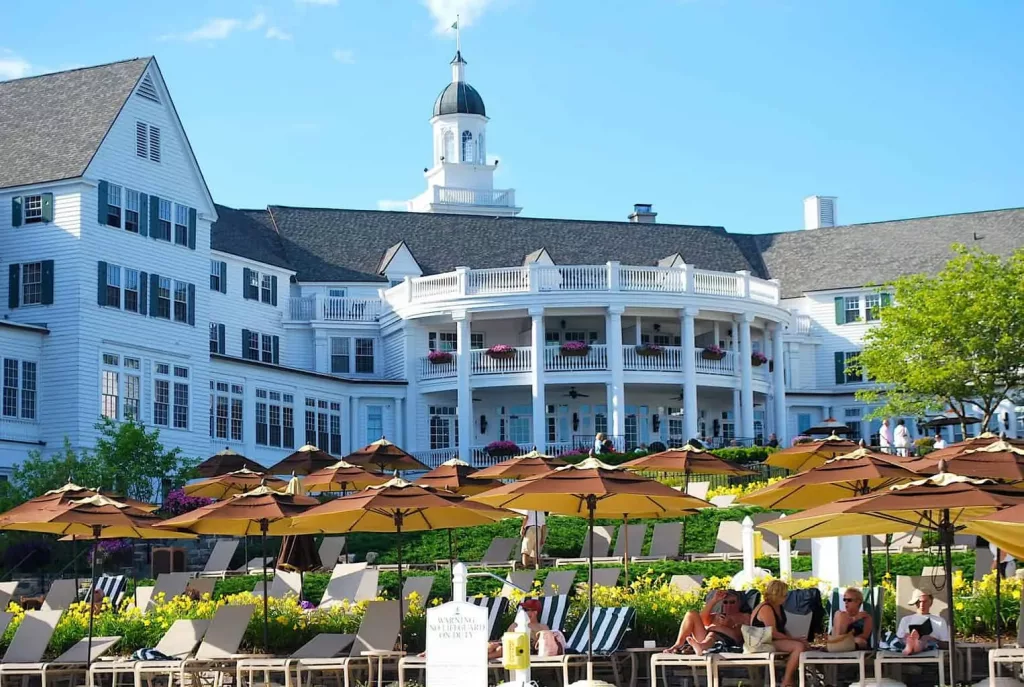 Without a doubt, one of the best things to do in Lake George is to stay at the insanely wonderful, and supposedly haunted, Sagamore Inn.
Originally built in 1883, this upscale private resort has its own private island and is well-located in the Adirondacks, allowing guests to enjoy one of the most romantic winter getaways from NYC.
More than that though, guests here can relax inside a variety of accommodations – everything from condos to suites to lodges – that include things like:
WIFI
TVs
Private balconies with terraces
Fireplaces
And more!
Guests can also make use of a spa, indoor/outdoor pool, gym, 18-hole golf course, 5 tennis courts, a pub/Italian restaurant, and a rec room with ping pong and basketball facilities.
Pro Tip: Plan your stay for the winter and you'll be able to make use of their awesome, glacier ice bar. And yes, just in case you were wondering, it really is a bar made entirely of ice.
Address: 110 Sagamore Rd, Bolton Landing, NY 12814
Distance from NYC: 4 hours
15. Mirror Lake inn, Lake Placid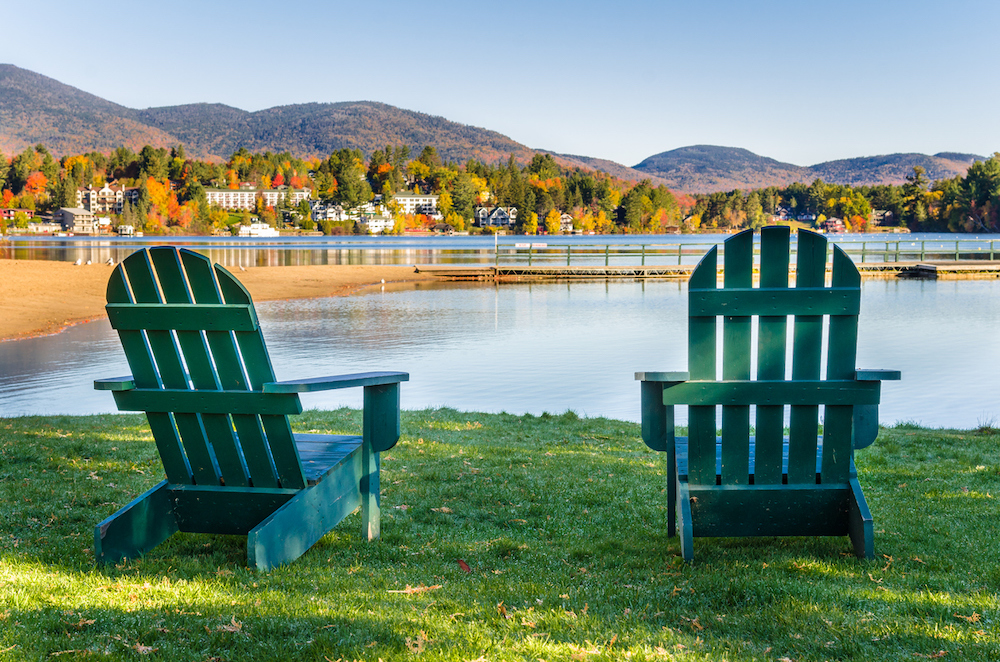 Located in the High Peaks region of the Adirondacks, this swank inn comes with a 4-diamond AAA designation that it has kept for the past 30 years.
Therefore, expect a supremely luxurious stay at a hotel that offers a wide variety of special packages like culinary weekend getaways, golf packages, babymoon packages, Adirondack elopement packages, couples getaways (aka super romantic), etc.
Or, you could just spend your time admiring the stunning view of Mirror Lake from this epic resort in the Lake Placid Winter Village.
Because exquisite rooms here include:
WIFI
Private balconies/terraces
4-poster beds
Fireplaces
Marble bethrooms
Complimentary afternoon tea
And if you find yourself getting bored at Mirror Lake Inn during one of the most romantic winter getaways from NYC, you could always use the 60-foot indoor pool (there's also a heated outdoor pool), the gym, the spa, a fine dining restaurant, and a casual cafe/bistro.
Plus, to really elevate your weekend getaway to the next level, you can always take a fantastic cooking class with Chef Curtis for a nominal fee – making this one of many romantic getaways near NYC to remember as you and your partner recreate one of your favorite dishes together.
Address: 77 Mirror Lake Drive, Lake Placid, NY 12946, Phone: 518-523-2544
Distance from NYC: 5 hours
16. Lake Placid Lodge, Lake Placid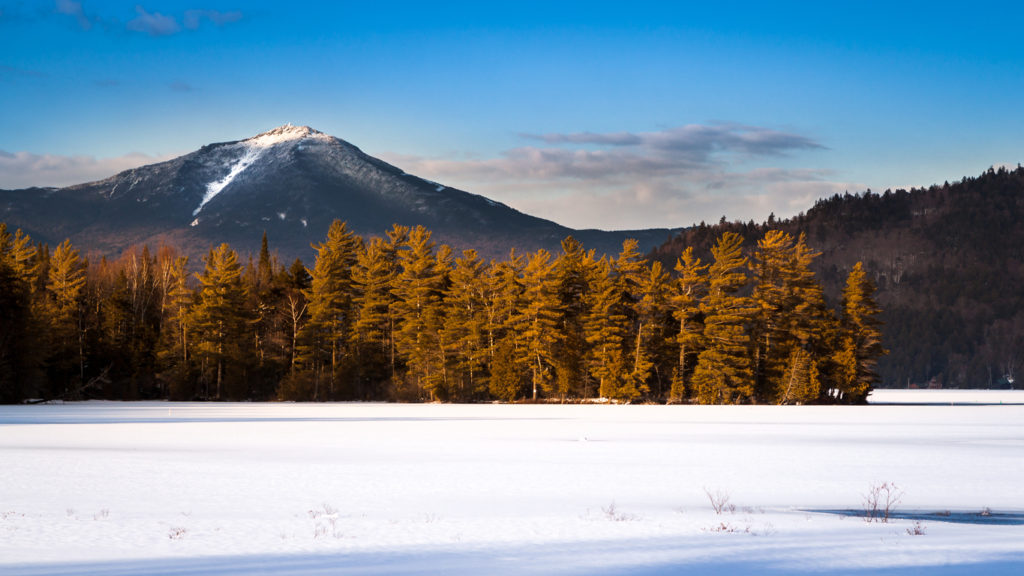 If you're looking for one of the all-time best romantic winter getaways from NYC, then Lake Placid Lodge is the place to be!
After all, this opulent, 5-star hotel in the North Woods is consistently ranked by Travel+Leisure as one of the best hotels in the world.
And that makes sense since all of the individually decorated rooms inside this stunning, arts and crafts style alpine lodge include:
Craftman decor
Stone fireplaces
4-poster beds (made out of tree branches)
Feather beds
Soaking tubs
Awe-inspiring views
Guests can also enjoy two different on-site eateries (a pub and a fine dining restaurant), complimentary snowshoes/cross-country skis, Snowshoes and cross-country skis, and so much more.
Pro Tip: Opt for the lavish Treetop Suite with a twig-thatched king bed and wrap-around windows. Also take advantage of the lodge's special packages, like the "Cabin Fever Cure" package that includes a 20% discount and free breakfast for two.
Address: 144 Lodge Way, Lake Placid, NY 12946
Distance from NYC: 5 hours
Romantic Winter Getaways from NYC – Central New York
17. The Landmark Inn, Cooperstown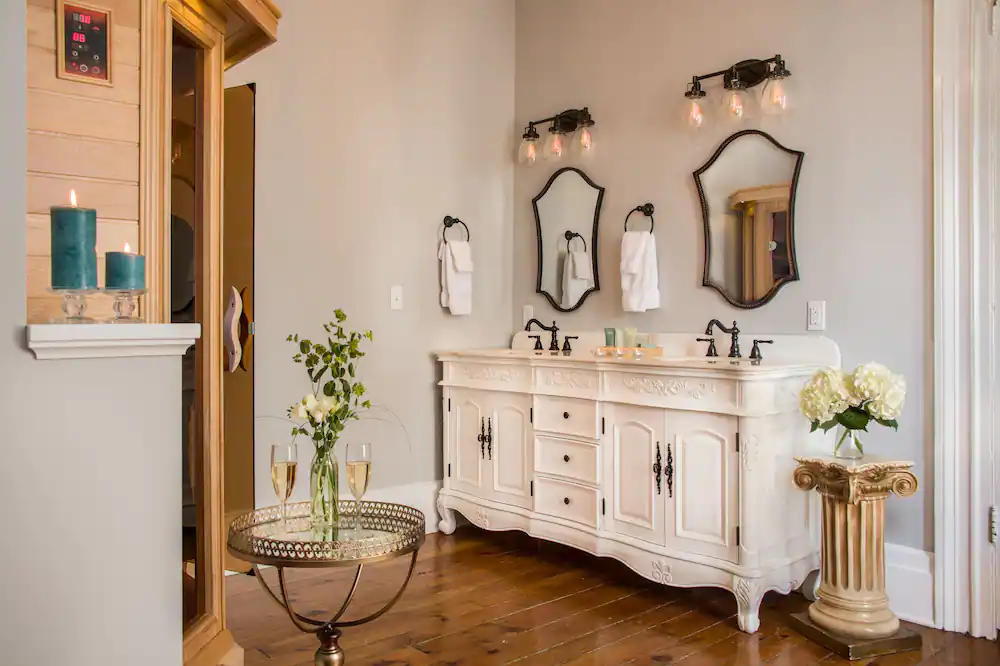 This exceptionally well-reviewed bed and breakfast is the place to be this winter in New York!
After all, it sits inside a historic home from 1856 and is just a short walk away from both the Baseball Hall of Fame and the charming downtown area.
Guests at The Landmark Inn will also love the distinct, well-adorned suites which include antique furniture, hardwood floors, flat-screen TVs, WIFI, and whirlpool tubs.
However, my absolute favorite thing about one of the best romantic winter getaways near NYC is the fact that they serve a decadent breakfast inside their divine dining room.
Added bonus? Guests can sip on complimentary wine and devour delicious homemade cookies inside a garden patio area. Yeah know, just in case The Landmark Inn wasn't awesome enough already.
Pro Tip: While you're here, don't forget to hit up the Ommegang Brewery too!
Address: 64 Chestnut St, Cooperstown, NY 13326
Distance from NYC: 4 hours
Romantic Winter Getaways from NYC – Finger Lakes
18. Belhurst Castle, Geneva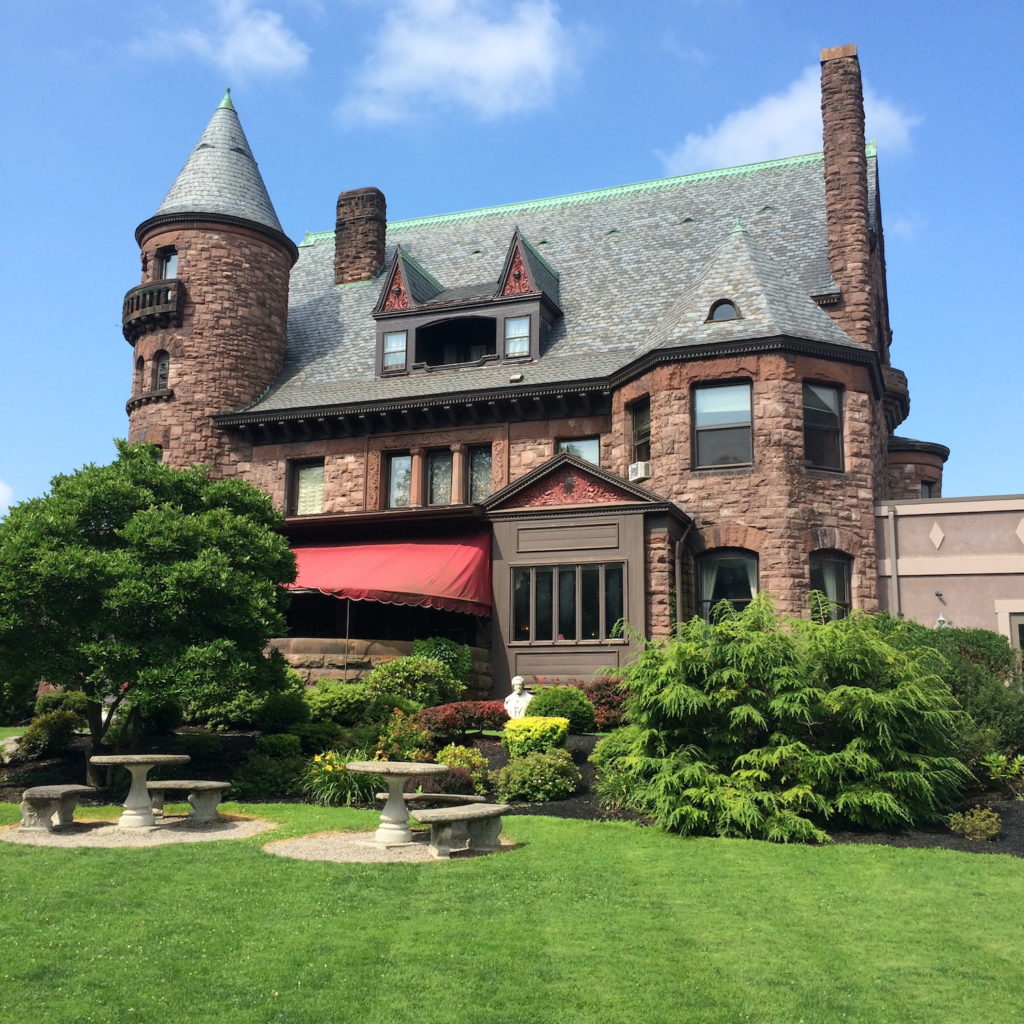 Transform your fairytale dreams into a reality with a stay inside one of the most famous castles in all of New York.
Because this stunner of a stone castle dates all the way back to the 1880s and sits along the northwestern shore of Seneca Lake.
Plus, once you step inside Belhurst Castle, you'll find individually decorated rooms that are outfitted with authentic antiques, exquisite woodwork, stained glass windows, 4-poster beds, and stone fireplaces.
There's also a chill tavern on-site that guests can dine in while enjoying lovely lakeside views, as well as a spa/salon and a more formal restaurant.
Wine enthusiasts will also love that there's a full-on winery on the property, with complimentary wine on tap available in the lobby. Yeah, you're welcome in advance.
Pro Tip: Get the six-course tasting menu with hand-picked wine pairings for two for the ultimate in romantic getaways from NYC. Just do yourself a favor and make a reservation well in advance.
Address: 4069 W Lake Rd, Geneva, NY 14456
Distance from NYC: 5 hours
19. 10 Fitch, Auburn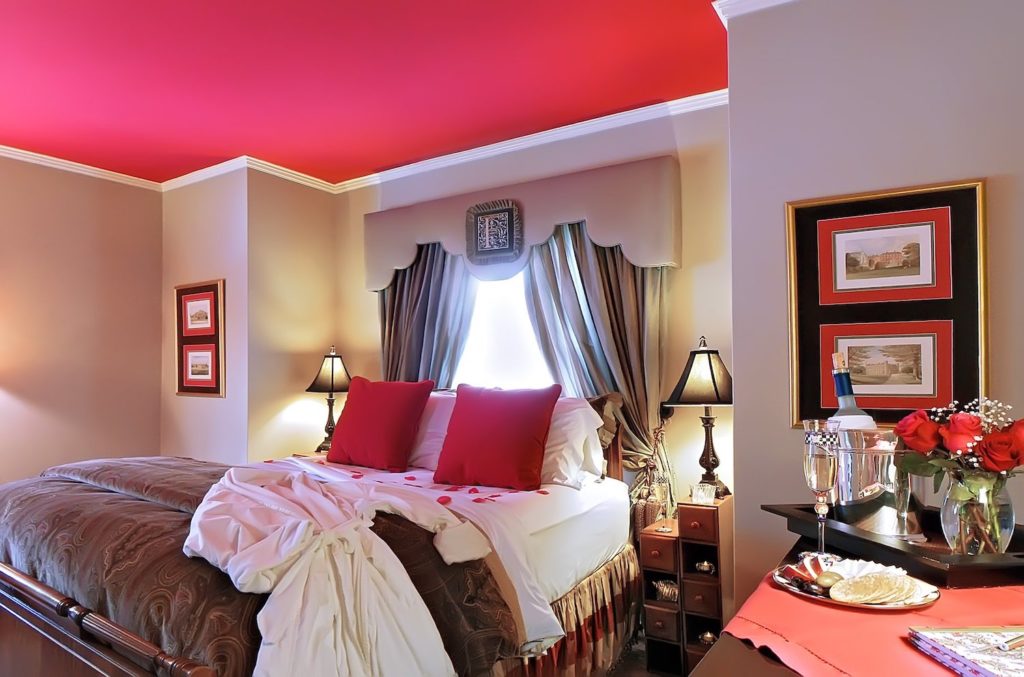 Ready to live the luxe life to the extreme? If so then plan to spend one of your winter getaways from NYC at 10 Fitch.
It's a refined bed and breakfast in a Colonial Revival building that sits near Owasco Lake in the Finger Lakes region of New York.
As a result, all of the opulent suites here have a country-chic inspired decor that includes:
Rain showers
Full sitting rooms
Fireplaces
WIFI
Lavendar scented sheets
Flat-screen TVs
iPod docks
Plush spa robes
Guests will also love their special in-room massages – for an additional fee – as well as a sumptuous breakfast feast (psst…they can deliver it to your room so you can sleep in) and all-day drinks/snacks (Sally's homemade cookies for the win) that are included with your stay.
And for an extra-special stay, opt for one of their supremely romantic packages that include super snazzy things like chauffeured wine tours, candle-lit dinners, and more.
Pro Tip: If you visit during the warmer months, take some time to explore the enchanting grounds which feature a koi pond and gazebo.
Address: 10 Fitch Ave, Auburn, NY 13021
Distance from NYC: 4.5 hours
20. Mirbeau Inn & Spa, Skaneateles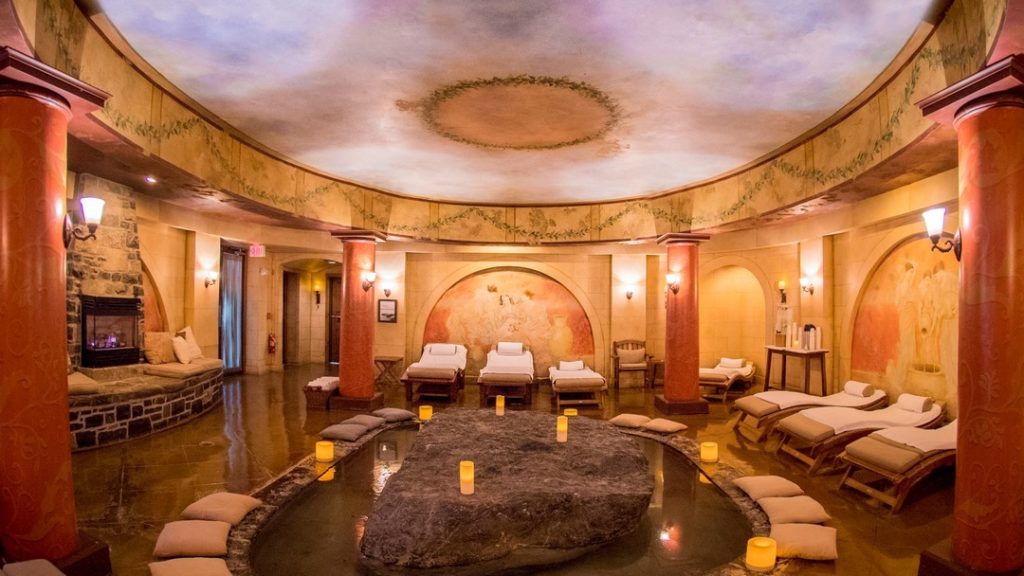 Easily one of the best winter spa getaways from NYC, Mirbeau Inn & Spa is hidden away on a beautiful estate that was designed to mimic the gardens featured in Claude Monet's paintings.
Additionally, all of the high-end rooms here have Provence-inspired interiors with claw-foot tubs, in-room fireplaces, private balconies/patios, WIFI, TVs, and Bose sound systems.
Book an upgraded room and you'll also get complimentary cookies and afternoon wine and cheese with your stay too!
However, regardless of the room you choose, you'll get to enjoy free continental breakfast and can dine at the hotel's French restaurant.
Whatever you do though. don't leave without visiting the spa, which features 18 different treatments rooms with an adjoining hot tub and fitness center.
Pro Tip: This spa is no joke and a must-visit since it has full-on waterfalls and special services like a "Blushing Valentine Couple's Massage" to help keep the stress away.
Address: 851 W Genesee Street Rd, Skaneateles, NY 13152
Distance from NYC: 4 hours and 15 minutes
21. The Red Coach Inn, Niagara Falls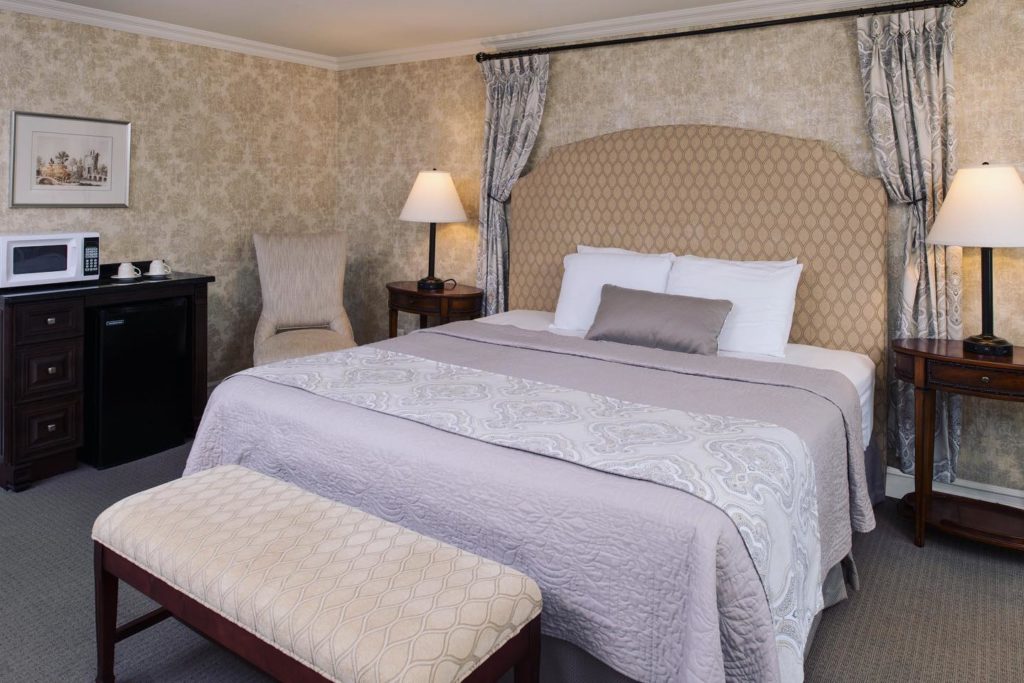 No joke, this Tudor-syle Inn actually overlooks the one and only, Niagara Falls. Amazing right?
However, just in case that fact alone is not enough for you to book a room here, The Red Coach Inn is also modeled after the Bell Inn in Finedon, England, and has a cozy, English country charm about it that makes you never want to leave.
Therefore, spend the night in one of their 37 unique rooms and enjoy refined decor that includes pillow-top beds, whirlpool tubs, WIFI, 40″ flatscreen TVs, coffee makers, plush robes, a Bose sound system, and a free local newspaper.
Tons of different tour packages are also available to enhance your trip with supremely romantic things like rose petals, chocolate, and champagne. Several options include the:
All American tour package
Shop til' you drop package
Niagara Falls Honeymoon package
Niagara Fall romance package
Finally, spend the night unwinding by the fire in the hotel's award-winning, yet reasonably priced, restaurant, which serves delicious dishes like stuffed portobello mushrooms and baked spinach artichoke dip.
Address: 2 Buffalo Ave, Niagara Falls,l NY 14303
Distance from NYC: 6.5 hours
Romantic Winter Getaways from NYC – Maine
22. The Kennebunkport Inn, Kennebunkport, Maine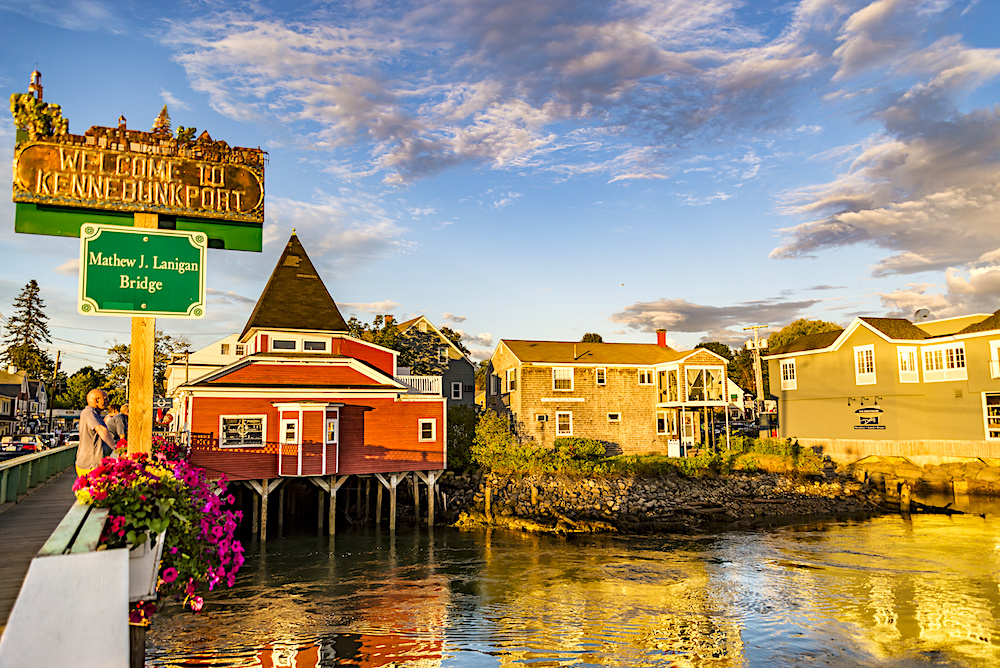 Tucked away on the Southern coast of Maine – in one of the state's greatest beach towns – is the 3-star, Kennebunkport Inn.
It's a stately historic mansion that is easily one of the most romantic winter getaways from NYC and is conveniently located on the perimeter of the town's central area, Dock Square.
Sleek, upscale rooms here all come fully outfitted with:
Designer coffeemakers
iPod docks
Pillow-top mattresses
High-end toiletries
Granite bathrooms
Fireplaces
However, other, complementary benefits of staying here include continental breakfast, rental bikes, and a regular happy hour throughout the low season.
Plus, there's a chic, on-site restaurant where you can dig into traditional American cuisine – by a roaring fire – and listen to live music every week.
If you get a chance though, be sure to visit during the holiday season since the owners go out of their way to make this place feel extra festive with a dazzling Christmas tree and seasonal in-room decor.
Heck, they're so obsessed with spreading the proverbial holiday cheer that the entire hotel becomes a holiday village of sorts, complete with a curling rink, igloos, private gondolas, and stands where you can enjoy lobster dip, hot chocolate, and Rockefeller oysters.
Address: 1 Dock Square, Kennebunkport, ME 04046
Distance from NYC: 5 hours
Additional Winter Getaways from NYC Resources You'll Love
There you have it! That just about concludes this guide to the most romantic winter getaways near NYC!
Tell me, did your favorite winter day tips from NYC make this list? If not then let me know in the comments below!
And if you found this post useful, be sure to join our email list and then pin this post now so that you can read it again later!