I dunno about you but I absolutely love going to some of the best Christmas tree farms in New York state so that I can cut down my very own Christmas tree.
For me, it's like the best ever family tradition since everyone piles into the car, drives to the farm, spends the day outside scoping out the perfect tree, cuts it down, hauls it back to the parking lot, and then relaxes by the roaring fire with a nice warm cup of apple cider.
Or hot chocolate if you're more of a choco-holic. Plus, added bonus if the tree farm actually offers visitors rides in a horse-drawn sleigh.
Yup, talk about a very Norman Rockwell version of Christmas in New York.
And then the best part? Having the fresh smell of pine in your home as you decorate the tree with your favorite ornaments and make new holiday memories with your family – ones that are sure to last a lifetime.
However, when you're planning out all this holiday awesomeness, it can be difficult to know exactly where some of the best Christmas tree farms in New York state actually are.
I mean, hi, New York is a hella big state, and let's be real, some tree farms are a little less than stellar – with supremely surly employees and a crappy selection of trees.
Thankfully though, my family has come together to chop down a tree every single year for the past 30 plus years. And believe it or not, we never actually go to any family Christmas tree farms twice.
Yeah, we're super crazy like that. But, we love exploring new places and enjoying some of the best Christmas tree farms near NYC, the best Christmas tree farms in upstate New York, and the best Christmas tree farms in Dutchess County.
So, if you're ready for basically the best Christmas ever and are looking for some of the best Christmas tree farms in New York state then this is the post for you!
Because I'm about to reveal all my top picks for the best Christmas tree farms in New York state – places you can go for the ultimate holiday experience.
This post may contain affiliate links. Please see my disclosure for more information. As an Amazon Associate, I earn a small commission from qualifying purchases.
Best Christmas Tree Farms Near NYC
1. Shamrock Christmas Tree Farm, Mattituck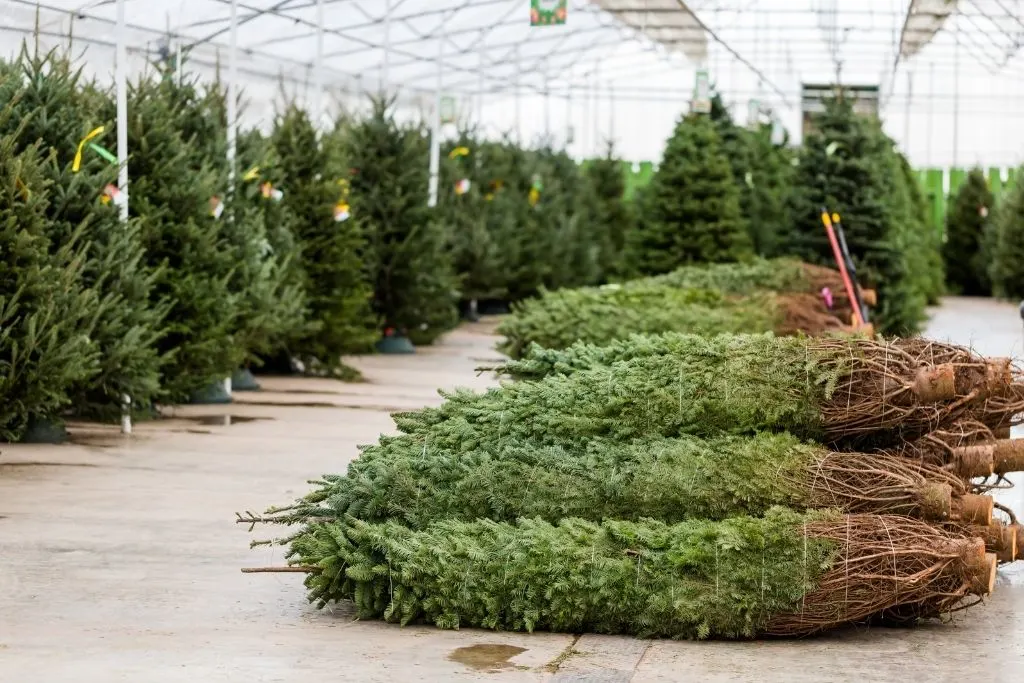 I know when most people think of the best Christmas tree farms in New York state, they envision someplace that is basically very much NOT on the eastern end of Long Island.
But, don't count Shamrock Christmas Tree Farm out just because of its location. I mean, it's easily one of the best Christmas tree farms near NYC and has a fantastic selection of pre-cut and cut-your-own trees for you to choose from.
I also love that they have a ton of amazing activities available for kids too, including train rides, a Charlie Brown Land, and even a mailbox where you can mail your very own letter to Santa!
And for the adults in the audience, you can get warm around the fire pit, engage in an on-site wine tasting, shop til you drop in the gift shop, or just enjoy a super sweet serenade from some festive carolers.
Address: 20685 Main Rd, Mattituck, NY 11952
2. Wilkens Fruit and Fir Farm, Yorktown Heights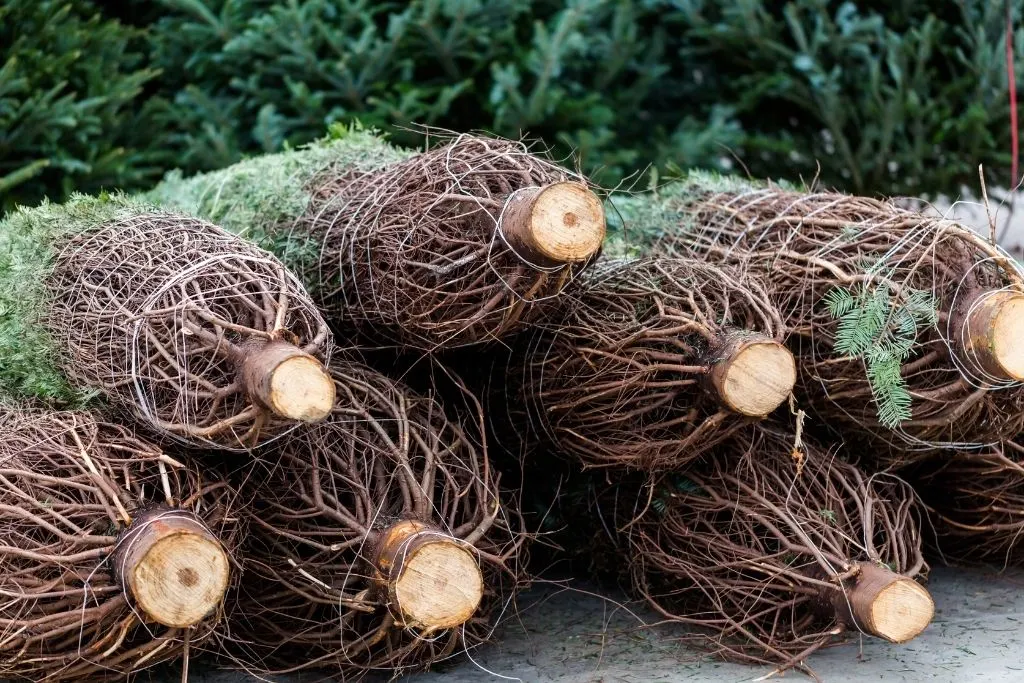 Located just about an hour from Manhattan, this amazing, family-owned farm has been in business for well over one hundred years and is easily one of the best Christmas tree farms in New York state.
And with a wide selection of premium, cut-your-own Douglas and Fraser Firs to choose from, families will love coming here to hunt for that ever-elusive, perfect Christmas tree.
But, if you don't feel like chopping down your own tree, they also have great pre-cut Fraser Firs that are ready for the taking. And, regardless of the tree acquisition method you choose, your purchase will always come with a complimentary glass of hot cider.
Just be sure to visit their amazing, on-site holiday market first so that you can pair that decadent beverage with a delicious homemade cookie (or 10).
Address: 1335 White Hill Rd, Yorktown Heights, NY 10598
3. Elwood Christmas Tree Farm, Huntington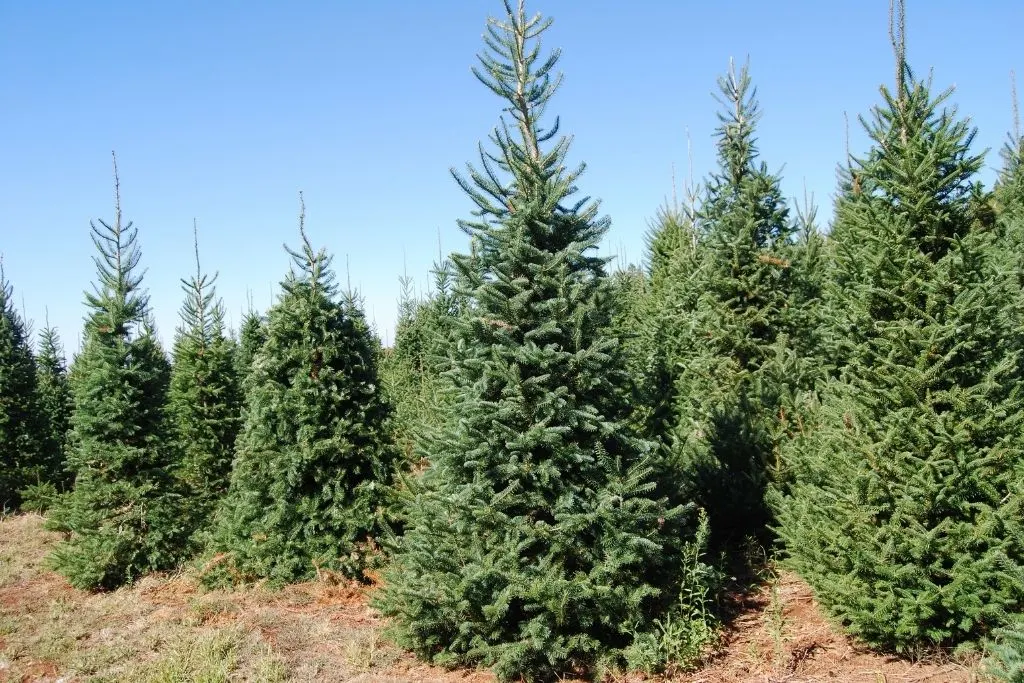 Another Long Island favorite, Elwood Christmas Tree Farm is PERFECT if you are looking for the best Christmas tree farms near NYC.
After all, this 20-acre, cut-your-own tree farm is the Western-most Long Island institution of its kind and is the perfect place to nab a beautiful Douglas Fir.
Before you visit though, do be aware of the fact that although you can get pre-cut trees daily, the cut-your-own tree experience is reserved for weekends only.
You also must bring your own saw which I think is kind of weird. But, to each his or her own.
So, moral of the story? Don't come here during the week expecting to chop down a tree because it's 100% not gonna happen.
However, on the plus side, the staff are super friendly and will happily assist you if need help chopping down your tree.
Address: 1500 E Jericho Turnpike, Huntington, NY 11743
4. Lewin Farms, Calverton
Hidden away on the eastern end of Long Island is another one of the best Christmas tree farms near NYC.
I mean, not only do they have a ton of different species of trees to choose from – think Douglas Firs, White Pines, Norway Spruces, etc. – but these trees are big. Like, hella big since they have trees that can be upwards of fifteen feet tall (try to fit that in your NYC McMansion).
Also, if you want to cut down your own tree, try to get there in the early afternoon at the latest since these fields don't come fully outfitted with lights to help you move around in the dark.
Per usual, pre-cut trees are also available if you don't feel like being a lumberjack for a day. Just note that they only accept cash so be sure to bring plenty to crisp, $20 bills to one of the best Christmas tree farms in New York state.
Address: 812 Sound Ave, Calverton, NY 11933
5. Stuart's Fruit Farm, Granite Springs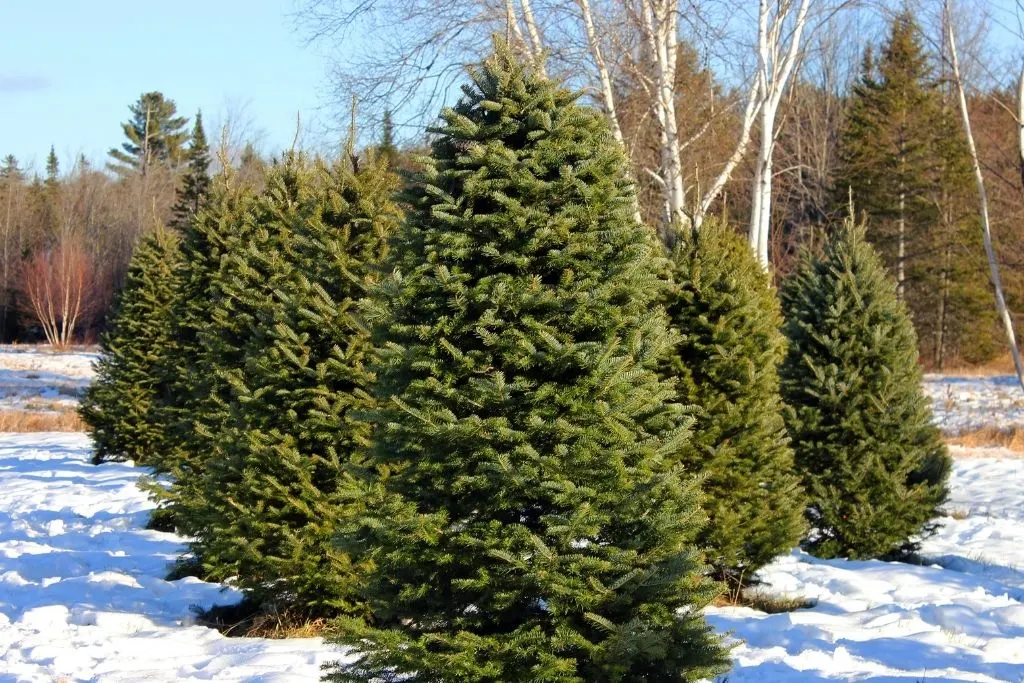 Don't let the midly deceiving name of Stuart's Fruit Farm fool you because this family-owned farm – since 1828 – really does sell high-quality Christmas trees throughout the holiday season.
So, if you want to chop down your own Douglas Fir or are looking for a pre-cut Fraser Fir, then this is one the best Christmas tree farms in New York state for you.
After all, they are just about an hour away from NYC and start selling trees on Black Friday. They also have a lovely bakery where you can pick up hoemmade baked goods for the long(ish) trip home.
You can also expect to pay around $100 for a tree, which must be paid in cash since they don't accept credit cards.
Also, feel free to return at basically any time of year since they have flowers in the spring, berry picking in the summer, and pumpkin/apple picking throughout the fall.
Address: 62 Granite Springs Road, Granite Springs NY, 10527
6. Tilden Lane Farm, Greenlawn
Another one of the best Christmas tree farms in New York state that can be found on Long Island (Who knew so many were on Long Island? Not this chick right here), Tilden Lane Farm is basically a hop, skip, and jump away from mid-town (aka a 50-minute drive away).
It's also an independent, family-owned farm that has been run by – you guessed it – the Tilden family since 1793.
Now, each year throughout the weeks that lead up to Christmas, the farm routinely opens up to the public and sells a variety of cut-your-own and pre-cut trees to the eager public, all of which retail for around $75 each (cash only).
Friendly staff members will then help you bring/afix your freshly cut tree of awesome to your car before you check out all of the premo homemade wreaths, handcrafted holiday decor, and fresh honey for sale at their enchanting gift shop.
Address: 43 Wyckoff Street, Greenlawn, NY 11740
Best Christmas Tree Farms in Upstate New York
7. Battenfeld Christmas Tree Farm, Red Hook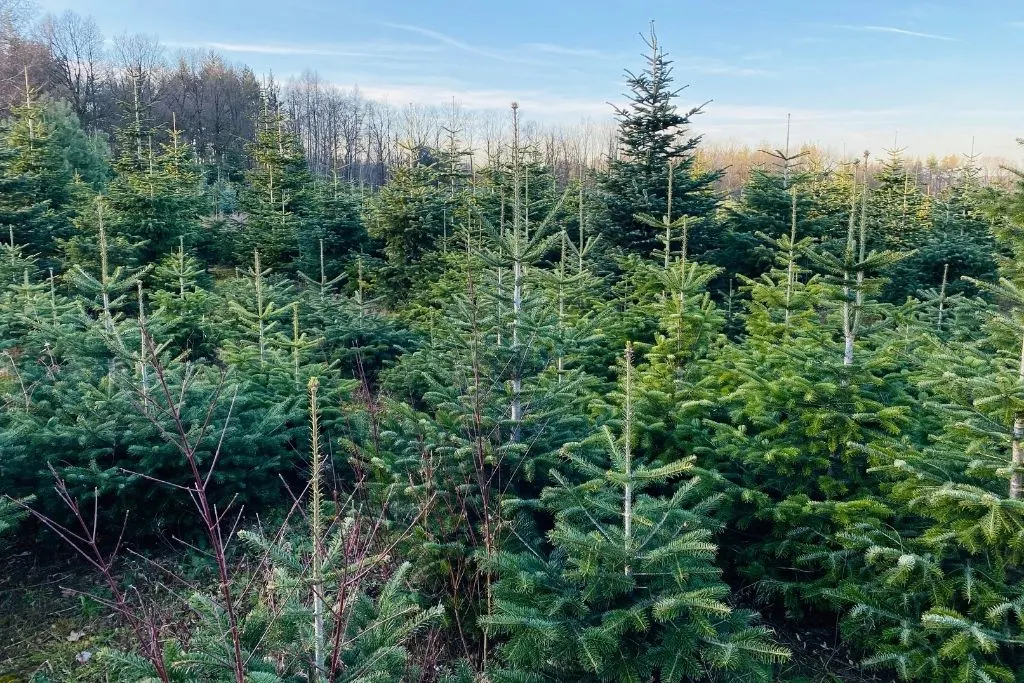 Tucked away among the rolling hills of the Hudson Valley is Battenfeld Christmas Tree Farm.
It's an enormous, 80-acre area that has been around since the 1950s and that is filled with basically every type of evergreen tree you could possibly think of, like Blue Spruce, White Pine, Balsam Fir, Concolor Fir, Fraser Fir, and Douglas Fir.
So, if you want to chop down your own tree at one of the best Christmas tree farms in New York state, then just grab a saw with your $10, fully refundable deposit and take a not-so-leisurely stroll through the forest as you desperately seek out the tree of your dreams.
And when the kids finally start to lose their "your know what" after all that walking, take them to meet Santa (and his elves) in the main barn or on a horse-drawn wagon ride through the countryside.
Afterward, grab a snack at their on-site snack shop, which has things like hot dogs, cider, and homemade chili on the menu.
Address: 856 NY-199, Red Hook, NY 12571
8. Cockburn Farm, Garrison
The Cockburn farm is great for those of you who are looking for premium trees closer to the Hudson area. In fact, all you have to do is turn up at the farm. Even the hand saws are provided! If you know your fir trees then you will be pleased to know that the three premium fir trees on sale are the Fraser Fir, Douglas Fir and Concolor Fir.
Don't worry about the size either. From 3 feet onwards, you will find that there is a size for everyone. The fir trees cost upwards of $75 and are priced based on their size.
Oh and if you are wondering if these trees are worth the drive? Think again because even the White House has had a fir tree from the Cockburn farm!
What I really love about the Cockburn farm is that they offer professional photography sessions. So take your kids and the whole family, pose with Santa or wander around the farm to find the perfect setting! These photographs are definitely worth the time and effort. Plus they are memories that you will cherish in the future.
Address: Cockburn Farm, 1611 Route 9, Garrison, NY 10524
9. Hardwick Tree Farm, Mahopac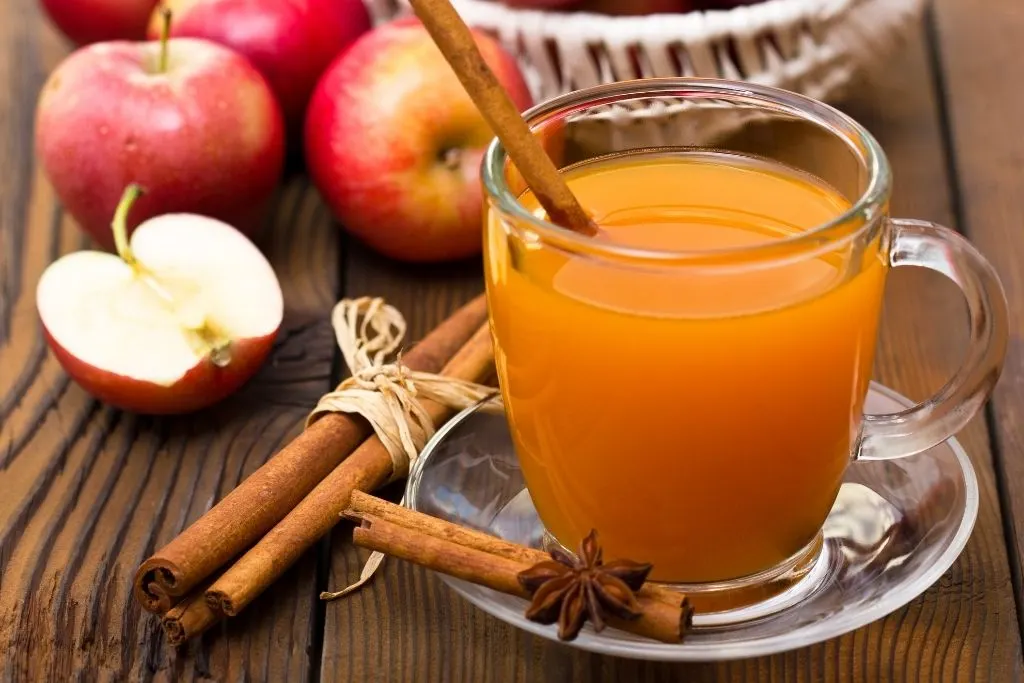 Conveniently located right off the Saw Mill River Parkway is Hardwick Tree Farm.
Not only do they have a stunning array of trees to choose from – think Balsam Fir, Fraser Fir, Concolor, and Canaan – but they are pretty well-priced since trees start at just $13 per foot.
They also have a selection of saws for you to borrow – making the whole tree cutting process 10,000 times easier (that's obviously an exact number).
And when you get tired of hauling your tree around one of the best tree farms in New York state, relax with a homemade cookie and a warm cup of apple cider before having friendly staff members bail your tree and bring it to the car for you.
Address: 219 Wood St, Mahopac, NY 10541
10. Solvang Tree Farm, Poughkeepsie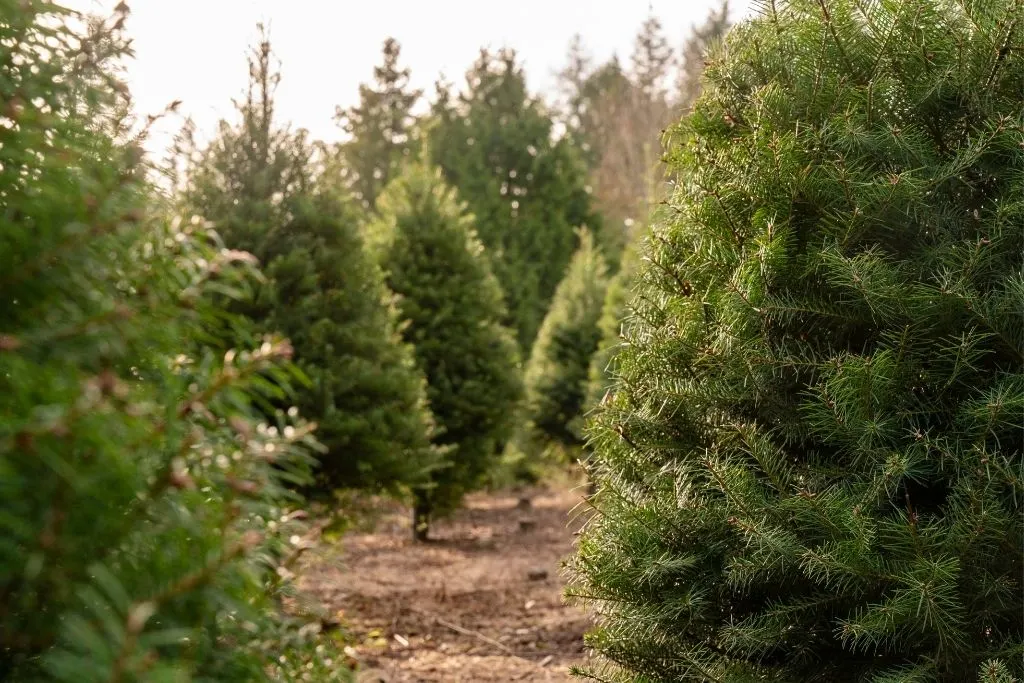 If you have small children and want to visit one of the best Christmas tree farms in New York that isn't the size of ten football fields, then consider stopping at Solvang Tree Farm in Poughkeepsie.
At just 10-acres, it's one of the smaller farms on this list and features a lot of densely planted, Scotch Pine and Spruce trees that sit along pathways that help make everything infinitely more accessible.
Plus, once you finally do acquire the tree of your dreams, feel free to take the kiddos to the petting zoo, where they can do a little meet and greet while feeding the rabbits, pigs, chickens, and sheep.
Afterward, stop by Locust Grove, visit the mansion, and explore the trails there since it's a mere 15-minute drive away and easily one of the best things to do in Poughkeepsie.
11. Balsam Ridge Christmas Tree Farm, Clintondale
Found just across the river from Poughkeepsie, this is one of the best Christmas tree farms in New York state that closes once they run out of trees.
So, be sure to flock to this epic tree farm right when they open for the season, which happens to be just after Thanksgiving.
And once you finally do get here, be sure to fortify yourself with a delicious cup of apple cider or hot cocoa before purusing through their large selection of Balsam Firs, Colorado Blue Spruce, and Concolor Firs.
Staff here are also pretty dang friendly and happy to help you with anything you need. It also doesn;t hurt that they provide all the equipment you need to snag the tree of your wildest Christmas dreams.
Address: 288 South St, Highland, NY 12528
12. Saltsman Tree Farm,, Rhinebeck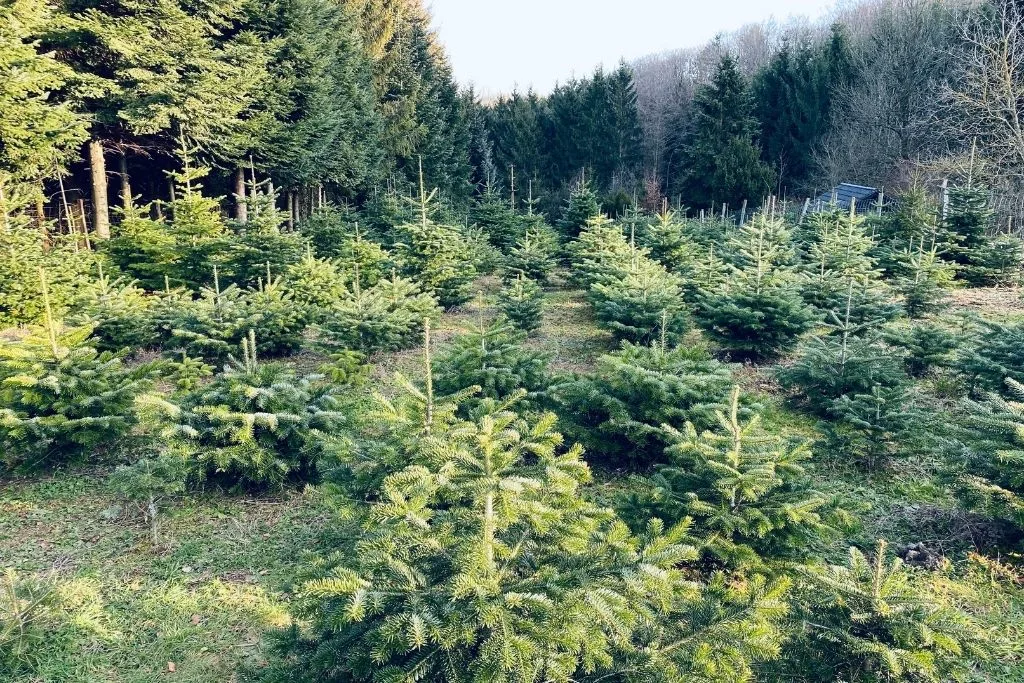 Located a solid 2+ hours away from New York City is this epic, family-operated Christmas tree farm. They've been in business for well over 30 years (so you know they're doing something right) and feature a wealth of pre-cut and cut-your-own trees to choose from.
In general, most of the trees here are between six and twelve feet tall, start at $45 each, and include species like Blue Spruce, Fraser Fir, and Balsam.
As part of the holiday-erific ambiance, guests can also enjoy free roasted chestnuts, warm apple cider, and donuts – all of which can be savored by a roaring, outdoor fire on the weekend.
And if you're feeling up to it, you can easily visit nearby Woodstock, NY since it's only about a half hour away by car.
Address: 214 NY-308, Rhinebeck, NY 12572
13. Stone Oak Farm, Orange County
Stone Oak Farm is one of my absolute favorite places when it comes to Christmas tree farms in New York State. Why? It is because a visit to the farm is like an adventure. It isn't just about cutting a tree and getting it home. There is so much to do at the farm that you will find yourself spending more time there than you intended. That is why we always make a day of it!
The Stone Oak farm spans over 8 acres of land and you can hike through the woods searching for your favorite tree! They have spruce and fir trees of all sizes. Trees below 10 feet are charged at $65 and those over 10 feet start at $85. You can also choose to net the tree before taking it but that would incur an additional $5 charge.
Once you are done finding your tree, step inside from the cold and warm your toes at the roaring fire. You will have free hot chocolate and candy canes to indulge in! The whole vibe is extremely Chrismasy!
They also have an antique store in their barn where they sell loads of items including wreaths, homemade cookies and maple syrup! It is the perfect way to end the day. Its a great place to catch some Christmassy souvenirs from NYC too!
Pro tip: Did I mention that the farm also has a bed and breakfast section? I would recommend looking at making it a whole weekend if you have time. The bed and breakfast is open all year round so all you have to do is check the availability.
Address: 207 Stony Bar Road, Slate Hill, Orange County, NY 10973
14. Evergreen Christmas Tree Farm, Millbrook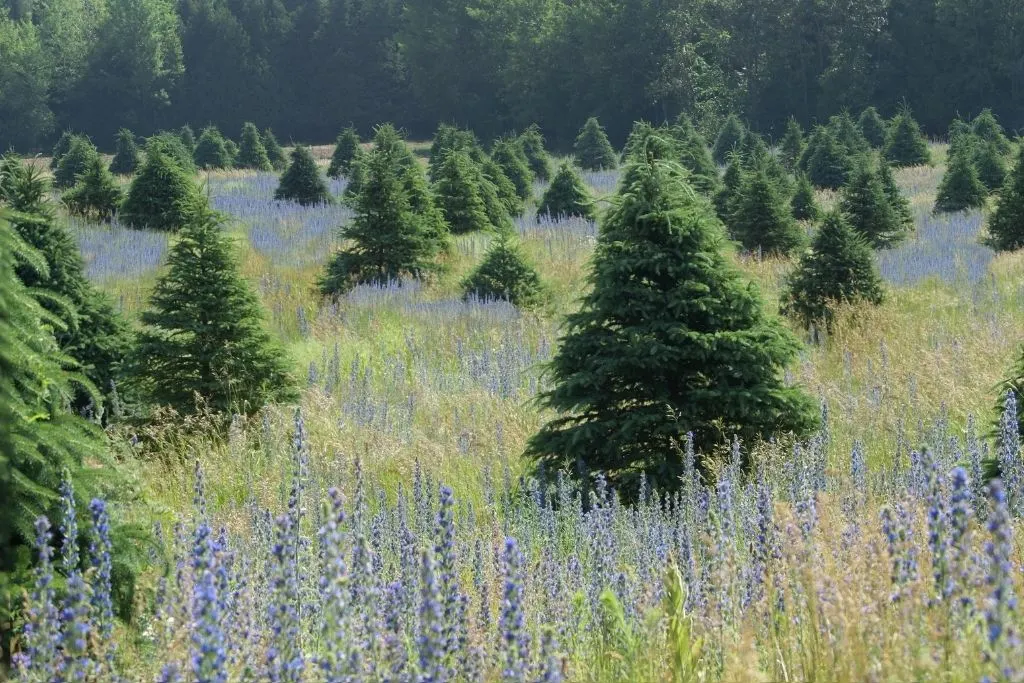 Another gem of the Hudson Valley, this is one of the best Christmas tree farms in New York state where you can go for freshly cut Douglas Fir, Fraser Fir, and Spruce trees.
Prices are also super resonable since you can harvest an up to 7-foot tall tree for just $65.00 – while taller trees cost a mere $75.00 each.
If you want, you can also opt for a fresh cut tree, which is a total steal at between $35.00 and $45.00 each. Just be sure to plan ahead and get here early since the farm is only open on weekends until December 17th.
You can also snag a sweet 22″, hand-decorated, Balsam Fir wreath for just $28 each.
Pro Tip: The Millbrook Vineyards & Winery is literally right down the road. So, if you're into wine tasting, you can do impromptu tour and tasting while you're here.
Address: 407 North Tower Hill Road Millbrook NY 12545
15. Emmerich Tree Farm, Warwick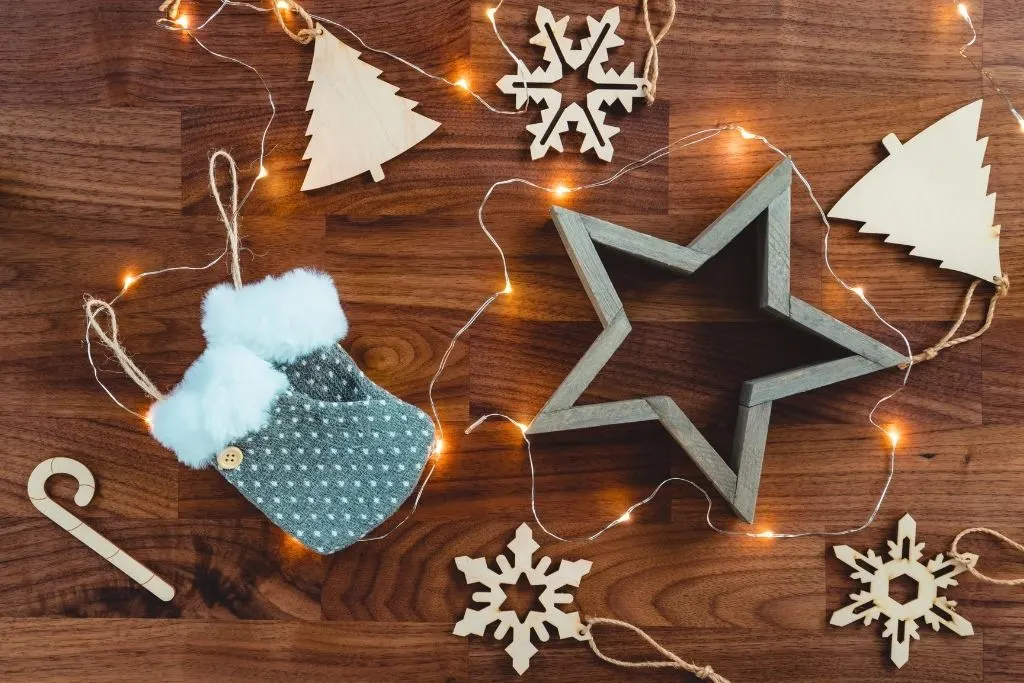 Located just over an hour and a half away from New York City, this is one of the best Christmas tree farms in New York state if you want a truly unique tree variety.
Open on the weekends throughout November and December, Emmerich Tree Farm has a grand total of twelve different tree species to choose from – trees that typically cost between $10 and $12 per foot.
In contrast, pre-cut trees cost anywhere between $80 and $130 each.
However, regardless of the type fo tree you choose, you'll find yourself inside a veritable winter wonderland where any purchase includes free hot chocolate, a wooden ornament, live holiday music, and a wagon ride through the property.
Various other holiday essentials are also for sale here, like wreaths, decorations, and tree stands – making one-stop-shopping a total breeze at this amazing tree farm.
Address: 101 Sleepy Valley Road, Warwick, NY, 10990
16. Plains View Farm, Pleasant Valley
This is one of the best Christmas tree farms in Dutchess County that is owned by the Wade family and that has been around since 1976.
Here, they sell a variety of different trees that retail for a flat fee of $60 for anything up 12-feet tall and $100 for anything over 12-feet tall.
This is also purely a cut-your-own tree type of farm. Therefore, while staff can provide you with a saw and regularly hand-trim their trees ever year, you'll basically have to cut down your own tree.
Although, if you need a little extra help chopping down your tree, everyone here will gladly help you get the perfect Fraser Fir (7-feet and under), Norway Spruce, Blue Spruce, or White Spruce.
They'll also bale your tree and put it on your car so that you can marvel at their selection of homemade wreaths. tree waterers, clean-up bags, preservatives, tree stands, and basically anything else you need to care for your tree once you get it home.
You'll also love that staff members here do tractor-pulled hayrides through the fields that are perfecly complimented by a free cup of hot chocolate and a freshly baked cookie.
Address: 21 Freedom Road, Pleasant Valley, NY 12569
17. Manza Family Farm
The Manza Family Farm started out way back in 1979. Now generally they have a lot of different shrubs and plants that you can buy and take back from the 20 acres of land that the farm owns. As December starts rolling in, the farm starts gearing up for Christmas. Yes! That means Christmas trees!
Now the farm has a mix of both living trees and cut trees. You can pick what you want based on your preference. The Manza family farm however makes finding the perfect tree such a cool experience. They have a Santa and elf Christmas display that you can check out when you visit. It is always a hit with young children!
Address: 730 NY-211, Montgomery, NY 12549, United States
18. Wilbert's Christmas Tree Farm
Wilbert's Christmas tree farm is one of the popular spots to head to if you want to pick your Christmas tree in Upstate New York. It is a family owned farm.
It was originally started out by Art Wilbert over 50 years ago. Back then his motivation was for screening and environmental purposes. I doubt he would have guessed how popular the trees would become over time! Today the farm sprawls across over 100 acres of land! So you really have a large collection of trees to pick from.
Since the farm is a family run business, they make picking out your own Christmas tree such a personal experience. You can choose from one of the precut trees if you like or you can head out and cut down your own tree. It really depends on what you want!
Address: 1325 Salt Road, Webster, NY 14580
Christmas Tree Farms In NYC FAQ
What Is The Most Famous Christmas Tree In NYC?
The Rockefeller Christmas tree is without doubt the most famous Christmas tree in NYC. In fact, everyone waits for the lighting of this tree. It is one of those must do activities in NYC during Christmas. The Rockefeller tree has stood proud and tall in NYC for almost 8 decades.
How Much Does The Rockefeller Christmas Tree Cost?
No one really knows how much the tree costs but people have tried to guess its value. Would you believe that their guesses are in the range of $73,000! I mean, I can believe it because the tree is always huge and gorgeous but WOW! That is a lot of money for a tree! Still, NYC would not be the same without it.
How Much Does A Christmas Tree Cost In Manhattan?
Prices of Christmas trees have been on the rise year after year and if you live in Manhattan, you will feel the pinch. On an average, a Christmas tree could set you back anywhere between $70-100
Map of the Best Christmas Tree Farms in New York State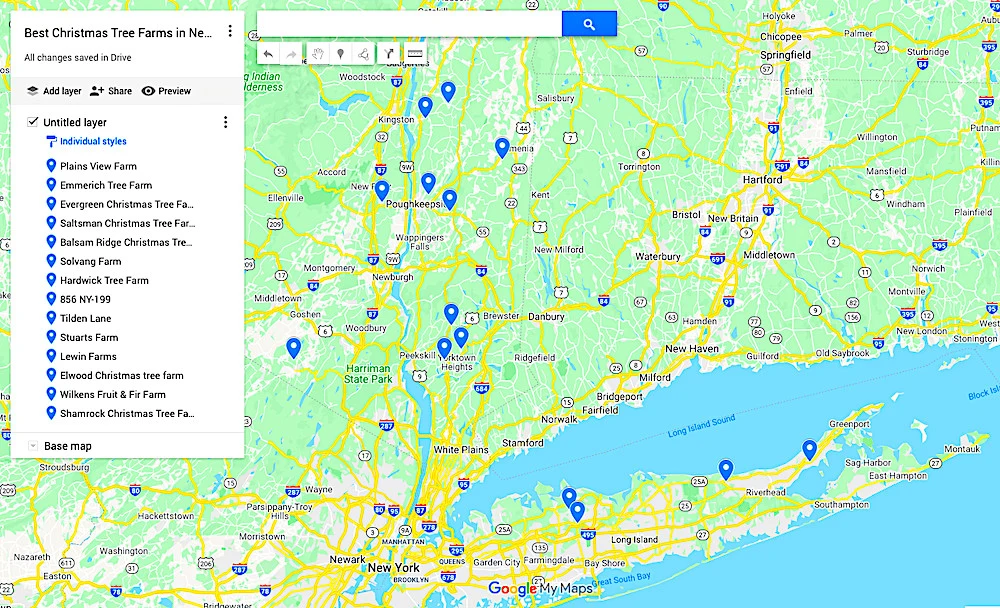 Additional New York Travel Resources You'll Love
And there you have it! That just about wraps up this list of the best Christmas tree farms in New York state!
Tell me, did your fave Christmas tree farm make the list? If not then let me know in the comments below because I 100% want to check it out.
And if you have found this post helpful, be sure to join our email list and pin this post now so that you can read it again later!