Ready to uncover the awesome natural beauty of Albany? If so then THIS guide to the best waterfalls near Albany NY is totally for you
Because, contrary to popular belief, Albany is brimming over with stunning landscapes that feature some of the best waterfalls in New York.
Therefore, if you're looking to go rogue, chase a few waterfalls (thanks TLC), and enjoy some of the best waterfalls in upstate NY then you've come to the right place.
After all, I'm a 30+ year local who knows all about some of the best Albany hikes that will lead you straight to next-level awesome views of stunning waterfalls that you probably didn't even know existed.
So, sit back, relax, and enjoy learning all about my picks for the best waterfalls near Albany NY that you cannot afford to miss.
This post may contain affiliate links. Please see my disclosure for more information. As an Amazon Associate, I earn a small commission from qualifying purchases.
Best Waterfalls Near Albany NY
1. John Boyd Thacher State Park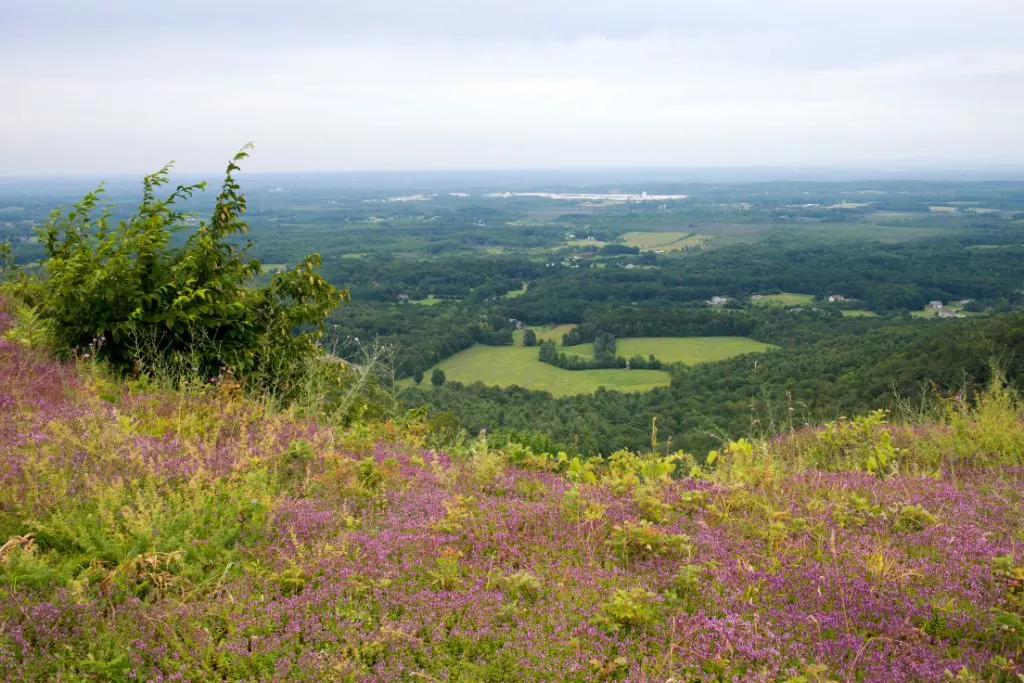 Mine Lot Falls, in John Boyd Thacher State Park, is made up of several different drops – each creating its own waterfall and coming together into a series of spectacular cascades.
In fact, this is one of the best waterfalls near Albany NY that can be seen from the bottom of the gorge in one of the best state parks in New York.
Now, the largest of the three main drops is the middle one, which is about 40 feet high. Next, there is the upper falls which are about half as large with a 20-foot drop.
However, this is one of the best waterfalls in upstate NY that are all easily viewed from spacious platforms that aren't too far from the parking lots.
But, if you're feeling energetic, you always hike around the park and enjoy them that way.
So, to get to one of the best waterfalls near Albany NY, park your car at Mine Kill Falls Overlook just off Thacher Park Rd.
And while the viewing platforms are super easy to access, the red trail heading south will give you great views of the falls. Then, you can continue on to the end of the hike, which is about 1.2 miles one way.
Alternatively, you could start from the north of the falls at the end of Hailes Cave Rd, and head south.
Just be aware that the path descending from the viewing platform features a very steep set of stairs which are locally known as the "Indian Ladder".
2. Rensselaerville Falls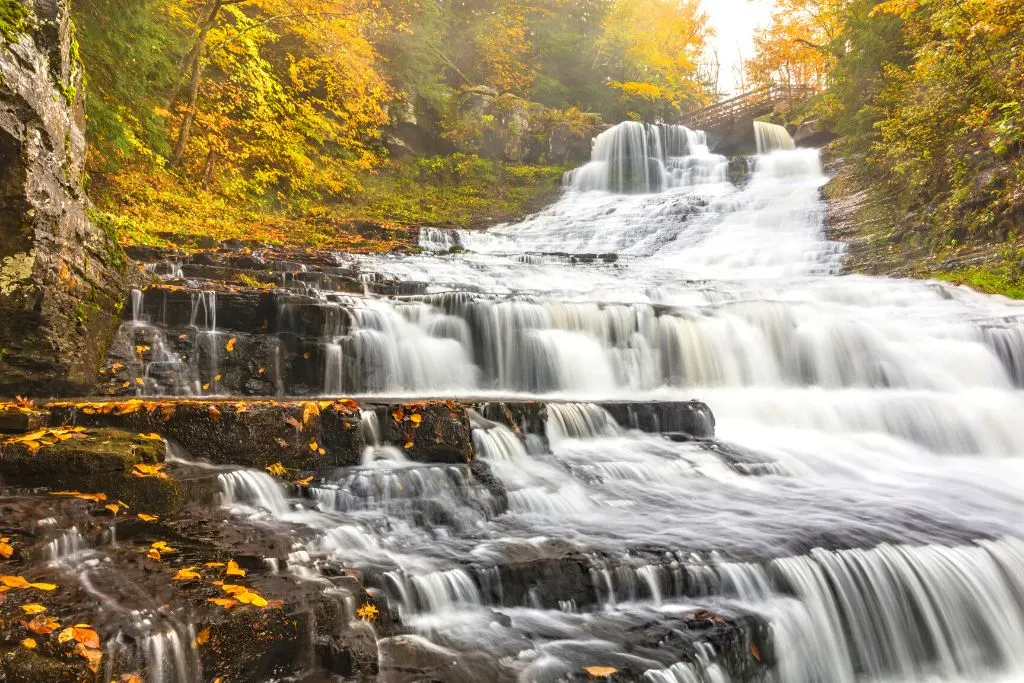 Rensselaerville Falls is inside E.N. Huyck (pronounced like hike) Preserve and Biological Research Station, just southwest of Albany, NY in the Catskills.
The is also one of the best waterfalls near Albany NY that can get very fast, especially after a heavy rain or in the spring when the snow has just melted into the river.
And while the waterfall reaches an overall height of 120 feet, there aren't any majorly huge drops to speak of.
Plus, while there are many spectacular hikes within the preserve that are well worth your time, you won't need to walk more than five minutes to have a look at the falls.
In fact, just park in the associated lot and walk out along the path to the viewing platform.
However, if you are up for a hike, the preserve features a total of 12 miles of well-marked and well-maintained trails for you to enjoy.
So, try a combination of the Lower Falls Trail, the Middle Falls Trail, and the Upper Falls Trail to savor epic views of the falls from all sorts of different angles!
And while this hike to one of the top waterfalls near Albany NY may sound intense, it's really only about 0.5 miles long.
But, if you're up for a more intense workout then be sure to explore the Lake Trail, which is 2.5 miles long if you do both the eastern and western portions as a full loop.
3. Cohoes Falls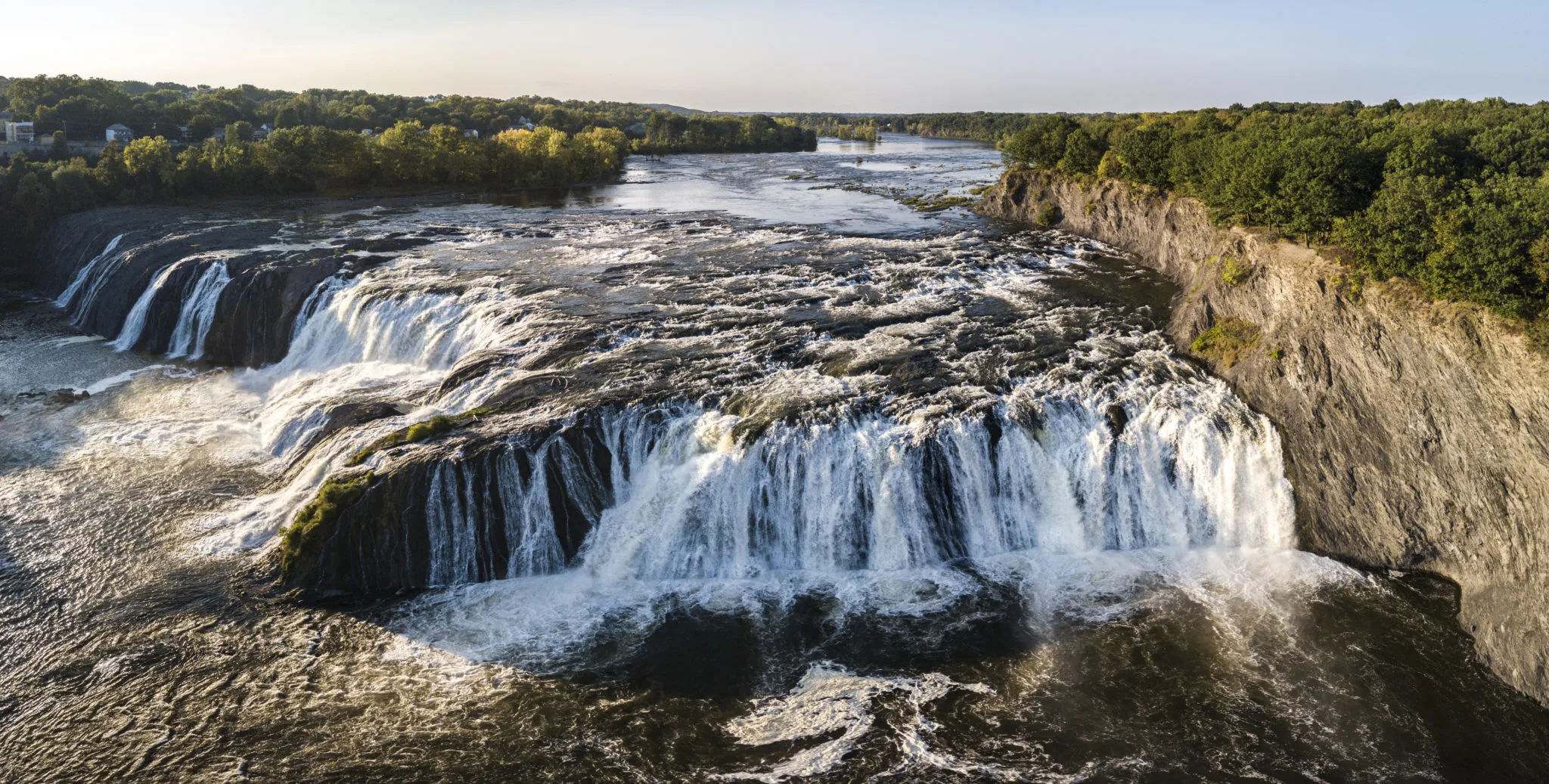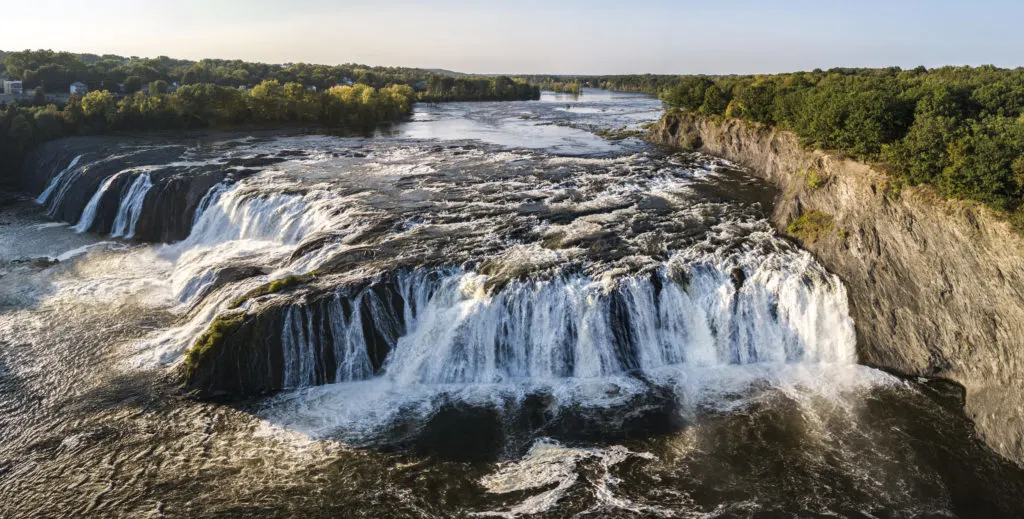 Cohoes Falls was discovered by the Mohawk people who were indigenous to the area. As a result, the name of this waterfall in their native language means, "Place of the falling canoe".
Amazingly, this actually the second-largest waterfall in New York State (sometimes referred to as The Niagara Falls of Eastern New York) it measures 100 feet across and has drops of up to 90 feet in certain spots.
Now, one of the best spots to see the falls is from the Cohoes Falls View Park. it sits across the water from the falls and is a four-acre park that can be accessed by foot from North Mohawk street.
There are also some steps you can walk down or a 192-foot-long pedestrian bridge that you can use to get to the park and get a closer look at one of the best waterfalls near Albany NY.
However, if you want, you can stay quite close to the parking lot and still get great views, making this an incredibly accessible option for anyone with mobility issues.
In fact, the out and back trail here is only about half a mile long. Just be aware that dogs are not allowed here.
Additionally, there are lots of informational placards along the trail that detail the extensive history of the area and the magnificent falls here.
4. Wolf Creek Falls Preserve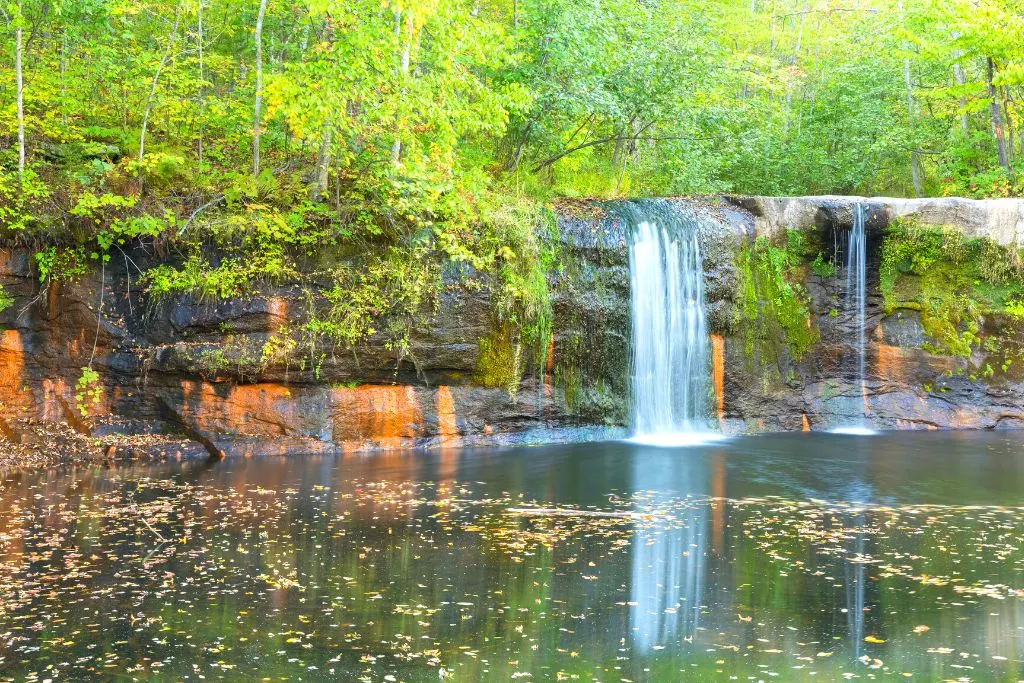 While Wolf Creek Falls is itself a waterfall, The Wolf Creek Falls Preserve is home to not just one waterfall but to several that are scattered throughout this gorgeous, 135-acre park.
So, hike along more than three miles worth of trails that are best reached by parking off Bozenkill Road.
All of these trails offer fairly level terrain and are fairly manageable for people of all hiking abilities (especially for young childreb who love to explore nature and spot frogs and other small critters).
However, it can get muddy during the wetter months – although the summer does mean lots of fun New York swimming holes for the entire family to enjoy!
You also love that the three miles of trails here form a loop and can generally be completed in less than an hour or so – unless you stop along the way for a picnic (benches and picnic tables are available!)
This easy hike will also bring you past many of the best waterfalls near Albany NY as you make your way across the "musical bridge" – giving you the unique opportunity to see everything that the preserve has to offer.
Pro Tip: There are two private residences within the preserve so it's as important to stay on the marked paths and off private property.
If you don't want to head out on the full hike you can see Walk Creek Falls from Fayette Station Road.
5. French's Hollow Waterfalls
Located in Altamont, about a 20-minute drive northwest of Albany, French's Hollow Waterfalls are made up of two parts – the upper and the lower falls.
Now, the Upper Falls has a drop of about eight feet and the lower falls has a drop of just over six feet.
Also, sitting between the two falls, there's actually a working railroad bridge. So, if you happen to be visiting as a train passes by, you're in for an especially exciting view of the two waterfalls and the active bridge!
You can also enjoy all of this by driving to the end of Frenchs Mill Rd and walking out to the viewing platform.
Therefore, easy accessibility makes the falls awesome to see at any time of year, even when the ground is covered in snow.
And while there are no long hiking trails that start and end at the falls, you can view them after a short walk from the parking area.
But, if you'd like to do a bit of hiking, you can walk along the nearby Vosburgh Red and Blue Loops.
Yeah, they create a fairly flat loop of about three miles that takes you through various fields and along the lower part of Normans Kill – an area that the French's Hollow Waterfalls are a part of.
6. Barberville Falls
Barberville Falls features a drop of 92 feet and can be found inside the Barberville Falls Preserve (note that there is a lot of private property here so be sure to stay on marker trails!).
There's even a very short trail that you'll have to follow to reach the falls from Blue Factory Road. Yeah, this path covers less than a half-mile out and back and has almost no elevation gain.
Therefore, it'll probably take you less than 20 minutes to complete. There's also not a huge amount of parking, unfortunately, but parking along the side of the road is permitted.
Alternatively, you can always head out on the moderately difficult Barberville Falls Ridge Trail which is a 1.5-mile loop trail near the falls that crosses over some low streams (though they can be higher depending on the season and the weather!).
Also, while this trail is gorgeous it can get muddy and very buggy. So, wear appropriate footwear and bug spray.
And if you still have the energy to burn, check out the third trail through the area. Yes, it's a bit farther up the Poesten Kill and won't bring you right past the waterfall.
However, the Barberville Falls Creek Trail is a great option if you're looking for something longer (just under one mile) that is still manageable and mostly flat.
Map of Albany NY Waterfalls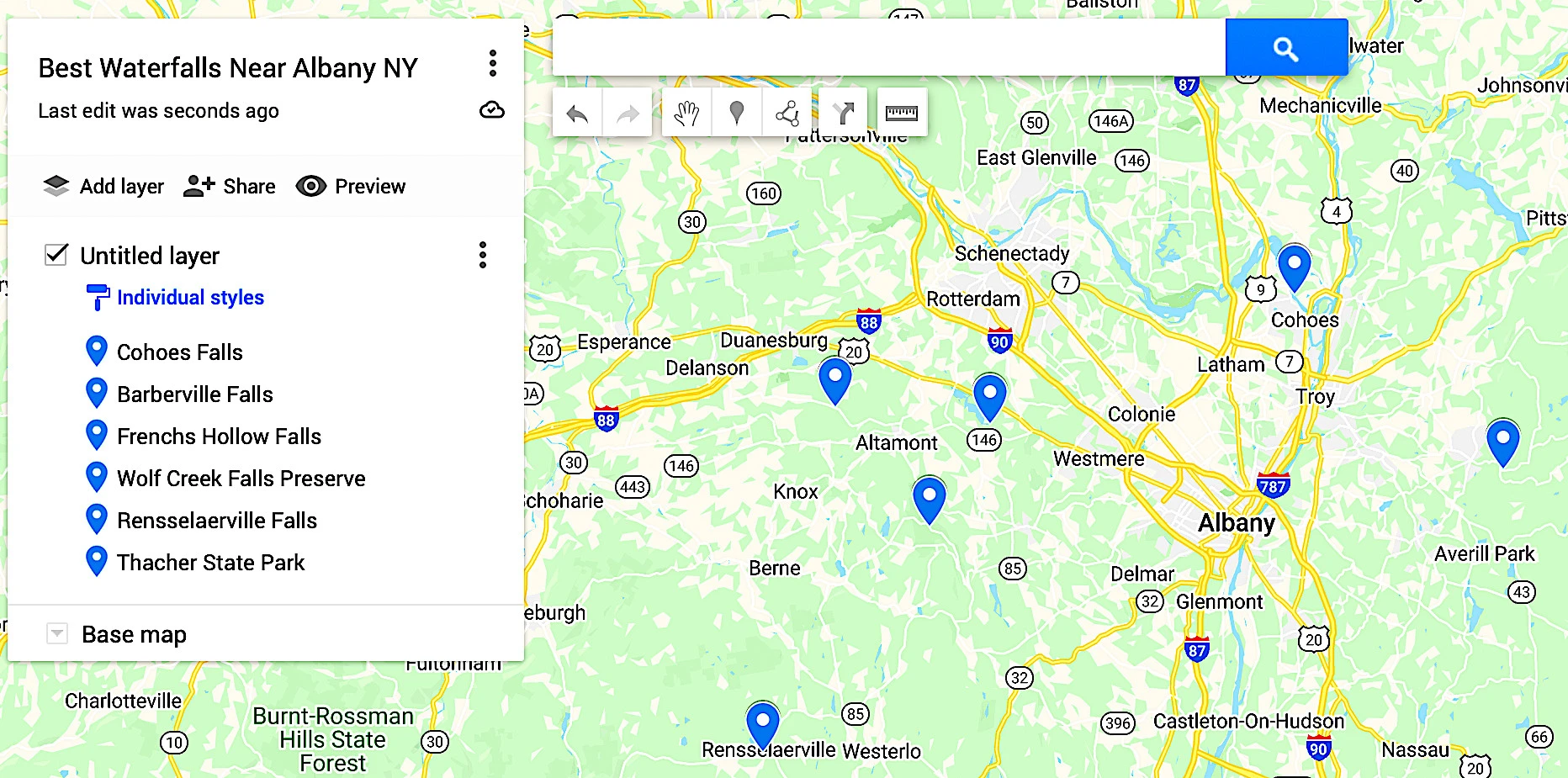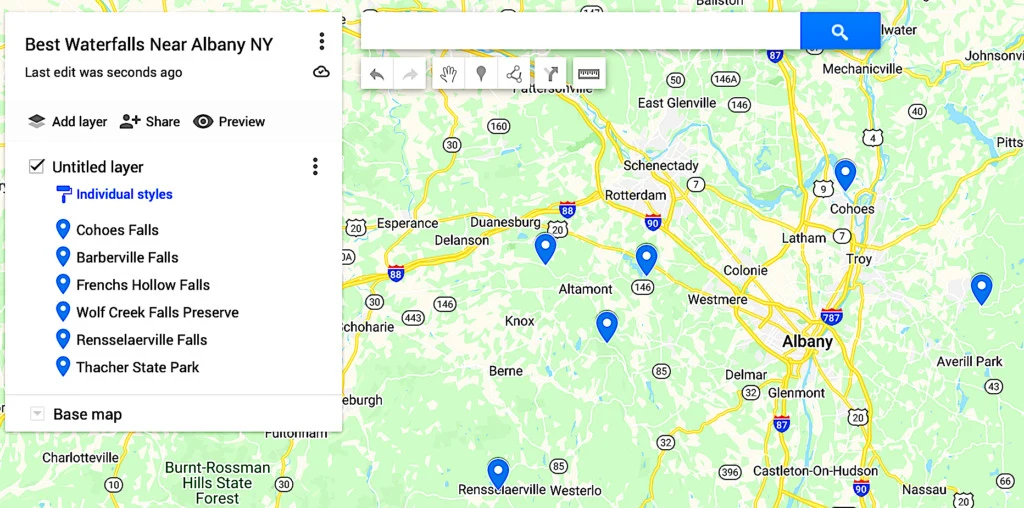 Additional New York Resources You'll Love
There you have it! That just about wraps up this guide to the best Albany NY waterfalls.
Tell me, did your favorite waterfalls in upstate NY make the list? If not then let me know in the comments below!
And if you found this post helpful, be sure to sign up for our email list before pinning this post now so that you can read it again later.