Ready to experience some of the all time raddest and not-so-baddest swimming holes in NY? If so then this epic list of the best swimming holes in New York is 110% for you.
After all, I'm a 30+ year local New Yorker who wants to share my super secret, insider tips with you. This way, you can quickly and easily visit all of the top swimming holes in NY.
Because, guess what? Many of the best swimming holes in NY are actually highly guarded, well-kept secrets that only super savvy locals know about through word of mouth.
However, I'm about to spill the beans on some of my all time fave New York swimming holes so that you can experience this great state like a local, not a tourist.
This way, you can leave the cold and snowy days of winter behind as you swan dive into a plethora of idyllic pools, blue holes, and ponds that sit at the base of some of the best waterfalls in New York
This post may contain affiliate links. Please see my disclosure for more information. As an Amazon Associate, I earn a small commission from qualifying purchases.
Best Swimming Holes in New York – Catskills
1. Peekamoose Blue Hole, Denning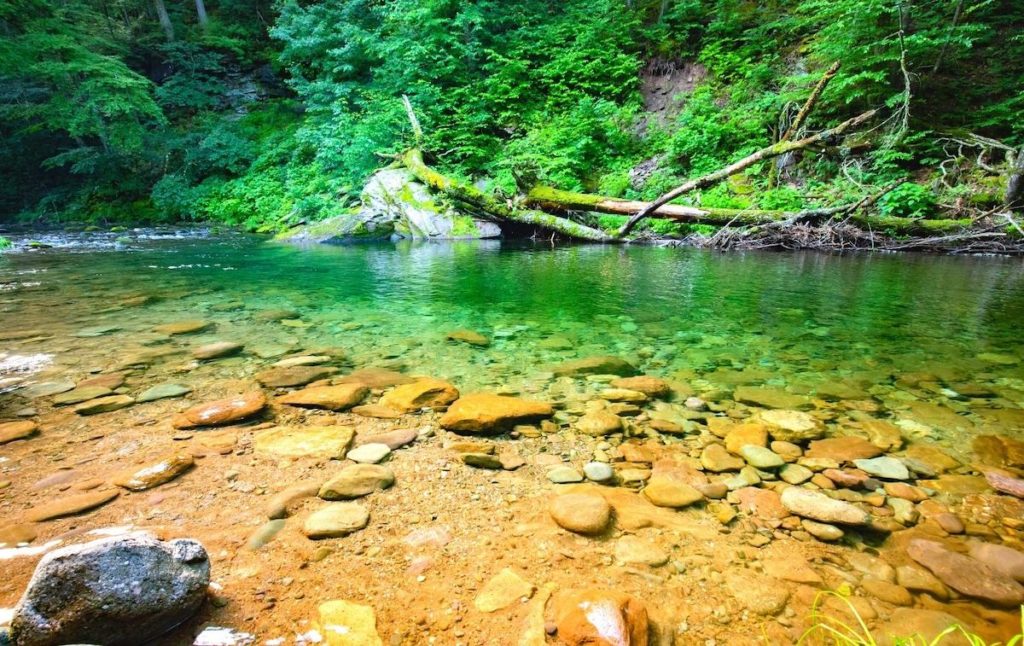 This gem of a New York swimming hole is located on Roundout Creek – a body of water that eventually drains into the Roundabout Reservoir and that supplies NYC with much of its drinking water.
It features ethereal blue waters that can be found smack dab in between the Sundown Wild Forest and the Catskills Forest Preserve.
And at its deepest points, this is one of the best swimming holes in NY that can be upwards of 10-feet deep. However, it's definitely not a hidden gem. So, come early on a weekday morning (before 10:00 am) to avoid the crowds and get a parking spot since, you guessed it, parking is very limited.
Also, not gonna lie, the water at one of the best swimming holes in NY is FRIGID. So, be prepared. Plus, you will need a permit to visit any time between May 15th and September 15th. Yes, they're free but you do need one about 7 days in advance of your visit (from Reserve America) and it is valid for up to 6 people.
Every year, from May 15th to September 15th, a permit is required to visit the Peekamoose Blue Hole from Reserve America. Permits are free but must be reserved online at least 24 hours ahead of time and 7 days before your visit at 9:00 AM. Permits are limited to 6 travelers and you must submit the name of every person coming with you. Here is the most recent announcement about the permit requirement.
Pro Tip: Don't forget to visit nearby Buttermilk Falls while you're here.
2. Vernooy Kill Falls, Kerhonkson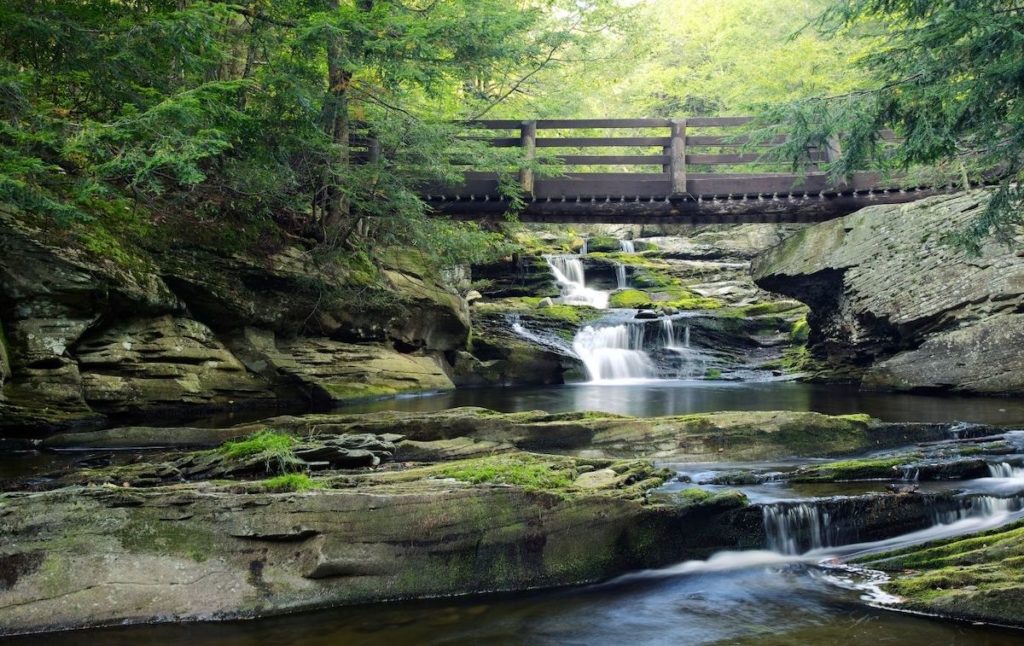 Located in the always beautiful Vernooy Kill State Forest, this is one of the best swimming holes in NY that can be reached after doing a 3.5 mile (round trip) out and back hike to the falls as you summit Cherrytown Mountain.
Just head to Upper Cherrytown Road and drive for a little over 3 miles until you see the DEC parking lot. Once here, it's not s super difficult hike since it only features around 600-feet of elevation gain.
Then when you hit the trail just be on the look out for blue blazes and follow them to a picturesque bridge that sits at the bottom of Vernooy Kill Falls.
Finally, go for a refreshing dip beneath the 60-foot tall cascading waterfalls and enjoy all that the Catskills has to offer.
Pro Tip: The best photo ops are from the center of the stream with the bridge in the foreground. There are also some cool ruins from an old mill that you can explore.
3. Kaaterskill Falls and Creek, Tannersville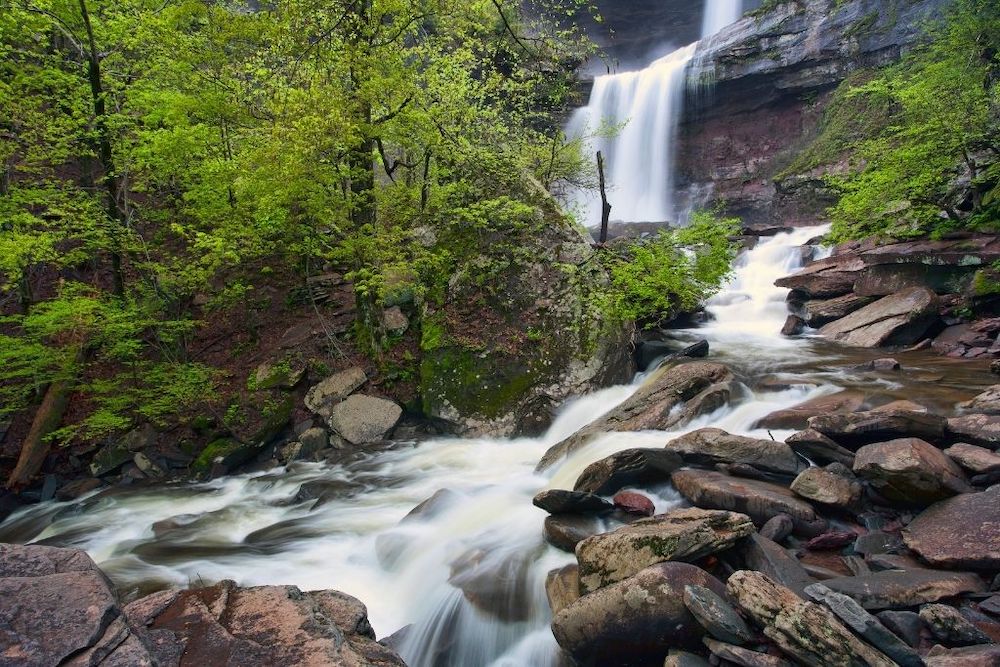 Without a doubt this is one of the best hikes in the Catskills that also doubles as a home for one of the top swimming holes in NY.
So, grab a spot at the larger parking lot near Haines Falls and just follow the signs as you do an easy, 0.3 mile hike to the viewing platform.
If you can, start at the top of the 175-foot tall upper waterfall and then work your way down to the 85-foot tall waterfall near the bottom since this is the safest route possible.
From here, you'll do a 0.75 mile hike (about a mile and a half round trip) past an old hotel and over a bridge as you make your way down to the base of the falls.
Once you come to a fork in the trail, go straight ahead and you'll be mid-way in between the Upper Falls. Admire the view (water spray makes photos impossible) and then continue to the bottom to enjoy one of the best swimming holes in New York.
Pro Tip: This is one of the best swimming holes in NY that is VERY popular. So, to avoid crowds, visit early on a weekday morning. Also, due to recent increases in the number of visitors, their has been a crack down on illegal parking so only park in designated spots. Also wear good shoes since the trail can get slippery.
4. Fawn's Leap, Tannersville
Fawn's leap is an absolutely gorgeous spot and is one of the best swimming holes in New York. Wondering why? Well, it has a 24 foot high waterfall and cool clear water which makes it perfect for one of those ultra hot days in summer. Unfortunately since it is so perfect, this spot is usually crowded.
The area is popular for cliff jumping. In fact, you will find that there are cliffs of different heights here. That means that there is one for almost everyone's capabilities. It is important to stay safe though, so make sure that you don't overreach when testing your cliff jumping skills. Always, I repeat ALWAYS cliff jump with a buddy. This is essential in case something goes wrong.
Pro Tip: The best thing to do when visiting the Fawn's leap is to head here extra early. Not only will it help you avoid the crowds, it will ensure that you get a parking spot. The parking area is small and fills up really fast. Luckily there is a secondary parking lot a little further off. It does however mean that you will have to walk further.
5. Otter Falls, Sundown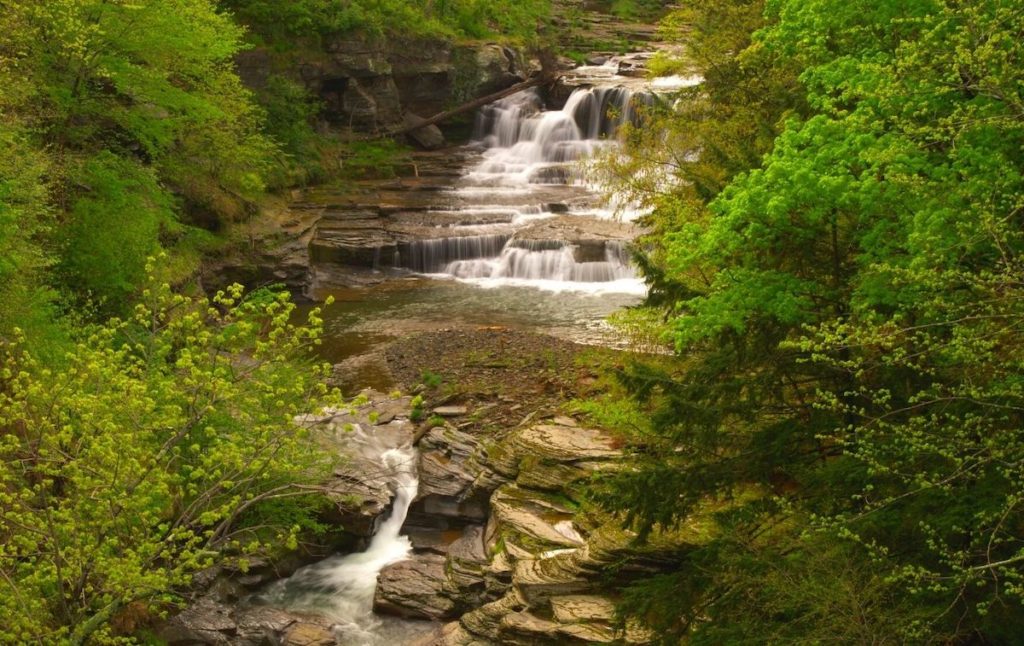 Heading to Giant's Ledge? If so then make a pit stop at one of the best swimming holes in NY (aka Otter Falls) since this fabulous swimming spot shares a parking lot (just after the bridge on Route 47) with one of the best hikes in New York.
Yup, this is one of those epic swimming holes in New York where the water is 8 feet deep and where there is a nice path that will lead you on an easy, 5-minute walk to Otter Falls.
Once here, admire the 25-foot tall waterfall that cascades into the pools below where you can swim in semi-cloudy, sometimes muddy water. Just be aware that the pool can dry up a bit in the summer.
Pro Tip: Go down stream for about ten minutes, past the bridge, to find a 10-foot tall waterfall that leads into a second, smaller pool where you can go swimming.
6. Big Deep, Woodstock
Catskills has a number of places to swim in the great outdoors. The Big Deep is one of the best swimming holes in New York (and not just in Catskills!). The swimming hole is located close to Woodstock which means you can head back to the town for a nice hot lunch after you are done swimming. Alternatively, you can pack a picnic lunch or catch a takeaway from Woodstock before heading to Big Deep.
Big Deep is perfect for the whole family. It has ropes that you can swing on before splashing into the water. It also has different depths. The shallower depths are great for babies and toddlers.
The best part about Big Deep is that it is absolutely free. Even the parking is free, so if you are looking for a budget place to head to, then this is the perfect spot for you. The only downside is that there is no lifeguard on duty here. So keep your eyes peeled when it comes to kids and don't swim here alone.
Best Swimming Holes in NY – Adirondacks
7. Shelving Rock, Lake George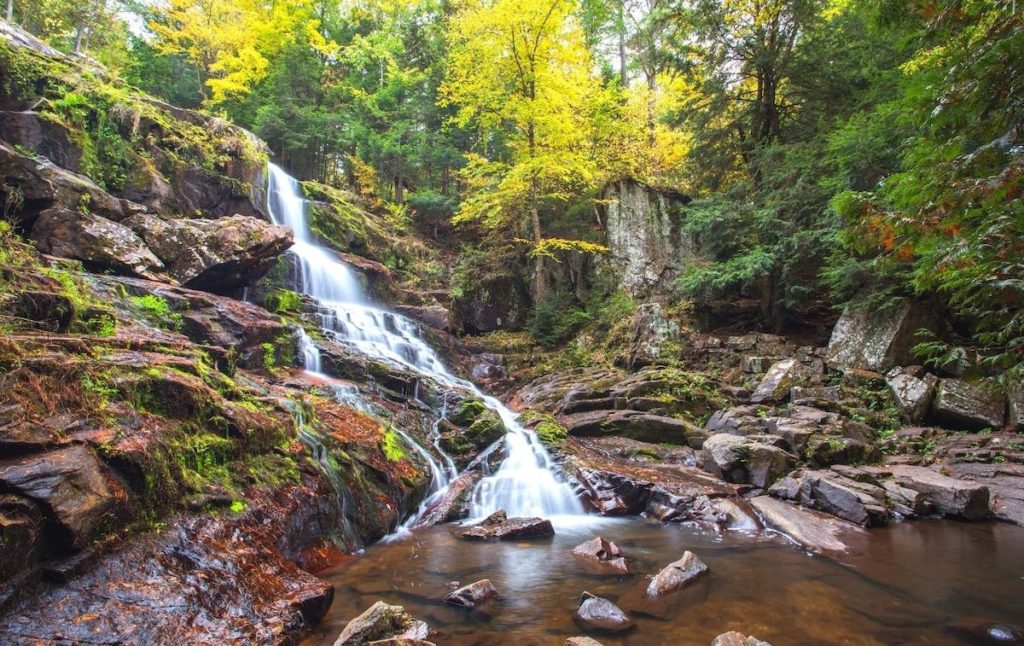 Want to experience all of the very best things to do in Lake George? If so then check out the Shelving Rock Area on the eastern side of the lake. It's here that you can take a soak in one of the best swimming holes in New York.
That's because this pristine green space is home to Shelving Rock Falls, which features a fantastic swimming spot at its base. So, to visit, just take Route 9 south from Lake George Village and then follow Route 149 to Buttermilk Falls Road on your left.
Eventually, turn left onto Sly Pond Road, which will become Shelving Rock Road. Continue to the end of the road until you reach a steel gate with a parking lot.
Leave your car here and walk along the trail from the top to the bottom of the waterfall. Just be super careful since the trail is equal parts steep and slippery at the bottom.
Pro Tip: There are two different trails here so you could hike to the Shelving Rock Summit after you visit the waterfall.
8. Split Rock Falls, Elizabethtown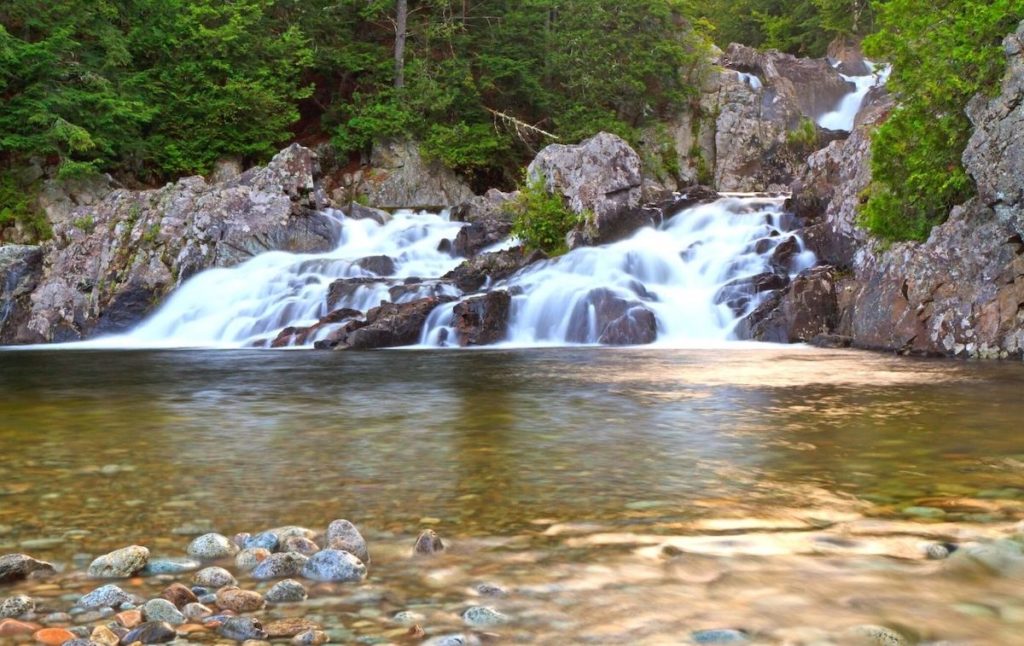 Tucked away in the High Peaks region of New York, this idyllic swimming hole can be found at the base of the awe-inspiring, 50-foot tall, Split Rock Falls.
So, hop on US 9 as you make your way to Elizabethtown and you'll see one of the best swimming holes in NY right on the Boquet River, just inside the marvelous Hammond Pond Wild Forest.
Once here, do a bit of cliff jumping or take a well-deserved dip in the natural pool here. Just be careful after heavy rains since this type of weather can make conditions extremely treacherous.
9. Christine Falls, Speculator
Hidden away in the tiny village of Speculator is one of the best swimming holes in NY. To get here, take Route 30 just past the welcome sign and drive for just under a quarter of a mile until you see a parking lot past the entrance to Old Route 30 on the left (if you get lost, just ask a friendly local).
Once at the lot, be sure to grab a picnic lunch and make the short trek to one of two waterfalls that plummet 20-feet down into the pools below. It's an easy walk that will take no more than a few minutes. Just remember that the water here is deep and not really great for little kids.
However, if you're feeling a bit brave, you can jump from a small cliff here into a deep pool of water below and take in the cool, crisp water. That being said, this swimming hole isn't all that big and really isn't suitable for large groups.
10. Shanty Brook, Wells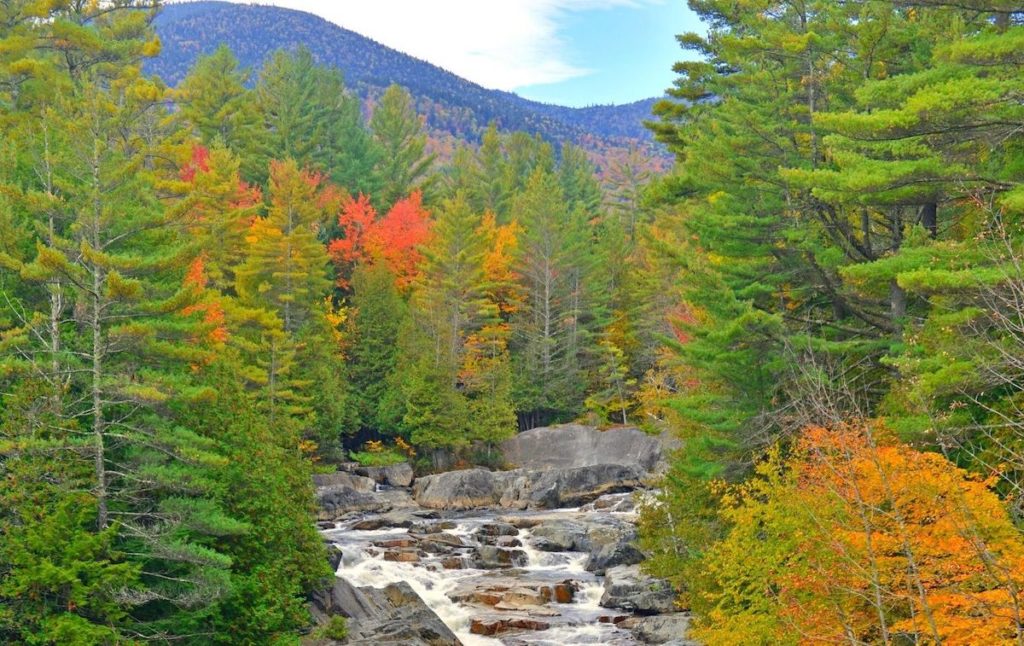 Located just east of Speculator, Shanty Brook feeds into the Sacandaga Rover and results in a stunning, 12-foot-tall waterfall that creates one of the best swimming holes in NY.
That being said, this is definitely not the easiest place to get to, so the hike here is moderately difficult and will take around 30-minutes to complete. You'll also have to pass through thick brush and cross a small part of the river to get to the pool at the base of the falls.
Additionally, the trail can be difficult to follow since there are tons of off-shoots that can make getting to Shanty Brook confusing. However, when you finally do get here, you efforts will be rewarded with a stellar view of a waterfall plummeting into the gorge below, which features a small pool of water.
Pro Tip: If you get confused just follow Shanty Brook and hop along the rocks to get to the main river. Also, this is one of those well-hidden swimming holes in NY where you can go skinny dipping if you feel so inclined. You can also park at the lot on Route 8 that sits about 9 miles north of the junction with Route 30.
Best Swimming Holes in NY – Finger Lakes
11. Stony Brook State Park, Dansville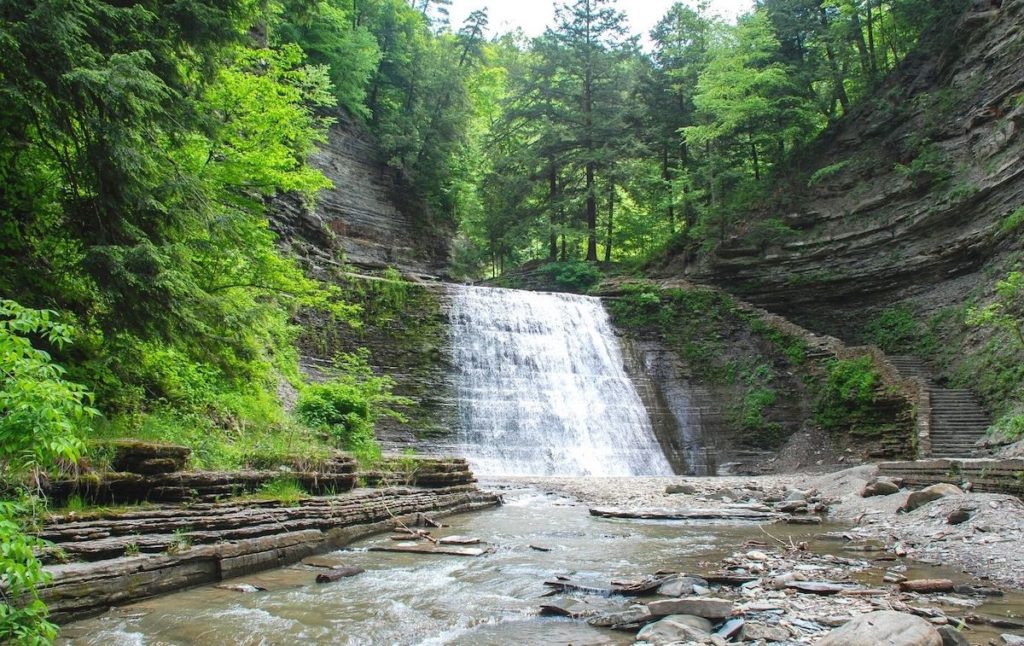 Visit this impressive, 568-acre state park any time between Memorial Day and Labor Day to enjoy a natural, stream-fed pool that has become one of the all time best swimming holes in NY.
In fact, this place is so awesome that it even features an on-duty lifeguard, stairs built into the natural swimming area, and officially roped off sections.
Yup, just a super fun place to go for a dip and escape New York's incredibly oppressive summer sun. And then afterward, experience everything else this park has to offer, including a rugged gorge, various overnight campsites (88 to be precise), picnic tables, playgrounds, tennis/volleyball/basketball courts, and more.
Plus, hiking enthusiasts can take advantage of the stunning Gorge Trail which starts at the swimming hole near the North Entrance and takes visitors past three exquisite waterfalls (The Rim Trail is also nice and takes you along the top of the gorge) in the area.
Pro Tip: The park is open daily from dawn to dusk but the swimming area is only open in the summer from 10:00 am to 6:00 pm. To enter the park, you also must pay a $9.00 vehicle day use fee.
12. Enfield Falls, Ithaca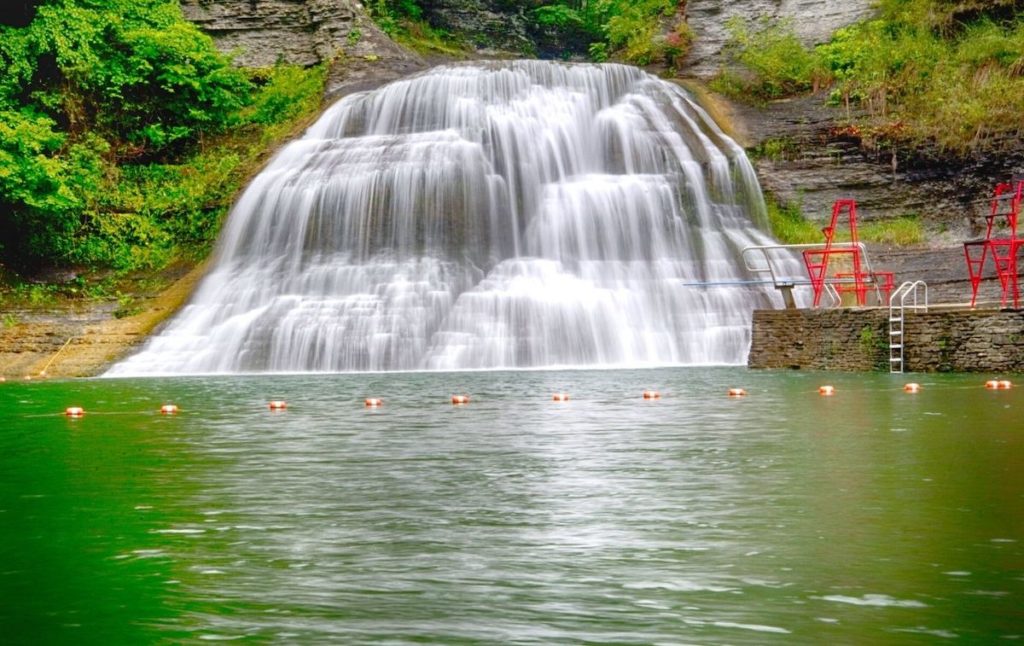 Planning to visit Robert H. Treman State Park as you tackle some of the best hikes in Upstate New York? If so then consider stopping by Enfield Falls (aka Lower Falls) and taking a swim in one of the best swimming holes in New York.
I mean, this place has easily accessible from the main parking lot and is so official that they even have roped off areas, built in steps, and their very own lifeguard on duty, making it an ideal spot for the entire family to go for a swim.
And that's basically because a dam is setup every summer to hasten the flow of water into Enfield Glen, thereby creating one of the top swimming holes in NY for you and your family to enjoy.
Accordingly, a diving board and ladders are also placed in the deepest parts of the pool, which can be up to 20-feet deep. There are also a picnic tables, bathrooms, and even a changing area, making this one of the best swimming holes in NY that is swank AF.
Pro Tip: Take your summer vacay to the next level and do a bit of overnight camping here. Also, while the park is open all year long, the swimming area is only open in the summer from 11:00 am. to 7:00 pm. Also, check the weather before you visit since this area does close as the result of inclement weather.
13. Fillmore Glen
If you are in the Finger lakes region and are looking for some of the best swimming holes in NY, I would recommend visiting Fillmore Glen. I mean, you've probably heard about Fillmore Glen State Park.
Most people know it because it has some of the best waterfalls in NY. Not everyone knows that these waterfalls feed into one of the best swimming holes in NY! Yes! I just let the cat out of the bag.
This swimming hole is extremely family friendly and it even has a lifeguard on duty.
Pro Tip: Head to the Fillmore Glen State Park for a camping trip and pack your swimming gear. This way you can head out on many of the hiking trails during the day and come back to a refreshing dip in the swimming hole. Sounds pretty perfect right?
Best Swimming Holes in NY – Albany
14. Jones Hollow
To say that Jones Hollow is gorgeous would be an understatement. Seriously! This place has some of the clearest water that I have seen in the whole of NY. It makes it one of the best swimming holes in NY that we know off.
Jones Hollow has multiple falls and deep pools which are great for people who want to swim. The pebble bottom means that you won't hurt your feet when you touch down. The bridge above it just makes it even more Instaworthy so make sure that you click away and pair it with some of our epic captions on New York.
Oh and the deepest pool in the area? It is located under the bridge so you are bound to get some shade during a hot day.
Pro Tip: Getting down involves a short but steep walk down. This is because of the rock formations that border both sides of the area. Make sure to wear good shoes so that you don't slip.
Swimming Holes In NY FAQ
Which Are The Best Swimming Holes In The Adirondacks?
The Adirondacks offer some of the best natural environments to relax in. It should not come as a surprise to know that they also have some really nice places to swim. Some of the best swimming holes in the Adirondacks are:
Fawns Leap
Enfield falls road
Christine falls
Peekamoose Blue Hole
What Is The Cleanest Lake In NY?
Skaneateles Lake is the cleanest lake in NY and it is also one of the biggest tourist attractions in the area. During summer, this place is a hub of activity.
Which Are The Best Swimming Holes In Catskills?
If you want to ditch the chlorinated pools for something more natural, you will find that some of the best swimming holes in NY are in Catskills. Some of my top picks are:
Otter Falls
Kaaterskill Creek
Peekamoose Blue Hole
Split Rock Hole
Map of the Best Swimming Holes in NY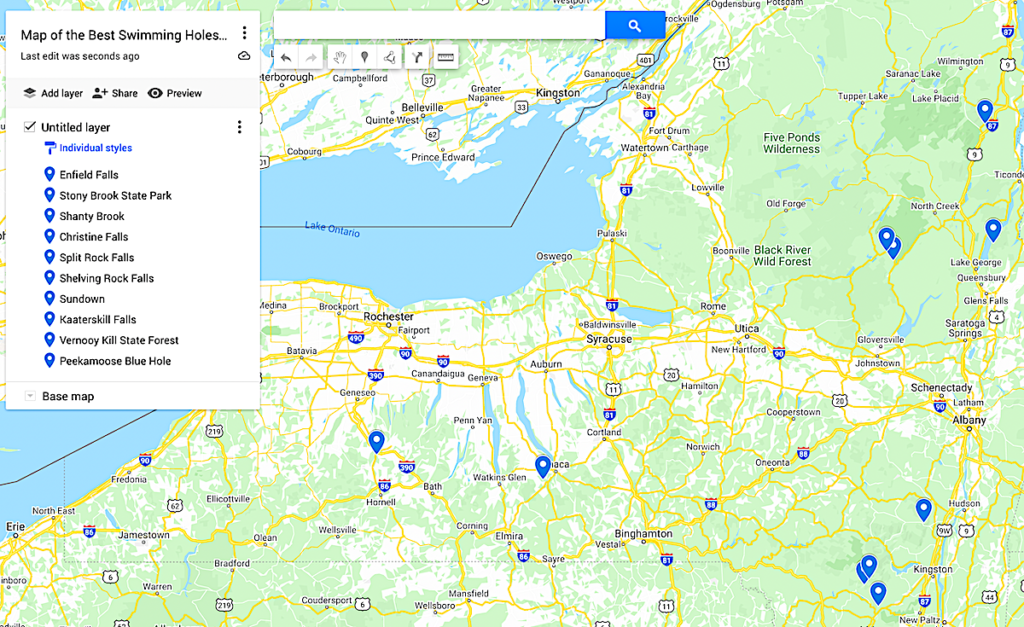 Well, that just about concludes this epic guide to the best swimming holes in NY. Tell me, did your picks for the top swimming holes in New York make the cut?
If not then let me know in the comments below so that I can add them to this list. And if you found this post useful, don't forget to join our email list before pinning this post now so that you can read it again later!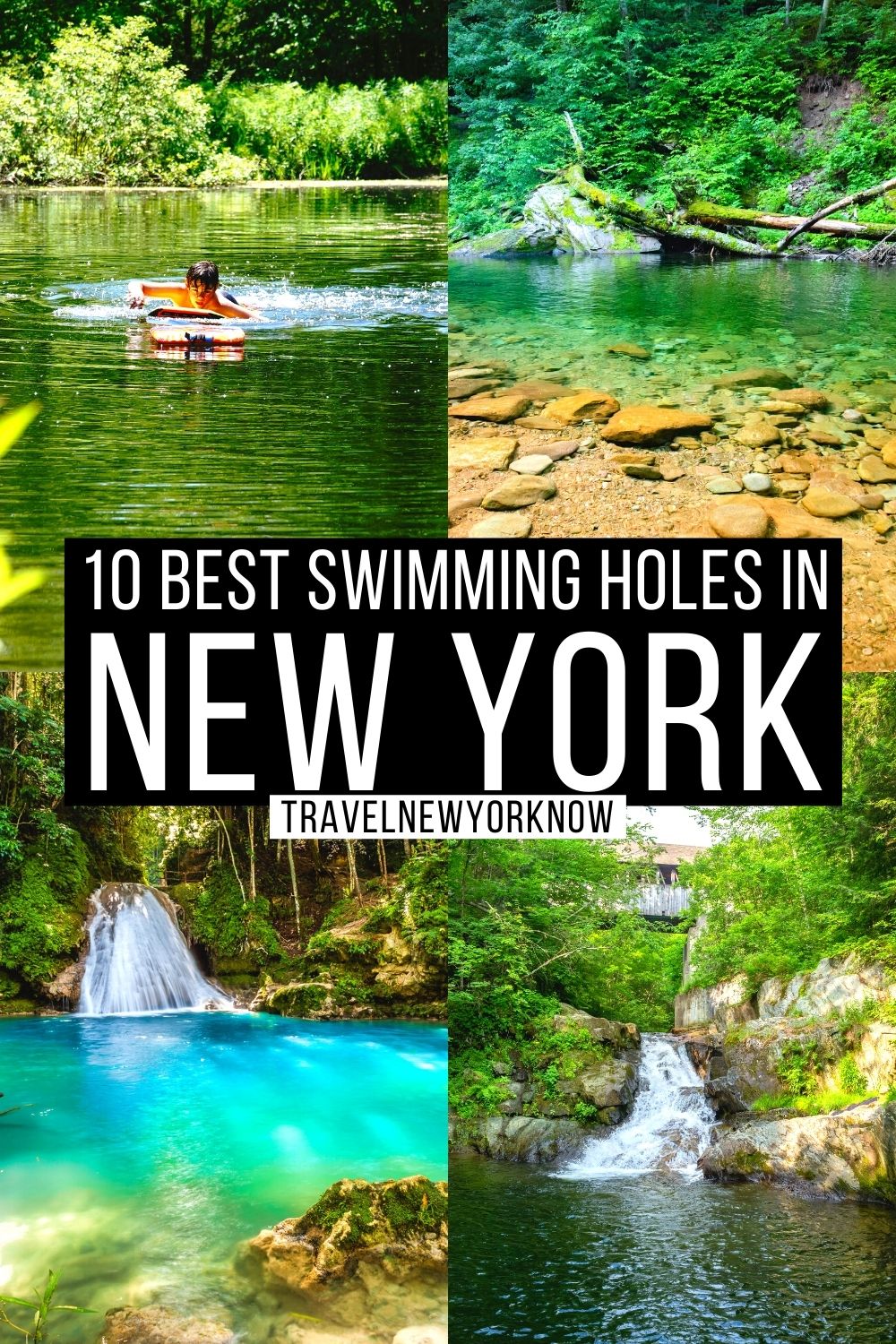 .