When you imagine the great state of New York, I bet you envision exciting trips to iconic destinations like Niagara Falls and New York City.
However, tucked away amidst all the pristine lakes and rolling hills of vineyards is a tiny town known as Owego – a place in the Finger Lakes Region of New York where you'll find some of the very best things to do in Owego NY.
It's a quiet, sleepy town in historic Tioga County that is brimming over with scenic riverside walks (along the stunning Susquehanna River), charming vintage stores, and amazing historic sites that are waiting to be explored.
Therefore, if you want to get off the well-trodden tourist trail and experience one of my favorite towns in the Finger Lakes region, then this post about the best things to do in Owego New York, is 110% for you!
After all, I've visited this place more times than I can count and want to share with you all of my secret, insider tips on where to go, what to do, and where to stay while enjoying this next-level beautiful part of New York.
So, come with me on a journey to one of the most underrated towns in New York as we discover some of the best things to do in Owego NY.
This post may contain affiliate links. Please see my disclosure for more information. As an Amazon Associate, I earn a small commission from qualifying purchases.
How to get to Owego New York
Nestled along the beautiful Susquehanna River in Tioga County, Owego is a tiny town that is a perfect home base from which to explore the ethereal beauty of the greater, Finger Lakes region.
In fact, Owego is so well-located that it is just a 40-minute drive from Ithaca/Cayuga Lake (30 miles), a 50-minute drive from Corning (50 miles), and a 60-minute drive from Watkins Glen/Seneca Lake.
So, if you would like to visit and experience some of the best things to do in Owego NY for yourself, you could:
Drive – Hop on I-80W, take that to I-81N, and get off at exit 64 to visit Owego. In total, the drive will take you about four hours from downtown New York City.
Bus– Alternatively, you could always take a bus from Port Authority to Binghamton, NY. They depart three times daily and the journey will take about 3 hours. Once in Binghamton, transfer and take a bus directly to Owego. The bus ride from here will take about an hour and buses depart, on average, every three hours.
Where to Stay in Owego New York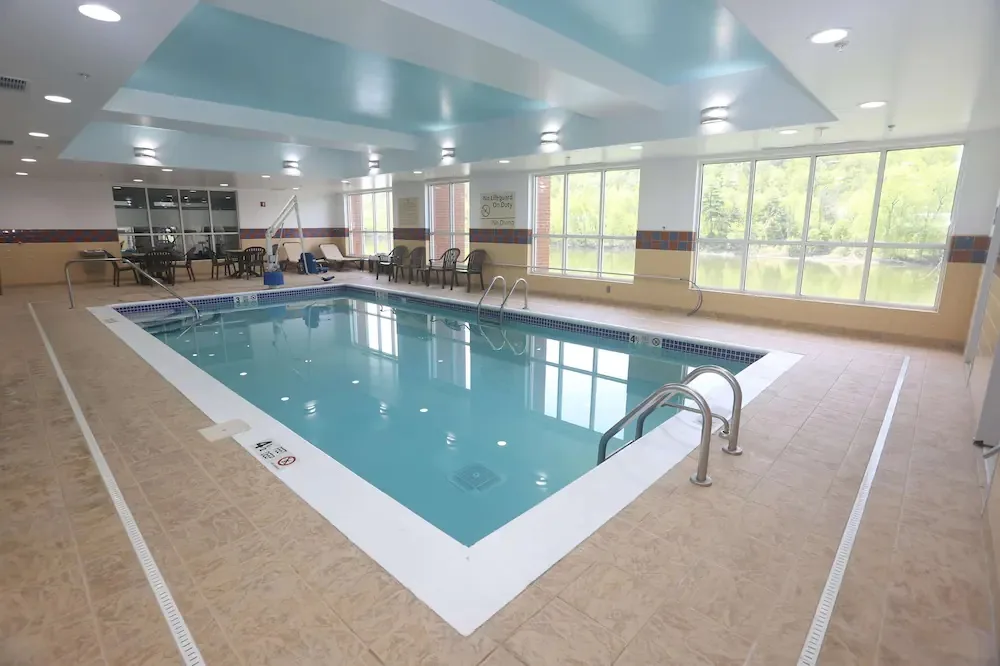 Not sure where to stay while enjoying some of the best things to do in Owego NY? Well, if you're emphatically nodding your head, "yes" right now then this section is for you.
Because, as you probably already guessed, I'm about to reveal my picks for the best hotels in and around the Owego area.
So, regardless of your budget, you'll definitely be able to find the perfect place to stay while enjoying the quaint, small charm of Owego, New York.
Hampton Inn Owego (budget, Owego) – I know it's a chain but this hotel is EXTREMELY well-reviewed and well-priced at just under $100 per night for a room. Plus, the property overlooks the beautiful Susquehanna RIver and features simple rooms with WiFi, custom-designed beds, HDTVs, and coffee makers. Daily hot breakfast is also included with your stay, as is access to a gym, indoor pool, a coin-operated laundry, and a convenience store.
Microtel Inn & Suites By Wyndham Binghamton (budget, Bnghamton) – This 2.5-star hotel in Binghamton is just 30-minutes away from Owego and has a lovely little fitness center that guests are welcome to use. Understated rooms also have the usual flat-screen TVs and Wifi but also include breakfast – which I for one think is pretty dang awesome since I'm all about the free food.
La Tourelle (mid-range, Ithaca) – Located about 30-minutes away from Owego, this upscale hotel is set on 70-acres of property and offers guests individually decorated, antique-style rooms that include 4-poster beds, fireplaces (in some rooms), TVs, WiFi, coffeemakers, and dual showerheads in the bathroom.s There's also a fab, farm-to-table bistro here that serves delicious food and an on-site spe where you can get a wicked awesome massage (for an additonal fee). Yup, this is 100% the place I would stay in while enjoying the best things to do in Owego NY.
Quinta Rose Estate (luxury, Newfield) – This posh beyond belief bed and breakfast sits inside a gorgeous, Queen Anne Victorian home that has five different bedrooms for guests to stay in. All rooms here are uniquely decorated, feature private bathrooms, and pay homage to the building's past with vintage furnishings. However, modern ammenities like Wifi and airconditionaing have also been added to make your stay extra comfortable. The hosts are also quite lovely and provide guests with a daily Continental Breakfast that uses farm frech eggs from their very own hens.
Best Things to do in Owego NY
1. Owego Riverwalk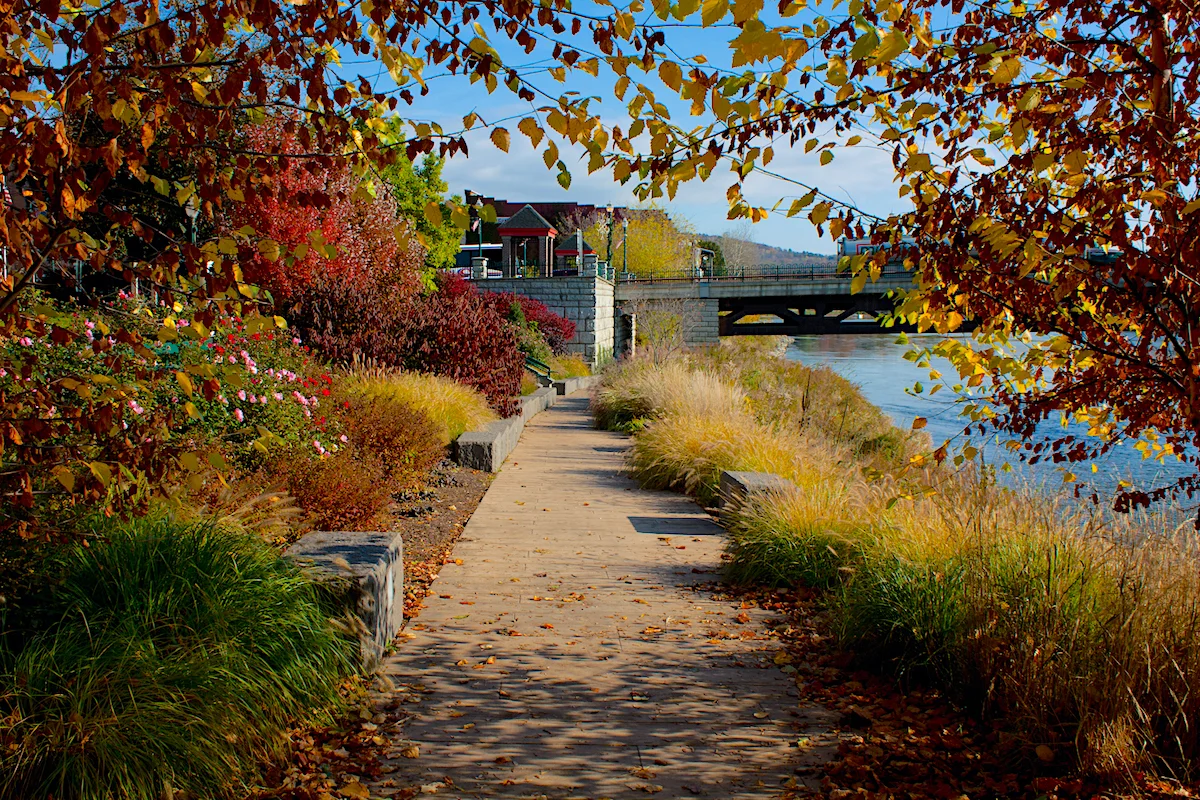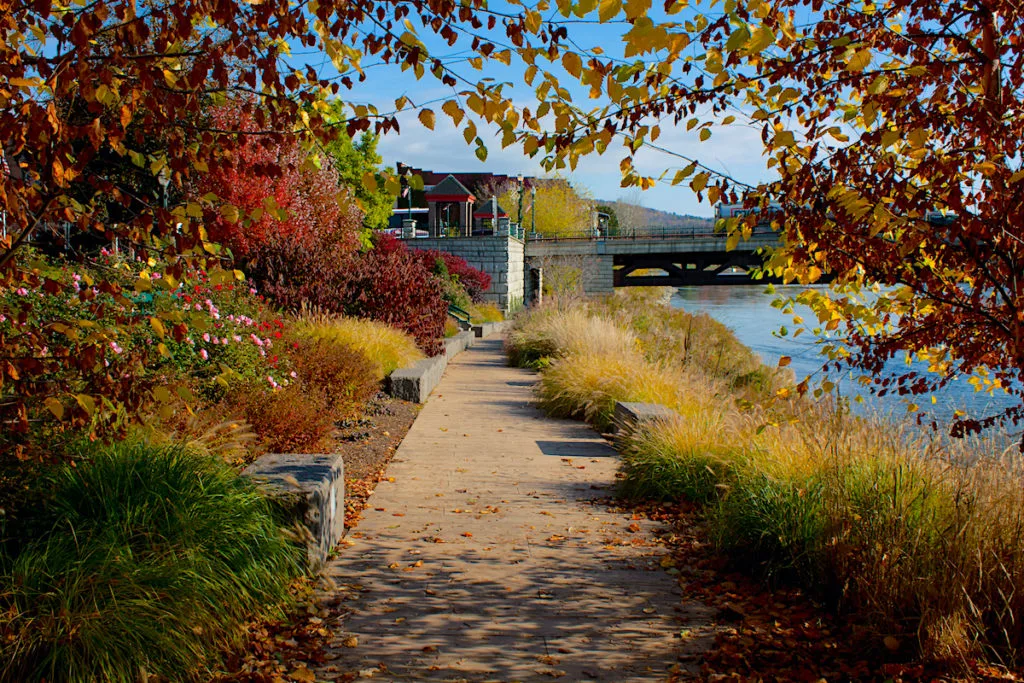 Easily one of the best things to do in Owego NY, the aptly named Owego Riverwalk is a mile-long, riverfront walkway that runs along the banks of the Susquehanna River and beneath the businesses of Front Street.
Taking you through downtown Owego, this scenic pathway offers pedestrians stellar panoramas of the surrounding area and takes you past several restaurants – like Las Chicas Taquerias – where you can stop for lunch or dinner while admiring the area's many awesome views.
You can also stop at one of the many benches or swinging chairs along the way and enjoy a beautiful sunset – or ten.
So, feel free to enter at either Draper Park (aka 132 Front Street) or Ahwaga Park (aka 180 front Street) and meander along this marvelous riverfront walkway for yourself.
Address: Front St, Owego, NY 13827
Hours: Open all day, every day.
Price: Free
2. Riverow Bookshop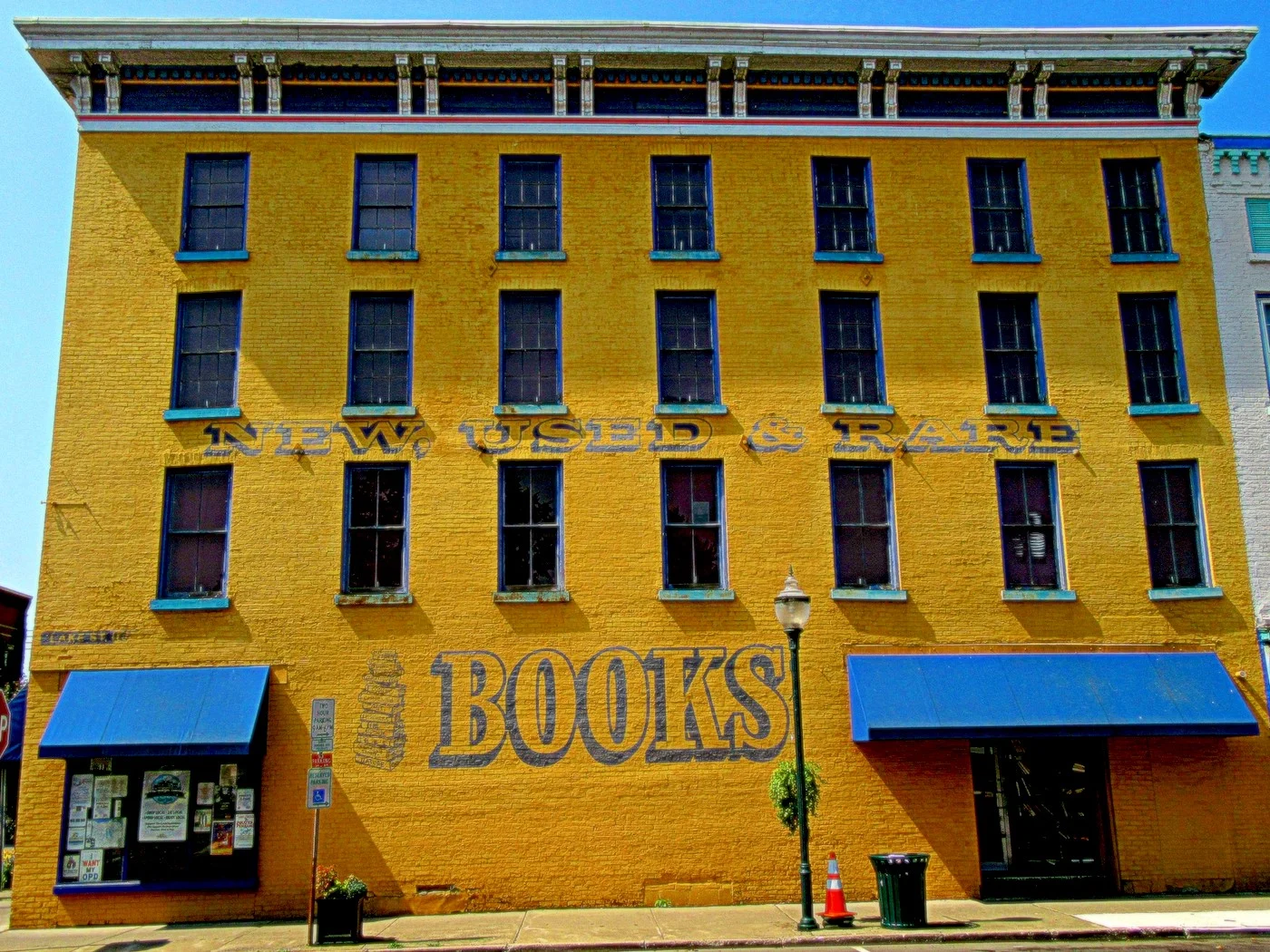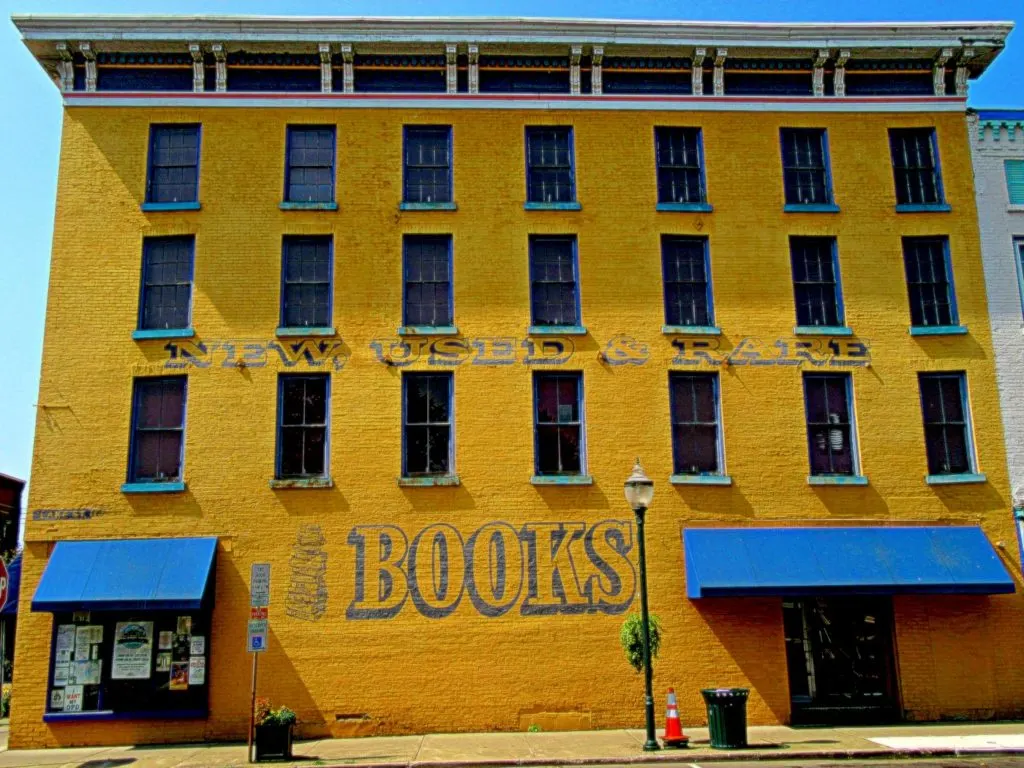 Love books or just looking for a supremely awesome photo op? If so then mosey on over to Riverow Bookshop.
After all, this family-owned bookstore was first opened in 1976 and now features three glorious floors of bookish fun that includes close to 86,000 books – in addition to historic architectural designs adorning the walls, a wealth of locally-made merchandise, rare books, stunning bookends, and more!
Yup, there is a truly eclectic assortment of used and new titles for you to browse before sitting down at a lovely little cafe where you can stop for a cup of tea, a hot coffee, or a glass of wine.
And after you have your drink of choice in hand, take advantage of their outdoor seating area with excellent views of the nearby river.
Pro Tip: Head to the basement where most books are 50% off. Also, be sure to stop for an awesome photo op along the side of the building on Lake Street.
Address: 187 Front St, Owego, NY 13827
Hours; Open Monday through Saturday from 10:00 am to 6:00 pm and Sundays from 12:00 pm to 4:00 pm.
Price: Varies based on what you buy.
3. Go Antiquing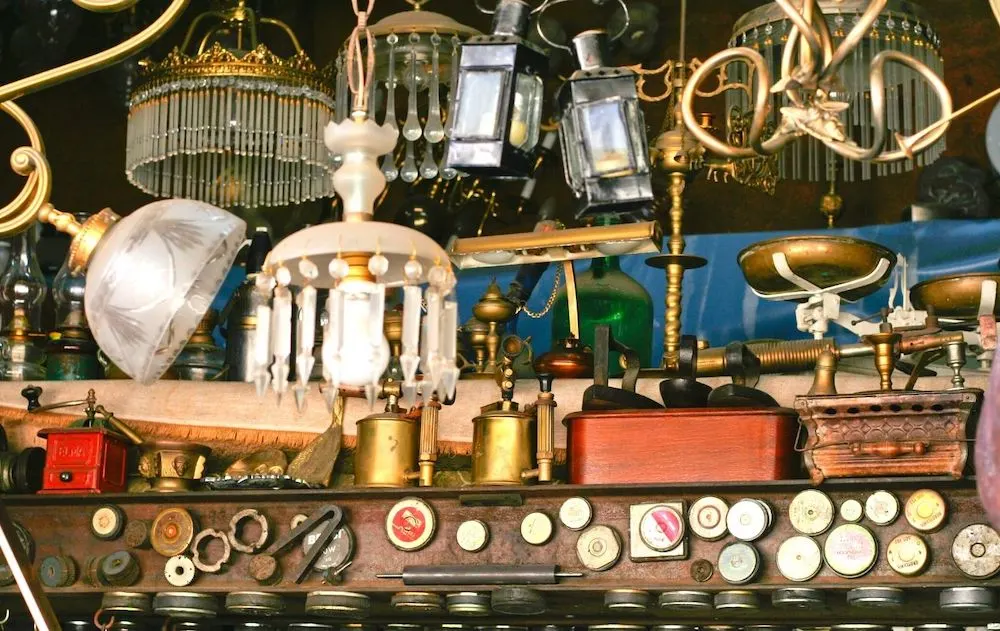 If you love shopping for vintage wares and antiques of every variety, then stop by the Early Owego Antique Center.
Opened in 2013, this amazing shop sits inside the former J.J. Newberry building, which was once a popular five and dime store throughout the 20th century.
Since then though, the space has been converted into a two-story retail center that is filled with vintage wares sourced from multiple vendors.
Everything on display is also well-organized and staff members are extremely helpful, making it easier than ever to find exactly what you're looking for.
And while goods can be a bit on the pricey side, it's still a fun place to shop for cookware, lanterns, vintage signs, paintings, unique jewelry, banjos, cash registers, shirts, knick-knacks, and so much more.
So, enjoy one of the best things to do in Owego NY today and see what sort of buried treasures you can uncover today!
Otherwise, you can always hit up the Owego Schoolhouse Antiques and Art Gallery on Saturdays between 10:00 am and 6:00 pm. It has an almost flea market vibe about it and is a great place to do a bit of treasure hunting since everything is pretty reasonably priced.
Pro Tip: While you're in town, you can also visit the amazing Corning Glass Museum in nearby Corning and shop for some vintage glassware while you're there.
Address: 43-45 Lake St, Owego, NY 13827
Hours: Open Wednesday through Monday from 10:00 am to 5:00 pm.
Price: Varies
4. Get A Dose Of History At Belva Lockwood Inn
Have you ever heard about the Belva Lockwood Inn? Most people haven't but it is one of those places you can't forget once you have laid your eyes on it. This is in part due to its rich history and its link to the women's right movement in the country.
Belva Lockwood was the first woman who was admitted to the bar of the US supreme court. That fact in itself is super amazing. If you consider that she was born into a family that had no wealth, privilege or access to education, her feat becomes even more mind blowing.
The Belva Lockwood Inn (which has currently been renovated!) was the school that she established in Owego. This was way back before she moved to pursue her career.
If you are in the area, stop by. Spend some time listening to one of the first advocates for women's rights and follow her story. Oh and don't forget to ask for a tour!
Pro tip: You can stay in one of the luxury suites for the whole experience that the Inn has to offer!
Address: 249 Front St, Owego, NY 13827, United States
Price: $25 inclusive of lunch!
5. Eat ALL the Food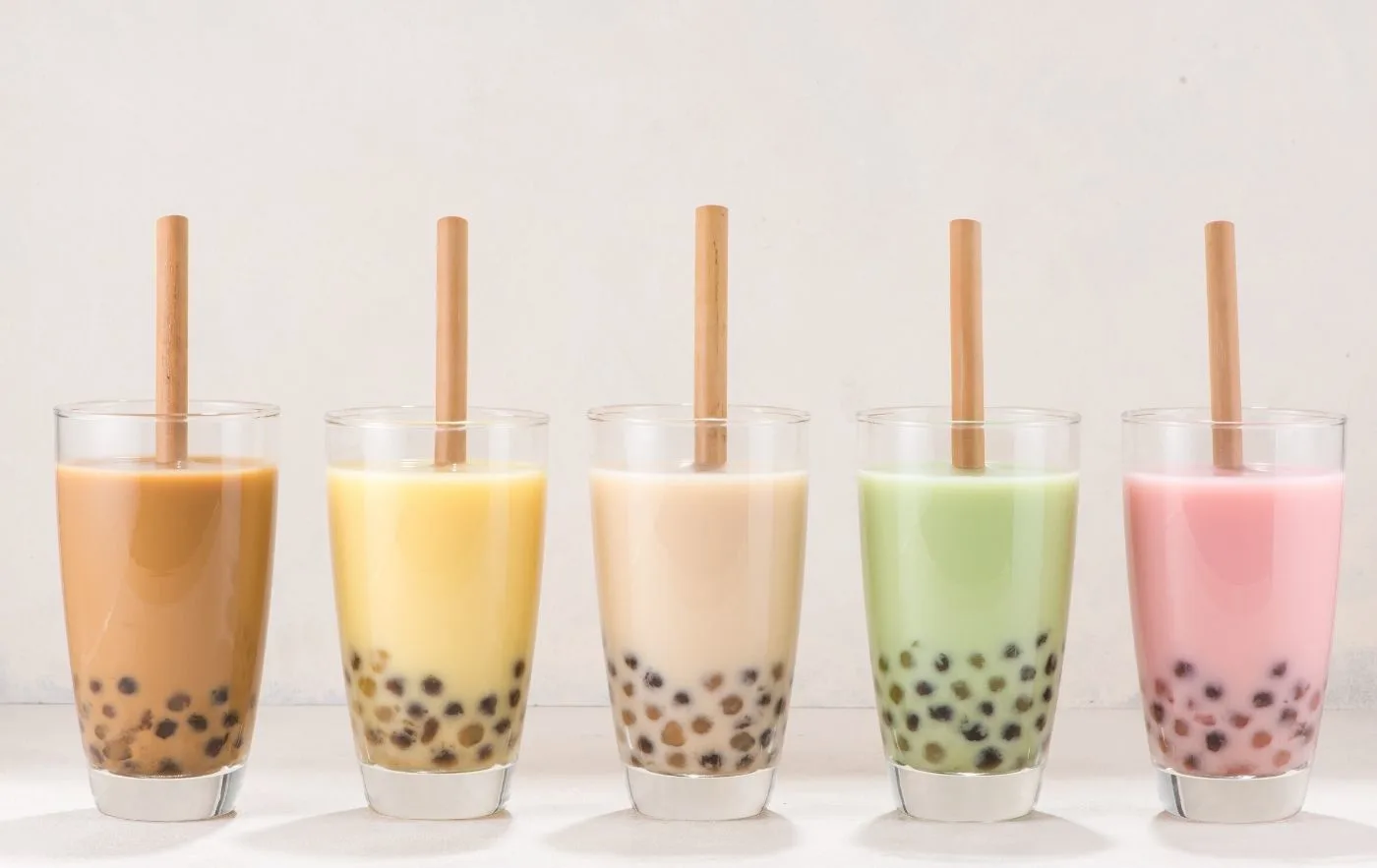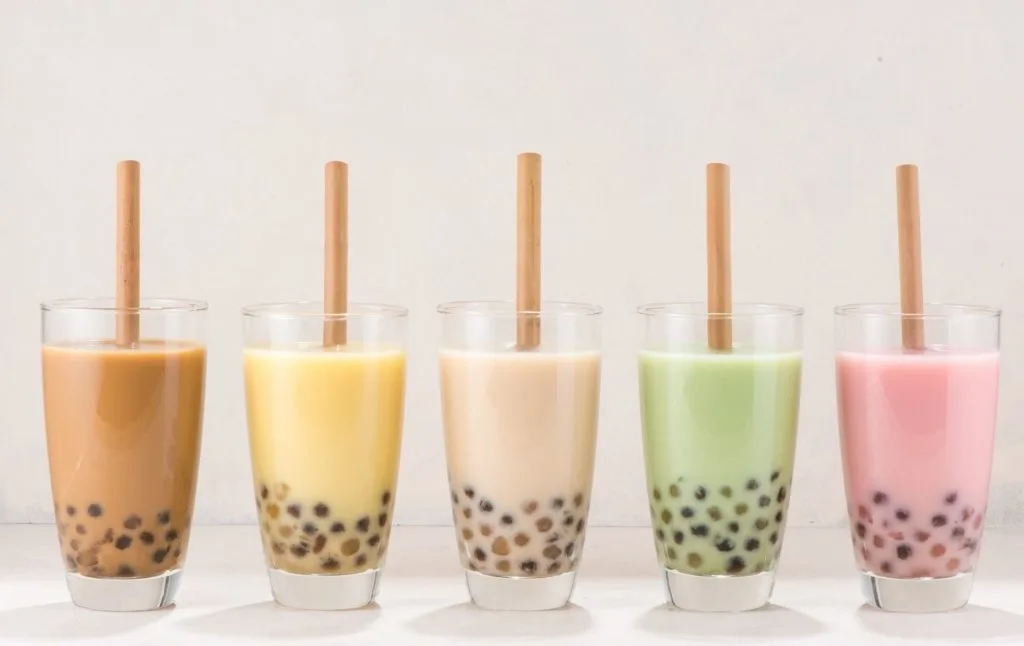 For such a small town, Owego definitely has a lot of great places to eat – hence the reason why EATING alone is listed as one of the best things to do in Owego NY.
So, if you want to get your foodie swerve on during your very Owego vacay, there here is a list of some of my very favorite places where you can do just that!
Las Chicas Taquerias – Located right near the riverwalk, this colorful Mexican restaurant has great queso dip, homemade chips, fish tacos, and burritos . If you can, indulge in "buy one get one free tacos" on Tuesdays and chase it all down with a delicious, Sangria Slushie. This place is a little Americanized so if you're local for more authentic fare, with sodas imported from Mexico, try Ernesto's Diner and Mexican Restaurant instead.
Confection Connection – Great little dessert shop with tons of Keto, vegan and gluten-free options. They even offer cooking classes and have tons of local art for sale too. Try the Lavender cake with strawberry jam filling and lemon icing and pair it with a bubble tea for the ultimate foodie experience.
Harris Diner – A local greasy spoon that has been around forever. Just a super informal local diner where you can get some eggs and homefries to go. They also have great homemade pies that are just like grandma used to make since, well, they're made by a real granny.
The Owego Kitchen – Great breakfast and lunch place where you can go for soup, sammies, coffee, bagels, and delicious pastries. The French Onion Grilled Cheese, the Rosemary Chicken Sandwich, and the Not Your Momma's Tuna Salad Sandwich are all great.
The Cellar Restaurant and Bar on the River – Since this is a more formal eatery, this is a great place to go for date night. I know it sounds weird but try the fried mac and cheese with the jalapeno jelly and the Fried Reuben balls. Not carb-friendly but so damn good to eat.
6. Tioga County Historical Society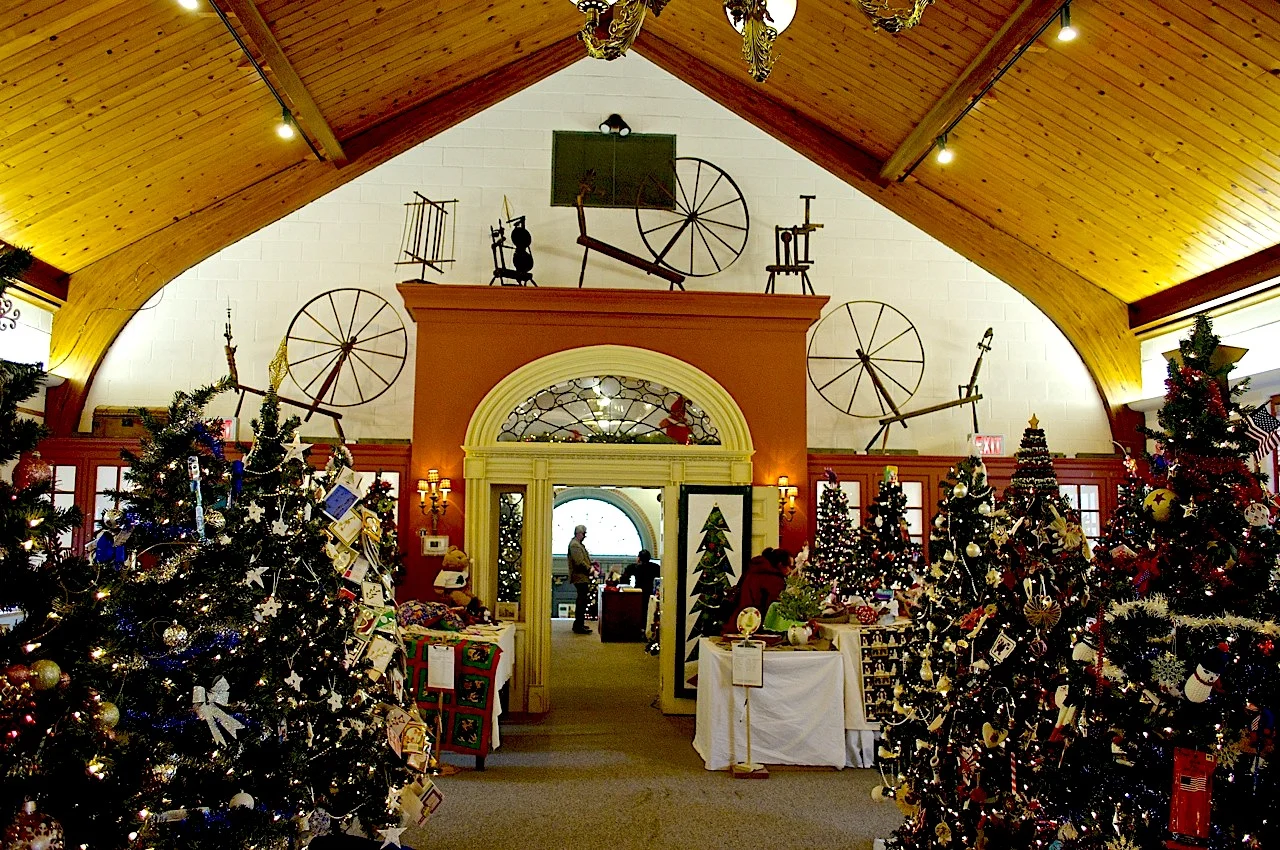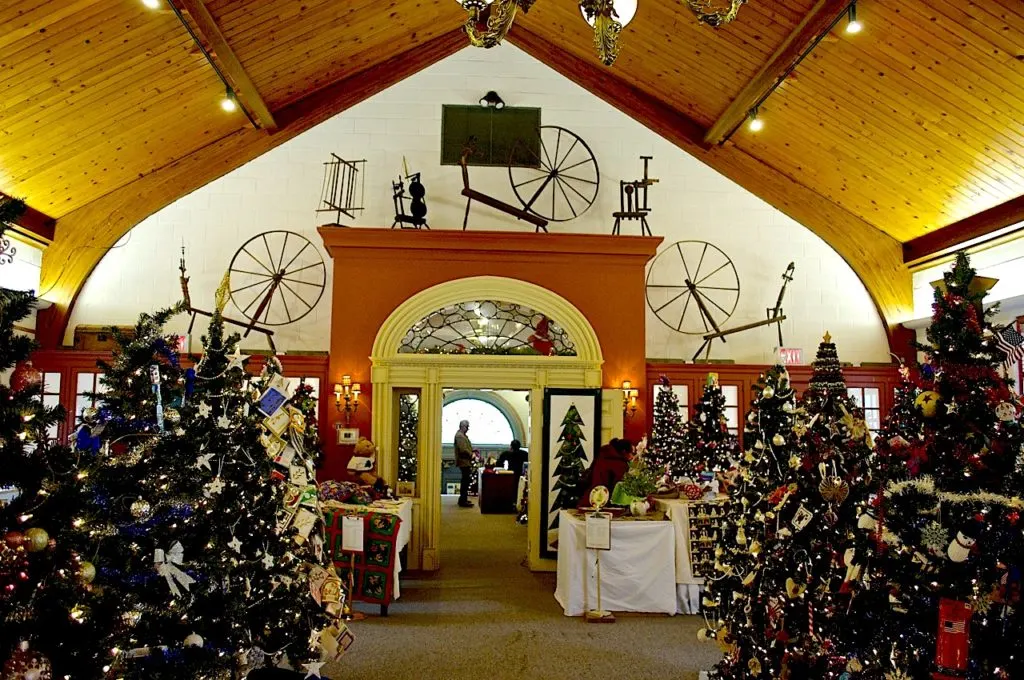 If you have a bit of extra time and want to visit a cute little museum in the area, then give the Tioga County Historical Society a look.
Sure, it's a rather small museum that will only take you about an hour to see, but it's been around since 1914 and showcases a wealth of artifacts, dating from prehistoric times to the modern-day, that help explain the history of Tioga County, New York.
So, expect to find several galleries filled with vintage dresses, historic hats, old photographs, historic documents, and anything else that helps detail the development of this enchanting place.
And while most items are in the museum's permanent and rarely change, two galleries are devoted to special exhibits that rotate in and out of the museum between two and three times annually.
Yup, just one of the all-around best things to do in Owego NY if you're a card-carrying member of the history nerd herd-like me!
Address: 110 Front Street, Owego, NY 13827
Hours: Open Tuesday through Saturday from 10:00 am to 4:00 pm.
7. Visit Evergreen Cemetery
Initially established in 1851, Evergreen Cemetery is a stunning example of the Rural Cemetery Movement.
It sits on a large hill, quietly looking down on the town of Owego, with a wealth of soaring monuments and gravestones that denote the final resting place of more than 9,200 people.
So, if you're looking for one of the best things to do in Owego NY, then take a leisurely stroll through this cemetery and stop by the Sa-Sa-Na Loft monument.
It's a white, 17-foot tall obelisk that is an important area landmark since it is believed to be the second oldest monument in the country that was dedicated to an indigenous person – a Native American woman in this instance.
Afterward, take in the views from Ahwaga and the Southern Tier before visiting the graves of Helen Dean King (female scientist of the early 20th century), and Oscar Barton (oldest Civil War Vet on the East Coast at the time of his death).
Address: Owego, NY 13827
Hours: Open all day, every day.
Price: Free
8. Visit Glen Park Vineyards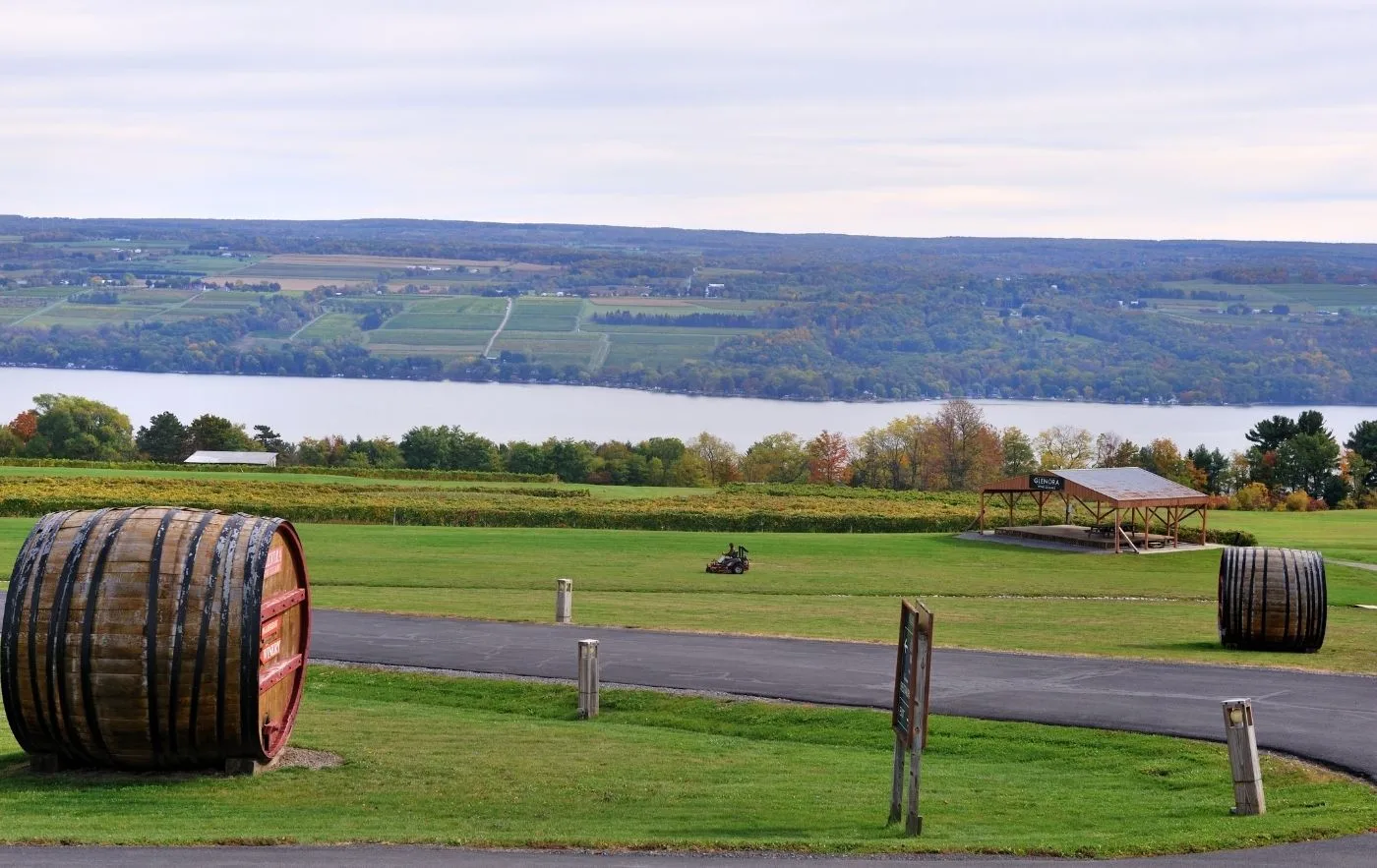 If you know anything about the Finger Lakes region of New York, you know it's famous for its amazing wine and wealth of stunning vineyards.
That's why one of the best things to do in Owego NY is visit Glen Park Vineyards. After all, they're known for their artisanal dry wines, amazing craft beer, and rich hard cider.
So, give them a visit and experience a stunning, log cabin-style tasting room that was hand-built by local craftsmen with a beautiful wood-burning stove and a spacious loft area outfitted with ample seating.
If you want, you can also tour their small vineyard and apple orchard, visit the production area, and even enjoy some organic cheese and sausage from Englebert Farms.
What? Still not enough wine-y goodness for you? Then be sure to hit up some of the other vineyards in the area, like:
Wagner Vineyards in Lodi , NY– You can also visit ithaca, Warkins Glen, Buttermilk Falls, and Taughannock Falls State Park while you're here to see some of the best waterfalls in New York.
Dr. Konstantin Frank Winery in Hammondsport, NY – Great winery and the historic home of the man who brought the vinifera wines variety Europe to New York in 1958 and started the iconic wine region that we all know and love.
Address: 633 Allen Glen Rd, Owego, NY 13827
9. Hickories Park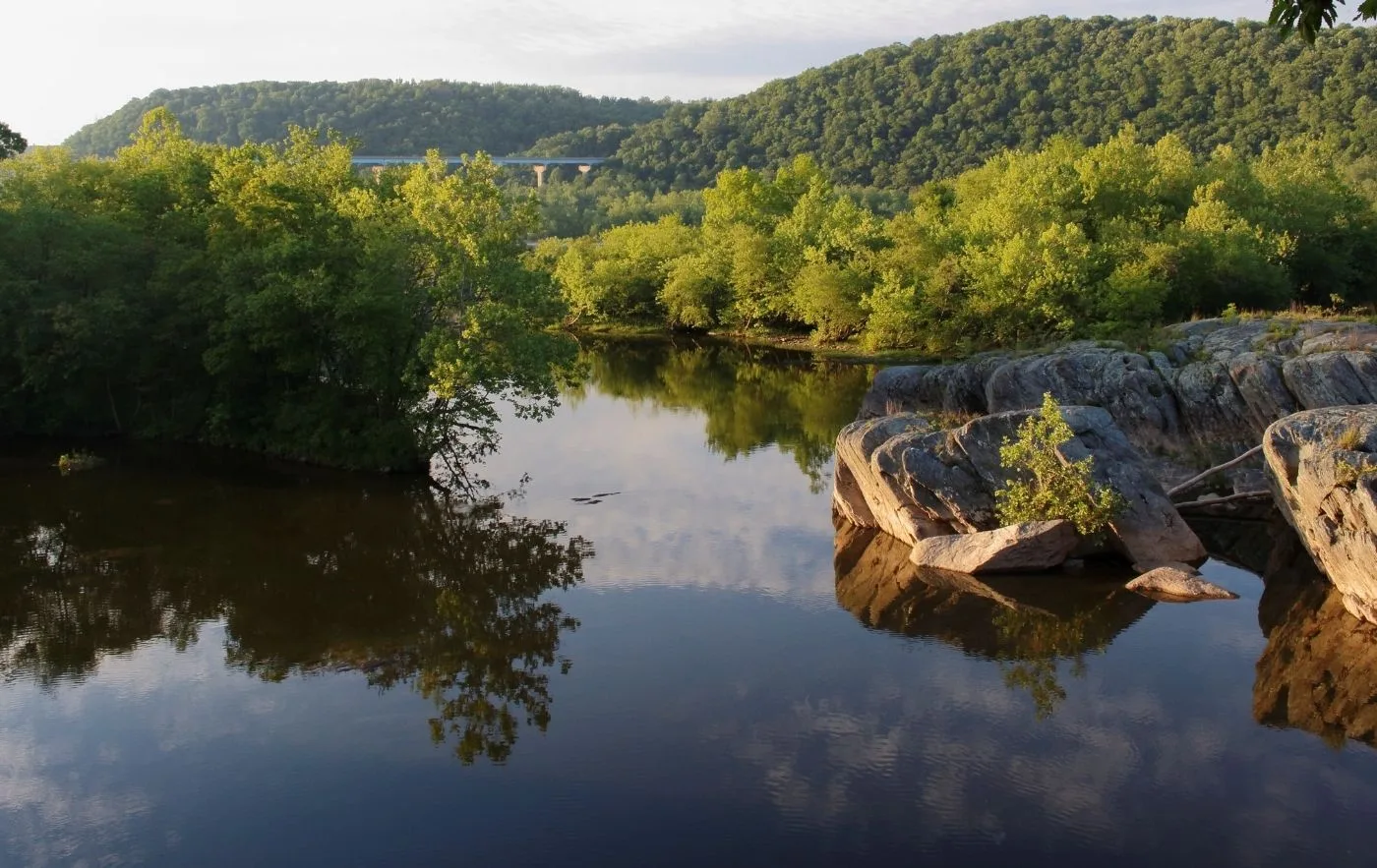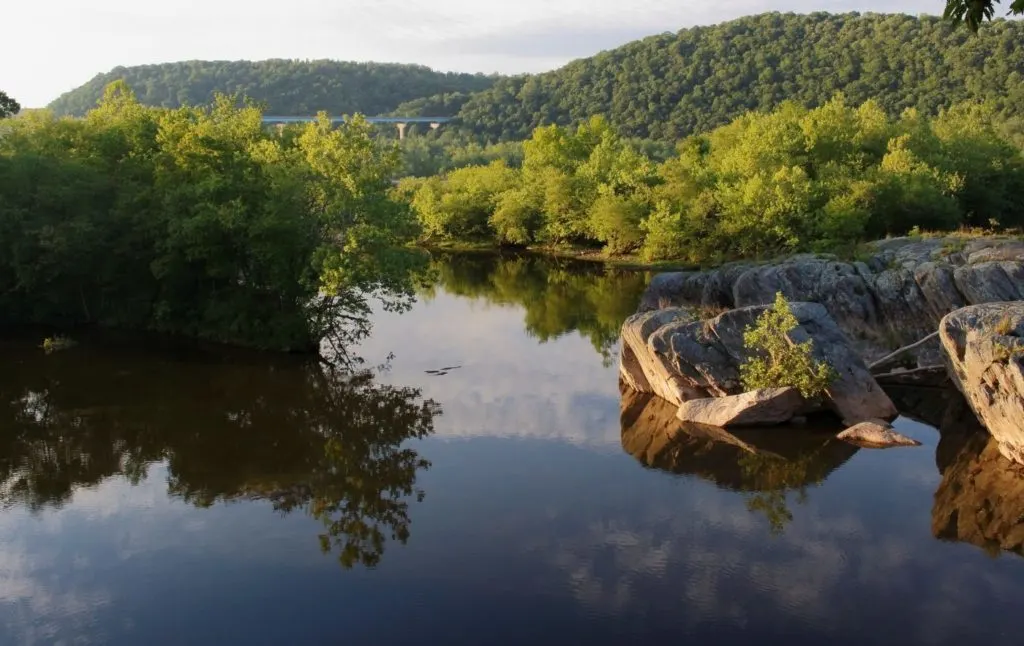 Overlooking the always lovely Susquehanna River, Hickories Park is just a nice, multi-use area where you can sit outside and enjoy the great outdoors while savoring one of the best things to do in Owego NY.
In fact, the space has two playgrounds, various picnic tables, grills, walking paths (along a little stream), five pavilions, volleyball courts, and a boat launch for you to use.
However, it definitely is a carry-in, carry-out park so you will have to bring all your trash home with you. Although, the good news is that you can bring your favorite four-legged friend with you and check out the state-of-the-art, Rebecca Weitsman Memorial Dog Park
And if you want to spend the night camping in the less than rugged great outdoors, you'll be delighted to know that the park also features several RV sites and tent camping sites that guests are welcome to use, complete with access to bathrooms, showers, fire pits, and all the pertinent RV hookups.
Address: 359 Hickories Park Rd, Owego, NY 13827
Hours: Open daily from 7:00 am to 10:00 pm.
Price: Free but you must pay cash to camp here.
10. Waverly Glen Park
If you love the outdoors and don't mind doing a quick, 25-minute drive, then be sure to stop by Waverly Glen Park to take in the majesty of Waverly Glen Waterfall.
And while there are plenty of picturesque hiking trails in and around the Waverly Reservoir, the waterfall itself is just a quick walk away from the parking lot.
So, you can always do a short visit to the waterfall and then continue with a longer hike around the reservoir itself.
Next, visit some of the pavilions, playgrounds, and tennis courts that dot the area before hitting the mountain bike trail at Two River State Park.
And, just in case you were wondering, yes, this place has tons of bathrooms for you to use.
Address: 85 Moore St, Waverly, NY 14892
Hours: Open daily from dawn until dusk.
Price: Free.
11. Tioga Downs Casino Resort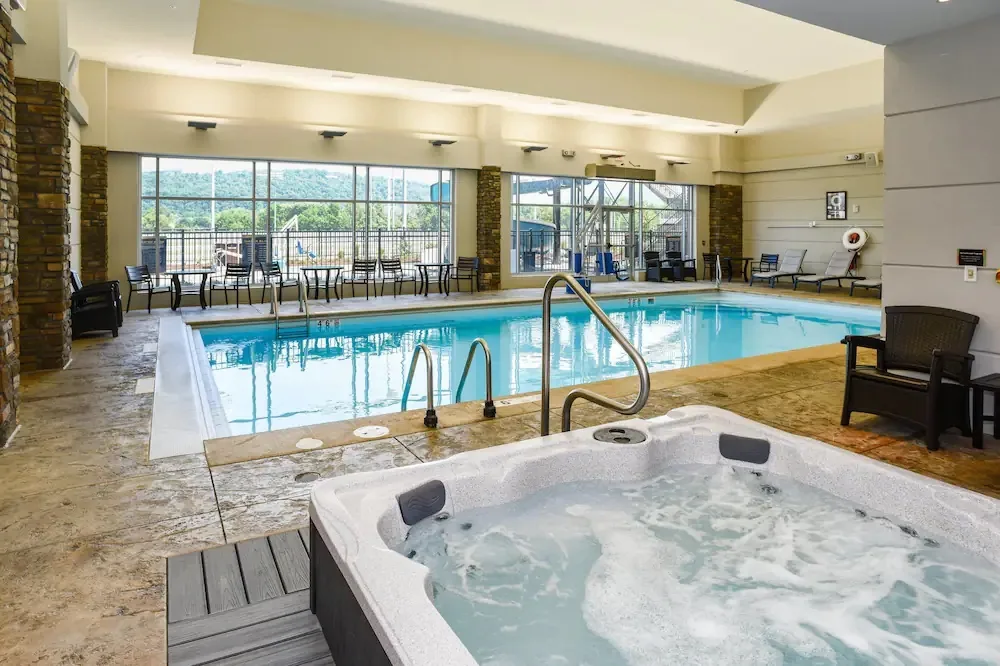 Truth be told, I'm not much of a gambler and had exactly zero interest in visiting Tioga Downs Casino while I was enjoying some of the best things to do in Owego NY.
But, if you feel like lady luck just might be on your side then head over to the Tioga Downs Casino and give their casino a try.
After all, it's just 15-minutes away from Owego and allows you to bet on horse racing, gamble at one of almost 900 different slot machines, or try your hand at a game of poker, craps, blackjack, or roulette.
And when you're finished gambling, you can watch a live horse race, or have a decadent burger at the famous NYC steakhouse, P.J. Clarke's before checking out a live concert at this venue.
Address: 2384 W River Rd, Nichols, NY 13812
Hours: Casino open daily from 9:00 am to 3:00 pm.
Price: Varies based on what you bet but rooms here start at $88 per night.
12. Explore Bement-Billings Farmstead Museum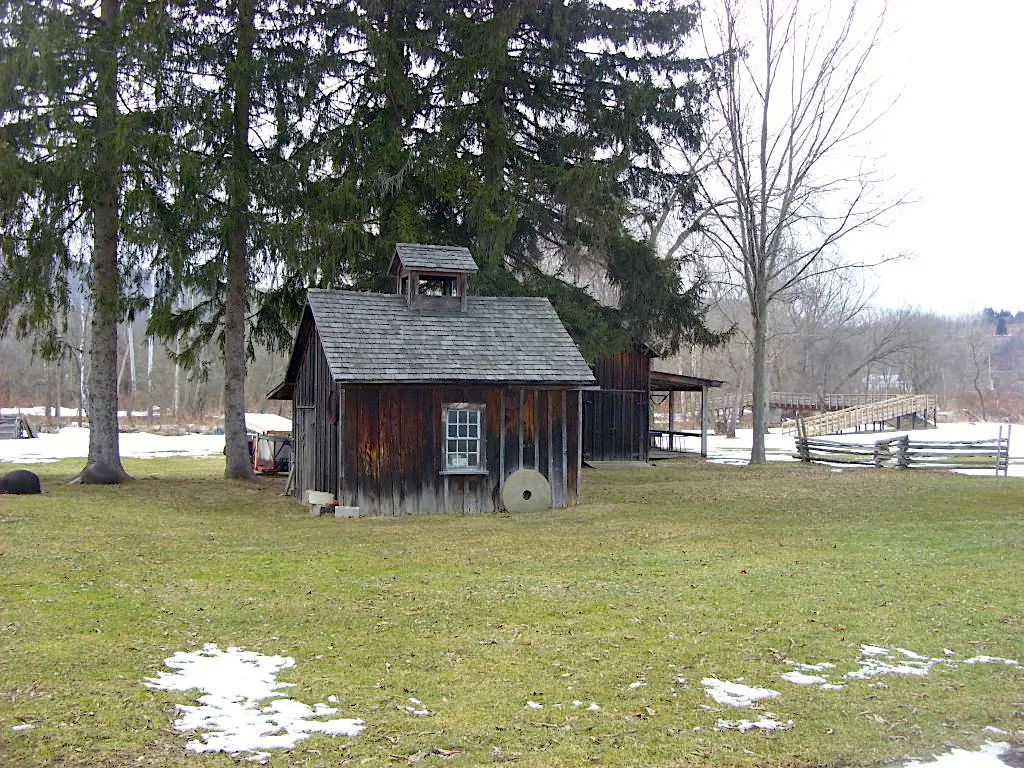 If you want to get a feel for what life was really like on the farm in the early 1800s, then stop by Bement-Billings Farmstead Museum.
It's easily one of the best things to do in Owego NY and is just a quick, 15-minute drive from the downtown area.
Just think of it as a super fun, living museum where you get to see what agricultural practices were used and what domestic life was like as you explore the main farmhouse (the Federal–style parlor, kitchen, ante-room, pantry, bedroom, and sleeping loft are all furnished as they would have been in the 1800s), a woodshop, a blacksmith shop, the Herrick threshing barn, and a carriage shed.
Next, hike on one of three loop trails at the Sycamore Bridge before hitting up the gift shop to see what kind of goodies you can buy.
And if you're really into history, don't forget to do a guided tour of the Bement Billings House itself. Tickets are $2 for adults and $1 for students and are held between 12:00 pm and 4:00 pm on weekends from July through September.
Pro Tip; You can also pick up some fresh fruit and produce from the Owego Farmer's Market – in the Walgreen's parking lot on Main Street – which is held on Tuesday and Fridays from 9:00 am to 1:00 pm, from June through October.
Address: 9241 NY-38, Newark Valley, NY 13811
Hours: Open Saturday and Sunday from 12:00 pm to 4:00 pm.
13. Learn about the History of Mark Twain in Elmira, NY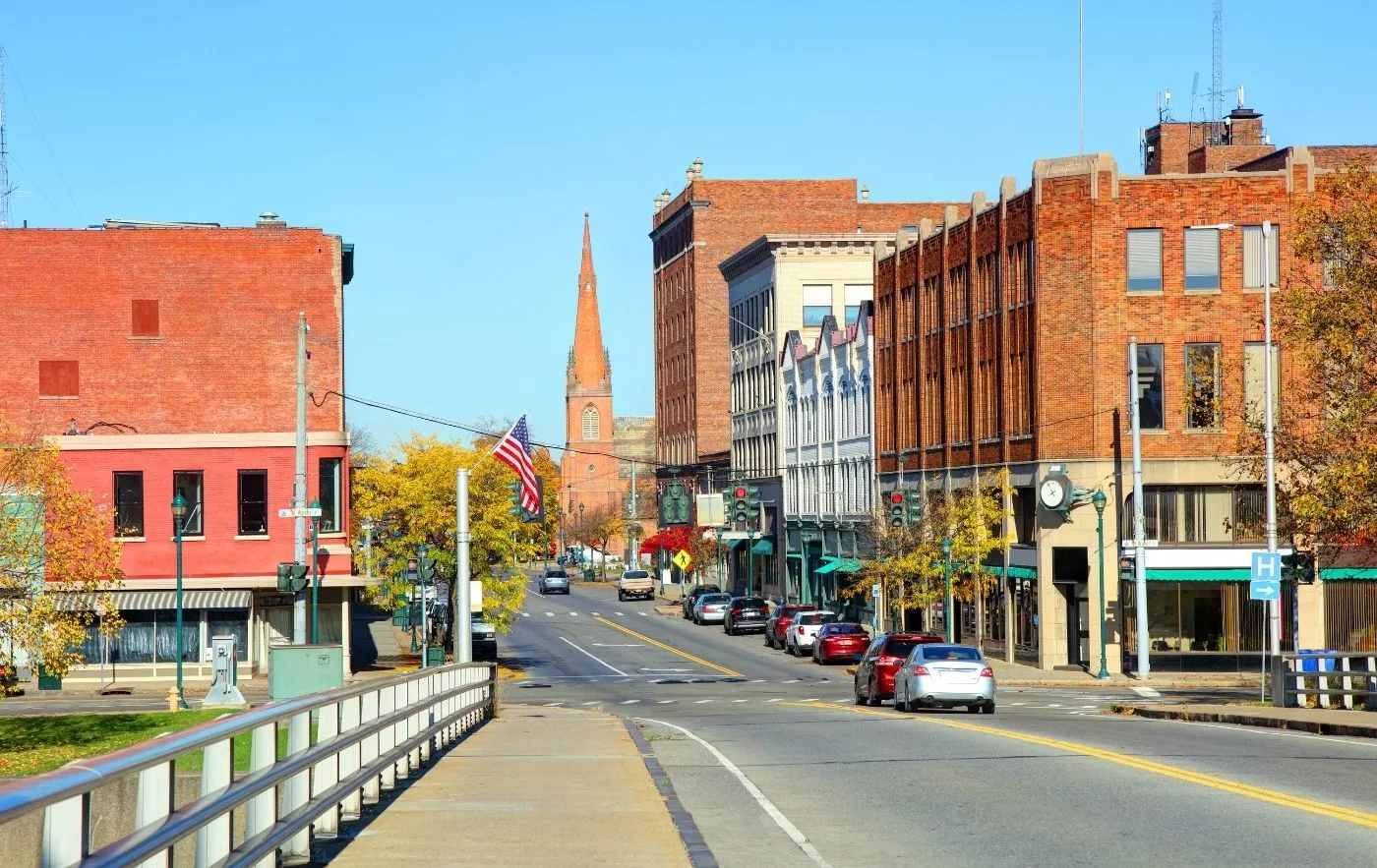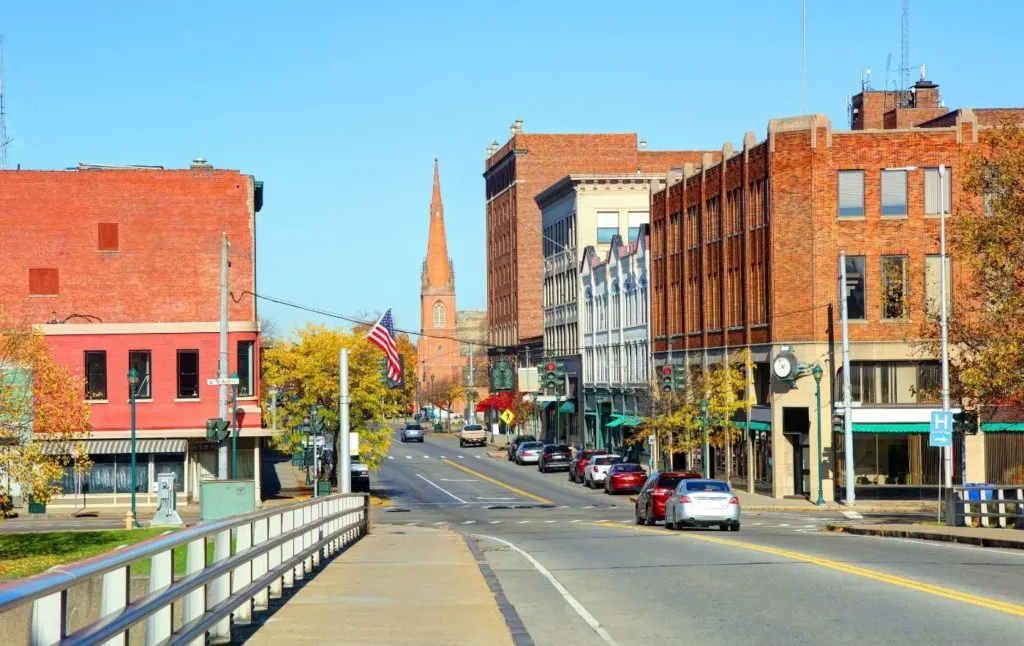 Just a hoot and a holler down the road is good old Elmira, NY. And FYI, by a "hoot and a holler" I mean about a 40-minute drive.
It's a semi-magical place where the titan of the literary world, Mark Twain, used to spend his summers. So, why not spend YOUR summer learning about him at the various historical landmarks and unique sites that are scattered throughout the town?
I mean, you have the ethereal Mark Twain Trolley (ding, ding), the Mark Twain Study at Elmira College (he wrote some of his most immortal books here), and Woodlawn Cemetery, where the famous author was eventually buried.
FYI though, Mark Twain's study wasn't originally located in Elmira College. Nope, it was moved here so that it go be better preserved for intrepid explorers such as yourself.
Pro Tip: The easiest way to see these sites is to take the one-hour, Mark Twain Trolley tour that departs from Chemung Valley History Museum throughout July and August. It's a quick and easy way to see these historic spots as you ride aboard a vintage green trolley and listen to expert narration about the life and history of this epic author.
14. Visit The Farmhouse Brewery
With the highest quality hops and the best barley sourced from qualified small grain farmers from all over New York, the Farmhouse Brewery is the best place to be if you like beers and ciders.
There are so many ways that you can enjoy this brewery. With so many restaurants around, they even encourage you to get a takeaway and enjoy a pint in their tap room. If that sounds like too much work, don't worry. The Farmhouse Brewery also has a Grab-n-Go cooler which is stacked with all kinds of snacks, sandwiches and desserts. If that isn't enough, you can also build your own cheese board.
The best part is that it's a family friendly location and you can even bring your dog along!
Address: 17 Lake St, Owego, NY 13827, United States
Hours: Tue-Thurs: 3-8pm, Fri-sat: 12-10pm, Sun: 1-6pm. Mon closed
Map of the Best Things to do in Owego NY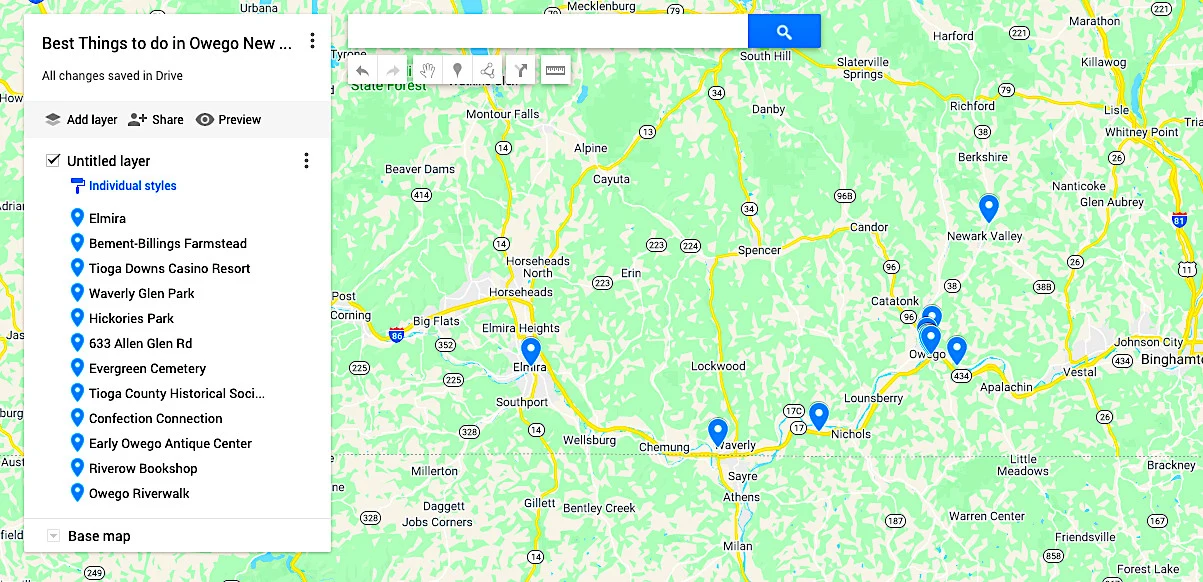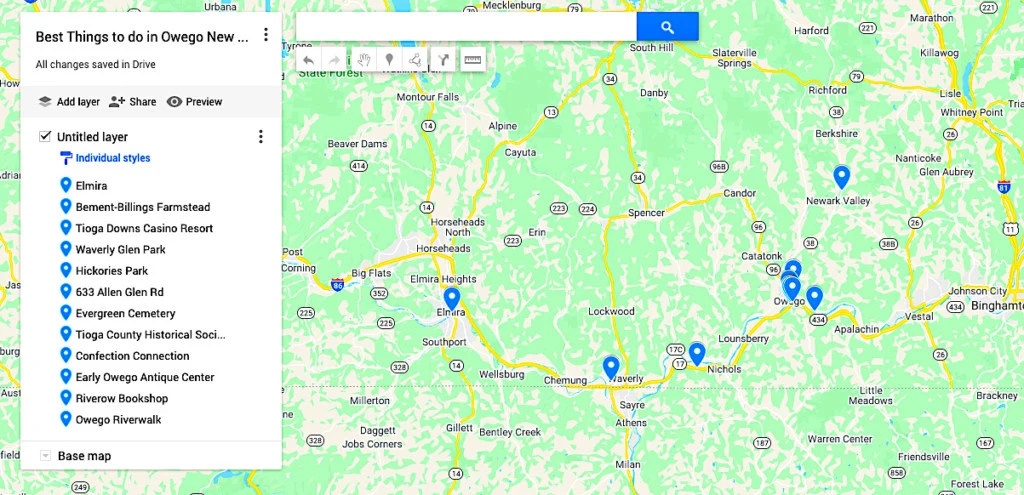 Additional New York Travel Resources You'll Love
There you have it! That just about wraps up this epic guide to the best things to do in Owego New York!
Tell me, did your picks for the best things to do in Owego NY make the list? If not then let me know because I deffo want to check them out.
And if you found this post useful, don't forget to join our email list before pinning this post now so that you can read it again later.