Wondering if New York in April is really as magical as it sounds? If so then this mega epic insider's guide is deffo for you.
After all, I've spent 30+ Aprils here and April in NYC is a next-level beautiful thing. I mean, not only is the weather starting to warm up, but the flowers will begin to come into full bloom.
And they can be best enjoyed during iconic events like the Cherry Blossom Festival at the Brooklyn Botanical Garden.
Additionally, the crowds of summer haven't quite arrived yet so you can still enjoy sweet sweet deals on tours, hotels, airfare, etc.
However, if you're still not quite sure whether April in New York is right for you then keep reading to learn about this magical month up in NYC.
This post may contain affiliate links. Please see my disclosure for more information. As an Amazon Associate, I earn a small commission from qualifying purchases.
Why Visit New York in April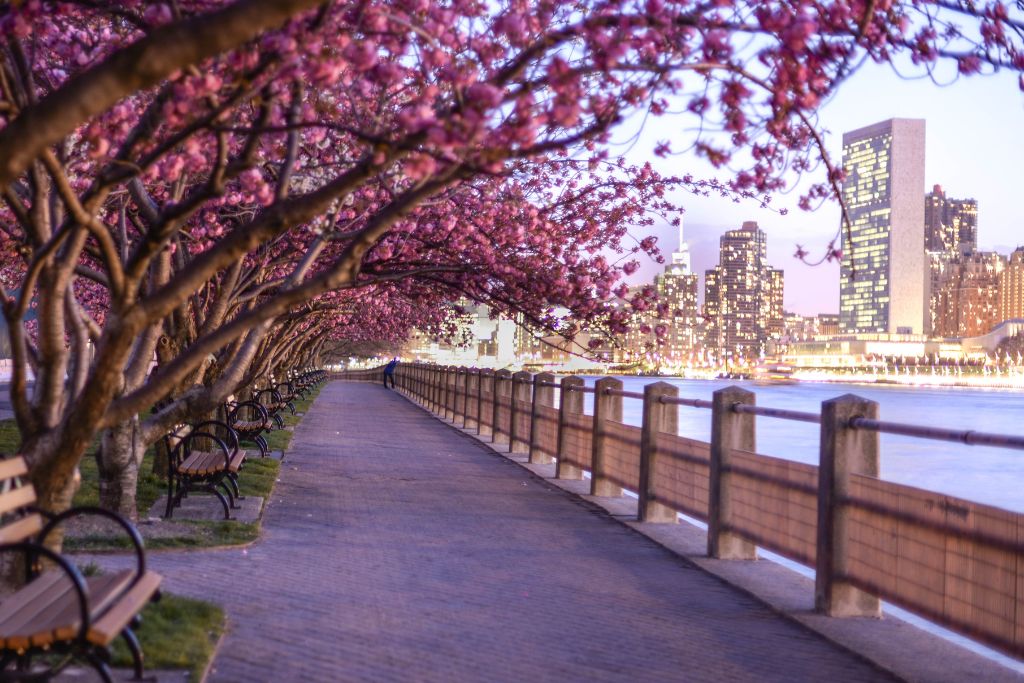 If you're planning to visit New York in April, you probably have a lot of questions. Like, which New York hotel should I book? What's the weather in New York in April like?
And above all, is April a good month to visit New York?
Well, you'll be delighted to know that April is one of the best months to visit NYC since the city is starting to move out of a long, cold winter into a warm, blossom-filled Spring.
So, NYC in April means that the city is returning to life again. Therefore, there are a lot of fun things to do in April in New York.
But crucially, April is also a transition month, or shoulder season, which means you won't see the sort of tourist numbers that NYC has in the summer months.
So, why is April such a good month to visit New York?
1. Less Crowds and Shorter Lines
New York City is one of the most popular tourist destinations in the USA, both for domestic and international travelers.
And this can mean that it gets very crowded, especially during peak summer months when the numbers of tourists around places like Central Park and Midtown Manhattan are super intense.
However, if you're planning to visit New York in April then the good news is that prime tourist season doesn't kick off until May.
So, the city will be a little quieter in April, which means less crowds and shorter lines for top attractions.
Of course, booking tickets ahead of time still makes sense, especially for any must-see attractions or popular events.
2. Fantastic Deals on Flights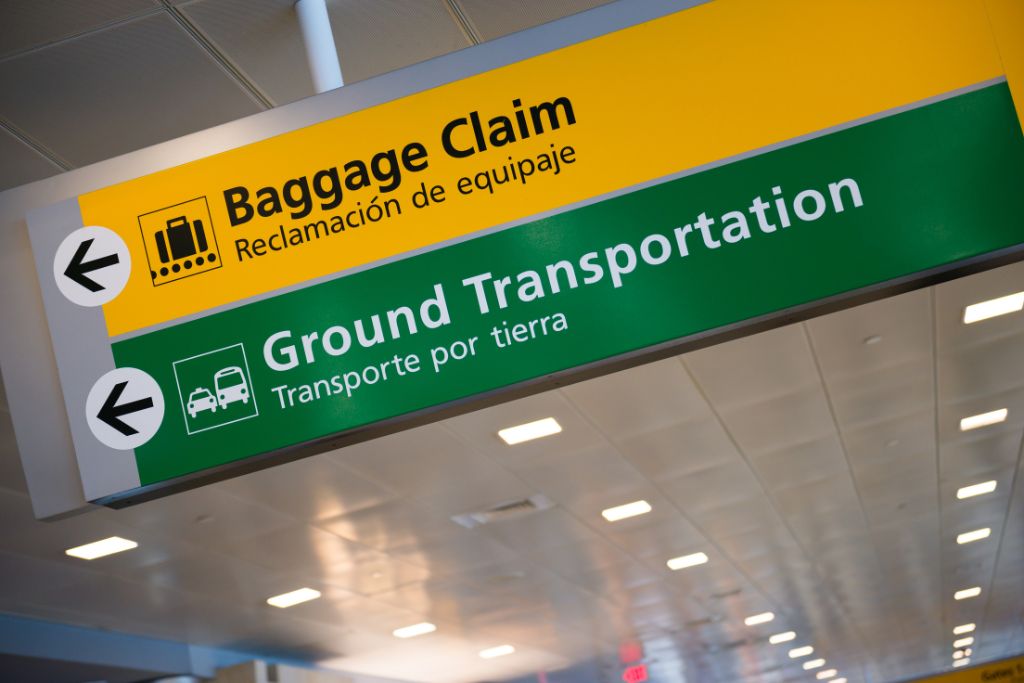 Flights to New York in April are generally cheaper than flights in the summer or right before Christmas.
However, it's still a good idea to search for flights as soon as possible since prices will increase as you get closer to your planned travel dates.
Now, if you're a domestic visitor, cheap flights are available to JFK, Newark, or La Guardia from pretty much anywhere in the US.
And if you're traveling light, you can find some really great deals on flights to New York.
In contrast, international travelers need to do a little more work. However, there are still some fantastic deals on flights to NYC to be found.
So, instead of only searching for direct flights, try searching for flights via a major hub airport to help you find cheaper flights to the US.
3. Hotel Rates are More Affordable
Two major advantages of visiting New York in April are the availability and affordability of hotel rooms in New York City.
See, April is right at the tail end of the quiet winter/early spring season in NYC since the number of tourists in the city starts to swell come May.
Therefore, this means more hotel rooms will be available for your visit to New York in April compared to the peak tourist season between May and September.
As a result, hotels often reduce their April rates to try and fill empty rooms, which means better deals for you!
Best Things to do in New York in April
There are tons of fun and unique things to do in NYC regardless of when you visit. But, if you are visiting New York City in April, it feels like there's even more fun to be had.
After all, spring is finally here and it's time to enjoy the great outdoors once again as you tackle some of the best hikes near NYC.
Of course, there are year-round things to do when you visit New York in April. You know, classic NYC tourist activities like visiting the Statue of Liberty or going up to the observation deck at the Empire State Building.
But, there are also some seasonal activities and things to do in NYC in April. So, here are some of the best things to do when you visit New York in April:
1. Explore the New York City Food Scene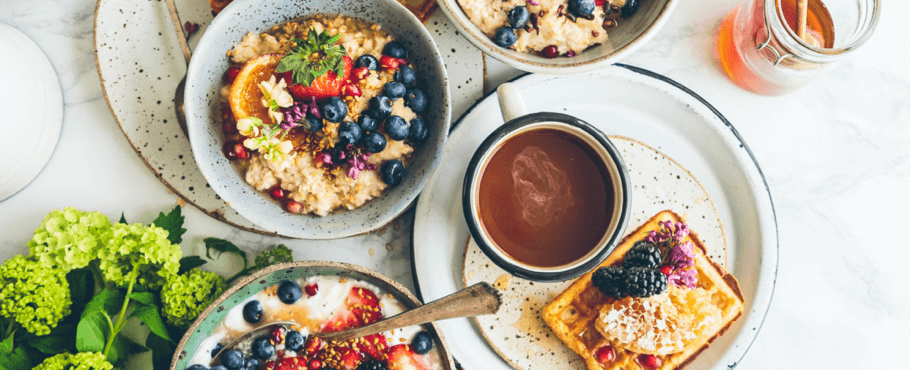 As the weather gets warmer in April, you'll see New York's outdoor dining scene come to life.
Therefore, the streets outside of local restaurants will fill up with tables, as the air fills with the chatter of eager outdoor diners since eating outdoors becomes a more appealing option.
In fact, Smorgasburg open-air food market runs weekly in Williamsburg, Prospect Park, and the World Trade Center is worth checking out at this time of year.
So much so that thousands of people visit weekly to sample tasty treats from various food stalls.
And, FYI, I'm a huge fan of the Mantu from Nansense and the Italian Rainbow Cookie ice cream from Bona Bona.
Anyway, April is also an ideal time of year to book a food tour of New York, as the city is less crowded than in the summer months.
So, be sure to grab a slice (Lombardi's) and hot dog (Grey's Papaya for the win) from one of the many food stands around the city since they're some of the must-eat foods in NYC.
2. See a Broadway Show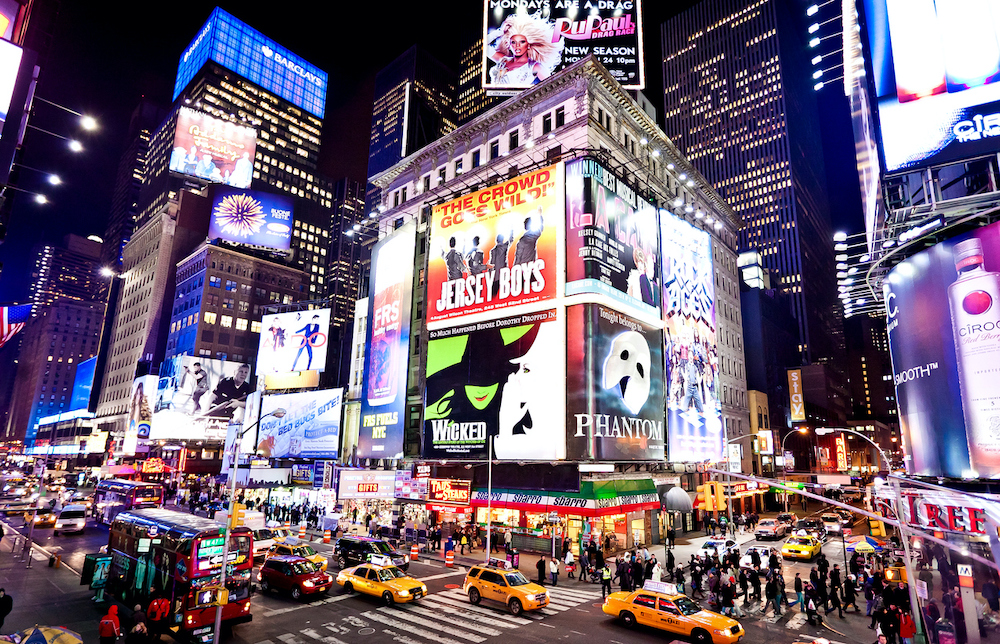 Of course, you can see a Broadway show at any time of the year but more affordable tickets are another great bonus of visiting NYC in April.
See, Broadway theaters are keen to fill as many seats as possible for each performance. And while they offer some discounted tickets all year long, there are fewer flash deals around in the summer months.
However, you can check out sites like Get your Guide to see what deals are available during your April visit to New York, or head to Times Square to snap up tickets on the day from the TKTS Ticket Booth (TodayTix is also a great app that you can use to instantly get cheap Broadway tickets).
Also, don't forget to check out the shows playing in smaller off-Broadway theaters as well. They might not be the big names that you'll see on Broadway, but you can still see a fantastic show.
3. Macy's Flower Show
Springtime in New York City really starts with the spectacular flower show at Macy's in Herald Square.
After all, you'll see extravagant displays of over 30,000 different varieties of trees and flowers.
Add in cooking and centerpiece design demonstrations, workshops, and competitions, and you have one of the best things to do in NYC in April.
Plus, entrance to the Macy's Flower Show is free, and guided tours are also available if you want to learn more about the exhibits.
4. Easter Parade
If your April visit to New York coincides with Easter weekend, be sure to catch New York's famous Easter Parade and Bonnet Festival on Fifth Avenue.
If you just want to watch the Easter Parade though, St Patrick's Cathedral offers the best views.
But why not take part in the festivities yourself? All you need to join the parade is your own unique Easter Bonnet!
And when the parade is over, you can head to one of the area's restaurants for a delicious Easter brunch.
5. Easter Egg Hunts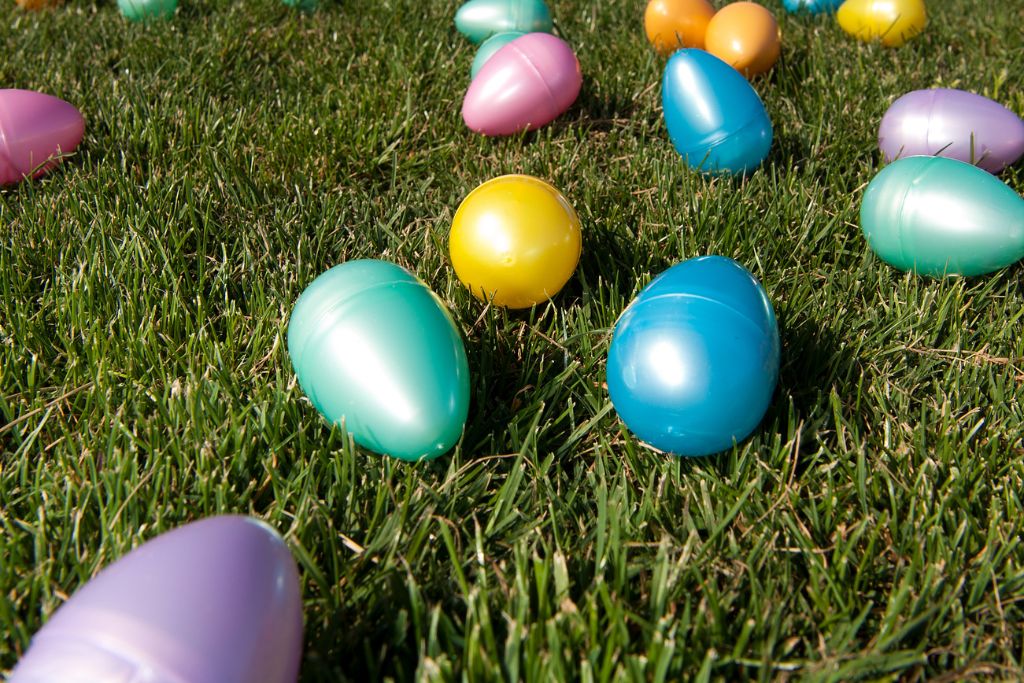 The Easter weekend fun continues with Easter Egg Scavenger Hunts. So, turn New York City into your backyard as you solve clues, complete puzzles, and collect yummy Easter eggs.
Just Google 'New York Easter Egg Hunt' to find out what's on when you visit New York in April.
Trust me, you'll find an array of events that are suitable for adults and family-friendly options for kids. So, it's perfect Easter fun if you're visiting New York with friends or family.
6. Cherry Blossom Festival
The traditional cherry blossom festival in Japan is a fabulous Spring celebration. And now you too can join in on the festivities at NYC's Brooklyn Botanical Garden.
Because in addition to viewing these beautiful bright pink flowers, this NYC April favorite also includes cultural performances, shopping opportunities, family-friendly fun, and more.
The festival is very popular though, so be sure to buy your tickets for this fantastic event well in advance.
You can also visit the Brooklyn Botanical Garden website to see how the blossoms are developing on their cherry blossom tracker.
7. Earth Day
Earth Day is celebrated each April 22nd, and New York hosts many events in April that tie into the theme of protecting/preserving the planet.
So, over in Union Square, you can watch live performances, learn how to live a more earth-friendly life, and take part in activities with an environmental angle.
Yup, there's sure to be something exciting going on during your visit.
8. Visit a New York Museum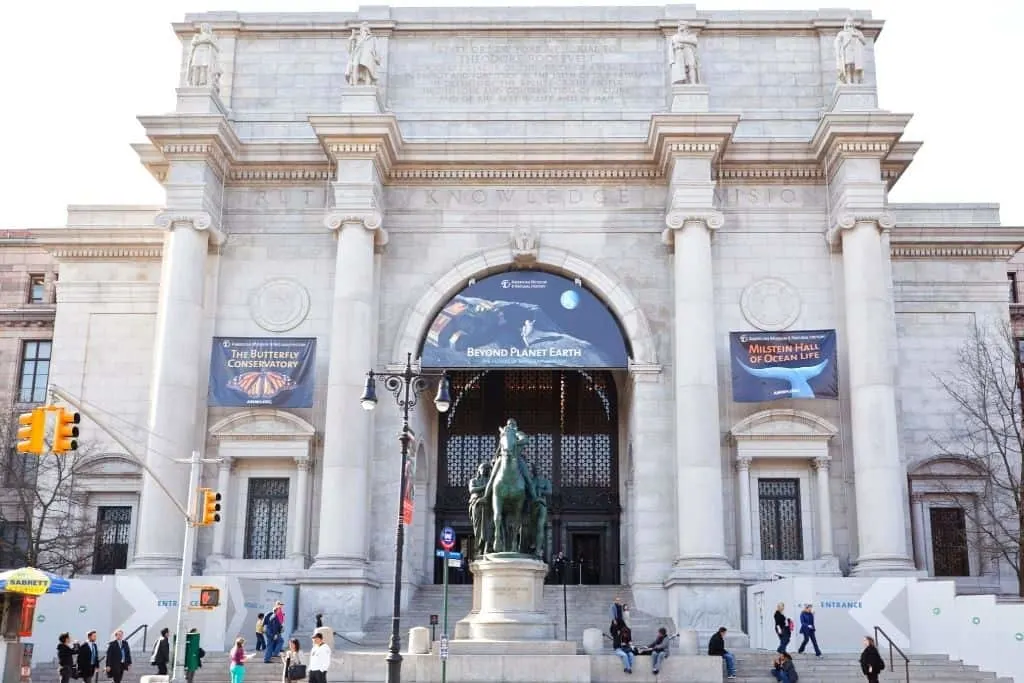 New York weather in April can be unpredictable. But, the fun doesn't have to stop once the rain starts.
So, head over to one of the best New York museums to indulge your passion for art, history, or science.
You'll find that the crowds will be smaller in April, and with over 100 fantastic museums to choose from, there's sure to be one you'll enjoy.
However, some of the best museums in New York include the Museum of Modern Art (MOMA), the Metropolitan Museum of Art, and the American Museum of Natural History.
9. Explore New York's Parks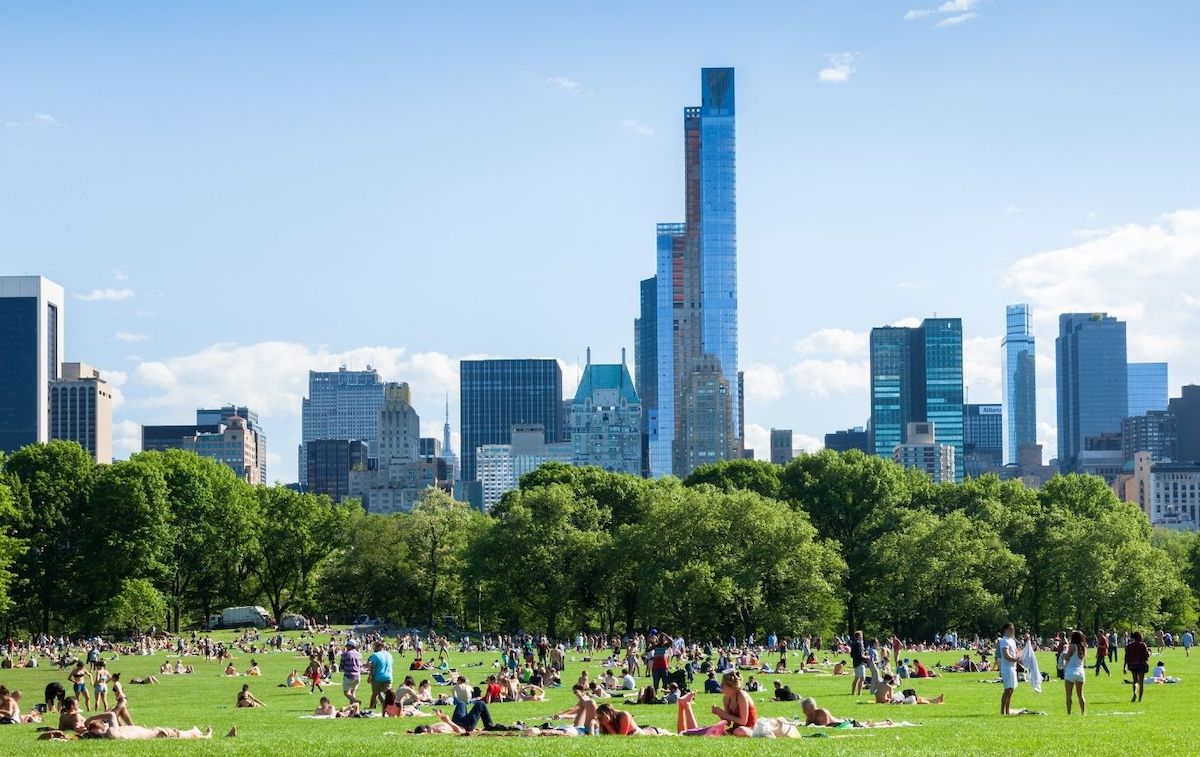 New York in April is a floral masterpiece in full bloom. Therefore, it's a perfect time to explore many New York City parks.
Because despite all the concrete and skyscrapers, as much as 14% of Manhattan is covered in parkland, and NYC Parks cares for more than 30,000 acres of land across the city, including Central Park.
So while the weather is warmer, why not enjoy a picnic lunch outdoors or book a walking tour of Central Park?
10. NYC sports in April
April in NYC means the start of the baseball season. And there's no better celebration of Spring for New York baseball fans than spending opening day at the Yankee Stadium or Citi Field.
So why not grab tickets to see the Yankees or the Mets play while you're in New York in April?
You could also try and catch an NBA Basketball game or an NHL ice hockey game. In fact, the playoffs begin in April in for both sports. So, check to see if any New York teams are involved.
Local Tip: Use Stubhub and search for sporting event tickets just a few hours before the game. Prices are usually super reduced as sellers try to get rid of all their remaining tickets.
What's the Weather in New York for April?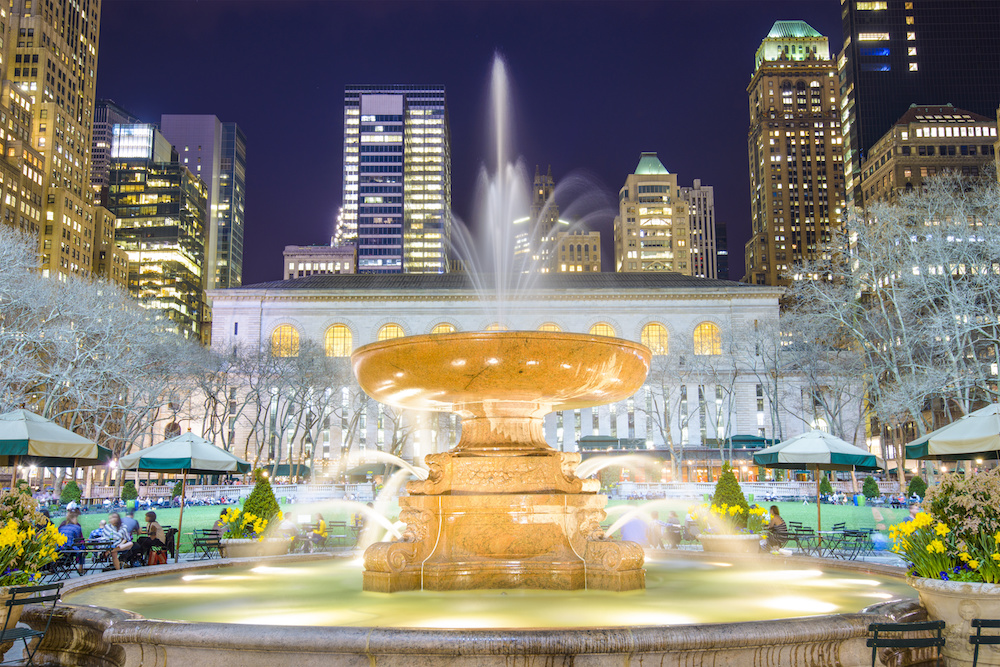 The weather can change throughout April in New York City, and you'll probably see better weather if you plan your visit towards the end of the month.
However, in general, April days are usually comfortably warm, with the New York temperature in April ranging between 46°F and 62°F (8°C and 17°C).
That being said, early morning and nighttime temperatures can still be quite chilly, with the temperature feeling lower on a windy day since the grid-style blocks in NYC act like wind tunnels.
Additionally, April can be pretty rainy. But, you're much more likely to see a short, intense rain shower than a prolonged downpour.
Also, because humidity is relatively low in April, the air will feel crisp when it's not raining. Plus, it's highly unlikely that you'll see any April snow in NYC!
What to Wear in April in New York
Because the April weather in New York can be unpredictable, it's best to give yourself plenty of options and check the weather forecast RIGHT before you visit.
However, it should be safe to leave your winter clothes at home. So, no need to pack gloves and a scarf.
Still, April in New York can feel cool in the mornings and evenings, especially if you go up on an observation deck to enjoy the best views in NYC.
Therefore, light layers are the best way to go and packing for New York in April means T-shirts, jeans, sweaters, and jackets.
But, if the weather forecast for your trip is warm and sunny, you might also want to throw in some shorts to wear to the park.
Additionally, comfortable closed-toe shoes are vital for walking around the city. Also be sure to take water-resistant ones if possible, just in case you get caught in the rain.
A lightweight, waterproof jacket is also helpful to have on hand, but you won't want to be carrying anything too bulky around the city.
As a result, something like this NORTH FACE Women's Venture 2 Waterproof Hooded Rain Jacket would be ideal as it packs down into its very own mini storage pouch.
A compact umbrella can also be handy when it starts raining but can end up being a nuisance on busy streets or when you're riding the subway. So, whether or not you pack one is a personal choice.
By the way, if you are planning to use the subway a lot during your visit to New York, the 7-day unlimited Metrocard is a great value way to get around the city.
You can buy a Metrocard from one of the MetroCard ticket machines which are in most subway stations.
Local Tip: It's worth noting that they are slowly phasing out MetroCards. So, as of now, you can use a contactless credit card to pay for public transportation.
And when you purchase twelve rides using the same device/bank card within one week, all your additional rides are automatically free.
Additional NYC Resources You'll Love
There you have it! That just about wraps up this guide to New York City in April.
Tell me, did your fave things to do in NYC in April make the list? If not then let me know in the comments below.
And if you found this post useful, be sure to join our email list before pinning this post now so that you can read it again later.