Planning a visit to the Big Apple and not sure what to wear in New York in winter?
Yeah, I totally get it. Because even as a 30+ year local I still sometimes struggle with what to wear in NYC in winter since the weather can be SO unpredictable.
I mean, one year it was 70 F…on Christmas!
So, regardless of what you decide to add to your NYC winter packing list, always check the weather right before you visit
This way you know exactly what you do and do not need to bring with based on the weather. Yup, it makes deciding what to wear in New York in winter a whole lot easier.
Other than that, just use this quick and easy guide on what to wear in NYC in winter when you're packing for your next big trip.
This way, you don't overpack (been there, done that and the worst when riding the subway) and bring everything you need to help elevate your trip to the next level.
This post may contain affiliate links. Please see my disclosure for more information. As an Amazon Associate, I earn a small commission from qualifying purchases.
Where to Stay in NYC This Winter
Finding a nice place to stay in NYC that won't cost a small fortune feels a whole lot like trying to turn a pickle back into a cucumber. So, yeah…impossible.
Thankfully though you have a super savvy local like me to steer you in the right direction as you figure out what to wear in New York in winter.
So, stop scrolling through almost never ending lists of hotels that feel kind of lame and expensive AF. Instead, start using this quick and easy guide to find the ideal hotel for you, no matter your budget.
Pod 39 (budget) – On a budget but don't wanna stay in a roach hotel? Then say hello to your new best friend, Pod 39. Yes, it's a pretty standard pod hotel.
But, it sits inside a historic home from 1918 in the Murray Hill area (home to bangin' Indian food) and has rooms that feature queen beds, TVs, night tables, and more.
The Duffy Times Square by Kasa (midrange) – As the name suggests, this amazing mid-range hotel is supremely well-located in Times Square (Hell's Kitchen to be precise) and offers stunning rooms with flatscreen TVs, Belgian linens, iPod docks, WiFi, and overlook a sweet central courtyard.
Lotte New York Palace (Luxury) – If you're gonna splurge on a hotel room then might as well stay at the single nicest hotel in NYC.
After all, the ever plush Lotte New York Palace is situated inside a 19th-century mansion with a premo location near St. Patrick's Cathedral. High-end rooms also come with all the bells and whistles, in addition to flatscreen TVs, designer toiletries, etc.
What's the weather like in New York in winter?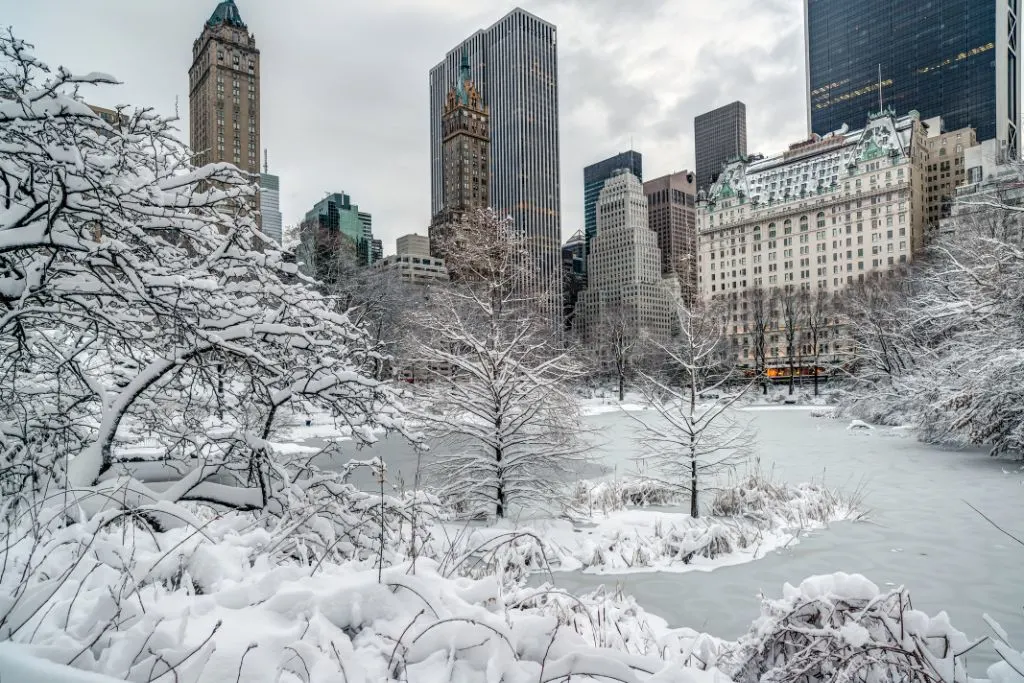 Winter in New York includes the months of December, January, and February. Therefore, temperatures typically fluctuate between 25 and 44 degrees Fahrenheit, with nights getting significantly colder than days – especially when the wind from the Hudson whips through the city and full force.
Generally speaking, January is the chilliest month of all with temperatures that can drop below 20 degrees Fahrenheit – aka when that polar vortex of doom rolls into town.
And, although not guaranteed, there is always the possibility of snow in winter.
Now, as any local will tell you, winter weather in NYC is extremely unpredictable, making it difficult to decide what to wear in New York in winter.
So, in terms of what to pack for New York winter trips, you should plan for the coldest temperatures. And, hopefully, it will be a few degrees warmer than you expect!
Just be sure to check the weather right before you leave so that you can make quick adjustments to your wardrobe and packing list if need be.
What to Wear in New York in Winter – Clothes
⭐️ Rating: 4.4/5 (902 Reviews) Price: $129 Details: Read more on Amazon!
Let's start with the big one: what coat to pack for sometimes brutal New York winters.
Well, this stylish yet practical Anchorage parka by Legendary Whitetails comes in three colors and will protect against the elements. Of which there are many in NYC.
Now, you may roll your eyes at the thought of wearing a coat engineered for Alaskan winters when visiting NYC in winter.
But, coming from a local who has survived her share of New York winters – your eyes won't be rolling when temperatures plunge to single digits.
Besides, every single New Yorker owns a parka so you'll blend right in if you add this to your list of what to wear in New York in winter.
"Warm and a good mix of professional and outdoor attire."

Megan (read more reviews now!)
Plus, the interior is lined with snuggly sherpa for sublime comfort and warmth while the exterior has a waterproof shell.
So, even when it's raining buckets you can still hit the streets and look fly doing so.
Even better, this coat has pockets where you can store essentials such as your MetroCard and smartphone.
You'll also love that the hood is fully detachable and the coat is machine washable. So, thankfully, there's no need to take it to the dry cleaners…ever.
⭐️ Rating: /5 ( Reviews) Price: $ Details: Read more on Amazon!
Whatever time of year you visit NYC, a reliable pair of leggings should be at the very top of your New York packing list.
But, when you're traveling in winter you need to crank things up a notch and get some leggings designed for frigid temperatures.
And these fleece-lined leggings by BALEAF do just that. They are also just an absolute delight to wear and should be considered when you decide what to wear in New York in winter.
After all, they are made with a breathable, soft-brushed outer fabric that is paired with a micro-fleece inner lining that's gentle on your skin.
"Love these leggings so much! They are incredibly comfortable, look fantastic and are warm for the fall and winter months. I am 5'6 and 140lbs. I usually am a small but went for a medium for extra comfort and I am very glad I did! Going to definitely order a few more colors!"

Lindsay (read more reviews now!)
So, it'll keep you insulated while lifting moisture away from your skin for added comfort. And, because they're designed for yogis, they're extremely fluid and fit like a glove.
Plus, the high waist and seamless finish give them extra brownie points for ease of wear.
Specific pairs in this range even have a nifty side pouch or waistband pocket for your phone. But, check out the specifics before purchasing since each pair is different.
And if you opt for the classic noir, you can wear them under dresses/skirts or rock them as a solid pair of pants.
⭐️ Rating: 4.3/5 (4949 Reviews) Price: $39.95 Details: Read more on Amazon!
Even with your parka and leggings, you're still going to need a woolen sweater to shield you from those icy blasts!
And this oversized turtle cowl neck with batwing arms will do the trick and look lovely with just about any pair of jeans or pants.
The chunky, slouchy style is always fashionable when considering what to wear in New York in winter and works as casual daywear or as a chic evening cover-up.
So, have a look at the variety of colors on offer and consider which one works best with the rest of your NYC winter packing list.
"Was really surprised at how nice this sweater is. I always get a little leery about ordering clothing from Amazon but so far everything I have received has been really nice!! I always read the reviews!"

Brenda (read more reviews now!)
After all, the fall hues are particularly cozy for a winter visit while berry reds channel the holiday spirit and photograph really well.
Team it with leggings, jeans, and skirts while spending 4 days in NYC. And, when temperatures rise a bit you can throw it on over a dress or pair of shorts too.
You'll also love that it's relatively true to size. But, consider going a size up if you want to ramp up the baggy look, or wear another thickish sweater as a base layer.
⭐️ Rating: 4.2/5 (87,147 Reviews) Price: $16.77-45 Details: Read more on Amazon!
So, while in NYC you can get away with wearing your stretchy leggings for most occasions.
But, regarding what to wear in New York in winter in the evenings, you might want to shake things up a bit with a fetching pair of jeans.
And these signature shaping pull-on jeans by Levi Strauss & Co. will satisfy your need for style and comfort.
In fact, they're almost as stretchy as leggings and are crafted to hold their shape against frequent wear.
"Soft, comfortable, true to size and flattering. These feel great on!"

⭐️ Rating: /5 ( Reviews) Price: $ Details: Read more on Amazon!
Plus, a built-in tummy panel keeps everything neat and smooth without causing discomfort – as is the case with many traditional pairs of jeans.
Because the last thing you want to do is roam the (potentially, icy) streets in a stiff pair of pants. So, pick these up and you can feel great walking through the streets as you look for the best coffee shops in Brooklyn.
What's really awesome about these jeans is that they come in a range of colors. So, if you want to break away from trusty black and navy, try brick red, leopard print, and burgundy instead.
⭐️ Rating: 4.5/5 (1887 Reviews) Price: $29.98 – $ Details: Read more on Amazon!
Want to know how to stay warm when deciding what to wear in New York in winter? Well, the key is to wear a slim-fit thermal shirt beneath your regular clothing as a base layer.
Yeah, I know thermals aren't exactly the sexiest item of clothing. But, you'll appreciate them in the grip of NYC winter when polar vortexes are swirling around the streets.
Plus, it provides you with the opportunity to get away with wearing dresses or skirts without feeling the bite of NYC's big chill.
"I've recently started running in the winter time. This is such a good base layer for working out in the cold. It's pretty snug but very comfortable and flexible. I don't feel like it's restricting."

Bria (read more reviews now!)
Plus, you'll be even warmer if you add thermal tights or fleece-lined leggings to the mix.
Now, this range of long-sleeved thermal shirts blocks out cold air while maintaining maximum breathability. In fact, they fit like a second skin and won't hinder your moveability.
In actual fact, these thermals were designed for sports and workout activities. So they're created to stay lovely and fresh when you're on the go.
Plus, the price includes two shirts with the option to go black/black, white/white, or pick two.
⭐️ Rating: 4.6/5 (811 Reviews) Price: $49.99 Details: Read more on Amazon!
Now, if you see NYC as the beacon of fashion that it absolutely is, then the idea of fleecy leggings and thermal shirts might be giving you heart palpitations.
So, let's finish this section with what to wear in New York in winter with something that's a tad bit more stylish.
Because a sweater dress, such as this cable knit bodycon jumper, works well for both day or night wear.
And when worn over tights (thermal ones, mind you!) it feels dressier than pants. So, you can throw it on for a night at the theater, dinner at a posh restaurant, or bar hopping until the wee hours of the morning.
However, you can also wear it with leggings while sightseeing without feeling overdressed.
"Great fit, super warm, I actually got really hot in this. Very good and sturdy material. Not thin at all."

Stephanie (read more reviews now!)
Plus, the crew neck with button detail is adjustable so you can wear it open or buttoned up to vary your look. You can even roll it down to expose your shoulder if you wanna feel extra fancy.
So, basically – it's three dresses for the price of one and makes a perfect addition to your NYC packing list when deciding what to wear in New York in winter.
This dress also comes in every color under the sun from spiced pumpkin to regal blue. And sizes are true to size and flatter all body types.
What to Wear in New York in Winter – Footwear
7. High-leg waterproof boots
⭐️ Rating: 4/5 (29 Reviews) Price: $139 – $209.98 Details: Read more on Amazon!
Second to your coat, deciding what to pack for New York in winter for your feet is crucial.
And while Uggs feel great – they turn to sponges when the snow comes. Ankle boots are chic but wet toes are not. Heels look cute but ice has other ideas.
So, since you'll live in these boots from dawn 'till dusk, definitely splurge on a trustworthy brand.
Now, yes, these women's riding boots by Timberland are a bit of an investment.
But, as with any Timberland purchase, you'll feel the value in every step.
"I love these boots! Just what I expected."

Isabelle (read more reviews now!)
After all, they're fashioned from premium full-grain leather that's completely waterproof. Plus, they provide ample arch support and you can wear them all day without achy heels and dreadful foot fatigue.
You can even wear them with your choice of pants and dresses. Honestly, this is the only boot you'll need for NYC in winter.
Although, if the forecast is looking favorable you could throw in a pair of ankle boots as an alternative for evenings.
Pro Tip: If you buy these boots, make sure you break them in prior to your trip.
⭐️ Rating: 4.7/5 (2300 Reviews) Price: $15.99 Details: Read more on Amazon!
It's all very well snapping up a pair of boots, but one important item not to be overlooked are winter socks.
Because proper socks are the Robin to your Batman (boots).
And these thick warm socks by BomKinta are amazing and come in packs of 3 and 5.
"These are the perfect thickness, not too thick so you can actually put your shoes on, but thick enough to keep your feet warm. I'm always cold, and these keep me comfortable.

I have worn them every day since I got them. They are a great thickness around the ankle to wear with boots where the socks show a little. Literally my new favorite socks."

Dee (read more reviews now!)
See, the elastic ankle bands don't compress your legs so you'll have greater comfort and can avoid that unsightly red indents in your skin when you peel them off.
And in addition to wearing them as you frolic down the streets of NYC, you can also wear them while doing the best hikes in the Catskills.
Plus, unlike a lot of other high-quality winter stockings, these zero-fuss socks are machine washable for an easier life.
⭐️ Rating: 4.7/5 (3196 Reviews) Price: $12.99 Details: Read more on Amazon!
Here's one to bring a little dose of hygge to your NYC closet.
And while not 100% essential when deciding what to wear in New York in winter, a pair of slipper socks are a luxury that will improve your downtime while on vacation.
Lined with fleece as soft as kittens, these fuzzy slipper socks by EBMORE are available in block hues and holiday-themed patterns.
"I have had these a couple of months now and wear them most days. They still look as good as new. They have only really had indoor use apart from a couple of times up the garden path."

Sonia (read more reviews now!)
They're also machine washable, have non-slip soles, and pack down really small in your bag – making them a perfect addition when figuring out what to wear in NYC in winter.
So, after a long day of pounding the snowy NYC streets, you'll relish the thought of slipping out of your boots and into these once you get back to your digs.
Heck, you could even dig them out on the plane and throw them on for added comfort during your long-haul flight.
What to Wear in NYC in Winter – Accessories
10. Warm Scarf
⭐️ Rating: 4.6/5 (22,994 Reviews) Price: $7.99 Details: Read more on Amazon!
Once you're bundled up in your finest winter attire, you can complete the ensemble by flinging on an oversized scarf.
Although, in the case of this Wander Agio winter warm lattice scarf, you can swaddle your entire upper body in its embrace.
Ultra-wide and featuring decorative fringing, the scarf is made from a super-soft fabric that feels lovely against your skin. It also looks pretty dang awesome in all your photos too.
"This is perfect gift for a friend. I bought it for my grandson's girl friend. It is so soft and she looked so adorable in it. I loved it so much I bought one for me and one for my daughter! The colors are so pretty that they offer that it was hard to choose too."

Barbara (read more reviews now!)
Plus, it's available in a diverse range of shades and patterns. allowing you to choose between bold or neutral hues.
And while this type of scarf will keep the breeze off your neck, it's also handy for if you go to a show or restaurant and need something to wrap around your shoulders.
⭐️ Rating: 4.3/5 (2862 Reviews) Price: $15.29 Details: Read more on Amazon!
Even if you're brave enough to venture out without a scarf, don't even think twice about going glove-less. Especially if ice skating is on your winter to-do list.
Because, real talk? Nothing feels good about scarlet red fingers that you literally cannot move.
But, gloves can be a bit of a hassle.
Unless you add these Bodvera thermal insulation fingerless "texting" gloves to your NYC winter packing list.
"They are soft and comfortable to wear. I much prefer them to my 100 percent wool mittens on minus zero-degree days when I absolutely have to venture outside."

Roxana (read more reviews now!)
Convenient and efficient, the hook and loop fixture makes it easy to switch between fingerless and traditional gloves.
So, you can keep your fingers free from frostbite while exploring the city and catching up on your messages.
Also, a cunning patch of abrasion-proof leather on the palm and thumb provides you with a non-slip grip. Therefore, this lessens your chances of dropping your cell while texting on the go.
But, when you need to whip out your wallet or cell phone, you can count your coins or write a text without the faff of removing the glove, making these gloves an essential item when deciding what to wear in New York in Winter.
⭐️ Rating: 4.8/5 (30,708 Reviews) Price: $17.99 Details: Read more on Amazon!
Seize the moment and don a knitted hat with the fluffiest pompom that you can get your hands on when deciding what to wear in New York in winter.
Because when deciding what to pack for New York in winter, a warm hat is about as necessary as your wallet.
And this thick cable knit faux fur pom beanie by C.C. is lined with sumptuous fleece. It's also produced by a small brand that creates the highest quality hats possible – hats that are luxuriously thick and soft.
"Love this hat and can't say enough good things. This hat is a re-buy because I lost this same hat last winter. Once you buy this hat no others will be worth wearing. Highly recommend this you will love it!"

Jackie (read more reviews now!)
Past happy customers have sported this woolen hat in Alaska and lived to tell the tale, so you can rest assured it has you covered in NYC.
It's also sold in a spectrum of colors, with the 3-tone blends being particularly fetching.
You might feel tempted to don a more trendy hat during your city break, always remember that New York City is prone to some crazy winds.
Luckily, though, a beanie like this will remain attached to your head. As a result, you won't encounter any awkward moments where you're chasing it down the street.
⭐️ Rating: 4.3/5 (2403 Reviews) Price: $19.99 Details: Read more on Amazon!
When deciding what to wear in New York in winter, it's essential that you carry a small cross-body purse that fits all your essentials.
In fact, this is especially true in the evening when you're heading out for dinner or a cocktail at one of the best bars in Brooklyn.
But, you can also use it to keep your valuables safe during the day too.
So, check out this crossbody purse shoulder bag by Gladdon. It holds your wallet, cell phone, keys, and MetroCard.
"I got this for a vacation. I wanted to travel light. This bag was perfect! It held my necessities. It could not hold a lot, I did have to be mindful of what I could put inside it. The quality was nice. The length was great. I received compliments from strangers."

William (read more reviews now!)
It's also made from 100% eco friendly vegan PU leather, comes in five colors, and is equipped with an adjustable strap.
And at 6 x 8 inches, it's a practical size with secure zippers and a fold-over flap for added security.
This way, you can wear this bag beneath your coat when riding on the subway, in crowded areas, and in other pickpocket hotspots.
After all, in the build up to the holidays when the decorations are up and the ice rinks are packed, NYC is mobbed with people.
And that makes things even easier for opportunistic thieves. So, it really pays to take extra precautions by adding this bag to your list when deciding what to wear in winter in New York.
Of course, you're probably looking at this cross-body bag in fear and wondering where on earth you're going to fit all your other daily essentials.
And that's why you'll also need to bring a functional day bag along with you for long sightseeing days.
Because a chic backpack is the way to go since it won't tug at your shoulders and makes it easier to organize your gear.
Now, this faux leather backpack is roomy enough to store a water bottle, book, and granola bars. You can even pop your winter accessories in the main compartment once you're inside.
"Bought it for the looks but impressed by it's hardiness after two weeks in Europe. Worth every penny!"

Cassey (read more reviews now!)
Side pockets are also the perfect place to store a reusable water bottle and an umbrella.
And then you have ample zippers and magnetic compartments to keep everything secure. Plus, the bag is waterproof, which is a bonus if you get caught in the rain.
As the bag is the right size to carry a laptop, you can use this one for your carry-on if you're flying into NYC.
To top it all off, the style of this backpack is deliciously vintage and compliments most ensembles.
What to Wear in New York in Winter – Electronics, etc.
⭐️ Rating: 4.4/5 (124 Reviews) Price: $39.99 Details: Read more on Amazon!
Now, let's move on to what to wear in New York in winter to keep things smooth while you're out and about on the town.
And, actually, this first item is something essential for all seasons.
Because the last thing you want to have happen is for your cell phone battery to die on you. So, popping a portable power bank in your day bag means that this will never happen.
Plus, portable chargers are super tiny these days. In fact, you can slide this Anker portable charger into your pocket.
"We bought two of these for a trip to Disneyland, and they charged out phones quickly and still had plenty of juice left for more charging!"

David (read more reviews now!)
It also comes in classic black and a pretty powder blue hue.
And carrying one of these with you means that you don't have to worry about finding a coffee shop with an outlet where you can charge your phone.
Or, even worse, actually asking another human for directions (insert gasps of horror here).
Plus, you can literally recharge your phone from anywhere. Like, the subway, the museum, from the top of the Empire State Building, or while riding the Staten Island Ferry.
Additionally, this compact gadget is compatible with the majority of iPhone and Android devices. It also works with Apple watches and airpods too.
Otherwise, you can always browse for alternative models in the Anker Amazon Store too.
⭐️ Rating: 4.7/5 (23,227 Reviews) Price: $139 Details: Read more on Amazon!
Because your winter accessories are going to commandeer most of the space in your bag, one thing you'll appreciate not packing when deciding what to wear in NYC in winter is a pile of books.
I know, not everyone is wild about reading off a screen. But, really, leave the trad tomes at home this time and pack a Kindle or other e-reader device for your trip.
"Perfect for travel…and the rest of your days."

Chelsea (read more reviews now!)
In particular, the Kindle Paperwhite features an adjustable warm light that is easy on your eyes. The glare-free display is also crafted to be the next best thing to paper.
Now, don't go dunking your Kindle in the bathwater to test it, but, technically, this newest model is waterproof. But seriously, do not shower with your Kindle.
You'll also love that a Kindle weighs a mere 205 grams, which is basically nothing. So your shoulders will thank you for adding this one to your New York winter packing list.
Load your Kindle with books set in (or about) NYC and you're good to go.
⭐️ Rating: 4.5/5 (5117 Reviews) Price: $12.99 Details: Read more on Amazon!
Freezing temperatures mean that you'll be spending many a dollar in the fabulous coffee shops of NYC. And, by the by, you're in for a treat with these.
However, if you're a coffee (or tea) aficionado and want to do your bit for the environment, consider packing a coffee cup that you can reuse.
Because this 12 oz stainless steel tumbler by CS COSDDI is suitable for hot drinks as well as ice teas, juices, and smoothies.
"This has become my favorite coffee tumbler for the price. Holds two cups of coffee. This cup is absolutely leak proof!

I filled it up, screwed on the lid, placed the lip closure down, and held it over the sink sideways and upside down. NO LEAKING. And since it has a screw-on top, you don't have to worry about it coming off."

Samantha (read more reviews now!)
The spill-proof lid is also crafted from BPA-free silicone and has a nice hole for you to sip your drink from.
You can even use this cup to store accessories such as jewelry to justify the space in your bag – obviously when the mug is clean and there's no coffee in it.
Plus, many NYC coffee shops apply discounts when you bring your own mug. So, you'll earn back that $10 before you know it.
And when you're not vacationing in NYC, you can store it in your car since it'll fit inside most cup holders.
Pro Tip: Remember to pack a reusable water bottle too. Because, hydration. And you'll save a ton of money while protecting the environment!
What to Wear in New York in Winter – Wellness
⭐️ Rating: 4.6/5 (68,648 Reviews) Price: $14.62 Details: Read more on Amazon!
NYC is a wind tunnel come winter and your face will get a lashing. So, you'll need to combat the itch of dry skin with a great moisturizer.
Honestly, even if you're not heavily into grooming products, no guide to what to wear in NYC in winter can skip this critical inclusion.
Now, this facial moisturizing lotion with sunscreen by CeraVe slowly releases its nourishing potions throughout the day to keep the skin feeling supple and healthy.
"I am a guy and I use this whenever I go outside. It is fragrance free and a little goes a long way. It's leaves a slight white cast at first but it disappears (on me) very quickly. Definitely recommend!"

P. Lappin (read more reviews now!)
The SPF factor is also important because even in winter as the NYC the sun can still burn and damage sensitive facial skin.
Additonally, CeraVe's patented cream contains three essential ceramides that maintain the skin's natural barrier. Something that comes in mighty handy in a large city like the Big Apple!
And, crucially, the cream is oil-free. So, you'll escape the annoyance and harsh blemishes that result from a shiny face.
Lips need love, too!
Especially since winters in NYC can wreak havoc on this fragile area, making chapstick imperative to add to your list when deciding what to wear in New York in winter.
"This stuff is heaven in a tube."

Calida (read more reviews now!)
Now, this pack of medicated lip balms by Burt's Bees contains menthol and eucalyptus that will soothe chapped lips and protect them from future damage.
Additonally, these all-natural chapsticks promote healing from blisters, cold sores, and cuts too – which are all too common in harsh winter climates.
You'll also love that products from Burt's Bees are made responsibly and are cruelty-free. Plus. purchasing a 2-pack means you're covered in case you misplace one!
⭐️ Rating: 4.7/5 (1803 Reviews) Price: $15.99 Details: Read more on Amazon!
Bearing in mind that winter is prime season for colds, travel prepared by packing a customized First Aid Kit with all your essentials.
We're talking a worst-case scenario here – fingers crossed your kit remains unzipped, stashed in the bottom of your bag.
But, it's handy to have an actual First Aid Kit case such as this one, for the added convenience of keeping all your bits and pieces in one place.
"Very functional size, has all the basics.
Love that the bag is hard."

Noorah (read more reviews now!)
But, personalize the contents so you have your favorite medicare items, tailored for winter. Therefore, be sure to add in some Tylenol, throat lozenges, and nasal decongestant.
Yeah, you can buy all of these things in NYC but it's wise to come prepared – the last thing you want to do is waste valuable sightseeing time waiting in line at Duane Reade.
You can also pop in any vitamins, supplements, or probiotics you like to take during winter or when traveling.
What to Wear in New York in Winter FAQ
How Do People Dress In New York In Winter?
Winters in New York are really cold. When I say cold, I mean freezing cold. Everyone tries to dress as warm as possible. Just because warm wear is the way to go, people in New York do not forgo their style!
You will find people wearing a variety of gorgeous coats and jackets. High boots and thick socks are definitely the norm. This keeps the feet dry and they look so chic.
Let's not forget about the usual must have accessories like scarves, beanies and gloves. One must not brave the New York weather without gloves!
Can You Wear Sneakers In NYC Winter?
Yes. You can wear sneakers BUT you need to check the weather forecast before you wear them. If the forecast says rain then you may want to skip the sneakers and go with waterproof boots or gumboots.
Is New York Worth Visiting In Winter?
Honestly, I'm a big fan of New York and it really does not matter which season. While summers here are certainly gorgeous, winters also have their charm and allure.
Christmas in NYC is usually a big thing and so is the countdown to the New Year. Those, however, are the really touristy things during the season. There are a lot of winter sports that you can indulge in too! Skiing, snowboarding and ice skating are some of the top activities.
Oh and let's not forget all those romantic cabins that you can rent out for a weekend!
Additonal New York Resources You'll Love
There you have it! That just about wraps up this guide to what to wear in New York in winter.
Tell me, did your picks for what to wear in NYC in winter make the list? If not then let me know in the comments below.
And if you found this post useful, be sure to join our email list before pinning this post now so that you can read it again later.