Planning to visit New York and looking for some of the best NYC souvenirs around? If so then you're in the right place.
Because, guess what? This mega epic post on the 20+ best New York souvenirs of all time is brought to you by a real local – aka me – who has lived in the city for 30+ years.
Therefore, I know exactly where to go to get the most authentic New York City souvenirs possible.
So, skip the touristy AF souvenirs shops in Times Square and use this incredibly handy post instead.
Plus, added bonus? Many of these best souvenirs from NYC are actually available online too.
So, if you can't make it here any time soon, you can still get your NYC souvenir fix ASAP.
This post may contain affiliate links. Please see my disclosure for more information. As an Amazon Associate, I earn a small commission from qualifying purchases.
Where to Stay in NYC
Not sure where to stay so that you don't go broke while visiting the Big Apple and shopping for the best NYC souvenirs? If so then check out my picks for the best hotels in NYC.
After all, they're perfect for any budget and are all fantastic places to stay the next time you're in town.
Pod 39 (budget) – This budget-friendly accomodation has cozy, "pod" style rooms that are situated in Murray Hill inside an antique home from 1918. Rooms also come outfitted with things like queen-sized beds and TVs for an extra comfy stay.
Lotte New York Palace (Luxury)– Seriosuly swank, Lotte New York Palace is probably the best hotel in the city and sits inside a histroic 19th-century mansion near St. Patrick's Cathedral. It features stunning rooms that include WiFi, flatscreen TVs, designer toiletries, etc. Just don't leave without visiting the on-site spa, French bakery, and sleek bar too.
Best NYC Souvenirs from a Local
1. Yankees Hat
The New York Yankees are just one of two NYC-based baseball teams and one of the many things New York is known for.
But, if you ask any New Yorker who they support, chances are they'll pick the Yankees over the METS.
And that's not just because they have an iconic logo that appears on their hats – which are routinely sold at stores around the world.
So, be sure to pick yourself up a Yankees baseball cap so that you can use one of the all-time best NYC souvenirs to remember your trip fondly, whether you buy one for yourself or your pals.
Not a fan of baseball? Don't sweat it: These hats are as much a style icon as they are fan merch. Plus, the hats are available in a bunch of different colors too.
After all, Yankees hats are one of the best souvenirs from NYC for your loved ones back home who spend a lot of time outdoors – whether they're runners, hikers, or even picnic aficionados.
Pro Tip: These hats are MUCH cheaper when you buy them online but are a cool souvenir from Yankee stadium if you stop by on opening day in New York in April.
2. New York City Cotton Tote Bag
Everyone loves a tote bag. Plus, to be quite frank, everyone needs a stash of them just to function on a regular basis!
I mean, these nifty pouches are perfect for the beach, road trips, and schlepping gym gear around. And, of course, guilt-free grocery store runs that don't require icky plastic bags.
Although, the only thing better than everyone's favorite bag is everyone's favorite bag celebrating the best city on the planet as one of the best NYC souvenirs of all time.
Now, you'll find loads of tote bags all over the streets of Manhattan, Brooklyn, and beyond – many of which feature that classic "I Love NY" design.
In fact, many museum gift shops, souvenir depots, book stores, and coffee shops have gotten in on the action and now have their own lines of totes bags for sale.
Plus, if you put in the time to trawl through markets and offbeat boutique stores, you can uncover unique totes designed by real local artists.
But, you can never go wrong with a no-frills, fuss-free, screen-printed NYC tote bag that shows your love for the city.
And at a guilt-free $10 per bag, these New York souvenirs are cheap, functional, and work like a charm whether they're for your best buddy or a distant aunt.
3. NYC Taxi Cab Bottle Opener
Nobody can ever have enough bottle openers.
And seeing that they have a tendency to vanish every time you have a couple of friends over – only to resurface months later down the back of the couch.
Ergo, bottle openers are one of the best souvenirs from NYC for pretty much anyone in your life – whether close or distant.
Bottle openers are also another one of those practical NYC souvenirs that you can find all over the city. Plus, classic NYC-themed designs are as cheap as chips.
And this NYC taxi cab bottle opener pays homage to one of the city's most recognizable emblems.
Plus, the blingy yellow hue makes it nigh impossible to misplace it. Besides, it's magnetic and therefore doubles up as a snazzy fridge magnet – the OG of best NYC souvenirs.
These tiny gifts are also particularly canny (get it?) since they take up next to no space in your luggage. So, technically, you can buy one for everyone in your inner circle – if you're feeling super nice and want to pick up the best New York souvenirs for everyone.
4. "I Love NY" Mug
Yes, it's ironic. But, any "I Love NY" embossed gimmick or gadget is a quintessential NYC souvenir.
Now, "I Love NY" mugs are available in a variety of colors ranging from the classic black text on white to pink, purple, yellow, and beyond.
The solid, heavy design is also super comforting and absolutely classic. Plus. being dishwasher and microwave safe makes these mugs practical too.
Additionally, mugs are one of the best souvenirs from NYC for just about anyone with a tea, coffee, or hot chocolate addiction. No doubt, you'll know a few people who fit the bill.
And who says these mugs can't be used for cocktails?
Anyway, they work just as well as a pen pot or a receptacle for stashing loose change and stray buttons.
Besides, you can always present the mug in tandem with a bag of NY-brewed coffee (keep scrolling for info on where to pick that up).
5. New York City Skyline Reusable Water Bottle
We're all trying to do our bit for the environment these days. And one of the easiest ways to do this is to chug tap water from a reusable bottle.
So, for your eco-warrior cousin or any running or hiking fanatics in your gang, a reusable water bottle is one of the best NYC souvenirs ever.
And this snazzy New York skyline stainless steel bottle is BPA-free, leak-proof, and non-toxic.
A double-wall vacuum insulated design also keeps drinks cold for up to 24 hours and hot for up to 12 hours.
To be honest, this one will hold up far better than the cheaper equivalents available in Times Square souvenir stores. Plus, it comes with a fetching gift box that elevates your gifting game to the next level.
The design is also slim enough to drop into the smallest of bags and totes and can be used to save you a ton of money on soft drinks when you travel.
6. New York Skyline Heartbeat T-shirt
Because whose heart doesn't skip a beat when they picture the streets and immortal skyscrapers of NYC?
Plus, New York-themed t-shirts, sweaters, and other clothing items are aplenty in the city's multitude of souvenir stores.
And that makes sense since these apparel items are awesome for hiking, yoga, sports, and more. Or, for lounging around watching re-runs of Friends.
The thing is, any NYC souvenir t-shirt is going to set you back a few bucks while in the city.
However, this chic New York Skyline T-shirt costs a wallet-friendly $20 and comes in sizes to suit women, men, and teens.
It also lets you (or your loved ones) keep NYC's famous silhouette close to your heart at all times.
And in addition to the classic black design, this t-shirt is available in a multitude of colors to suit all tastes.
On the other hand, you could always opt for the same design printed on a hoodie, sweatshirt, baseball tee, or vest.
7. Coffee from Stone Street Coffee Company
So what exactly is it that keeps people moving in the City That Never Sleeps? Besides the sheer adrenaline of living in the world's hippest city?
Why, the caffeine of course! And coffee culture in New York is thriving. So much so that you can hardly walk a yard without catching the delicious aroma of freshly roasted coffee wafting down the street.
Assuming that you're a coffee aficionado, you can expect to work your way through your body weight in massive cups of Joe while you're enjoying the best brunch in NYC.
Therefore, a bag of New York-brewed coffee is one of the best NYC souvenirs to treat yourself to. Because every sip will take you back to your time in the city.
And the Brooklyn-based roasters Stone Street Coffee Company has teamed up with family-run farms and local producers all around the world to produce some of New York's best coffee.
Their artisanal blends are also available in either ground and whole bean pouches. Plus, a variety of flavors means that even coffee novices will find something to satisfy their taste.
After all, Innovative concoctions include chocolate raspberry and blueberry cookies – unique flavors that easily qualify as top New York souvenirs.
8. New York State Serving and Cutting Board
There's more to NY than its five urban boroughs, as this gift reminds you!
See, this beautifully crafted bamboo cutting board is engraved with the top towns and attractions in New York State.
It shines a spotlight on the natural beauty of Upstate New York, including the Catskills, the Adirondacks, Syracuse, and more.
So, serve up bite-sized appetizers and cheeses on the decorative side. Or, flip the board over to chop on the knife-friendly reverse side.
And since it's fashioned from bamboo, it's one of the best souvenirs from NYC for style-conscious home chefs and hosts.
And, at a mere $15, it's a steal as one of the best NYC souvenirs of them all.
Plus, in addition to this New York State Serving and Cutting Board, Totally Bamboo has an entire line of boards representing most of the 50 states.
9. Hershey's Chocolate and Candy
Confectionery brand Hershey's may have started in Pennsylvania but Hershey's Chocolate World is located on Seventh Avenue, right in Times Square.
And Hershey's is responsible for giving the world their signature "Kisses" as well as truffles, chocolate bars, Reese's Peanut Butter Cups, and so much more.
Therefore, these sweet bites are perfect for sharing with colleagues, neighbors, and pals while recounting your NYC anecdotes and sharing the best NYC souvenirs with friends.
However, lugging back a truckload worth of candy home with you might not be ideal – especially given modern-day luggage fees.
Not only is it going to add weight to your bags, but you might also arrive home with fewer peanut butter cups and Kisses than you left with.
So, play it safe and order your candy and chocolate NYC souvenirs for home delivery. It'll save you a fortune when compared with shopping at the Times Square superstore.
10. NYC Skyline Art Print
Feeling blue about leaving the glittering skyline of New York City behind?
Then take a slice of the city home in the form of a beautiful print to dress up your walls.
Because prints purchased at posh Chelsea area galleries do tend to veer on the costly side. So, browse through the collections and purchase something similar online for a fraction of the cost.
And if you've got space on your walls, this set of 6 New York City posters by Haus and Hues is a wallet-friendly pick.
Landmarks featured include One World Trade Center, the Empire State Building, and the Flatiron Building. The contemporary style also lends itself nicely to home or office use.
Alternatively, this set of 3 canvas pictures casts a sultry vintage light across the skyline.
Plus, in addition to indulging yourself with some eye candy for your lounge, an NYC print is a kooky housewarming gift that doubles as one of the best NYC souvenirs.
11. LEGO Statue of Liberty
Now, what about the best NYC souvenirs for kids and teens?
Well, that's exactly what the LEGO® Store Fifth Avenue was created for!
See, this LEGO megastore is devoted to the Danish manufacturer of building bricks, blocks, and cult models.
And being in New York, the stock is heavily focused on the city's top attractions – places that you'll find on any NYC bucket list.
Sets are also designed with kids and adults in mind. So, you'll need to consult the age recommendations for guidance.
Notable sets up for grabs though include a LEGO Architecture New York City and LEGO Architecture Statue of Liberty.
Now, these sets let your recipient recreate the magic of NYC and are presented with a companion book that shares insight into the history of these historic landmarks.
Yup, fun and educational is the name of the game when it comes to the best New York souvenirs.
Just note that since these models are more complex, they're geared more towards teens and adults. Or, grown-ups who want to oversee younger LEGO architects in the making.
Also, official LEGO merch doesn't exactly come cheap. So, this might be something you want to order from Amazon where discounts take the heat off.
12. Kate Spade Luggage Tag
It's no secret that one weekend in NYC isn't enough.
And regardless of how long you spend in the city, you'll want to book your next trip before your vacation's over.
So, before you leave, be sure to snap up a cute new New York luggage tag for your bag as a promise to yourself that your next trip to the Big Apple will be sooner rather than later.
And this glamorous Kate Spade New York apple luggage tag is oh-so-subtle themed. In fact, even New Yorkers themselves would select this tag for their bag.
Plus, it's crafted using durable vegan leather and comes with an ID holder and privacy flap.
The radiant scarlet hue also makes it nigh impossible to miss your bag amidst the sea of luggage at baggage claim.
However, in addition to treating yourself, a trendy luggage tag is a practical NYC souvenir for friends or younger relatives planning their first big adventure out of state or overseas.
13. Knicks Apparel
So, who in your circle is a diehard fan of the NBA?
Because for anyone who loves basketball, Knicks apparel and sportswear are one of the best souvenirs from NYC for sports buffs.
Although, you'll need to think carefully about who you chose to gift their official merch since Knicks apparel isn't exactly going to impress any Lakers, Bulls, or Nets fans in Brooklyn.
But, for the Knicks supporters in your life, you'll make their day – and possibly their year – with a branded jersey.
And while a number of items are exclusively available at Chase Square at Madison Square Gardens or at live games, the prices are as eye-wateringly high as you might expect.
But, you can find official licensed Knicks gear online too when you order from the trusty Amazon store.
After all, a wide array of apparel is up for grabs including sleepwear, hoodies, sweatshirts, and pants with options for women, men, and kids.
14. Skyline Etched Whiskey Tumblers
Novelty shot glasses are fine and dandy when you're shopping for your college dorm buddies. But, now that we're (hopefully) older and wiser – let's crank the glassware up a notch.
And whiskey glasses fit the bill since they are a "neat" NYC souvenir gift that evokes visions of the fab speakeasy and jazz bar scene of this great city.
And of course, whiskey tumblers accommodate any other spirits your recipient might prefer – while simultaneously adding a bit of glamour to your drinks cabinet.
Now, carting glass back in your bag comes with more than a few risks and dangers. But, fortunately, you can snap up this stylish duo of skyline etched whiskey glasses safely via the web.
In fact, the world-famous NYC skyline is engraved into the side of the glass by a skilled artisan and the base is weighted for the utmost sophistication.
15. Pop-up New York (Lonely Planet Kids)
And another one for any little ones you want the best NYC souvenirs for!
Because Pop-up New York is a bright and funky children's book from the team at Lonely Planet Kids.
It's not so heavy on the text and emphasizes the illustrations and – duh – the pop-up elements.
Pop-ups include legends such as the ​​Empire State Building, the Statue of Liberty, and Brooklyn Bridge as well as yellow cabs and even a hot dog cart.
Pop-up New York is also one of the best souvenirs from NYC for younger kids, aged 3 and up.
After all, it's a gift that's guaranteed to ignite early sparks of wanderlust in baby siblings, nieces, nephews, and any other kids in your life.
Where to Buy the Best NYC Souvenirs
16. Metropolitan Museum of Art Gift Shop
The Met is one of the most recognizable attractions in New York. And seeing as you're likely to swing by the gallery to check out its 5,000 years of art and artifacts, the gift emporium is a must-see while you're here.
Plus, this is where you'll find some of the most luxurious and best NYC souvenirs of them all.
Now, stock ranges from home decor including prints, ceramics, and sculptures to clothing, jewelry, and books.
Items are also high-quality and that's reflected in the prices. So, yeah, none of the best souvenirs from New York purchased here are cheap.
But, if you're looking to splurge on a gift for your nearest and dearest – the Met is one of the best places to shop in NYC.
Now, the great news is that if something catches your eye that's too heavy to tote home – or beyond your budget – you can order select items online.
And this set of four MET stained glass design drink coasters is perfect for houseproud relatives or that friend who recently moved.
Meanwhile, you can never go wrong with an art-filled coffee table book published by the gallery itself, such as Art =.
Over 800 artworks from the MET's archive are accompanied by 160 engaging curatorial essays.
17. Strand Bookstore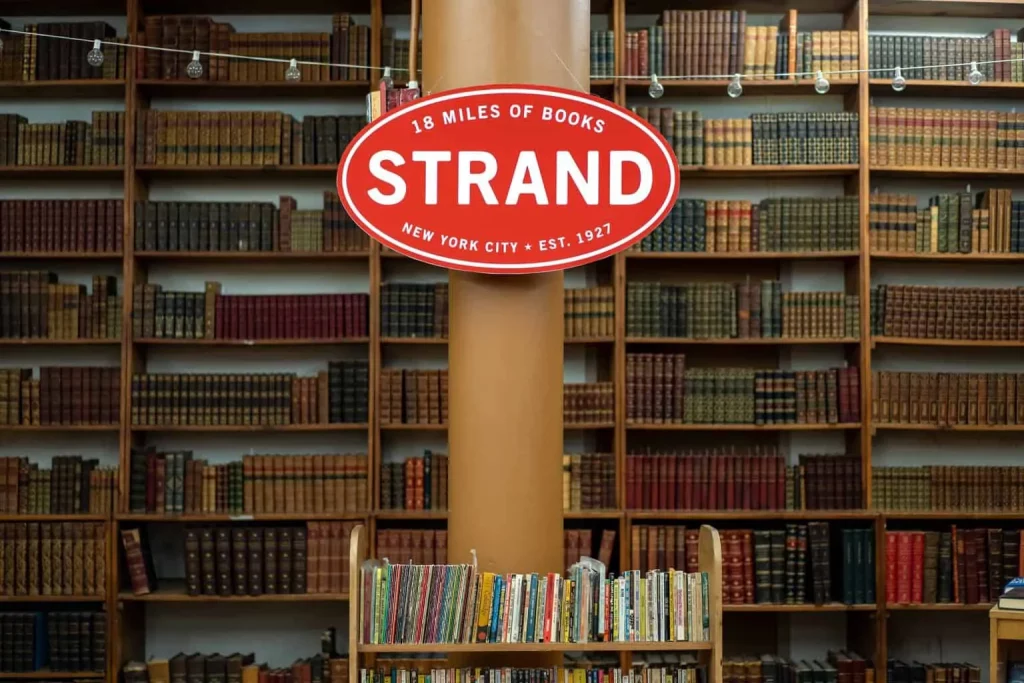 New York is a haven for booklovers. But, of all the bookstores in the city, Strand Bookstore is the one not to miss.
This treasure trove of tomes opened its doors in 1927 and swiftly became the go-to place for New Yorkers hungry for secondhand books, rare books, and fiery literary dialogues.
Nowadays, its legacy continues and you can browse stacks of preloved fiction, non-fiction, and kids' books.
In fact, books have even been penned about this bookstore. And Upstairs at the Strand is a compilation of musings and conversations between literary greats including Paul Auster and Alison Bechdel.
Obviously, Strand claims the top spot for the best souvenirs from NYC for the readers in your life. But, that can always include you too.
However, besides the thousands of books, the store stocks apparel and gift items including bookish t-shirts, totes, and kids' clothing.
Also, be sure to check out their event schedule while you're there – a signed book is a one-of-a-kind way to commemorate your time in the city.
Also, be sure to check out some of the best happy hours in Greenwich Village that are nearby.
18. Chelsea Market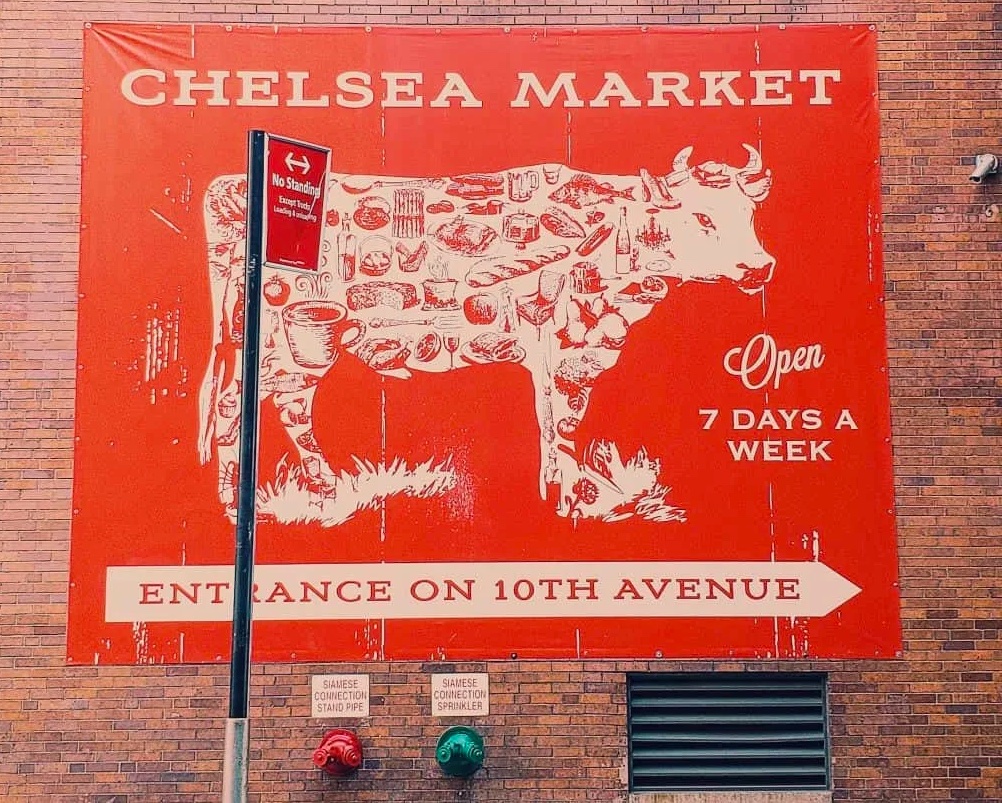 Situated in the edgy Meatpacking District, Chelsea Market is part gourmet food hall, part grocery store, and part seriously unique gift emporium.
And while you will find a couple of brand outposts at Chelsea Market, the main appeal is the opportunity to snag trinkets that you can only buy here.
In particular, Artists and Fleas is a marketplace full of work from local artists and creatives where you can browse for clothing, accessories, crafts, and keepsakes.
Neighborhood Goods is another great spot that is a cornucopia of fashion, footwear, beauty products, and even items for dogs.
Zach and Zoe Sweet Bee Farm is also a great family-owned apiary hailing from New Jersey. You can sample their honey before making your final selection for the best NYC souvenirs.
And since you're here anyway, let the Fat Witch Bakery cast a spell on your friends with decadent brownies and baked goods of all variety.
Additionally, Chelsea Market is open daily and hosts live music, art shows, and creative events. So, you can turn your quest for the best NYC souvenirs into a cultural and foodie bonanza.
19. New York Transit Museum Gallery & Store
While the New York Transit Museum itself is sited in Brooklyn, the New York Transit Museum Gallery & Store is located over the river in Manhattan.
Actually, it couldn't be in a more convenient spot since the store is located in Grand Central Station.
And most of the items for sale here are transportation themed.
So, you've got the full spectrum of practical gifts like Metrocard holders and umbrellas alongside homeware and desk accessories.
Eclectic jewelry is also available, with one of the quirkiest pieces inspired by the tokens that were used when the subway first opened.
Meanwhile, kooky novelty fashion wear includes subway-themed t-shirts.
As a result, there's no better place to shop for your fellow travel-addicted friends and family as you search for the best souvenirs from New York.
20. Saks Fifth Avenue
Okay, for this last one, look away if you're not feeling flush.
But, if you do have money to burn, Saks is the perfect place to shred some dollars on the most extravagant and best NYC souvenirs of them all.
And Saks needs no introduction since it's the most well-known luxury department store on the continent, if not the world.
Accordingly, stock focuses on designer fashion wear, accessories, jewelry, homeware, beauty, and fragrance.
So, if you want to invest in fragrance or grooming products to remember New York by, you can surf their online store and make a note of your favorites and slyly place an order later.
If you can, give your wrist a squirt of the Bond No. 9 range and find the perfect match for yourself.
Or, your mum or your best friend if you're in a generous mood or thinking ahead to the next birthday.
Even if the prices are beyond your budget, Saks is worth a visit for the chance to check out the epic window installations throughout the winter season.
21. Frick Collection Museum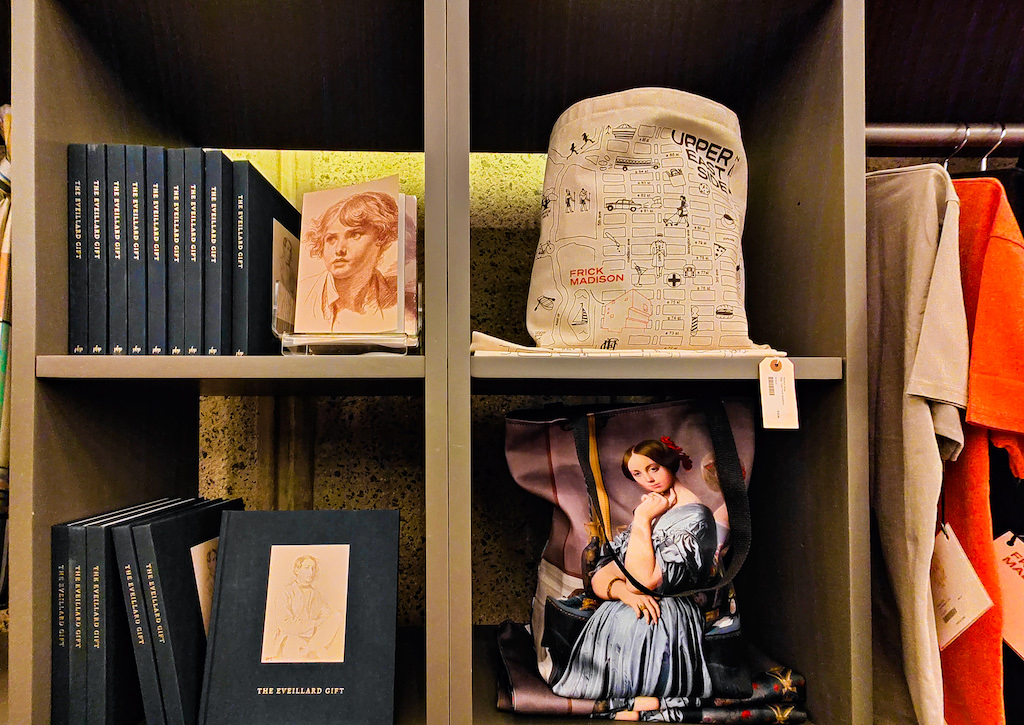 The Frick Collection is one of my all-time favorite museums and easily one of the most unusual things to do in NYC.
However, in addition to having an eclectic/quirky collection of exquisite art that is displayed inside the former home (aka mansion) of Henry Clay Frick, this museum is home to some of the best NYC souvenirs ever.
So, after admiring the home's many galleries and sitting by the central fountain, be sure to have a look at the gift shop, which is brimming over with cool t-shirts, fun totes, and awesome mugs.
Yeah, these New York City souvenirs are WAY better and infinitely more fun than anything you'll find in a generic AF gift shop.
Address: 1 E 70th St, New York, NY 10021 (currently on Madison)
Hours: Open Thursday through Sunday from 10:00 am to 6:00 pm.
Price: Varies
How to Get There; Take the 6 train here, get off at 68th street station, and walk to the museum from here.
22. IFC Center SWAG
Independent theaters are a big deal in NYC and all the rage since we all want to be super offbeat and cool AF up in NYC.
However, one of my fave places to go and catch an indie flick is the IFC Center in Greenwich Village.
After all, they show a wide variety of off-beat/classic movies and have lots of snacks to choose from.
Yeah, I was pleasantly surprised by the food selection when I was here over Christmas to see It's a Wonderful Life on the big screen.
And as I was hardcore searching for some Sour Patch Kids, I saw that they sold epic merch too – everything from totes to keychains to shirts.
So, be sure to pick up one of the best NYC souvenirs of them all the next time you're enjoying your favorite flick.
Yeah, anything here will be perf for a classic film lover since the gear here pays homage to old school Hollywood actors and directors.
Address: 323 6th Ave, New York, NY 10014
Hours: Varies
Price: Varies but t-shirts are like $30.00.
How to Get There: Take the A, B, C, D, E, F, or M train to West 4th Street/Washington Square and walk from there.
23. Chocolate from Mariebelle's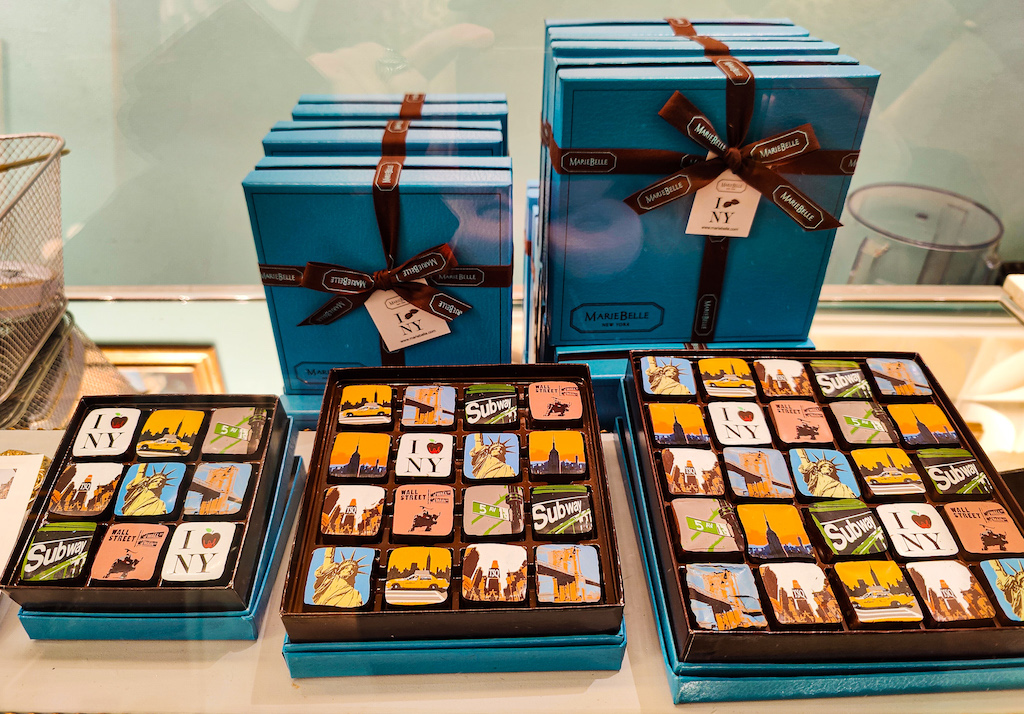 Not only is this place one of the cutest cafes in NYC, but this French-inspired chocolate shop actually sells NYC-inspired confectionary delights too.
So, after you have some molten chocolate lava cake in the cafe in the back, have a look at the merch in the front of the store if you want one of the best NYC souvenirs ever.
Because while the decor is stunning and features gorgeous flowers and crystal chandeliers that make you feel like you're at Versailles, you're here for the delicious chocolate.
Plus, you can get a box of nine, NYC-themed chocolates for $35.00. Heck, they even have immortal NYC images on them and come in flavors like espresso, dulce de leche, milk/dark, pistachio, toffee, and more.
Therefore, Mariebelle's chocolates make the perf gift for anyone in your life that has a giant sweet tooth.
Local Tip: Reserve a table if you want to eat here. Yeah, this place is mega popular.
Address: 484 Broome St, New York, NY 10013
Hours: Open from 11:00 am to 7:00 pm, with extended hours until 8:00 pm Friday through Sunday.
Price: Boxes are around $35.00 each.
How to Get There: Take the 1/2 train to Canal Street and walk from there.
24. Coffee from Mud Spot aka Mud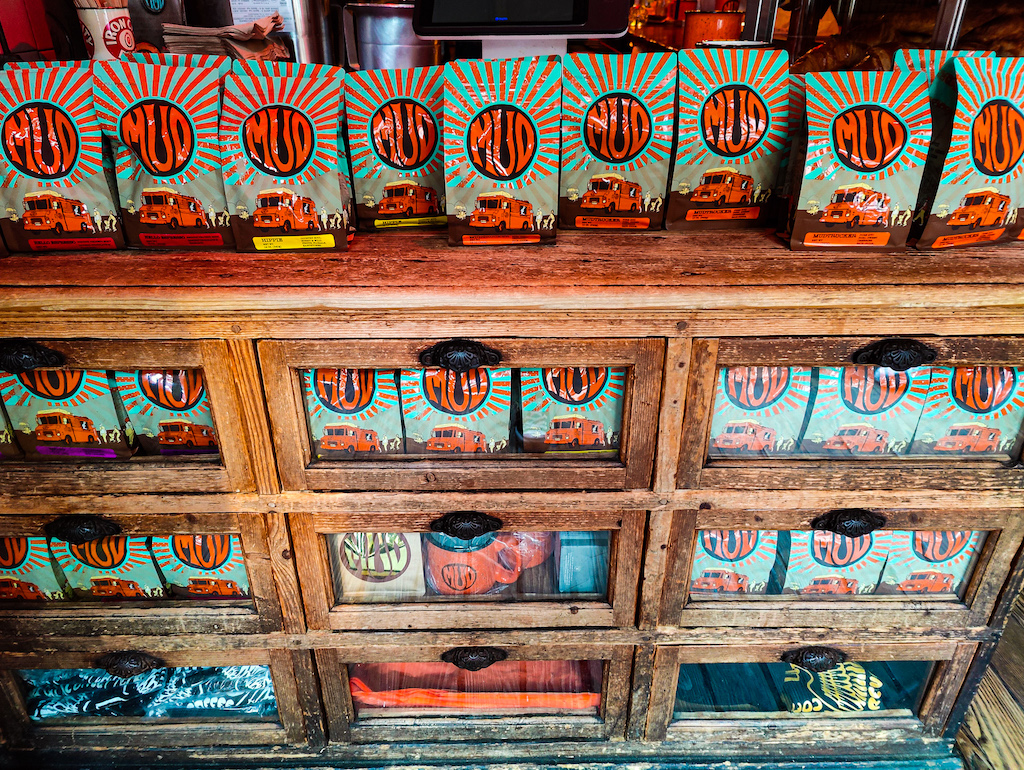 If you love coffee almost as much as I do then make sure you head over to Mud Spot aka Mud and pick up a bag of some of NYC's finest brew.
After all, coffee is easily one of the best NYC souvenirs of them all since you'll think about your amazing trip to NYC every time you brew a cup in the AM.
And Mud has some of the best in the city since their beans are bold and amazing, resulting in a robust cup of coffee you and your family will love.
It also doesn't hurt that this cafe has a super cool hippie vibe and is one of the best brunch spots in the city too.
Address: 307 E 9th St, New York, NY 10003, United States
Hours: Open daily from 7:30 am to 10:00 pm, except on the weekends when they open at 8:00 am.
Price: Coffee starts at around $2.75 each.
How to Get There: Take the N/Q train to 8th Street station and walk from there.
Map of the Best NYC Souvenirs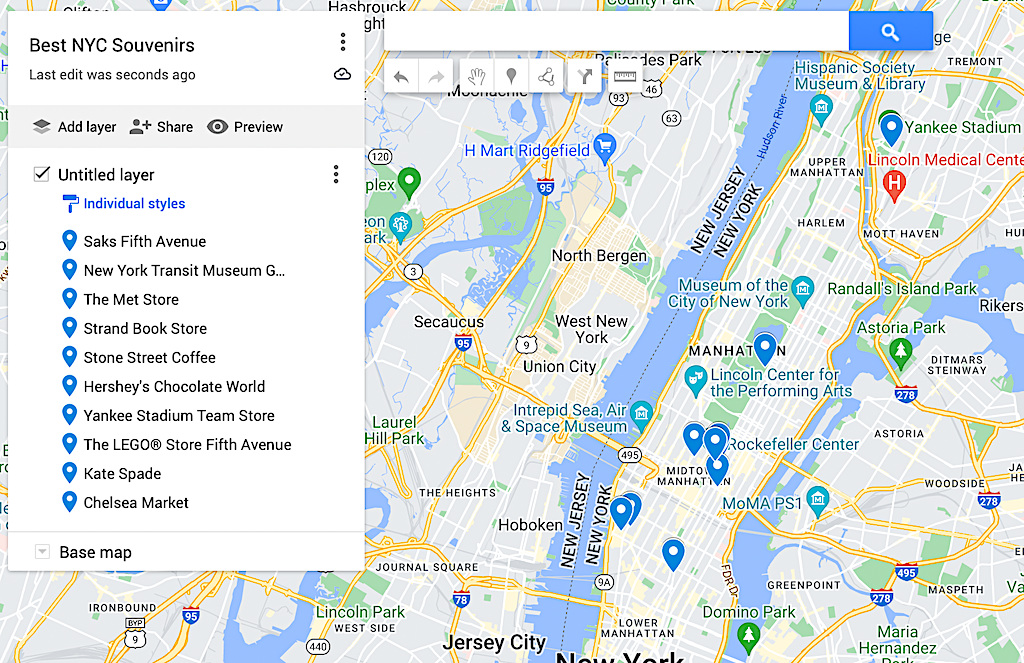 Additional NYC Resources You'll Love
There you have it! That just about wraps up this guide to the best NYC souvenirs of all time.
Tell me, did your picks for the best New York Souvenirs make the list? If not then let me know in the comments below.
And if you found this post on the best souvenirs from NYC helpful, be sure to join our email list and then pin this post now so that you can read it again later.