Wondering when to visit New York? Well, have you considered visiting New York in May? If not then you absolutely should since NYC in May is 110% awesome.
I mean, fewer tourists? Check. Less humidity than summer? Check. Better prices? Check. So, yeah, what's not to love?
After all, I should know. I'm a 30+ year local who has spent basically every spring in NYC since birth. Therefore, I can personally vouch for the fact that May in New York is always awesome.
I mean, who doesn't love seeing stunning flowers blooming to life around every turn? Okay, maybe if you have allergies that's not so great but you get the idea.
So, if you're considering visiting New York in May then continue on my faithful reader.
Because I'm about to reveal insider tips on what to do, why visit, what to expect when it comes to weather, and so much more.
This post may contain affiliate links. Please see my disclosure for more information. As an Amazon Associate, I earn a small commission from qualifying purchases.
Why visit New York in May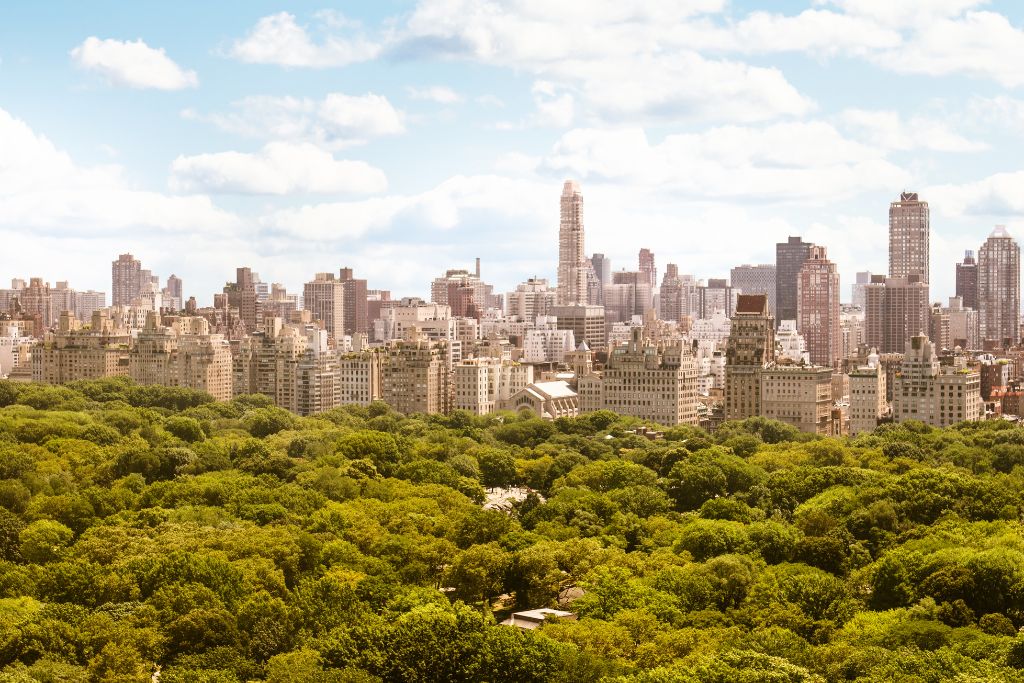 Spring will be in full bloom if you visit New York in May, and it's the perfect time to explore the many diverse neighborhoods of NYC.
Plus, compared to April, the days are a little longer and a little sunnier.
But, the number of tourists in the city aren't at their summer peak yet. So, the crowds will feel manageable while you're walking around the city.
And even if the prices you pay are higher than when you visit New York in April, it'll be worth it for those extra hours of daylight and warmer temperatures.
So, is May the best time to visit New York? Absolutely, or one of the best times at least!
Here are just a few reasons why you should visit New York City in May:
1. Spring is in the Air
Springtime in New York is warm and sunny. So, it's an ideal time to discover the sights and sounds of the city. That's not to say that you won't see any crowds – the tourist hotspots will still be busy.
But, if you enjoy cycling through the park or a good walking tour then the weather is perfect for this kind of activity, with the city being a lot quieter than in the summer.
2. Exciting Events
There are many exciting NYC events in May that will make your visit extra special. So, between the food festivals, art exhibitions, and Memorial Day weekend, you're sure to go home with memories of a very special trip.
3. Hotel Prices are still Reasonable
The New York temperature starts to rise in May, and hotel prices also start rising. But, there are still some great deals to be found, especially if you can book ahead for your May visit to New York.
Remember that there are some big national holidays in May, and prices will be steeper during the Memorial Day long weekend.
Additionally, areas like Midtown and Times Square are more popular and will have a price tag that reflects that.
But, if you look in alternative areas, like Long Island City, then you can find some great deals with great transportation into and out of Manhattan.
4. Smaller Crowds
May means the start of the tourist season in New York. But, that being said, tourist numbers are still relatively low compared to the peak summer months of June-August.
Therefore, you'll enjoy smaller crowds at top tourist attractions and better availability of tables in bars, restaurants, and other places you must eat in NYC.
Best Things to do in New York in May
May in NYC is a month that's full of the joys of spring. Therefore, there are a wealth of things to see and do that you deffo do NOT want to miss out on.
After all, New York is always a fascinating city to visit at any time of year. So, you'll definitely want to do some classic, NYC bucket list activities like visiting Ellis Island and the Statue of Liberty, watching the sun rise from the top of the Empire State Building, or going window shopping on Fifth Avenue.
But, you'll also find that there are some things you can only do if you visit New York in May.
So, here are 10 of the very best things to do in May in New York.
1. Visit New York City Parks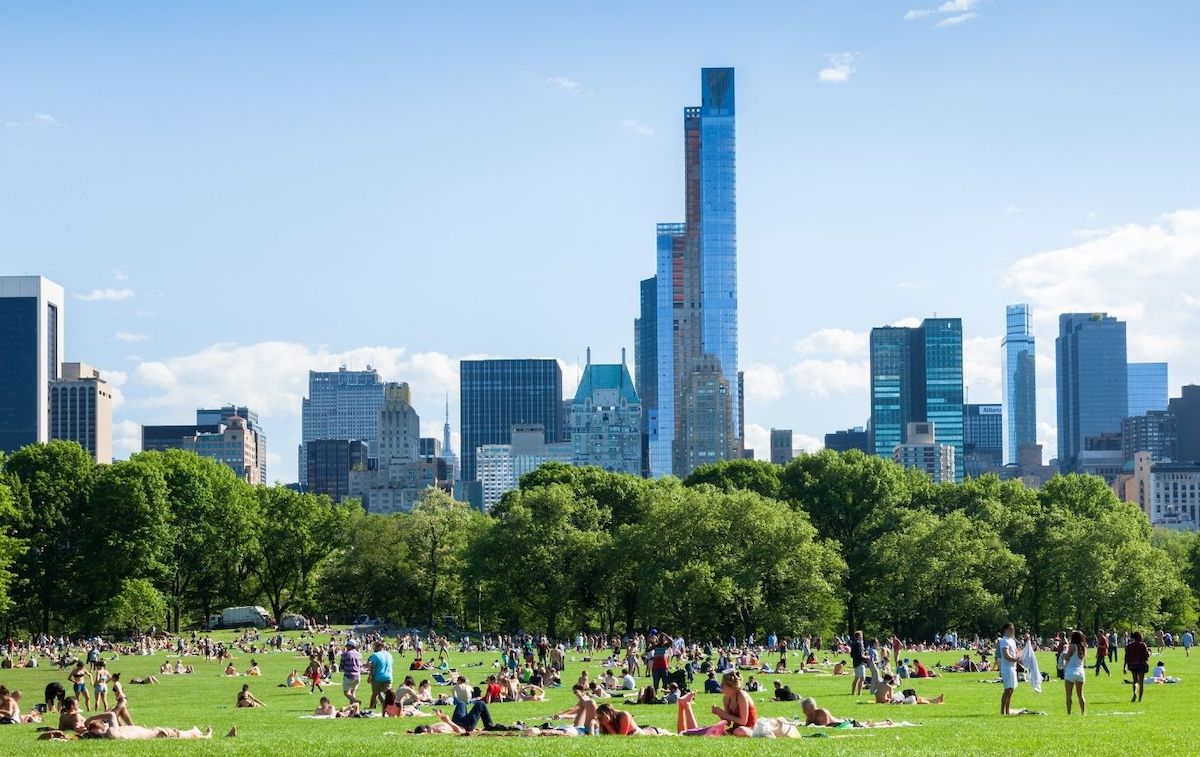 May is a beautiful time of year to explore the 1700+ parks of New York City. After all, both the trees and flowers are in full bloom, and everything looks fantastic.
If you can, head to Central Park in May to enjoy a picnic by one of the park's lakes before visiting the outdoor bar for cocktails and renting a rowboat on the Lake at 72nd street (head to Loeb Boathouse near Bethesda Fountain).
You can also book a cycle tour or rent bikes for a fun and affordable way to explore this 843 acre park.
2. Celebrate Cinco de Mayo
Cinco de Mayo (May 5th) marks the date that Mexico defeated the French army in the Battle of Puebla, and it's a major celebration in the USA.
And in case you didn't know, New York has the largest Latino population of any US city (more than 2 million people), so it's a great place to celebrate Cinco de Mayo.
As a result, there's usually a big Cinco de Mayo parade in New York on one of the weekends before or after the 5th. Plus, restaurants usually get really busy around this event, so book in advance if possible.
This is also a fantastic opportunity to enjoy delicious Mexican foods, like tostadas and empanadas, before drinking margaritas in one of the city's bars and dancing the night away with your friends.
3. Spoil Mom on Mother's Day
Mother's Day is celebrated on the second Sunday of May in the USA, and a trip to NYC is a great way to show your Mom just how much she means to you.
So, you'll find traditional Mother's Day brunches on offer around the city, and you can spoil Mom with a shopping trip after brunch in NYC.
Or, combine a Mother's day brunch with a visit to one of the city's Botanical Gardens, which will be a floral paradise at this time of the year.
In particular, check out Queens Botanical Garden or the New York Botanical Garden to see what Mother's Day events they have planned.
4. Memorial Day
Memorial Day is one of the most important holidays in the US, and it is marked on the last weekend of May.
After all, this special day honors all US military personnel who have died while serving in the United States armed forces.
And New York City pays tribute to these fallen heroes with parades in each of the city's five boroughs.
But, Little Neck-Douglaston parade in Queens is the largest Memorial Day parade in the nation, while the oldest Memorial Day parade in NYC is Brooklyn's Memorial Day Parade starting at 78th Street and Third Avenue.
And then there's Manhattan, which has a smaller parade that starts at Dyckman Street and Broadway.
5. Fleet Week New York
Fleet Week New York is a seven-day celebration of the US Navy, Marine Corps, and Coast Guard, coinciding with Memorial Day.
So, navy ships dock for a week at the New York Passenger Ship Terminal on the Hudson River, and you can even take guided tours of these vessels at certain times.
Now, the week kicks off with the Parade of Ships, which sees tall ships and other visiting vessels enter New York Harbor from the Verrazano-Narrows Bridge.
So, be sure to head to New York Harbor, Battery Park, or Hudson River Park for the best views of the parade.
6. Take a walk on the Highline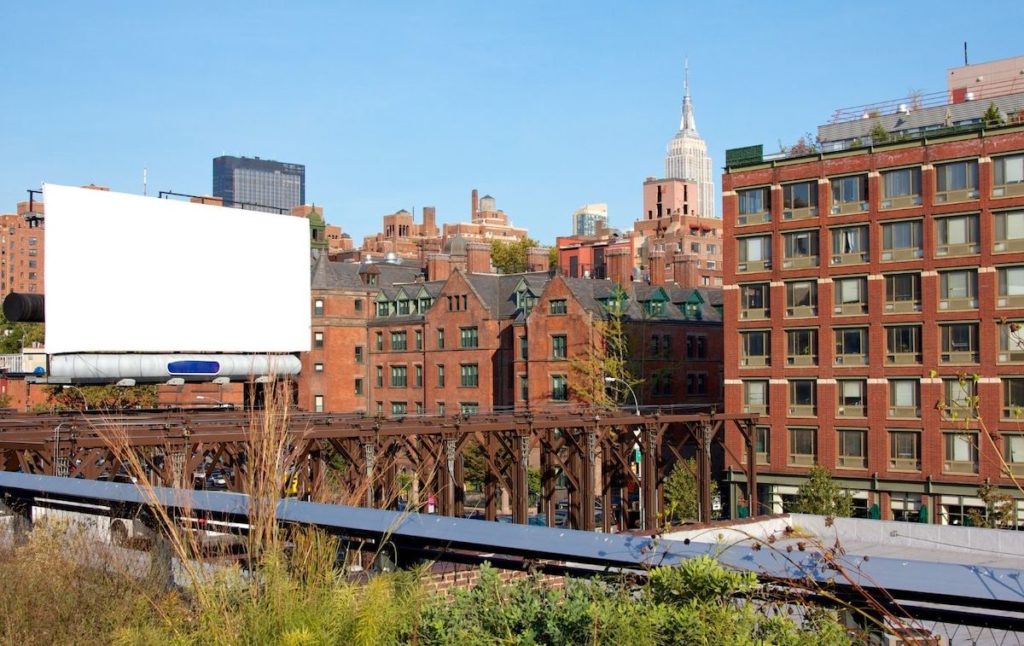 The Highline is a park that runs along a decommissioned freight line along Manhattan's Westside.
And spring is a beautiful time of year to walk along this living art gallery, adorned with a selection of interesting botanical species that flourish in NYC.
There are also many bars, cafes, and galleries that sit just beneath the 1.5-mile walk from Gansevoort Street in the Meatpacking District to the Javits Center near Hudson Yards.
It's also no surprise that countless people visit the Highline every day to enjoy amazing views of NYC.
After all, this is a great place to enjoy the NYC Spring weather and relax with friends after your stroll.
7. Sail the Waters of New York City
As the weather gets warmer in May, it's the perfect time to see some famous NYC landmarks from the water.
And signing up for a New York City river cruise could take you past the Statue of Liberty, under the Brooklyn Bridge, and along New York City's iconic waterfront.
You could even combine some New York City sightseeing with dinner under the city's sparkling lights during an evening river cruise.
Or, for a more budget-friendly option that's just as much fun, try the blue and white NYC Ferry boats that will let you sail the waters of New York for just $4.
After all, tour ticket is valid for 120 minutes, and you can transfer between ferry lines during that time.
8. Manhattanhenge
Twice a year, the setting sun aligns perfectly with the east-west streets of Manhattan's grid system.
And if the weather conditions during May in New York are favorable, this creates a blazing sunset that can be seen between the city's skyscrapers.
The effect is known as Manhattanhenge, or the Manhattan Solstice, and huge crowds line the streets to watch it every year.
However, the date varies from year to year because it's a natural phenomenon. Although it generally occurs somewhere around May 29th or 30th and again around July 11th or 12th.
So, be sure to have your phone or camera ready to capture images of this magnificent sight.
9. New York Food Events in May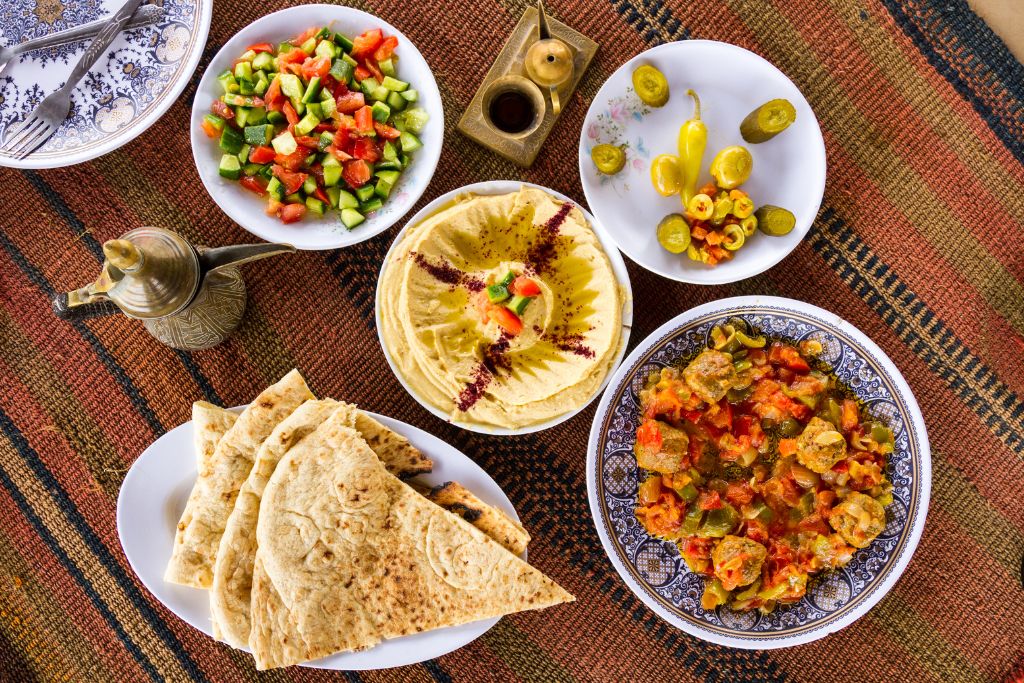 Every month is a good month to eat and drink in New York City, so here are some food events to check out if you visit NYC in May.
The 9th Avenue Food Festival is a free food festival in Hell's Kitchen in May. Each street has different delicious cuisines to explore, and live musical performances add to the lively atmosphere.
Be sure to check out the website for confirmation of event dates and details on the restaurants taking part in this May in New York food event.
Additionally, the Smorgasburg open-air food market runs each week in Williamsburg, Prospect Park, and at the World Trade Center.
It's also worth checking out the Queens Night Market held at Flushing Meadows Corona Park to enjoy a wide variety of food vendors, art stalls, and live entertainment.
And Japan Day NYC at Central Park is an annual celebration of the culture of Japan and its relationship with New York, with events that include a parade and street fair too.
10. Rainy Day Options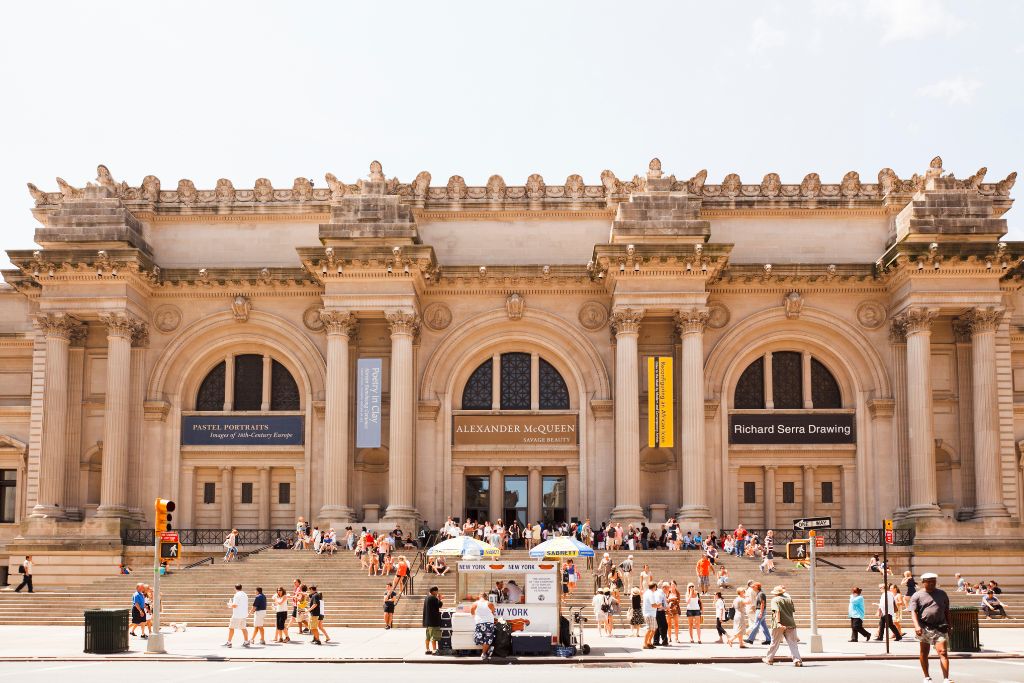 If you're visiting New York in May then there's a good chance that there'll be some rain during your visit to NYC in May.
But, luckily for you there's plenty to keep you occupied indoors. After all, a Broadway show is a great way to pass a few hours, and you can even get last-minute tickets for a great price from the TKTS booth in Times Square, the TodayTix App, or even from the theater's box office.
And if the weather forecast says it's going to rain all day, the best NYC museums and art galleries will keep you entertained for hours.
So, stop by top spots like MoMA, the Met, the Whitney Museum of American Art, or El Museo del Barrio, to name just a few.
Or if you're an art enthusiast, the Frieze New York exhibition takes place at The Shed at Hudson Yards each May and features artwork from over 1,000 artists.
New York Weather in May
New York in May means that the flowers are in full bloom, and the warm, sunny weather makes it the perfect time to explore the city on foot.
So, May temperatures in New York range between 55°F and 70°F (12°C and 22°C). However, you could definitely see a few days where temperatures get as high as 80°F (27°C) and as low as 40°F (5°C).
There's also an average of nine days of rain in New York in May. This will usually just be scattered showers, but be prepared for 2-3 days of heavy rain that the city sees each May.
Overall, though, New York weather in May is pretty mild, making it an ideal month to visit NYC.
What to Wear in New York in May
The New York weather in May can be quite variable, and the temperature can feel quite cool at times. So, light layers are still a good idea.
Long pants and long-sleeve tops will also be the best option when packing for a visit to New York in early May.
But, if your visit to New York falls at the end of the month, you might need to add shorts and t-shirts to your packing list for New York.
Also make sure you bring a light jacket that you can take off when the temperature rises and a sweater or warmer jacket for the evenings, particularly if you go on a river cruise.
There's still a high likelihood of rain, so a compact umbrella or lightweight waterproof jacket like this NORTH FACE Women's Venture 2 Waterproof Hooded Rain Jacket would be handy.
Additionally, you will definitely need comfortable shoes (closed-toe and preferably water-resistant) for walking around the city and some nicer shoes for going out in the evenings.
The crazy weather also means you might have to pack a wider selection of clothes, so a set of packing cubes will help you organize the contents of your luggage.
Oh, and having a reusable water bottle on hand will help you stay hydrated while walking around the city without creating more plastic waste.
Additional NYC Resources You'll Love
There you have it! That just about wraps up this guide to May in New York.
Tell me, did your favorite May in NYC activities make the list? If not then let me know below.
And if you found this post useful, be sure to pin it now so that you can read it again later.