As someone who has lived in New York for well over 30 years, I know Poughkeepsie VERY well. I mean, my brother lives there and I visit every chance I get so that I can experience all of the beyond amazing things to do in Poughkeepsie NY.
Sadly though, I feel like not everyone feels the way I do about good old Poughkeepsie. Yeah, a lot of people seem to think it's just a crime-infested, total hole of a place that has absolutely nothing to offer visitors.
However, I am here to reassure you that that is 100% NOT true and that a trip to Poughkeepsie is definitely worth your time. After all, it's quietly tucked away in the Hudson Valley region of New York and overlooks the majestic, you guessed it, Hudson River.
It's also a bustling college town that is brimming over with fun things to do and stunning, historic architecture that only adds to the charm of this amazing place.
So, if you want to hear about all of the best things to do in Poughkeepsie from someone who basically lives here, then THIS is the post for you. Because I'm about to reveal all my top picks things to do in Poughkeepsie NY, where to stay, and where to eat while planning the perfect Poughkeepsie itinerary.
This post may contain affiliate links. Please see my disclosure for more information. As an Amazon Associate, I earn a small commission from qualifying purchases.
How to Get to Poughkeepsie from NYC
The easiest way to get to Poughkeepsie from NYC is by train. Tickets are usually around $22.00 per person and the journey will take around an hour and a half – with only two stops at Yonkers and Croton on the Hudson.
To board the Amtrak train, simply head to Penn Station and hop on a train that is bound for Poughkeepsie. One here, you'll definitely need to rent a car to do some of the best things to do in Poughkeepsie NY.
Yes, there is a local bus service but TBH, it's just a whole lot easier (and faster) if you rent a car while you're here.
Where To Stay in Poughkeepsie
There are a ton of different places for you to stay in Poughkeepsie. After all, this is a big college town with tons of families who continually visit students in school here. And yeah, they obviously need a place to stay since, hello, dorm rooms are obviously not that spacious.
So, if you're looking for a fab place to stay, try any of the following:
Conveniently located along Route 9, this fantastic hotel is right down the street from Locust Grove and features comfortable, studio rooms that include flat-screen TVs, sofa beds, full kitchens, and free WIFI. Breakfast, parking, and evening events are also included with your stay, as is access to an indoor pool, and fitness center.
Nestled away in a heavily wooded area right off of Route 9, this hotel features simple but well-appointed rooms with sofabeds, flat-screen TVs, mini-fridges, and in-room coffeemakers. On-site parking is free and plentiful and guests will love other on-site amenities like a gym, a casual bar/cafe, and an indoor pool. Hot breakfast is also available and guests have access to a 24-hour convenience store here too.
Pro Tip: For the love of God and all that is holy, please avoid downtown Poughkeepsie. It is very much not nice (aka a dump) and is just an all-around run-down, dirty place to be.
Top 17 Best Things to do in Poughkeepsie NY
1. Marist College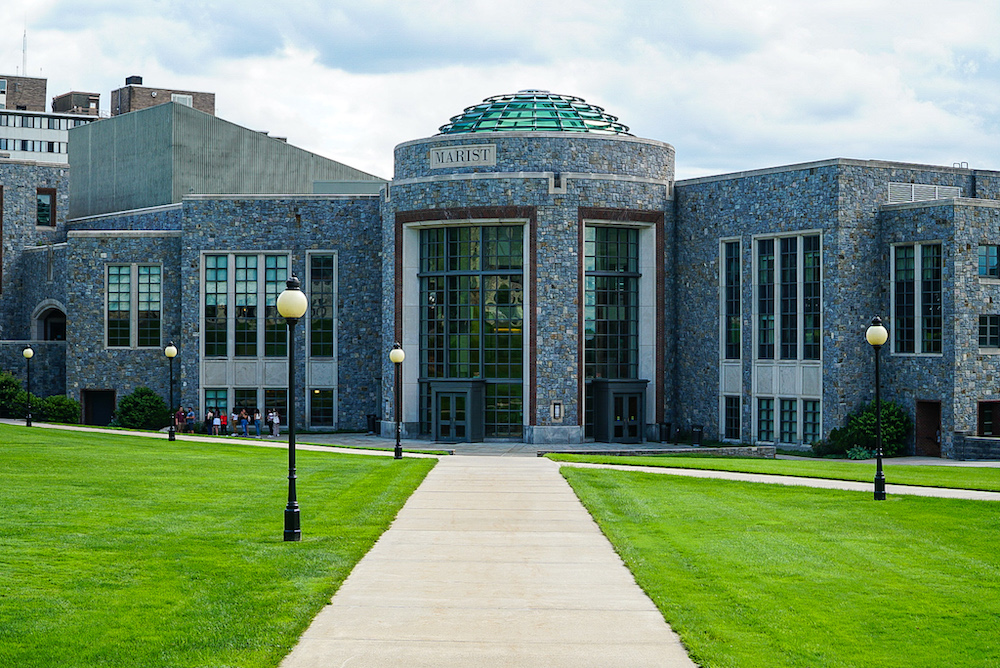 One of the most popular and best things to do in Poughkeepsie, NY is visiting Marist College. This vibrant campus is ridiculously gorgeous, thanks to its eye-catching buildings, large grassy areas, and prime location on the Hudson River.
And while Marist College is pretty to look at, there are also a couple of activities that you can enjoy while on campus.
First, you could take advantage of the campus' stunning beauty by taking some amazing photos. A few of the best photo spots in the area include Marist Beach, Marist Boathouse, and James A. Cannavino Library.
And if you happen to be around during the holidays, you won't want to miss out on a picture in front of the twinkling Marist Christmas Tree.
To extend your visit to Marist College, you can also watch a college sports game since football, basketball, baseball, and rowing are just a few of the many sports you can watch at this Poughkeepsie college.
Address: 3399 North Rd, Poughkeepsie, NY 12601
Hours: Open twenty-four hours a day.
Price: Free!
2. Walkway Over the Hudson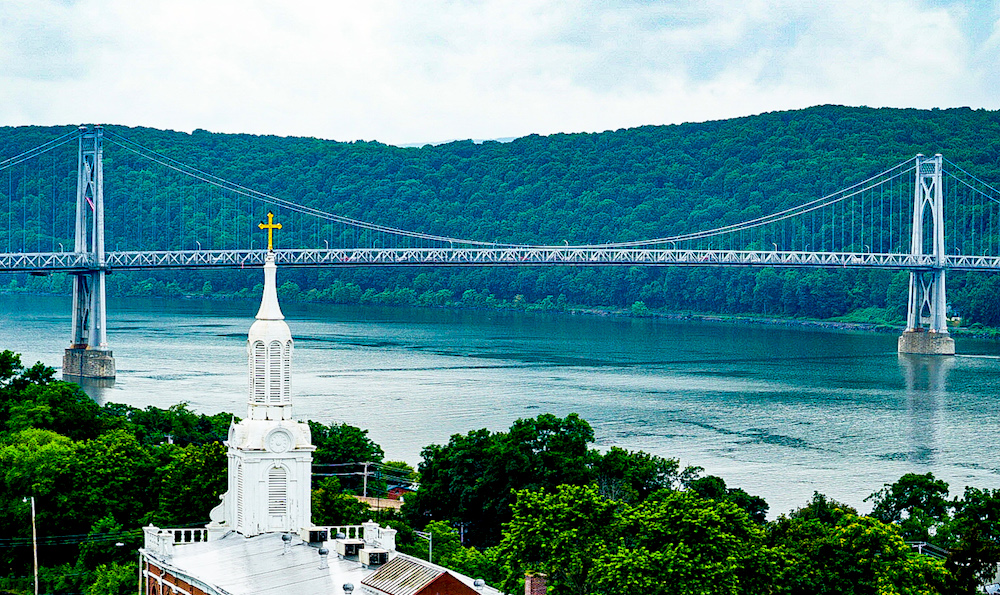 Once a railway bridge that was built across the Hudson in 1889, the Walkway Over the Hudson has long since become the world's longest pedestrian bridge at a cool, 1.28 miles long.
Therefore, it's easily one of the best things to do in Poughkeepsie NY since it's 212 feet high and allows you to enjoy impressive views of the Hudson River and the Mid-Hudson Bridge right next door.
And if you have the time, be sure to do the 3.6-mile loop trail that will take you across the Walkway Over the Hudson and then back via the Mid-Hudson Bridge. There's also a handy, free elevator that you can use to access the bridge from Upper Landing Park right on the water.
Just note that the elevator opens at 9:00 am and closes about 90-minutes before the bridge itself actually does.
Other facilities on-site include restrooms, water fountains, and lovely food truck operators who sell delicious things like kettle corn at either end of the bridge.
Pro Tip: Parking is free if you park in the unpaved, mess of a parking lot that has almost boulder-sized rocks in it. You should also avoid the bridge during the middle of the day since there is no shade and the sun will beat down on you. Instead, try to visit early on a weekend to beat the heat and the crowds.
Address: 61 Parker Ave, Poughkeepsie, NY 12601
Hours: Open 7:00 am to 8:30 pm daily.
Price: Free!
3. Vassar College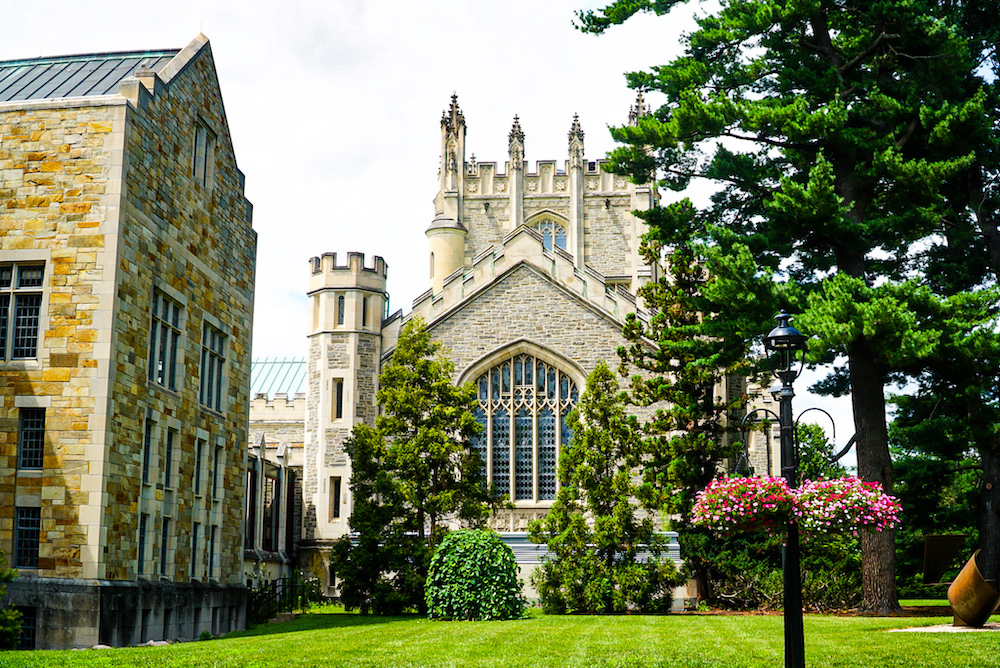 Believe it or not, Marist College isn't the only college in town. In fact, Vassar College is also in the area and this gorgeous campus is also worth a visit.
Like Marist College, Vassar College is an exceptionally pretty college. So, why not stop for a few pictures here too? You'll want to head over to the Thompson Memorial Library, the Shakespeare Garden, and Vassar Chapel for the best photo spots.
And if you happen to visit in the spring, I highly recommend taking a picture at the Main Circle while the gorgeous tulips are blooming!
If you're more of a sports fan than an Instagram enthusiast, you're in luck because Vassar College has many sports teams of its own, including ones for basketball, volleyball, tennis, and even fencing.
Last but not least, Vassar College boasts the amazing Frances Lehman Loeb Art Center. This lovely teaching museum includes over 18,000 art pieces, including ones by artist greats, like Pablo Picasso, Georgia O'Keeffe, and Jackson Pollock.
It's truly impressive, open daily, and totally free to visit. You can also relax for a minute in the adjoining, outdoor sculpture garden, which comes fully equipped with soothing little waterfalls.
Address: 124 Raymond Ave, Poughkeepsie, NY 12604
Hours: Open to the public twenty0-four hours a day.
Price: Free!
Pro Tip: Thai Spice Restaurant is basically right next door to the campus and serves AMAZING Thai food. They also have killer daily lunch specials that include soup or salad, plus an entree for $11.00. I usually get the Massaman Curry but everything is good at this low-key place.
4. Overlook Drive-In Theatre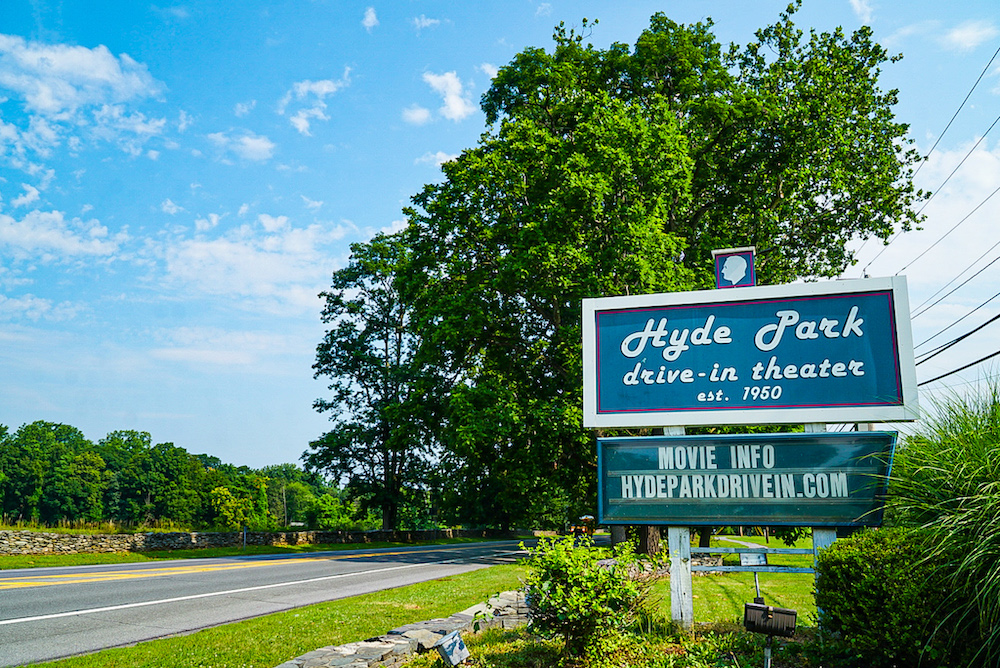 Okay, I know this is slightly confusing. I mean, I'm telling you that one of the best things to do in Poughkeepsie NY is to go to the Overlook Drive-in Theatre, and then I'm showing you a picture of a sign for Hyde Park Drive-in instead.
Like come on Kelly, get it together. Well, there's a good reason for that. The Hyde Park Drive-in sign was just way more photogenic. LOL.
In all seriousness though, I love a good drive-in theater and Poughkeepsie is home to two – the Overlook Drive-in and the Hyde Park Drive-in. They're both run by the same company so shows start at dusk – between 8:30 pm and 9:00 pm- and end once both shows are over.
So yes, you'll pay a mere $10 for two shows that are typically held every Friday through Sunday, throughout the summer, rain or share.
Personally, though, I prefer the Overlook Drive-in because it's bigger (it holds up to 750 cars) and is in a more secluded area. Yeah, the Hyde Park drive-in is right off the main road which kind of ruins the magic for me.
But, definitely check out the website for both theaters and see what's playing before you commit to one since they have been known to show different movies.
Pro Tip: These theaters are super buggy so be sure to bring bug spray if you plan to sit outside. They are also cash only so definitely grab some dollar bills before you go.
Address: 7 Whites Bridge Lane – between Routes 44 and 55 – Poughkeepsie, NY 12603
Hours: Open Friday through Saturday, from dusk until the end of the second movie. They are also only open seasonally in the summer.
Price: $10 for two movies and cash only.
5. Home of Franklin D. Roosevelt, National Historic Site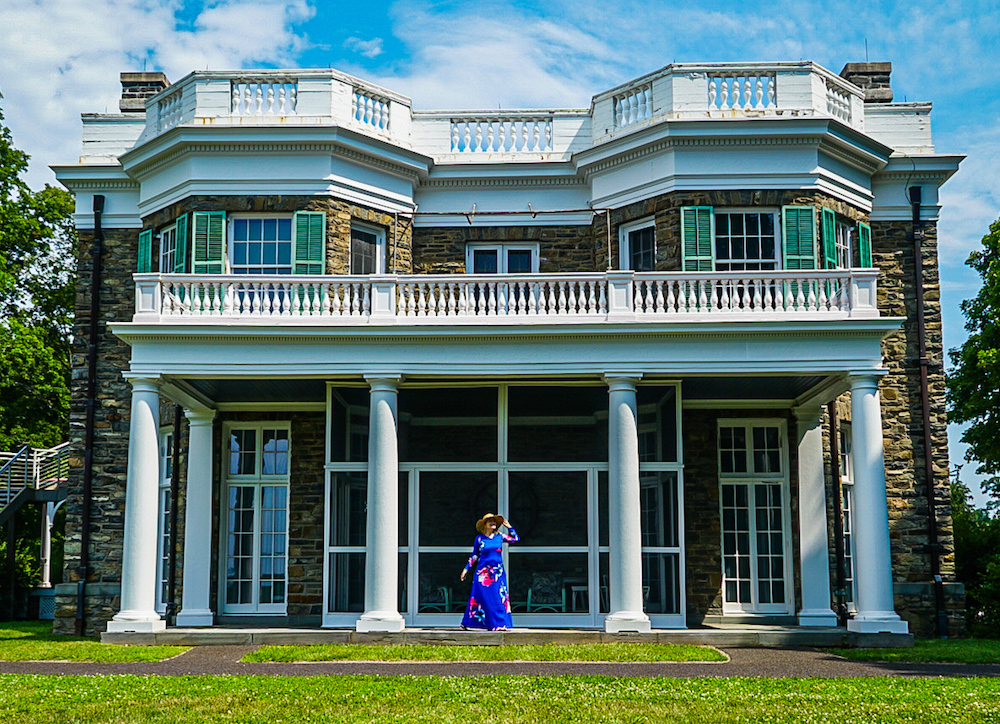 Without a doubt, Franklin D. Roosevelt was one of the most influential presidents in American history. He implemented the New Deal, led the U.S. through World War II, and became the only president to be elected a whopping four times (yowsa)!
That's why one of the best things to do in Poughkeepsie NY is visit the Home of Franklin D. Roosevelt National Historic Site. While there, you can get an in-depth look into the life of the U.S.' famous, 32nd president.
And trust me when I tell you that there are a ton of different things to see and do here. You can take a tour of the main house, pop into Top Cottage, and pay your respects at FDR's burial site.
But the coolest part of the Home of Franklin D. Roosevelt National Historic Site may be the Franklin D. Roosevelt Presidential Library and Museum. Because rather than getting rid of the many, many presidential documents that crossed his desk, FDR decided to keep them all and turn them into this valuable library.
Today, many government officials, historians, and regular ol' people (like us!) use these documents to learn more about that important period of time.
And if you'd like to spend hours outside – just like Franklin and Eleanor Roosevelt did – you can also explore the Home Garden, stop and smell the flowers at the Walled Garden of Bellefield, and get inspiration for your own home garden at the Small Space Gardening Exhibit.
As an added bonus, you can also visit the Eleanor Roosevelt National Historic Site, which is just ten minutes away! While there, you can learn more about this influential woman, take a stroll on Eleanor's Walk, and tour Val-Kill Cottage.
Due to Covid-19, there have been changes to the practices at Franklin D. Roosevelt National Historic Site. But these restrictions are slowly but surely being lifted, so hopefully, everything will go back to normal soon.
As a result, tours are only currently being offered outside the FDR home, which is understandably, kind of a bummer. Although, the adjoining stables are open so that's kind of awesome.
But the park rangers are SUPER enthusiastic and have tons of great information to share with you about good old FDR. So s visit here is still well worth your time.
Pro Tip: There is a TON to do here between the residence, estate, and museum, Therefore, I would plan a full day here, or at least a half-day if you're short on time.
Address: 4097 Albany Post Rd, Hyde Park, NY 12538
Hours: Park grounds are open daily from 8:00 am to 7:00 pm.
Price: There are a ton of different ticket options so see their website for details. But it's $20 for an all-inclusive and $10 for entrance into individual museums.
6. Rossi Rosticceria Deli
Umm, who doesn't love an authentic Italian deli? I mean, after all, this is New York, and we New Yorkers do love our Italian heroes.
And Rossi Rosticceria Deli? Yeah, these guys are the real deal since they are a small, family-owned business that has been serving up nothing but fresh, delicious, totally authentic, well-priced Italian food since 1979.
So, do expect a line out the door as you experience one of the best things to do in Poughkeepsie NY. And if you're not exactly sure what to get, try:
The Number Four – Panini with chicken cutlet, prosciutto, herb pesto, fresh mozzarella, roasted red peppers, and extra virgin olive oil.
Eggplant Parmigiana (TBH all their parmigiana is good)- Served on homemade bread with eggplant, tomato sauce, mozzarella, and pecorino.
Quattro Falso – Panini with fried eggplant, herb-roasted ricotta, mozzarella, roasted peppers, balsamic glaze, and herb pesto.
Pastosa Ravioli – Apparently they get it directly from Bay Bridge, Brooklyn.
Pro Tip: This is an informal deli so grab your food to go and have a picnic overlooking the Hudson at Marist College.
Address: 45 S Clover St, Poughkeepsie, NY 12601, USA
Hours: Open Monday through Friday from 10:30 am to 6:00 pm and on Saturdays from 10:30 am to 5:00 pm.
Price: Sammies start at $14.00 (worth every penny)
7. Vanderbilt Mansion and National Historic Site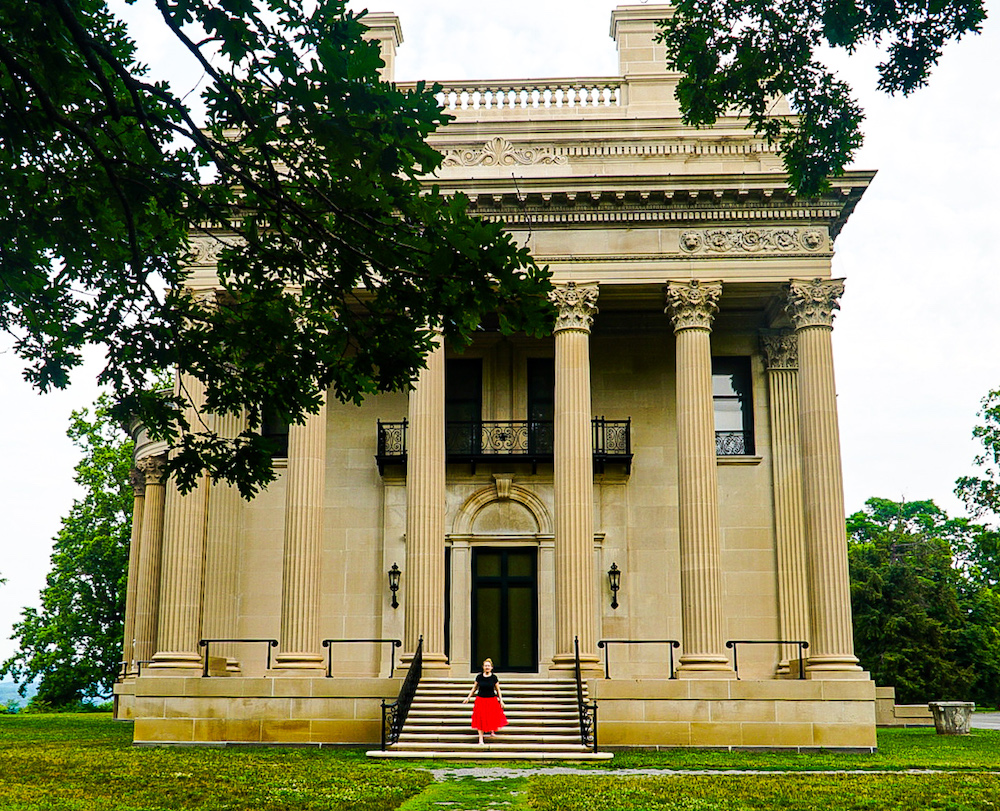 Just ten minutes from the Home of Franklin D. Roosevelt lies the Vanderbilt Mansion National Historic Site.
And it's no coincidence that these two public attractions are so close to each other since President Franklin D. Roosevelt actually convinced his neighbors, the Vanderbilts, to donate part of their land to the National Parks Service.
Plus, the Vanderbilt Mansion National Historic Site really does have something for everyone, including history buffs, architecture aficionados, and nature lovers. So, if history and architecture pique your interest, you'll love taking a tour of the gorgeous Vanderbilt Mansion.
After all, the Vanderbilts were one of the richest and most powerful families in the U.S., so you know they went all out when designing their grand home.
However, if you're more of a nature lover, there's also lots for you to do. You could pop into the Formal Gardens (these Italian-style gardens are stunning), visit Bard Rock, and walk along the Vanderbilt Riverfront Trail.
In other words, you can easily spend an entire day at the Vanderbilt Mansion National Historic Site without getting bored.
Like with the Home of Franklin D. Roosevelt National Historic Site, there have been Covid-19-related changes at the Vanderbilt Mansion National Historic Site as well.
So, tours of the Vanderbilt mansion are currently only offered on the weekends, require an advanced reservation, and take you through the ground floor only. Therefore, you will need a pair of headphones to enjoy the commentary on your cellphone as you enjoy one of the best things to do in Poughkeepsie NY.
Address: 19 Vanderbilt Park Rd, Hyde Park, NY 12538
Hours: Grounds are open daily from 9:00 am to 6:00 pm. Limited audio tours of the mansion are also offered Friday through Monday from 10:00 am to 3:00 pm.
Price: Free but a tour of the mansion costs $10 for adults and $1 for children 15 and under.
8. Culinary Institute of America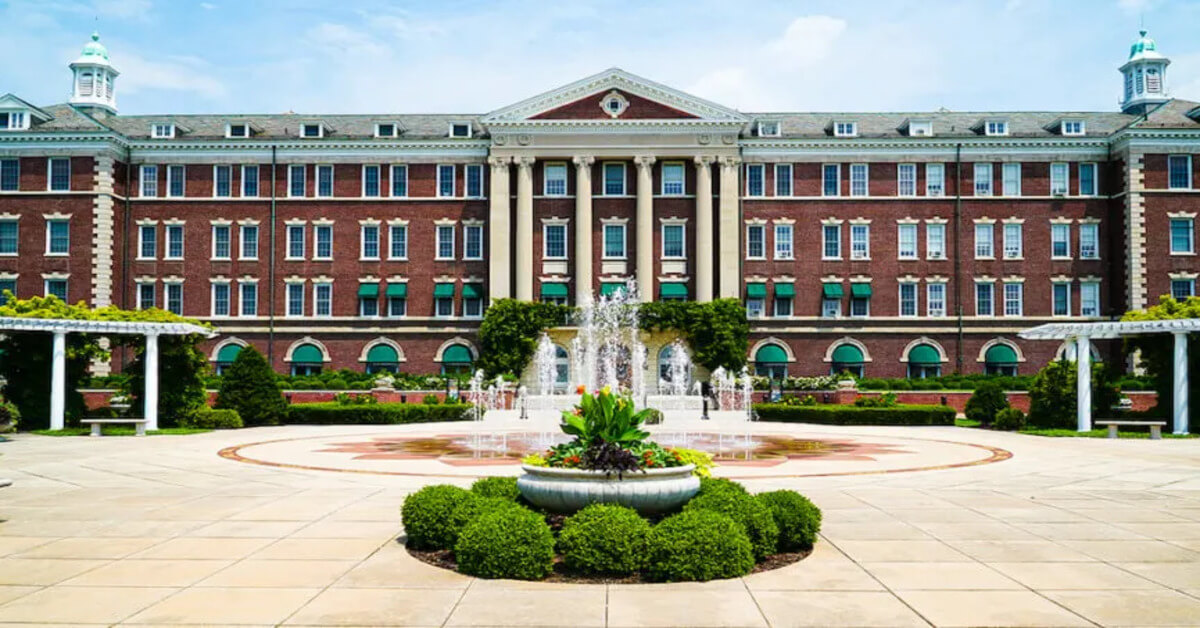 Calling all foodies! Because if you love to eat almost as much as I do then this is undoubtedly one of the best things to do in Poughkeepsie, NY.
So run, don't walk the culinary institute of America ASAP! And while you can't just walk around the grounds, there is still quite a bit to explore. PSA, the grounds are absolutely STUNNING so DEFFO bring a camera with you during your visit.
Now, given that the Culinary Institute of America focuses on, well, the culinary arts, you certainly have to enjoy a bite to eat. And luckily for you, there are five different eateries on campus for you to choose from, and they are all operated by current students!
The best way to decide which of the five restaurants to dine at is by cuisine. First, there are the more lavish eateries at the Culinary Institute of America.
So, if you want elegant American cuisine, the dishes at the American Bounty Restaurant won't disappoint (I got the smoked tempeh with butternut squash puree and it was divine). However, if you'd prefer sophisticated French food, visit The Bocuse Restaurant instead.
And if you'd prefer freshly made pasta and imported wine, make a reservation at Ristorante Caterina de' Medici and Al Forno Trattoria.
But not all of the restaurants at the Culinary Institute of America are extremely classy. There are also a couple of casual spots for you to enjoy. That's why, If you'd just like a tasty pastry or sandwich, you can visit the Apple Pie Bakery Cafe.
And if you'd like to wash everything down, you can take part in a fantastic brewery tour and tasting at The Brewery at the CIA.
Regardless of which restaurant you choose, you'll be blown away by the amazing flavors. Just remember to make reservations in advance (you can do this through Open Table), as they are required before you enter the campus.
Plus, if you'd like a souvenir to take home from this memorable dining experience, you can visit the Culinary Institute of America's campus store and purchase a little something something special for yourself.
Yup, no judgment here.
Address: 1946 Campus Dr, Hyde Park, NY 12538
Hours: Varies by restaurant
Price: Entrees at the fancier restaurants start at around $25 per person.
9. Locust Grove Estate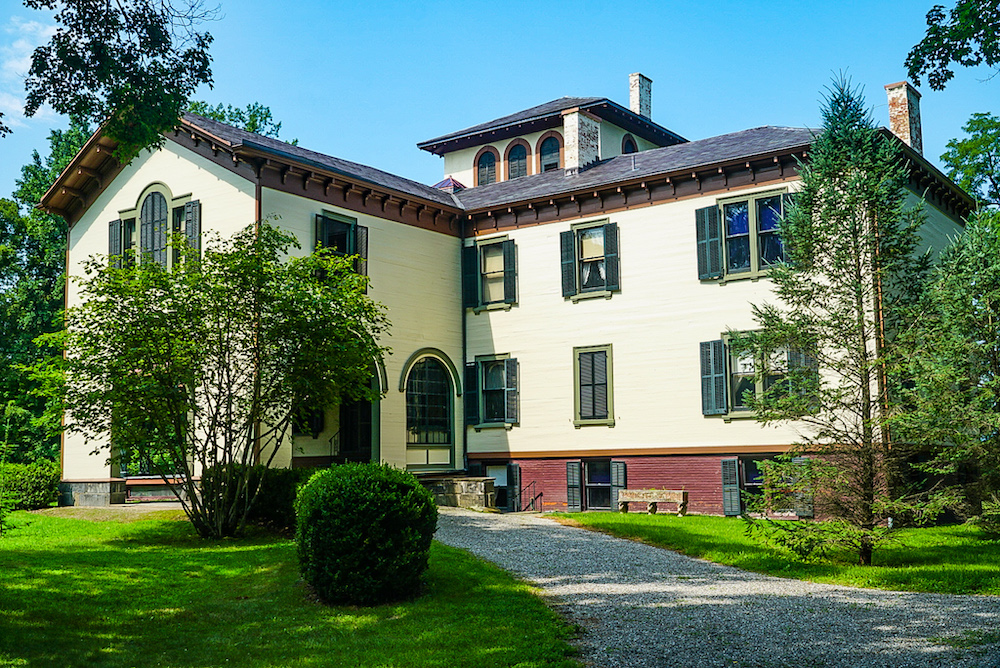 I'm sure you've heard of Morse code, a code in which letters are represented by long and short signals of light or sound.
Well, Samuel Morse, the creator of Morse code, once lived at Locust Grove Estate. Hence the reasons why the lavish, historic residence is now on this list of the best things to do in POughkeepsie NY.
Now, when Samuel Morse first bought the property in the 1850s, he decided to build an Italian-inspired villa to function as a summer house.
Fast forward fifty years later and Samuel Morse's family decided to sell this gorgeous home to William and Martha Young, who further expanded the house. Today, this beautiful villa boasts a whopping 25 rooms! And you can explore all of them on a guided tour of the Locust Grove Estate.
While the massive house is the highlight of the Locust Grove Estate, there are a lot of other things to see here too.
So, during your time on the property, you can stroll through thriving vegetable gardens, hike along one of the old carriage roads, and attend one of the estate's many special events. A few of the most popular of which include October's Harvest Hunt in the Garden, November's Hudson Valley Art Market, and December's Holiday Hunt.
Pro Tip: Mansion tours currently start on July 31st and are only available on Saturday and Sunday at 10:15, 11:30, 12:45, 2:00, and 3:15.
Address: 2683 South Rd, Poughkeepsie, NY 12601
Hours: Open daily from 10:00 am to 5:00 pm.
Price: Weekend tours are $15 per person and weekday tours – available by special appointment only- are $25 per person.
10. Mid-Hudson Children's Museum
If you're looking for one of the best things to do in Poughkeepsie NY with kids, the Mid-Hudson Children's Museum should be at the top of your list.
Because The Mid-Hudson Children's Museum is guaranteed to have an exhibit that'll catch your little one's attention…for more than two seconds.
You can peruse exhibits about art, STEM, literacy, health, and even the local community!
Many of these displays also have interactive elements so your children will be able to stay entertained for hours on end.
And if your child seems to be having the time of his or her life at the Mid-Hudson Children's Museum, you can also participate in one of their drop-in programs.
Through these events, your little one can make an artistic masterpiece, try his or her hand at yoga (with a parent, of course), learn how to make a healthy yet tasty breakfast, or find the constellations in the sky!
As an added bonus, the Mid-Hudson Children's Museum also hosts the Poughkeepsie Waterfront Market every Monday from June through September. So, after your kids have an amazing time in the museum, you can enjoy some fun of your own at this lovely market.
Address: 75 N Water St, Poughkeepsie, NY 12601
Hours: The museum hopes to reopen soon.
Price: The museum hopes to reopen soon.
11. Bardavon Opera House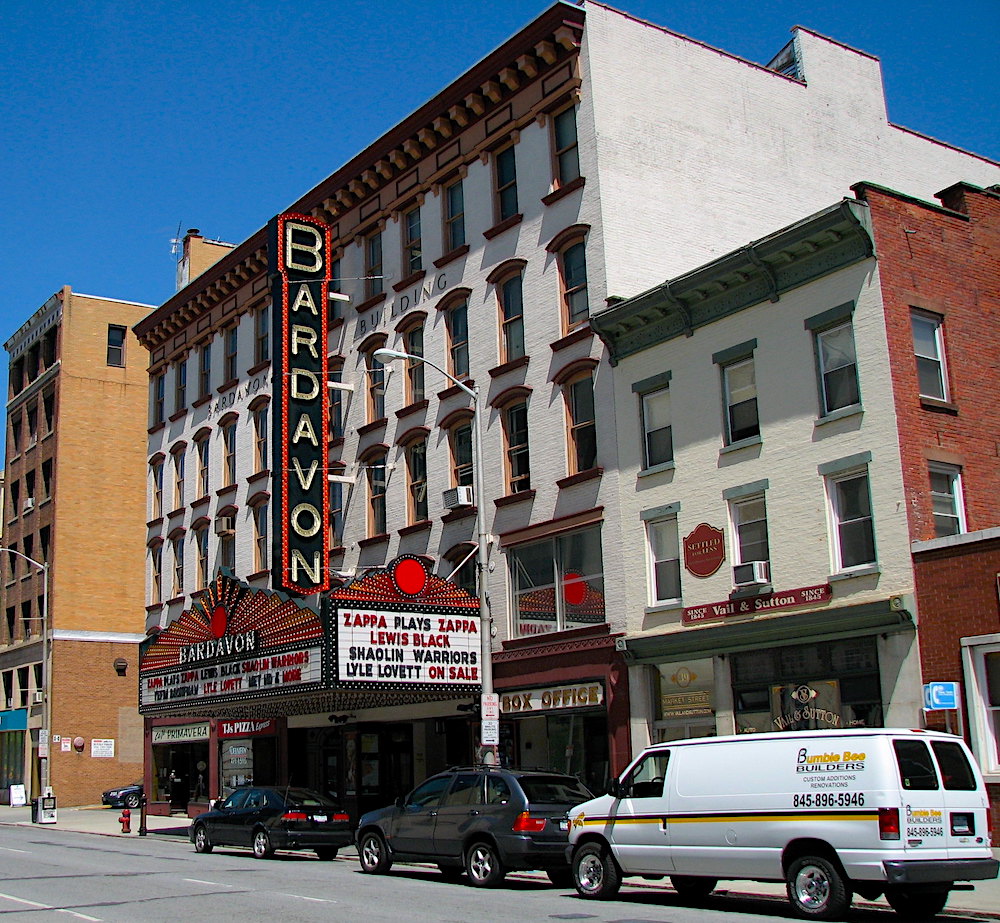 The Bardavon Opera House is definitely one of the coolest spots in Poughkeepsie. Built-in 1869, the Bardavon Opera House is actually New York's oldest continually operating theater.
And throughout the course of its 150-year history, the Bardavon Opera House has undergone a few major changes. Because believe it or not, it actually started out as a noteworthy live performance theater until 1923.
And throughout those 54 years, this venue hosted shows performed by some of the most noteworthy theater actors of the time. However, after its stint as a performance venue, the Bardavon Opera House was transformed into a cinema for another 52 years.
Eventually, though, it was added to the National Register of Historic Places in 1977 and now hosts all types of creative performances. And a few of the venue's most noteworthy acts include Harry Houdini, Gladys Knight, Cyndi Lauper, and Whoopie Goldberg, just to name a few.
So, when you visit the Bardavon Opera House today, you can watch some of your favorite performers live! But, do be sure to buy your ticket early since seats at this lovely venue often sell out quickly.
Address: 35 Market St, Poughkeepsie, NY 12601
Hours: The box office is open Tuesday through Friday from 11:00 am to 5:00 pm.
Price: Varies by show.
12. Mill House Brewing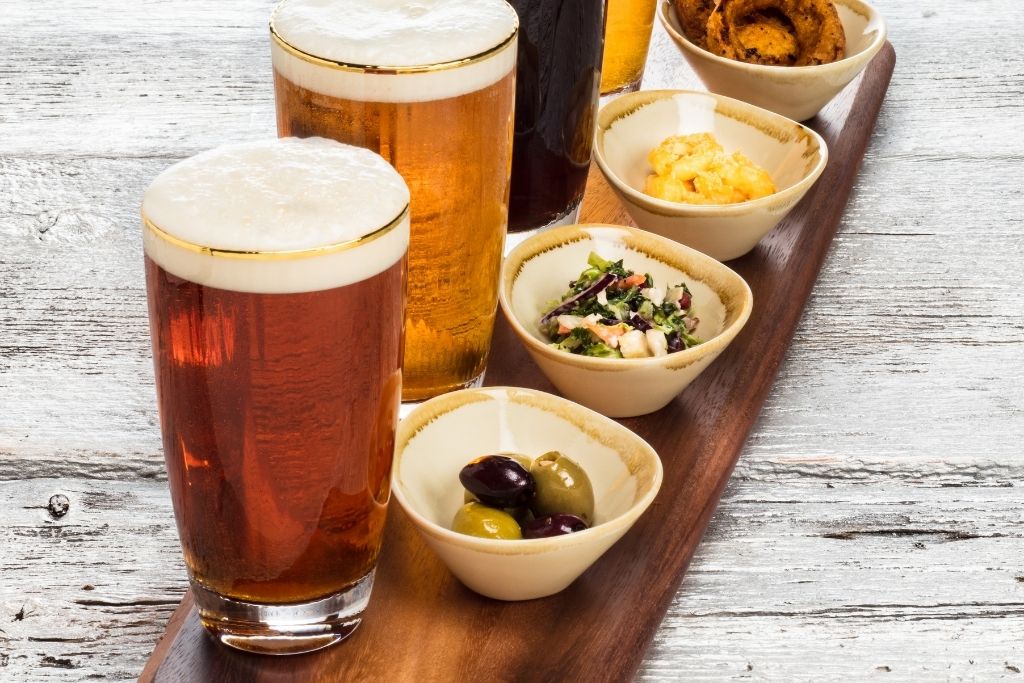 One of the best things to do in Poughkeepsie, NY is visiting one of the many breweries that dot the town and if there's one brewery that stands out from the rest. it's Mill House Brewing – thanks to its ambiance, food, and delicious beer.
Mill House Brewing boasts a cool combination of rustic elements and classy elements with exposed brick walls, patterned wallpaper, and tufted booths, this Poughkeepsie Brewery has a one-of-a-kind vibe and like the one-of-kind decor, the menu at Mill House Brewing is simple yet wonderfully stylish.
So, start with the fried calamari salad ($15) or the sesame chicken meatballs ($15). Then, try the 50/50 burger, which is made with a 50% beef and 50% bacon patty ($20).
Finally, finish your meal off with the brown sugar butter cake ($9) or "twix" tart ($9). Last but certainly not least, you certainly can't forget to order a beer. And there are a ton of fantastic options to choose from including the lunar eclipse ($7), the köld one ($7), and the PK pale ale ($7).
If you'd like to try a little bit of everything, I highly recommend the beer flight ($18), which allows you to sample five beers of your choosing.
Address: 289 Mill St, Poughkeepsie, NY 12601
Hours: Open Sunday through Thursday – except Tuesday – from 11:00 am to 9:00 pm, and on Friday/Saturday from 11:00 am to 10:00 pm.
Price: Beers start at $7 each.
13. Shadows on the Hudson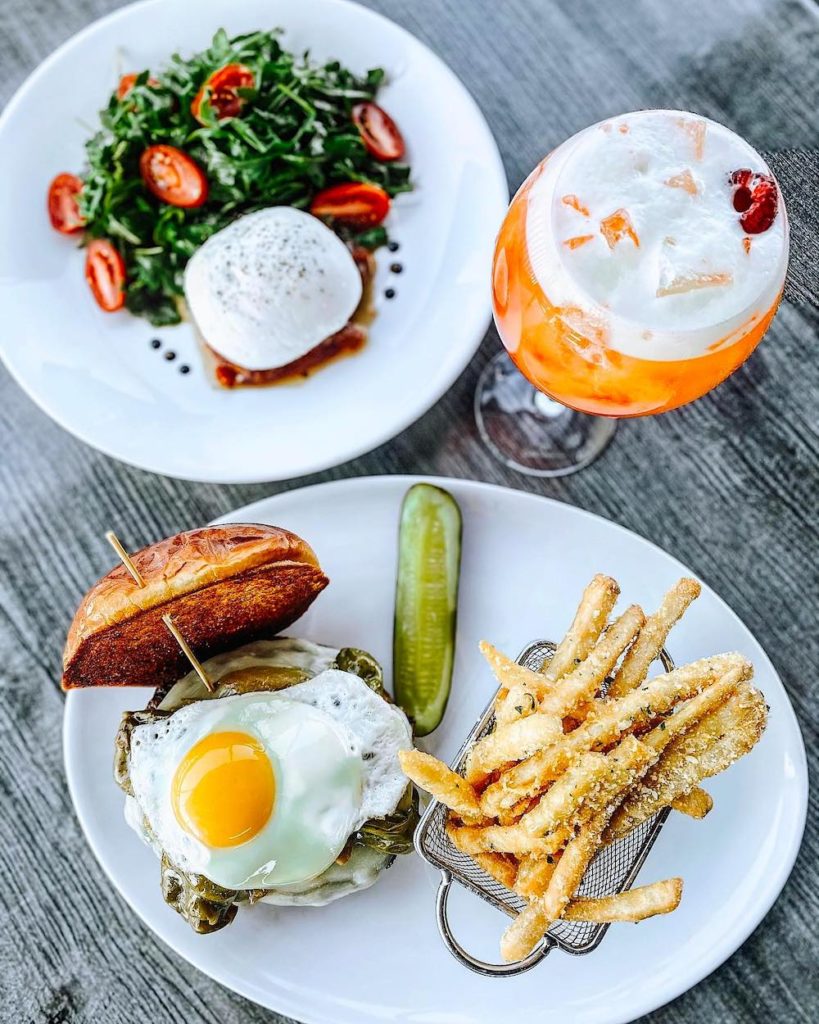 Want to live the luxe life for a hot minute and embrace your inner diva (or divo) while exploring Poughkeepsie? If so then this amazing fine-dining restaurant is easily one of the best things you to do in Poughkeepsie NY.
Because this restaurant sits well above the Hudson River at Poughkeepsie's waterfront and is known for world-class service, stellar views, and delicious, award-winning cuisine that you just can't get enough of.
So, step inside and choose to dine in one of several well-appointed rooms that include the welcoming Sunset Room, the chic/modern Winter Room, and the Sunrise Deck/ True River Room for stunning views of the nearby river.
You'll also enjoy a menu full of modern, American cuisine that can be enjoyed for brunch, lunch, or dinner.
Add in a comprehensive wine list filled with champagnes, reds, whites, and sparkling wines of every variety, and you have the perfect place for a romantic evening out on the water.
Pro Tip: Pair a pineapple cosmo with a lobster roll and enjoy the stellar views of the Hudson River all around you.
Address: 176 Rinaldi Blvd, Poughkeepsie, NY 12601
Hours: Open Sunday through Thursday from 11:30 am to 9:00 pm and Friday/Saturday from 11:30 am to 10:00 pm.
Price: Most dinner entrees here start at $20 and up.
14. Enjoy a Cruise on the Hudson with Hudson River Cruises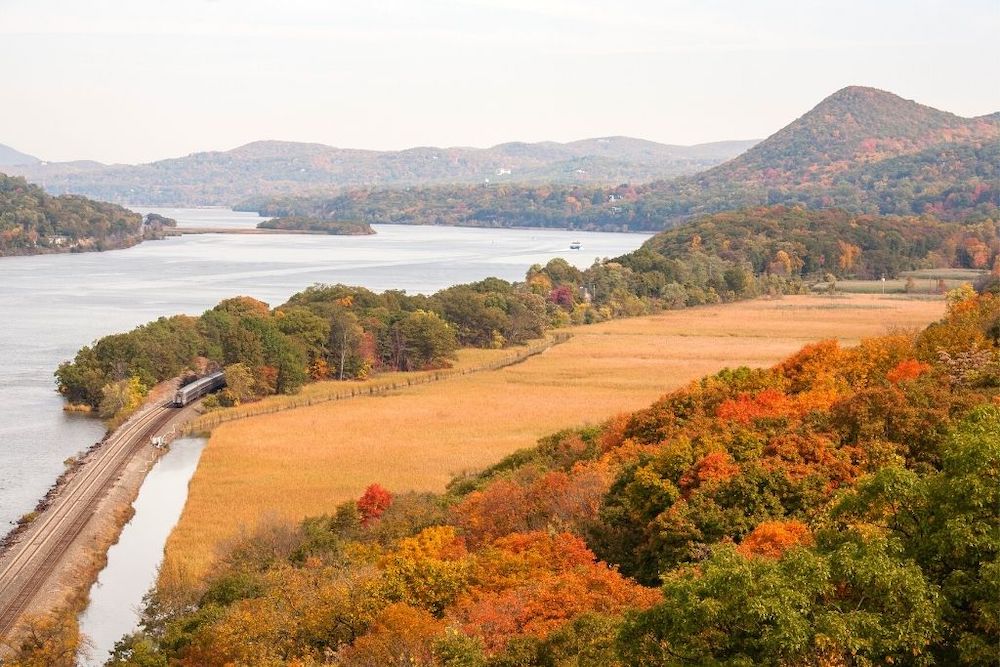 There's nothing quite like marveling at the awe-inspiring, natural beauty of the Hudson Valley from the decks of a local cruise ship. And Hudson River Cruises operates some of the best sightseeing cruises in the area, some of which depart from Victor C. Waryas Park.
Typically operating between May and October. passengers will love sailing aboard the Rip Van Winkle II. It's a spacious passenger boat with tons of seating room and plenty of modern amenities to help keep passengers comfortable throughout their journey.
So, relax and enjoy sweeping views of charming Hudson River lighthouses, gorgeous riverside mansions, and other incredible local landmarks that you'll learn all about during this lightly narrated tour.
Highlights include:
Rondot Lighthouse
Esopus Meadows Lighthouse
The Wyndcliff Mansion
The Dinsmore
The Vanderbilt Mansion
The Rosemont
And so much more!
Pro Tip: Because this cruise line has limited departures from Poughkeepsie (about once a month), you may want to drive 30-minutes to Kingston for better availability when trying to experience all the best things to do in Poughkeepsie NY.
Address: Dock 1 East Strand Street Kingston, NY 12401 (this is the address for the Kingston departure point)
Hours: Poughkeepsie departures are on the first Saturday of the month at 11:15 am and and 2:30 pm.
Price: $32 for adults, $29 for seniors, $22 for children aged 4-11, and free for children 3 and under.
15. Blue Collar Brewery
If Mill House Brewing doesn't seem like your style, you can always visit Blue Collar Brewery instead and with its chalkboard menus and brick walls, Blue Collar Brewery is a little more casual than Mill House Brewing.
The menu at Mill House Brewing is just as casual and features a great selection that includes stouts, IPAs, pilsners, and everything in between, you're pretty much guaranteed to find a drink that you'lll like.
Plus, if you really enjoy your beer, you can actually take a tour of the brewery to learn all about the beer-making process.
Finally, if you're not much of a beer drinker, Blue Collar Brewery also has a couple of ciders and a handful of wines for you to enjoy as well.
Pro Tip: Try the Cream Ale or the IPA.
Address: 40 Cottage St, Poughkeepsie, NY 12601
Hours: Open Wednesday and Thursday from 4:00 pm to 8:00 pm, Friay from 4:00 pm to 9:00 pm, and Saturday/Sunday from 1:00 pm to 6:00 pm.
Price: Beers here start at around $7.00 each.
16. Art Centro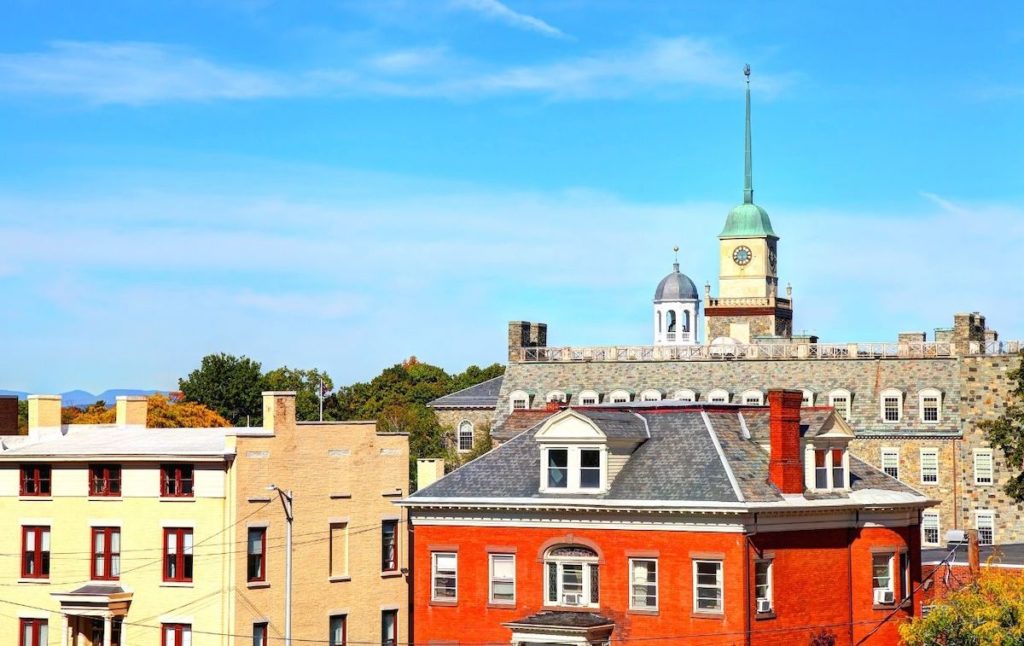 Located inside the old Barrett Clay Works Building, Art Centro is a community arts center in downtown Poughkeepsie where visitors can participate in a wide array of dance and art classes that are on offer here.
See, this place was initially designed to enrich people's lives through the arts and has now become an integral part of the community where regular performances, workshops, meetings, and rehearsals are held weekly.
No, this is place isn't exactly located in the best part of the city. But, it is one of the best things to do in Poughkeepsie NY that features a private studio and gallery where up and coming artists can showcase their work.
So, if you want to channel your inner artist, add this place to your very own Poughkeepsie itinerary as you engage in a ceramics, painting, or drawing class while watching people hard at work in the open studio here.
Pro Tip: This studio is NOT located in the best part of town. So, be very careful here, especially at night. They also have great fusion dance classes here.
Address: 485 Main St, Poughkeepsie, NY 12601
Hours: Open Tuesday 1:00 pm to 5:00 pm, Wednesday/Friday 12:30 pm to 4:00 pm, Thursday 10:00 am to 9:00 pm, Friday 10:00 am to 6:00 pm, and Sunday from 10:00 am to 5:00 pm.
Price: Varies
17. Enjoy a Themed Lunch at Eveready Diner
Hop in the car and drive a few minutes down the road to the one and only, Eveready Diner in Hyde Park. Because this fun, art-deco inspired casual eatery is a mere two-minutes away from the FDR estate and is known for its delicious, classic American food.
So much so that this restaurant was even featured on the popular show, Diners, Drive-ins, and Dives with Guy Fieri. Therefore, clearly the food here really is extra special, as is the over-the-top, neon hued, diner-inspired decor.
And while the sheer size of their super casual menu can be a bit overwhelming, you can't go wrong with their decadent banana's foster pancakes. Pair it was a glass of fresh squeezed orange juice and you'll definitely enjoy another one of the best things to do in Poughkeepsie NY.
Pro Tip: Be prepared for extra large portions and a bit of a wait at popular times, like weekend mornings. So, try to stop by on a quiet weekday morning instead.
Address: 4184 Albany Post Rd, Hyde Park, NY 12538
Hours: Open daily from 8:00 am to 10:00 pm.
Price: Varies but you can get entrees for under $10.00 no problem.
18. Explore the Hiking Trails in Springside Landmark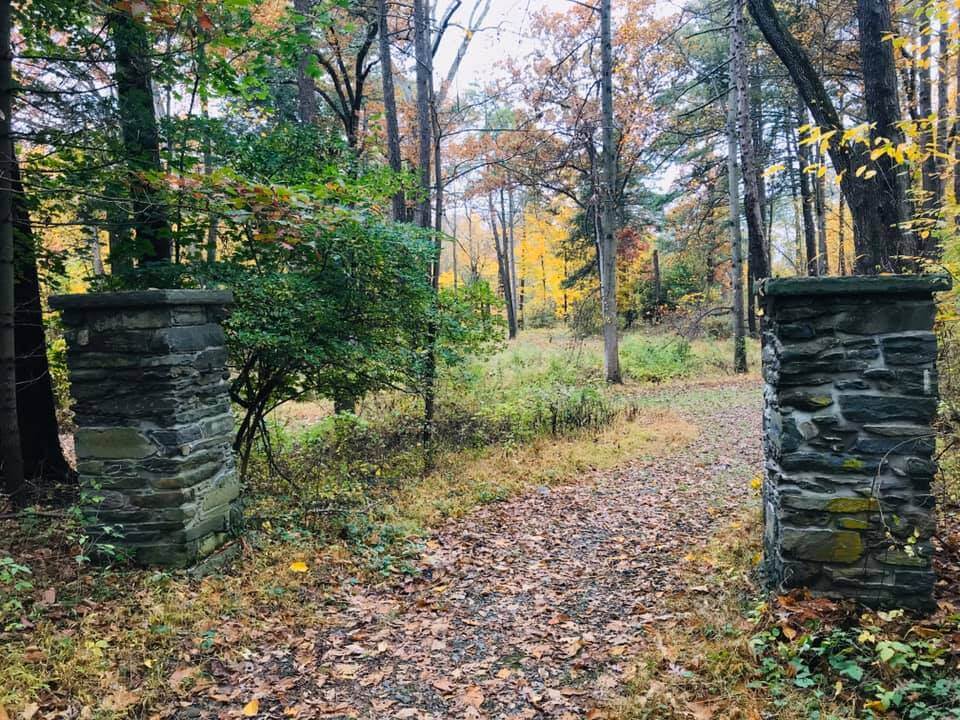 In order to purchase, preserve, and repair Andrew Jackson Downing's historic landscape, Springside Landscape Restoration (SLR) was established. SLR was formally founded in 1986 after being founded in 1984 as the result of a compromise deal between a developer who intended to construct condominiums on the site and neighborhood preservationists who sought to conserve it. In 1990, the land was deeded to SLR.
A management and maintenance plan, the 1989 Springside National Historic Landmark Master Plan and a later update, serve as the foundation for the organization's preservation activities. The latter concentrates on ongoing and short-term management efforts that neighborhood volunteers may do to stabilize the site, stop additional damage, and protect its crucial surviving elements.
Matthew Vassar, a rich Poughkeepsie brewer, philanthropist, and the creator of Vassar College, originally owned a 20-acre piece of land called Springside that is tucked away in an urban area. Matthew Vassar also founded Vassar College. It has a unique place in history being the only piece of Andrew Jackson Downing's famed landscape to have substantially survived. One of the historic locations on the Greenway Trail that runs through the middle of the Hudson Valley is Springside, which is now a National Historic Landmark.
Address: 185 Academy Street Poughkeepsie, NY 12601
Hours: Open daily Dawn Until Dusk
Price: Free, you can just support or donate
19. Admire The Fall Colors
One of the lesser known things to do in Poughkeepsie is leaf peeping. This part of New York has some really stunning colors and you will start to see them as you drive into the town. Heard about the crazy traffic to Poughkeepsie? This is one time, you really won't mind it too much because of the riot of colors that you will see everywhere.
Now if you want to see some epic panoramic sights and are looking for some perfect Insta worthy shots, I would recommend heading down to the walkaway over the Hudson State Historic park. I know that I've already mentioned it BUT during the fall season, the views that it offers is really unparalleled.
Other places that offer some great fall foliage in NY that are in the area are:
Vanderbilt Mansion National Historic Site in Hyde Park
Millbrook vineyards and winery
Mills Mansion
The Great Swamp Pawling
20. Get Your Art Fix At Cunneen-Hackett Arts Center
Poughkeepsie is home to the Cunneen-Hackett Arts Center. It is a non profit organization that is a haven for art lovers who visit the city because it has three whole galleries that you can explore. Here they display art from local and regional artists.
Mind you, this is a place where amateur artists can also showcase their talent. In order to do this, there are different events that are hosted periodically. During these events you will find music, dance, visual arts and fine arts being encouraged and applauded.
Pro Tip: While you can visit the arts center during regular hours from Monday to Friday, I highly recommend checking out the event timings before heading out for a specific event.
Address: 12 Vassar St, Poughkeepsie, NY 12601, United States
Hours: Monday to Friday: 9am to 5pm
Price: Free
Things To Do In Poughkeepsie FAQ
Is Poughkeepsie NY Worth Visiting?
A lot of people think that Poughkeepsie NY has nothing much to offer. I however beg to differ. My brother lives there and I've made so many trips there over the years. Poughkeepsie has lots of historic sites, museums and even parks for those who love the great outdoors. It is a pretty fun place to be and I highly recommend visiting.
How Much Is The Train From NYC To Poughkeepsie?
Did you know that there is a train that connects NYC to Poughkeepsie? The earliest train leaves at 7:15am and the latest at 11:35pm. The price of the ticket depends on the time you are traveling. Generally the average cost is around $44. It can go as low as $22 if you are lucky.
The whole journey from station to station takes just 1 hour 22 min. This makes it a great place to head out on a day trip from NYC.
How Long Is The Walkway Over The Hudson?
The Walkway over the Hudson is a bridge deck that offers some spectacular views of the surroundings. The bridge is 1.28 miles long and it is the longest pedestrian bridge in the world!
Things To Do In Poughkeepsie NY Map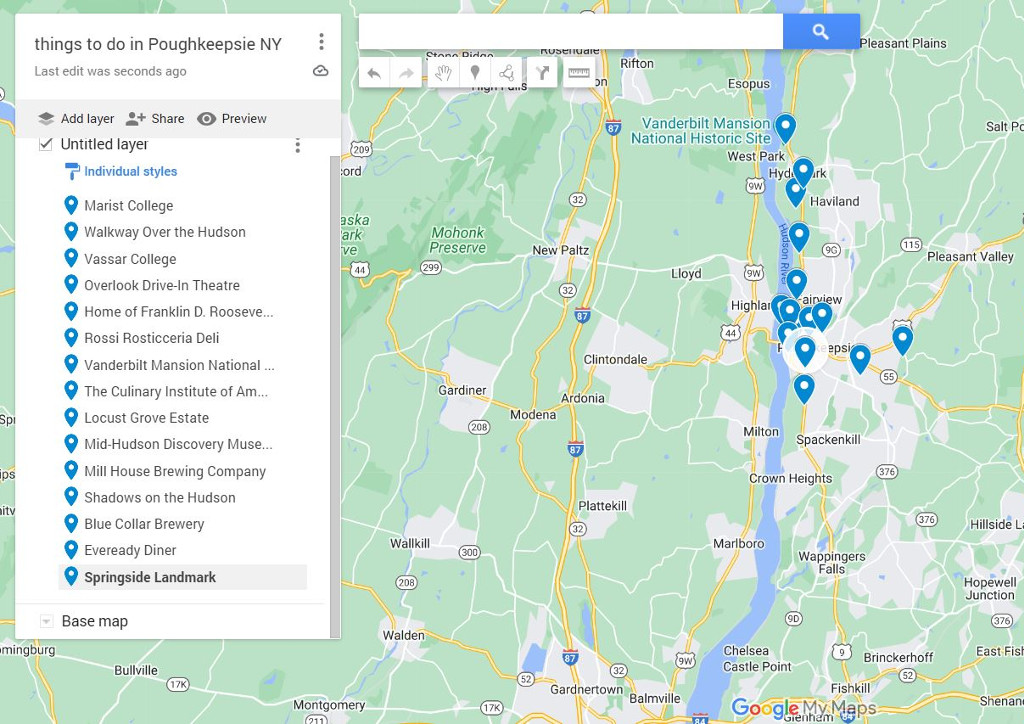 Click here to see the whole map.
Additional New York Travel Resources You'll Love
There you have it New York fans! Because that just about concludes this epic guide to all of the best things to do in Poughkeepsie NY,
Tell me, did your favorite activity make the list? If not then let me know in the comments below because I would love to check it out.
And if you found this post helpful, be sure to join our email list and then pin this post now so that you can read it again later!