Ready to plan to best every New York road trip itinerary? Umm, hell yeah you are. Because contrary to popular belief, there is WAY more to New York than just NYC.
Sure, NYC is nice but you kind of owe it to yourself to enjoy EVERYTHING that New York state has to offer.
Because between rolling hills, iconic metropolises, awe-inspiring waterfalls, and lakes that stretch out as far as the eye can see. New York really does have it all. I pinkie promise.
But, if you're not from New York, it can be difficult (aka stressful) to figure out exactly where to start when planning a trip to the Empire state.
And that's where I – and my tried and true New York road trip itinerary – come into play. I mean, I want to use my 30+ years of experience of traveling in New York to make your life a whole heck (only pretend I didn't say heck) of a lot easier.
This way, you can quickly and easily all of the best landmarks in New York.
So, if you're ready to experience New York like a REAL New Yorker, then onwards my friend as we swan dive into this New York road trip itinerary.
Trust me, it's filled with TONS of insider tips and tricks to make your life 10,000 times easier. And yes, that is an exact number.
This post may contain affiliate links. Please see my disclosure for more information. As an Amazon Associate, I earn a small commission from qualifying purchases.
Traveling To New York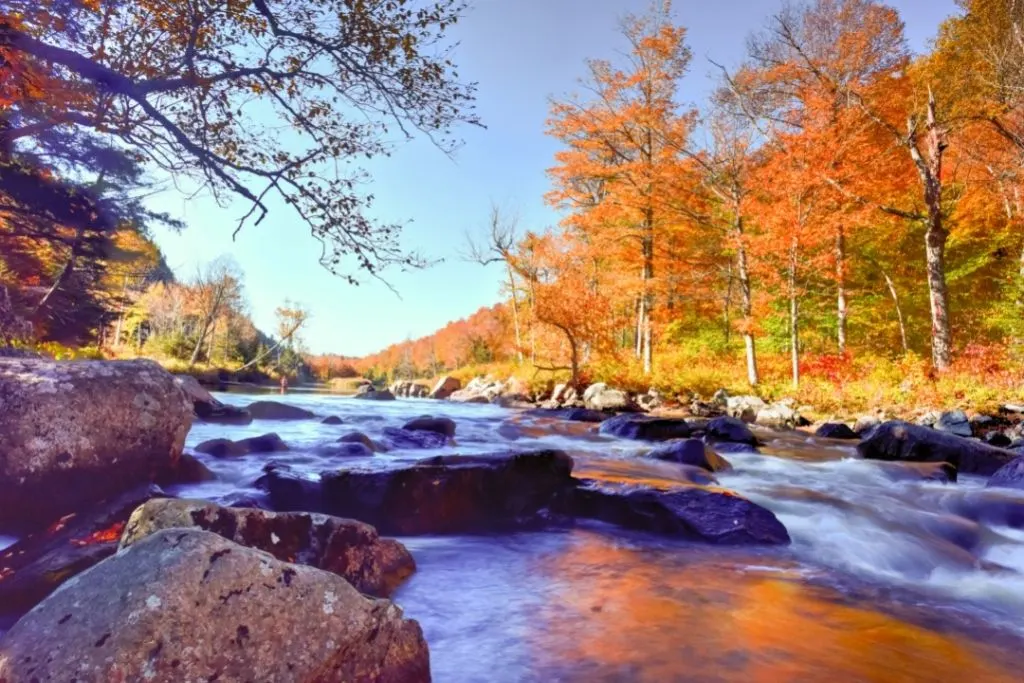 Thankfully, traveling to New York for your New York road trip itinerary is pretty dang easy.
After all, New York is home to no less than three major airports – JFK, Newark, and LaGuardia – that are all well connected both domestically and internationally.
Personally, I'd recommend flying into either JFK or LaGuardia since both are closer to NYC than Newark, which is actually in New Jersey.
From here, you can then spend a few days in NYC before starting your New York road trip itinerary.
Personally, I wouldn't rent a car in NYC just because it can be super expensive.
Instead, I'd spend a few days in NYC, take the train/bus to the Catskills, and THEN rent a car upon arrival.
Now, to get to the Catskills – the first stop in this New York road trip itinerary – from NYC you have a couple of different options. You could:
Take the Train – Take NJ Transit's mainline or the Bergen County line from Penn Station and then transfer to Metro-North's Port Jervis line to Otisville. Once at Otisville, you can use a rideshare service to take you to the nearest car rental service.
Take the Bus – This option is a bit more straightforward. Basically, all you'd need to do is hop on an Adirondack-Pine Hills Trailways/Greyhound bus and take it to the Catskills. Yeah, it really is that easy since they depart from the Port Authority bus terminal in Mid-Town. Once there, you could again use a rideshare service to take you to the nearest car rental service.
Pro Tip: I'd go by bus. It's easier, only takes about 2.5 hours, and will only cost between $45 and $65 per person. You'll also get dropped off at the Catskill Park and Ride which is in Catskill, NY, near exit 21 of the New York Thruway.
How to Get Around New York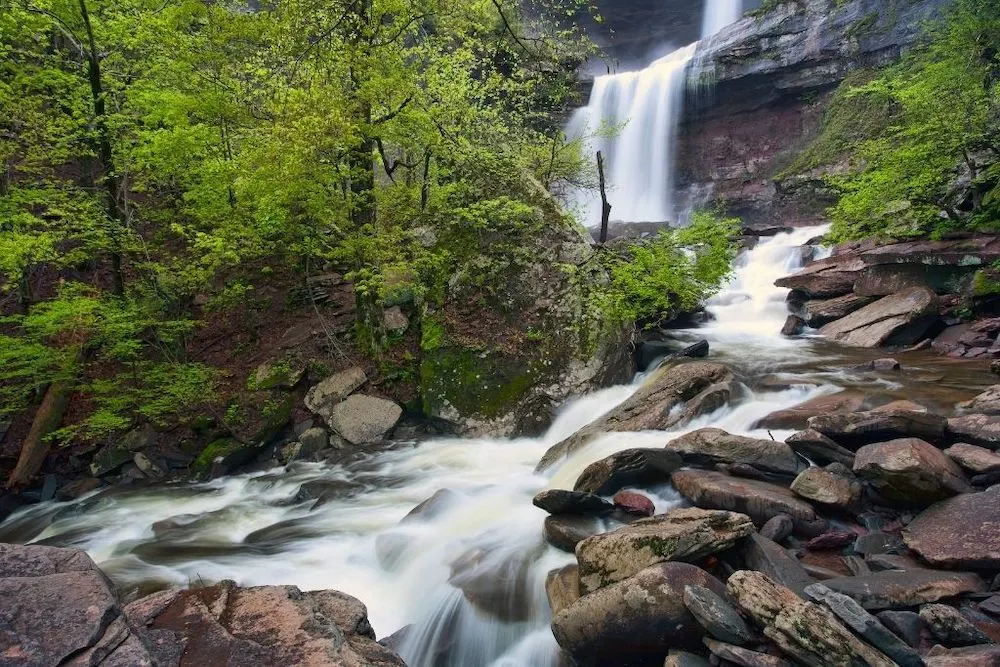 There is no reason why you should EVER drive in New York City. No really, that is not an exaggeration.
Not only are parking spots hard to come by – with insane, totally different, super complicated parking laws are found on every street block – but traffic is awful and if you park in a garage, well, you'll pay the equivalent of the GDP of a small(ish) country.
Translation? You'll pay a lot. Like, $40+ an hour a lot.
So, yeah, never drive in NYC and ALWAYS take the subway. Or bus. But the subway is usually easier since there's no traffic.
Once outside of NYC though, you'll 110% need a car. Yeah, sorry but outside of NYC, New York's public transportation system is notoriously terrible or non-existent.
In either case though, you'll need a car any time you travel outside of NYC.
So, if you want to start in the Catskills like this New York road trip itinerary suggests, I'd take the bus from Port Authority to the Catskills and then rent a car upon arrival.
Car rental services in Catskill, NY are basically Hertz. Conversely, you could always do a rideshare to Kingston and check out Enterprise, Budget Car Rental, or Sensible Car Rental while you're there.
Best Time to See Fall Foliage in New York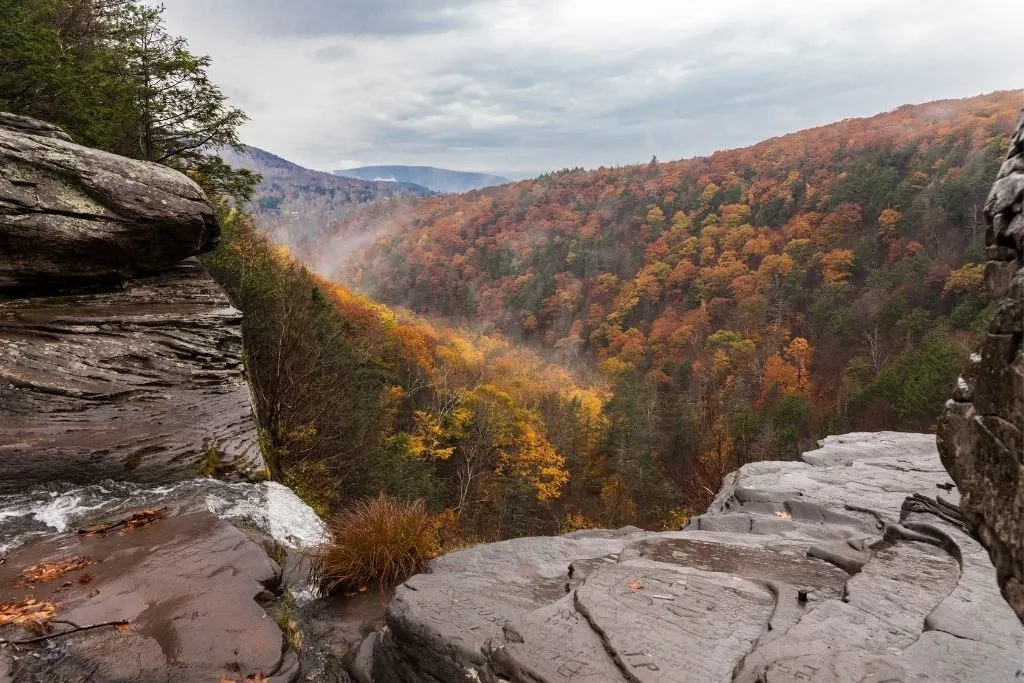 Honestly, most people typically plan a New York road trip itinerary for the autumn since this is when vibrant foliage typically takes over the New York region.
So, if you're lookin' to do a wee bit of leaf peepin', then consider planning your New York road trip for sometime in October.
Typically, fall foliage is JUST starting to come out in late September and then really takes over the region in October.
And depending on where you are in the state, fall foliage typically peaks in early October in the Adirondacks and around mid-October in the Catskills, which is much further South.
The Ultimate New York Road Trip Itinerary
Below you'll find two different totally amazing New York road trip itineraries that have ten amazing places in total.
Obviously, this is just a suggested NY road trip itinerary and it will vary based on your interests and how much time you have to spend in New York.
So, use this post as a rough guide and to help you plan one of many perfect road trips from NYC for you!
New York Road Trip Itinerary #1 – Headin' Up North
New York Road Trip Stop 1: Catskills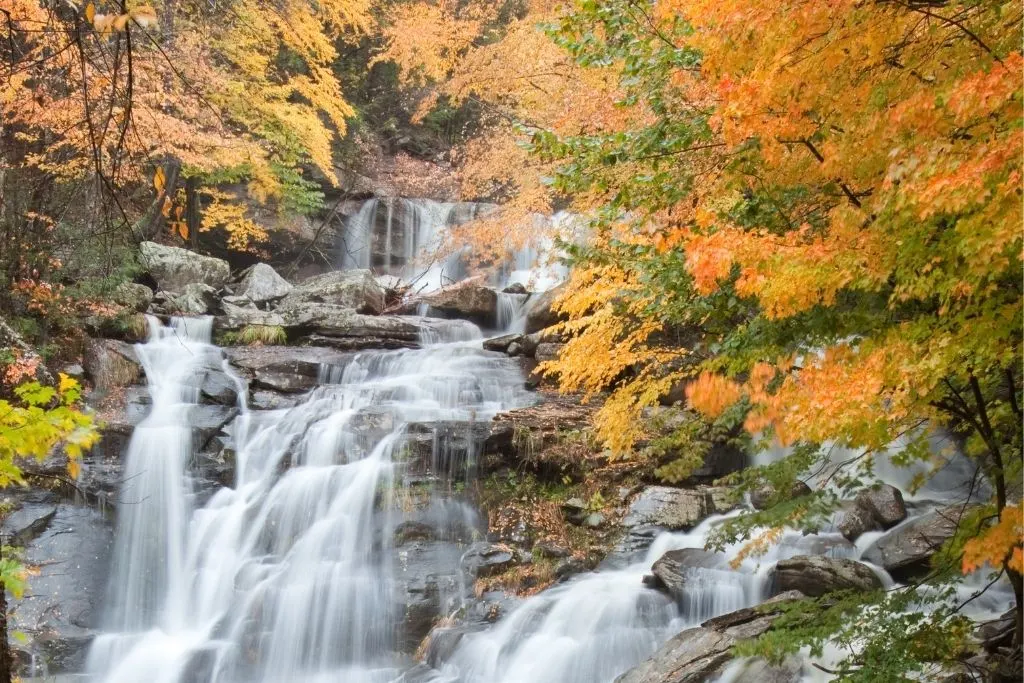 First stop: the Catskills! And I truly love this region since everyone takes something different away from this vast area of natural beauty.
Will you go get lost in the woods? Or head up to the lake to catch fish for supper? Perhaps you'll attempt to climb one of the many mountains in Catskills? The possibilities are endless!
Things To Do In The Catskills
Explore Catskill Park – There are two lakes for water sports, over 120 miles of mountain bike trails, and 8 major hiking routes, including climbs up 5 of the 10 highest peaks in the Catskill Mountains. So, there's plenty to do for anyone looking to get physical during their New York road trip itinerary!
Take in the view at Kaaterskill Falls – See this beautiful natural marvel in its full glory, as water drops down over 260 feet at the highest waterfall in New York State! This gorgeous site has captured the hearts and minds of painters and poets for hundreds of years. It also happens to be one of the best waterfalls in New York State!
What To Eat In The Catskills:
Binnekill Tavern – If fine dining is yo' thang, head over to Margaretville and grab yourself some top-level dishes at the Binnekill Tavern. Re-opened in 2018 with a new highly acclaimed chef, this Catskills institution will make you want to come back again and again! I recommend the schnitzel – it's a local specialty!
Gracie's Luncheonette – If you feel the need to chow down on some good ol' comfort food, but with a southern twist, look no further than Gracie's Luncheonette in Leeds.
Feel-good food is the top priority here, with all-day breakfasts, fry baskets, hamburgers, and sandwiches aplenty. You might have to roll me on over to the next stop after a meal here!
Where To Stay In The Catskills:
Mountain Treasure Bed & Breakfast (Maplecrest) – The scenery alone makes this place a pleasure to stay in! Add in spacious rooms, cozy furniture, cute fire pits, and an adorable gazebo, and you could convince me that Mountain Treasure might have been plucked straight out of a fairytale!
Antique Rose Inn (Windham) – With interiors like this, you'll find it hard to head outdoors. The Antique Rose Inn also offers wood-paneled walls, provides personally tailored breakfasts, and has beautiful gardens surrounding Victorian-style architecture.
There's also a wrap-around terrace that is perfect for sitting and watching the evening sunset with a cup of warm cocoa – or a cool beer, depending on when you stay
New York Road Trip Stop 2: Albany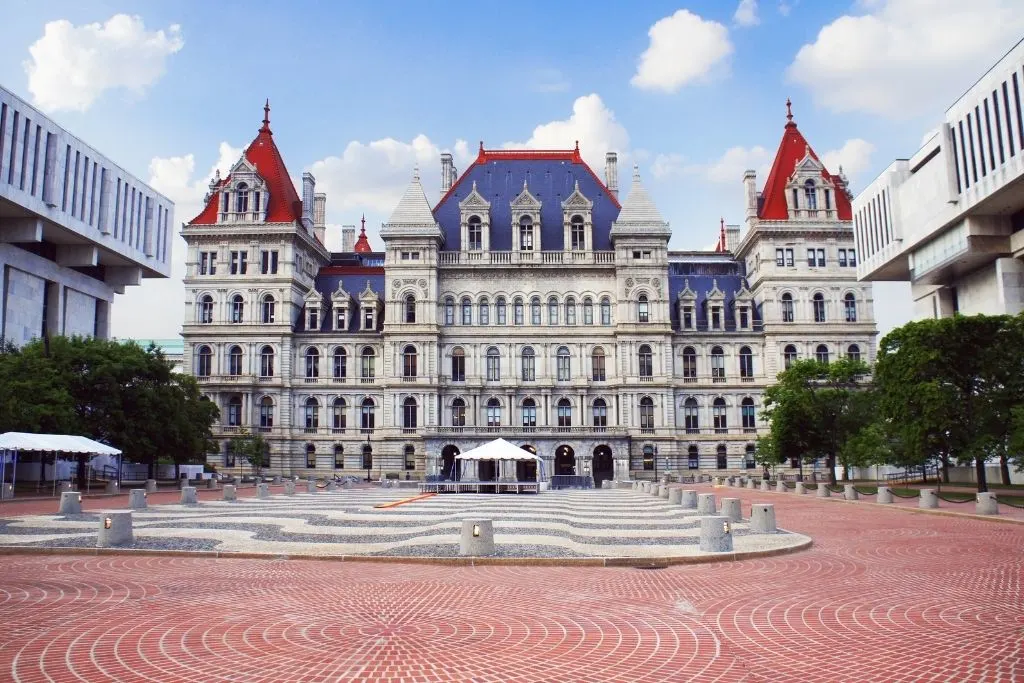 Time to head further up the highway! Because believe it or not, Albany has a rich history, and it shows in every part of the city.
From the nightlife to the wineries and breweries, to the live performances, to the county fairs, there's something for everyone who comes to visit. If you are one of those people who love the great outdoors, you can even chase waterfalls near Albany!
Things To Do In Albany
Head to the State Capitol – Trust me – you can't miss it! This five-story, hugely ornate building took over thirty years to build. But it looks like it was worth it!
And as the focal point of the Empire State Plaza in Capitol Park, the building is listed on the National Register of Historic Places. Also be sure to take a tour so that you can explore to the vast interior too!
Albany Institute of History and Art – Put those thinking caps on, y'all! This is one of the oldest museums in the US, and has over 20,000 different pieces on display, including paintings, sculptures, historical artifacts, and more!
What To Eat In Albany:
Sam's Italian American – This family-owned Albany mainstay has been serving customers for four generations. So, if you want to get your Italian pasta fix, Sam's is the place for you.
The portions are huge, the menu is long, and by the end of your meal, you'll feel like you just had dinner at your favorite Italian grandma's house!
Cheesecake Machismo – Need to satisfy that sweet tooth? Then head over to this epic place on Hamilton Street. it's a quirky bakery that will ensure that you remember your New York road trip itinerary for years to come! Cherry Amaretto, Bavarian creme, green tea with chocolate…
Whatever you decide on, buy it by the slice or pick up a whole cheesecake for the road!
Where To Stay In Albany
Oakcliff Bed & Breakfast (Halfmoon) – Built in the style of Greek revival architecture, Oakcliff Bed & Breakfast will make you feel like royalty. Seriously, whether you're resting your head in a four-poster bed or admiring the grand piano in the lounge, you'll never not be in the lap of luxury here!
Olde Judge Mansion B&B (Troy) – This striking gothic-Victorian style building feels like something out of a game of Clue if the staff weren't so welcoming and hospitable! Guests will also be treated to ornate furnishings and delicious home-cooked breakfasts. The only question is, will you entertain yourself in the poker room or in the parlor?
New York Road Trip Stop 3: Saratoga Springs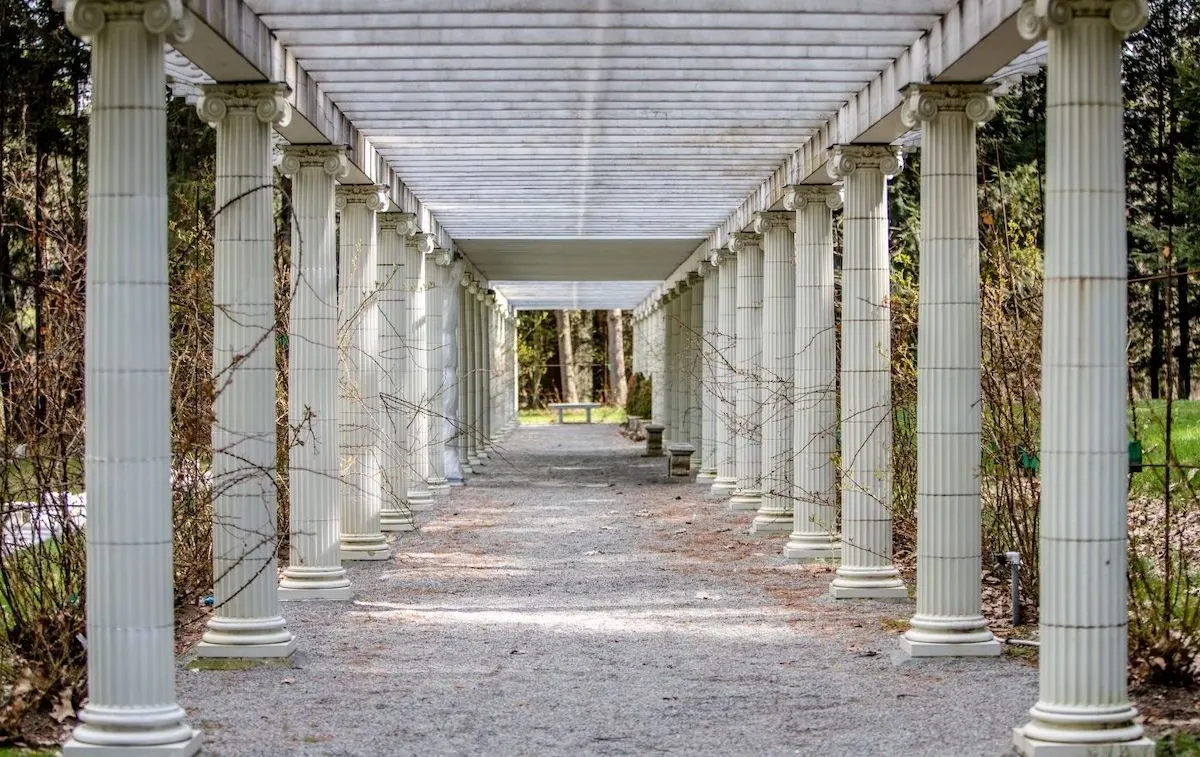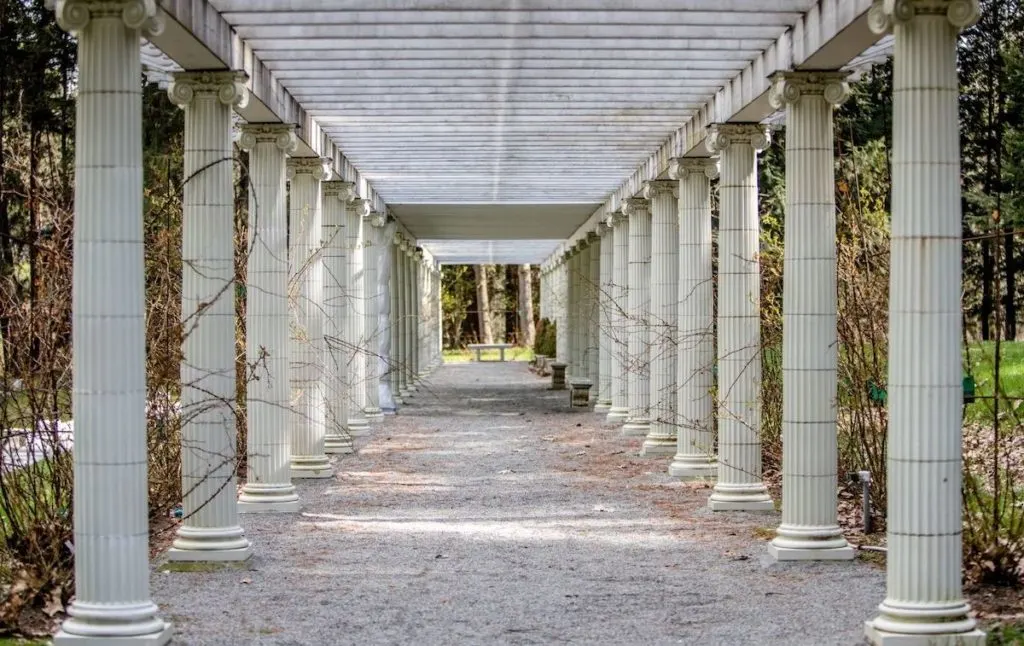 No New York road trip would be complete without a visit to Saratoga Springs. And I've talked a lot about it a lot before in my article about 25 amazing things to do in Saratoga Springs, NY!
Because from thrilling horse racing to charming Greek Revival-style homes, Saratoga Springs brings its A-game to anyone who crosses its welcoming borders!
Things To Do In Saratoga Springs
Saratoga Spa State Park – You could spend your entire stay in Saratoga Springs inside Saratoga Spa State Park and not run out of things to do. I mean, hiking, fishing, swimming, spa treatments (of course), museums, and even golf are just some of the things you can do here. The hikes in Saratoga Springs are mind blowing! There are also tons of food venues so you won't go hungry either.
Ride the historic carousel in Congress Park – Take a blast from the entertainment past with this 120-year-old wooden merry-go-round! The original hand-carved animals are still in place, and will take you back to the good ol' days as you bop up and down in style!
What To Eat In Saratoga Springs
Osteria Danny – Just around the corner from Congress Park is this delightful Italian restaurant. Fill your belly with such delights as bacon-crusted cod, lobster bolognese, or a wealth of vegan and gluten-free dishes, which are all sure to fortify you during your awesome New York road trip itinerary!
Sushi Thai Garden – Or if you're feeling like you want some Asian cuisine, Sushi Thai Garden will be able to provide you with delicious sushi featuring all kinds of seafood, including salmon, crab, tuna, mussels, and octopus.
They also serve a whole host of different Thai curries, with fried rice and noodle dishes available too.
Where To Stay In Saratoga Springs
Adelphi Hotel (Saratoga Springs) – Looking for some luxury during your NY road trip itinerary? Well, then this place will blow you away. It features spacious rooms with breathtaking views of the city (make sure you book a room with a balcony!), beautiful furnishings, and top-quality service.
Some say it's also one of the most haunted hotels in New York, but don't let things that go bump in the night spoil your stay!
Ann's Washington Inn (Saratoga Springs) – If you're in the mood for more of a quiet, peaceful night's sleep, head on over to Ann's Washington Inn. This delightful guest house comes with lush gardens and terraces on which to sit, have a drink and relax.
It's no wonder plenty of couples decide to host their weddings here – it's a place where you're guaranteed to have a good time (and a comfy bed afterward)!
New York Road Trip Stop 4: Lake George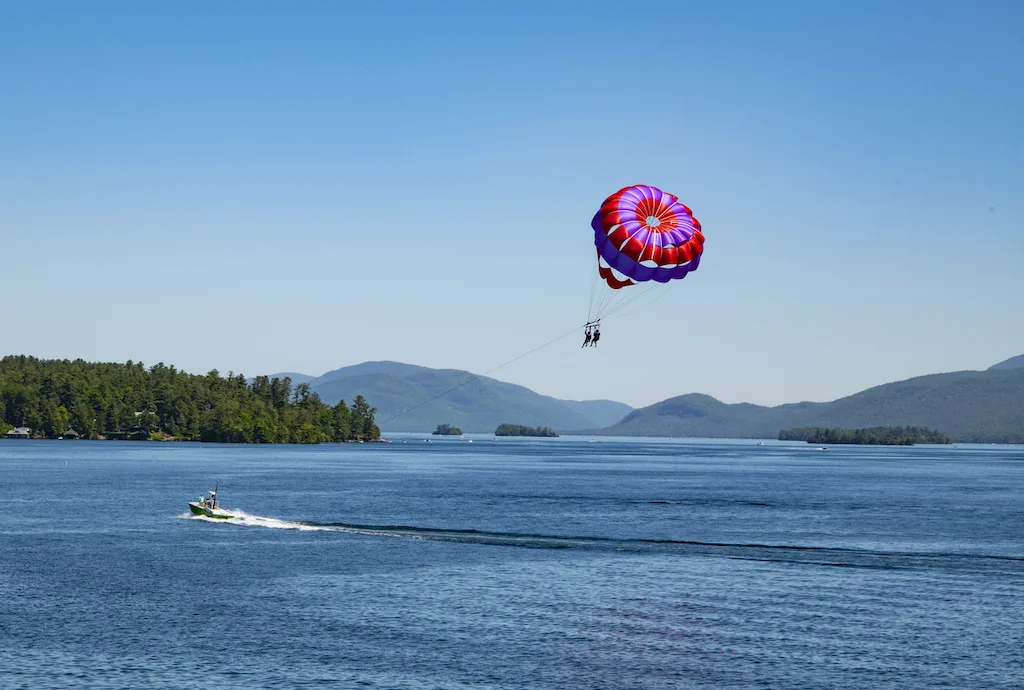 It's time for a tan! Or in my case, a mild change in my pasty white, white complexion! And the one place I like to pretend to tan is Million Dollar Beach.
But, this beautiful natural oasis is just one of the many things that attract road trippers to Lake George every year. And there's no reason for you to miss out either.
Because this top NY road trip destination is more than just a big body of water – there's historical forts, rail bikes, a huge amusement park, need I say more?
Things To Do In Lake George
Take an authentic steamboat cruise on Lake George – Get out on that water, yo! After all, this town is named after the lake for a reason, and you should definitely head onto one of their local steamboats – especially the Minne Ha Ha Paddlewheel! – to enjoy one of the oldest pastimes in the USA.
House of Frankenstein Wax Museum – Wax figures? Check. Movie monsters? Double-check. The ultimate creepiness collection? Check check and CHECK! If you're after some scares during your ultimate New York road trip itinerary, this house of horrors will definitely scratch that itch. Be warned: not all of the wax statues stay still ….
What to eat in Lake George
The Garrison Restaurant and Bar – For great food and great company, head to the Garrison, just around the corner from Million Dollar Beach. This all-American bar and grill boasts live music, patio seating, and a huge menu full of satisfying pub grub. Plus, there's plenty of craft beers on tap!
The Boathouse Restaurant – For the best in waterfront dining that Lake George has to offer, this former boathouse (who would have guessed?) provides high-stacked burgers, tasty steaks, the freshest seafood, and a whole host of other dishes that will kick your New York road trip up an extra notch!
Where To Stay In Lake George
Inn on the Hill (Lake George) – This place has everything you could want from a comfortable night's stay, with modern furnishings and the added bonus of an outdoor pool. Umm, hi. Sign me up, please! Plus, it's just a stone's throw from Lake George itself, meaning you can head straight out onto the water easily.
The Inn at Erlowest (Lake George) – I'll admit it, this place comes with a hefty price tag. But when you want luxury, this is the place to measure it by. This beautiful stone building comes with HUGE rooms, some even with a fireplace or a jacuzzi, and excellent views of the lake, so your breakfast scenery will be second to none
New York Road Trip Stop 5: Lake Placid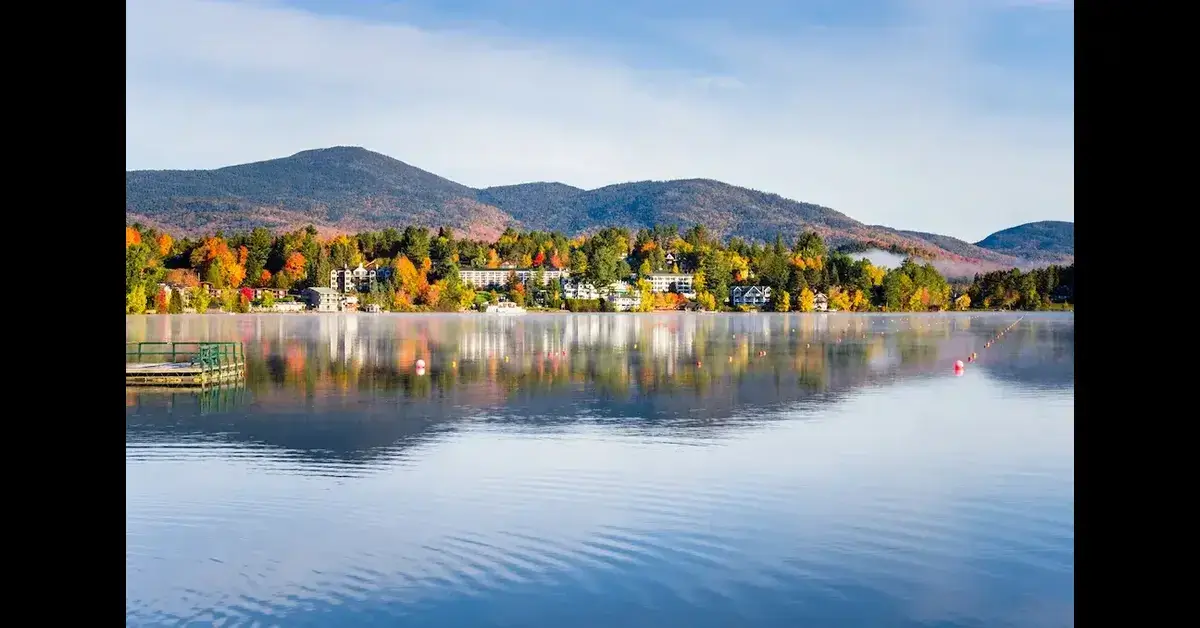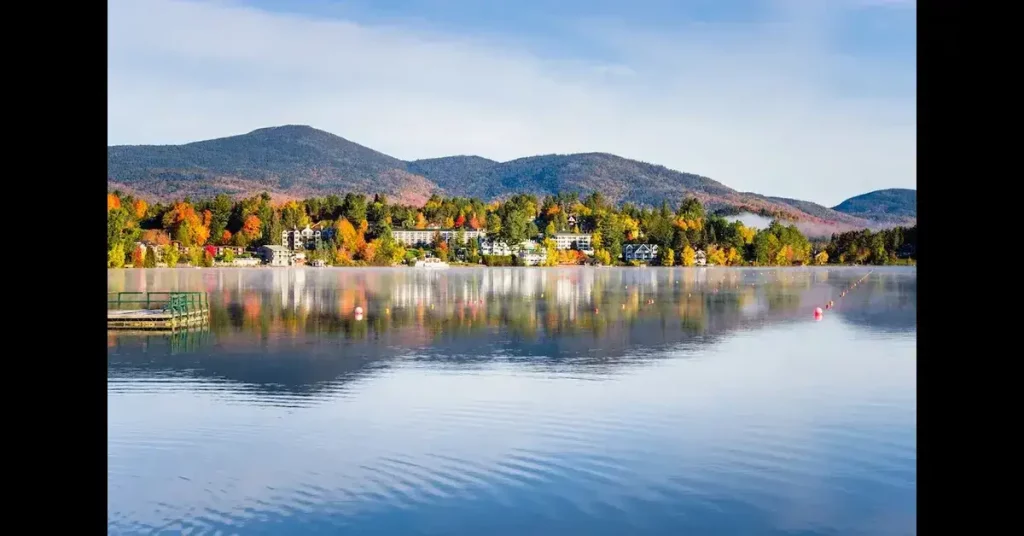 It's now on to our final stop of our first New York road trip itinerary – Lake Placid, a jewel among the Adirondack Mountains and home to one of the best lakes in New York. .
If you're venturing out on the ultimate road trip from NYC in the winter, this will be the perfect place to finish, because Lake Placid is a snow sports paradise!
But what if I'm on a NY road trip in summer? Oh well, I guess you'll just have to settle for the natural beauty of sunlight pouring through green trees and shimmering off the cool, clear lake water. Sigh, it's a hard life!
Things To Do In Lake Placid
Zip through the trees at Experience Outdoors – What better way to view nature than by speeding over it at top speed? JK y'all, this isn't you're usual outdoor adventure! But just south of the main town of Lake Placid, make sure you stop by this family-friendly thrill ride.
Because in addition to epic zip lines, there's also an adventure park full of challenging obstacles all set up in the Adirondack Mountain forests! You can see why this is one of the popular things to do in Lake Placid.
Shoot across Mirror Lake in a Toboggan – Prepare for the longest slide of your life as you rocket down this 30-foot tall structure straight onto Mirror Lake! Although only available in winter, this is one of the most unique things to do in Lake Placid, with some sledders managing to slide over 1,000 feet across the ice!
You can also check out some of the best breweries in Lake Placid while you're here.
What To Eat In Lake Placid:
Delta Blue – Classic Lake Placid decor meets sumptuous Southern cuisine in this wood-paneled establishment complete with tree branches lining the ceiling. On the right day, you can even catch a live blues night while you enjoy your barbecue ribs!
Mis Amigos – Sometimes you just want a burrito, amirite? Or, tacos, nachos, enchiladas, and the ocassional chimichanga. Well, Mis Amigos deffo has got what you want with dishes that are bursting with flavor! If the weather is good, make sure to get a seat by the fire pit outside on the patio so that you can embrace Lake Placid's sweet, small-town ambiance.
Where To Stay In Lake Placid:
Maple Leaf Inn (Lake Placid) – Maple Leaf Inn sits between Mirror Lake and Paradox Bay, within easy walking distance of both lakes. This quaint budget option will have you ready and refreshed for the day's activities, and is perfectly positioned for anyone wanting to head up to Whiteface Mountain!
Cobble Mountain Lodge (Lake Placid) – When you think "mountain lodge", this is what will appear in your head. Warm and comfortable rooms, with wooden furnishings and wood-paneled walls, this place just screams cozy!
New York Road Trip Stop 6: Montreal
If you've driven this far north, why not go a little bit further and add another country to the mix? I mean Canada is just right across the border and Montreal looks so tempting right? Montreal is one of those places that I have been to more times than I can count because it is such a beautiful city and it is so accessible. Probably why I'm a bit biased when it comes to visiting it.
Things To Do In Montreal
Explore The Gorgeous Sandy Beaches – Montreal has some great beaches where you can enjoy the sand and the sun. If you are visiting in summer that is. If it's winter, you can still enjoy the sand but it would be a bit too cold to enjoy the water. Nevertheless, it still a great spot to come to enjoy the view!
Go For A Hike – Montreal is a haven for anyone who loves the outdoors. There are amazing park trails for people at all levels of hiking experience and endurance. It is a great way to unwind.
Some of the popular parks are Parc Jean-Drapeau, Mount Royal, Lachine Canal and Champ des Possibles. These parks are just one of those benefits for the lucky ones living in Canada.
What To Eat In Montreal
Foiegwa – Head to Foiegwa for one of the best brunches in Montreal. This elegant diner was actually crafted out of an abandoned space. It is currently known for its gourmet regional cuisine and yes as I mentioned its brunch!
If you visit Foiegwa make sure to try out the waffles and the chicken. Doesn't sound gourmet? Trust me, you will be surprised!
La Cave A Manger – You may have left NYC way behind but Montreal can offer you one of the most iconic dishes from your fav city. Try the Lafayette Supreme croissant at La Cave A Manger. This is a cream filled delicacy with multiple circular croissant layers. Have I convinced you yet? You seriously have to try it because it will have you craving for more than just one!
Where To Stay In Montreal
Best Western Plus Hotel – The Best Western is a popular hotel chain and with good reason. The hotel has modern rooms which are clean and pretty large. It comes with all the amenities that you could need for a night out in the town. Plus it is very conveniently located in the downtown area.
Hotel Bonaventure Montreal – This is another pretty great hotel to stay at and it has some raving reviews. Not only is Hotel Bonaventure in the heart of the downtown activity, it even has a fitness center that guests can use for free. The 2.5 acres of manicured gardens is also a big draw, as is the rooftop pool and terrace.
Bonus Stop For The Winter Lovers: White face mountain
Whiteface mountain is so close to Lake Placid that you don't really need to have two bases to visit it. The location however does beg to be mentioned especially if it's winter but it really doesn't matter which time of the year you head there. There is always something to do. If you don't want to be ultra adventurous, there are so many options where you can just kick back and enjoy the view!
Did I mention that there quite a few cool romantic winter getaways here too?
Things To Do In White Face Mountain:
Skiing: Did you know that the White face mountain is one of the highest in the country? During winter the slopes get coated white and it is a great spot to test your skills whether on a snowboard or on skis!
Hill falls gorge: It is a privately owned nature park but everyone really raves about how there are trails and activities for all ages. Plus the views are spectacular and it is rather peaceful. Such a break from the noisy streets of the city, if you get what I mean!
Santa's workshop: A quirky theme park that has stood the test of ages! It is perfect for families with kids and a fun stop along the way. Don't expect a huge amusement park with rides though. Here the kids can catch a bit of the Christmas magic and so can you. I know I loved it. Bonus points because I got to feed the reindeer which was so much fun!
Where To Stay In White Face Mountain
Hungry Trout Resort: It is perfect if you want to stay close to the ski lifts and get as much out of the slopes as you can.
Sara Placid Inn: Located in Lake Placid, this a warm tranquil place to stay. It allows you to access the slopes and yet have the quite laid back life near the lake.
New York Road Trip Itinerary #2: Way Out West
New York Road Trip Stop 1: Ithaca
It's wine o'clock, baby! Because wine and craft beer are the names of the game in Ithaca. Just get me a bespoke beverage, y'all!
So, as you head west into the Finger Lakes region – aka the number 1 wine region in the USA (oh yeah!) – Ithaca will be your first port of call.
As you pass vineyards full of delicious grapes just waiting to be picked, keep an eye out for the many waterfalls you'll be passing along the way.
With excellent wine and so much gorgeous scenery, this will be the perfect place to start the best New York road trip itinerary ever! Aside from wine, there are also loads of things to do in Ithaca that draw people here year after year.
Things To Do In Ithaca
Head to Taughannock Falls State Park – The biggest and most impressive of Ithaca's 150 waterfalls (OMG is there a place where water ISN'T falling around here?!), the Tuh-GA-nick Falls waterfall, as it's known locally, is 215 feet tall. And the rest of the state park isn't too shabby either! There are hiking trails, swimming in Cayuga Lake, camping grounds, playgrounds, picnic areas, and more.
Get your art on in Downtown Ithaca – Walking around Downtown Ithaca is like walking around an art gallery, except that you're outside on the streets! There are statues and murals everywhere, many by local artists. It's easy to see why this place has a reputation for its artistic diversity! Heck, even the restaurants and the nightlife are unlike anything you'll find anywhere else!
What To Eat In Ithaca
Moosewood – Get yourself some all-natural cuisine at Moosewood Restaurant! Dishes here are made with whole grains, nuts, beans, and seeds, and mixed with the freshest vegetables and spices, for the most organic meal imaginable. You'll probably feel healthier just by reading the menu!
Agava – Over in east Ithaca, Agava offers the best in Southwest-inspired vegetarian and vegan cuisine with its amazing selection of farm-to-table style dishes. Just choose between traditional entrees or tapas-style small plates, making it great for groups of friends and families alike. Get sharing, yo!
Where To Stay In Ithaca:
William Henry Miller Inn (Ithaca) – This cozy bed and breakfast is right in the Downtown area of Ithaca, and treats guests to historic ambiance while also providing all the modern-day comforts you could want. And if you're after handmade desserts before bed following a day of fun in the city, then this is the place for you!
Fairfield Inn & Suites by Marriott (Ithaca) – This hotel sits right by the Buttermilk Falls State Park, with Cayuga Lake just a 5-minute drive away. The rooms are also neat and spacious, with a pool and a fitness center on-site. That's why, this is a great place to stop, drop and recharge.
New York Road Trip Stop 2: Watkins Glen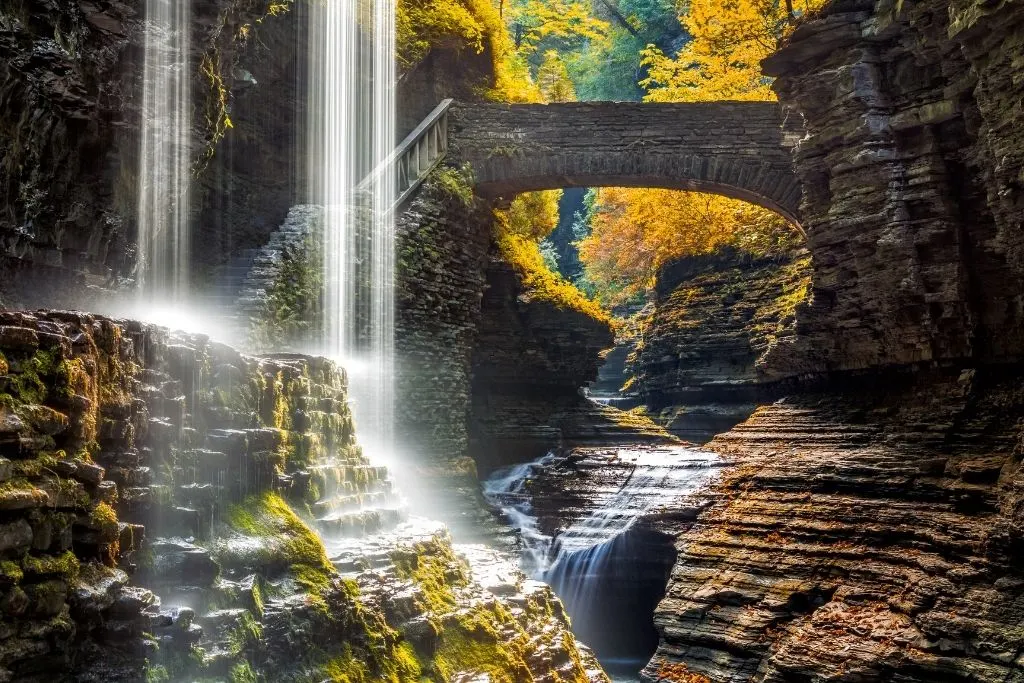 It's time to jump from one Finger Lake to the next. Because Watkins Glen is less than an hour from Ithaca and sits on an entirely different – but totally picturesque – body of water that is known as Seneca Lake.
Therefore, it's the perfect spot to go for a hike, cruise out on the lake, or sample some delicious wine from one of the many Seneca Lake vineyards that can be found in this quaint little New York town.
The Corning Museum of Glass also isn't too far away if you fancy a little trip to one of the best museums in the region.
Things To Do In Watkins Glen
Hike the Gorge Trail – This hour and a half long trail through Watkins Glen State Park is one of the best hikes in upstate New York! Start at the Sentry Bridge, walk around behind the Cavern Cascade waterfall, cross the suspension bridge, marvel at the Rainbow Falls plunge pools, and head onwards towards Jacob's Ladder. It's an awesome adventure!
Get your pick of the bunch at the Farmers Market – Throughout the summer and fall seasons, you won't find a better selection of fresh produce, meats, crafts, and toiletries than at the Watkins Glen Farmers Market in Lafayette Park. See the community of Watkins Glen at its best here, and grab yourself a bargain!
What To Eat In Watkins Glen:
Seneca Harbor Station – Here you'll find meals that'll fill you up, all year round. During the summer, it's seafood, steak, and sandwiches. But throughout the winter, the menu changes to hearty chowders that will keep you warm and happy on the inside for a long time!
Blue Pointe Grille – If you're after breakfast then the Blue Pointe Grille at the Harbor Hotel is an excellent choice. Order yourself a Finger Lakes omelet and follow it up with some pancakes and waffles. You might even want some oatmeal, yogurt, and perhaps even a muffin. Regardless of what you choose tough, the food here is guaranteed to leave you feeling ready to start your day!
Where To Stay In Watkins Glen
Budget Inn (Watkins Glen) – Cheap an' cheerful, as they say in jolly old England! But don't worry, the service is 100% American-style hospitality. The location is great too since this hotel sits in between the Six Nations Campground and the Catharine Creek Wildlife Management Area, which means that you're downtown!
Lakeside Resort (Watkins Glen) – The Lakeside Resort is exactly what it sounds like! So, enjoy 30 acres of walking trails, waterfalls, and garden areas, plus plenty of space for hanging out on the terrace and having a barbecue. You'll be living the cabin life to the max here during your New York road trip itinerary!
New York Road Trip Stop 3: Rochester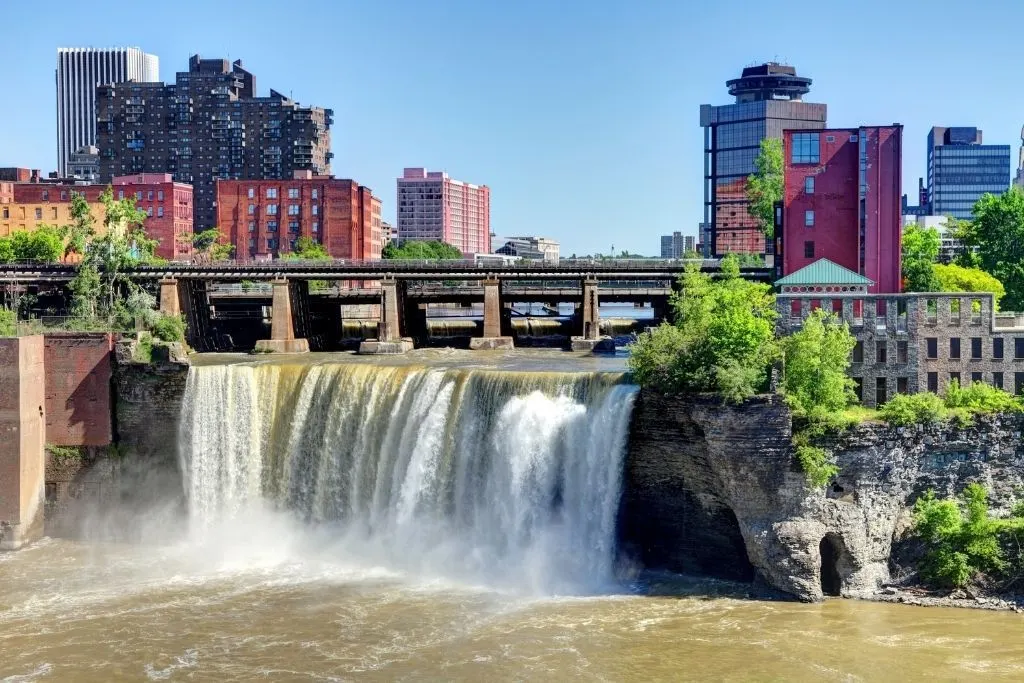 Time to head north! And Rochester makes for an epic, intellectual stop on your New York road trip itinerary.
Especially since there are museums aplenty up here by Lake Ontario, covering everything from science to gamesto art, and even photography.
Plus, there's the Seneca Park Zoo, which has been open and running for over 120 years!
Things To Do In Rochester
It's game time at The Strong National Museum of Play – What's that? An entire museum dedicated to games, toys, and entertainment? Hold my beer! Because it's not just kids that will enjoy this museum (although this place is totally family-friendly!).
I mean, there are over 30,000 consoles and games in the International Center for the History of Electronic Games, and it's home to New York's only indoor butterfly garden!
Browse through paintings at Artisan Works – This not-for-profit gallery showcases community artwork that has been created by the local people of Rochester. So, marvel at the artistic creative process in action as artists work to create imaginative new pieces while you visit. There are also guided tours of the facility available for all age groups too!
What To Eat In Rochester
Voula's Greek Sweets – Vegan and vegetarian Greek food never looked and tasted so good. And you don't hear me saying that very often! Whether it's brunch, lunch, dinner or just some pastries to go, everything here is delicious, and almost all of it is gluten-free or has the option of being gluten-free. Yup, go, go Greek food!
Nick Tahou Hots – For something uniquely Rochester, head to Nick Tahou Hots and order yourself a "garbage plate". This local dish, invented at Nick Tahou Hots, includes your choice of protein (steak, chicken, hamburger etc) served on top of a combination of home fries, baked beans, and macaroni salad, topped with a spicy meat sauce.
One way or another, you're sure to remember your New York road trip itinerary here!
Where To Stay In Rochester:
Hampton Inn Rochester (Irondequoit) – This is a modern hotel features plenty of amenities like an indoor heated pool and gym, as well as a daily breakfast with plenty of tea and coffee. Yup, sure sounds good to me! The rooms are also nice and big and well maintained. Hip hip hooray!
School 31 Lofts (Rochester) – Right in the middle of the Neighbourhood of the Arts, this modern hotel comes with some impressive furnishings mixed in with some very artistic designs, which is appropriate! You can totally tell this used to be a school, but this is a much better use of the building if you ask me. I'll take comfort over homework any day!
New York Road Trip Stop 4: Buffalo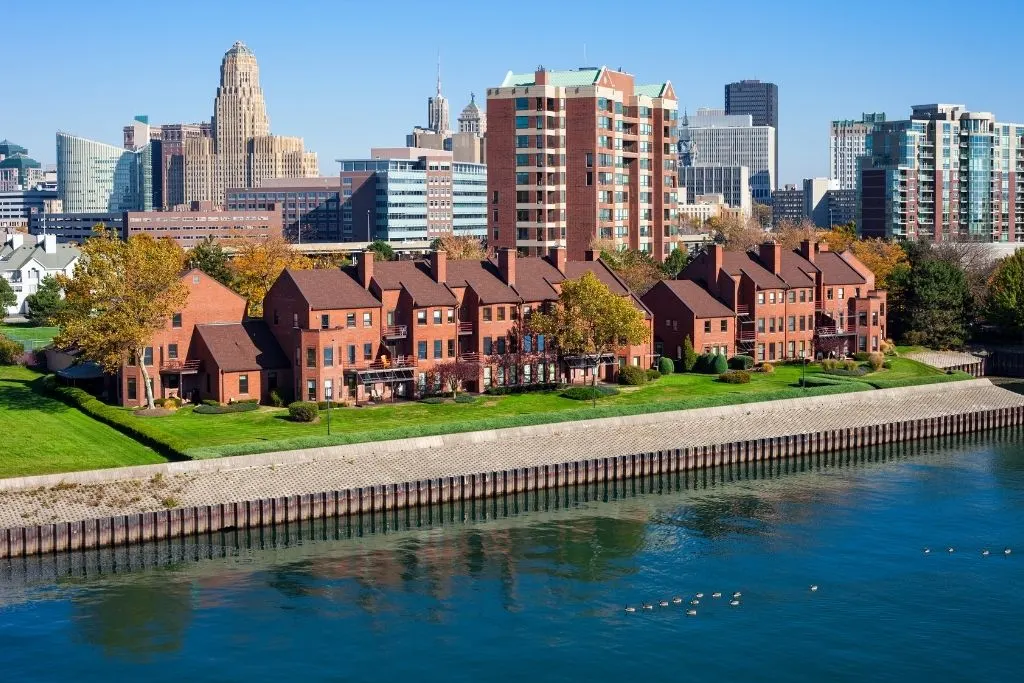 Time to head further west to Buffalo, New York's second-largest city.
As you can imagine, with great size comes a great amount of things to see and do! So, when you visit, expect to find nature preserves, botanical gardens, museums, a thriving nightlife scene, and plenty of activities down by the harbor.
Because it's all happening here, at least if you embark on one of the best road trips from NYC!
Things to do in Buffalo
Buffalo and Erie County Botanical Gardens – These amazingly beautiful gardens were designed by the same guy who developed Central Park back in New York, New York! Not only are they a visual spectacle to behold, but they also act as a center for research and education. They're dual-purpose, y'all!
And the centerpiece of it all is a tri-domed conservatory that is made from wood, steel, and glass, which houses tropical plants and looks Insta-mazing at sunset!
Definitely take some time to go on the Garden Walk, which is known for being America's largest garden tour. And if you want to be the first one through the door, they also offer an early access activity where you get to help feed the koi fish who live in the ponds here!
Explore Outer Harbor – This quiet area is home to over 200 acres of green spaces, with plenty of bike paths and walking trails for you to enjoy. There are also plenty of places here where you can rent out kayaks and head onto the waters of Lake Erie. You even have the option of renting water bikes, so you can cycle across the lake. It's fun and a bit surreal, all at the same time!
Plus, If you head north into Buffalo Lighthouse Park, you can see the towering figure of Buffalo Main Light right at the edge of the water.
What To Eat In Buffalo
Sinatra's – Time for some fine dining during your New York road trip itinerary! And this family-owned Buffalo institution fits the bill since they've been in operation for over forty years.
They also serve up some of the best Italian Old Country flavors with a bit of modern flair. Soups, salads and antipasti will lead into pasta and specialties like Osso Bucco. With a bottle of wine (or two – who's counting?) to accompany the proceedings, you and your NY road trip friends will feel like royalty!
Black & Blue Steak and Crab – Seafood, seafood, seafood, and – oh yeah – more seafood. After all, this is a harbor city, that is known for it's fresh catch of the day and stunning scenery.
So, for the best seafood the city has to offer, head to Black & Blue for tasty oysters, red snapper, lobster, scallops, shrimp, and, of course, crab. There's plenty of fish alternatives on offer too if seafood ain't your jam, including all manor of steaks and sides to go with them!
Where To Stay In Buffalo
The Delavan Hotel (Buffalo) – Feel like playing some billiards? Then staying at the Delavan Hotel will make you feel like you're living in a palace!
Yup, nothing but large rooms with an abundance of lamps and chandeliers. Add in a 24-hour front desk, an on-site fitness center, and a bar to create the perfect place to stay in Buffalo. Yes, nothing but the star treatment for me, please!
Wyndham Garden (Buffalo Downtown) – Located right in the center of the city, this affordable hotel is perfect for those who want to stay right where the action is.
The rooms are comfortable and well equipped, with friendly and hard-working staff who help facilitate an easy check-in and check-out. Yup, just what you want during your New York road trip itinerary!
New York Road Trip Stop 5: Niagara Falls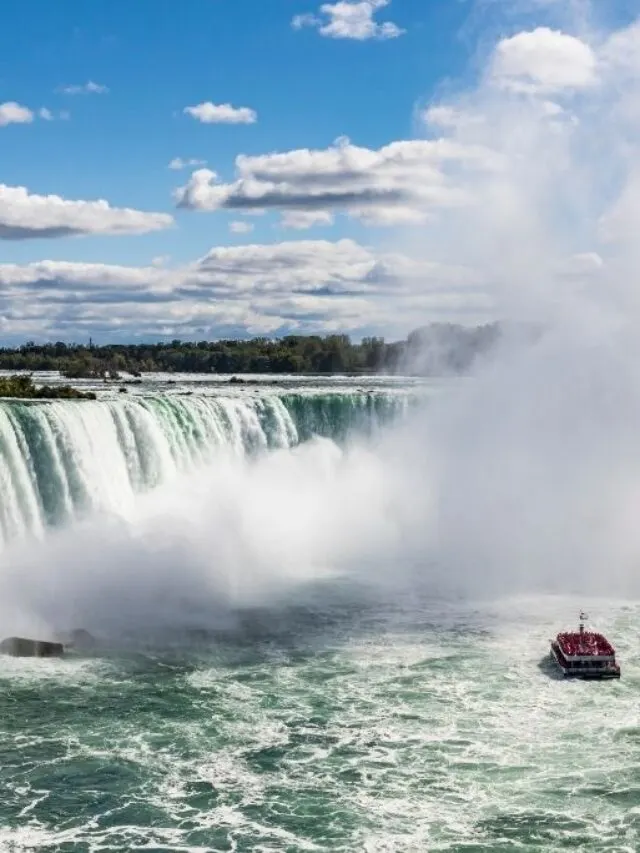 "It's the end of the world and we know it", and by world, I mean road. Because yes my friend, this is the final stop on our New York road trip itinerary!
And I dunno about you but I personally think it's important to end with a big finish, and they don't come much bigger than this!
Because Niagara Falls is famous for being home to one of the world's most amazing and beautiful natural waterfalls. One of those things that makes you proud to be a New Yorker!
Fortunately, there's way more to this corner of New York state than just impressive (VERY impressive!) water features. But, I alos understand if you just want to spend most of your time at the falls.
Things To do In Niagara Falls
Uh … visit Niagara Falls? – I mean, how are you not gonna see it? You have to, really, it's SUPER famous! Although, you really do have to see Niagara Falls with your own eyes to appreciate the full power of its beauty. I have a whole Niagara falls itinerary that guarantees you make the best out of your trip!
First, head over to Niagara Falls State Park to begin your journey, and then head up to Prospect Point to take that all-important selfie. Gotta make those waterfalls more beautiful, amirite? Don't forget to match those amazing pics with the right Niagara falls captions.
If you want, you can even take a ride aboard the Maid of the Mist to see the base of the Falls and refresh yourself in the cascading mists! Just make sure that you pack everything you need for Niagara falls.
What To Eat In Niagara Falls
Zaika Indian Cuisine & Bar – For a vegetarian-friendly taste of India, this restaurant creates dishes taken from royal Indian menus dating back hundreds of years.
Choose from exotic meals like paneer, biryani, rogan josh, dal makhani, and more. Finally, wash it all down with a refreshing lassi, or a yogurt-based drink that can be served sweetened or salted, your choice!
Top of the Falls Restaurant – It's the only restaurant that actually overlooks Niagara Falls! So, as you munch away on your fish and chips, Beef on Weck, or a quality hamburger, you can gaze out the floor-to-ceiling windows at Horseshoe Falls. And if you want, you can even sit on the outdoor dining deck for a closer look!
Where To Stay In Niagara Falls
Wanderfalls Guesthouse and Hostel (Niagara Falls) – If you're looking for a cozy, budget accommodation, and all you really need for the night is a bunk and a pillow, then Wanderfalls Guesthouse and Hostel will be perfect for you.
There are also plenty of different sleeping options available, all of which include comfortable communal eating and living spaces. Yup, it's the perfect place to meet like-minded travelers who have also embarked on one of the best road trips from NYC to see the world-famous Niagara Falls!
Seneca Niagara Resort & Casino (Niagara Falls) – Feel like splashing out on your final New York road trip itinerary stop? Well, this is the place for high rollers and ballin' ballers such as yourself!
I mean, the rooms here are equal parts huge and amazing and include access to jacuzzis, swimming pools and gym equipment. You can even get pampered in the in-house spa, or try your luck in their casino and have yourself a great time!
Map of the Ultimate New York Road Trip itinerary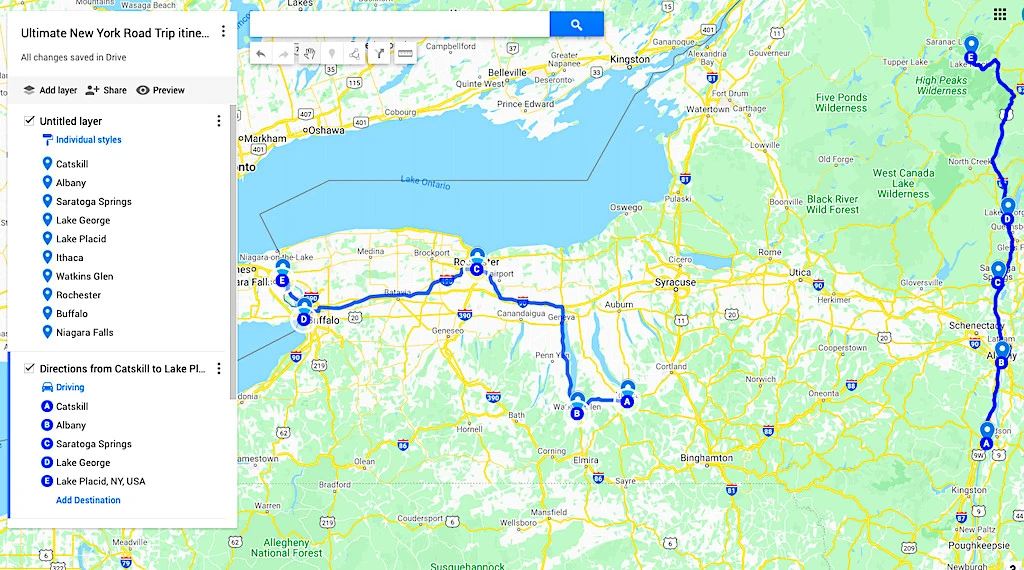 Additional New York Travel Resources You'll Love
Well my road trippin' homies, that just about concludes this epic guide to the ultimate New York road trip itinerary!
Tell me, did all your favorite road trips from NYC make the list? If not then let me know in the comments below and I'll check them out.
And if you found this post helpful, be sure to join our email list and pin this post now so that you can read it again later!