As a resident of New York for 30+ years, I can honestly say that many of the best lakes in New York State are also some of the most beautiful lakes in the USA – if not the world.
Yup, they feature a wealth of exquisite topography and natural beauty that stretches out all the way from Lake Erie in the west to the Atlantic Ocean in the east.
So, if you're ready to experience some of the best lakes in NY, then swan dive into this local's guide right now.
Trust me, it'll get you away from the guidebooks and into New York's vast, super rugged mountain ranges, where you'll find some of the best lakes in Upstate NY.
This way, you can quickly and easily plan a wicked awesome vacay to some of the best lakes near NYC as you paddle, fish, swim, kayak, and ice skate your way through some of the state's most beautiful areas.
This post may contain affiliate links. Please see my disclosure for more information. As an Amazon Associate, I earn a small commission from qualifying purchases.
Best Lakes Near NYC
1. Greenwood Lake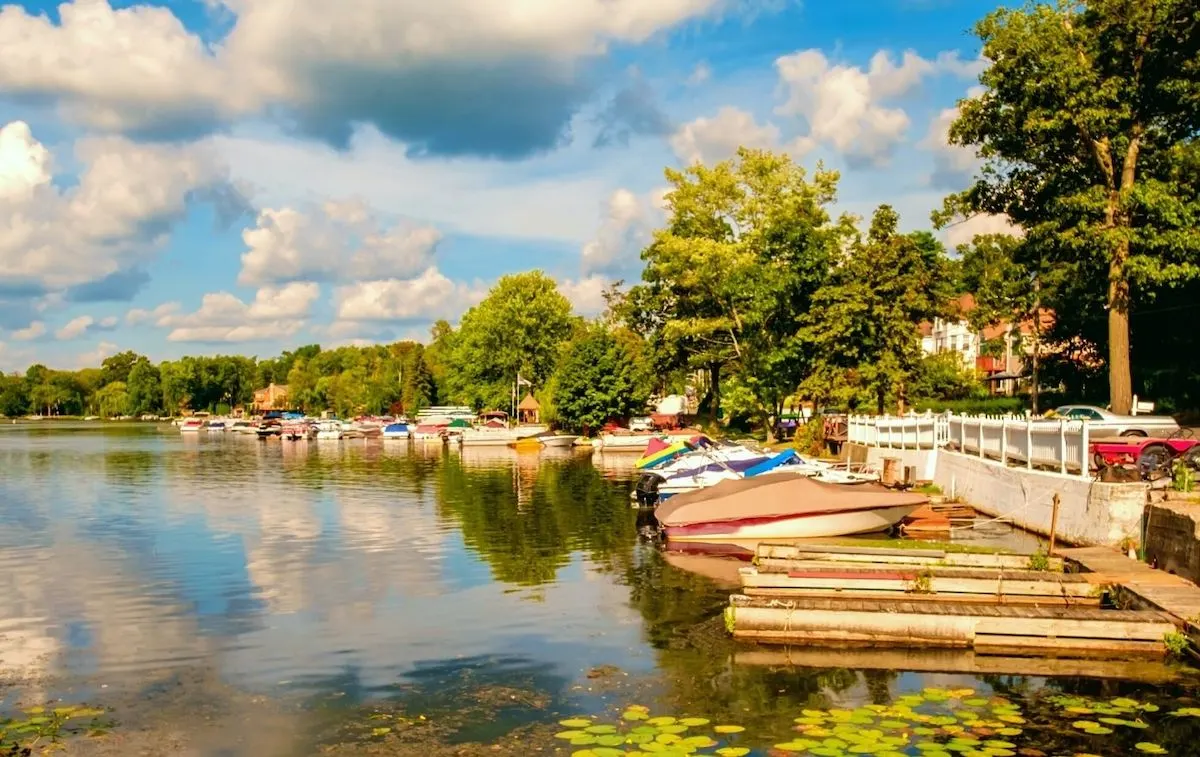 Given all of the best lakes in New York, Greenwood Lake has managed to remain a hidden gem. Situated on the border between New York and New Jersey, this little lake is great for sunny summer beaches, colorful fall leaves, and prime skiing slopes – easily making it one of the best lakes near NYC.
The list of things to do near Greenwood Lake varies quite a lot based on the season. The summer months are filled with swimming, kayaking, and suntanning on the lake.
But as the months get cooler, the list shifts quite a bit. In the fall, you can go leaf-peeping, hiking, and apple picking. And by the time winter rolls around, Greenwood Lake – or more specifically, Mount Peter – becomes a fantastic area for both skiing and snowboarding.
As for where to stay near Greenwood Lake, the options are surprisingly limited. For your best bet, you'll want to stay at the cozy Waterstone Inn. This Victorian-style B&B boasts gorgeous lake views, homey breakfasts, and welcoming guest rooms.
Best Lakes in Upstate NY
2. Saratoga Lake (Capital Region)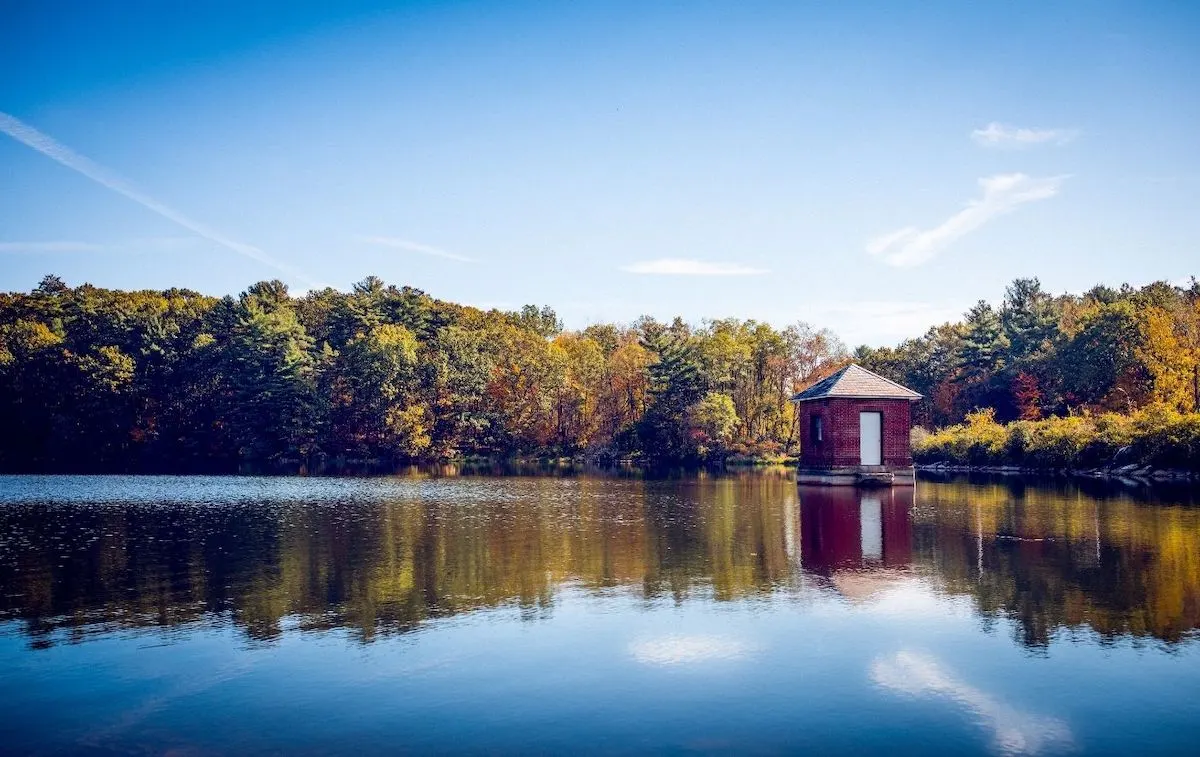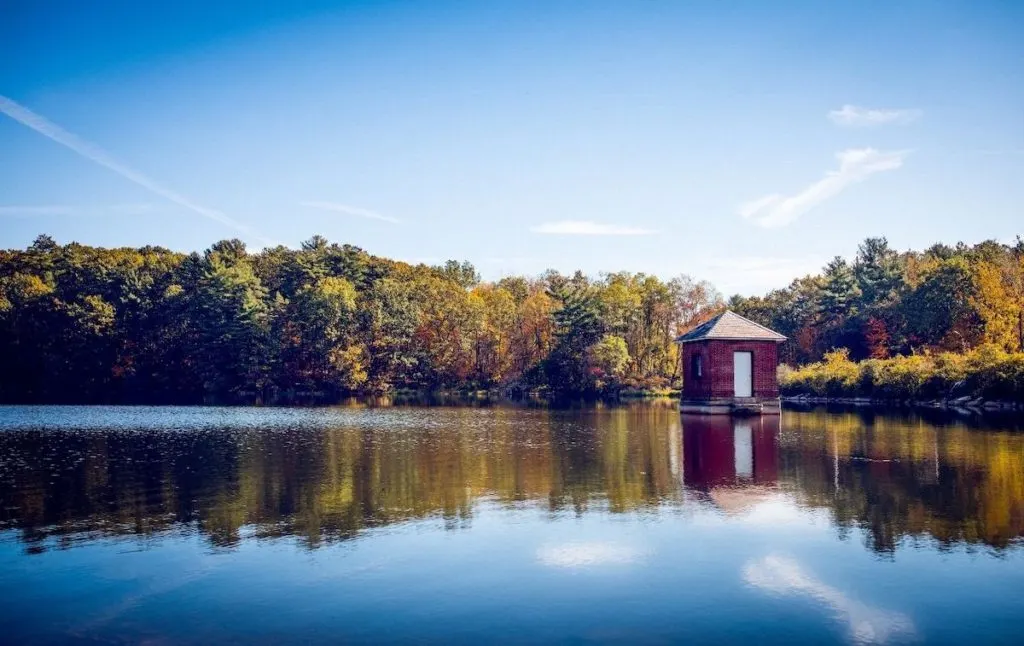 Located just half an hour north of Albany, this lake is one of the most popular lakes in New York. With opportunities for swimming, hiking, boating, fishing, canoeing, and so much more, there's something for everyone to do at this picture-perfect lake!
To add to the appeal of Saratoga Lake, there's also the spectacular town of Saratoga Springs just ten minutes away! While there, you can soak in Saratoga Spa State Park (home to some of the best hot springs in New York), pop by the Saratoga Race Course, stroll through downtown and check out the Saratoga Automobile Museum.
Since both the lake and the town are worth your time, I recommend staying in town and making the short drive to the lake. The Homewood Suites by Hilton Saratoga Springs is one of the most highly rated accommodations in Saratoga Springs.
And with complimentary breakfast, an indoor pool, a well-equipped fitness center, and even a basketball court, there's no question of why! Instead, the only real question is are you ready to book your trip to one of the best lakes in New York?
3,. Avalanche Lake (Adirondacks)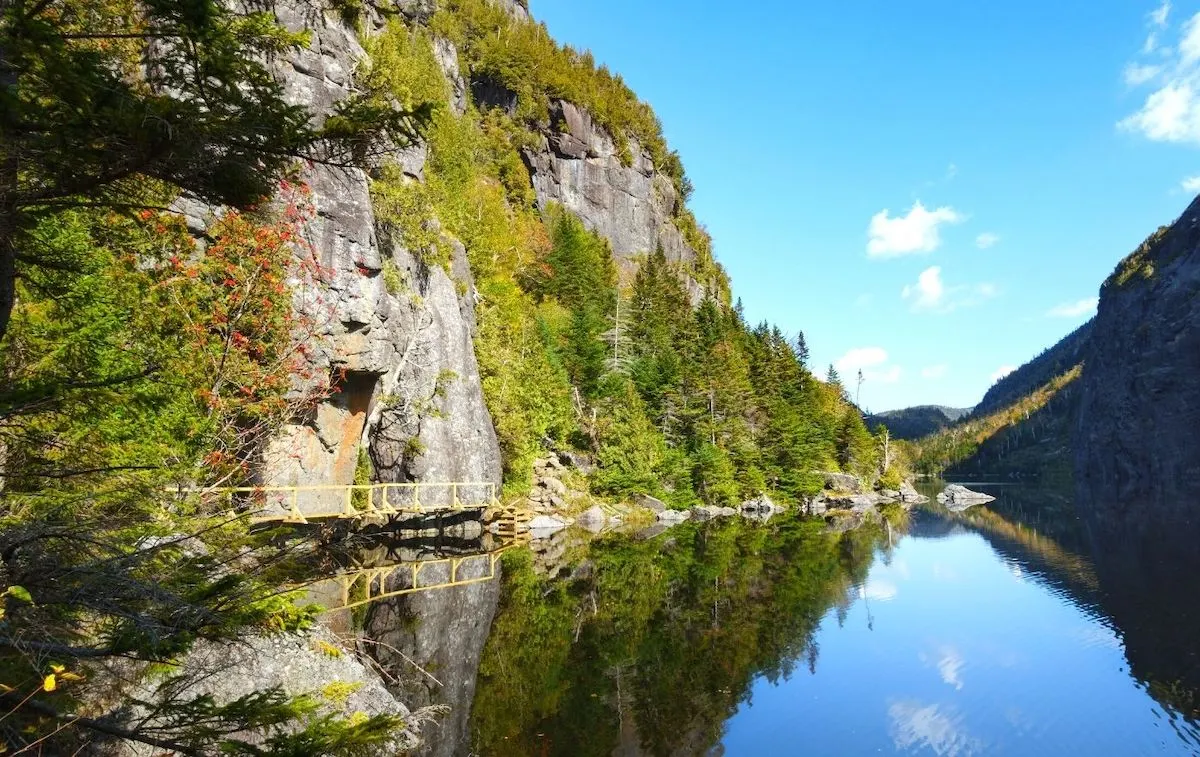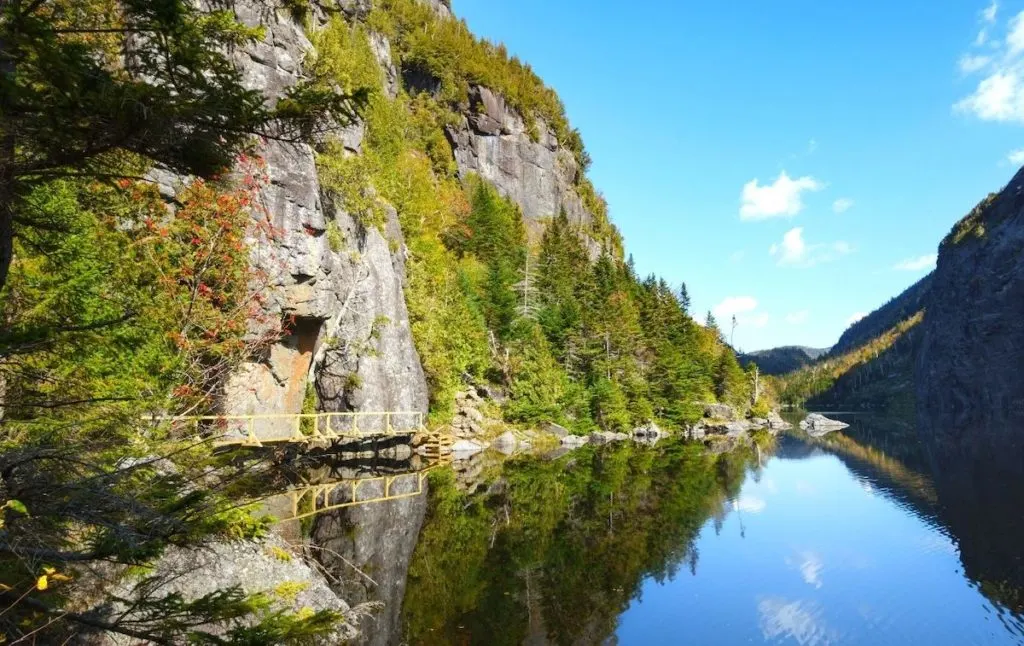 Avalanche Lake is unlike any of the other spots on this list of the best lakes in New York. The first European documentation of Avalanche Lake took place in 1833. But since then, it has changed quite a bit. Two avalanches – one in 1869 and one in 1942 – further changed the topography of this lake. Hence, the name Avalanche Lake.
On top of this unique creation, Avalanche Lake is also distinct in that you have to hike to it. (You can simply drive to all of the other lakes on this list.) There are a couple of different hikes that you can take: the 5.2-mile Adirondack Loj Trail or the 6.8-mile Upper Works Trail, which are both some of the best hikes in the Adirondacks.
Since you have to hike several miles to Avalanche Lake, there are no nearby accommodations. That said, the wonderful Hoot Owl Lodge vacation home is relatively close to the two trailheads.
4. Great Sacandaga Lake (Adirondacks)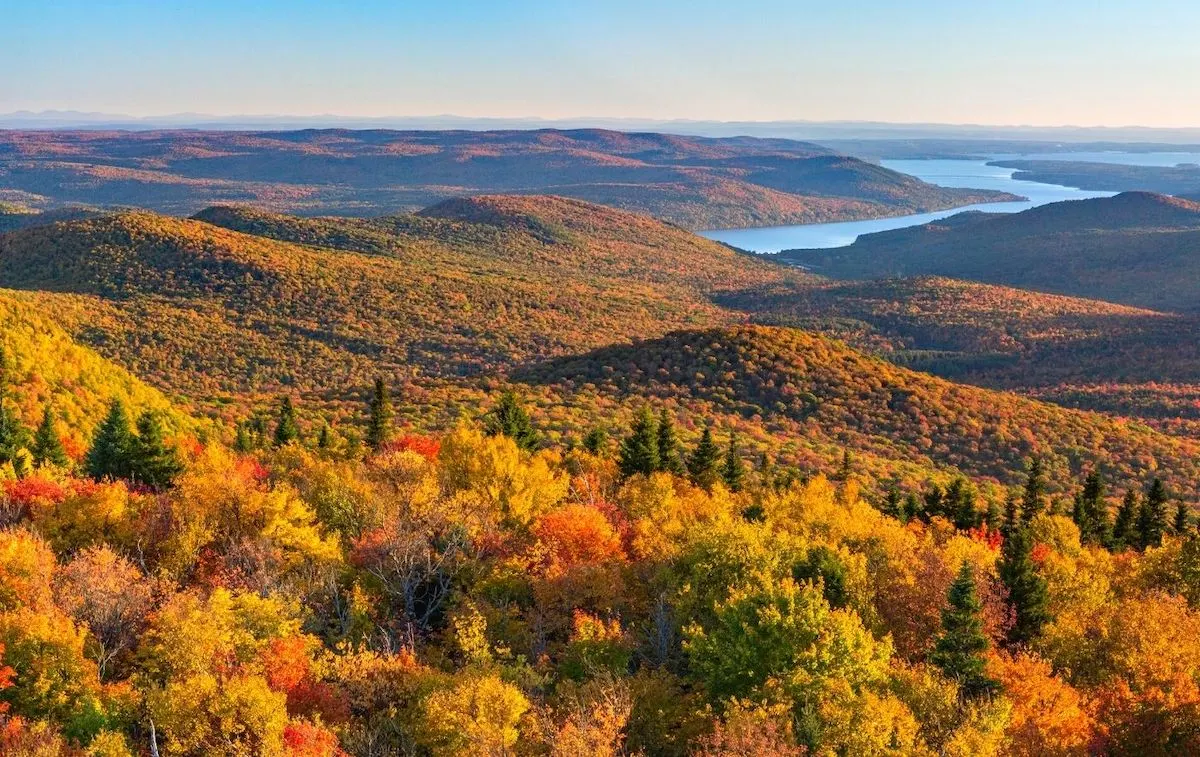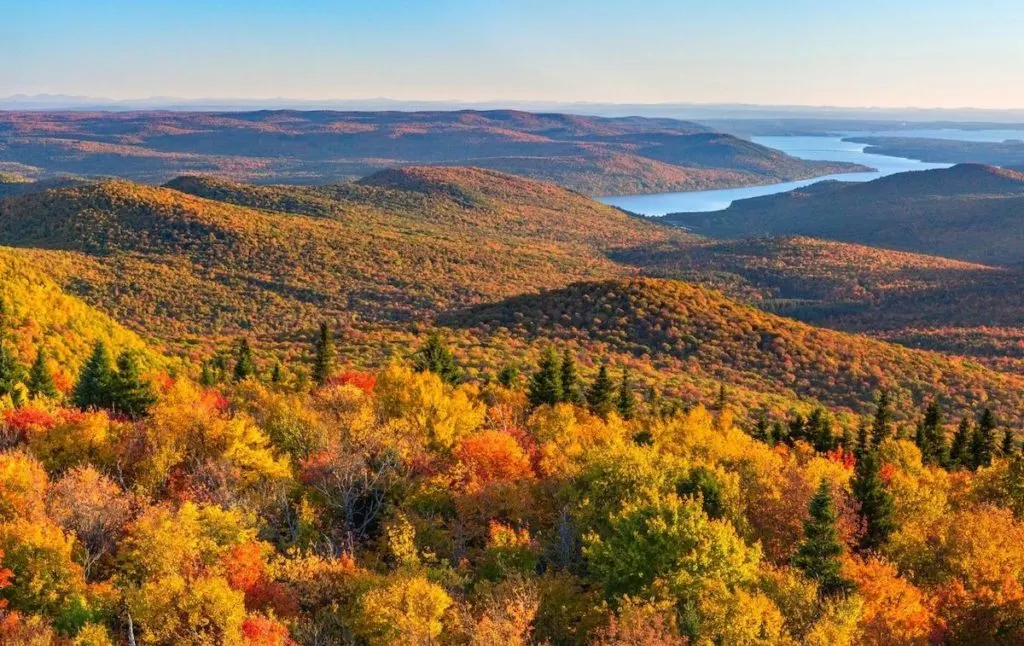 Great Sacandaga Lake is a lovely reservoir nestled in the Adirondack Mountains. It was originally built to prevent flooding from both the Sacandaga River and the Hudson River and has quickly become one of the best lakes in New York.
Today, the Great Sacandaga Lake is an epic getaway destination. While there, you can fish, boat, hike, or simply enjoy the scenery. And what makes this spot even better is that there's so much more to do than lake-related activities.
You can also pop into one of the nearby maple farms, munch on apple cider donuts at Lakeview Orchard, and say hello to all of the friendly creatures at Adirondack Animal Land.
With so many entertaining things to do around Great Sacandaga Lake, it should come as no surprise to find out that there are many incredible places to stay too!
That said, the Inn at the Bridge is one of my favorites. The owners of this adorable bed and breakfast have thought of everything – from extra-plush robes to seasonal breakfast meals to fancy Gilchrist & Soames bath products.
5. Lake Placid (Adirondacks – The Lake itself is Actually Mirror Lake)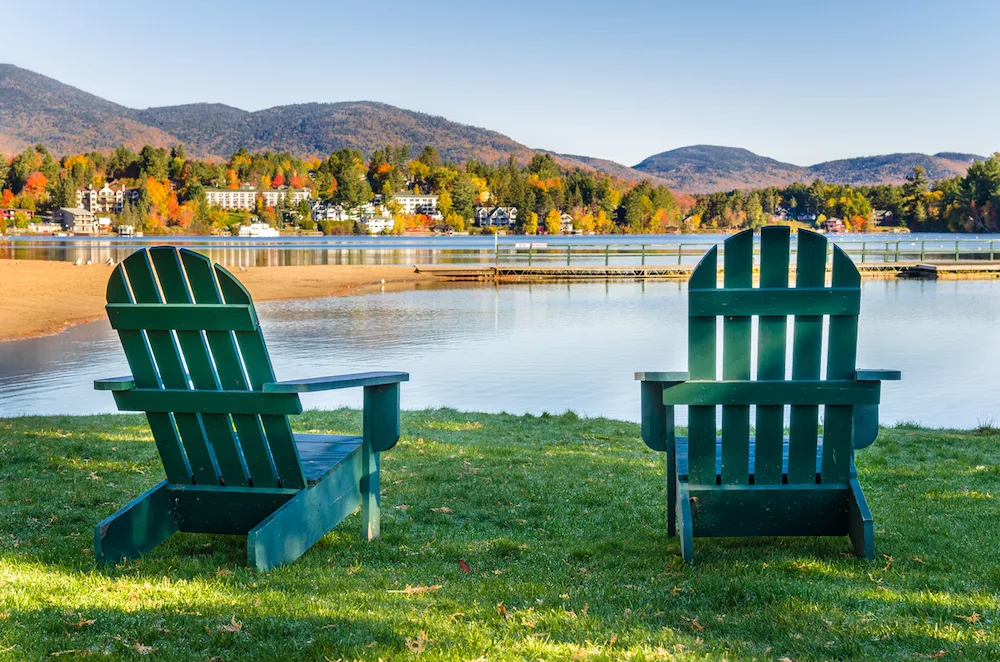 Lake Placid's claim to fame is the fact that this lake and its accompanying town hosted the Winter Olympics, not once, but twice – in 1932 and 1980. Consequently, unlike many of the lakes on this list, the most popular time to visit Lake Placid is in the winter.
There are so many amazing things to do in Lake Placid in the winter – both Olympics-related and not Olympics-related. If you love the Olympics, you simply have to visit the Lake Placid Olympic Center Museum, take a ride on the Olympic bobsled (check the schedule since it can be closed ruing the winter), and test your skills on the Olympic Speed Skating Oval.
But if you want to explore even more of Lake Placidin winter, you can also ice skate on Mirror Lake, ski down Whiteface Mountain, try ice climbing, or grab a beer at one of the best breweries in Lake Placid.
While wintertime in Lake Placid is amazing, the warmer months are fantastic as well since you can experience many other fun things to do in Lake Placid as you explore one of the best lakes in New York. So, swim in Mirror Lake, hike through High Falls Gorge, and cliff jump at Flume Falls.
Regardless of what time of year you pick for your Lake Placid getaway, there are loads of places to stay. But if there's just one that I have to recommend, it's the Placid Bay Hotel. This waterfront hotel is filled with Scandinavian design features, smart appliances, and amazing amenities.
6. Lake George (Adirondacks)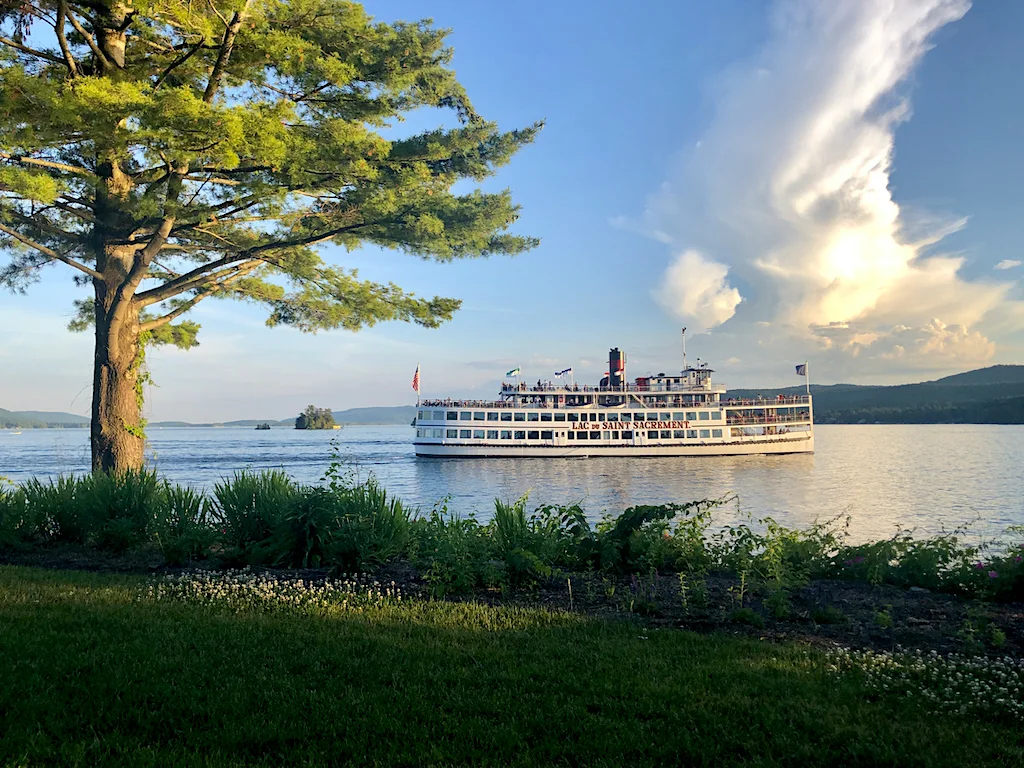 Like Lake Erie, Lake George is another popular New York getaway. And what's great about Lake George is that there's always something to do, no matter what time of year!
In the warmer months, it's the ideal time to take advantage of the water and the greenery. Enjoy a boat ride with the Lake George Steamboat Company, suntan at Million Dollar Beach, trek to the top of Prospect Mountain, and hike to Shelving Rock Falls.
When it gets a little chillier, Lake George boasts a completely different set of things to do. Watch an Adirondack Thunder hockey game, ski down Gore Mountain, visit the Adirondack Christkindlmarkt, grab a drink at an ice bar, and pop by the Lake George Winter Carnival as you enjoy all of the best things to do in Lake George in winter.
But one of the biggest draws of Lake George is the Six Flags Great Escape Lodge & Indoor Waterpark. Open all year round, this indoor waterpark is always kept at a warm 84 degrees Fahrenheit. This means that you can race down all of the thrilling water slides in even the middle of winter!
Given that it's home to Lake George's most popular attraction, the Six Flags Great Escape Lodge is one of the best places to stay in this lakeside town.
In addition to its exciting waterpark, Six Flags Great Escape Lodge is also home to a fun arcade, a handful of delicious restaurants, great Lake George breweries, and a couple of cool souvenir shops as you enjoy one of the top lakes in New York state.
7. North South Lake
Located in the Catskills area, the North South lake is one of the most popular campgrounds in the Forest Reserve. This is because there are numerous attractions around the lake. For example, you can don your hiking boots and head out on one of the numerous trails. Alligator rock, Katerskills falls and Catskills Manor house are popular destinations.
Plus, there are a variety of water activities like boating, fishing, stand up paddle boating, kayaking and swimming. Motorized boats aren't allowed here which is fine. It just means that the quiet and peace of the area is preserved which I personally love. After all, you head to such locations for the peace and quiet, right?
One of the reasons why this is a great place to visit with families, is because all the amenities are in place and are working. For example there are a variety of picnic tables, hot showers, electricity outlets and barbeque grills in the camping area.
If you love wildlife and bird watching, there are a couple of observation platforms and pavilions that you can use. As you can see, the North South lake has everything that you could possibly need at the lake. All that is left is to kick back and enjoy.
8. Lake Champlain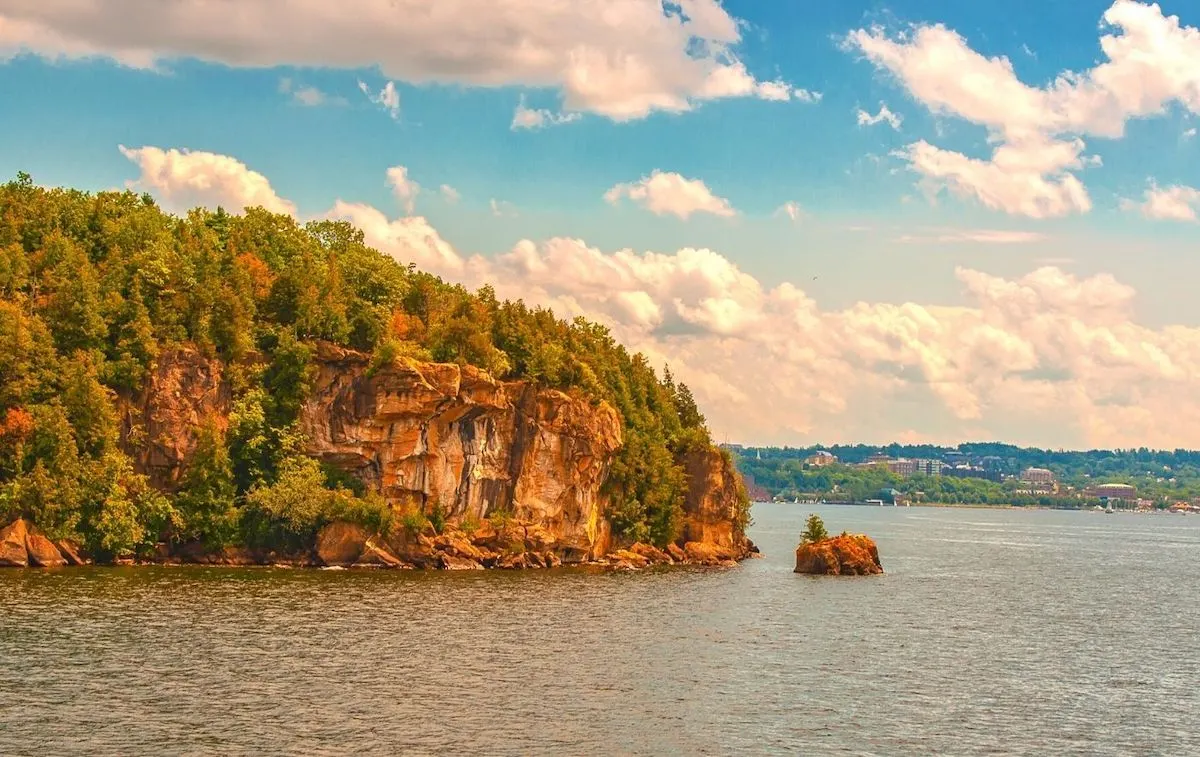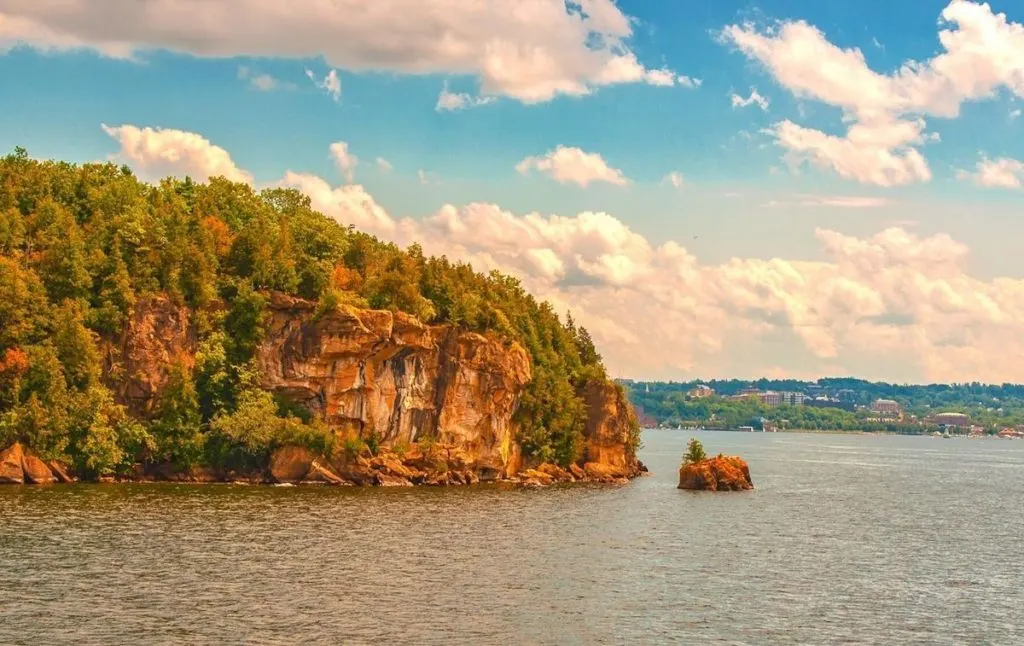 Sitting on the border between Vermont and New York, Lake Champlain is undoubtedly one of the best lakes in Upstate NY. On the Vermont side, this lake is bordered by the stunning Green Mountains.
And on the New York side, there's the lovely Adirondacks. It sounds ridiculously perfect, right?
But Lake Champlain isn't just great to look at. It's also fantastic for outdoor activities! Swim, boat, kayak, hike, and fish to your heart's content.
You can also visit a few of the wonderful islands in Lake Champlain, including Grand Isle, North Hero Island, Isle La Motte, and Valcour Island (although, if we're being technical, only Valcour Island is in New York. The other three are in Vermont.).
While Lake Champlain is best in summer, it's still worth a visit in the winter. As a matter of fact, Lake Champlain also happens to be a great ice fishing destination since the lake typically freezes in the winter.
So, if you're hoping to visit Lake Champlain, one of the best accommodations near Plattsburgh (in the north) is the Point au Roche Lodge.
Located on the New York side of Lake Champlain, this wonderful getaway is actually inside Point au Roche State Park. In other words, it's a spectacular place to escape the city and head into nature.
9. Allegheny Reservoir
Not a natural lake but one that definitely merits mention, the Allegheny Reservoir is located in the Allegheny Forest reserve on the border of New York and Pennsylvania. This man made lake is formed due to the construction of Kinzua Dam. It is definitely one of the best lakes in New York and should go straight onto your bucket list.
The Allegheny Reservoir has a couple of camping sites where you can set up camp and enjoy yourself. If you really want to indulge in a bit of luxury, there is always the option of renting a houseboat. There is nothing better than the mild bobbing of the houseboat as you take in the scenic beauty around you.
Did I mention that the reservoir also has two beaches? If you are headed here just as part of a day trip, make a beeline to these beaches. You can indulge in a lot of fun activities like ATV riding.
Believe it or not, the lake is also a popular destination in winter. That's when everyone pulls out their skis and heads here for cross country skiing. If skiing isn't your thing, then you can rent a snowmobile and join the fun.
10. Lake Minnewaska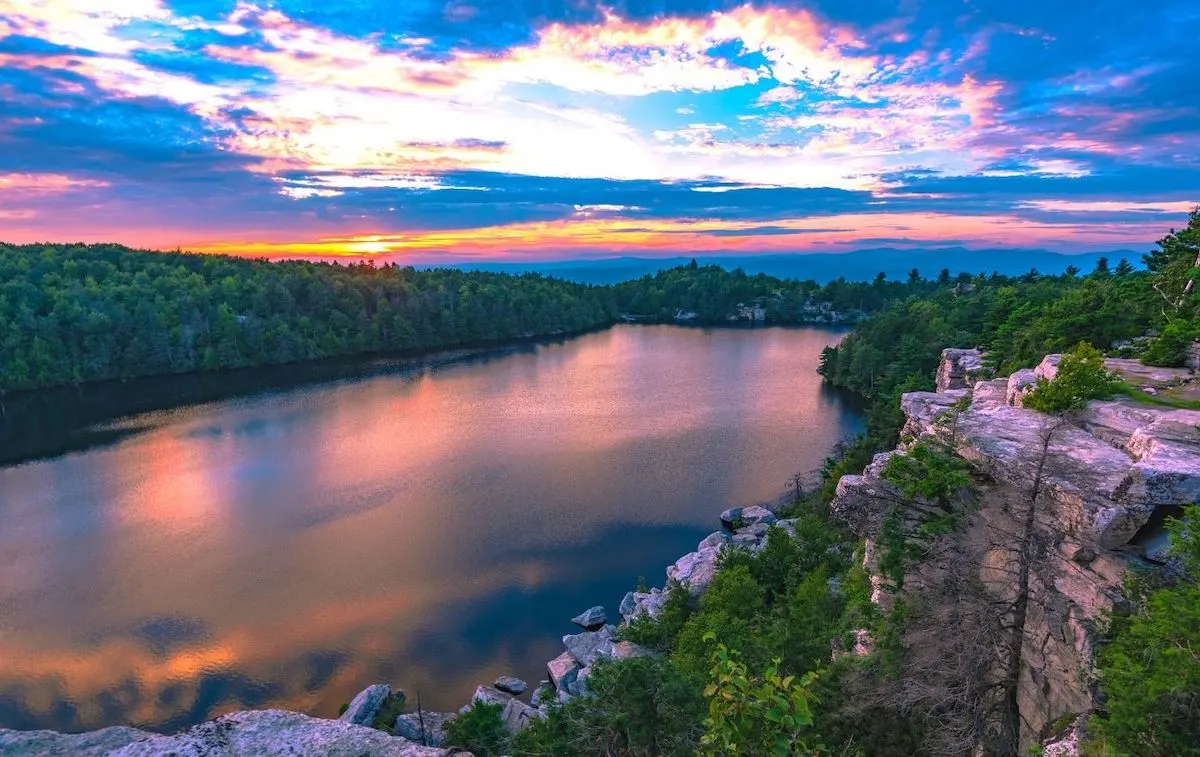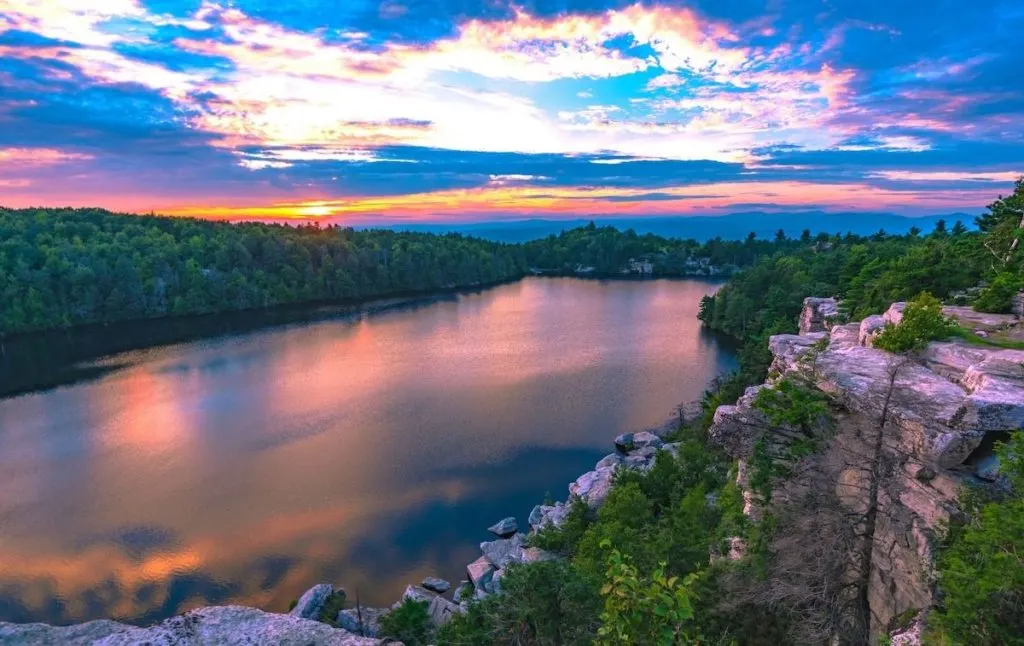 Located near New Paltz in the Hudson Valley, Lake Minnewaska is one of the best lakes in New York to vacation at since it is filled with fun things to do.
In fact, it is surrounded by the Shawangunk Mountain Ridge and well-located in Minnewaska State Park.
Therefore, visitors have upwards of 22,000 acres to explore as they check out local forests, cliffs, waterfalls, and more.
Additionally, the surrounding park is home to 50+ miles of footpaths where you can enjoy some of the best hikes in the Hudson Valley, like the Lake Minnewaska Loop Trail and Gertrude's Nose Trail.
Afterward, drive for about an hour and spend the night at North-South Lake Campground since it is filled with tons of activities that the whole family will enjoy.
Best Lakes in New York – The Finger Lakes
11. Lake Ontario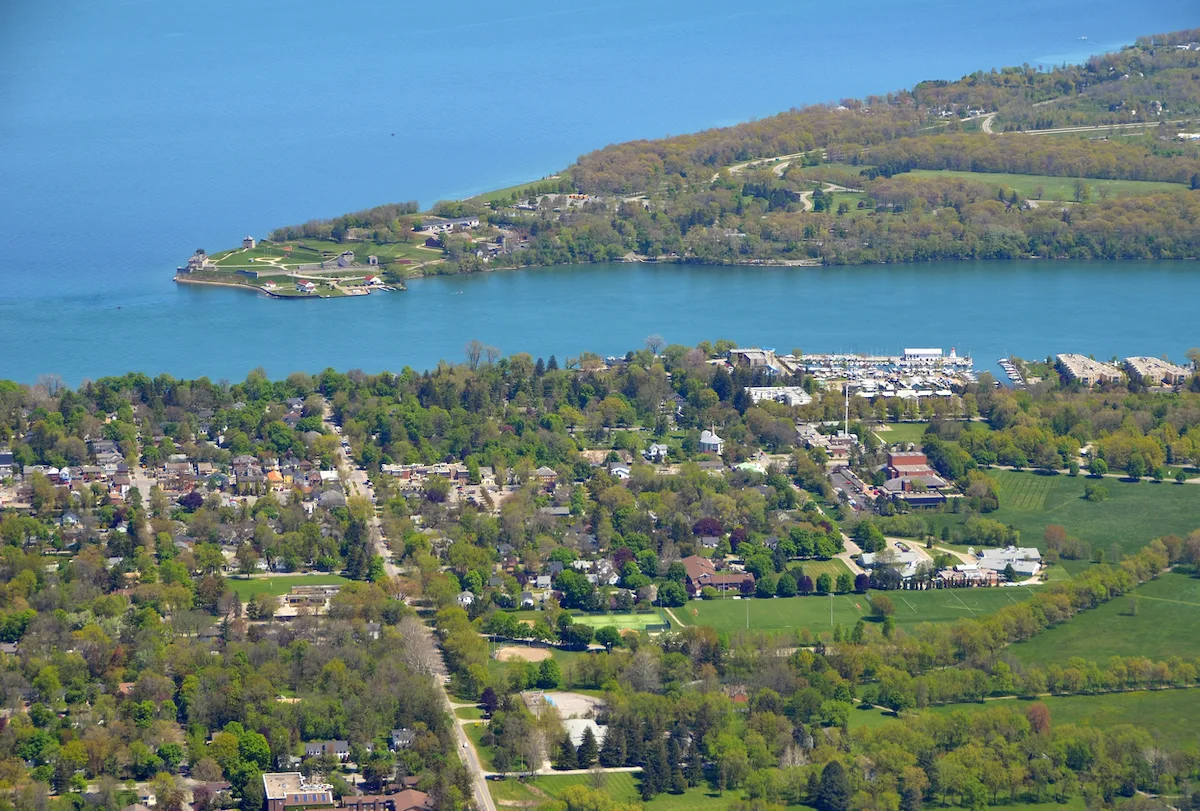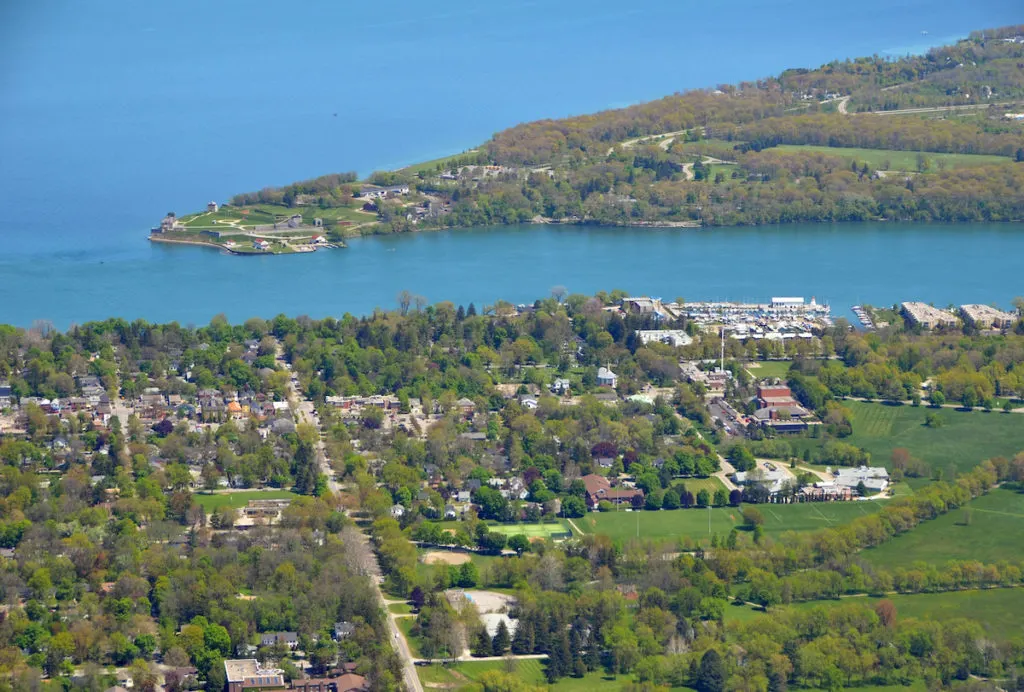 Easily one of the most famous lakes in New York, Lake Ontario is known for being the smallest of the Great Lakes. However, it still comes in at a respectable 7,340 square miles in size and extends out for 712 miles along the shores of upstate New York.
So, do yourself a favor and get out onto the water. Just leave the kayak and canoe at home since this is one of the best lakes in New York that is next-level huge (i.e. you won't be able to see the other side of the lake from shore).
Therefore, get the most out of your visit by renting a motorboat before visiting local attractions like the Chimney Bluffs State Park (it's a great place to hike), the historic Old Fort Niagara, and the lighthouse/museum at Golden Hill State Park.
Afterward, spend the night at the enchanting, Tailwater Lodge Altmar. It's a fabulous, well-priced, Tapestry Collection hotel by Hilton that is situated near Oswego (and Lake Ontario) and that is known for its enchanting rooms and delicious, hot breakfast.
Highlights include free WiFi, flat-screen TVs, and an in-house captain who can help you charter various boat tours and rafting trips through the area.
12. Lake Erie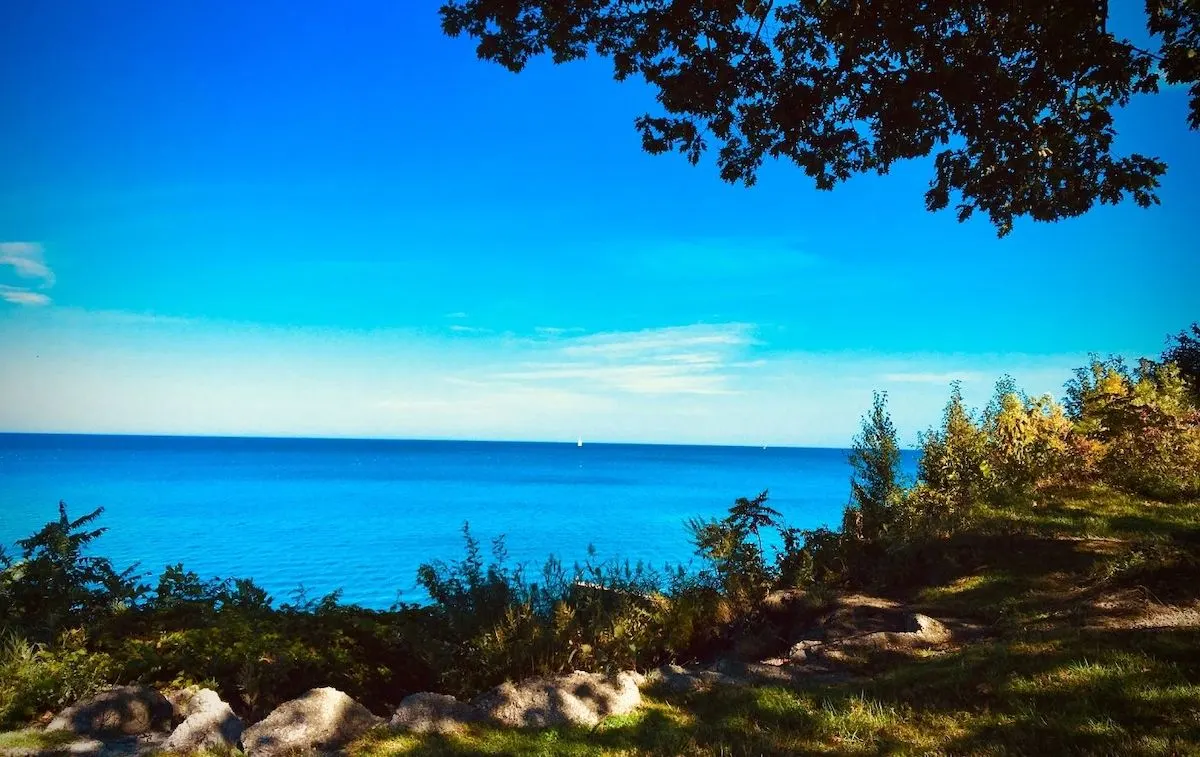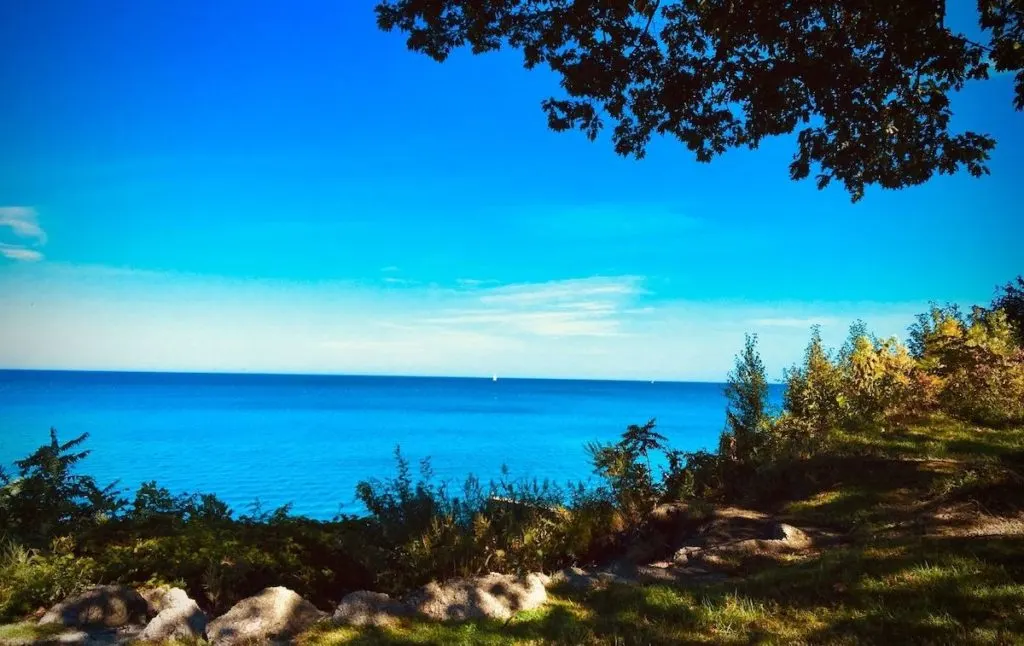 As one of the U.S.' Great Lakes, Lake Erie is by far the largest of the best lakes in New York. At a whopping 9,910 square miles, it actually borders four U.S. states and Canada.
On top of that, it's also the eleventh largest lake in the world! So, yeah, that's pretty dang cool too.
Since Lake Erie is so large, many of the best lake towns in New York lie on its shores, including Evans, Irving, and even Buffalo! But one of the best small towns in New York to stay in while visiting Lake Erie is Westfield.
Westfield is home to one of the most beautiful beaches on Lake Erie: Barcelona Harbor Beach. Try your hand at kayaking, soak up the warm New York summer sun, or even take a peek at the historic Barcelona Lighthouse.
But that singular beach certainly isn't all Westfield has to offer. This lovely little lakeside town is also known for its wineries. Check out the Johnson Estate Winery, the Noble Winery, and the Grape Discovery Center as you explore just some of the best wineries in the Finger Lakes.
To make Westfield even better, stay at the highly-rated Barcelona Lakeside Bed and Breakfast. While at this wonderful accommodation, you can dine on farm-to-table meals, hike one of the nature-laden trails on the property, and finish off your days by the crackling campfire.
13. Oneida Lake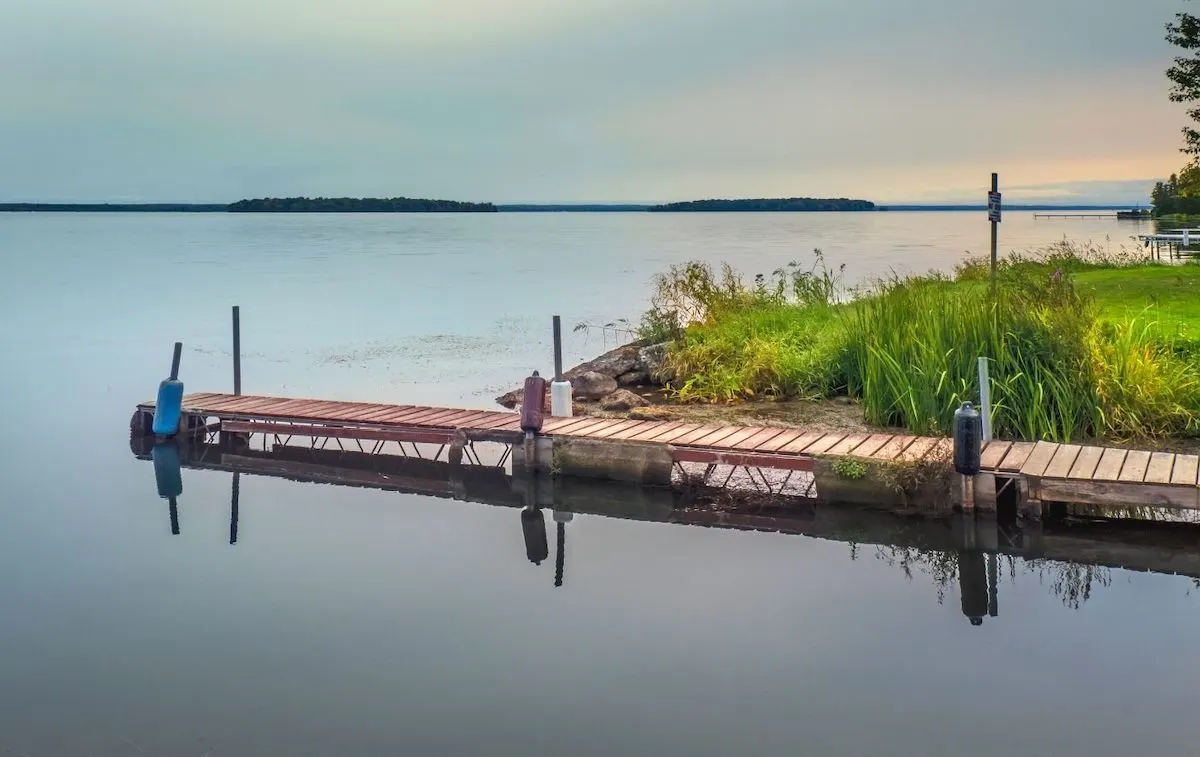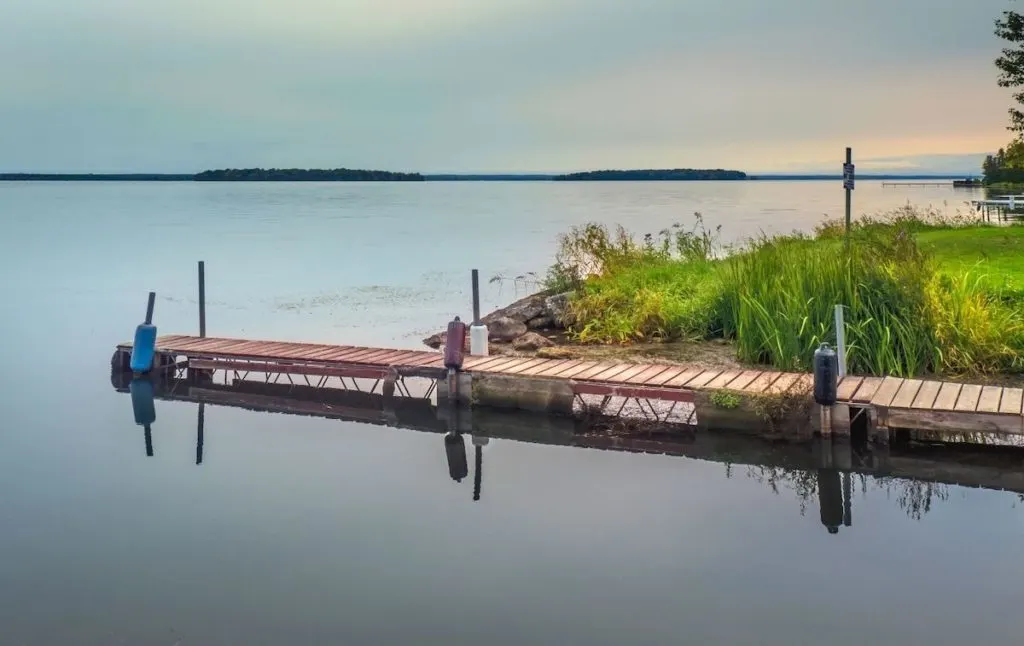 Oneida Lake is one of the largest and best lakes in New York on this list. If we're being technical, this 80 square miles lake is actually the biggest lake that's completely within the state of New York!
Given its massive size, there are tons of activities to do at Oneida Lake. Depending on the season, you can kayak, boat, swim, or even ice fish for as long as you like.
There are even quite a few non-lake-related attractions, including Sylvan Beach Amusement Park, The Wild Animal Park, and the Frenchman's Island Lighthouse.
Many people decide to do a day trip to one of the best lakes in New York state from Syracuse. That said, if you'd like to spend the night, you can book a room at the lovely Fairfield Inn & Suites Marriott.
14. Seneca Lake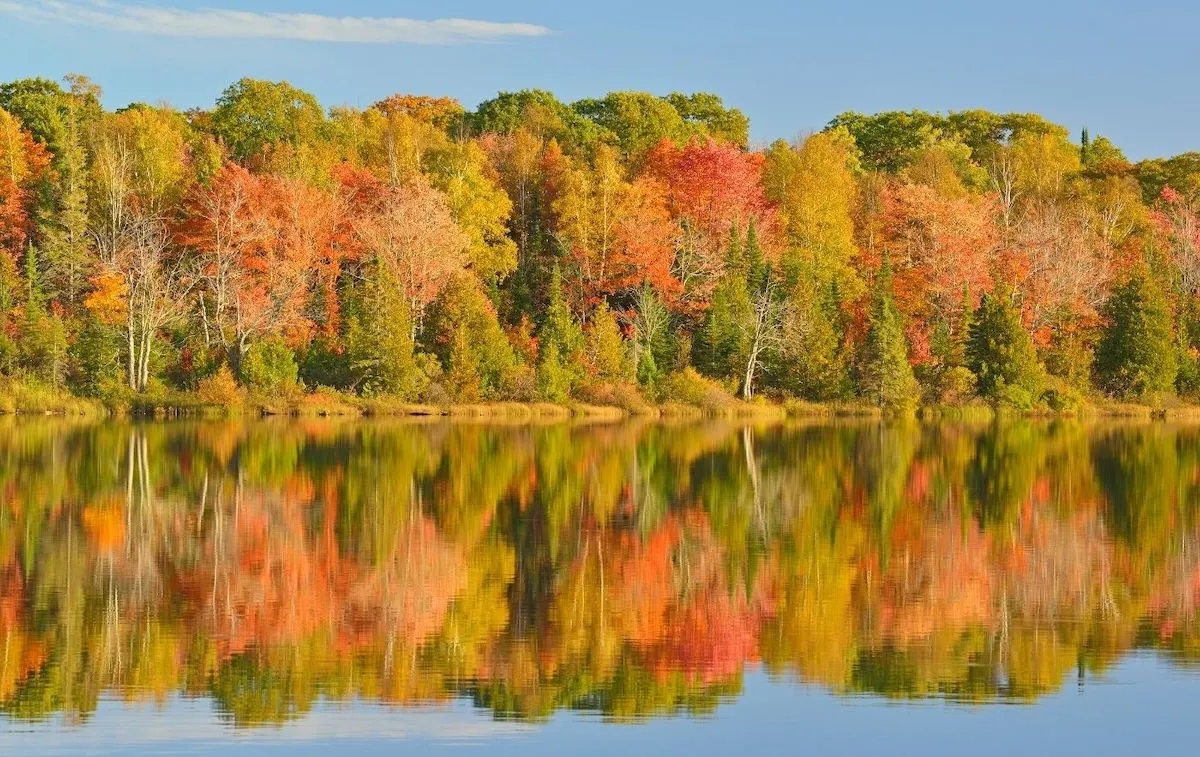 Seneca Lake is the most famous of New York's Finger Lakes. And as you probably expect, many of New York's Finger Lakes are some of the best lakes in New York.
First, let's do a little background on the Finger Lakes in general. There are eleven Finger Lakes in New York, named after their long, finger-like shapes. Today, these lakes are some of the most popular nature-focused destinations in the state.
Seneca Lake in particular is the largest of the Finger Lakes. Due to its unique microclimate, this lake is known for its slew of top Seneca Lake wineries near Watkins Glen!
So, pop by Three Brothers Winery and Estates, Ravines Wine Cellar, and Ventosa Vineyards to sample some of the best vino around.
As for where you should make your home base on Seneca Lake, there are a few different options, but my favorite is Geneva, New York.
There are just so many things to do in Geneva! You can visit Seneca Lake State Park, stroll on Main Street, and spot the Seneca white deer at Deer Haven Park. You can even spend a night at the awe-inspiring Belhurst Castle!
15. Cayuga Lake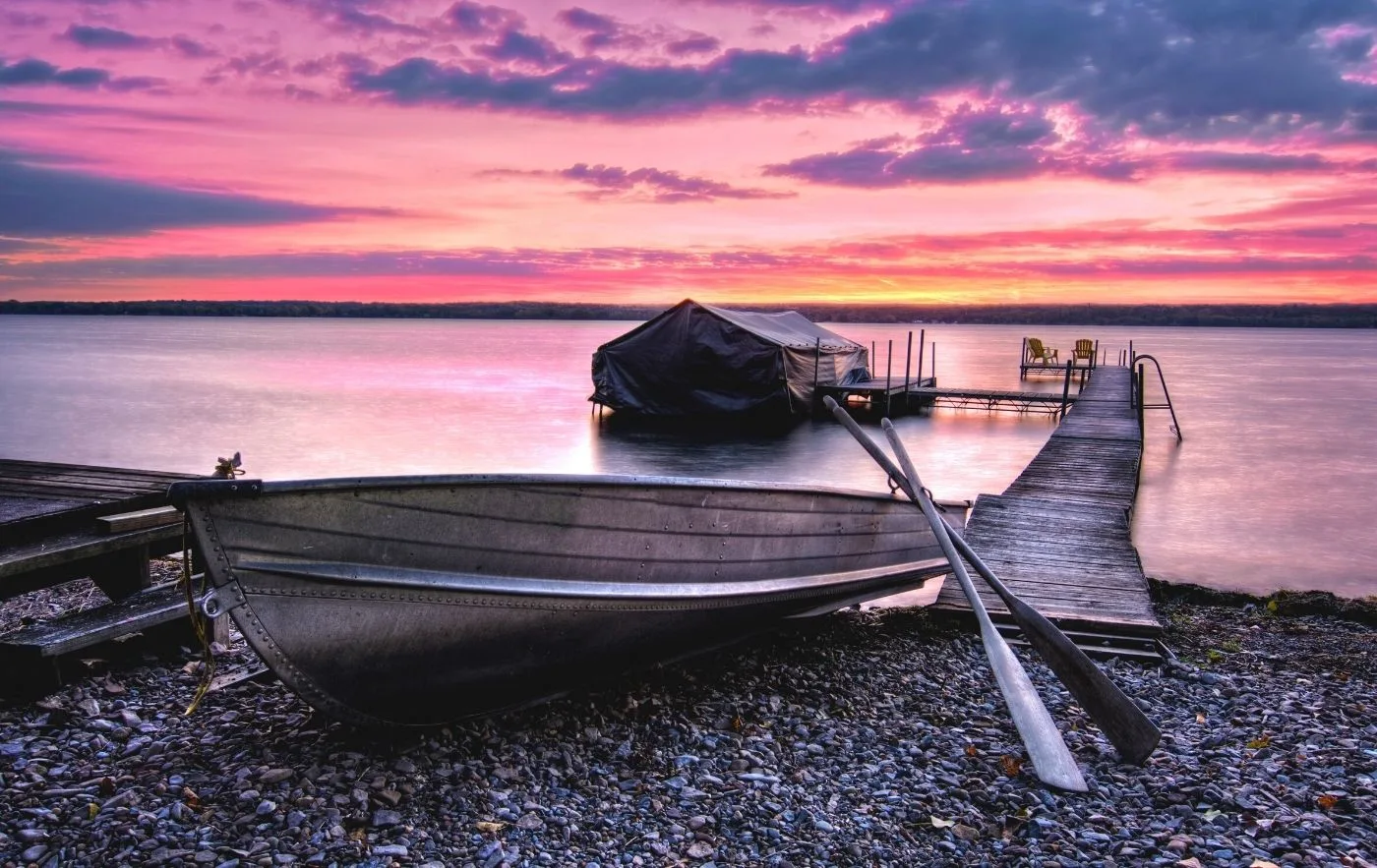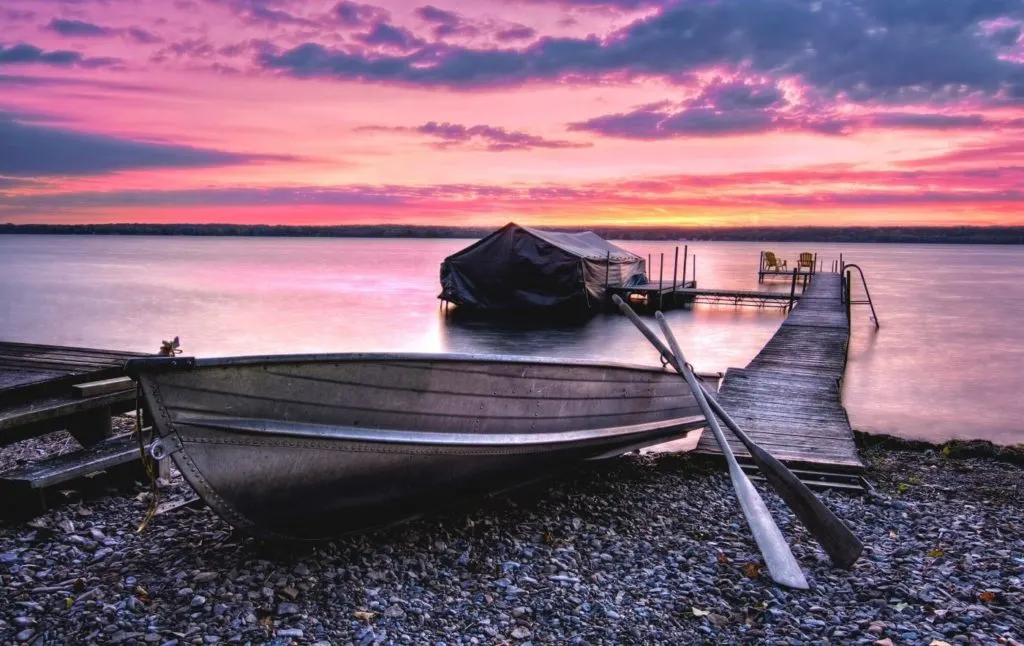 But Seneca Lake definitely isn't the only Finger Lake that deserves a spot on this list of the most beautiful lakes in New York state. Cayuga Lake is another one that is known for being the longest lake in the Finger Lakes region.
One of the most amazing parts of Cayuga Lake is the fact that there's something to do in each season. In the summer, you can swim, boat, and stand up paddleboard to your heart's content.
However, by the time fall rolls around, Cayuga Lake becomes a prime destination for leaf-peeping. In the winter, you can ski, snowshoe, ice fish, and so much more. And last but certainly not least, spring in Cayuga Lake is filled with blooming flowers and fantastic wine tasting tours.
Regardless of which season you choose to visit Cayuga Lake, The Inns of Aurora is an incredible place to stay. In fact, this set of adorable inns is actually a little tiny village set on the banks of Cayuga Lake.
So, wake up with a morning yoga session, take a kayak out on the lake, dine at one of the two fabulous restaurants, and get pampered at the beautiful spa. In other words, The Inns of Aurora is the ideal place for a bit of rest and relaxation.
16. Owasco Lake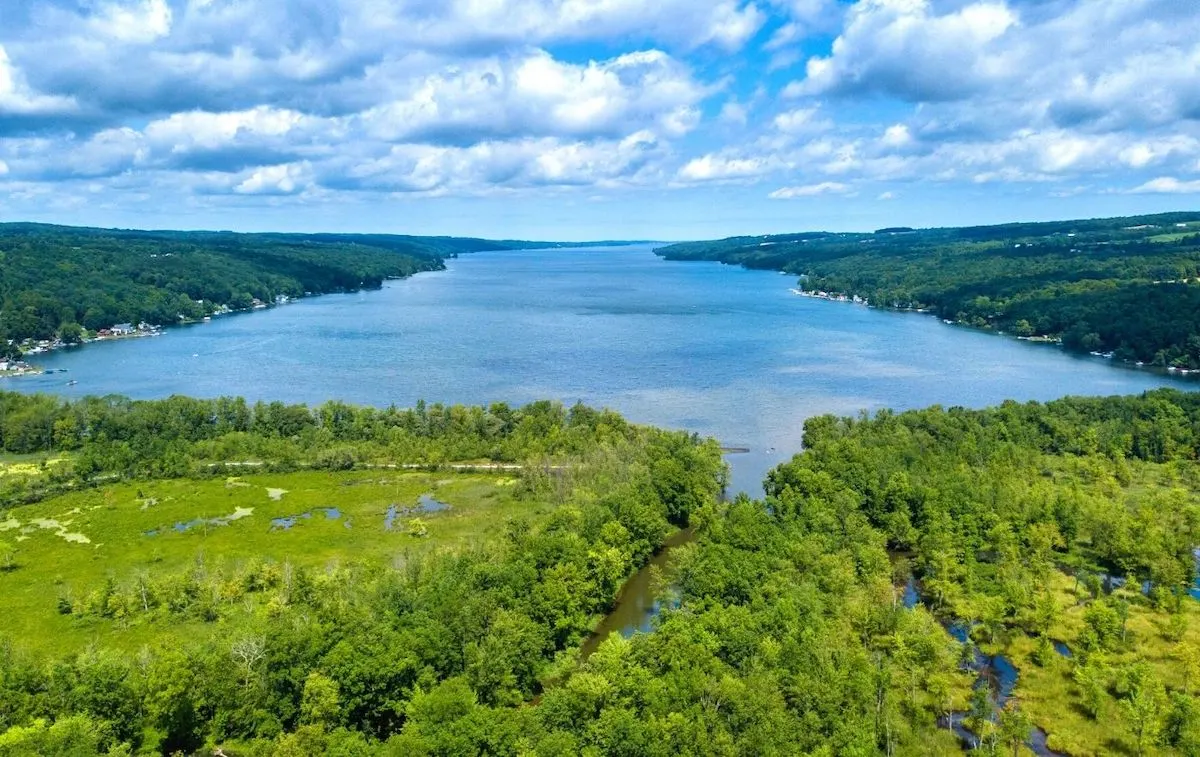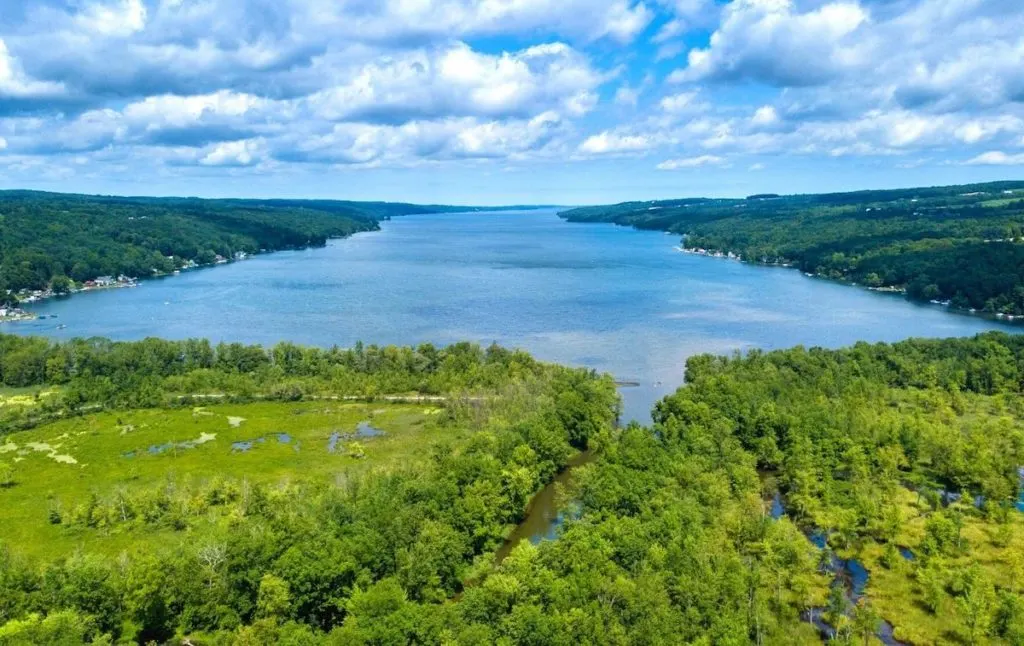 Owasco Lake is another one of the noteworthy Finger Lakes that is also one of the best lakes in NY for swimming. And while it's not the largest or the longest, it's still one of the top lakes in New York state.
Also, one of the most popular things to do at Owasco Lake is swim! Since it's one of the shallowest Finger Lakes, it also heats up more than the others, making it perfect for a wonderful summer swim.
But, swimming is just the start of the awesome things to do at Owasco Lake. You can also hike around Fillmore Glen State Park, enjoy a picnic at Emerson Park, and pop by the historical Harriet Tubman Home.
Since Owasco Lake is one of the smallest of the Finger Lakes, there aren't many lakefront hotels to choose from. That said, Springside Inn is just one of two waterfront accommodations on Owasco Lake, and it's really the only one you need.
As soon as you drive up to this bright red, cozy inn, you'll feel right at home. And as you explore the property, you'll find even more to love!
Stay in a classic room, grab a meal at the Oak and Vine restaurant, and make some s'mores over the crackling campfire.
17. Canandaigua Lake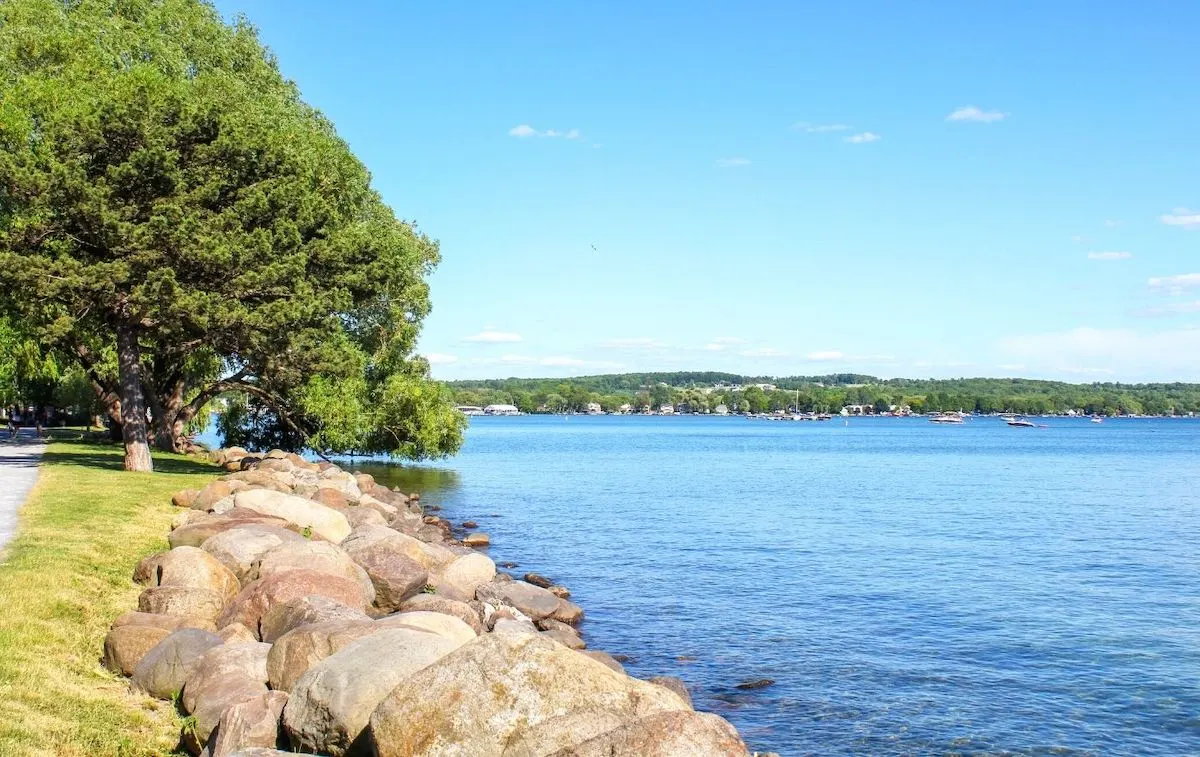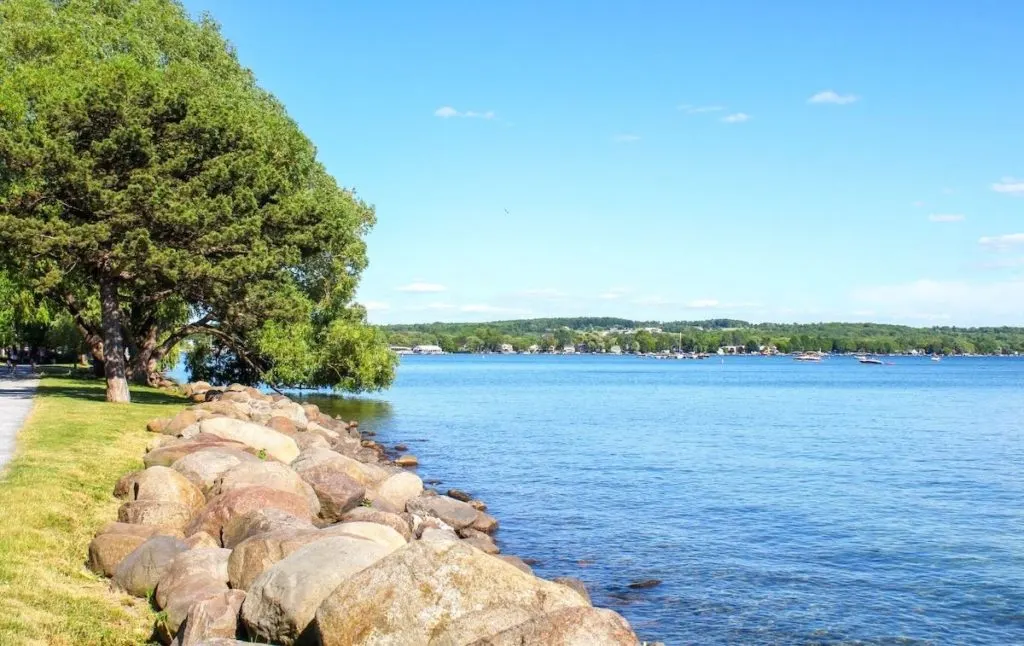 Despite the fact that Canandaigua Lake is part of the Finger Lakes, it has found a way to set itself apart from the pack. And that is with Squaw Island.
Squaw Island is one of only two islands in the Finger Lakes. And this little island is one of the coolest things to see in the region and on this list of the best lakes in New York state.
Because while you're there, you can kayak in its peaceful waters, look for the limestone oncolites, learn about the area's fascinating history, and keep an eye out for loads of birds!
As if that weren't enough to make Canandaigua Lake unique, this particular Finger Lake is also home to the Canandaigua Lady. This 1800s-style paddleboat still takes guests across this beautiful lake, just as its original version did nearly 200 years ago!
With all of these distinctive features, it's no wonder why Canandaigua Lake is one of the top lakes in New York state! So, if you decide to visit, you should stay at the Canandaigua Cobblestone Cottage Bed and Breakfast.
This little B&B has only three rooms, but all of them are filled to the brim with country charm. Enjoy a top-notch breakfast on a farmhouse table, warm up by your room's fireplace, and spend a few hours on the cozy front porch.
18. Keuka Lake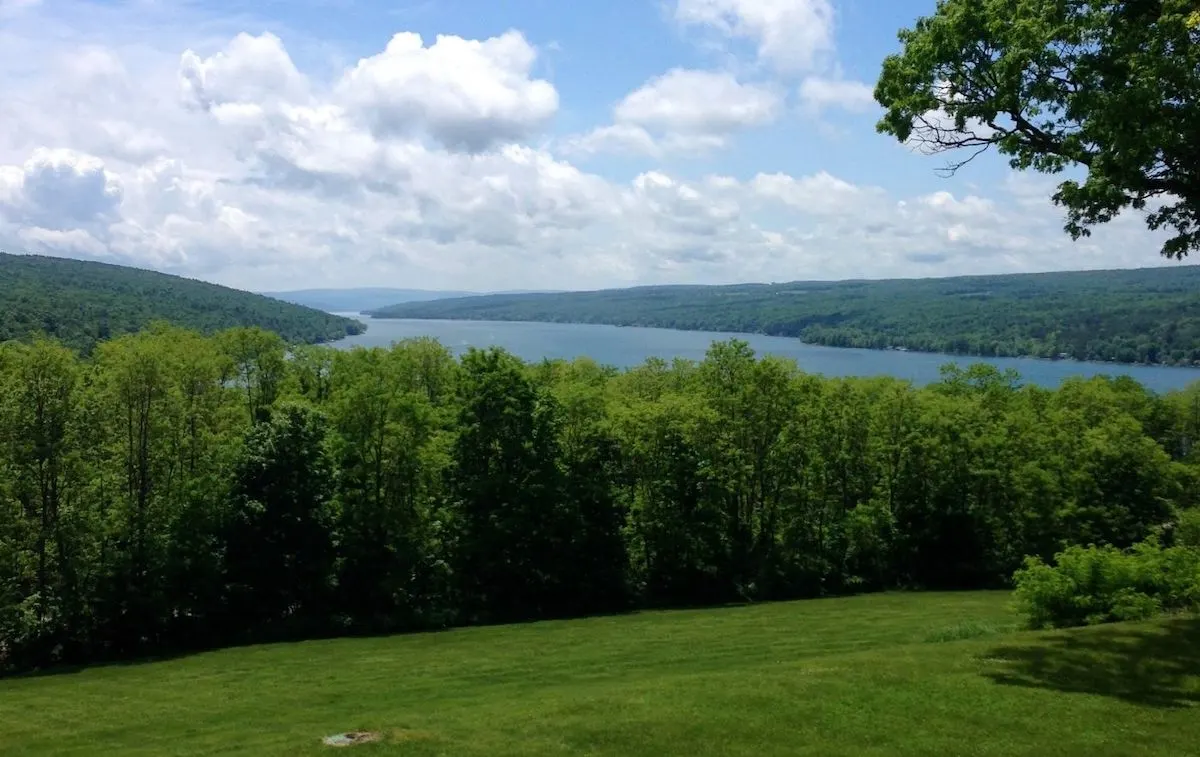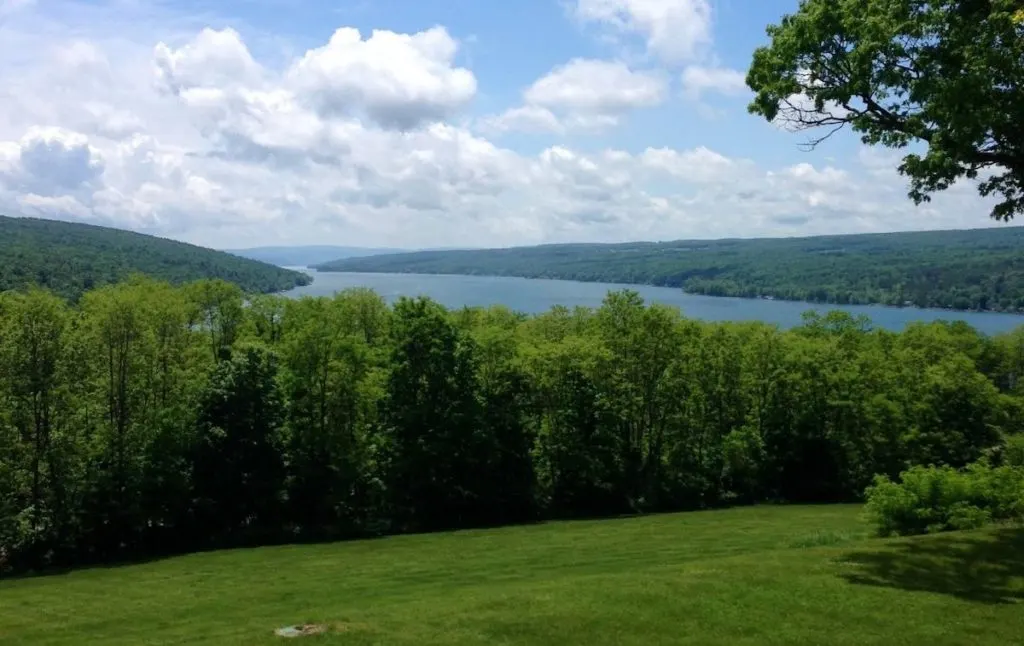 Like Canandaigua Lake, Keuka Lake has found a way to separate itself from the rest of the Finger Lakes. As a matter of fact, it has found a way to distinguish itself from all of the lakes in the United States!
See, Keuka Lake is the only lake in the entire country that flows backward (from South to North, rather than from North to South). And what makes this phenomenon even more mind-blowing is the fact that this wasn't always the case.
Once upon a time, when Keuka Lake was just the western and southern branches, it flowed North to South, just like every other lake in the country. But when nearby glaciers began to form the eastern branch of Keuka Lake, the flow switched directions and the rest as they say is history at one of the best lakes in New York!
And that's just the start of Keuka Lake's fun facts. Another interesting tidbit about Keuka Lake is that it means "Canoe Landing" in the Iroquois and Seneca languages. This is especially appropriate since this lovely lake is great for all types of paddle sports, including canoeing, kayaking, and stand-up paddleboarding.
Last but certainly not least, if you're looking for a place to stay on Keuka Lake, there are quite a few fantastic inns and hotels, including the Best Western Plus The Hammondsport Hotel.
Enjoy a complimentary hot breakfast, go for a swim in the indoor heated pool, and get a workout in at the well-equipped exercise facility.
19. Skaneateles Lake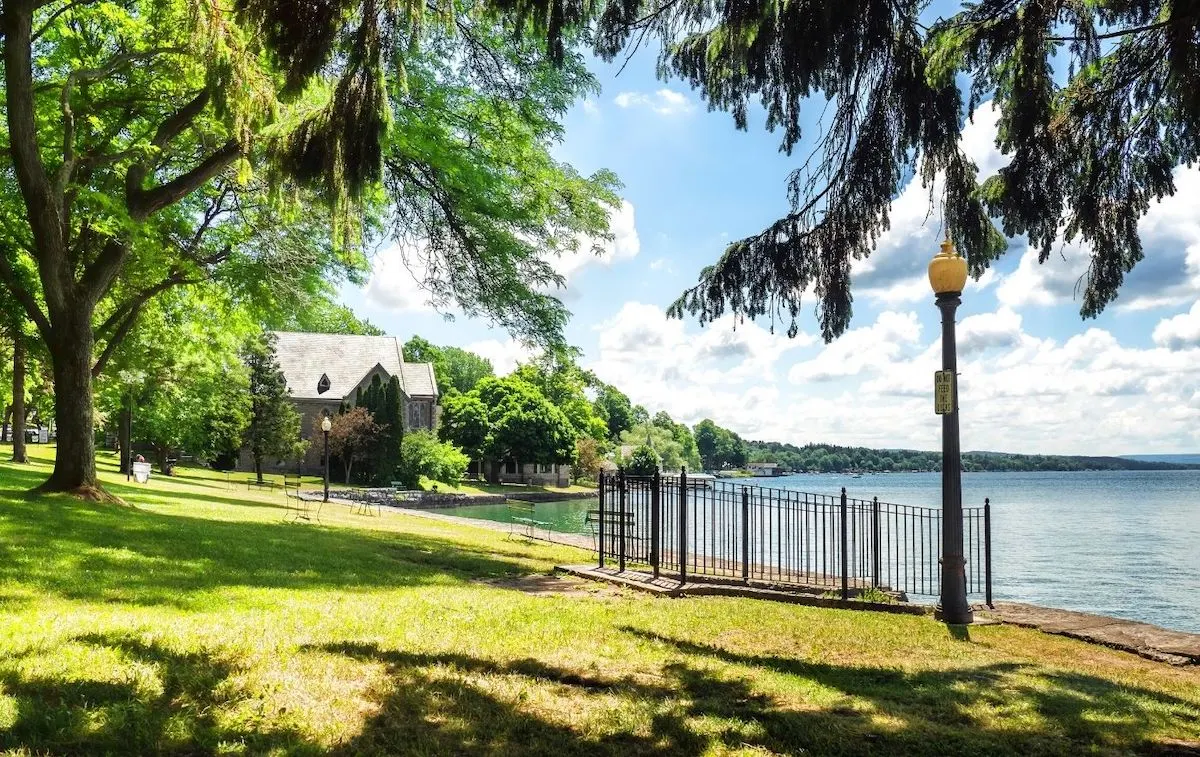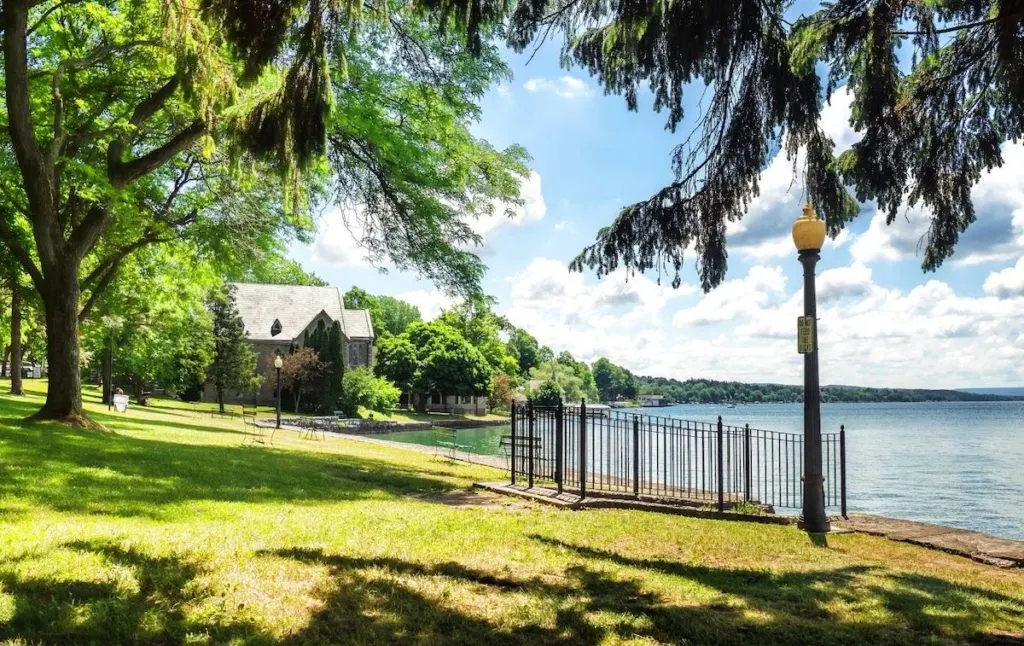 Skaneateles Lake (pronounced skanny-atlas or skinny-atlas) gets the title of the cleanest lake in New York. As a matter of fact, this lake supplies the drinking water for the entire city of Syracuse and a few other nearby towns too!
That makes it one of the best lakes in New York that supplies water to over 220,000 residents!
And since Skaneateles Lake is so clean, it also means that it's great for water sports. Just imagine all of the cool underwater pictures you can get in such pristine conditions!
And while part of the appeal of Skaneateles Lake is the lake itself, the adorable little town of Skaneateles is also a major draw. This town is filled with friendly people, thriving greenery, and cute shops.
So, stop and smell the flowers at Lockwood Lavender Farm, enjoy a few shots at Last Shot Distillery, and pop by Anyela's Vineyards.
Also, because Skaneateles is so adorable and right on the lake, I highly recommend staying at one of the accommodations in town. My pick would be the Skaneateles Boutique Hotel. With spa tubs outfitted with water jets, a three diamond ranking, and a prime location, it's absolutely fantastic.
20. Canadice Lake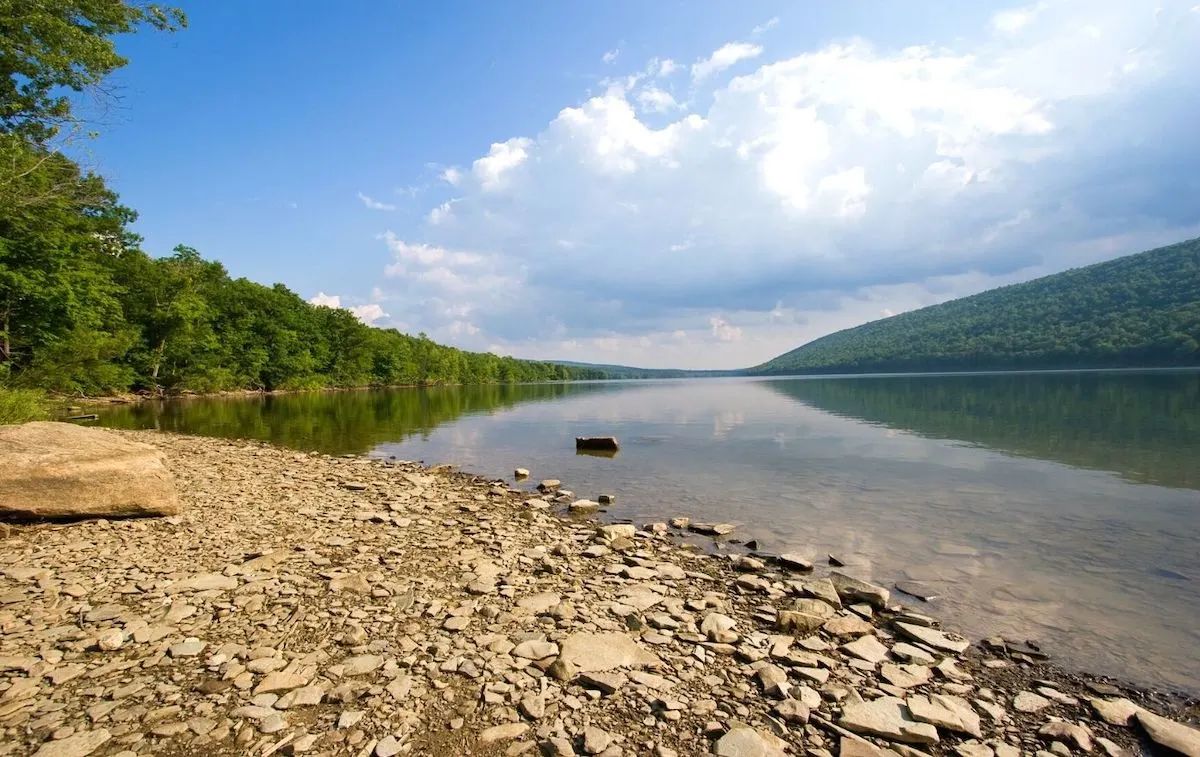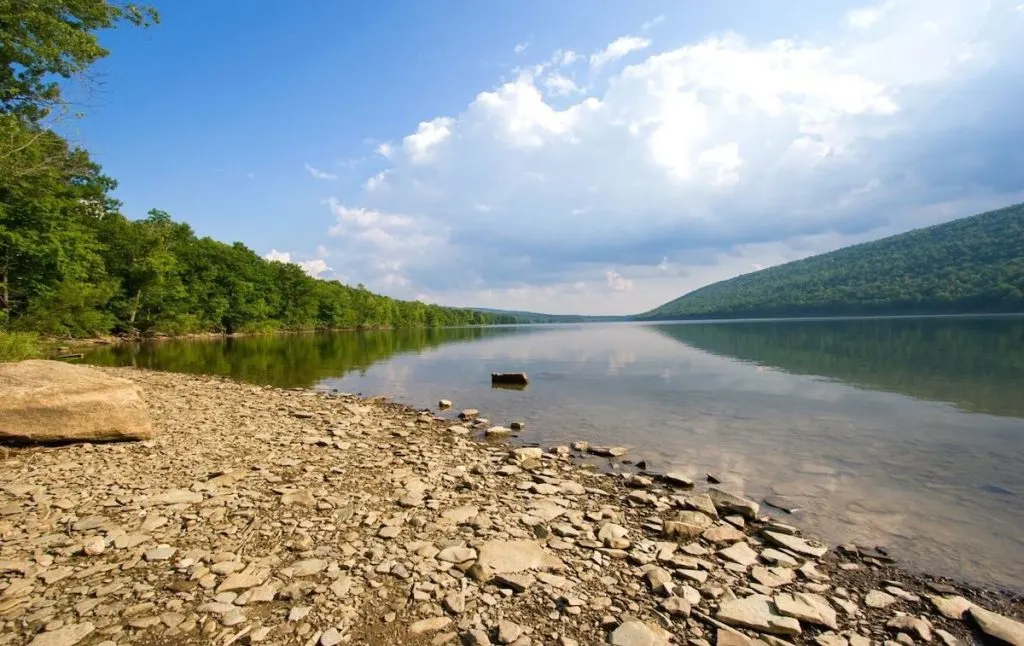 Canadice Lake is the last of the Finger Lakes on this list. (After all, it would've been a little silly to put ALL eleven of the Finger Lakes. I decided to top it at seven of them.)
While most of the Finger Lakes have one superlative, Canadice Lake has two! It is both the smallest Finger Lake and the highest Finger Lake.
The City of Rochester uses Canadice Lake as a water reservoir. Consequently, you can't do as many activities at this lake as you can at many of the other best lakes in New York.
For example, you won't find any development along the banks of Canadice Lake, and you won't see anyone swimming in it either. That said, there are still many wonderful things that you can do at and around Canadice Lake.
You can go kayaking, birdwatching, or even skiing! But the most popular activity to do near Canadice Lake is go on a hike. Some of the best nearby hiking trails include Rob's Trail, the West Lake Trail, and Willow Oak Trail.
And if you're looking for a few more ideas, check out Hemlock-Canadice State Forest.
But, if you're hoping to take an extended hiking trip, you'll need a place to stay! But since development isn't allowed around the lake, you'll have to drive a little further out.
About half an hour away, you'll find Greenwoods Bed & Breakfast Inn. This cozy cabin-like lodge fits in perfectly with all of the gorgeous nature in the area.
21. Chautauqua Lake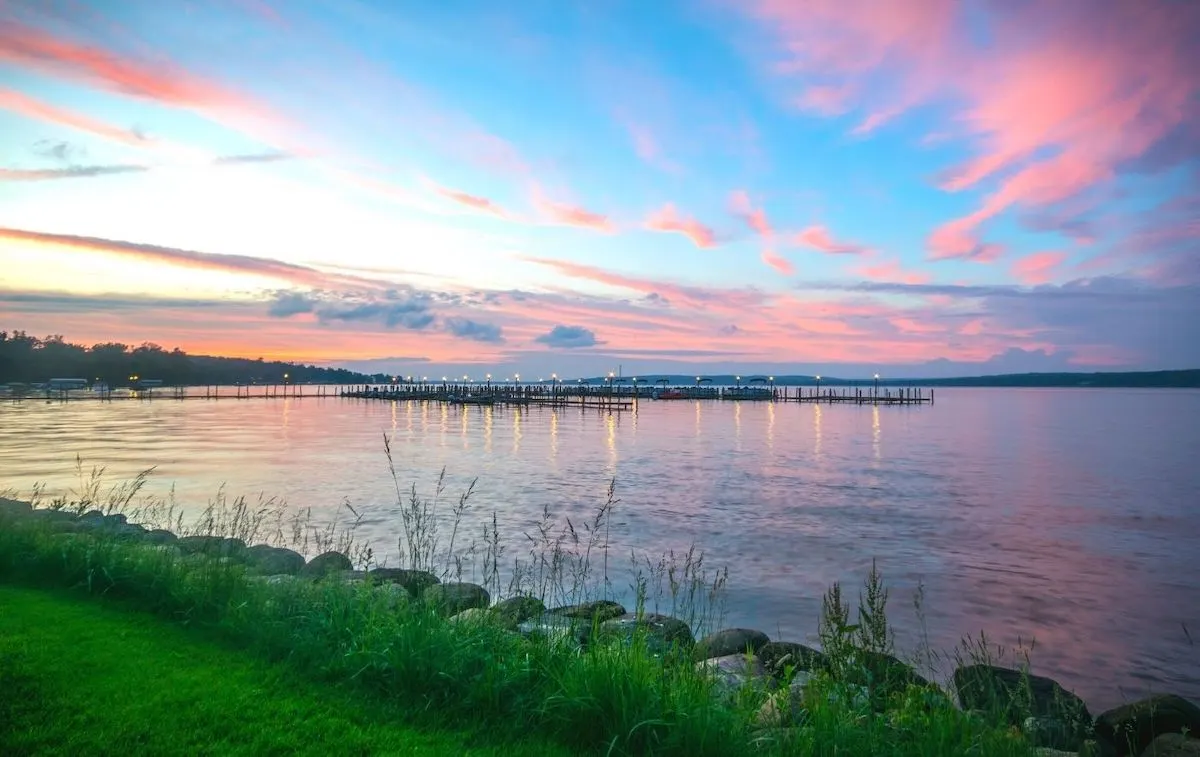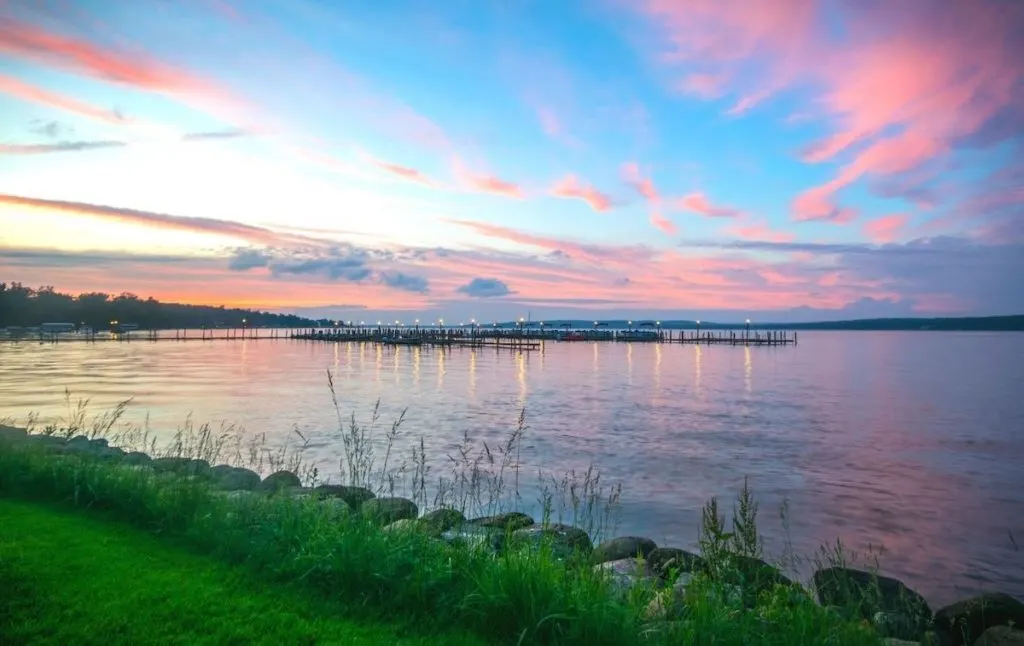 Chautauqua Lake is known as the "thumb of the Finger Lakes" due to its positioning, but it's technically not considered one of the eleven Finger Lakes.
This lake is known for all sorts of watersports, including sailing, boating, and stand-up paddleboarding. But it may be even more famous for its fantastic muskellunge fishing.
Muskellunge – also known as muskie – is a type of large freshwater fish. These fish are so large that many 40- to 50-inch muskies are caught in Chautauqua Lake every year!
Most of these muskies actually start their lives at the nearby Chautauqua Fish Hatchery before they are released into Chautauqua Lake. So when you're ready to catch a massive muskie, there are thousands waiting for you in one of the best lakes in New York!
One day of fishing (or sailing) usually isn't enough, so you should consider staying at one of the nearby hotels or inns. If I had to recommend just one, I'd go with the Chautauqua Harbor Hotel.
While there, you can grab a meal at Lakehouse Tap & Grill, warm up by the outdoor firepits, and take a dip in the outdoor and indoor pools.
23. Black Lake
Black Lake is famous for one reason and one reason only: fishing. Every year, thousands of fishermen flock to this lake to catch some fish. Since Black Lake is home to everything from bass to perch to bluegill, almost everyone catches something when they head out onto one of the best lakes in New York.
If you're not much of a fisherman, Black Lake may still be worth a visit. You can also search for wildlife at Lonesome Bay State Forest, grab a scoop of ice cream at Black Lake Mini Golf, and even make your way to the St. Lawrence River and the Canadian Border!
There are a handful of places to stay along the banks of Black Lake, but the best may be the Black Lake Cottages. These little cabins are perfect for an off-the-grid getaway.
24. Green Lake and Round Lake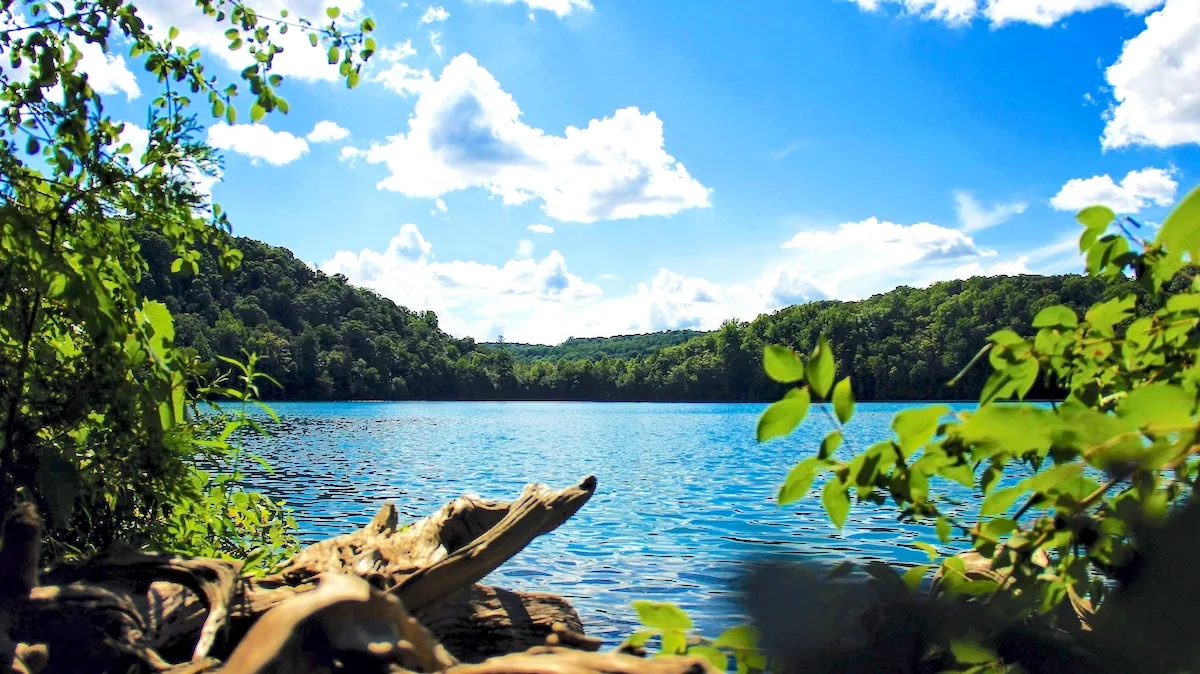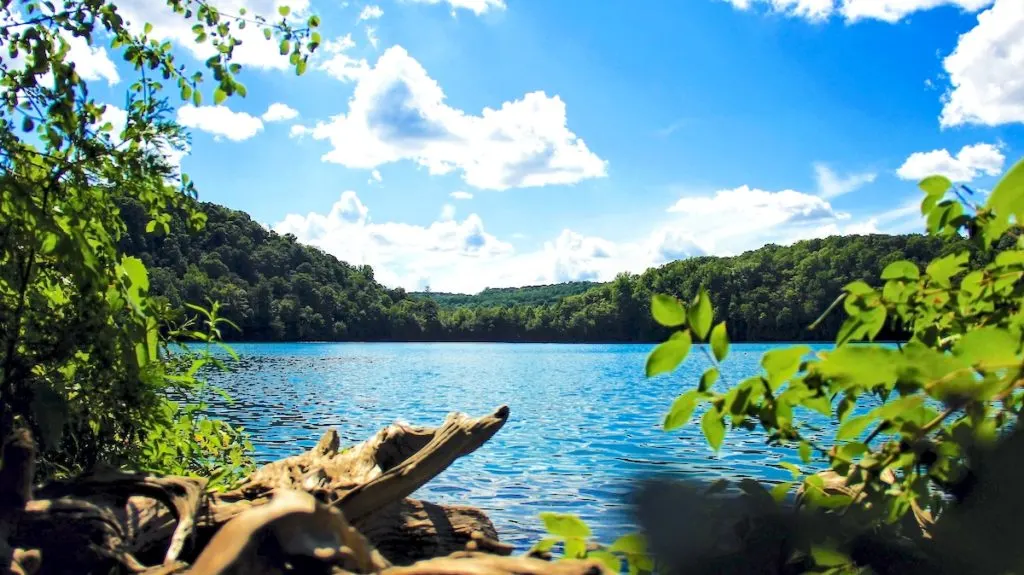 Situated just east of Syracuse in the always awesome Green Lakes State Park are both Green Lake and Round Lake, two of the best and most beautiful lakes in New York state.
That's because these enchanting, glacial lakes feature dazzling, turquoise-hued water that supports unique ecosystems scattered throughout the area.
So, be sure to visit iconic local attractions like Deadman's Point, which is very similar to a coral reef. It's a super fragile area though so you can't check it out via motorboat.
Instead, rent a kayak from the park's boathouse and get up close and personal with one of the most unique features of this lake.
However, if you're not feeling the water, you can always hike around the perimeter of both lakes (it's just over four and a half miles) or relax on the beach and go for a refreshing dip at one of the best lakes in New York for swimming.
Afterward, spend the night in The Brewster Inn. It's situated in the nearby town of Cazenovia and features sleek, well-appointed rooms inside a historic home from 1890.
Rooms here can also come with some ultra-swank features like private balconies, whirlpool tubs, and fireplaces, in addition to a lovely, complimentary breakfast spread.
Please Note: Because these lakes are super delicate, you are not allowed to venture outside of designated swimming areas at one of the best lakes in New York.
25. Conesus Lake
Of all the best lakes New York has to offer, Conesus Lake is known for being the westernmost Finger Lake in the state.
Additionally, this idyllic body of water has been thrilling visitors for upwards of one hundred and fifty years.
Therefore, it is a perfect spot for your next vacation. Just be aware that it is not one of the best lakes in New York for swimming since the water here is prone to semi-dangerous algal blooms.
So, base yourself in some of the most charming towns in New York, like Geneseo and Livonia, before making yourself at home at a local campground and taking a day trip to Watkins Glen State Park (about an hour away).
Best Lakes in New York FAQs
What is the Most Beautiful Lake in New York?
The most beautiful lake in New York is North-South Lake in the Catskills, followed by Mirror Lake, Lake George, Owasco Lake, Lake Ontario, and Lake Erie.
Are there any Lakes in New York?
Yes, there are over 7,600 freshwater lakes in New York. Plus, New York is home to two of the five Great Lakes.
What are the 3 Biggest Lakes in New York?
The 3 biggest lakes in New York are Lake Erie, Lake Ontario, and then finally Lake Champlain.
What are the 5 lakes in NY?
The 5 lakes in New York are a group of lakes in the Finger Lakes region that include Keuka Lake, Cayuga Lake, Seneca Lake, Canandaigua Lake, Honeoye Lake, and Conesus Lake.
Map of the Best Lakes in New York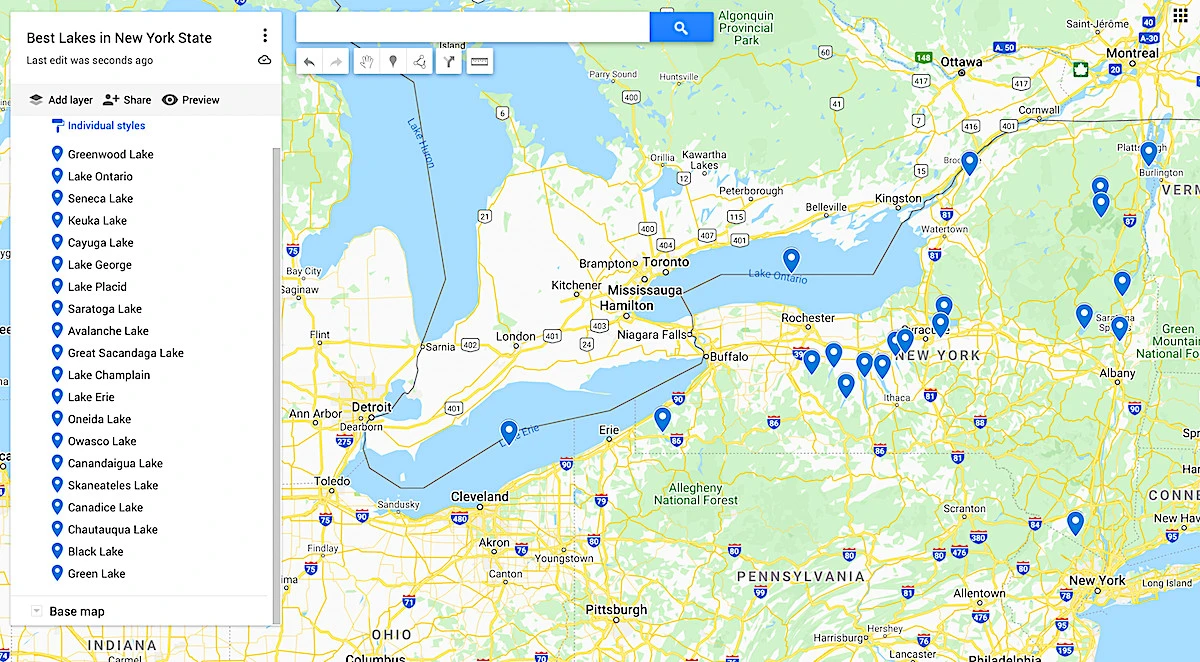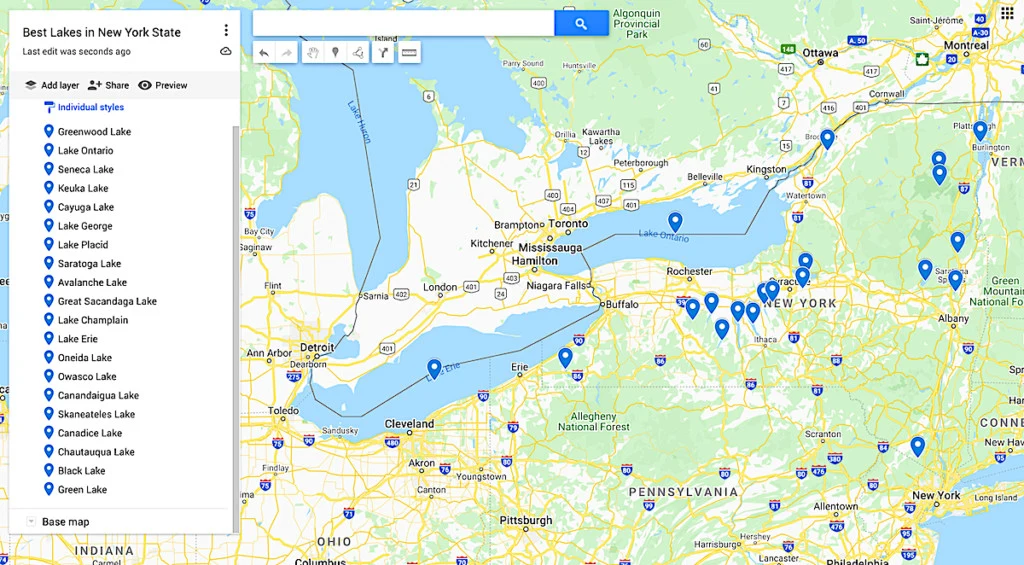 Additional New York Resources You'll Love
There you have it! That just about wraps up this guide to the best lakes in New York!
Tell me, did your picks for the top lakes in New York state make the list? If not then let me know in the comments below!
And if you thought this post was helpful, don't forget to join our email list before pinning this post now so that you can read it again later!