Wanna channel your inner Santa Clause and experience all of the very best holiday decor that New York has to offer? Umm, heck yeah you do! Otherwise, why would you be reading about all the best Christmas towns in New York?
And trust me when I tell you that this incredible state is positively brimming over with magical, holiday-inspired villages that look like something straight out of a fairytale.
So, if you're in the market for a very merry, Norman Rockwell-inspired Christmas then this is the post for you.
Because I'm about to reveal my top local picks for the all-time best Christmas villages in New York.
I mean, not only have I lived in New York for 30+ years, but many of these quaint AF towns are totally off the beaten path and home to some of the best Christmas events that you ever did see.
So, stop stressing about where to go this holiday season and start using this incredible guide to plan to Christmas vacation (hopefully non-National Lampoon-style) of your dreams.
This post may contain affiliate links. Please see my disclosure for more information. As an Amazon Associate, I earn a small commission from qualifying purchases.
Best Christmas Towns in New York
1. North Pole
With a name like this, it's no wonder North Pole sits at the top of this list of the best Christmas towns in New York.
In fact, North Pole is a hamlet located on the outskirts of Wilmington town. And, this teeny tiny village is dominated by its star attraction – Santa's Workshop.
Open since 1949, North Pole's Santa's Workshop is a holiday theme park for the tiniest of kids.
So, the park brings to life the quintessential Christmas village experience complete with German-style chalets and traditional stores.
Rides include Santa's train and a carousel with reindeer in place of traditional ponies. And while these rides are geared towards kids, Santa's Workshop, North Pole, won't fail to charm grown-ups too.
After all, special events at Santa's Workshop include breakfasts and dinners with Santa, Yuletide Family Weekends, and Village Lights.
North Pole also makes for the perfect family day out or weekend away for those with younger kids – and the young at heart.
Where to stay in North Pole, NY: The Wilderness Inn
These pet-friendly cabins in Wilmington accommodate up to six guests. Each unit is also fully self-contained with a private bathroom and basic kitchen appliances for an ideal stay.
2. Lake Placid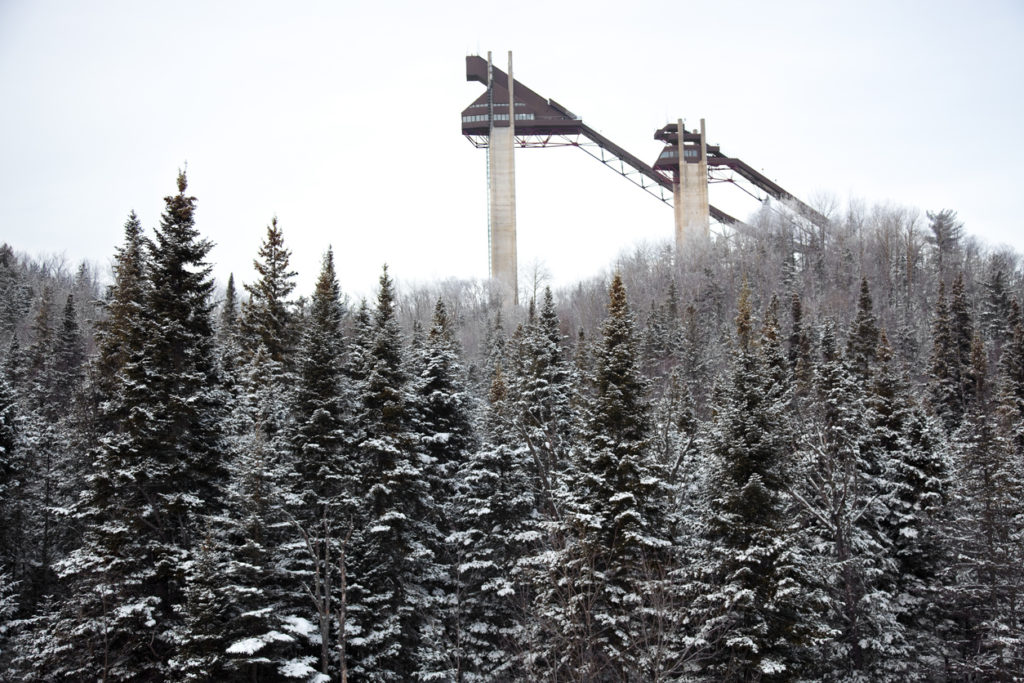 Easily one of the best Christmas towns in New York, Lake Placid sits along the southern banks of Mirror Lake. It's a charming town surrounded by the Adirondack Mountains, making it a real treat for anyone who loves nature.
Additionally, Lake Placid hosted both the 1932 and 1980 Winter Olympic Games. And exhibiting artifacts from both events, the Lake Placid Winter Olympic Museum is one of the top spots to check out.
If you fancy something more adventurous, swing by the Olympic Ski Jumping Complex. They have a neat elevator that lets you stand in the footsteps of the Olympians and look right down the chute this winter in Lake Placid.
Or, crank up the adrenaline another notch with a whirl on the Lake Placid Bobsled Experience. Don't worry though because professionals steer the toboggan so you can sit back and enjoy the ride.
What's more, ice skating rinks crop up over the winter months so you can skate with a backdrop of the frosty Adirondacks, making for pure magic in glorious Lake Placid.
Where to stay in Lake Placid, NY: Hotel Devlin
This historic hotel consists of rooms and studios with panoramic windows and cozy wooden ceilings. Free parking is also available at this central Lake Placid hideaway.
3. East Aurora
East Aurora is one of the best Christmas towns in New York for shopping.
And while their charming Main Street is lined with all manner of boutiques, Vidler's 5 & 10 is where you'll want to stop first.
After all, this variety store has been on the scene since 1930 and is the largest five-and-dime store in the world.
So, items on sale include old-time candy, retro collectibles, traditional toys, and general gimmicks.
Honestly, if you need to tackle that Christmas shopping list, you can tick off every single recipient at Vidler's 5 & 10.
And, seeing as the store boasts a year-round holiday section, there's no need to wait until December, either.
But that's not all. Because for a small village, East Aurora is teeming with old-fashioned charm. And Christmas sees Main Street and its side streets erupt with lights and festive decor.
Meanwhile, the Annual Christmas Carolcade brings all the residents together on Main Street to sip steaming cocoa and sing carols.
So, stop by and enjoy one of the best Christmas towns in New York since the 2022 Carolcade is confirmed for Saturday, December 17th starting at 7:00 pm.
Where to stay in East Aurora: Roycroft Inn
Bursting with personality, this friendly inn combines rustic original features with modern upgrades. Plus, there's free parking and a free daily breakfast thrown in for good measure!
4. Cooperstown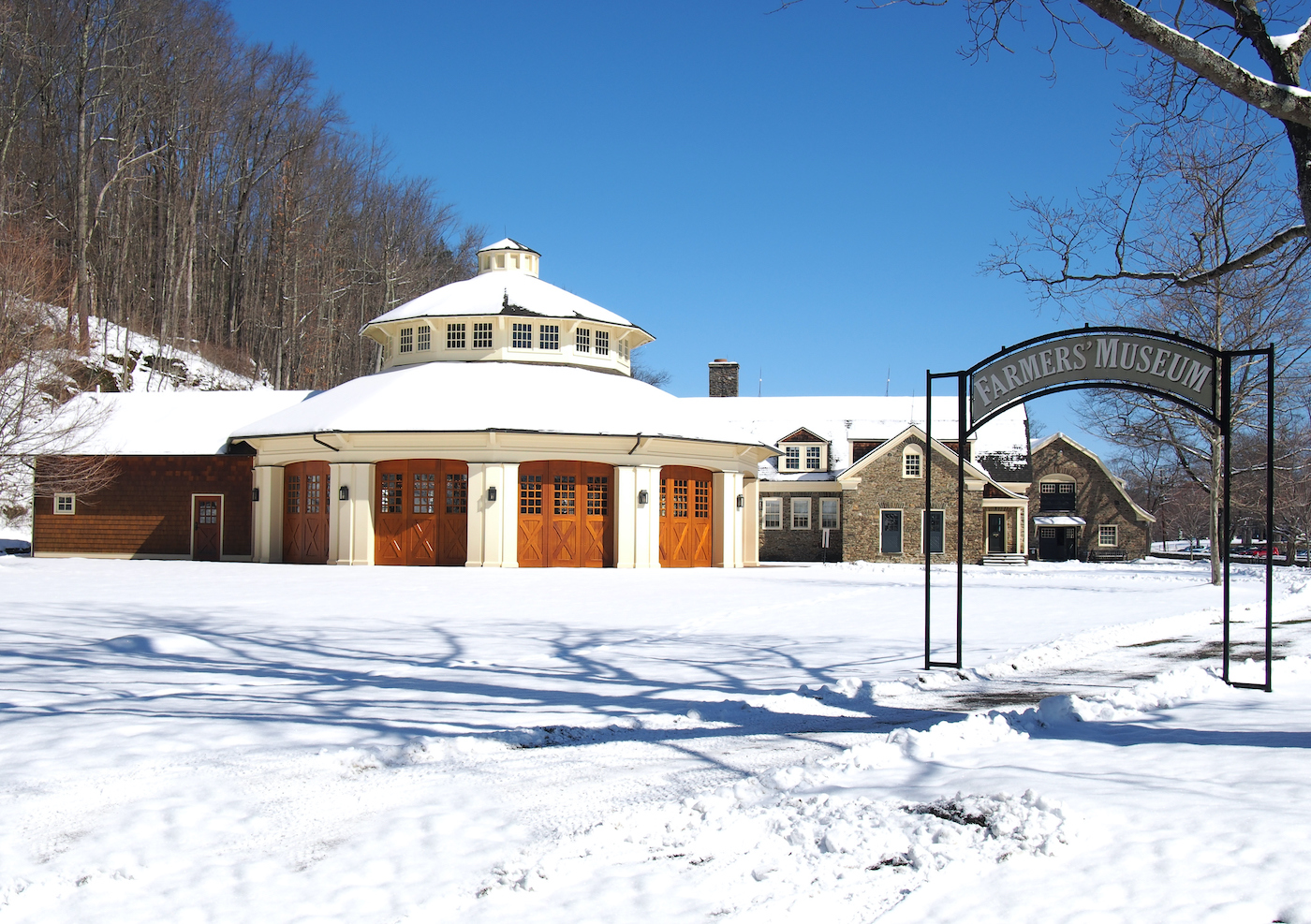 Located along the southern tip of Otsego Lake, Cooperstown is another sublimely beautiful town where you'll find glorious nature and old-worldly facades.
Actually, Cooperstown is most famous for ​its National Baseball Hall of Fame and Museum.
But, as one of the best Christmas towns in New York, Cooperstown really thrives over the holidays.
And The Farmers' Museum is the beating heart of this small community. They honor every passing holiday with special events – with Christmas being the highlight of the year.
This year, you can look forward to catching an adaptation of A Christmas Carol since performances are scheduled for the 16,th 17th, and 18th of December at 3:00 pm and 7:00 pm.
Plus, the museum hosts its long-standing Candlelight Evenings in December, when the entire complex is aglow with candles while horse-drawn carriages ferry visitors around as hot cider flows.
Meanwhile, you can also just stroll past the stores and taverns of Main Street as snowflakes coat the mountain peaks to help put a festive spring in your step.
Where to stay in Cooperstown: Landmark Inn
This Victorian-era property has rooms dressed with premium bedding and elegant decor. Set atop a spacious lawn, the backyard is also an awesome spot to chill – weather-dependent! Plus, a complimentary breakfast is included with your stay.
5. Kingston
Kingston is tucked away in Ulster County and was founded by the Dutch in 1652. In fact, it went on to become the first state capital in 1777.
Today the town comprises of neat, pastel-hued buildings and storybook churches. Sited at the confluence of Rondout Creek and the Hudson River, it is also wonderfully scenic and the perfect place for a brisk winter stroll.
And when the holidays roll around, the town is decked out in all the trimmings of a typical European market town.
Plus, Kingston likes to celebrate Christmas with its annual Snowflake Festival. This is free to attend and sees the historic streets come alive with carolers, fire jugglers, and horse-drawn carriage rides.
There are usually family-friendly activities and live performances too, which are scheduled for Friday, December 2nd from 6:00 pm to 8:00 pm.
Also be sure to book tickets for the Polar Express on the Catskill Mountain Railroad while you're here.
Yeah, it's just an all around magical experience that is Inspired by the classic kids' book by Chris Van Allsburg.
So, a vintage train engine will get a cozy makeover while carolers sing and hot chocolate is handed out in one of the best Christmas villages in New York.
Where to stay in Kingston: Hotel Kinsley
This contemporary hotel permits dogs to stay and provides a free daily breakfast. Standard rooms are also tastefully appointed while suites come with the luxury of additional seating.
6. New York City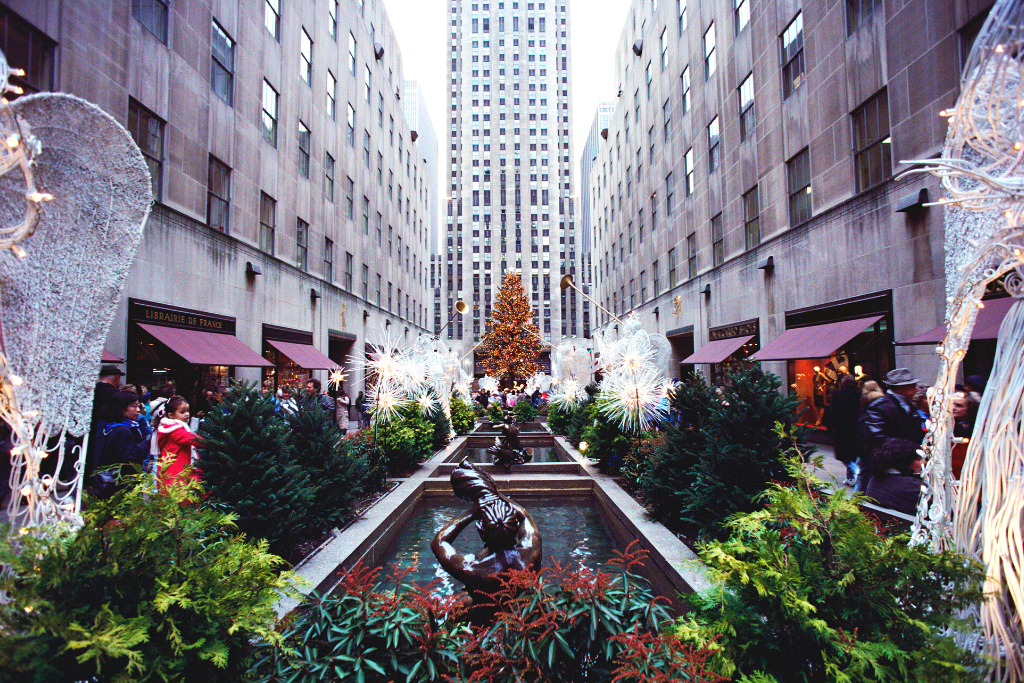 Of course, one of the best Christmas towns in New York is NYC – the Big Apple itself.
In reality, you need to visit NYC in all four seasons to truly appreciate the city but the holidays are something else entirely. Even the Scroogiest of travelers can't resist the merriment of Christmas in NYC.
And some of the best things to do in New York City include catching the Christmas Spectacular at Radio City and ice skating at one of the innumerable pop-up rinks.
Restaurants also usher in weary travelers with festive-themed menus and bars upgrade their cocktails with a splash of eggnog.
Meanwhile, yuletide markets are the answer to all your Christmas shopping woes.
But, ultimately, the number one NYC December activity is to check out all the NYC Christmas lights and decorations. So, head to Rockefeller Center and stroll down Fifth Avenue to admire some of the best lights in the city.
You also can absolutely NOT skip the Dyker Heights Christmas lights extravaganza! And, yes, the bus tour from Manhattan is totally worth it.
Where to stay in NYC: Arlo Midtown
Located in Midtown West, this funky hotel is within walking distance of Times Square. There's even a swanky lobby and a stunning roof terrace with skyline views where you can bundle up and savor a festive cocktail.
7. Rhinebeck
Situated on the eastern banks of the Hudson River, Rhinebeck is a laid-back town that is home to the iconic of Dutchess County Fair.
But, Rhinebeck is one of the best Christmas towns in New York that rings in the holidays right with lights, tinsel, and trees.
This town is also famed for its specialty stores, farm-to-table cuisine, and cultural attractions. Plus, this upmarket spot is one of the best places in Hudson Valley for a wellness getaway.
But, Sinterklaas is what makes Rhinebeck one of the best Christmas villages in New York.
Named after the Dutch Saint Nicholas, this one-day festival sees a surge of dancers, musicians, and workshop leaders take to the streets.
And, volunteers join the Children's Starlight Parade to carry hundreds of puppets through central Rhinebeck.
Overall the event celebrates art, light, community, and the beauty of winter.
So, add Saturday, December 3rd to your diary if you want to check out the 2022 edition. The parade is also scheduled to start around 6:00 pm.
Where to stay in Rhinebeck: Mirbeau Inn & Spa
This one is a splurge but, hey, it's Christmas – and it has a spa on-site. Palatial rooms at this hotel are also dressed with superior furnishings while private bathrooms come with deluxe tubs and rainfall showers.
8. Skaneateles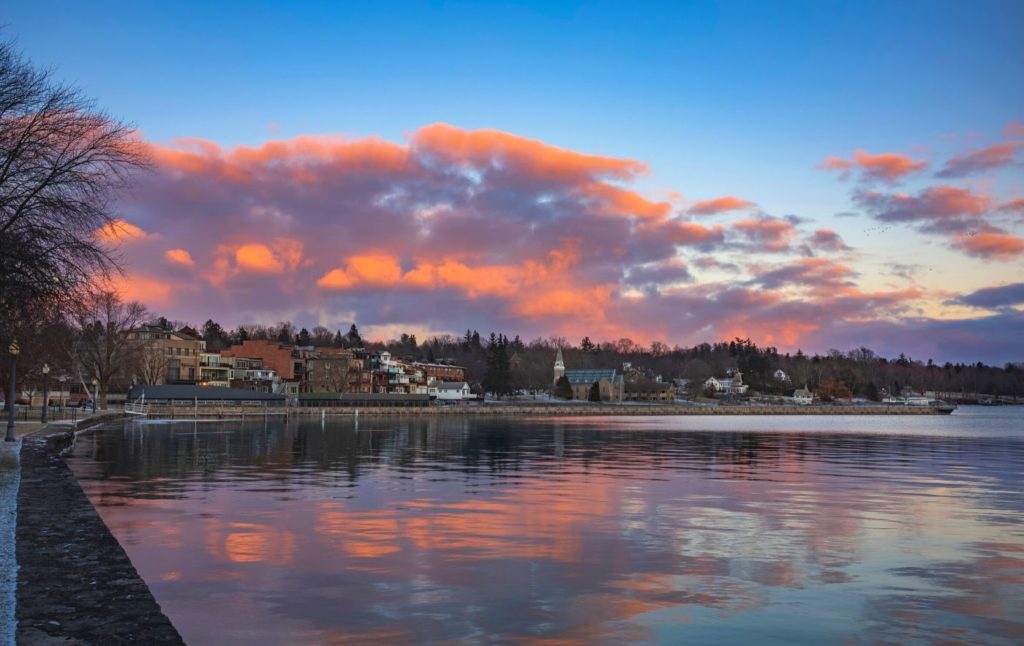 Skaneateles curls around the northern end of Skaneateles Lake, or, "Long" Lake, in Onondaga County.
Stacked with gourmet restaurants, cafes, and bakeries, this town is particularly appealing to foodie-minded travelers.
And, it goes without saying, all of the best places to eat in Skaneateles get on board with special holiday-inspired, yuletide menus.
In fact, Dickens Christmas is an annual tradition in Skaneateles. It starts the day after Thanksgiving and features a sequence of family-friendly events that run on the weekends up until Christmas Eve.
So, joined by around 40 characters from his novels, "Charles Dickens" takes to the streets and chats with shoppers and tourists passing through the area.
These fun interactive events are then supported by live music, holiday stalls, excellent food, and horse-drawn carriage rides through town.
Yup, all you need to do is re-read your favorite Dickens books – and wish for some snow!
Generally, though, Dickens Christmas runs 12:00 pm – 4: 00 pm and 12:00 pm – 2.30 pm on Christmas Eve.
Where to stay in Skaneateles: Deer Run Lodging House
This low-key guest house with a huge backyard has two homely suites available, each with a private bathroom. Breakfast is also prepared fresh to order and comes highly rated.
9. Syracuse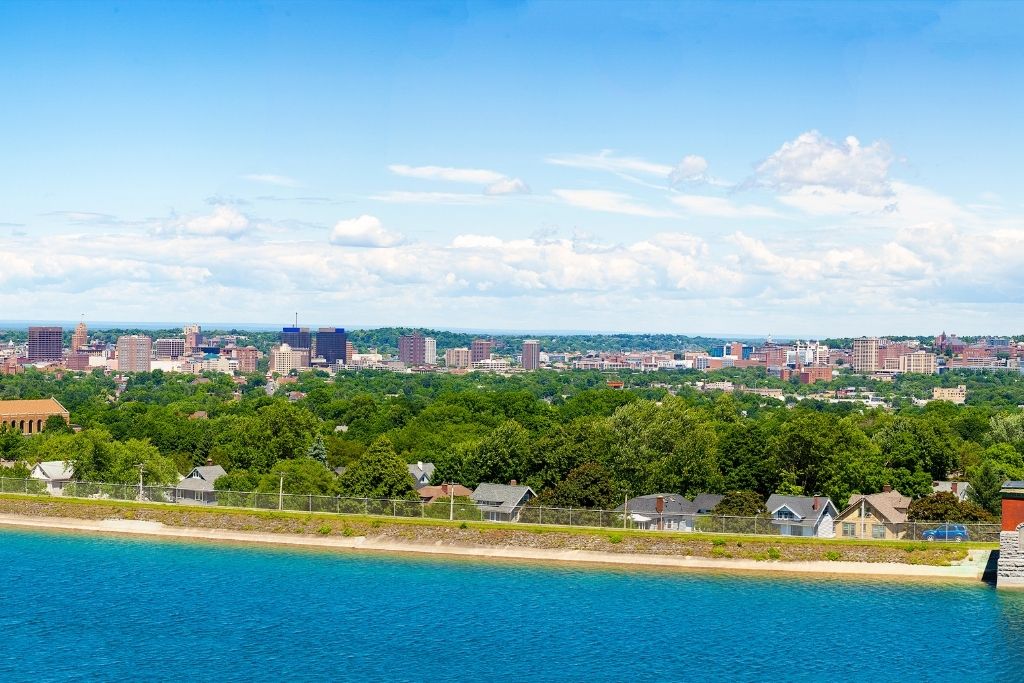 As one of the larger cities in New York State, Syracuse puts on a ton of activities each year in time for the holidays.
And Lights on the Lake is their flagship event since this is a drive-thru light installation where you can experience festive lights from the warmth of your car.
Tickets are required though and this year's event is confirmed to run Monday from November 14th through Friday, January 13th.
Elsewhere, Everson Museum of Art holds its annual Festival of Trees and Light alongside Winter Wonderland Saturdays.
And then just up the road at the Erie Canal Museum, you'll find the residents' entries into the Gingerbread Gallery.
Bakers of all ages and experience levels participate and you can see the entries on display here.
As a result, Syracuse is easily one of the best Christmas towns in New York in terms of events that will leave you feeling warm and fuzzy.
Besides, snowfall is super common in Syracuse.
Where to stay in Syracuse: Embassy Suites by Hilton Syracuse Destiny USA
You're always in safe hands with a Hilton Hotel. Not only does this one welcome pets, serve free breakfast, and offer free parking – it even has an indoor swimming pool.
10. Troy
Situated on the eastern shore of the Hudson River, a short drive north of Albany, Troy is a historic town with timeless charm.
Therefore, Troy is easily one of the best Christmas towns in New York for kooky events.
Held annually, the Troy Victorian Stroll has been a local tradition for over 40 years as residents gather in the downtown area and dress in period-inspired apparel.
Live music performances also take place while arts, crafts, and seasonal food stalls bring some holiday cheer to life.
And while you do a wee bit of strolling, take care to survey the Christmas windows. Each year, shopkeepers are challenged to curate the best display, according to an ever-changing theme.
This year's event is planned for Sunday, December 4th. Although, in its new guise as Troy Victorian Stroll "Season" – the stroll will actually run right up until Christmas with pop-up events on set dates.
The idea is to support local businesses and forge connections within the community. And, all are welcome – locals and passersby alike.
Where to stay in Troy: Gardner Farm Inn
This boutique hotel is appointed with sumptuous fixtures and charming antiques. Themed rooms also come with their own bathrooms and some even have fireplaces with luxurious sitting areas.
11. Seneca Falls
Gateway to the Finger Lakes and a popular starting point for local wine trails, Seneca Falls is another one of the best Christmas towns in New York State with year-round appeal.
Plus, it provided the setting for the first Women's Rights Convention in 1848 and is where you'll find the National Women's Hall of Fame.
But, as the so-called "Real Bedford Falls", Seneca Falls is a must for Christmas lovers.
Because, naturally, the It's a Wonderful Life Museum is essential for hardcore fans.
Plus, checking out the awesome movie memorabilia is a pro way to warm up after visiting some of the film locations around town.
The annual Celebration of It's a Wonderful Life also takes place every December. Targeting movie fans, the festival includes talks, panels, presentations, and autograph signings.
FYI, this year's event is scheduled for Friday, December 9th through Sunday, December 11th.
Where to stay in Seneca Falls, New York: The Gould Hotel
Located right in the heart of town, this pet-friendly hotel is within walking distance of the best sights in town. Compact rooms are also presented in soothing purple hues with plush upholstered beds.
12. Lake George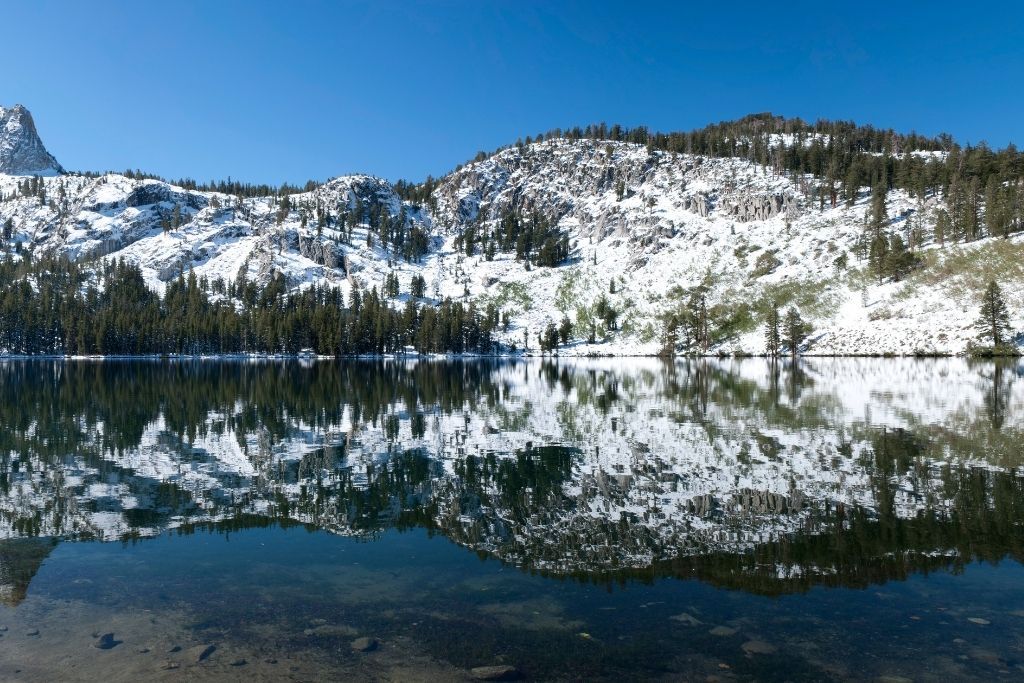 More commonly known as the "Queen" of the American Lakes, vacationers have flocked to Lake George for centuries.
And that makes sense since Lake George is one of the best Christmas towns in New York that sits right down on the southernmost tip of the lake and is the perfect site for a winter weekend getaway in New York State.
This is one of the best Christmas villages in New York for unique events.
Now, add some key dates to your calendar if you want to make the most out of your winter in Lake George.
Because the Adirondack Christmas Market is all set for Friday, December 2nd through Sunday, December 4th.
So, you'll be able to fill your suitcase with artisanal crafts while devouring German-style winter bites and slurping up hot mulled wine.
Then, come back for seconds on Sunday, December 11th since you can try your hand at fashioning your own holiday ornaments.
And, Gem Radio Theater is putting on It's a Wonderful Life on Saturday, December 10th, and Sunday, December 11th too.
But, even if you can't make it to all these incredible events, Lake George is a wintery delight with its frozen lake and crisp mountain air.
Where to stay in Lake George: Courtyard by Marriott Lake George
Swim while it's snowing at the property's indoor pool! This hotel also has a gorgeous roof terrace where you can soak up the surrounding views. Even better, book a room with a terrace and you'll wake up to stunning views of the lake.
13. Ellicottville
Ski slopes outnumber sidewalks in Ellicottville. Therefore, this is one of the best Christmas towns in New York if you want to ski this season.
But, first, the town itself. Ellicottville consists of charming 19th-century heritage buildings. So, kick back with an eggnog latte at one of the cute cafes or nurse a seasonal brew at Ellicottville Brewing Company.
Encircled by a thick forest, the village transforms into a winter wonderland after the fall fades away and winter begins to work its magic.
Holiday Valley is also the premier ski resort in the area with 60 slopes that cater to all abilities. This one also has a whole roster of other snowy activities like tubing or zooming down the terrain on the Sky Flyer Mountain Coaster.
On the other hand, HoliMont is spread over 50 epic slopes and is particularly popular with families. Both offer lessons and a variety of fun kids' activities.
However, even if skiing ain't your thing, you can still pay a visit to either resort and ogle the winter scenery.
Where to stay in Ellicottville: The Inn At Holiday Valley
Well, when in Ellicottville, why not stay slopeside? Suitable for families and couples, this ski-in/ski-out hotel has two pools and a spa with free breakfast provided.
14. Saugerties
If you are looking for a quaint small village that imbibes the Christmas spirit to the fullest then consider heading to Saugerties. Located in the Hudson valley, the village comes alive during December.
There is so much going on during this time of the year. The Sussin Family Christmas lightshow is one of the popular attractions. Oh and before you ask, yes! It is set up by one of the local families. Totally worth stopping by to see their displays.
Don't forget about the Holiday in the Village event. This offers a chance for both kids and adults to get up close and meet none other than Santa Claus. You can get your Christmas photographs taken here because what Christmas is complete without one pic with Santa?
You will find that there are loads of little stores set up. It is a perfect place to buy NYC souvenirs or to get some of your Christmas shopping done. Last but not the least, the Fireman's Parade of lights is a must see if you are in the area.
Where To Stay In Saugerties, NY: Holiday Inn Express & Suites Saugerties
This hotel has some great spacious rooms. There is a fitness center, free private parking and even a shared lounge that guests can use. Plus there is a great buffet breakfast that is served up every morning!
15. Corning
You know those picture perfect NY towns that you catch a glimpse of in movies. The ones which are blanketed in snow and seem so idyllic. If you are looking for one of those Christmas towns in New York, then you should really consider heading to Corning. The town is beautiful and has some really interesting activities that run throughout the month of December.
The Parade of lights is Corning's Santa Claus Parade. If you are visiting with kids, try and time your visit with the parade because kids love it!
Sparkle is another festival that is a local favorite. This is usually held on the first Saturday of December and it takes place in the Gaffer district. Make sure to pack your camera because the streets will make you feel as if you've wandered into a snowglobe!
You'll find hot chocolate and horse drawn carriages, quaint stalls and handmade craft vendors, lots of food and more… To cap it all, you can tap your feet to some catchy Christmas music as the choirs and music groups perform.
Where To Stay In Corning, NY: The Radisson Hotel Corning
The Radisson Hotel is extremely popular among visitors staying in Corning. It has all the luxury amenities that you could ask for including a fitness center and an indoor pool! The hotel is the perfect place to kick back and relax after a day in the town.
Map of the Best Christmas Towns in New York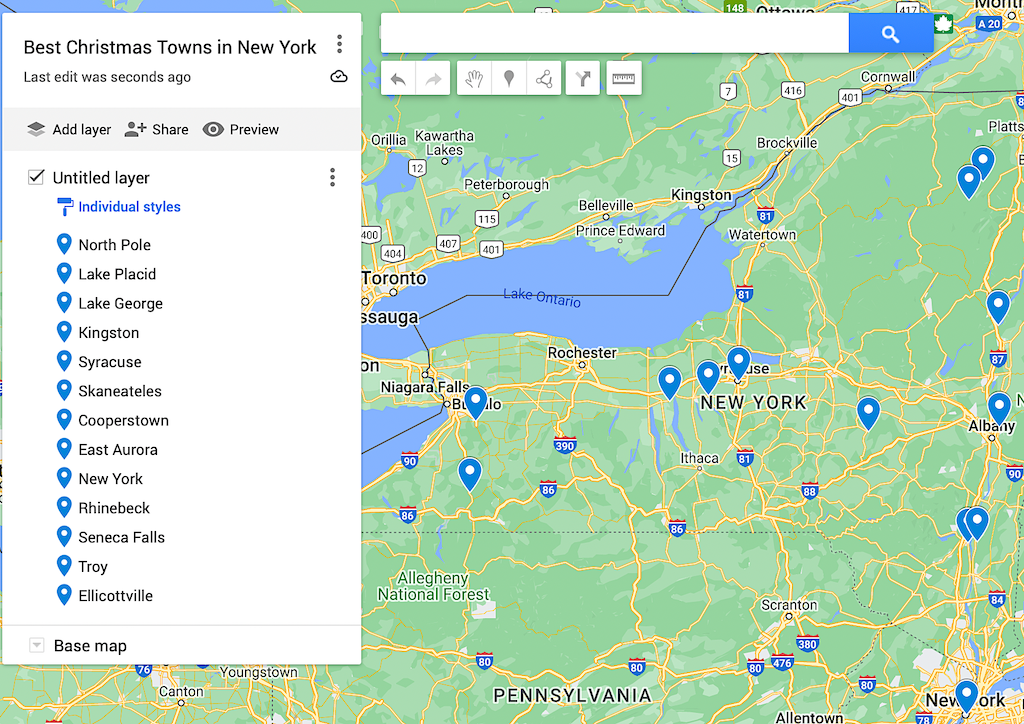 Additional New York Resources You'll Love
There you have it! That just about wraps up this guide to the best Christmas towns in New York.
Tell me, did your picks for the best Christmas villages in New York make the list? If not then let me know in the comments below.
And if you found this post useful, don't forget to join our email list before pinning this post now so that you can read it again later.