Ready to experience Christmas in NYC like a super savvy local? If so then you need to check out this hella comprehensive guide to the 25 best things to do during Christmas in New York City.
After all, I've lived in the city for 30+ years and know exactly what you should and should not do this holiday season in the city that never sleeps.
And I want to share all my secret insider tips with you so that you can stop worrying about your trip and start enjoying the magic of winter in NYC.
Plus, this post will give you access to a free map that outlines all the very best things to during Christmas in NYC. This way, you can quickly and easily plan the trip of your dreams NOW.
And trust me, you'll want to do this sooner rather than later since Christmas in NYC is next level popular.
This post may contain affiliate links. Please see my disclosure for more information. As an Amazon Associate, I earn a small commission from qualifying purchases.
⏰Looking for an amazing place to stay while in NYC but haven't had the time to book your accommodation yet? Try Pod 39. It is budget friendly and pretty luxurious for the price! ⏰
Where to Stay This Christmas in NYC
Want to spend Christmas in NYC but not exactly sure what hotel would make a great home base?
Well then check out my local tips for where to stay in NYC.
Because regardless of your budget you really can find a hotel that is perfect for you this holiday season.
Christmas in NYC – Manhattan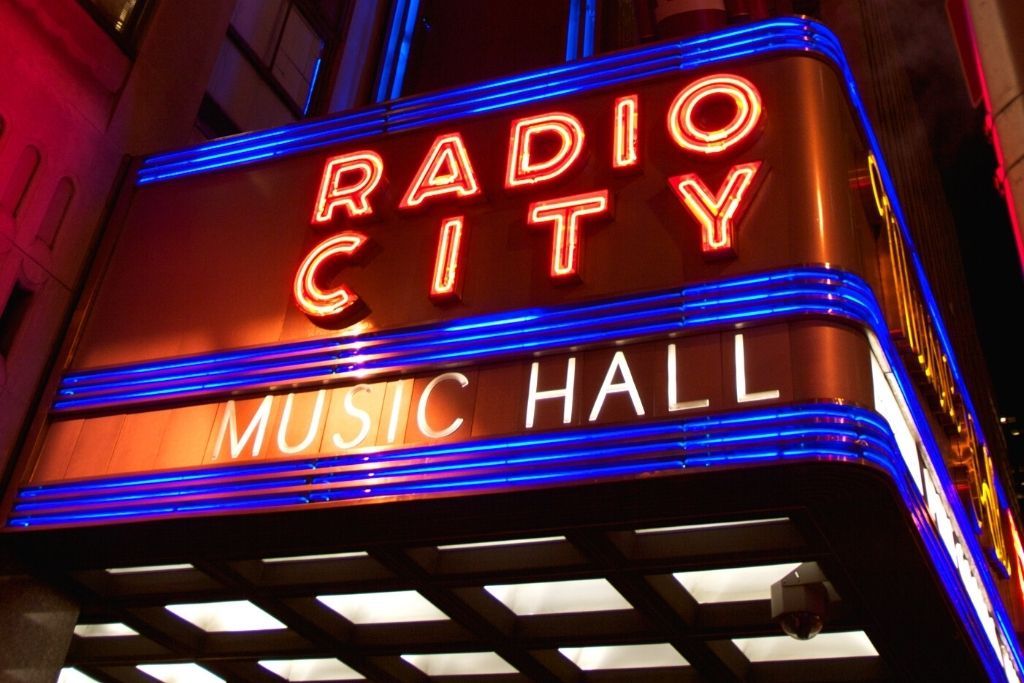 ⭐️ Rating: 4.7/5 (168 Reviews) Price: $42 per person Duration: 1 hour 📍Meeting Point: Radio City Music Hall's special tour entrance Details: Read more on Get Your Guide Now!
When spending Christmas in NYC, you should leap at the chance to see this iconic holiday production.
And The Christmas Spectacular Starring the Radio City Rockettes is an all-singing, all-dancing extravaganza that is absolutely perfect. It also takes place every year at Radio City, inside a gorgeous art deco theater on Sixth Avenue.
However, even if you don't see this iconic show, you should add seeing this immortal building to your NYC winter itinerary.
"We really enjoyed the tour. The tour was competent and entertaining. We learned a lot about the history of the Hall and of course the Rocketts, a very good look behind the scenes. Absolutely to recommend."

Michael (read more reviews now!)
After all, the facade of the venue is always decorated with a thoroughly festive tree.
Just know that this show is extremely popular and it's highly recommended that you purchase tickets online in advance.
The Radio City Rockettes are also legendary for their high-kicking abilities and perform completely in sync.
Meanwhile, costumes span the gamut from reindeer to elves to toy soldiers and everything in between.
Plus, the Christmas Spectacular is suitable for the entire family. And at 90 minutes long, it's a comfortable length for younger travelers. Yeah, you'll practically dance out of the concert hall afterward.
And you know it's good since this production has charmed New Yorkers since ye olde 1933.
Take a festive Manhattan cruise
Wrap up in your warmest winter gear and step aboard a vintage yacht for a holiday-themed cruise in.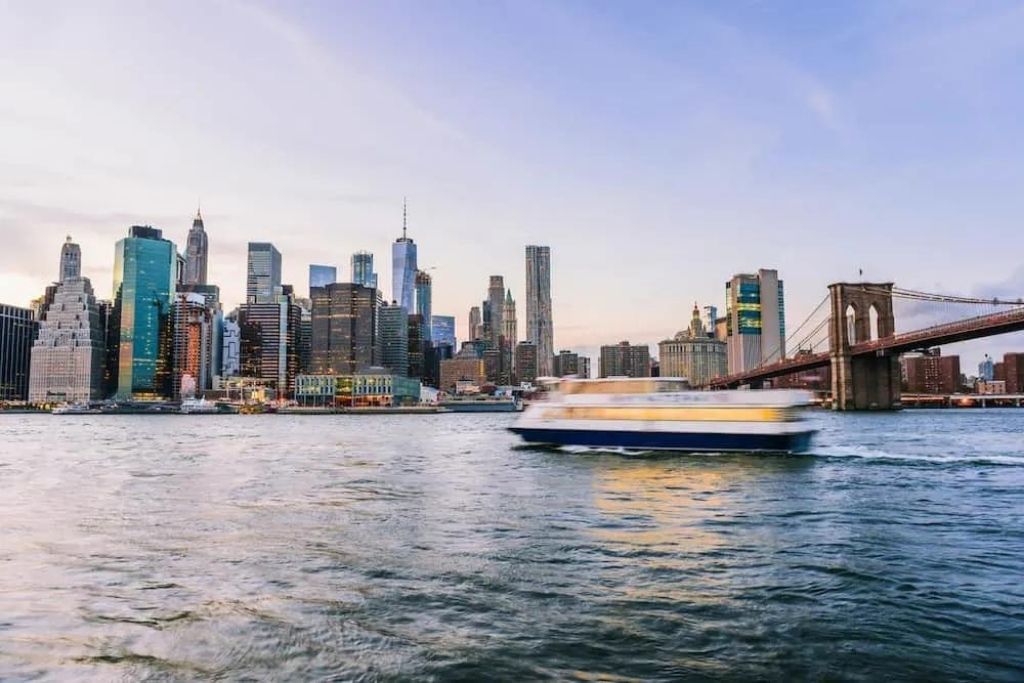 ⭐️ Rating: 4.8/5 ( Reviews) Price: $128 per person Duration: 1.5 hours 📍Meeting Point: Chelsea Piers, Pier 62 Details: Read more on Get Your Guide Now!
The Manhattan Holiday Yacht Cruise with Jazz, Cocoa & Carols is a 1.5-hour sailing expedition.
Once inside the solarium, you'll remain toasty warm courtesy of a climate-controlled atmosphere. But, a glassed-in observatory means you won't miss a beat!
The route is also strategically planned so you will float past all the icons of the Manhattan skyline. Therefore, expect to get up close and personal with the Empire State Building, Battery Park, South Street Seaport, the Statue of Liberty, and Ellis Island.
"Absolutely amazing!! The band was fabulous and the views were phenomenal. Would recommend to all!"

Nicole (read more reviews now!)
Additionally, your booking entitles you to one beverage (champagne, wine, beer, or hot chocolate). And, more importantly, an unlimited supply of holiday cookies.
If you want extra drinks though, you can buy these at the bar since cash and plastic are both accepted.
Interiors are also well adorned with yuletide decor and trees that comes with all the trimmings.
Now, how's your singing? Because you are highly encouraged to join in with the carol singing while a live jazz band croons in the background.
Yup, this is easily one of the coolest Christmas in NYC activities for couples.
Address: Varies based on your booking.
Hours: The cruise is 1.5 hours long with most departures at 4:15 pm, 6:15 pm, 6:30 pm, and 8:30 pm.
Price: $123 per person. Book your tickets now, spots fill up fast.
3. Sing along at a Broadway Show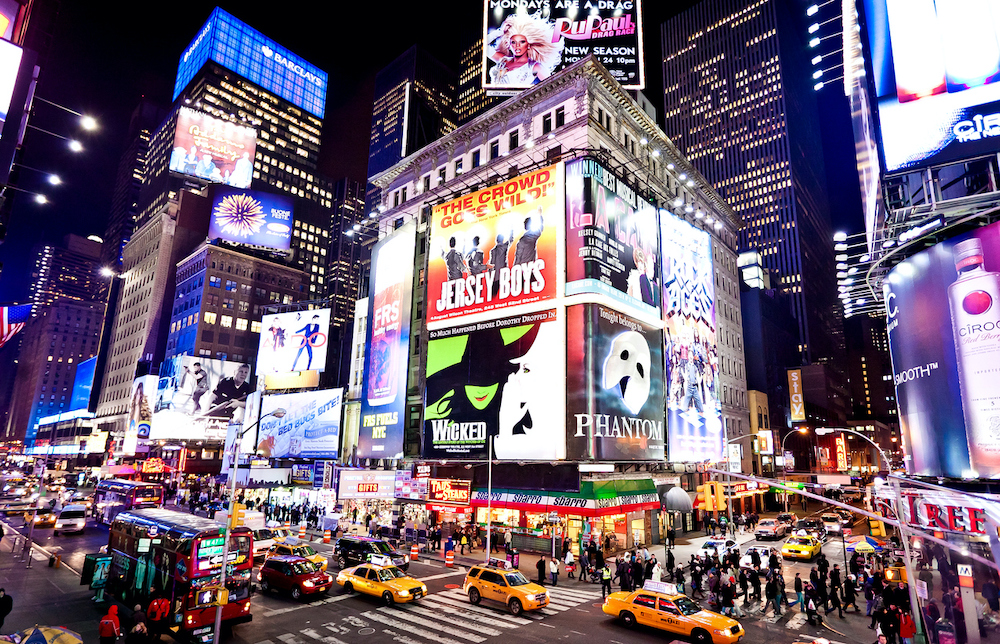 Seeing a Broadway show in NYC is a longtime bucket list item, even for those who aren't all that enthralled with theater.
And the Christmas season sees family classics brought to life all throughout NYC's famed theatre district.
And while tickets are pretty pricey, Christmas is a time of giving. So, if you're traveling to New York with a longtime theater lover, this is an ideal gift.
Plus, there's no better place to escape the frigid temperatures on a winter evening in the Big Apple.
Now, tickets sell like hotcakes during the holidays. Therefore, you'll want to sort these out ahead of your trip.
And this year, you've got the six-time Tony-winning adaptation of The Lion King on stage at Minskoff Theater. The costumes, the music, the dancing – if you loved the 1994 Disney movie, you'll be enthralled.
Another Disney classic, Aladdin: The Musical, is showing at the Amsterdam Theater too.
Sing along with those cherished songs from the cartoon and listen for some new faves that were written specifically for Broadway.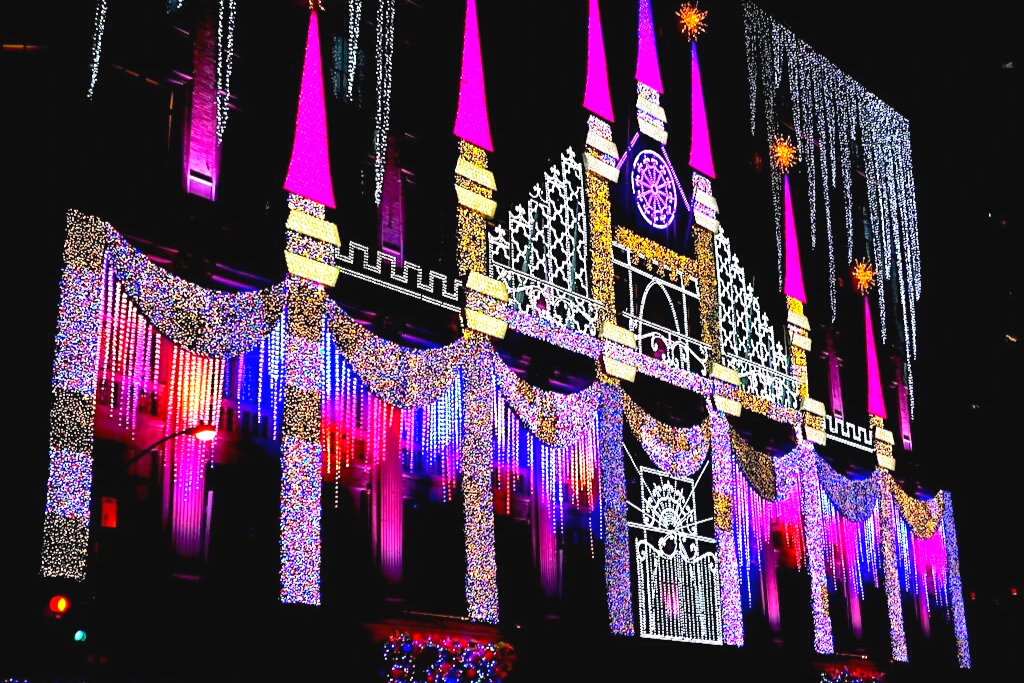 ⭐️ Rating: 5/5 (3 Reviews) Price: $60 per person Duration: 4 hours 📍Meeting Point:
977 6th Ave Details: Read more on Get Your Guide Now!
One of the main reasons travelers rush to celebrate Christmas in NYC is to see the jaw-dropping lights that illuminate the city.
In fact, it's the Christmas lights that inject a huge dose of joviality and magic into the city that never sleeps.
And these aren't your standard trees with bulbs dangling off them. Christmas trees in New York are of epic proportions and the store windows are works of art.
In fact, some of the blingiest ones are located on Fifth Avenue. You'll also want to view the installation at Saks, for sure. You can even brave the crowds after dark to watch their light show too.
"Debbie was excellent. Very informative and patient. She went above and beyond her call of duty. We loved having her as our tour guide so much we wanted her to stay with us the rest of our stay in New York. Of course she couldn't but it sure would have been nice. Wonderful, sweet, caring, just around great person. My daughter and I will miss her when we leave."

Diana (read more reviews now!)
Cartier and all the other high-end designer stores set out to impress too.
Naturally, the Rockefeller Center Christmas Tree is always a winner. And the official switch-on ceremony is a massive event on the holiday calendar. It's free to attend and is set to take place on Wednesday, November 30th this year.
Yeah, my guide spills all the deets on how you can check out the best Christmas lights in NYC independently.
But, a neat way of seeing them all is with a friendly local guide at your side. And booking a spot on the Holiday Lights Extravaganza Walking Tour means you get even more gossip on the lights. Plus, you'll make a couple of new friends in the Big Apple!
Address: 977, 6th Avenue, New York, New York
Hours: Wednesday, Friday, Saturday, and Sunday at 5:00 pm and the tour lasts between 3 and 4 hours.
Price: $50.00 per person.
How to Get There: Take the E/B/D/F/M/N/Q/R/M train to 34th Street Herald Square and walk from there.
5. Visit an NYC Observation Platform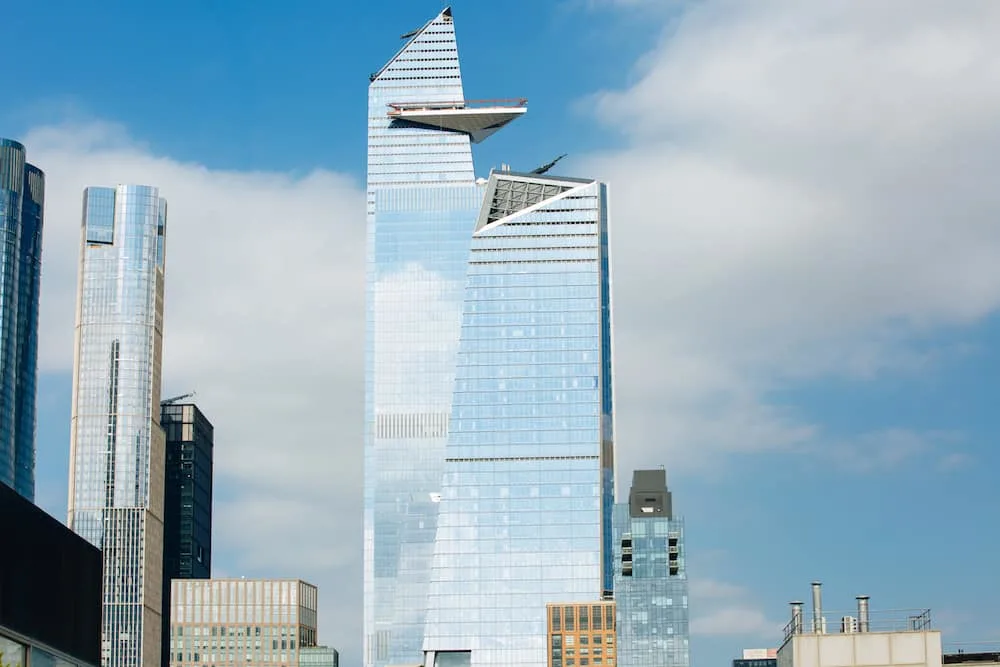 There are five sky-high observation decks in NYC where you can get a birds' eye view of the New York City at Christmas.
In particular, Top of the Rock at Rockefeller Center and the Empire State Building has been providing awesome views for almost a century. But, these tend to be the busiest.
That's why, if you're spending Christmas in NYC, my insider tip is to visit one of the new additions.
So, option a.
SUMMIT One Vanderbilt is the youngest of the newbies. This 92nd-floor observation deck opened in 2021 and clocks in at 1,063 feet tall.
As if the 360-degree views weren't enough, the deck is outfitted with an innovative multi-sensory art experience. Plus, you can sip a festive cocktail at the oh-so-appropriately named Après bar.
Advance ticket purchase is essential though, so buy your NYC: SUMMIT One Vanderbilt Experience Ticket online.
And, option b.
The Edge at Hudson Yards opened in 2020 and lures in thrill-seekers with the promise of the highest outdoor Skydeck in the Western Hemisphere.
The nail-biting platform with sloped walls extends 1,100 feet over the streets. And come wintertime, the interior of the Edge is adorned with trees, tinsel, and sparkle aplenty.
Again, you'll need to snap up your Edge Observation Deck Admission Ticket in advance.
Bonus: if you visit one of these decks, you can get photos of the older skyscrapers from the sky!
6. Ride THE RIDE
If this winter is your first ever trip to NYC, then you'll want to tick off all the iconic sights of the city.
But, winter in NYC in the lead-up to Christmas is cold, and the subway is packed.
And that's where The Ride comes in mighty handy.
This is a custom-built, theater bus that shuttles you to the city's prominent landmarks while you stay warm and toasty.
For example, the route takes you past Times Square, Grand Central, and Central Park.
High-tech audio equipment even brings the sounds of the city inside the bus. So, it kind of feels like a walking tour. But, without the aching feet and the winter chill.
Your comedic guide will also provide a running commentary and you'll stop to watch street performances. Plus, as an immersive experience – interaction with the actors is encouraged!
Each ride lasts around 75 minutes. They take place throughout the day; you can browse times and book your RIDE Entertainment Experience Ticket online.
Address: In Front of Patrick's Restaurant, 259 W 42nd St, New York, NY 10036, New York, NY 10018, United States
Hours: Operates daily from 9:00 am to 9:00 pm.
Price: Starts at $78.00 per person.
How to Get There: It's a five-minute walk from Times Square.
7. Go ice skating in Manhattan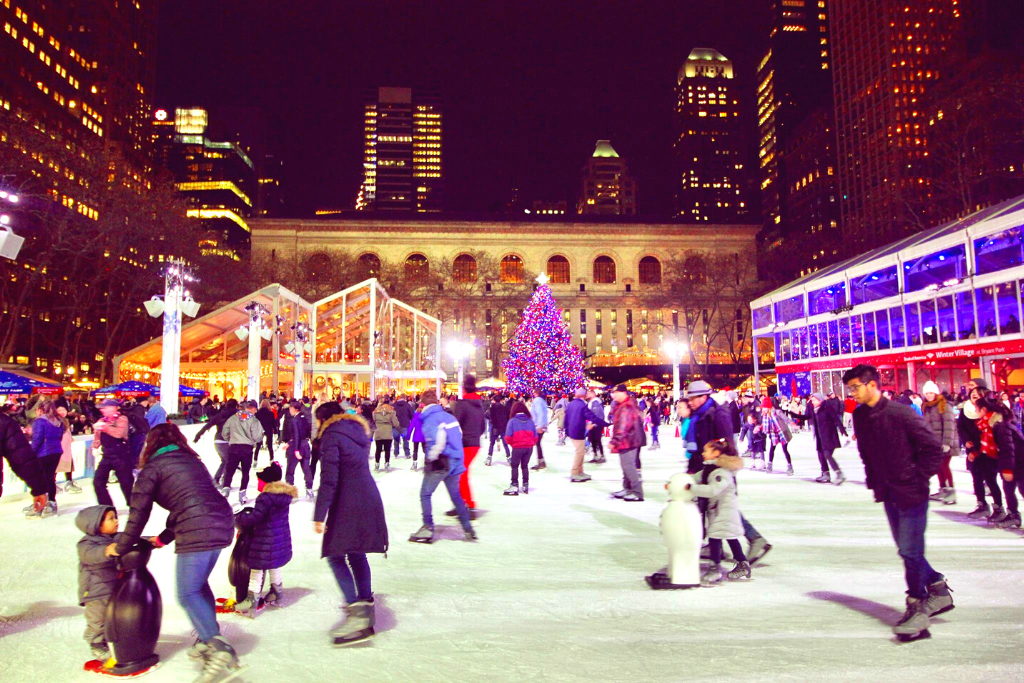 Ice skating is the quintessential activity if you're going to spend Christmas in NYC. I mean, how many movies and TV series have featured the rink at Rockefeller Center?
Yeah, too many to count. That's how many.
Now, paying a visit to the Rockefeller Center is a must purely to watch the skaters glide across the ice.
But, if you actually want to go for a twirl, there are better places. So, for skating on a budget, head to the Winter Village at Bryant Park.
This pop-up market contains the sole rink in NYC where you can skate for free! However, you will need to pay for skate rentals. Unless you've got the space to include some skates on your NYC winter packing list.
But, although it's free, you'll need to reserve a time slot via their website.
Other fun places to skate in Manhattan include the Sky Rink at Chelsea Piers, Winterland in South Street Seaport, and the Wollman Rink in Central Park.
8. Enjoy the Best Holiday Markets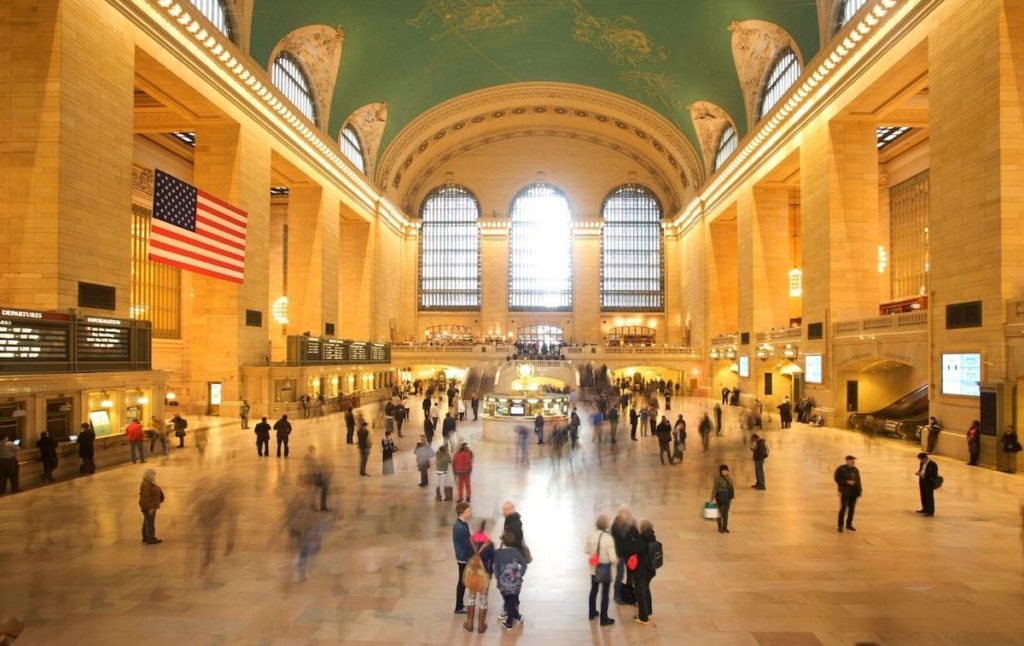 If the sound of a winter-pop up piqued your interest, then, rest assured – there are tons of these in winter. Generally, they open in late November and hang around until early in the new year.
And the Winter Village at Bryant Park is one of the best Christmas markets them all (that free ice rink helps!). In fact, around 60 stalls sell all manner of handicrafts, gifts, and yummy festive food. So, it's a win-win.
Columbus Circle Christmas Market is another biggie. Actually, this one usually amasses over 100 vendors! So, you can clear your entire holiday shopping list without breaking a sweat.
But, the biggest and buzziest of all is the Union Square Holiday Market that gathers together around 160 small businesses and local entrepreneurs.
And if you love the thought of eggnog but aren't crazy about the cold then check out the Grand Central Terminal Holiday Market.
This one is indoors and predominantly focuses on artisanal and socially-conscious gifts.
You can even share the experience and get expert tips from a local guide with this New York Christmas Markets and Lights Walking Tour.
9. Take a Wintery Stroll in Central Park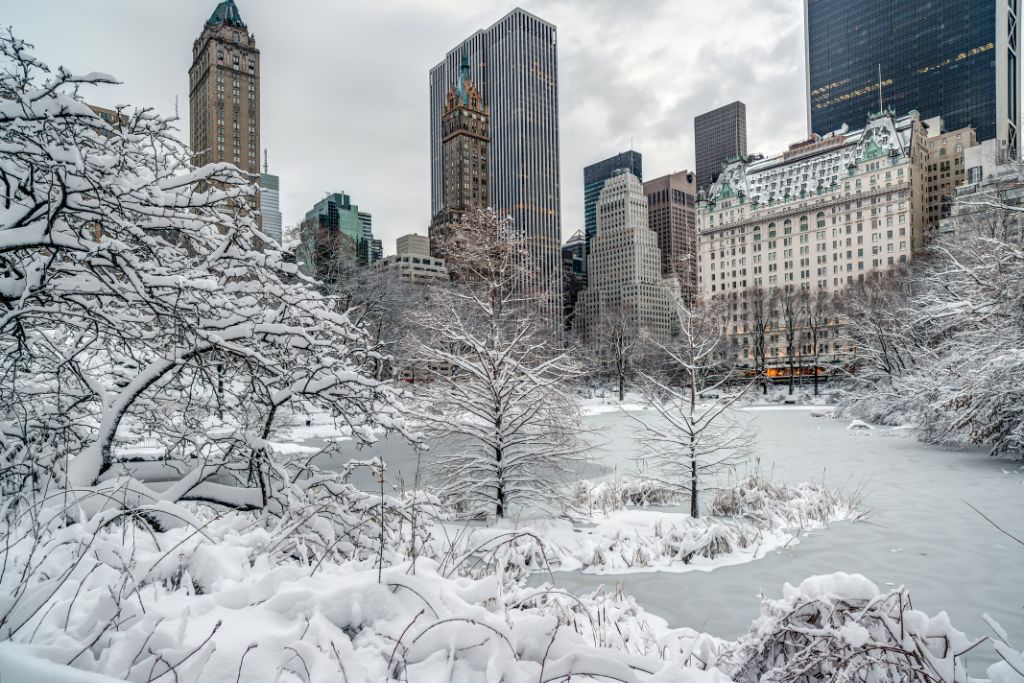 Central Park belongs on any NYC travel itinerary. Whatever season you visit, the city's emblematic park is a joy to explore.
And if you're lucky, you might encounter Central Park under a blanket of snow. But, that's never a guarantee.
However, even if it doesn't snow, you can't beat a brisk stroll through the grounds on a crisp winter's day while the ground crunches beneath your feet.
Plus, Central Park contains multiple lakes and ponds, dozens of memorials, and unique architectural elements.
In fact, Belvedere Castle, Bethesda Terrace, and Bow Bridge are three of the key spots for views and photography.
Wollman Rink also opens seasonally for a spot of scenic skating with a backdrop of the Midtown Manhattan skyline.
And, don't miss the Pulitzer Fountain in the southwest corner, in front of the Plaza Hotel. Because every year, the fountain gets a Christmas makeover.
Plus, since it's winter, you're completely entitled to splash out on coffee to keep that fuzzy feeling going.
After all, there are several cafes within the park's boundaries. And, if you conclude in the southwest corner, you can wrap up your walk at the Columbus Circle Christmas Market.
Address: Central Park, New York, NY, United States
Hours: Twenty-four hours a day.
Price: Free
How to Get There: Take the D train to 59th Street and Columbus Circle and walk from there.
10. Sip Yuletide Cocktails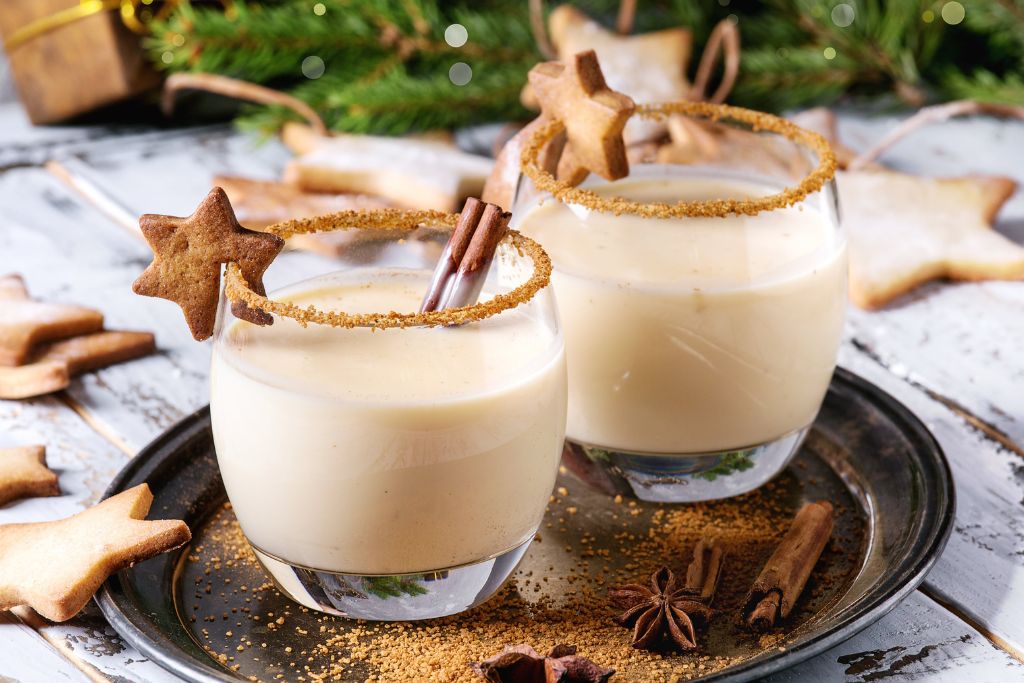 'Tis the season to treat yourself.
And that's easy to do since a fair share of the bars and restaurants in Manhattan turn out themed cocktail menus in time for Christmas in NYC.
But, where better to sip on a Christmassy libation than at an elevated bar in Manhattan?
And rooftop watering hole 230 Fifth turns into a winter wonderland on Tuesday, November 1st with a cluster of snug igloos and A-frame cabins. Add in some sweet views of the Empire State Building and you'll even get a holiday light show too.
You'll need to leave a deposit when you book a shack at Igloo Bar, but, this goes toward food and drink. So, just choose between boozy hot chocolates and punchy hot ciders. After all, these will help keep the frostbite at bay.
Meanwhile, the Moxy Hotel Times Square puts out all the stops with its Magic Hour Rooftop Bar & Lounge.
It's basically a fuchsia dreamland that is open year-round. But, it gets a wintery facelift with faux-fur rugs, pink trees, and vintage ice skates.
And cocktails are just as tasty as they are photogenic, with sprinklings of marshmallow and sparkle.
11. Get Merry at Rolf's German Restaurant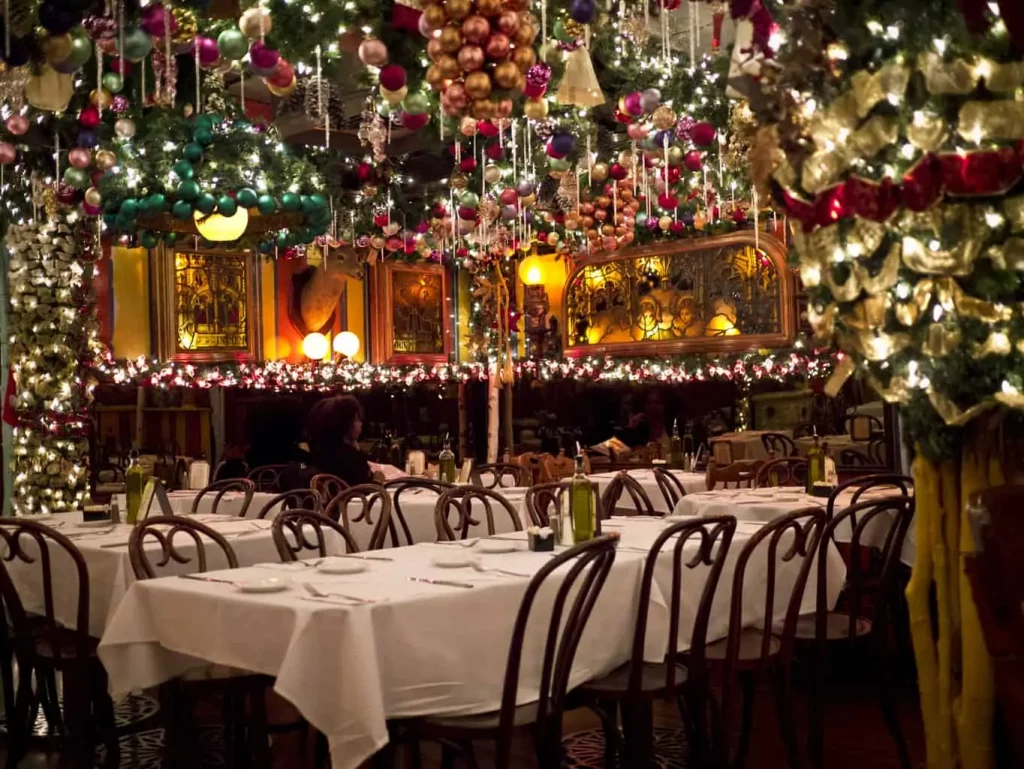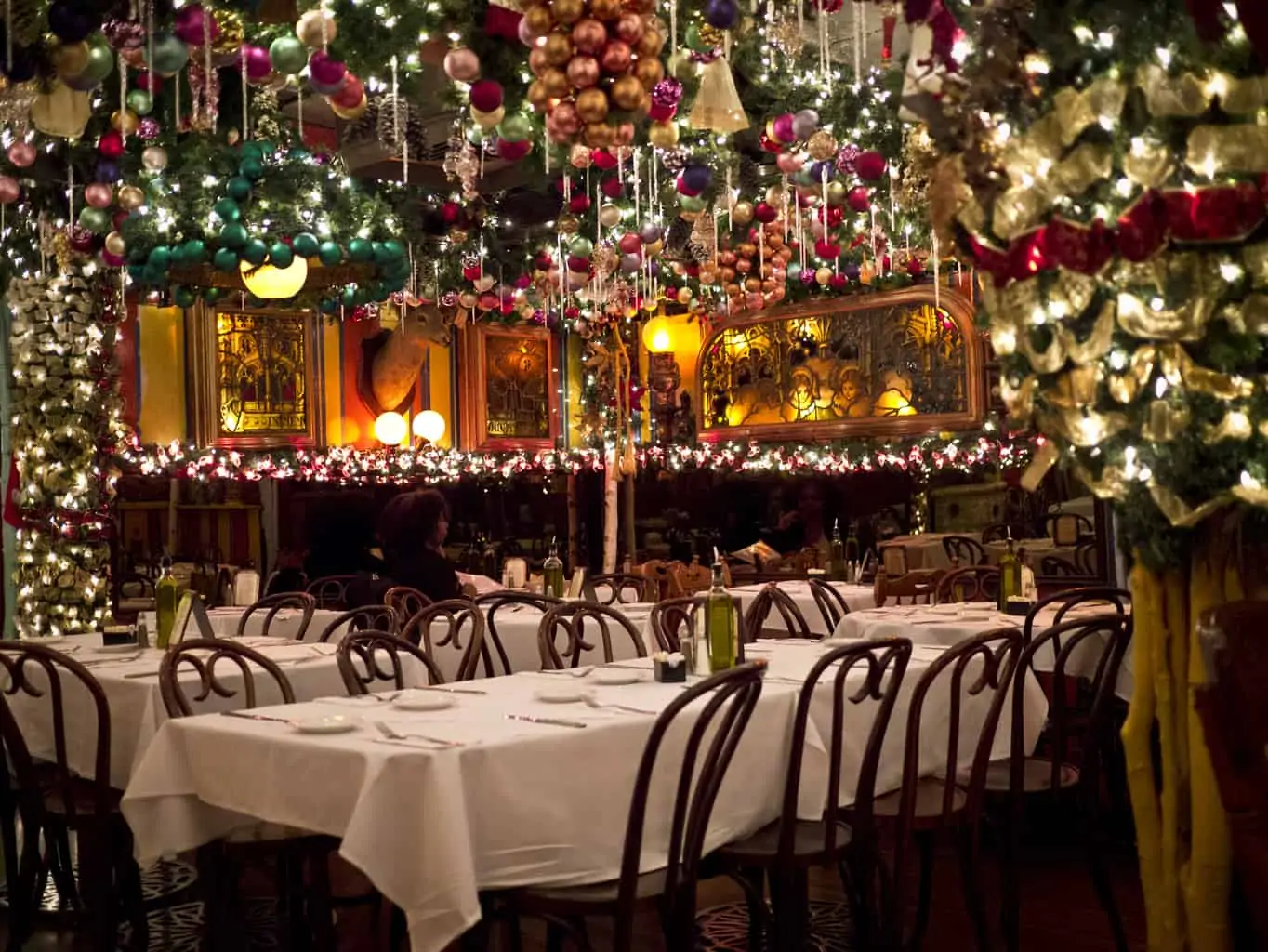 Another place that earns itself a spot on your NYC Christmas trip itinerary is this German-themed restaurant.
Actually, the menu at Rolf's technically fuses Bavarian and French cuisine from the Alsace region.
So, you'll find the likes of schnitzel and German potato salad alongside onion soup and steamed mussels.
Although, as the food is a little hit-and-miss, you'll really be going for the decor.
The old-worldly dining hall is decked out with enough bulbs, tinsels, and fairy lights to cover a village. Meanwhile, sturdy wooden panels and stained glass wall decor add even more coziness.
Now, the holiday-themed cocktails at Rolf's aren't for the faint of heart and are laced with pungent bourbon, cherry liquor, vodka, and Bailey's.
And both the Vanilla Spiced Eggnog and signature Rolf's Holiday Martini come highly recommended!
Address: 281 3rd Ave, New York, NY 10010
Hours: Open daily from 12:00 pm to 9:00 pm.
Price: Entrees start at $25.00 each.
How to Get There: Take the 6/R/W train to 23rd Street Station and walk from there.
12. Enjoy Some Nostalgia at George Balanchine's The Nutcracker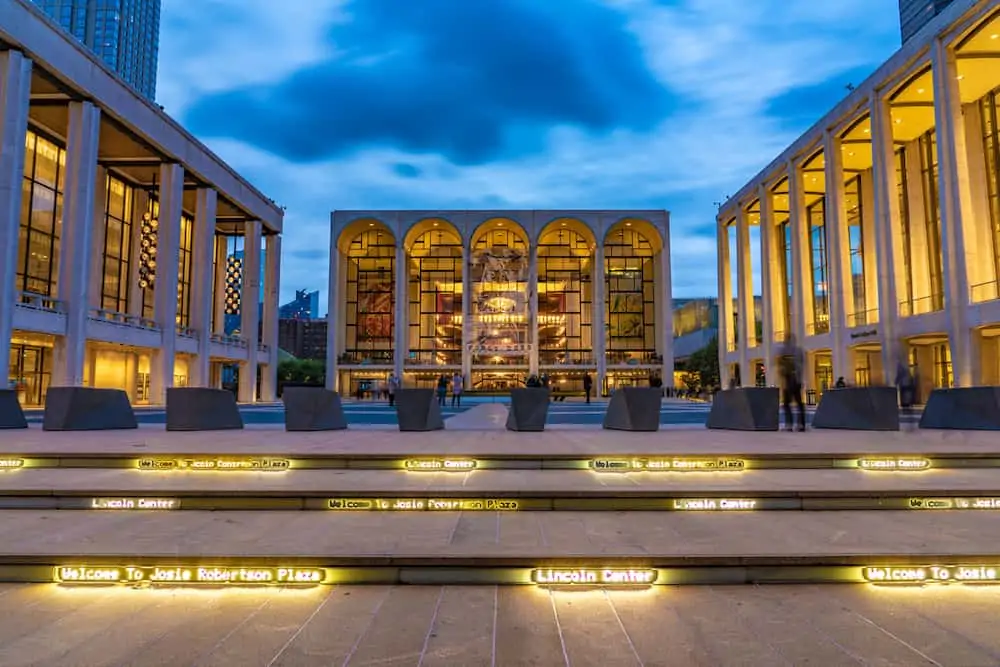 Christmas in NYC isn't really Christmas until you've caught a performance of The Nutcracker.
Choreographed by George Balanchine for the New York City Ballet, the whimsical production runs from late September until the New Year.
And in case you need a refresher, the dance brings to life the story of a little girl who befriends a Nutcracker and joins him in a battle against the evil Mouse King.
So, you can see George Balanchine's The Nutcracker with music by Tchaikovsky in the lavish David Hi. Koch Theater at the Lincoln Center.
Additionally, this ethereal show is suitable for all ages and is recommended for children upwards of 5. Each performance runs for around 2 hours.
However, tickets are already on sale. So, you'll need to hurry to secure the best seats in the house.
Because only when you've booked your tickets for The Nutcracker, can the Christmas season officially begin.
Address: David H. Koch Theater, 20 Lincoln Center Plaza, New York, NY 10023, United States
Hours: From the end of November through the beginning of January and performances are held almost daily at either 1:00 pm, 2:00 pm, 5:00 pm, 7:00 pm, or 8:00 pm. The first act is roughly 49 minutes while the second act is 41 minutes.
Price: Tickets are between $89 and $280 per person.
How to Get There: Take the 1 train to 66th street and Lincoln Center station and walk from there.
13. Splurge on a Manhattan Afternoon Tea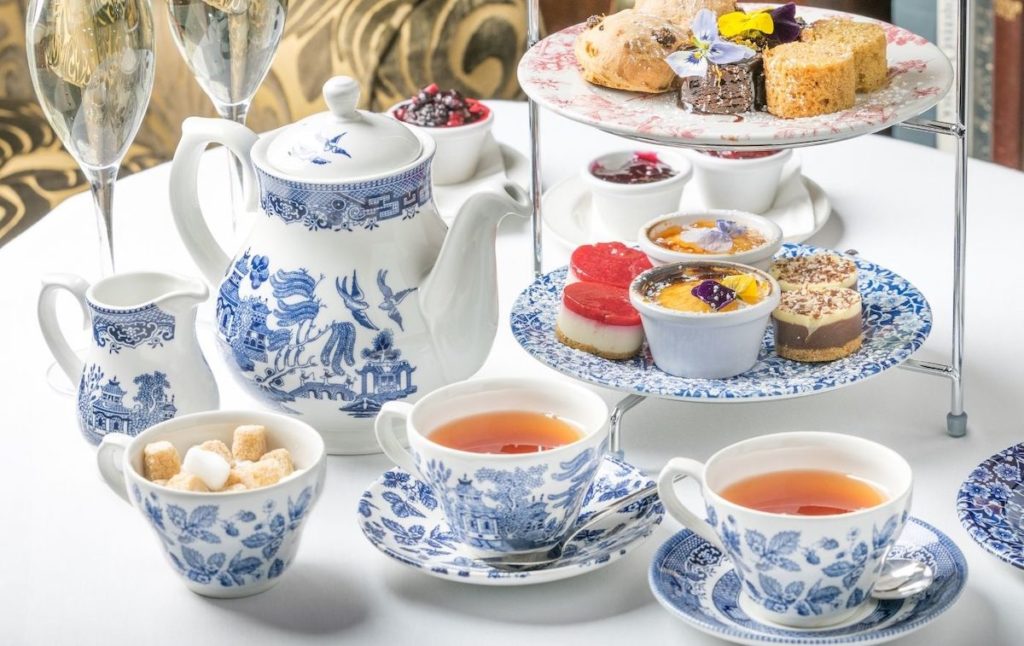 Technically, afternoon tea is more associated with London. But, this posh British tradition has taken over the streets of Manhattan.
And afternoon tea is a luxurious way to celebrate Christmas in NYC.
Think, teeny-tiny finger sandwiches served with freshly baked scones and dainty cakes. Of course, with a flourish of tea and maybe even a glass of bubbles or ten.
If you want you can even splash out with a seating at one of the city's top hotels. After all, dining rooms are always exuberantly festooned with festive decor while menus are inspired by incredible holiday flavors.
Naturally, Palm Court at the Plaza Hotel is a premier destination for afternoon tea. However, you'll need to book a table in advance and adhere to a smart-casual dress code.
And if you're a fan of Home Alone 2, this is the very hotel where Kevin set up camp after getting lost in New York!
However, a wallet-friendly alternative is Bluebird London at Columbus Circle. Originating in Chelsea, London, the Manhattan outpost overlooks Central Park and is absolutely divine.
Plus, afternoon tea is served Thursday through Sunday with menus reflecting every season.
They also whip up brunch, lunch, and dinner if you prefer.
14. Meet Santa Claus
If you are spending Christmas in NYC with kids, then they'll seize the opportunity to 'meet' Santa.
And one of the most iconic places to take kids is Santaland at Macy's Herald Square. An enchanted woodland leads you to workshops in Santa's village where they can deliver their Christmas list and enjoy one of the best things to do in New York City in Christmas.
The grotto is free but ticketed and you can book your slot on the Macy's Santaland website.
And not to be outdone, Bloomingdales actually has its own version of Santaland with a 20-minute meet and greet.
Unlike Macy's though, Bloomingdales does accept walk-ins. But, these are subject to availability, and this is NYC. So, reserve that free slot to avoid disappointment!
Oh and another cool event to add to your radar is the Winter Wonderland at the Apollo Theater in Harlem.
And, added bonus? This is a totally free event that is scheduled for December 10th from 2:00 pm to 6:00 pm.
Also, while the primary focus here is kid-friendly crafts and activities, the evening carol singing offers something for everyone!
15. Watch the Ball Drop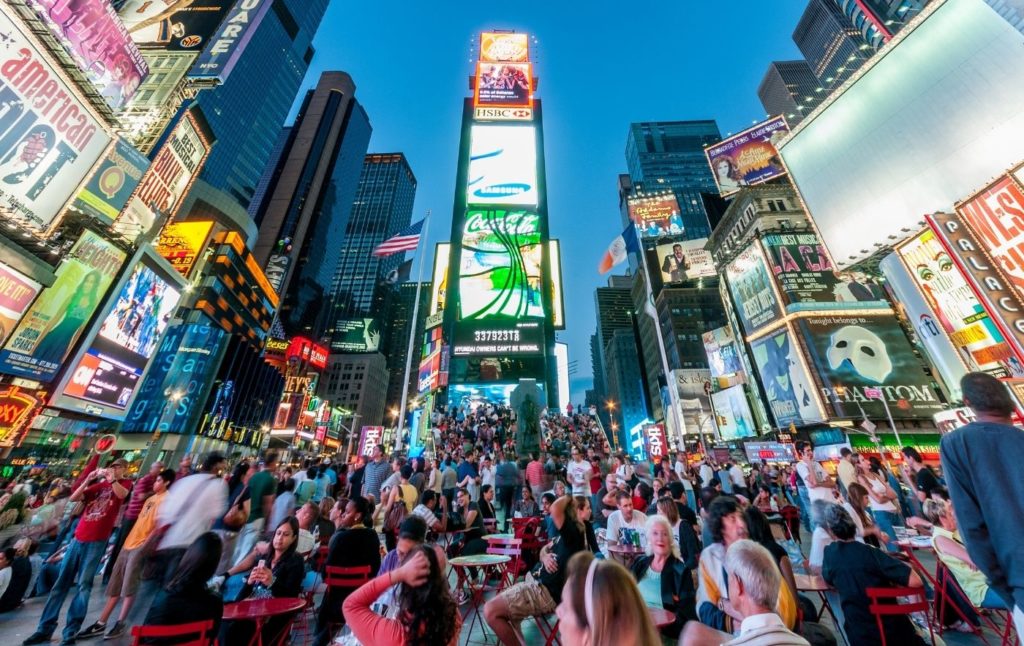 Stick around after Christmas in NYC and you can witness the ball drop in Times Square.
See, this symbolic event has been carried out in Times Square since 1907. In fact, it was inspired by the Royal Observatory in Greenwich, London, where a red time ball is dropped daily at 1:00 pm.
Originally, the purpose was to share the exact time with seafarers passing by the English capital. It then quickly caught on all around the world.
So, Adolph Ochs, owner of the New York Times, decided to refashion the tradition to ring in the new year.
However, what you might not know is that the ball in Times Square has been forged from iron, wood, aluminum, and crystals.
Anyway, the ball is raised at precisely 11.59 pm with the midnight drop celebrating the beginning of a new year.
This quirky event is free to attend and open to all. But, you'll need to arrive super early to nab a standing spot.
And, it's not recommended if you're not a fan of crowds. But, streaming it live from the comfort of your NYC hotel is an unrivaled experience.
Address: Times Square
Hours: You'll need to get here well before noon to secure a spot. You'll also need to spend hours standing in the cold and won't be able to leave.
Price: Free
How to Get There: You can take just about any subway train to Times Square.
16. Shop At FAO Schwartz
If you head to the city in December you really should not miss out on visiting FAO Schwatrz. This iconic store is unlike any other store that you have visited. Why? Because it is Christmas themed! You will find that it has all things Christmas stocked from the floor to the roof.
Okay so you can probably visit at any time of the year BUT if you need some Christmas shopping done then why not at a legendary store? Mind you, FAO Schwartz is always crowded during the season.
The store is located right next to the Christmas tree at the Rockefeller center. Convenient right? You can quickly tick off two items from your things to do this Christmas in NYC.
Pro Tip: If you want to be an effective shopper, check out their website and browse by age. This will help you get a feel of what you want to buy and it makes the rush so much more manageable.
Address: 30 Rockefeller Plaza, New York, NY 10111, United States
Hours: Open everyday from 10am to 8pm
How To Get There: It is located right next to the Rockefeller square. You can just walk from any of the central locations.
Christmas in NYC – Brooklyn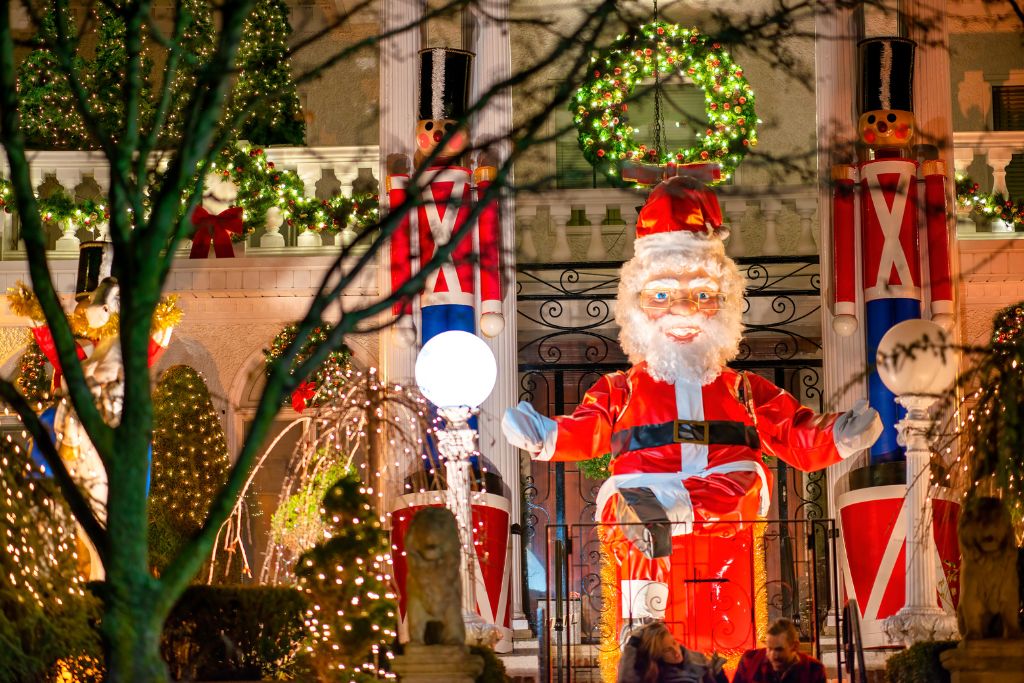 ⭐️ Rating: 4.6/5 (540 Reviews) Price: $59 per person Duration: 4 hours 📍Meeting Point: In front of the Treehaus Liquor Store Details: Read more on Get Your Guide Now!
If you were blown away by the Manhattan Christmas lights, just wait until you see what Brooklyn has to offer.
See, Dyker Heights is a residential zone that turns into a gigantic winter wonderland starting in late November.
So, expect pretty much every house to be adorned with Christmas paraphernalia. As a result, you'll see the likes of fairy lights, wreaths, trees, angels, reindeer, candy canes, giant nutcrackers, and more.
Tourists are also welcome to visit since actual bus tours will take you here.
"Amazing tour to see the lights. Was a very cold night but glad it was not raining! nice tour lady and special to go on Christmas Eve"

Megan (read more reviews now!)
And, because a subway ride here takes at least one hour, these bus tours will save you a lot of hassle.
Plus, The 4-Hour Dyker Heights Holiday Lights Bus Tour includes pick-up from Manhattan and return transit via private bus.
Actually, the driver will drop you off at the Bryant Park Winter Village where you can defrost with hot food and mulled wine.
So, yeah, Dyker Heights is deffo one of the top-rated things to do over Christmas in NYC. Just be sure to make arrangements sooner rather than later since this place is mega popular.
Also, swathe yourself in tons of layers and pop a thermos of coffee in your bag, too!
Address: From 83rd St. to 86th St. between 11th Ave. and 13th Ave, in Dyker Heights Brooklyn.
Hours: Lights come on after sundown (best seen between 5 pm and 9 pm), daily, from late November through early January. You can avoid the crowds if you go after Christmas.
Price: Tours are around $56 per person.
How to Get There: Take the D train from Rockefeller Center to 71st Street station and walk from there.
18. Shop like a Brooklynite at Brooklyn Flea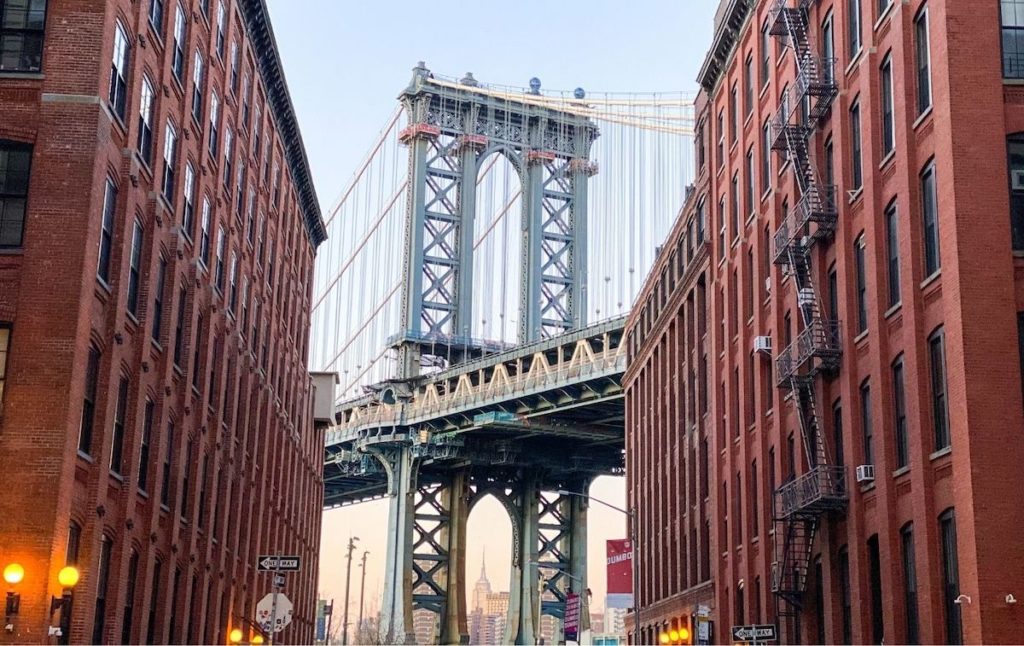 In addition to browsing through the Christmas markets of Manhattan, you should also check out some of NYC's regular flea markets too.
And perhaps the most famous of them all is Brooklyn Flea. It occurs every Sunday, April through December – with December being the final month of the year and offerings being at their best.
In fact, at least 100 local craftspeople, artisans, and vintage vendors congregate beneath the Manhattan Bridge in Brooklyn. So, you'll find all sorts of clothing, antiques, and collectibles on offer.
Also, because this is a regular flea, the objects on sale aren't restricted to holiday-themed items. So, if you're looking to shop for, shall we say, the pickier people in your life – you might find that the Brooklyn Flea is a good fit.
After all, the apparel and trinkets on sale are thoroughly unique.
And then alongside gift items you'll find gourmet food stalls where you can tuck into festive food and quixk bites. And, this is DUMBO, so you're surrounded with solid options for sit-down meals and coffee too as you enjoy one of the best budget shopping spots in NYC.
Pro Tip: Also remember that the Chelsea Flea in Manhattan runs all year-round and all weekend long.
Address: 80 Pearl St, Brooklyn, NY 11201
Hours: Open from April through October on Saturdays and Sundays from 10:00 am to 5:00 pm.
Price: Varies by item.
How to Get There: Take the F train to York Street or the A/C train to High Street and walk from there.
19. Marvel at Lightscape in the Brooklyn Botanical Gardens
Every year, Brooklyn Botanical Gardens ushers in the holidays with Lightscape, one of the best things to do this Christmas in New York City.
And that's because this installation sees over one million lights dotted all throughout this 52-acre plot of land within Prospect Park.
Plus, Lightscape is designed in tandem with strategic event planners and local New York artists.
So, the idea here is to celebrate nature and winter, as well as the holiday season. Water features also play with reflections and tunnels of light are erected next to local trees.
A specific trail is even set up so that you'll follow a thoughtfully planned route for this perfect experience this Christmas in NYC.
However, this is an outdoor event at night. So, you're going to have to give your choice of clothing some serious thought if you wanna stay warm since this trail typically takes an hour to complete.
So, get pumped because Brooklyn Botanical Gardens Lightscape is set to open on Wednesday, November 16th, 2022 and run until Sunday, January 8th, 2023.
And, FYI, this event always sells out. So, grab your tickets online once you have your trip confirmed!
Address: 990 Washington Avenue, Brooklyn, NY 11225
Hours: Open November 16th through January 8th from 4:30 pm to 8:30 pm (this is final admission but the facility closes at 9:30 pm).
Price: Tickets are $34 for adults, $18 for kids, and free for anyone 2 and under.
How to Get There: Take the 2/3 train to Brooklyn Museum and Eastern Parkway and Brooklyn Museum Station and walk from there. Think of it as a mini Brooklyn walking tour. LOL. .
Christmas in NYC – Queens
20. Illuminate the Farm @ Queens County Farm
Queens is a touch off the beaten track for a typical NYC itinerary.
However, if all the urban energy and bright lights are getting to be a bit too much this Christmas in NYC, here is the perfect antidote since you can inhale the glorious semi-fresh air.
Because Queens County Farm is a working farm and tourist attraction in Glen Oaks, Queens.
And just in time for Christmas in New York City, Illuminate the Farm sees swathes of lanterns light up this historic agricultural site.
These beautiful lanterns are all hand-crafted and come in the shape of various animals, flowers, and farmyard machinery. They're pure works of art and completely justify the bus ride out of Manhattan/Brooklyn.
Plus, Queens County Farm also hosts a couple of other special events that you should add to your personal calendar.
Like on Saturday, December 17th, there will be a reading of O. Henry's The Gift of the Magi at 1:00 pm.
And then, to banish the post-Christmas blues, the farm hosts its annual Holiday Open House on the 26th, 27th, and 28th of December respectively.
It's scheduled from 12:00 pm to 4:00 pm and is a totally free event that charms kids with holiday-inspired crafts and delights adults with fresh mulled cider.
Address: Varies
Hours: Varies
Price: Varies. See their website for more information.
How to Get There: Varies.
21. Amaze Light Festival In Flushing
Love the Christmas lights in NYC? You've probably got the Dyker Heights Christmas lights all marked out for your visit BUT there is another light festival that really deserves you attention. The Amaze light festival that is held at the New York Mets stadium in Flushing is one of the largest light festivals in the country and is easily accessible if you are in the city.
Five themed worlds are set up and you can wander through them. Trust me… It is an experience that you will not forget in a hurry. Millions of twinkling lights, forests covered in snow, cute little lanterns and even a show are just a few reasons why it is one of those must dos if you spend Christmas in NYC.
Pro Tip: There is an animated show where the trees come alive. It is held every 30 minutes and is something that children absolutely love. So make sure that you catch it when you visit.
Address: 41 Seaver Wy, Queens, NY 11368, United States
Hours: Open between 4 – 10pm. Closed on Mondays.
How To Get There: Take the train to Met – Willets point and walk from there.
Christmas in NYC – The Bronx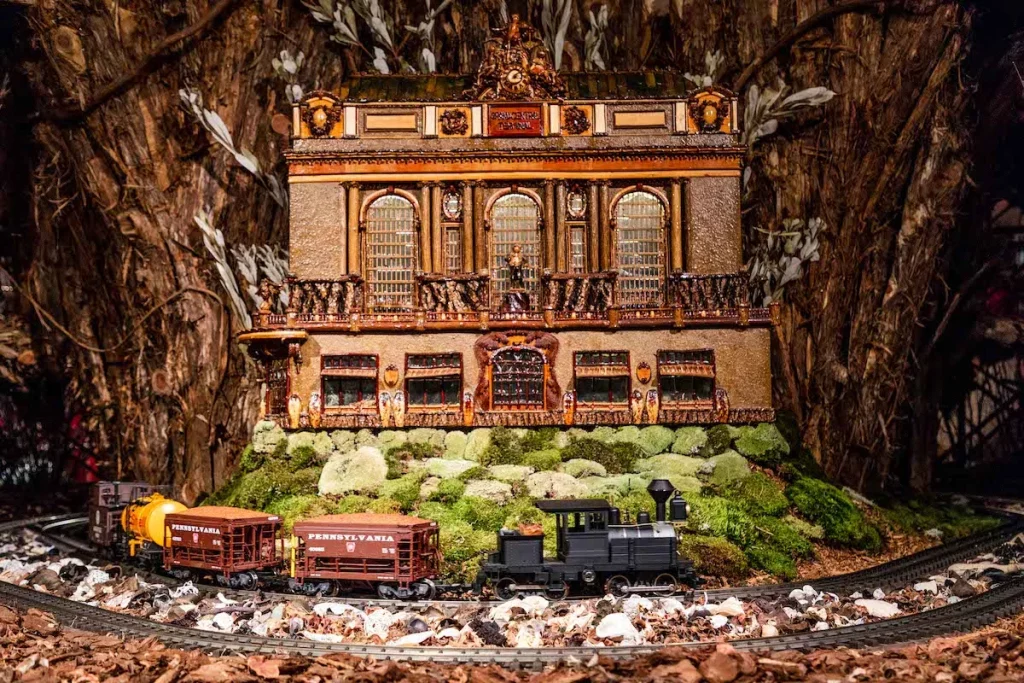 ⭐️ Rating: 4.5/5 (206 Reviews) Price: $35 per person Duration: Valid for 1 day 📍Meeting Point: The main entrance is located at NYBG Leon Levy Visitor Center Details: Read more on Get Your Guide Now!
Although often overlooked in favor of more central parks, the official New York Botanical Gardens are located in the Bronx.
And, while you should visit these all throughout the year, the winter offering is particularly magical.
In a similar vein to Brooklyn's Lightscape, the complex is illuminated with thousands of lights and installations.
A marked 1.5-mile walking trail also sets out to educate and enchant in equal measure.
"We really enjoyed the day. Flowers were so beautiful."

Angela (read more reviews now!)
But, in addition to NYBG GLOW you shouldn't miss the Holiday Train Show. This traditional display of scale-model trains and landmarks has been going strong for over 30 years.
Plus, after all the excitement of NYC's biggest outdoor light show, you can dive into a tasty meal at the Bronx Night Market.
No surprises here – NYBG GLOW and tickets to the Holiday Train Show go fast. So, it's strongly encouraged that you buy them well in advance of your visit.
And starting Friday, November 18th, the event will take place on select evenings until Saturday, January 14th.
Pro Tip: Save money by purchasing a combo ticket it both events.
Address: 2900 Southern Boulevard, Bronx, NY 10458-5126
Hours: Open from 5:00 pm to 10:00 pm daily.
Price: Tickets are $35 for adults, $20 for children, and free for anyone 2 and under.
How to Get There: Take the B, D, or 4 train to Bedford Park Blvd. Station. From here take the B26 bus east to the Botanical Garden's Mosholu Entrance.
23. Bronx Zoo Holiday Lights
Yet again, the Bronx Zoo is set to deliver festive cheer with its annual light show.
The grounds of the zoo are illuminated with immersive light displays, bespoke lanterns in the shape of animals, and vivacious light shows.
Plus, performances, entertainment, and holiday music will ramp up the atmosphere even more this Christmas in NYC.
Seasonal food and drink will also be available at the Dancing Crane Cafe, complete with lots of fun pop-up stalls.
And, the Holiday Train makes a welcome return too.
Just note that the walk-through experience is fully outdoors, which means that you'll need to bundle up in plenty of layers.
Note, all animal viewing is off-limits during the holiday lights evening events to ensure they this wonderful creatures get their beauty sleep.
Yup, these holiday lights have become an established new tradition during Christmas in New York City and appeal to all ages.
Although, advance purchase of tickets is mandatory, which you can easily do online.
And this year's light festival is confirmed to run from Friday, November 18th through Sunday, January 8th.
Address: 2300 Southern Boulevard Bronx, New York,10460
Hours: Holiday lights come on at 4:30 pm but tickets can be purchased for 3:00 pm (perfect if you want to see real animals), 5:00 pm, 6:00 pm, 7:00 pm, and 8:00 pm time slots.
Price: $39.95 for adults, $24.95 for kids (3-12), and $34.95 for seniors (65+).
How to Get There: Take the 2 train to the Pelham Parkway station and then catch an uber from there.
Christmas in NYC – Staten Island
24. "Escape" to Snug Harbor Cultural Center and Botanical Garden
Now, Staten Island might require a ferry ride.
But, the trip is free and the borough is one of the coolest areas to experience Christmas in NYC like a local.
And the top holiday attraction here takes place at Snug Harbor Cultural Center and Botanical Garden in the Randall Manor/New Brighton neighborhood.
See, the center hosts Escape, brought to you by the same folks that put on the Winter Lantern Festival.
In fact, Escape is pretty similar to Illuminate the Farm in Queens. So, expect a kaleidoscope of color from these artistic lanterns.
Also, Escape @ Snug Harbor Cultural Center and Botanical Gardens generally puts on a roster of dazzling cultural performances, in addition to having an epic food market where you can get your fill of cinnamon treats, eggnog, and warming street eats.
Escape usually starts for the season in late November, straight after Thanksgiving.
So, it's worth adding your details to the Winter Lantern Festival mailing list for updates as well as early bird discount tickets.
Address: 1000 Richmond Terrace, Staten Island, NY 10301, United States
Hours: Open daily from 4:30 pm to 9:30 pm.
Price: General admission is $24.99 per person.
How to Get There: Take the S40 bus to Snug Harbor and walk from there.
25. Step back Into Yesteryear During Christmas in Historic Richmond Town
Another wintery extravaganza in Staten Island sees Historic Richmond Town recreated as a Dickensian wonderland that is home to some of the best Christmas lights in NYC.
Now, this living history museum and farm complex hosts demonstrations inspired by the tales of Charles Dickens. So, expect child-friendly activities, horse-drawn carriage rides, and Santa Clause meet-and-greets aplenty this Christmas in NYC.
Meanwhile, stalls will sell traditional gifts, soul-warming drinks, and hot street eats.
Plus, tons more cheerful events will take place throughout the fair that will delight children and adults of all ages.
And as a true pillar of the Staten Island community, Historic Richmond Town is always an awesome day out with the Christmas event being a huge hit.
And this year Christmas in Historic Richmond Town is confirmed to run from Saturday, December 10th to Sunday, December 18th.
So, with only a week-long window, you'll need to organize your schedule if you don't want to miss out.
You can also purchase tickets via the Christmas in Historic Richmond Town website.
And while not mandatory, costumes are welcome if you fancy getting into the "spirit" of things.
Address: 435 Richmond Hill RoadStaten Island, NY, 10314, United States
Hours: Open Saturday, December 10th to Sunday, December 18th from 11:00 am to 7:00 pm.
Price: $10.00 for adults and free for kids 12 and under.
How to Get There: Take the S74 bus to the Richmond Rd/St Patricks Pl stop and walk from there.
Things to do this Christmas in NYC
What Do People Do On Christmas In New York?
Christmas is a bustling time in the city and most people gravitate towards the timeless traditions. Gazing at the numerous window displays, lighting up of the Christmas tree, ice skating in the park or just sipping hot chocolate are some of the very popular choices.
Is NYC Fun During Christmas?
NYC is a lot of fun during Christmas. The city transforms with a blanket of snow and thousands of Christmas displays. There are musicals and trees, hot chocolate and pop up markets and so so much more.
The downside? We aren't the only ones who think that NYC is super cool during Christmas. There are loads of tourists who visit every year making it one of the most expensive cities to live in at this time of the year.
What Can You Do For Free In NYC On Christmas?
NYC may be super expensive during Christmas BUT there are still a lot of free activities that you can really enjoy. Central park is a winter wonderland. Head out for walks in the snow and snap up some really cool pics.
Head to Dyker heights and enjoy the lights. You can take a free self guided tour instead of paying for a guided one. All you have to do is download the audio guide.
The Rockefeller Christmas tree stands tall and you can visit it for absolutely no money at all. It is one of the top free things to do on Christmas in NYC.
Is Everything Open On Christmas Day In NYC?
Christmas day is a holiday and most of the stores are closed. So make sure that you do your shopping prior. In addition to the stores, you will find that many of the popular attractions are also closed. You can however head to Central Park or just wander around the city. It is still beautiful and fun to explore.
⏰Looking for an amazing place to stay while in NYC but haven't had the time to book your accommodation yet? Try Pod 39. It is budget friendly and pretty luxurious for the price! ⏰
Map of the Best Things to do this Christmas in NYC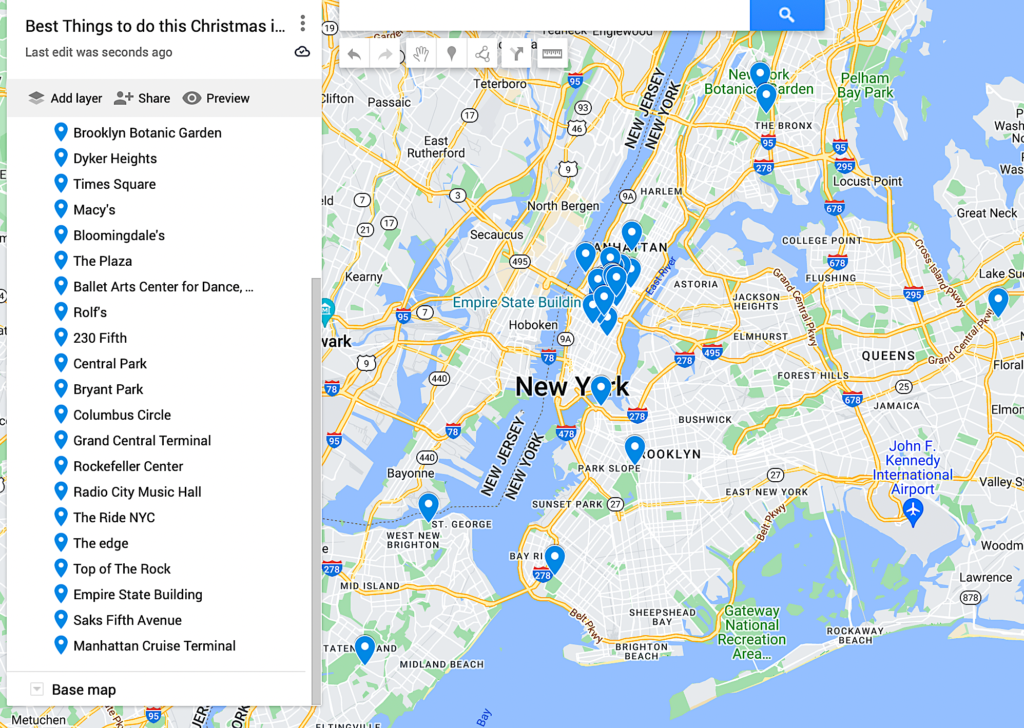 Additional New York Resources You'll Love
There you have it! That just about wraps up this guide to the best things to do this Christmas in NYC.
Tell me, did your fave things to do this Christmas in New York City make the list? If not then let me know in the comments below.
And if you found this post useful, don't forget to join our email list before pinning this post now so that you can read it again later.