Now an eternal symbol of all things peace, love, and rock and roll (thanks to the Woodstock Music Festival of 1969), Woodstock is a small town in New York's Catskill region that is home to some pretty rad activities.
So, if you're looking for all the best things to do in Woodstock NY then this local's guide is totally for you! And that's perfect since this is without a doubt one of the best small towns in New York.
After all, I've lived in New York for 30+ years and want to share with you all of my secret tips for making the most out of your time in Woodstock.
This way, you can quickly and easily plan the Woodstock itinerary of your dreams as you channel your inner hippie and rock a sweet, sweet tie-dye t-shirt (far out, man).
Because in good old, Woodstock NY, you'll find tons of interesting things to see, including vibrant art galleries, one-of-a-kind boutiques, delicious restaurants, exciting hiking trails, and vivacious outdoor markets – all of which are located about 100 miles north of New York City.
So, if you're ready to start planning the Woodstock New York trip of your dreams, then grab some "special" brownies and swan dive into this post all about the all-time best things to do in Woodstock New York.
This post may contain affiliate links. Please see my disclosure for more information. As an Amazon Associate, I earn a small commission from qualifying purchases.
⏰ In a rush and haven't booked your accommodation in Woodstock NY yet? Don't worry. Try getting a room at Hotel Woodstock. It's an antique hotel which offers great rooms for the price. 🏨
How to Get to Woodstock NY from NYC
Good news for anyone looking to enjoy all of the best things to do in Woodstock NY. Because it is now easier than ever to travel from NYC to Woodstock NY.
So, all you really have to do is any of the following:
By Train – Hop on an Amtrak train that is headed towards Albany from Penn Station. Get off at Rhinecliff station and then take a taxi/uber from Rhinecliff to Woodstock. In total, the train ride should take about an hour and a half while the taxi/uber ride will take about 30 minutes.
By Bus (the easiest and cheapest way) – Hop on a bus from Port Authority Bus Terminal and take it directly to Woodstock. You may have to change buses in Kingston along the way but Trailways buses are great since they will basically plop you right in the center of town. In total, the trip will take around 2.5 hours, depending on traffic.
By Car – If you have a car and are traveling to Woodstock from somewhere other than NYC (who has a car in NYC?) then just hop on either 1-87 North or South and take this interstate to exit 19. Once there, just follow the signs to the center of town. It's pretty easy and only takes around 2 hours to drive from NYC to Woodstock.
Best Hotels in Woodstock NY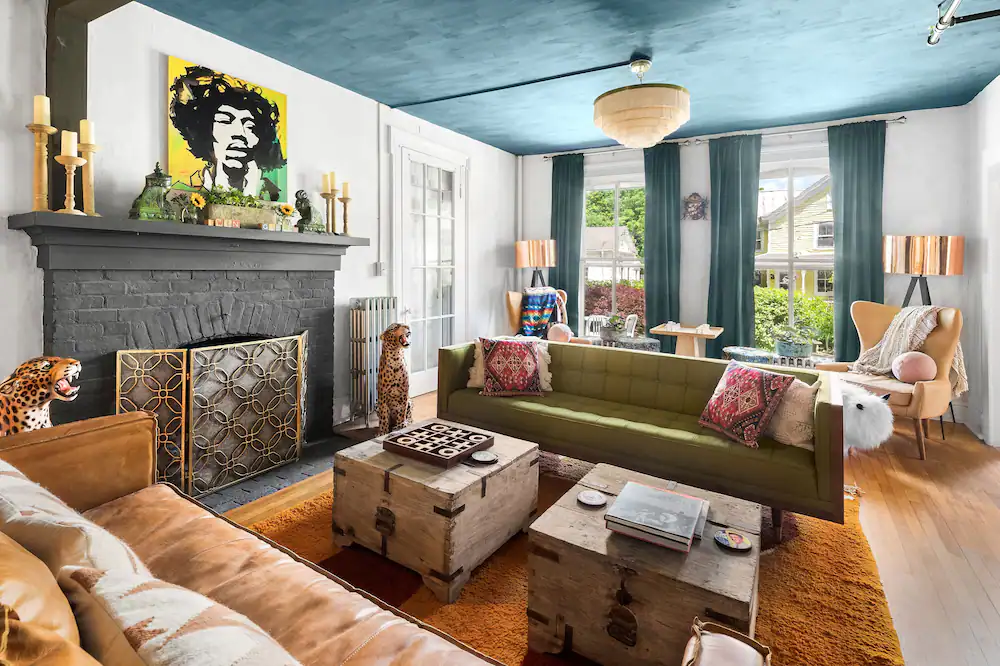 Guess what? There are a ton of great hotels for you to stay at during your trip to Woodstock NY.
However, to help make the entire trip planning process about 10,000 times easier, I've created this nifty little list of my picks for the best hotels in Woodstock NY.
So, whether you're looking for budget, mid-range, or luxury accommodations, you'll find something here to pique your interest. I pinkie promise (insert winkie emoji here).
⭐️ Rating: 7.6/10 (1067 Reviews) Price: $193 per night 📍Location: Shanaway Road. Woodstock, Ennis Details: Read more on booking.com now!
With rooms that start at under $200 per night, this a great place to stay if you want a nice hotel room but are on a limited budget.
Not only are these adult-only apartments well-located in the center of town (right across from the Trailways bus stop from NYC), but they sit inside an antique hotel that is now 148 years old.
"Rooms were comfortable and breakfast was excellent as was evening meal.Very nice and friendly staff. Manger was present when we arrived and greeted everyone with a warm welcome.

The manager actually also went around at evening meal and thanked everybody for dining in the hotel with them and ensured everyone was being looked after.. It was an excellent felling of being made welcome and appreciated."

Francis (read more reviews now!)
You'll also love the loft-style apartments with 2 queen beds, a dining area, a living room and a kitchen. Although, you will have to ascend a spiral staircase to get to the bathroom on the 3rd floor.
⭐️ Rating: 9/10 (147 Reviews) Price: $164 per night 📍Location: 73 Tinker Street, Woodstock, NY Details: Read more on booking.com now!
This cozy, well-reviewed bed and breakfast is located right in the center of town and features individually decorated rooms that include nifty things like 4-poster beds and antique furniture.
And while there are no TVs in any of the rooms, guests have access to Wifi and a free Continental breakfast that is served daily (yum).
Absolutely lovely and historic 'boutique' hotel in authentic sense of the term. The ladies who run this place are real darlings, and went all out to make things comfortable for our family. The décor is inspirational and breakfast plentiful.

Harry (read more reviews now!)
Plus, the hotel has constantly had nothing but stellar reviews. This is definitely one of the reasons to consider staying here.
⭐️ Rating: 8.6/10 (44 Reviews) Price: $252 per night 📍Location: 141 tinker street, Woodstock, NY Details: Read more on booking.com now!
Easily one of my fave places to stay in Woodstock, this unique bed and breakfast sits inside a clapboard-style home and features lovely rooms that are outfitted with antique furniture and hardwood floors.
"An incredibly lovely healing place. The beautiful patroness , the art,the energy ,the coffee all were wonderful."

Margaret (read more reviews now!)
Guests will also enjoy WiFi throughout and can use one of two rental kayaks. Continental breakfast is also served daily and live music can be enjoyed here in the evenings.
⭐️ Rating: 9.5/10 (5 Reviews) Price: $219 per night 📍Location: 320 Maverick Rd, Woodstock, NY Details: Read more on booking.com now!
This fun, Bohemian-style, 3-star hotel has vibrant, chic rooms that include WiFi, flat-screen TVs, coffee makers, and large sitting areas.
There's also a Mexican restaurant on-site and guests are welcome to use a seasonal outdoor pool and enjoy complimentary breakfast on the weekends.
Best Things to do in Woodstock NY
1. Visit Catskill Park and Hike Overlook Mountain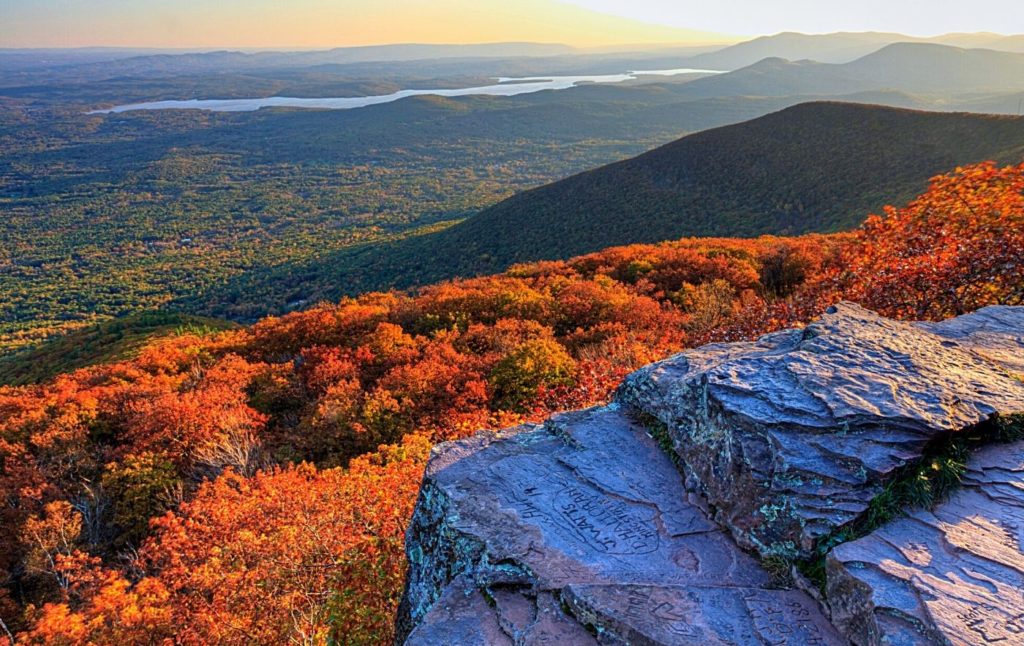 Hidden away in the heart of the Catskills region of New York, Woodstock is surrounded by more than 700,000 acres of wilderness.
Therefore, it's really no surprise that one of the best things to do in Woodstock NY is, DUH, go for a hike. And one of the best places to do this is Catskill Park, aka the Catskill Forest Preserve.
After all, this natural wonderland was first established in ye olde 1885 and is home to some of the best hikes in upstate New York.
A fact that makes a whole hell of a lot more sense when you realize that this park has, count em', 35 different peaks and ridges that exceed a height of 3,500 feet.
Yup, now that's why I call serious elevation gain. So, feel free to hop on one of 19 different trails that will take you to the summit of some of these mighty mountains.
And along the way, keep an eye out for epic local wildlife that includes bobcats (rare but yikes), cougars (double yikes), fish, black bears, and various other adorable little creatures.
Also, while any of these trails are sure to inspire, you really can't go wrong with an epic hike up Overlook Mountain to see the amazing ruins here.
After all, it's the southernmost mountain in the entire range, stands at a whopping, 3,000+ feet tall, and offers intrepid hikers impressive panoramas that are next-level awesome.
2. Shop til' You Drop on Tinker Street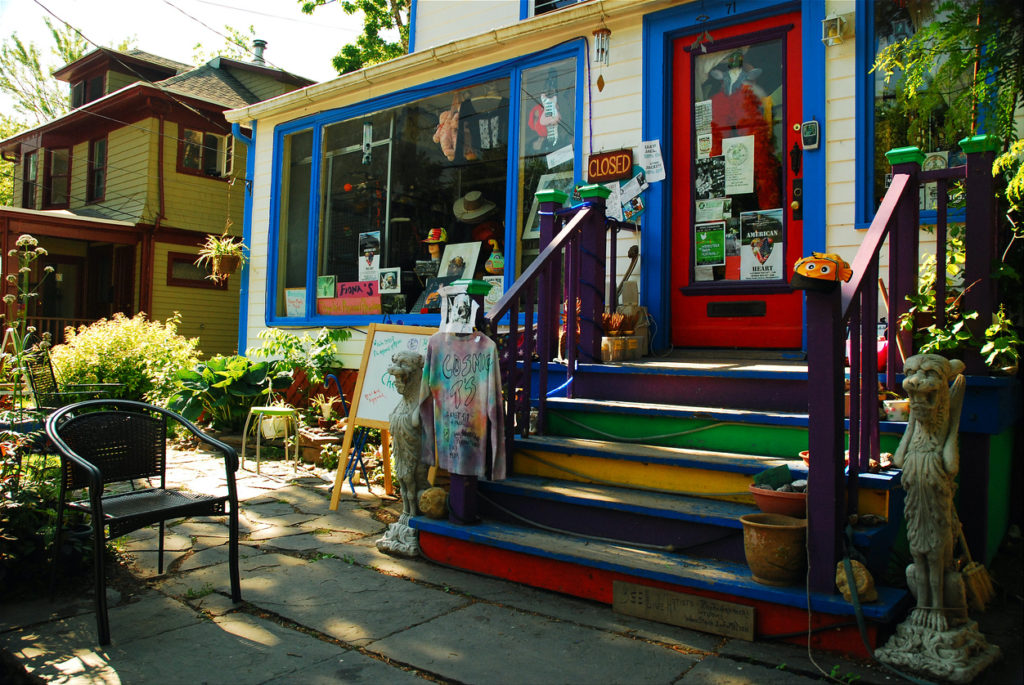 Okay, before you even begin this shop fest of awesome, you MAY want to pick up (aka rent) a rad set of wheels from Overlook Bicycles.
Is renting a bike entirely necessary? No, especially since the downtown area of Woodstock is fairly small. But, going for a leisurely bike ride is definitely one of the best things to do in Woodstock NY on a warm, spring day.
Anyway, continue down Tinker Street and you'll see a bunch of locally owned shops that get particularly awesome right when you hit Tannery Brook Road but before the entire road forks off into Rocky City Road and Mill Hill Road.
Some of my personal faves here include:
Headstock & Co – great boutique
Three Turtle Doves – vintage clothing store
Woodstock Byrdcliffe Guild – art gallery
Jean Turmo Ltd. – gift shop
Rock City Vintage – vintage clothes
And so much more!
And although it's technically not on Tinker Street, you should 100% stop at Bread Alone Bakery and get an almond croissant, a loaf of bread (they're all good), a breakfast burrito, or a hot caramel latte.
Yeah, this bakery is exceptionally good even if the menu is small and their food isn't the cheapest. But, per usual, you get what you pay for!
3. Check Out Ashokan Reservoir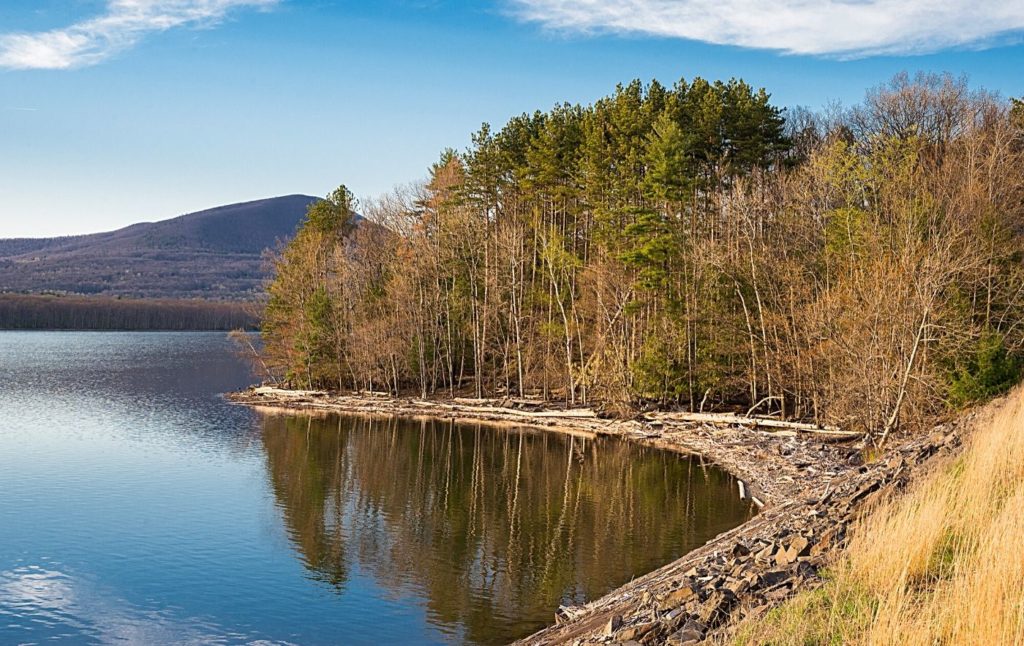 Did you know that Ashokan Reservoir supplies NYC with most of its drinking water? Yup, crazy but totally true. And just another one of the pros of living in New York City since this water is some of the cleanest in the entire country.
Anyway, back to one of the best things to do in Woodstock NY because this gorgeous reservoir is just a short drive away from this tiny town in the Catskills.
And once you arrive, you'll quickly see that this is one of the largest reservoirs in the US. So, stroll along the 2+ miles of trails here and take in the awe-inspiring views of the mountains that surround you. Also, be on the lookout for soaring bald eagles that occasionally make a guest appearance here.
Sadly though, you can't swim in this reservoir. But, you can make use of the Ashokan Rail Trail – an 11.5-mile multi-use trail with signs that detail the history of the region and the development of the reservoir.
Pro Tip: The paved, 2.8-mile long Ashokan Reservoir Promenade is stunning and well worth your time.
4. Eat ALL the Food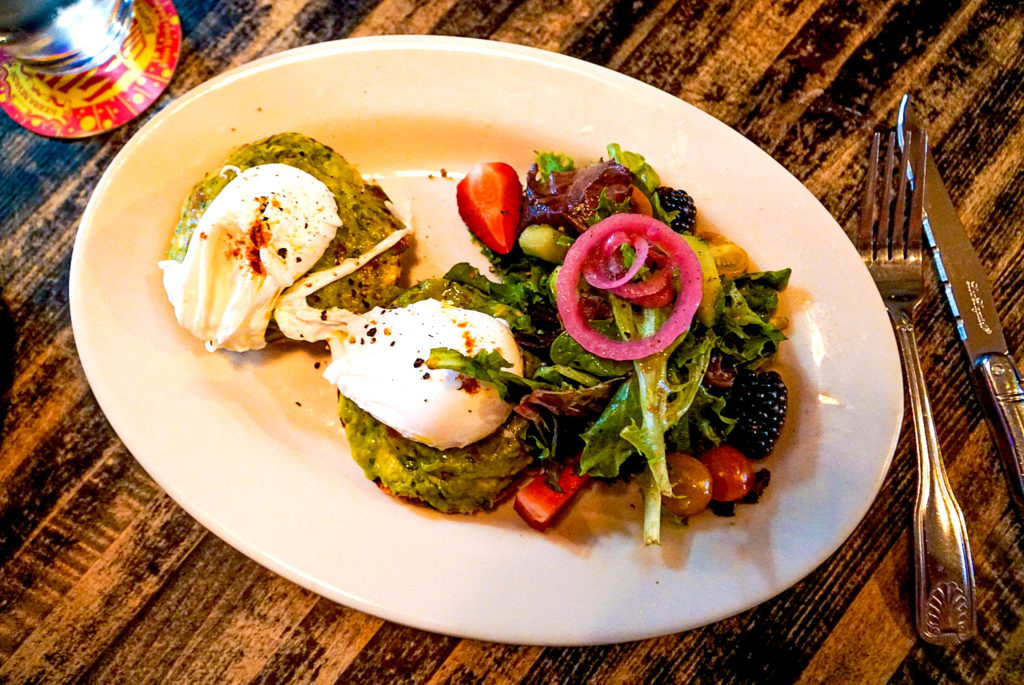 Contrary to what you might think, one of the best things to do in Woodstock NY is eat ALL the food. Because, trust me, the foodie scene really is that good.
But, it can be difficult to know where to start when you're new to an area. Thankfully though, your friendly, New York local is here to show you the way and to make those pants of yours feel infinitely tighter by the end of this culinary tour de force.
So, some of my faves, which include:
Yum Yum Noodle Bar – They serve up delicious Japanese noodle bowls (super customizable) and Southeast Asian-style street food that made me (almost) feel like I was back in Asia,
Peace Love and Cupcakes – A family-owned bakery in Armory Square that sells really good chocolate chip cookies and great cookies and cream cupcakes. The staff are also REALLY friendly too.
Cucina – This sleek restaurant serves modern Italian cuisine inside an old farmhouse. Order a homemade lemon and thyme soda with a pear and goat cheese pizza and I promise you will NOT regret it.
Garden Café – As the name suggests, this adorable little eatery in the heart of Woodstock is a great vegan spot where you will hardcore DEVOUR the sweet pea guacamole. They also serve a great lasagna, a marco meal with tofu, delicious homemade hot sauce, and superb coffee. Honestly, it's a great place to go even if you're not vegan.
Also, just an FYI, this is not a full list of the best places to eat in Woodstock. These are just some of the places that I've dined at and that I thought were really good.
5. Check Out all the Local Art Galleries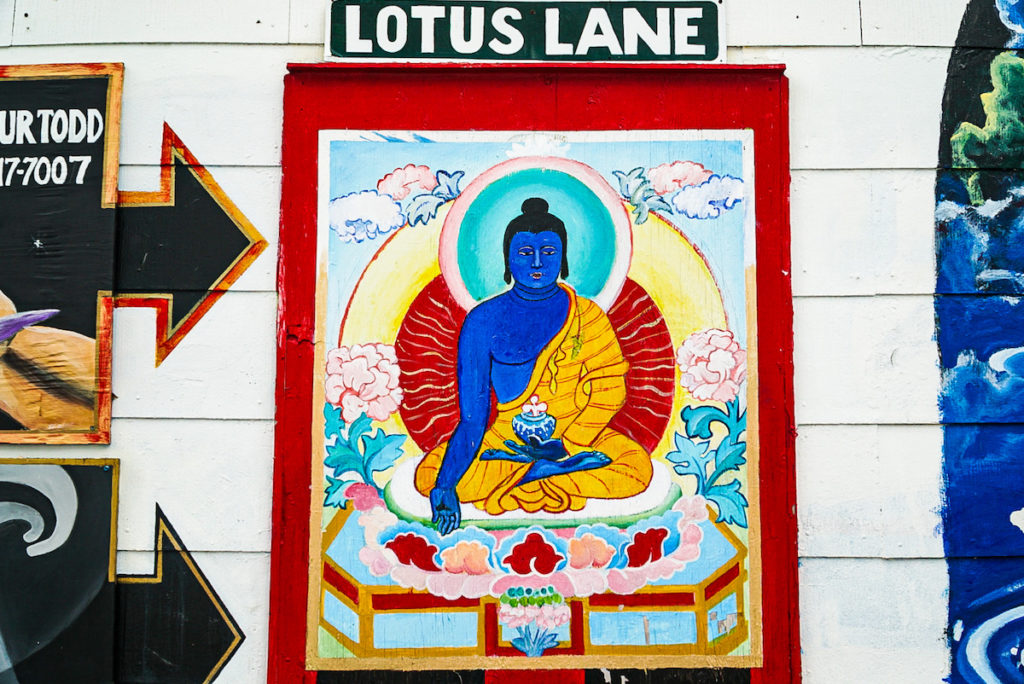 Long before that iconic music festival took place in 1969, Woodstock was established in 1903 as a super rad, utopian artist's community by the name of The Byrdcliffe colony.
In fact, The Byrdcliffe colony still exists today and was an all-around great place for artists to go and get all creative in the woods. So much so that a one, Bob Dylan was a former resident.
And with all this artistic greatness in the town's history, it's so small wonder that one of the best things to do in Woodstock NY is to visit the many art galleries that still exist here today.
So, if you want to channel your inner Vincent Van Gogh (minus cutting off your own ear), here are some great art galleries in the area.
James Cox Gallery – Showcases twentieth and twenty-first century American art
Elena Zang Gallery -Features contemporary fine art from local and international artists living in the Mid-Hudson Valley. Works on display include paintings, prints, photography, sculpture and ceramics from more than twenty different artists.
Woodstock School of Art – They offer fun classes all year long in drawing, painting, printmaking, and sculpture. They also have an associated gallery that features work from students and teachers, as well as historically significant artists in the region.
Byrdcliffe Art Schools and Classes – This organization preserves historic art and offers a wide array of classes that anyone feeling a bit creative will love.
6. Stop by Karma Triyana Dharmachakra Monastery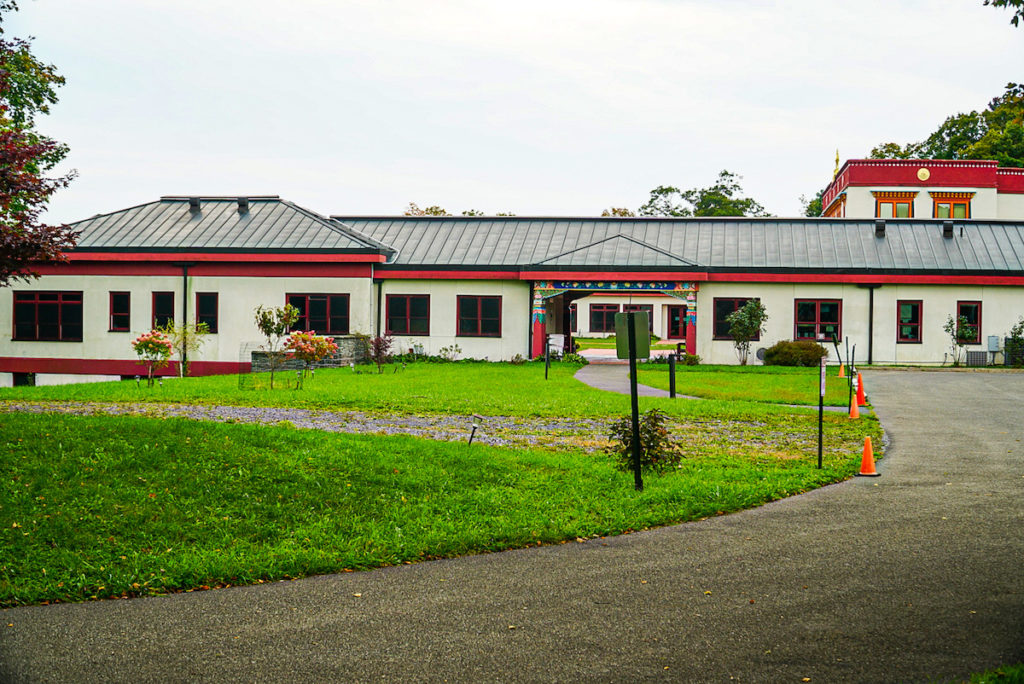 Channel your inner hippie and head on over to Karma Triyana Dharmachakra.
It's also fondly referred to as KTD for short and is an amazing Tibetan Buddhist Monastery that is home to one of the best things to do in Woodstock NY.
In fact, it's the North American seat of His Holiness the 17th Gyalwang Karmapa and is a well-maintained complex, with stunning grounds that visitors will love to explore.
If you have time, stop by during the week and explore the grounds, which include eight stupas and an amazing main shrine room.
And if you happen to be in the area during the evening, then enjoy a Chenrezig sadhana and mantra chant from 7:00 pm -8:00 pm on weeknights, in the Tara Shrine Room.
Address: 335 Meads Mountain Rd, Woodstock, NY 12498
Hours: Open Monday through Friday from 10:00 am to 5:00 pm and then again from 7:00 pm to 8:00 pm.
Price: Free
7. Opus 40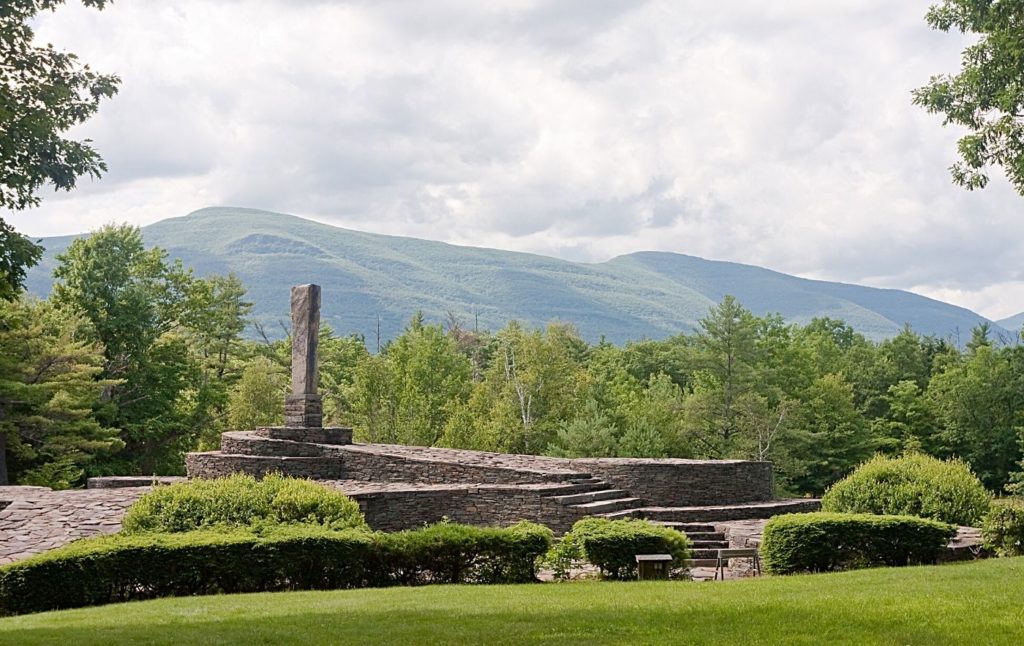 If you like art and getting back into the great outdoors, then Opus 40 is definitely one of the best things to do in Woodstock NY for you!
I mean, it's a massive, 60-acre outdoor sculpture park and museum that sits right outside Woodstock in nearby Saugerties, New York.
So, stop by today and check out an enormous, handmade, environmental sculpture with stone ramps, platforms made of bluestone quarry, and pedestals that are truly awe-inspiring to behold – so much so that this Woodstock attraction is now a National Historic Registered site.
Because believe it or not, this one-of-a-kind piece is actually based on Aztec and Mayan stonework and took artist Harvey Fite more than forty years to complete (hence the name of this place).
Yeah, now that's what I call dedication.
However, in addition to the sculpture itself, guests can also enjoy scenic nature walks, guided tours (about 30 minutes long, cost $25, and on weekends only), live music, theater, and so much more!
Pro Tip: Have lunch at the Papa's Best Batch Food Truck that hangs out here on the weekend. I like the hummus but the brisket sliders are really good too since this food truck is known for its bbq.
Address: 356 George Sickle Rd, Saugerties, NY 12477
Hours: Open seasonally, from April through November, Thursday through Monday from 10:00 am to 5:00 pm.
Price: Standard tickets are $11, senior/student tickets are $9, and children 4 and under are free.
8. Explore Some Outdoor Markets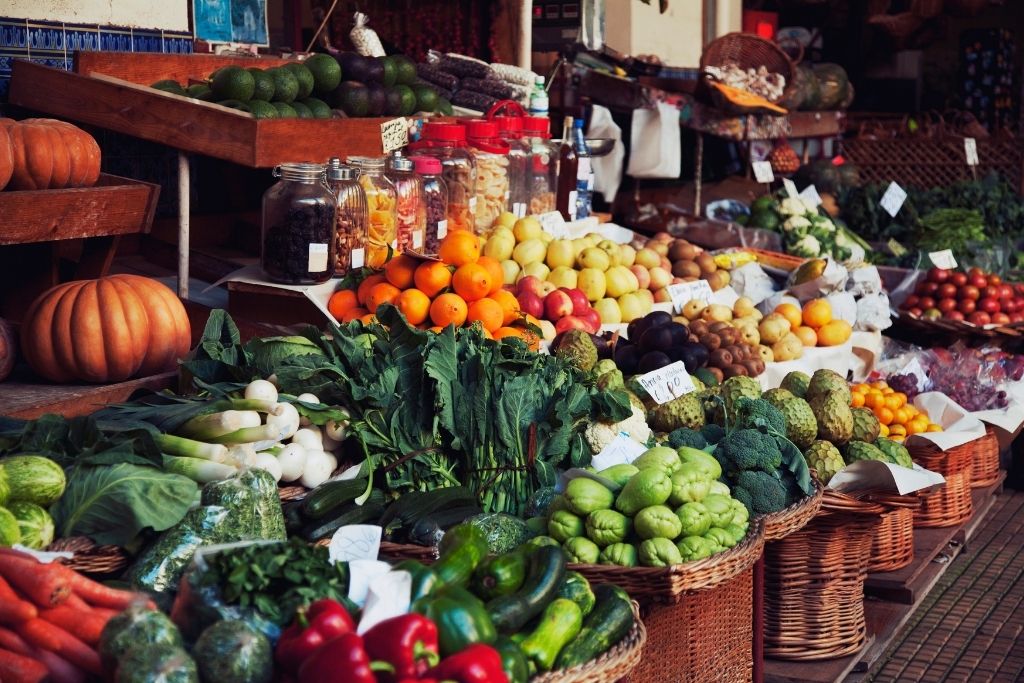 Do you enjoy getting outside while simultaneously supporting small local businesses? If so then you'll love the fact that Woodstock is home to a ton of different outdoor markets!
After all, you've got the much-loved Mower's Flea Market on Saturdays and Sundays from 9:00 am to 5:00 pm.
It can be found just near the Village Green, on Maple Lane, and features a wide array of vendors that sell super snazzy things like jewelry, vintage clothes, fresh produce, old-school records, and fresh pizza.
Plus, there are usually live performances on-site that visitors will love to rock out to.
However, if you're more of a foodie fanatic than a shopaholic, then you'll love the Woodstock Farm Festival, which is a seasonal farmer's market that is held from May through early October every year.
Open on Wednesdays from 3:00 pm to 6:45 pm (at the Mountain view parking lot), sellers here showcase the best eggs, baked goods, meats, cheeses, ice cream, and prepared foods in the region – making it an ideal place to shop and support local farmers and food producers.
9. Be Awed by the Woodstock Music Festival Site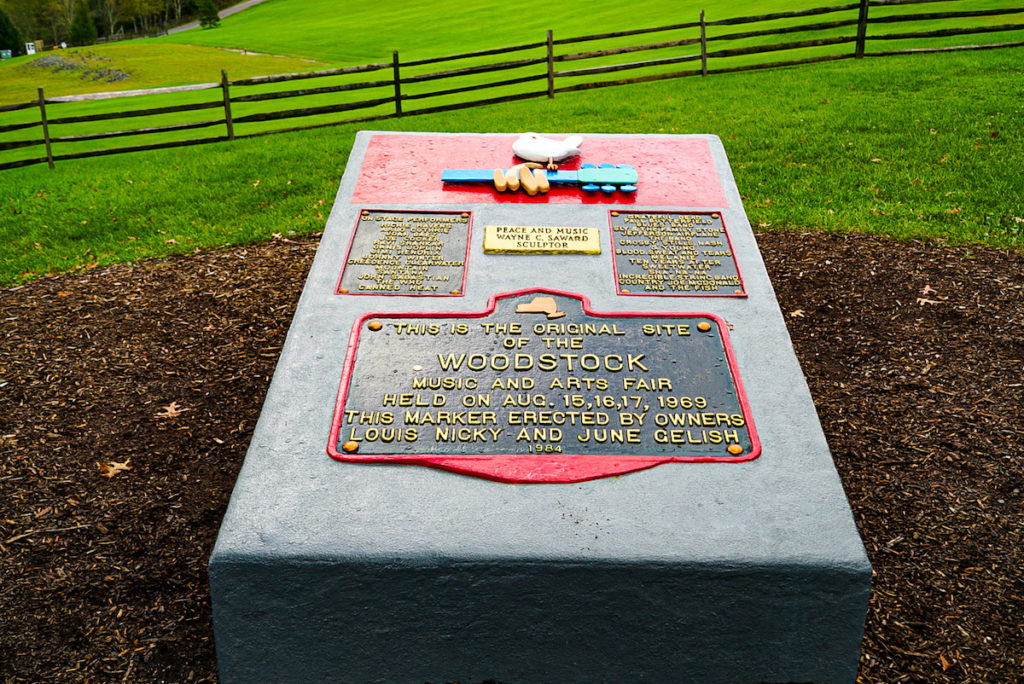 I bet the first thing you think of when you hear, "Woodstock" is the iconic music festival, of the same name, that was held in the Catskills region in 1969.
Am I right? Hell yeah, I am since it's easily the single most famous music festival in history. So, if you want to get in on some of the historic awesomeness then add the Woodstock Music Festival site to your list of the best things to do in Woodstock NY.
See, this glorious musical extravaganza was held from August 15th through August and 18th in 1969 and was advertised as, "3 Days of Peace and Music".
Contrary to popular belief though, the Woodstock music festival was not actually held in Woodstock but 46 miles away in Bethel, on a dairy farm that belonged to Max Yasgur.
Therefore, if you want to step back in time and understand why this festival was so historically significant, be sure to visit the Woodstock Museum at the Bethel Woods Center for the Arts.
It features a wealth of multimedia displays and exhibits that explore the cultural and societal changes of the 1960s as they relate to the music festival.
Then, afterward, go just down the road to see the site marker for the actual music festival itself.
Address: 200 Hurd Rd, Bethel, NY 12720 (museum) and Hurd Rd, Swan Lake, NY 12783 (site marker)
Hours: Open daily from 10:00 am to 5:00 pm (museum) and the site marker is open twenty-four hours a day.
Price: Free (site marker) and tickets for adults (museum) are $17/$19.69, seniors (65+) are $15/$17, kids (6-18) are $8/$10, and children 5 and under are free.
10. Go Tubing or Fishing on Esopus Creek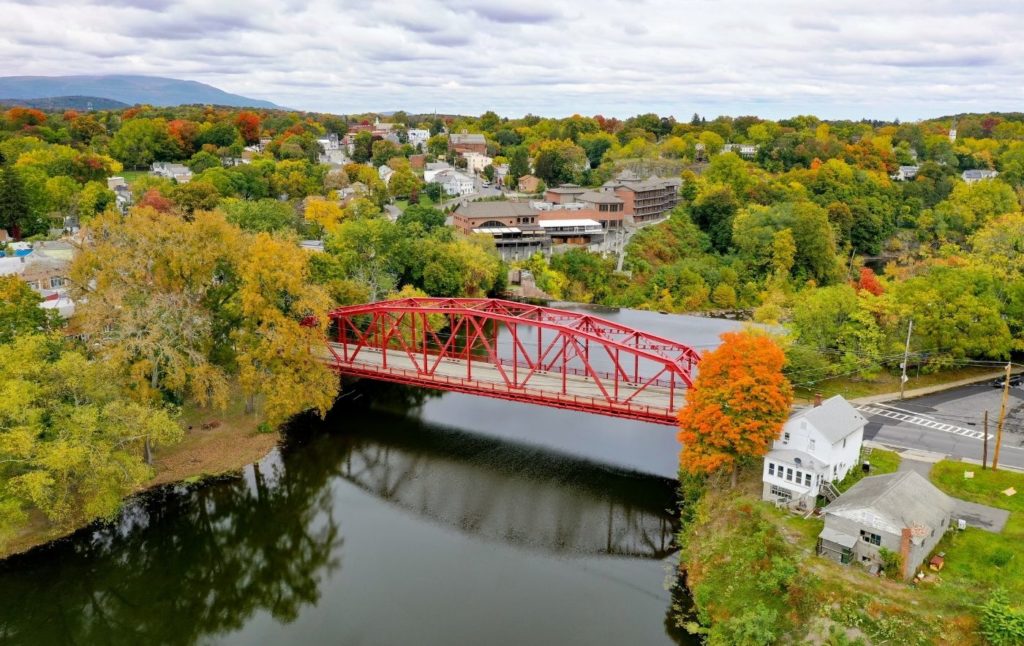 Not gonna lie, this definitely isn't one of my favorite things to do in Woodstock NY. But, it's a good activity to add to your Woodstock itinerary if you have a bit of extra time on your hands and want to be outside.
Especially since Esopus Creek is the largest and most well-known waterway in the area – providing visitors with ample recreational opportunities that include fishing for rainbow trout and tubing.
So, stop by Tinker Town Tubing (just outside Woodstock), grab some gear, and enjoy a leisurely, 26-mile float down this wonderful creek of awesome.
11. Experience Woodstock Waterfall Park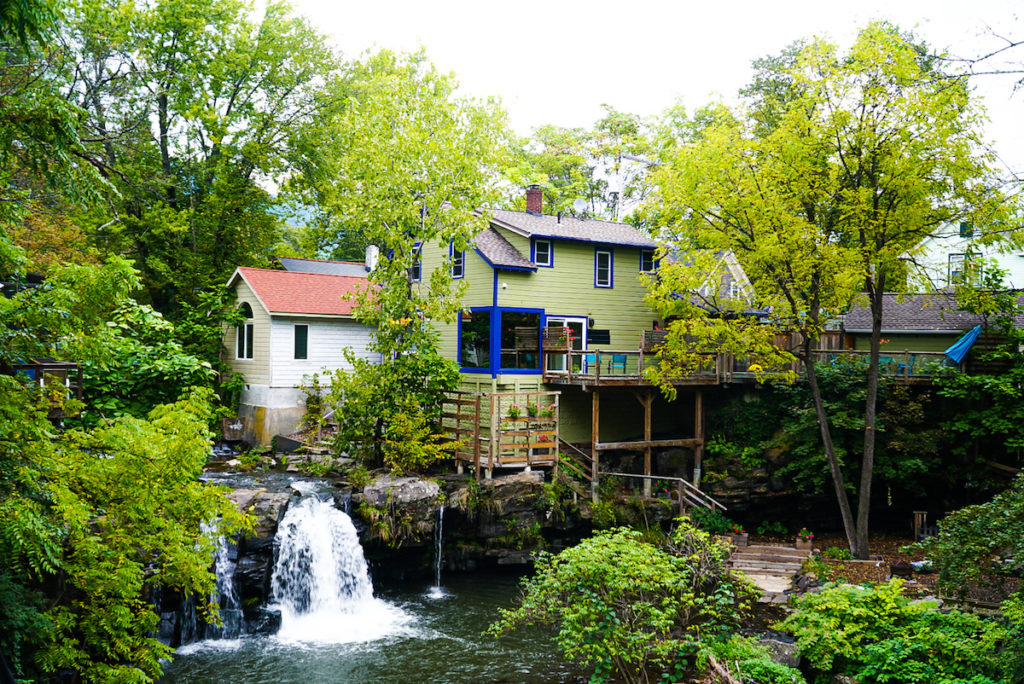 Now, is Woodstock Waterfall Park home to one of the best waterfalls in New York? Umm, probably not.
However, it's still a super scenic and incredibly relaxing place to go if you're in search of some of the best things to do in Woodstock NY.
It's also small. Like, 10 feet wide by 50 feet long small. But, what this park lacks in size it more than makes up for with awesome views.
So, stop by, check out the waterfall on Tannery Brook, and make the most of your time in Woodstock NY.
Address: 8 Tannery Brook Rd, Woodstock, NY 12498 (right near Tinker Street)
Hours: Open daily, twenty-four hours per day.
Price: Free
12. Catch a Show at the Woodstock Playhouse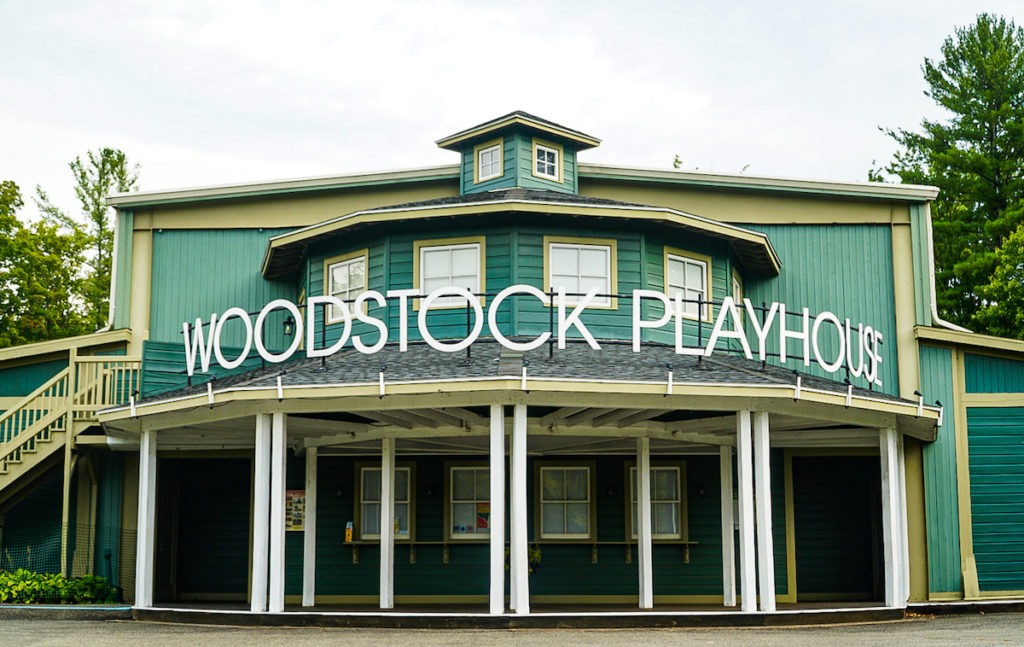 Love live musical and theatrical performances? If so then stop by the Woodstock Playhouse sooner rather than later.
It's an enchanting, historical theater that was first opened in 1938 and that is now home to beloved local events like the annual Woodstock Film Festival in the fall.
They also have an always fantastic, summer musical lineup that is not to be missed if you're planning a summer visit to Woodstock, New York.
Address: 103 Mill Hill Rd, Woodstock, NY 12498
Hours: Showtimes vary by event but usually in the evening on the weekends.
Price: Varies by event but anywhere between $40 and $65 per person.
13. Enjoy Some Live Music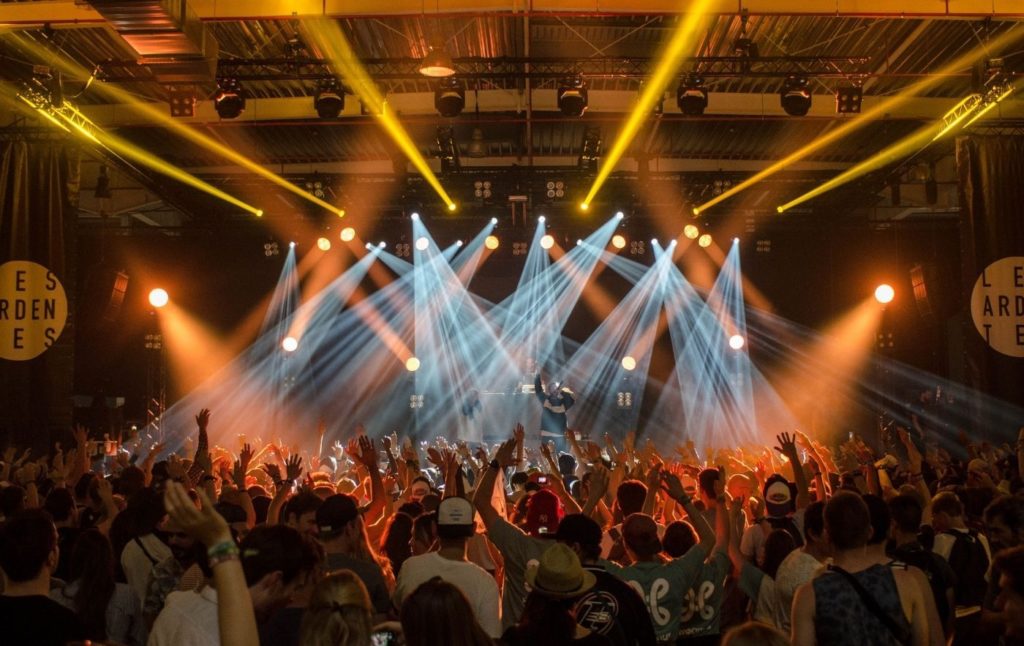 Even though the Woodstock Music Festival 1969 is but a distant memory, there are still a ton of great places to enjoy live music in Woodstock NY.
So, if you're looking to jam out as you check out all the best things to do in Woodstock NY, then try the Bearsville Theater for weekly indie concerts, the Maverick Series for summer concerts in the woods, and Levon Helm Studios.
In fact, the latter of these three music venues was started by the drummer from The Band, Levon Helm, and is known for hosting an uber-fab, Midnight Rambles show that features folk, indie, and rock music from all across the country.
And contrary to what the name might suggest, the Midnight Rambles show actually starts at 8:00 pm, not midnight.
But, if none of those options appeals to you, then you could hit up the Village Green since there's always someone jamming out there during the summer. In particular, the Sunday drum circle is a pretty rad thing to see.
14. See the largest Kaleidoscope in the World
What you may not know is that one of the best things to do in Woodstock NY is see the largest kaleidoscope in the world. In fact, ut measures in at an enormous 56 feet, is housed inside an old grain silo and was designed back in the 1960s by Isaac Abrams.
Today though, it is known as the Kaatskill Kaleidoscope and can be found inside Emerson Resort & Spa, in Mount Tremper, New York. And for just $10.00 per person, guests can see it in person and enjoy a 10-minute slideshow complete with fun music.
You can also stop by the on-site gift shop but only Thursday through Monday from 10:00 am to 5:00 pm since the site is closed on Tuesdays and Wednesdays.
Address: 5340 NY-28, Mt Tremper, NY 12457
Hours: Open Thursday through Monday from 10:00 am to 5:00 pm.
Price: $10.00 per person.
15. Explore the Shawangunk Mountains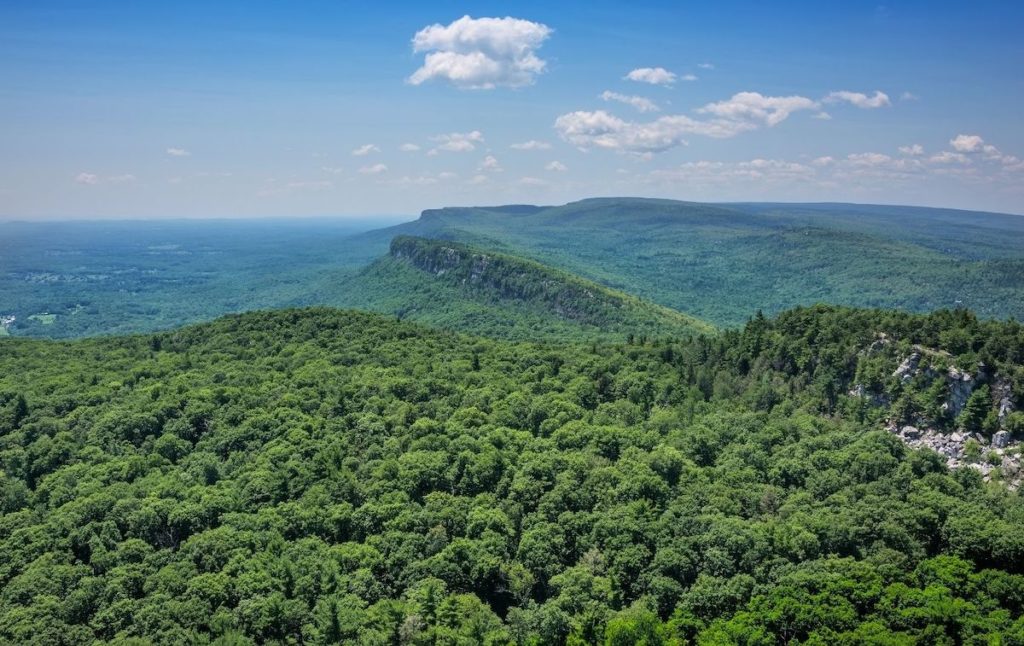 If you want to get outside and enjoy some of the best hikes in the Catskills, then one of the best things to do in Woodstock NY for you is to visit the Shawangunk Mountains.
After all, this incredible mountain range extends all the way from New Jersey to the Catskills, is 7,5 miles at its widest point, reaches an elevation of 2,289 feet, and is just an all-around great place to go hiking in Woodstock, NY.
And with over 100 miles of hiking trails, you certainly won't run out of things to do as you explore this designated Nature Conservancy Area.
So, make use of their educational programming, before enjoying popular hikes like Beacon Hill, the Lake Minnewaska Loop, Bonticou Crag, and the Awosting Falls Loop.
The Shawangunk Mountains, sometimes known as "The 'Gunks," are a long ridge west of New Paltz that offers more trails, cliffs, swimming holes, and waterfalls per square mile than just about anywhere else in Upstate New York.
Thousands of visitors travel to this lovely area of the Hudson Valley every weekend to hike, rock climb, mountain bike, or swim. However, there are other methods to avoid the throng. Be aware that the majority of these routes include parking or day-user fees.
Pro Tip: This mountain range is BIG with a capital "B'. So, do your research and make sure that your chosen hike is actually near Woodstock.
16. Explore the Sunfrost Farm
The largest retailer of regional and organic farms in the Hudson Valley is Sunfrost Farm, which offers a variety of organic goods including free-range eggs, organically raised beef and poultry, and locally produced non-GMO dairy.
For breakfast and lunch, Sunfrost Farm offers a wide selection of delectable home-cooked fare, including melts, wraps, fresh sandwiches, soups, and salads, as well as specialties like chicken fajitas, the Turkey Reuben, and a stacked BLT.
Freshly made cakes, muffins, pastries, and baklava are served for dessert, while thick ice cream shakes and fruit smoothies provide a delightful way to close the meal.
Address: 217 Tinker St, Woodstock, New York
Phone: 845-679-6690
Hours: Open from Monday to Sunday, 9 AM to 5 PM.
17. Stop By The Holy Transfiguration Church
The Holy Transfiguration church is a pretty unique building. Hand built with wood, this church was built way back in 1891 by a man named William Mead and his wife. The church is still standing today and it sort of blends in with the countryside because of the day it was designed.
Unlike many of the grandiose churches that you come across. This one is very simple. In fact, it just has one single room. Nestled in a mountain in the Catskills, it is a very quiet and serene place to be at.
Despite being built over a hundred years ago, the church is still standing strong and is still in use. You will even find a baptismal font here.
One of the most admired aspects of this church is the stained glass. Catching the light filtering through them is a photographer's dream.
Address: 325 Meads Mountain Rd, Woodstock, NY 12498, United States
18. Drop By WAAM
Woodstock Art Association and Museum or WAAM offers one of the most interesting things to do in Woodstock NY. This museum houses over 100 years of community artwork! Yes. It has been around since 1919 and is still flourishing.
The museum is located right in the center of the city which makes it extremely easy to reach. I highly recommend saving this one for rainy days in Woodstock or for the hot afternoons when you want to get out of the heat.
WAAM also conducts activities on a daily and weekly basis in order to encourage the local community (and even non members) to develop their artistic talents. You can check out their calendar online and see if anything piques your interest.
Address: 28 Tinker St, Woodstock, NY 12498, United States
Hours: Thursday to Sunday: 12pm – 5pm
19. Catch a Show at Bearsville Theater
No trip to Woodstock NY would be complete without a stop at Bearsville Theater.
After all, this is the exact spot where many iconic musicians performed and where no less than Bob Dylan himself combined the beauty of folk music with rock and roll.
Today, this historic music venue sits on 16 acres of land and welcomes guests to attend fun, musical performances inside a rustic, wooden barn.
Plus, if you start to get a bit hungry then you can always visit one of two onsite restaurants for some delicious local fare.
Local Tip: You can also rent this place out and hold a wedding or other private event here.
Address: 291 Tinker St, Woodstock, NY 12498
Hours: Varies but shows are usually once a month
Price: Varies by show
20. Eat at Bread Alone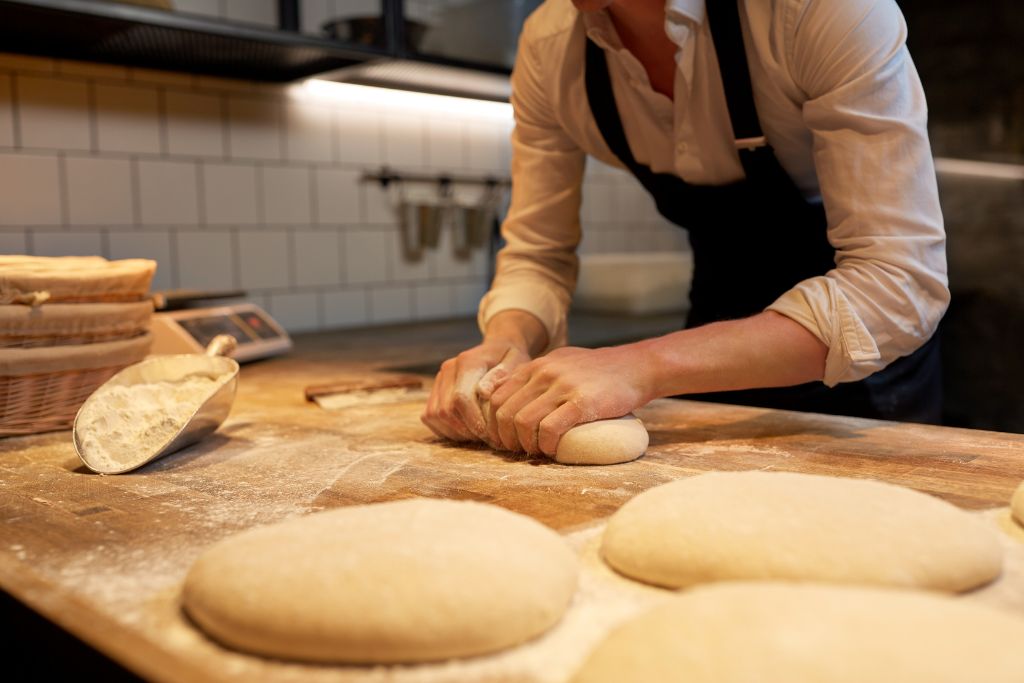 If you are looking for some of the best things to do in Woodstock NY then you need to grab something to eat at Bread Alone.
After all, this iconic local bakery has been in business for well over 20 years and is known for serving incredible, homemade pastries, and organic wood-fired breads.
So, stop by for breakfast, lunch, or brunch daily and see why locals keep coming back for more.
I mean, you can't miss them since they are right near the Village Green and within easy walking distance of the Saturday Flea Market.
Local Tip: Breakfast is served all day and they have a ton of great vegan options too. However, my personal fave are the Cannelés, the flat white, and the chocolate croissant. YUM!
Address: 22 Mill Hill Rd, Woodstock, NY 12498
Hours: Open daily from 7:00 am to 5:00 pm.
Price: No entree is over $14.00 and most are well under.
21. Enjoy a Show at Byrdcliffe Theatre
Located on upwards of 250 acres of land in the Catskills Mountains, Woodstock Byrdcliffe Guild is a premiere center for artists.
In fact, this place is brimming over with cozy cabins, fantastic theaters, expert-led classes, epic workshops, and a cool art gallery.
They also host regular exhibitions that stand as a living tribute to Byrdcliffe Arts Colony, which was started in 1902.
Plus, if you're an artist, you can do a residence here among all the gorgeous trees and enchanting mountains.
However, if you don't want to stop everything and take up residence then you can always head to Byrdcliffe Theatre instead. It's a small space where intimate performances are held.
So, if you're into musicals, dance shows, and other types of performances then be sure to visit their website for more info.
Address: 34 Tinker St # 4, Woodstock, NY 12498,
Hours: Varies
Price: Varies.
Things To Do In Woodstock NY FAQ
Why Is Woodstock NY Famous?
Woodstock is actually famous because it has lent its name to the famed Woodstock festival. Contrary to belief, the festival does not take place in Woodstock itself but almost 90 km away at Max Yasgur's dairy farm.
This festival started out way back in 1969 and still extremely popular. Here both art and music are celebrated. SO brace yourselves for some really good music when you are visiting.
What Is The Best Street In Woodstock NY?
Selecting a single street in Woodstock NY is pretty difficult but if I had to choose I would say that Tinker Street is the best place to be. It has the whole Woodstock vibe going on, has lots of shopping and you can even catch some music here while you walk around.
The main street in Woodstock is another popular choice but I just like Tinker Street better. Plus the name is so cool!
Is Woodstock NY Walkable?
Woodstock is a literal walker's paradise. If you live in the heart of the city you really don't need much in the form of transportation for any of your daily chores. In fact, there are trails and walking paths around the town that you can head out onto so that you can see all the sections and history.
⏰ In a rush and haven't booked your accommodation in Woodstock NY yet? Don't worry. Try getting a room at Hotel Woodstock. It's an antique hotel which offers great rooms for the price. 🏨
Things To Do In Woodstock NY Map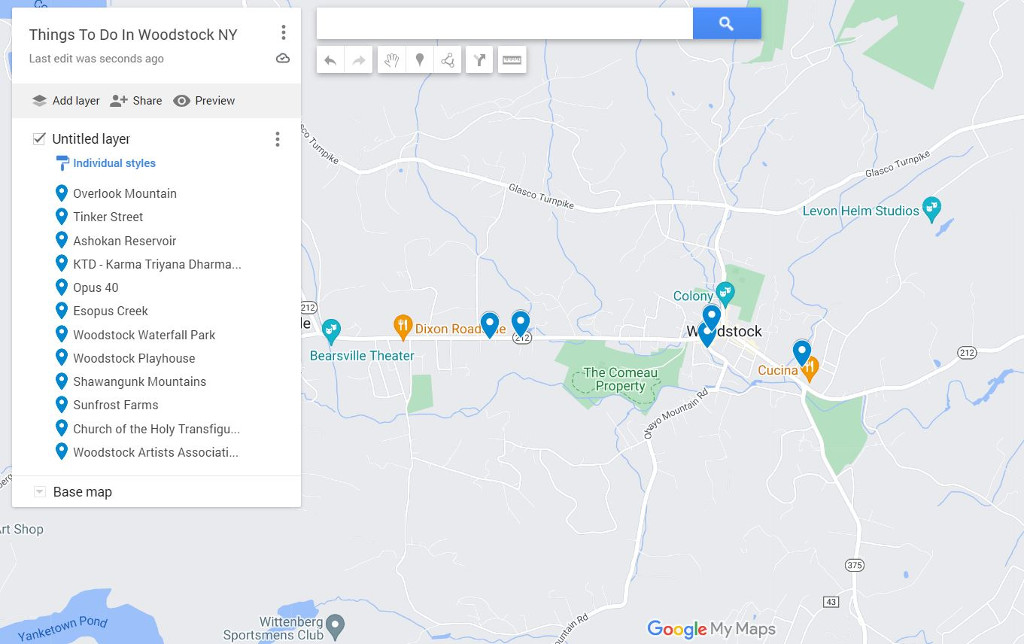 Click here to see the full map.
Additional New York Travel Resources You'll Love
So, that just about concludes this guide to the best things to do in Woodstock NY.
Tell me, did your fave Woodstock attractions make the list? If not then let me know in the comments below so that I can check them out.
And if you found this post useful, be sure to join our email list before pinning this post now so that you can read it again later.