Looking for some awesome, Finger Lakes getaways to remember? If so then check out this local's guide to 13 of the best and most romantic getaways in the Finger Lakes region of New York.
After all, this part of the state is brimming over with amazing scenery, incredible wineries, gorgeous hikes, fun museums, beautiful lakes, and exquisite hotels that are perfect for any budget.
Therefore, regardless of your interests, this guide from a 30+ year local will help you quickly and easily plan the Finger Lakes vacation of your dreams.
So, stop guessing, step away from the guidebook, and start seeing the Finger Lakes like a real local with these secret, insider tips.
This post may contain affiliate links. Please see my disclosure for more information. As an Amazon Associate, I earn a small commission from qualifying purchases.
1. Geneva On The Lake Boutique Resort Hotel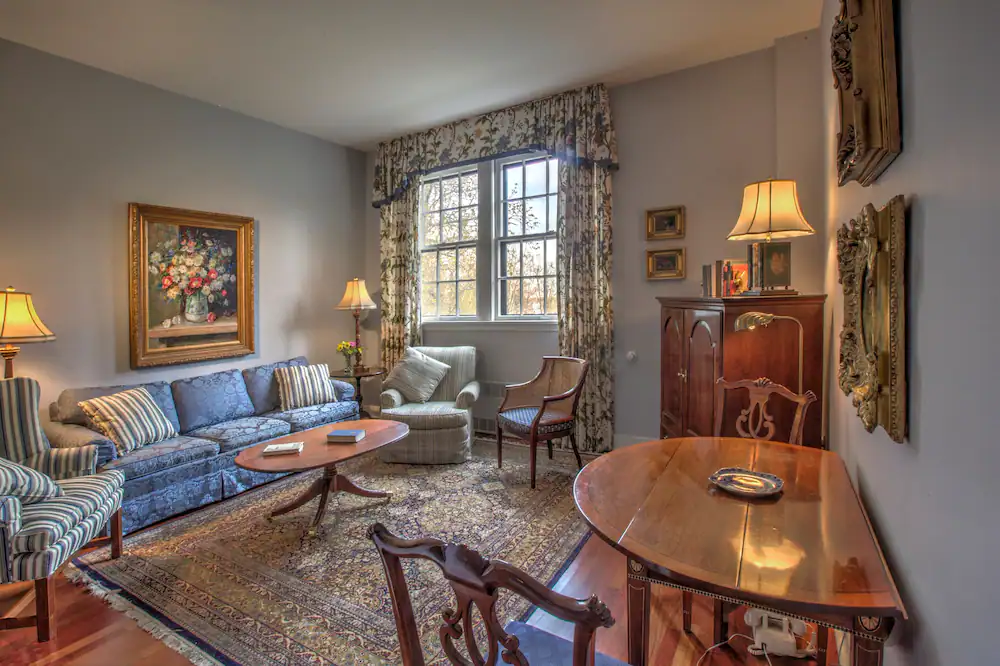 Overlooking the always gorgeous Seneca Lake, Geneva on the Lake Boutique Resort Hotel sits inside a stunning, 4-star, white Italian villa from 1914 that is modeled after Villa Lancelotti.
In fact, this hotel is so historic that it is currently listed on the National Register of Historic Places and is surrounded by 10-acres of exquisite, well-manicured gardens – complete with classic sculptures – that are well located within the region. In fact, the entire estate is located just 2.9 miles away from Ravines Wine Cellars, one of the best Seneca Lake wineries.
So, book your room now to enjoy one of many romantic Finger Lakes getaways here. After all, charming old-world style accommodations here pay tribute to the building's historic past and come outfitted with antique furniture, private terraces with lake views, free WiFi, flat-screen TVs, 4-poster beds, kitchens, and whirl pool tubs.
Room service is also available upon request and guests inside one of their 29 different rooms are welcome to make use of complimentary bike rentals and lawn games.
Also, don't forget to indulge in a decadent daily breakfast inside their marble column lined restaurant – with epic views of the lake from both the patio and the indoor dining room – before visiting an on-site gym, seasonal outdoor pool, and boathouse.
Price: Rooms start at around $180 per night.
2. Belhurst Castle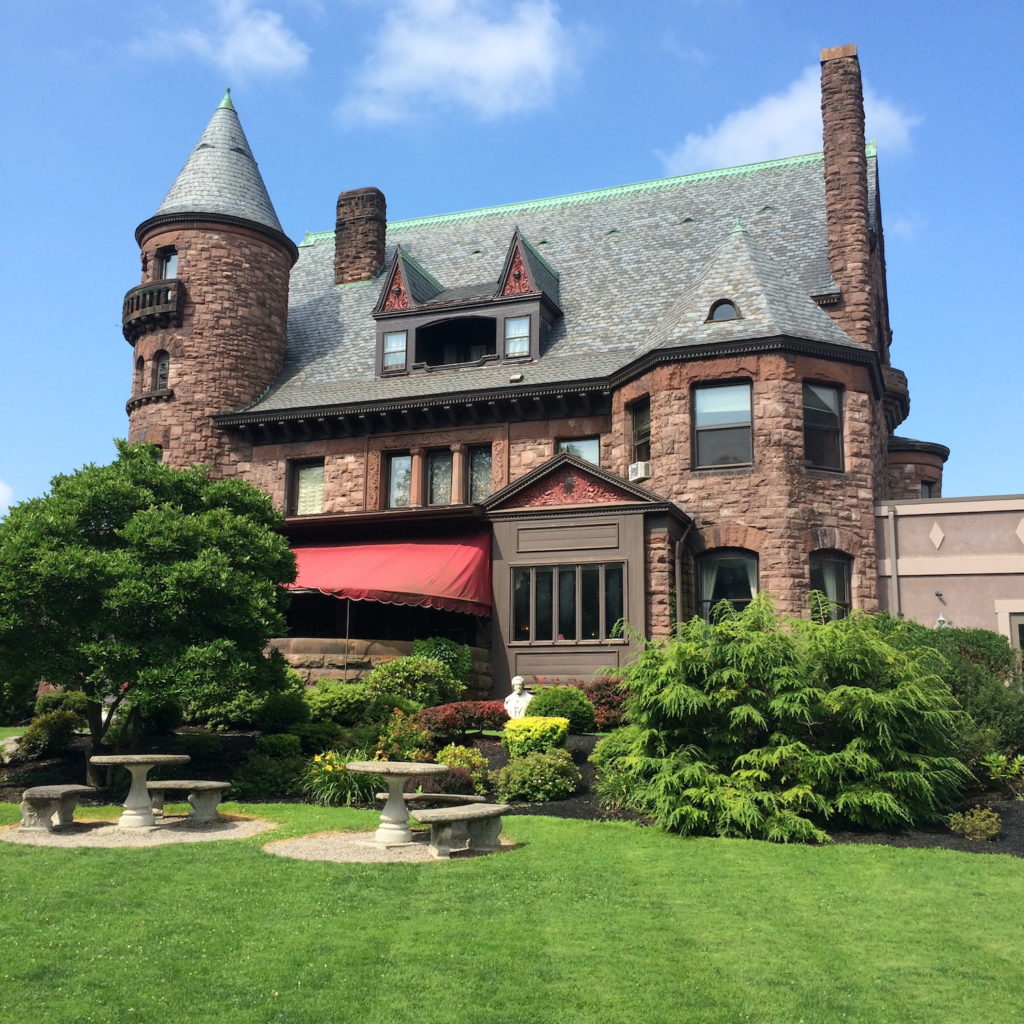 Planning one of many romantic Finger Lakes getaways to Geneva, NY? If so then run, don't walk, to Belhurst Castle. I mean, this place is SWANK with a capital, "S" and will having you feeling like you're living a real life fairytale.
Because, as the name implies, rooms here sit inside a full-on stone castle from 1880. Yup, it's an amazing structure that is nestled along the shores of Seneca Lake, easily making this one of the best romantic getaways in Upstate New York.
However, the real magic only happens once you step inside your room and discover authentic antique furniture, Cathedral-style ceilings, mosaic-tiled fireplaces, stained glass windows, private balconies, and more to add to the overwhelming grandeur of this place.
So, your most difficult decision when planning one of many romantic getaways in the Finger Lakes will be choosing between rooms inside the inn, the aforementioned castle, or the White Springs Manor (a Georgian-Revival mansion).
Because, yes, this lavish estate really does have three unique hotels on one property. Heck, while you're here, you can even book a romantic wine tasting tour at their on-site vineyard before enjoying an incredible gourmet meal at either Edgar's Restaurant (splurge on the tasting menu with wine pairings) or Stonecutter's Restaurant.
And then afterward, book a glorious full-body massage at the full service spa here before indulging in a glass of wine from the tap in the hotel lobby,
Price: Rooms here start at around $250 per night.
3. Skaneateles Suites
Looking for the best Finger Lakes getaways with a bit of character? Skaneateles suites will probably match everything that you are looking for.
Peaceful, laidback and romantic by all counts, the Skaneateles suites has a main house, a cottage house and 12 iconic bungalow cottages. These aren't your regular modern constructions. Oh no! Each bungalow is a private haven. So you won't bump into a lot of other visitors easily. With a private walkway and gardens there are a lot of places to wander in.
Did I mention that these bungalows were built way back in the 1950s? Don't worry about luxury though. They've been well maintained and renovated so that while they have the style of an era gone by, they have the comfort of our times!
The bungalows aren't the only part of the 7 acre property that gets rented out. The Main house is HUGE! And yes! You can rent this part of the property too. In fact, it is perfect if you head here with friends and/or family because it sleeps upto 8 people. Plus, the size of the house makes it possible for everyone to get their own personal space.
Price: $150 per bungalow per night
4. La Tourelle Hotel and Spa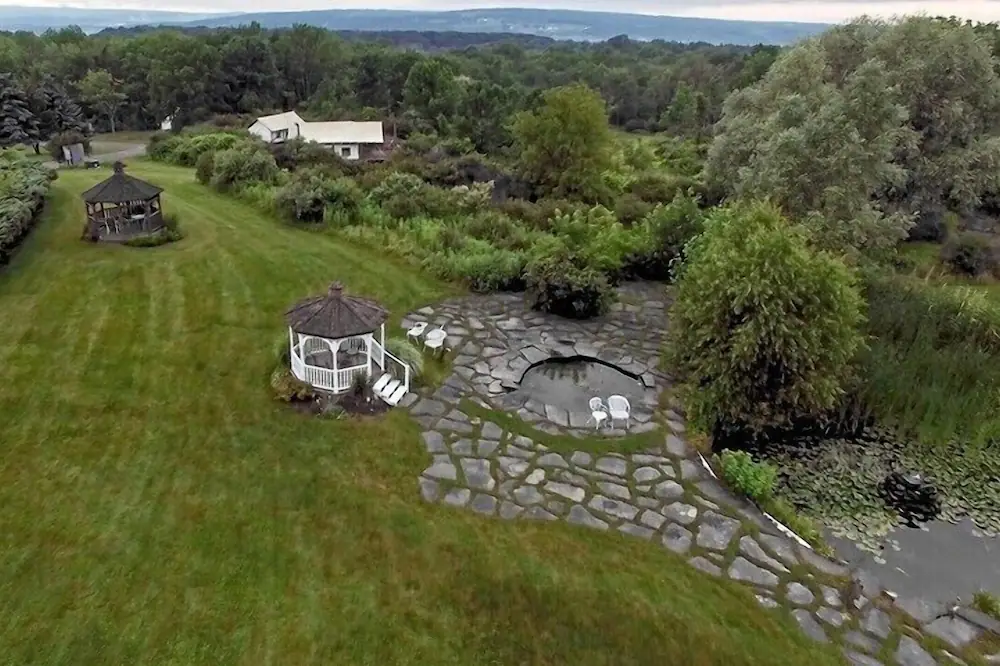 Hidden away just outside the vibrant city of Ithaca, La Tourelle Hotel and Spa is a premier destination for anyone in need of the most romantic finger lakes getaways ever.
That's because this well-priced, 3-star hotel is set upon a sprawling, 70-acres of land that is also conveniently located just 3.4 miles away from the downtown area.
Therefore, guests in one of 53 rooms can easily enjoy all of the best things to do in Ithaca before unwinding for the night in traditional rooms that feature dual shower heads, pillow-top mattresses, in-room coffee makers, whirlpool tubs, 4-poster beds, private balconies, and more.
However, for one of the most incredible romantic getaways in the Finger Lakes, book one of two rooms in their circular tower so that you can feel like your spending the evening inside a real life castle.
Set on 70 acres, this upscale hotel is 1.6 miles from Ithaca College, 3.3 miles from Cornell University and 3.4 miles from Downtown.
Afterward, enjoy a romantic meal at their on-site farm-to-table bistro before booking some luxurious treatments at the on-site spa.
Price: Rooms here start at $110 per night.
5. Watkins Glen Harbor Hotel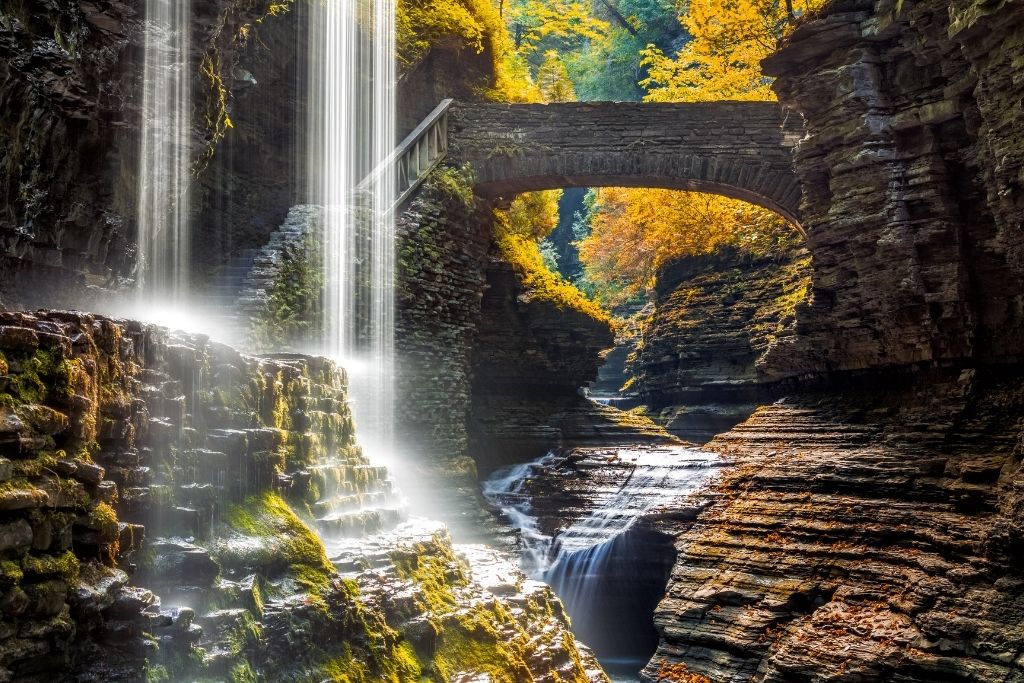 After exploring Seneca Lake by boat and doing an incredible hike on the Watkins Glen Gorge Trail, spend the night inside this plush, wine-country inspired hotel along the southern end of the lake.
It's a lovely, 3-star hotel with 104 different rooms for guests to choose from, all of which are contemporary suites that include flat-screen TVs, private balconies with lake views, jacuzzis, free WiFi, and more!
Add in 24-hour room service and complimentary coffee stations on every floor of the building and you easily have one of the most romantic Finger Lakes getaways of them all at the Watkins Glen Harbor Hotel.
Whatever you do though, don't leave without visiting their high-end American restaurant and taking a dip in their well-heated pool, and Jacuzzi.
Pro Tip: Go for the glory and book either the Admiral Suite or the Commodore Suite. They are two of the hotel's most spacious rooms and feature a private whirlpool tubs in the bathroom, a patio with a lake view, and an en-suite wine bar.
Price: Rooms here start at around $120 per night.
6. Mirbeau Inn & Spa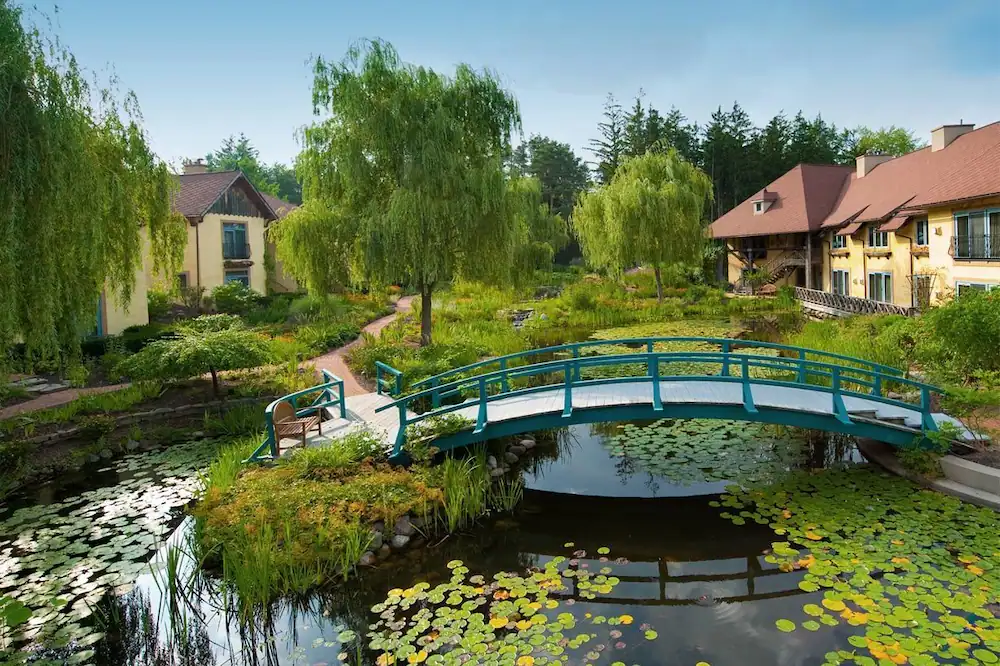 With locations in both Rhinebeck and Skaneateles, Mirabeau Inn & Spa is easily one of the most romantic Finger Lakes getaways on this entire list.
And that makes sense when you realize that this opulent, 34-room spa and resort is set upon 12-acres of land, complete with exquisite gardens and ponds that are inspired by the paintings of Claude Monet.
So, book a room here and enjoy decor inspired by Provence, France that includes claw-foot tubs, Juliet balconies, private fireplaces, and Bose stereos.
Guests here can also delight in complimentary Continental breakfast inside a French-inspired restaurant, before sampling free cookies, wine, and cheese from a private living room.
Next, make use of the on-site hot tub and fitness center before booking a treatment inside one of 18 private rooms inside the hotel's lavish, full-service spa.
Price: Rooms start at $340 per night.
7. The Bond 1835
One just can't help but fall in love with The Bond 1835. True to its name, this iconic farm house was built way back in 1835. It is one of the quaintest, cutest Finger Lakes getaways you will find. The old farm house definitely has character.
Unlike most of the old buildings, this one has been maintained, so expect to have your mind blown. The interior of the Bond 1835 has all the amenities that you could look for. In fact, you could say that it is as good (or maybe even better!) than a 5 star Inn!
Wondering what to expect if you book your stay here? It is extremely famous for their breakfast where they have fruits and eggs which are sourced right from the farm. Plus home baked pastries!
With ultra cozy rooms, epic food and a stunning view of the Skaneateles lake, there is no reason to wander far from this gem. If you get out at all that is.
Price: Rooms start at $299 per night
8. The Inns of Aurora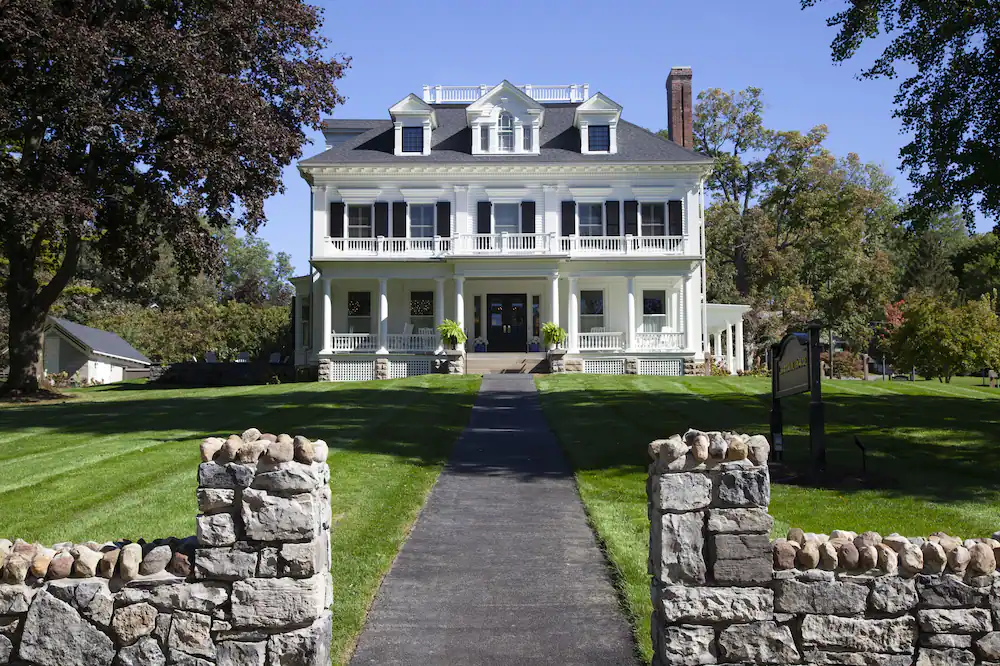 Right on the shores of Cayuga Lake, in Aurora, NY, is one of the best Finger Lakes getaways that you will ever experience.
And that's mostly because this white, Federal-style building from 1833 is home to a romantic, 4.5-star inn that any couple will love (and if you don't believe me, just read the reviews).
I mean, not only is this romantic getaway in the Finger Lakes located next door to the Aurora Arts and Design Center, but it chic rooms inside the Inns of Aurora include period-style decor, marble bathrooms, original art. Aveda bath products, private fireplaces, Frette Italian linens, balconies, sitting rooms, Terry cloth robes, and whirlpool tubs in suites (so go luxe and get the suite).
Then, after a refreshing night of sleep, wake up to complimentary breakfast inside their swank restaurant before enjoying free access to the gym, tennis courts, and gold course at nearby Wells College.
If you can though, try to time your visit for the warm summer months. This way, you can enjoy the inn's private dock, lakefront fire pit (surrounded by Adirondack chair)s, and kayak/bike/canoe rentals.
Price: Rooms start at $250 per night.
9. Cayuga Lake Inn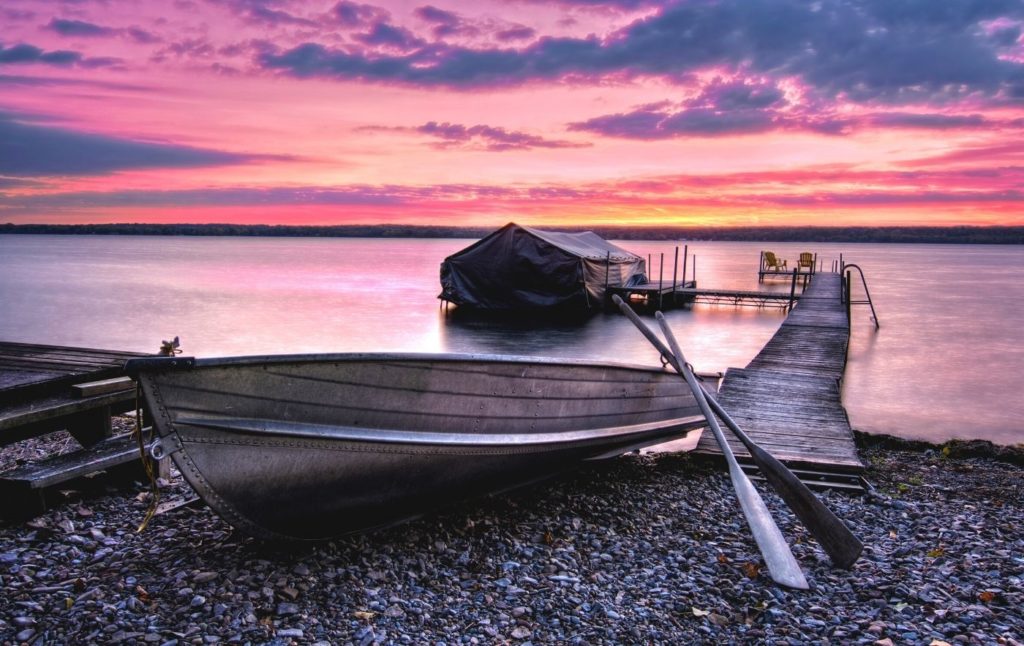 This refined bed and breakfast overlooks Cayuga Lake and sits rights near Ithaca, New York, along the state's infamous Finger Lakes Wine Trail.
In fact, it's an amazing property that is just a 10-minute drive from Ithaca. However, it's also a place that has a Tuscan-style elegance about it, as evidenced by a wide array of individually decorated rooms that include private balconies, Jacuzzi tubs, cathedral ceilings, and stunning views of the lake.
You can also inhale lots of free tea and coffee, just in case you need a solid dose of caffeine, and make use of an expansive parking area in the back too.
Plus, if you want to take your Finger Lakes getaways to the next level, be sure to book one of their premium packages (ask about having wine and cheese beneath the stars from your Jacuzzi) before enjoying a delicious, homemade breakfast inside their charming dining room.
All in all, Cayuga Lake Inn just has a super comfy/cozy vibe about that is only enhanced by impeccable service from people like Diane.
Pro Tip: Inquire about The Villa House which is about a mile away from the main hotel.
Price: Rooms here start at $165 per night.
10. The Blackberry Inn Bed and Breakfast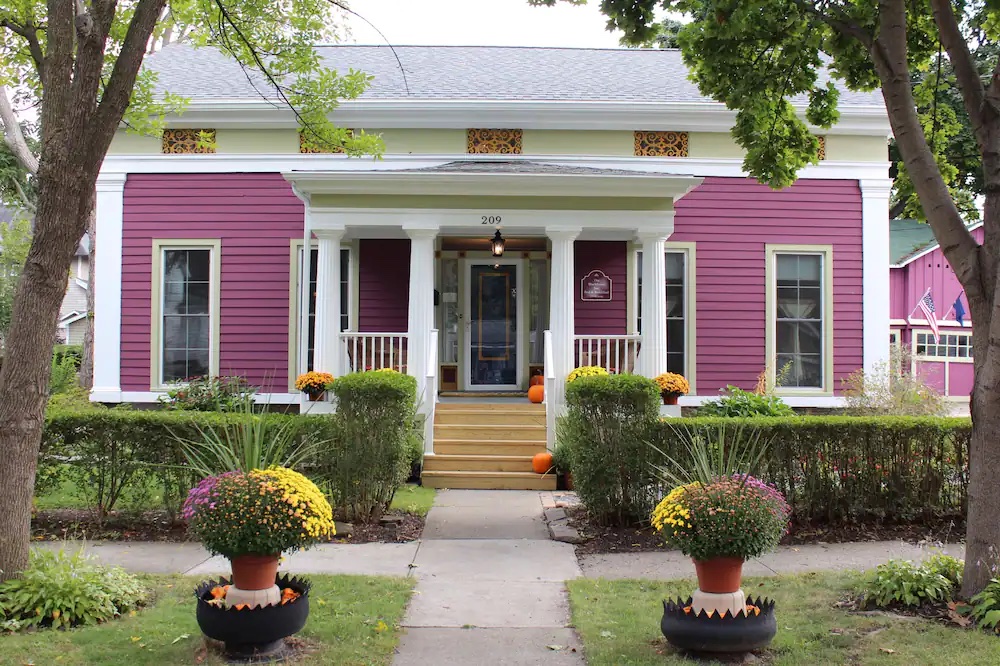 Ready to experience the next-level awesome magic of Watkins Glen, New York? If so then book a room at the enchanting, incredibly well-reviewed, Blackberry Inn Bed and Breakfast.
Not only is this one of the most romantic destinations for all your Finger Lakes getaways, but you can enjoy a bit of seclusion during your stay since this 3-star bed and breakfast sits along a peaceful, tree-lined street.
So, book one of the three individually decorated rooms – inside a fully refurbished, Greek-revival-style home from the 1830s – that include flat-screen TVs, Wifi, mini-fridges, and private bathrooms. Then, be treated every morning to a decadent, farm-to-table inspired breakfast in their personal dining room.
Price: Rooms here start at around $200 per night.
11. Los Gatos Bed and Breakfast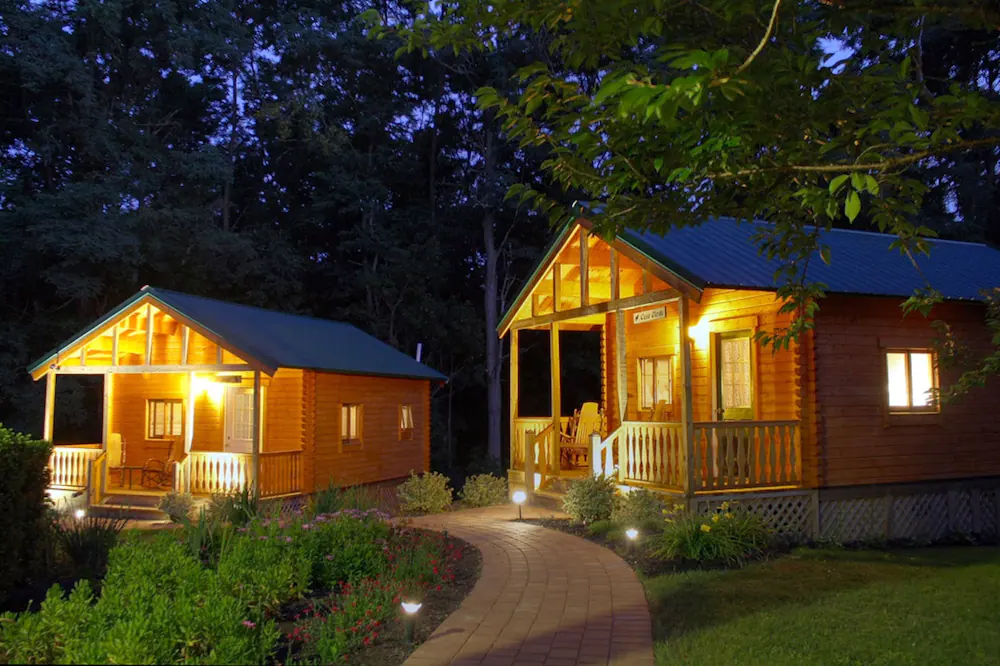 Looking for an eco-friendly hideaway near Seneca Lake? If so then this one of the many Finger Lakes getaways on this that you'll love.
Because believe it or not, Los Gatos Bed and Breakfast is a solar powered, 3-star hotel in Penn Yan that has two classically appointed rooms to choose from, in addition to a lavish suite in the main building and two log cabins in the back.
And while decor here has a traditional feel, all rooms come with modern amenities like quilted queen sized beds, free WiFi, hair dryers, sitting rooms, and personal balconies.
Additionally, a sumptuous, first-class, complimentary breakfast (The Clafoutis is the house speciality and served with home-made Apple Cider Syrup. So good.) is made fresh daily and is served with a wide array of delicious local jams and jellies.
So, take a stroll through their enchanting garden, relax on the gazebo, and make use of their private telescope before embarking on an astronomy tour and enjoying the warm hospitality of Charlie and Rebecca at Los Gatos Bed and Breakfast.
Price: Rooms here start at $180 per night.
12. The William Henry Miller Inn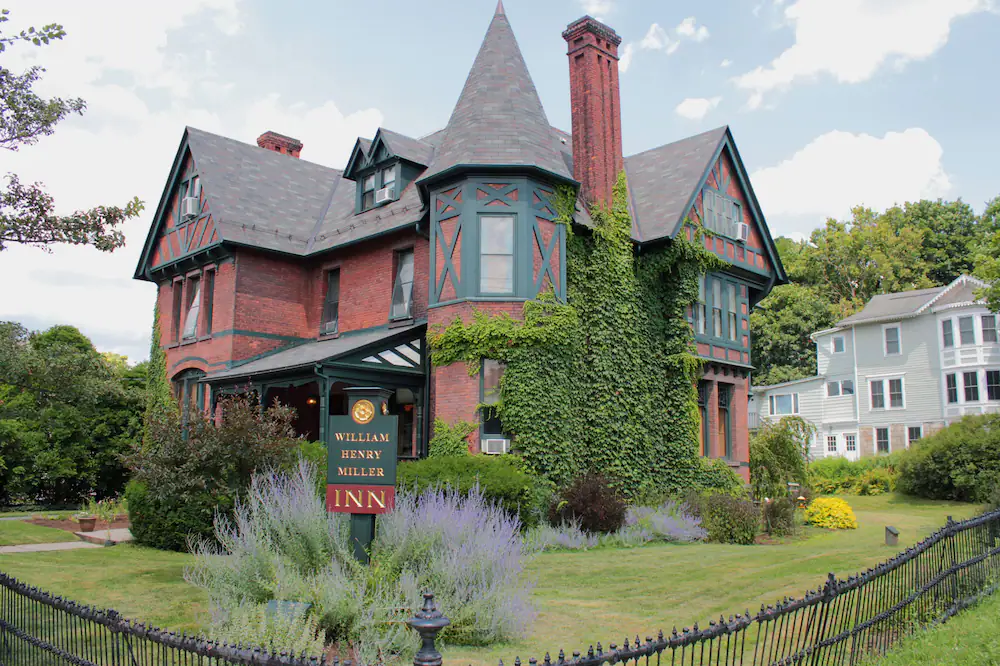 Another one of the best Finger Lakes getaways that is located in Ithaca, New York, The William Henry Miller Inn is a delightful bed and breakfast that sits inside an old-world, Victorian-era home.
In fact, it features both a turret and a variety of stained glass windows that only add to the historic ambiance of this magical hotel, which is nestled on a quiet, tree-lined street.
So, after exploring nearby Buttermilk Falls State Park, snuggle up in one of nine individually decorated rooms that are spread out between two separate buildings.
They each have a country-chic aesthetic about them that includes private bathrooms, whirlpool tubs, and flat-screen TVs, complete with build-in DVD players.
Other highlights of your stay at this amazing inn include free WiFi, an amazing three-course breakfast, homemade desserts daily, complimentary coffee/tea all-day, and ample parking.
Pro Tip: A real highlight of your stay here is the service and the fresh, home cooked breakfast. It's huge and includes juice, a fruit cup, fresh eggs, toast, pancakes, waffles, sausage, and amazing herb home fries. A dessert is also delivered daily to your room and they 100% cater to allegories/special dietary requests.
Price: Rooms start at $200 per night.
13. Rosewood Inn
And last but certainly not least on this list of the best Finger Lakes getaways is the one and only Rosewood Inn. It can be found in Corning, New York and is the perfect place to hang your head after a fun day spent at the Corning Glass Museum.
So, book your room today and enjoy another lavish stay inside an old-world, Victorian home from 1855. In total, there are six rooms to choose from, all of which come outfitted with stunning, antique pieces, WiFi, 4-poster beds, and en-suite bathrooms.
Complimentary tea and cookies are also offered daily, as is a delicious, candlelit Continental breakfast in the relaxed dining room.
Pro Tip: Suzanne is just an overall delightful host, is super thoughtful, and just goes out of her way to ensure you have an excellent stay.
Price: Rooms start at just over $200 per night.
Map of the Best Finger Lakes Getaways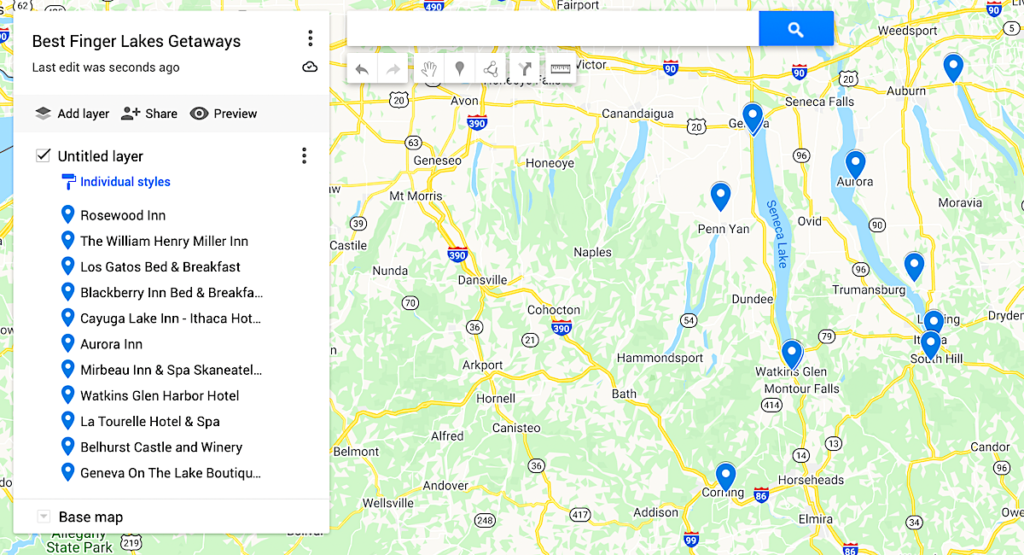 Additional New York Travel Resources
That just about concludes this list of the best Finger Lakes getaways in New York!
Tell me, did your picks for the most romantic getaways in the Finger Lakes make the cut? If not then let me know in the comments below.
And if you found this post useful, sign up for our email list now before pinning this post now so that you can read it again later.