Planning a weekend in Watkins Glen itinerary and looking for some of the best things to do in Watkins Glen, NY?
Well, if that sounds like you then never fear because you are 100% in the right place.
Not only was I born and raised in the great state of New York (I've lived here for 30+ years), but I have visited Watkins Glen countless times.
Honestly, it's just a super rad place where you can chill by Seneca Lake and hike the amazing Gorge Trail through Watkins Glen State Park.
However, once you come here you'll quickly realize that there are even more amazing things to do in Watkins Glen, NY.
So, if you really want to make the most of your time in Watkins Glen and explore the area like a true local then check out this post now.
This post may contain affiliate links. Please see my disclosure for more information. As an Amazon Associate, I earn a small commission from qualifying purchases.
Where is Watkins Glen?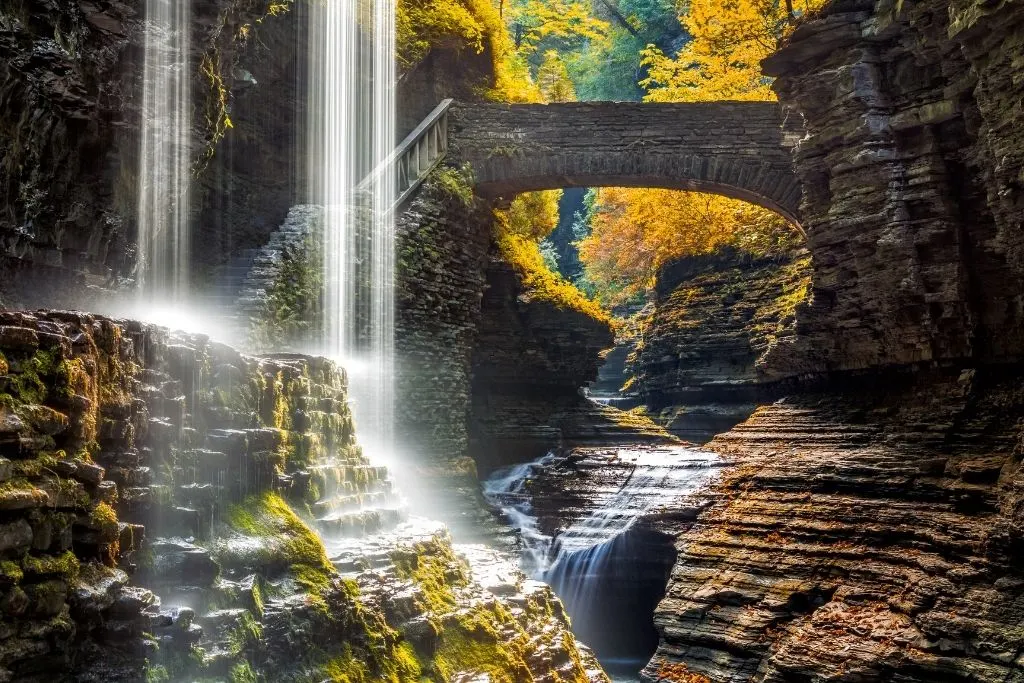 You'll find the village of Watkins Glen in Schuyler County. It's one of the best towns in upstate NY that is located between New York City and Niagara Falls.
This quaint little village is surrounded by breathtaking scenery, thanks to its location on the southern tip of Seneca Lake in the beautiful Finger Lakes Region.
In fact, Seneca Lake is the longest of the Finger Lakes and the deepest, which is why it doesn't freeze over in the winter.
Whether you are looking for opportunities for hiking or waterborne activities, great local wineries and microbreweries, or lakeside dining spots, the village of Watkins Glen is the perfect place for your Upstate New York vacation.
Additionally, Watkins Glen is well-located near the Corning Glass Museum and is home to the stunning Gorge Trail through Watkins Glen State Park – making this an ideal spot for hiking in New York.
How to Get Around Watkins Glen
Watkins Glen is only a small village, and you can easily explore Franklin Street, the shops and restaurants in Watkins Glen, and Watkins Glen State Park on foot.
However, you'll need access to a car if you want to venture further afield to the Seneca Lake Wine Trail, the Finger Lakes, or Watkins Glen International Raceway.
Uber and Lyft services in this area are pretty limited, so hiring a private driver or booking a guided tour may be easier, especially if you want to visit several of the Seneca Lake wineries or craft breweries near Watkins Glen.
However, this can get expensive REAL quick. So, my best advice would be to rent a car or drive your own car to Watkins Glen so that you can enjoy all that Watkins Glen, and nearby Geneva, have to offer.
When is the Best Time to visit Watkins Glen?
Any time of year is a great time to visit Watkins Glen, with something new to experience in every season.
After all, spring in Watkins Glen means beautiful flowers and birds singing in the trees while the winery tasting rooms start to take bookings for on-site tours.
In summer, Watkins Glen is at its busiest, and NY's deepest Finger Lake provides the perfect location to cool down.
Fall sees Watkins Glen come alive with vibrant fall colors, and it's one of the best locations for leaf-peeping in Upstate New York.
You can also enjoy the fruits of the harvest season when you go pumpkin or apple picking in Watkins Glen.
Now, while the cold winter weather closes the Watkins Glen State Park Gorge Trail, it also means that you can go ice skating or cross-country skiing instead.
Best Things to Do in Watkins Glen, NY
Watkins Glen, NY, is full of fun things to do on your trip to Upstate New York, from outdoor adventures to exciting day trips and great food and drink.
Whether you want to stay in the village or explore the local area, there's something to suit your tastes in this list of fantastic things to do in Watkins Glen, NY.
1. Watkins Glen State Park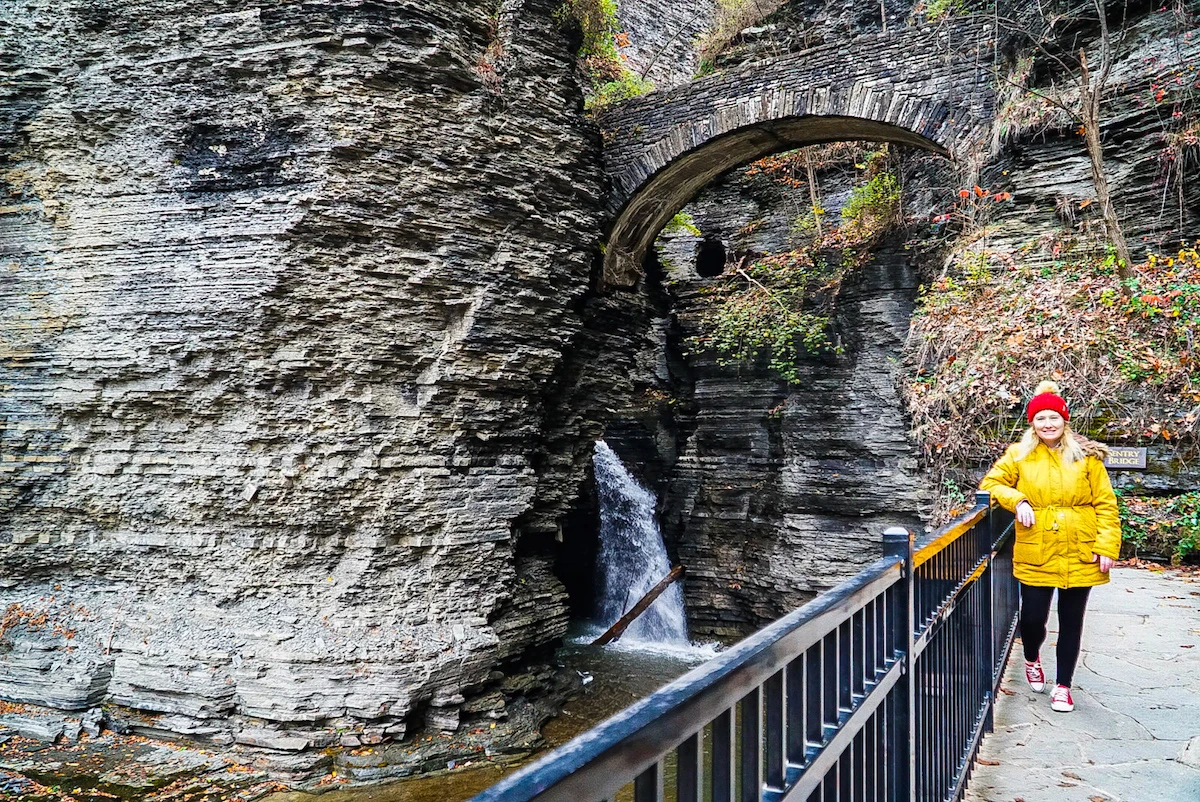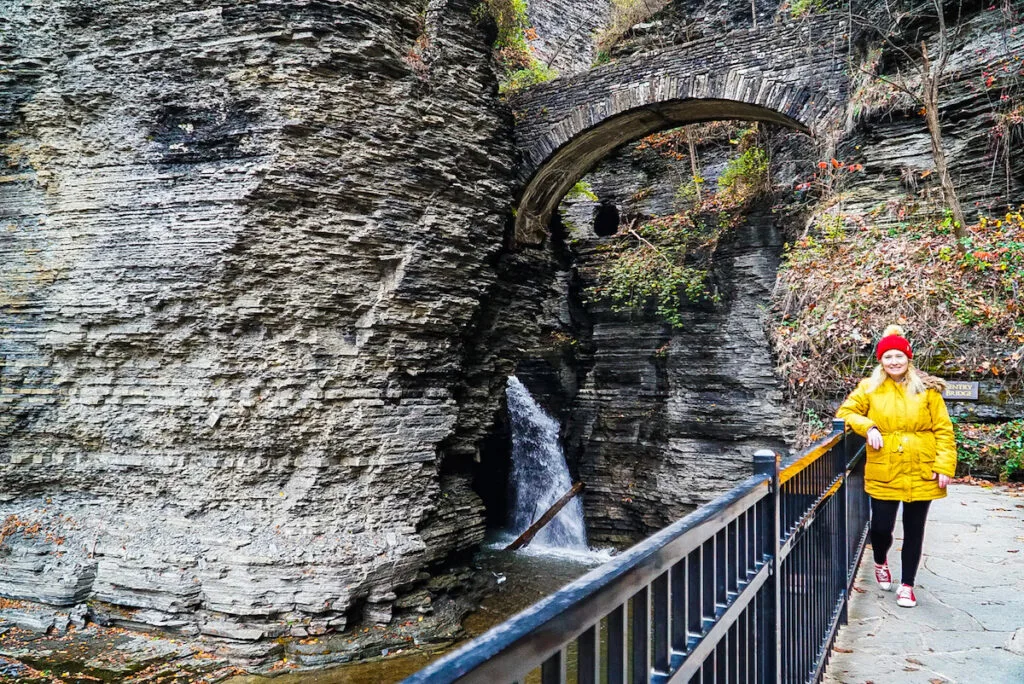 If you want to go hiking in Watkins Glen, you simply have to visit Watkins Glen State Park.
It lies on a narrow stretch of land next to Glen Creek on Seneca Lake's southern tip and is within walking distance of the village.
There are an impressive 19 breathtaking waterfalls in Watkins Glen State Park's natural gorge. The most famous of which is the Rainbow Falls.
It's a magical spot that you can access from the 1.5-mile Watkins Glen Gorge Trail. You can walk right behind the Rainbow Falls, along with the Cavern Cascade.
Trail maps are available from the visitor center on Franklin Street, and scheduled tours of Watkins Glen State Park run during the summer months.
Other things to do at Watkins Glen State Park include an Olympic-sized swimming pool where you can cool off after your hike, plenty of picnic sites, and spots for camping near Watkins Glen.
Local Tip: Fall is the best time to visit due to the area's incredible foliage. However, the Gorge Trail does close seasonally. Therefore, check the park website before you visit.
You can also save money if you park on a side street and then walk to the park.
All the trails are also well-maintained and easy to follow. So, no expert hiking experience is needed to enjoy this state park in New York.
Address: 1009 N Franklin St, Watkins Glen, NY 14891, United States
Price: $10.00 per vehicle.
Hours: Dawn to dusk year-round.
2. Watkins Glen International Raceway
Watkins Glen has hosted motor racing events since 1948, first on the town's street circuit and then racing at Watkins Glen International Raceway's track.
Commonly known as 'The Glen', this track hosts Nascar, IMSA, Ferrari and Vintage GP racing.
Therefore, a visit to the Watkins Glen race track allows you to watch the professionals as they navigate the twists and turns of the circuit at high speed.
You can also sneak behind the scenes on race day, relax in the Jack Daniels Club, or even try driving the circuit yourself on a track day.
And if you're fascinated by the history of motor racing, the International Motor Research Center is one of the best things to do at Watkins Glen.
Admission to the museum is free, and you can browse their massive collection of photographs, films, information about past winners at Watkins Glen, and other racing memorabilia.
Address: 2790 County Route 16, Watkins Glen, NY 14891, United States
Hours: Open Monday through Friday from 9:00 am to 5:00 pm but check their site for more info.
Price: Drive the Glen starts at $30.00 per person.
3. Seneca Lake Wine Trail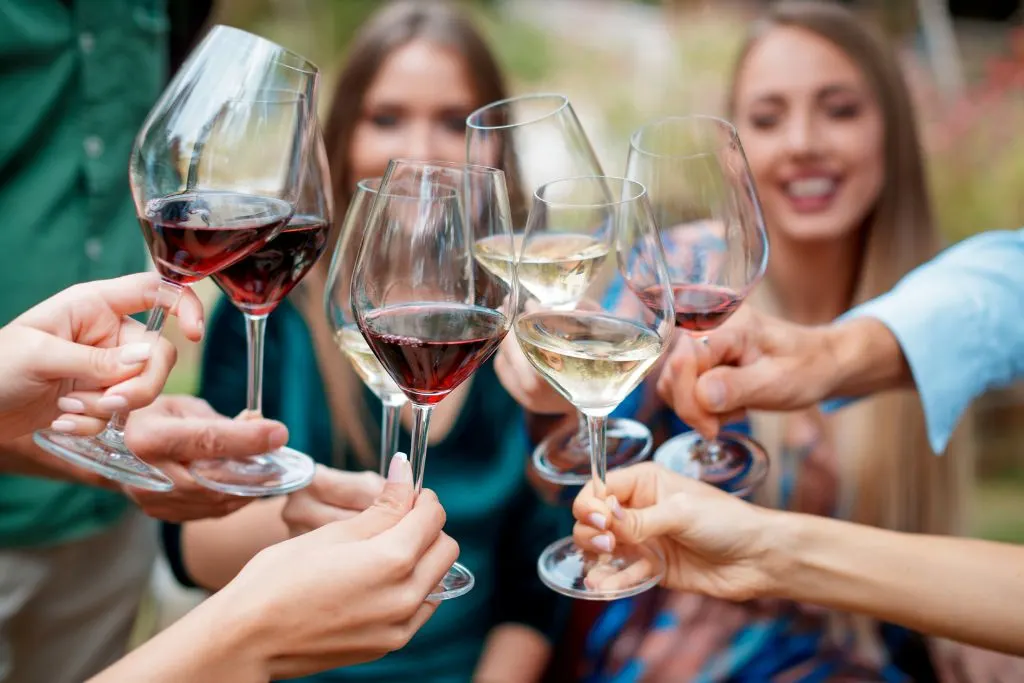 The Seneca Lake Wine Trail is one of the most popular things to do in Watkins Glen and the wider Finger Lakes Region.
The landscape and cool climate around the Finger Lakes are perfect for growing grapes that produce delicious wines like Riesling, Chardonnay, and Cabernet Franc.
There are 27 wineries in Seneca Lake offering winery tours, tasting sessions, and food and wine pairings.
Some of the best wineries in Watkins Glen and the Finger Lakes also provide other entertainment and events like yoga classes and live music.
However, you'll need transport to explore the Seneca Lake Wine Trail, as the wineries are too far apart to visit on foot.
Of course, if you are planning several stops along the wine trail, you won't want to be driving yourself.
Instead, hire a Main Street Driver to help you plan your day and drive you to the various wineries, or join a Seneca Lake winery tour with a professional tour guide.
Local Tip: My faves are Hazlitt 1852 Vineyards, Fox Run Vineyards, and Ventosa Vineyards. All have amazing staff and serve excellent wines with Seneca Lake in the background.
4. Sample Some Local Cheese
Of course, nothing goes better with Finger Lakes wine than cheese, so why not visit one of the destination farms in the Finger Lakes Cheese Alliance?
These local farms create delicious artisan cheeses, like aged cheddar, gouda, and chevre – with farms welcoming visitors all year round.
So, you could travel to local creameries and cheese makers like Shtayburne Farm or Sunset View Creamery or stay in town and visit the Seneca Cheese Company.
They offer a fantastic array of artisanal cheese boards paired with wines, beers, or cocktails.
5. Seneca Lake Water Activities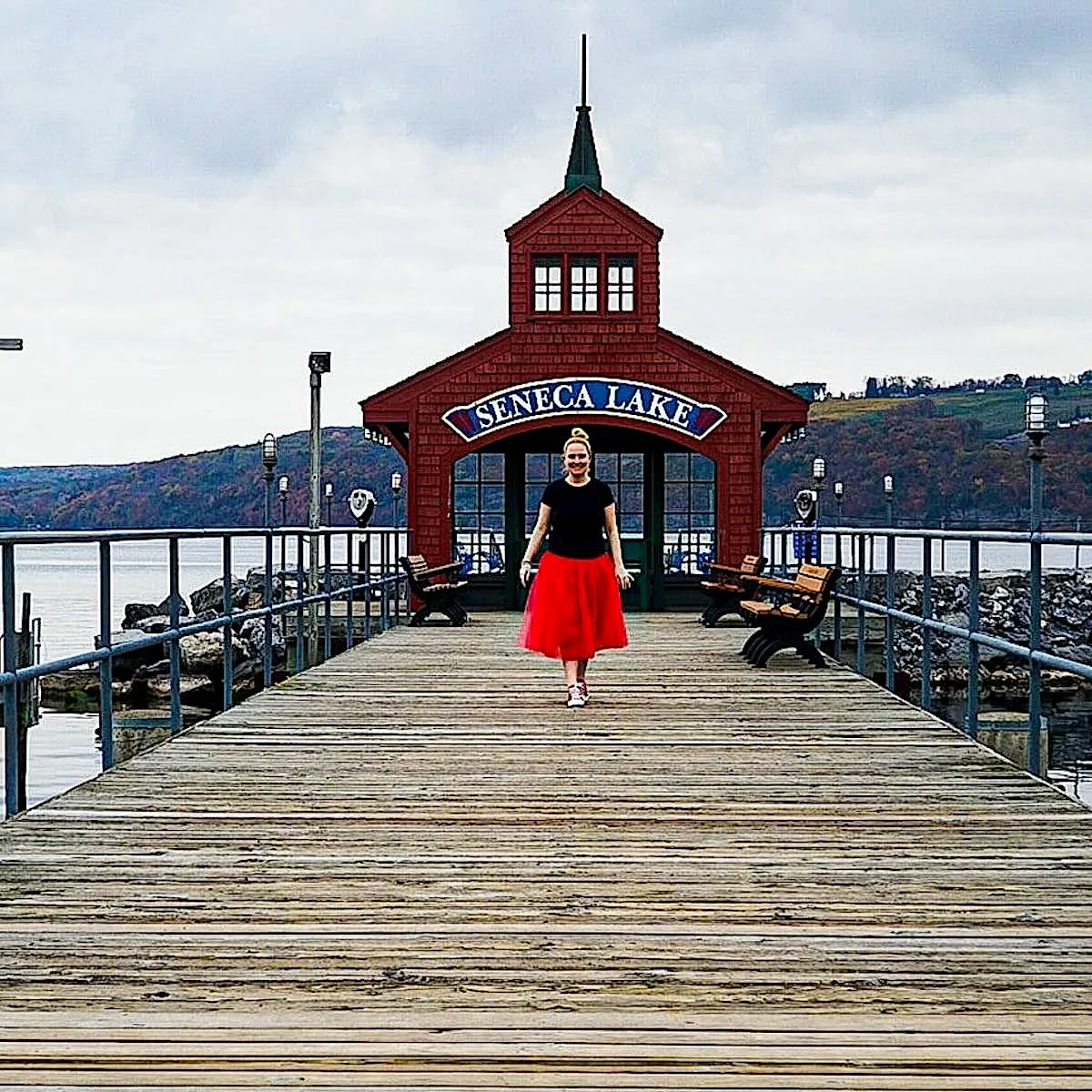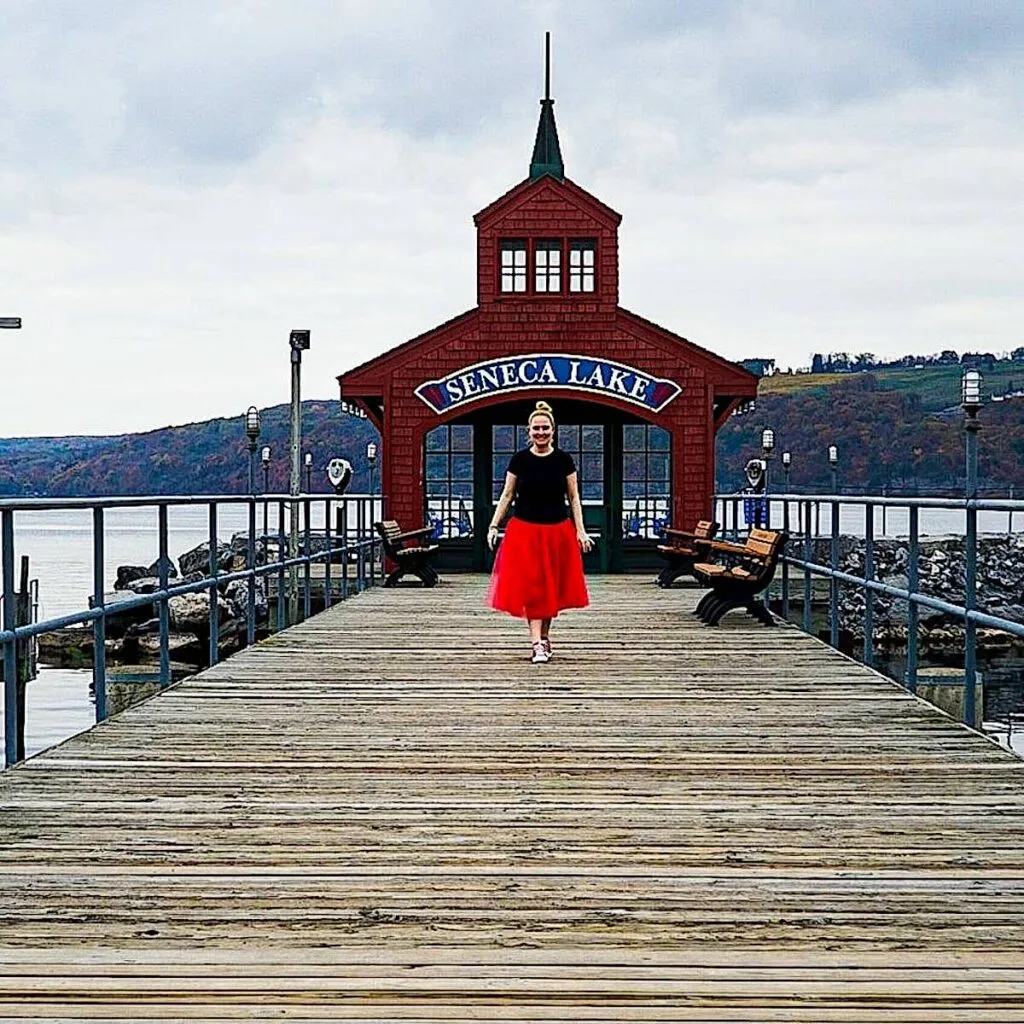 If you love being on or around the water, the village of Watkins Glen is an ideal destination, thanks to its location next to Seneca Lake.
Depending on when you visit Watkins Glen, you could go fishing, paddleboarding, or kayaking, swim in Seneca Lake at Clute Park in Watkins Glen or Smith Park in Hector, or rent a pontoon boat or 19-foot bow rider at Glen Harbor Marina.
For a more relaxed way Seneca Lake visit, you could take an elegant fine dining cruise aboard the luxurious Seneca Legacy or a fascinating sightseeing tour onboard the Seneca Spirit.
6. Get Some Local Ice Cream
There's nothing like fresh ice cream made from cream and milk straight from the cow.
So, when you visit Watkins Glen, it's the perfect opportunity to visit one of the local Watkins Glen creameries and treat yourself to some top-quality ice cream during your weekend in Watkins Glen.
In fact, Shtayburne Farm Creamery serves up 12 flavors of ice cream from their store.
Treat yourself to a cone or one of their milk shakes and seasonal drinks created with their own delicious ice cream.
Or, if you prefer to stay in town, head to an ice cream shop on Franklin Street, like Glen Dairy Bar or The Great Escape.
But be warned, you may never want to buy grocery store ice cream again after this Watkins Glen itinerary.
7. Apple Picking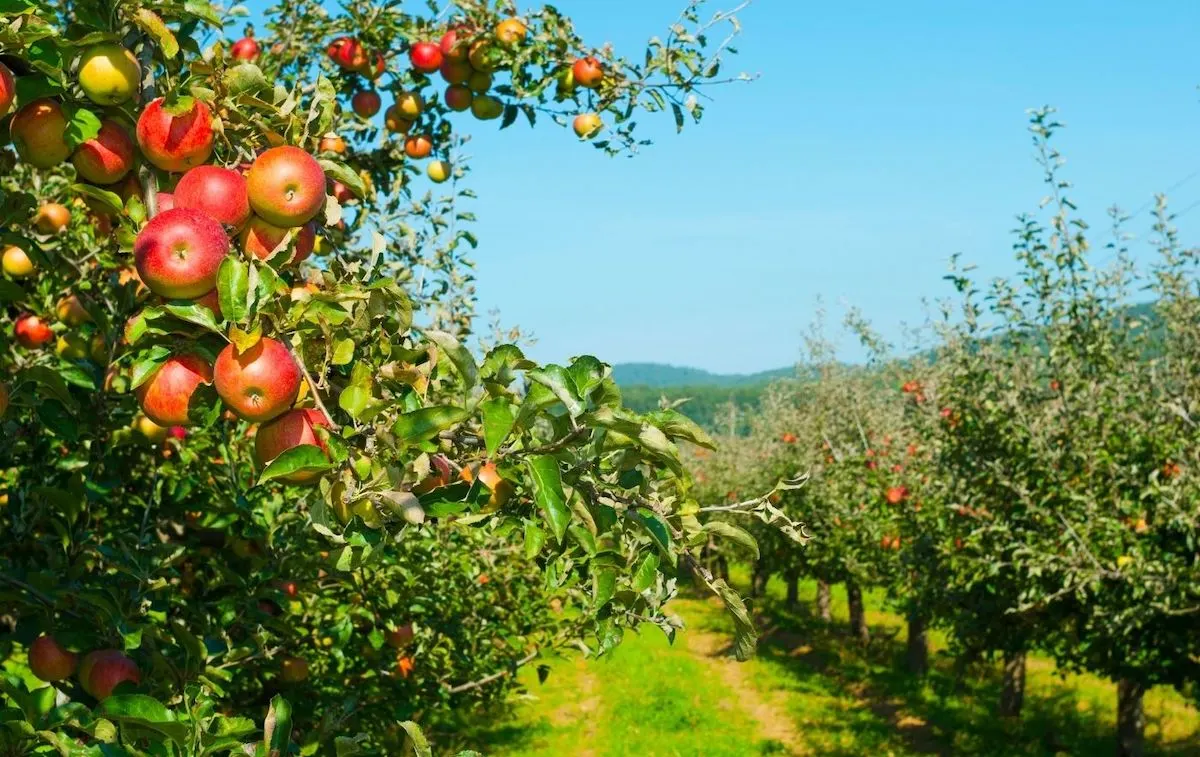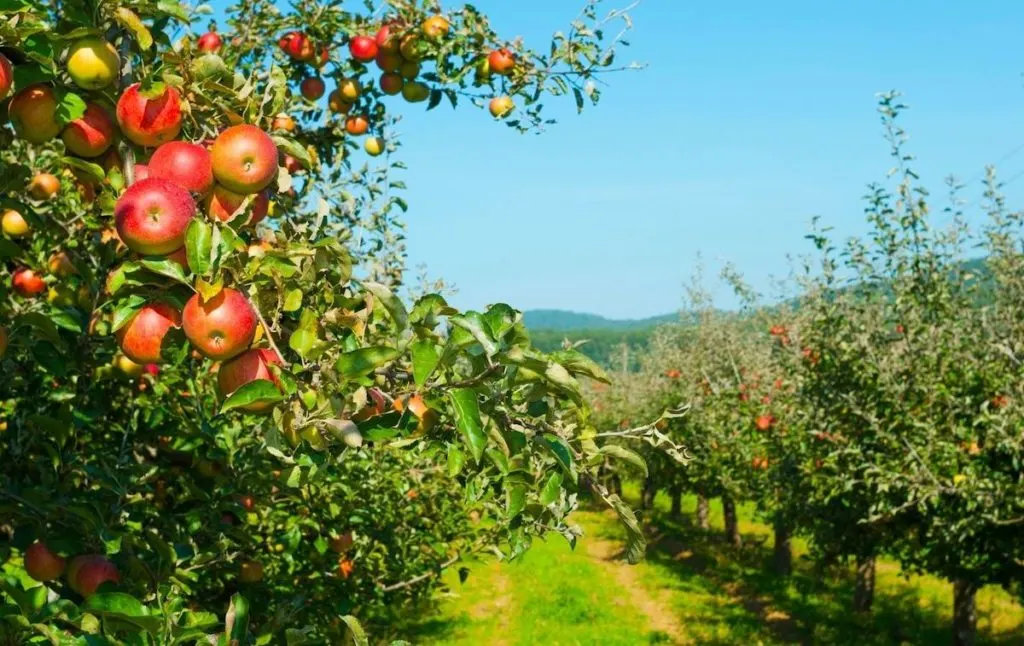 Many local farms near Watkins Glen welcome visitors to pick their own fruit. It's a lovely way to experience Finger Lakes farming for yourself and support the local community.
Visiting one of these farms to pick apples, raspberries, or pumpkins is one of the best things to do in Watkins Glen in autumn.
Not only can you enjoy a beautiful drive and the fresh air on the farm, but you also get to pick farm-fresh fruit to take home with you.
Some epic U-pick farms to try include Apples and Moore, which has over 20 varieties of apples, and Wickham's Tango Oaks Farm in nearby Hector, NY.
8. Finger Lakes National Forest
Finger Lakes National Forest lies 20 miles north of Watkins Glen, between Seneca and Cayuga Lake, and is the only federally managed forest in New York State.
This New York State forest has more than 30 miles of trails through diverse forests and woodlands, gorges, ravines, and grasslands.
So, it is a great spot to enjoy some of the best hikes in upstate New York. It's also an excellent place to try outdoor activities, such as horseback riding, fishing, or wildlife spotting.
Spending a day here is a great way to avoid the crowds visiting Watkins Glen in the summer.
And with three free campgrounds, including one suitable for horseback riders, Finger Lakes National Forest is undoubtedly one of the best things to do near Watkins Glen.
Plus, in the fall, the forest puts on a colorful display, while in winter, its terrain is perfect for snowshoeing, snowmobiling, and cross-country skiing.
Address: 5218 NY-414, Hector, NY 14841, USA
Hours: 24/7
Price: Free
9. Explore Franklin Street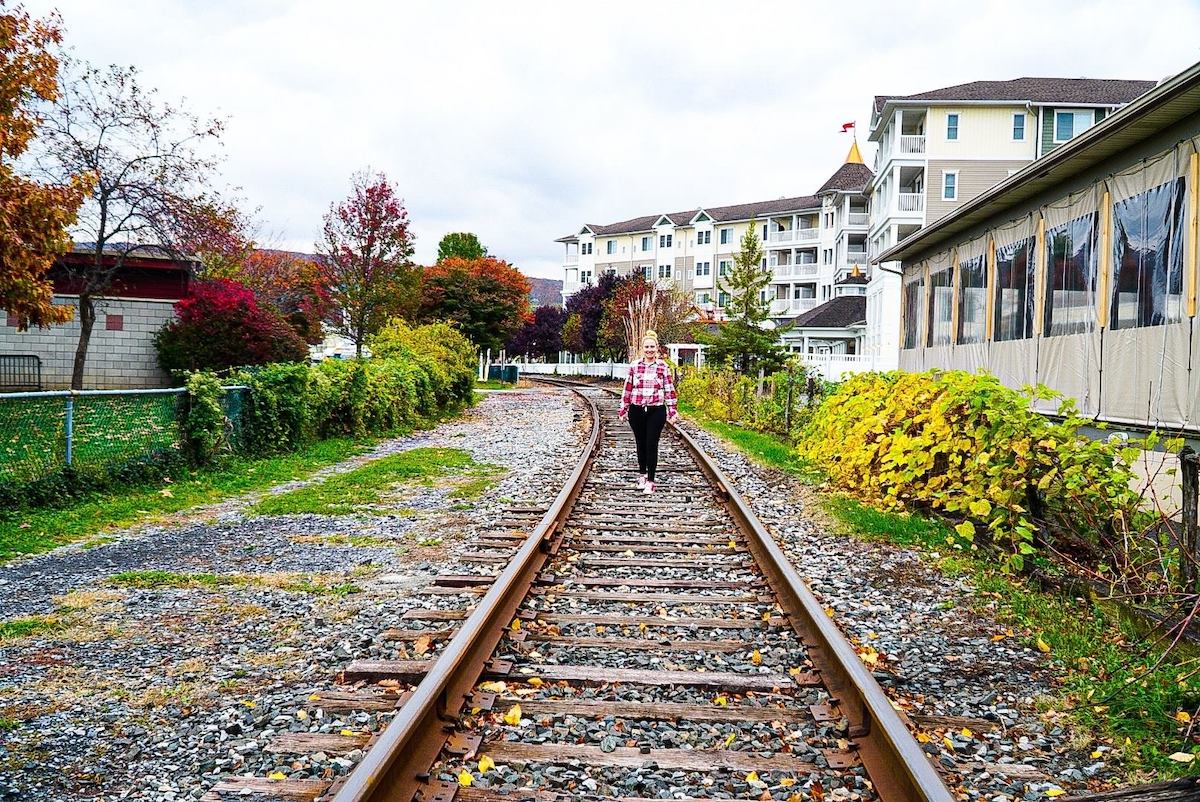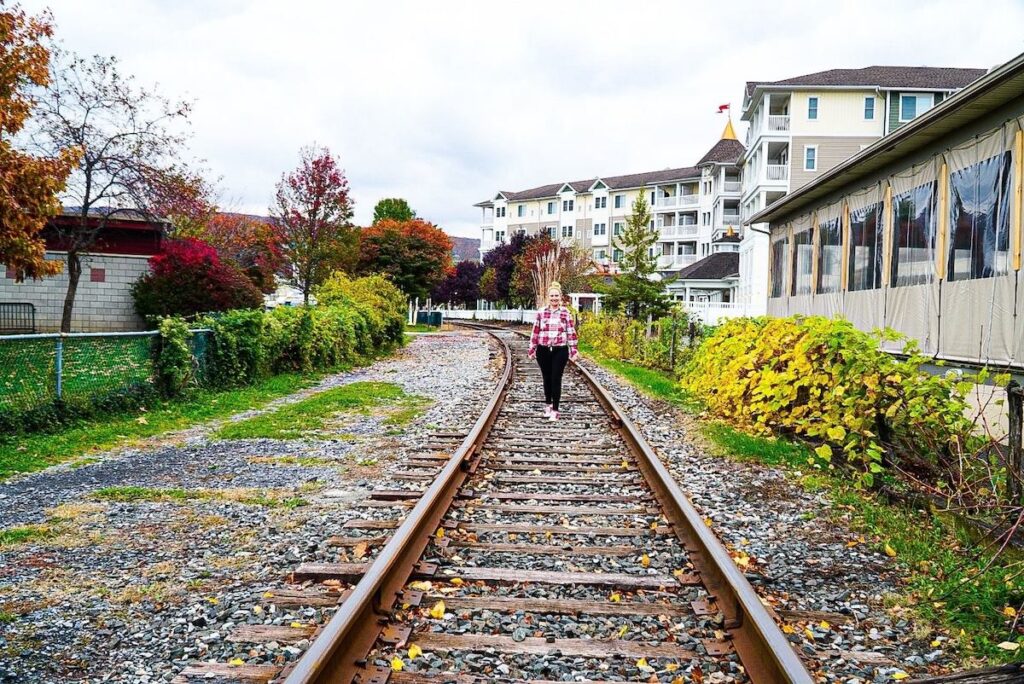 Franklin Street runs through the heart of Watkins Glen Village. Therefore, you'll find many of the best things to do in Watkins Glen here.
Along with independent restaurants, quirky bars like the Seneca Cheese Company, and the Franklin Street Gallery, you'll find great places to shop, like Specc's Chocolates & Gifts and Watkins Glen Wine & Spirits for epic New York souvenirs.
However, if you've forgotten to add hiking socks to your New York packing list or need a warmer jacket to go hiking in Watkins Glen State Park, the Famous Brands Outlet is the place to head!
Also, keep your eyes open for checkerboard crosswalks as you stroll down Franklin Street. They're designed to look like the start/finish line of a motor racing circuit.
10. Watkins Glen Farmers' Market
Started in 2005, Watkins Glen Farmers' Market is a small market supporting local family farmers and food producers.
Like in most small towns in New York, everything sold at Watkins Glen Farmers' Market is grown and produced in the local area.
So, it's the ideal place to buy seasonal fruits and vegetables, locally reared meat, cheeses, wines, and much more.
Address: Lafayette Park, 4th and Decatur, Watkins Glen, NY, United States
Price: Varies
Hours: Friday from 3:00 pm to 7:00 pm from May through October.
11. Glen Craft Breweries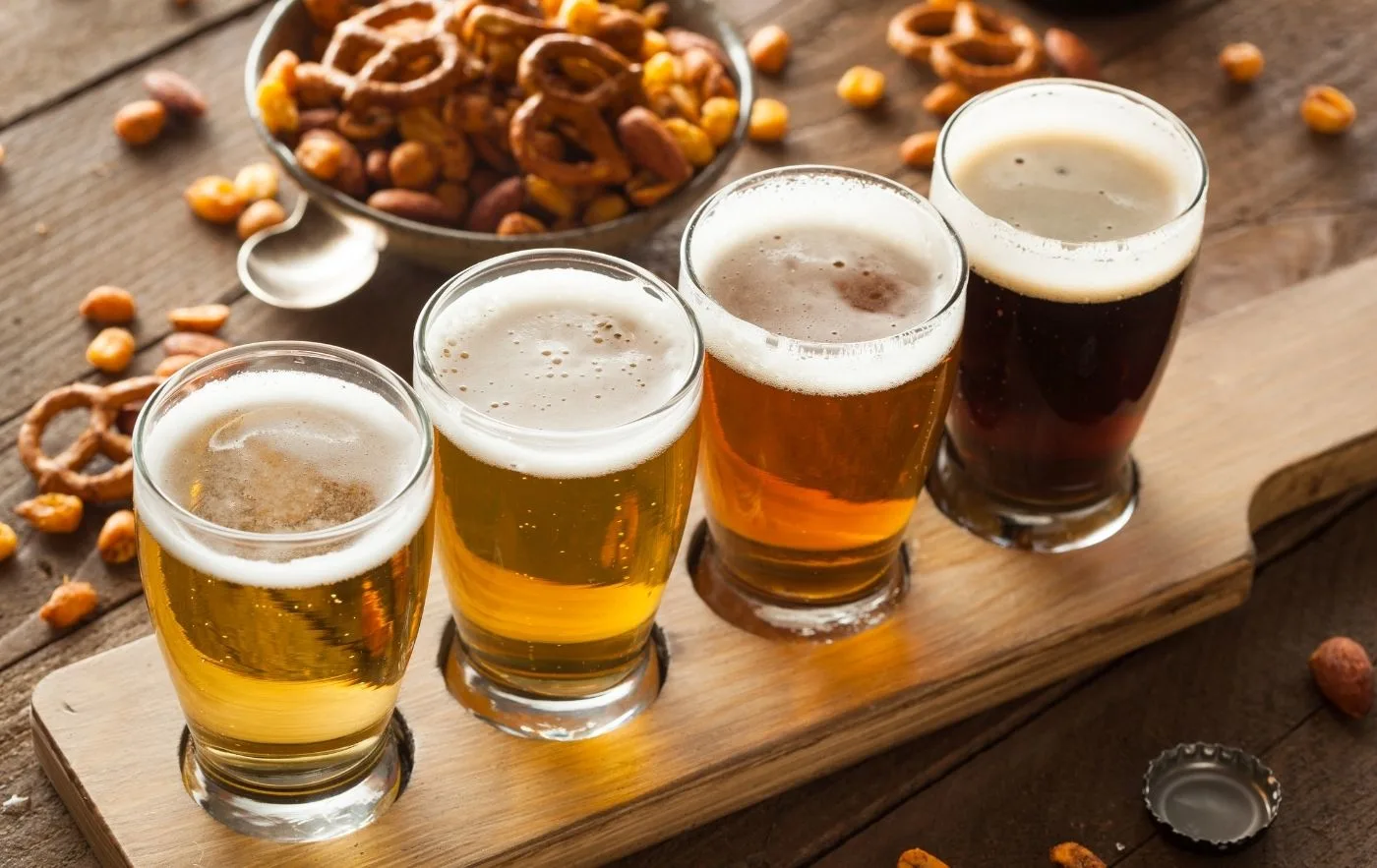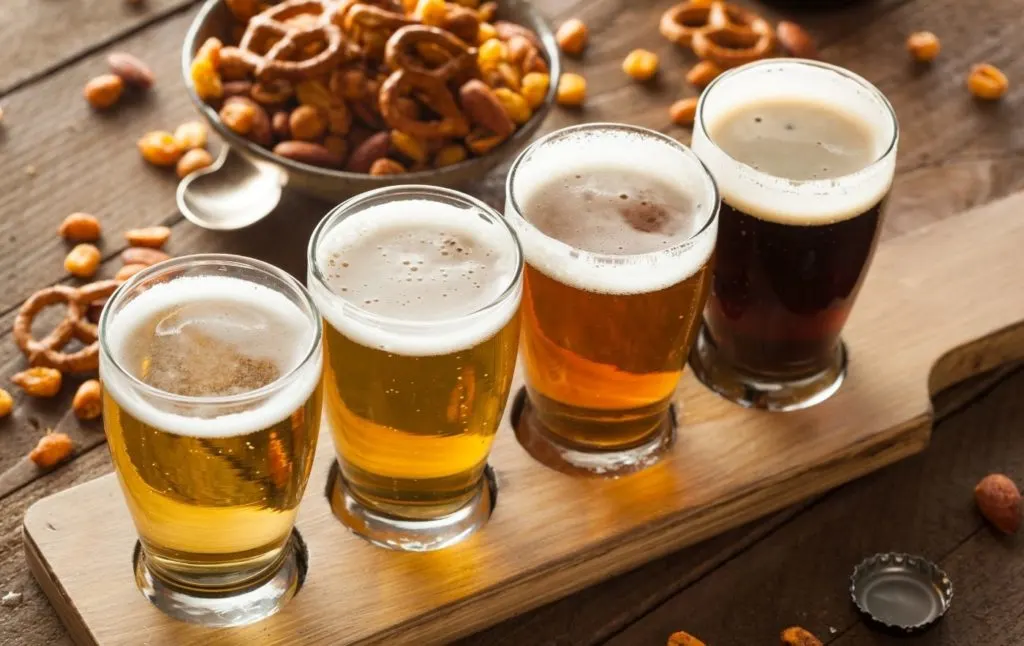 The Finger Lakes region is famous for its wineries. But, nowadays, Finger Lakes beers are almost as well known as the wines.
In fact, the Finger Lakes craft beer scene is producing some incredible lagers, IPAs, and stouts, and the Finger Lakes Craft Beer Trail is very popular with visitors to Watkins Glen.
So, some of the best Seneca Lake breweries in and around Watkins Glen that are worth a visit include:
Seneca Lake Brewing Company: Craft beers served in a UK pub setting.
Two Goats Brewing: They create their brews in a renovated 1800s barn overlooking Seneca Lake.
Scale House Brewery: Known for craft beers, delicious pizzas, and stunning views of Seneca Lake.
Grist Iron Brewing Company: Great craft beer and live music at their microbrewery in Hector, NY.
12. Dine at Local Restaurants in Watkins Glen
You'll definitely get hungry after spending the day exploring Watkins Glen. Luckily, the village has plenty of cafes and restaurants to choose from.
Not only do they serve epic food but they are often family-run and use nothing but the freshest local products.
Some of the best places to eat in Watkins Glen include:
Glen Mountain Market Bakery: Morning go-to for pastries, sandwiches, and coffee.
3812 Bistro at Lakeside Resort: Farm-to-table food served with local wines and beers.
Nickel's Pit BBQ: BBQ meals and craft beer within a historic setting.
Blue Pointe Grille: Offers lakeside dining at the Harbor Hotel in Watkins Glen.
Curly's Family Restaurant: Serves up American classics with a relaxed vibe.
Local Tip: One of my fave things to do when I am in town is enjoy a light meal or quick snack at one of the many local wineries and microbreweries.
13. Montour Falls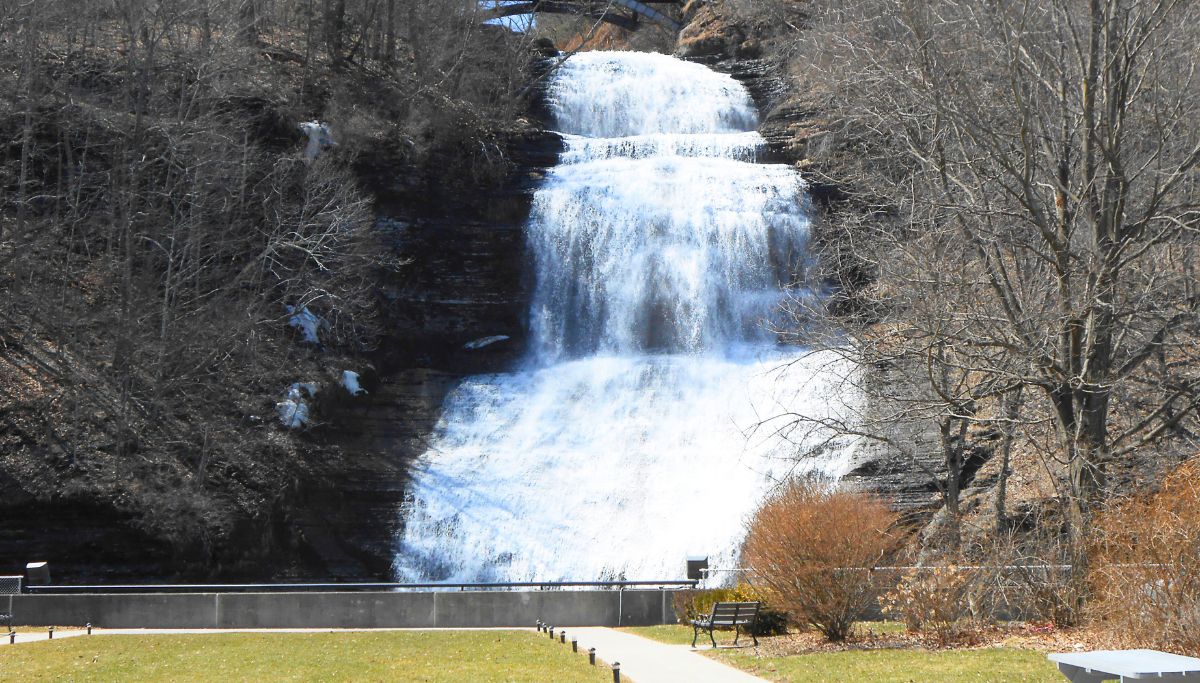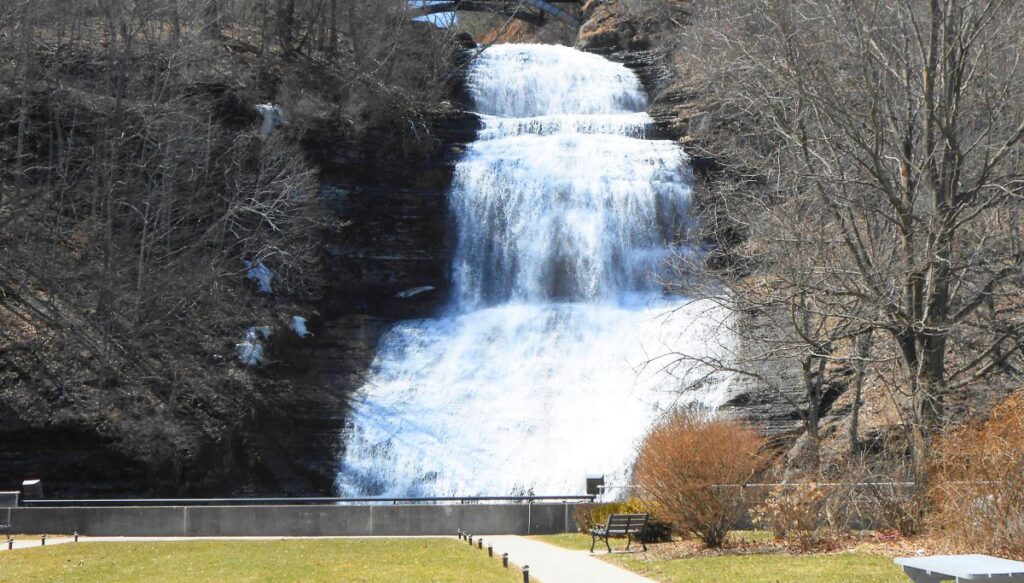 The village of Montour Falls is around 3 miles south of Watkins Glen and was formerly home to the Seneca Nation.
The village and its breathtaking 165-foot waterfall both take their name from one of the Seneca Nation's leaders, Queen Catharine Montour.
The waterfall is also known as Shequaga Falls, a transliteration of its original Seneca name, and you'll spot it as soon as you drive into the village to see one of the best waterfalls in New York.
Montour Falls is also worth a visit for its Farmers Market and the Brick Tavern Museum, which celebrates the area's rich history.
14. Painted Bar Stables
Whether you're an experienced horseback rider or a complete novice, Painted Bar Stables is the perfect place to explore the Finger Lakes region on horseback.
This community-oriented riding center lies just a few miles from the village of Watkins Glen.
Now, Painted Bar Stables aims to encourage lifelong relationships between people and horses. They offer horse riding lessons for all experience levels and trail rides through the beautiful local hills.
Alternatively, you can enjoy meeting and snuggling their adorable horses during a Horse Encounter session. However, all lessons must be pre-booked through the Painted Bar Stables website.
Address: 4093 Lake Ave, Burdett, NY 14818, United States
Hours: Open daily from 10:00 am to 5:00 pm, except on weekends when they are open until 6:00 pm.
Price: Trail rides start at $70.00 per person for an hour ride.
15. Trip to Corning Museum of Glass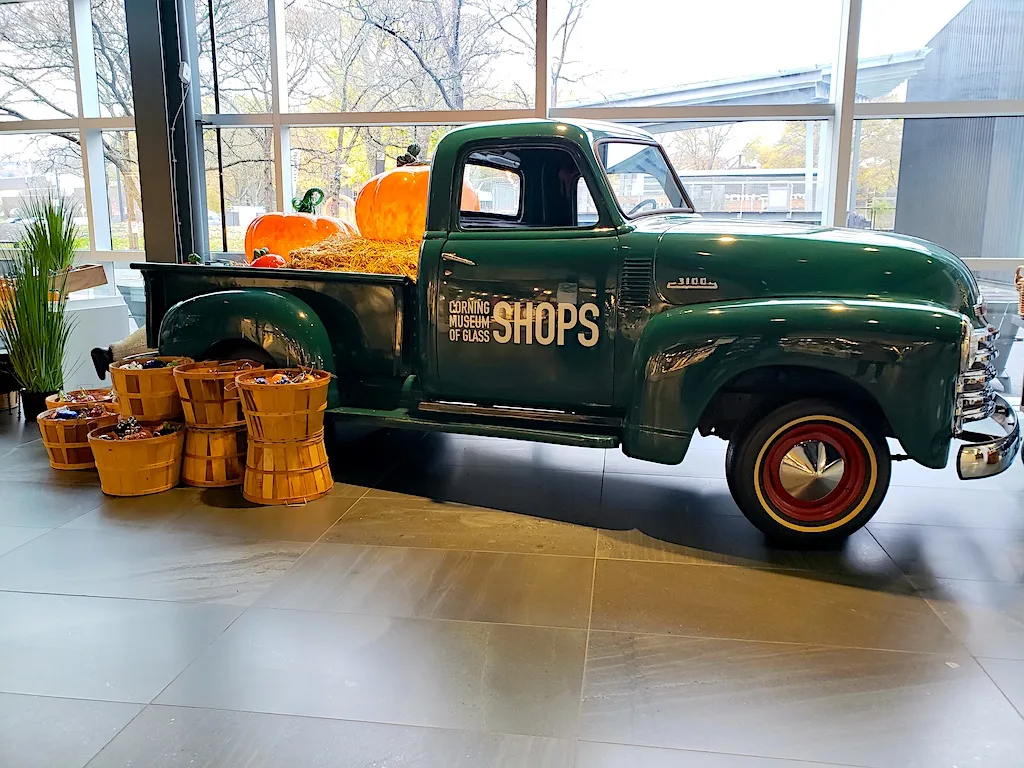 The tiny city of Corning lies around 21 miles southwest of Watkins Glen, and this is where you'll find the world's biggest glass museum.
The Corning Museum of Glass contains over 50,000 objects stretching back over 3500 years.
You can see everything from contemporary glass sculptures to ancient Egyptian artifacts, showcasing the essential role played by glass in art, culture, design, and technology.
The daily glass-blowing demonstrations are a highlight of your visit to the Museum of Glass, and you can even try making glass yourself.
Honestly, I have been to this museum many times and am still blown away (get it?) every time I visit. I love the live glassblowing demos and the fact that they are totally FREE.
Plus, the gift shop is huge and has a ton of cool stuff that would make for a perfect souvenir from New York.
Local Tip: If you get hungry you can hit up Nine Elephants nearby. The Thai food was really good and I highly recommend this place while you're in town.
Address: 1 Museum Way, Corning, NY 14830, United States
Hours: Open daily from 9:00 am to 5:00 pm.
Price: Tickets start at $22.00 per adult.
16. The Farm Sanctuary
The Farm Sanctuary in Watkins Glen is a must-visit for animal lovers. Its 275-acre site provides a green and restful home to more than 600 rescued farm animals, including pigs, cows, turkeys, and more.
A visit to the Watkins Glen Farm Sanctuary is a great way to learn about the welfare of animals in the modern food system.
Plus, public and private guided tours are available May through October, which allow you to hear about individual animal stories and discover more about veganism.
By the way, closed shoes are a must for these tours! You can also extend your visit by booking a stay at one of the Sanctuary's luxurious Tiny Houses.
Address: 3136 Aikens Rd, Watkins Glen, NY 14891, United States
Hours: Open Wednesday through Sunday from 10:30 am to 5:00 pm.
Price: Public tours are $15.00 each and last about an hour.
17. Letchworth State Park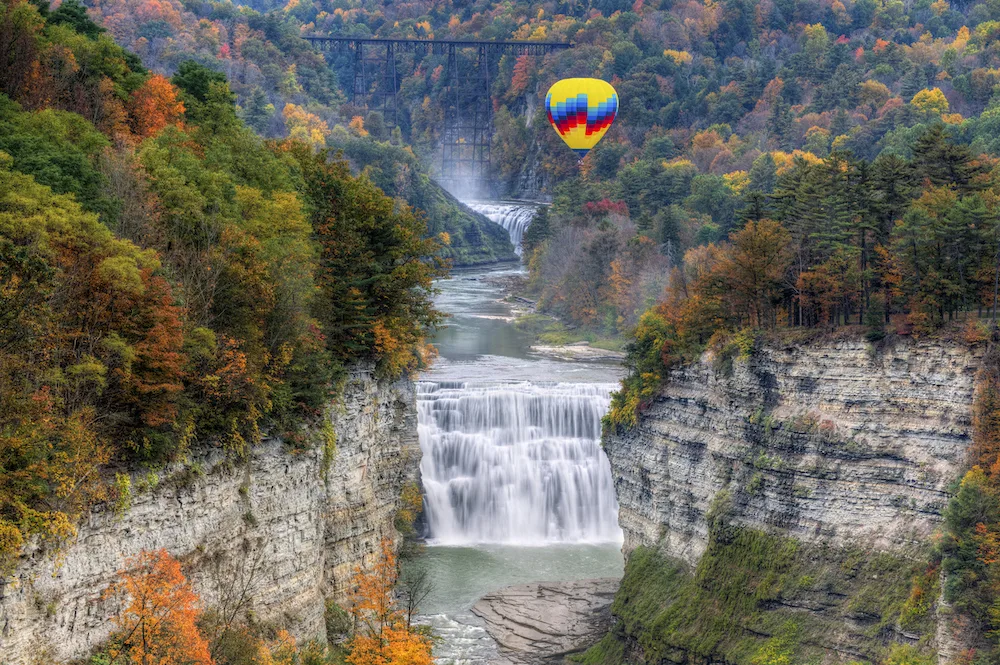 Letchworth State Park is one of many state parks in the western Finger Lakes region with breathtaking scenery that has given it the nickname of 'the Grand Canyon of the East.'
It's an ideal location for hiking in Watkins Glen, with 28 hiking trails of varying difficulty, ranging from a half mile to 21 miles.
You can also visit the Mount Morris Dam or go horseback riding, cycling, or kayaking.
In summer, you can swim in the Harvey Swimming Pool. Or, in the winter try snowmobiling, snow tubing, and cross-country skiing.
Less energetic things to do at Letchworth State Park include their summer lecture series and history, nature, and performing arts programs.
Just be aware that this park is not actually in Watkins Glen. Yeah, it's about an hour and fifteen-minute drive west.
Local Tip: They only collect cash seasonally and from 9:00 pm to 5:00 pm. So, I would arrive early to avoid the crowds, and fee.
Address: 1 Letchworth State Park, Castile, NY 14427
Hours: Open daily from 6:00 am to 11:00 pm.
Price: $10.00 per vehicle.
18. Drive The Historic Grand Prix Course
If driving at top speed around the Watkins Glen race track doesn't appeal, you can take things at a more sedate pace on the historic Watkins Glen Grand Prix course.
In October 1948, Watkins Glen's streets hosted their first road race following World War II.
The event is celebrated each September when classic race cars take to the streets in the annual Grand Prix Festival, enjoyed by an estimated 25,000 visitors.
But, if your weekend in Watkins Glen doesn't coincide with the festival, why not drive the route yourself?
The start and finish line of the 6.6-mile circuit is at Schuyler County Courthouse, and the route is clearly signposted for you to follow.
You can find a map here; but just remember to stick to the speed limit!
19. Check Out the Finger Lakes Waterfalls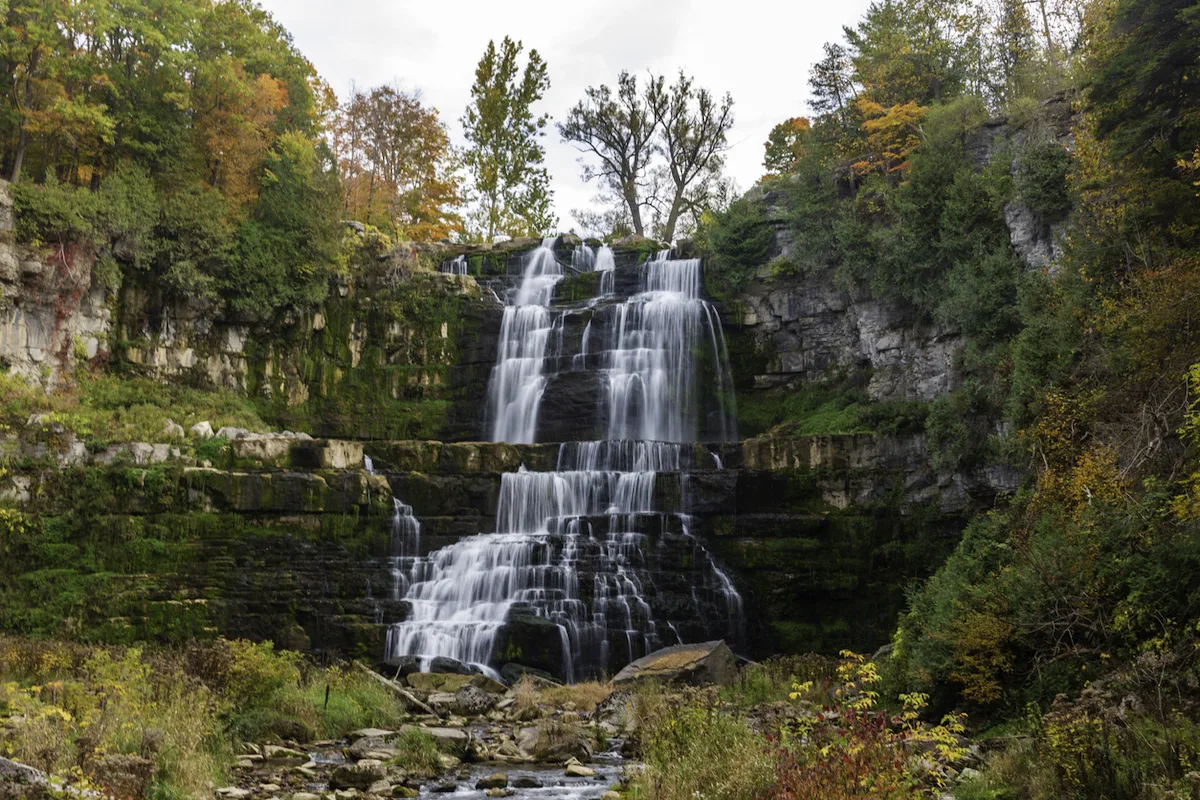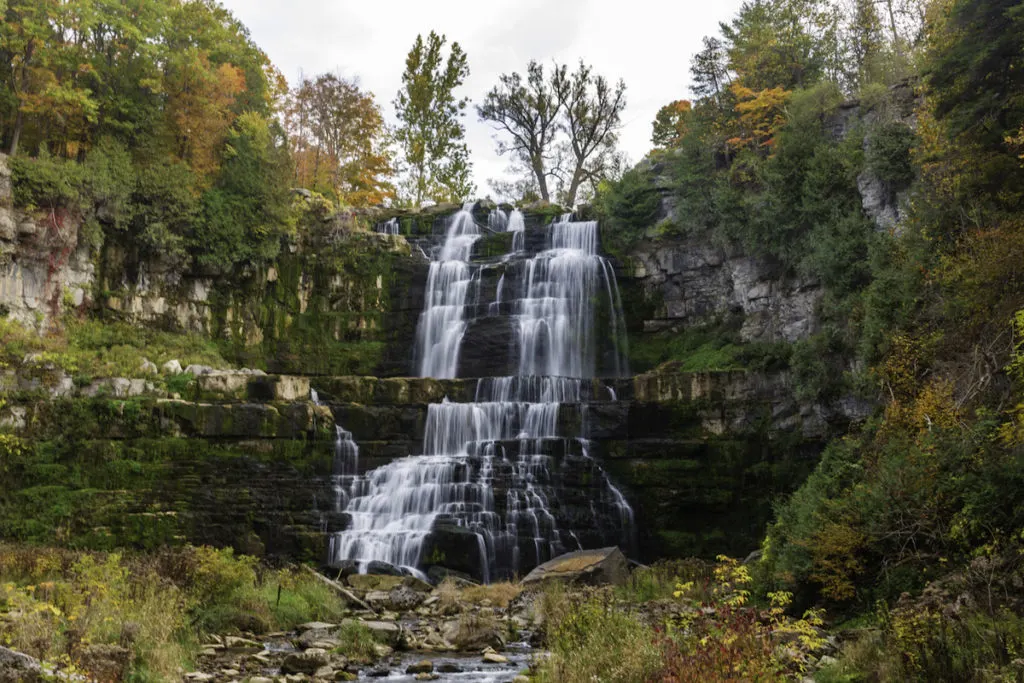 Aside from the 19 stunning waterfalls in Watkins Glen State Park and nearby Montour Falls, there are many more waterfalls to visit near Watkins Glen.
Some of the best waterfalls near Watkins Glen include Hector Falls, the third tallest waterfall in New York State, Eagles Cliff Falls in Havana Glen Park, and Deckertown Falls, located just outside Montour Falls.
All the falls are stunning at any time of year, but they will be particularly impressive in April when the snowpack melts.
20. Windmill Farm and Craft Market
The Windmill Farm and Craft Market welcomed its first visitors more than 35 years ago, and the 44-acre site now hosts more than 175 indoor and outdoor shops.
If you want to go shopping in Watkins Glen, this market has everything from fresh produce and local wines to gifts, artwork, and custom-made furniture.
There are also wineries, a microbrewery, and even a distillery on-site, along with many dining options for everything from a quick snack to a full meal.
Now, the Windmill Farm and Craft Market sits 18 miles north of Watkins Glen and is open every Saturday, and on major holidays, from late April through late November.
Address: 3900 NY-14A, Penn Yan, NY 14527, United States
Hours: Open Saturdays and major holidays from 8:00 am to 4:30 pm, from April through the end of November.
Price: Varies
21. Visit Ithaca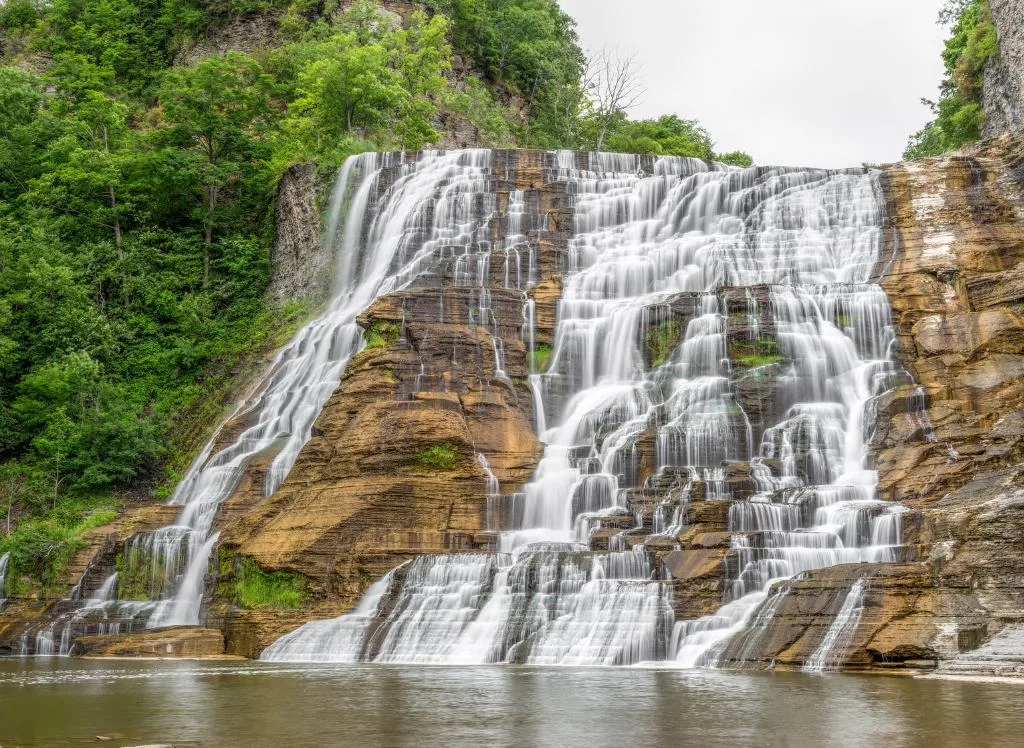 Ithaca sits 24 miles east of Watkins Glen at the southern tip of the second biggest Finger Lake, Cayuga Lake.
However, unlike its neighbor, Ithaca is a much larger town that is home to Cornell University and Ithaca College.
As a result, there are many fantastic things to do in Ithaca, including Cornell Botanic Gardens and the Ithaca Farmers Market.
The town is also close to several state parks and is home to several excellent Ithaca hiking trails.
These include the scenic Buttermilk Falls State Park and Taughannock Falls State Park, where you'll find the highest single-drop waterfalls on this side of the Rocky Mountains.
22. Grab Coffee at Seneca Sunrise Coffee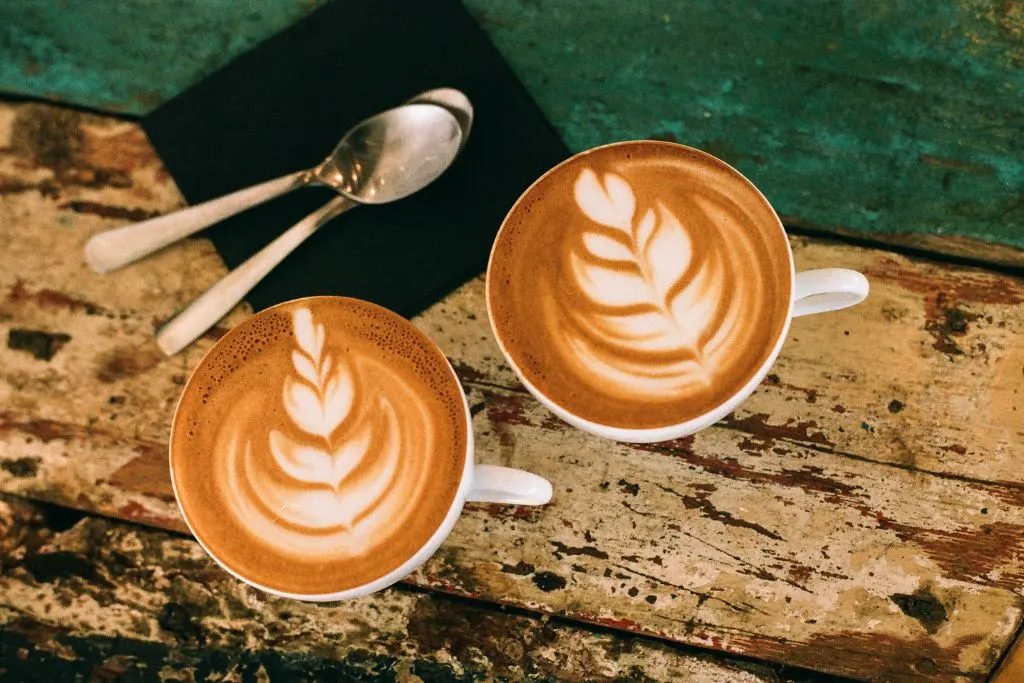 If you can't start the day without your morning cup of coffee, you should definitely head to Seneca Sunrise Coffee when you visit Watkins Glen.
This small-batch coffee roaster offers a range of artisanal organic coffee beans, sourcing them from Fair Trade-certified, shade-grown, and bird-friendly producers wherever possible.
Their coffees are also sold throughout the Finger Lakes region, and you can also get your morning jolt in their Watkins Glen store.
Address: 806 N Decatur St, Watkins Glen, NY 14891, United States
Hours: Open Monday and Wednesday through Friday from 7:00 am to 5:30 pm. Also open Saturday from 9:00 am to 2:00 pm.
Price: Espresso drinks start at $2.00 each.
Watkins Glen Events
Despite its size, Watkins Glen hosts various exciting events and festivals throughout the year.
Some of the major annual events in Watkins Glen – that double as some of the best things to do in Watkins Glen – include:
Spring Brake' Race Weekend: At the Watkins Glen International in April
Finger Lakes Wine Festival: In July and features over 90 New York State Wineries
Vintage Grand Prix Festival: In September.
Map of the Best Things to do in Watkins Glen NY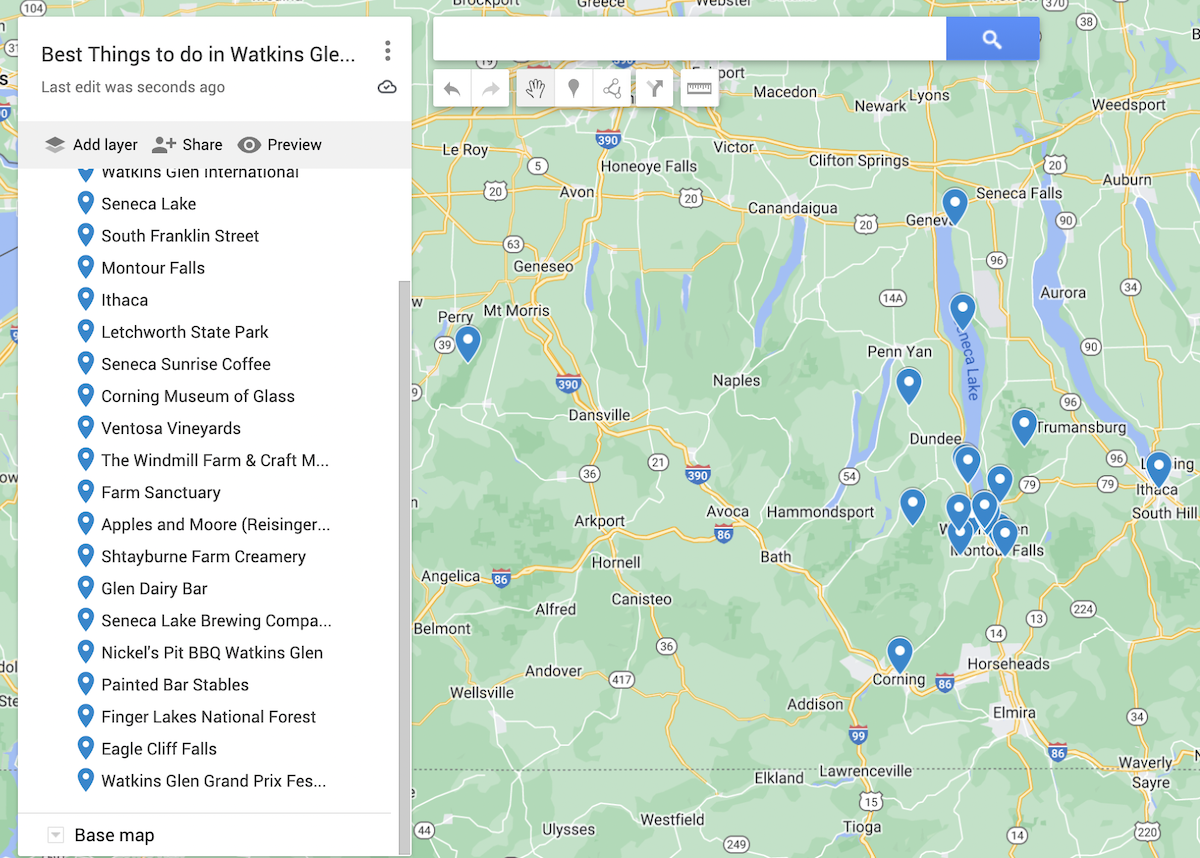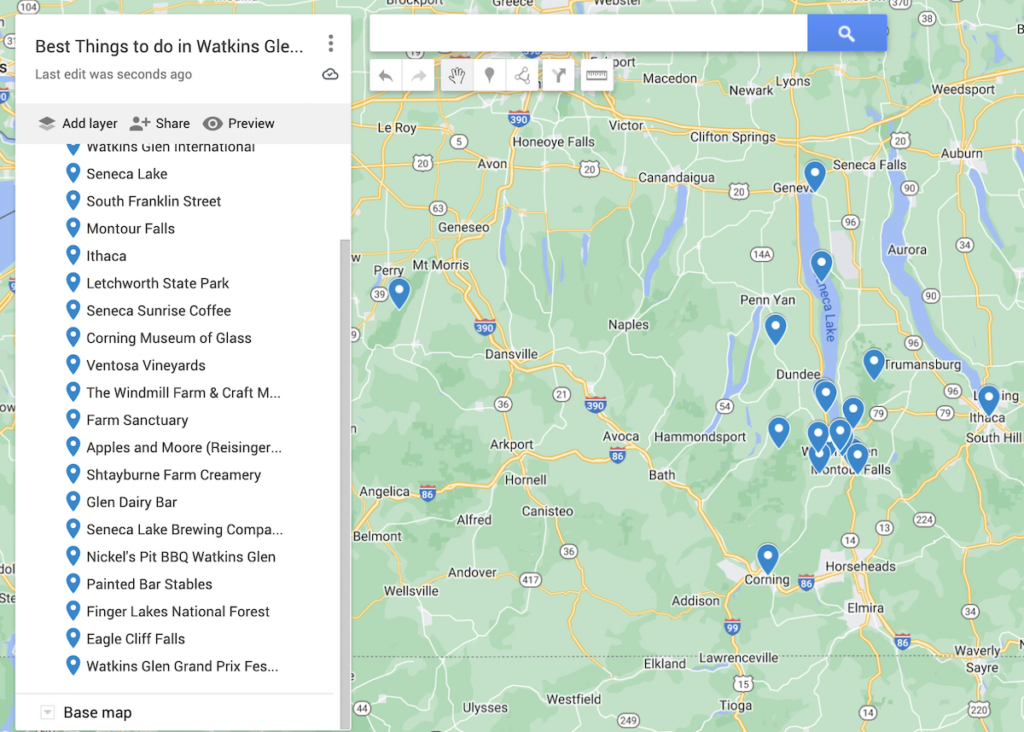 Best Things to do in Watkins Glen NY FAQs
Is Watkins Glen Worth a Visit?
Yes, Watkins Glen is absolutely worth a visit since you can visit Watkins Glen State Park and walk along the stunning Gorge Trail. It's an otherworldly walk that makes you feel like you're in New Zealand.
How Long do you Need at Watkins Glen?
You really only need a day in Watkins Glen since it is a really small town.
However, it is well-located within the Finger Lakes and you can definitely use this town as a home base from which to spend a weekend in the Finger Lakes.
What is one thing Watkins Glen is Known For?
Watkins Glen is known for Watkins Glen State Park and the incredible Gorge Trail here that takes you past stone bridges and stunning waterfalls.
However, other things the area is known for are beautiful lakes, amazing wineries, fab breweries, and incredible local farms.
Why Visit Watkins Glen?
One of the main reasons to visit Watkins Glen is to hit up the Gorge Trail that takes you through Watkins Glen State Park.
That wraps up this epic guide to the best things to do in Watkins Glen NY.
Tell me, did your picks for the top attractions in Watkins Glen make the list? If not then let me know.
And if you found this post useful, don't forget to join our Facebook group and email list for even more awesome travel info.