Planning a Finger Lakes getaway and looking for the all-time best Seneca Lake wineries?
Of course, you are since this exquisite part of New York is easily one of the best wine regions on the entire east coast, with more than 100 wineries for you to choose from.
And with exquisite lakeside views and rolling hills around every turn, choosing which top Seneca Lake wineries to visit can be more than a little tricky.
Luckily for you, I'm here to help you pick out all of the best Seneca Lake wineries to explore. Especially since I'm a 30+ year local who has visited the Finger Lakes countless times and knows all of the best wineries on the Seneca Lake Wine Trail.
Because as any wine connoisseur will tell you, it's not just about the wine you taste but it's also about the experience you receive.
So, start your Finger Lakes wine-tasting getaway off right with a stop at Seneca Lake. After all, it sits in the heart of the Finger Lakes – near the charming town of Watkins Glen – and is right on the always awesome, Seneca Lake Wine Trail.
Plus, afterward, you can continue your trip by venturing east to Keuka Lake or going west to Cayuga Lake as you visit all of the best wineries in the Finger Lakes.
Pro Tip: Always stop by a local wine store and ask for their picks for top regional wines since many of the best wineries on Seneca Lake have limited distribution since most of their bottles are sold in their tasting rooms.
This post may contain affiliate links. Please see my disclosure for more information. As an Amazon Associate, I earn a small commission from qualifying purchases.
⏰ Wondering where to stay in Watkins Glen? I recommend Watkins Glen Harbor Hotel. It's an amazing 3 star hotel with all the luxuries you could want! 🏨
Best Places to Stay in Watkins Glen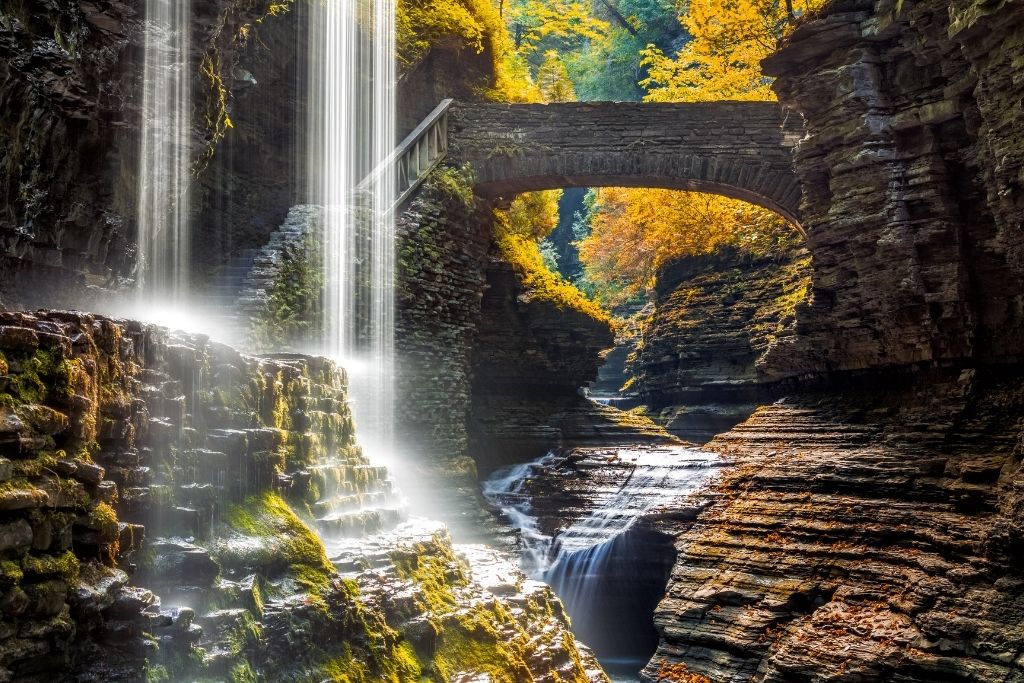 Since Watkins Glen sits along the Southern tip of Seneca Lake, it makes a great home base from which to explore all of the very best Seneca Lake wineries.
So, if you're looking for a super snazzy place to stay while visiting all the top Seneca Lake wineries in the area, then here are my picks for the best hotels in and around Watkins Glen.
⭐️ Rating: 8/10 (710 Reviews) Price: $146 per night 📍Location: 435 South Franklin, Watkins Glen, NY Details: Read more on booking.com now!
As the name suggests. this hotel is anything but high-end. However, simple, wood-paneled rooms do start at under $100 per night and include TVs in addition to en-suite bathrooms. A small Continental breakfast is also available seasonally (i.e. in the summer).
⭐️ Rating: 9.3/10 (759 Reviews) Price: $391 per night 📍Location: 16 N. Franklin St., Watkins Glen, NY Details: Read more on booking.com now!
This exceptionally well-reviewed, 3-star hotel offers guests contemporary rooms that start at just over $150 per night – all of which include spacious seating areas, flat-screen TVs, patios/balconies, WiFi, and twenty-four-hour room service.
"The view was great, staff was great, it was an amazing vacation. I highly recommend Harbor Hotel, one of the best hotels I have ever stayed in!"

Layne (read more reviews now!)
Patrons will also get access to complimentary coffee-making facilities on every floor of the hotel and can even take a dip in their jacuzzi/heated indoor pool before dining at a fancy, on-site, American restaurant.
⭐️ Rating: 9.2/10 (827 Reviews) Price: $196 per night 📍Location: 3812 Stat Route 14, Watkins Glen, NY Details: Read more on booking.com now!
With rooms and stays inside rustic cabins hovering around $120 per night, this exqusite hotel is a fantastic, budget-friendly accommodation.
After all, charming rooms here are set upon 30 acres of property and have a comforting feel to them that is complimented by ammenities like WiFi, TV, minifridges, microwaves, and lake views.
"We enjoyed the stay! the property was extreme well cared for and they had everything we needed."

Mark (read more reviews now!)
Guests will also love hanging out at the on-site restaurant for breakfast before shooting hoops at the basketball court and visiting the gazebo here.
⭐️ Rating: 9.3/10 (81 Reviews) Price: $299 per night 📍Location: 104 Seneca Street, Watkins Glen, NY Details: Read more on booking.com now!
Tucked away inside a historic Victotriran mansion from 1891, the five individually decorated rooms inside this swank bed and breakfast include WiFi, private bathrooms, and beautiful lake views from private decks.
"Everything about The Hudson Manor was exceptional. Jim and Kris were great hosts. They were Very helpful and their breakfasts were superb. Definitely will go back there."

Theresa (read more reviews now!)
Additionally, fresh, homemade breakfast is served daily inside a stunning dining room with stained-glass windows. There's also a garden, wrap-around porch, kitchen, and a living room with a fireplace that guests are welcome to use.
Best Seneca Lake Wineries
Before visiting some of the top Seneca Lake Wineries, please note that the region as a whole is known for its delicious, dry Rieslings.
That being said, most of the best Seneca Lake Wineries on this list still have a variety of red and white wines for visitors to choose from if you're not a fan of Riesling and want a nice, dry, red wine instead.
Also, most tastings will include five different wines for you to sample, with some wineries allowing you to choose your own wines while others will pour you pre-selected wines for you based on whether you prefer "dry" or "sweet" wine.
Also, because of the pandemic, how tastings are conducted has changed a bit in the region. Therefore, I HIGHLY recommend making tasting reservations well in advance to make sure you have a spot.
1. Lakewood Vineyards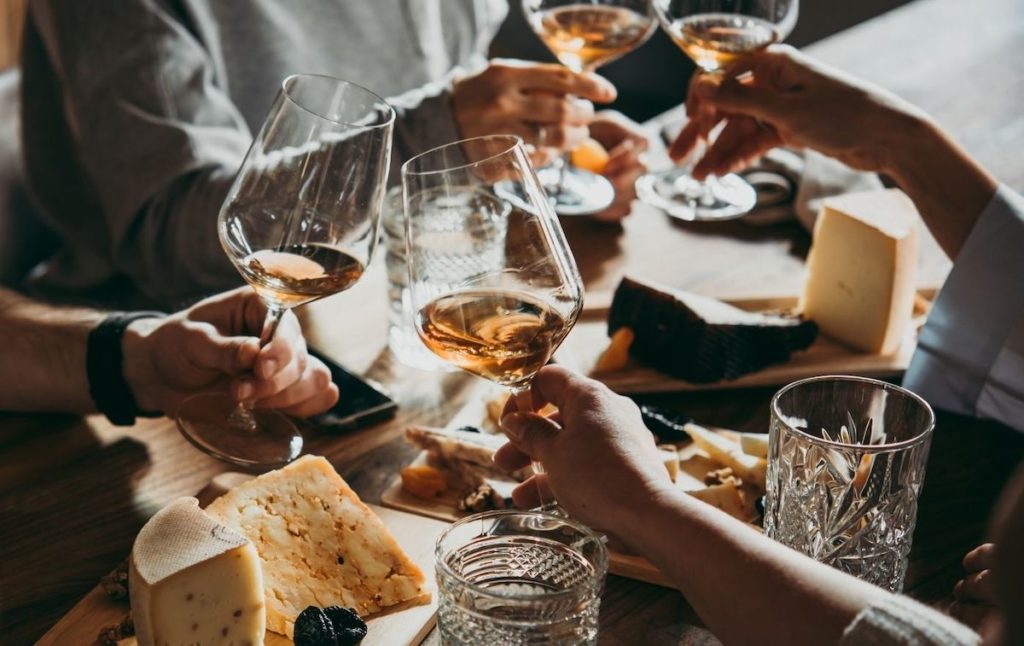 This amazing, 80-acre, family-run vineyard overlooks ethereal Seneca Lake and is easily one of the best Seneca Lake wineries around.
After all, this iconic maker of fine wines grows an astounding 14 different types of grapes and has a spacious wine store and tasting room where guests can sample wines from a roofed patio that overlooks the nearby lake.
So, book your very own tasting today and have a private steward teach you all about the vineyards, the grapes, and the incredible wine-making process here.
Afterward, choose between a flight of either dry or sweet red/white wines before strolling along the well-manicured grounds to the shores of the lake below.
Address: 4024 NY-14, Watkins Glen, NY 14891
Hours: Open daily from 10:00 am to 5:00 pm, except on Sundays when they are open from 12:00 pm to 5:00 pm.
Price: Their signature tasting starts at $5 per person.
2. Anthony Road Wine Company
Originally opened by the Martini family in 1990, this is one of the best Seneca Lake wineries that specializes in dry and semi-dry Rieslings.
All of their grapes are also harvested using Vine Balance – New York's sustainable viticulture program – and are grown on either the Martini Vineyard, the Finger Lakes Teaching and Demonstration Vineyard, or the Nutt Road Vineyard.
They are also one of the few vineyards in the area that are open all year long for tastings by appointment only.
So, be sure to visit their tasting room and admire a wealth of stunning exhibits by local artists. Afterward, take a seat at an indoor table, or in the open Verdana during the summer, so that you can sip on a flight of five different wines.
Pro Tip: You must call and schedule a tasting in advance. They typically last 45-minutes and are currently only available for parties of 6 or less. Also, be sure to stop by for special events like a Rhine Cruise and Supper Sunday.
Address: 1020 Anthony Road, Penn Yan, NY 14527
Hours: Open daily from 11:00 am to 5:00 pm, with the final tasting of the day starting at 4:00 pm.
Price: Tastings start at $10-$15 per flight.
3. Bloomer Creek Vineyard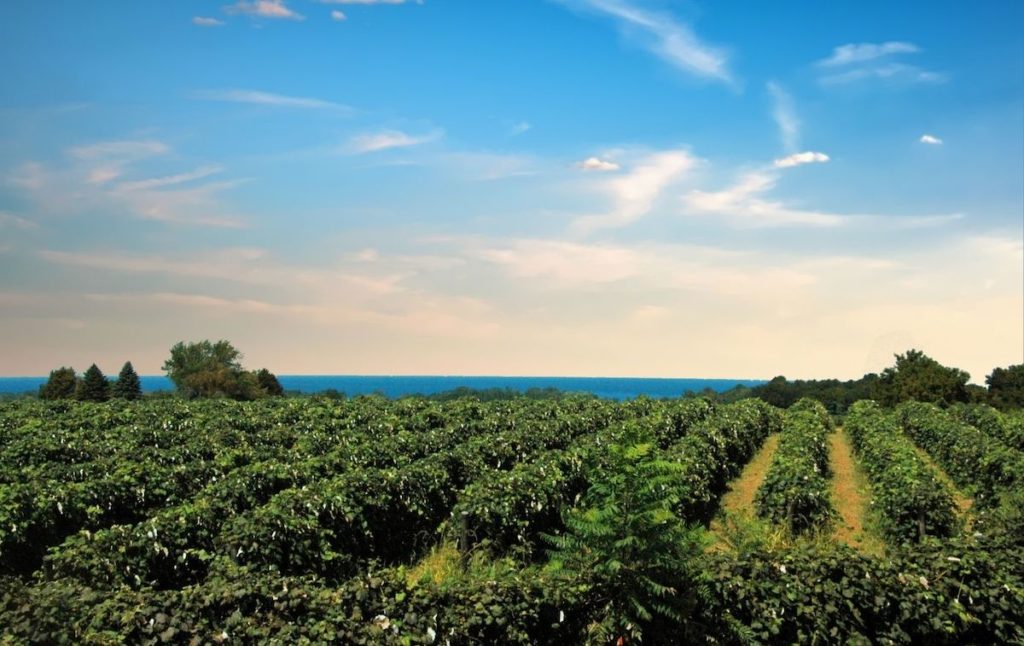 This small, family-owned business has been growing grapes for well over 30 years. And throughout that time, they have done a superb job of bringing traditional, wine-making techniques to the Finger Lakes region of New York.
So, because they use indigenous yeasts and minimal intervention, expect to find old-world wines here with a lean, more nuanced flavor profile, like that found in their 1st, 2nd, and sometimes Late Harvest Riesling.
However, in addition to their delectable Rieslings, this is one of the top Seneca Lake wineries on this list that is also renowned for their amazing Cabernet Francs and Pinot Noirs too!
Therefore, if you have the chance, definitely call them today and book a wine tasting that is conducted by one of the founders!
Please Note: Because this vineyard is run by only run by three people, they are currently closed for tastings until further notice as they cannot risk anyone getting sick.
Address: 5301 NY-414, Hector, NY 14841
Hours: Open Saturdays and Sundays from 12:00 pm to 5:00 pm.
Price: N/A
4. Hazlitt 1852 Vineyards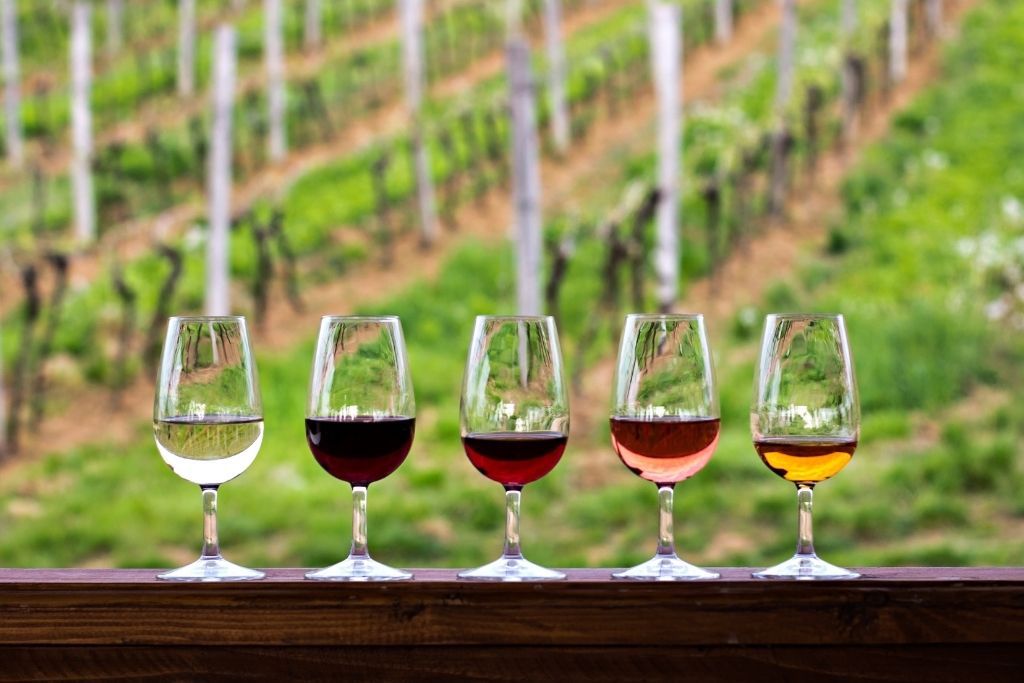 Run by Jerry and Elaine Hazlitt, this enchanting vineyard sits on farmland that has been owned by the family since 1852.
However, incredible improvements have been made to the property since then, including the addition of an enormous horseshoe-shaped bar and a pavilion that features live music on Friday evenings.
Heck, the Red Cat Cellar's Brand even has its own facility in the former Widmer Wine Complex, easily making this premier wine tasting destination in the Finger Lakes.
That's why, if you're looking for one of the best Seneca Lake wineries that offers a more casual wine tasting experience then this is the place for you.
Because friendly, on-site guides are happy to steer you through the wine tasting process as you munch away on freshly popped popcorn or basically anything else from their snack basket menu.
So, all you have to do is select four different wines, or hard ciders, from their vast menu of 30+ drinks. Then, once your order is processed, staff members will bring out your drinks on a paddle, complete with an accompanying cheat sheet detailing everything you've selected.
If you can though, try to order their 2019 Homestead Reserve Riesling and their 2017 Cabernet Franc since both are super delish.
Pro Tip: If you're not into wine, never fear because homemade hard cider is also available. And during the busy summer months, try to visit on a quiet, weekday morning.
Address: 5712 NY-414, Hector, NY 14841
Hours: Open daily from 10:00 am to 5:00 pm, except on Sundays when they open at 11:00 am.
Price: Between $8 and $12 per flight.
5. Forge Cellars
Forge cellars is one of the newer wineries in town. Interestingly enough, it has shot straight to fame. Its rise to fame has been largely attributed to Mr. Louis Barruol. He is one of the owners and is a well-respected French winemaker/grower. You will find his name mentioned in relation to Château de Saint Cosme in the southern region of Rhone in France.
The goal of Forge cellars is to reflect the place that the grapes are grown in their wines. Their philosophy is that the smell of the wine will take you right back to where it was made. This strong connection between the wine and the memories of a place is something that draws people here and makes it one of the best Seneca lake wineries.
Another iconic part about the Forge cellars is that even though they are a new establishment, they make their wine in a traditional handcrafted manner. This means that the grapes are harvested and sorted by hand. Every aspect of the processing is done by hand and the fermentation is conducted slowly in very small vats.
I think part of the allure is to see the traditional French wine making process in action.
Pro Tip: Make sure that you book your wine tasting before heading there as they only accept pre-bookings. Alternatively, if you cannot get a slot for wine tasting and you still want to head to Forge cellars, try the Salon between Wednesday to Saturday.
Address: 3775 Mathews Rd, Burdett, NY 14818, United States
Hours: Wednesday and Thursday: 12-6 pm, Friday and Saturday: 12-7 pm
Price: $20 tasting fee per person
6. Lamoreaux Landing Wine Cellars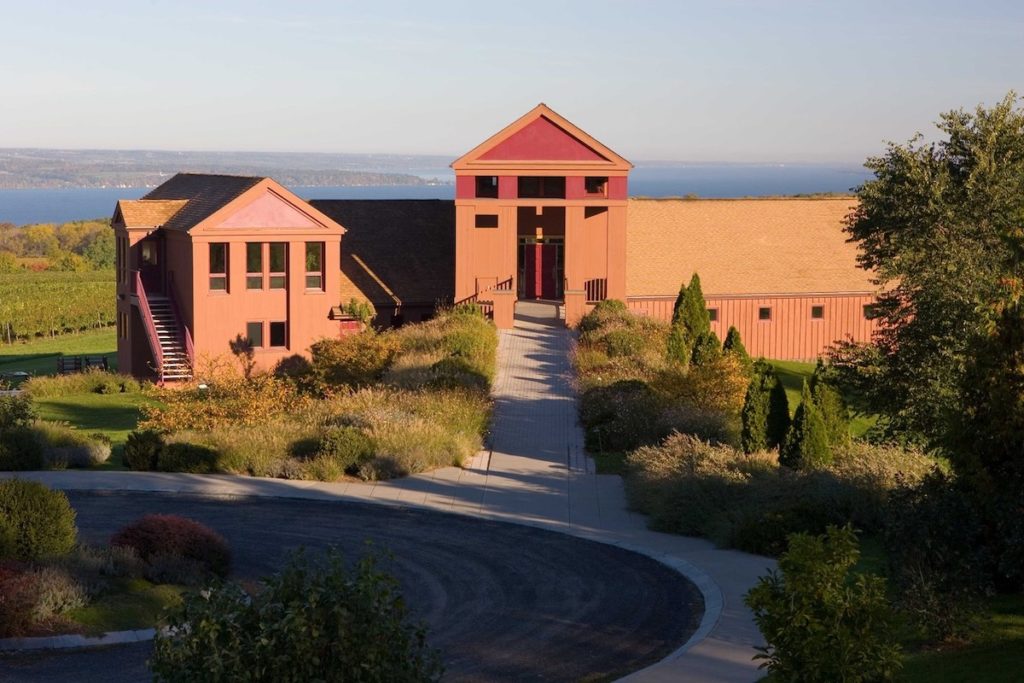 With a stunning, post-modern, Greek-style facade that is sure to impress, Lamoreaux Landing Wine Cellars sits high above the eastern side of Seneca Lake and has a year-round tasting room that wine aficionados will adore.
In fact, this tasting room is so swank, that it even features mesmerizing, floor-to-ceiling windows that offer visitors stellar views of the nearby lake.
And unlike many of the best Seneca Lake wineries, Lamoreaux Landing actually allows you to select four different wines for your tasting and then has a resident expert guide you through the experience after you enjoy a vintner-selected welcome pour.
Not gonna lie though, choosing a wine can be difficult since this vineyard produces more than 90 different varieties, many of which have been given 90+ point ratings from various wine-related organizations.
However, if you have a chance, definitely try their 2017 dry Gewürztraminer or their unoaked T23 Cabernet Franc since both were amazing.
Pro Tip: Visit in the summer so that you can do an outdoor tasting on their East Lawn.
Address: 9224 NY-414, Lodi, NY 14860
Hours: Open daily from 10:00 am to 5:00 pm, except on Sundays when they are open from 12:00 pm to 5:00 pm. The last tasting begins at 4:00 pm and they generally last 45 minutes.
Price: $10 per person.
7. Shalestone Vineyards
The moment you reach Shalestone vineyards, you will be greeted by their iconic sign aka 'Red is all we do.'. They aren't kidding. So if you prefer white to red, then this may not be the place for you. The motto is centered around their belief that red wines are complex. Their flavor is layered, which is similar to life with its experiences and layers.
The Shalestone vineyards make some epic red dry wines. They source their grapes from their 6-acre vineyard which has all varieties in the mix. The shallow clay-rich soil that the vineyards are on makes the spot perfect for growing grapes.
What can you expect as far as wines are concerned? Merlot, Cabernet Franc, Lemberger, Pinot Noir and even Cabernet Sauvignon wines. It is one of the best Seneca lake wineries for red wine.
Pro Tip: The Shalestone vineyards encourage a very laid-back wine tasting experience. Due to this, they advocate small groups of 4 or less than 4 people.
Address: 9681 NY-414, Lodi, NY 14860, United States
Hours: Friday: 12- 5pm
Price: $10 per person
8. Chateau LaFayette Reneau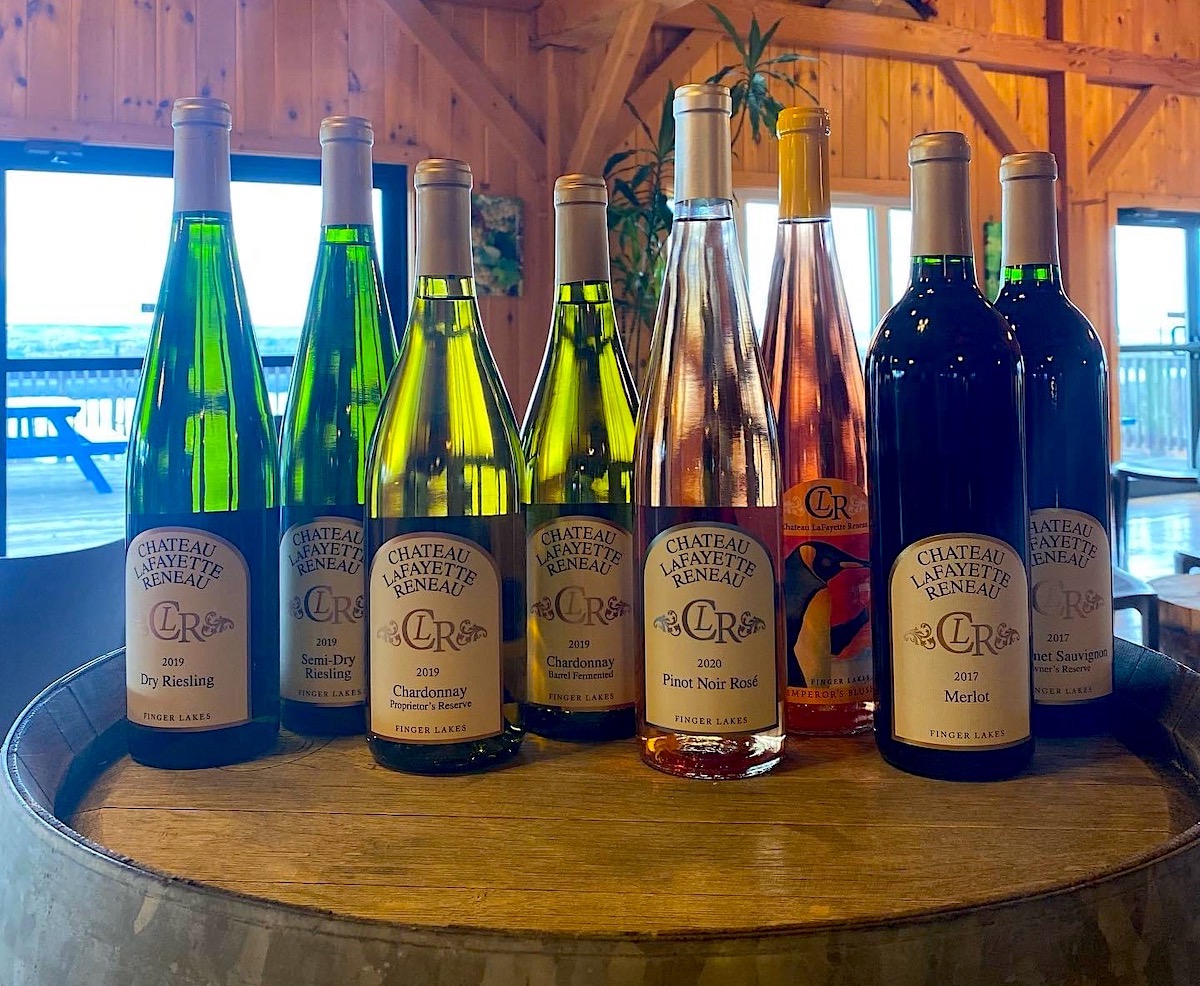 Sitting on a 110-acre estate, this is one of the best Seneca Lake wineries that has been producing stunning, vinifera wines for the past 35+ years.
In fact, the wines at Chateau LaFayette Reneau are so good that they have consistently earned top awards like the Governor's Cup and the Jefferson Cup.
Therefore, you should 100% step into their on-site tasting room and see what all the wine-related fuss is about. After all, this tasting room comes complete with an ultra-snazzy deck (overlooking their vineyards on Seneca Lake) and an awning that can be rolled out to protect you from the sun's impenetrable rays.
Now, once you sit down, you'll be treated to one of four different tasting flights that feature five pours of either white wines, red wines, semi-dry wines, or sweet wines.
And while I'm sure they're all good, the Riesling Dry (with hints of melon, citrus, and peach) and the Cuvee Rouge (a mix of Pinot Noir and Baco Noir) are my personal faves.
I was also a bit bummed that the tasting experience here wasn't quite as personalized as others I've had. But, they do take great care in protecting you from the pandemic of doom by presenting you your wines in plastic cups on sleek wooden trays.
Pro Tip: In New York, it is a state requirement to serve alcohol with food. So, this top Seneca Lake winery requires that you purchase a snack with your tasting.
Address: 5081 NY-414, Hector, NY 14841
Hours: Open daily from 11:00 am to 4:00 pm, with extended hours until 5:00 pm on Fridays and Saturdays. The last tasting is also offered 30-minutes before they close.
Price: Tastings start at $10 per person. You can also order wines by the glass for between $5 and $9 per glass.
9. Glenora Wine Cellars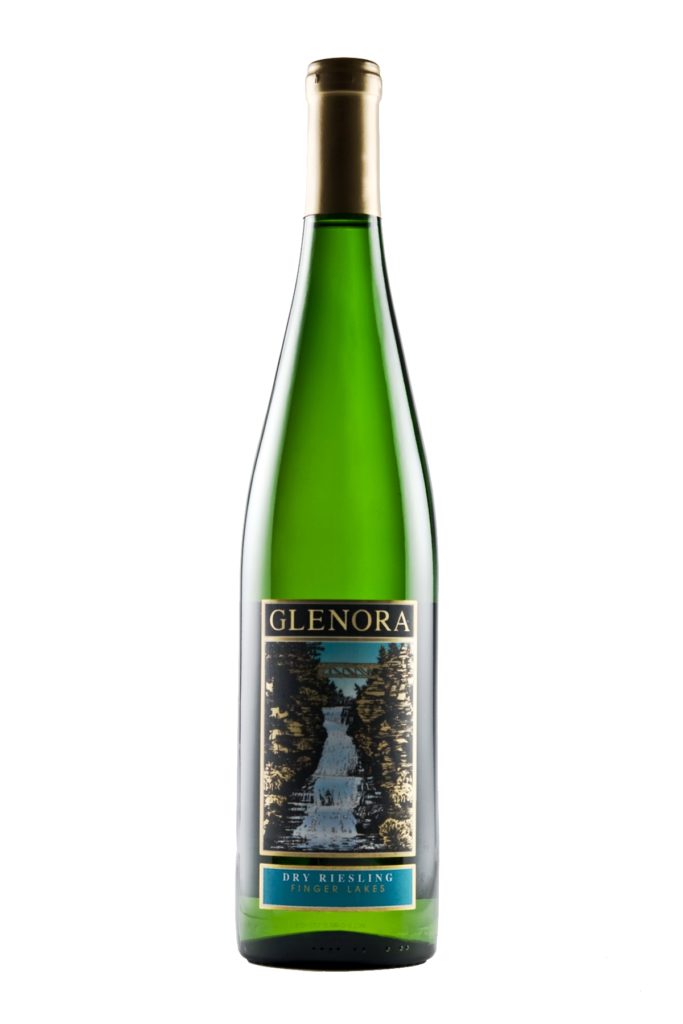 Just a hoot and holler down the road from Lakewood Vineyards is Glenora Wine Cellars. It was first opened on the west side of the lake in 1977 and offers visitors sweeping panoramas from its gorgeous, lakeside locale.
And although the tasting room here isn't as awe-inspiring as some of the other best Seneca Lake wineries on this list, that's okay since you can always just grab a glass to-go and just enjoy it out on the lawn.
So, simply choose a six wine flight that features either dry/semi-dry or sweet/semi-sweet varietals and let the wine do the rest. Just be sure to sample their Chardonnay and FLX Dry Riesling at some point since both are awesome.
Pro Tip: You can also spend the night at the inn here if you're feeling extra fancy. Otherwise, you could tour the vineyard, try an expertly curated chocolate/wine pairing, or sample some delicious, farm-to-table cuisine at Veraisons Restaurant.
Address: 5435 NY-14, Dundee, NY 14837
Hours: Open daily from 10:00 am to 5:00 pm.
Price: $10 per person.
10. Prejean Winery
This family-owned and operated winery is home to an incredible selection of estate-grown wines that are served to you by wonderfully helpful and super knowledgeable staff members.
In fact, most of the wines here come from European grape varieties like Merlot, Cabernet Sauvignon, Cabernet Franc, Riesling, Gewurztraminer, and Chardonnay.
In fact, Gewurztraminer grapes were initially planted here in 1979 and have been harvested to create a Dry Riesling that was a Double Gold Winner at the 2019 San Francisco Chronicle Wine Competition.
However, if you want to try some of their uber-fab wines for yourself, you must be seated at a table while you enjoy a five wine tasting selection for just $10 per person.
And, added bonus? You can sit out on the porch if the weather is nice and can even get $10 off a purchase of four bottles of wine (or more) with every tasting you do.
Pro Tip: Try the Dry Gewürztraminer and I pinkie promise that you will not be disappointed. It also pairs really well with Asian cuisine.
Address: 2634 NY-14, Penn Yan, NY 14527
Hours: Open daily from 10:00 am to 5:30 pm.
Price: $10 per person.
11. Fox Run Vineyards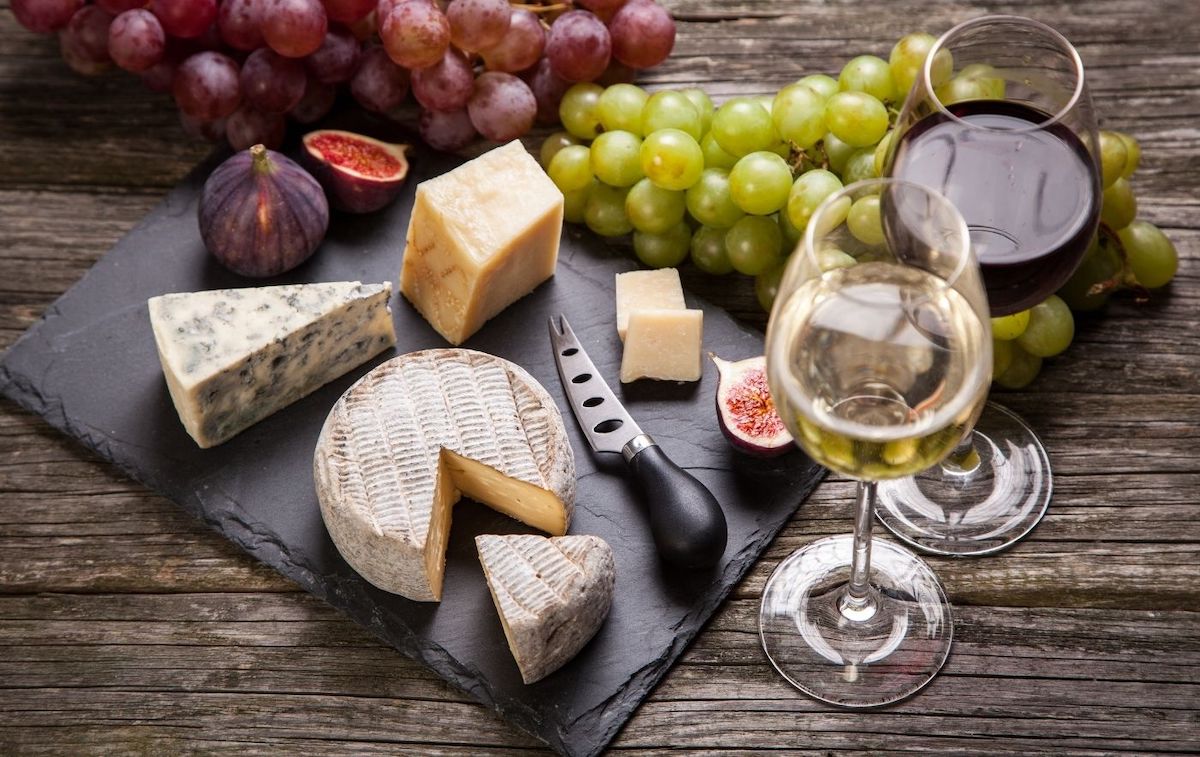 Another one of the best wineries near Seneca Lake, Fox Run Vineyards is a snazzy, family-owned vineyard that is home to both a market and a cafe filled with amazing, local products.
However, when you're not eating ALL the feelings at their cafe (mac and cheese for the win), you can always take a tour of the vineyard or do a guided wine tasting at their indoor tasting bar.
Just choose between one of four different flight options that include five tastings of sweet, dry, red, or Riesling wines.
Conversely, you could always skip the guide altogether and just enjoy on a self-guided wine flight in The Wine Barn outside, which is open on Saturdays only.
Just note that if you want to do a tour/tasting, they do NOT accept reservations and only accommodate groups of 12 or less at one of the best wineries in Seneca Lake.
Pro Tip: Honestly, I wasn't a HUGE fan of the tasting experience here. That's why I'd personally order a glass of either their Kaiser Vineyard Chardonnay or Dry Riesling and then just pair it with a cheese board or flatbread from their on-site cafe.
Address: 670 NY-14, Penn Yan, NY 14527
Hours: Open daily from 10:00 am to 6:00 pm, except on Sundays when they open at 11:00 am.
Price: Tastings are $10 per person.
12. Magnus Ridge Winery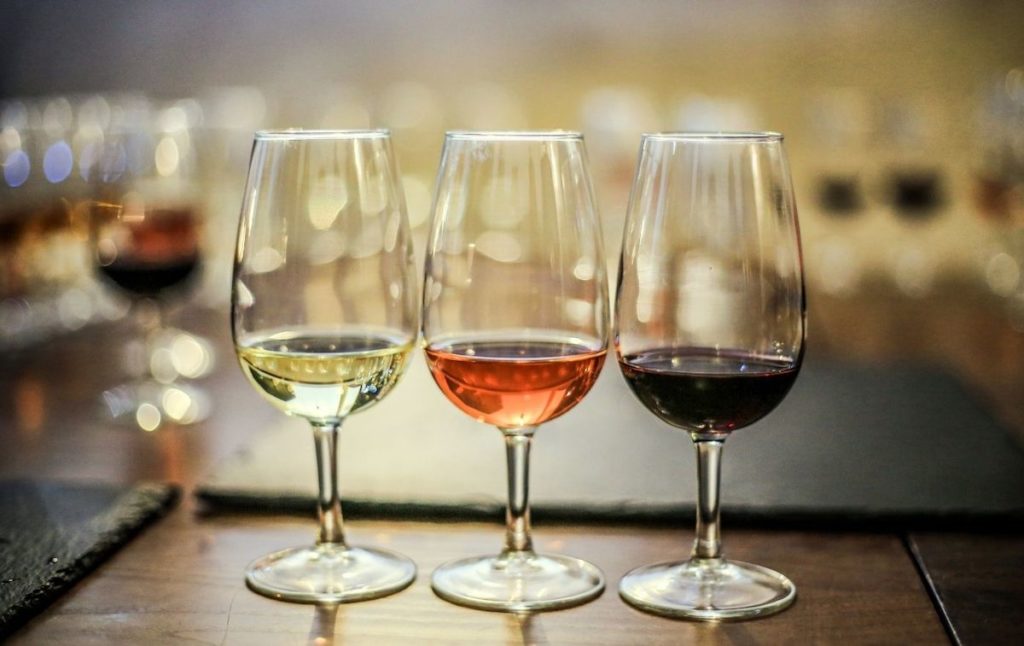 Step onto Magnus Ridge Winery and the Chateau here will instantly transport you to the rolling hills of the vast wine regions of France.
From here, continue inside and you'll marvel at the chic, exposed, wood beams that sit inside a large tasting room with a stunning, wine glass chandelier as its centerpiece.
Once you've taken in your glorious surroundings, sit down on a repurposed wine cask bench for a relaxed tasting experience by the fireplace at either the North, South, or Magnus Tasting Rooms. Also, be sure to try their Lemberger since it's the stuff that wino dreams are made of.
And afterward, look through an extensive collection of custom glassware that is made out of recycled bottles at nearby Cazenovia College.
Pro Tip: Because of the pandemic, this is one of the best Seneca Lake wineries that now offers a contact-free tasting option. Essentially, you order your wine on the phone and then it will be left outside for you so that you can enjoy it in the gardens of the Chateau. Plus, you can even keep the glasses that they give you, which I for one think is pretty dang cool.
Also, stop by on Saturdays since they sell wine, beer, cider, slushies, and Bloody Marys on the back patio.
Address: 6148 NY-14, Rock Stream, NY 14878
Hours: Open Thursday through Tuesday from 10:00 am to 5:00 pm, with extended hours until 6:00 pm on Saturdays.
Price: Starting at $10 per person.
13. Hermann J. Wiemer Vineyard & Winery
Ready for some of the best Riesling of your life? If so then head over to Herman J. Wiemer Vineyard and grab a glass of either their HJW Riesling Bio or Cuvee Brut stat!
No really, this is NOT a drill since this place is easily one of the best vineyards on Seneca Lake of all time. After all, these exquisite purveyors of fine wine are known for their incredible selection of 11 different Rieslings.
Pair that with exceptionally helpful staff members who are only too happy to guide you through the tasting process, and you have the ideal place to spend a quiet afternoon in the Finger Lakes region of New York.
Just be sure to make a reservation in advance so that you take your time admiring the property's stunning architecture before sitting down to create your own wine flight, with 2.5 ounce pours, inside a spacious room that is interconnected with the on-site winemaking facility – making it easier than ever to see exactly how the wine here is made.
Pro Tip: The last wine tasting begins 30 minutes before closing and they cannot accept reservations for groups of more than 6 people.
Address: 3962 NY-14, Dundee, NY 14837
Hours: Open daily from 10:00 am to 4:00 pm, except on Sundays when they open at 11:00 am.
Price: Tastings start at between $3 and $7 for a single taste.
14. Belhurst Castle And Winery
Belhurst Castle is one of those Seneca Lake wineries that never gets boring. Just picture this… Sprawling vineyards, lovely sunny weather and the backdrop of a castle. Yup! It is definitely one of the most interesting places to spend the day at.
The tasting room at Belhurst Castle is one of the highlights of this winery. It is designed such that it allows you to lie back and relax while gazing at some of the best views of Seneca Lake. Did I mention that you would have a glass of some award winning wine in your hand?
If you aren't the biggest fan of wine (which would be a bit sad because this is a winery!), you can also try some craft beer or hard cider. Not sure what to drink? The staff guides are extremely helpful and they know their stuff. After a few quick questions, they will help you pick the wine/beer/cider that is perfect for your palate..
Pro Tip: If you want to make this a long visit then book a room at the Belhurst Castle wine hotel. I mean what better way to indulge and enjoy?
Address: 4069 W Lake Rd, Geneva, NY 14456, United States
Hours: You need to call in advance and book a tasting.
Prices: $10 per person for the wine tasting tour.
15. Billsboro Winery
Located on the northern part of the lake, Billsboro winery is one of those laid back Seneca Lake Wineries that has become popular over time. I mean, what's not to love? With the old walnut trees and terraced fields setting the vibe, you will find that it is really a great place to unwind or just catch up with friends.
The best place to truly enjoy the atmosphere is in the barn. Nope. I'm not kidding. The barn at Billsboro winery has been renovated and revamped into an impressive tasting room. The best part is that it has a nice shaded outdoor area to enjoy the vibe.
The classic European dry wines are delicious. They don't have the largest selection of wines but the wines that they do have really deliver on quality. Plus the grapes used for the wines are locally sourced.
Pro Tip: Billsboro winery has a lot of pop up events (Pizza On The Patio) organized from time to time. Check their schedule before visiting so you can enjoy more than just a glass of wine.
Address: 4760 W Lake Rd, Geneva, NY 14456, United States
Hours: Open everyday from 11am -6pm. Thursdays they close earlier at 4:45pm
Prices: $15 per person for a 45 minutes wine tasting session.
Best Seneca Lake Wineries FAQ
What Is Seneca Lake Famous For?
Seneca lake is the largest of the Finger lakes as it is really famous for a number of reasons. It is the Lake Trout capital of the country. It is also the deepest glacial lake. The wineries that are located around the lake are also reasons why it has become popular. With the amazing locally sourced wines, gorgeous views and a peaceful vibe, Seneca Lake provides an ideal getaway from city life.
What Side Of Seneca Lake Is Better?
Seneca Lake is beautiful no matter which side you decide to head to. The east side however is the prettiest. This is largely because when you are driving via the lake, you won't always have a view of the lake like you do on the east side. That being said, getting to the best views of the lake can be pretty hard and the best way to catch the view is to chill at one of the cool Seneca Lake wineries.
How Many Wineries Are There In Seneca Lake?
There are loads of wineries in Seneca Lake. If you are talking about the Seneca Lake Wine Trail then there are 27 wineries that are registered with the association.
Are The Seneca Lake Wineries Open All Year Round?
Most of the wineries are open all year round. They tend to have a mix of both indoor and outdoor seating so you will always have an ideal spot to sit in depending on the weather. The best part about most of the Seneca Lake wineries is the views of the lake that they offer.
⏰ Wondering where to stay in Watkins Glen? I recommend Watkins Glen Harbor Hotel. It's an amazing 3 star hotel with all the luxuries you could want! 🏨
Map of the Best Seneca Lake Wineries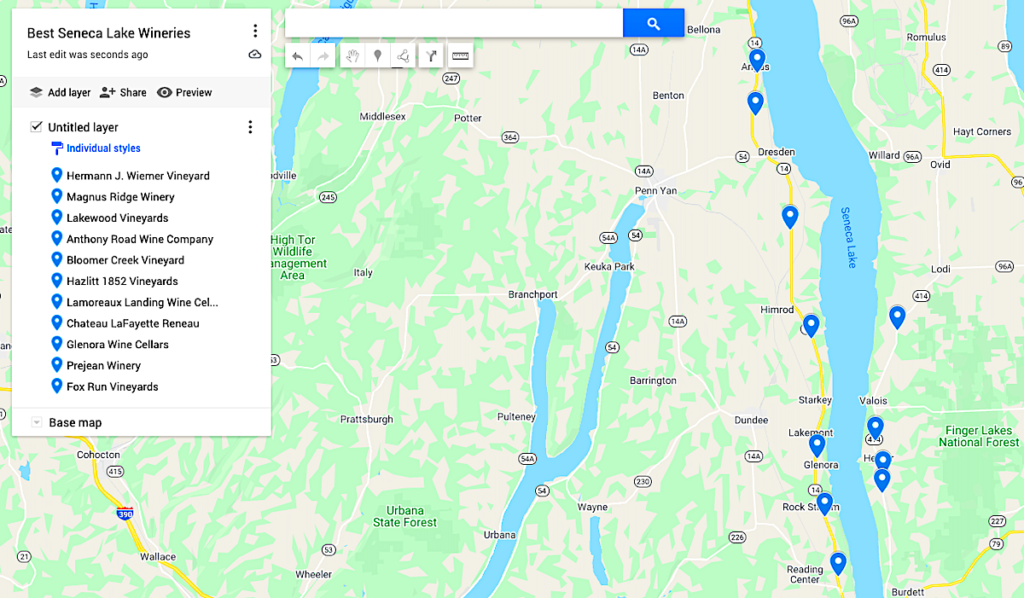 Additional New York Resources You'll Love
Well, that just about wraps up this guide to the best Seneca Lake wineries ever!
Tell me, did your picks for the best wineries around Seneca Lake make the list? If not then let me know in the comments below!
And if you found this post helpful, be sure to join our email list before pinning this post now so that you can read it again later!