There's a reason that NYC is known as the city that never sleeps. And that's mainly because even if you're in NYC after midnight, there are still a ton of hella awesome things to do.
So, whether you're into clubbing, movies, food, or arcade games, you find crazy things to do in NYC at night that everyone will go bananas for.
Trust me on this people. I've partied like a rockstar in NYC for 30+ years. Therefore, I know exactly what you should and should NOT do when exploring NYC after midnight.
Therefore, step away from the guidebook and use this handy insider's guide instead as you enjoy all the crazy things to do in NYC at night.
This post may contain affiliate links. Please see my disclosure for more information. As an Amazon Associate, I earn a small commission from qualifying purchases.
Where to Stay NYC after Midnight
If you're not sure where to stay in NYC after midnight then let me help you out.
Because I know exactly where you can spend the night in NYC if you want to stay safe and have a relaxing stay in the big apple, even with a limited budget.
Best Things to do in NYC After Midnight
1. Visit the Empire State Building at Midnight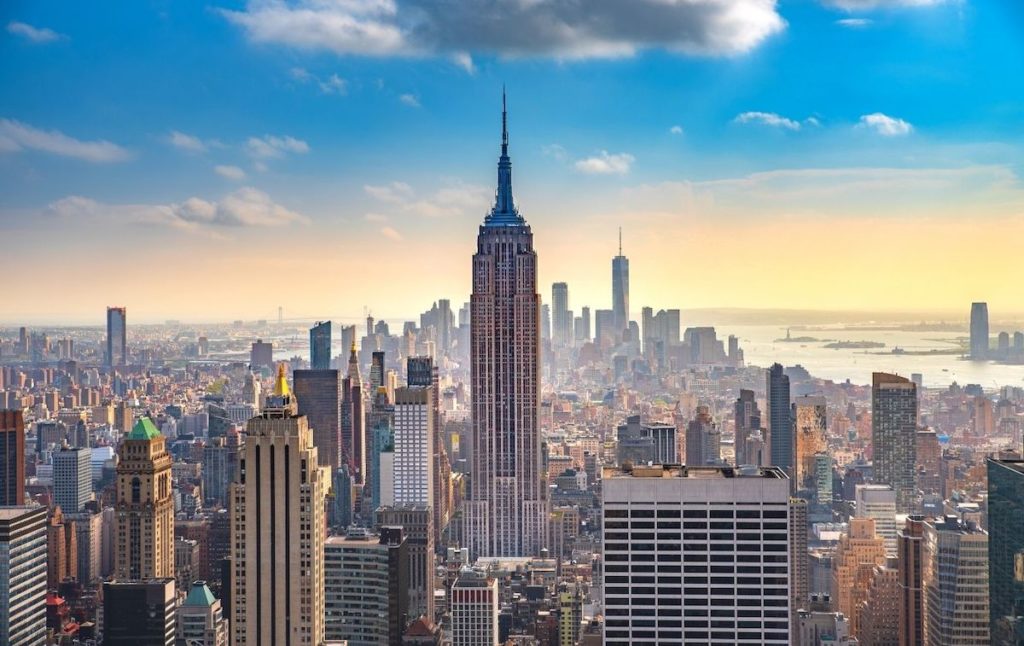 One of the best things to do in New York City is enjoy the mind-blowing views from an observation deck. Sure, it feels a tad touristy, but these 360-degree perspectives are worth every cent.
Although, it really feels like a lot of these towers are missing a trick or two by not offering twilight tickets.
See, SUMMIT One Vanderbilt permits admission as late as 10:30 pm. But, you'll need to bust a move at 11:00 pm.
However, you can visit the Empire State Building in NYC after midnight.
And, this is the Empire State Building, so you're in for a treat!
After all, this art deco masterpiece features two observatories: one on the 86th floor and the other on the 102nd.
FYI, that second one is a whopping 1,250 feet (381 meters) above the streets of Manhattan.
But, to be frank, the 86th floor is more than sufficient for getting a bird's eye view – especially if you want sick photos since the viewing platform isn't surrounded by glass.
Now, technically, the platform closes at 10:00 pm. But, at certain times of the year, the observation deck stays open until 1:00 am.
For example, on Christmas Eve and Christmas Day the attraction offers extended hours.
However, avoid standing out in the cold and book Empire State Building skip-the-line tickets in advance.
Pro Tip: Try to stop by on a Thursday evening when you can enjoy live saxophone music. Also, always check the weather before you visit since clouds can destroy your view from the top.
Address: 20 W 34th St, New York, NY 10001
Price: Tickets are around $45.73 per person.
Hours: Open daily from 12:00 pm to 9:00 pm.
How to Get There: Take the N, R, or W train to 34th street and Herald Square and walk from there.
2. Party Until dawn on a Boat Cruise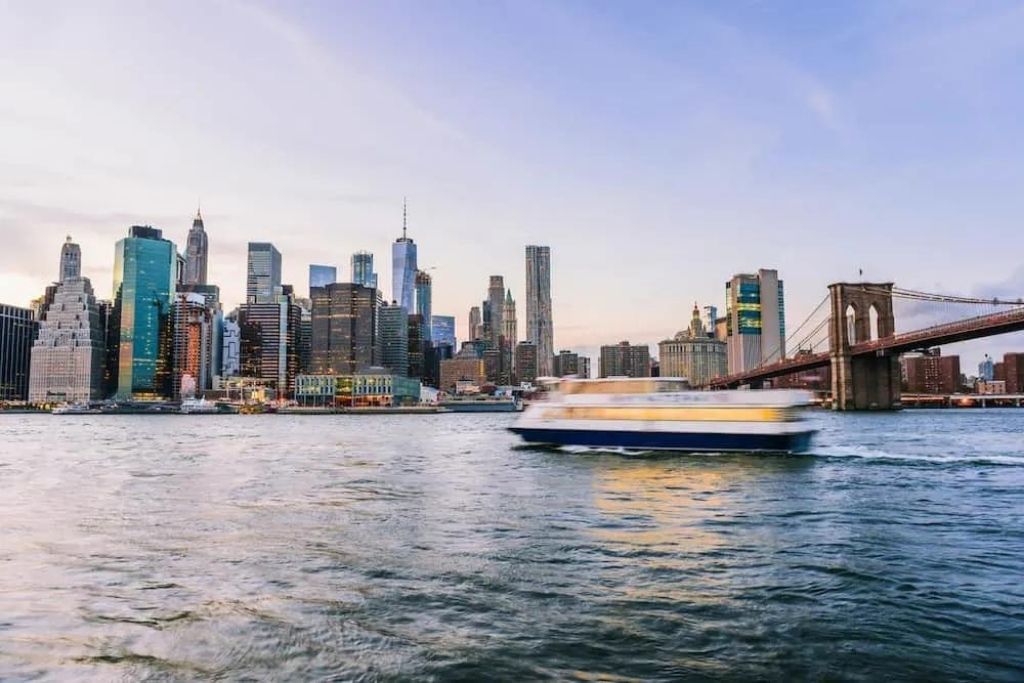 There are a whole bunch of boat tour operators in the city if you fancy getting out on the water and enjoying one of the crazy things to do in NYC at night.
Because taking a cruise around the harbor offers you a rad perspective of the city.
And these cruises take place at all hours of the day since you've got brunch, lunch, and dinner cruises to choose from. Not forgetting, of course, after-hour departures like this Circle Line Harbor Lights Cruise.
Because one of the best things to do in NYC after midnight is party until the wee hours of the morning on a boat!
And NY Party Cruises run their Midnight Cruises from April through November. Then, once aboard, you'll dance and sip on cocktails as you marvel at the dazzling Manhattan skyline in the background.
You'll also love that these non-stop boat parties depart at 11:45 pm and dock again at 3:45 am. So, you'll need your stamina if you wanna book one of these epic cruises.
What, want to go cruising but travel on a budget? Then hop aboard the Staten Island Ferry instead!
Because in case you're not already familiar, this service is 100% free and operates 24 hours a day.
Therefore, avoid the crowds, depart in the wee hours of the morning, and enjoy sailings that depart every 30 minutes.
3. Catch a late-night Comedy Show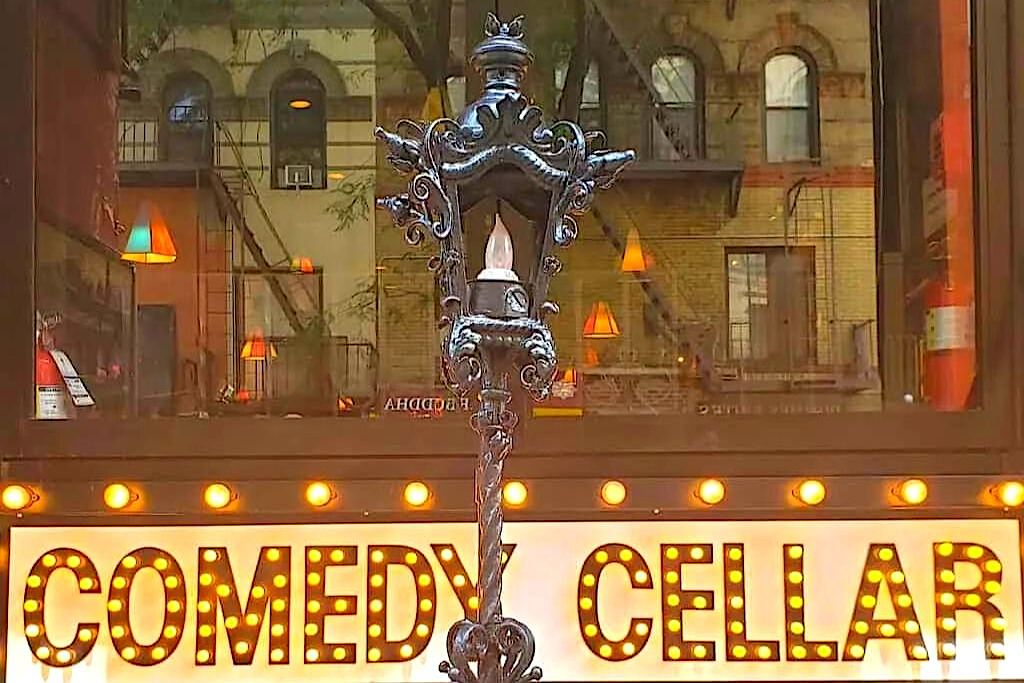 New Yorkers love to laugh. So, stand-up is a big deal in NYC since there are scores of comedy clubs where you can go to laugh until you cry.
Plus, a lot of these venues actially have late shows that kick off at around 10:00 pm.
Take, for example, the New York Comedy Club. This venue has been around since 1989 and has two locations: one in Midtown Manhattan and one in the East Village.
Shows run nightly and the latest options start at 10:30 pm. So, peruse through the calendar and you'll likely spot some names you know. But, you're always in safe hands at this long-standing joint.
Comedy Cellar is another brilliant option for chuckling in NYC after midnight. In fact, the latest shows at this Greenwich Village hot spot start at 11:30 pm.
Plus, the Comedy Cellar attracts huge names in the entertainment industry. Like, we're talking Chris Rock and Dave Chappelle here people.
You can also add the Gotham Comedy Club and Comic Strip Live to your late-night humor agenda if you're looking for next-level crazy things to do in NYC at night.
4. Spend the Night at a Museum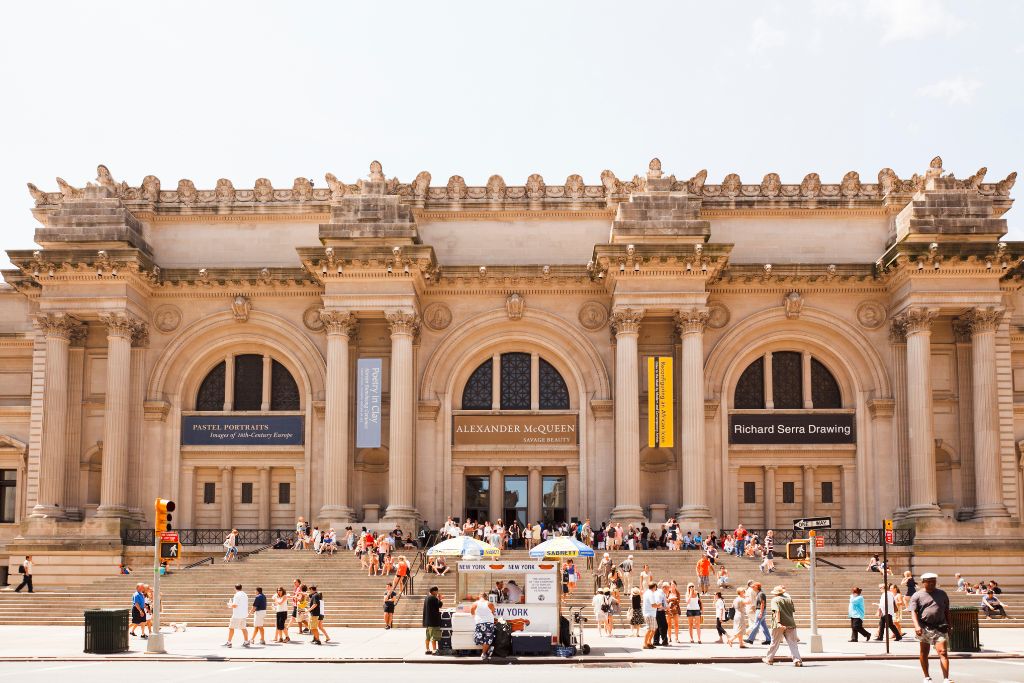 Yes, you read that right – here in NYC you can sleep alongside dinosaurs and ancient relics a la Night at the Museum.
Because believe it or not, a wide selection of museums actually schedule sleepovers where you can roam the galleries after closing time.
And, once you've inhaled all the history you can handle, you can bed down for the night. Yup, ypu'll be snug as a bug in your pajamas and sleeping bag.
In fact, sleeping in a museum is easily one of the crazy things to do in NYC at night that you'll never forget.
And institutions that host these incredible, totally unique events include New York Public Library and the Intrepid Sea, Air and Space Museum.
Plus, the Museum of Natural History runs sleepovers for families and separate ones exclusive to adults. The latter ones include a swish champagne reception and some live music too.
Just be aware that sleepovers aren't held on a super regular basis. So, you'll need to check their schedules online and plan your travel dates accordingly if you have your heart set on a night at the museum.
5. Sip Cocktails at a Fancy Rooftop Bar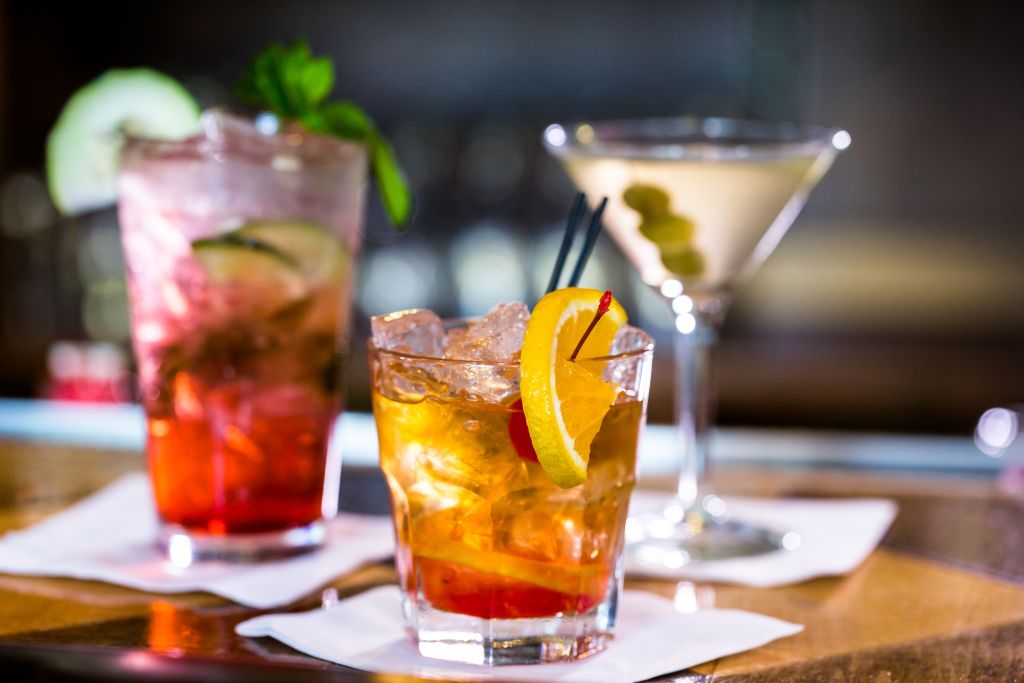 One of the classiest ways to experience NYC after midnight is swirling a cocktail from the comfort of a plush rooftop bar. After all, there's really no better place to see the city all lit up in the evening.
Now, Manhattan is home to a lion's share of these swanky rooftop bars. Of course, spending an evening at one of these isn't a cheap night out. But, you can't put a price tag on a once-in-a-lifetime experience!
So, check out the Press Lounge on the roof of the Ink48 Hotel. This glamorous watering hole has floor-to-ceiling windows indoors and an external terrace by the pool.
Yupo, all the better for soaking up those Hudson River vistas, whatever the weather!
Then right around the corner from the Empire State Building, you have Magic Hour Rooftop Bar & Lounge – a magical place that embraces everything pink.
It's teeming with photo opps, flora, whimsical props, and decor that gets a hardcore makeover whenever the season changes.
And last, but certainly not least, the Fleur Room is one for all the plant fanatics since it is shrouded in botanicals and antique-style decor.
Plus, the panoramic views here are perfectly paired with a mellow soundtrack and cocktails inspired by nature and the elements.
6. Sip 'n' swing at crazy golf
Crazy golf is one of the craziest crazy things to do in NYC at night!
Because even if you've never wielded a golf club in your life and don't have a clue about the rules of the game this is still one of the best things to do in NYC at midnight.
See, crazy golf is accessible to all and is a stellar night out whether you're traveling with your BFF, your BF, or the entire squad.
In fact, there are a couple of mini-golf attractions in New York. But, most are daytime affairs or seasonal pop-ups.
That's why you need to get yourself down to Swingers, in NoMad.
Following on the heels of a heroic launch in London, UK, Swingers is the pioneer of the crazy golf scene in New York City.
And, the course is laid-out like something out of a quaint English village.
Then, just pair each swing with the swig of an artisanal cocktail and you'll have more fun than you ever thought possible in NYC after midnight.
Plus, the food selection is top-notch and will give you all the stamina you need while you perfect your technique.
Address: 35 W 29th St, New York, NY 10001, United States
Hours: Open Monday/Tuesday from 4:30 pm to 12:00 am, Wednesday from 12:00 pm to 12:00 am, Thursday from 12:00 pm to 1:00 am, Friday from 12:00 pm to 2:00 am, Saturday from 10:30 to 2:00 am, and Sunday from 12:00 pm to 10:30 pm.
Price: Starts at $22.00 per person.
How to Get There: Take the N/Q train to 28th Street and walk from there.
7. Kick Back with Some Live Music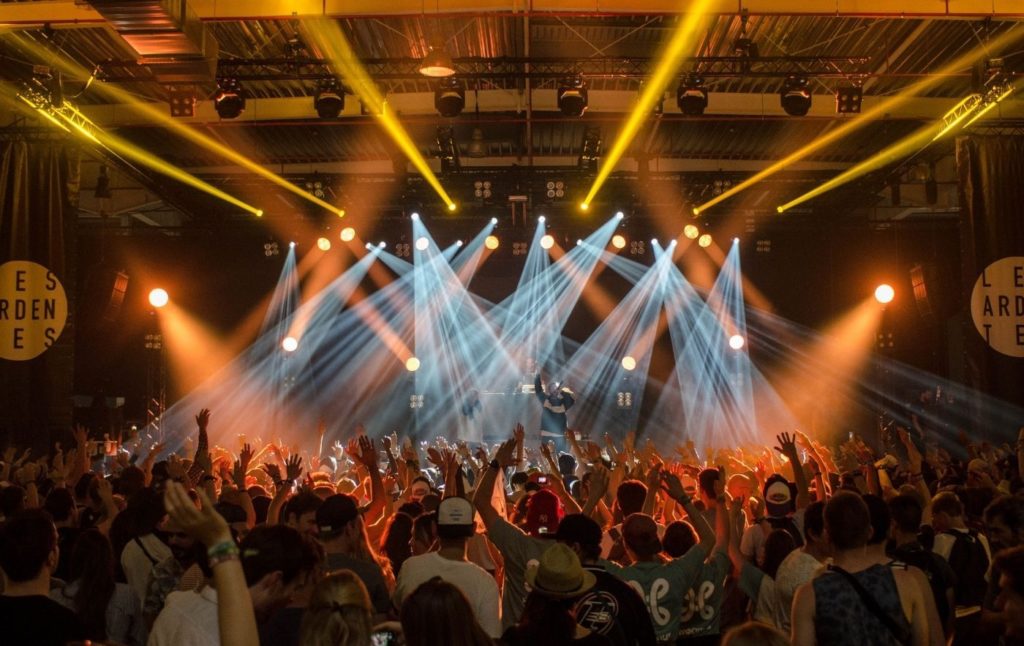 No surprises with this one. In fact, there are hundreds of spots to watch live music in NYC after midnight since this is a favorite activity among locals.
Sometimes you'll even stumble across a place with an act. However, it's worth doing your research if you really don't want to risk missing out.
So, head down to the cellar of the Walker Hotel Tribeca since Saint Tuesday puts on live music here every night of the week, until 2:00 am.
And, the music here is so diverse that one night you might get gypsy jazz while the next you'll be wowed by Brazillian choro. Essentially, the bar celebrates the immigrant culture of NYC by playing a wide variety of music.
Another super offbeat place to enjoy live music is Pete's Candy Store, aka the "biggest little venue in NYC". Yeah, it's easily one of the top spots for live music in Williamsburg, Brooklyn.
See, this immortal tavern hosts unknown and yet-to-be-signed bands. In fact, previous acts have included now famous artists like Norah Jones and Puss 'N Boots.
It's free to go but donations are welcome, and the cocktail offerings are epic. This convenience store turned music venue is also open nightly until 2:00 am.
8. Listen to all that Jazz
NYC is synonymous with smoky jazz nights. Therefore, attended a jazz performance is easily one of the best things to do in NYC after midnight since you will not walk away disappointed.
And while jazz bars flood all of NYC's five boroughs, Manhattan is the most concentrated area for moody tunes and fine wine.
Of course, Harlem is the place to hear jazz in NYC. So, head to the Showman's Jazz Club for incredible music and an unparalleled atmosphere.
Then down in Greenwich Village you'll find Smalls Jazz Club. It's a no-frills joint where the emphasis is on the music. Which is, suffice to say, fantastic.
Cozy and intimate, you'll have to drag yourself away from this place when they close at 3:00 am.
Or, swing by its neighbor, Arthur's Tavern. Dating back to 1937, this tiny jazz lounge is decked out with retro decor and stays open late every night of the week.
On the other hand, The Django brings Parisian glamour to Lower Manhattan with nightly jazz acts. It's also open 'til late Sunday through Thursday and stays open even later on the weekends.
9. Dance Until Dawn at an NYC Nightclub
If fancy AF cocktails put you in the mood to dance then extend your night in NYC by dancing until sunrise.
Now, nightclubs aren't everybody's bag. But, if you do consider yourself a party animal, clubbing is one of the wildest things to do in NYC after midnight.
And where you want to go depends entirely on your personal preferences and what kind of vibe you're looking for.
But, with its hot tub and crepe stand, Le Bain at The Standard is gimmicky but super fun. Plus, this penthouse discothèque regularly hosts standout DJs and club nights on weekends.
Then you have Paradise Club which is an offshoot of Brooklyn's House of Yes. So, this space hosts cabaret acts and other live events before transforming into a pumping party venue on Friday and Saturday nights.
And then lastly, here's one for bougie types. Another London export, The Box puts on burlesque shows and other theatrical performances that you'll enjoy if you're looking for crazy things to do in NYC at night.
10. Walk Across the Brooklyn Bridge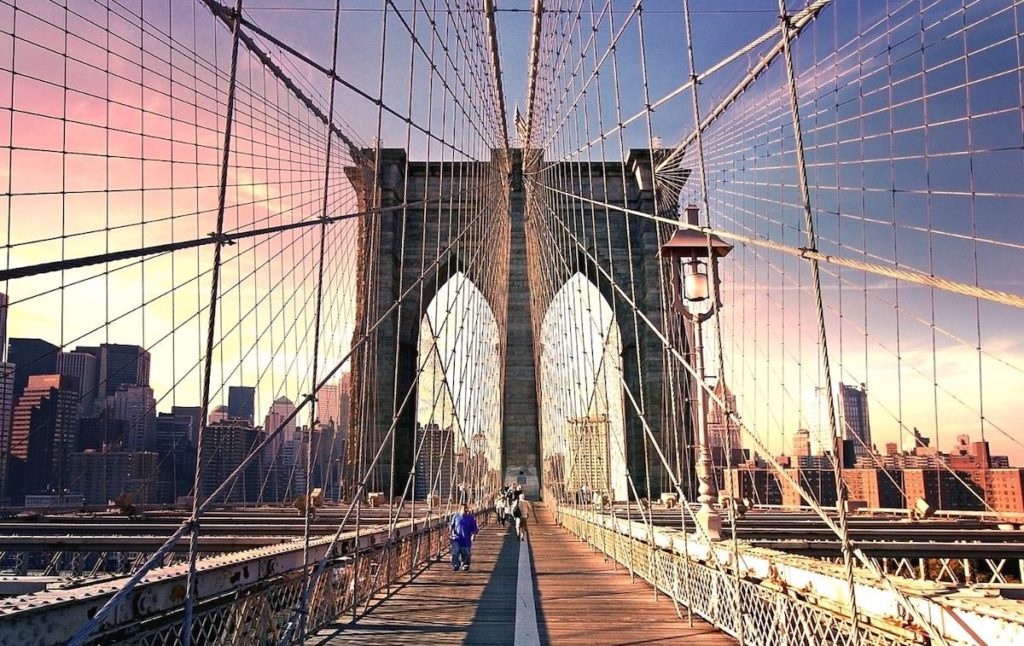 Is there a landmark anymore iconic than the Brooklyn Bridge? Okay, maybe the Empire State Building. Or, a certain green statue.
Anywho, this epic bridge connects Lower Manhattan with DUMBO, Brooklyn. It also features a designated lane for pedestrians and cyclists.
So, one of the crazy things to do in NYC at night for free is to don your warmest coat and take a stroll across Brooklyn Bridge.
I mean, it sounds crazy. But actually, the experience is way more chill because there are fewer cars and pedestrians.
FYI though, the length of the walkway equates to a 1-mile walk. Also, it's a next-level amazing photo opp for anyone who wants to capture the glittering skyline of both boroughs.
And, as I say, there is a cycle lane. So, if you rather, you can rent a two-wheeler and bike across the bridge.
Obviously, you can do this at literally any time in the evening. Plus, you can even walk both ways or take the bus or subway back to your hotel. Yup, the possibilities are endless as you enjoy NYC after midnight.
Address: Brooklyn Bridge Blvd, New York, NY 10038, United States
Hours: 24/7
Price: Free
How to Get There: Take the 4/6 train to Brooklyn Bridge/City Hall station and walk from there.
11. Watch the Ball Drop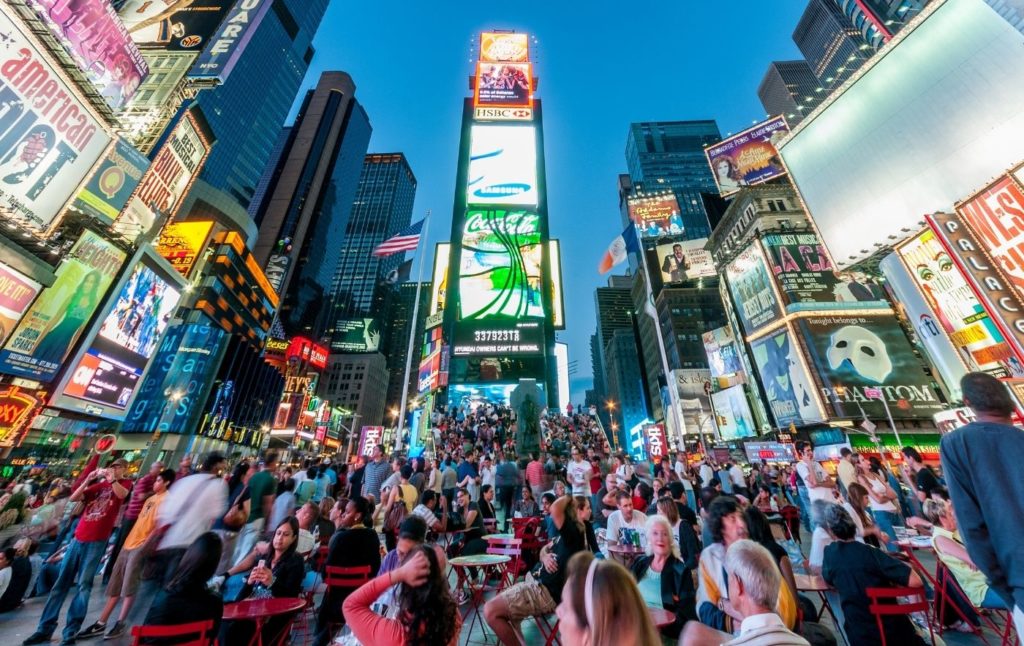 Now, this one is essential if you happen to visit NYC over the holidays.
Because the ball drop in Times Square is a long-time tradition that dates all the way back to ye olde 1907.
See, Adolph Ochs, the owner of the New York Times, caught wind of the daily ball drop at the Royal Observatory in Greenwich, London.
And to this very day, a red time ball is dropped there daily at 1:00 pm.
Originally, though, it was actually set up for seafarers so that they could sync their timepieces.
However, Ochs thought this would be a swell way to ring in New Year's in the Big Apple. And, whaddya know, it was a roaring success. Which is why the event only get bigger and better every single year.
Plus, there's literally no other place to be in NYC after midnight on New Year's Eve. Unless you can't stomach standing around in the cold (for hours). Or, aren't one for crowds (massive ones).
In that case, you might prefer to watch the event from the comfort of your climate-controlled hotel room.
Address: Manhattan, NY 10036, United States
Hours: The ball drops at midnight on New Year's Eve but you'll have to get there by 12:00 pm to secure a spot since they close the area off to people early.
Price: Free
How to Get There: You can literally take just about any subway line to Times Square.
12. Play all night at Barcade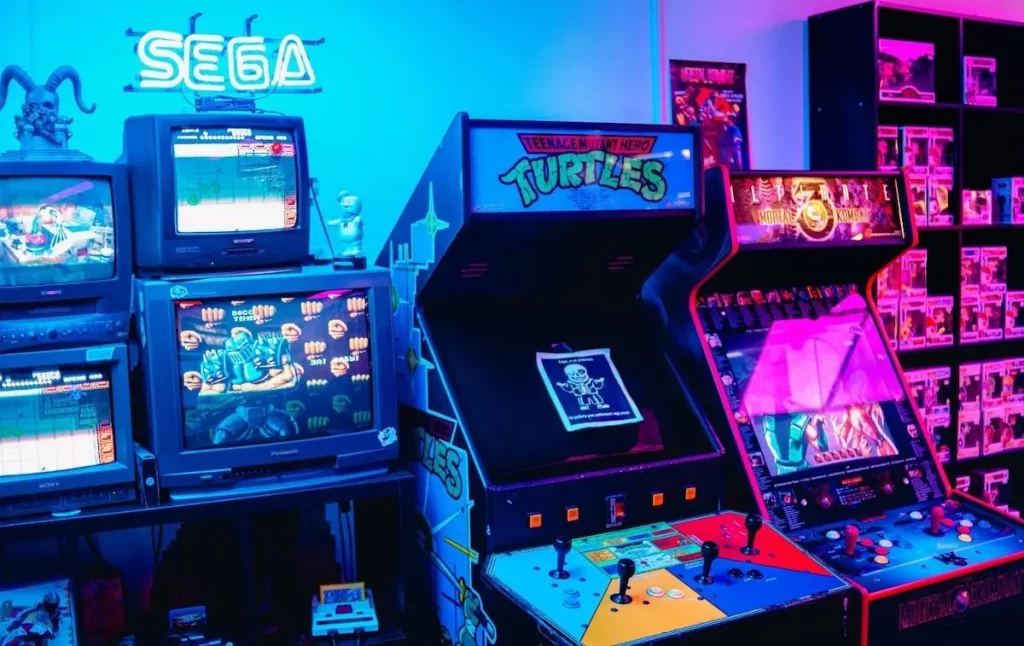 If you've never heard of Barcade, add this one to your New York City itinerary, pronto.
Touted as the original arcade bar, Barcade has only been on the nightlife scene since 2004.
But, in less than two decades, it's flourished as one of the crazy things to do in NYC at night for locals as well as tourists.
Because, where else can you find this degree of kookiness and nostalgia?
See, this is one of the unique restaurants in NYC to fuse together a full bar – heaving with craft and exclusive beers – with arcade games.
There are also three distinct locations in NYC alone: Williamsburg, Chelsea, and the East Village – all of which are open daily until 2:00 am.
And each has somewhere between 40 and 75 video games and a fantastic selection of beers. Or, cocktails, if you prefer.
Plus, fun vintage games include pinball, Pac-Man, and Donkey Kong.
And, as Barcade was founded by a quartet of pals, the venue retains a casual, neighborhood vibe that everyone will love.
Also, since launching, Barcade has inspired a whole host of other arcade bars to spring up. But, this one is the OG and shouldn't be missed.
Address: 148 W 24th St, New York, NY 10011
Hours: Open daily from 2:00 pm to 2:00 am, with extended hours until 4:00 am on Friday and Saturday.
Price: Cocktails are $14 each and most games are around $0.50 each.
How to Get There: Take the 1 train to 23rd Street station and walk from there.
13. Eat at the Queens Night Market
Eating at the Queens Night Market is one of the coolest things to do in NYC after midnight on a Saturday.
But, what is it?
Well, this open-air market is located at the New York Hall of Science in Flushing.
It takes place once a week on Saturdays, from April through the end of October. It also draws together close to 100 independent vendors.
So, you'll find everything from knitted gifts to empanadas and bubble tea.
Therefore, you'll have a wide variety of food stalls to choose from that sell everything from Venezuelan cachapas to Taiwanese noodle soup, and Trinidadian curry.
Even better, the overall vibe of the market is enhanced by live music and cultural performances too.
It's also super family-friendly with tons of seating and grassy spots.
And while the market actually closes up at 12:00 am, you're welcome to hang around until you finish your food even after the stalls wrap up for the night.
Address: 4701 111th St, Queens, NY 11368, United States
Hours: Open Saturday from 5:00 pm to 12:00 am.
Price: Depends on what you buy.
How to Get There: Take the 7 train to Mets – Willets Point station and walk from there.
14. Wash Your Clothes
Freshening up your laundry might not sound like one of the crazy things to do in NYC at night.
But then you clearly haven't been down to Sunshine Laundromat and enjoyed one of the most unique things to do in NYC.
Located in Greenpoint, Brooklyn, this laundromat is more than washing machines and dryers. See, it's an awesome place that doubles up as a pinball emporium, craft beer bar, and all-around epic place to hang out.
Plus, Sunshine Laundromat is so popular among Brooklynites that the place even has its own line of swag – aka some of the best souvenirs from NYC.
So, if you're the kind of traveler who likes to multi-task chores with fun, you finally have a reason to look forward to laundry day. Well, laundry night.
However, at the time of writing, the bar is temporarily closed for renovation. Although, the arcade and laundromat are up and running as usual.
So, stay tuned on Instagram for full info on the grand reopening.
Address: 860 Manhattan Ave, Brooklyn, NY 11222, United States
Hours: Open Monday through Thursday from 7:00 am to 2:00 am, Friday/Saturday from 7:00 am to 4:00 am, and Sunday from 8:00 am to 2:00 am.
Price: Beers start at $4.00 each.
How to Get There: Take the B43 to the Manhattan Avenue/Calyer Street stop and walk from there.
15. Go Bowling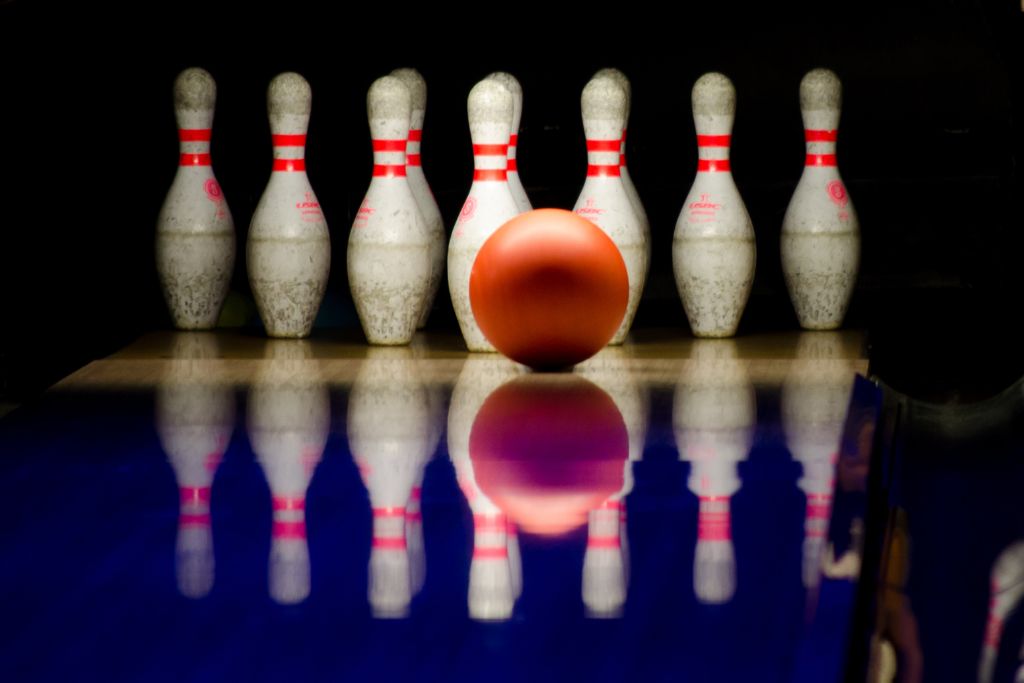 Everyone loves bowling and it's one of those activities you can enjoy in just about every city.
However, what's cool about New York is that you can hit the lanes after dark.
See, Bowl 360 operates a scattering of bowling alleys across the city, with locations in Brooklyn, Astoria, and Ozone Park – all of which are open 7 days a week, until 2:00 am.
However, another great option when it comes to bowling in NYC after midnight is Brooklyn Bowl. Just know that after 6:00 pm, Brooklyn Bowl only permits those 21 and over.
Then over the river, the Gutter L.E.S in Lower Manhattan is open daily until 4:00 am.
There are also a couple of bowling alleys in Midtown Manhattan – like, Bowlero Times Square and Frames Bowling Lounge. But, these ones close at 11:00 pm and 12:00 am respectively.
And while walk-ins are always welcome, you might want to book ahead if par of a larger group.
I mean, it's usually quieter after midnight but you never know when enjoying some of the crazy things to do in NYC at night.
16. Try Your Hand at Shuffleboard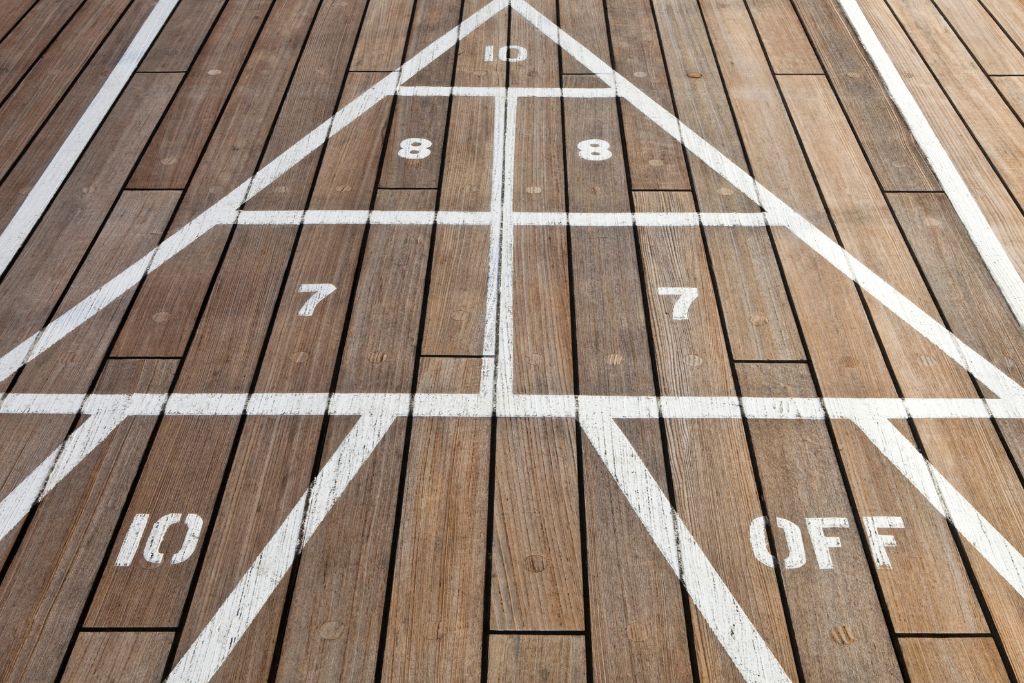 One of the coolest bars in Brooklyn, the Royal Palms Shuffleboard Club features regulation-size shuffleboard courts.
But that's not all. You'll also find a jumbo Jenga set and giant Connect 4 board for you to play away on. Plus, stacks of board games when you need to rest your feet for a bit.
Because spending a night at this tropical-styled bar is one of the ultimate crazy things to do in NYC at night indoors. And it's an awesome place for groups or special occasions of every variety.
I mean, there are flamingo props to pose with as the bartenders whip up classic vacation-inspired cocktails and mocktails.
And, if you start to feel peckish, food trucks are on hand to satisfy your every need.
Walk-ins are also welcome or larger groups can pre-book a Cabana Party.
Address: 514 Union St, Brooklyn, NY 11215, United States
Hours: Open Monday through Thursday from 6:00 pm to 12:00 am, Friday from 6:00 pm to 12:00 am, Saturday from 12:00 pm to 2:00 am, and Sunday from 12:00 pm to 10:00 pm.
Price: $50 per court.
How to Get There: Take the D train to Union Street or the F train to Carroll Street and walk from there.
17. Enjoy a flick at Nitehawk Cinema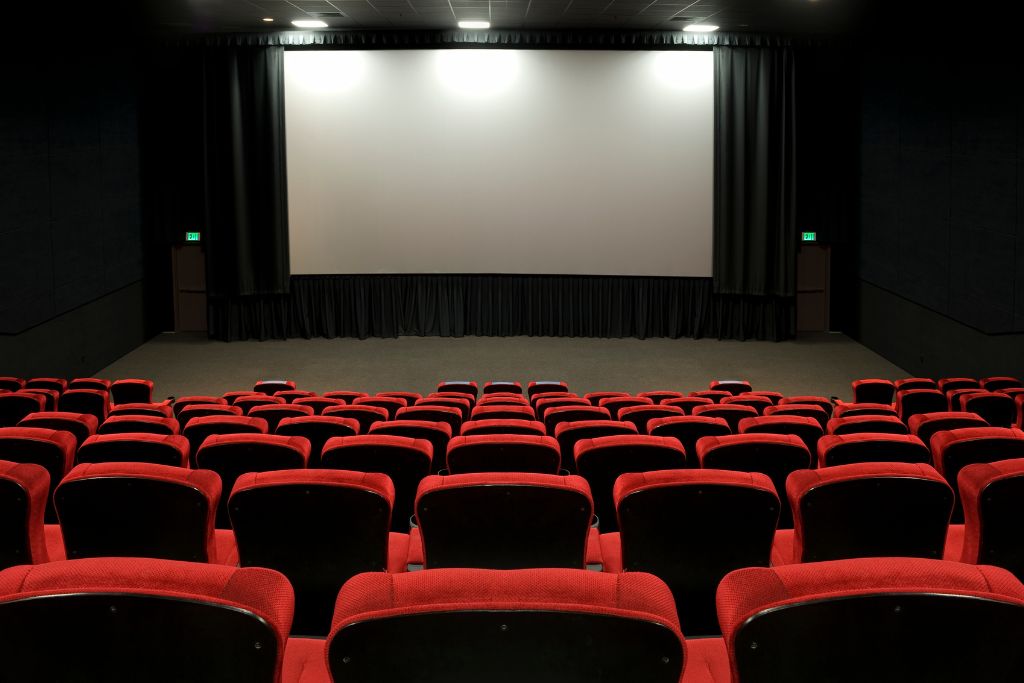 So, you could catch a late showing of a movie at just about any of the innumerable movie theaters in the Big Apple.
But, for the true night owl experience, you need to get down to Nitehawk Cinema in Brooklyn.
In fact, Nitehawk has two unique cinemas to choose from, one in Williamsburg and the other in Prospect Park.
And with a focus on cult, horror, and independent film-making, Nitehawk puts on Midnite showings every Friday and Saturday.
Plus, the theater is ahead of the curve when it comes to seasonal screenings. So, if you want to rewatch a Halloween or Christmas classic, check their schedule to see what's coming.
Then, enjoy one of their delicious craft cocktails and dish of the day – the menu is centered around what's playing – with your flick.
In fact, the on-site bar Lo-Res is so good that locals tend to just go there for a brew, even when they're not eatching a movie.
Address: 136 Metropolitan Ave, Brooklyn, NY 11249, United States
Hours: Varies by show.
Price: Tickets are around $16.00 per person on the weekend.
How to Get There: Take the L train to Bedford Avenue and walk from there.
18. Dine at a 24-hour Restaurant
Let's wrap things up with an oldie but a goodie. Because of course, one of the crazy things to do in NYC at night is to have dinner at a wild time – like right in the middle of the night.
Because, as you know, New York is a city that never sleeps. Therefore, there are loads of restaurants and diners that are literally open around the clock.
So, craving dumplings? Then get down to the Brooklyn Dumpling Shop. Which, confusingly, is located in Manhattan's East Village. And, some of the flavors aren't what you might expect.
And then there's Empanada Mama which has three Manhattan locations where you can cycle through 40 different varieties of this Latin American staple. Seriously tasty stuff, with fillings catering to vegetarians, meat-eaters, and seafood lovers.
And, for that quintessential diner feast, Remedy Diner is open 24/7. Sandwiches, brunch specials, and pancake stacks are all served up here. Besides, you can choose between coffee, beer, and sodas as your drink of choice.
Oh, and you can legit call yourself a New Yorker if you grab the city's official "dish" at Tribeca Bagels.
Map of the Best Things to do in NYC after Midnight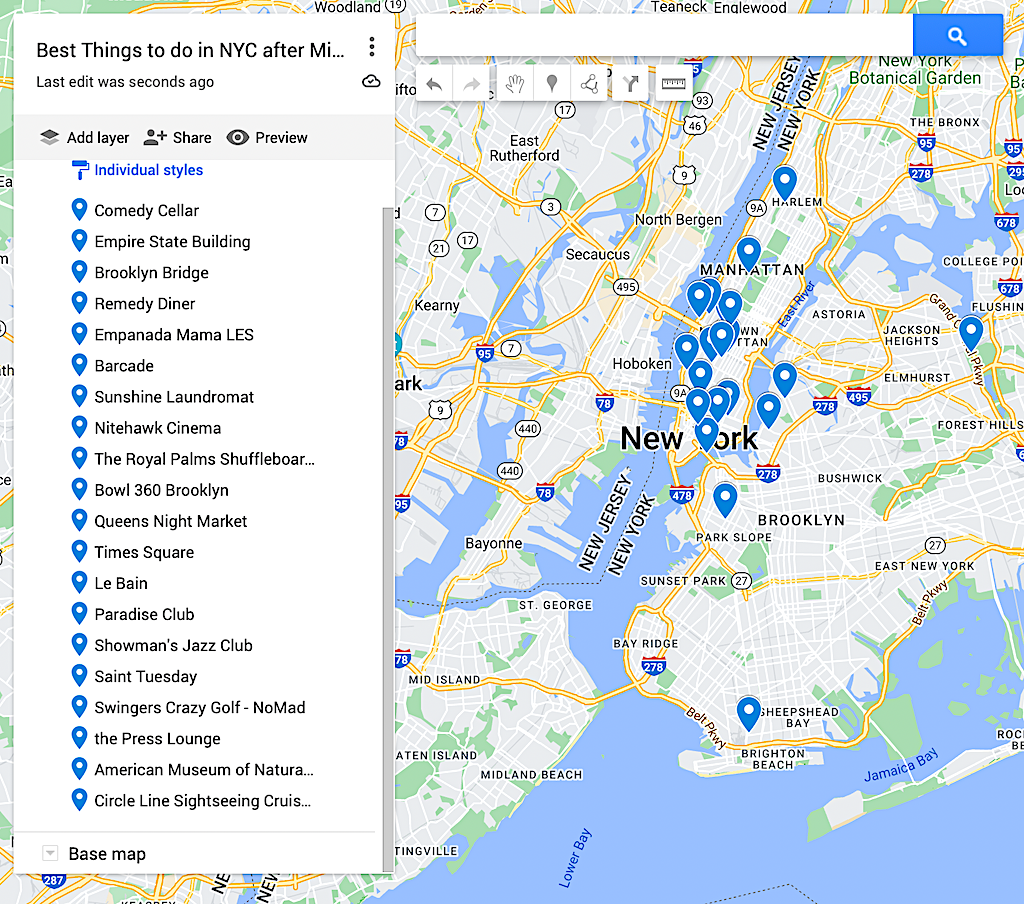 Additional New York Resources You'll Love
There you have it! That just about wraps up this massive guide to the best things to do in NYC after midnight.
Tell me, did your picks for crazy things to do in NYC at night make the list? If not then let me know in the comments below.
And if you found this post useful, don't forget to join our email list before pinning this post now so that you can read it again later.