Let me guess, you're scratching your head over here wondering, "what is New York known for?"
Well, you're not alone since many people know of NYC but aren't exactly sure WHAT this metropolis is famous for.
And if you're one of those intrepid explorers then you're in luck! Because I'm a 30+ year local who knows exactly how to answer the always looming question, "what is NYC known for?"
Plus, I know where to find a lot of these New York staples and have expert advice to help you enjoy all the greatest NYC landmarks of them all.
So, stop wondering, "what is New York City known for" and just read this epic guide instead.
This post may contain affiliate links. Please see my disclosure for more information. As an Amazon Associate, I earn a small commission from qualifying purchases.
What is New York Known For: Famous Landmarks in New York City
1/2. The Statue of Liberty and Ellis Island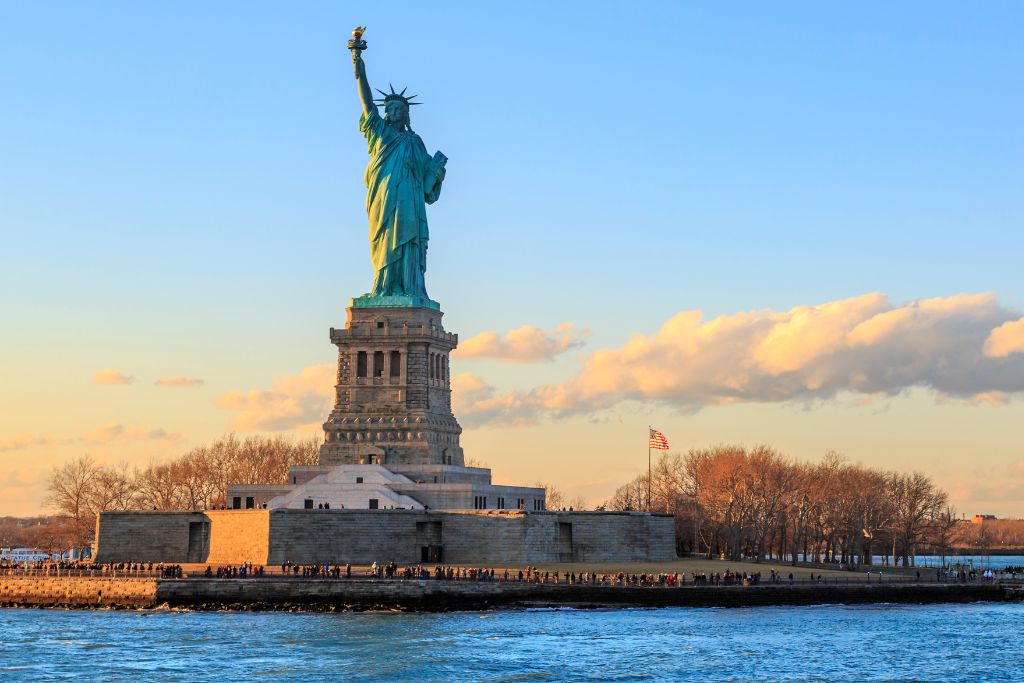 Between 1886 and 1924, Ellis Island was the landing point for millions of immigrants to the USA.
Today, the island is home to the Ellis Island Immigration Museum, which tells the stories of some of the people who passed through this incredible place.
Alternatively, the Statue of Liberty was a gift from the people of France to America and is one of the world's most famous landmarks.
Afterward, Lady Liberty became a symbol of hope to people who made the dangerous journey to the US from foreign countries.
Therefore, the Statue of Liberty is now one of the most famous places to visit in New York and receives over 3 million visitors every year.
3. The Empire State Building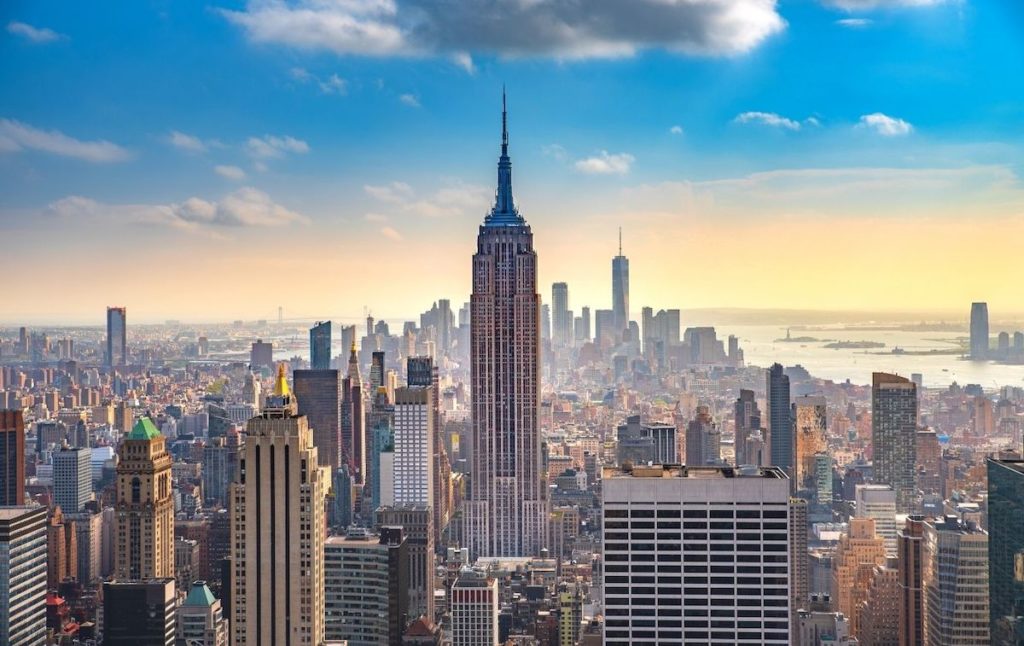 The Empire State Building is one of the world's most famous skyscrapers and is one of many must-see places in New York.
See, this Art Deco masterpiece was completed in 1931, and until 1973 it was the world's tallest building, towering 1454 feet over Midtown Manhattan.
Today, the open-air observation deck on the 86th floor offers fantastic views over the city. Or, you can go even higher to the glass-fronted observation deck on the 102nd floor.
Just be sure to beat the long lines by purchasing your Empire State Building tickets in advance online.
And, FYI, New York State became known as 'The Empire State' in the 1800s, and that's where the building got its name!
4. One World Trade Center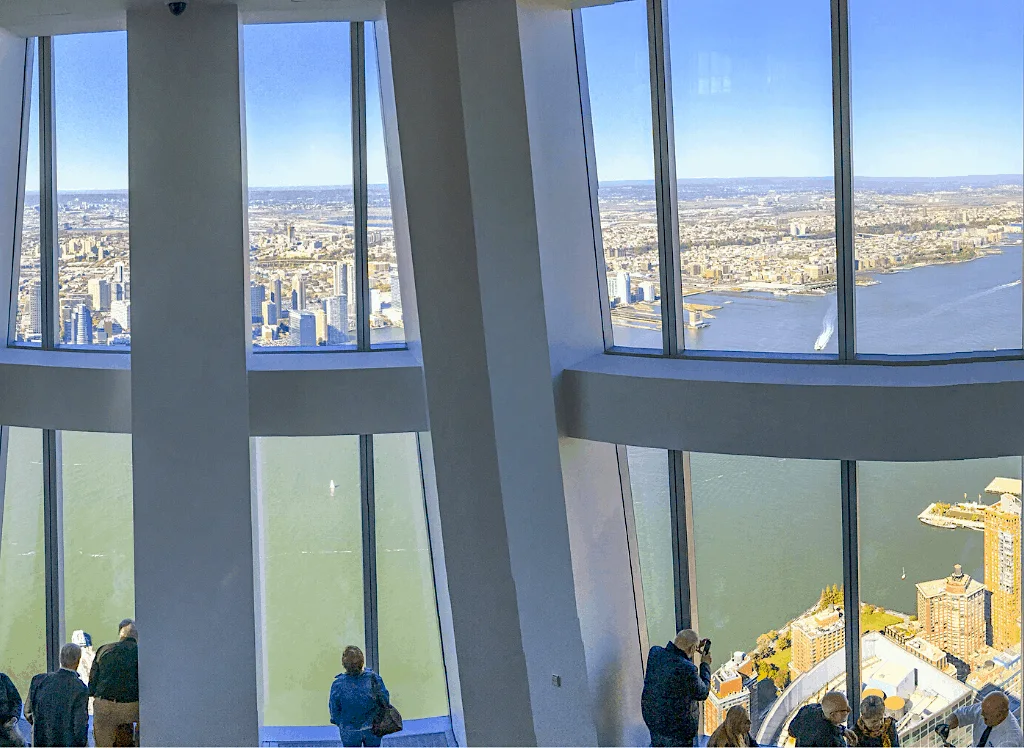 The whole world was shocked by the terrorist attacks on the Twin Towers of the World Trade Center on September 11, 2001.
Today, though, the new One World Trade Center is also known as the Freedom Tower. It now stands where the fallen towers once were.
It's a symbol of hope and unity, and at 1792 feet, it is now the tallest building in New York City.
Additionally, the site of the original towers is also where you'll find the National September 11 Memorial & Museum.
If you want you can pay your respects at the memorial pool or explore the associated museum, which honors the responders and commemorates those who lost their lives in the 2001 attack and the 1993 bombing.
Local Tip: The memorial pools are free to visit but you must pay to enter the museum. You should also book your tickets well in advance since lines are long.
5. Central Park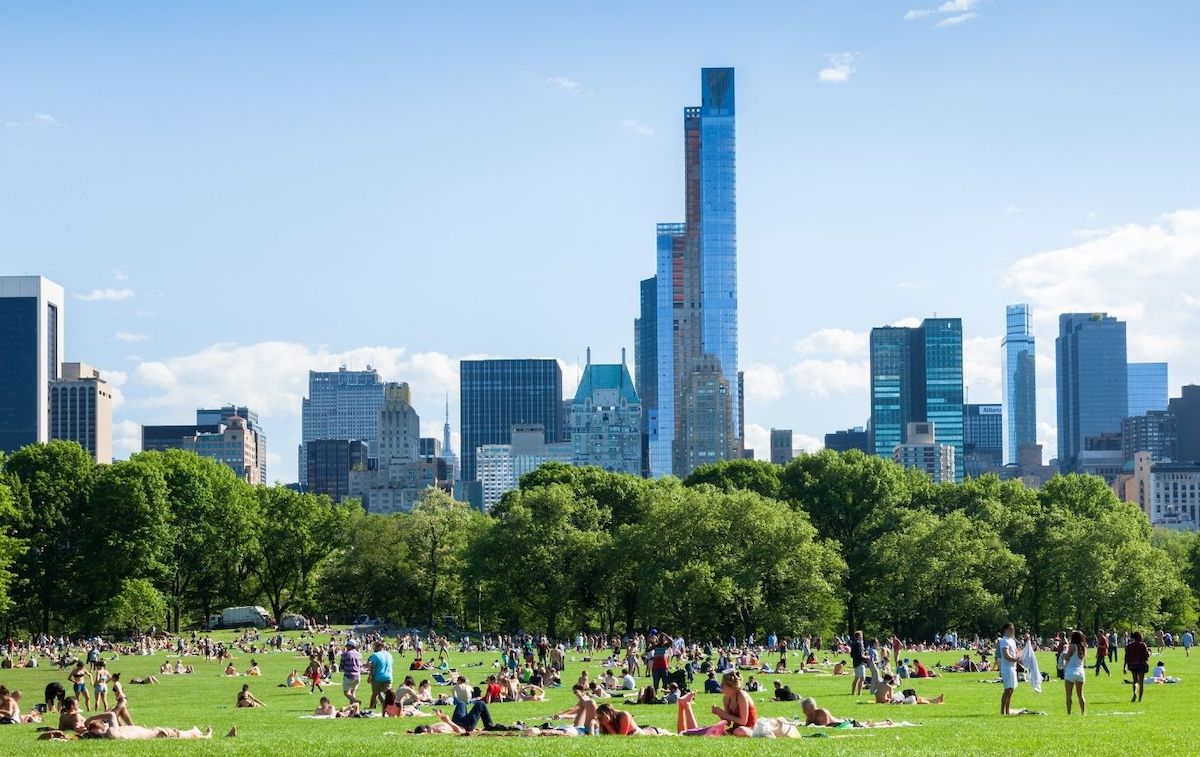 Probably the most famous park in New York and one of the most famous green spaces in the world, Central Park is an 843-acre oasis of greenery in the middle of New York City that is a great place to visit if you happen to be in New York in April.
You'll find Central Park between the Upper East and Upper West Sides of Manhattan, where you can explore artificial lakes, picturesque bridges, beautiful fountains, stunning castles, and fascinating memorials.
So, escape the hustle and bustle of the city. at Central Park Zoo before checking out the Strawberry Fields memorial to John Lennon.
6. Fifth Avenue
Fifth Avenue runs all the way from Greenwich Village's Washington Square Park, up to Central Park, and then again up to Marcus Garvey Park in Harlem.
It's one of the most famous streets in the city and is home to famous stores like Saks Fifth Avenue and Tiffany & Co, as well as the world-famous Plaza hotel.
So, there's a lot to see, even if your budget only extends to window shopping!
And if you're visiting NYC in December, the window displays in the stores along Fifth Avenue are particularly lovely and one of the best things to do in NYC during Christmas.
7. Brooklyn Bridge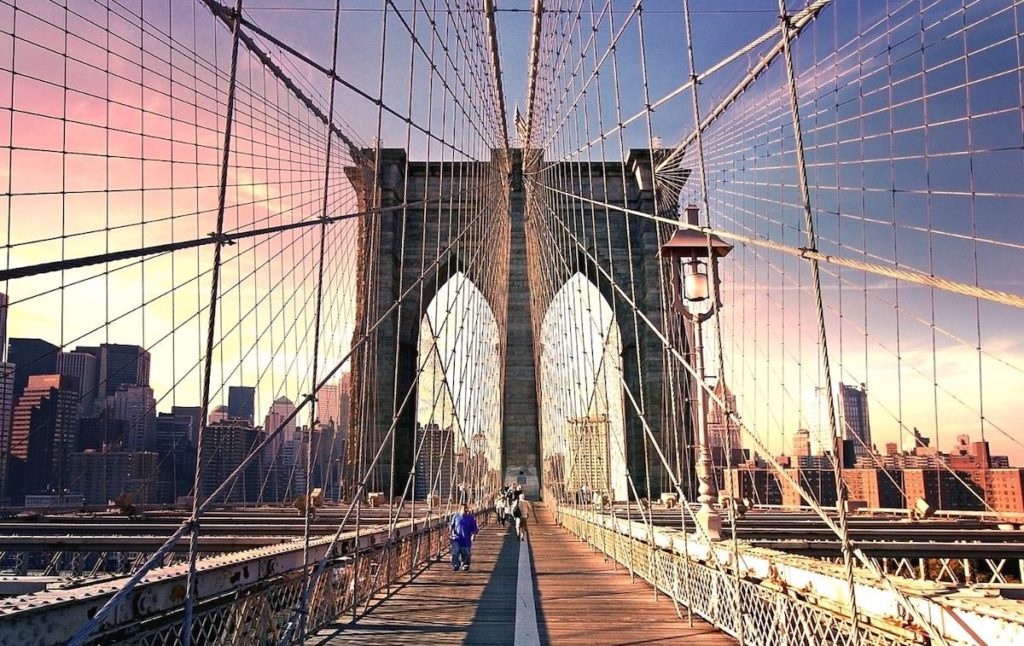 The Brooklyn Bridge is one of the most famous bridges in New York City and one of its most photographed attractions.
It stretches across the East River from Manhattan to Brooklyn, and at its opening in 1883, was the longest suspension bridge in the world.
Now it also has a second career as a side character in hit TV shows and movies. Typically, it will take you between 20 minutes and an hour to walk the Brooklyn Bridge, depending on how often you stop to take photos!
8. Rockefeller Center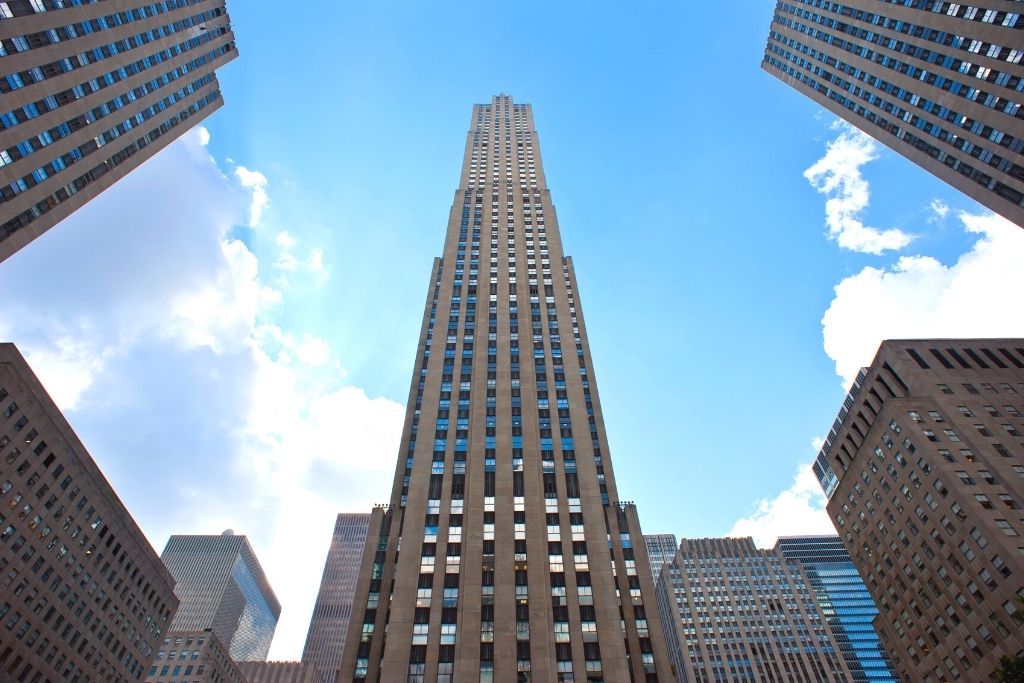 Rockefeller Center is a massive complex that consists of 19 buildings filled with fantastic shopping and dining experiences.
So if you're wondering what New York is famous for then this is it! And while you're here, be sure to see a show at Radio City Music Hall, tour the NBC Studios or book free tickets for a live taping of The Tonight Show Starring Jimmy Fallon.
And, of course, visiting the giant Christmas tree and ice skating rink at Rockefeller Center are iconic NYC Christmas traditions!
9. Wall Street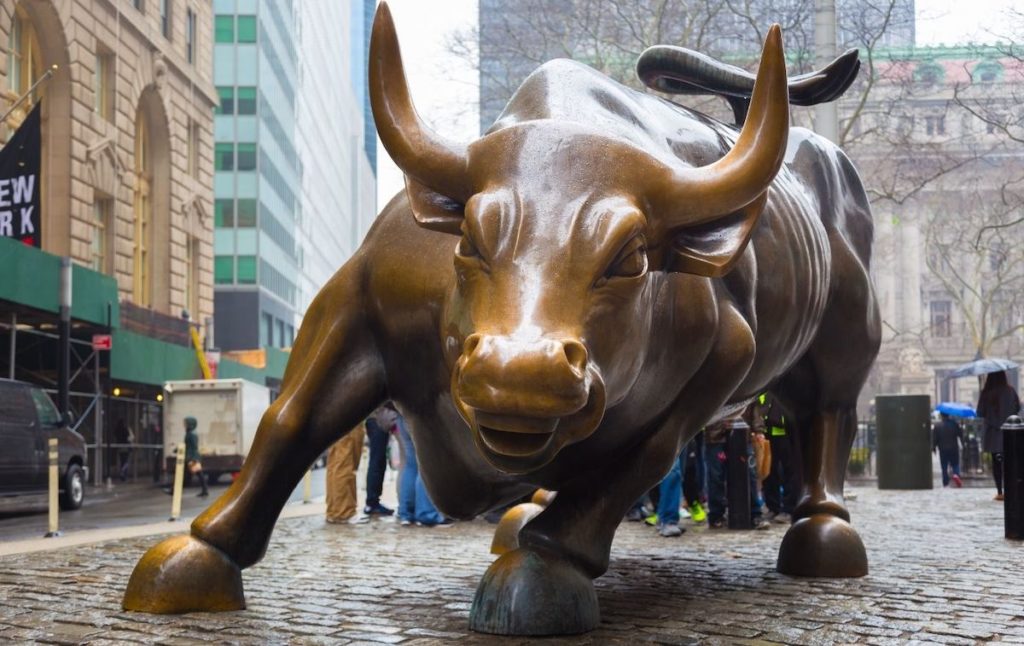 Wall Street is the home of New York City's Financial District and is one thing that makes the big apple one of the world's leading financial centers.
And if you want to check this area out be sure to visit the bronze sculptures of the Charging Bull in Bowling Green and the Fearless Girl standing outside the New York Stock Exchange building.
10. Grand Central Terminal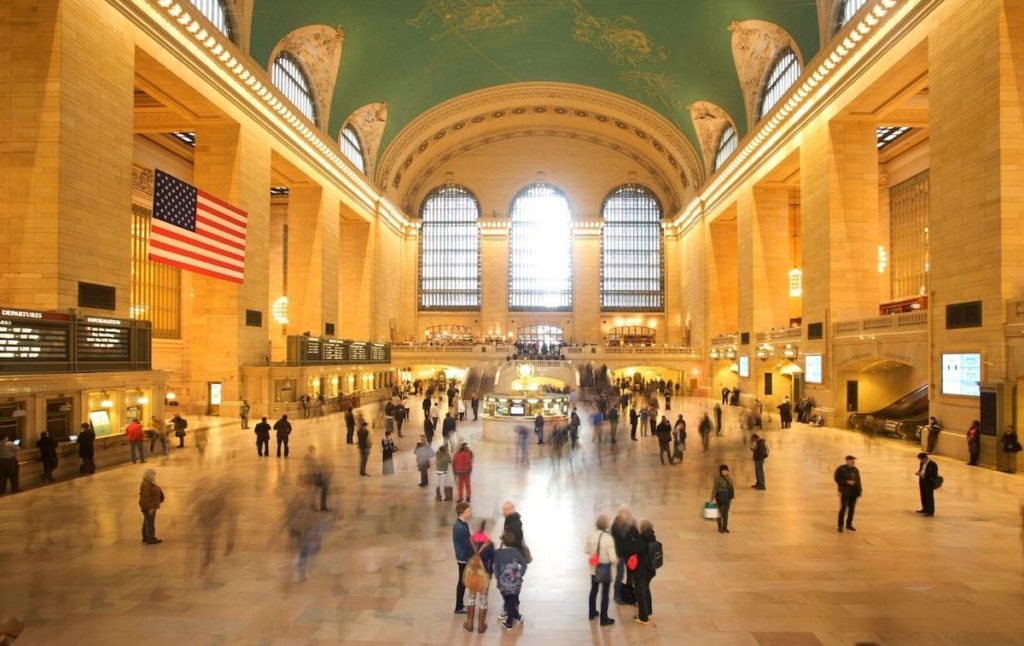 Whether you visit this station to catch a train or admire the magnificent ceiling, Grand Central Terminal is surely one of the most famous New York landmarks of them all.
After all, it is known around the world for its impressive facade and elegant interior. Additionally, you will find a wide range of shopping and dining options at one of the most famous buildings in New York City.
And believe it or not, the building you see today actually first opened in 1913 and was nearly demolished in the 1970s.
However, the station was saved by a campaign supported by Jackie Kennedy Onassis and was then declared a national historic landmark.
Therefore, if you're wondering what New York is known for then this building is it. There are also a ton of places to eat here where you can get some of the best cookies in NYC too.
11. Times Square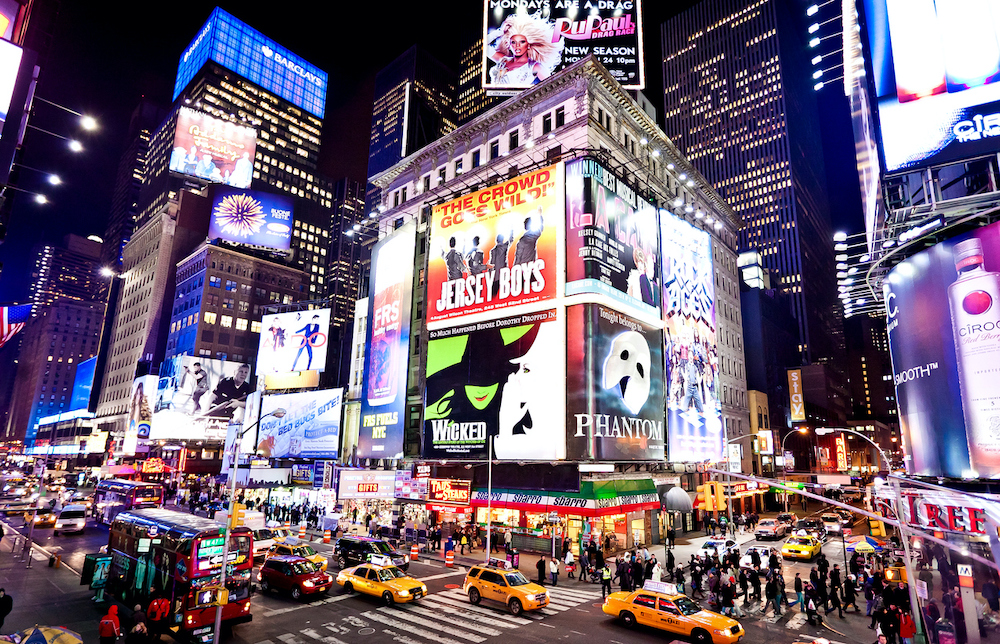 Love it or hate it, Times Square is one of the most famous New York tourist attractions.
And, of course, it's the iconic home of the Times Square Ball Drop on New Year's Eve, where revelers gather to watch the ball drop in New York City and celebrate the New Year.
The neon lights, digital billboards, and street entertainers in Times Square create a hectic atmosphere that helps to make New York 'The City That Never Sleeps!'.
This is all one of the best free things to do in NYC if you're on a budget.
12. Movie and TV show Locations
If you're a fan of TV shows and movies, you'll find many familiar places to visit in New York City.
So, see Monica's apartment building from Friends at the corner of Bedford and Grove Street in Greenwich Village, eat a croissant outside Tiffany & Co like Audrey Hepburn in Breakfast at Tiffany's, or recreate Tom Hanks and Meg Ryan's meeting on the Empire State Building observation deck.
You can either book a New York City film location tour or do it yourself – either option is sure to be great fun!
What is New York Known For – Famous Museums and Culture
13. Broadway Shows
The Theater District in Midtown Manhattan extends from 40th St to 53rd St and from 6th Ave to 8th Ave, including 41 professional theaters with 500+ seats.
As a result, taking in a Broadway show is a hugely popular activity for visitors to New York City. Therefore, you'll find some of the world's most popular shows here.
So, whether you want to see something modern like Hamilton or a long-running show like Phantom of the Opera, there's a show that's perfect for you.
However, tickets can sell out quickly. So, purchasing your tickets in advance is ideal. Alternatively, you can often get discounted tickets from the TKTS Ticket Booth in Times Square on the day of the show.
It's also worth checking out smaller off-Broadway theaters, where you can see some fantastic shows.
Local Tip: Skip the line and use the TodayTix app to score great deals on tickets when figuring out what is New York known for.
14. Concerts at Madison Square Garden
From classic rock groups like Led Zeppelin and U2 to modern artists like BTS and Ariana Grande, a host of big-name artists have played to sell-out crowds at Madison Square Garden.
And that's perfect since the Garden sits right in the heart of Manhattan. And as long as you can score the tickets you want, seeing a concert at MSG would surely be a highlight of your NYC visit.
Penn Stations is also right here so it's super easy to catch a train or the subway to your favorite show.
Local Tip: Wondering what is New York known for? Well, Billy Joel playing at MSG is at the top of the list.
So, if you're looking for something super "New York" to do then catch his show. I just went and it was amazing. You can even use StubHub to get great tickets at the last minute.
15. Metropolitan Museum of Art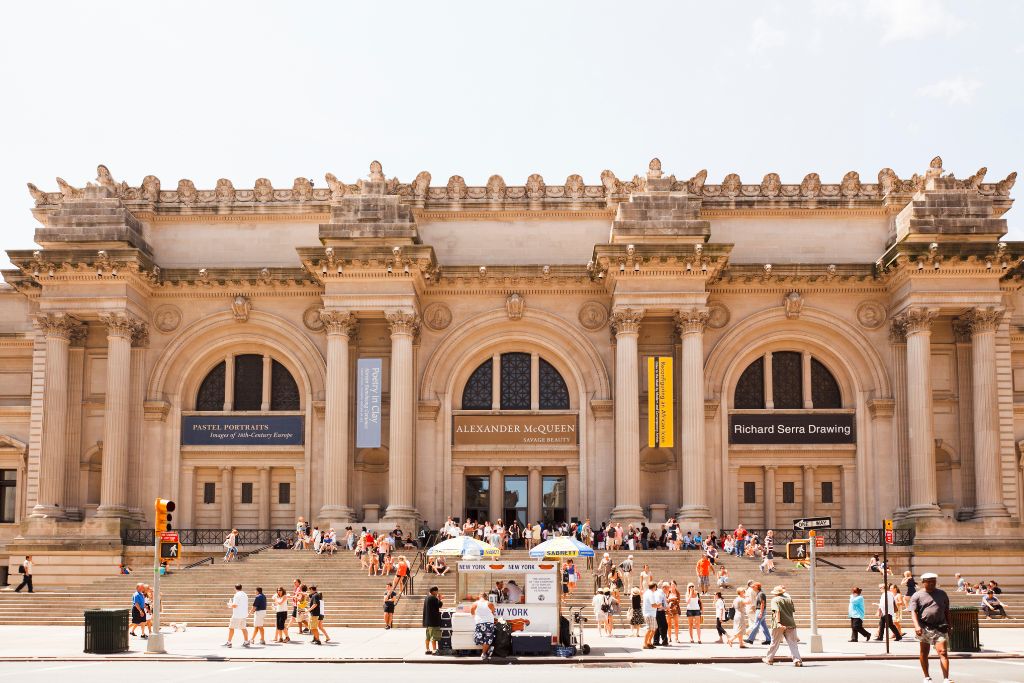 The Metropolitan Museum of Art (aka the Met) is the United States' largest art museum, housing over 2,000,000 pieces of art.
In fact, exhibits here cover an impressive 5000+ years of world history, from ancient Egyptian artifacts to modern art and contemporary fashion.
So, you could easily spend your entire vacation and still not see it all!
16. The Museum of Modern Art (MoMA)
Another of the best NYC museums of them all, the Museum of Modern Art (MoMA) is famous for its modern and contemporary art collection.
It features some of the world's most famous works, including Van Gogh's Starry Night, Claude Monet's Water Lilies, and Andy Warhol's Campbell's Soup Cans.
So, take a self-guided tour of MoMA to explore the exhibits, wander around the sculpture garden, and then refuel at the museum's cafes and Michelin-starred restaurant.
17. The Solomon R. Guggenheim Museum (The Guggenheim)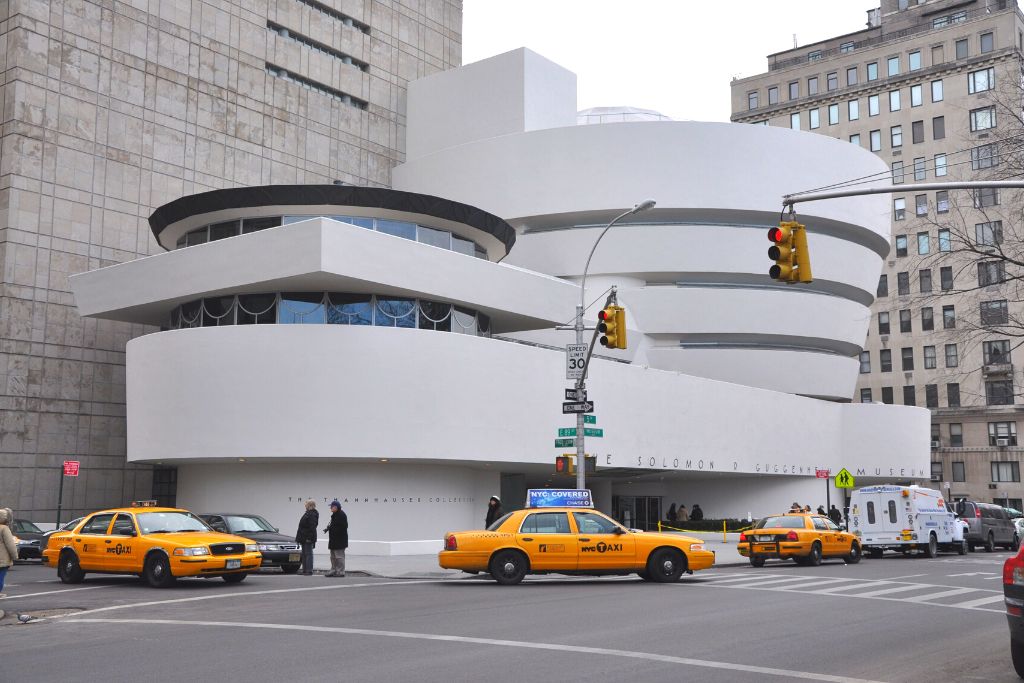 The Solomon R. Guggenheim Museum, or The Guggenheim for short, is another one of the best museums in New York City.
And that's because this eye-catching cylindrical building on Fifth Avenue was designed by renowned architect Frank Lloyd Wright.
It in turn houses a growing collection of art, including works by Impressionist, Post-Impressionist, modern and contemporary artists.
You'll also find various special exhibitions offered here at different times of the year.
So, if you're not sure what is New York known for then this is one place that you can revisit over and over again and never get bored.
18. Macy's Thanksgiving Parade
The Macy's flagship store in Herald Square is a New York City shopping icon. But, it's also known the world over for its annual Thanksgiving Day Macy's Parade.
Yeah, this parade has been an integral part of the New York City Thanksgiving tradtions since 1924, and features dozens of elaborate floats and giant inflatable balloons that can change almost annually.
What is New York Known For – Famous Foods
19. New York Cheesecake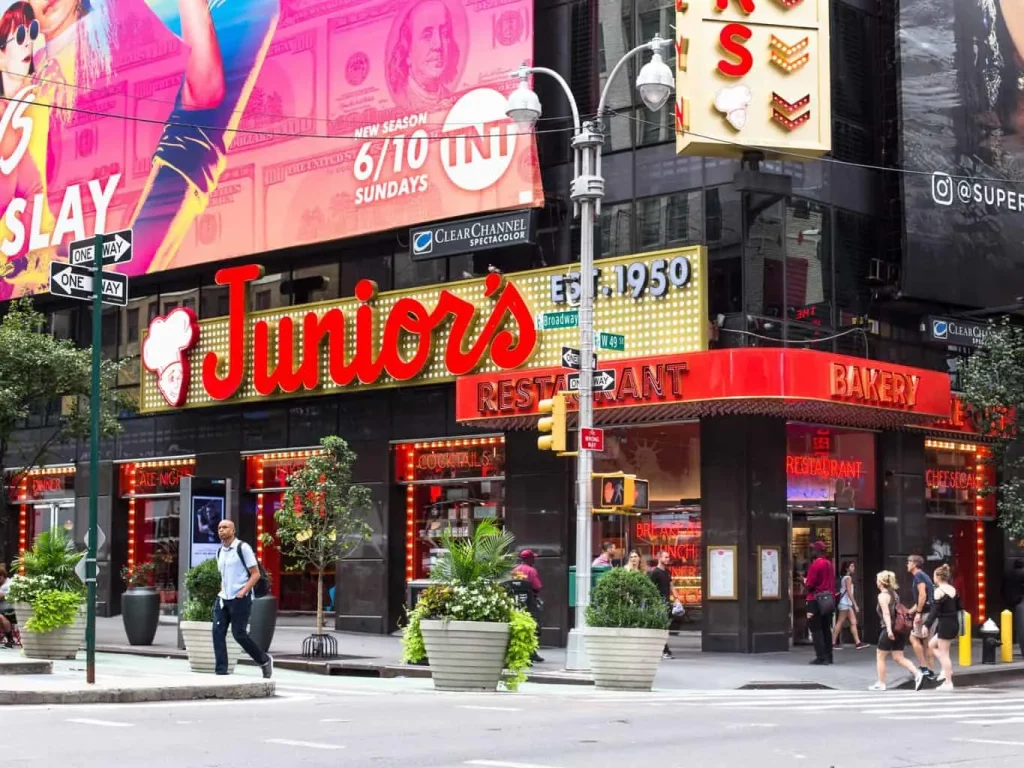 New York cheesecake is richer, denser, and creamier than most cheesecakes.
It also usually contains more cream cheese and sour cream than other recipes, which gives it an iconic rich flavor.
And while a lot of slices are topped with fruit, you might also see these delicious desserts topped with caramel or chocolate sauce and served with whipped cream.
So, treat yourself to a slice or a whole pie at bakeries and delicatessens all around the city. Great places to try some include Junior's and Eileen's Special Cheesecake.
20. New York Style Pizza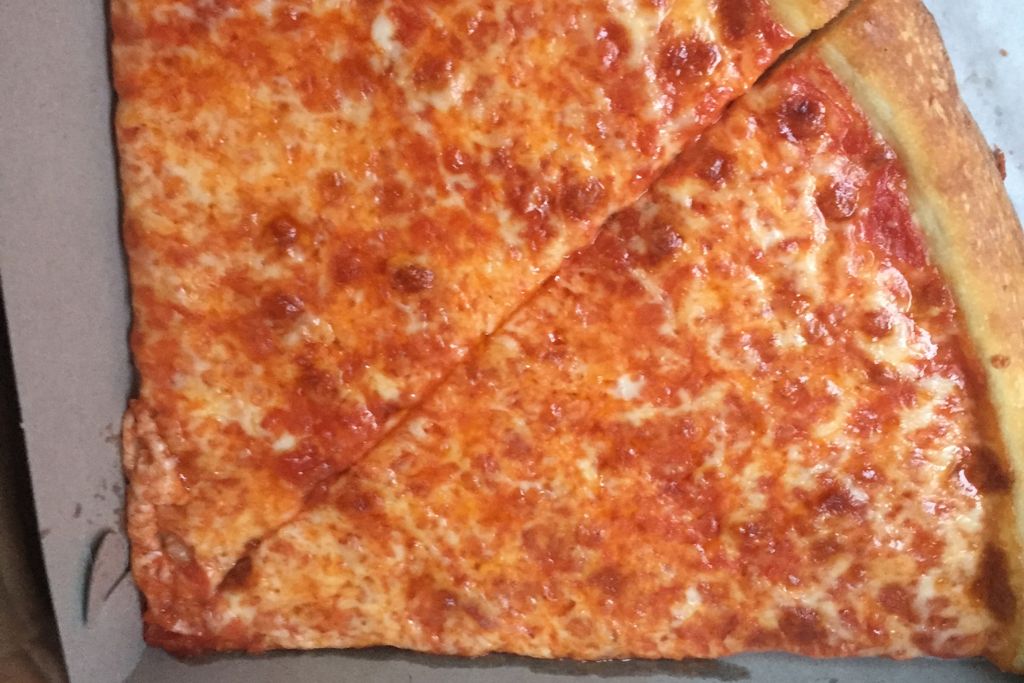 You can't visit New York and not try a slice of New York pizza – it's one of the most famous foods from New York.
These thin-crust pizzas are cooked in a coal oven, which gives them their distinctive taste.
So, try a classic Margherita or pepperoni slice. Or, look out for more adventurous pizza toppings like mac and cheese or maybe even a whole lobster!
And if you're not sure where to grab a slice, try Joe's Pizza or Lombardi's. Artichoke Basille's has a great spinach and artichoke slice too.
Local Tip: Real New Yorker's NEVER eat pizza with a fork and knife. Instead, fold your slice down the middle and eat the best pizza in Brooklyn with your hands.
21. Pastrami on Rye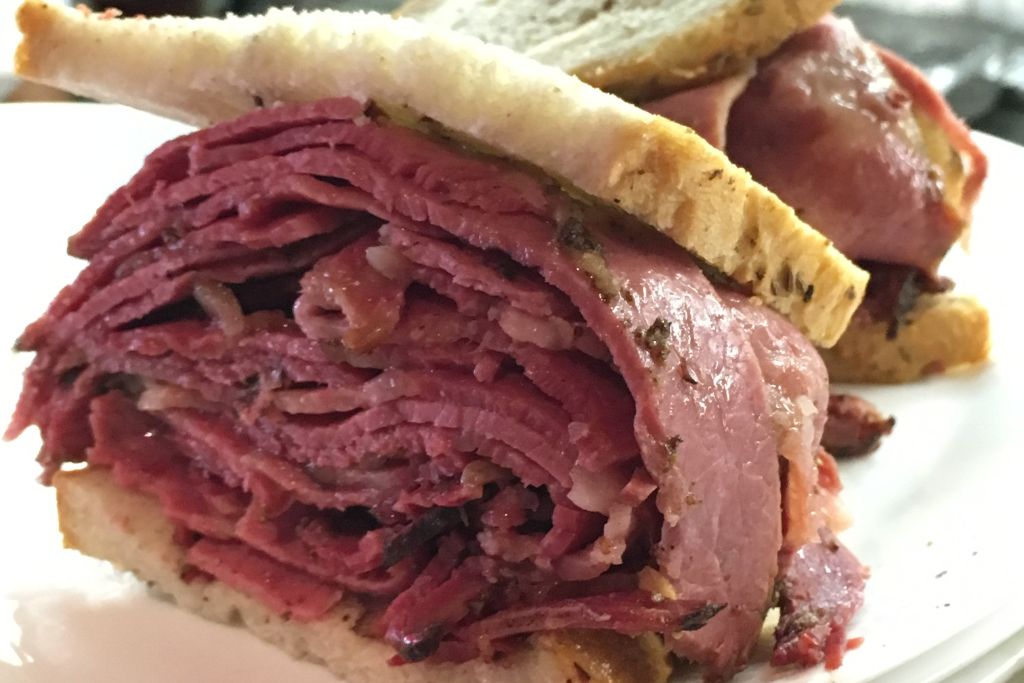 Pastrami on rye is a New York deli classic. And you can buy this sandwich in pretty much every deli in the city.
However, Katz's Delicatessen is one of the most famous delis in New York City, and it has been serving sandwiches on NYC's Lower East Side since 1888.
So, not surprisingly, this New York City icon is famous for its sandwiches made from thick slices of hand-cut pastrami that are then served on fresh rye bread with a smear of mustard.
And at around $25, it's an expensive sandwich, but the flavor is out of this world and if you're wondering what is New York known for then this is it.
22. New York Bagels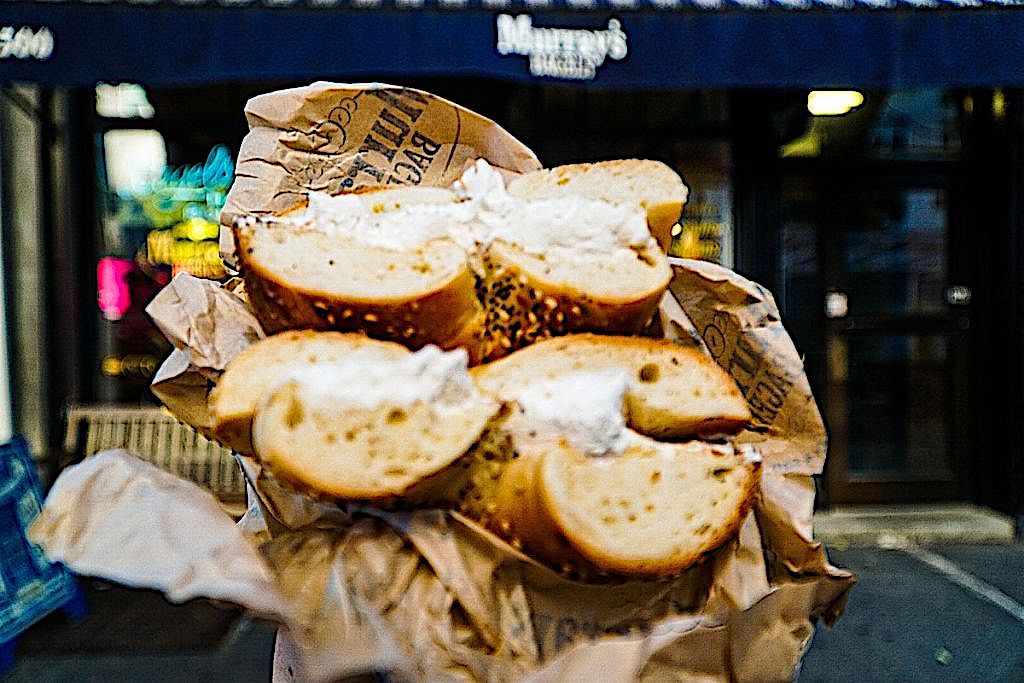 Bagels are one of the foods New York City is best known for, and they're thought to have been brought to the US by Jewish immigrants in the early 20th century.
Now, these round bread rolls with a hole in the center are poached in hot water and then baked, which gives them their delicious crispy crust and chewy interior.
You'll also find them in many NYC bakeries and bagel specialists like Ess-a-Bagel, Absolute Bagels, and Russ & Daughters.
You can also be adventurous and sample some of the best bagels in Brooklyn too.
23. Hot Dogs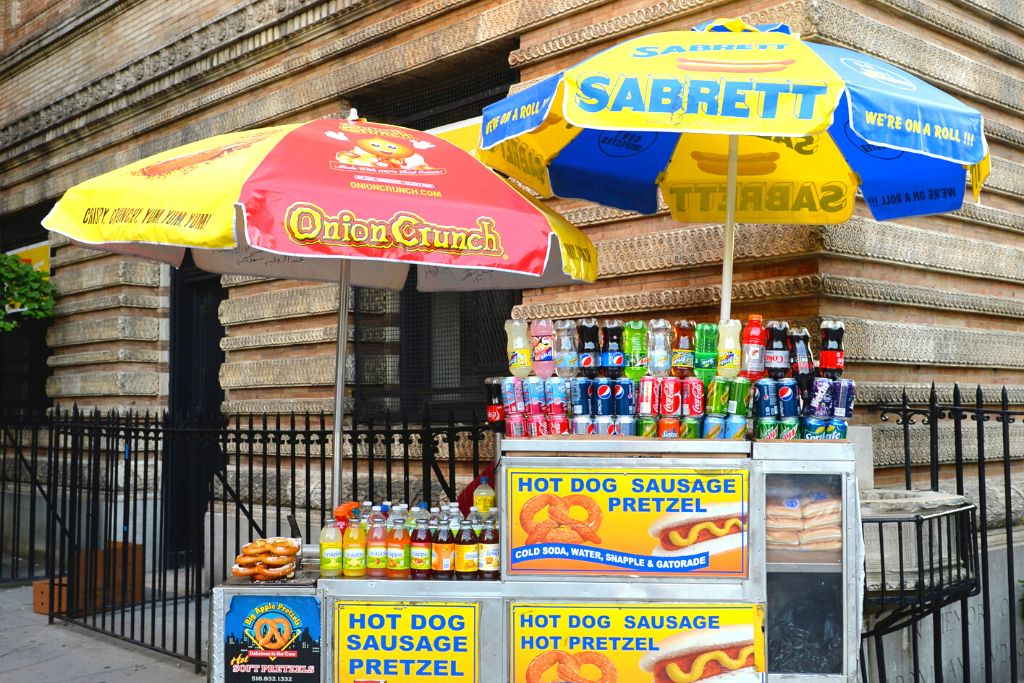 Truly one of the best traditional New York foods, snacking on a New York-style hot dog from a street cart is an experience every visitor must try.
After while you'll find vendors all around the city, Nathan's Famous Hot Dogs is one of the most well-known hot dog vendors in New York.
In fact, they started selling hot dogs in Coney Island back in 1916. But, you'll pay more for one now than the nickel they cost then!
Another great place to try some dirty water dogs (our cute nickname for hot dogs) is Gray's Papaya.
They have the best hot dogs in the city (IMHO) and all hot dogs should be ordered with sauerkraut, mustard, and stewed onions – at least if you wanna look like a REAL New Yorker.
24. Diverse New York Food Culture
New York City is known as a cultural melting pot, with immigrants arriving from every corner of the world.
And the food that they bring with them has resulted in the incredibly diverse foodie culture here.
So, in addition to the foods listed above, you will also find restaurants serving culinary delights from pretty much every country on planet.
Therefore, whether you fancy sushi or falafels (Mamoun's), a fantastic steak or amazing vegan dishes, you're sure to find plenty of fun places you must eat in NYC.
Local Tip: Head to Ukranian Village and get some pierogis/borscht from Veselka. So…dang…good.
What is New York Known For – Transportation
25. Yellow Cabs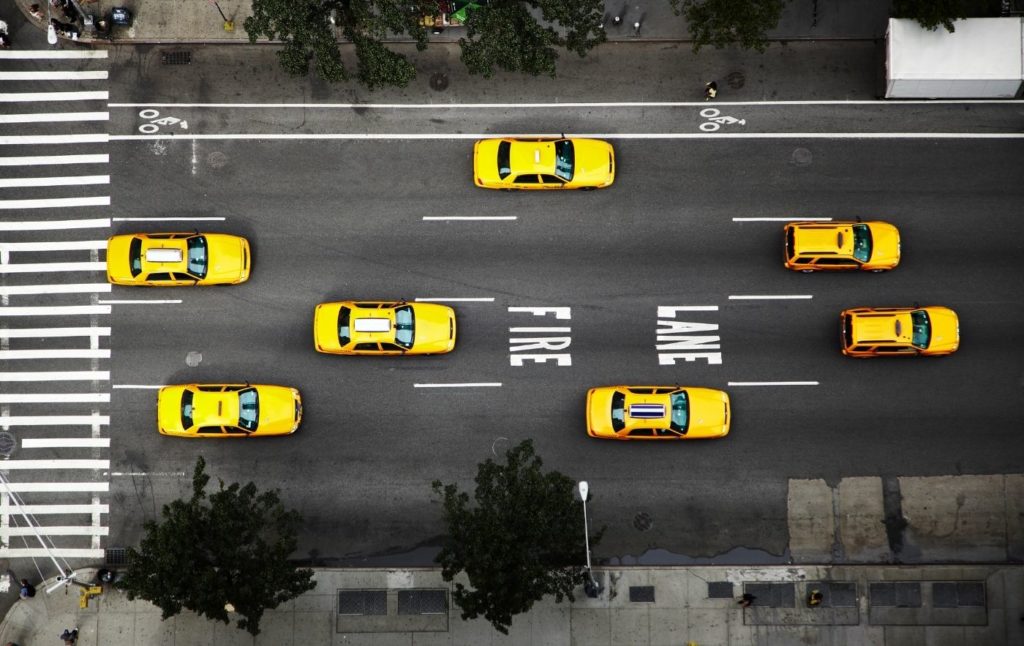 Bright yellow cabs are a quintessential part of NYC. And there are over 1300 serving the city.
So, if you want to ride the New York City streets in a yellow cab like a character in your favorite New York movie, stick your hand out and hail one with its 'For Hire' sign lit up.
Local Tip: Cabs are flippin' expensive. I personally would choose Uber over a yellow cab any day of the week.
26. The New York Subway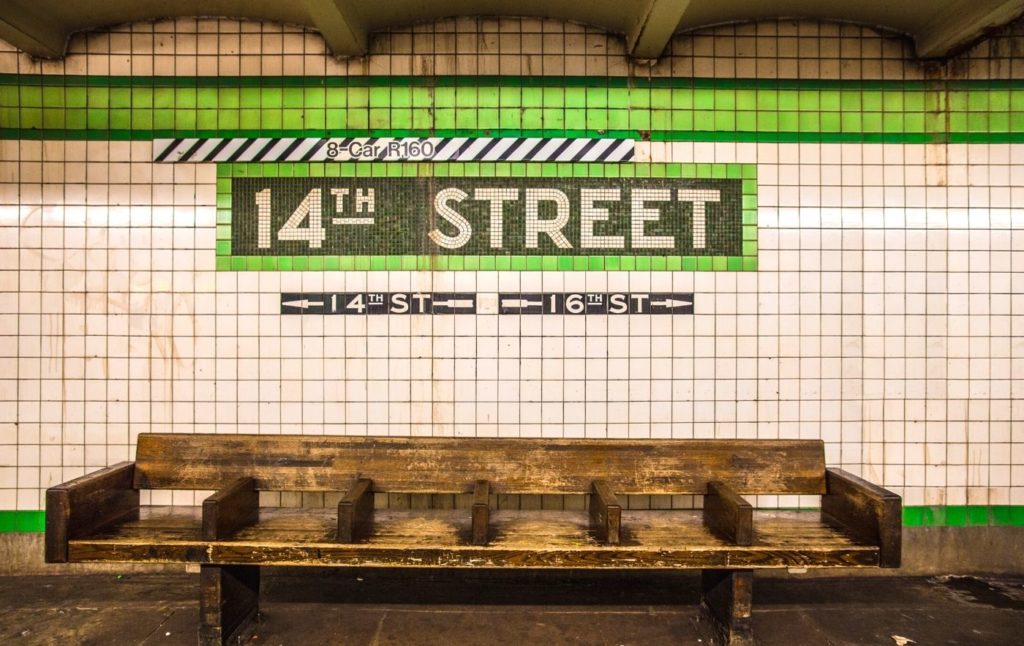 The NYC Subway is one of the cheapest and easiest ways to get around New York City.
It's also been operating since 1904 and there are now 36 lines and 472 stations that are all run by the Metropolitan Transportation Authority.
And if you're planning on riding the subway a lot during your visit to NYC, it's worth buying an MTA MetroCard.
However, they are now starting to phase out the MetroCard in NYC. So, feel free to tap and pay for the Subway with any contactless credit/debit card.
27. The Staten Island Ferry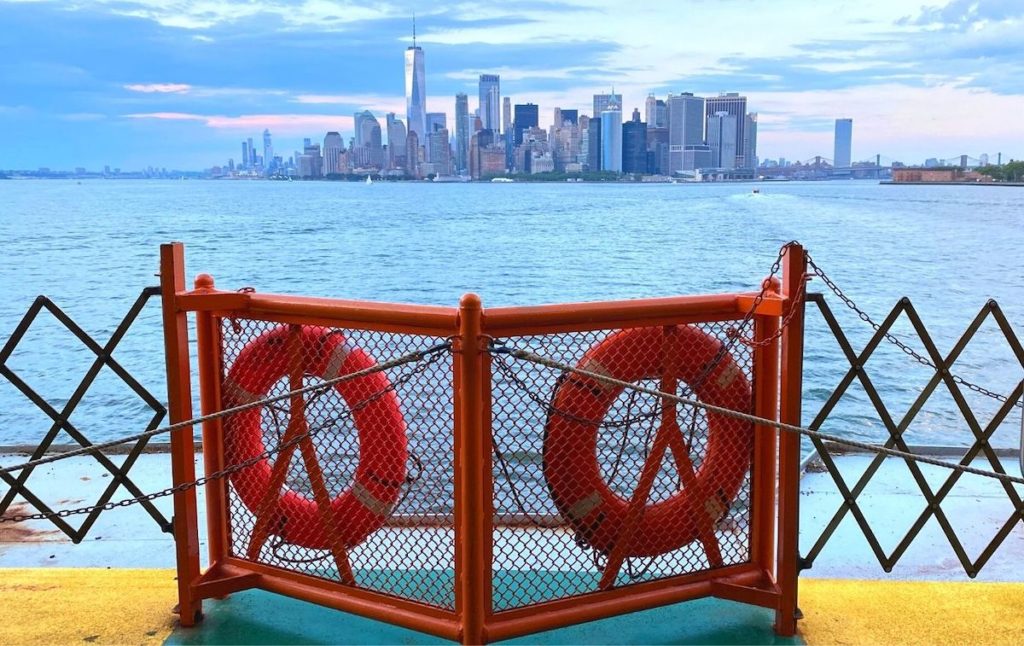 The bright orange Staten Island Ferry is one of the most recognizable ferry rides in the city. So much so that over 20 million passengers travel on it each year.
Now, this 25-minute ferry ride between Manhattan and Staten Island is free and gives you great views of Ellis Island and the Statue of Liberty.
You can also see the Brooklyn Bridge and the Manhattan skyline on a clear day from one of the best viewpoints in NYC.
What is New York Known For – Famous Sporting Events
28. US Open Tennis
The US Open is one of four Grand Slam tennis events and takes place at Flushing Meadows Corona Park in Queens, New York.
During this annual tournament, the world's top tennis stars compete against once enother for two weeks in late August and early September.
Over 700,000 spectators visit the tournament each year. And if you're lucky enough to get hold of US Open tennis tickets, it's a fantastic experience.
29. New York Baseball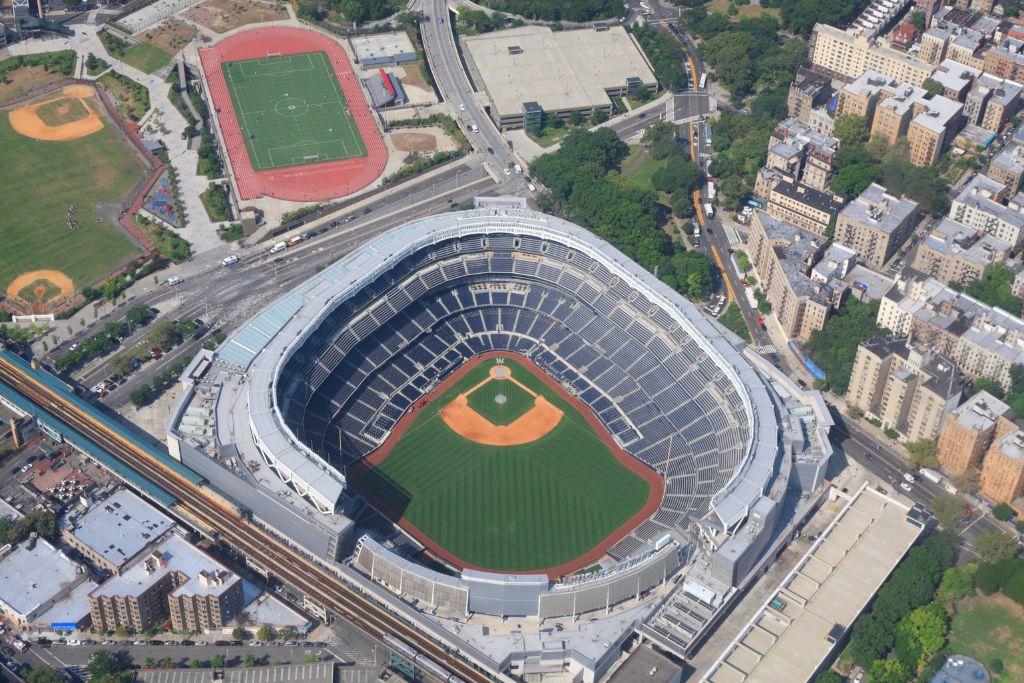 There are two Major League Baseball teams in New York City. Therefore, you can watch the New York Yankees play at Yankee Stadium or see a New York Mets game at Citi Field.
Both teams are very successful, and watching baseball is a very great pastime for tourists and residents alike.
And even if you're not a massive baseball fan, there's an atmosphere of excitement at the stadium that makes this one of the best things to do in NYC with kids.
30. Basketball and Ice Hockey at MSG (aka Madison Square Garden)
In addition to hosting epic concerts, theater shows, and arts events, Madison Square Garden is also a popular sporting venue.
In fact, it's home to both the New York Knicks basketball team and The Rangers ice hockey team. Heck, MSG even hosts regular boxing matches too.
Just be aware that a ticket to watch the Knicks can easily cost over $200, and they usually sell out almost immediately.
However, if you want to watch a basketball at 'The Garden' but don't want to spend that kind of money, you can always a ticket for a college game for around $20.
Local Tip: A great way to sometimes get discounted tickets on sporting events is StubHub. Just log on a few hours before the event and sellers will routinely drop their prices so that they can offload any remaining unsold tickets.
31. New York Marathon
The New York City Marathon is an annual 26.2-mile race through the streets of the city's five boroughs.
The marathon is held on the first Sunday in November, with professional competitors and amateurs traveling from all over the world to participate.
It's the world's largest marathon and over 53,000 people completed this event in 2019.
What is New York Known For FAQ
What is New York Known For?
New York is known for enormous skyscrapers, Times Square, yellow cabs, pizza, the Empire State Building, the Yankees, and so much more.
However, if you get outside of the Big Apple and explore more of the state, you'll quickly realize that New York is also known for Niagara Falls, the Thousand Islands region, the Finger Lakes, and the Adirondack Mountains.
Why did New York Get So Popular?
New York originally gained tremendous popularity in the early nineteenth century when many factories sprang up all across the city.
Additionally, because of New York's role as a major port city, it eventually became a primary gateway for many immigrants entering the country – a fact that enhanced its popularity too.
What is Unique About New York City?
One unique thing about New York City is it's population size of 8.5 million people. Therefore, one in every 38 Americans live in NYC.
Therefore, more than 800 different languages are spoken in NYC, making it the most linguistically diverse city in the world. In fact, 40% of households here speak a language other than English.
Map of What is New York Known For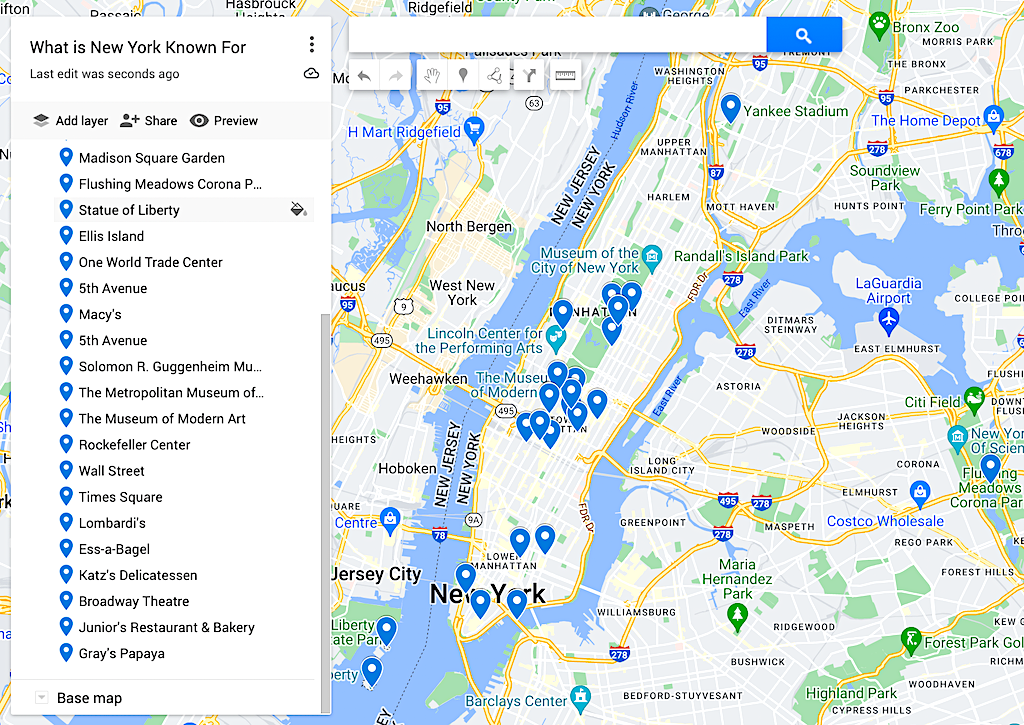 Additional NYC Resources You'll Love
There you have it! That just about wraps up this guide if you're wondering, "What is New York known for?"
Tell me, did your top picks for "what is NYC known for" make the list? If not then let me know in the comments below.
And if you found this post useful, be sure to join our email list before pinning this post now so that you can read it again later.