Head just north of New York City to the state's famed Hudson Valley and you'll find some of the best things to do in Cold Spring NY.
After all, Cold Spring is a charming little town that is packed with tons of wicked fun things to do.
In fact, it overlooks the mega-gorgeous Hudson River, sits right near Hudson Highlands Preserve, and is filled with decadent eateries and charming boutiques that beg to be explored.
Therefore, regardless of how you want to spend your weekend, this historic village has something amazing to offer you.
Trust me, I was born and raised in the area. Therefore, I've been to Cold Spring more times than I can count.
Plus, my brother lives in the Hudson Valley. So, I never miss a chance to come back and do some more exploring.
And that's why you need this mega epic guide in your life. This way you can stop stressing and start seeing Cold Spring like a true local – just like me.
This post may contain affiliate links. Please see my disclosure for more information. As an Amazon Associate, I earn a small commission from qualifying purchases.
Best Hotels in Cold Springs
There aren't too many hotels in Cold Spring, but there are plenty of options within the region. So, here are some of the best hotels in the Cold Spring area, with something to suit all budgets.
Budget Hotel: Quality Inn & Suites Fishkill South – If you want a great value hotel near Cold Spring NY, the Quality Inn & Suites hotel fits the bill. It's located just off exit 44 on Interstate 84, about 10 miles from Cold Spring. Room amenities include 42" flat-screen TVs, hair dryers, and coffee makers, with some microwaves and refrigerators. Free, high-speed Internet access is available in every room, plus free 24-hour coffee and buffet breakfast. There's also a well-equipped fitness center on-site.
The Cold Spring Hotel – If you're looking for a hotel in Cold Spring then the Cold Spring Hotel features high-quality accommodations with friendly service. See, the comfortable rooms at this family-run hotel have air-conditioning, private bathrooms, and free WiFi. There's also a snack bar where guests can enjoy a refreshing drink.
The Abbey Inn & Spa – Each room at the Abbey Inn & Spa is beautifully decorated and equipped with amenities like air-conditioning, flat-screen TV and cable, and complimentary toiletries. Plus, the hotel has a fitness center and a spa with a steam room and sauna, as well as complimentary bike rentals. There's also an on-site restaurant that serves American cuisine with vegan and vegetarian options available.
Best Things to do in Cold Spring NY – Hikes
1. Anthony's Nose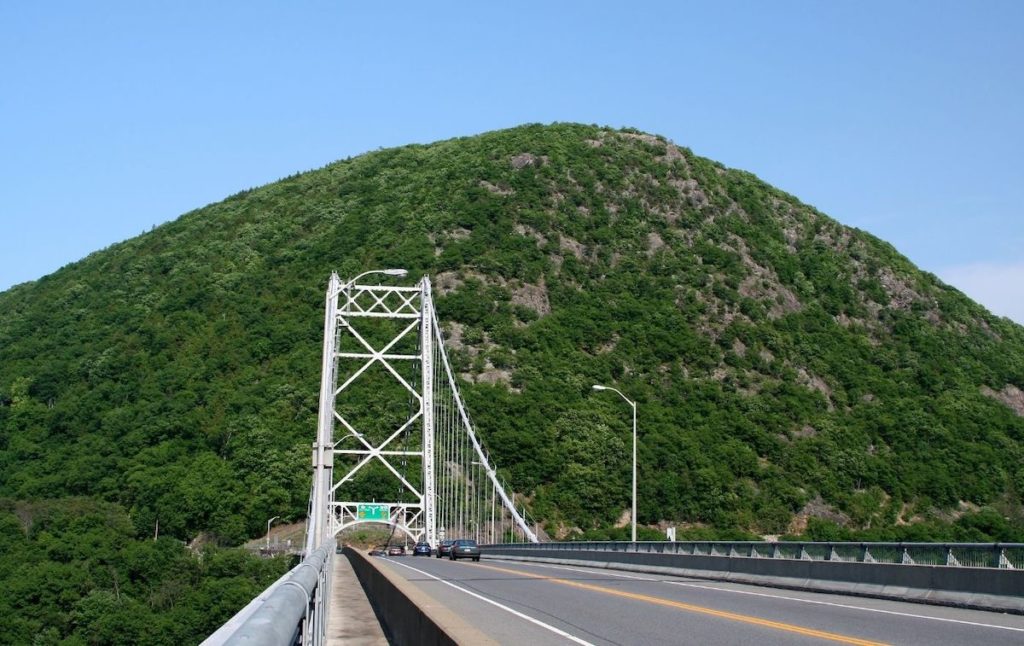 The Cold Spring area is fantastic for hikers. So, I've included some of my favorite Cold Spring NY hiking trails on this list.
And the first of these is the hike to Anthony's Nose, a 900-foot tall peak in the Hudson Highlands that lies on the eastern side of the Bear Mountain Bridge.
Now, this Cold Spring hiking route starts on the Westchester side of the bridge, where there is only roadside parking.
It's also worth noting that this is one of the best hikes in upstate New York that is pretty steep for the first half-mile, with plenty of rock scrambles.
However, the fantastic views from the summit will make all your efforts worthwhile as you enjoy one of the best things to do in Cold Spring NY.
Location: Garrison, Hudson Valley near the Bear Mountain Bridge
Distance: 1.9 miles
Difficulty: Moderate
Route: Out and Back
Elevation Gain: 625 feet
2. Little Stony Point and Beach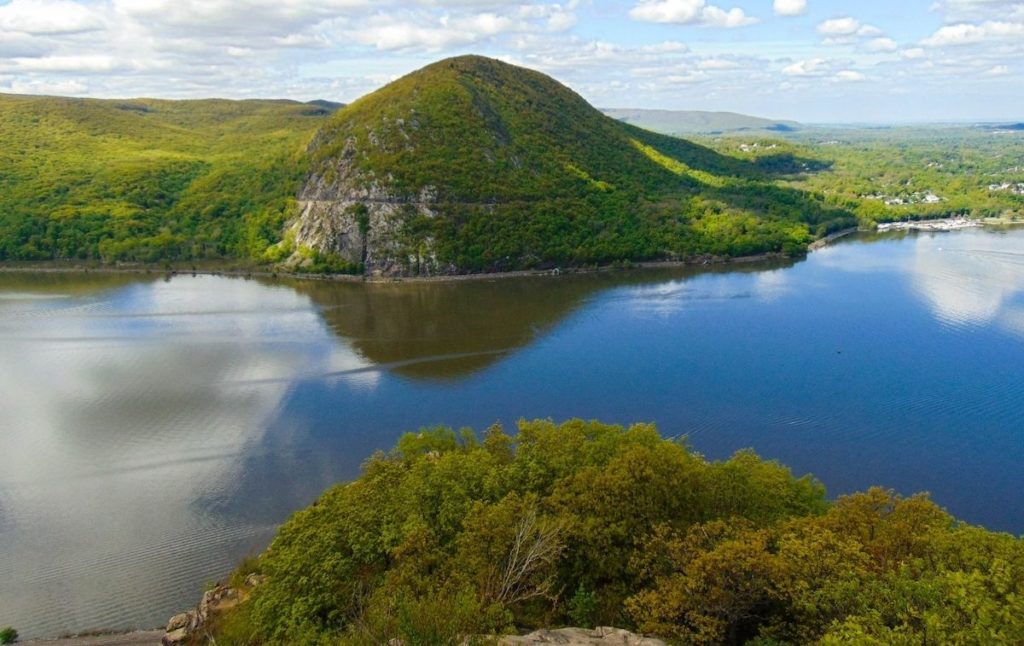 Little Stony Point Short Loop is a quick hike through Hudson Highlands State Park near Cold Spring.
In fact, the trail is just under a mile long and generally takes around 21 minutes to complete.
It also offers some fantastic views over the Hudson River and is a great short loop on its own or after doing one of the longer hikes in the area.
As you can imagine, this is a popular Cold Spring hiking trail, so you'll see other people throughout your journey.
However, if you go during quieter times of the day, it shouldn't be too busy. You can also take your dog along if they're kept on a leash, and it's best to visit between March and November.
Location: Hudson Highlands State Park Preserve
Distance: 0.86 miles
Difficulty: Easy
Route: Loop
Elevation Gain: 82 feet
3. Old Cornish Estate Trail
This 1.8-mile trail in Hudson Highlands State Park is one of the easiest Cold Spring hikes of them all and only takes around 43 minutes to complete.
And that's because much of the Old Cornish Estate trail takes you along a concrete driveway that gently slopes upwards as you walk towards the Stern-Cornish estate ruins themselves.
Plus, along the way, you'll pass several structures from the estate's glory days, including a swimming pool and greenhouse.
Also, like some of the other best Hudson Valley hikes on this list, this Cold Spring hiking trail is very popular.
So, you'll probably see other people during your hike, especially between April and November when this hike is at its best.
Additionally, while dogs are welcome on the trail if on a leash, steep sections and uneven surfaces make this hike unsuitable for anyone in a wheelchair or for strollers.
Location: Hudson Highlands State Park Preserve
Distance: 1.8 miles
Difficulty: Easy
Route: Out and Back
Elevation Gain: 190 feet
4. Breakneck Ridge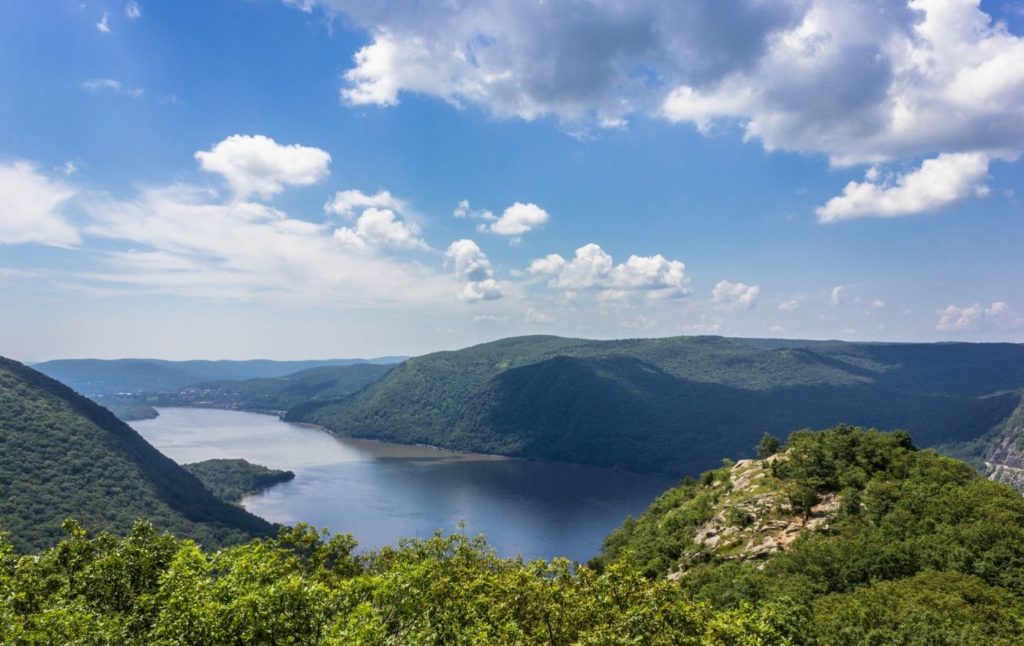 Breakneck Ridge is a very popular hiking trail, and many people visit Cold Spring, New York, just to attempt this trail – easily making this one of the best things to do in Cold Spring NY.
So, after completing a short and steep scramble to the top of the ridge, you'll experience breathtaking views of the Hudson River.
That being said, this is a challenging hike, and it gets muddy in places. So, you should allow plenty of time to explore Breakneck Ridge.
In fact, it's worth putting aside most of the day if you want to really enjoy all the area has to offer. And despite the difficulty, Breakneck Ridge is always a busy hiking spot.
It's also worth noting that this hiking trail is currently closed until 7/1/23 for trail restoration, although the ridge can still be accessed via other routes.
Location: Hudson Highlands State Park Preserve
Distance: Between 2.5 and 4 miles
Difficulty: Difficult
Route: Loop
Elevation Gain: 1,250 feet
5. Bull Hill
Bull Hill, or Mount Taurus, is a mountain in Hudson Highlands State Park that is named after a bull that was driven off the mountain by a hunting party.
There are also several hiking trails scattered throughout the area, including the Bull Hill Full Loop, which is a 5.5-mile hike past a picturesque waterfall.
Now, the Bull Hill hike is a moderately challenging route that is pretty steep in places but doesn't involve rock scrambling.
This trail is also very popular with visitors to the Cold Spring area (Sense a theme here?), particularly between April and October.
Location: Hudson Highlands State Park Preserve
Distance: 5.4 miles
Difficulty: Moderate
Route: Loop
Elevation Gain: 1,391 feet
Best Things to do in Cold Spring NY – Historic Landmarks
6. Boscobel House and Gardens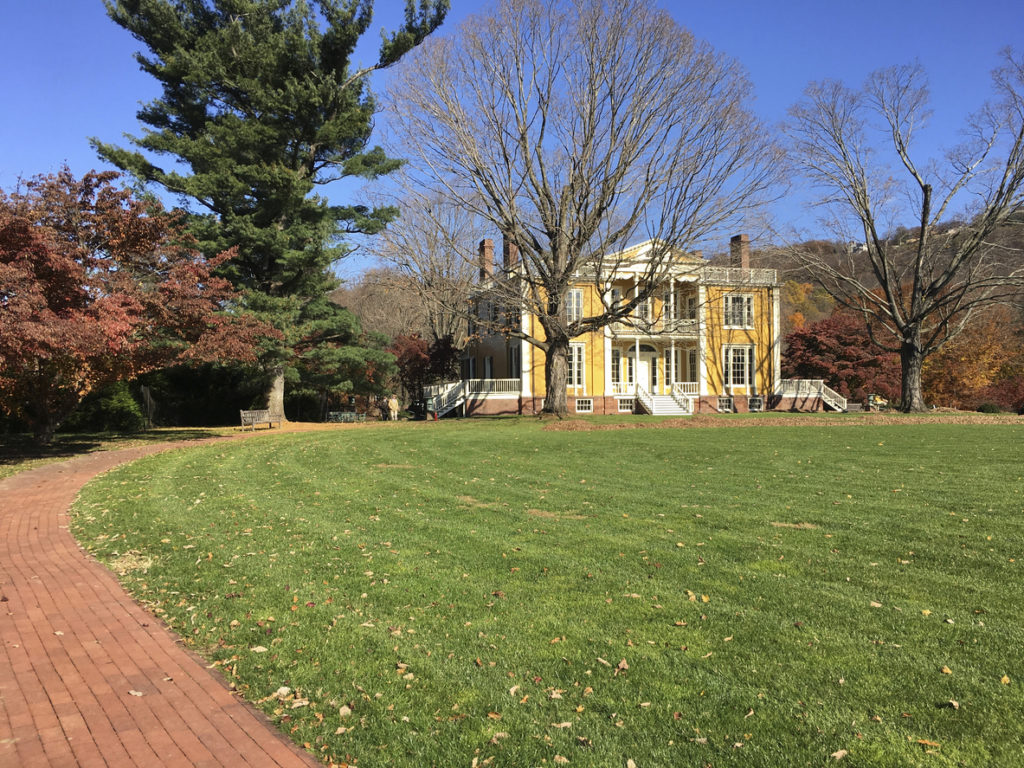 Boscobel House is a Neoclassical mansion and garden in Garrison. Therefore, it's just a few minutes away from Cold Spring, making a visit here one of the best things to do in Cold Spring, NY.
See, the house was built in the early 1800s, and after falling into disrepair was totally demolished in the 1950s.
But, thanks to the hard work of local preservationists, the house was reassembled brick-by-brick on a new site that features sweeping views of the Hudson River.
As a result, Boscobel House re-opened as a nonprofit museum in the mid-20th century and a visit here makes for a fabulous day out for anyone interested in history and architecture.
There are also beautiful gardens to explore, in addition to several lovely hiking trails through the grounds, and frequent events and exhibitions.
Pro Tip: Time your visit to coincide with special events like the Hudson Valley Shakespeare Festival, which is held nightly throughout July and one of the best things to do in Beacon NY.
Address: 1601 Route 9D, Garrison, NY, 10524
Hours: Currently the grounds – not the residence – are open to visitors Friday through Monday from 9:00 am to 7:00 pm.
Price: Tickets are $12 for adults, $10 for seniors, $6 for children 5-18, and free for children under 5.
7. Magazzino Italian Art Museum
Magazzino is a Cold Spring art museum that showcases amazing work from various Italian artists.
Opened in 2016, this museum sits inside a warehouse, which is the English translation of the Italian word magazzino.
Inside this light, airy space, you'll find pictures and sculptures by artists from the post-war Arte Povera Movement and contemporary Italian artists.
This museum is also about a 10-minute drive from Cold Spring train station. So, there's usually a free shuttle that transports visitors between both places.
And while admission is free, space is limited. Therefore, reservations are recommended.
Address: 2700 US-9, Cold Spring, NY 10516, United States
Hours: Open Saturday and Sunday from 11:00 am to 5:00 pm.
Price: Free
8. Bannerman Castle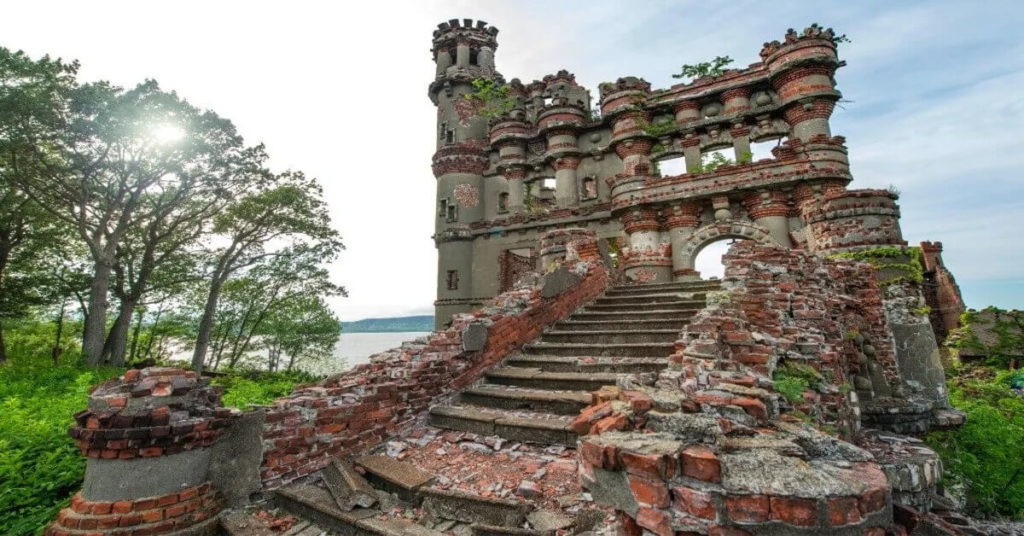 Easily one of the best castles in New York, Bannerman Castle sits on Pollepel Island, also known as Bannerman Island, in the Hudson Highlands State Park.
Additionally, it's an abandoned military warehouse that now hosts special events within its grounds, including movie nights and theatrical Performances.
So, if you want to enjoy one of the best things to do in Cold Spring NY then you can book a guided tour of Bannerman Castle between May and October.
Or, if you're feeling a bit adventurous, embark on an organized Bannerman Castle kayak excursion that includes a tour of this gorgeous structure and the island.
Address: Beacon Institute Floating Dock is where the tour departs from.
Hours: The tour is 2.5 hours long and departs Thursday through Sunday at 6:00 pm Thursday/Fridays and at 11:00 am, 12:30 pm, 2:00 pm, and 3:30 pm Saturday/Sunday. Times do vary by season so check this website for more info.
Price: Tours start at $40 per person for adults and $35 for children 11 and under.
9. West Point Foundry Preserve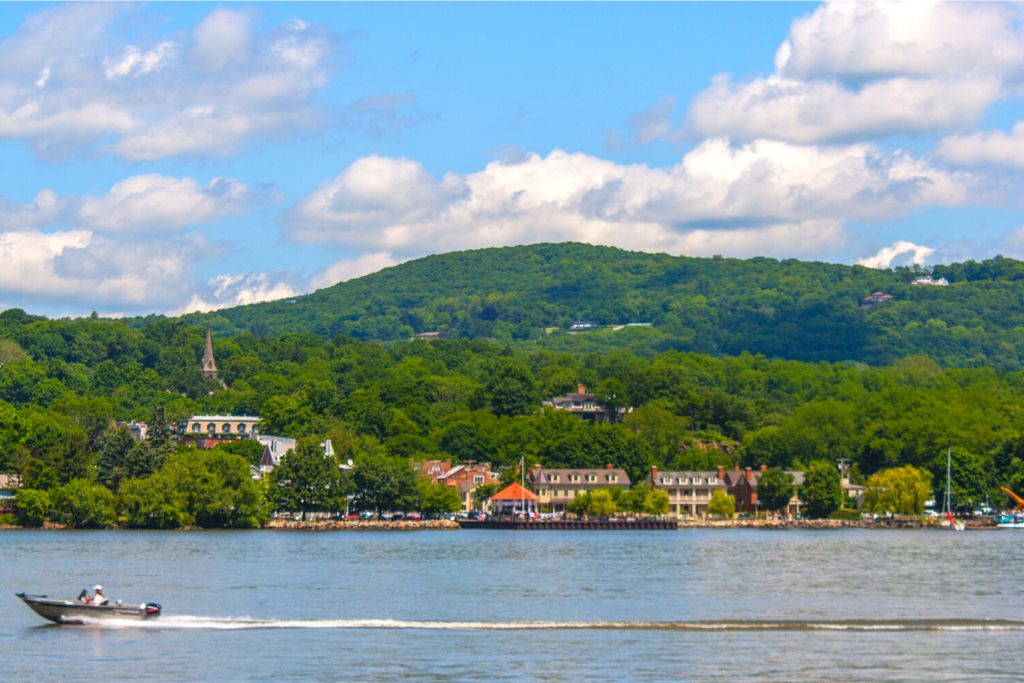 History buffs will enjoy a visit to West Point Foundry Preserve.
After all, the foundry was first established in the early 1800s to produce ships, steam engines, and munitions for the Civil War.
About a century later it was closed down but has since re-opened to offer visitors a fascinating glimpse into a bygone era.
To get here just follow a short trail from Cold Spring Metro North Station.
In fact, this spot is the starting point for many Cold Spring hiking trails and is a great way to view the ruins of many historic buildings in the Hudson Valley.
Address: 80 Kemble Ave, Cold Spring, NY 10516, United States
Hours: Open 365 days per year from dawn until dusk.
Price: Free
Best Things to do in Cold Spring NY – Shopping
10. Antique Shopping in Cold Spring
Antiquing is a popular pastime in the Hudson Valley, and Cold Spring is no exception.
So, during your stay you'll discover some gorgeous Cold Spring antique shops, full of great finds that you'll deffo want to take home with you.
Because regardless of whether you're just browsing or looking for the perfect addition to your home, there's plenty of fun things for sale that will ignite your imagination.
In particuliar, Once Upon a Time Antiques is an amazing antique shop full of vintage Christmas decorations, antique jewelry, and quaint dollhouse accessories.
However, Poor George is another epic store that features a tempting array of vintage goods, housewares, and jewelry to choose from.
11. Boutique Shopping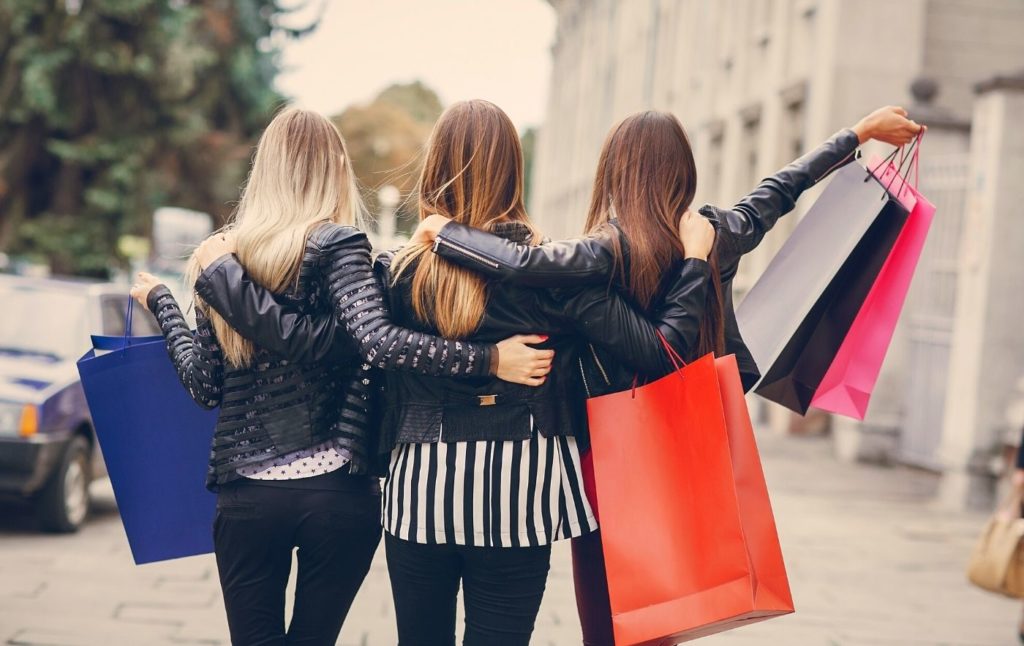 Downtown Cold Spring is full of boutique shops and great places to eat that are just waiting to be enjoyed.
However, this is one of the best small towns in New York that gets pretty busy during the weekends. Therefore, try to visit during the week when this place is a little quieter.
You'll also love that there's plenty of parking available on Main Street.
So, feel free to leave your car here and stroll around town as you browse through shops, bring an ice cream cone down to the river, and people-watch for hours on end.
Additionally, Cold Spring offers a wide variety of seasonal events that include food fairs, art shows, and film festivals.
As a result, there's something going on most weekends. Therefore, check out the Cold Spring Living to see what's on during your visit.
12. Bookstores in Cold Spring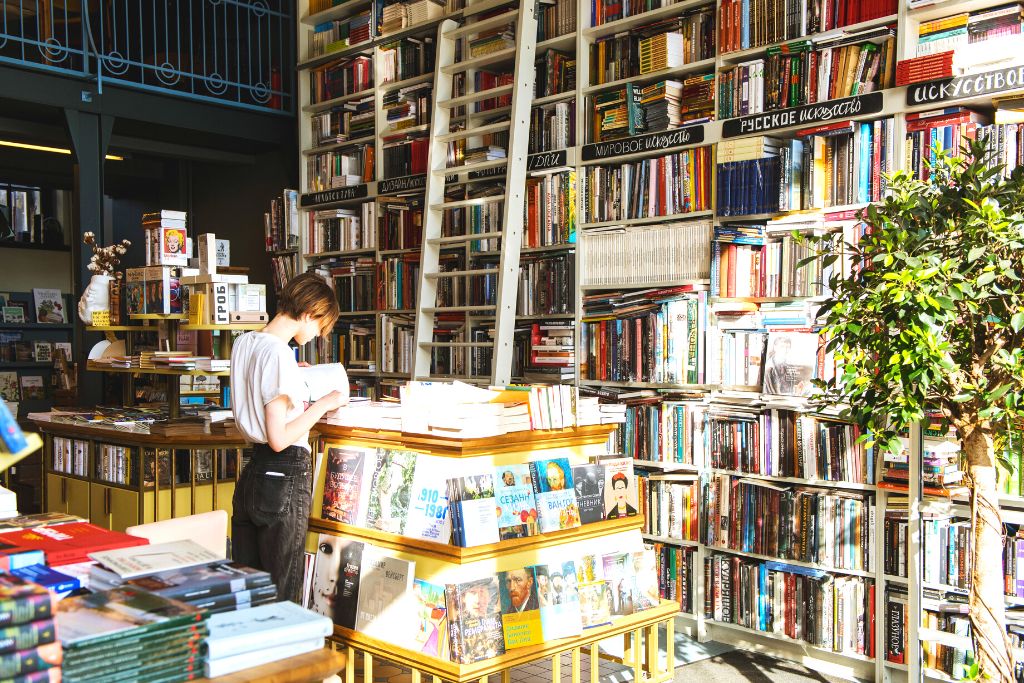 If you're a hardcore reader, you'll feel right at home in Cold Spring, NY.
Because Split Rock Books is a gorgeous, independent bookstore that sells a wide assortment of books – everything from the latest bestsellers to guides for exploring the great outdoors.
Plus, the friendly staff are all book lovers who are happy to give you personal recommendations. Therefore, you're sure to walk away with a book or two to add to your TBR pile.
Or, if you love lingering over second-hand books, you should head to Riverside Books & Prints. They specialize in rare and collectible books, including first editions and can be found inside Cold Spring's Bijou Antiques Galleries.
13. Go Kayaking in Cold Spring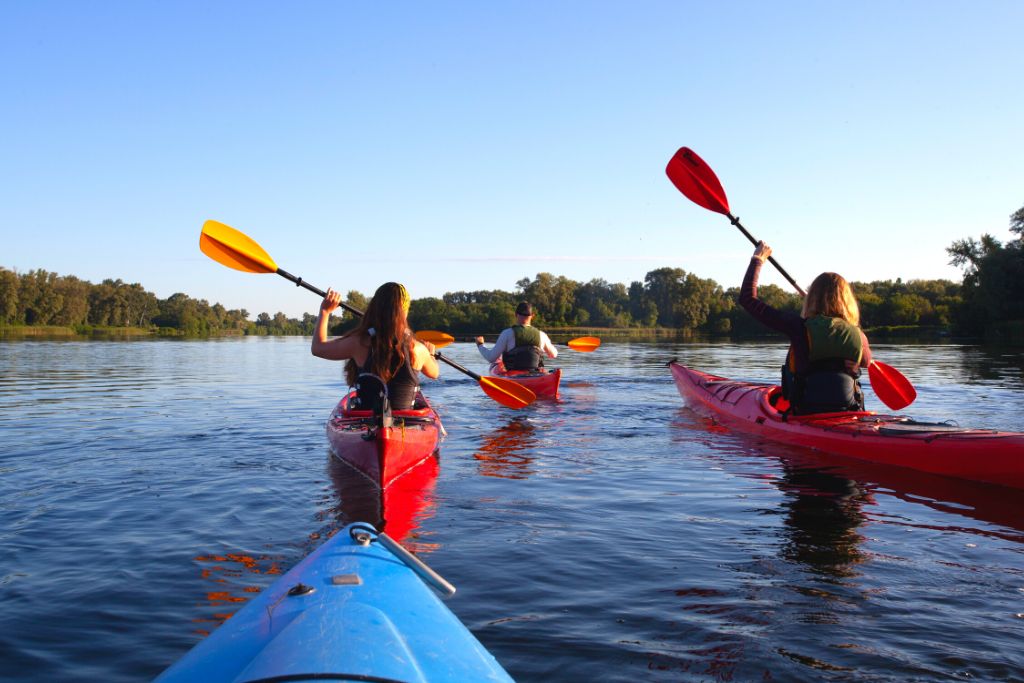 If you love being in the great outdoors, and close to nature, then you'll love kayaking in Cold Spring.
After all, there are plenty of places to rent canoes or kayaks in the area. Plus, viewing Cold Spring from the river gives you a toally unique perspective of popular attractions like Bannerman Castle.
You can also sign up for special tours that run throughout the year, during which experienced guides will introduce you to some of the best sights in the area.
And, of course, all that physical activity gives you an excellent excuse to visit another one of the top Cold Spring NY restaurants!
14. Fall Foliage Cruise from Manhattan to Cold Spring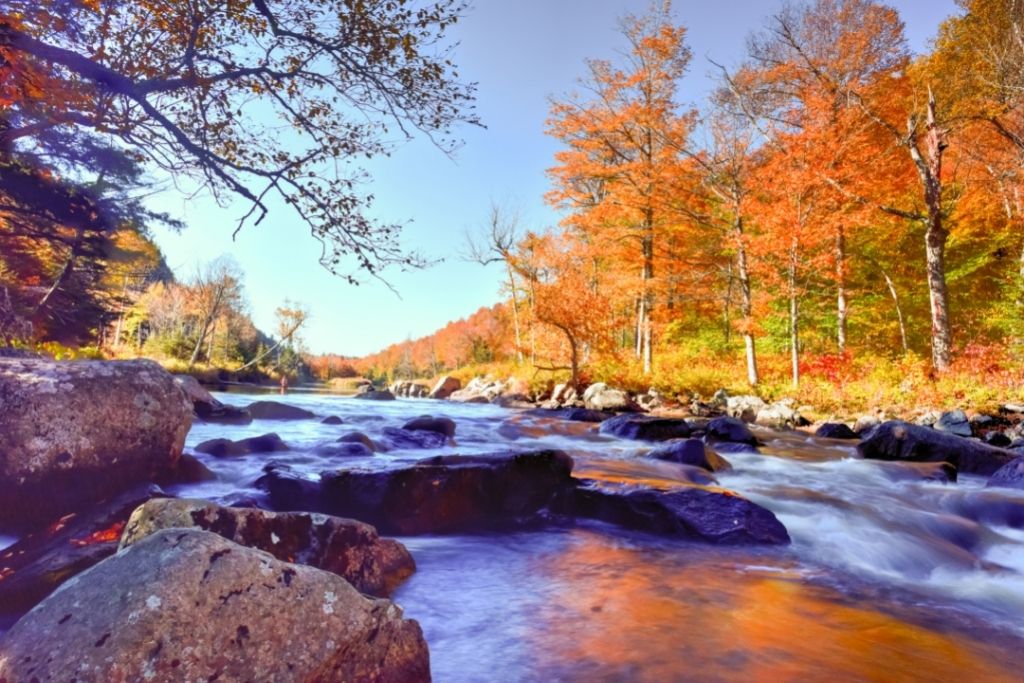 New York is famous for its kaleidoscope of fall colors, and a fall foliage cruise to Cold Spring is one of the best ways to experience it.
So, from Manhattan, you'll travel up the Hudson River aboard a Seastreak Catamaran. As you make your way up to Cold Spring, you'll enjoy stunning red, orange, and yellow-hued leaves.
Your guide will then point out some of the best views in the area while you watch from an open-air deck or from the comfort of climate-controlled cabins with panoramic windows.
There's also a full-service bar for you to enjoy before your boat stops in Cold Spring for the afternoon.
Therefore, you'll have plenty of time to dine at one of many excellent Cold Spring restaurants before visiting various local shops.
Then, on your return journey to Manhattan, you'll admire the fall leaves amidst the glow of the setting sun, before returning to New York City in the evening.
Alternatively, you could extend your cruise and stay overnight in Cold Springs or in other nearby towns.
Address: Pier 11/Wall St., NYC (departure point)
Hours: Available Friday through Monday from the middle of September through the middle of November.
Price: Starts at $89.00 per adult.
Best Things to do in Cold Spring NY FAQ
Is Cold Spring NY Worth Visiting?
Yes!! Cold Spring is absolutely worth visiting. Not only is the downtown area full of charming little boutiques but you can dine at epic restaurants and shop for antiques too.
You can also grab an ice cream cone and meander down Main Street before crossing beneath a tunnel to enjoy stunning panoramas of the river.
How do I Spend a Day in Cold Spring NY?
If you want to spend a day in Cold Spring, some of the best things to do in Cold Spring NY include:
Relax at Dockside Park
Do some Antiquing on Main Street
Explore West Point Foundry Preserve
Grab dinner and then enjoy some wine at Cro'Nest Wine Bar
What is There to do in Cold Spring NY in the Fall?
Some of the best things to do in Cold Spring NY in the fall are:
Cruise on the river to see fall foliage
Go for a stunning fall hike in West Point Foundry Preserve
Try apple picking and enjoy some hot apple cider
Go pumpkin picking
Visit Stonecrop Gardens
Explore Glynwood Farms
Is Cold Spring NY Walkable?
Yes, Cold Spring is very walkable. Just take a Hudson Line, MetroNorth train from Grand Central to Cold Spring and you'll be walk along Main Street in about an hour.
Map of the Best Things to do in Cold Spring NY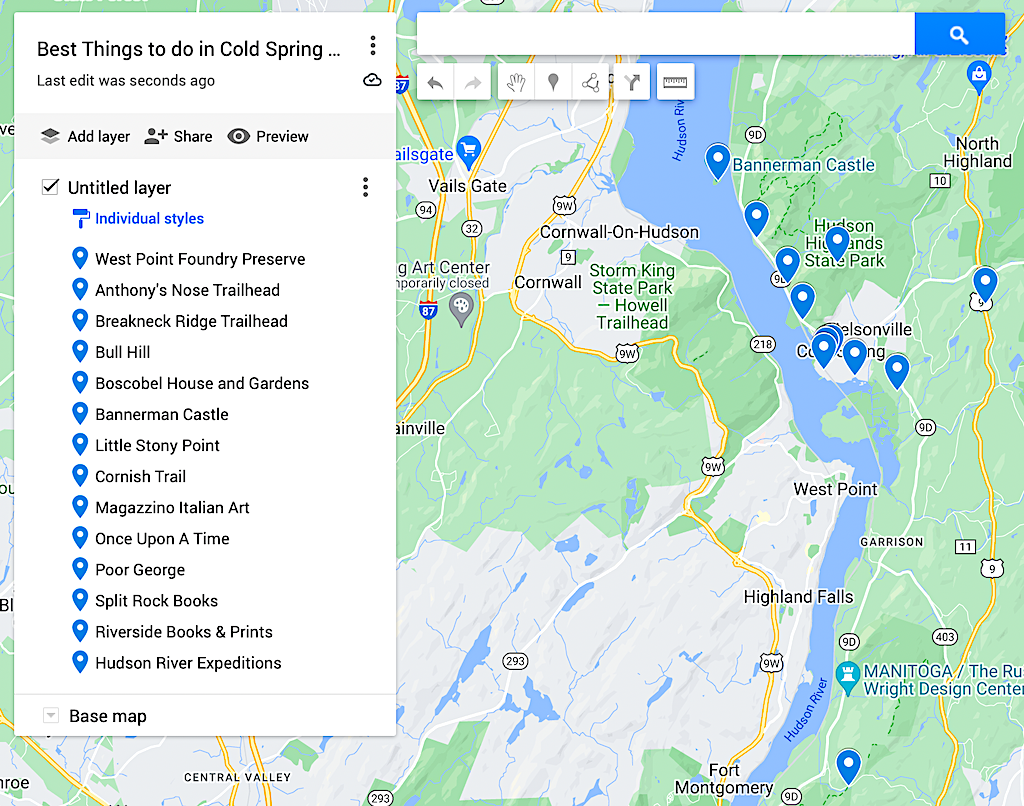 Additional New York Resources You'll Love
There you have it! That just about wraps up this guide to the best things to do in Cold Spring NY.
Tell me, did your picks for the most epic Cold Spring NY things to do make the list? If not then let me know in the comments below.
And if you found this post helpful, don't forget to join our email list before pinning this post now so that you can read it again later.